17. Creepy halloween front door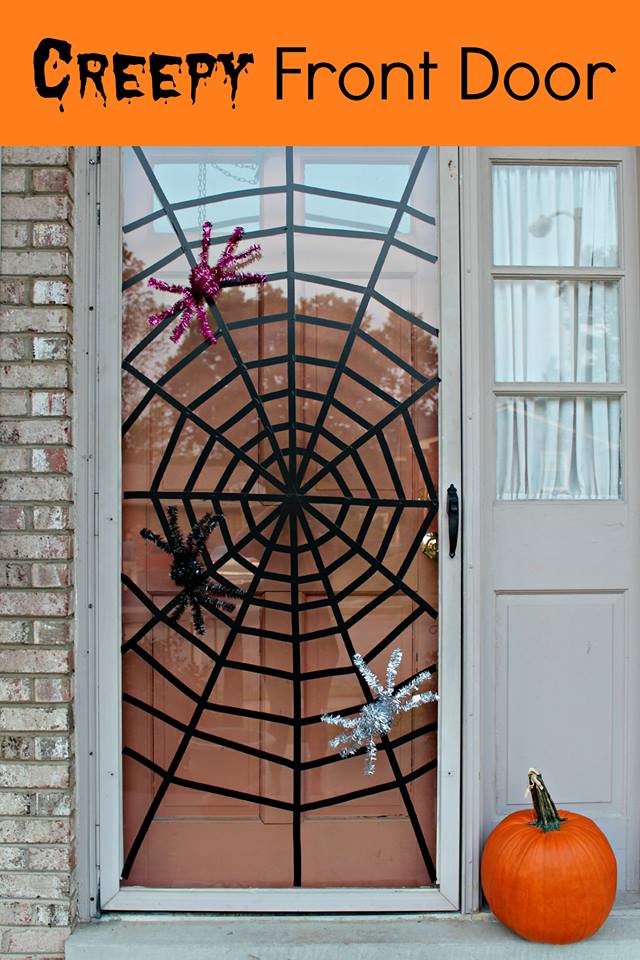 For DIY Halloween door decorations that really scare, find some washi tape. This paper thin tape can easily be used to create a spider web on any door. Storm doors work well with this because of the glass and how well the tape adheres to glass – though it works well on wood too. For spiders, use shiny pipe cleaners and shiny Styrofoam balls. They can be stuck to the web via packing tape on the bottom of the spider's body. For something a little more cartoon like, use a washi tape in a bright color or use bright colors on the spiders.
18. Flurry Front Door for Halloween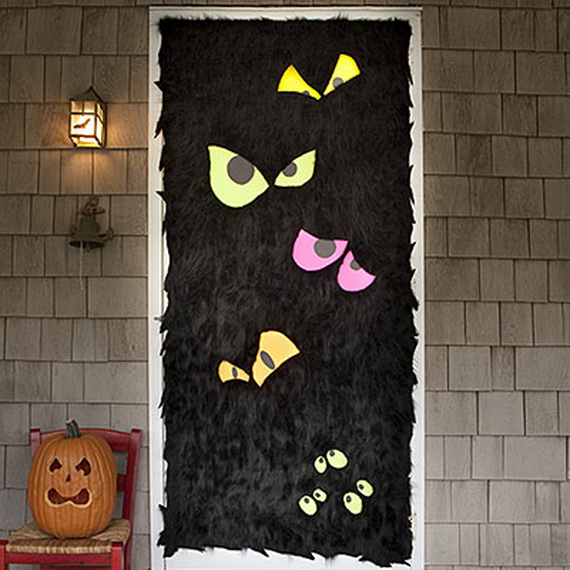 For a twist on traditional DIY Halloween front door decors, find some furry fabric. This can be found at thrift shops via faux fur coats or at a fabric store – they usually surface around Halloween for furry costumes. Make sure that there is enough fabric to cover your door, minus the knob or to allow for the knob to move. Construction paper can make cartoon like eyes. These can then be attached by tape or glue to the fabric. It offers the feeling of being watched to any visitors, and fans of old cartoons may feel some deja-vu. A furry Halloween wreath has nothing on this funky idea.
19. Witch's Wreath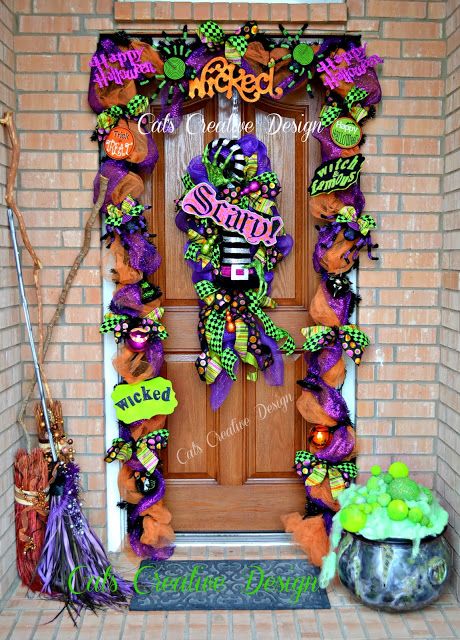 With DIY Halloween door decorations such a trend, incorporating witches can be difficult. However, taking a wreath and adding a witch's hat, funky ribbons, and fun baubles can create such a wonderful decoration. For a particularly interesting wreath, add stuffed witch's feet. Paper signs can be taped on or tied on with ribbon with phrases such as "scary" and "wicked". Try ribbons that have patterns (such as checkers and polka dots) for the ultimate fun or even add some tulle and glitter.
20. Not Scary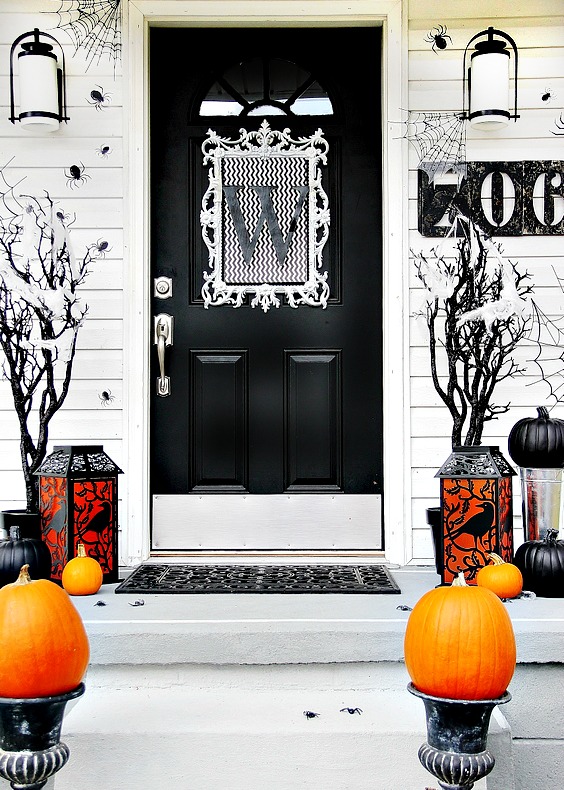 DIY Halloween decorations don't have to be scary, nor does a themed front door decoration. If you frequent yard sales and thrift shops, a frame can be found easily for quite cheap. Then a piece of scrapbook paper can be put inside the frame. A letter is then glued onto the frame. This is a better idea if there are a lot of little kids and many of the doors in your neighborhood are already going to be scary. The letter can be any letter in the alphabet and offers a decoration that can be hung year round if the paper is not Halloween themed.
21. Spider Attack!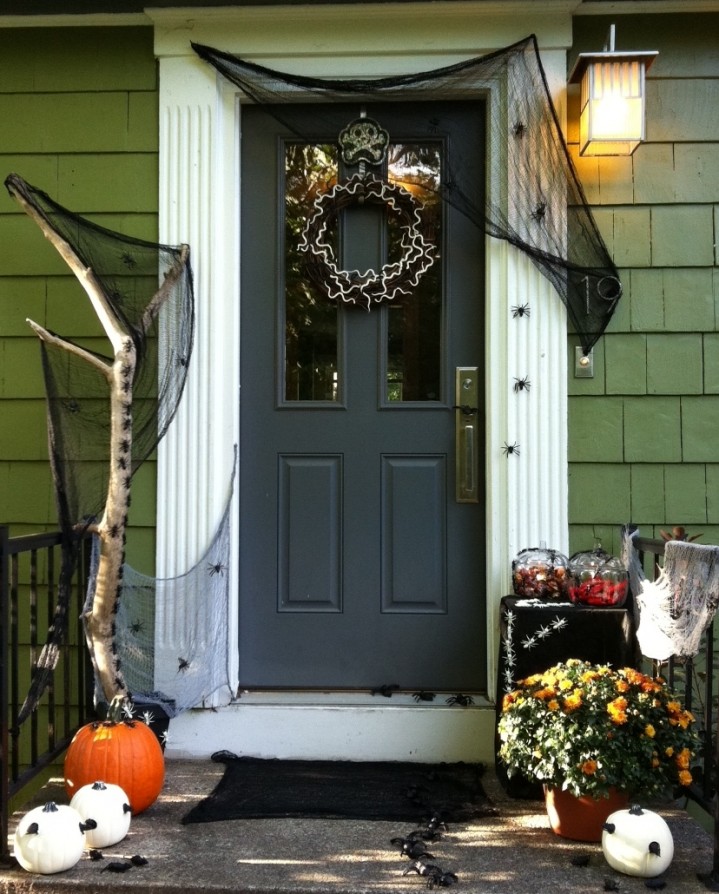 DIY Halloween front door decors vary from store to store and person to person. Plastic spiders can be found at any craft store, and fake spider webs can be created out of vinyl or tulle. With tape, a spider attack happens in minutes. The spiders can be placed to climb up a tree, up the door frame, or even up the fake spider webs. If you really want to scare someone, a spider could be lurking on the doorknob. A black wreath can be added to the door for an added effect, and the spiders can be placed literally anywhere.
22. Burlap Galore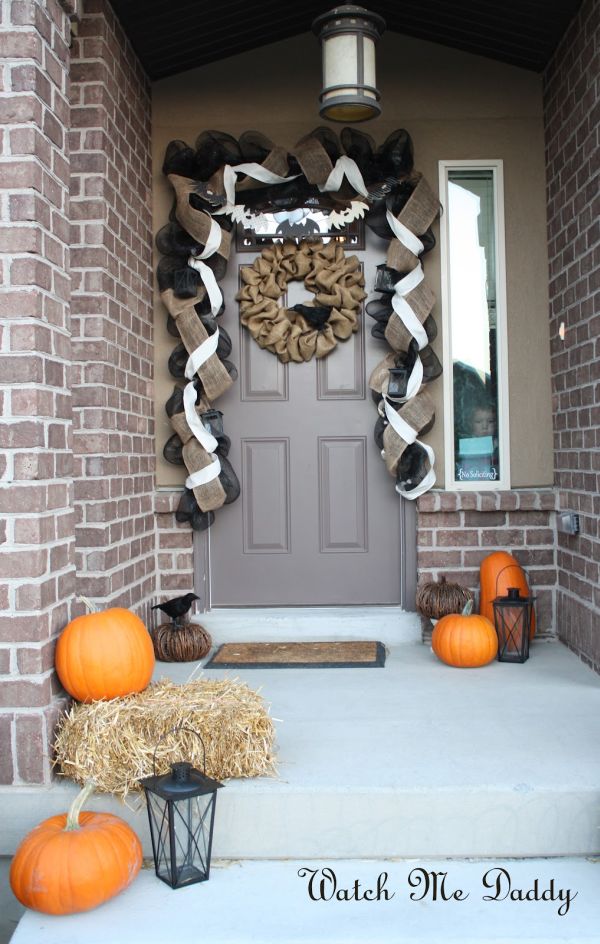 Halloween decoration ideas can simmer after the porch has been decorated. If there's a lot of burlap hanging around your house, consider creating a burlap wreath. The burlap is cut into strips and crunched onto wire – as if pinning fabric. The burlap can also be used to create a banner on the post and lintel of the door – a sort of arch in the doorway. A faux bird can be added to the wreath for a solitary, solemn look if so desired. If not, skip the bird.
23. Spooky Door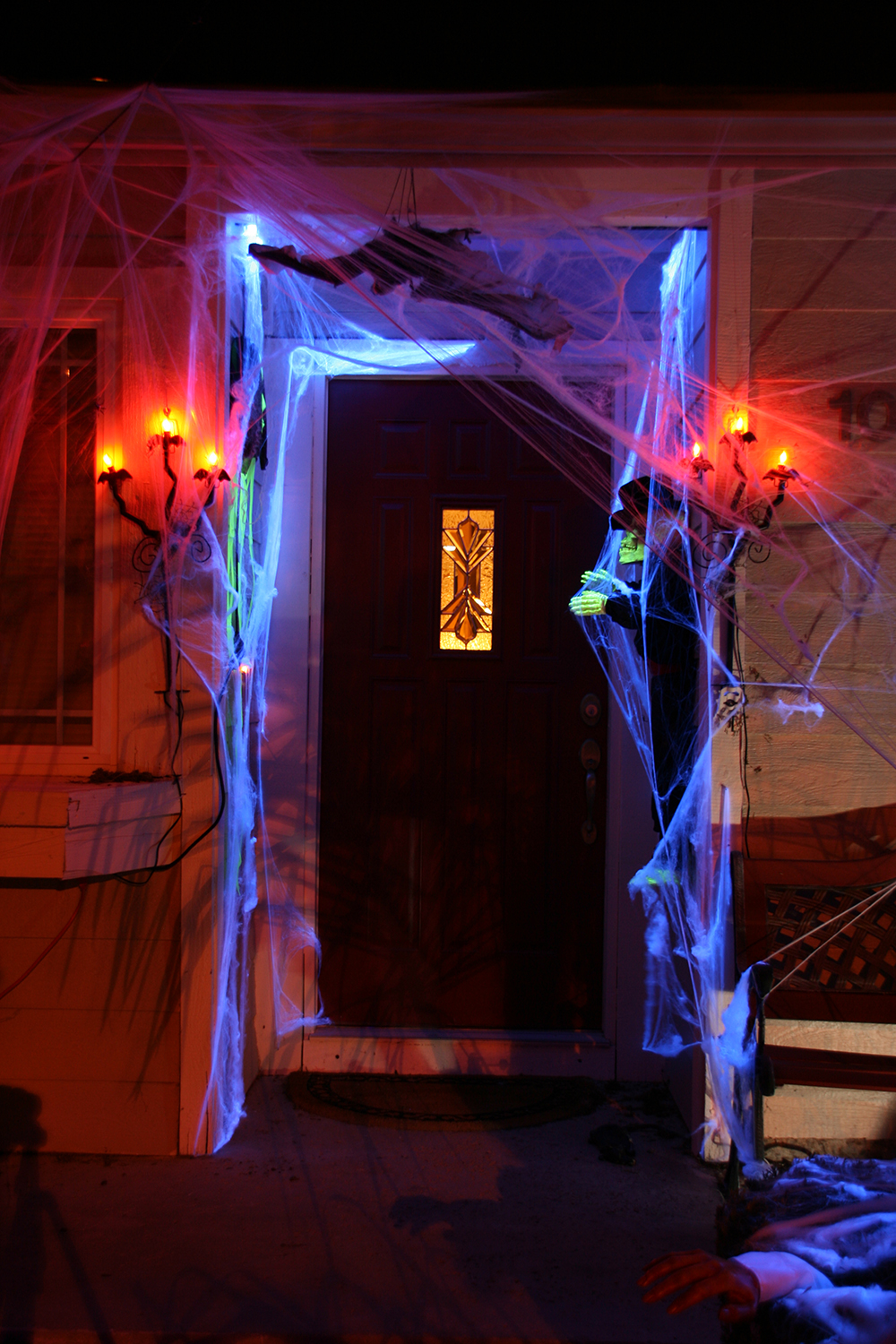 For those who like spooky Halloween ideas, taking fake spider webs is a good idea. The fake webs can be strung up around LED candles and plastic forms. The candles could – and probably should – emit different colored lighting for a better effect. Using plastic forms gives the effect that the house is under attack from gremlins and bats, maybe even a witch! With enough fake web, it could be even better than a spider web attack in a haunted house. No need for boring Halloween wreaths on this door.
25. Funky Halloween Porch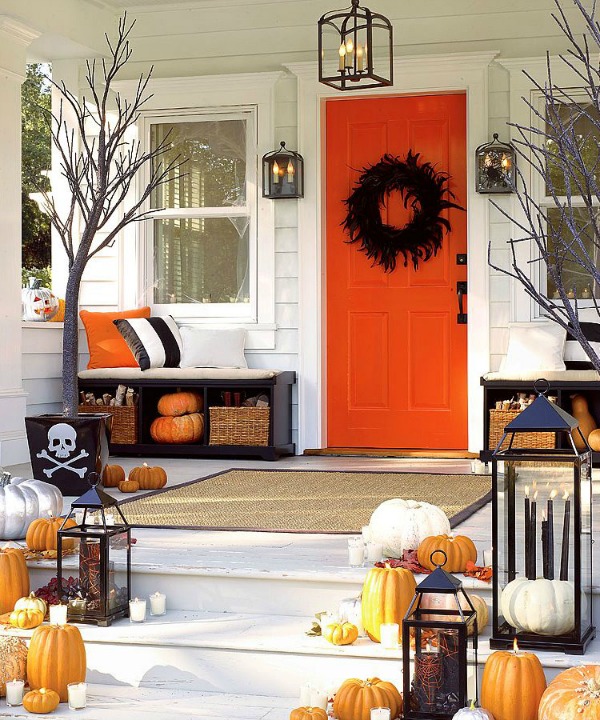 From the feathers to the bench, it can be difficult to decide what to use. If the Pottery Barn catalog from a few years ago caught your attention, you can get the look for much less. The wreath can be made from wire and a feather boa. The lanterns can be found at a thrift shop. Pumpkins can easily be preserved by cleaning with bleach then buffing with petroleum jelly. If you want to paint the door, go ahead. If not, you can use paper – it won't look as professional, but it preserves the original color. DIY Halloween front door decorations have never been so fun to do if this is the project you decide to do this year.
26. More Mummies!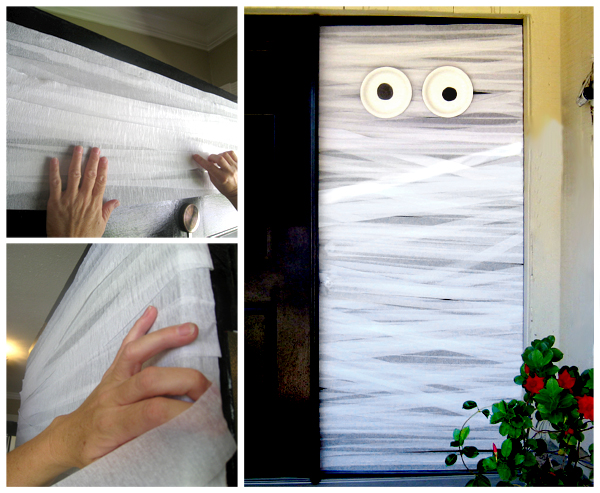 This has been such a popular decoration. This variation on the mummy door involves crepe paper, white paper plates, a black marker, and double-sided tape. Draw pupils on the white plates. Wrap the crepe paper around the door. Using different angles can give the mummy a different look than simply going straight up or down. The crepe paper is secured by the double sided tape. When the paper is gone and the door is covered, tape the eyes on and your door is good to go! Outside Halloween decorations have never been so incredibly easy to create.
27. Happy Halloween Front Porch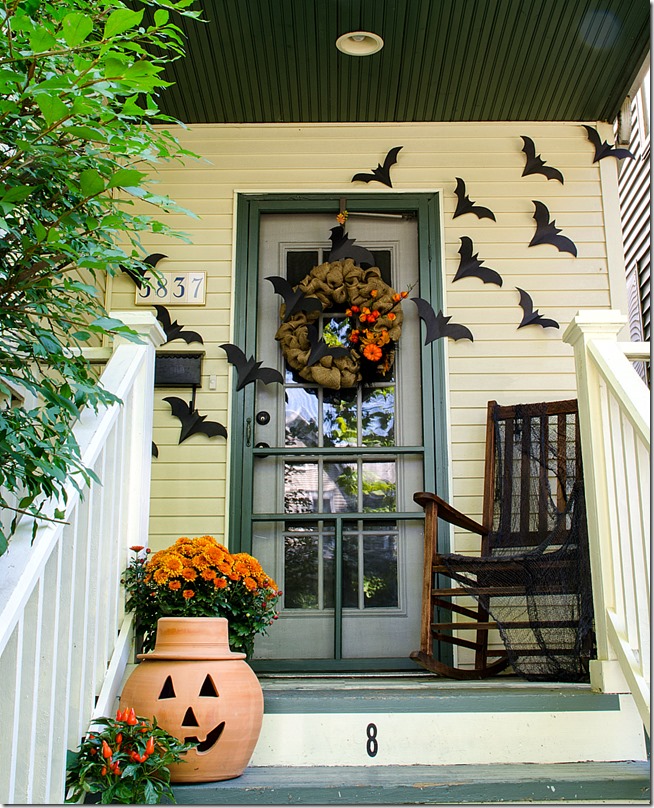 The bats have been another popular DIY decoration. Black construction paper is the easiest thing to trace the templates onto, and the templates can be found all over the internet. Another burlap wreath is involved in this decoration scheme. There are orange faux flowers on the wreath as well. However, the bats made it indoors this time. Foam is another way to make the bats fun and interesting. Black tulle can be spread out to create a fake spider web if you want.
28. Haunted Halloween Porch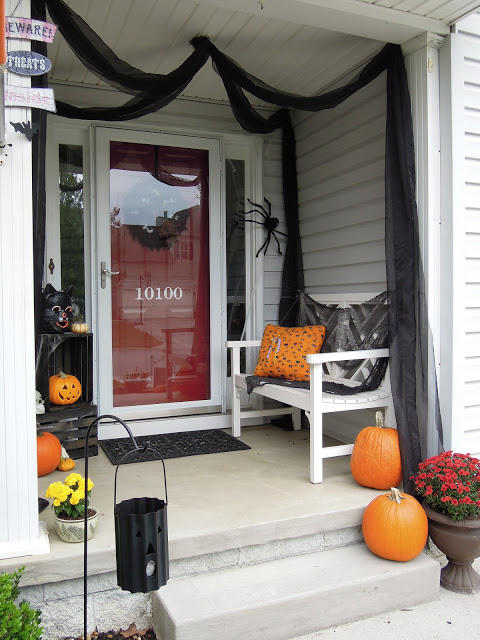 First thing's first: this has some series "enter if you dare" vibes. The cheesecloth and sheer fabric on the porch creates the feel of an old timey house. A spray painted diaper box and a crate create the stands for the pumpkins and cat head. A witch's broom is sitting to one side (which can easily be made in miniature with a black pencil and orange yarn). Fake spiders like those from the other crafts sit to either side of the door. A wreath of feathers and eyes stares back from the door. It's a real haunted house!
More Halloween door decoration ideas on the next page…