41. Maleficent Halloween Wreath Door Decoration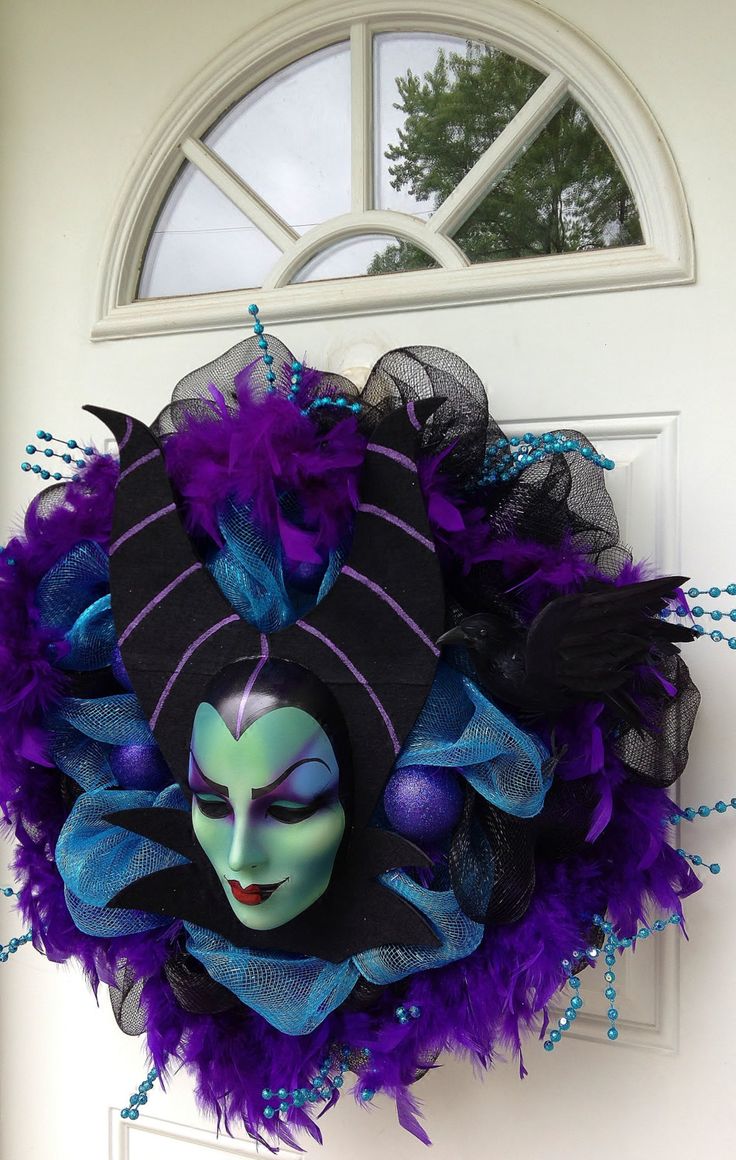 If you're a big fan of Maleficent, this wreath is for you. Purple feather boas and black tulle creates the base of the wreath. Mardi gras beads in blue make it a little funkier. Blue tulle is also used, as are a couple of purple glittery balls. A form is decorated to look like the famous evil fairy, and wooden horns are added to complete the look. For any Disney fan who's looking for some Halloween decor, it's a twist that gives the home a great and different look.
42. Wreath It Up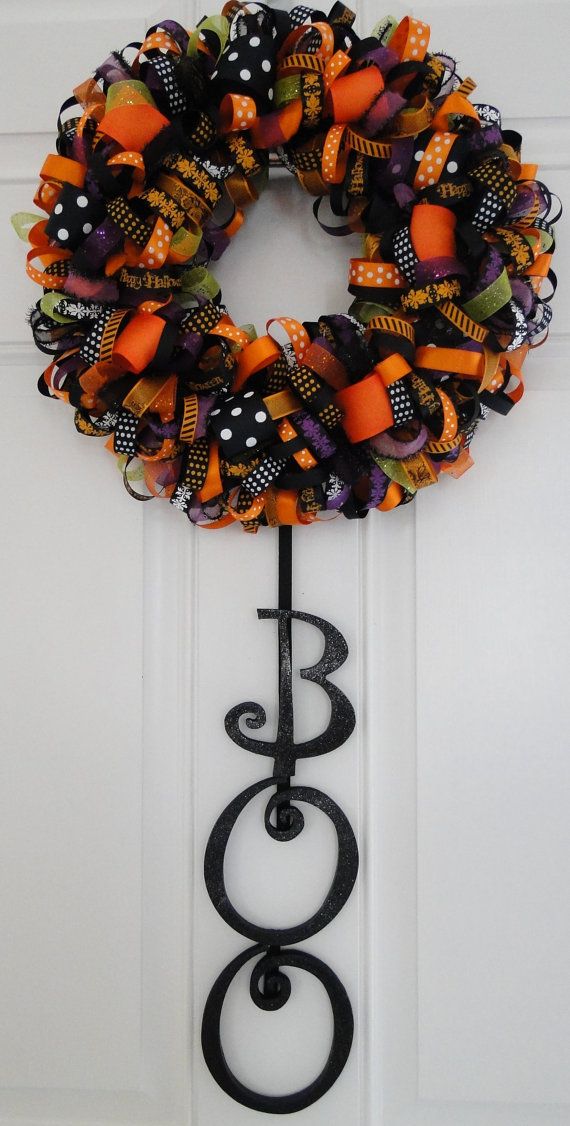 Quite a number of wreaths on this list. However, this is all ribbon. The ribbon is looped and glued on the wreath. Various patterns can be used – polka dots, glitter, solid colors, sheer, and even stripes are all fair game on this craft. Once the ribbon is full and fluffed to your liking, a sign can be added. It can say "boo", "Happy Halloween", or even "wicked". It's all up to you, and there are a lot of ways this could go. It could even steer away from the Halloween theme and be a character-themed wreath.
43. Halloween Skeleton Door Wreath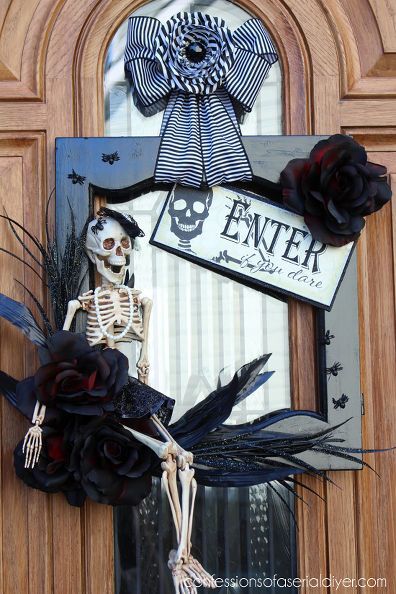 Mirrors can be a fun addition to Halloween themed decorations. A frame from the thrift shop can be used. A miniature skeleton is on one corner with a small bouquet of fake flowers. Wide ribbon is used to hang the mirror. A sign that says "enter if you dare" is optional, as is the other flower. However, the craft is so simple, and so easy to put up. For the extra mile, small plastic spiders can be added to the frame to give the impression of being invaded by the creatures.
44. Hand It to Mummy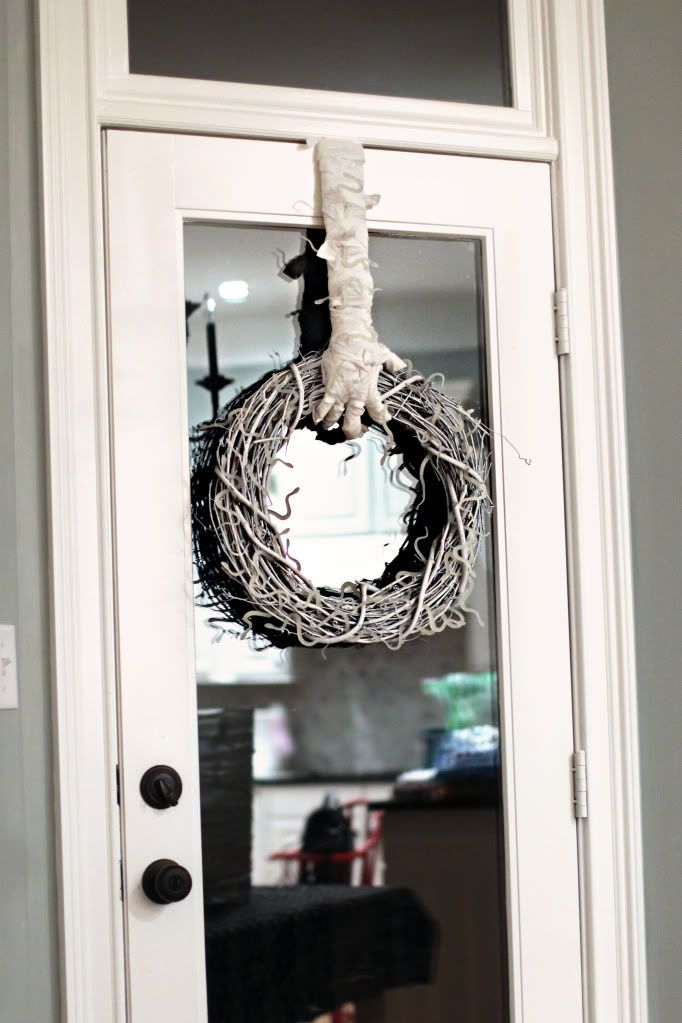 A skeleton hand is wrapped in toilet paper for this craft. That's the easy part. Securing the hand to a wreath, that's a little more difficult. Once that's done, however, add a hook to the hand and voila. The mummy hand is now holding a wreath. Your door looks as if it is under siege with this craft, and on a glass door, the effect is more terrifying. Be careful how you present this one if there are many kids in your neighborhood, though – it may give them nightmares.
45. Stuck Finger Halloween Doorbell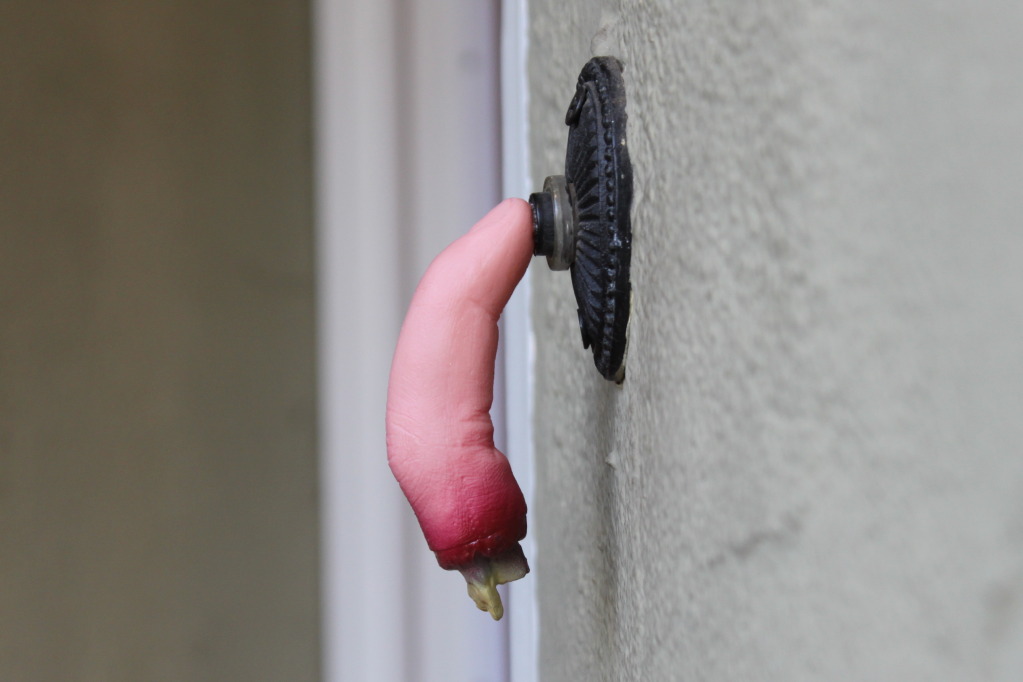 This one might be a little difficult to reverse. The finger can be bought at any Dollar Store, Dollar Tree, Dollar General, or Family Dollar for incredibly cheap. Check other local stores too. Use tape instead of glue to secure the finger to your doorbell. Kids will freak out at this, so no-go in neighborhoods with a lot of kids that will be trick or treating on Halloween night. Or you can take it down before the trick or treating starts. Your call.
46. Funky Witches Garage Door Décor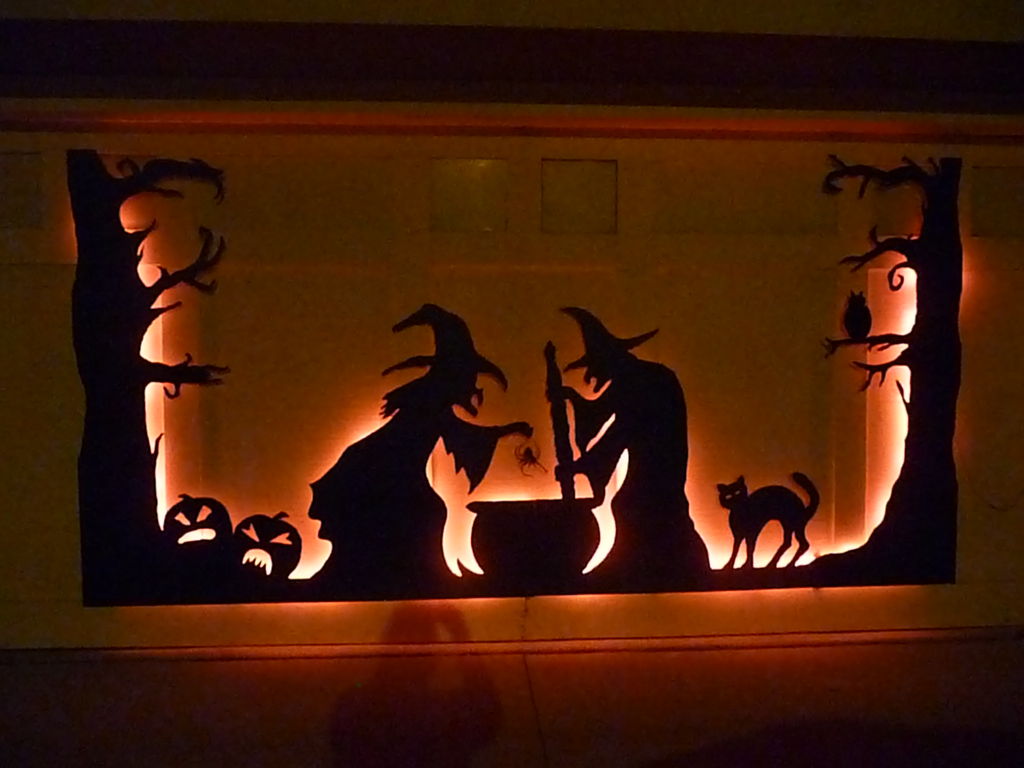 If you have a lot of wood or dark colored foam around, this is a good way to use it. Cut a funky scene out of the foam or wood. Two witches over a boiling pot is a good start. Add pumpkins to one side and a cat to the other for more detail. If you really want to go large, carve trees into each side. One of the witches could be holding a spider or stirring the contents of the cauldron. Owls could be hiding in the tree, or maybe bats are hiding in these various homemade Halloween decorations. Anything is possible at this point, and that should be clear.
47. Monster House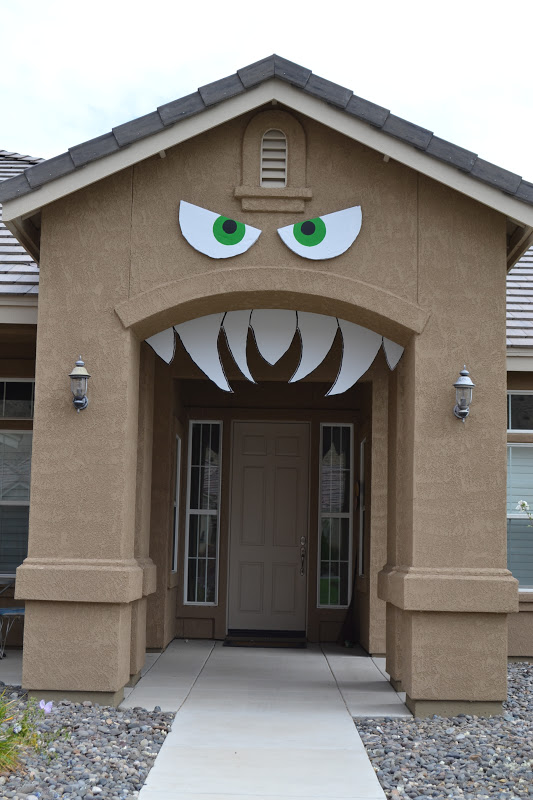 Another variation on the carnivorous house, this craft has sharper teeth. It can be made the same way as the carnivorous house. The eyes, however, are not blood shot on this craft, nor do the teeth have blood on the tips. They could if you really wanted them to, of course. For DIY Halloween decorations, this one sure takes the cake, if you catch the drift here. This craft doesn't even have to be done over the front door – it could be done over the open garage or in a hallway in the house. The possibilities are endless.
48. Skellington Halloween Garage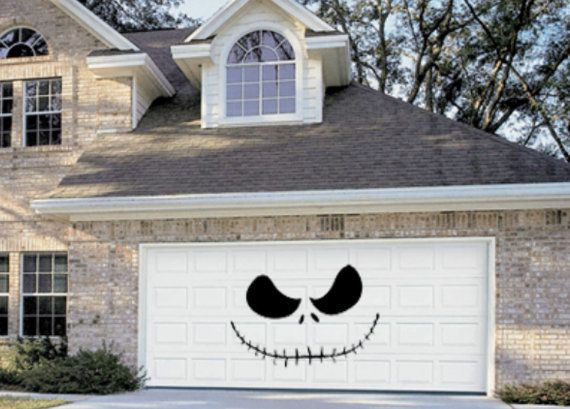 For a truly different take on Halloween decorations, try decorating the garage door. This is another movie inspired piece. The face is none other than that of Jack Skellington, Pumpkin King. Black vinyl or construction paper can easily transform your garage door into the face of this well-known Halloween character. If your garage door is not white, it can also be done on the walls or on a bedroom door that's white. Or you can cover your garage door in white paper and then create the face on top of that. For a particularly scary look, make the smirk and use stitches – just like the real deal.
49. Cat on the Fence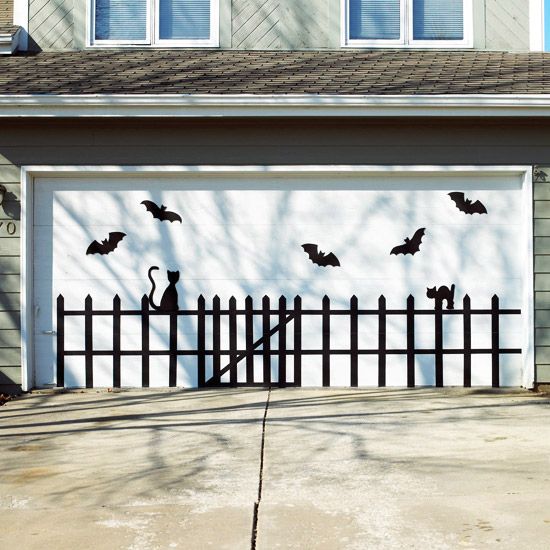 For a garage that doesn't get used a lot, create a black vinyl fence in front of it. Use a bat template to create vinyl or paper bats and stick them on the garage door. Cut out black cats and stick them on top of the fence posts. Voila! There is nothing more satisfying than giving superstitious people something to laugh about since there is no way to cross direct paths with these cute black cats in these Halloween house decorations. The bats can look as if they were flying in any direction, and boy are there plenty of places for them to go on Halloween night.
50. Another Monstrous Garage Door for Halloween!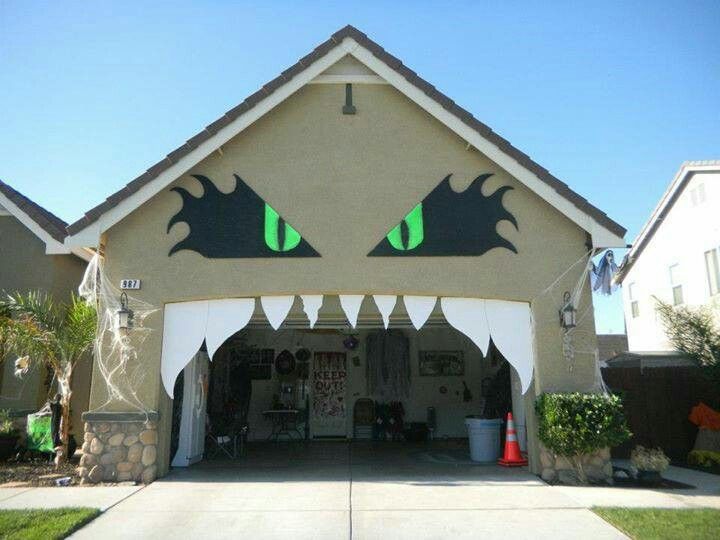 This monster house sure is popular. For another twist on the look, put it over the garage door. The eyes can be narrowed and have flaming points at the ends. Using neon colors for the corneas of the eyes is a way to create the mad eyes of a hungry monster. Creating teeth out of white construction paper or painting wood white, it can create the mouth of a hungry monster that is ready to devour anything that it comes across. Whether the teeth are long, pointy, short, or dull, this monster house is ready to get eating the Halloween candy!
51. Creative Ghostly Halloween Porch Decoration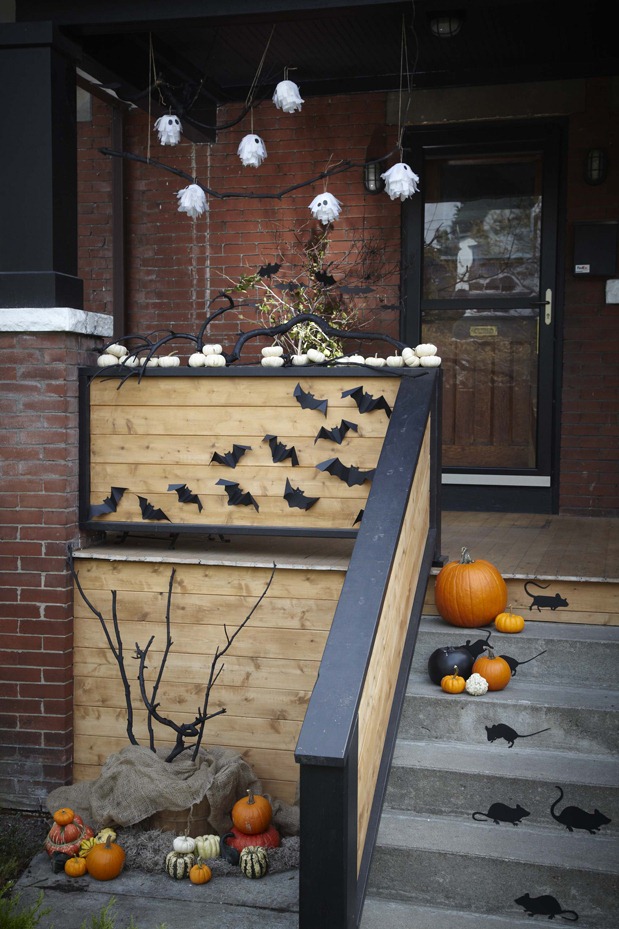 Ghosts are an easy thing to make by yourself. White fabric, yarn, and Styrofoam balls are all you need. Wrap the fabric around the ball to create a fluffy tail under it and tie it off with yarn. Front door decoration is important, but it doesn't have to stop at the door. Bats can easily cover both the porch and the door, and ghosts can be added for that extra mile. If there are oddly twisted branches in your yard, spray paint them a funky color or black and then put them in a container. Any kind of container will do.
52. The Great Candy Pumpkin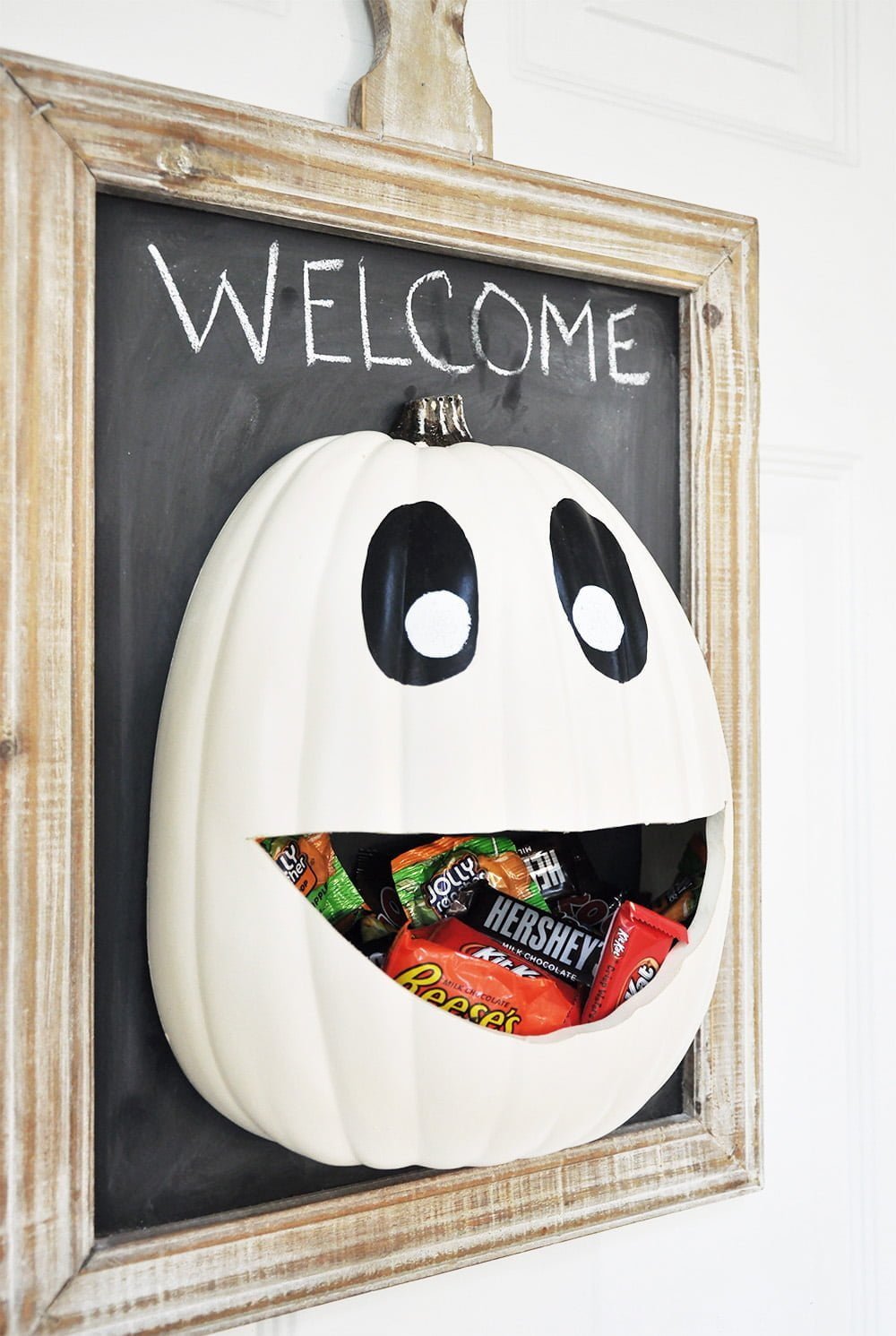 Not going to be home this year for Halloween? Don't worry about it! Fill this pumpkin's mouth full of candy for trick-or-treaters. And since this smiling pumpkin is attached to a chalkboard, you can leave a short note welcoming the neighborhood kids to enjoy a piece of delicious candy. Before decorating, use a wood burning tool with razor attachment to cut out a wide mouth for candy-stuffing. Use craft paint to design eyes, eye balls, eye brows and a nose, if you wish. Hang on your door, fill with a variety of candy and let the kids do the rest!
More Halloween door décor ideas on the next page…