Something old, something new, something borrowed, something blue is often heard in regards to weddings, but it's also true for the amazing finds you'll discover at the best antique stores without leaving the comfort of your own home. The richness in vintage style without the hassle of the hunt is what you'll enjoy about this collection of highly notable best places to buy vintage furniture online, as well as accessories, lighting, and rugs. Any appreciator of antiques will be happy to stumble upon the antique furniture online shop opportunities found here. There's something for everyone from accessories to lighting and furniture.
15 Antique Stores where You Can Find Your New Favorite Pieces

1. Ruby Lane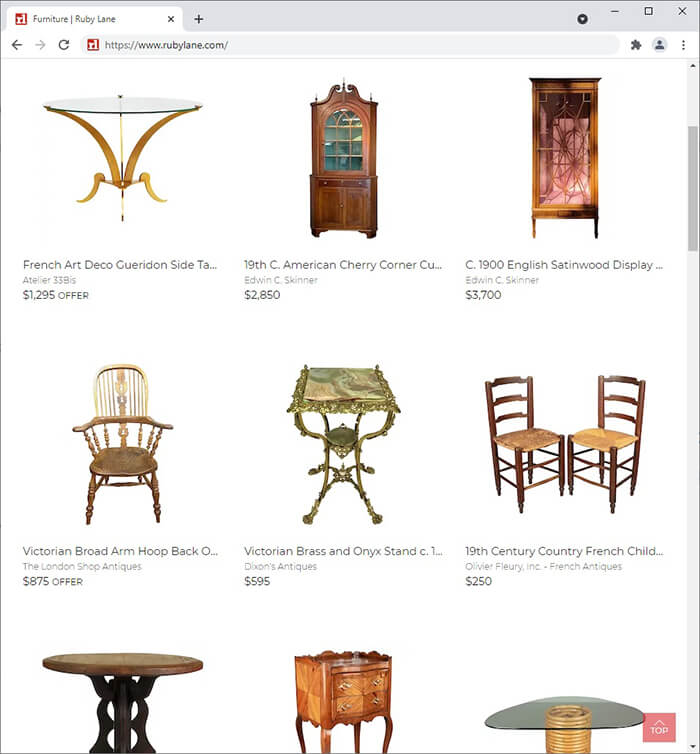 See store: rubylane.com
Porcelain, pottery, pretty jewelry, and vintage furniture are what you'll uncover on your quest at the antique store online known as Ruby Lane. At the comfort of your fingertips, Ruby Lane offers a hub for browsing, buying, and selling amazing antique and vintage pieces. From heirloom-quality pottery pieces to ornate estate jewelry, you'll find unique items to add to your home along with accessories for personal wear. A bonus to this amazing online shop is the ever-changing inventory line-up. Organized in an easy-to-navigate format, you'll notice both designated areas for recent arrivals listed as "this week's" and "today's." To increase the convenience of navigating this online center for all things vintage, you can filter your price, color, and the like to make more efficient use of your search. No matter if you are in the market to buy or sell such pieces, this is your go-to destination for making it happen.
2. Chairish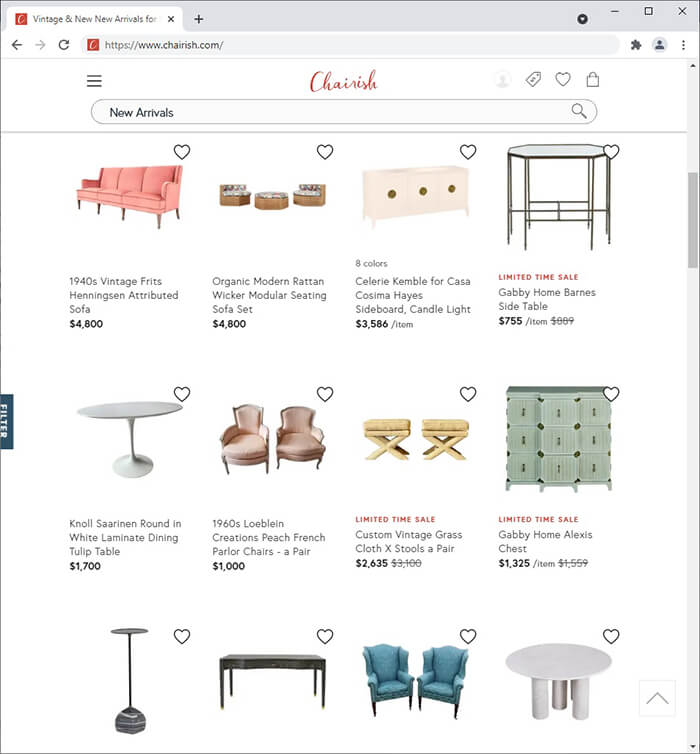 See store: chairish.com
Touted with awards for "Best Place to Shop Online for Furniture and Home Decor," Chairish is the premier destination for second chances when it comes to second-hand furnishings. Anything you need to decorate your home can be found here from rugs and mirrors to furniture and lighting. This stylish and vintage emporium will empower you to curate the home of which you've always dreamed! Or if you need to dispose of a few antique pieces, Chairish offers a place for sellers as well. The premise of the site is simply to give decorators a break from boring beige. Modern sustainability is the foundation as 85 percent of inventory is vintage. With featured collections and carefully curated items, you'll enjoy decorating like never before as you find the perfect piece(s) to fit your personality and space.
3. Omero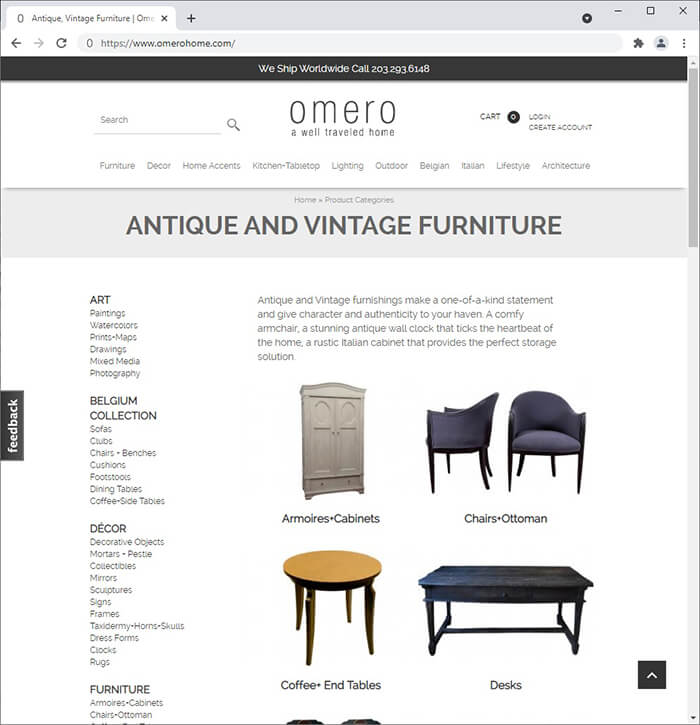 See store: omerohome.com
Create your "well-traveled home" with the stunning globe-trotting curation found at Omero. Priding themselves on sourcing original and unique furniture and home decorations are at the forefront of the company's vision. When so much of interior design is found in mass production, it only stands to reason that a market should be readily available for those seeking one-of-a-kind items to easily infuse their personality into their interior design. Some interesting finds at Omero include a vintage Fiat as well as architectural flooring. You'll be pleasantly surprised at the abundance of amazing discoveries that have been hand-selected for your shopping pleasure.
4. Rejuvenation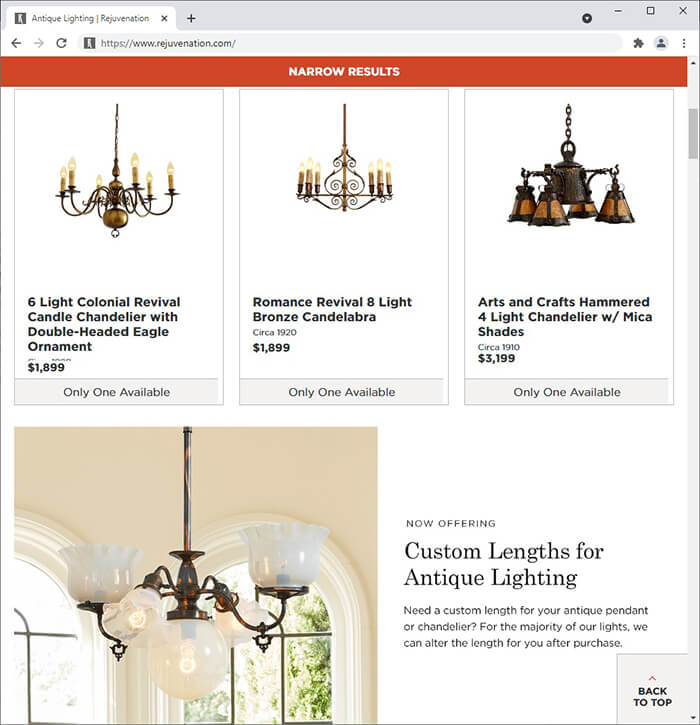 See store: rejuvenation.com
Just as the name implies, Rejuvenation gives a second life to tired and worn lighting fixtures that still have a lot of sparkle under that dull exterior. If searching for that perfect vintage light is the goal, you'll be happy with the wide selection here. And there's more to love with the site's gorgeous new items with careful construction to old-world style and charm. You'll enjoy the 1940's glow set off in a French industrial fixture. With a few purchases, you'll create the master kitchen or bath reminiscent of those found on the pages of your favorite magazine.
5. Rehab Vintage Interiors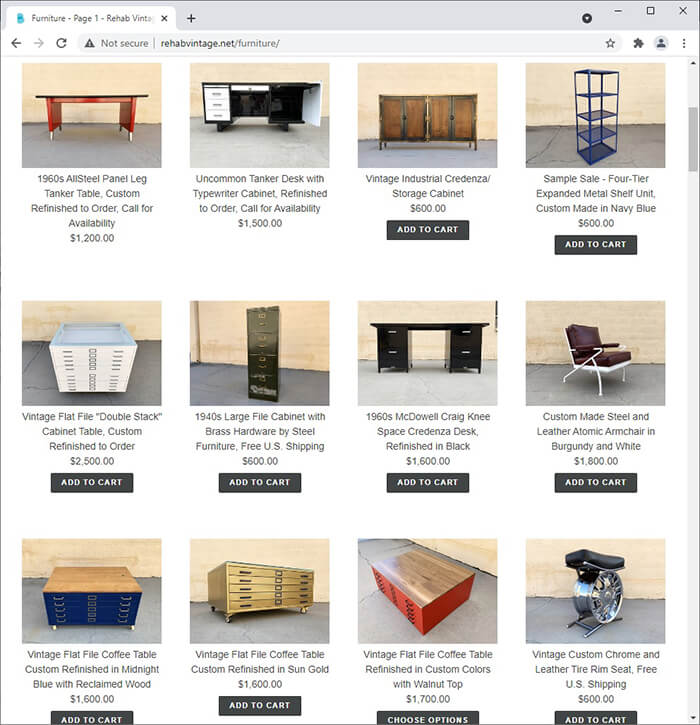 See store: rehabvintage.net
Deciding on whether or not to hang on to an old and worn metal cabinet? Check out the amazing opportunities for your vintage piece that can be remastered by Rehab Vintage Interiors. The finished look is anything but dated. You'll do a double-take when you see the incredible industrial and mid-century pieces that become modern works of art as essential home furnishings. From an old locker cubby to a large metal desk, the care and attention-to-detail in each project are visible in the polished final product. They offer more than rehabilitated furniture too with their oddities including artwork and accessories, everyone will find something they love for decorating the office or home space.
6. Modern Antiquarian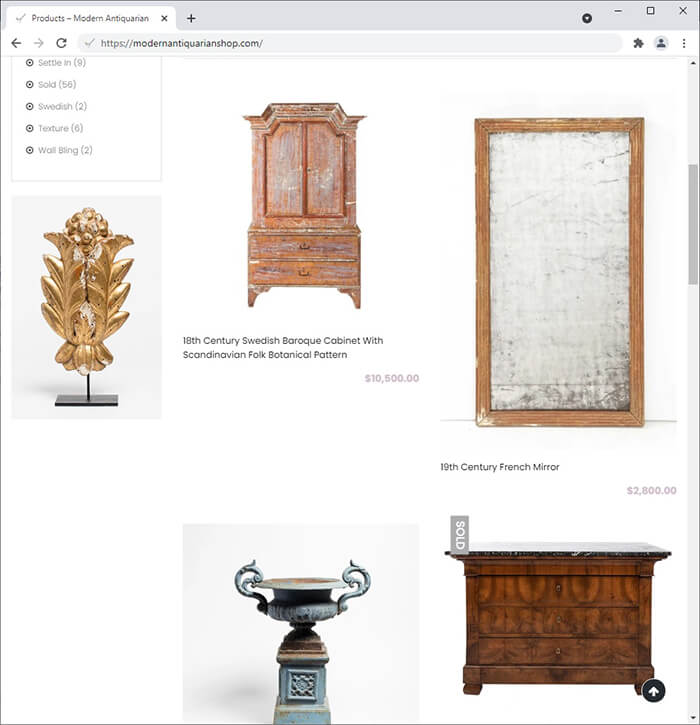 See store: modernantiquarianshop.com
The state of Connecticut brings Modern Antiquarian for the design world's viewing pleasure. Filled with highly-desired items that have been thoughtfully and delicately discovered and added to the collection, the dynamic duo of Margaret Schwartz and Kelly Maguire highlights the importance of intentional design throughout your home. Loving the space you live in is a foundation in forming a sanctuary that showcases your original personality and passion. Collaborating with six respective leaders in the best antique stores online market, finding their coveted look is easy. It's fun to gain access to intriguing pieces from the 18th and 19th centuries and transition them into new additions to your family's home.
7. Tara Shaw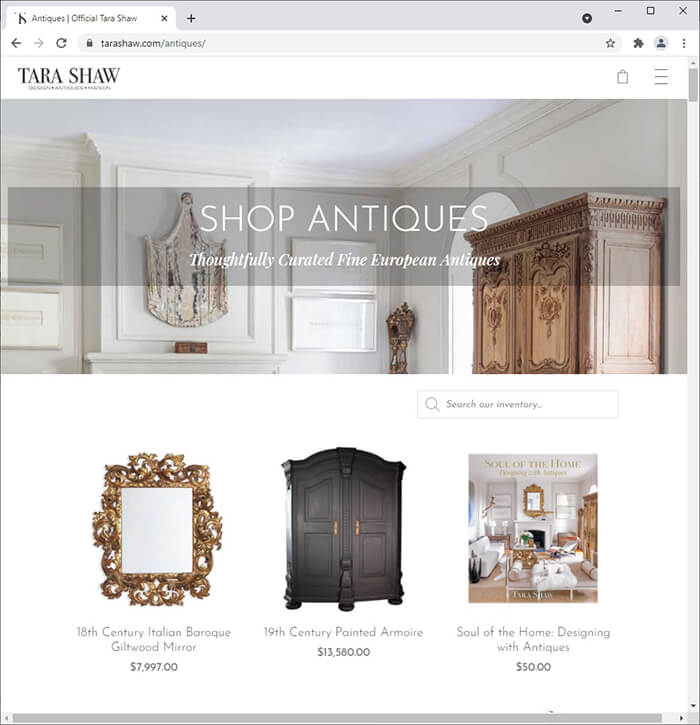 See store: tarashaw.com
Let the centuries of the past speak to your soul as you infuse your spirit into your interior design with the help of Tara Shaw. Classic antiques with European flair are the cat's meow at this renowned design curator for styling your perfect home. Shaw nods to the home as the visualization of the soul and desires for everyone to exhibit their uniqueness for the world to see. From traditional vintage planters to large armoires, there is something for everyone regardless if you are decorating a small, large, interior, or exterior space. In addition to discovering precious pieces, Tara Shaw lends a hand to staging homes and assisting you in your layout and design plan. Choosing the pieces is half the fun- arranging them is the rest!
8. Mid Century Mobler
See store: midcenturymobler.com
Mixing the worlds of vintage and new production, Mid Century Mobler delivers the custom look you crave. From seating and storage to tables and lighting, this is one of the best places to buy vintage furniture online. Everyone deserves a home in which they enjoy living and that feeling begins with furniture that represents your true inner being. Hand-selected European items from the 1950s and 1960s are what this company is all about. You'll enjoy the amazing designs and you'll love the convenience of shopping online with one of the best antique stores for mid-century furniture at your fingertips. If you're near the Berkeley, California area, take the time to peruse their showroom for an up-close and personal look at their gorgeous offerings.
9. Jayson Home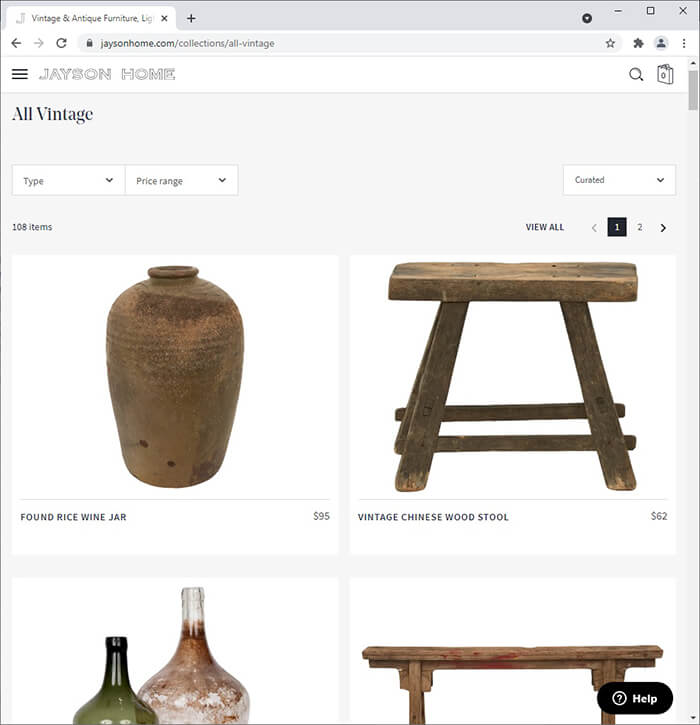 See store: jaysonhome.com
Whether you want something that just looks old or is vintage, you're at the right place when you enter Jayson Home. What's not to adore about their insightful collection of natural materials in their stylish home furnishings? While browsing, you'll find yourself struggling to tell the difference between their new and vintage pieces as the look and feel are strikingly similar. There's something for every room of your home with their fabulous assortment of rugs, accessories, and standard furniture pieces. Finally, you'll be delighted to try out their free design assistance offered by their in-house experts.
10. Bernardi's Antiques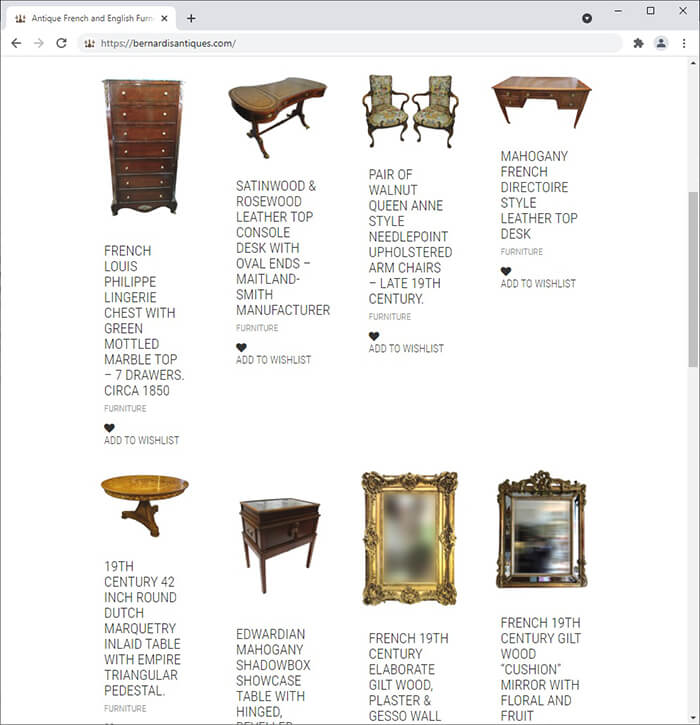 See store: bernardisantiques.com
At Bernardi's Antiques, patrons will see the traditional furniture pieces found in almost every antique furniture online shop, but they might be surprised by the inclusion of silver sets, crystal, and glass pieces. Housed in Canada, this store ships worldwide, and pricing can be set to U. S. dollars with a click of the mouse. Another department that sets them apart from the crowd is their presence of figurines. Anything your heart desires from religious statues to miniature versions of fido, there is a charming figurine to add to your collection or wrap as a wonderful gift for a friend. Even if you're searching for something to give that person who has it all, check out their stunning opera glasses that are certain to be as unique as the recipient him/herself! Offering a nice arrangement of writing desks, you can work from home in style by giving your home office a much-deserved upgrade as you peruse and discover one of the best places to buy vintage furniture online.
11. Live Auctioneers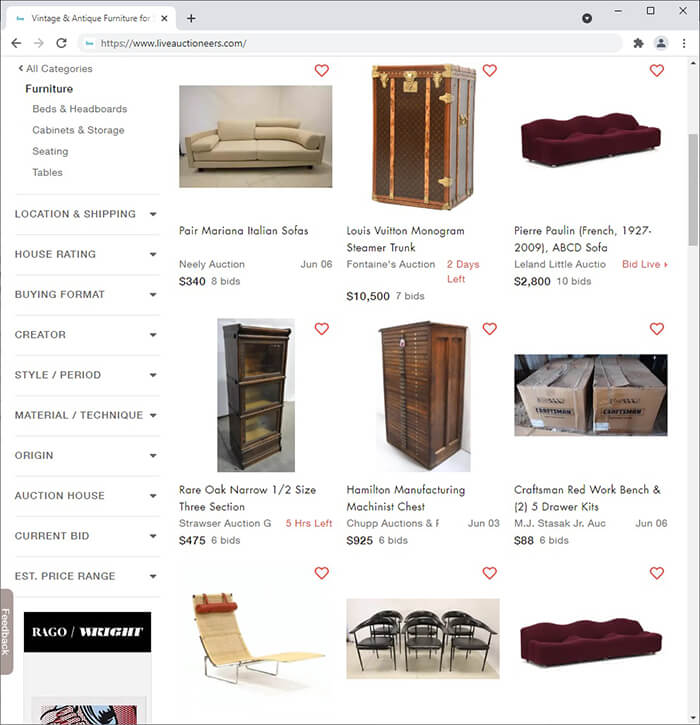 See store: liveauctioneers.com
As you search for an online hub of vintage and antique items, you can't forget the opportunities on the auction block! As a website selling antique furniture, patrons will be intrigued by Live Auctioneers' unbelievable sports memorabilia section. Classic baseball cards from legends like Mickey Mantle as well as stadium seats and World Series press pins are just a few of the unique and interesting discoveries you'll uncover. Since it's all in the format of bids, it's more important than ever to keep up with the timeline when the auction goes live. Browse the art, jewelry, coins, and collectibles from the comfort of home and miss the crowd as you do your homework on the items that catch your eye! What makes Live Auctioneers one of the best antique stores online is their revolving selection and enticing auctioneer format. Happy bidding!
12. Antiques on 48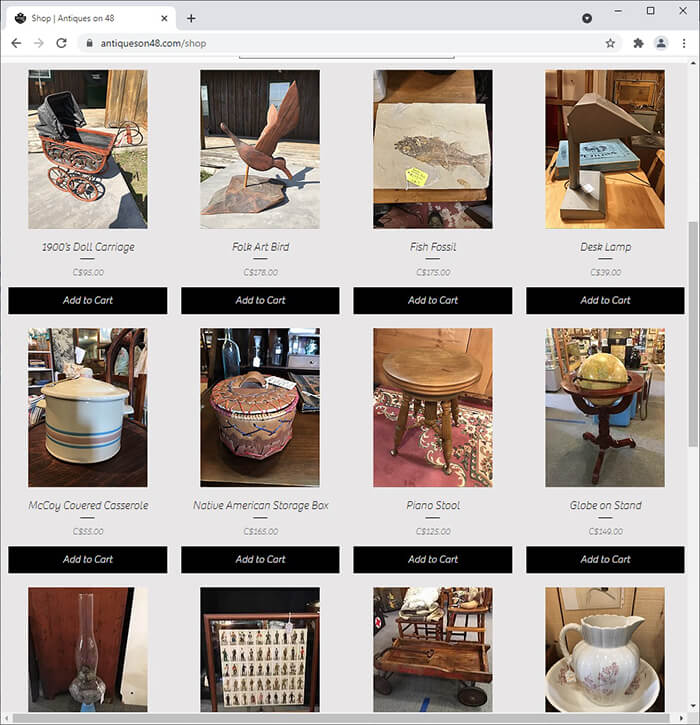 See store: antiqueson48.com
Impress your friends with the great finds from this fabulous website selling antique furniture as well as gizmos and gadgets! Your tech-savvy circle will enjoy feasting their eyes on the likes of such novelties as an inclinometer and microtone hearing aid. You'll marvel at the advancements and appreciate the early vintage beginnings. For those who can't wait until December, a nice Christmas collection is available to utilize as a special nook for housing one-of-a-kind ornaments and decorations certain to set your winter scene apart from the others. Desk lamps, fossils, and doll carriages are just a few of the great options you'll find at one of Ontario's most popular antique furniture online shops that have a little bit of everything nestled under one roof.
13. Waterford Antique Market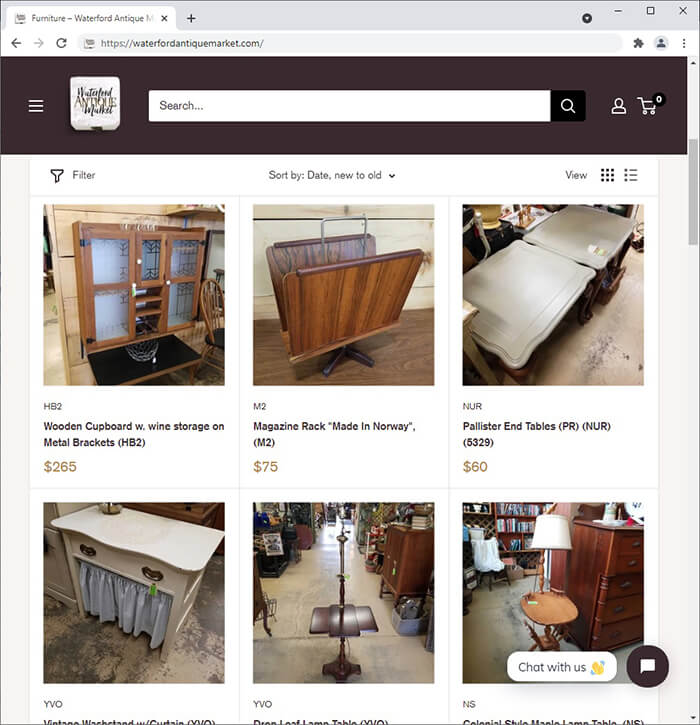 See store: waterfordantiquemarket.com
Perhaps one of the best parts of Waterford Antique Market is the enormous variety in merchandise. When most places focus on furniture and dressings for the home, here you can find that alongside completely one-of-a-kind departments like tools, mobility, and medical. You'll quickly notice this isn't merely a website selling antique furniture. Pay your respects to the past as you bring home a piece of nostalgia to accentuate your home. For the grandfather who has it all, this might pique his interest when he unwraps such a long-lost piece from the memory bank. To make your shopping experience even easier, they've labeled sections for vintage decor, as well as rare and collectible to lend you a hand in narrowing your search for the perfect gift.
14. M.S. Rau Antiques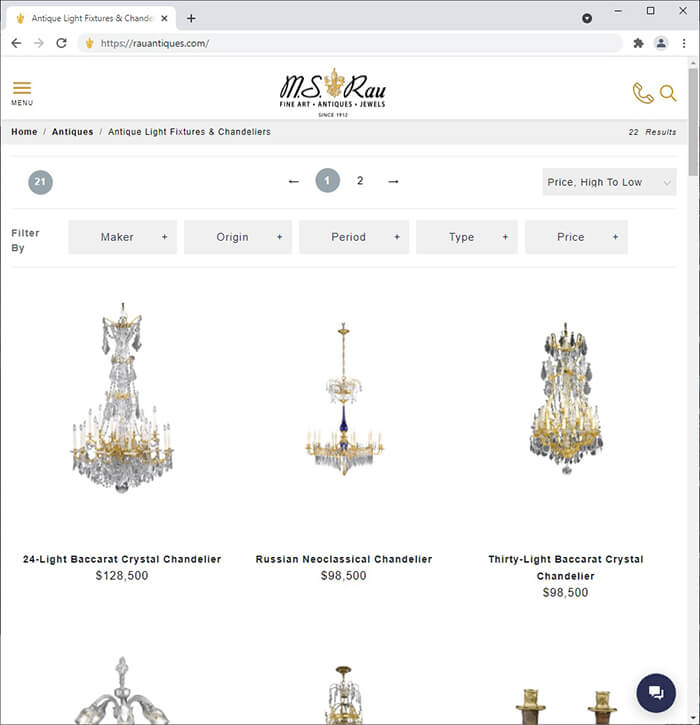 See store: rauantiques.com
From the third generation Rau leader, M.S. Rau Antiques continues to lead the pack in terms of rare pieces spanning the 16th to 21st centuries. Imported original works of art are a staple of this company and partly the reason high-end clients remain satisfied. If you're looking for great quality and important jewelry, art, furniture, and most things vintage, you've found the hidden gem! Dating back to 1912, such treasures continue to be discovered and now can be enjoyed in the modern-day 40,000 square foot showroom. Impeccable taste and unmatched pieces make M.S. Rau Antiques a destination for the consummate antique lover with a high-end budget. Satisfied customers are willing to pay the price to acquire such priceless purchases to accent their living quarters.
15. Olde Good Things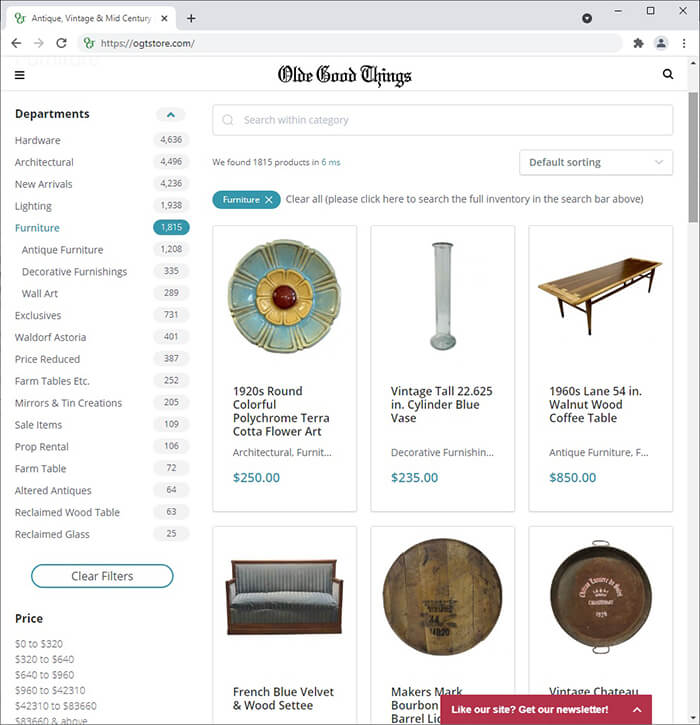 See store: ogtstore.com
With an ever-changing inventory, decorators and architects alike are chomping at the bit to see the next splendid salvage sensation from Olde Good Things. With two large warehouses in Scranton, Pennsylvania, and storefronts in California and New York City, this company began as a square flea market booth space. Now, they continue to amaze antique lovers around the world with their knack for acquiring salvaged paraphernalia from old buildings of the pre-depression era. A special feature of Olde Good Things is the repurposed items created from reclaimed materials. Salvaging is step one, then the expert team moves on to transitioning the sturdy goods into aesthetically pleasing products which is just one reason making this one of the best antique stores.
Find Your Favorite Antique Pieces in these 15 Stores
Curating a home you love to live in can take a lifetime to achieve, but with the help of these amazing best antique stores, some of the work has already been completed. It doesn't matter how deep your pockets are, you're certain to find intriguing acquisitions on every level. Perhaps you're searching for a one-of-a-kind gift for that hard-to-buy-for person, or you're simply adding to the personality of your home. No matter the reason, these best antique stores will deliver and push you to reach your goal. A small accessory or vintage lighting fixture can create quite a buzz in much the same manner as an oversized piece of antique furniture. Make your list, then head over to these incredibly curated collections and find that special something that speaks to your soul!