24. Backyard Ideas for Renters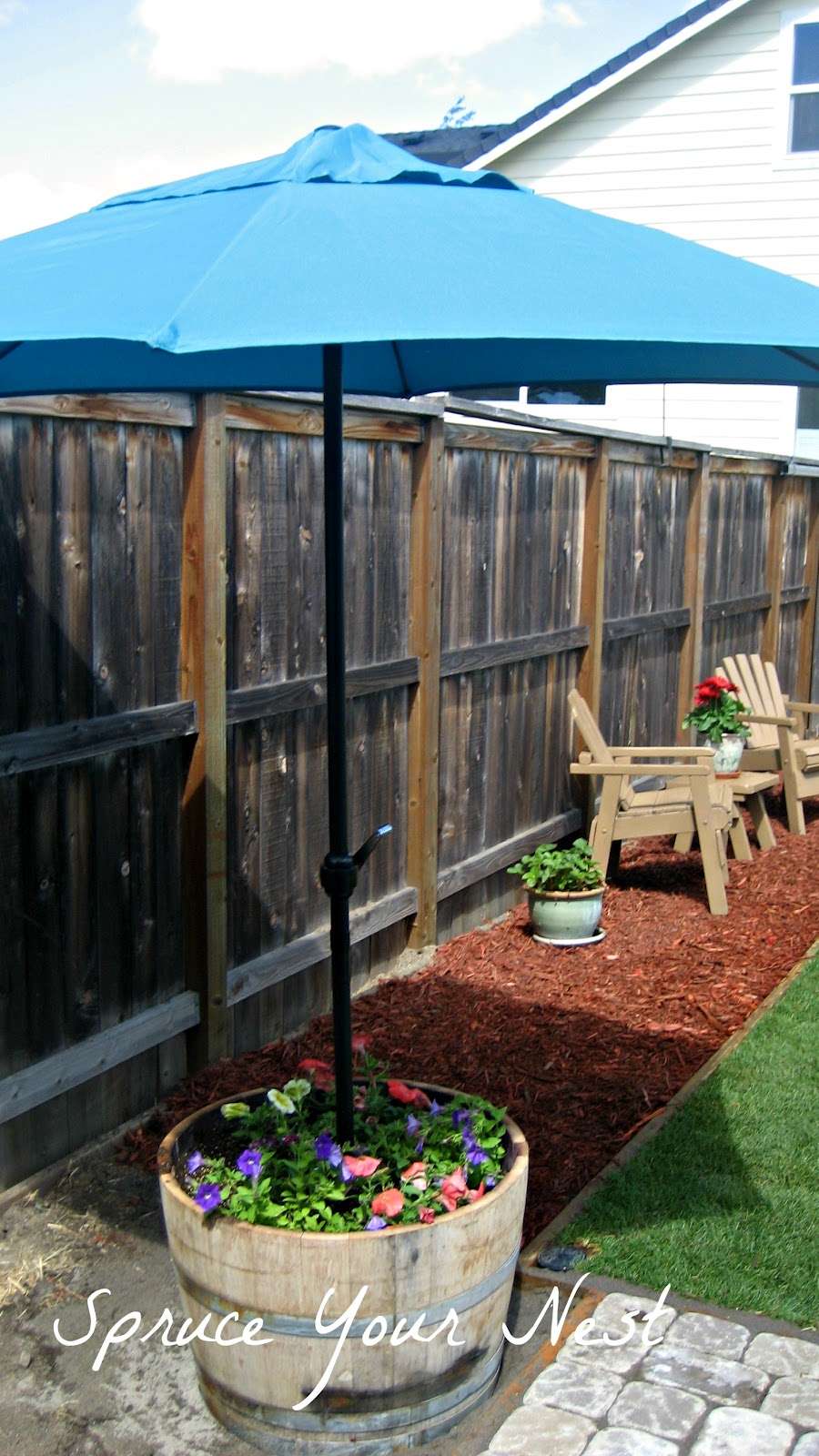 When you're renting a place, you don't always have the ability to dig right in and create your own space. You have to stick with the home design you're given. However, an idea like this one can be inexpensive and won't bother the landlord. Simply pick up a table umbrella – you can sometimes find these at thrift stores – and secure it in a barrel full of flowers. Instant shade with a creative look. By placing the chairs and tables in the mulched area, you won't have to worry about damaging the lawn.
25. Garden of the Gods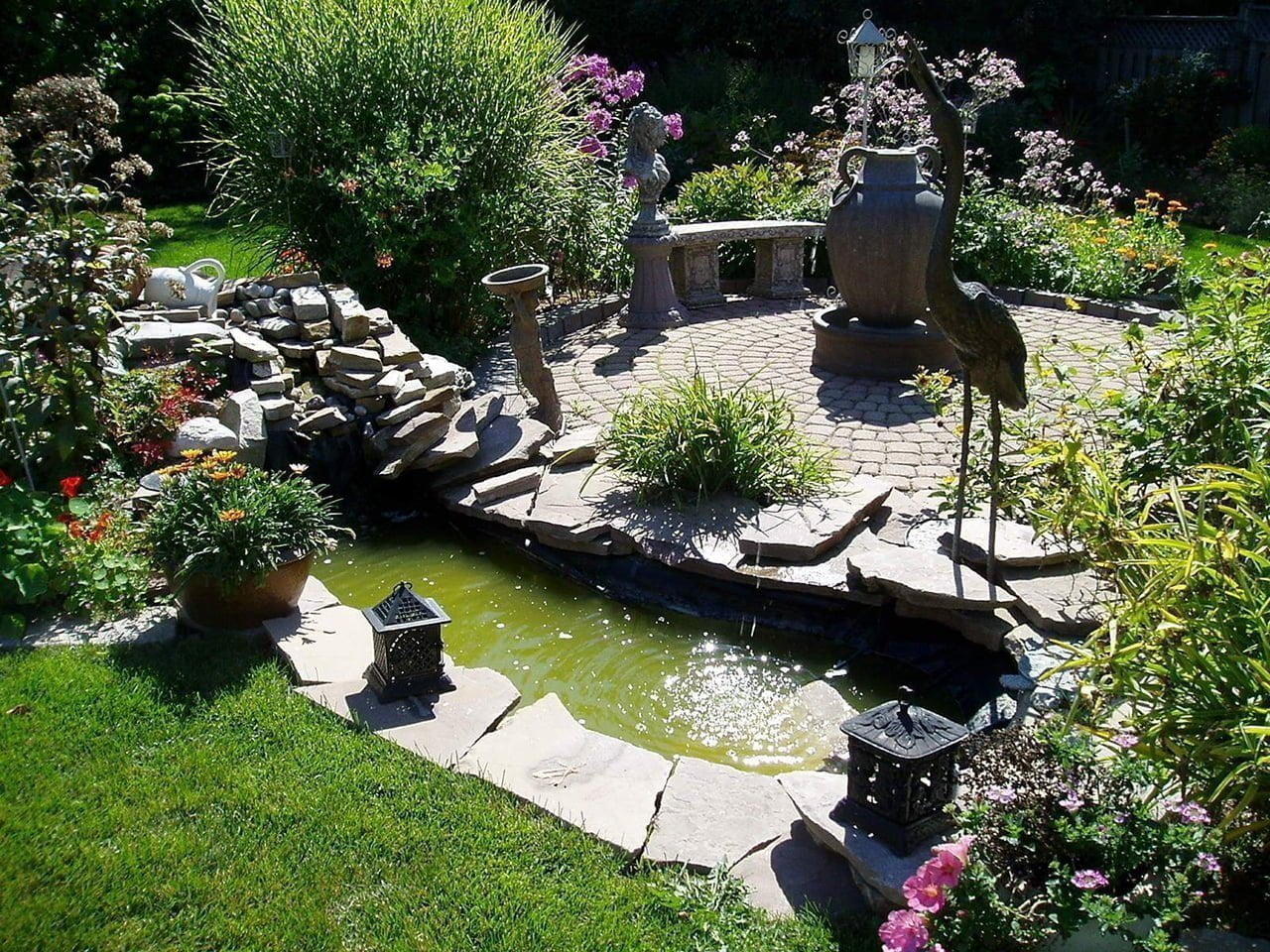 This gorgeous garden design looks as though it could satisfy the gods. A small pond area with waterfall provides a relaxing sound that's perfect for meditation. The statuary around the area give this idea a Greek feel. Throughout the space, you'll find a wide variety of flowers and plants, which helps keep you interested as you look around. Some plants are low to the ground, while others burst joyously upward. Intricate lanterns will give you light after the sun goes down, and the designs will cast unique shadows throughout the garden. This area is serves as a great retreat when you need a bit of solitude, but could also provide a good setting for catching up with an old friend.
26. Country Garden for a Country Cottage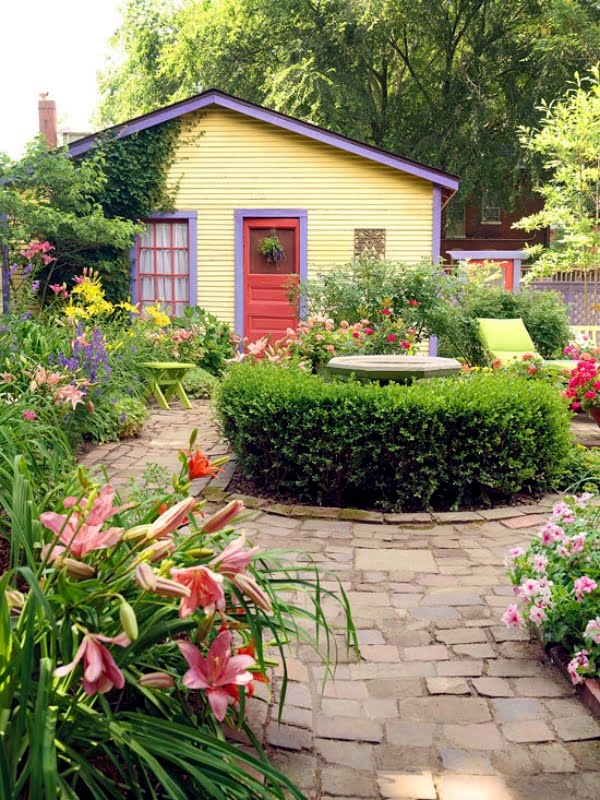 This home might not be set in the country, but you wouldn't know that from stepping into the garden. The homeowner uses unique coloring in the home itself, then extends these colors out into the garden with flowers that match the home. The stone patio gives it a rustic feel, but is also convenient because it means that you won't have to worry about lawn care. The green in this backyard comes solely from the landscape design.
27. Cute Pathway Idea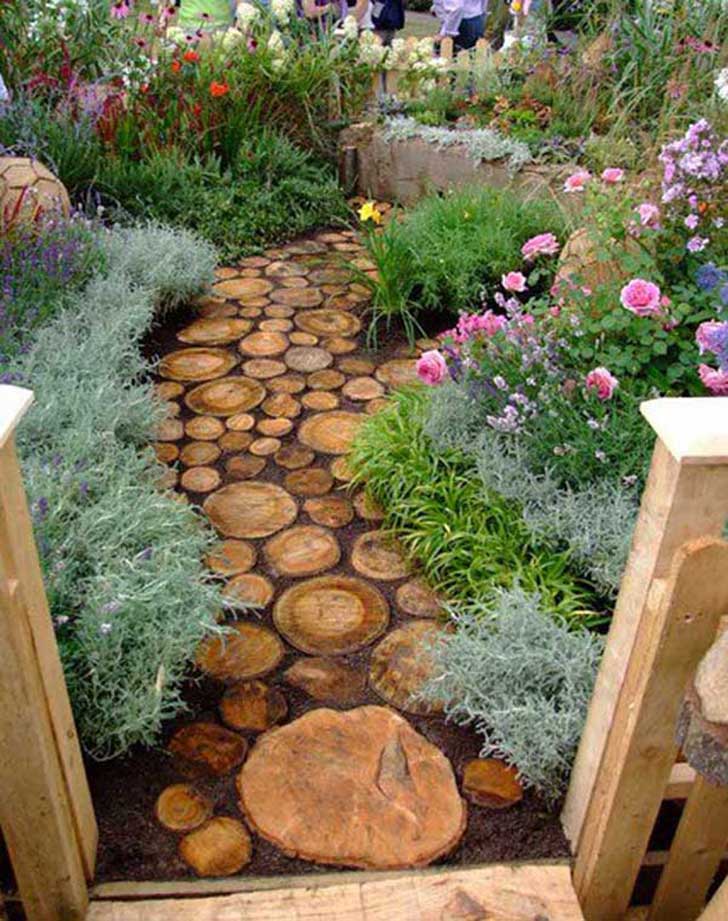 The pathway winding through this landscape design recycles logs of wood in a creative way. Use up wood from a tree you've cut down or ask for a few logs when someone in the neighborhood cuts one down. What makes this look really nice is using different sizes of cut pieces, so try to choose some logs from different parts of the tree. When you're going to use an idea like this, though, you need to remember that the wood needs to be treated with a sealant. If you simply place them in the ground as-is, it will only look good for a few years, then the wood will start to rot.
28. Or Try This Path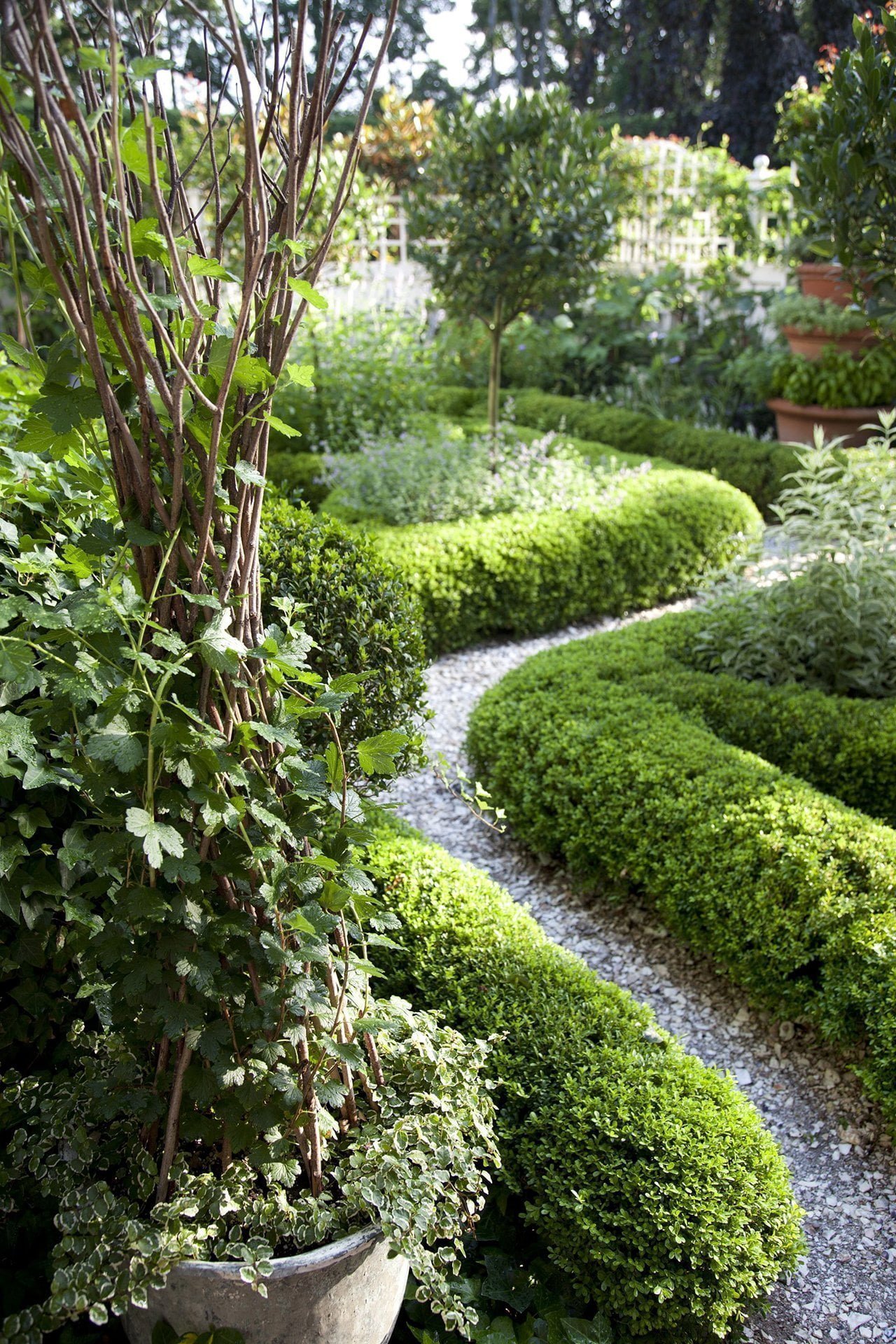 In this backyard landscaping idea, the path itself is defined by the way the homeowner has placed the curving bushes. These are low to the ground and easy to maintain. Rather than working on an intricate pathway, though, they've chosen to simply fill the path up with small pebbles. This will naturally prevent any weeds from growing and will continue to look great year after year. This look is perfect for anyone looking for backyard design ideas that resemble a maze on the castle grounds. Kids will love running up and down the path and it makes for a nice morning stroll as well.
29. Lighted Waterfall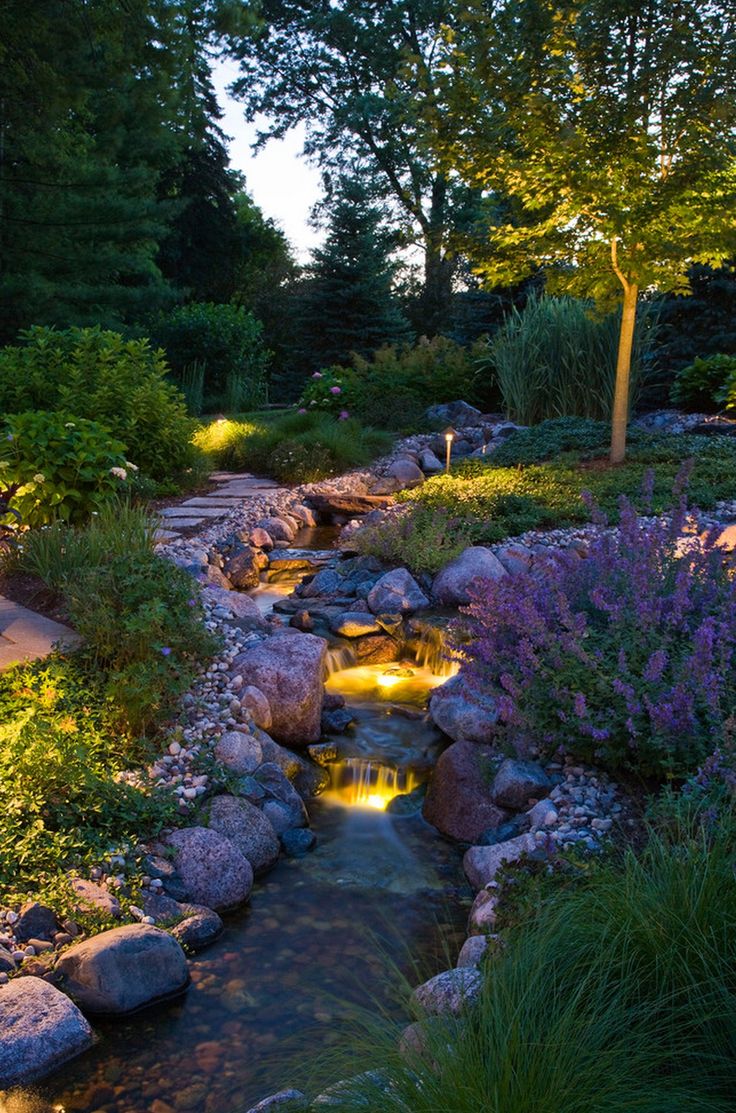 Coming up with backyard ideas for a yard that has a slope can be a challenge. Mowing hilly areas is difficult or dangerous, so consider ideas that do not require mowing, like this flowing stream that goes throughout this space. The homeowner here has created a very interesting look by lighting up a few of the little waterfalls. When the sun goes down, these lighted areas look magical, as though it's the light itself flowing through the river. Even if you don't want a river running through your yard, you could make use of the idea of lighting up plants to add some interest to the space.
30. Unique Vines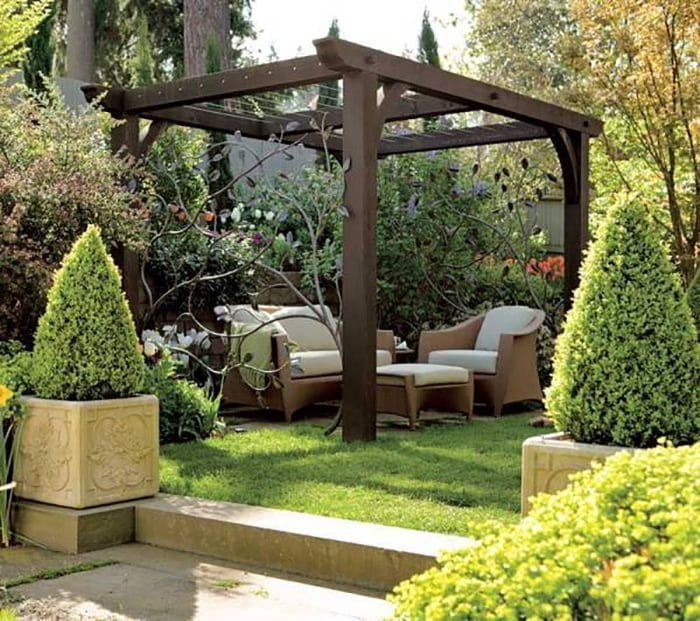 Pergolas are a great way to set aside a little nook for sitting. Many people love to train vines of flowers up the poles and over the top, giving some privacy. Unfortunately, it can take several years to create that look. Get it instantly with a pergola like this one, which has faux vines enclosing the space. Putting comfortable seating in this area makes it a nice little retreat from the stone patio area, which would be a better place for eating.
31. Small Patio for Two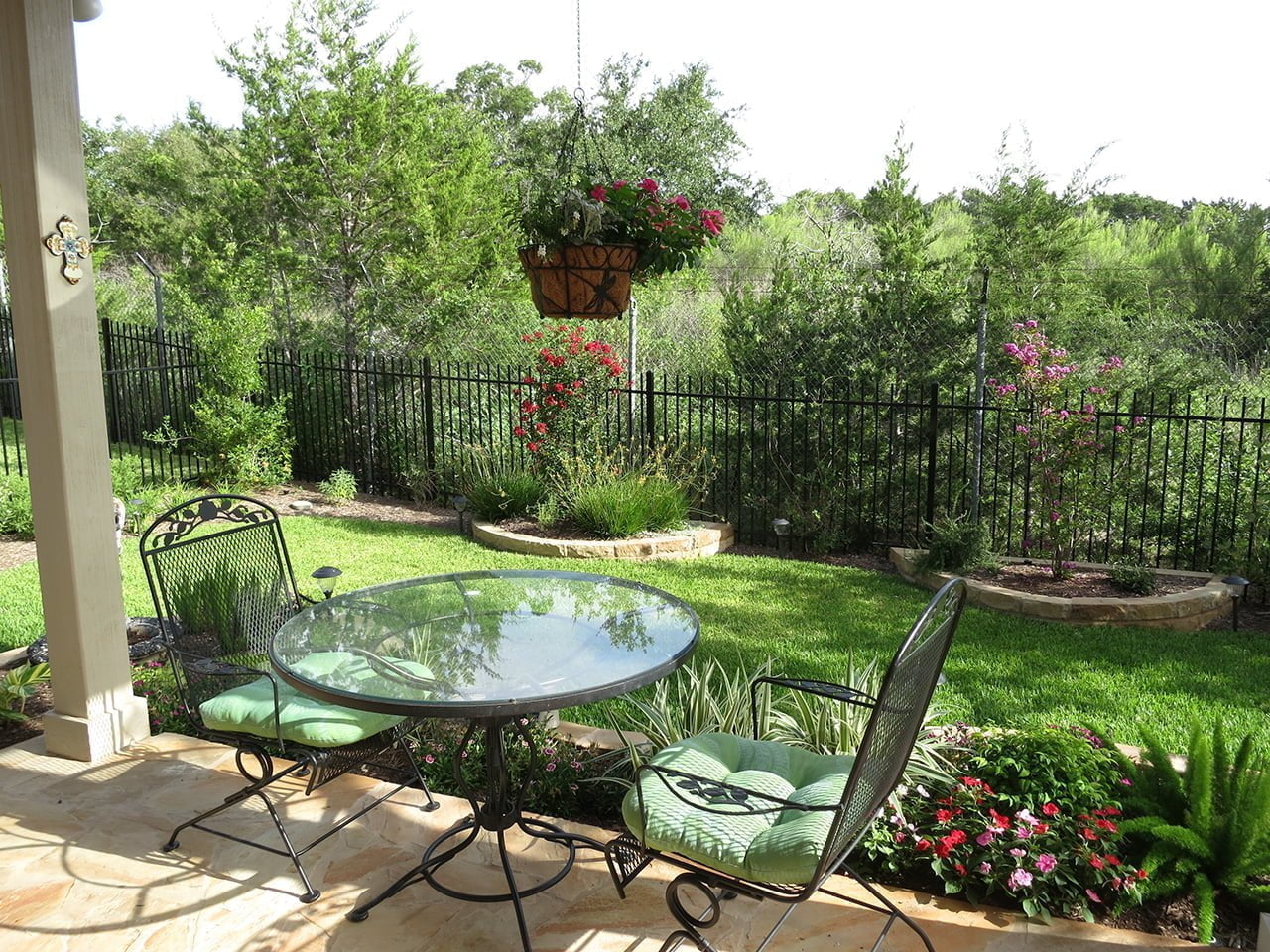 When you live in a townhome or condominium, you often only have a small yard and patio space like this one. You might want to add color, but have difficulty coming up with backyard design ideas that can fit such a small space. Here, the small patio table is perfect for a light breakfast or afternoon tea in the garden. Though the landscaped spaces are fairly small, they're made to feel larger by using flowers and plants that are bushy and take up some space. Hanging planters are another good way to add some flowers to a small place, especially if it's a place you're renting.
32. Inside the Secret Garden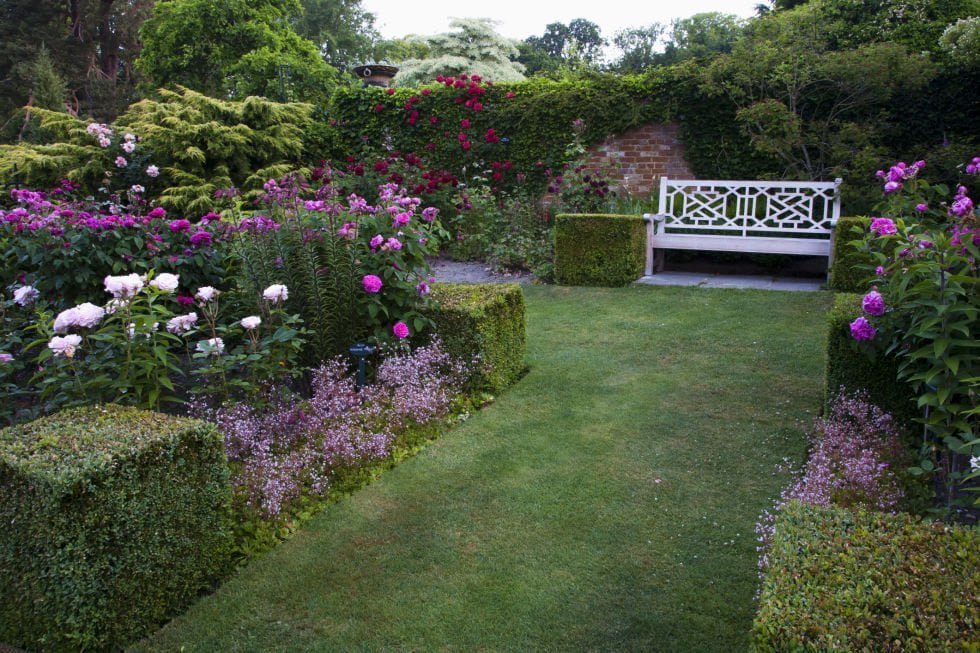 Fans of the book by Fances Hodgson Burnett will find that this is the garden design they've always dreamed of. The brick wall is an unlikely choice in many of today's gardens, but when it becomes covered with vines, it adds an aura of secrecy. The square bushes may look like something out of an old English estate, but they're not as difficult to create as you might think. With a bench for relaxation and plenty of flowers to entice your senses, anyone will love slipping away to their own little secret garden.
More backyard landscaping ideas on the next page…