42. Serenity Garden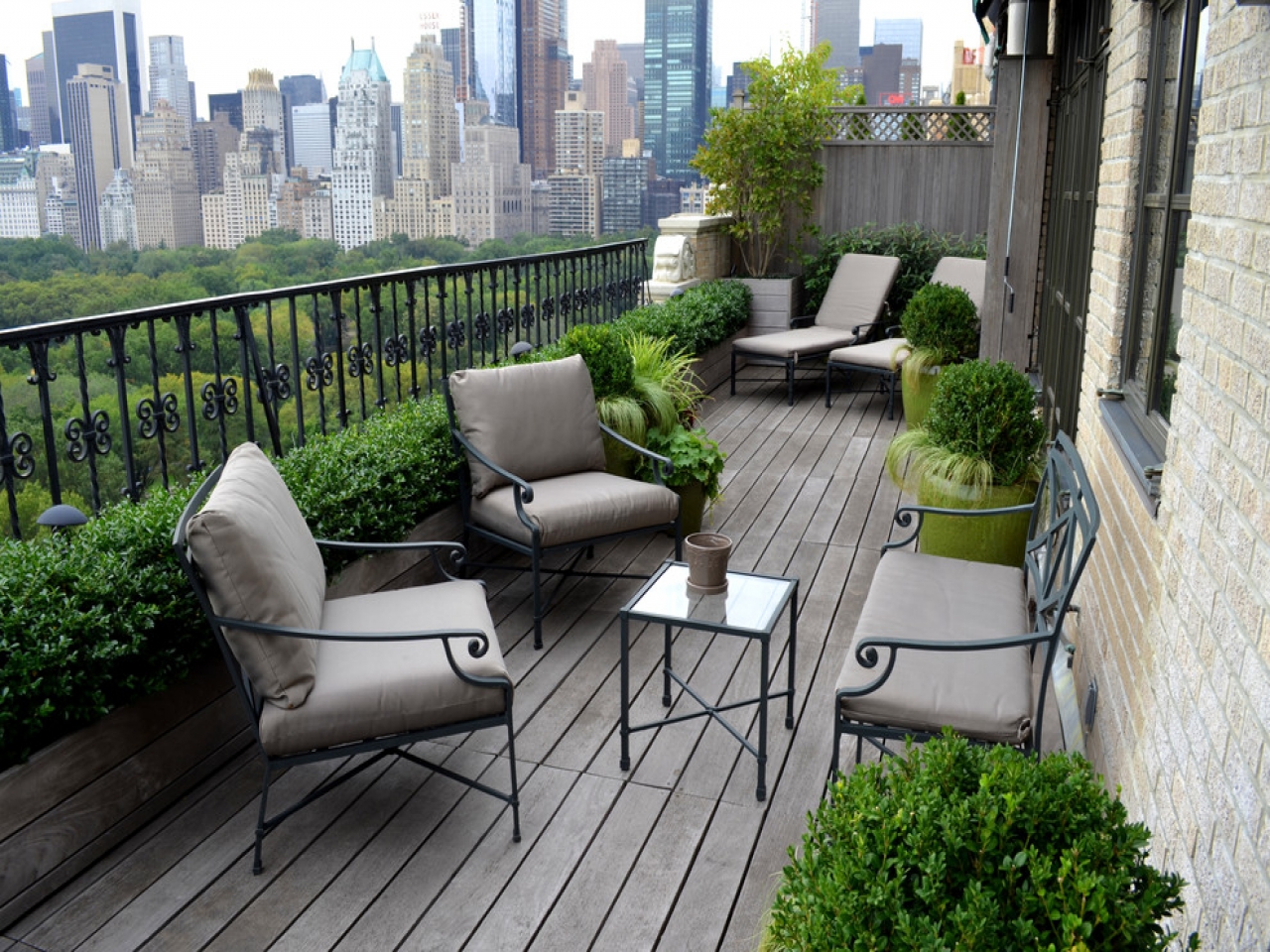 If serenity is what you desire, you may find it with this balcony garden design. Using only greenery allows the space to feel calm by not energizing the senses. This garden has a raised bed running the entire length of the balcony. The boxwood scrubs offer a low maintenance garden while providing a stable feel to this space. One of the key elements of this design is the uniformity throughout. The green planters match as well as the plants. Keeping with the simplistic design, neutral colored chair cushions are used. Solar lights are included for a warm ambiance at night.
43. DIY Hanging Planter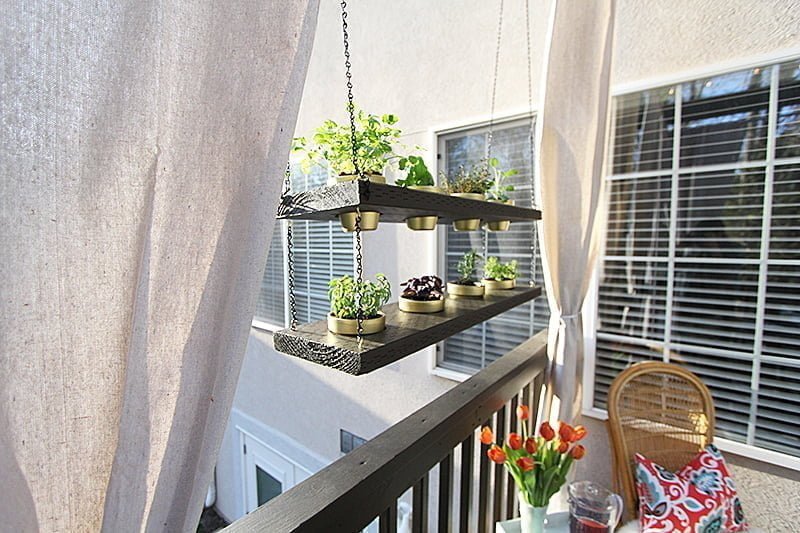 Creativity is alive on this fun balcony. Using painted wooden boards, this creative idea has made gardening space in an unused area. Even the terra cotta pots have been painted. If you are looking for a hanging balcony garden idea, this one is a fairly simple DIY. Eye hooks are used on the wood to hook the chains and hung from the ceiling. Creating this floating shelf system provides more functional space. Another fun idea is to add curtains to your balcony. This can provide privacy as well as shade. However, on this balcony it frames the fun hanging planter.
44. Pallet Garden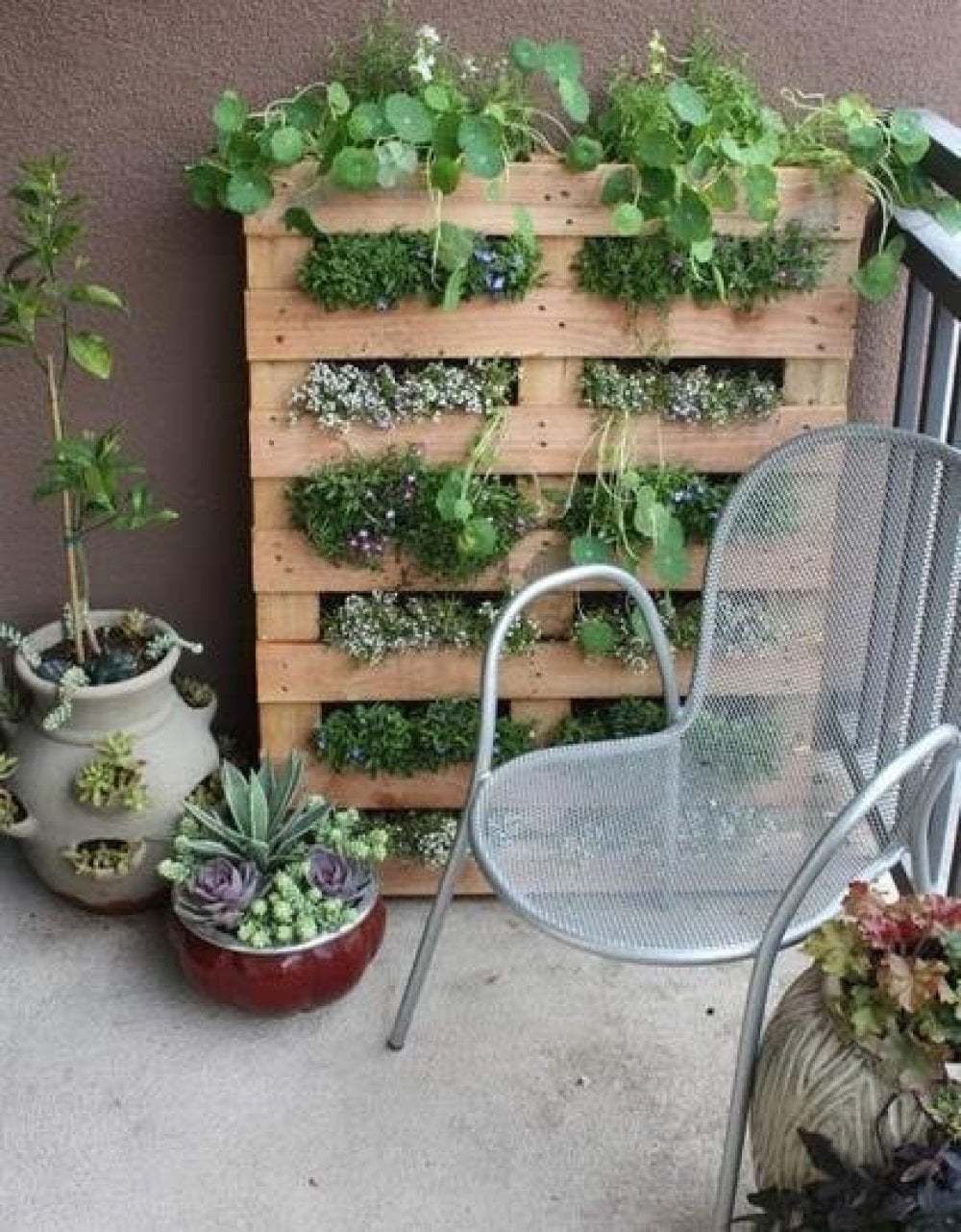 Pallet gardening is becoming popular and for good reason. It saves wood from going to the landfill, it's almost completely ready to go, and it provides an organized planter! First, find a sturdy pallet. Try your local grocery store. Next, staple landscape fabric along the sides, back, and bottom of the pallet. Pull the fabric tight as you staple. Finally, fill the top with dirt and add your plants. You will want to leave your pallet in a horizontal position for a few weeks to allow your plant's roots to take hold and allow for the dirt to settle before placing vertically.
45. Rose Garden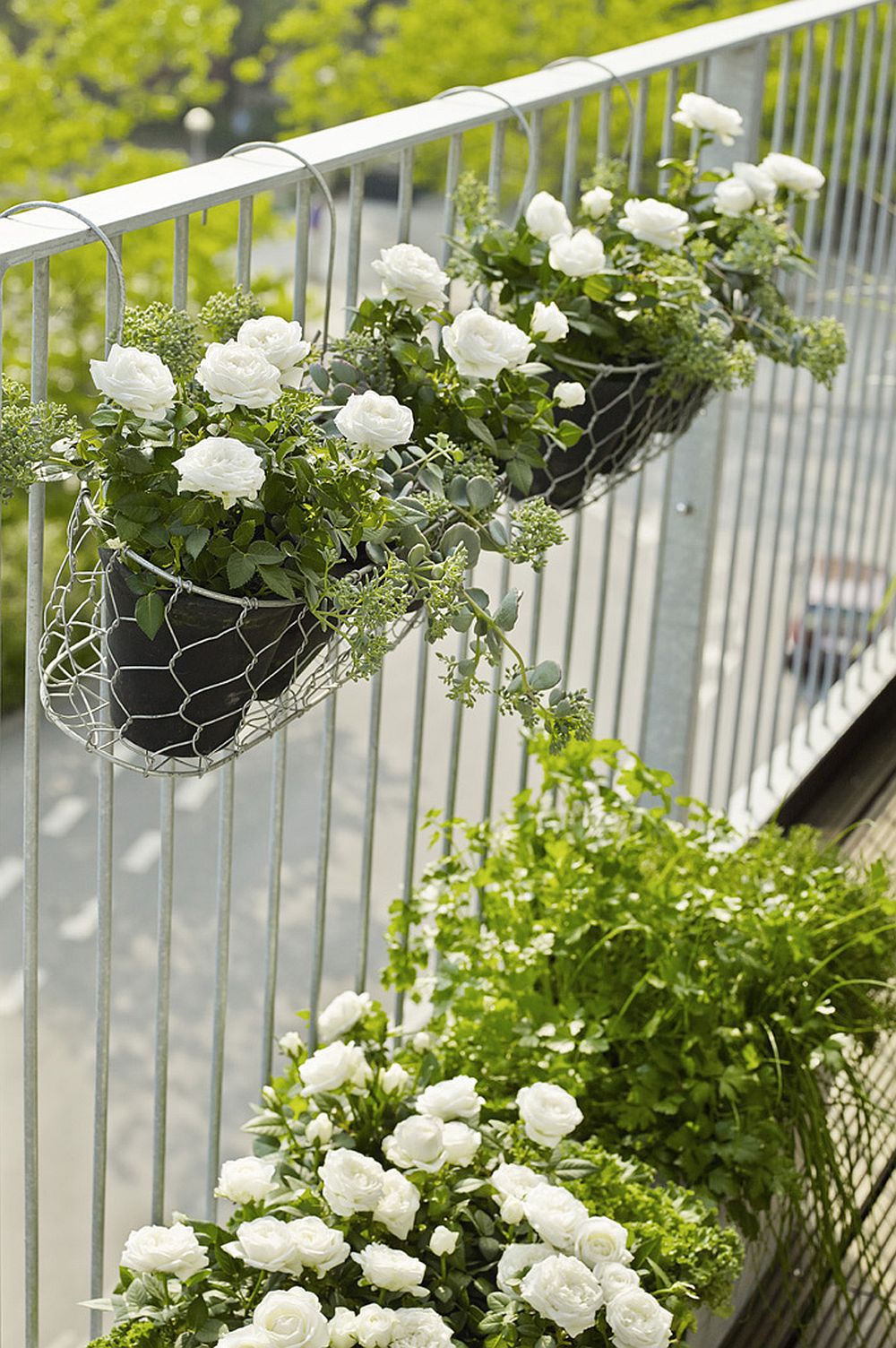 Roses have long been a favorite flower for gardeners. The smaller varieties grown today make perfect flowers for a floral balcony garden. When shopping for balcony roses, choose ones labeled "patio" or "miniature". Roses grow best in the sun, but you must remember to water them several times a week throughout the summer months. Choosing white roses gives the design an airy and clean feel. You can also plant a trailing vine with the roses creating a beautiful, delicate look. This balcony rose garden doubles as a herb garden providing both beauty and functionality.
46. Outdoor Living Room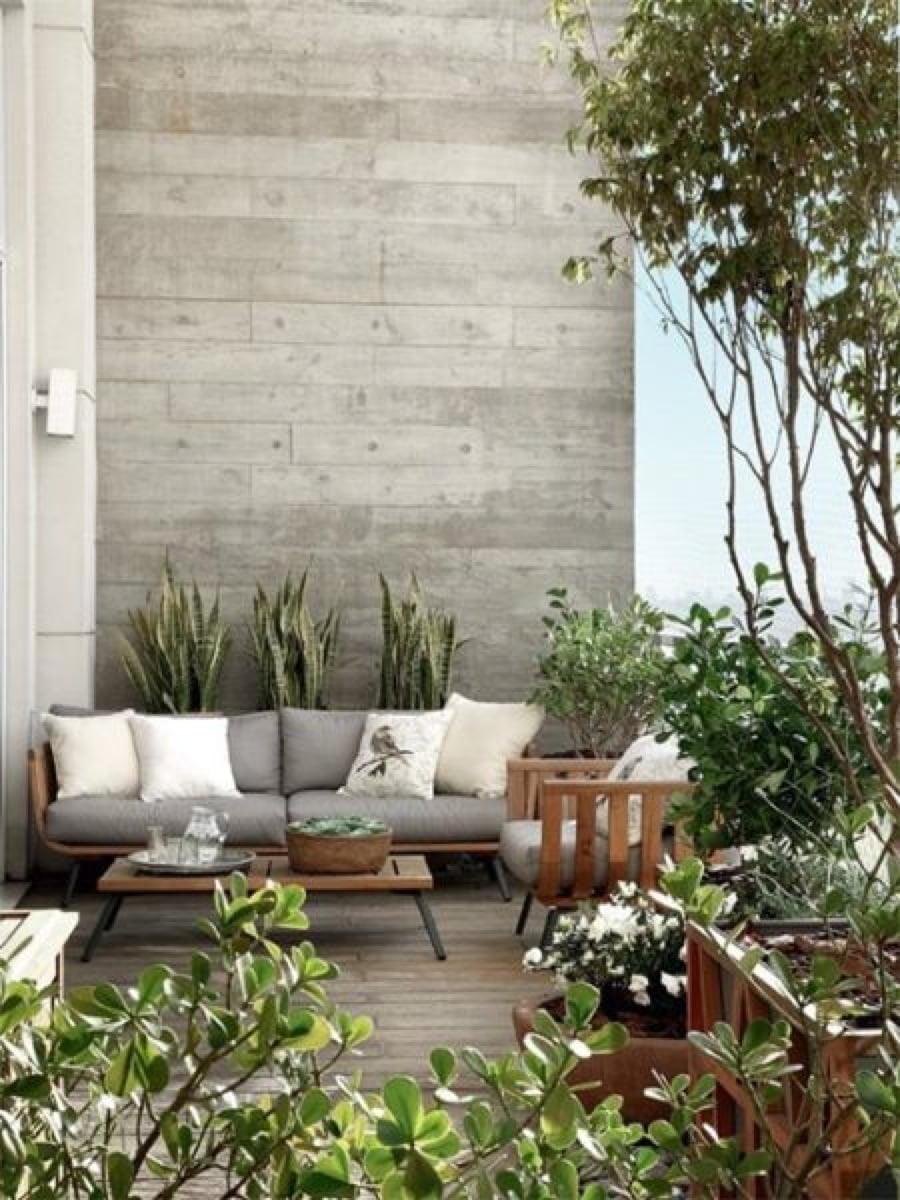 This balcony garden takes outdoor living to a new level. Complete with a full sized sofa, chair, and coffee table, this balcony garden serves as a living room. The wood tiled floor and wall give this balcony a homey feel while the tall trees remind you of your outdoor garden arrangement. Keeping the colors neutral maximizes the appearance of this modern space. Using large planters and several varieties of greenery lend a contemporary, simplistic impression mirroring the home's design. By combining home and garden design, you create a seamless transition making your livable space larger.
47. Semi-private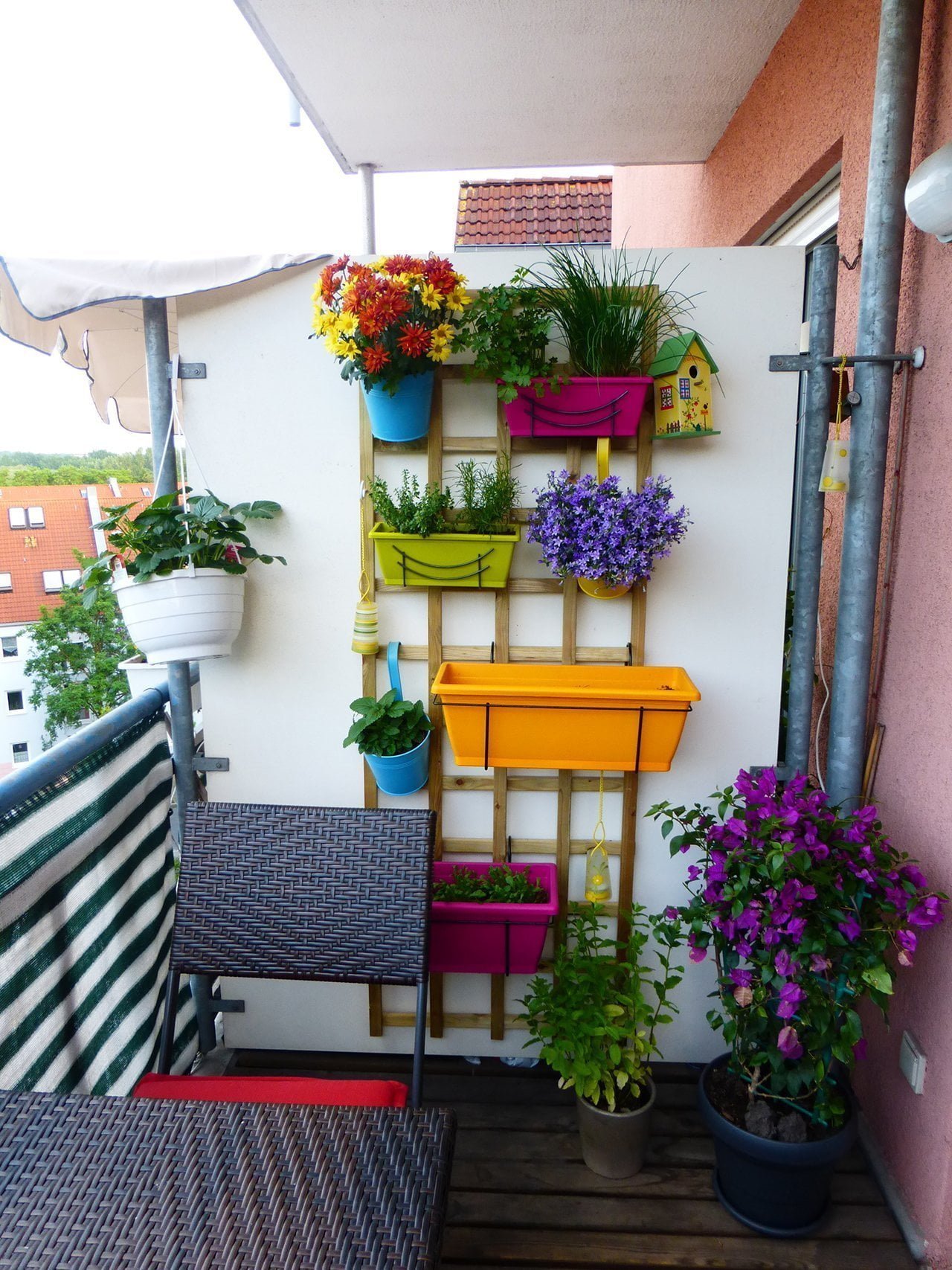 In areas where you must share your balcony, you can still create a bold space. The room divider on this balcony creates a semi-private space and serves as a mounting wall for a trellis. The large pot of purple flowers on the floor contribute to the boldness of this balcony, but the biggest effect is created by attaching different colored pots to the trellis. Even using greenery in the pots doesn't affect the bold look. Adding a table and chair set complete this balcony garden giving the gardener a place to relax and enjoy their balcony view.
48. Bygone Era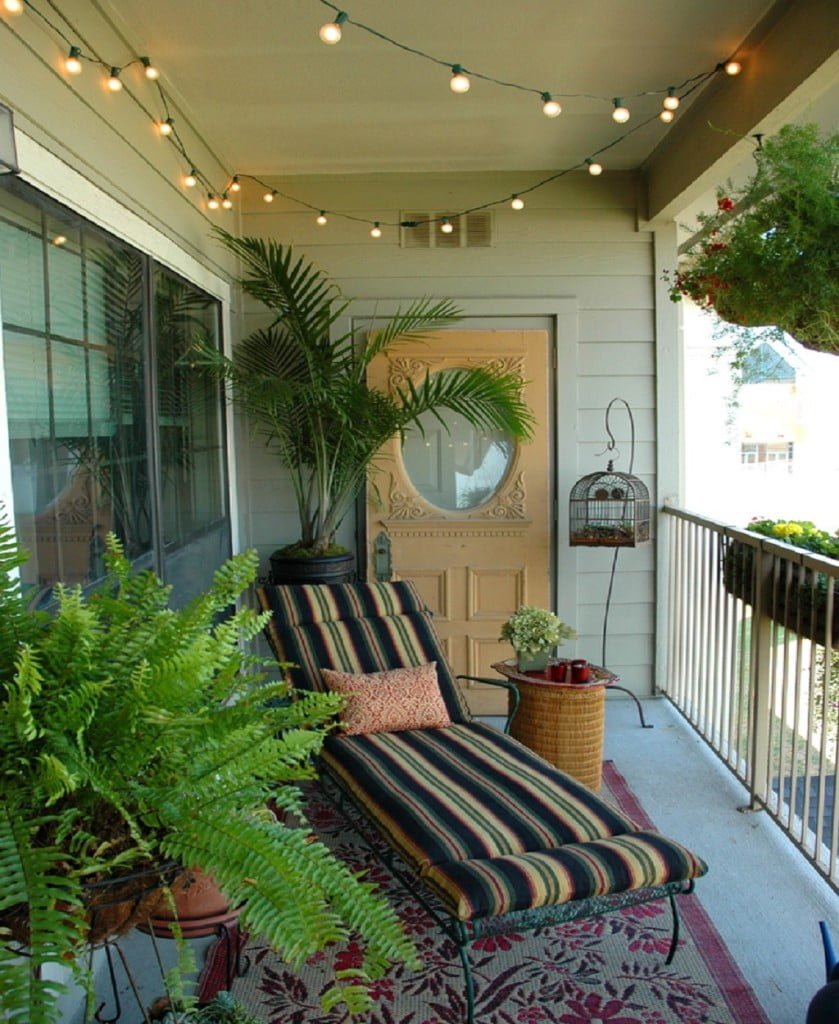 This traditional style balcony is reminiscent of a bygone era. The classic colors provide warmth and comfort while the bird cage hints at a Victorian flair. The area rug, pillow, and side table complete this space. Even a sunbathing chair resembles an indoor chaise lounge on this balcony with the full chair cushion. A Victorian style door is propped against what is probably a storage area door. This simple gesture pulls all of the home decor pieces on this balcony together. The greenery provides foundational design and the patio lights make this balcony garden enjoyable even at night.
49. Asian Garden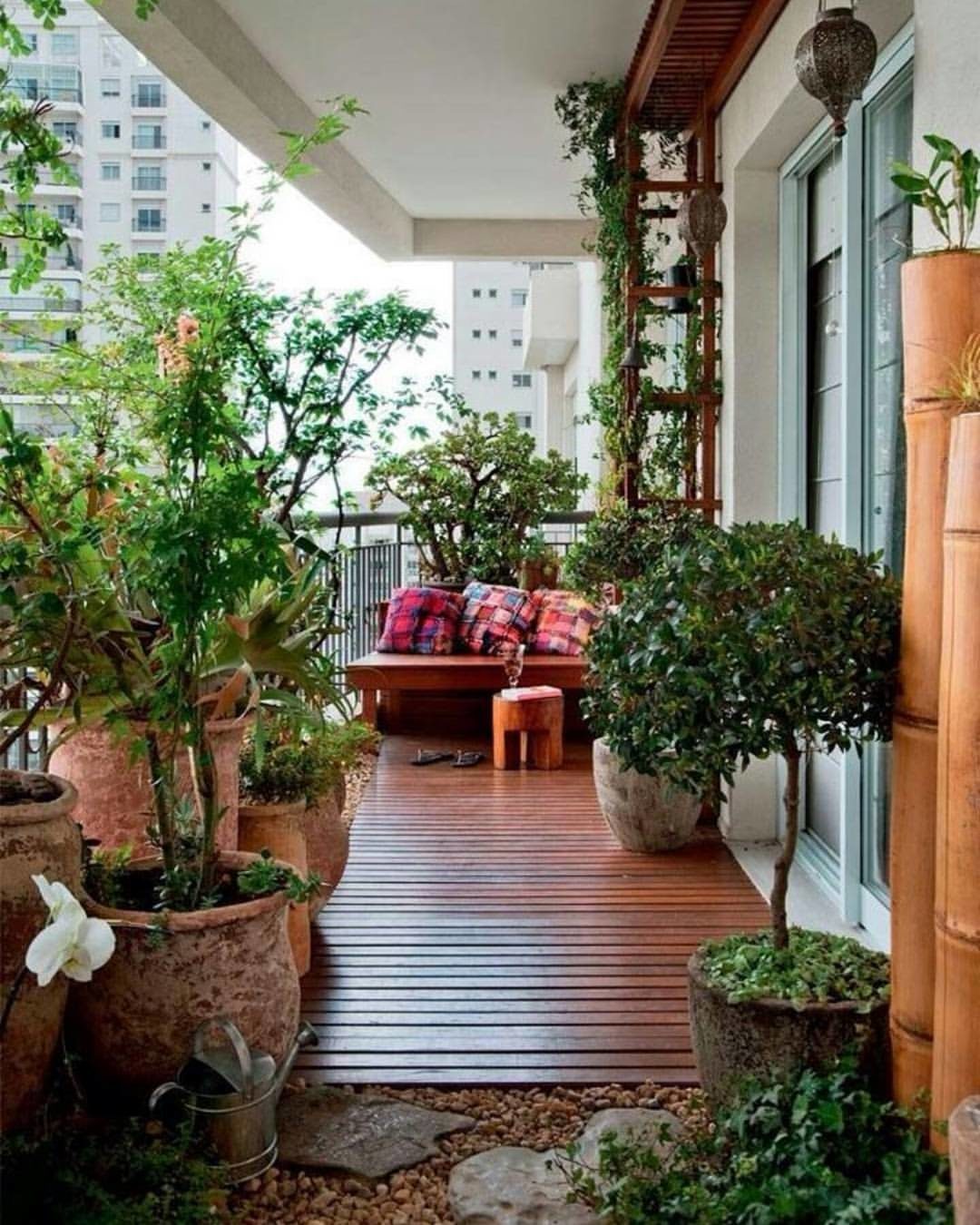 Sometimes you just need to get away. This Asian inspired balcony garden idea transports you to another country. The bold fabric and color choices of the pillows are inspired by the Asian cheongsam dress. Tall bamboo columns add vertical interest and serve as planters. By adding the river rock and wood, feng shui design is incorporated into this space. Typical Asian gardens combine greenery, bamboo, and orchids as evidenced by this garden. The arbor above the door provides additional growing space as well as visual interest. Hanging lanterns provide the finishing touches on this Asian themed balcony garden.
50. Hanging Chair Garden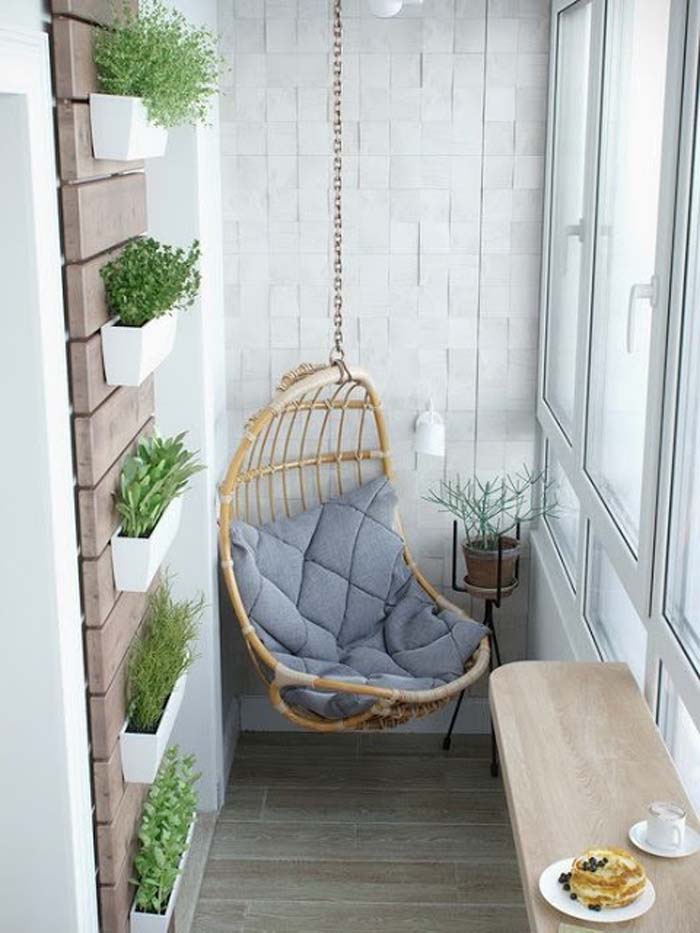 Many balcony gardens include hanging baskets, but this balcony features a hanging chair. Hanging bamboo/ rattan chairs are easy to find on the internet and most include hanging hardware. The floating effect of the chair and table keep this space light and airy. Using light gray on the walls creates the illusion of a larger balcony without feeling sterile. The boxes of herbs are highlighted by the simple wood boards providing a simple, natural backdrop. Adding lights to this garden make it useful at night. By framing this balcony garden with large windows, it can be enjoyed in all seasons.
50 Micro Gardening Habitats for Your Balcony
Garden balconies can create an abundance of edible crops, greenery, and flowers. As an extension of your home, they have the advantage of being an outdoor room with many uses. Whether using your balcony garden for entertaining, barbecuing, relaxing, eating, reading or even working, there are a few things to keep in mind.
First, remember to be respectful to the neighbors below you. They may not appreciate your water pouring down onto them. Next, sun loving plants should go higher and shade loving plants should be protected by placing them lower. Various plant heights will give your balcony garden a private and inviting feel. Be cognizant of your furniture placing when placing plants so you don't block your view (unless that's the idea you are going for). Also take into consideration the location of the sun when placing your furniture. If it is too hot and blinding, you may not use the space as you would like.
Finally, check with your landlord before painting, drilling holes, or barbecuing. Some areas have specific building codes. You don't want to break any rules and have to redo your balcony garden. The idea of a balcony garden is grand, but the reality of having your own private balcony garden is better. With the many creative ideas and designs, you are sure to find something that works in your budget and space. Until next time, happy gardening!