Every design begins with a mood that the designer wishes to create. The mood may be one that inspires creativity, one that brings peace and relaxation, or one that brings pleasant memories to mind. Many creators find a common theme surfacing in every design they create. When you consider the design for your home, what mood are you hoping to create for your guests? What about for your bathroom specifically?
Personalize Your Bathroom with these Exciting Decoration Ideas

While the bathroom is probably the smallest room in your house, it is also the room that most guests will see when they visit. You have invested hours of effort in designing the arrangements, colors, and textures that make the rest of your house a home. With limited space, a bathroom can be a difficult place to bring your design vision to life. So while your bathroom must remain functional, there is certainly no need to sacrifice style and comfort.
This is why we bring you the fresh, modern bathroom decor ideas that you have been searching for. These ideas incorporate a variety of themes with unique ways to weave utility and design together to create a beautiful space. Whether you are just getting started with your design or are just looking for the finishing touches, you fill find inspirational decor ideas to create the bathroom of your dreams.
1. Repurposed and Reclaimed Barn Wood Bath Tub Relaxation Tray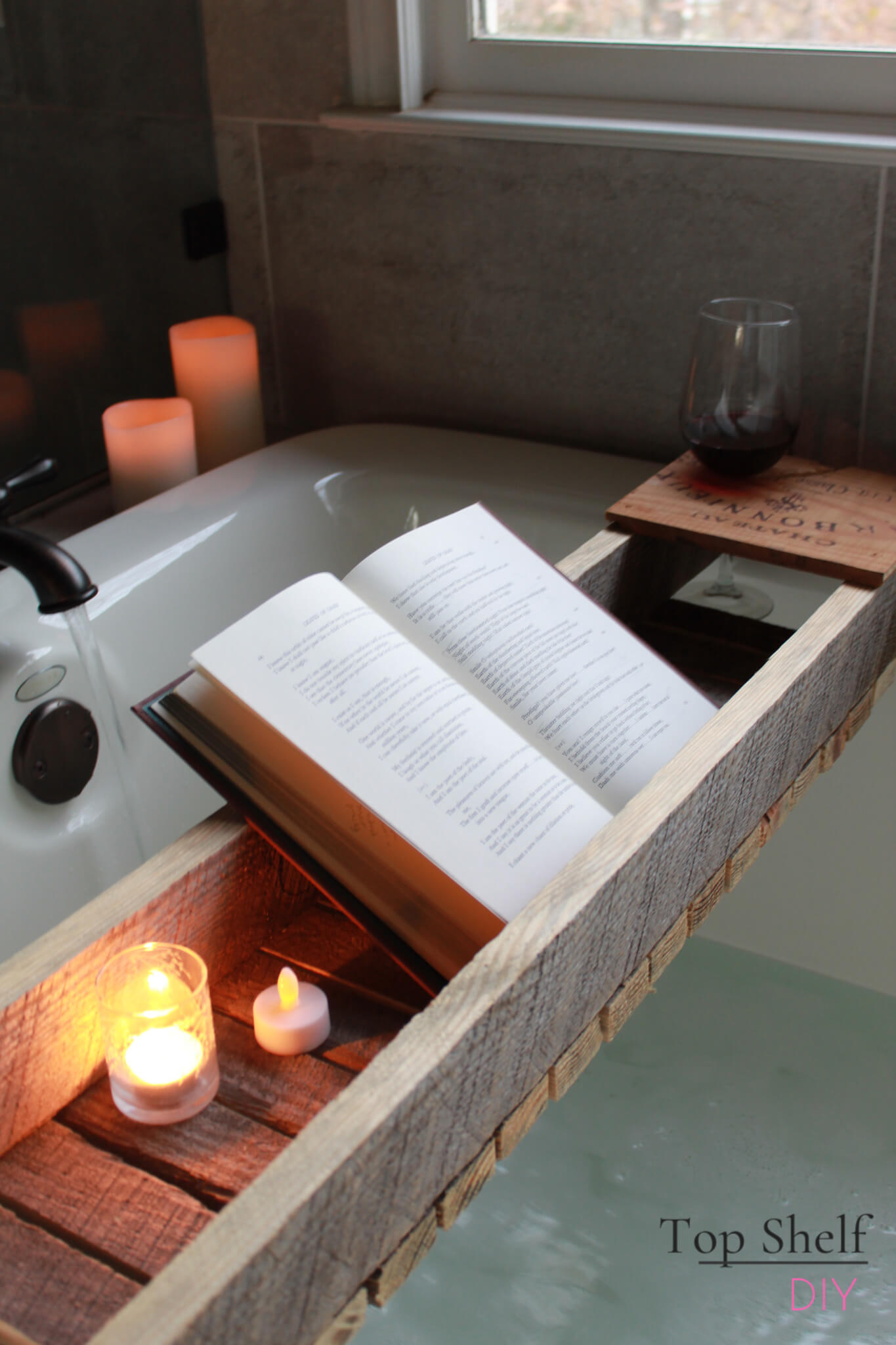 What better way to unwind after a long day than with a warm bath? Create this charming spa-like feeling in the comfort of your own bathroom by having all of your relaxation essentials within reach. From a good book to an aromatic candle, this reclaimed barn wood tray does the trick as your go-to relaxation essentials organizer. It takes up minimal space, yet delivers in a big way in terms of style.
2. Sleek and Simple Natural Wood Slab Candle Tray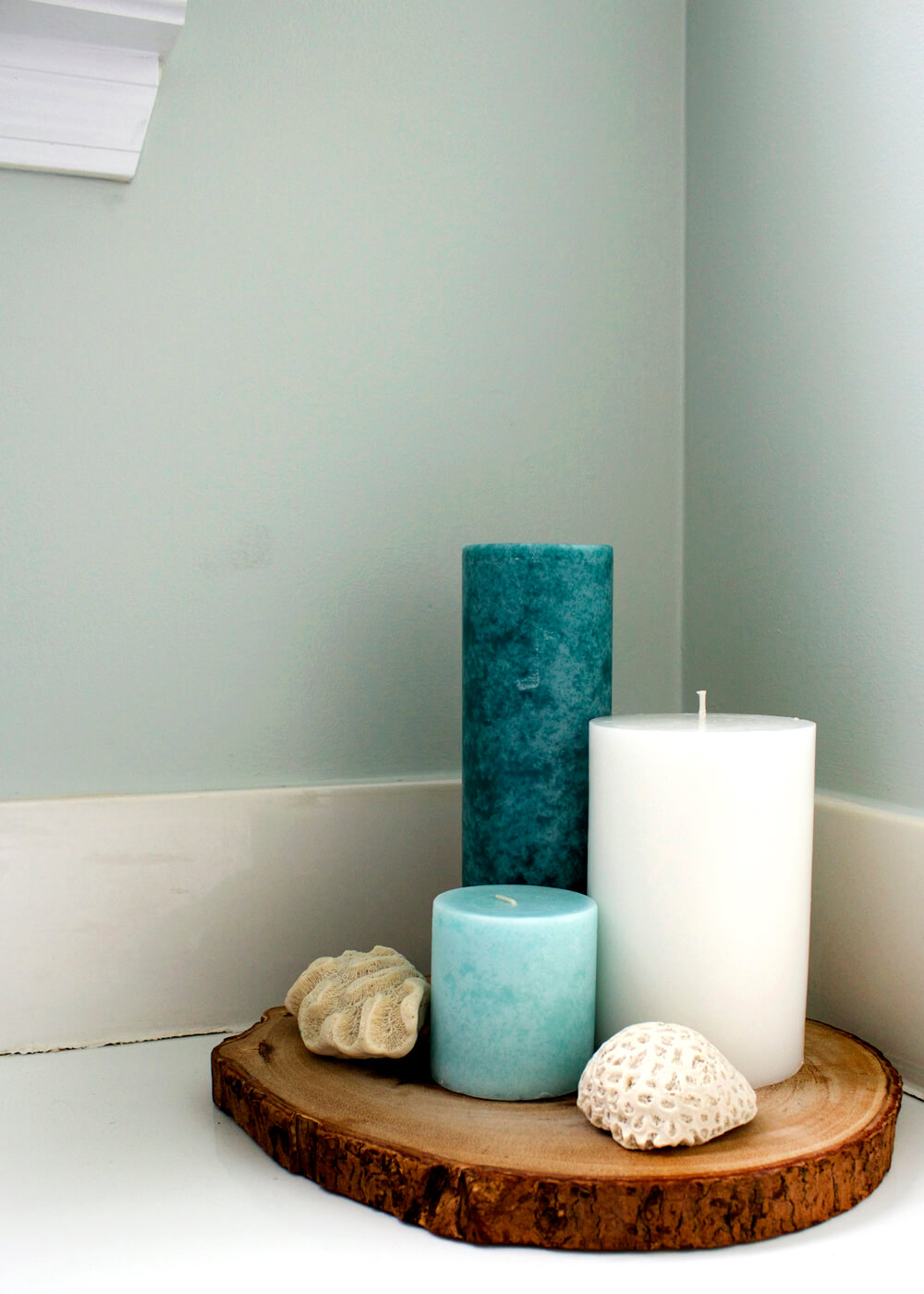 The bathroom is one of the last places to receive the decorator's hand in most homes, but a few simple touches can go a long way. Check out this natural wood slab that works wonderfully as a sleek and simple candle tray. Tuck this grainy goody into the corner of your jetted tub shelf to enjoy while you plunge into a deep soak or set it in between your double sink vanity where it can serve as a hub for organizing some of your everyday necessities. This piece of nature within your bathroom adds a fun and charming interesting decoration that doubles as a gorgeous design piece.
3. Modern Industrial Black and White Wash Room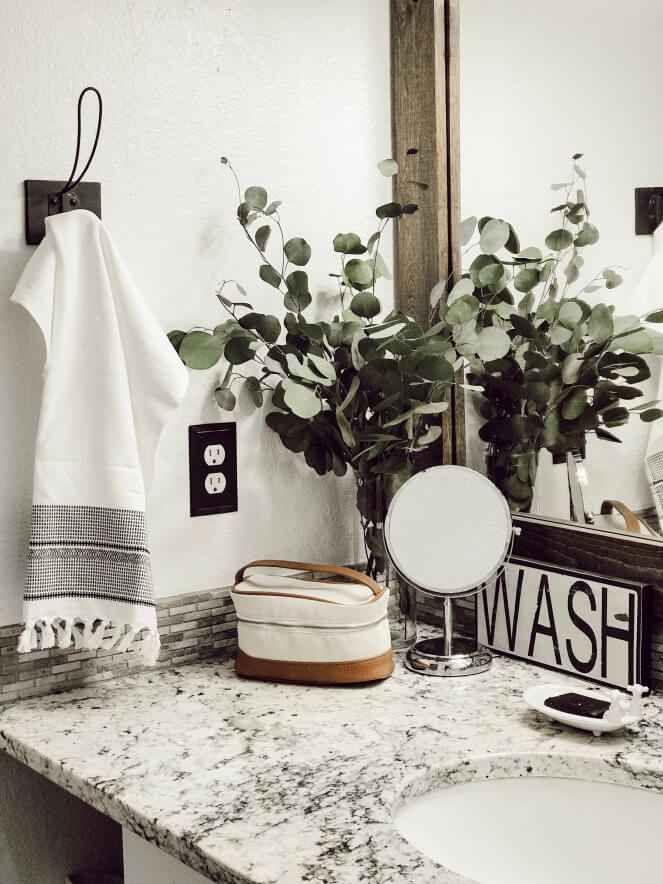 Source: The original source is not available anymore.
It's never too late to update your washroom and a little money will go a long way in this smallest of the rooms in your home. Slap on a fresh coat of your favorite shade in the white family of paint to make a clean and fresh backdrop to start your update. Next, you'll delight in some vintage signs to identify the space and a plant or two. Add an industrial hook to hang your hand towel then finish off the look by framing your mirror with reclaimed rustic wood. The combination of textures along with the black and white color combination will make any homeowner or guest make the most of the moment when they have to go.
4. Old World Meets Modern in this Masterpiece Bathroom Decor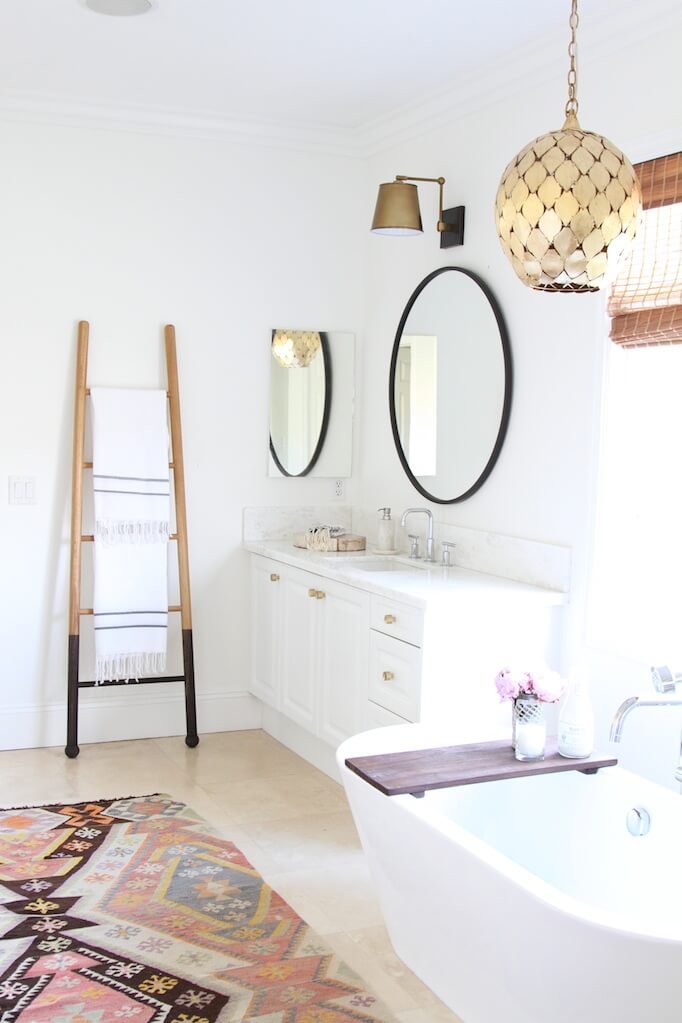 All white is always in style and this large bathroom space is a perfect example of why. From floor to ceiling, the crisp white brightens up the space and draws your eye to the featured elements like the vintage-contemporary tribal print rug, unique brass lighting fixtures, and the blanket ladder that would be the ideal place to hang your towel. The bronze cabinet hardware ties in the lighting fixtures quite nicely. Top it off with a circular black framed mirror above your sink and you have a total overhaul and amazing new bathroom space.
5. Plant Lady's Potty Paradise Palace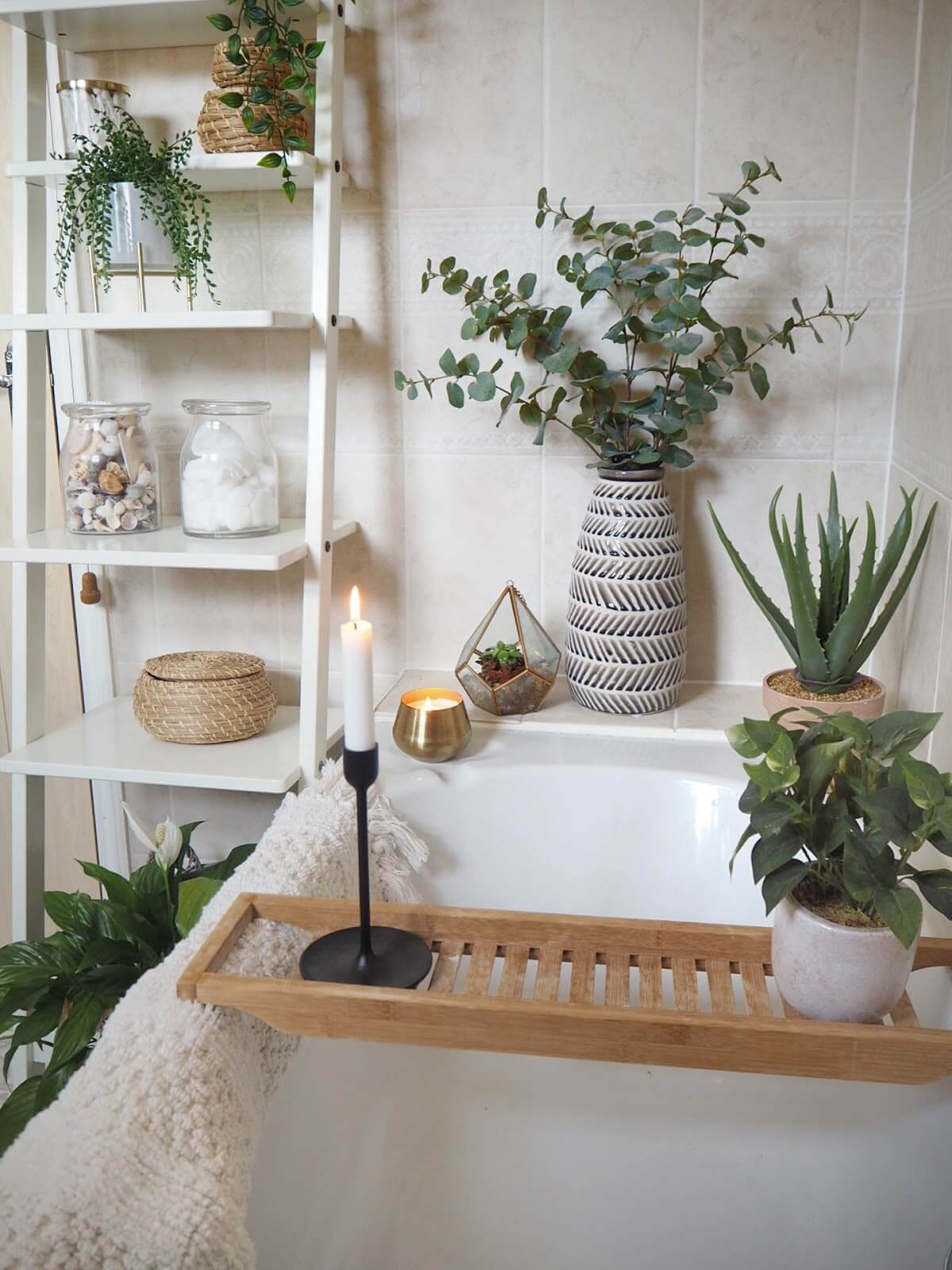 Any plant lady will enjoy the seclusion of this plant paradise. Be the queen of your palace as you breathe in the purified air and delight in the tranquility of this leafy serenity joined by candles and some organization to put your mind at ease. The shelving unit provides an abundance of storage for cotton balls and daily items as well as fun decorating pieces like jars filled with seashells.
6. Clean Lines White Shelf for Modern Bathroom Decor Update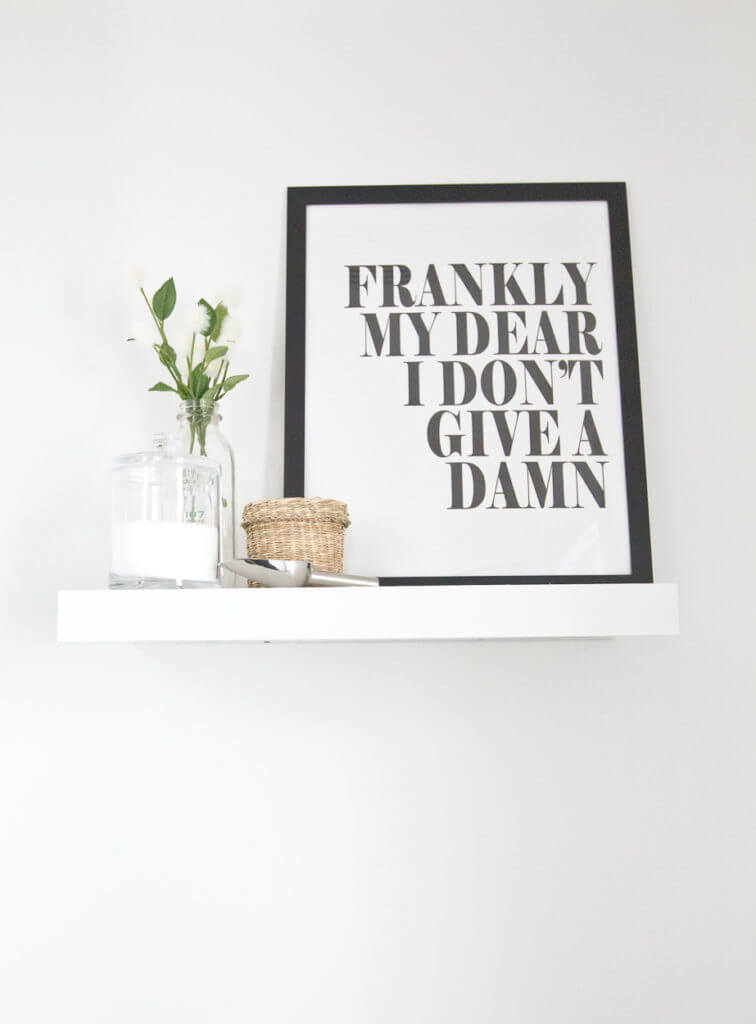 Any modern bathroom will welcome this clean line white shelf. The perfect place to keep bath salts out of reach from little hands, this rectangular resting place is just the right size to fulfill its purpose with a little space for some style too. Punch it up with a bold sign sharing one of your favorite movie quotes in a black and white motif. A small woven basket and a glass bottle turned mini vase finish off the ledge without overcrowding the space.
8. Wooden Toilet Topper Catchall for Your Bathroom Extras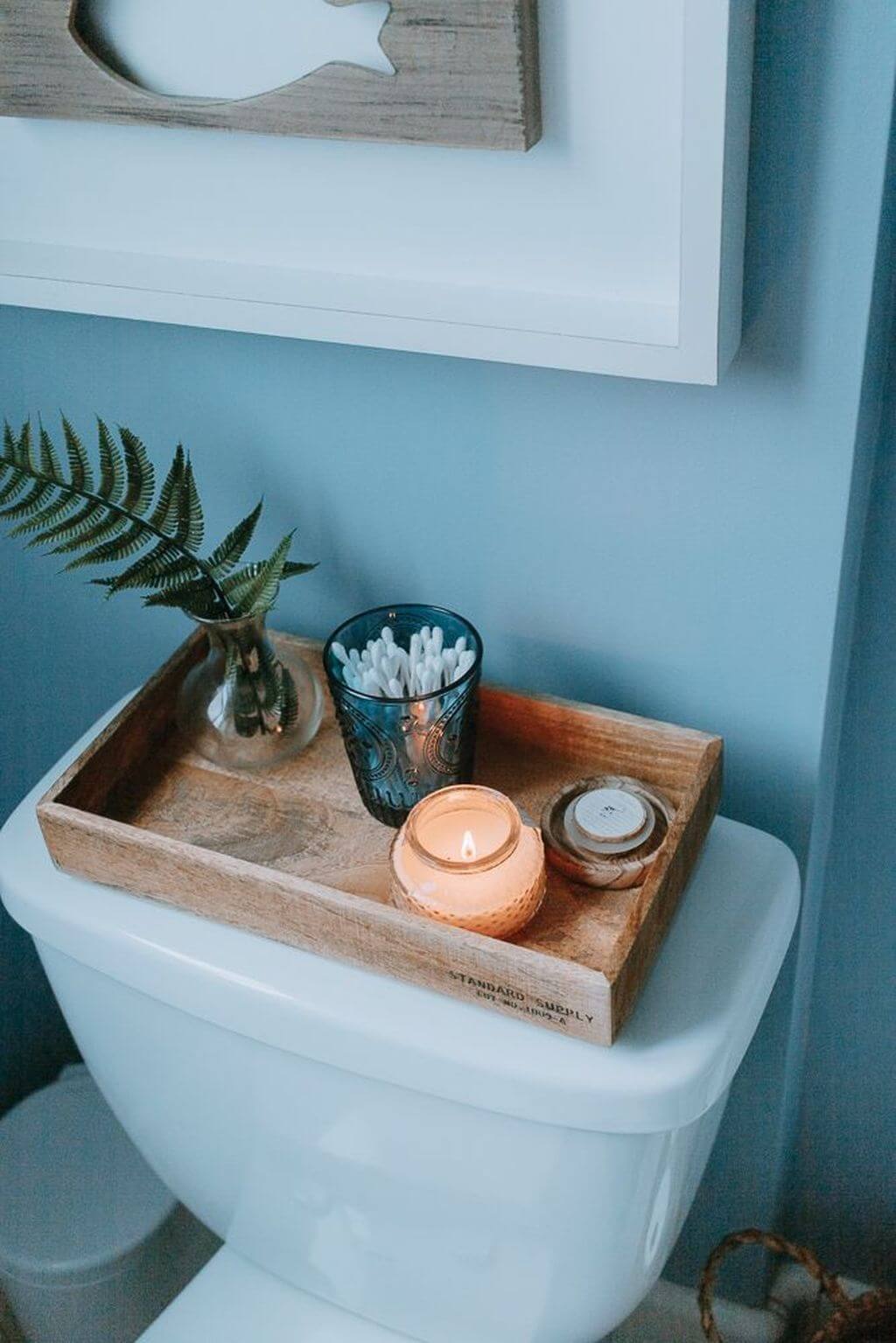 Plain and pretty is what you get with this wooden catchall tray. It feels right at home as it rests on top of the toilet and serves as a collection platter for your little restroom extras. It's the ideal spot to light that invigorating scented candle to keep stinky odors at bay and continually welcome guests. A single fern frond in a glass vase and a jar of ear swabs are additional pieces that wish to call this catchall home.
9. Slip into Serenity with Natural Light and Perfect Plants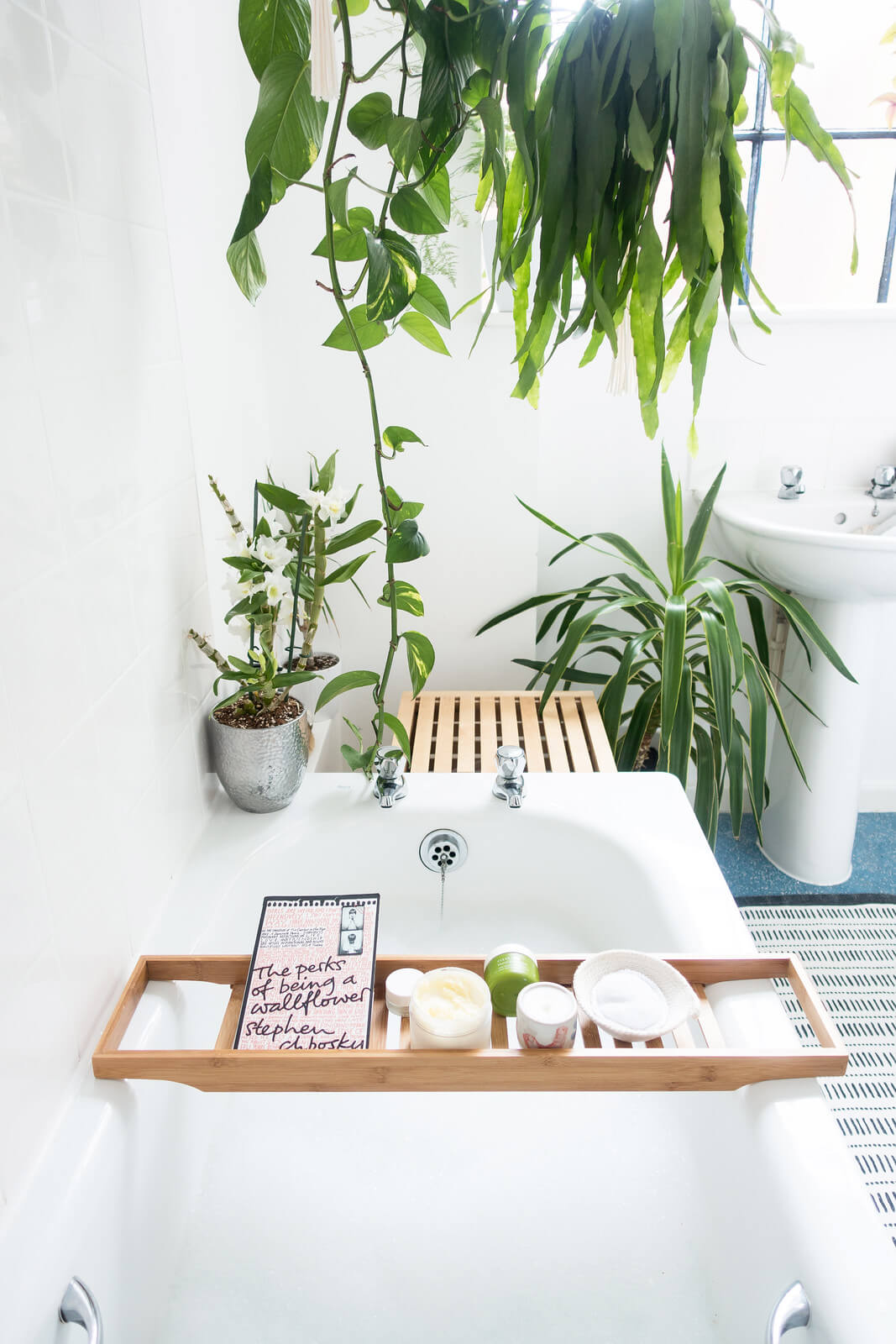 Serenity now, insanity later can become your new mantra as you indulge in the soothing comfort of your plant-lined bathroom decor. With bright, natural light cascading into the room, the plants flourish and fresh air extends to you as you unwind with your tub tray of goodies. Let the serenity and solitude become part of your weekly or daily routine in this tiny forest bathroom.
10. Bold Black Ceiling and Pop of Color Shower Curtain Modern Bathroom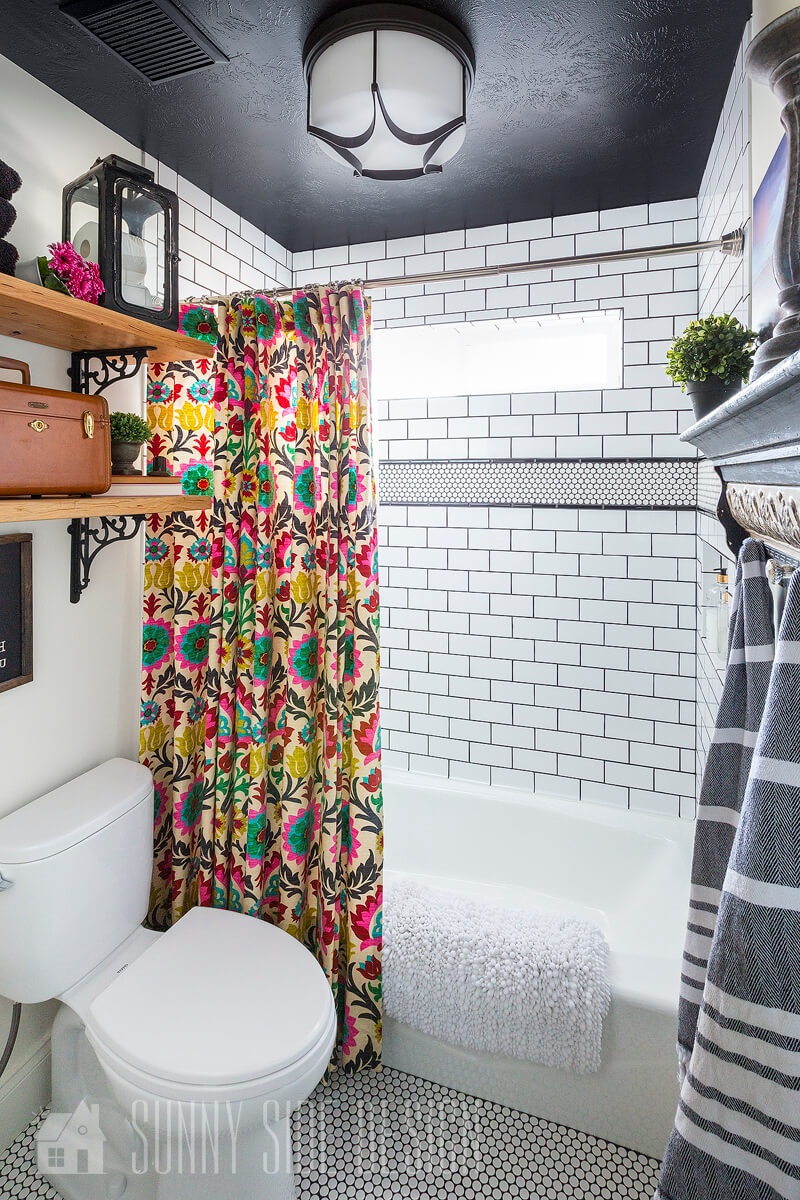 From the bold black ceiling to the white and black tilework, this modern bathroom checks all the boxes. For a playful take on the contemporary color combo, the shower curtain displays a homemade bright and cheery print with nearly all the colors of the rainbow. The lively and vibrant colors draw in your eye, yet the pattern demands attention all of its own. Together, the classic combo of black and white along with the powerful and pretty printed shower curtain, this update can fill up any size space and make a statement at the same time.
11. Mixed Motifs in this Modern Farmhouse Bathroom Decor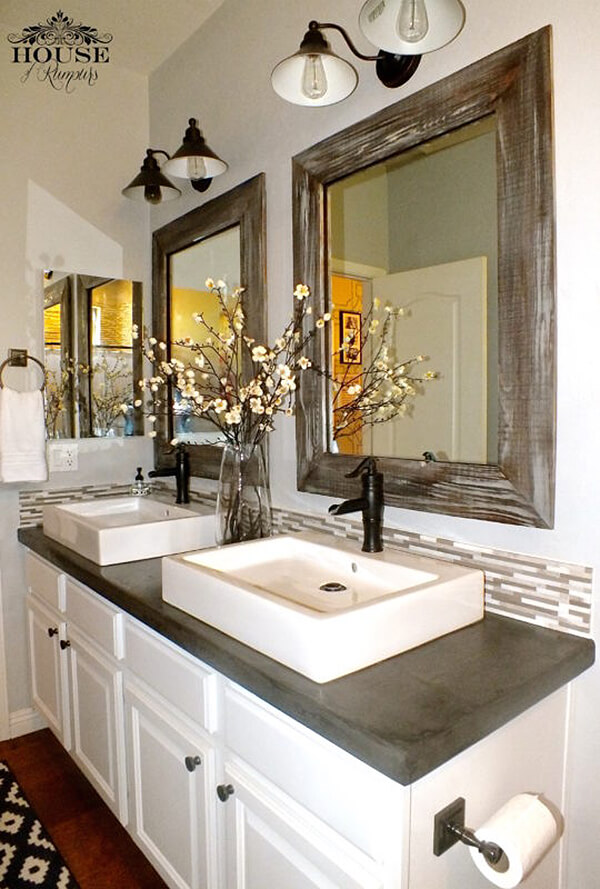 Source: The original source is not available anymore.
Don't be afraid to mix up your interior design, especially in the bathroom. While it may be the smallest room in your home, it can be the biggest in terms of style. You can stay on-trend with the modern farmhouse design by infusing some natural elements like the rustic wooden framed mirrors and the large glass vase filled with flowers as seen here. Try on a little industrial flair with concrete counters and tie it all together with some dark bronze light fixtures and faucets. The clean white cabinets and white and grey tilework are the perfect little extra touch.
12. Clean and Cozy Gender Neutral Bathroom Decor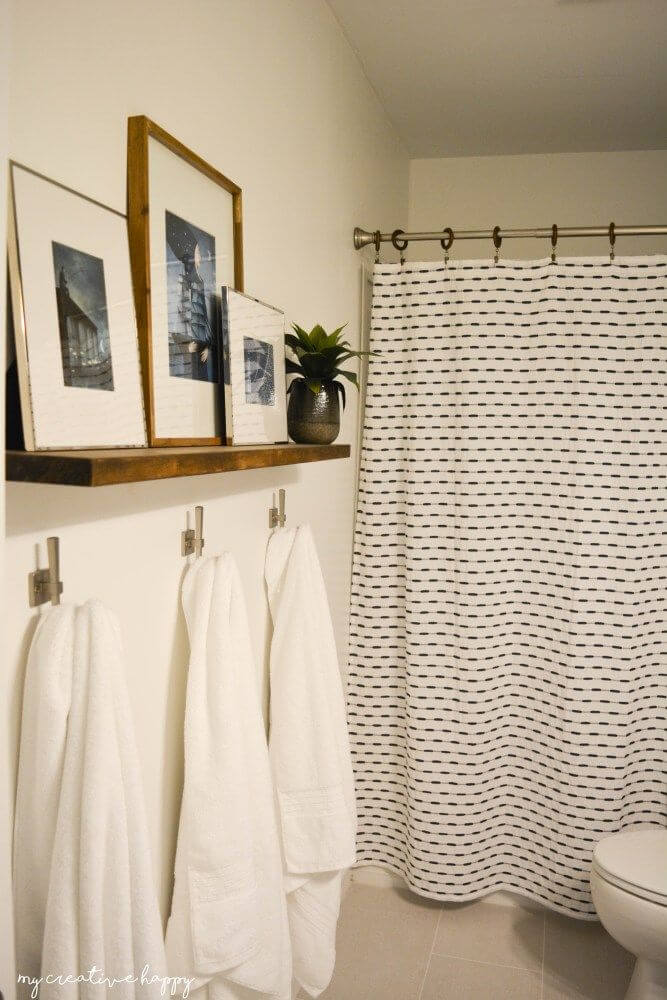 Source: The original source is not available anymore.
Create a universally appealing space by steering clear of feminine and masculine design and hit the ground running with a look that appeals to both sexes. This fresh and crisp white bathroom looks clean and effortless. A deep wooden slab warms up the otherwise sterile space and is the ideal shelf to house some of your personal decorations. A trio of sleek silver hooks are great towel hangers and give a much needed modern feel from the tired towel rings of the past. Complete the look with a mostly white shower curtain and you are sure to make everyone in the family happy.
13. Full of Love and Character Wooden Bath Shelves Nook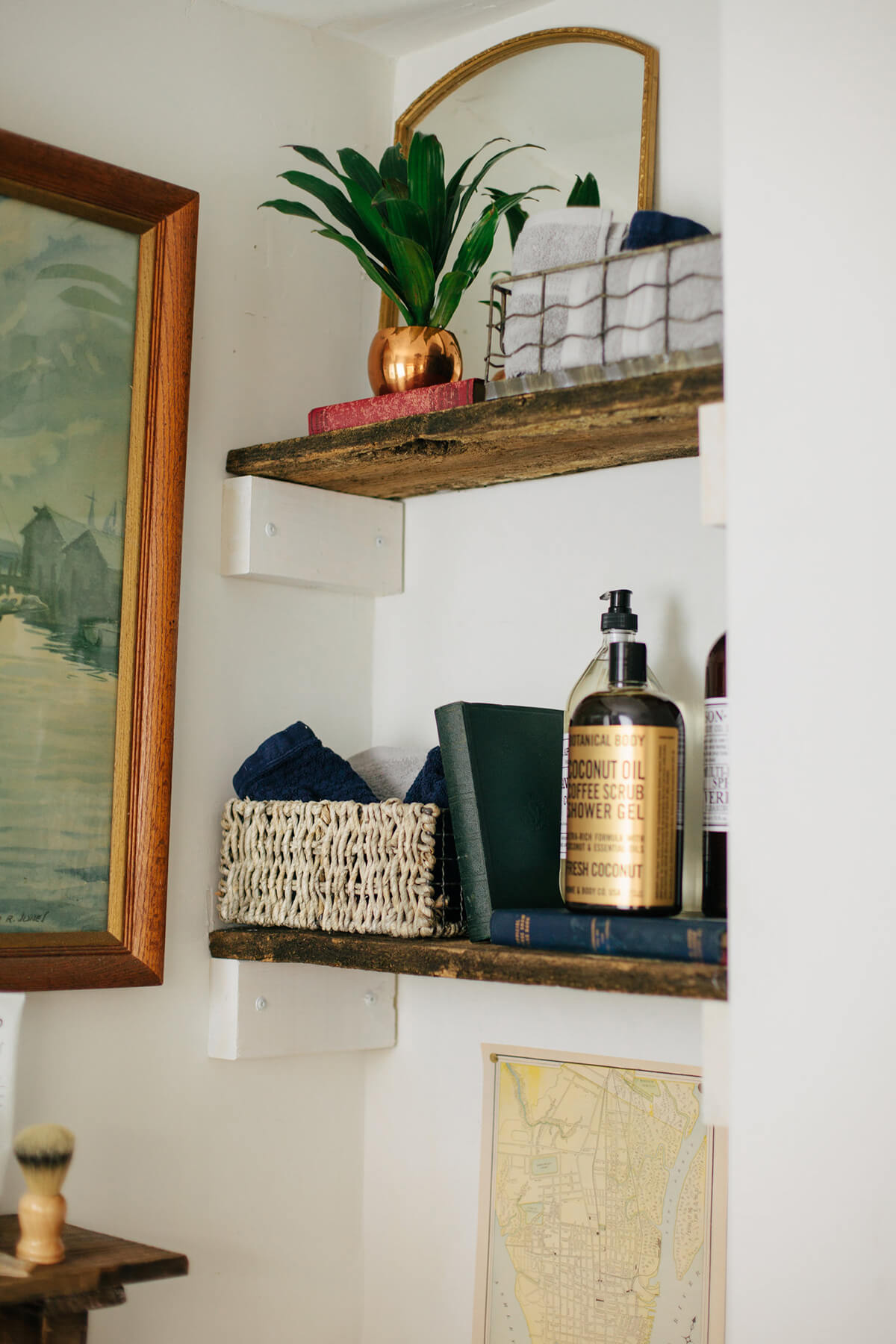 Utilize every square inch of your square footage in a tight space by capitalizing on the unused room above your toilet or in a small corner. These rich and earthy wooden slabs are full of character showcasing their grainy lines and knots for added appeal. Their sturdy nature is capable of handling most any item you choose to rest there. Stick a mirror behind some of your decorations to catch some light and make space seem even bigger. Storage meets style with this pair of wooden shelves to make the most of your bathroom space.
14. Picture this Textile Wall in your New Bathroom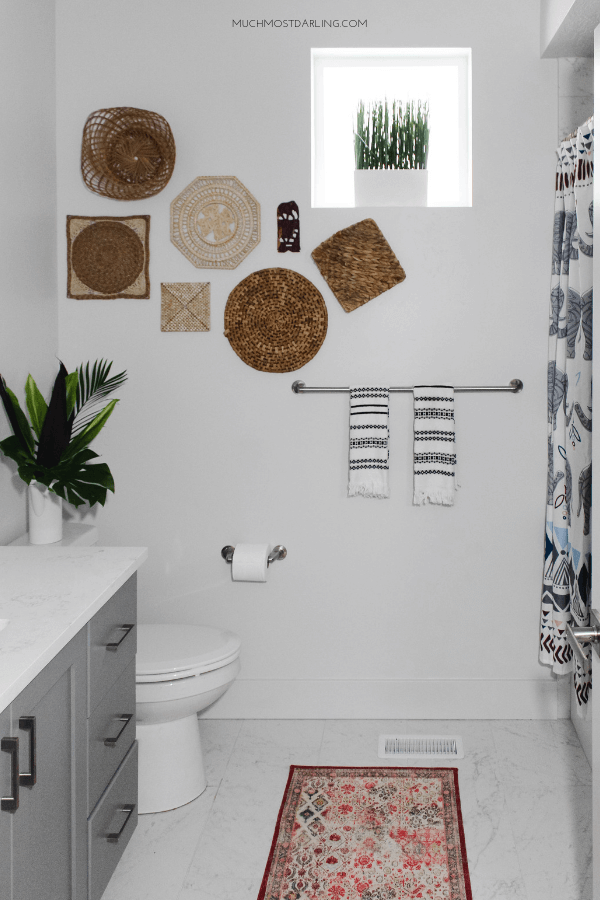 Textiles in the form of baskets and placemats find new purposes as they become works of art in your new bathroom. A tribal print shower curtain and a vintage-feel rug add just a touch of color and pattern to this streamlined and contemporary space. The black and white with the grey cabinet never looked better. Now your bathroom is a seamless transition from your living space as the sleek design can be carried throughout your entire home.
15. Just Peachy Keen Shower Curtain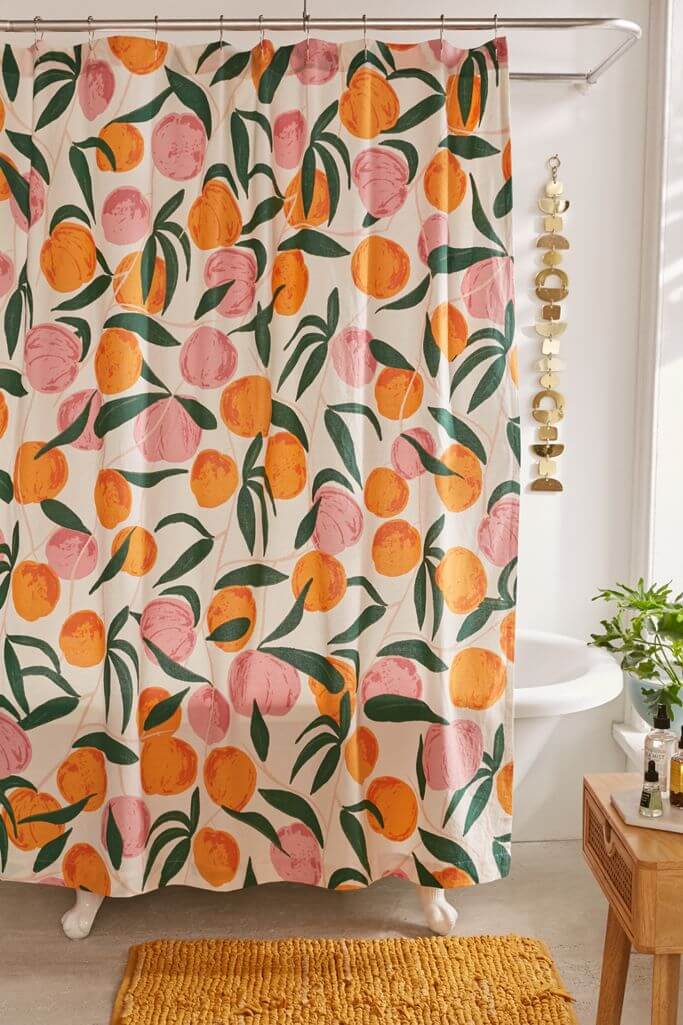 Channel some happy and peachy keen vibes by adding this bright and bubbly fruity shower curtain to your existing bathroom decor. This is one of the easiest and cheapest ways to update your bathroom and give it a fresh, new look. Think California Cool when you step into this friendly and fun space.
16. Navy, White, and Gold Greetings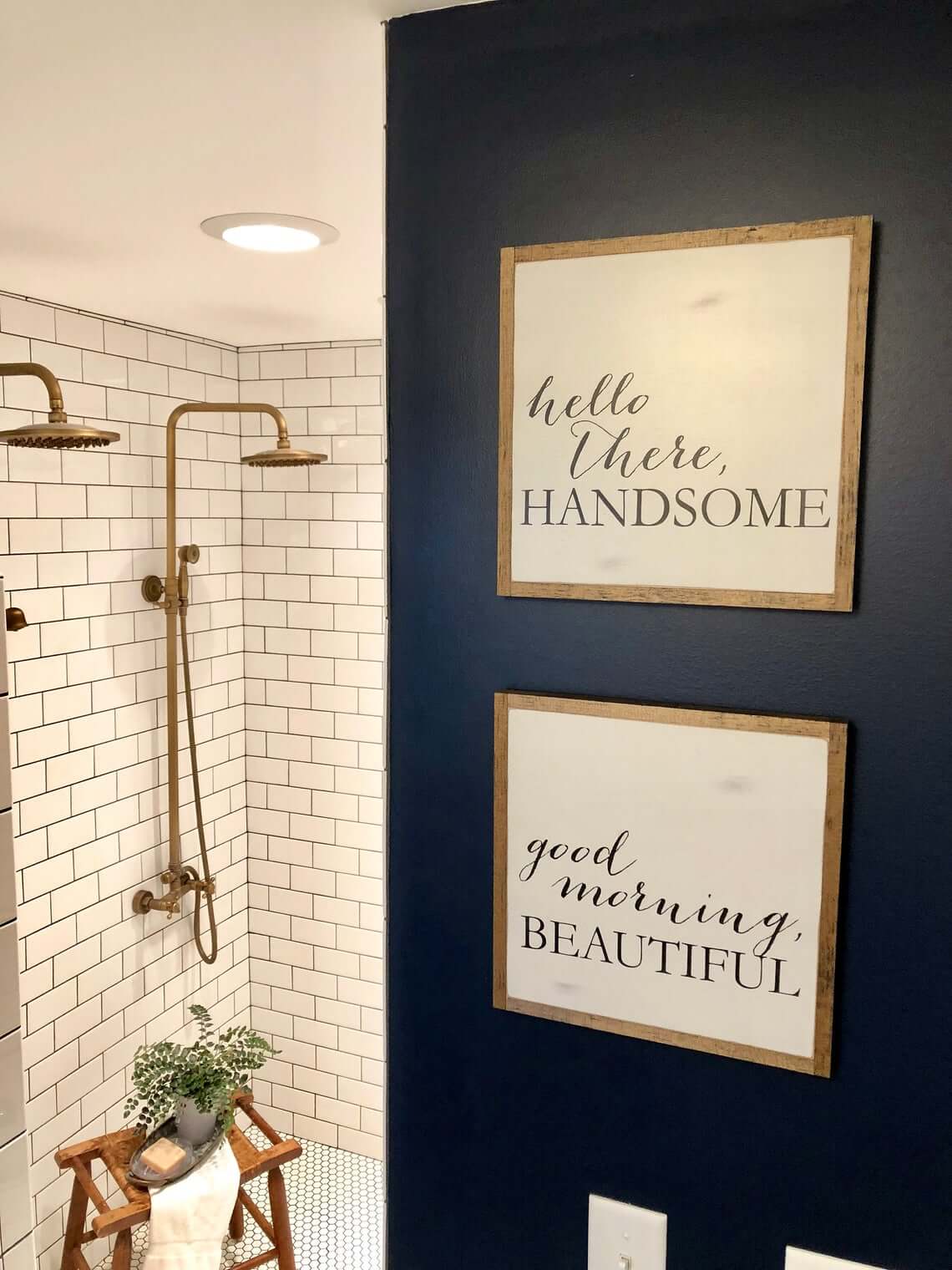 For a dramatic update to your restroom, a bold splash of navy blue really pops with the right accessories. The picture-perfect white subway tiled shower rinse the space with coolness as the gold fixtures work their magic to tie the look together. Have a little fun with the unique signs to help the masters of the space face the day head-on.
17. Simple and To the Point Bathroom Decor Signs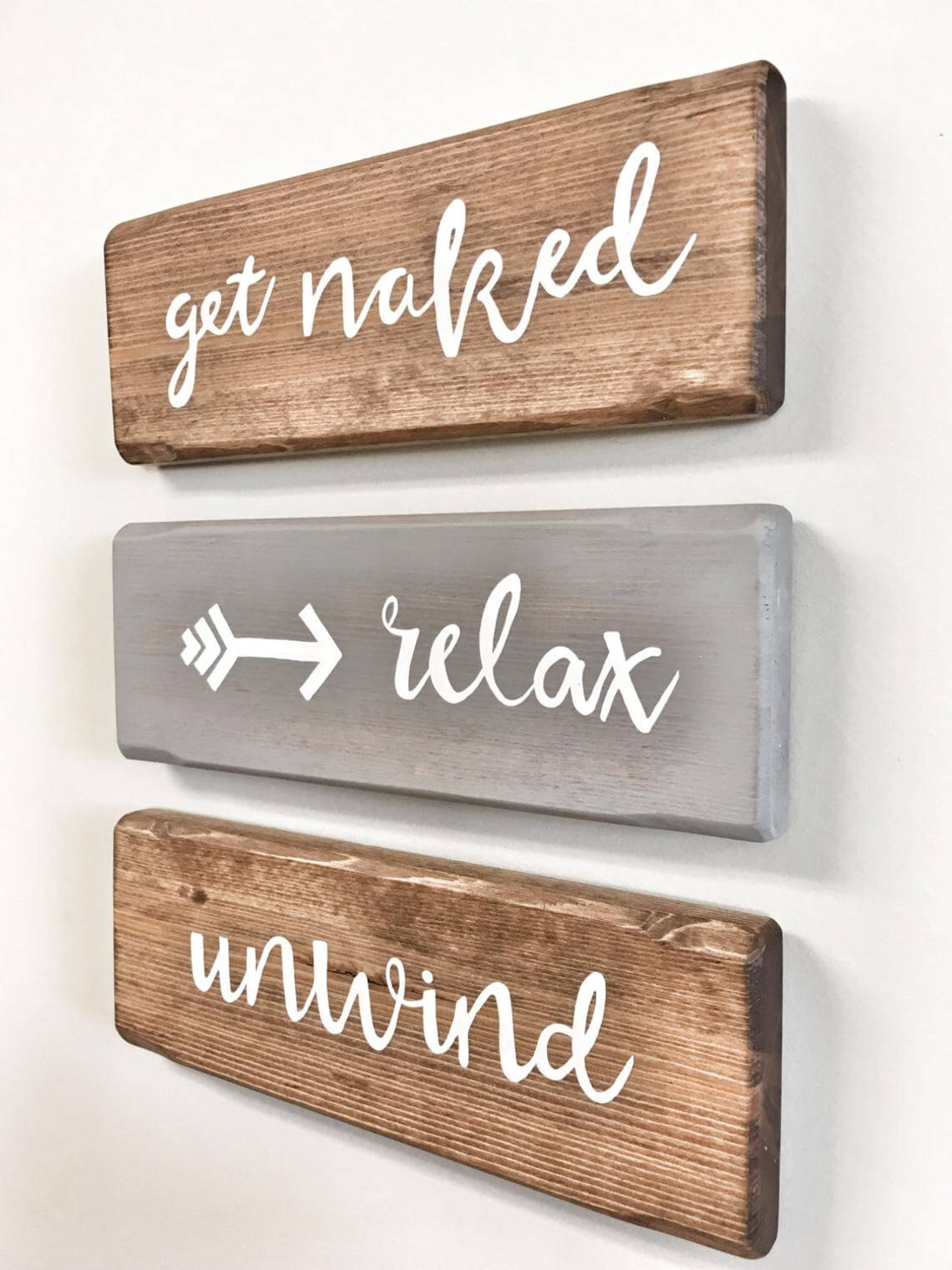 Three isn't a crowd when it comes to these cute and fun bathroom decor signs. With three straightforward and simple commands: get naked, relax, and unwind, channeling your inner comfort is easy. You could buy these at most any crafter's market or create them yourself as a quick DIY project. Arrange them together on your wall space or spread them out for a different look. Either way, this triple threat is sure to feel right at home.
18. Wash Your Worries Down the Drain Bathroom Decor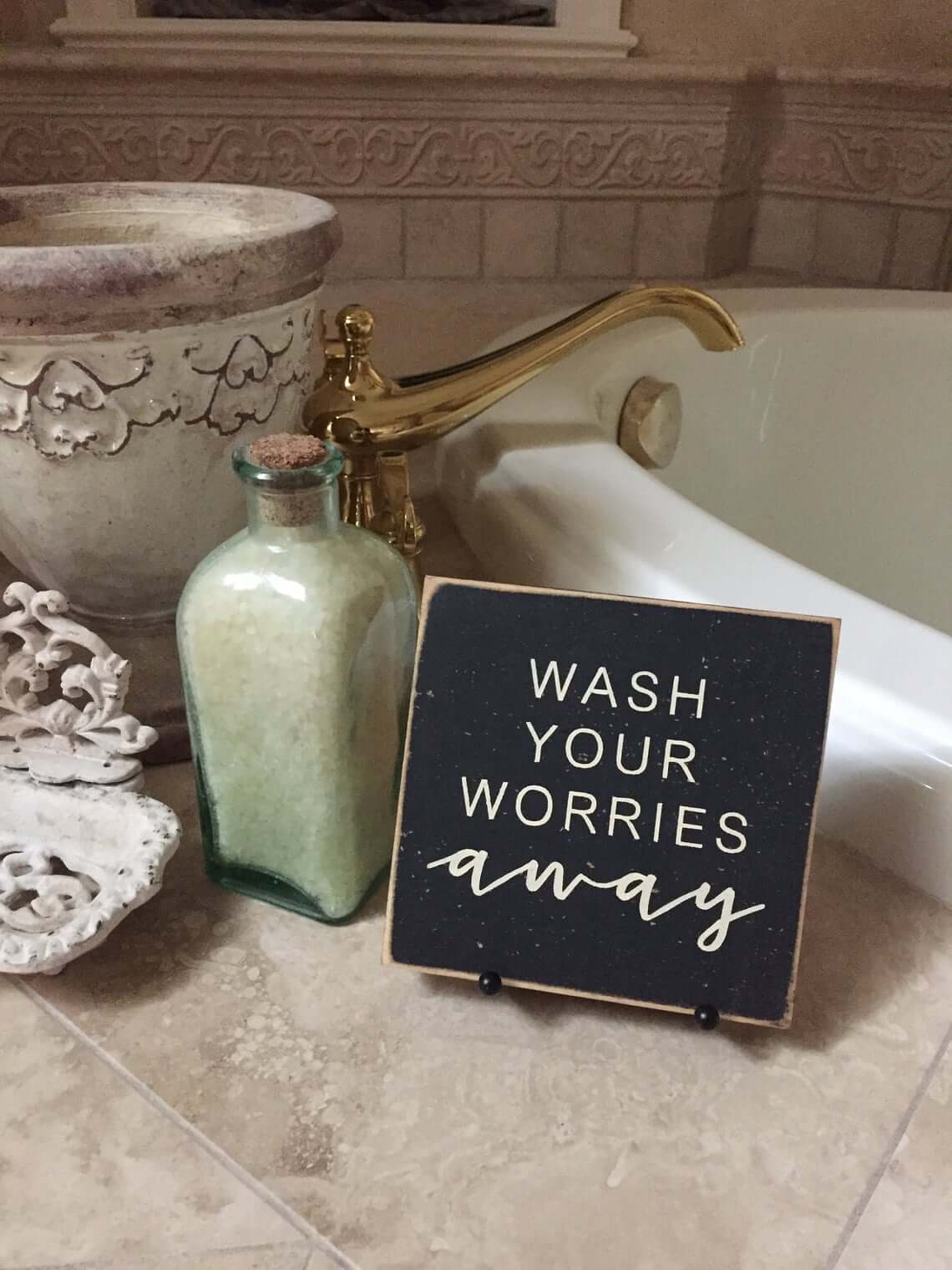 Put your mind at ease as you wash your worries away and send them down the drain after a relaxing, hot bath. Draw your favorite bubble bath and light a few candles to prepare for your perfect evening of pampering. The old world tilework and classic pottery pieces add to the luxurious spa-like feel of this master bathroom. You deserve some "me" time and what better way to spend it than in the comfort and convenience of your own home?
19. His and Hers Wooden Cut Out Restroom Identification Display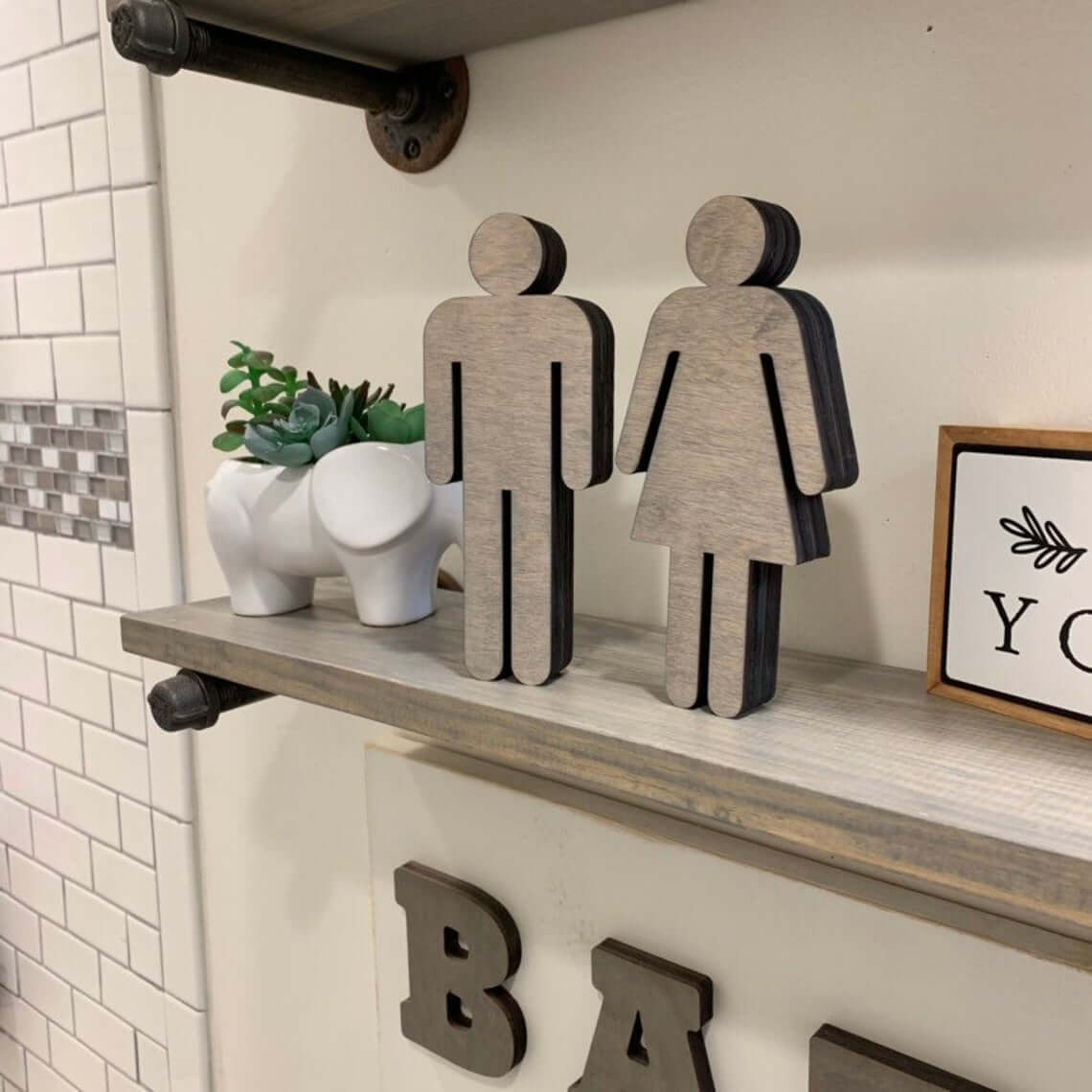 The iconic his and hers symbols prevalent in most public restrooms can be just as fun in your personal bathroom at home. Place them on a shelf as a fun decorative piece or set them separately in your kids' bathrooms. Freestanding and fun, these pieces are truly unique and provide a cute conversation piece for your guests. They would even make an interesting housewarming gift for a friend. Created in a modern grey color, they are a worthwhile addition to your bath space.
20. Quirky Stone and Wood Unique Bath Hooks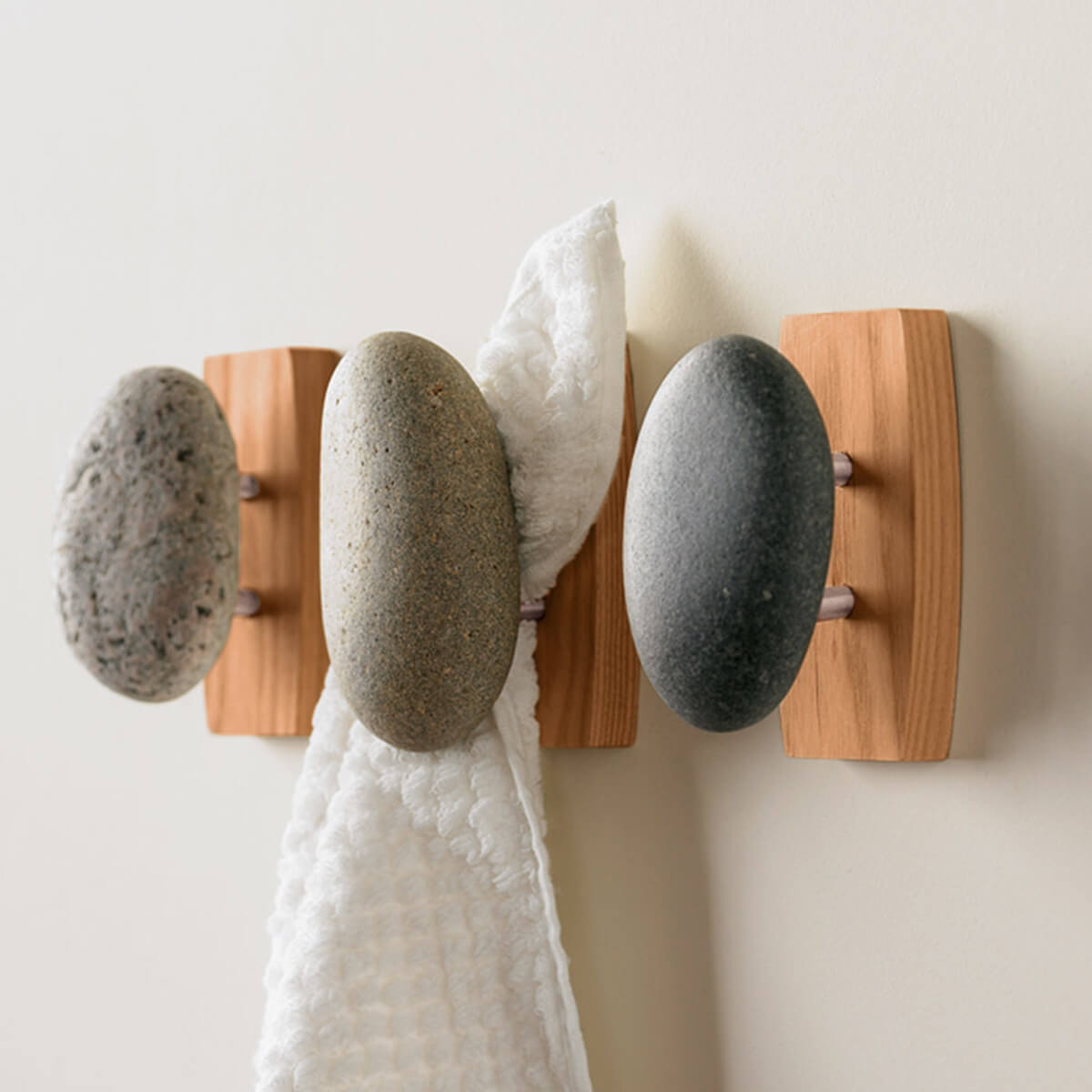 Hang your towel out to dry in style with these quirky stone and wood bath hooks. They take up minimal space and serve their purpose quite nicely. The grey and black tones in these stones offer an earthy edge to your interior design. Perhaps they will help add to your at-home personal spa styling as they channel your favorite warm rock back massage. Place them in a young guy's bachelor pad or hang them in the master bath for the convenience of the king and queen of the castle.
21. Don't Make It Weird Giddy Bathroom Sign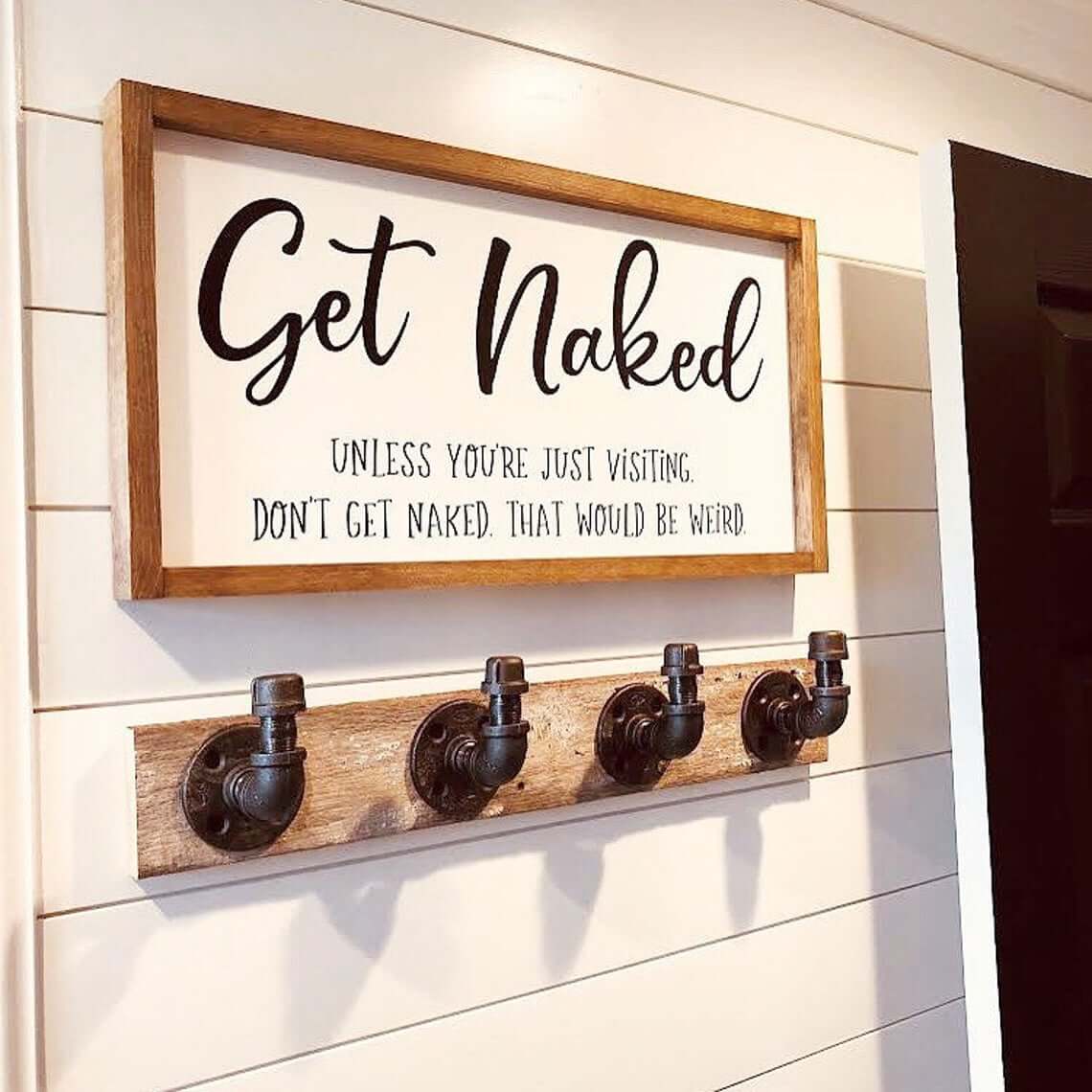 Give your guests a quick chuckle with this giddy bathroom decor sign. It's sure to liven up your party or put a smile on the face of your in-laws as they encounter this crazy sign in your shared bath space. Created in a modern farmhouse feel, the addition of some industrial pipe pieces makes for a perfect towel rack. These re-imagined pipe joints feel right at home as your quintessential towel holders. Your new space quickly feels like an extension of the rest of your house with these hip and hilarious touches.
22. Modern Farmhouse Metal and Wood Bathroom with Shiplap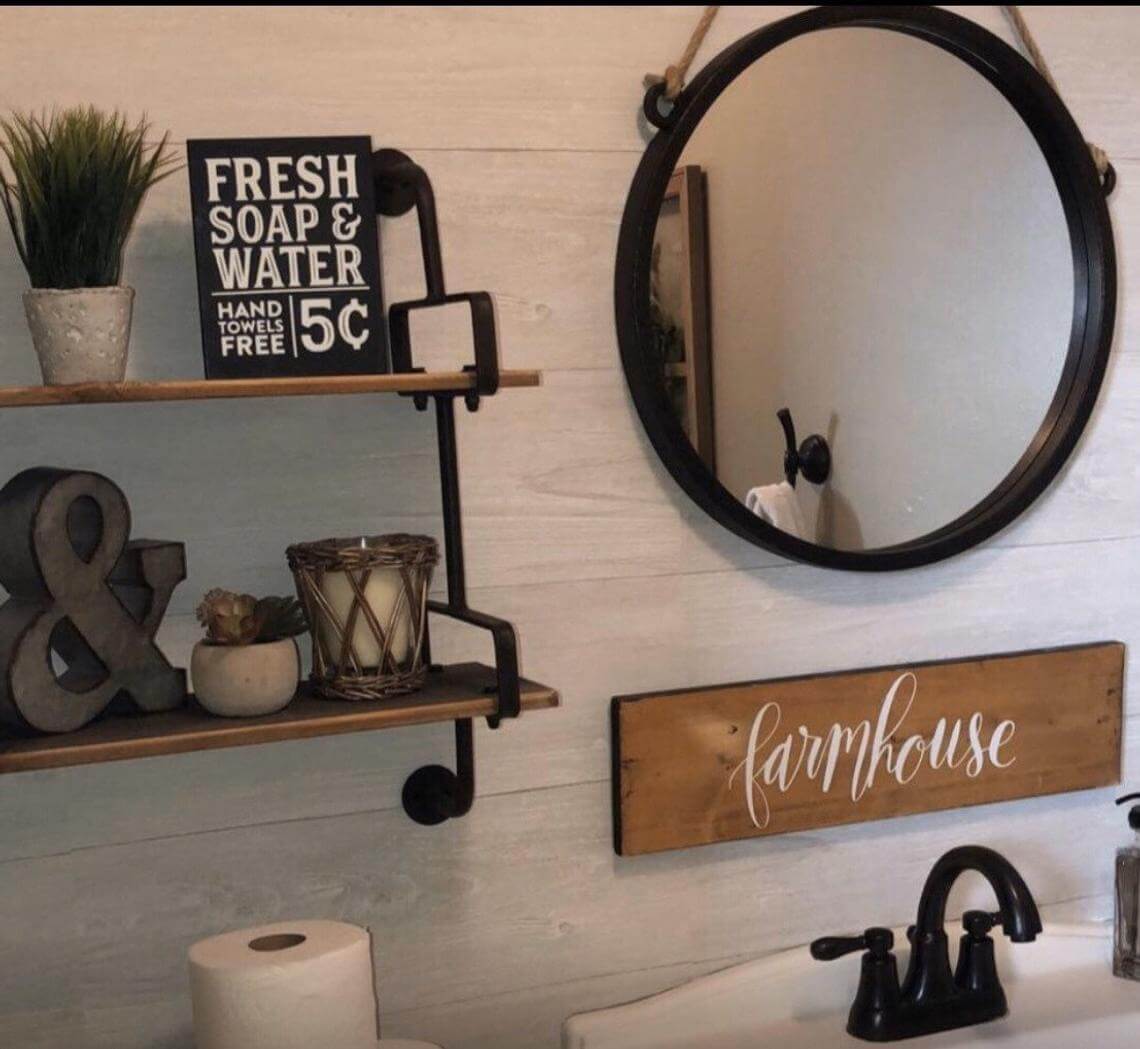 Shiplap saves the day in your small bathroom space as it lays the foundation for your new modern farmhouse decor. Your wood and metal shelf will rest easy as it offers you style and storage at the same time. The rounded mirror above the sink echoes the round flesh mounted shelf brackets to tie the overall design together. And why not get right to the point with a wooden sign declaring the space "farmhouse" in pretty script.
23. Triangles and Tassels Taking Center Stage in the Bathroom Decor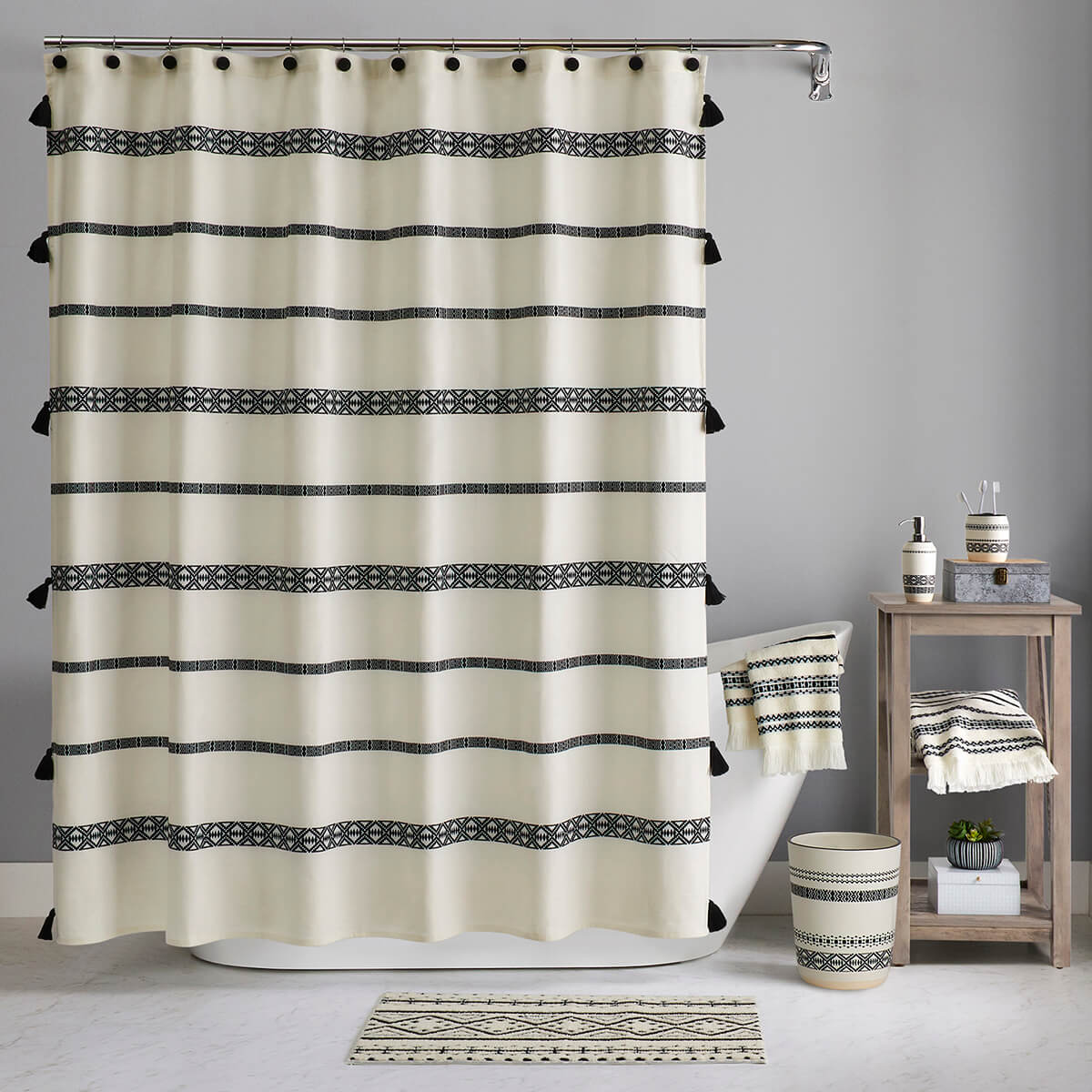 Tie all of your bathroom decor pieces together with the common theme of triangles and tassels. Screaming fun and frolic, this pattern is subtly set in a black and white palette to maintain its modern feel. And no piece is left out as this pattern covers the trashcan, rug, shower curtain, hand towel, soap dispenser, and toothbrush holder. Any wall color would work in the background, but the grey shown here keeps the contemporary style alive.
24. Simple Shiplap Love Your Face Bathroom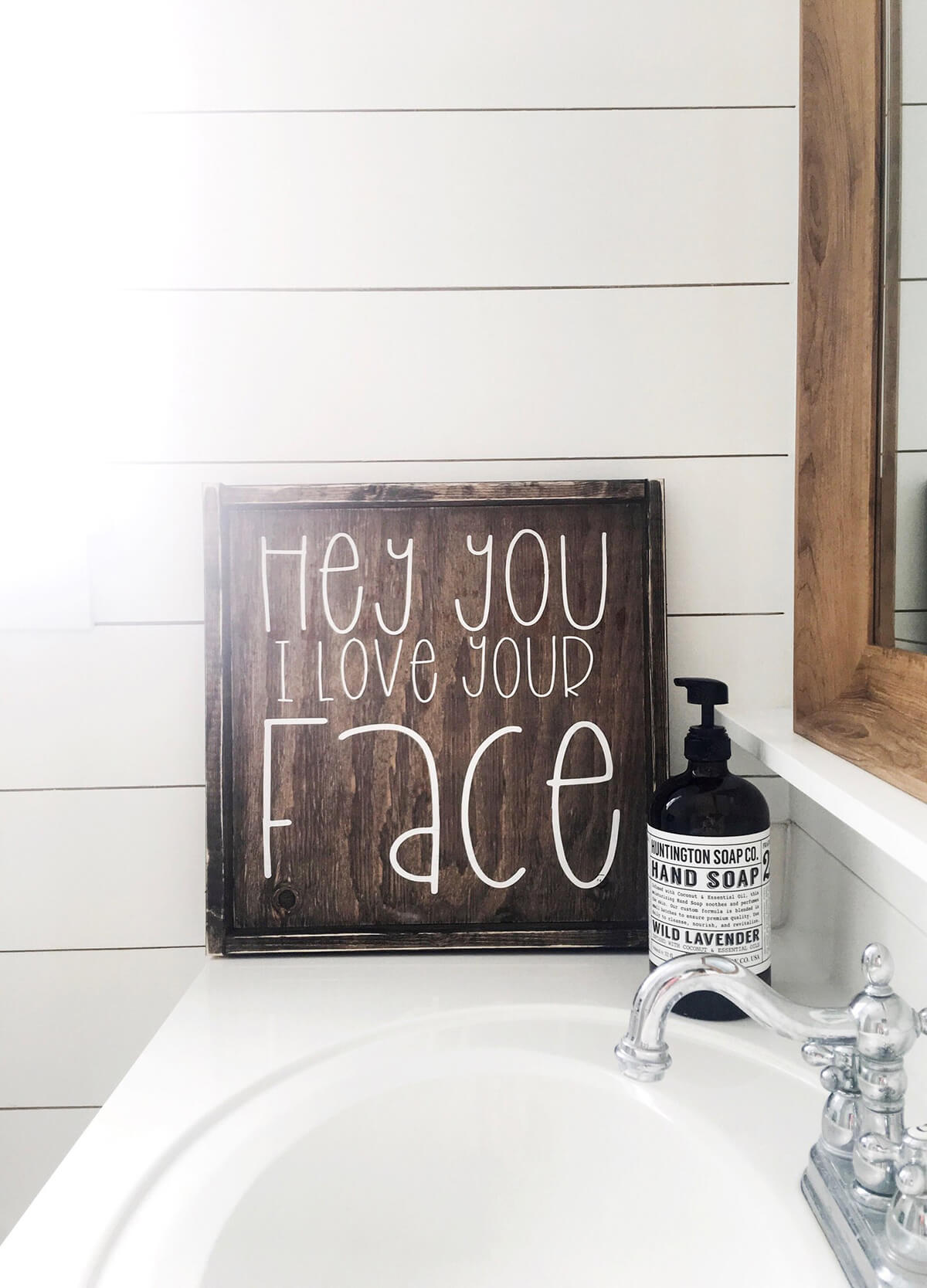 Make every square inch count in your half bath as you set the background in shiplap and embody the complete modern farmhouse feel. A quaint and cute little sign adds a personal touch while bringing a smile to everyone who enters. The square warm brown sign is a perfect contrast to the white shiplap wall. Keep it simple and essential by placing nice hand soap on your sink and you've completed your clean and cozy modern farmhouse bathroom decor.
25. Storage Galore with Woven Baskets and Fun Bathroom Sign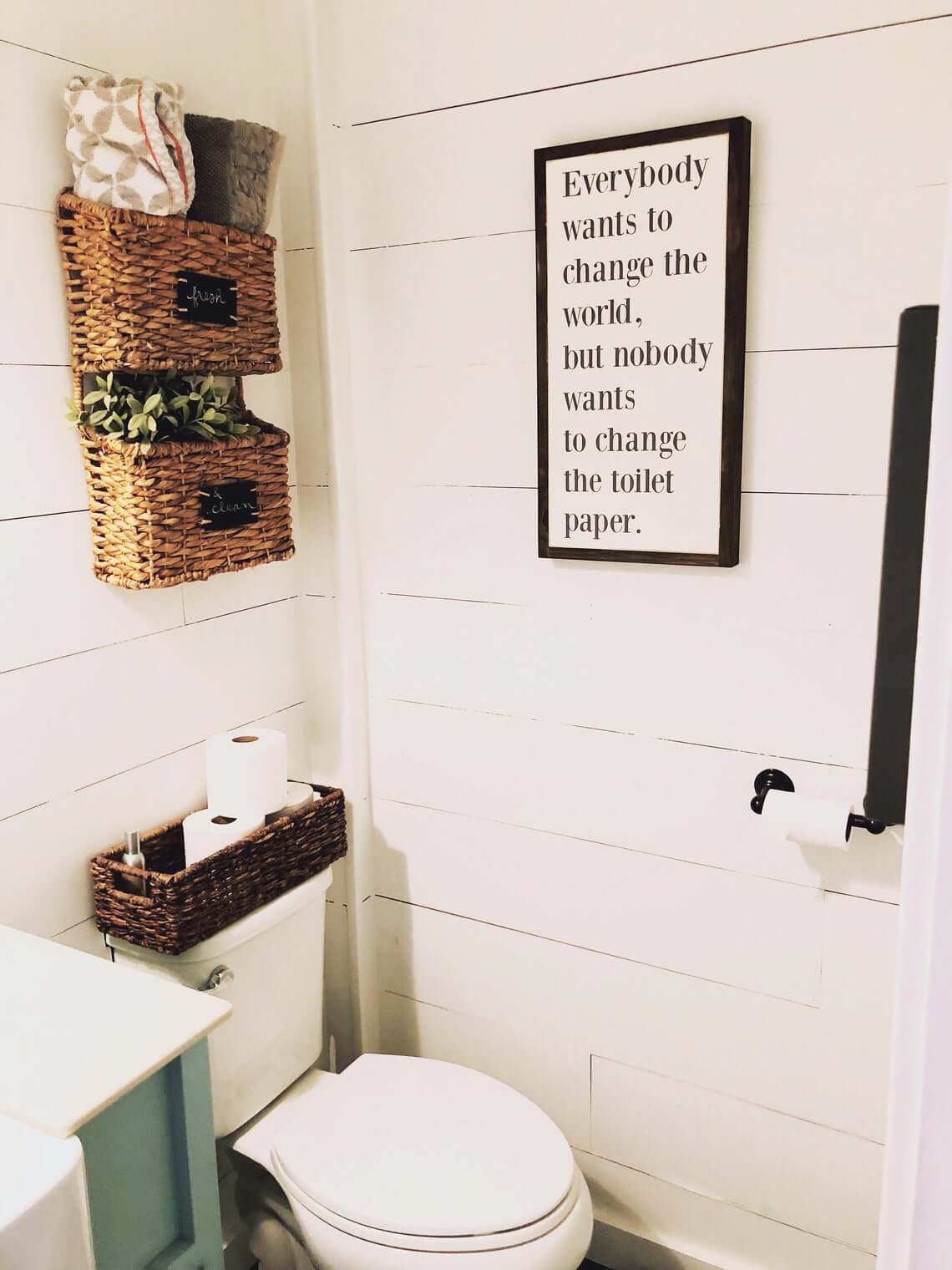 Amp up your storage space by placing woven baskets on the top of the toilet and secured to the wall above it. The rectangular one is a perfect place to stash your extra rolls of toilet paper. Even though it's apparent no one wants to change it, at least it's there. Then, the mail letter baskets overhead work wonderfully for extra towels or even a small houseplant. No matter how you fill your storage space, it's nice to have it on hand when you need it.
26. Simply Spunky and Fresh Bathroom Decor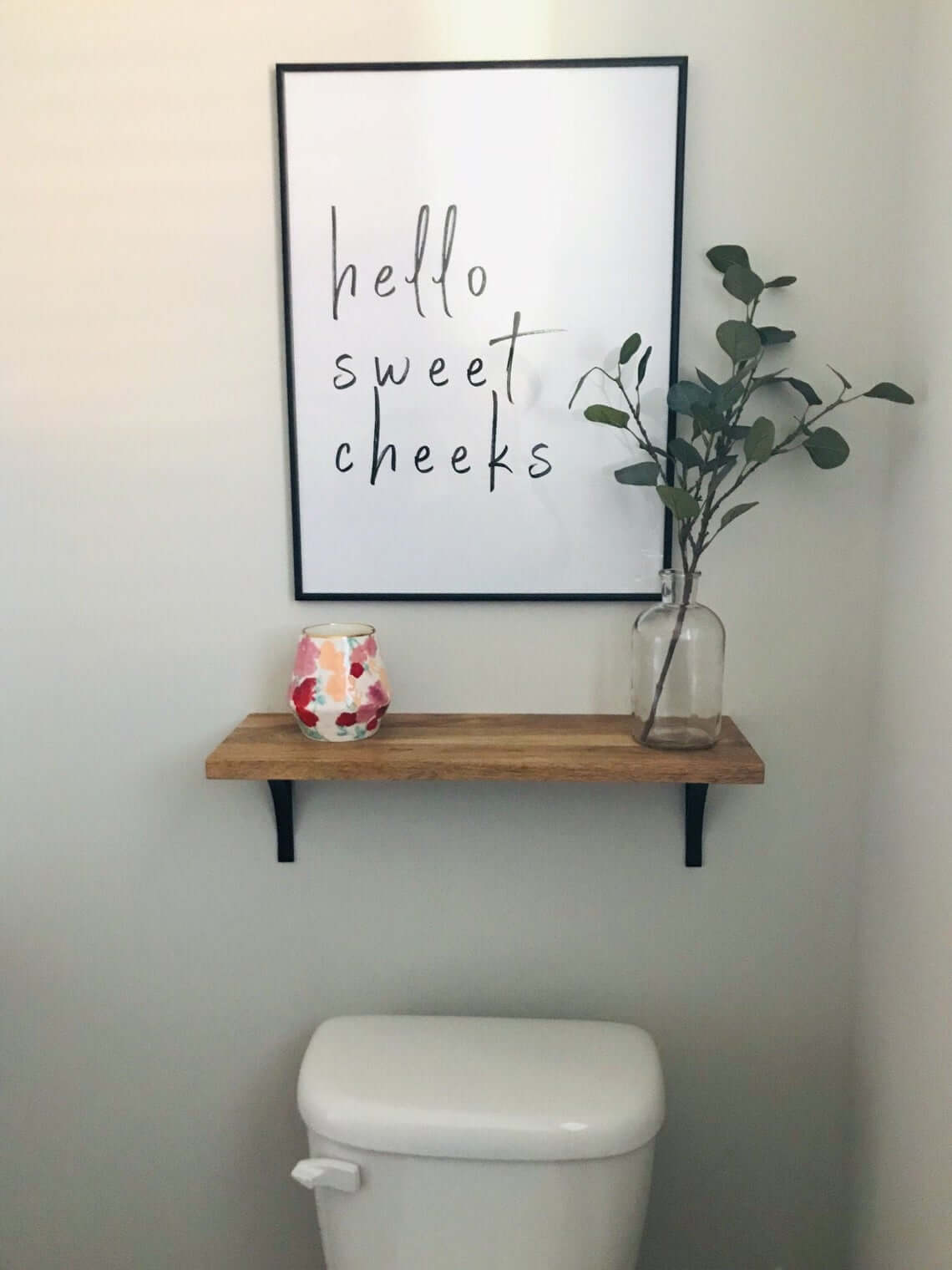 Increase the humor as your place a part of your personality in the pit stop of the home. This fun and spunky bathroom "hello sweet cheeks" sign is a fresh way to update the space of your guest or kids' bathroom. Created in black and white, it continues the modern feel with this classic color combination choice. Set above a plain wooden slab shelf makes it a complete look. Arrange a glass bottle with a sprig of greenery along with a small, colorful candle and you have a streamlined look for your small space.
27. Shabby Chic Repurposed Modern Mason Jar Storage Rack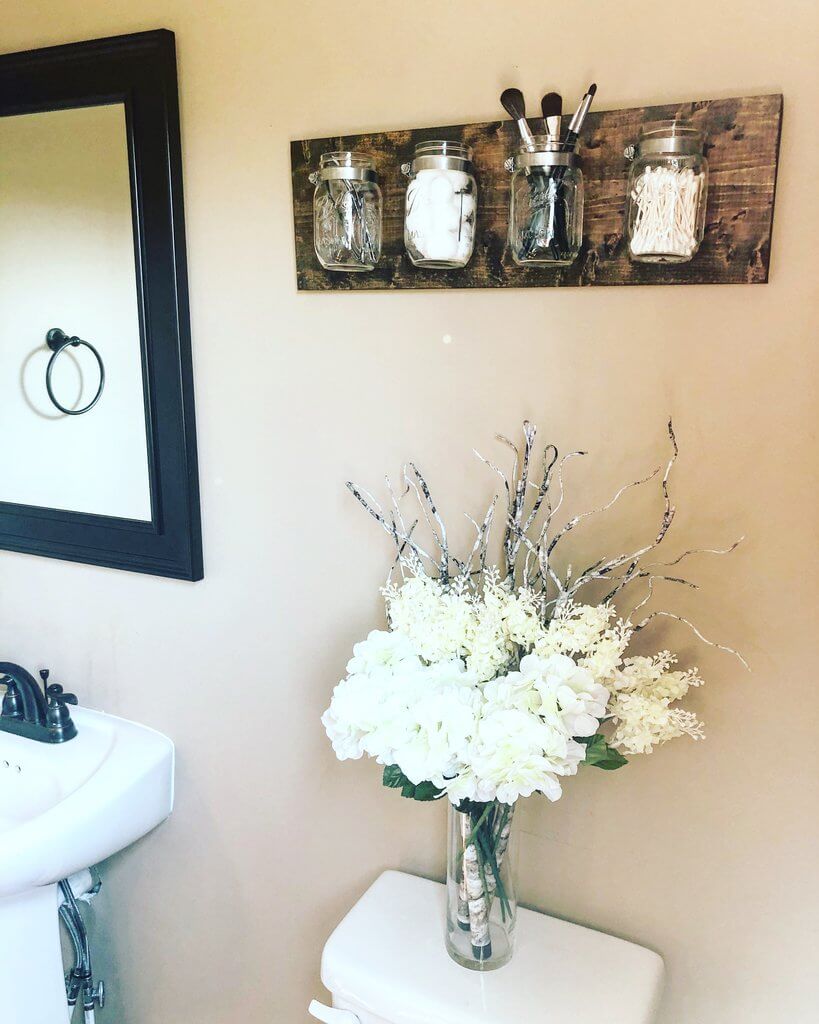 Just a scrap piece of wood and a set of four mason jars are the base materials you'll need to complete this incredibly awesome and easy DIY organizational rack. Pick your favorite stain to get the desired wood color of your choice. Pictured is a rich and warm deep brown that blends into almost any existing decor scheme. The set of mason jars are secured with metal rings to add an industrial feel to the overall look. Although this storage rack doesn't take up much space, it definitely delivers on its purpose. It is a cool way to house your essential girly goodies like cotton balls, hairbrushes, ponytail elastics, make up brushes, cotton swabs, and any other go-to you use on the daily. These everyday essentials are within reach but off the counter making them a top-notch repurposed modern mason jar storage rack.
28. White Washed and Worn Mason Jar and Toilet Topper Box
You can't go wrong with whitewashed decorations for any room of your home and your bathroom is no exception. This classic rectangular box is a standard size that works perfectly resting on top of the toilet or in between a double sink counter space. It features a quirky and fun "nice butt" script that is a perfect phrase for your bathroom space. With its roughed up edges and corners, the box is full of character even before you add your own personal items inside. To make further use of your whitewashing arsenal, you can breathe some new life into an old, unused large mason jar and make it feel right at home inside this toilet topper box. Tie a twine string around the top and fill it with a flower bunch to reuse the traditional canning jar as a vase.
29. The Golden Blend of Modern and Rustic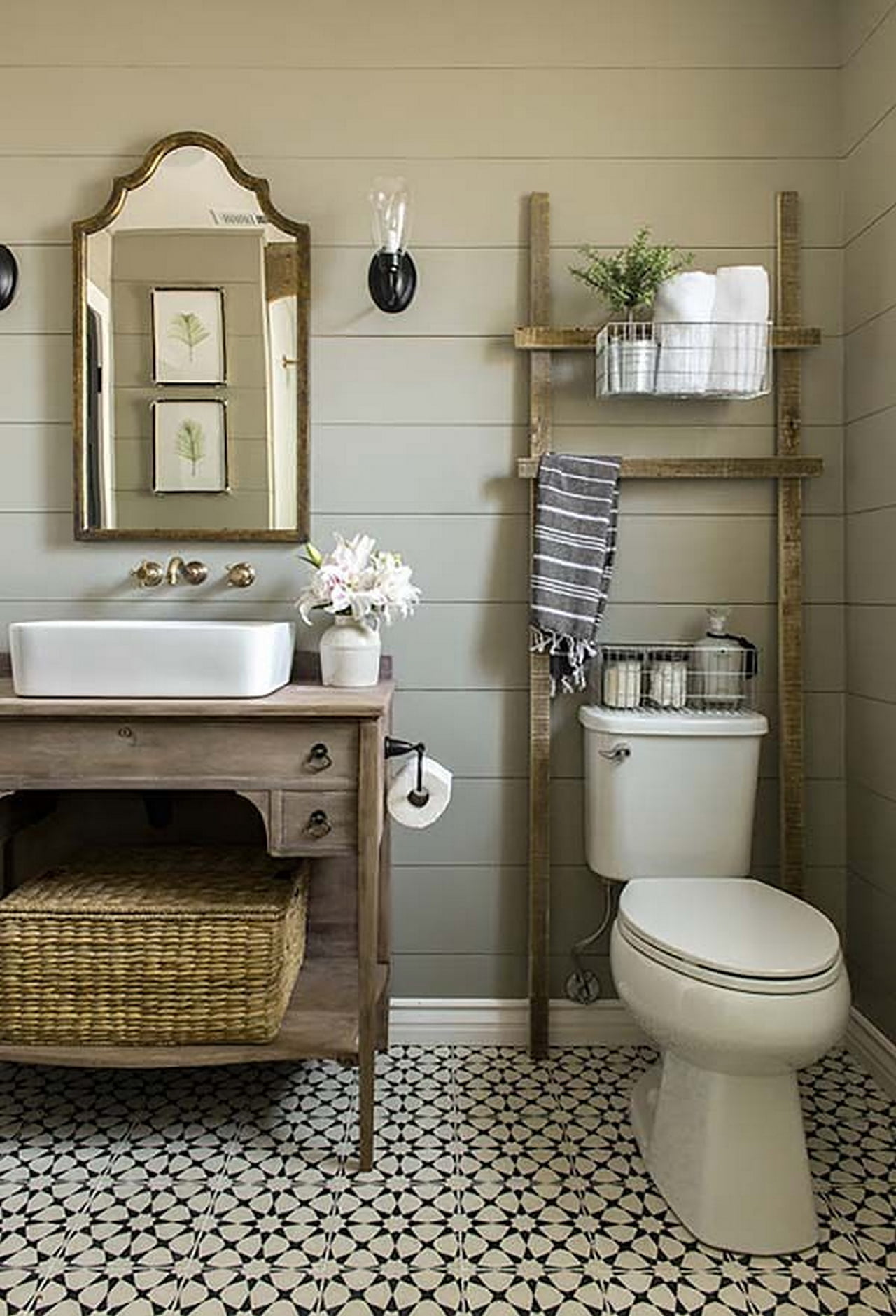 Source: The original source is not available anymore.
Shelving above the toilet is a great way to effectively use the space in a small bathroom, but the typical store-bought shelves are a bit flimsy and cheap-looking. This interesting twist on the premise is perfect for those who love rustic bathroom designs. The "shelf" is really more of a frame on which you can hang a towel or a metal basket to hold things. In this case, the wood is weathered and matches the wood in the table used as a vanity. Re-purposing a small desk is a nice touch for making the sink look different, which the basket underneath still provides hidden storage.
30. Floating Pallet Shelves for Storage and Design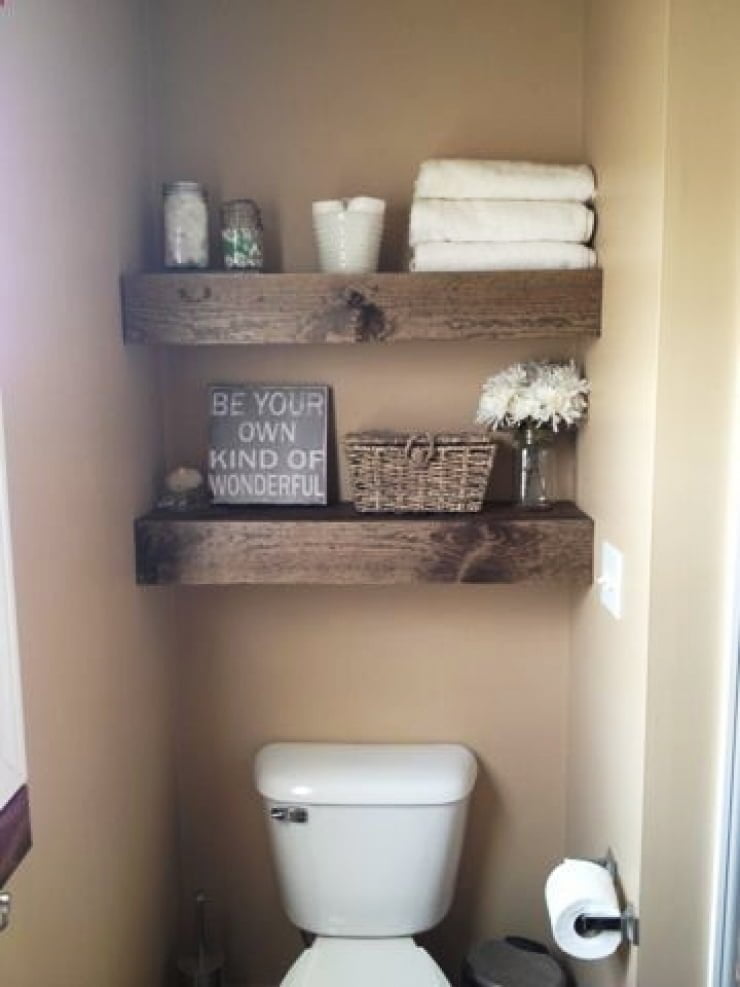 Source: The original source is not available anymore.
In a small space like this one, you don't have much room to work with, so choosing floating shelves that completely fill the narrow space is the right choice. Since the shelves don't have legs that need to sit on the floor, you don't have to worry about finding space for the cleaning brush and a small trash can. Once you have these shelves, you can fill them with any type of bathroom decor you want. This homeowner has chosen a friendly message along with some practical items like extra towels and flowers to brighten up the look.
31. The Classic Black and White Theme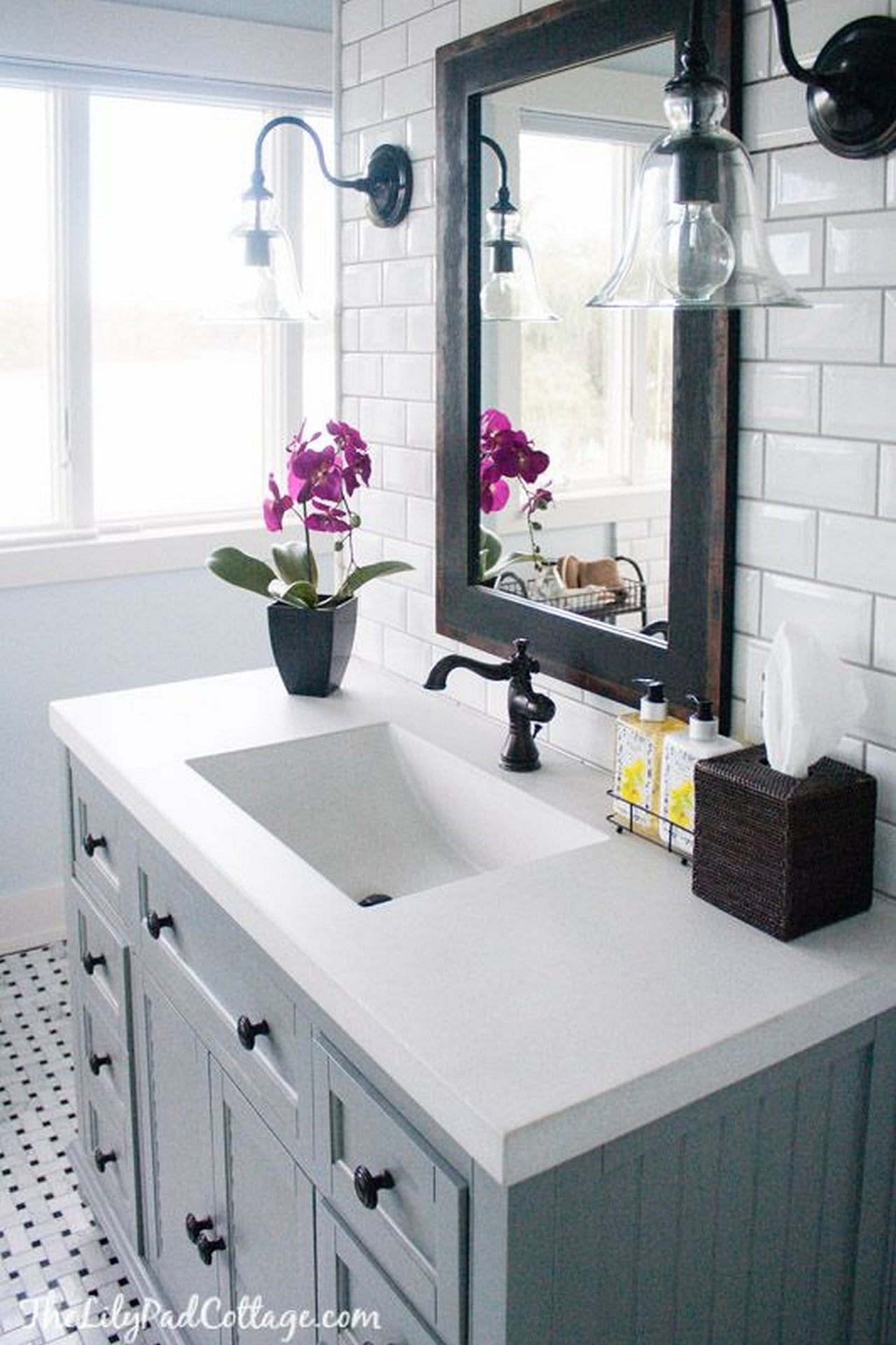 If you have lovely tiled walls and floors in the bathroom, you want decor ideas that will make them stand out. In this case, the tiles are white, so the dark wood around the mirror and the black faucet and drawer pulls offers a nice contrast. With a large enough sink like you see here, the flowering plant offers an opportunity to add color to the space. A holder for the hand soap and lotion and a cover for the tissue box helps keep things neat and ties these basic items in with the look.
32. Easy Storage with Mason Jars and Pallets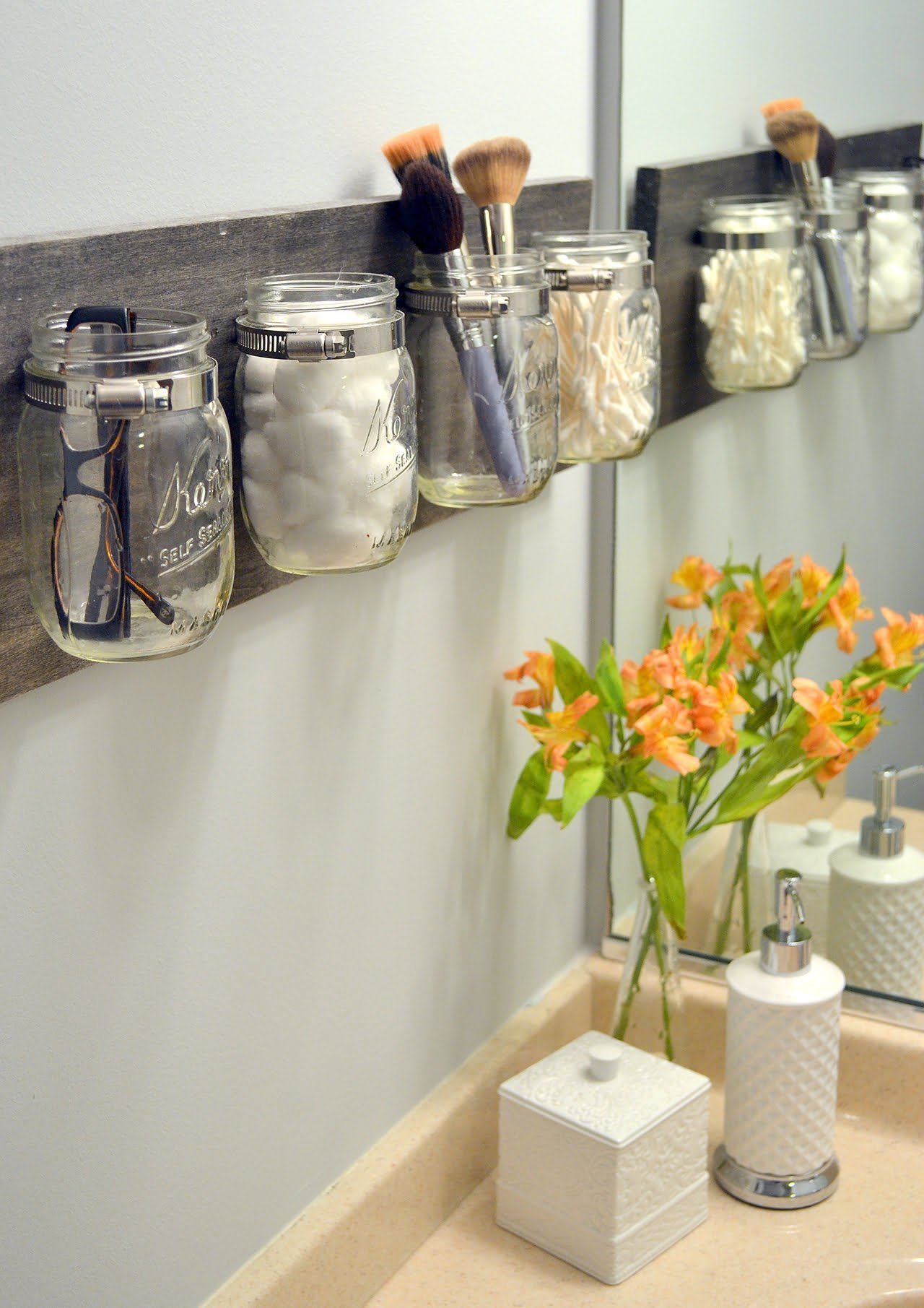 Source: The original source is not available anymore.
Some of the best bathroom ideas are the ones that are the most practical. This simple DIY idea allows you to easily contain some of the clutter you typically find in the bathroom while still having the things you regularly need close at hand. Simply attach small mason jars to a board and hang it up by the sink. You can paint the board in different colors to match the style of your bathroom. An added benefit of this is that it gets the clutter off of the sink, giving you more space in the area for other things.
33. Vintage meets Modern Design Theme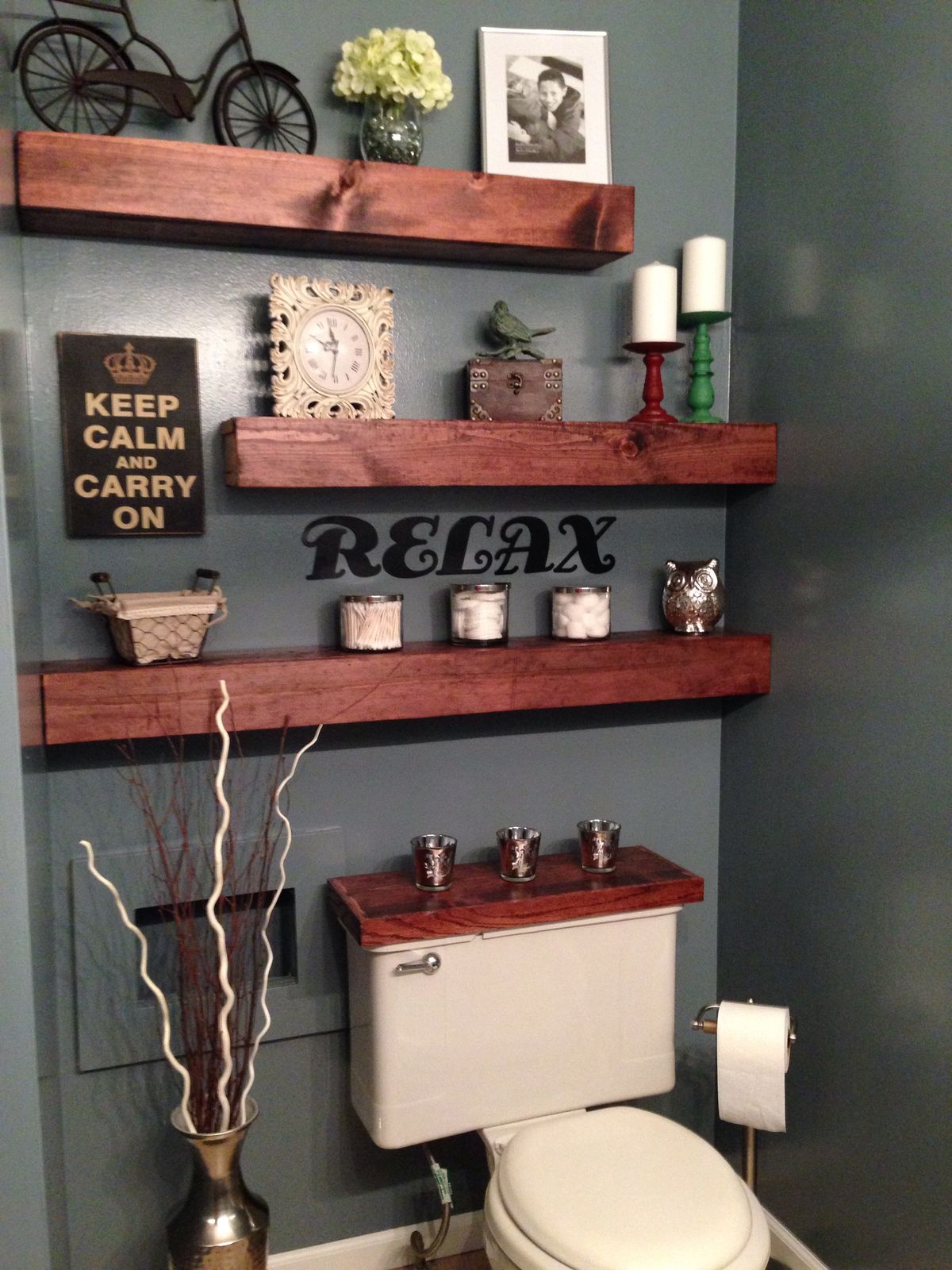 Source: The original source is not available anymore.
This small space also makes use of floating shelves, but since the space is a bit larger than the one in the other photo, the homeowner has chosen to use some shelves that don't cover the enter width of the nook. This allows you to have extra space to hang photos and to place bathroom decor that's a bit taller, like the candles you see here. Adding a matching shelf on the back of the toilet tank is an extra-nice touch that pulls the entire look together. This is great when you need bathroom decoration ideas that can incorporate many of your little knick-knacks.
34. Chalk Peach Makeover for Mason Jars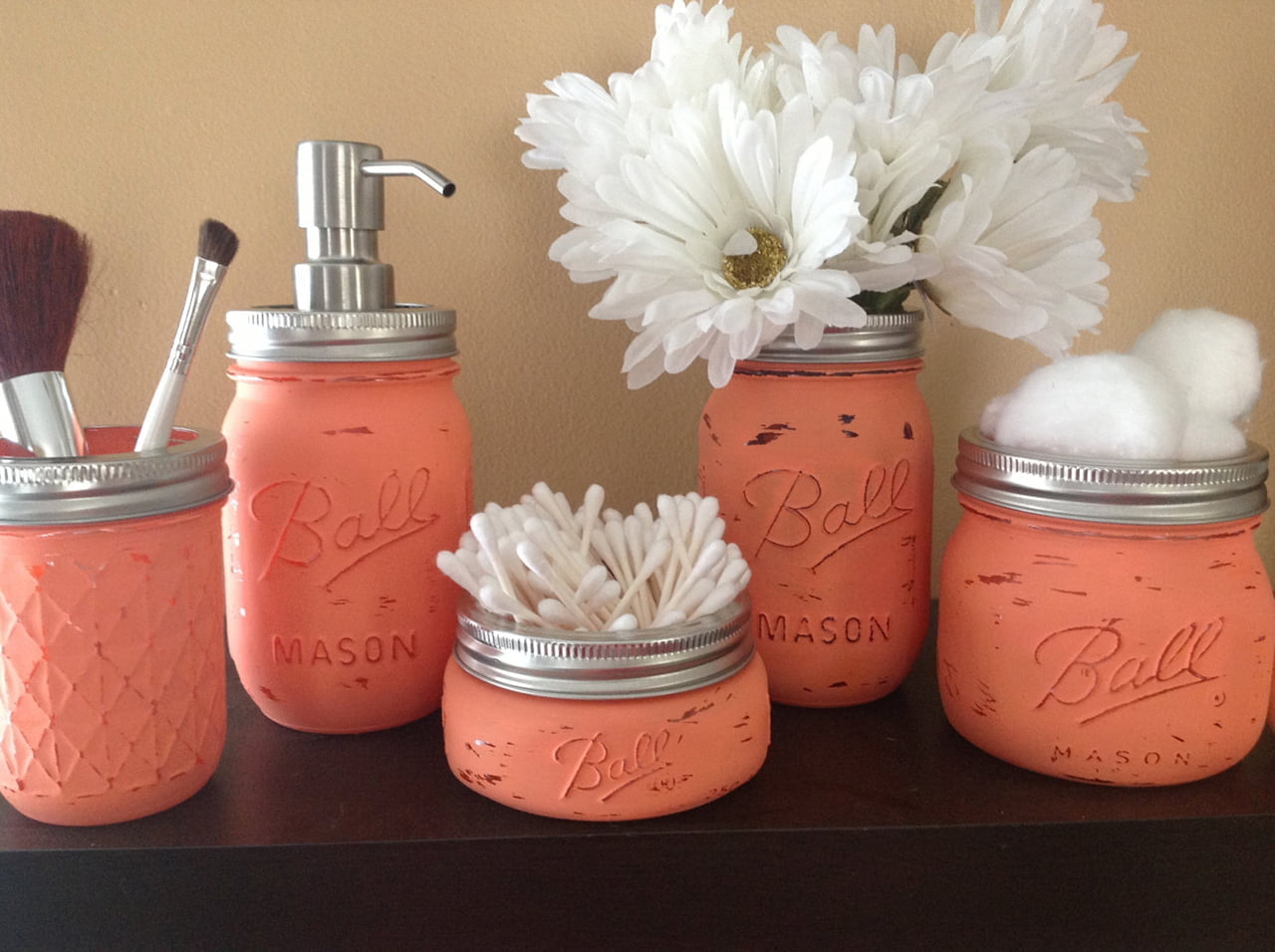 Mason jars are an inexpensive solution for storage, and this picture shows how you can take a simple idea and change it up to fit a variety of bathroom designs. By painting the jars, you can have them fit in well with any color palette. It's also easy to see how different jar sizes can work better for holding different types of objects. A shorter jar, for instance, works better for holding cotton swabs, while taller jars work well for holding makeup brushes. Simply arrange these jars on the bathroom sink or on a shelf in the bathroom.
35. Serene Beach Bathroom Décor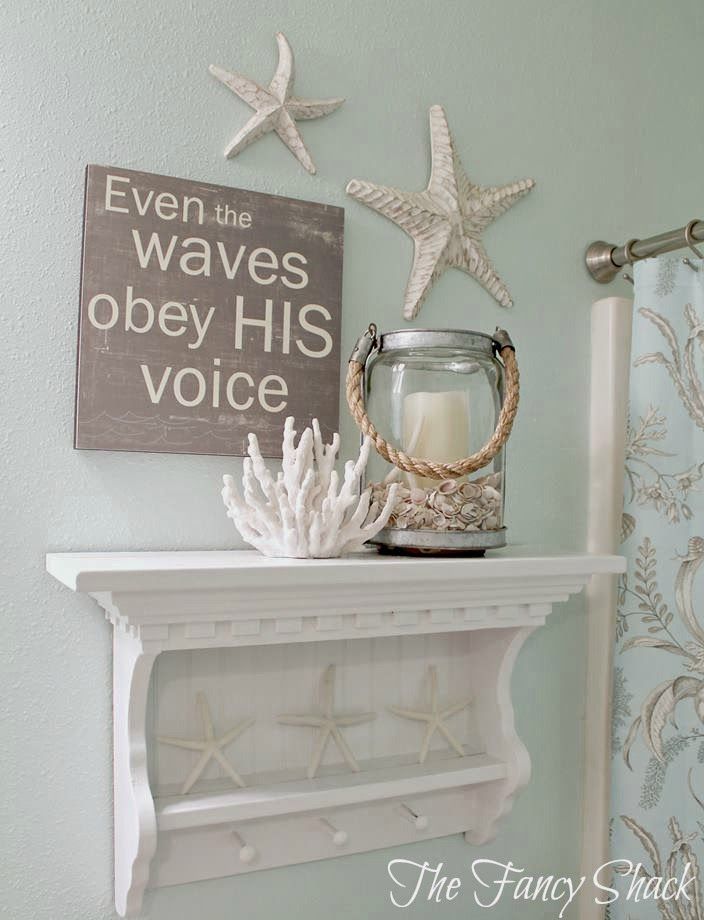 Source: The original source is not available anymore.
Most people find the beach relaxing, so it's common to see elements of this incorporated into different bathroom ideas. Here, light blue paint on the walls creates a relaxing environment, while the sea stars and shells set the beach tone. This pegs on this shelf are particularly nice because they can easily hold towels when you're in the shower. It's a small detail, but the shower curtain rod here is obviously a big step above the one you probably had in your first apartment. It costs a bit more, but it makes a big statement.
36. Color Accent Ideas for a Small Bathroom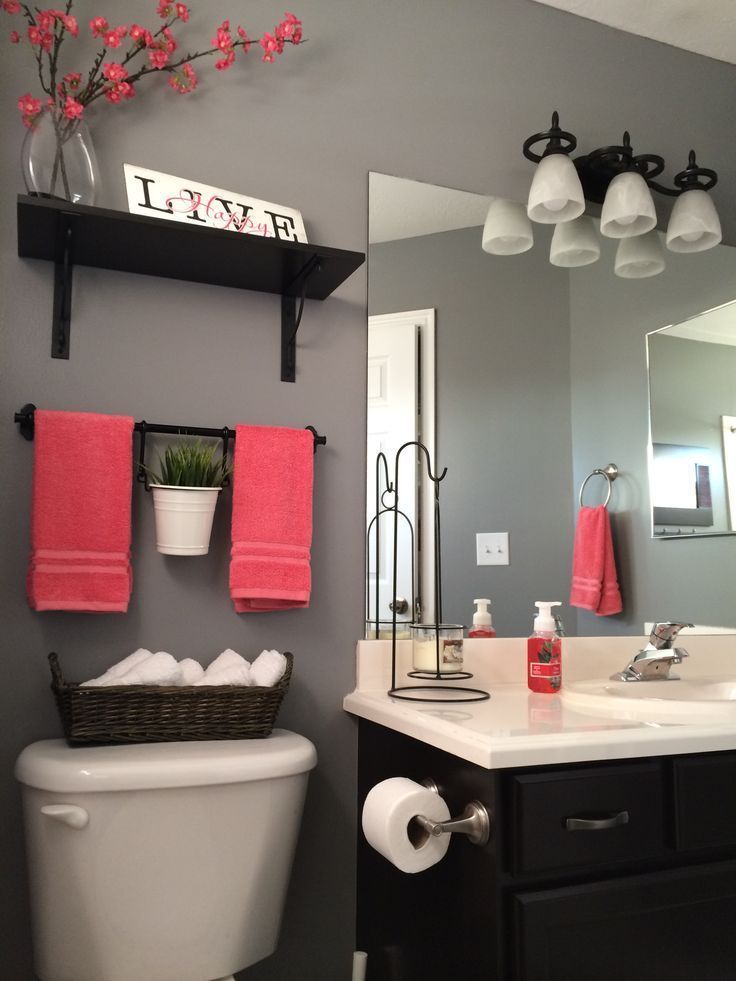 Source: The original source is not available anymore.
Bathroom designs that contrast dark wood with the white porcelain of the toilet and sink area always have a classy look, but they can get a bit boring. When you add a pop of color, like you see here, it can really brighten up the place. This designer has taken the color from the cherry blossoms and incorporated it into the towels and even the soap. You could easily use the colors of another type of flower as inspiration. Think about sunflowers or lilacs. Another interesting element from this bathroom, is the small bucket of grass hanging in between the hand towels. An unexpected detail like this is just the type of thing that can set you apart from others.
37. Modern Gray Comes to Life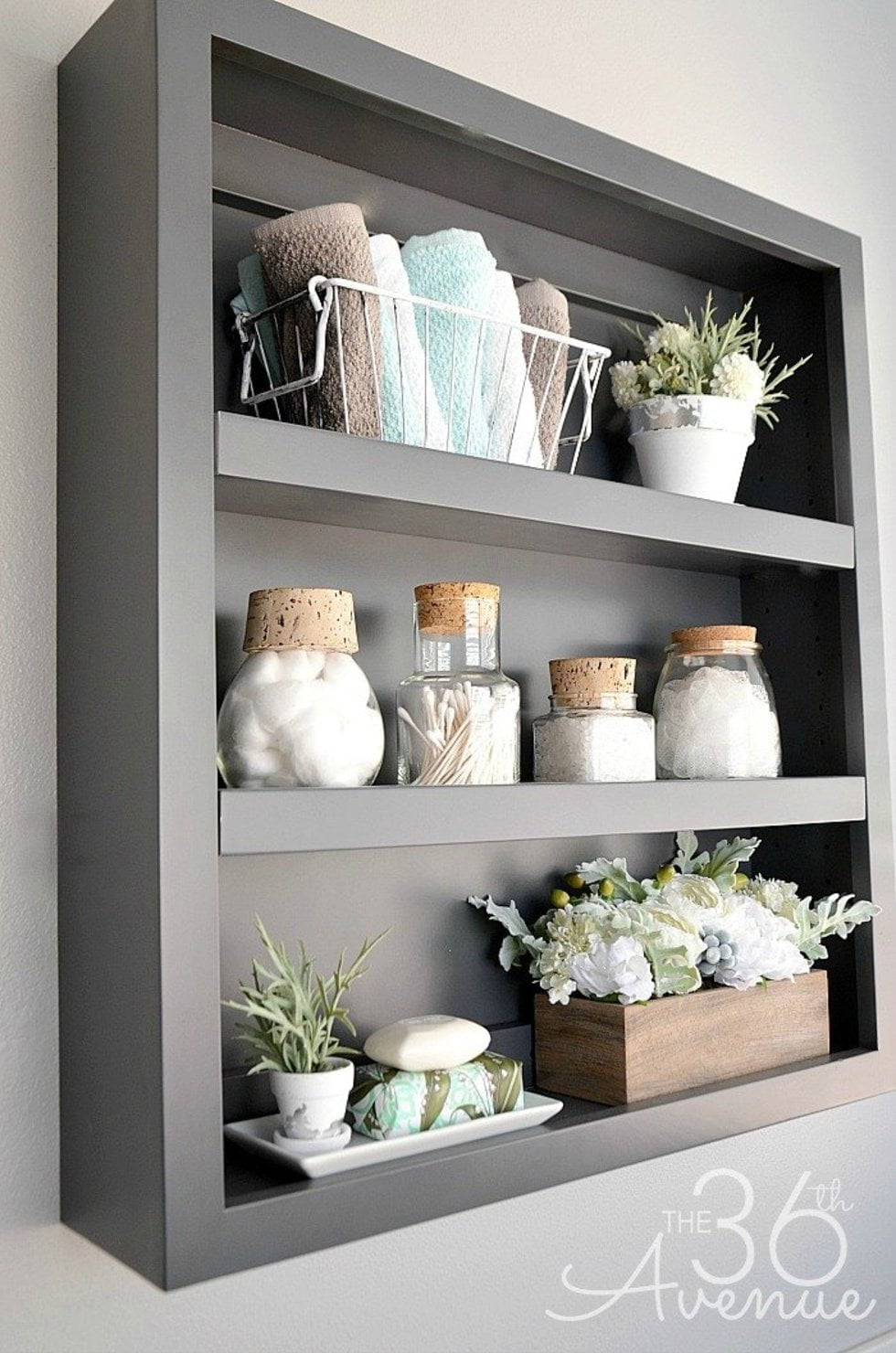 You don't always need a lot of space to get more organized. This simple shelf might be about the size of a medicine cabinet, but everything is out in the open, giving you more opportunities to use it for decorating. Bathroom decoration ideas like this one are both practical (giving you space to store towels and cotton swabs) and beautiful (with additional space for a few plants). Best of all, you can paint this whatever color you like to fit with your personal style. Remember that a shelf like this will be heavier than floating shelves, so be sure you're anchoring it into the wall's studs to be sure that it's secure.
38. Wall Scrabble Letters as Bathroom Decorations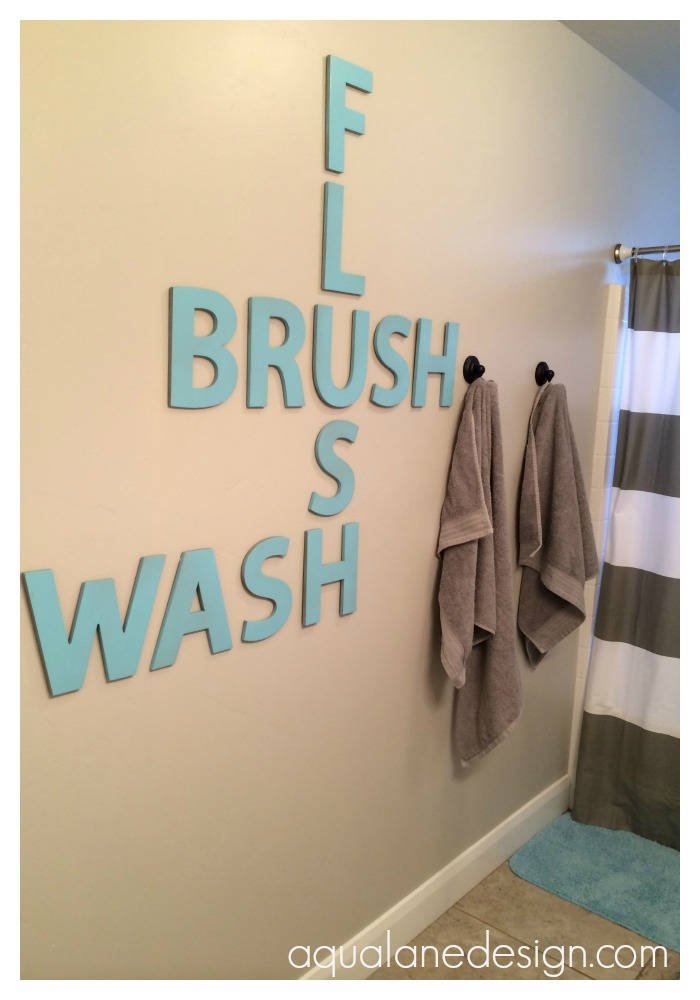 Source: The original source is not available anymore.
Easy DIY bathroom ideas like this one can make a big statement. The letters here form a crossword puzzle-style reminder to anyone who comes into the bathroom. You might imagine that this could work well if you have kids who might forget to do these things, but you could also take the concept and change the words to something more suited to your family. Letters like this are typically available in craft stores, and you can paint them to match your shower curtain or bath rug. The striped shower curtain is another nice touch, adding some interest while still being neutral.
39. Rustic Beach Crate Wall Shelves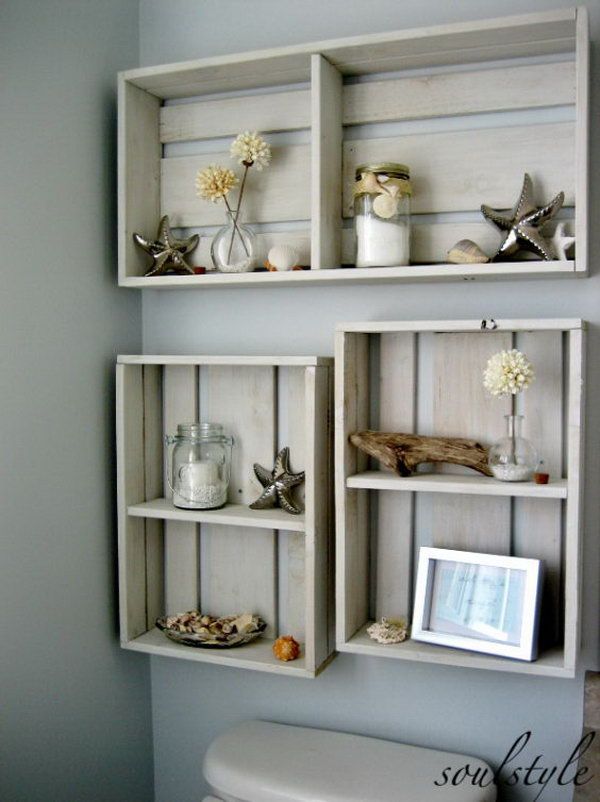 Simple boxes from the craft store can be instantly transformed into shelves that will work with all types of bathroom ideas. You can see here how the same box can be turned into a vertical shelf with two shelves or a horizontal one with a divider. Both work equally well whether you're using the shelves to store items like hand towels or extra rolls of toilet paper or as a place to put your decorations. Here, they've chosen a beach design, with shells and drift wood. In a kids' bathroom, you might choose something more fun and colorful.
41. Chic and Calming Blue Design Theme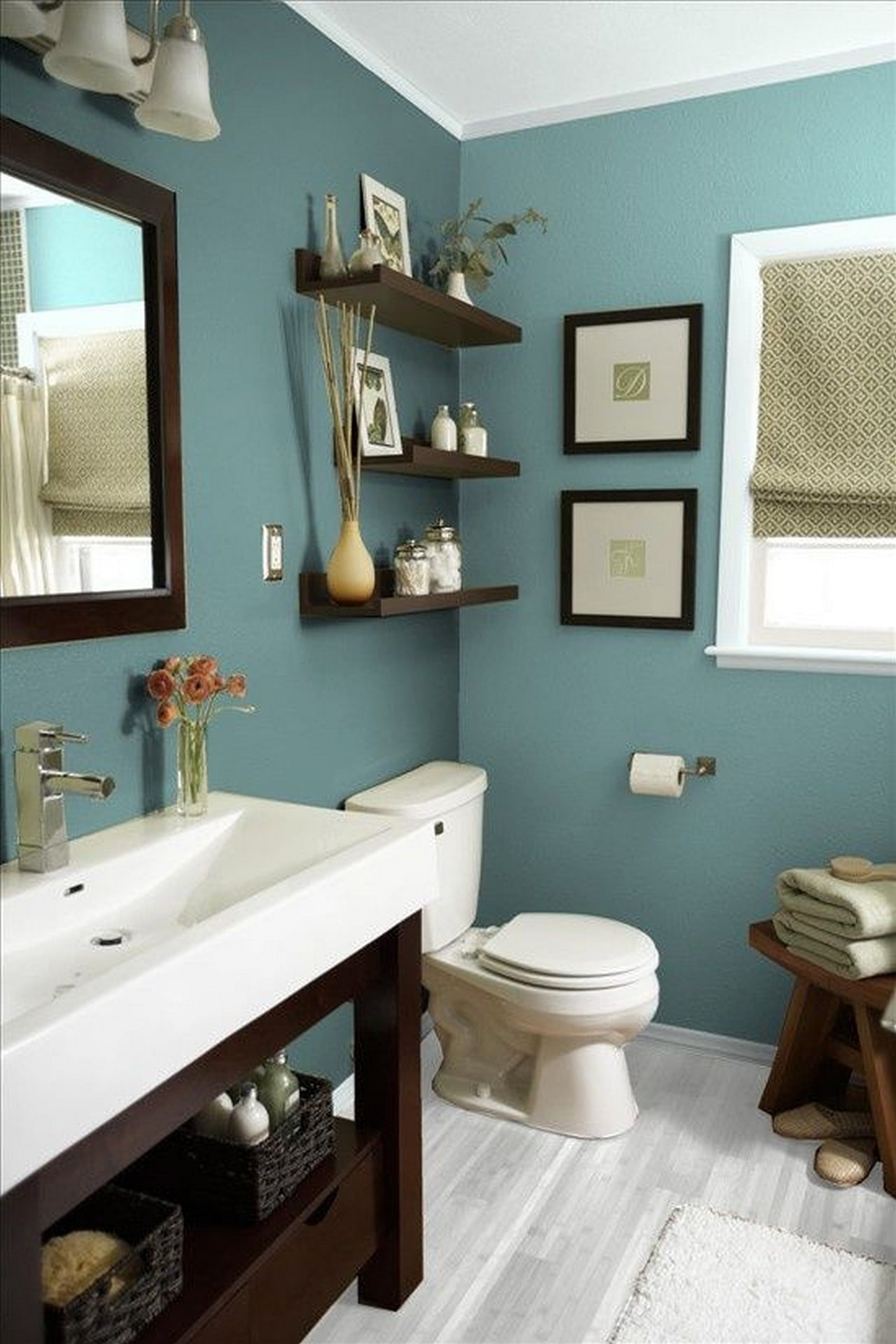 Source: The original source is not available anymore.
A darker blue on the walls in this bathroom still has the calming effect that you're looking for in bathroom decorations, while being a bolder choice. The floor in this picture also stands out. Few people choose wood for the floor in a bathroom because it's not water-resistant, but here you have the look of a light-colored wood. It's only a look, though. These days, you can find vinyl and laminate tiles that look like wood while being safe for the bathroom. If you're replacing a floor, be sure to ask about all of your options.
42. Finishing Touches Beach Candle Decor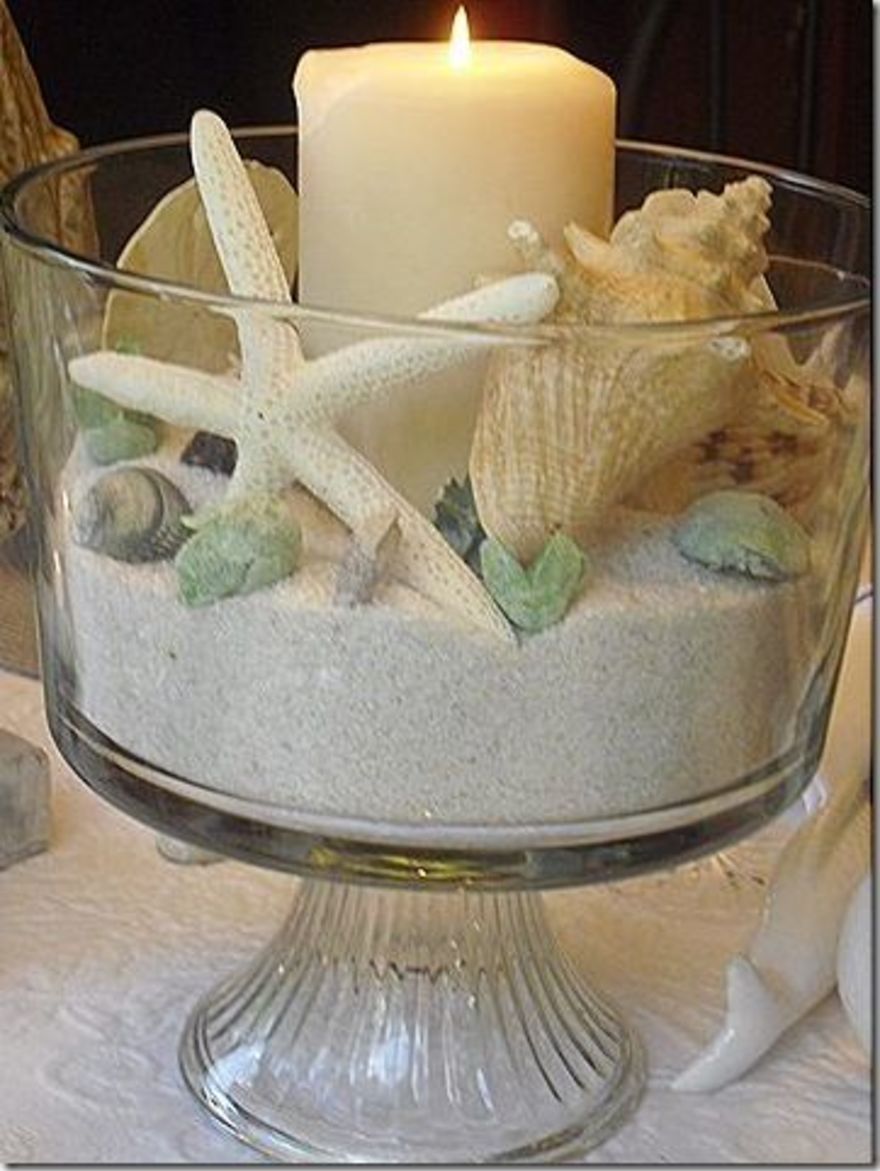 Source: The original source is not available anymore.
If you have the space for it, an arrangement like this can be a nice bit of bathroom décor for your room, and it's easy to make yourself. Simply take an elegant serving dish like this one, fill it half-way with sand and place a few shells inside. The large candle in the middle provides you with mood lighting, and LED versions of candles like this offer a safer alternative. Use sand from the craft store rather than sand from the beach to avoid causing a stink.
43. Personalized Shelf Design to Complete Any Theme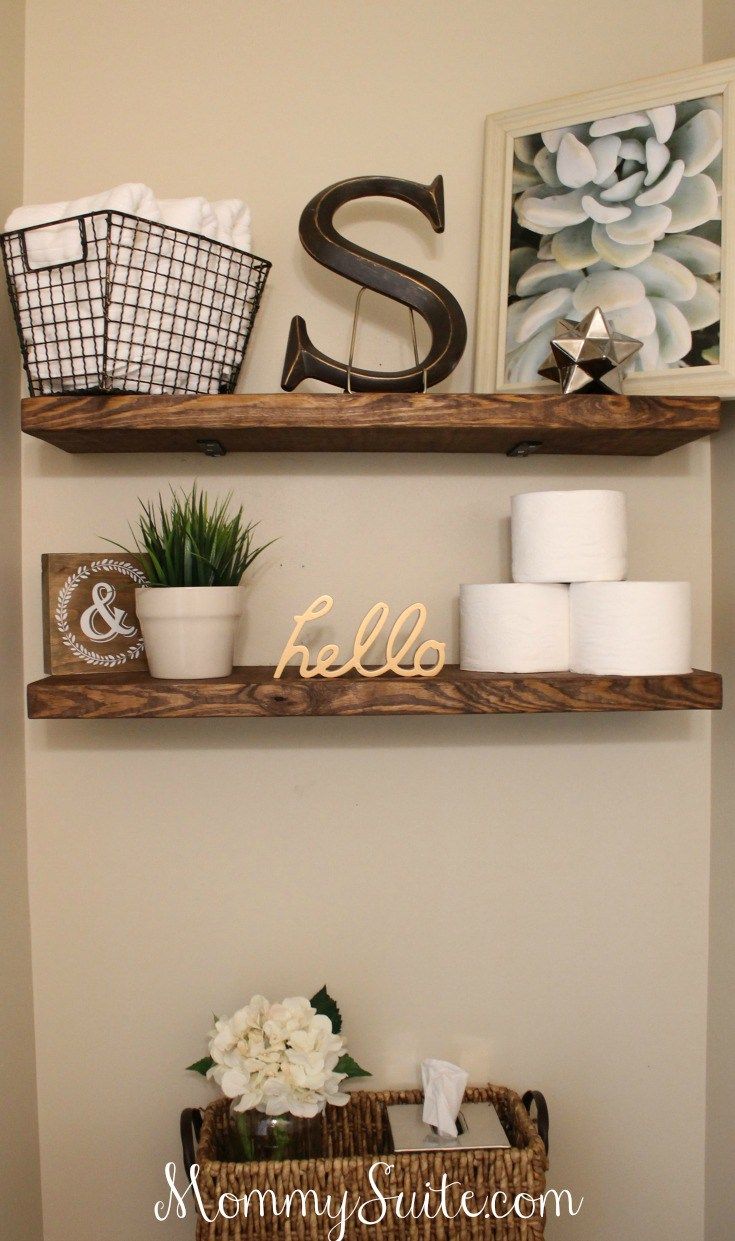 Source: The original source is not available anymore.
Here's an interesting look for those who want bathroom ideas that don't focus on the beach. The large letter S and the "hello" message are interesting because they're three-dimensional rather than being printed as a picture. They go nicely with the spikey sculpture and abstract photograph. In addition to the artistic elements, there are also practical elements, storing the tissues and towels in a classy way. The toilet paper pyramid is a different way to store the extra rolls, showing you that you don't necessarily need to place them inside a container.
44. Counter Decor to Create a Spa Atmosphere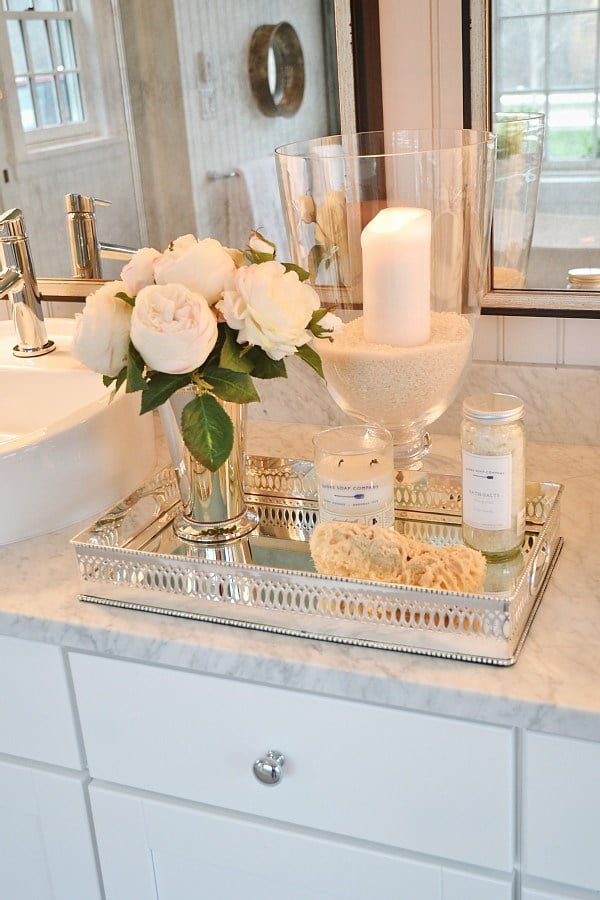 A silver serving tray offers a convenient place to store some decorative items, and here it goes really well with the luxurious marble countertop. The large glass vase holding the candle will allow it to cast a tranquil goal for a nighttime bath. Bathroom decor ideas that incorporate fresh flowers are always nice, but you have to remember that they'll require upkeep. Fortunately, one of the benefits of this is that you'll constantly be able to slightly change the look of your bathroom by purchasing a new type of flowers each week. Fake flowers can also work if you don't want the hassle, but be sure to dust them regularly.
45. Colorful Letters to Create a Fun Look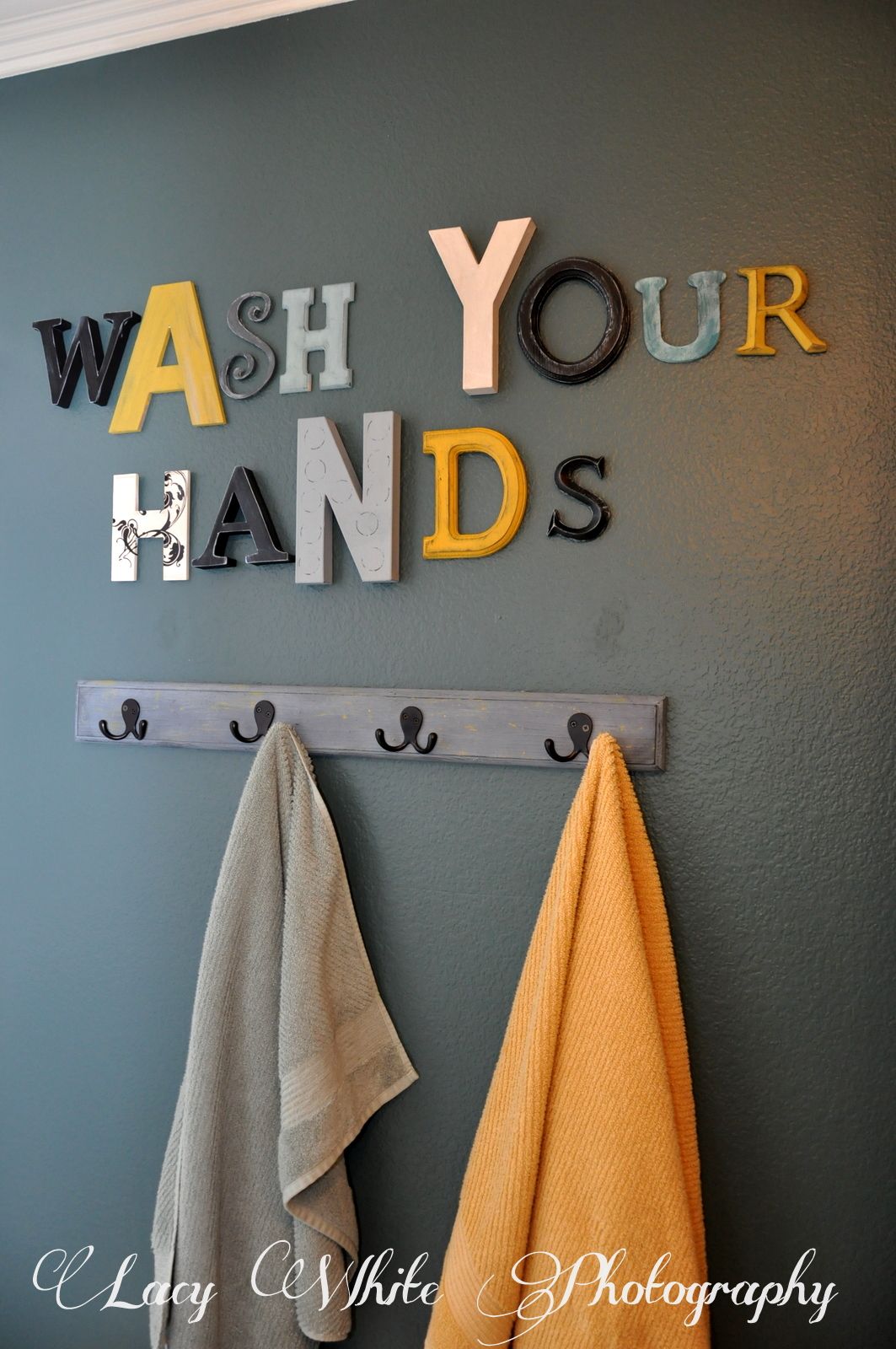 Source: The original source is not available anymore.
If you love eclectic bathroom ideas, this may be the right look for you. Rather than sticking with letters all in the same font, the designer has searched for different styles for the letters, creating a unique appearance. This draws the eye to the message every time you enter the space because you can always find something a little new. That's perfect for kids who really need that constant reminder. A simple bar with hooks like this gives you the space you need for everyone in the family to hang their towels.
46. Pallet Shelves that Incorporate Beauty and Utility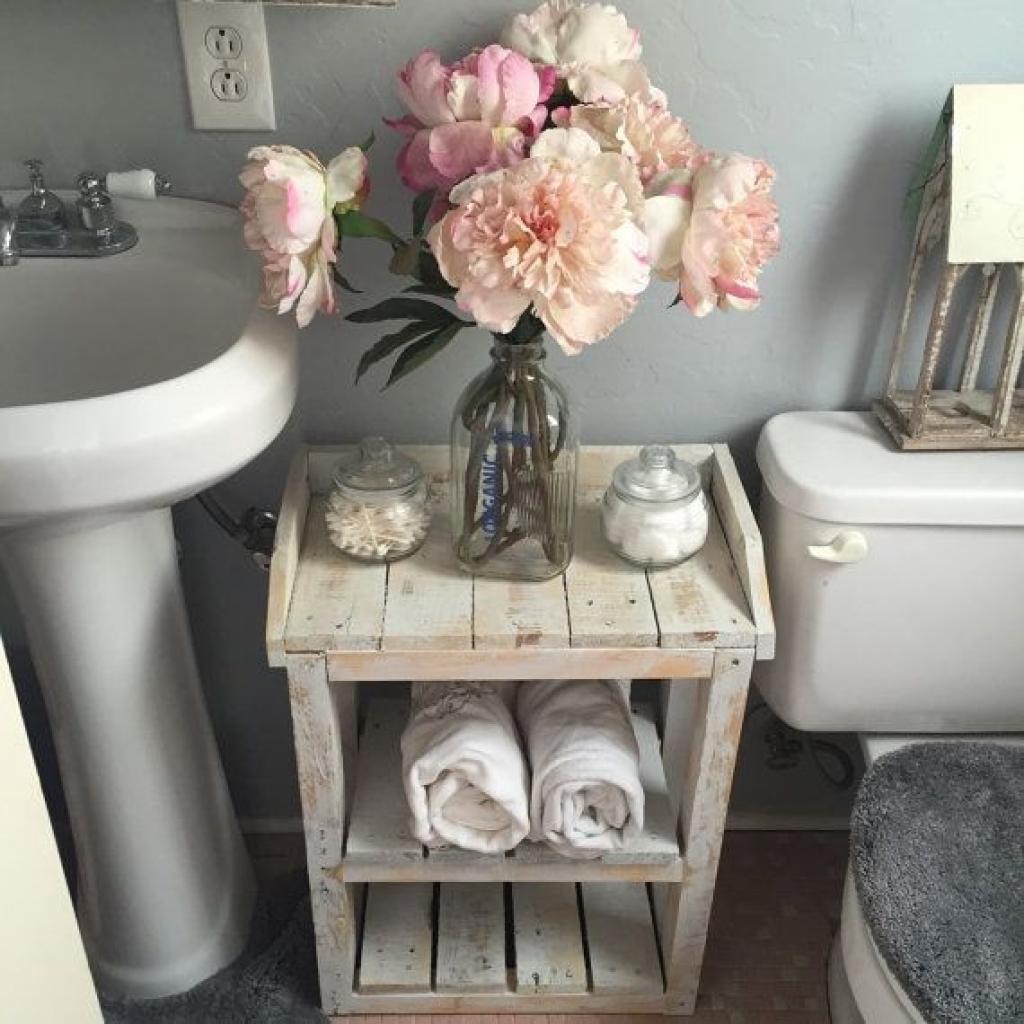 Don't forget to make use of the "dead space" in between the toilet and the sink. That could be the perfect spot for a beautiful flower arrangement or a few supplies you might need. Rather than searching for a small table that exactly fits the space you have, it's wise to create your own using recycled wood. Pictured here, the wood is a bit distressed, fitting well with shabby chic bathroom designs, but if the wood was painted, it could have a completely different look.
47. Golden Accents to Complete a Classy Look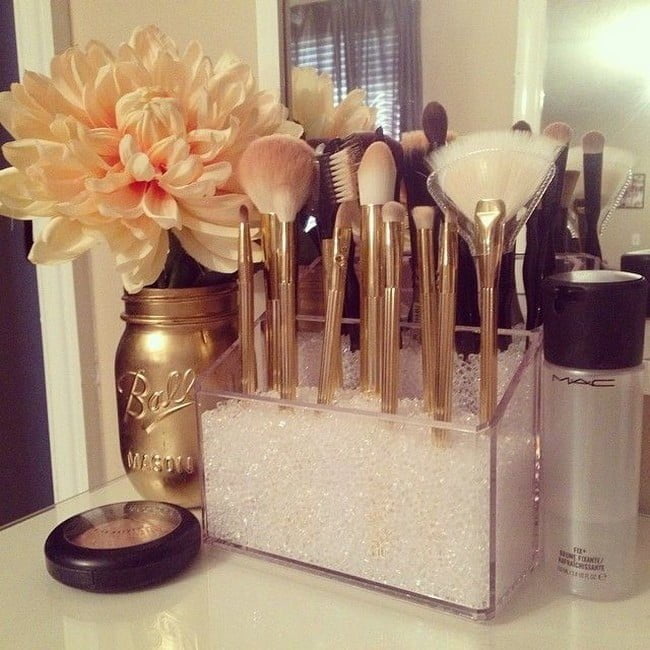 If you want to feel glam, you might be looking for more glamourous bathroom ideas like the one you see in this photo. With matching makeup brushes, you simply need a fun way to keep them close at hand and this container doesn't disappoint. Filled with small glass beads, you can easily store them upright, without having to worry about them tipping over and touching the other ones. The mason jar has been spray painted gold to match the brushes, and it serves as a convenient place to put a flower display. With a look like this, you'll feel like a movie star every time you put your makeup on.
48. Relaxing Theme to Blend New and Old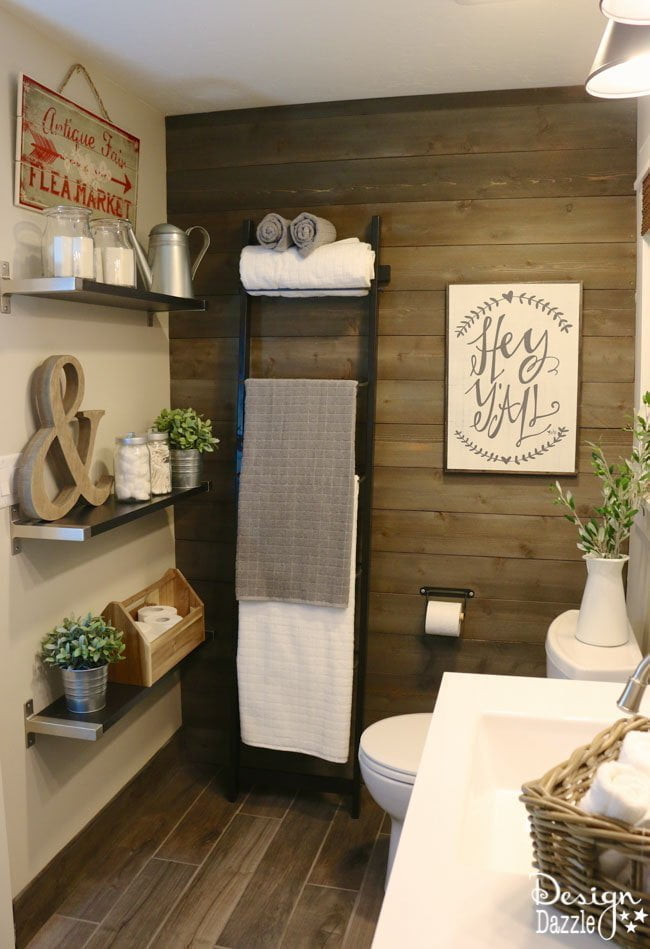 We've already seen a lot of bathroom decor ideas that use the space at the back of the toilet to display decorative items, but in this particular bathroom, you have a nice window providing natural light at the back of the toilet. Instead, this design uses the wall space across from the toilet to get the same effect. The "wood" walls and floor give the space a rustic feel, and the artwork that the homeowner has chosen completes that look. The vertical towel hanger is a nice choice for those who don't have a lot of horizontal space for towels.
49. Classy Toilet Paper Holder and Shelf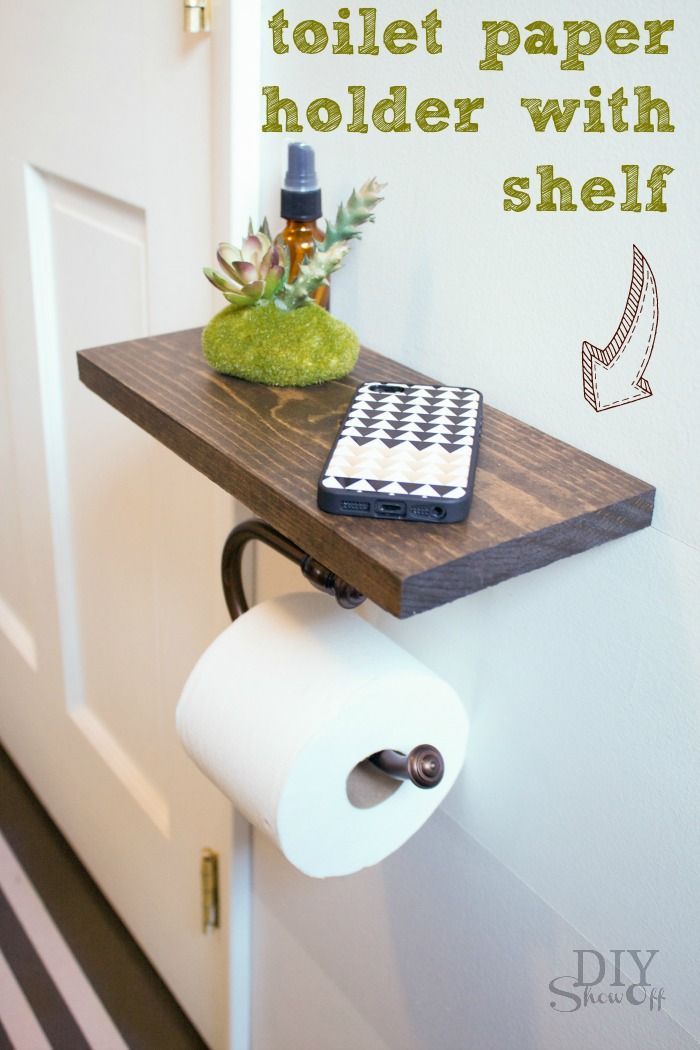 You might not want to think about it, but it's very common for people to bring phones, books, or electronic devices into the bathroom when they do their business. This cute mini-shelf with the toilet paper roll underneath gives you a place to put that while you finish up. It also offers a visible place to put any room deodorizers that people may want to use. This is one of the most modern bathroom decor ideas on the list, and you can't say that it isn't convenient.
50. Well-Polished Finishing Touches and Shelf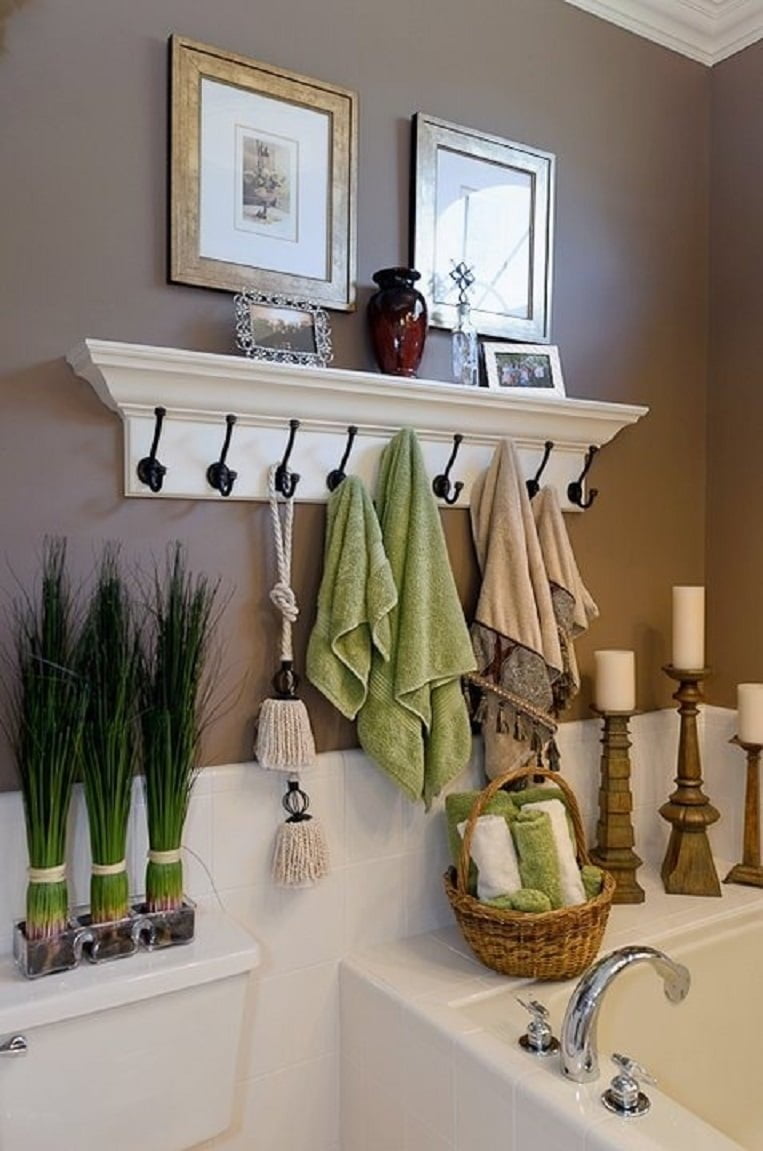 Sometimes, having a toilet and bath tub so close together can make the space feel cramped, but bathroom ideas like this one make the space feel more open. The photo frames are elegant and fit nicely with the bathroom decor. With a large ledge by the tub, you have the space you need to store things like a basket of towels or the beautiful candles. You'll feel like royalty when you sink into the waters with those candles burning.
51. Simple Meets Classy With This Frame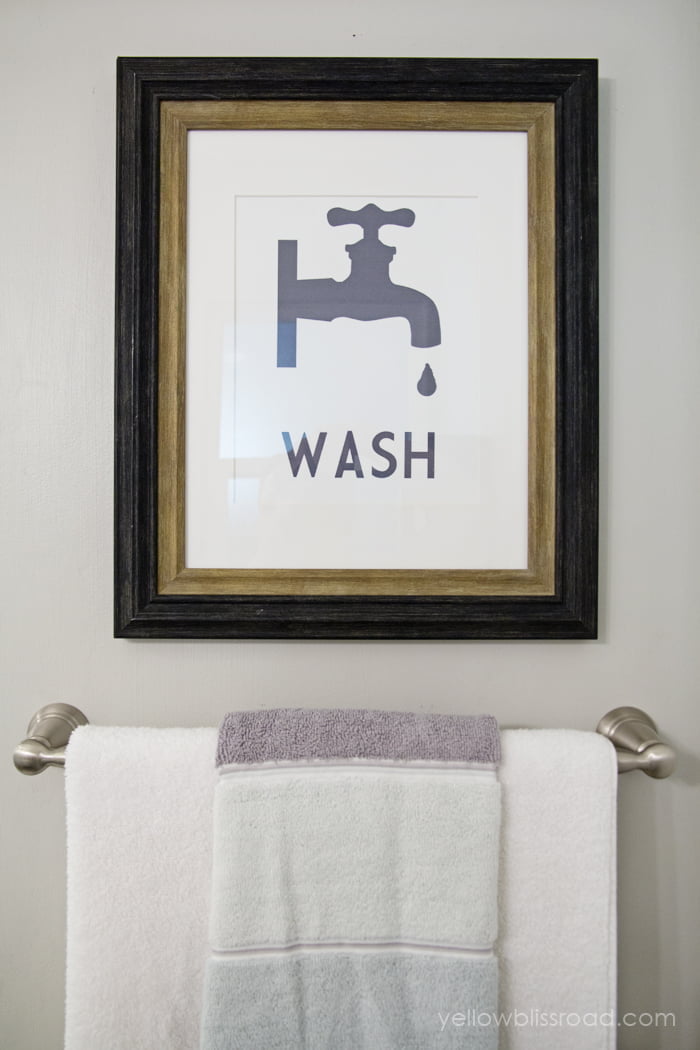 A well-placed sign like this one works well for those who might need reminders. Rather than simply putting the words on the wall, as we've seen before, the frame around this turns the message into a true work of art. A silhouette might be a simple idea, but it works really well for those who want bathroom decor options that are a bit unusual. You could also use the silhouette idea to display pictures of your family or other types of messages.
52. Black, White, and Gold Bathroom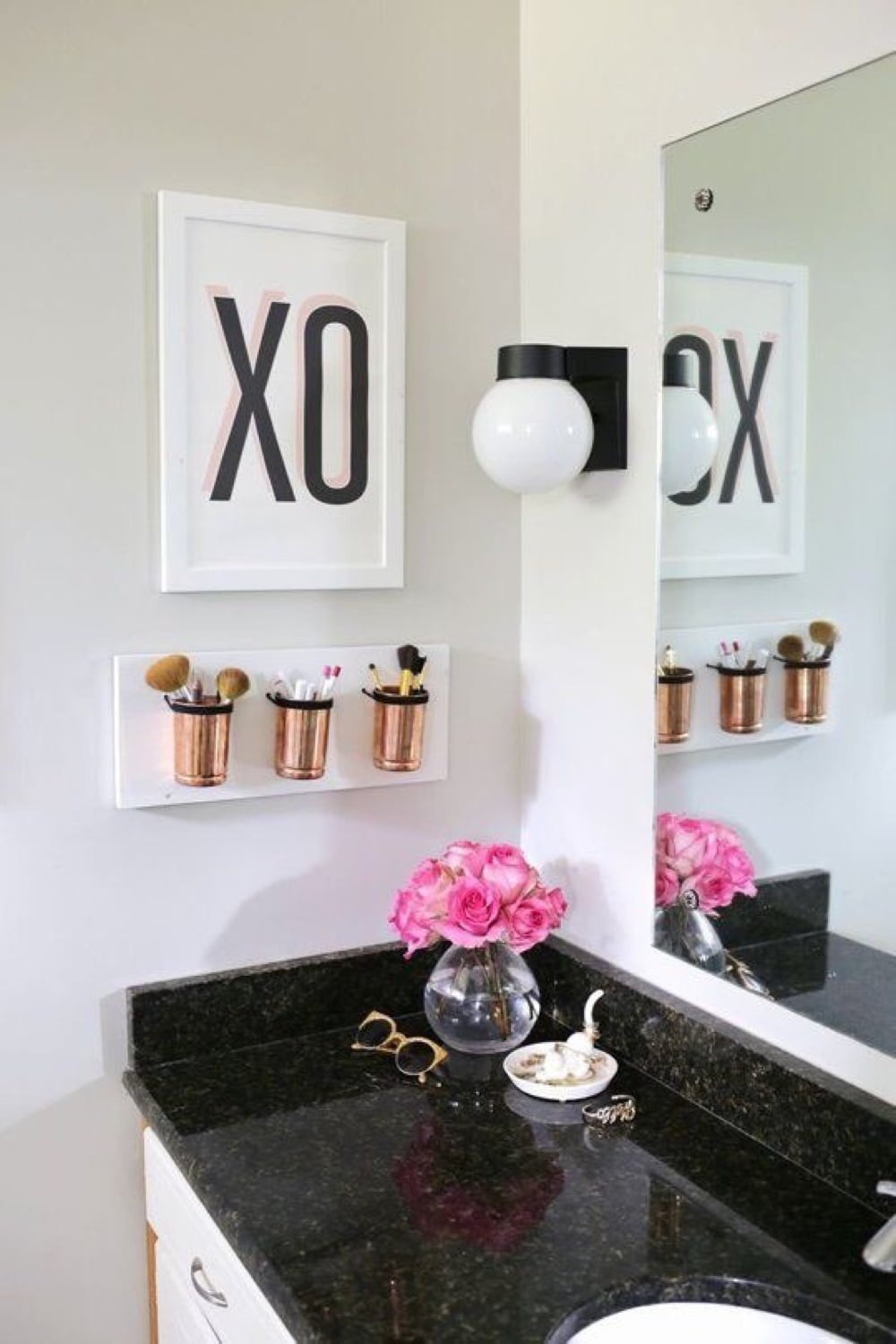 This picture might seem basic, but there are a lot of bathroom decor elements that you should consider incorporating into your space. The framed art offers a quick message that's likely to brighten your day whenever you look at it. The bronze containers are a different twist on an idea we've seen before, and they add a lot of pizzazz to the space. The flowers do add that pop of color, but the small dish with the cat is something practical that we haven't seen before. It's the perfect place to put your jewelry when you need to take it off.
53. Stylish and Easily Customized Letters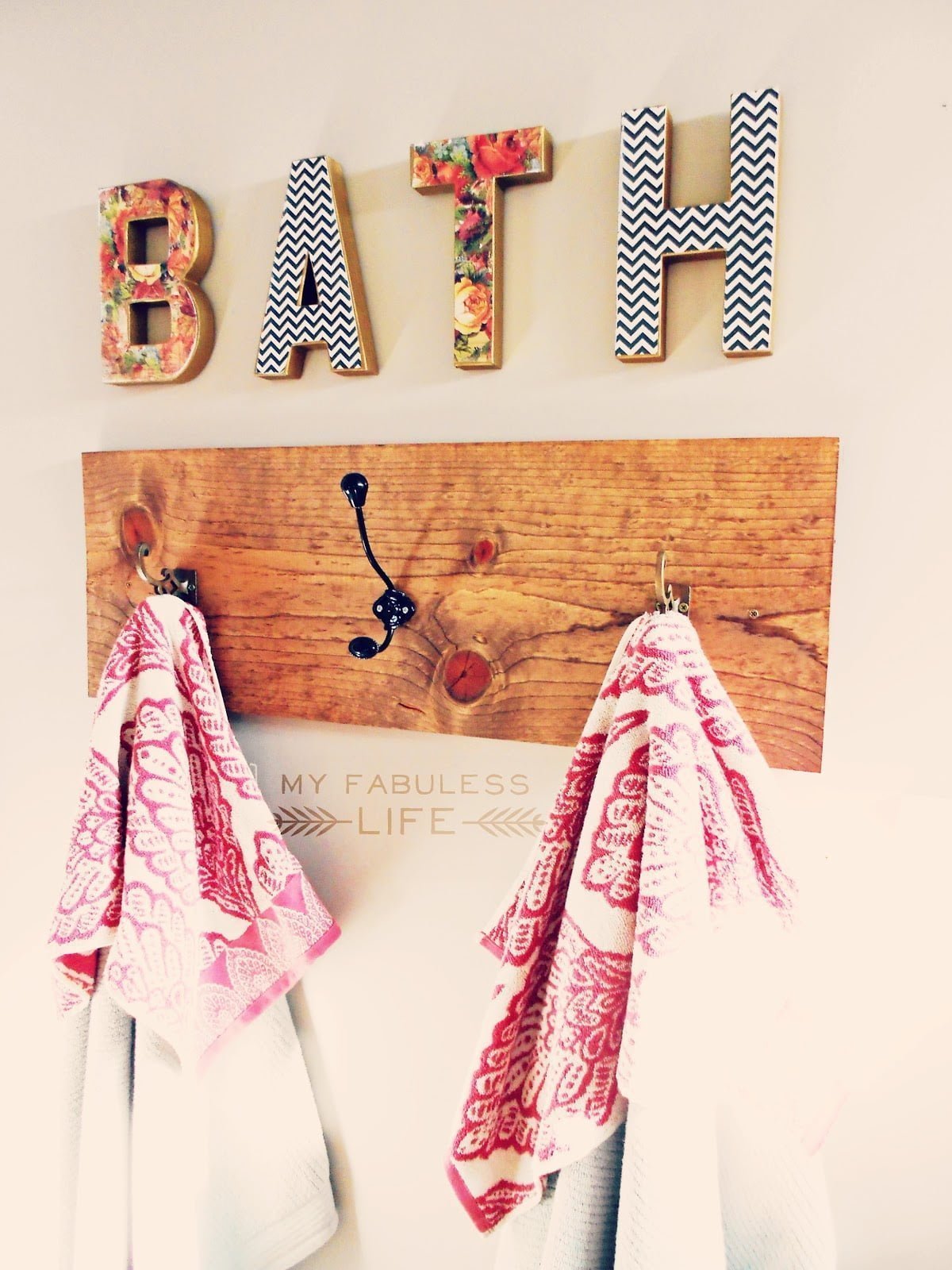 Source: The original source is not available anymore.
This look is perfect for those looking for DIY bathroom designs that just about anyone can do. Simply paint or stain a piece of scrap wood to give it a finished look, then place hooks on it for towels. The letters on the wall are inexpensive at most craft stores, but are given a funky look here using some patterned contact paper. If doing something like this, consider sealing the letters so that the paper doesn't become damaged.
50+ Charming Decor Ideas for Your Bathroom
For many people, the bathroom is just the place where you go to do your business, but with the right bathroom decorations, you can transform the space into a beautiful sanctuary. Incorporating relaxing bathroom designs into the room where you bathe helps you to release your tension as you sink into the hot waters. Even a half-bathroom with just a toilet and sink can use a special touch, though. The right bathroom ideas can make your home feel complete.
Your home's bathroom decor should fit your personality. While a lot of people choose neutral tones, you can feel free to incorporate bold bathroom designs if that's what you prefer. Whether your bathroom is a closet-sized room or a spacious ensuite, it's the little details that make your bathroom stand out.