43. Personalized Shelf Design to Complete Any Theme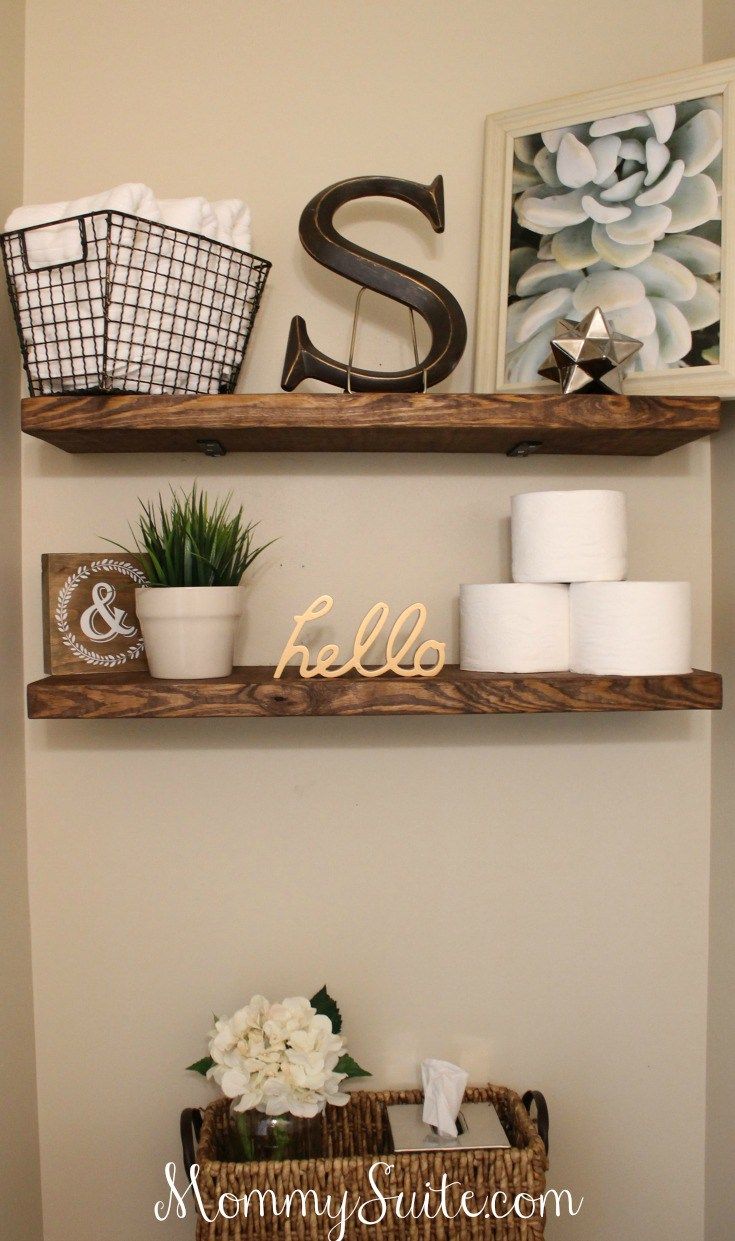 Here's an interesting look for those who want bathroom ideas that don't focus on the beach. The large letter S and the "hello" message are interesting because they're three-dimensional rather than being printed as a picture. They go nicely with the spikey sculpture and abstract photograph. In addition to the artistic elements, there are also practical elements, storing the tissues and towels in a classy way. The toilet paper pyramid is a different way to store the extra rolls, showing you that you don't necessarily need to place them inside a container.
44. Counter Decor to Create a Spa Atmosphere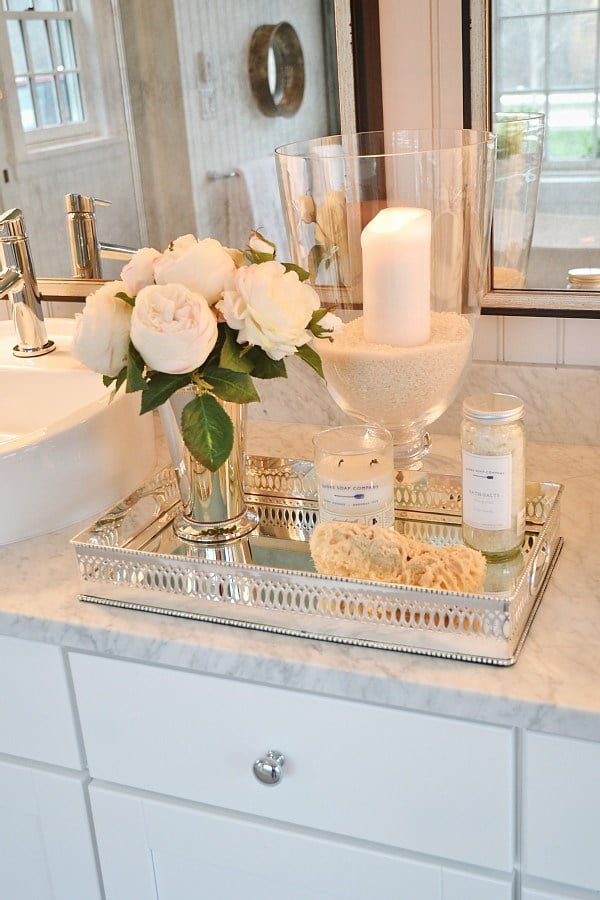 A silver serving tray offers a convenient place to store some decorative items, and here it goes really well with the luxurious marble countertop. The large glass vase holding the candle will allow it to cast a tranquil goal for a nighttime bath. Bathroom decor ideas that incorporate fresh flowers are always nice, but you have to remember that they'll require upkeep. Fortunately, one of the benefits of this is that you'll constantly be able to slightly change the look of your bathroom by purchasing a new type of flowers each week. Fake flowers can also work if you don't want the hassle, but be sure to dust them regularly.
45. Colorful Letters to Create a Fun Look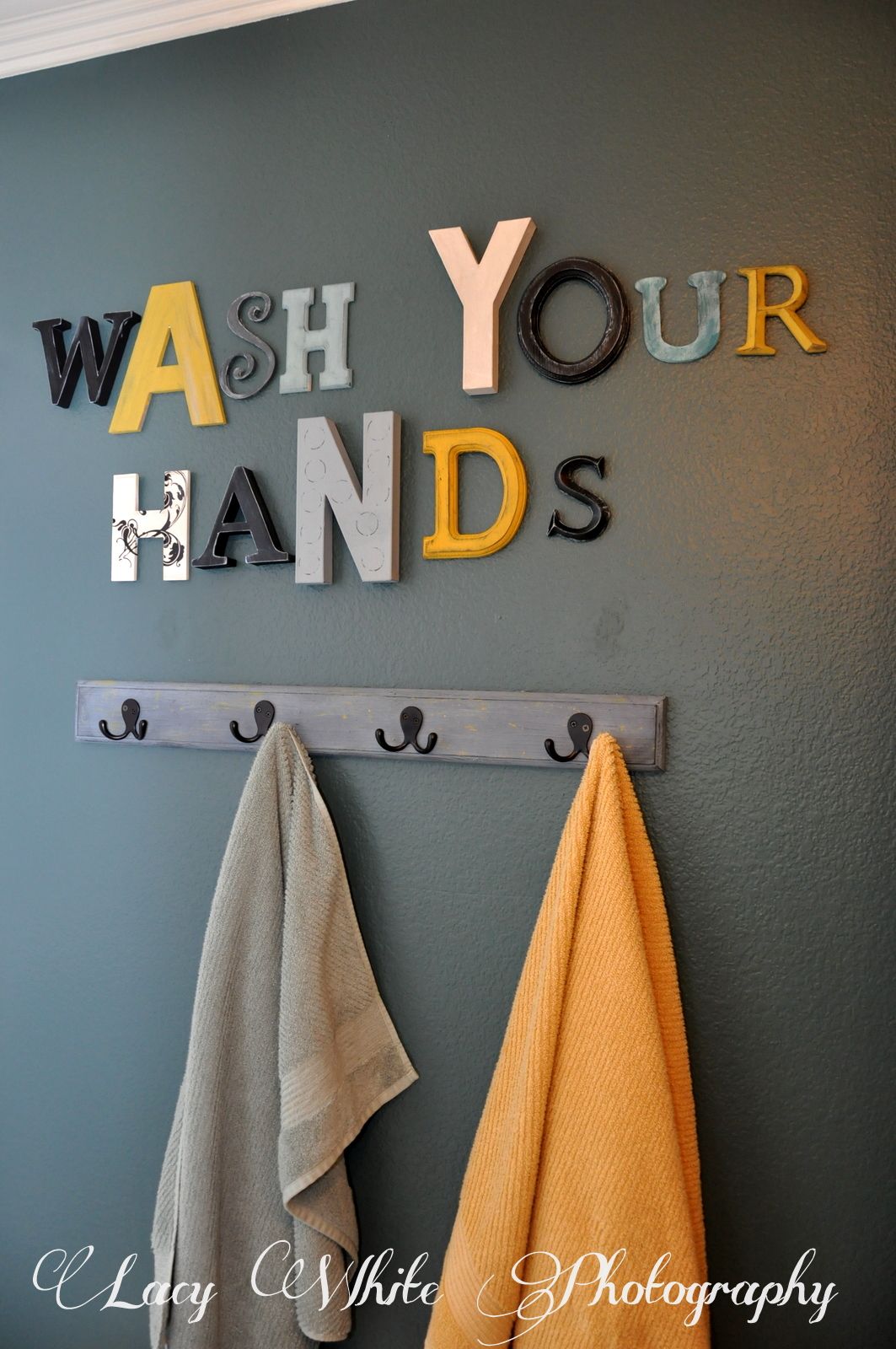 If you love eclectic bathroom ideas, this may be the right look for you. Rather than sticking with letters all in the same font, the designer has searched for different styles for the letters, creating a unique appearance. This draws the eye to the message every time you enter the space because you can always find something a little new. That's perfect for kids who really need that constant reminder. A simple bar with hooks like this gives you the space you need for everyone in the family to hang their towels.
46. Pallet Shelves that Incorporate Beauty and Utility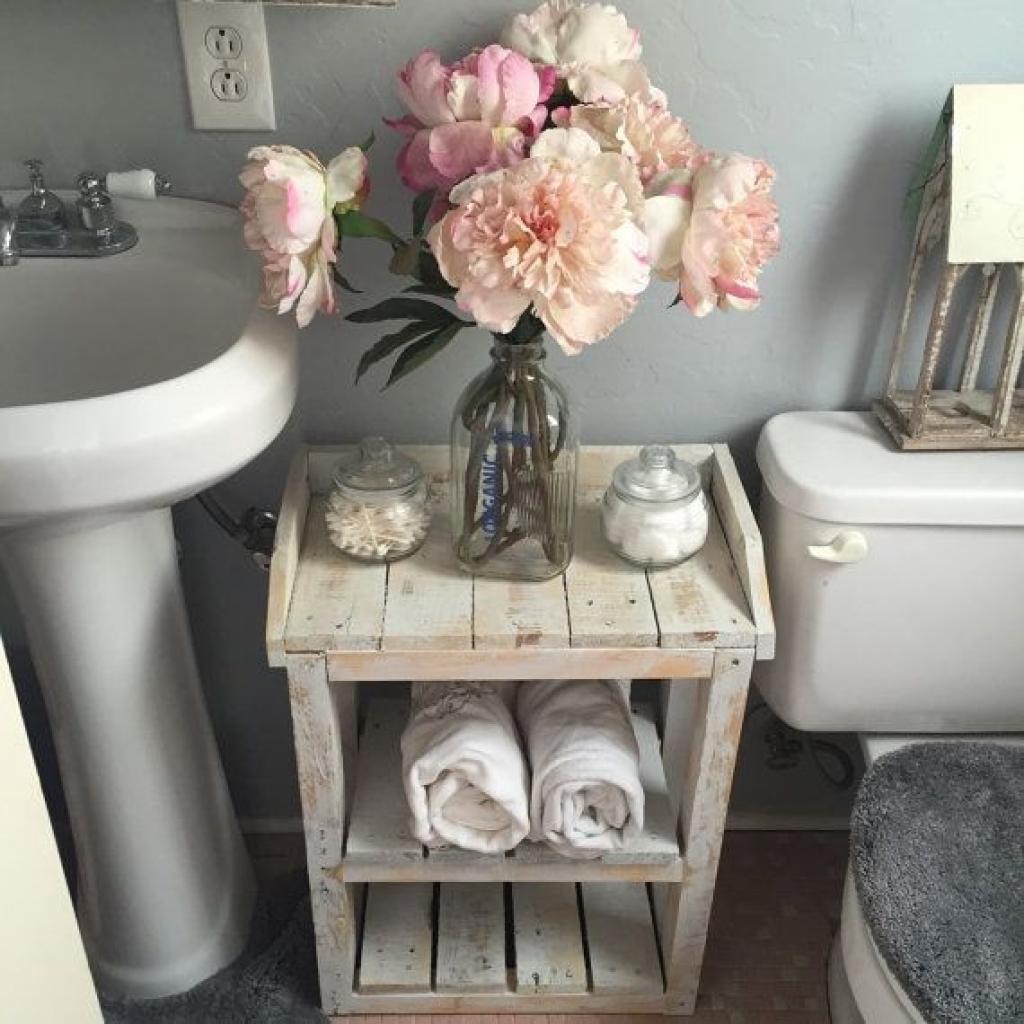 Don't forget to make use of the "dead space" in between the toilet and the sink. That could be the perfect spot for a beautiful flower arrangement or a few supplies you might need. Rather than searching for a small table that exactly fits the space you have, it's wise to create your own using recycled wood. Pictured here, the wood is a bit distressed, fitting well with shabby chic bathroom designs, but if the wood was painted, it could have a completely different look.
47. Golden Accents to Complete a Classy Look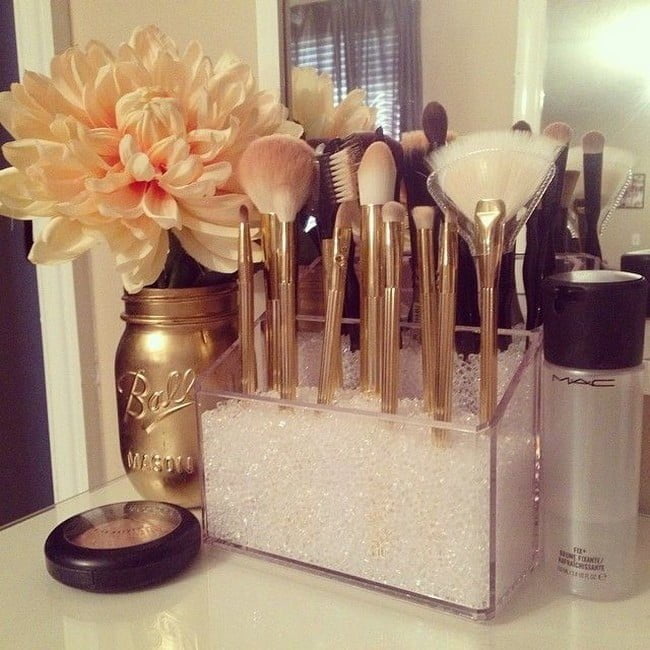 If you want to feel glam, you might be looking for more glamourous bathroom ideas like the one you see in this photo. With matching makeup brushes, you simply need a fun way to keep them close at hand and this container doesn't disappoint. Filled with small glass beads, you can easily store them upright, without having to worry about them tipping over and touching the other ones. The mason jar has been spray painted gold to match the brushes, and it serves as a convenient place to put a flower display. With a look like this, you'll feel like a movie star every time you put your makeup on.
48. Relaxing Theme to Blend New and Old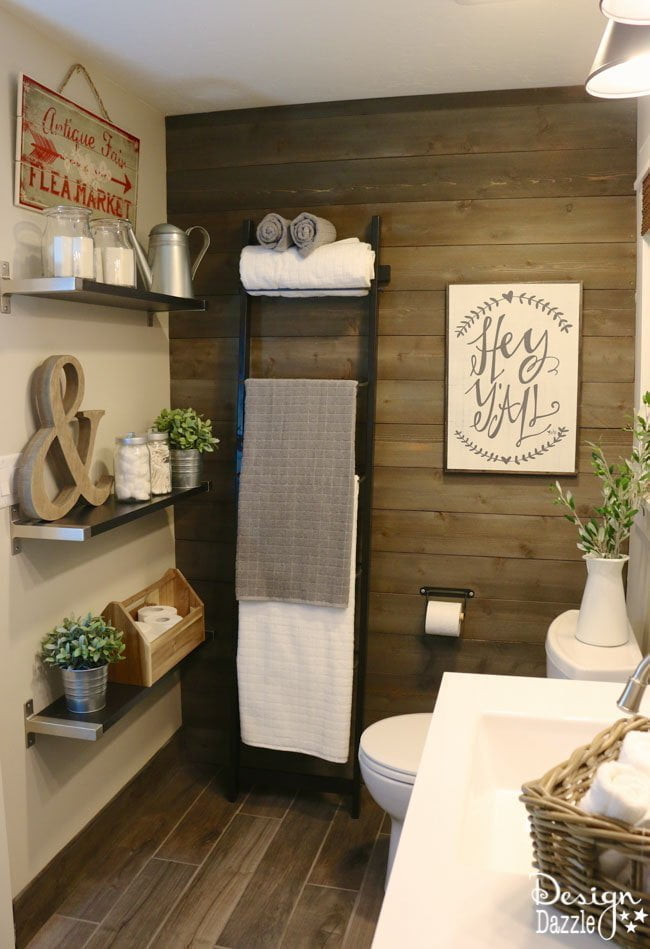 We've already seen a lot of bathroom decorations that use the space at the back of the toilet to display decorative items, but in this particular bathroom, you have a nice window providing natural light at the back of the toilet. Instead, this design uses the wall space across from the toilet to get the same effect. The "wood" walls and floor give the space a rustic feel, and the artwork that the homeowner has chosen completes that look. The vertical towel hanger is a nice choice for those who don't have a lot of horizontal space for towels.
49. Classy Toilet Paper Holder and Shelf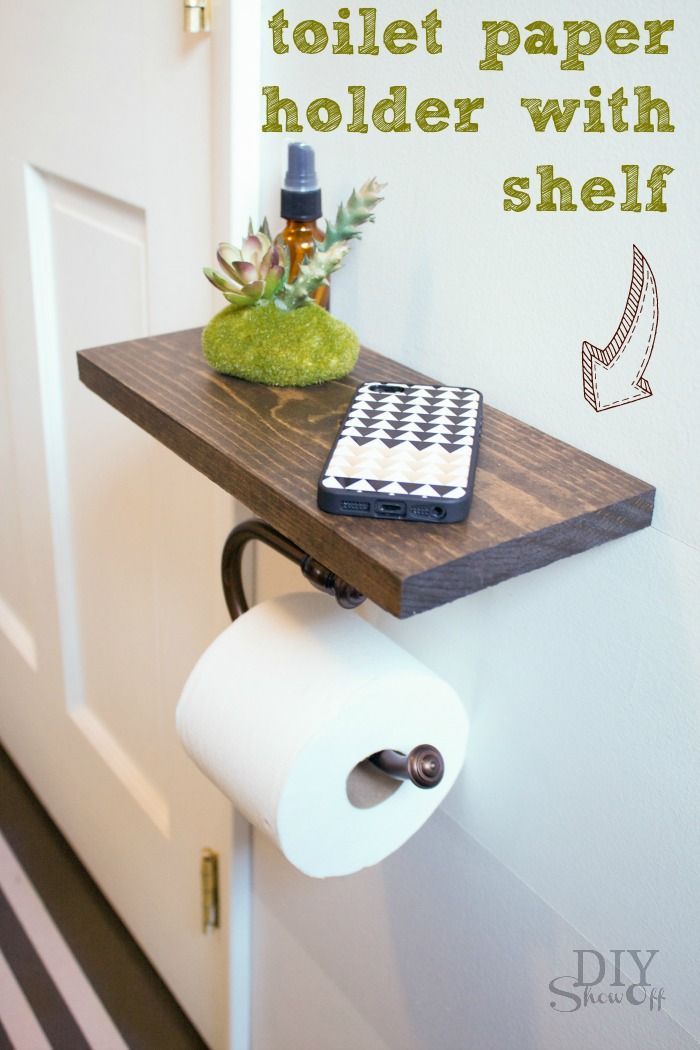 You might not want to think about it, but it's very common for people to bring phones, books, or electronic devices into the bathroom when they do their business. This cute mini-shelf with the toilet paper roll underneath gives you a place to put that while you finish up. It also offers a visible place to put any room deodorizers that people may want to use. This is one of the most modern bathroom decorations ideas on the list, and you can't say that it isn't convenient.
50. Well-Polished Finishing Touches and Shelf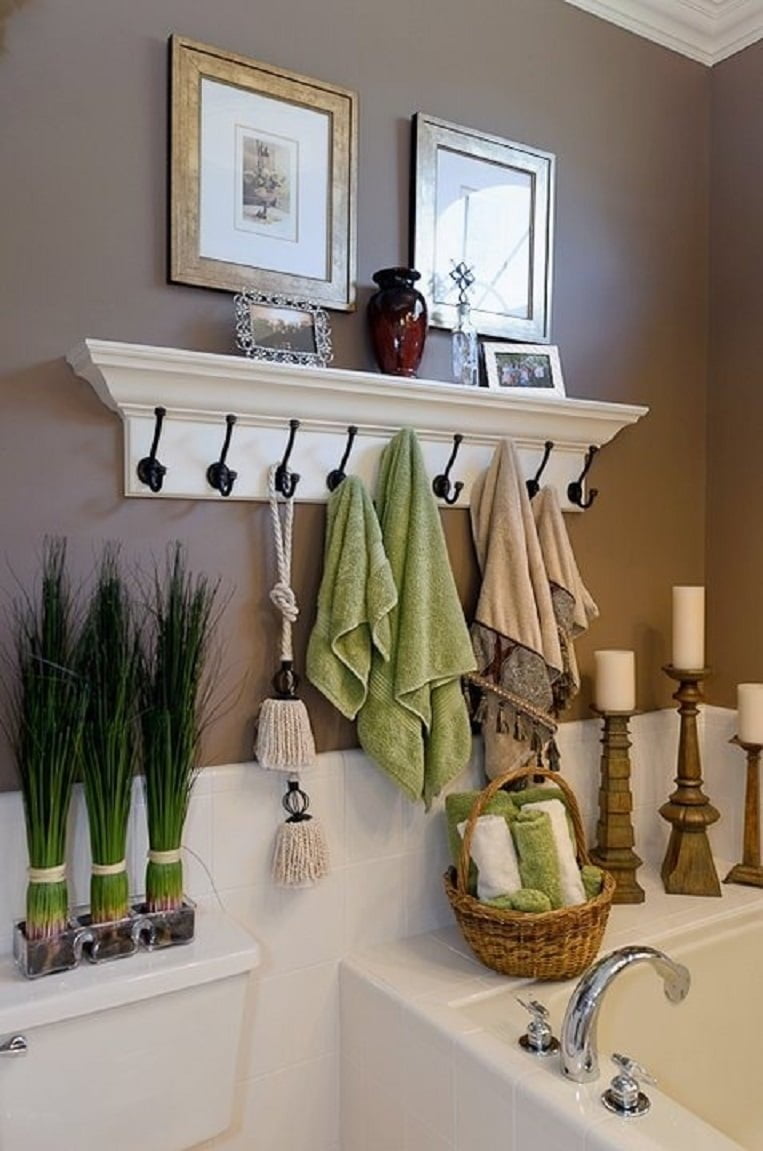 Sometimes, having a toilet and bath tub so close together can make the space feel cramped, but bathroom ideas like this one make the space feel more open. The photo frames are elegant and fit nicely with the bathroom décor. With a large ledge by the tub, you have the space you need to store things like a basket of towels or the beautiful candles. You'll feel like royalty when you sink into the waters with those candles burning.
51. Simple Meets Classy With This Frame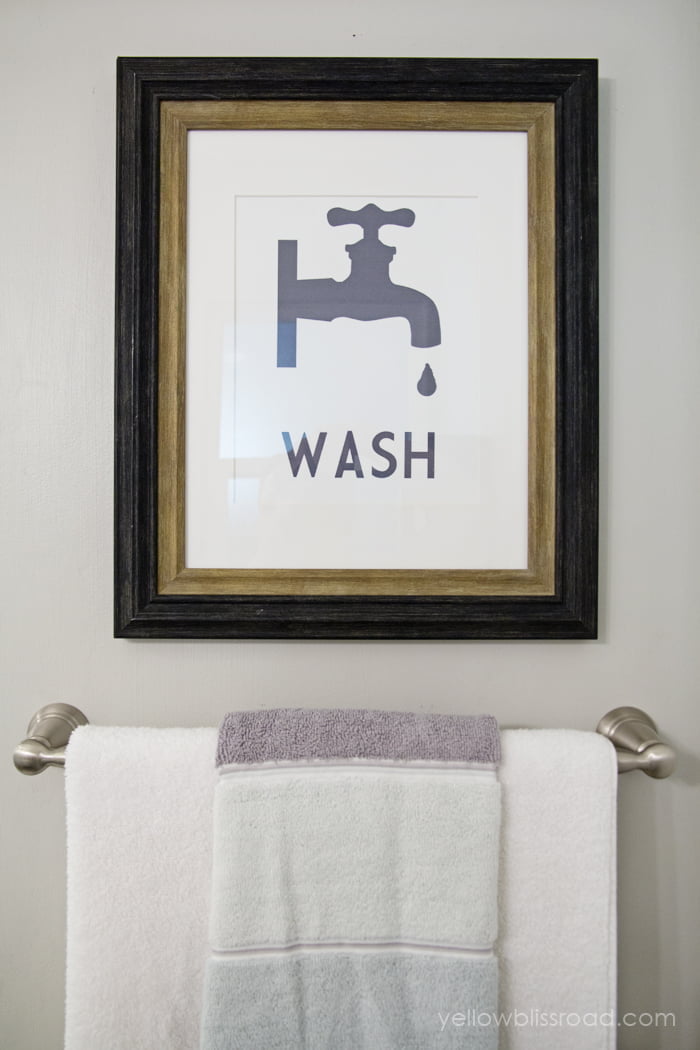 A well-placed sign like this one works well for those who might need reminders. Rather than simply putting the words on the wall, as we've seen before, the frame around this turns the message into a true work of art. A silhouette might be a simple idea, but it works really well for those who want bathroom ideas that are a bit unusual. You could also use the silhouette idea to display pictures of your family or other types of messages.
52. Black, White, and Gold Bathroom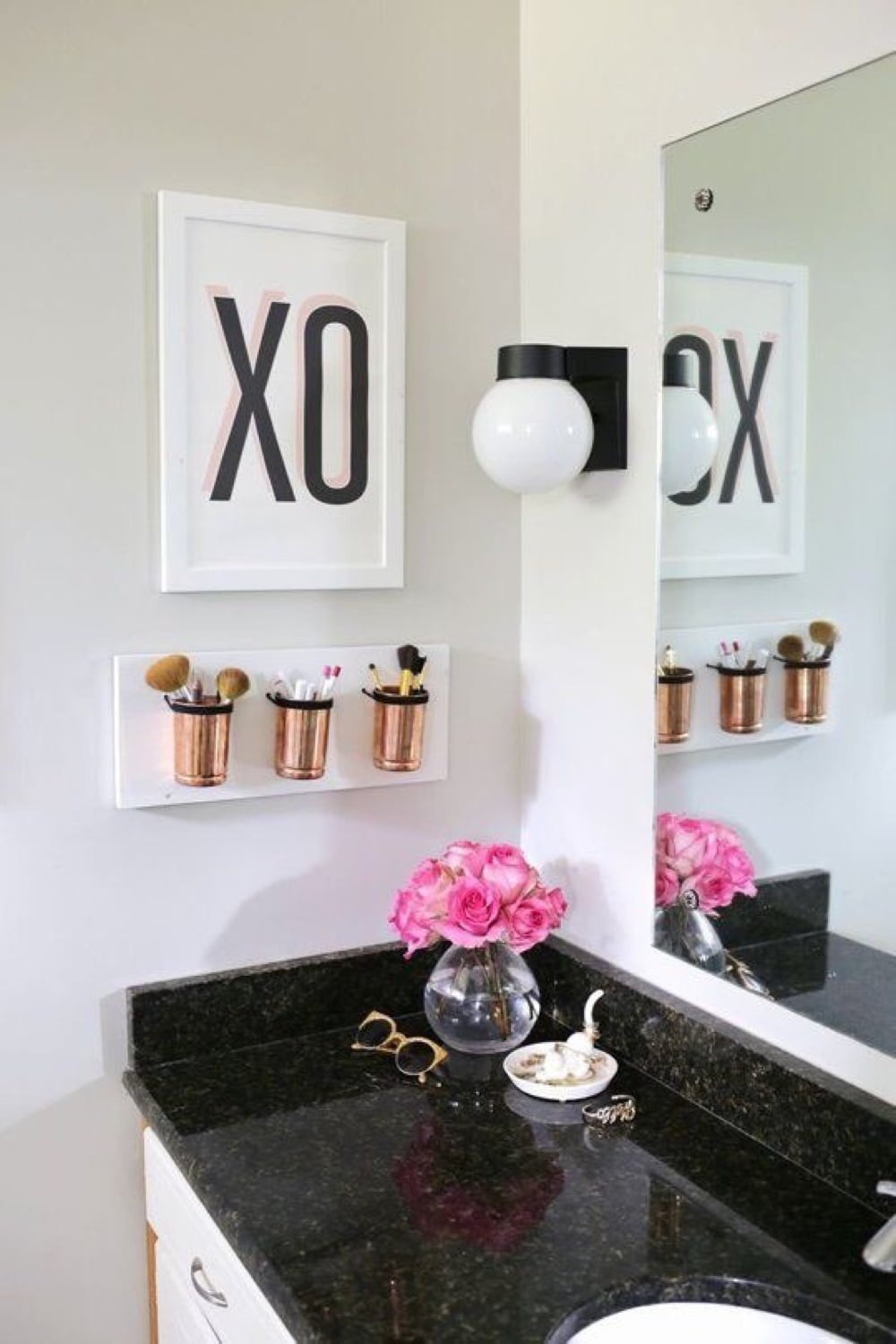 This picture might seem basic, but there are a lot of bathroom ideas that you should consider incorporating into your space. The framed art offers a quick message that's likely to brighten your day whenever you look at it. The bronze containers are a different twist on an idea we've seen before, and they add a lot of pizzazz to the space. The flowers do add that pop of color, but the small dish with the cat is something practical that we haven't seen before. It's the perfect place to put your jewelry when you need to take it off.
53. Stylish and Easily Customized Letters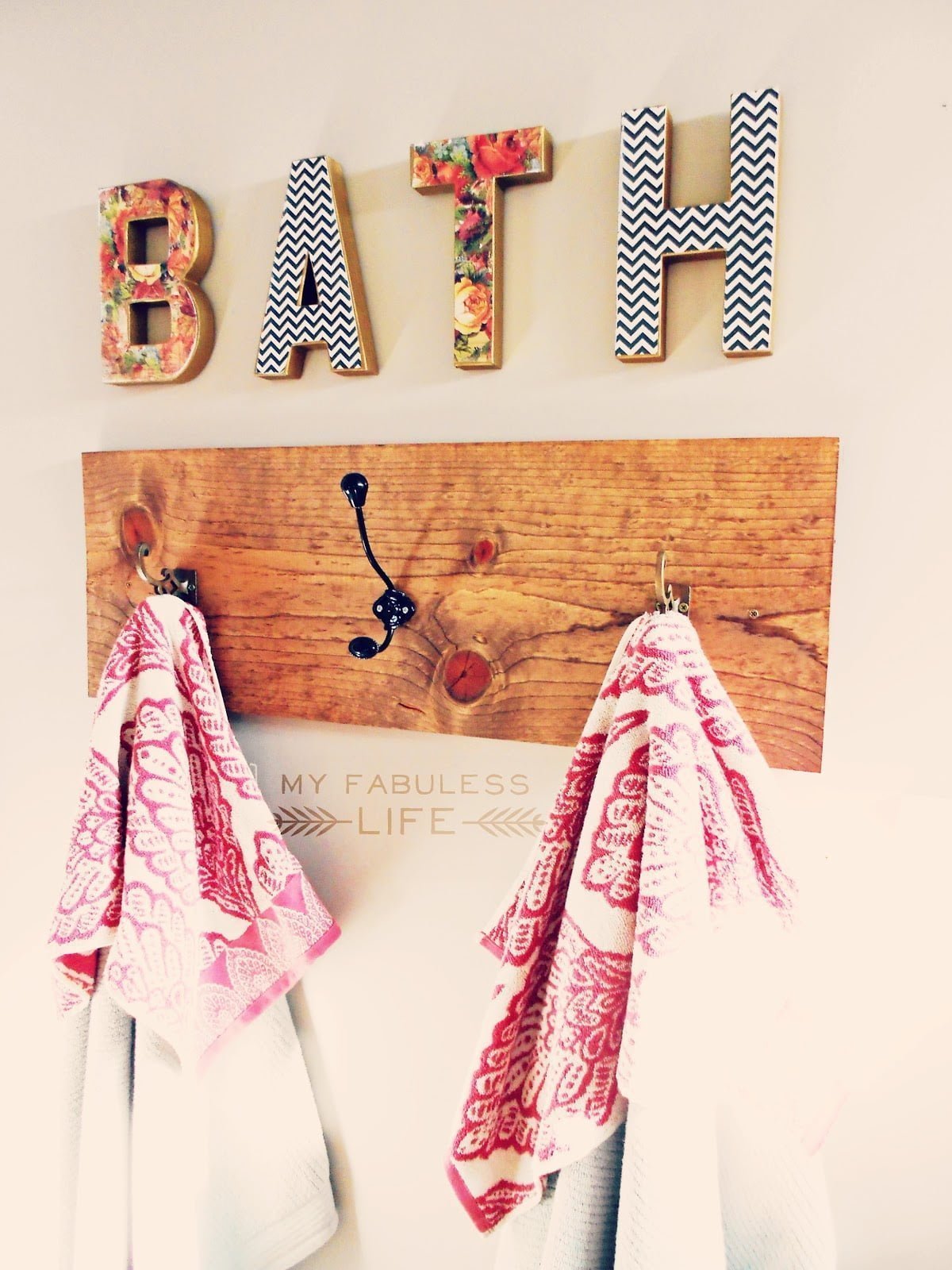 This look is perfect for those looking for DIY bathroom designs that just about anyone can do. Simply paint or stain a piece of scrap wood to give it a finished look, then place hooks on it for towels. The letters on the wall are inexpensive at most craft stores, but are given a funky look here using some patterned contact paper. If doing something like this, consider sealing the letters so that the paper doesn't become damaged.
50+ Charming Decor Ideas for Your Bathroom
For many people, the bathroom is just the place where you go to do your business, but with the right bathroom decorations, you can transform the space into a beautiful sanctuary. Incorporating relaxing bathroom designs into the room where you bathe helps you to release your tension as you sink into the hot waters. Even a half-bathroom with just a toilet and sink can use a special touch, though. The right bathroom ideas can make your home feel complete.
Your home's bathroom décor should fit your personality. While a lot of people choose neutral tones, you can feel free to incorporate bold bathroom designs if that's what you prefer. Whether your bathroom is a closet-sized room or a spacious ensuite, it's the little details that make your bathroom stand out.