41. Mirrors in Disguise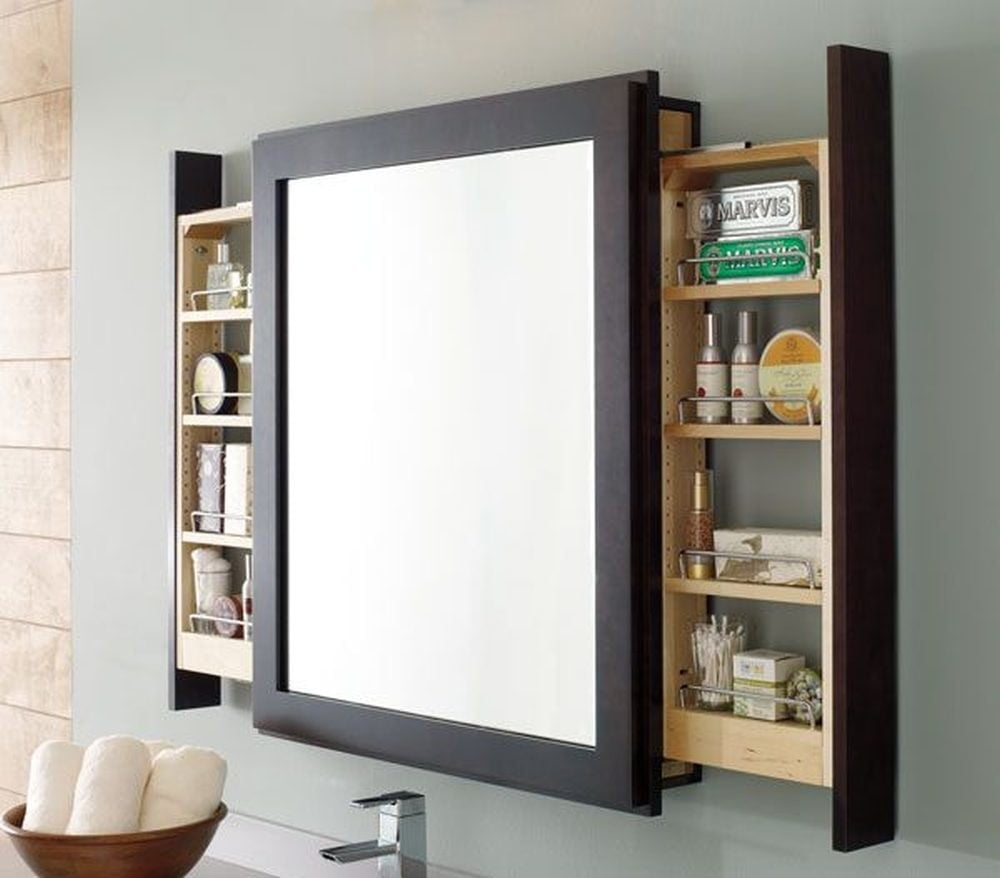 If you aren't a fan of medicine cabinets, this one will make you think twice. While it looks like something out of a science fiction movie with its secret revealed like this, this mirror eliminates the need for too much space. It has no door on it, making it almost flat against whatever wall you choose to put it on. It will also leave quite an impression on guests who may need something. Just imagine their shock when they see the mirror's trick for themselves. This mirror in stainless steel would make a wonderful statement piece in a modern bathroom.
42. Who's the Fairest?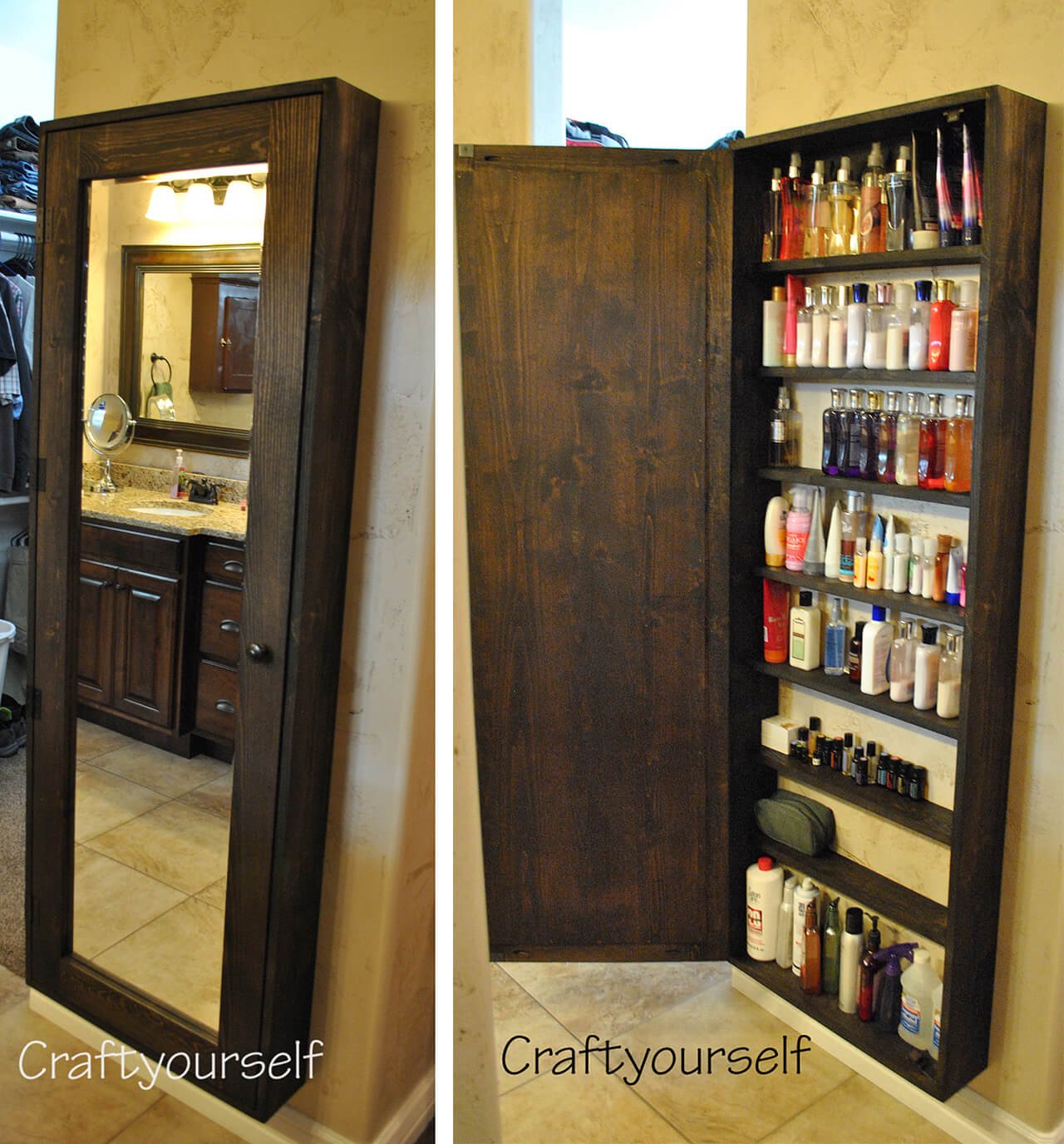 In a similar vein to the bathroom storage idea we just mentioned above is this full-length mirror. This one reminded us of those jewelry mirrors you see on shopping channels from time to time, so to see a similar mirror used like this was delightfully surprising. It's the perfect place to store cleaning supplies, beauty supplies and other necessities. When the mirror is closed, it also makes itself useful by giving guests a larger mirror to use. It can also make the room look much larger than it really is. Its only flaw is that it can block things off.
43. Bottles and Baskets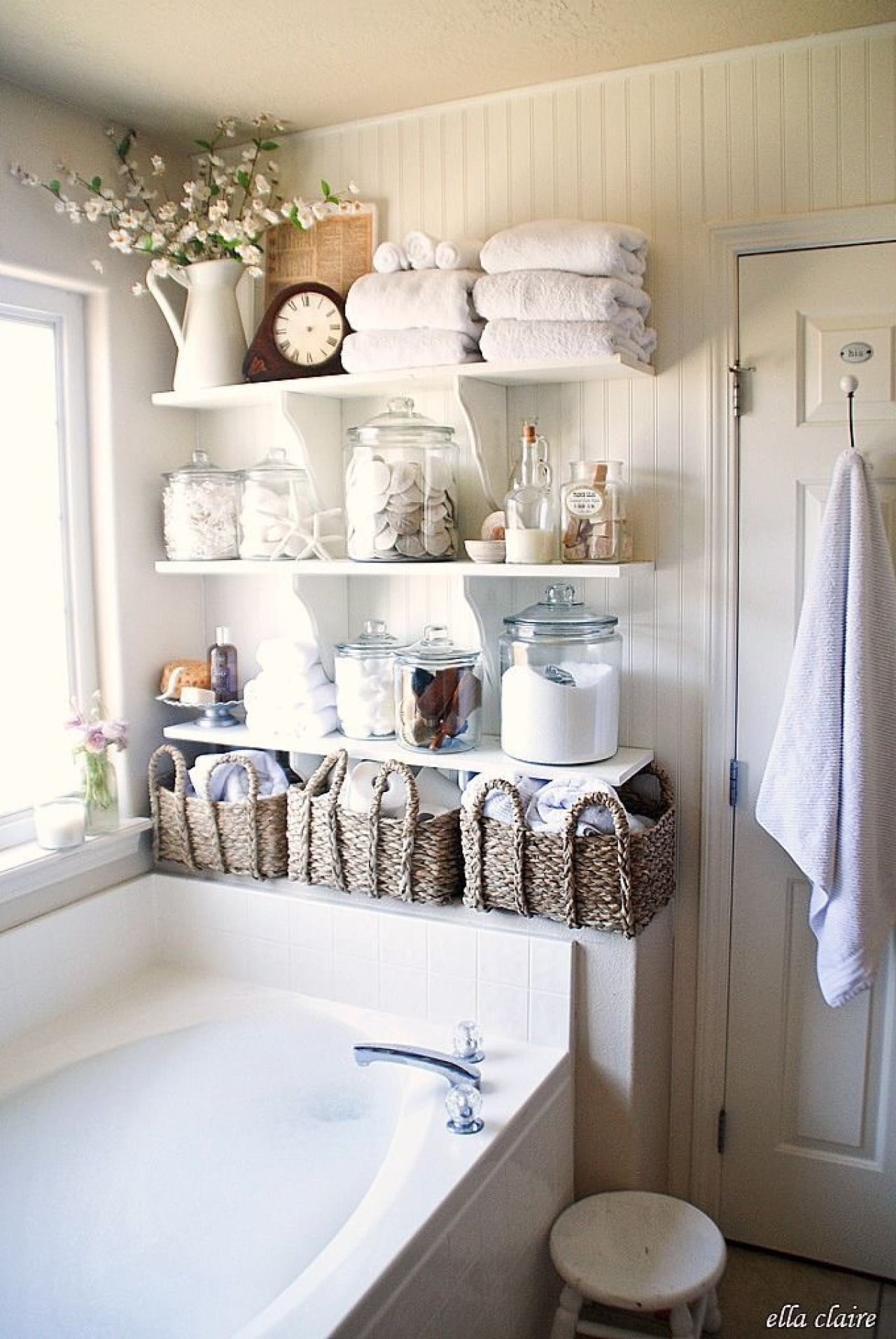 Another one of the most deceptively simple bathroom storage ideas we've seen is this set of large glass jars. Although the mason jars we showed you are similar to this, simply placing these jars around the bathroom as décor has been executed quite well here. The large baskets beneath the jars help to complete the look of a seaside getaway. What makes the baskets interesting is not only their material, but also their contents. How else could you put toilet paper in plain view of your guests and have it look so attractive? We love simple ideas like this one.
44. A-Plus Shelves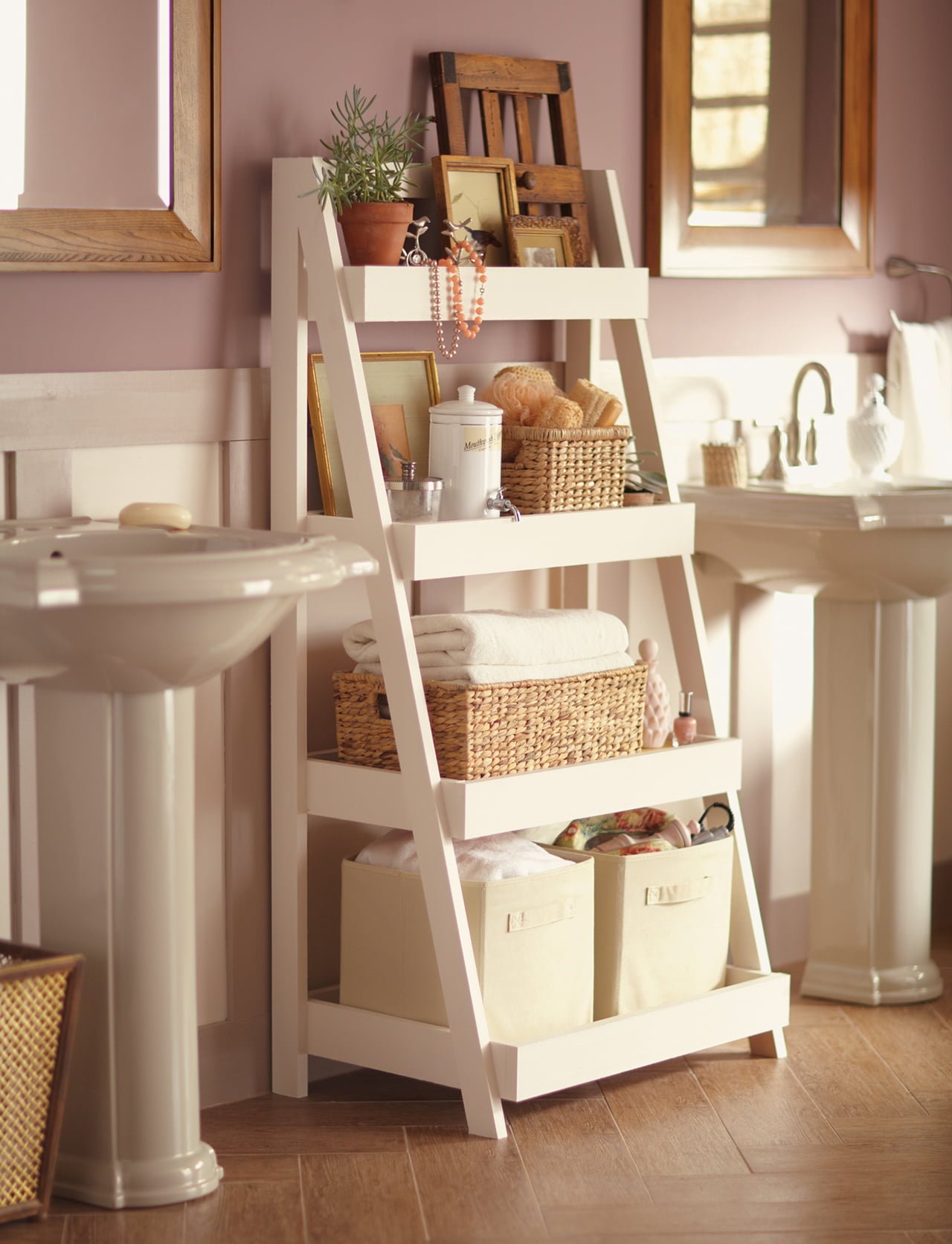 An a-frame shelf is already a flexible piece of furniture, but not many people would use it in their bathroom. Because of each individual shelf's differing size, a shelf like this one can be used for both decoration and storage. You can put flowers or candles in the topmost shelf, then work your way gradually down to smaller items like soaps, towels and bins full of odds and ends. The topmost shelf would also be excellent for an incense holder to perfume your bathroom with, while towels and other cloth items absorb the scent while sitting on the lower shelves.
45. Tangle-Free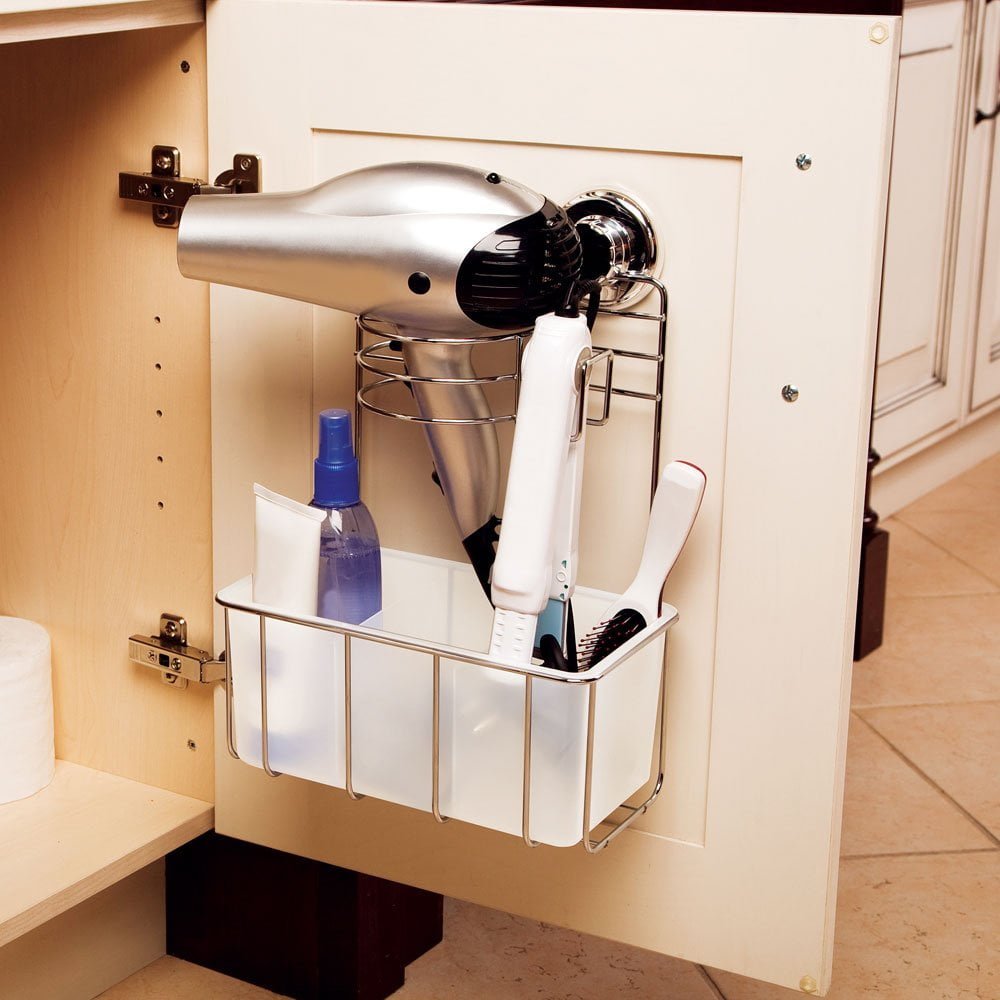 This small metal basket is one of the most impeccable solutions we've seen for beauty products. The plastic bin inside makes it even better, putting your hair dryer, hair spray, hair brush and curling iron all in one place. Plus, it definitely beats digging it out of a hall closet and untangling cables. This simple bathroom storage hack is a great way to shave several minutes off of your morning routine. This can also make for a great grooming station for men as well; put anything the man in your life might need to look his best instead.
46. Display Your Style Savvy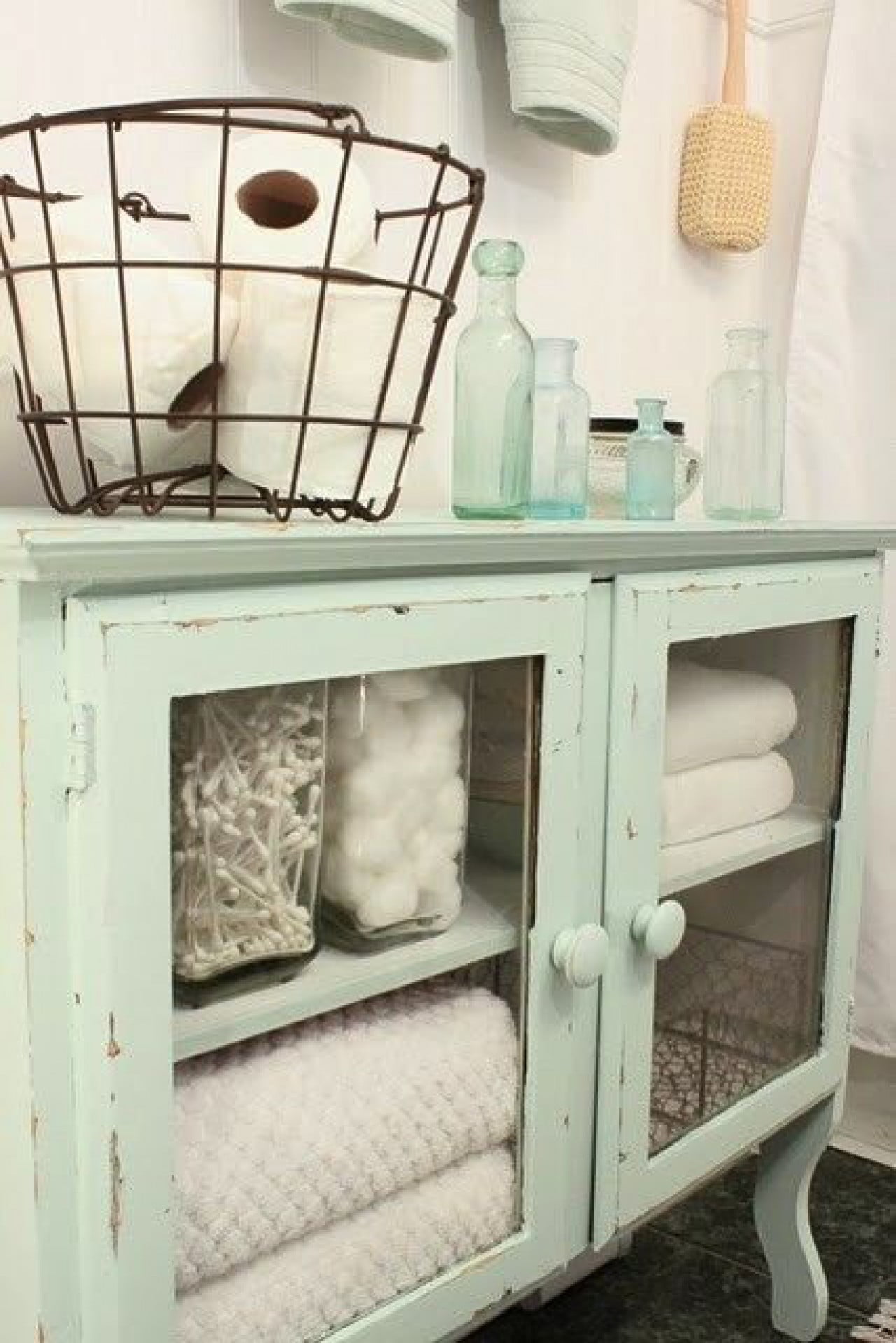 Ah, the joy of thrift stores and garage sales. One of our more unorthodox bathroom storage ideas is demonstrated with this piece. A display case may not seem like the best piece of furniture to put in a bathroom since you're trying to hide things most of the time. This piece works so well precisely because it's unexpected; at the same time, you don't realize what it is right away. A piece like this is wonderful for storing things in plain sight, while making it blend in with the rest of your décor keeps it from drawing attention to itself.
47. Wood, Metal and Glass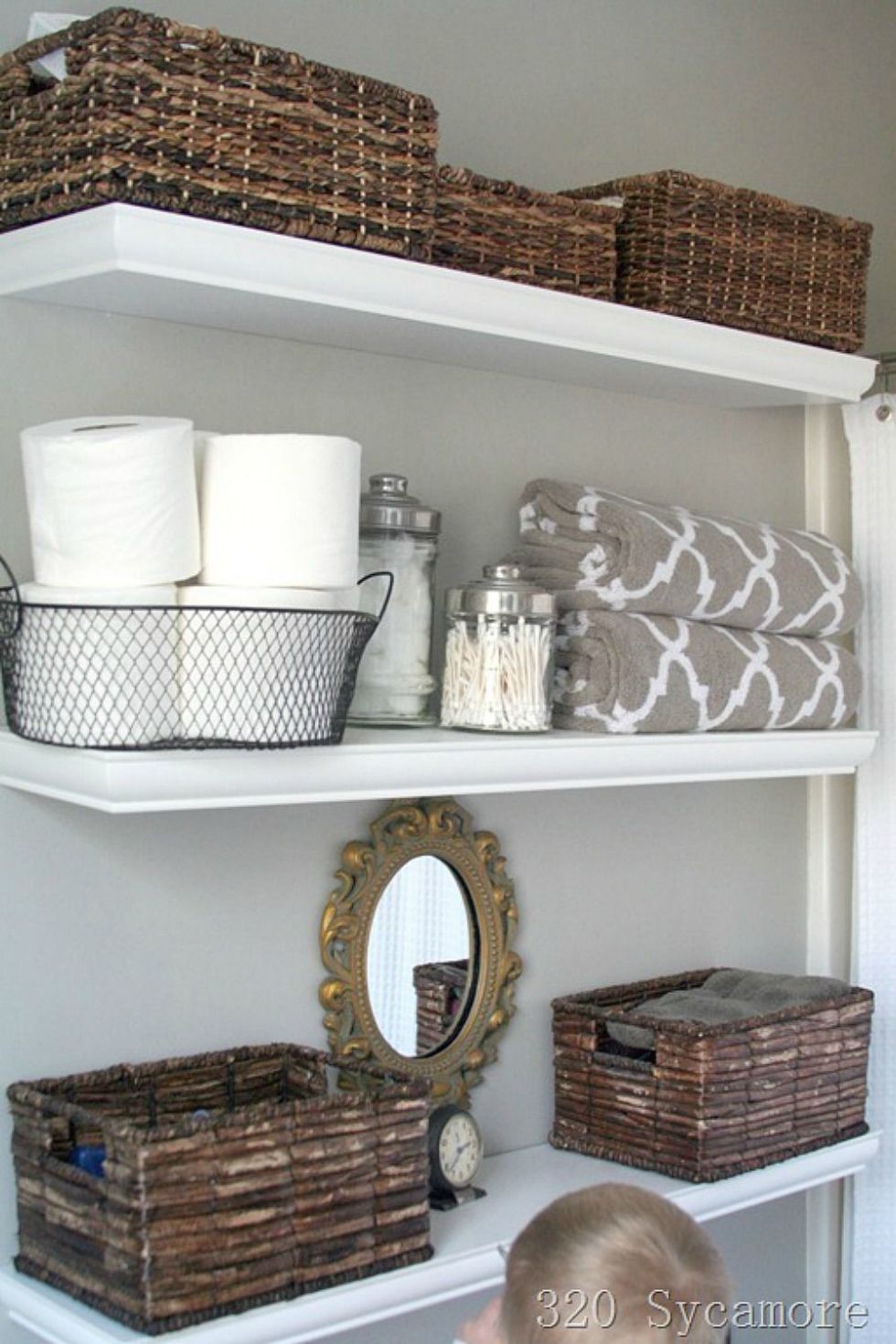 Here's a friendly reminder that great bathroom storage options don't necessarily require you to go out and buy some big, fancy, new piece of furniture. A mix of materials, colors and textures can also make a bold design statement without costing you a fortune. If you notice, each shelf also has its own individual color scheme, making it easier to remember where everything is stored. This little idea is so easy to adapt to your personal space, too. The key is to play around with different shapes, textures and colors until you find a combination that matches your personal taste.
48. More Than Meets the Eye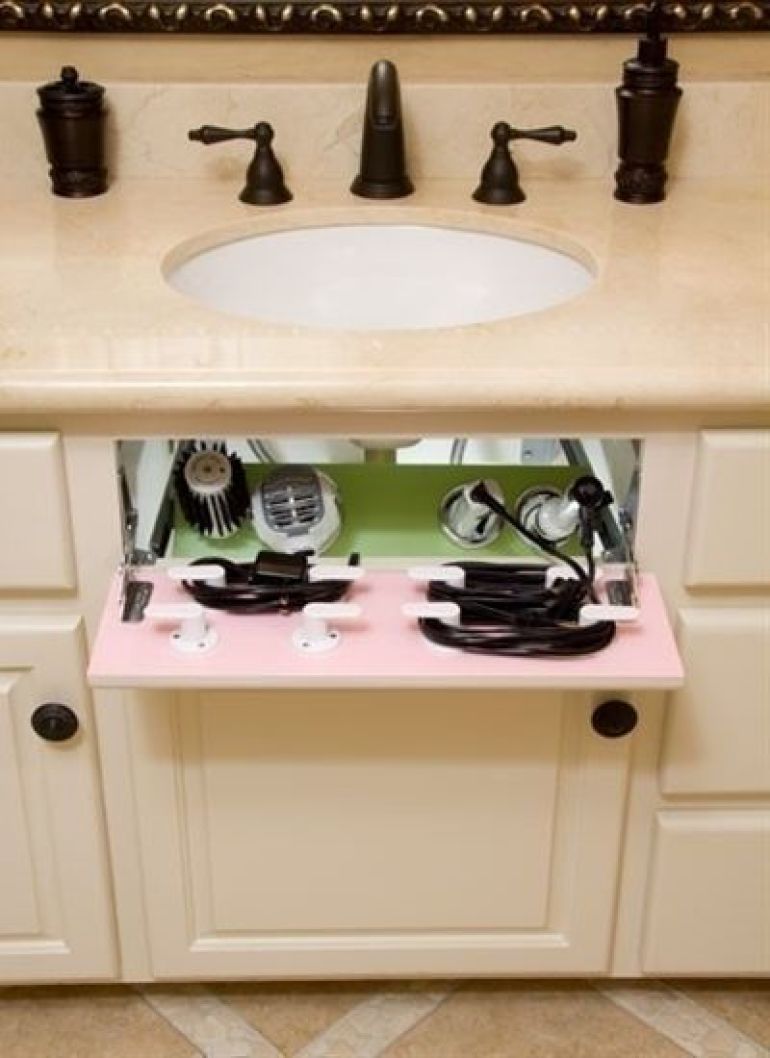 Here is an unorthodox idea: replace one of the drawers in your bathroom cabinetry with a keyboard drawer from a computer desk. The idea of a keyboard drawer is that it folds flat when it's pulled out, making it into a sort of tray. Adding brackets, hooks and large cups to it like this would make it fantastic for wrangling cables when you're done with your hair dryer or curling iron; just wait until they're cold first. You could also attach small soap dishes for small odds and ends like toothpaste and toothbrushes so that they aren't on your countertop.
49. Maximizing Closet Space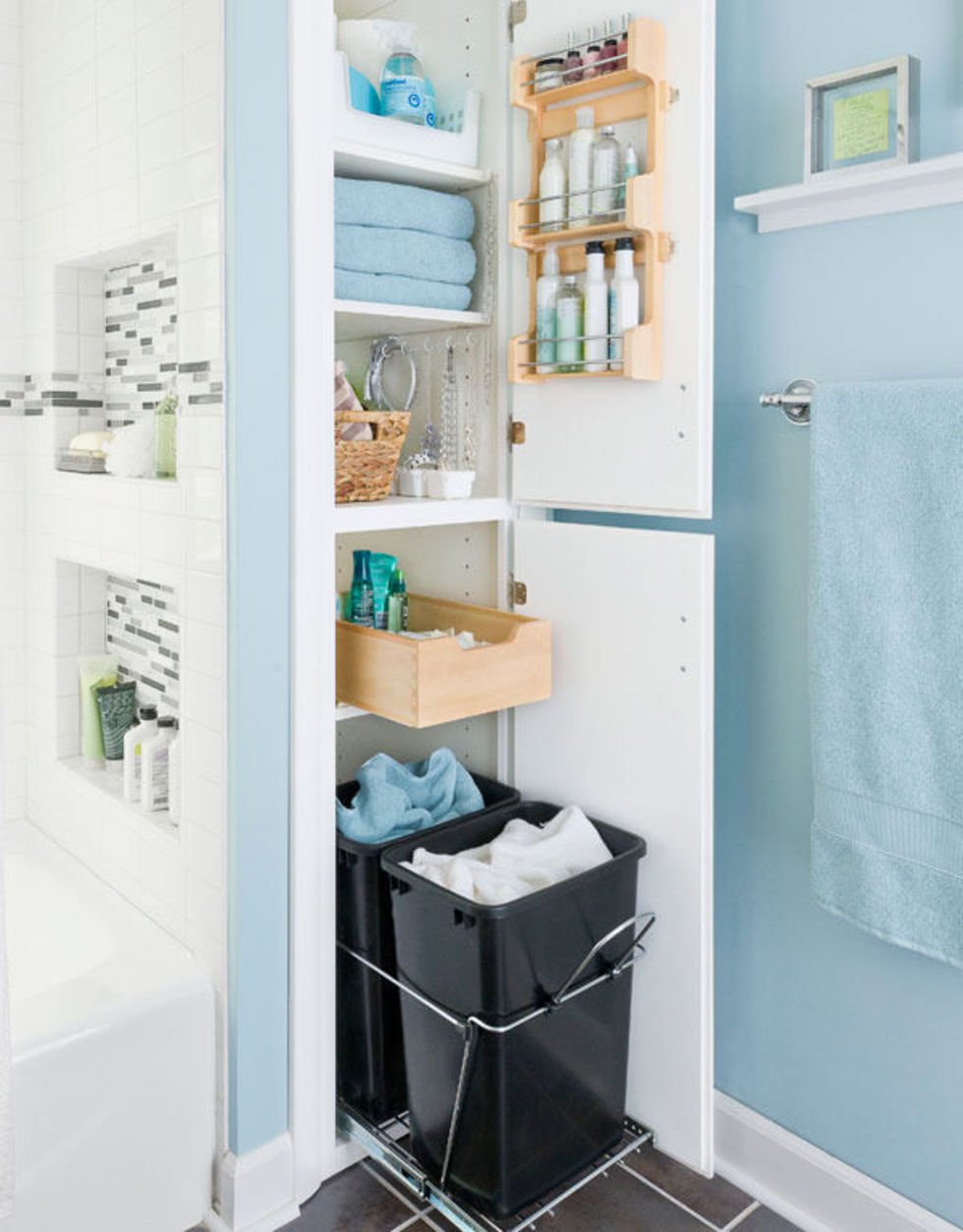 We already showed you bathroom storage like this one, so why are we showing you something so similar, you ask? Take a close look at what's inside this particular closet: hanging from the door is a spice rack, and on one of the shelves is an old fashioned office inbox for storage. There are other great bathroom storage ideas packed in here as well. If you've noticed the hooks inside one of the shelves, then you have a sharp eye; those are for storing hair ties, headbands and other hair accessories without them getting tangled up in a drawer somewhere.
50. Floating Shelving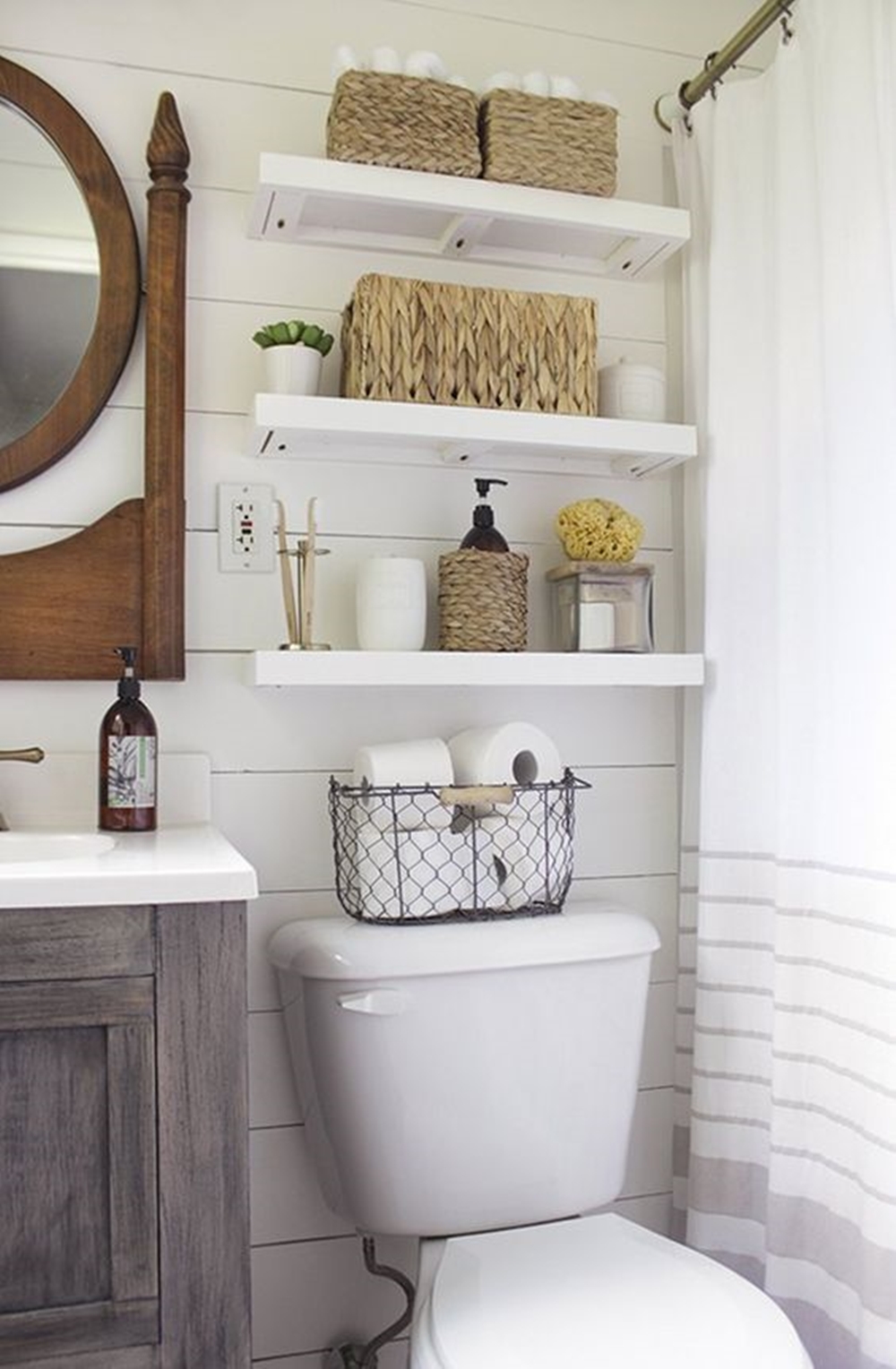 If you're not a fan of those oversized, bulky shelving units that go over your toilet, consider just using a few floating shelves instead. They take up much less space than those so-called "space savers," which never meet expectations. They can also leave space above your toilet tank if you need to access it for any reason. It also gives you the freedom to put the shelves as high or low as you want. Just make sure the first shelf is high enough that no one will hit their head one of them if they need to use the facilities.
51. Built-In Storage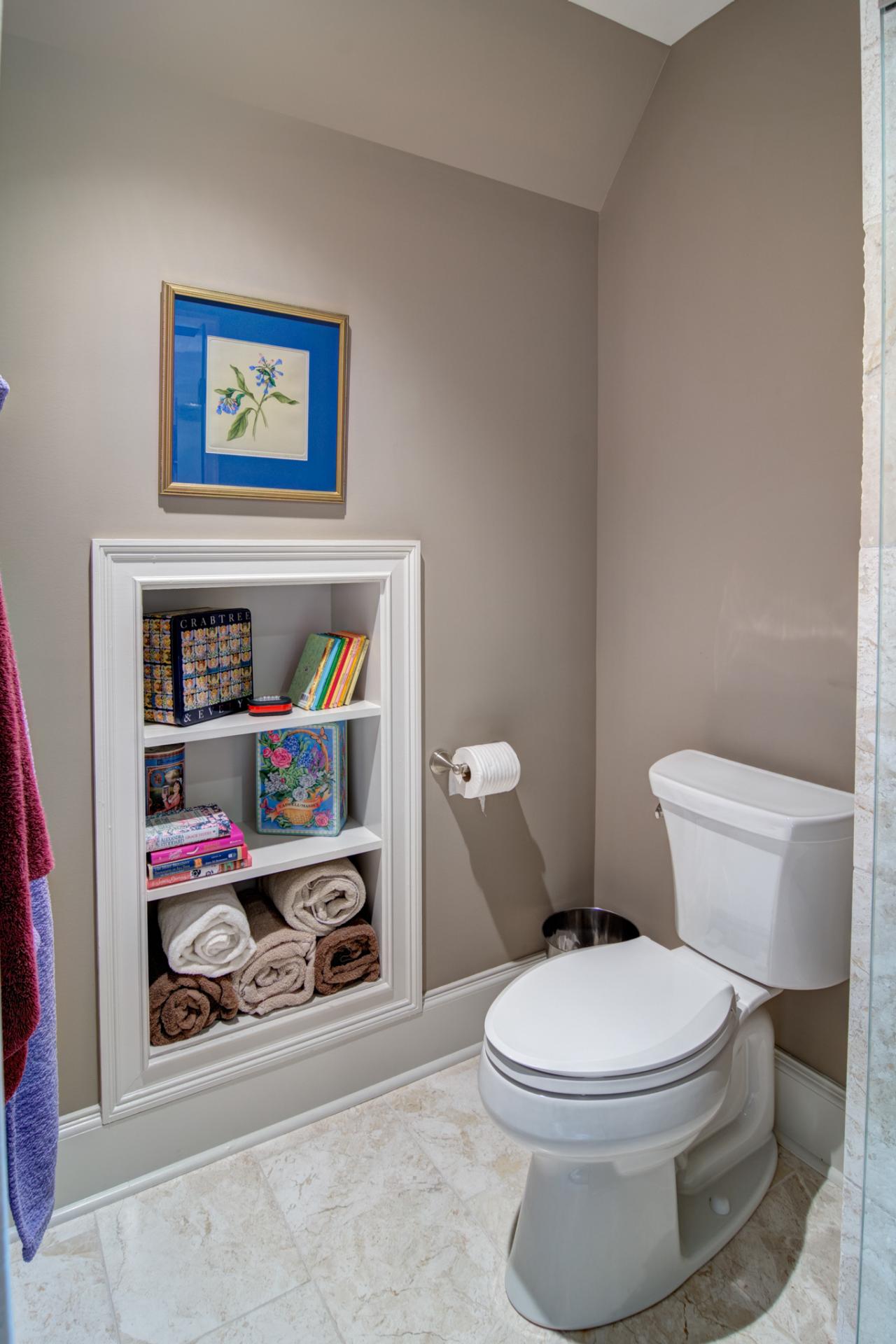 Instead of putting extra storage on the wall, why not try putting it in the wall? Depending on where you decide to put it, the built-in shelves can serve a variety of decorative and practical purposes. You could try putting it near your bathtub for quick access to bath salts, magazines or essential oils. Putting it by the toilet like this avoids any unpleasant scenes if you happen to run out of toiletries. You could also put this on an accent wall to display ornaments and flowers to liven up the space. This clever bathroom storage hack has many possibilities.
52. Hanging Baskets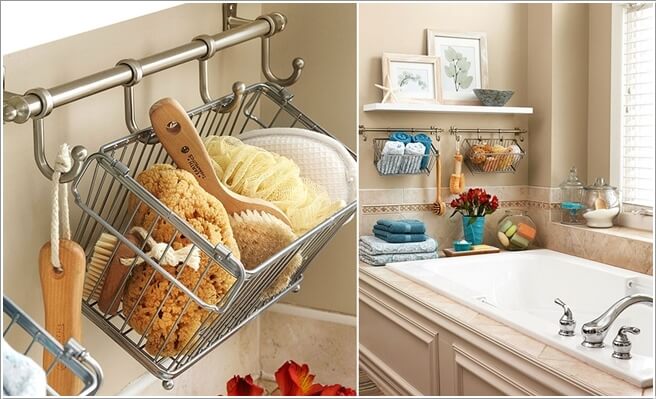 This is one of those bathroom storage ideas that is foolproof, inexpensive and perfect for any space. Step one: buy a towel rod, some shower curtain hooks and some hanging baskets. Step two: put the shower curtain hooks on the towel rod. Step three: Install the towel rod. Step four: hang the baskets and whatever else you want on the hooks. Just like that, you have the perfect storage solution for hair dryers, curling irons, loofahs, brushes and all sorts of other large bathroom items. Both the simplicity and the low cost make this idea more than worth a try.
53. Fun with Shadow Boxes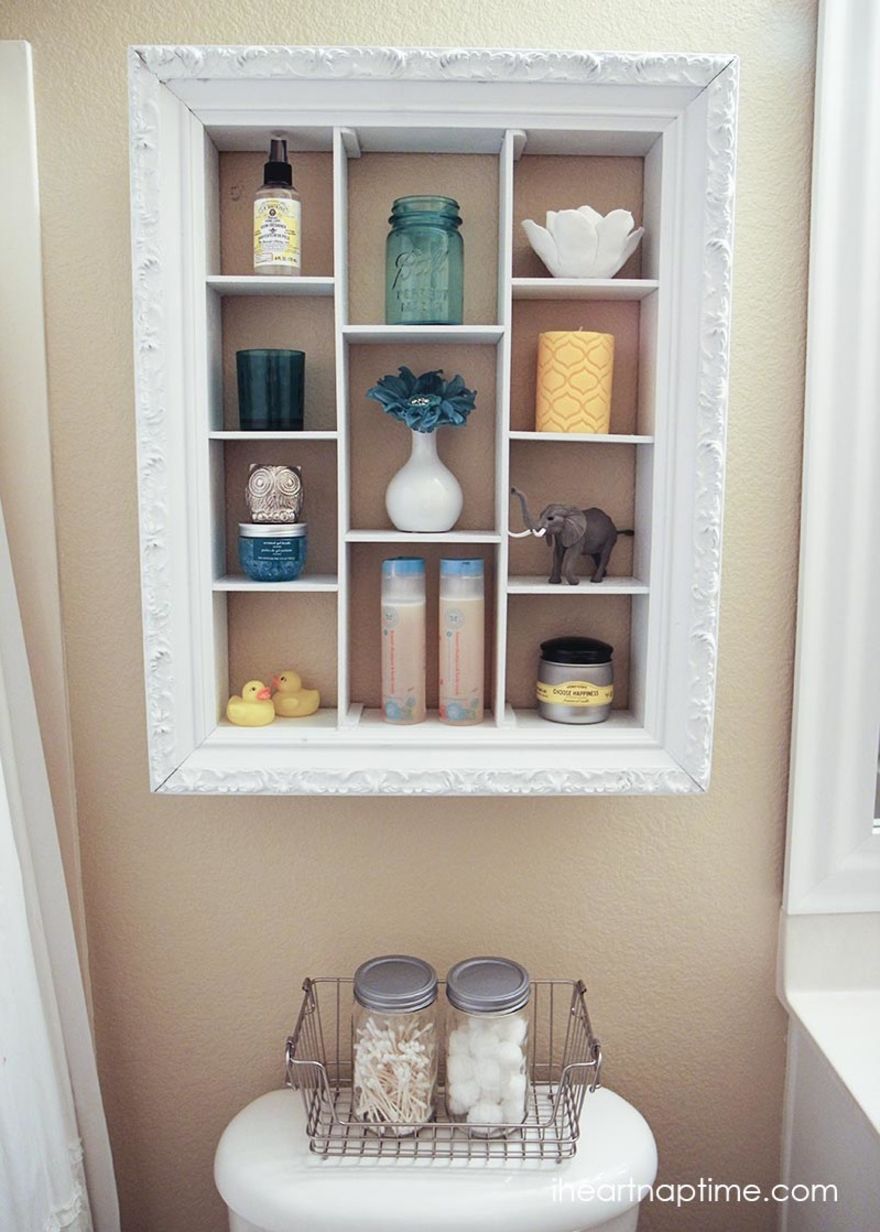 Here is another example of how to take advantage of built-in storage in your bathroom. If you don't like boring old shelves, try a series of boxes instead. Making a storage shelf like this one is perfect for displaying just about anything you can think of, whether it be something practical, something decorative or both. It also keeps more delicate or potentially dangerous decorations out of children's reach if you put it up high enough. Because of the height involved, we recommend trying out scented candles, incense or an oil burner to distribute a pleasant scent throughout your entire bathroom.
54. Floating Wicker Baskets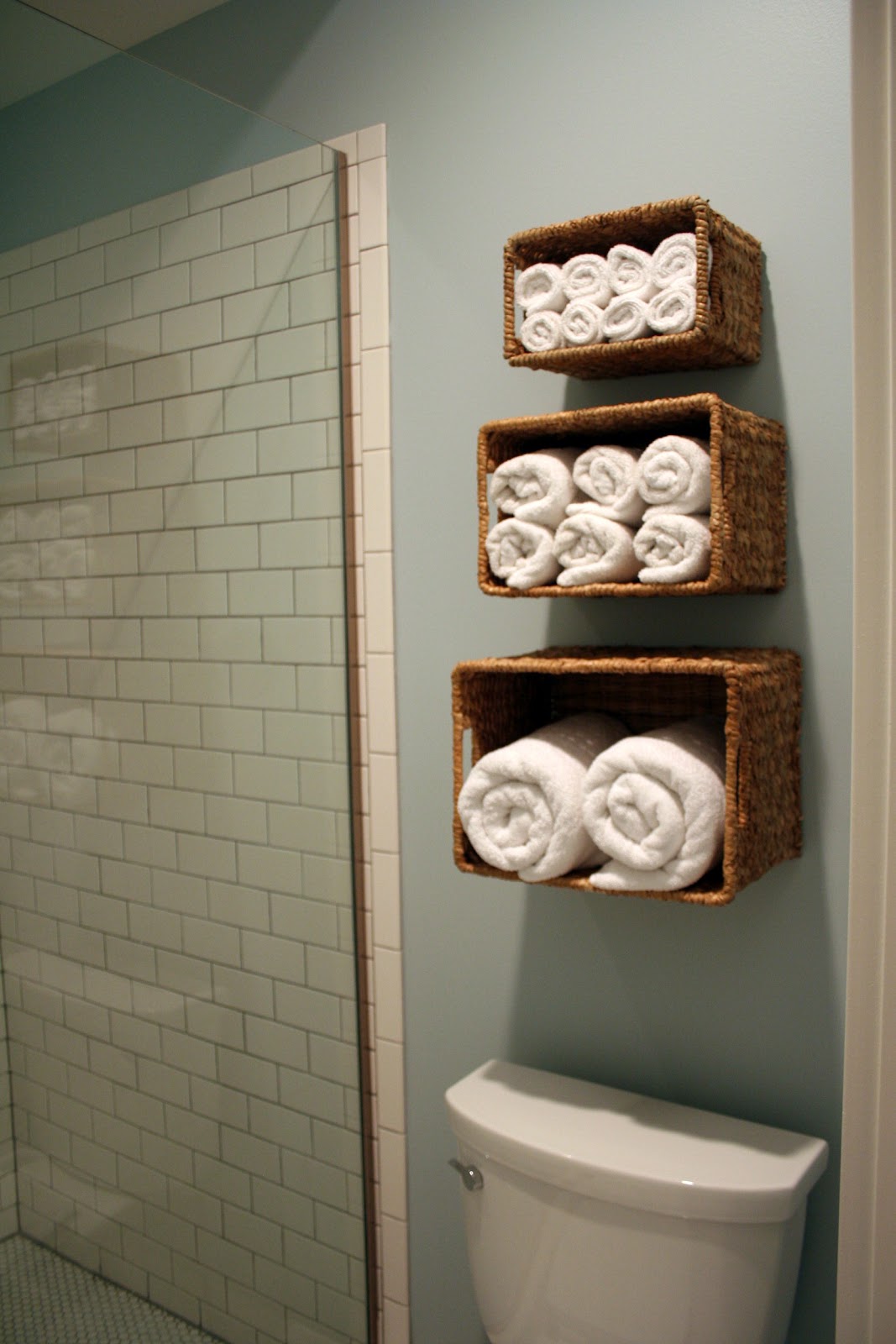 If you have a few storage baskets laying around and doing nothing, you'll love this idea. Mount a few small baskets on your bathroom wall and voila. You can group three similarly sized baskets together like this or go nuts and use an array of different types and sizes of baskets for a more eclectic look. We suggest wicker because it is a lightweight material, so there is little difficulty as far as installation. Some of our other bathroom storage ideas in this regard would include canvas baskets, woven baskets, wire baskets and even plastic pails for a child's bathroom.
55. Revolving Rack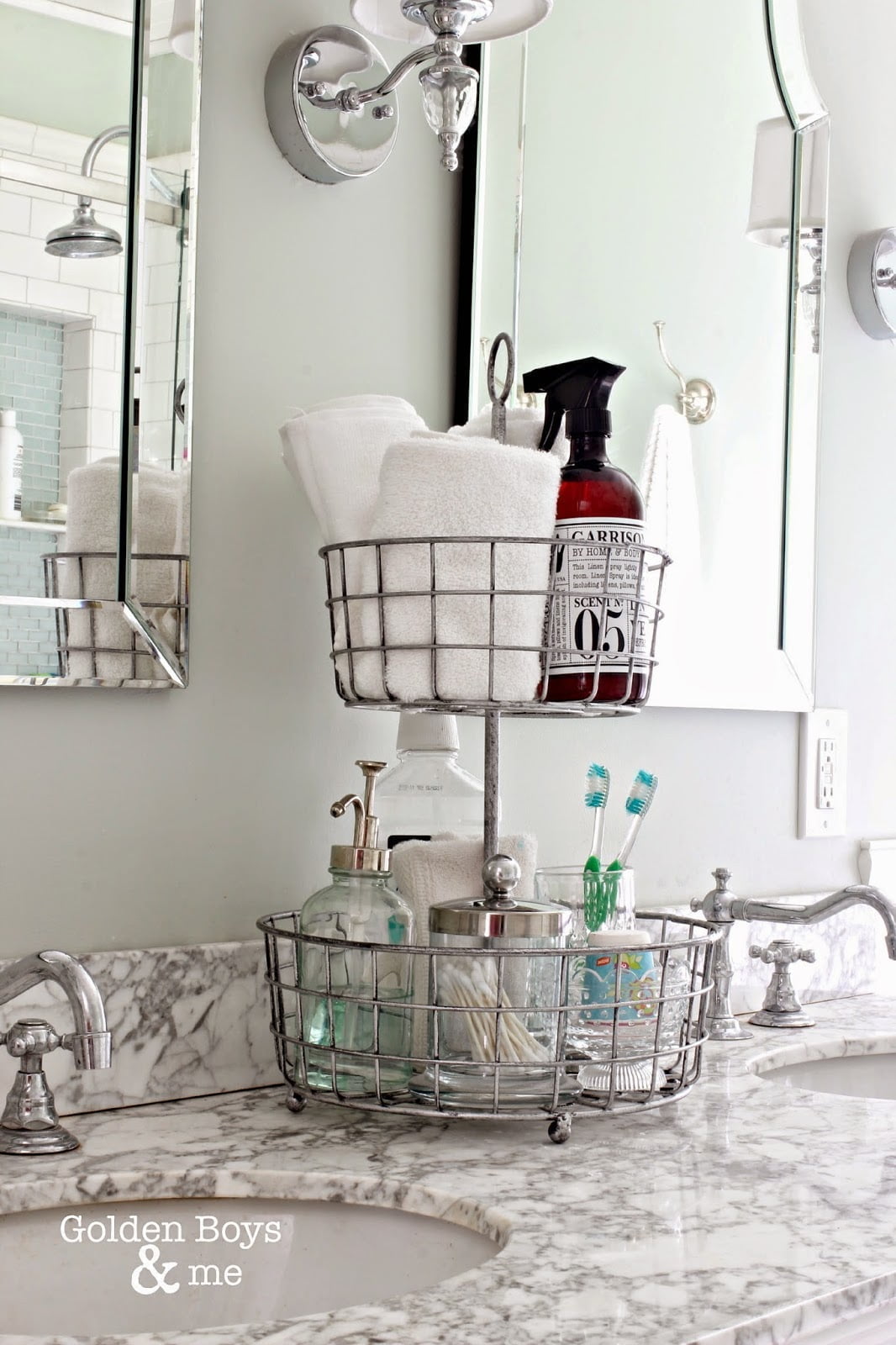 Yes, you're seeing this correctly; that's a revolving spice rack. For bathrooms with two sinks, this is a brilliant little storage hack that can make a world of difference. Rather than dig through a cabinet for what you need, just put them on the spice rack and turn it to what you need, when you need it. The base of this particular spice rack doesn't turn, but what's to stop you from using one that does? This is one of those ideas that just makes your daily beauty routine so much easier by putting everything at your fingertips.
Deceptively Simple Bathroom Storage Ideas
We hope you have enjoyed our list of unique bathroom storage ideas. From revolving spice racks to mason jars, this article just goes to show that you can use just about anything as a storage solution with some creativity and know-how. You don't necessarily need to go out and buy some fancy new piece of furniture, either; many of these clever storage hacks are cost-effective as well as stylish. Take advantage of what is available to you, whether it be a budget, space or crafting know-how. You're bound to come up with plenty of your own storage ideas as well.