When I think about some of the most relaxing, enjoyable times that I've had in my life, the first image that comes to my mind is laying on the beach during summer vacation. There is nothing quite as refreshing as listening to the waves and watching your children frolic in the ocean, while you sit on the sand sipping on a Mai Tai.
Enjoy the Beach? 50+ Beach and Coastal Decorating Ideas You'll Love

Unfortunately, our beach vacations have to come to an end, but the relaxing feeling that you experience while you are there can come home with you. Beach and coastal decorating ideas are great for making the blue turquoise water and the white sandy beaches a part of your home décor. You can incorporate seashells, starfish, coral, driftwood, and even those loudmouth seagulls that are part of the beach experience.
The soft colors that you get at the shore are great for creating beach and coastal decorating ideas for your living space. This guide is designed to help you get started creating a beach motif in your home. It can serve as a relaxing retreat for your alone, or it can be a place where your guests can take your love of the shore with you.
1. Cargo Netted Candle Holders on Sandy Driftwood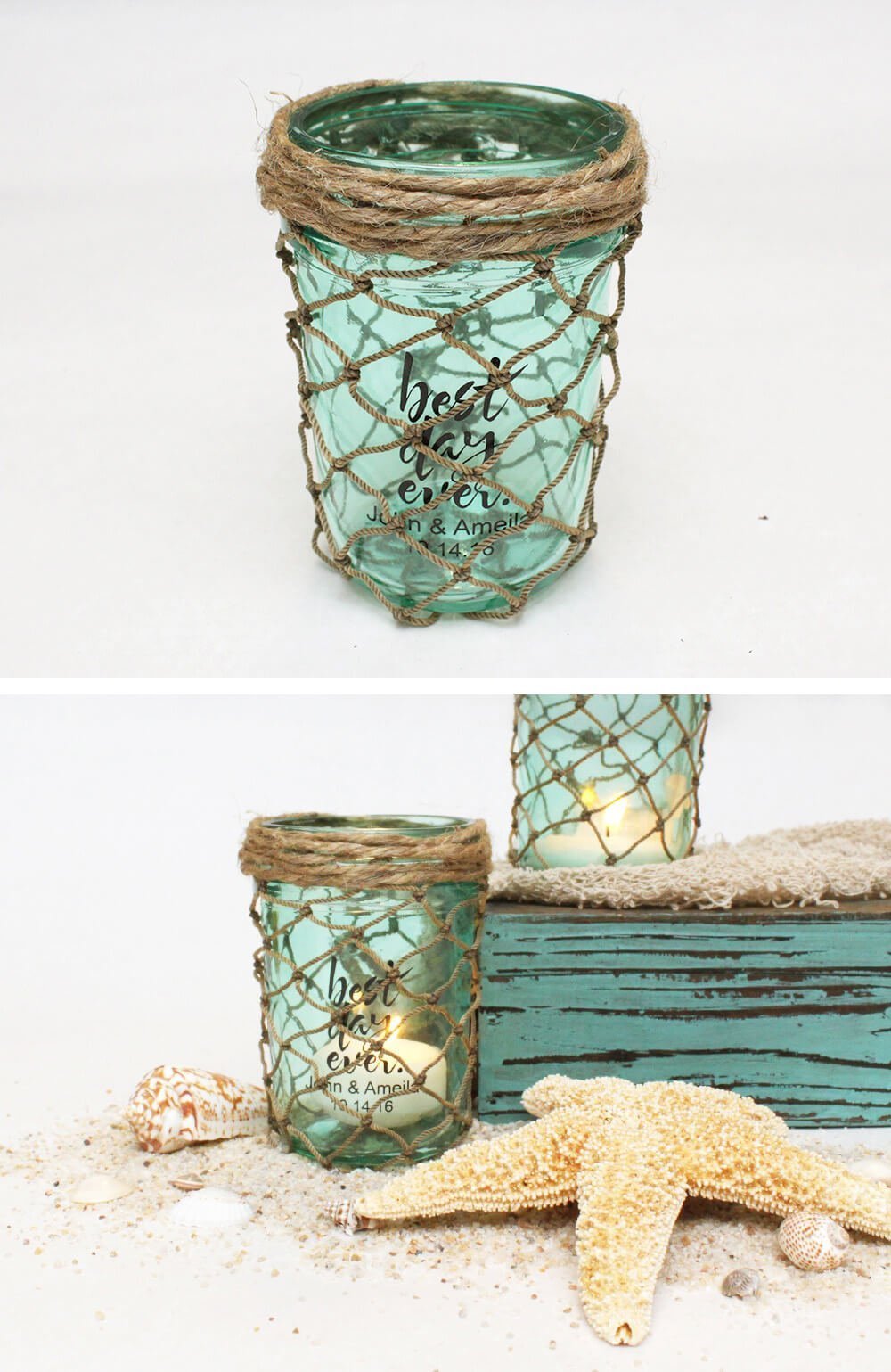 Looking for a way to bring tea lights or candles into your living space with a hint of the beach? These candle holders are just the thing. Made from Mason jars wrapped in a cargo net, the soft green of the glass offers a subtle hint of the ocean depths. The natural twine brings back memories of seagrass swaying in the breeze.
2. Some Palm-Inspired Beach and Coastal Decorating Ideas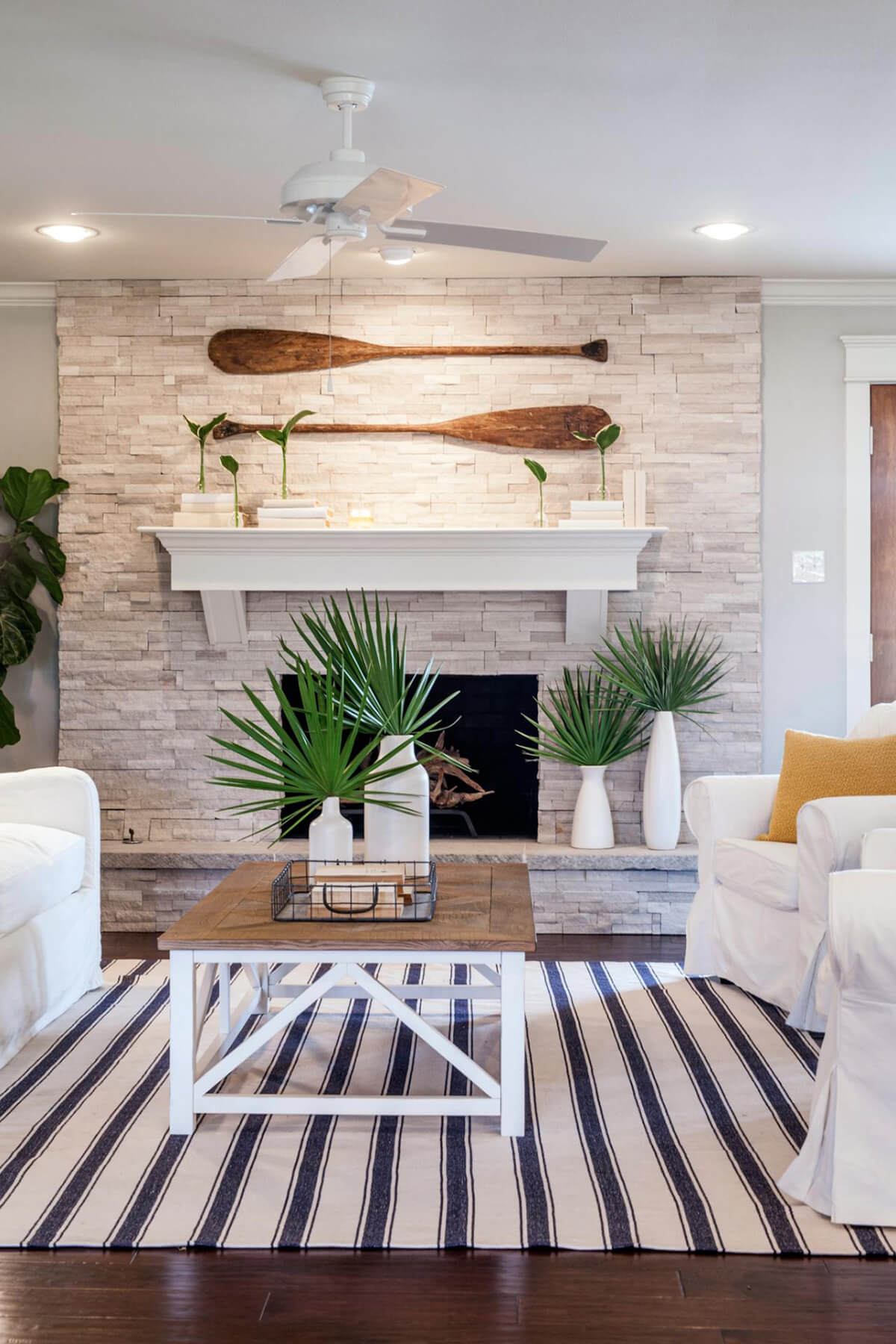 Palm fronds, set in simple white vases, make both an architectural and natural statement. The splayed leaves of the palm fronds offer a strong green color and sharp, architectural lines that presents beautifully against any background surface. The simple white vases offer a soft profile that highlights the natural beauty of the fronds with distracting from them.
3. Coral Creations and Shells of the Sea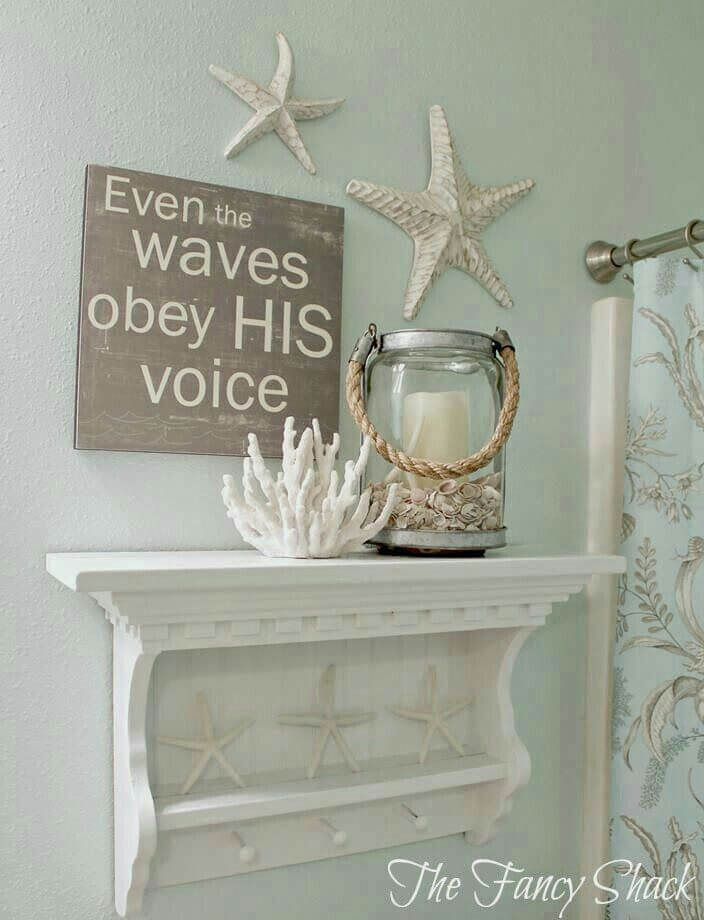 The creatures of the ocean and beach offer us their treasures in the form of corals and seashells. These natural jewels come in all sizes, making them versatile for wall art, tablescapes, and shelf displays. When putting together a beach theme, grouping these beauties together will reinforce the look and offer a natural focal point in the space.
4. A Starfish Wreath Blooming in the Sun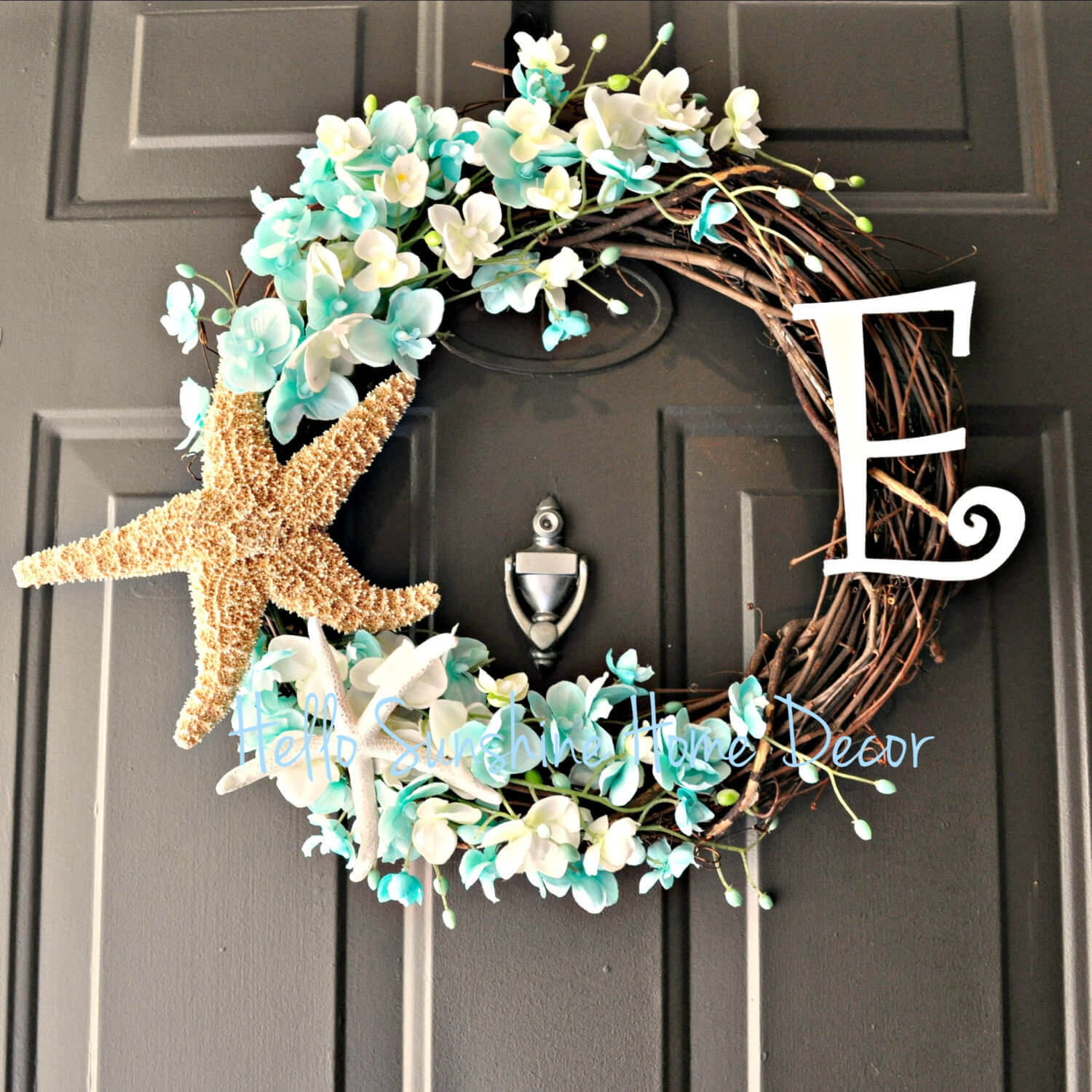 Greet your guests with a door wreath that embraces the look and feel of the beach. A starfish, with its rough surface, is the star of the show. The soft green and white of the surrounding blossoms bring the colors of the ocean and sand to the display. Add a monogram to the other side for a personal touch.
6. Coastal Decorating Ideas with Turquoise Accents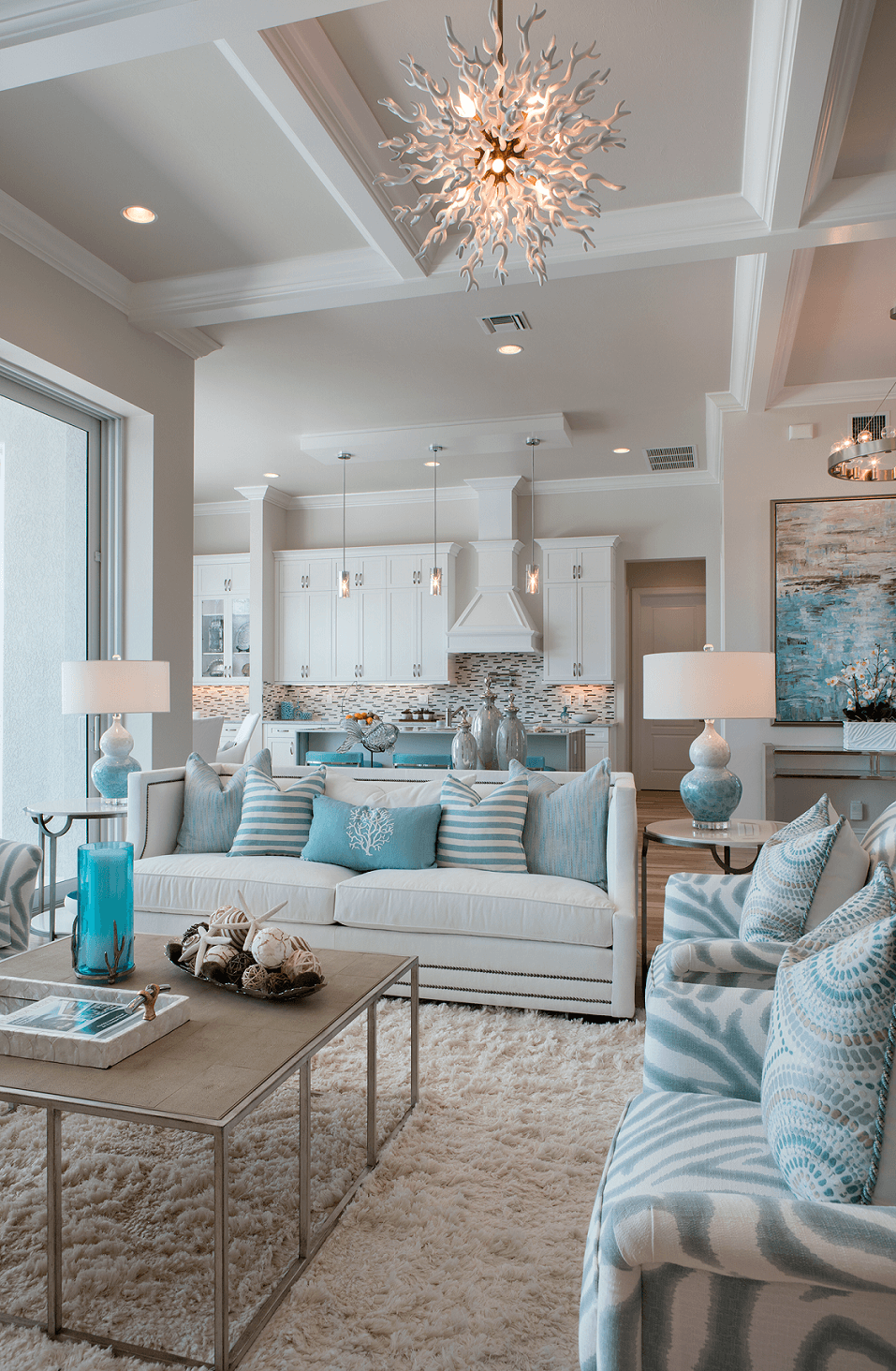 The turquoise of the ocean is a perfect color to introduce into any room, especially one that already has a neutral palette. Soft greys, whites, and tans are the perfect backdrop for the turquoise accents in this room. Pillows, lamps, stools, and artwork offer a subtle hint of color that blends well into this soft palette.
7. A Nautical Headboard with Vintage Oars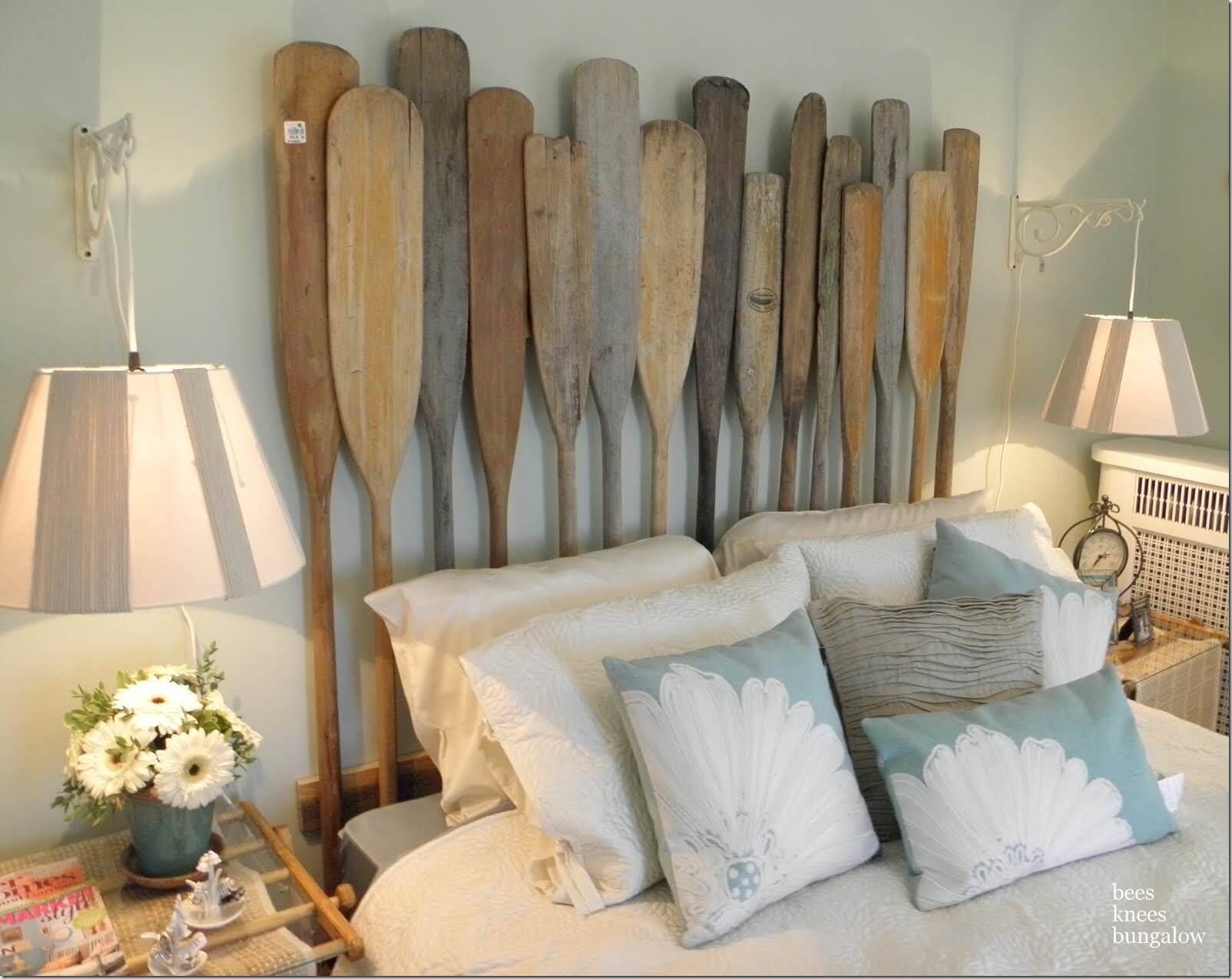 Headboards don't have to be boring in a beach theme bedroom. Standing vintage oars on end, at varying heights, brings their soft, weathered wood surface into focus. Line them up along the head of the bed and you have a natural place to rest. Put it against a soft blue-grey wall to pull out the weathered look.
8. Sandy Colored Curtains with Starfish Tassels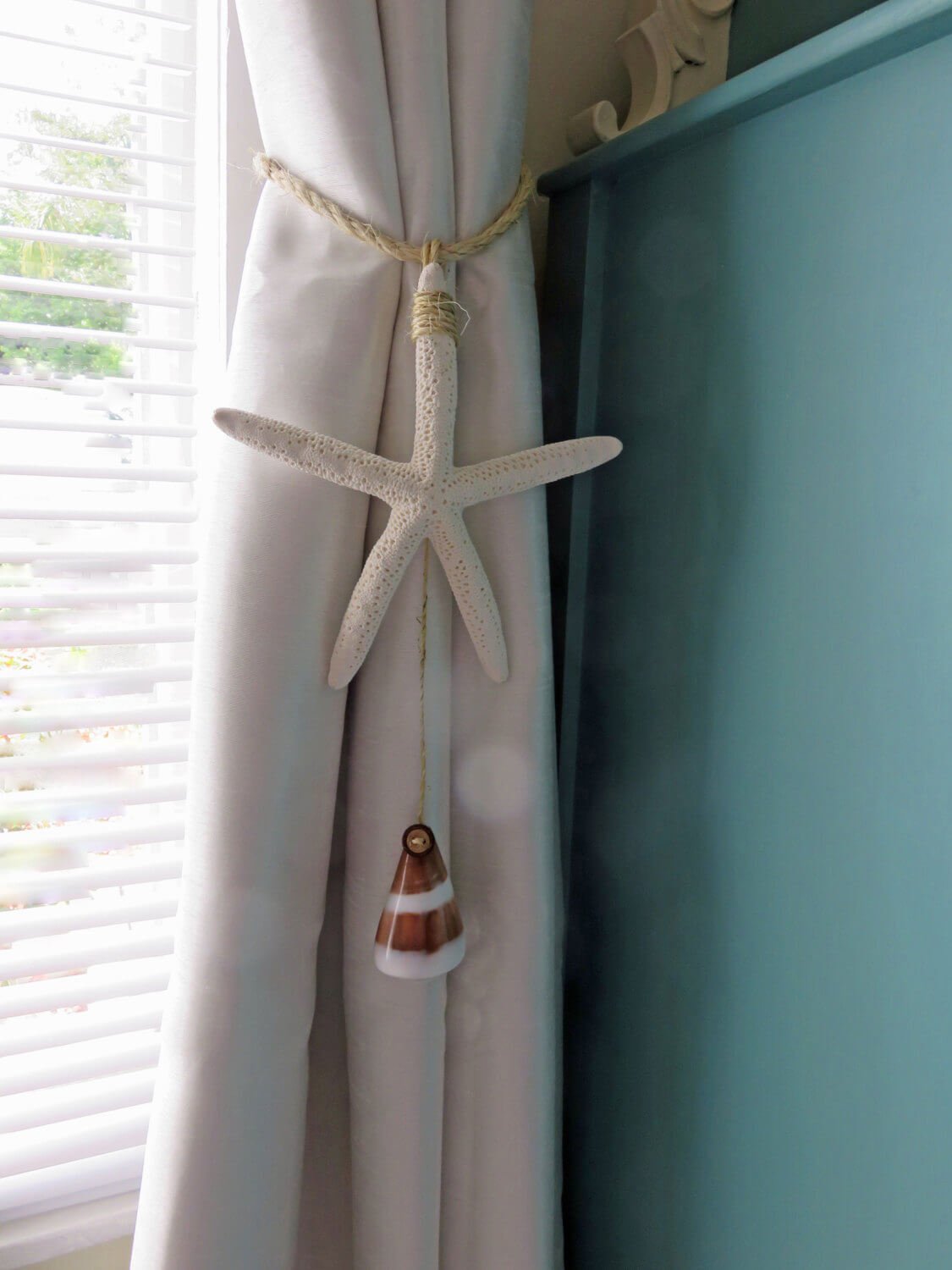 Collecting starfish one of the quintessential hallmarks of a walk along the beach. Add a natural twine loop around one of the arms of a large starfish and attach it to a curtain tieback made from the same material. Add a dangling shell as a tassel, then pair it with sandy colored curtains for a perfect beach look.
9. A Beach Mural on the Docks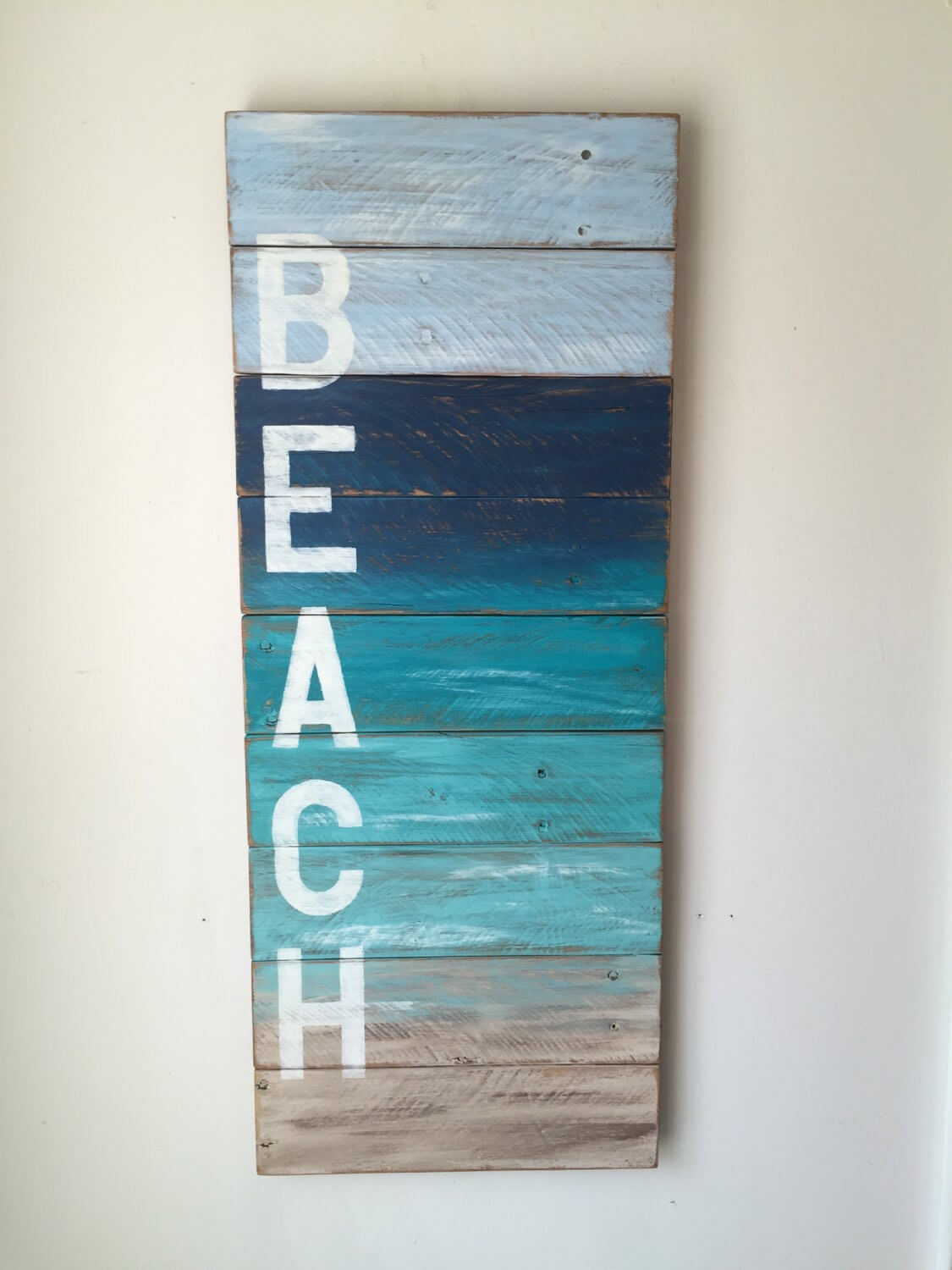 Rough boards, painted in varying shades of blue, turquoise and sand, give the impression of an old seaside dock. The light blue of the sky stands above the varying colors of the ocean. A sandy base completes the color scheme of this display. Add some rough lettering in a beachy font for the perfect seaside mural.
10. Soft Sandy Beach Centerpiece with Lighthouse Inspirations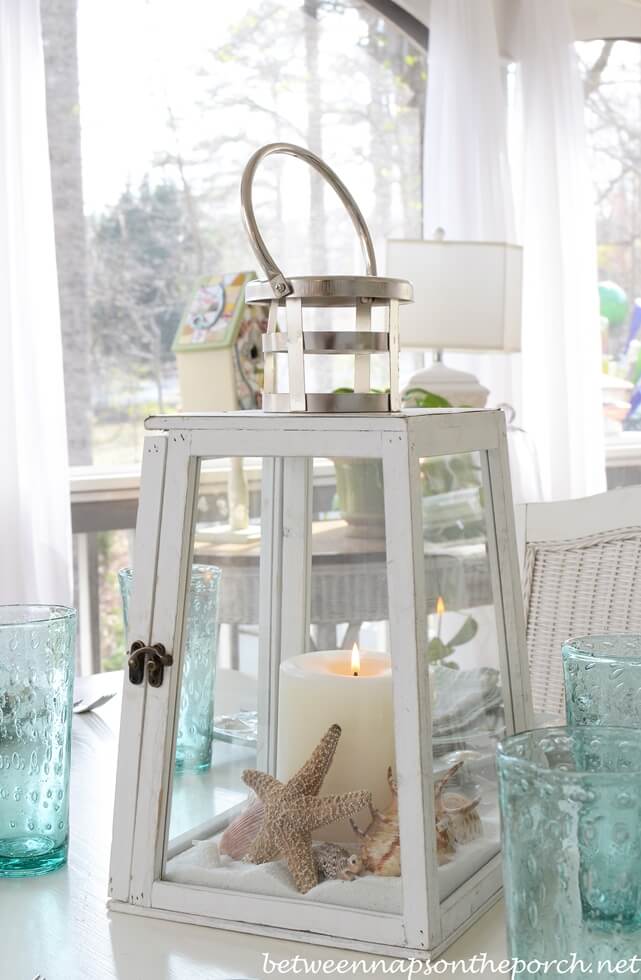 An old lighthouse shaped lantern is the perfect container for a seaside landscape. The weathered wood and glass of the lantern frame the sand, shells, and starfish that call the inside home. A large candle provides soft illumination for the area around the lantern, as well as a highlight for the natural beauty inside.
11. Driftwood Coffee Table for a Beach House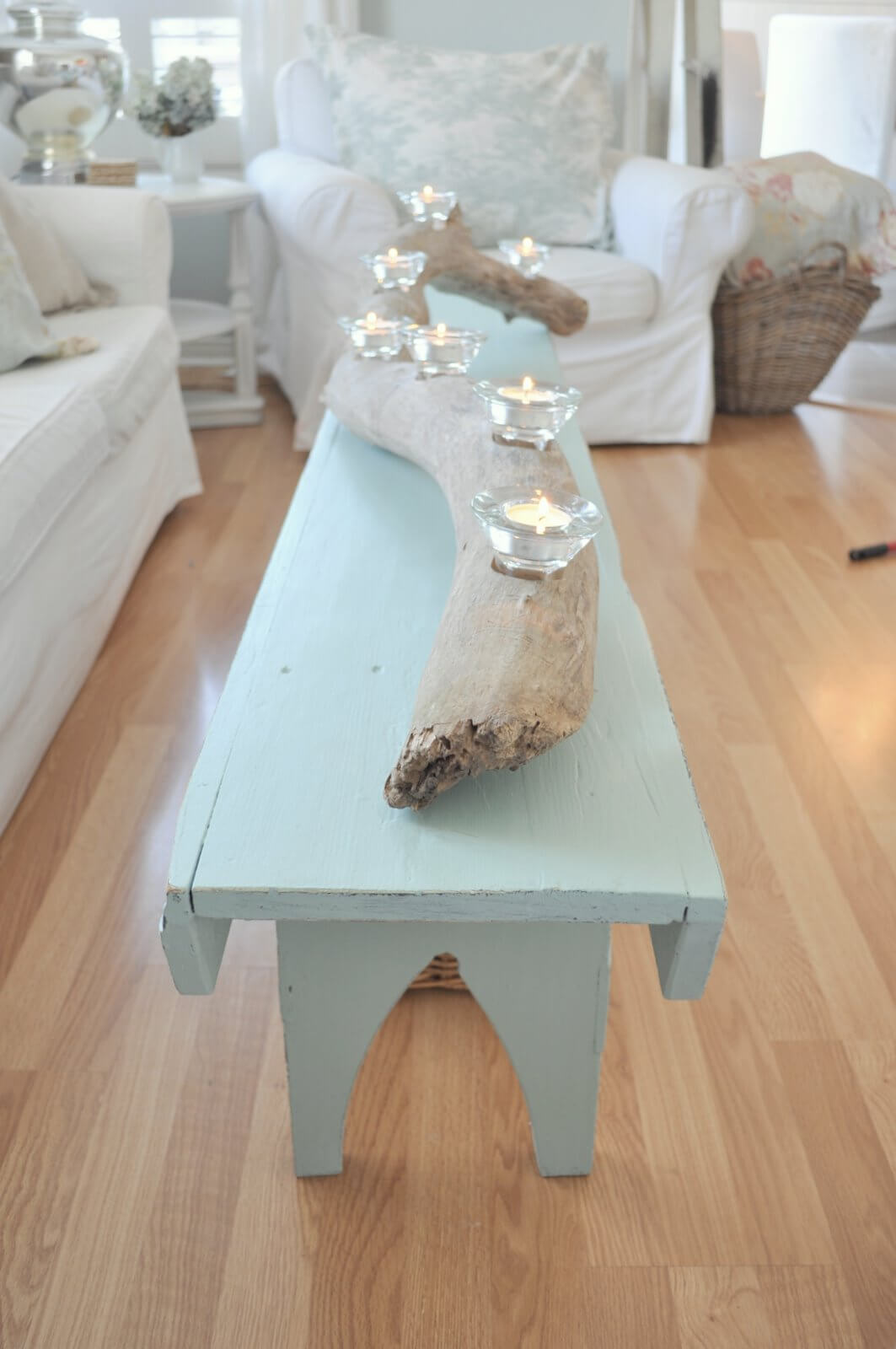 Driftwood has a natural weathered look caused by continuous exposure to water, salt, and sun. Its soft color makes it a flawless background for the flickering flames of tea lights. Drill some shallow holes in the upside of the driftwood to hold the candles. Place it on a weathered bench, painted in a soft turquoise color, for a perfect coffee table.
12. Sand, Seashells, and Soft Beach-Themed Undertones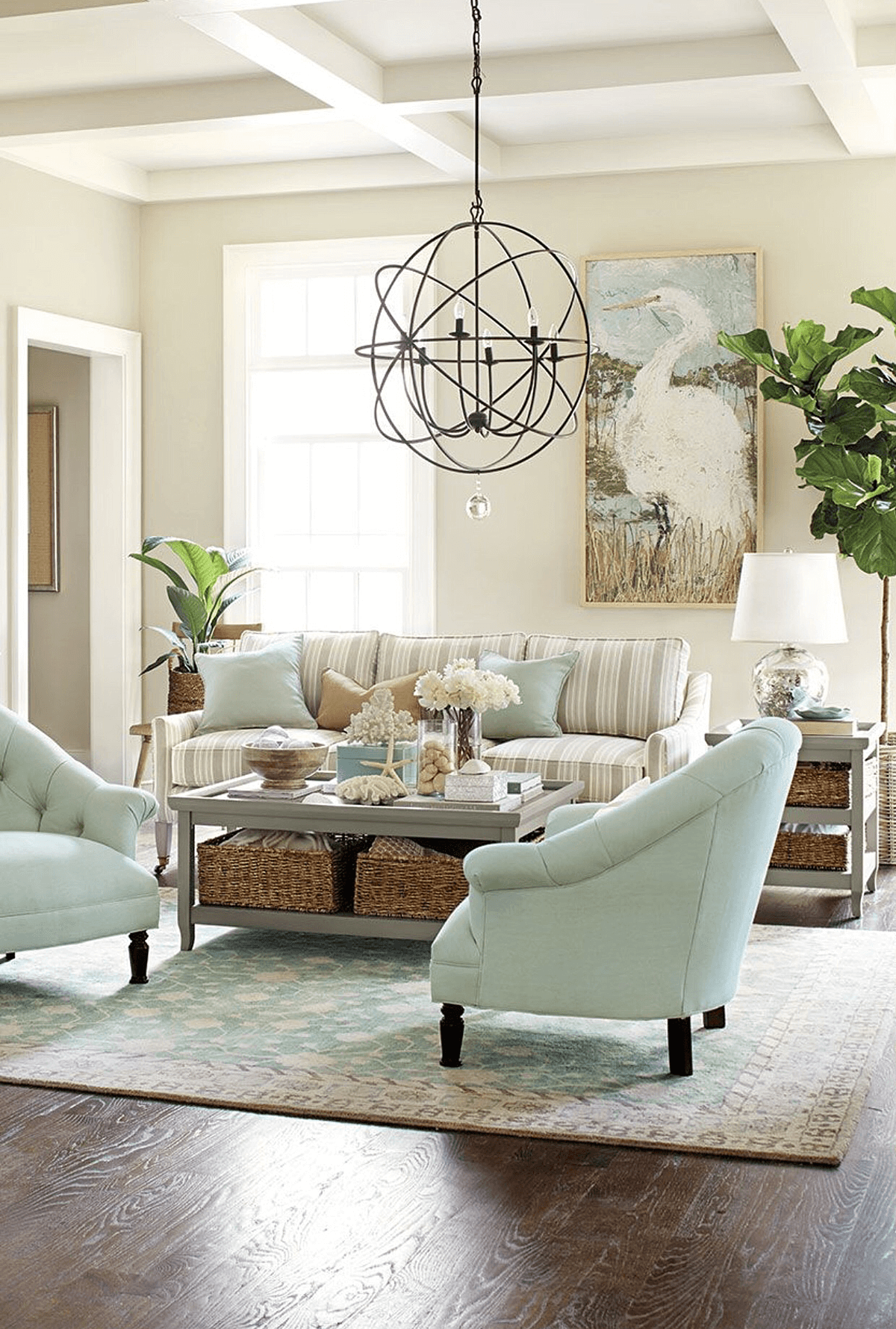 Beach landscapes are an amalgamation of many things, like sand, water, seagrass, seashells, and birds. They have a soft palette of colors with shades of turquoise, sand, and grey blending flawlessly together. This room brings all those elements into perfect harmony for a beach look that remains true to the theme, without being over the top.
13. Tropical Vegetation in a Beautiful Seashore-Themed Vase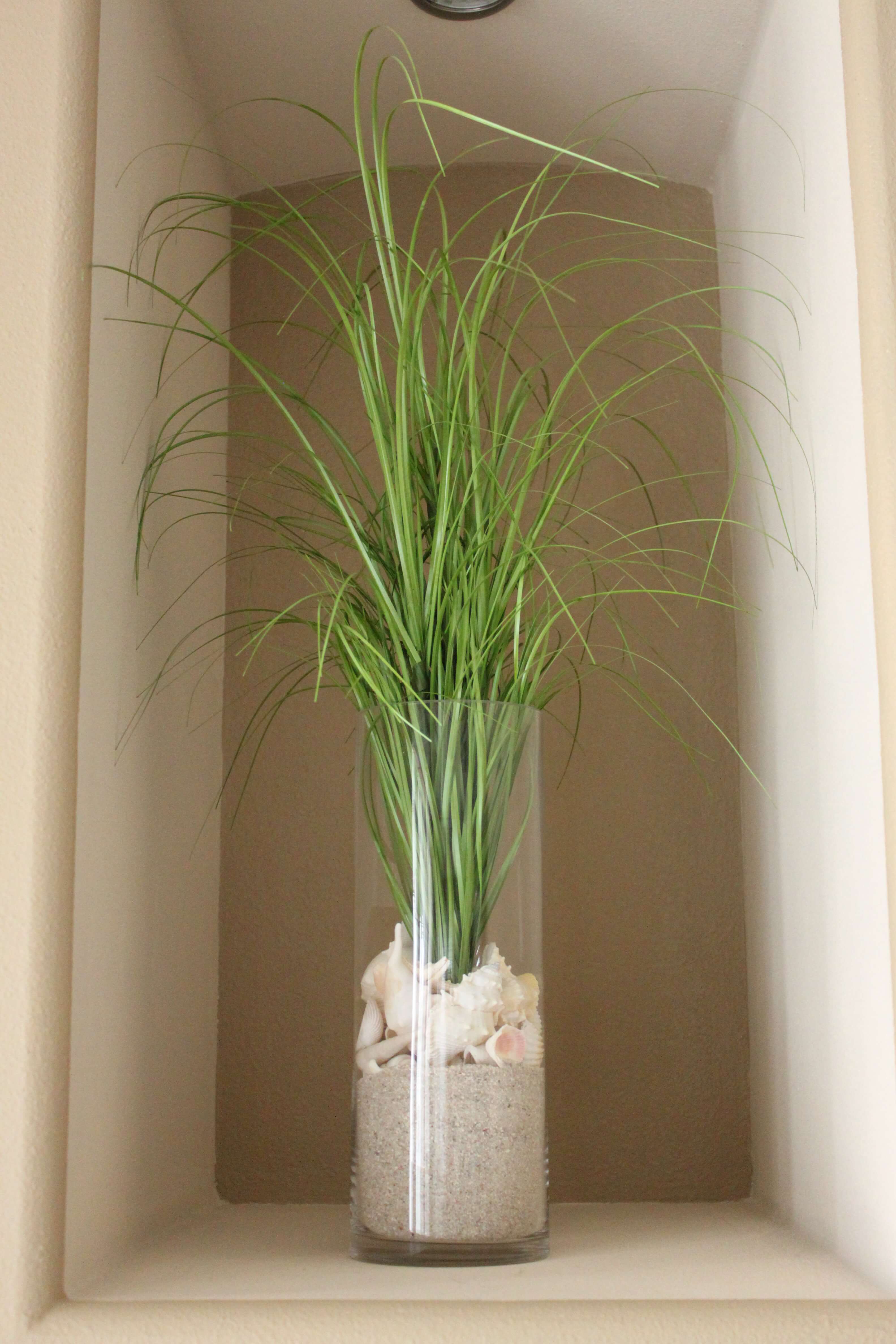 Take a walk along a natural seashore and you will see all the elements featured in this spectacular display. Soft sand acts as a base for a myriad of seashells, piled to highlight their subtle tans, greys, and pinks. Tall grass sprouts up from the seashell mound, bringing height and contrast that spill over the top of this cylindrical clear vase.
14. Mantle Decorations of Sea Glass and Starfish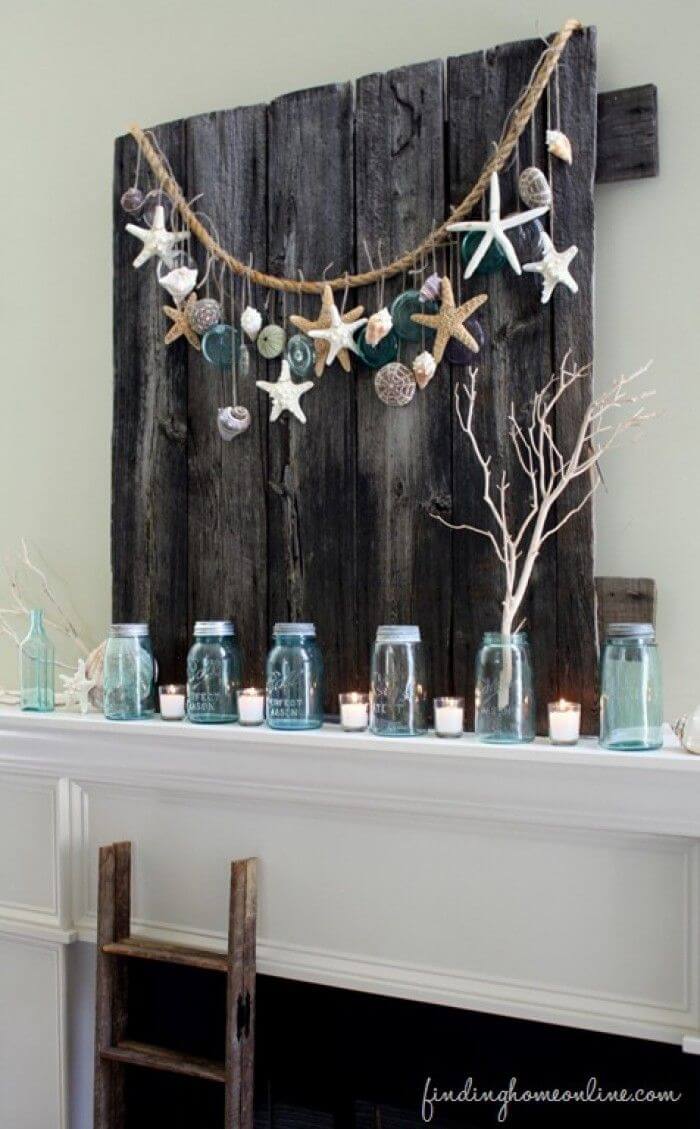 A row of soft blue colored Mason jars stands proudly along this seaside mantle. Small votive candles flank the jars, offering a soft flickering light. Standing tall, weathered wooden planks bring a hint of a seaside dock to this fireplace. A necklace of twine and seashells grace the face of the dock, while driftwood branches rise from below.
15. Rustic Dresser Designed for a Beach Enthusiast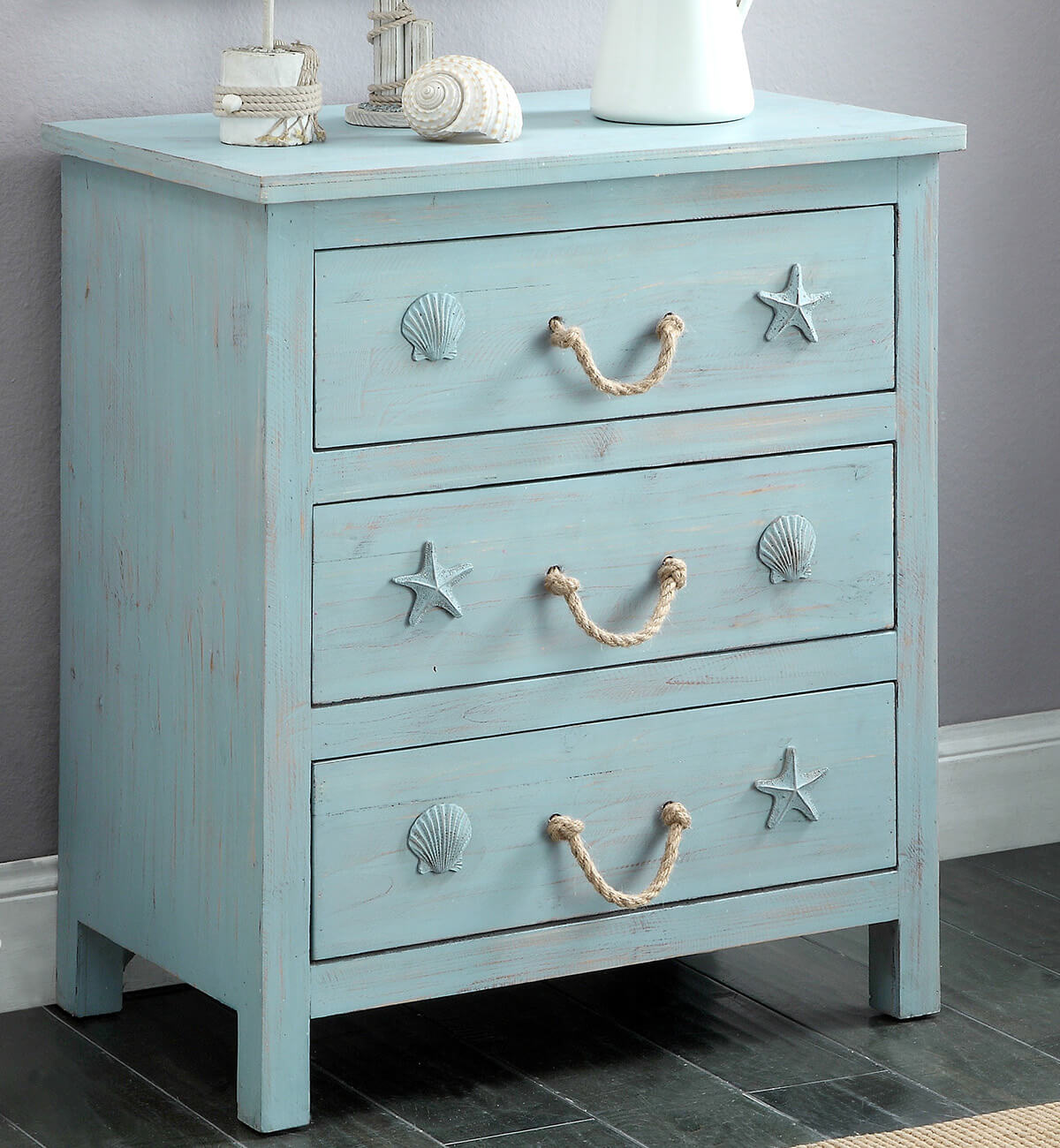 Bring the beach into your bedroom with this small dresser. Painted in a soft, weathered turquoise, this dresser is the perfect background for seashells and starfish motifs on the drawer fronts. Boat rope replaces the traditional handles to give this furniture piece both function and style. Add a few beach-themed accessories to the top for a finished look.
16. Picture Perfect with Shells and Pearls Galore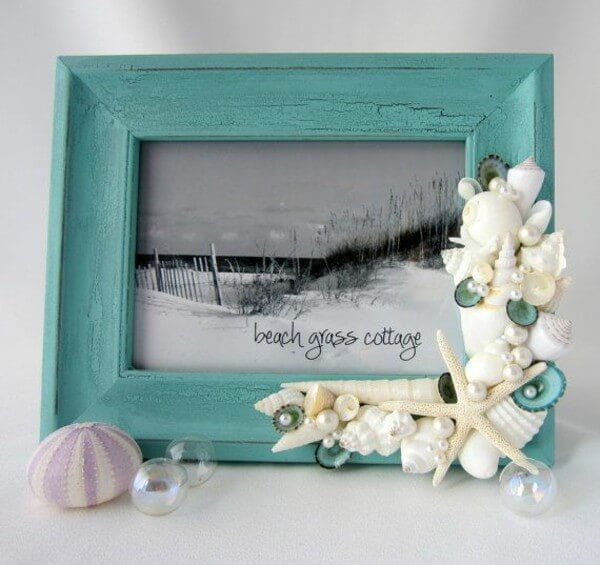 Pictures of a beach vacation bring back great memories for the entire family. Frame your favorite pictures with wood frame painted a soft turquoise in a cracked finish. Add some small shells, pearls, and a starfish to highlight the edge of the picture. It works perfectly on a tabletop display with seaside accessories.
17. A Rustic Wicker Table with Coastal-Themed Accents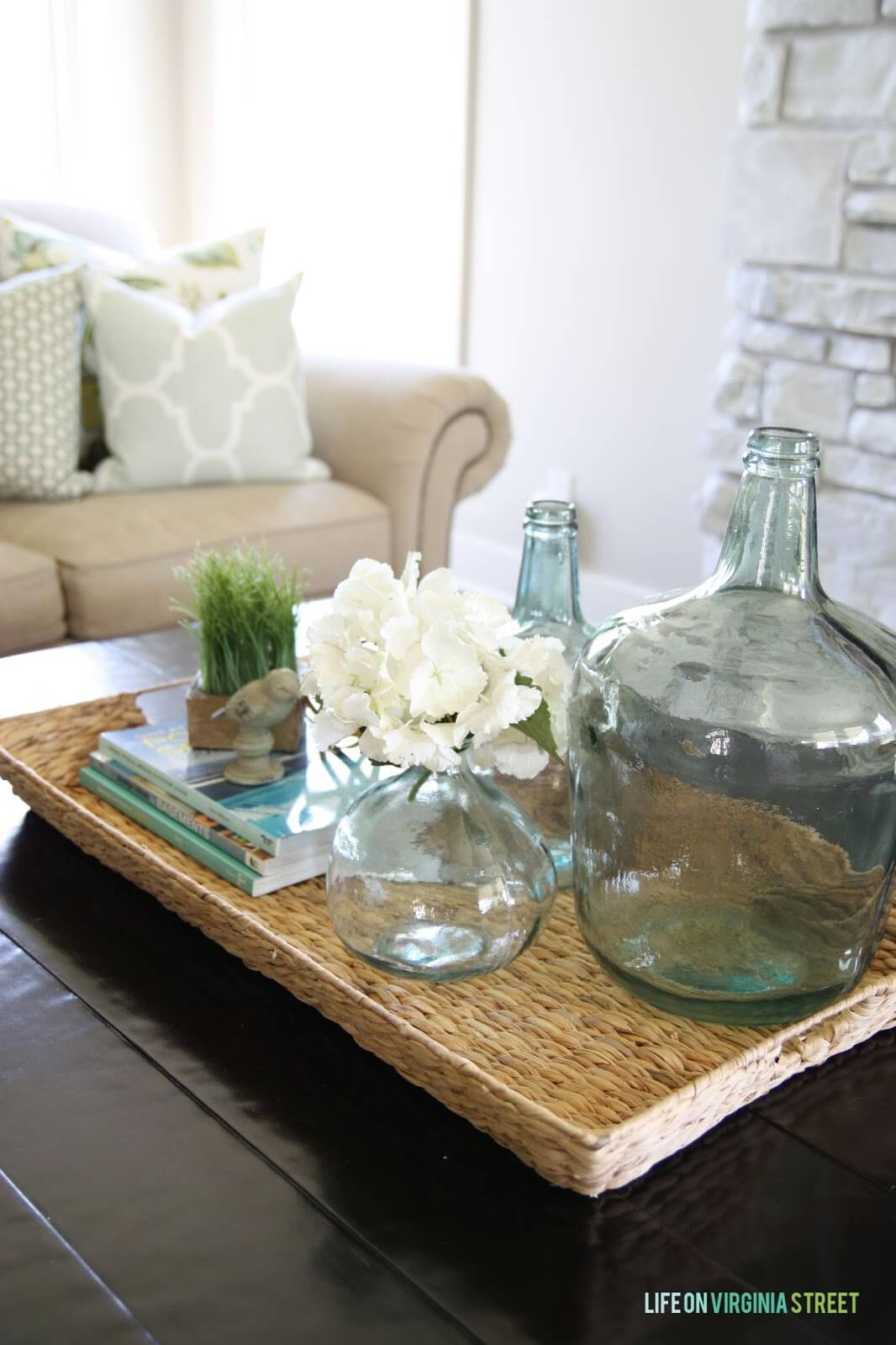 The natural weave of a seagrass tray offers a natural place for a tabletop display or a place to set a drink or two. The soft color of the tray subtly contrasts with the glass and flowers on display, while boldly standing out from the darker background. It is a great way to bring a coastal feel to any room in your home.
18. Shades of the Tide Meeting the Beach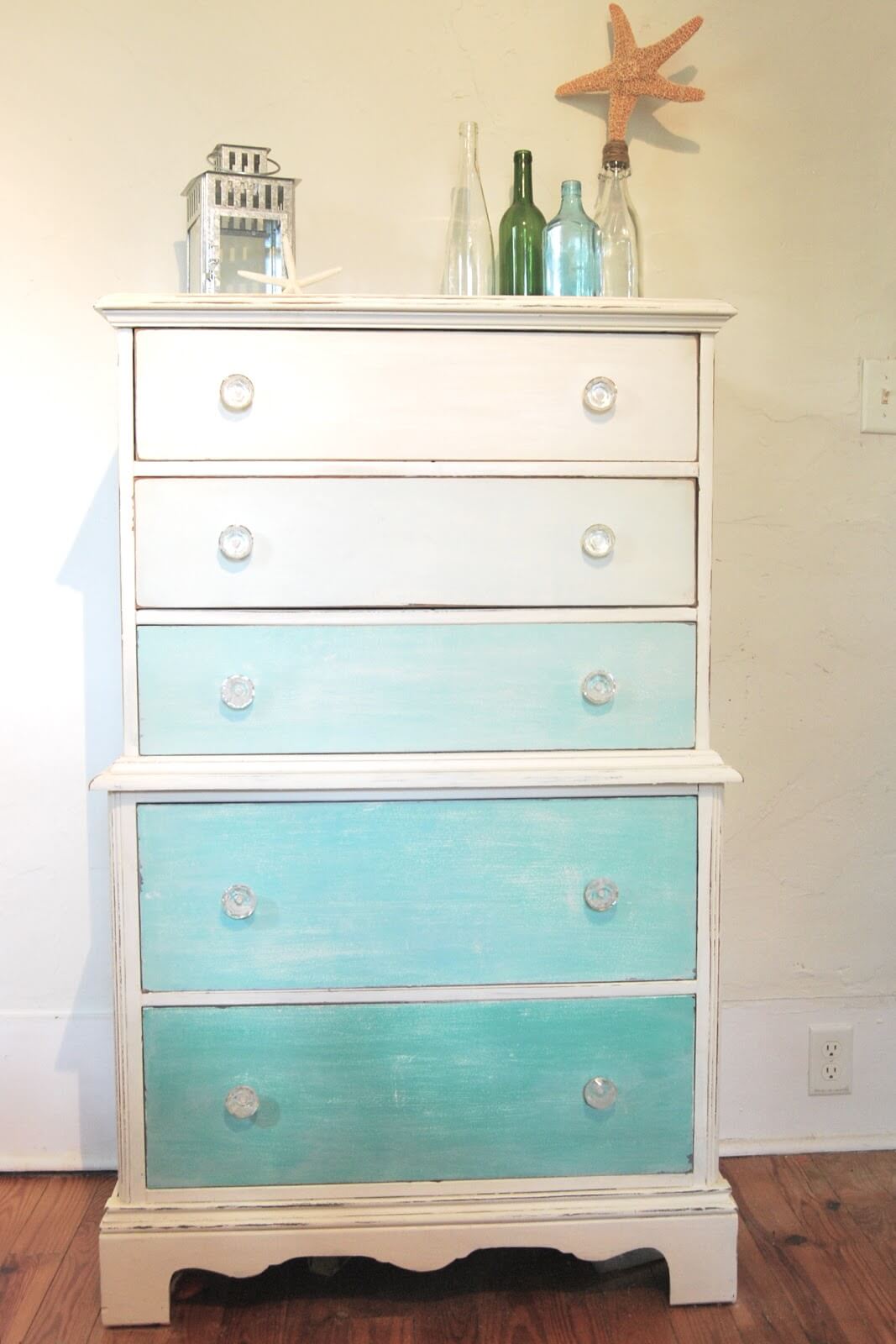 Transform an old high boy dresser into a focal point for your beach themed bedroom or living space. Subtle coloring starts at the top with a wash of white, moving through lighter shades of turquoise before arriving at a beautiful deep shade at the bottom. Weathered edges and old glass knobs complete this seaside look.
19. A Nautical Knot Lamp at the Shore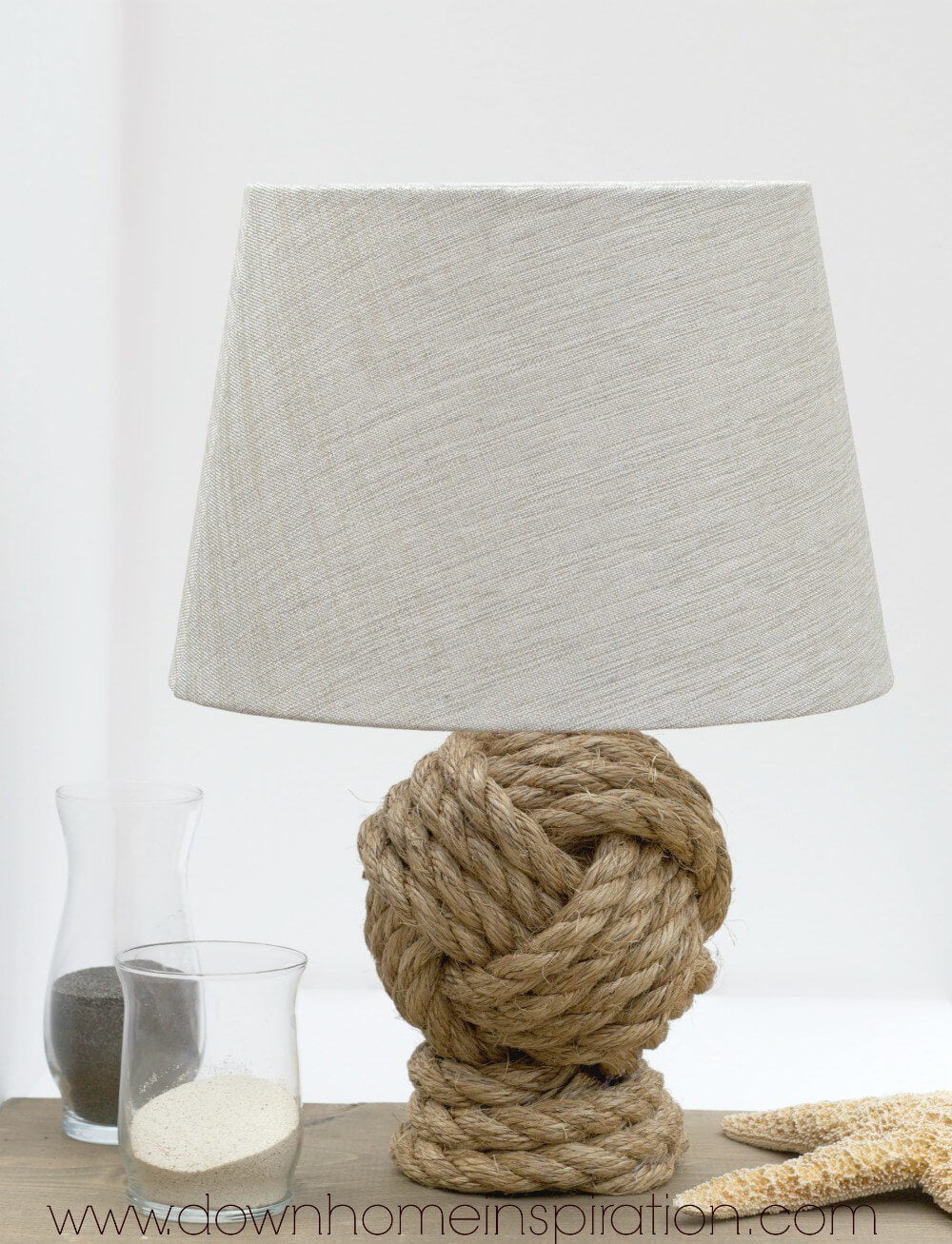 Boats have been leaving harbors for thousands of years. One thing most of those boats have in common is rope and the knots used to tie them. A large boat knot, wrapped around a solid core, makes the perfect base for this small table lamp. A natural linen shade and some simple beachside accessories highlight this feat of nautical engineering.
20. Beach and Coastal Decorating Ideas for the Bedroom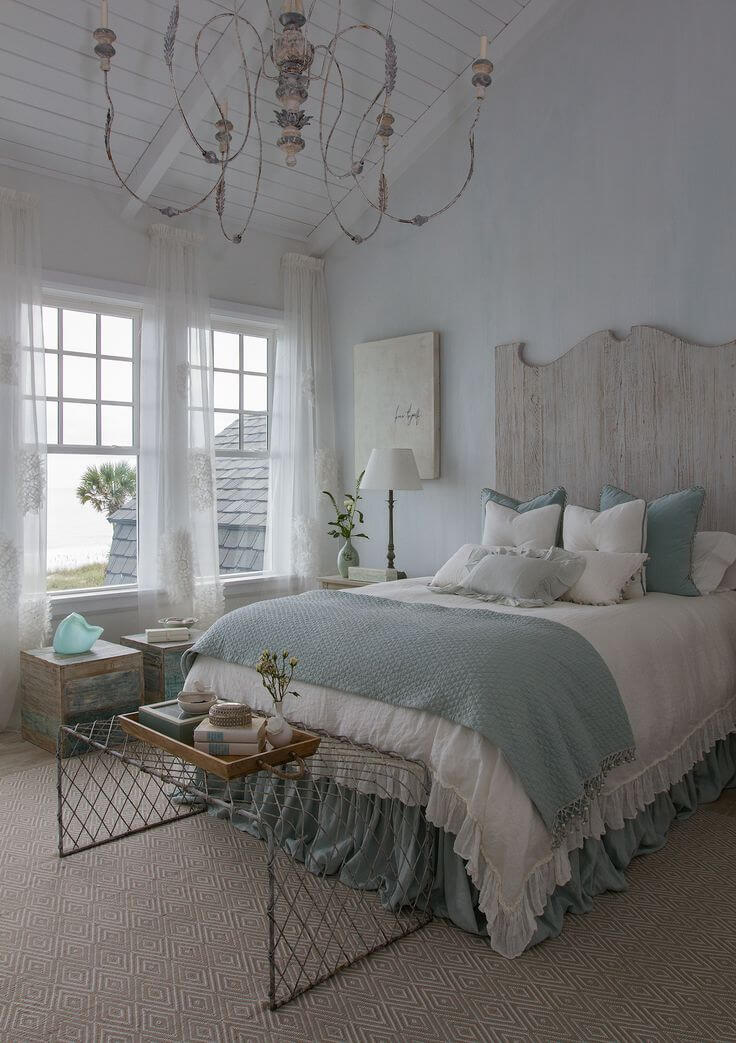 You can just feel the sea breeze wafting through the soft white curtains in this seaside bedroom. The headboard, with its worn color and subtle texture, looks like it has been out in the sun and sand for decades. The cool palette of blues and greens gently stand out from the weathered white on the walls. Distressed wood, wire baskets, and natural textures complete this oceanfront theme.
21. A Dining Space for a Coastal Cottage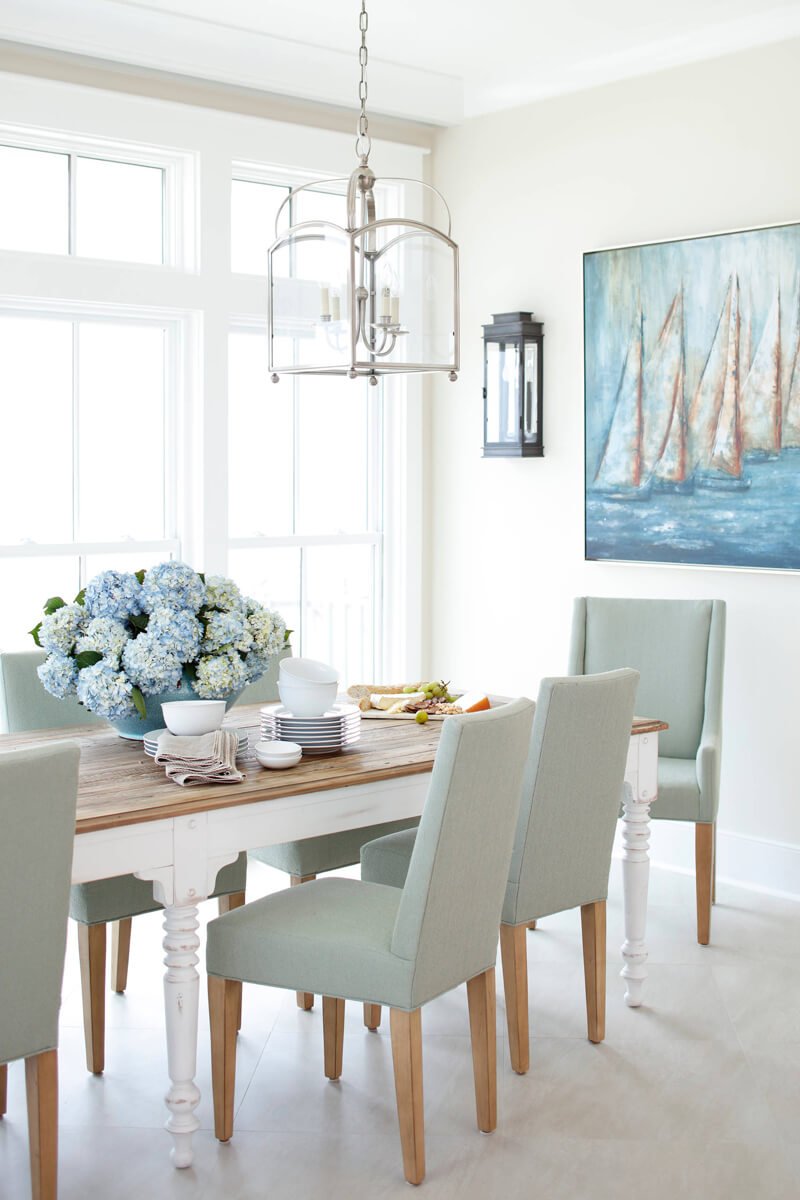 Modern coastal decorating blends a subtle sophistication with the traditional rustic elements of seaside living. Comfortable, yet modern, chairs nestle snugly against a well-used table with tattered edges. Sailboats on a deep blue ocean bring the ocean living up onto the walls. Lantern-like lighting reinforces this coastal sophistication.
23. Welcoming Beach Motif for Your Living Space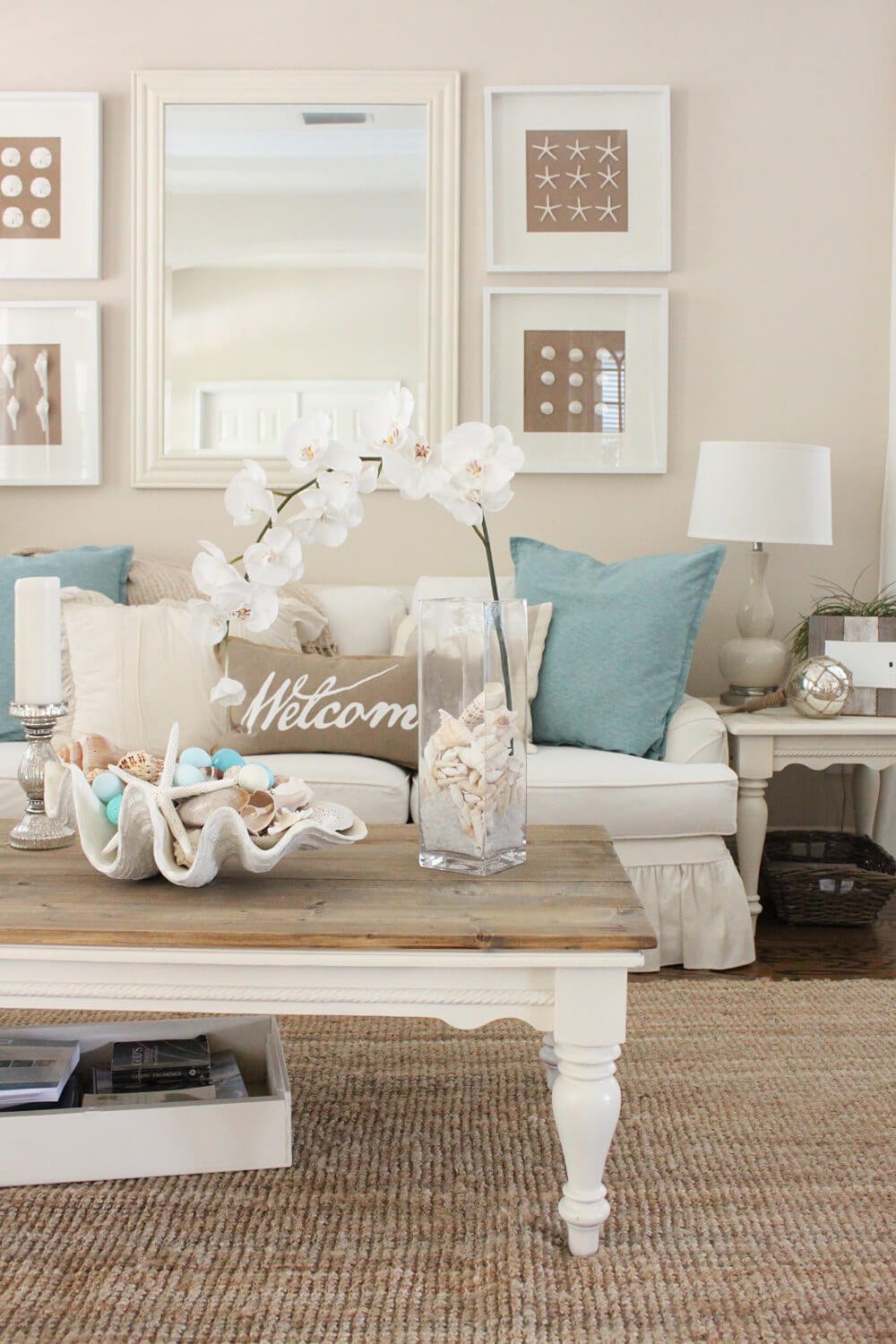 Soft whites and khakis give this living area a naturally neutral background. Turquoise or robin's egg blue pillows bring a bit of sophisticated color to the sofa. A large clam shell, filled with seashells and starfish, sits beside a shell filled vase which sprouts a graceful orchid. Framed shells and starfish bring the beach theme vertical in this sophisticated space.
24. Sand and Ocean Colors Dining Together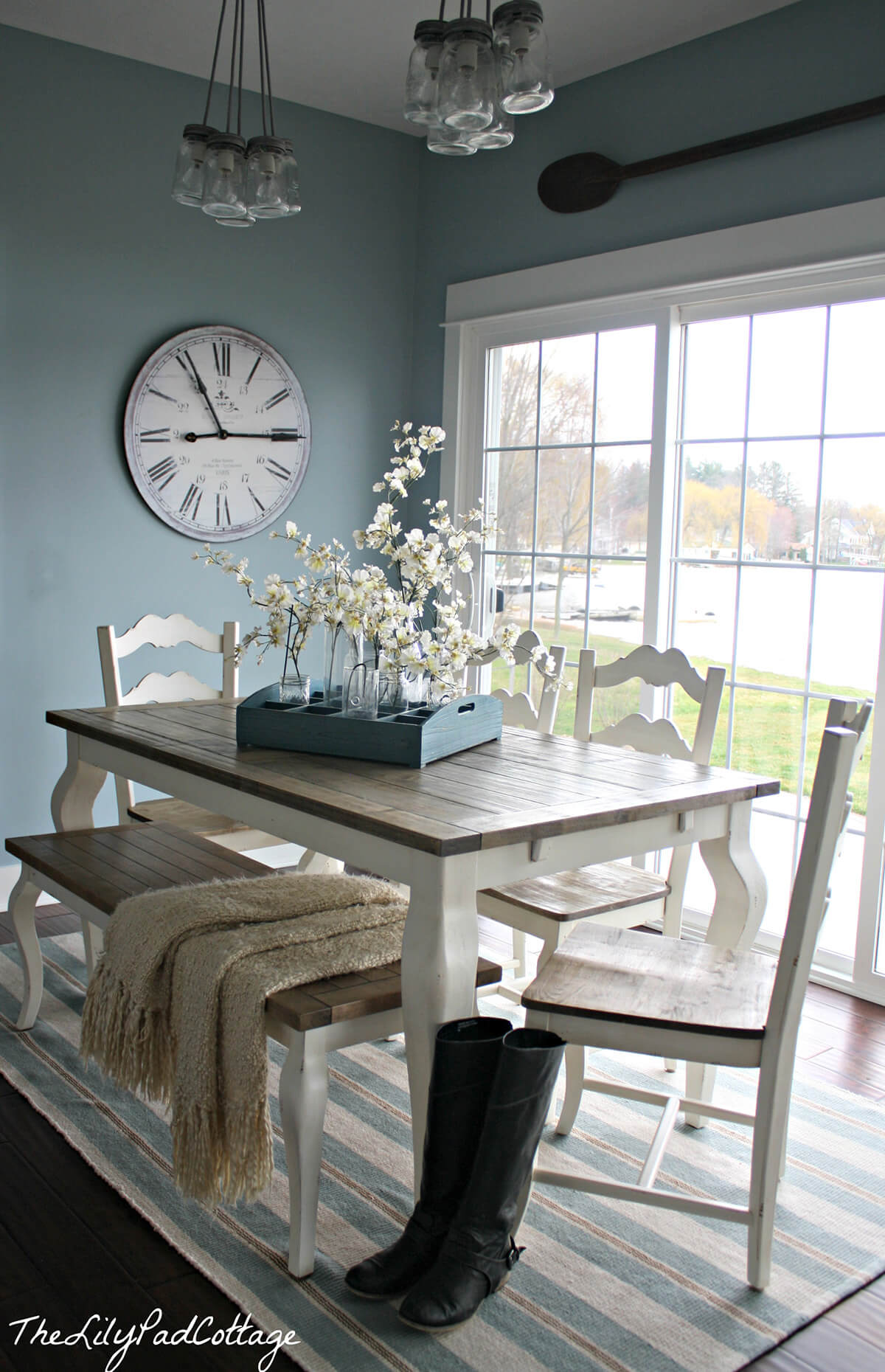 Color is what brings this room together. A medium, yet soft, blue-grey graces the wall, on which hangs a big weathered clock face. Old style chairs surrounding a wooden table with white legs and a wooden top. Jars of differing sizes sit nestled in a divided wooden tray painted a similar color to the wall. A natural texture throw on the side bench completes this seaside theme.
25. Tropical Breakfast Nook Under the Palms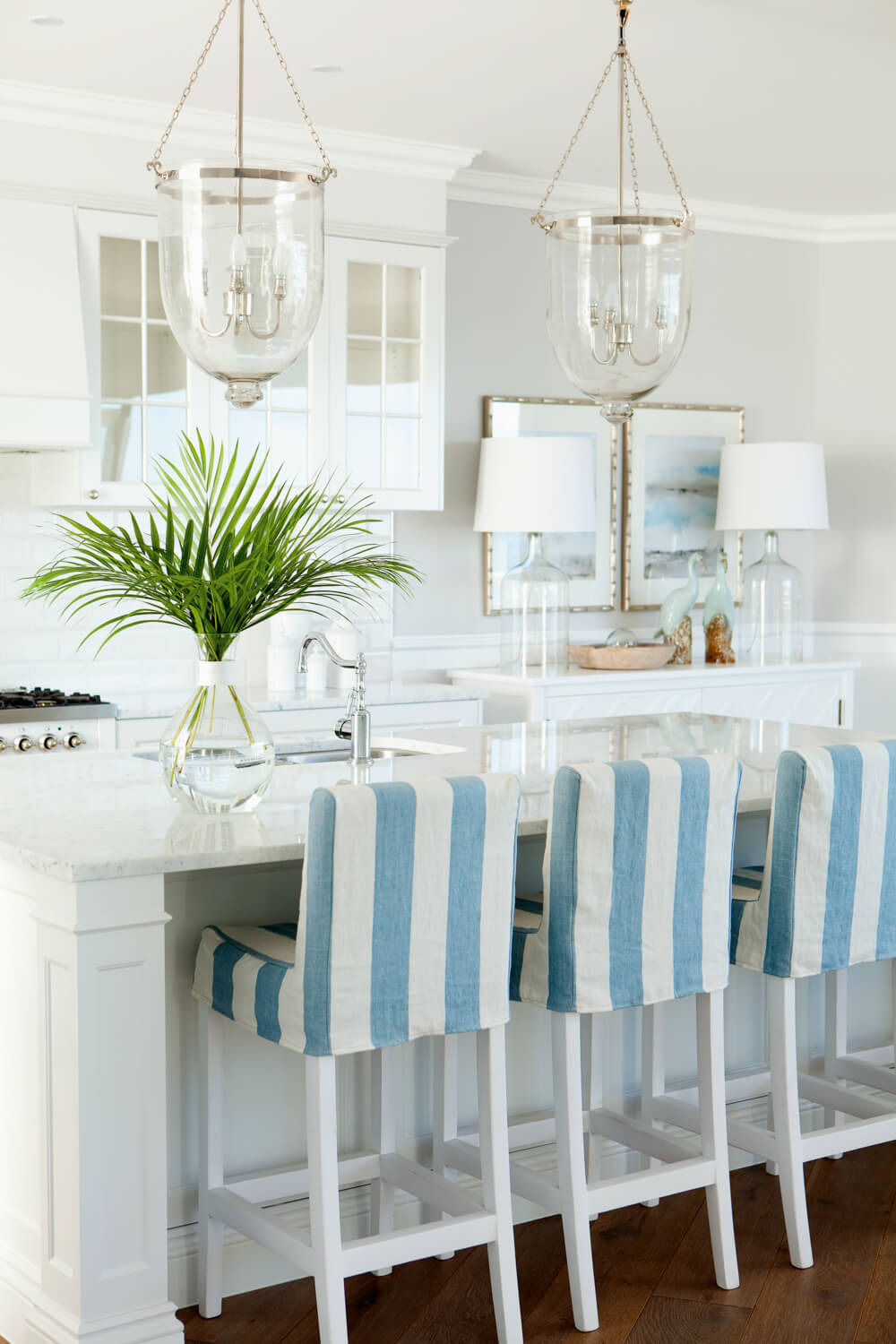 Coastal themes don't have to feature sand and seashells unless you want them to. This beautiful white kitchen shows the possibilities. Clear hanging pendants harken back to the old lanterns lit by the lighthouse keepers. Broad stripes of soft blue and grey bring the ocean sky into view. Bold palm fronds in a clear vase and beach theme wall art complete this subtle coastal look.
26. Abundant Sea Life Décor with Home Comforts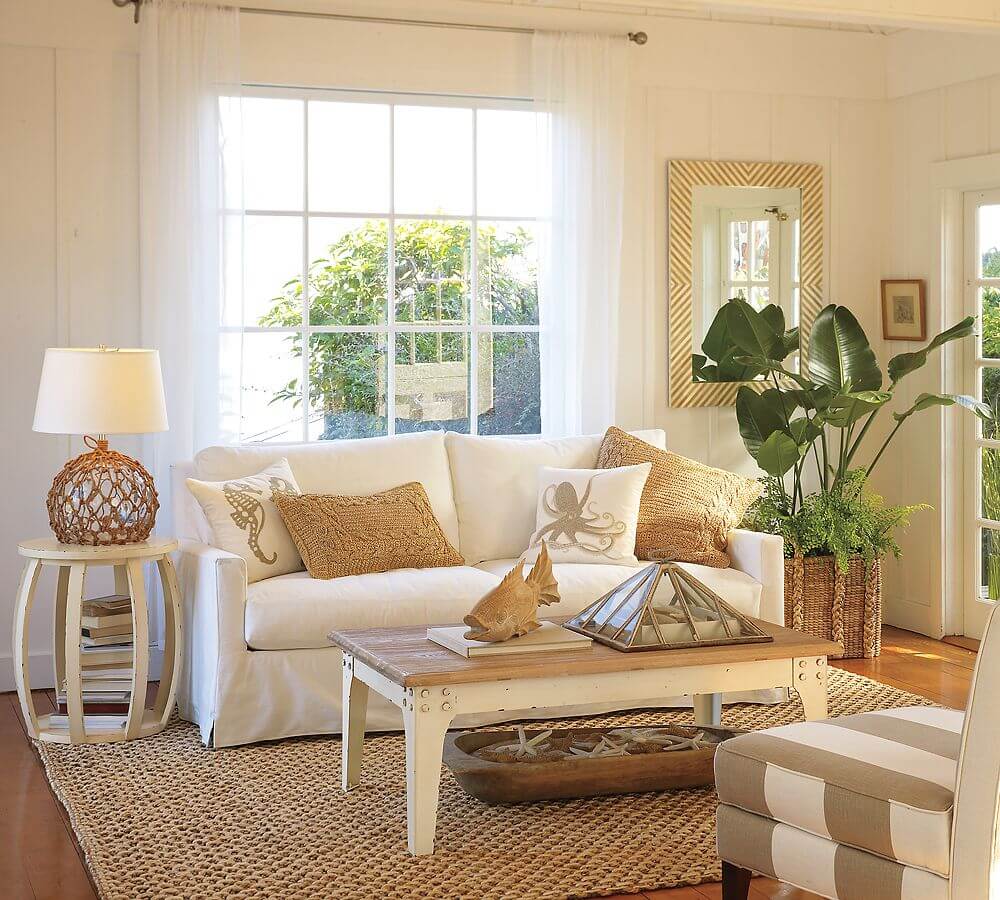 Weathered wood and sea creatures create a warm seaside cottage look. Octopuses and seahorses ride around on fluffy pillows while a wooden fish graces the top of the coffee table. A driftwood trough is a home to a myriad of starfishes. Natural fiber wraps a clear lamp base while textured pillows and a large area rug complete this comfortable living space.
27. A Bookcase Crawling with Coral and Shells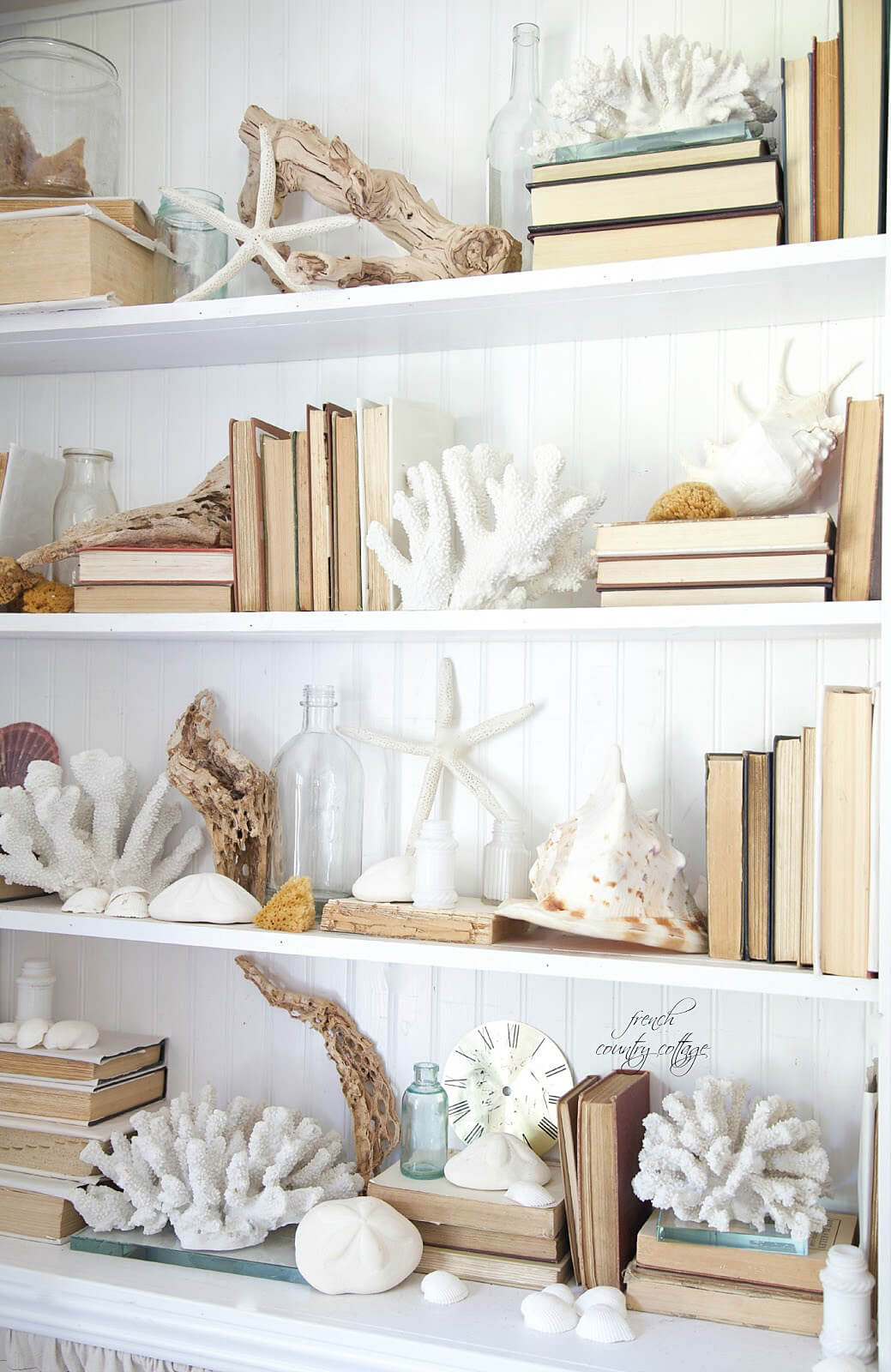 Bookcases are the perfect place to display favorite treasures from your beachside holidays. Driftwood and coral sit atop books of all sizes and shapes. Jars of sand, starfish, seashells, and sponges peak out in every direction. The subtle whites, soft tans, and weathered greys make a quietly sophisticated vinette to store treasured memories.
28. Driftwood Timepiece with Seashell Minute Markers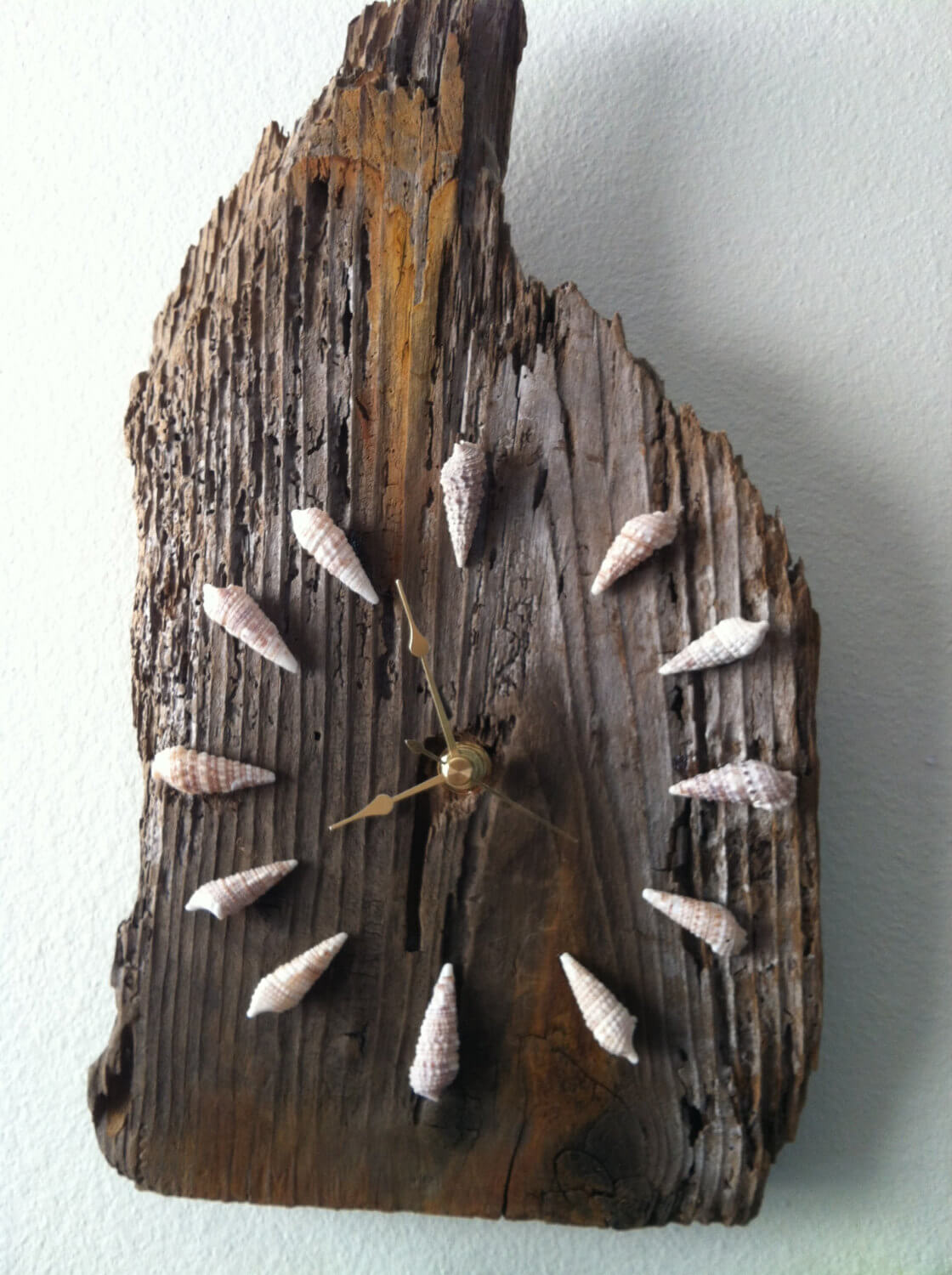 Driftwood comes in an infinite number of shapes and sizes, making it a perfect material for many home accessories. A nice flat piece makes the perfect base for this beachy clock. The creator drilled a hole in the middle and installed a clock mechanism on the back. Pointed seashells mark the hours around the edge of this timepiece. But, do you really want a clock at the beach?
29. Entrance Way Beach and Coastal Decorating Ideas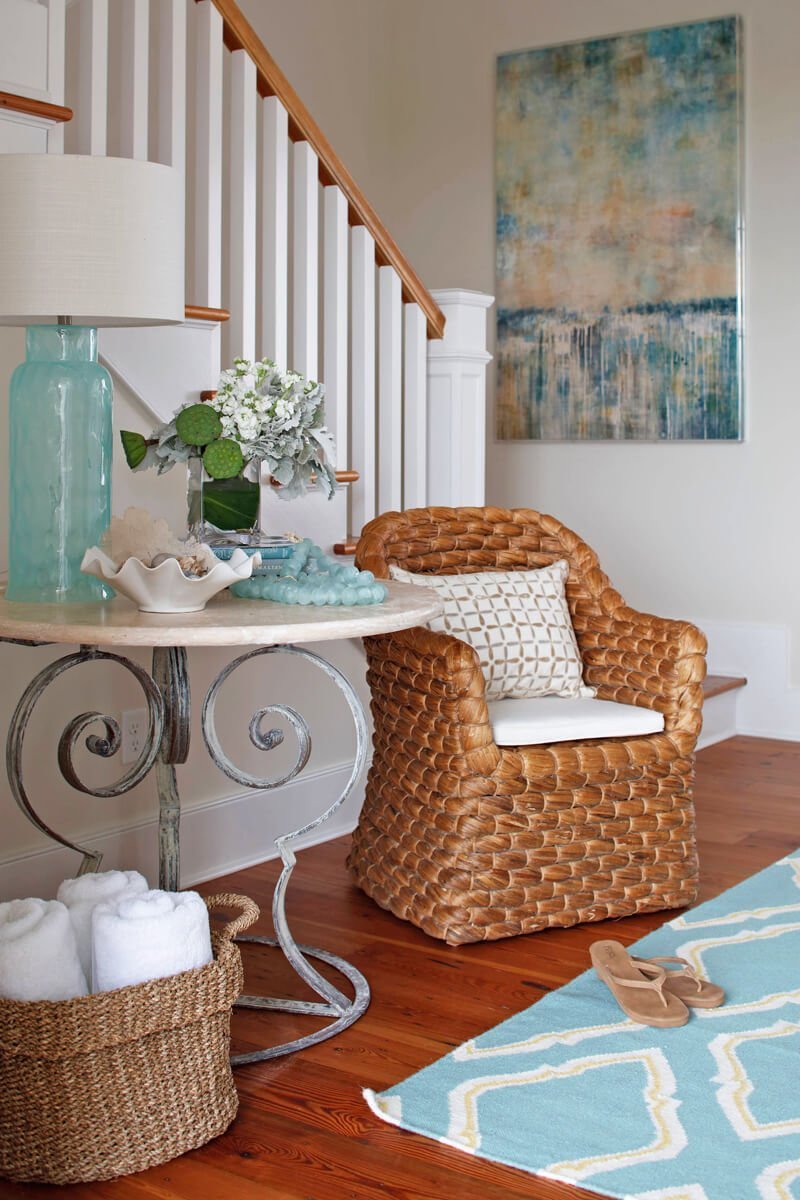 Your entryway is the place where your guests see your home for the first time. Decorating this area in a coastal vibe offers your guests a welcoming space that is tranquil and inviting. A natural fiber chair offers a comfortable seating space next to the weathered base of the marble table. Subtle sea glass accents with a clamshell inspired dish offer the superb finishing touches.
30. Beached-Themed Mosaic Full of Shells and Starfish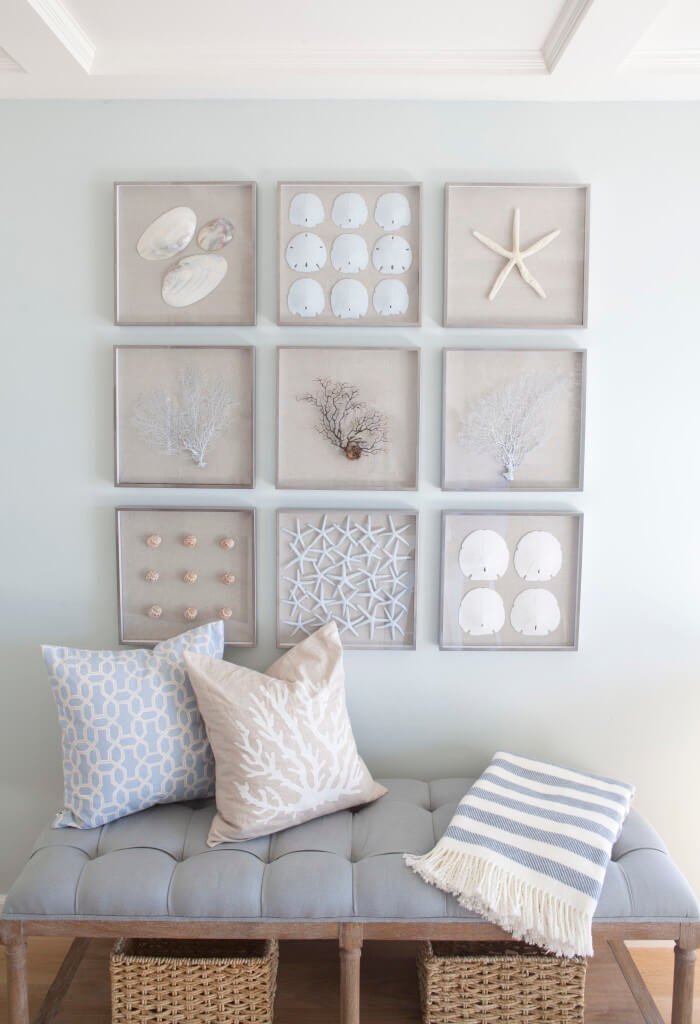 Take your beach inspiration and put it up on your walls. Sand dollars and seashells sit next to starfish and coral branches in this beach themed mosaic. Nine boxes encase nine different types of treasure found along the seashore. Placed in a modern grid configuration, this display offers a sophisticated touch for any coastal themed room.
31. Beach Relaxation Plentiful with Sea Life and Coral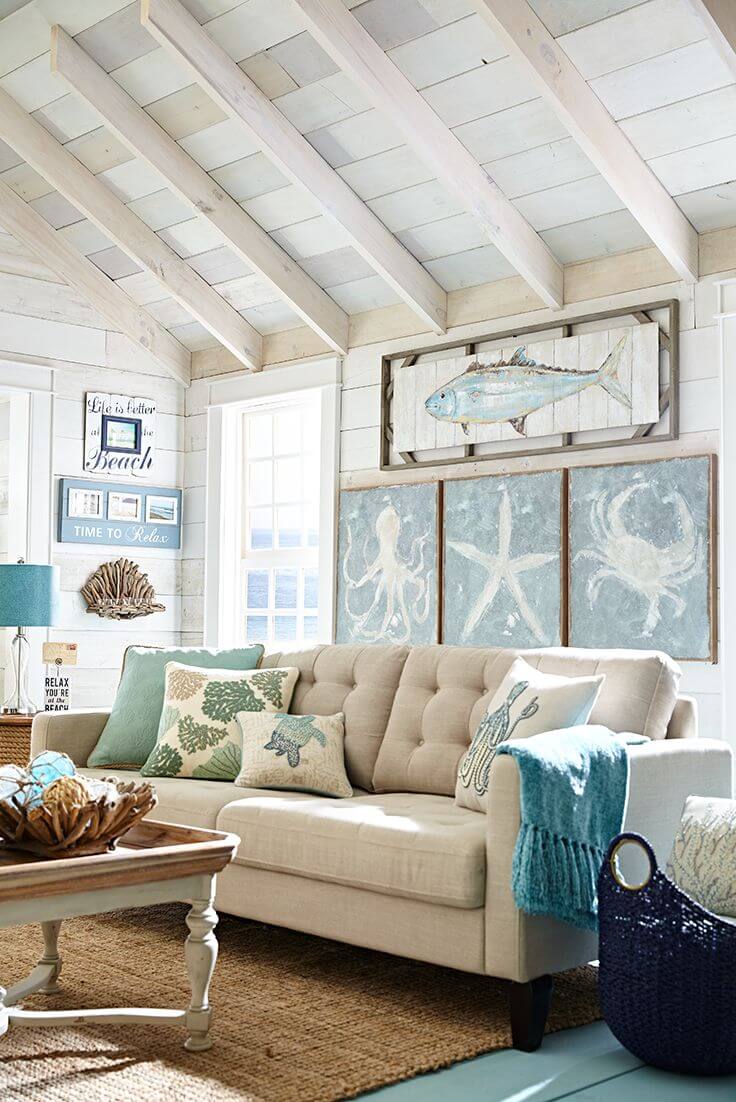 Seaside coastal towns seem to have a well-worn weathered look on every surface. This room embraces that weathered feeling with large pieces of wall art that look like they have been outside forever. Worn, whiteboards give the impression of the walls of a seaside shack. Cool blues and greens bring a wash of color against a sandy couch.
32. Round Mirror Designed with Pieces of Driftwood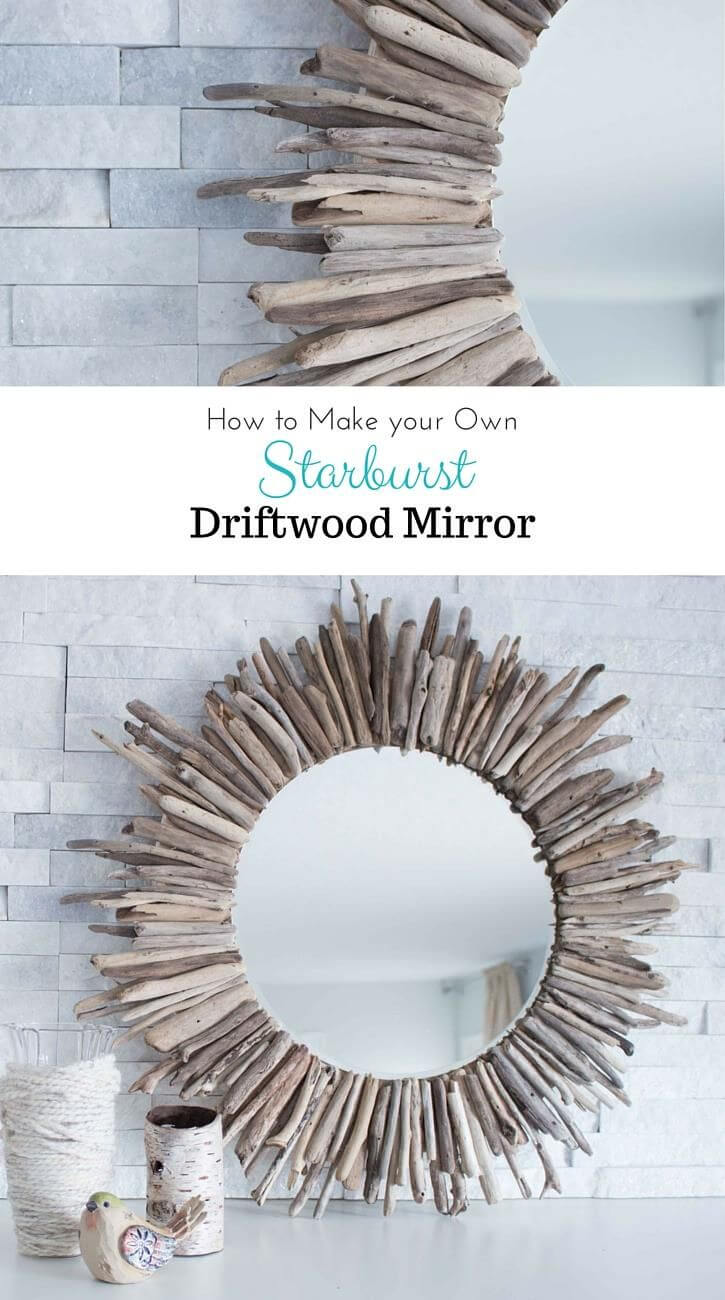 The sun and surf transform pieces of timber into the soft, rugged pieces of driftwood commonly found on the beach. Tiny pieces of driftwood radiate out from this round mirror, giving the viewer the effect of a sunburst. Varying lengths of wood offer a rugged, yet subtle, appearance. It brings a reflective sun to any fireplace mantle.
33. Picturesque Beach Motif for a Coastal Home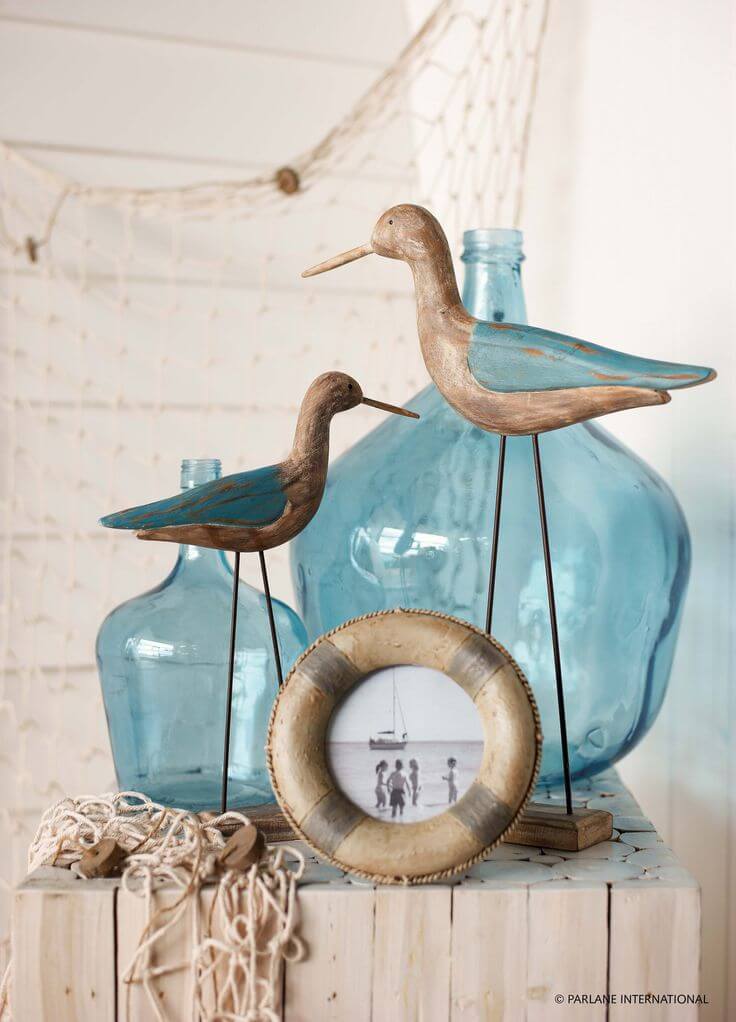 Looking for something beyond seashells and starfish for your coastal space? This vignette offers a number of ideas that harken to the coast. Long-legged birds stand proudly in front of large sea glass jugs. A life buoy picture frame offers an opportunity to highlight a vacation spot. Cargo netting provides texture to this coastal theme.
34. A Seashore-Inspired Wall for a Beach House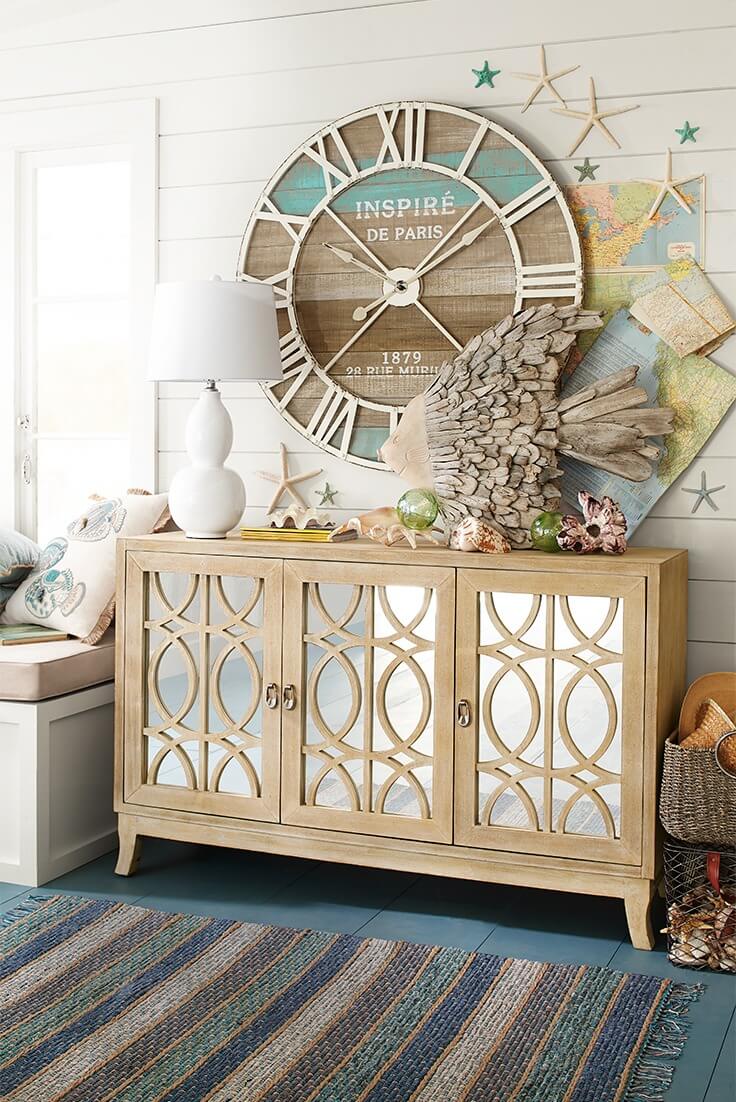 Antique wood, splashed with subtle color, offers a beach washed focal point for this space. Standing against whitewashed boards, this clock gives the impression it has been around for many years. Starfish grace the wall around it along with maps of all sorts. A large fish seems to swim through beach themed accessories in every direction.
35. Nautical Anchor and Ship Mason Jar Set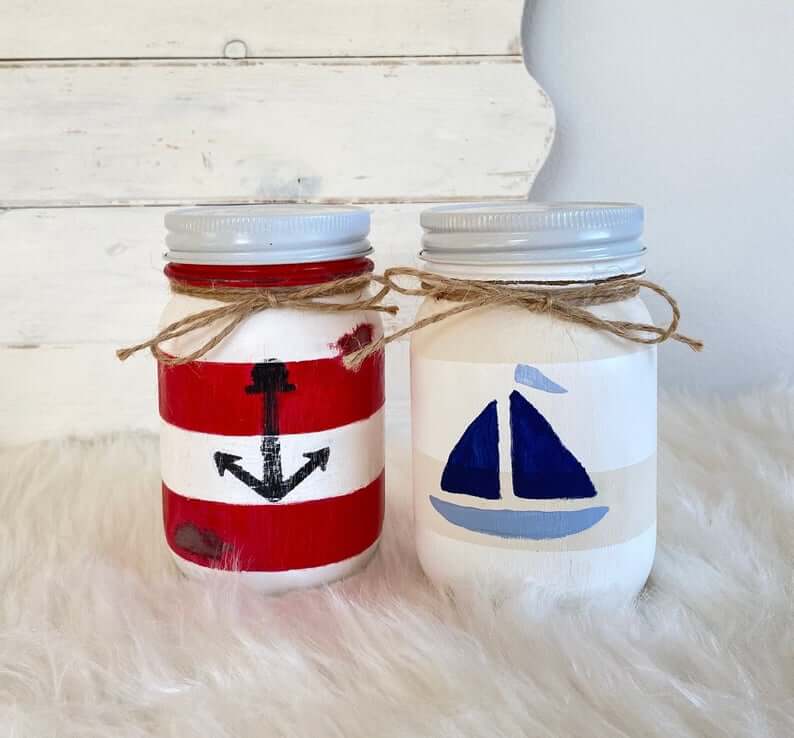 Get ready to set sail with this striped set of stenciled mason jars. Even if you don't have a beach house, you can make your home embrace your love of coastal life. The red and blue work together to create a classic nautical feel to make these painted jars a fun addition to your home for the summer months.
36. Decorative Hues of Blue Starfish Candle Jar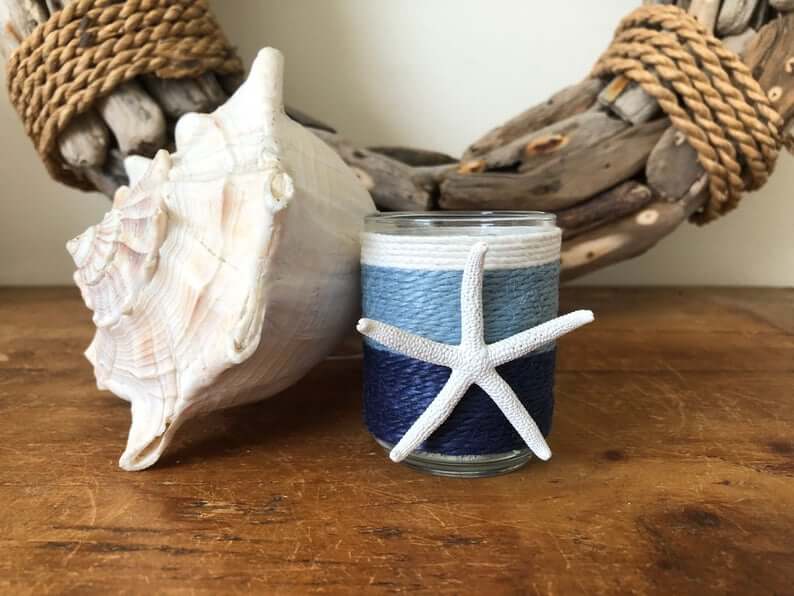 Add a touch of the sea into your home with this jar that's been embellished with a starfish amid shades of blue twine. With a white border, the two different blues really make the starfish stand out as the cute beachy accent piece for your side table.
37. Contemporary Coastal Clam Modern Lighting Fixture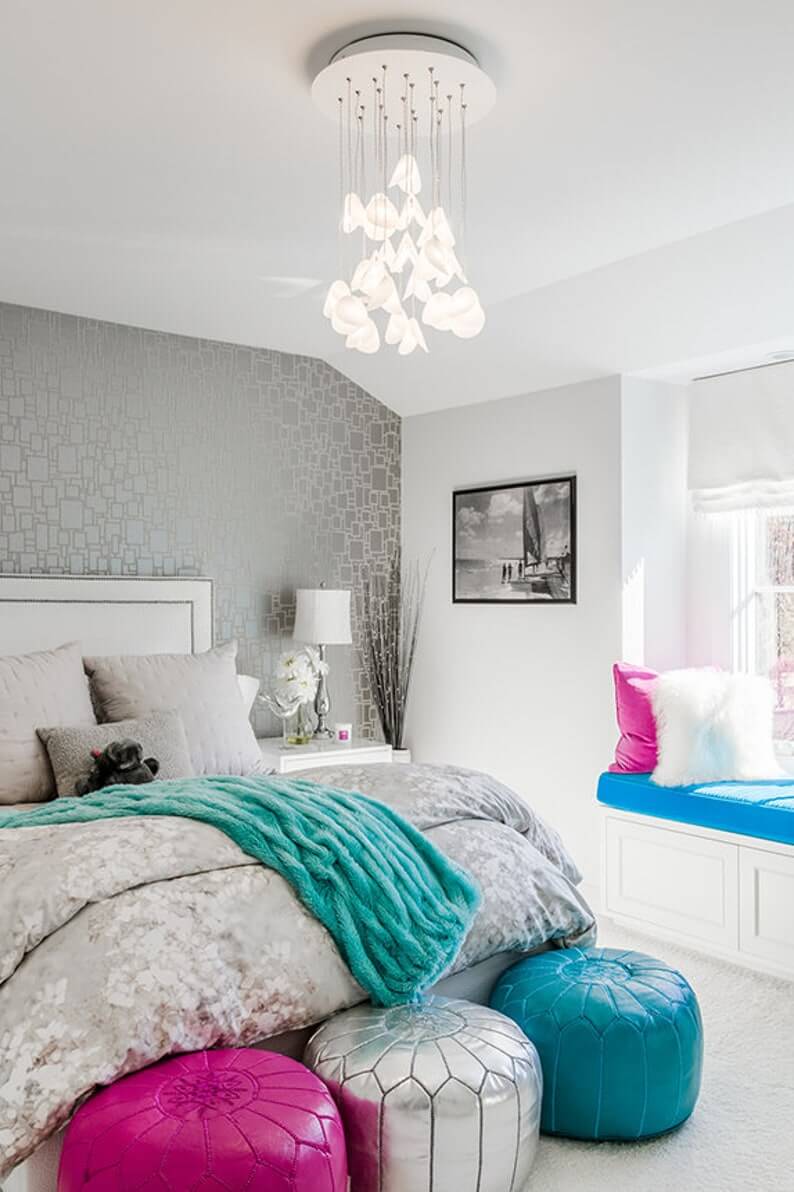 Give your bedroom a major upgrade with this phenomenal deep-sea-inspired lighting fixture. Falling from your ceiling, these partially opened clam shells cascade to create a unique pendant light over the center of your room. They help tie a beach landscape photo and a decorative seashell on the table together to unify the entire room.
38. True Direction Shabby Chic Coastal Decor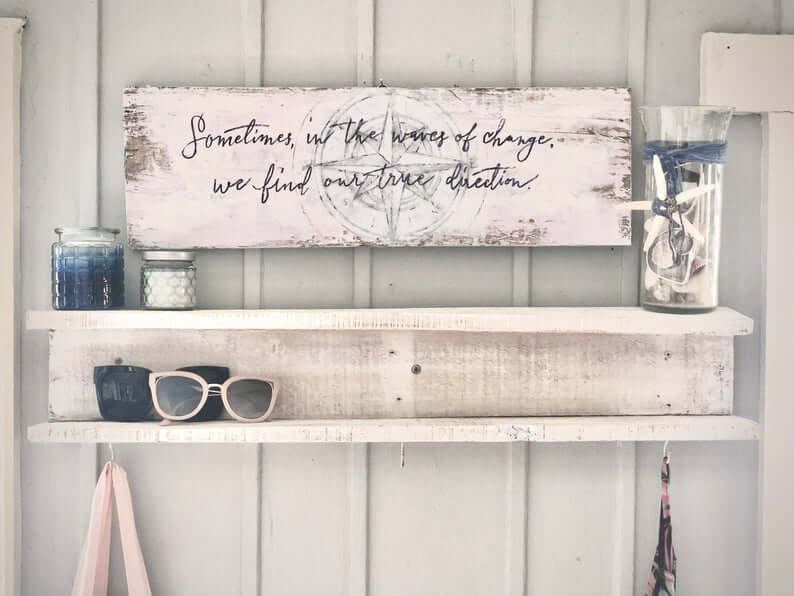 With the look of beach weathered wood, this decorative wall sign is the perfect addition to your coastal-themed living room. It blends right into existing white distressed pieces like a shelf or furniture. The compass in the background adds a nice focal point for this inspirational message.
39. Message in a Bottle Sea Grass Jars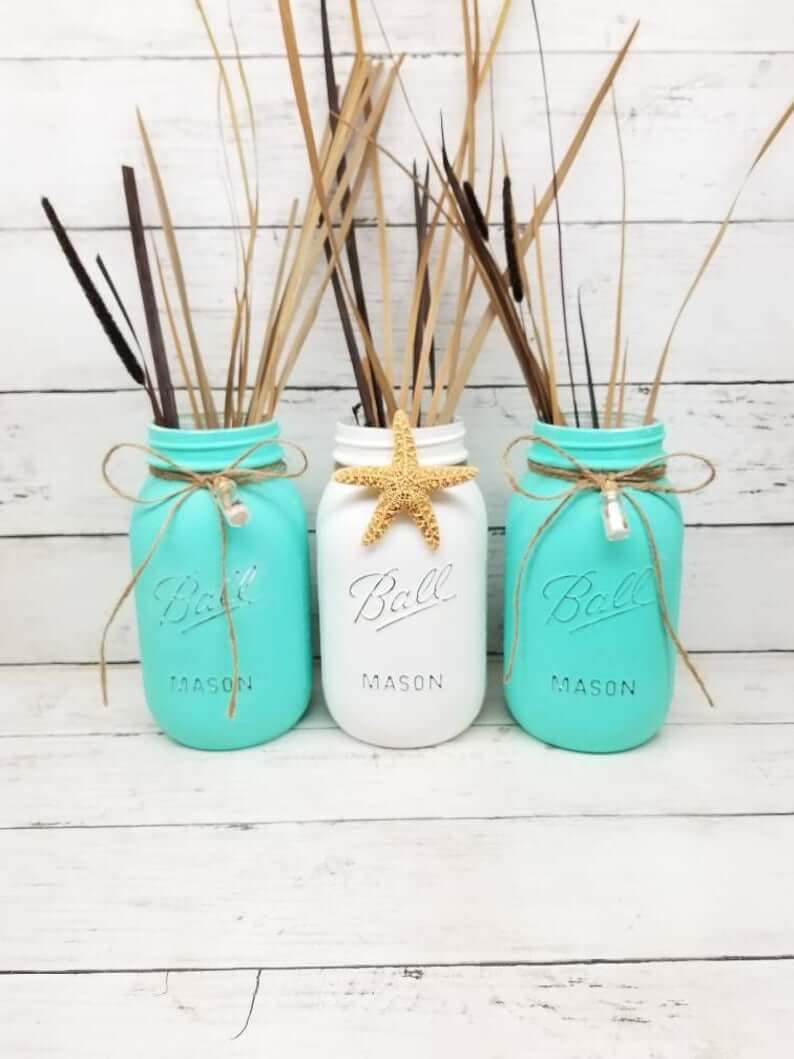 This trio of mason jars is as cool as a cucumber in their white and turquoise tropical colored paint. Decorated with a miniature message in a bottle or natural starfish, they look perfect in any room of your home as they hold a few blades of seagrass to bring some texture into your home.
40. Small and Square Blue Sea Sayings Sign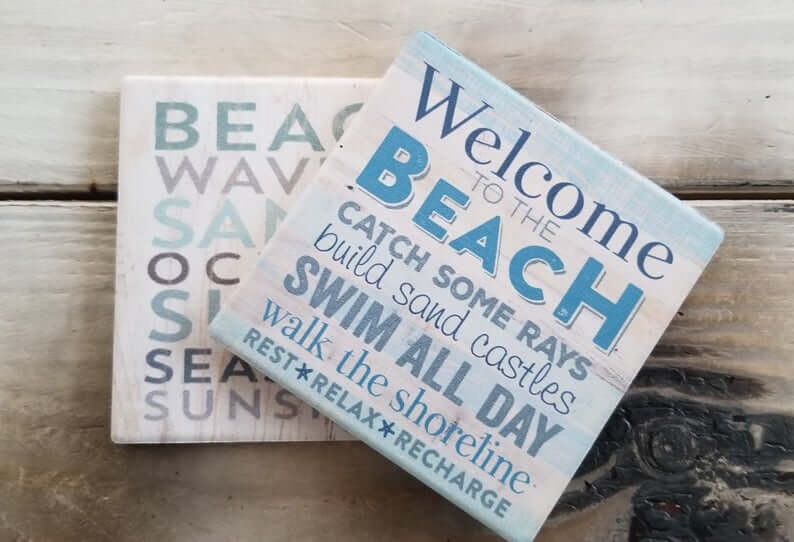 Reminding you of all of your favorite things to do at the beach, these small square signs are a terrific choice for any vacation home or beach-themed room. Created in a variety of blue tones, the sea seems to call you back. Keep them together as a set or allow them to work on their own.
41. Coastal Hamptons Inspired Modern Beach Memories Sign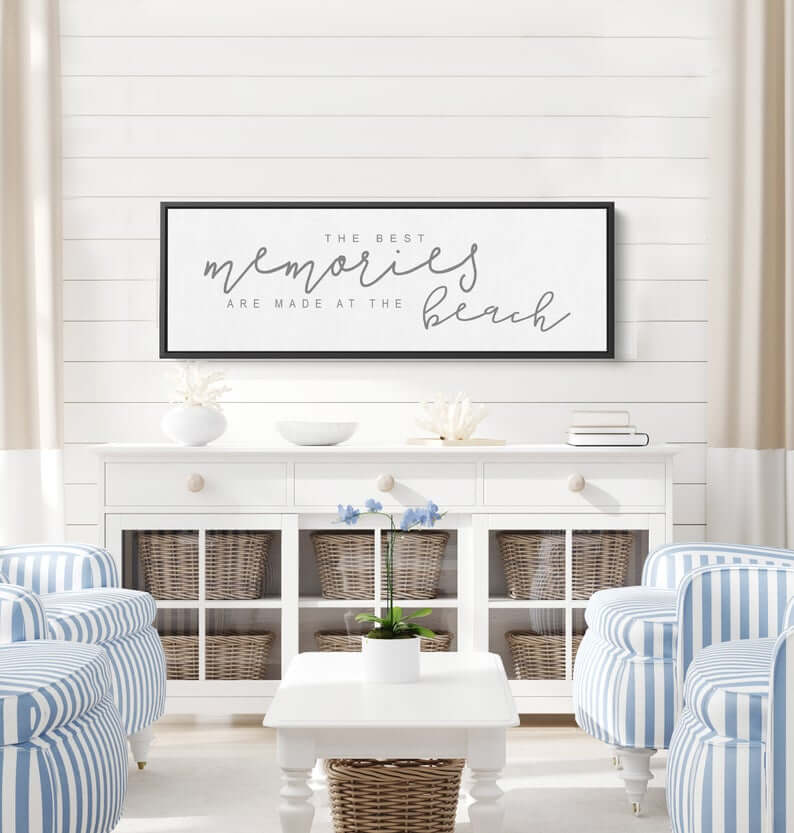 If you're looking for something that hints at beach decor without going into a whole theme, this modern coastal beach memories sign is for you! Crafted in an elegant font, the simple white with gray lettering looks amazing hanging in a coastal retreat that's swimming in white.
42. Rustic Coastal Driftwood Heart Wall Art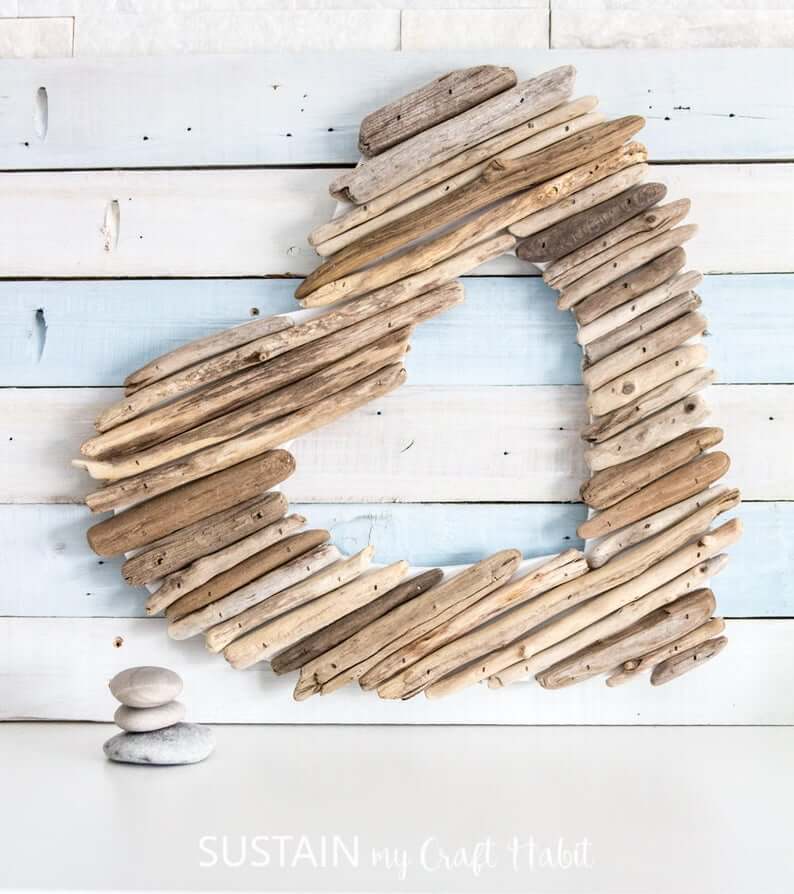 Be kind to the earth and repurpose some of the local driftwood into an easy DIY project. Similar-sized pieces work best for forming the shape of love and create a unique piece of wall art that would be the perfect beach wedding gift.
43. Beach House Wood and Metal Dining Table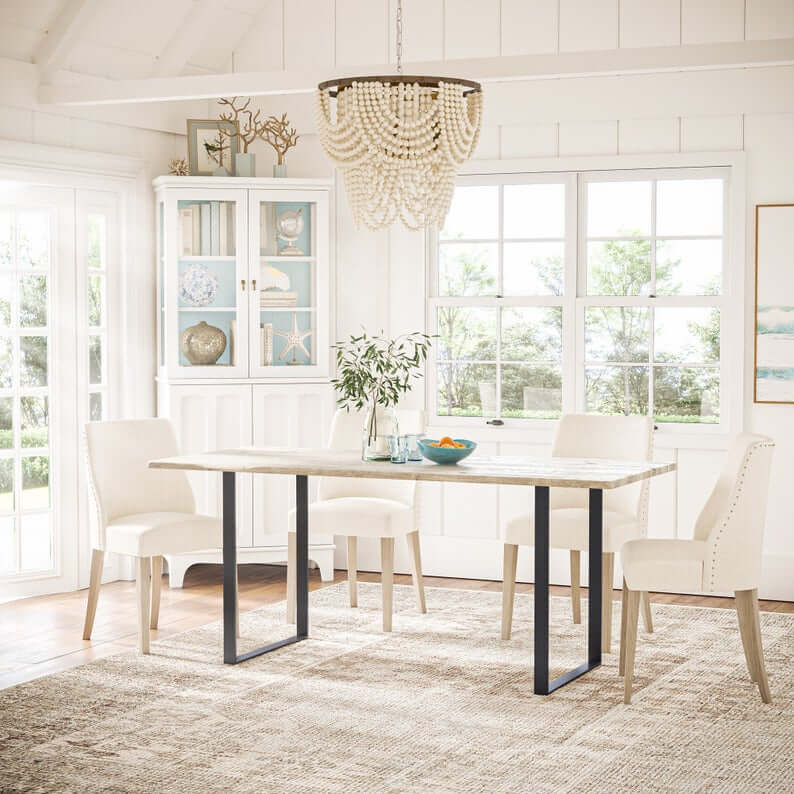 With modern black metal legs, this beach house dining table mixes two powerful elements in the legs with a weathered wooden tabletop. Your guests will enjoy this large piece of furniture that's filled with a coastal, driftwood vibe. Full of character, the wooden top looks perfect paired with all of your pale blue and neutral white tones in your coastal decor.
44. Hand Painted Coastal Landscape Waves Wooden Dresser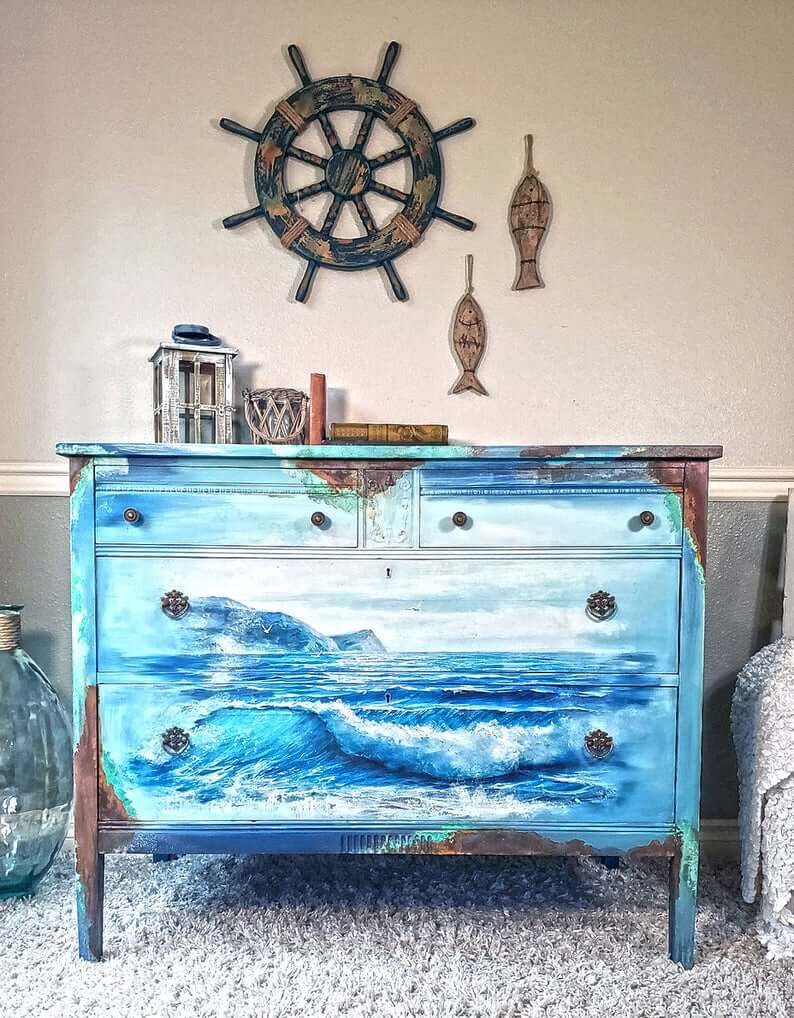 Forget about a large painting to hang on your wall, make a bold statement with this incredible hand-painted wooden dresser. Featuring a spectacular coastal wave scene, the beauty of this painting comes to life as it blends this wooden dresser into the room. This would be a dynamic entryway piece to impress all of your guests.
45. Set of Wooden Latitude and Longitude Buoys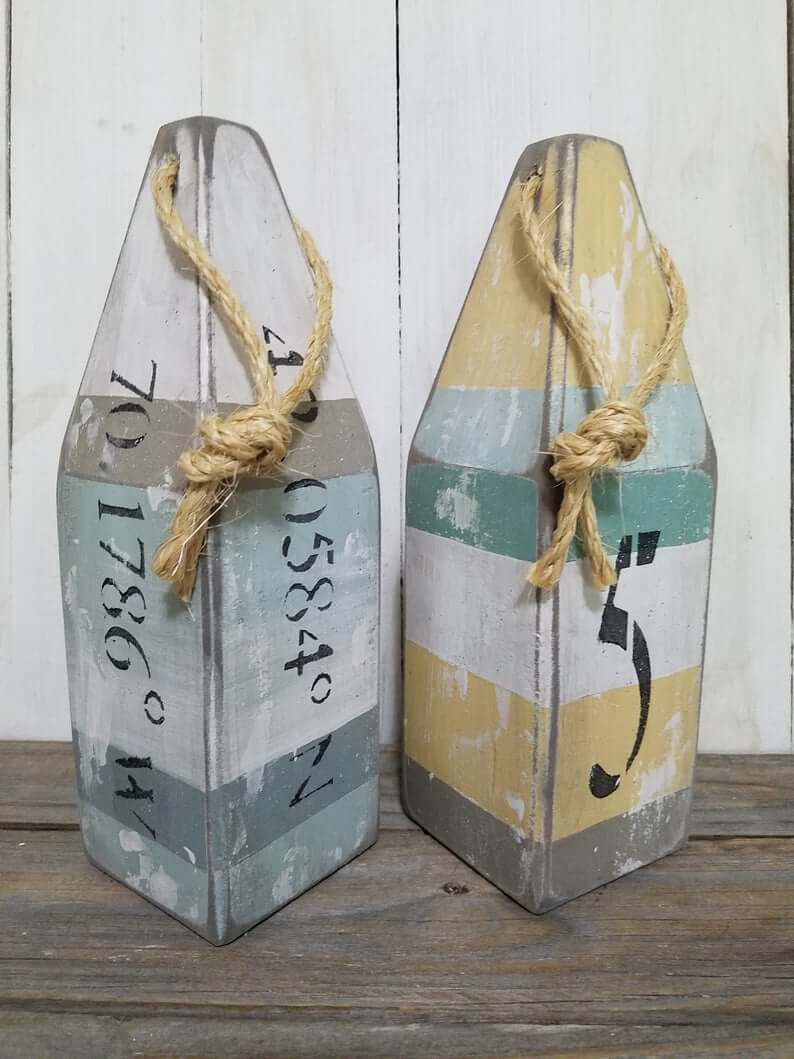 Incorporate a piece of sea life into your home this summer with this pair of wooden buoys. Use them to identify your house number with the exact latitude and longitude positions. The tied twine at the top adds a nice touch to give them a little more character and charm.
46. Lake Life Americana Oars Wall Art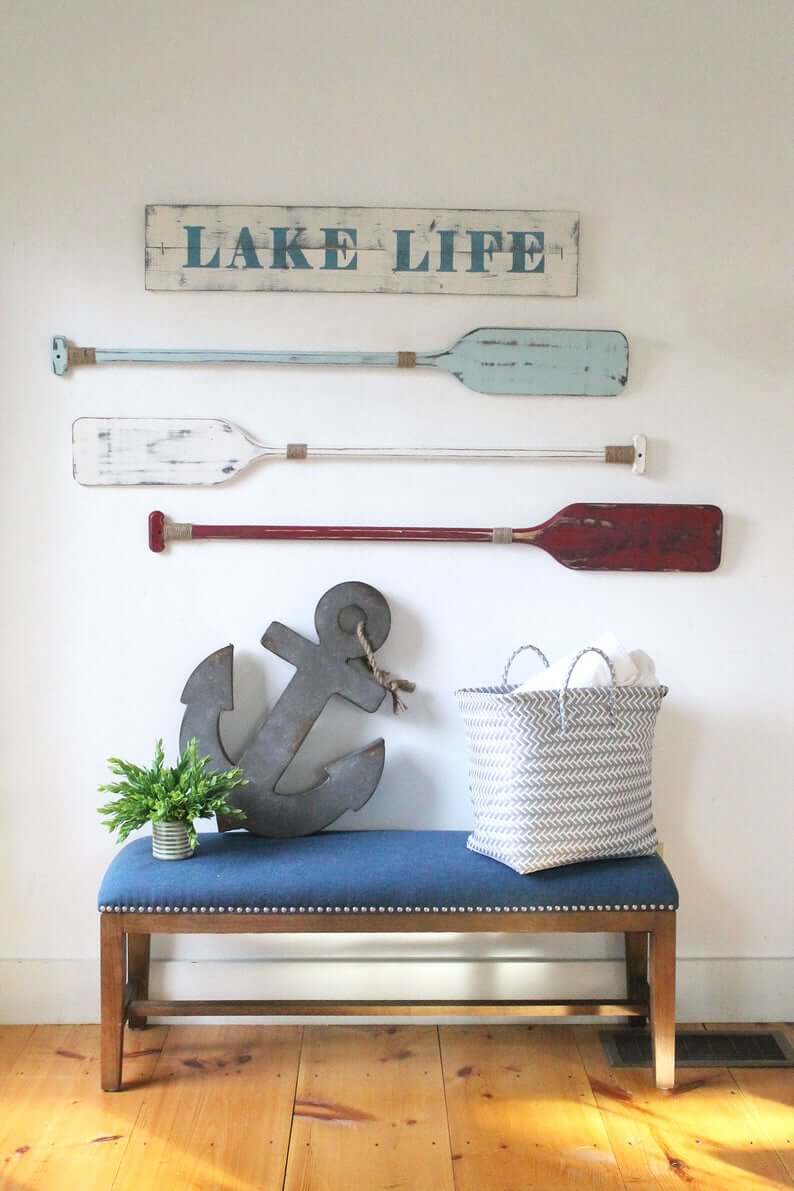 Decorate the walls of your lake house with some fabulous art that has been given a new life. This trio of oars painted in red, white, and blue shows off some of the standard supplies of living waterside in a unique, decorative way. At the top, the "Lake Life" sign labels the atmosphere of the home to invite everyone to enjoy a slower-paced and more laid-back way of living.
47. Personalized Beach Life is Better Sign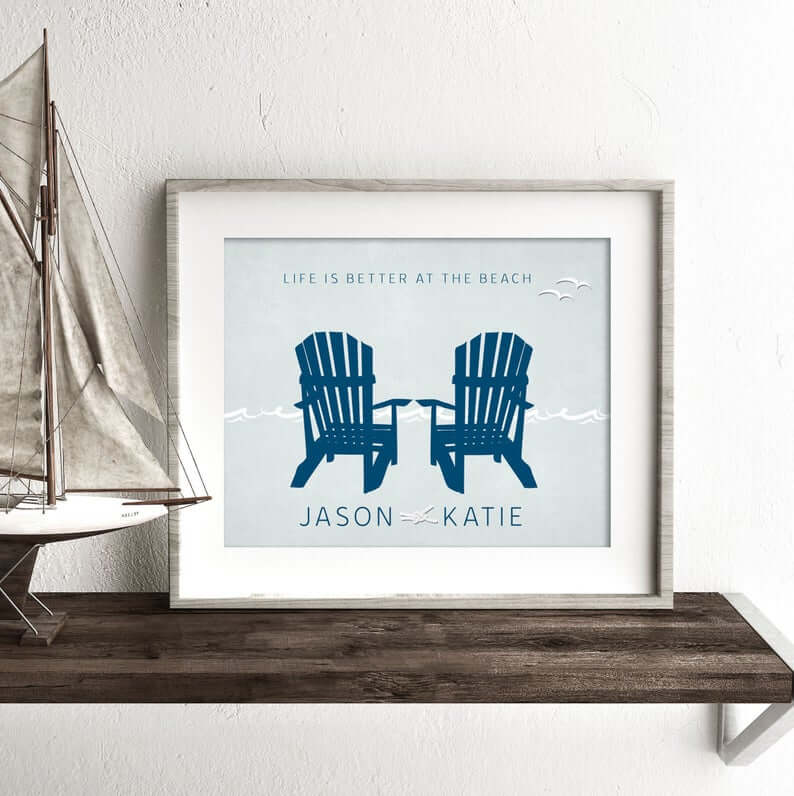 Treat your favorite couple to a beach life sign that is customized for them. Featuring a set of Adirondack chairs and gentle waves, this relaxing scene is what's needed to adorn the beach condo for a weekend getaway. Give it to the new owners of a vacation home or to the newly wedded couple who loves the salt and sun.
48. Stripes and Starfish Custom Key Rack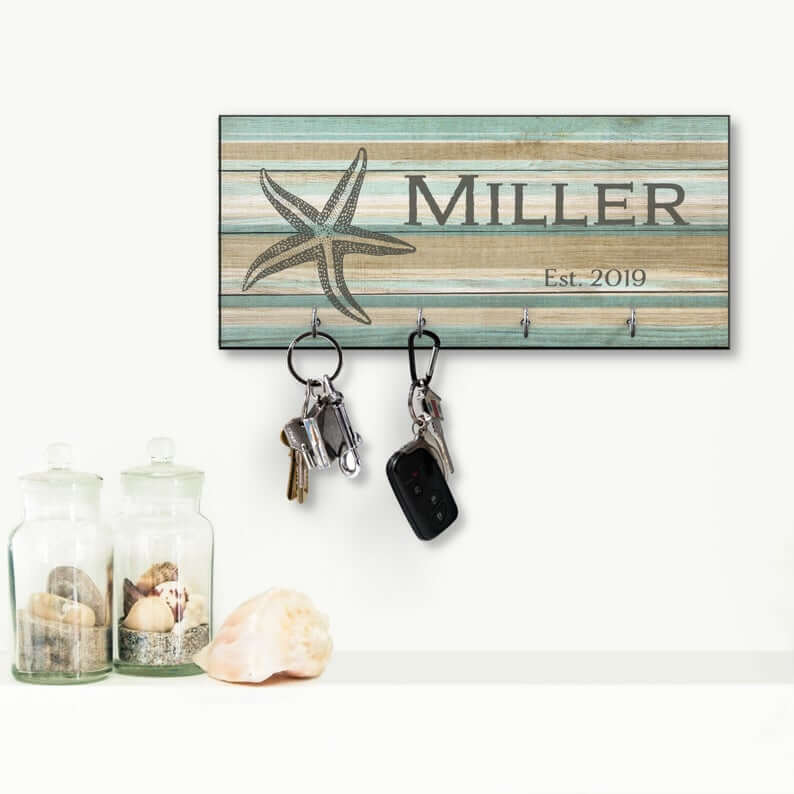 Don't lose your keys at the beach house! Keep them safe by hanging them on this coastal-themed and customized rack. Created with lovely stripes in warm tans and sea greens, the addition of a decorative starfish decal and surname with the date of marriage make this a one-of-a-kind piece that's a perfect wedding present.
49. Stay Salty Beach Themed Tiered Tray Set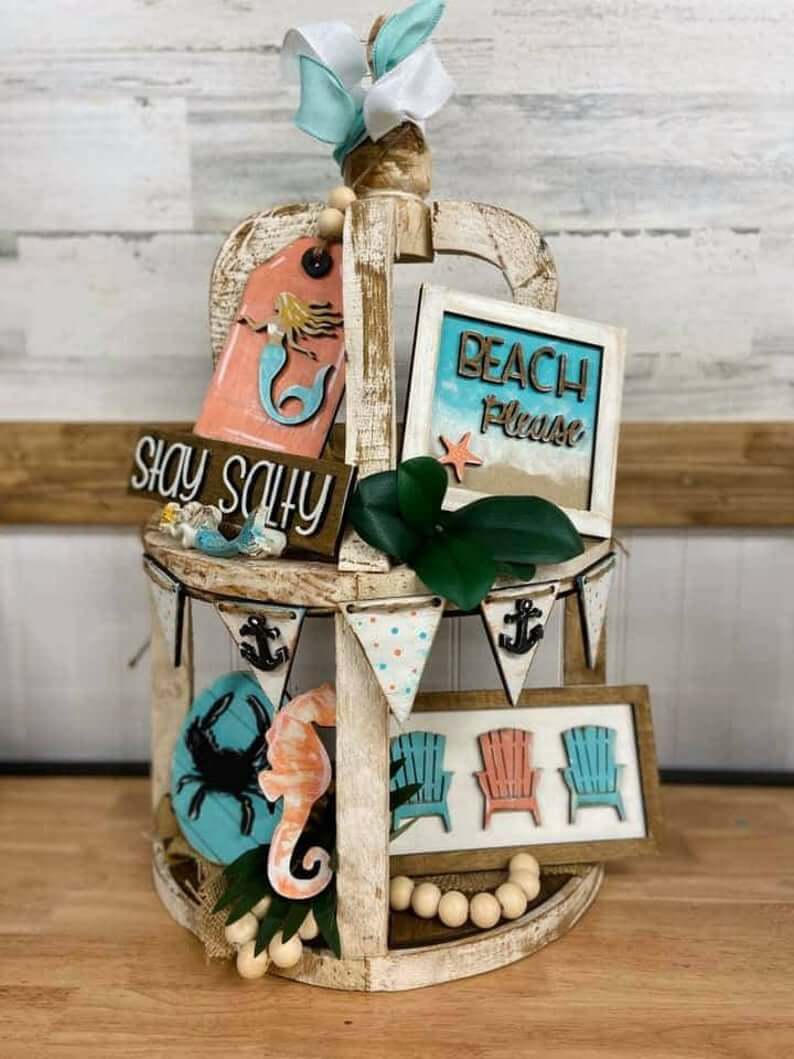 Tiered tray decorating remains a hot item so why not update yours for summer or your beach house? This set features wooden items that are sized just right to add to your tray. With fun beachy sayings to beach-friendly creatures, this set will certainly make a splash onto your sand and saltwater design.
50. Salt, Sand, & Sea Beachy Decor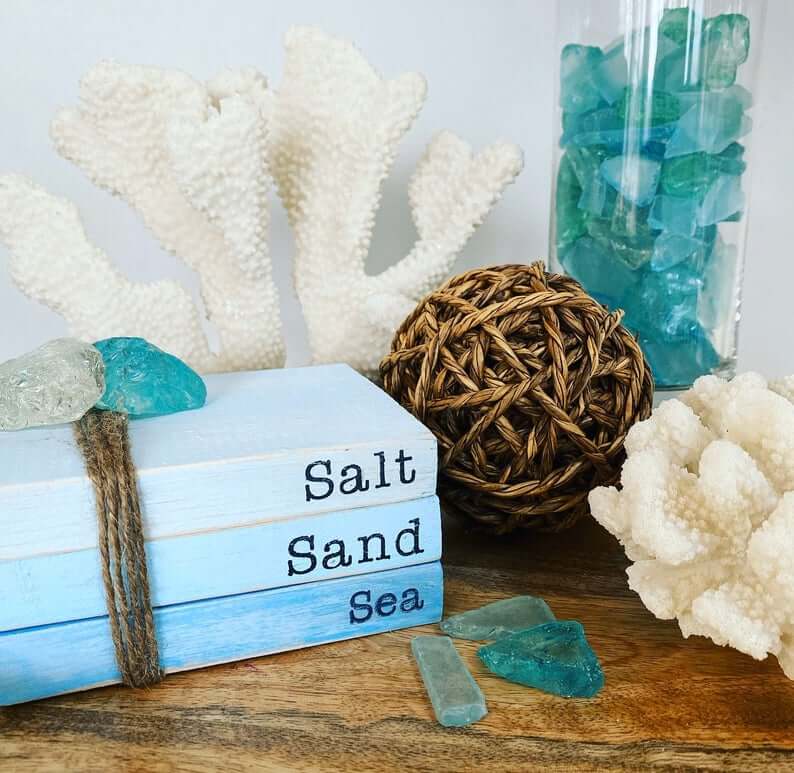 Fill your surroundings with all things beachy to bring that salty breeze into your home. From the gorgeous hues of blue to the fundamental "s' ' items synonymous with beach life, you'll feel like you're living seaside. It's a beautiful display for an entryway or beach-themed bedroom.
51. Beach Rules Brown and Blue Sign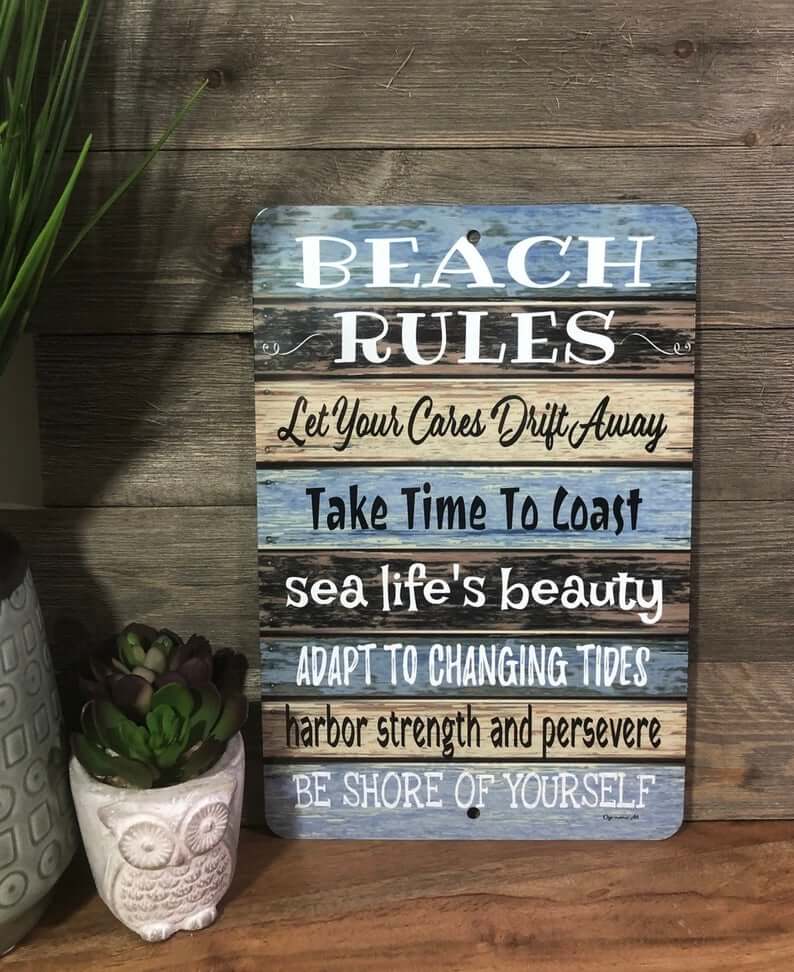 Add some humor into your home decor with this beach rules sign. Crafted in tones of blue and brown, it capitalizes on coastal colors. Hang it by your back door to serve as a gentle reminder to enjoy the breezy days of life at the beach.
52. Bohemian Macrame Book Hanger Beach Decor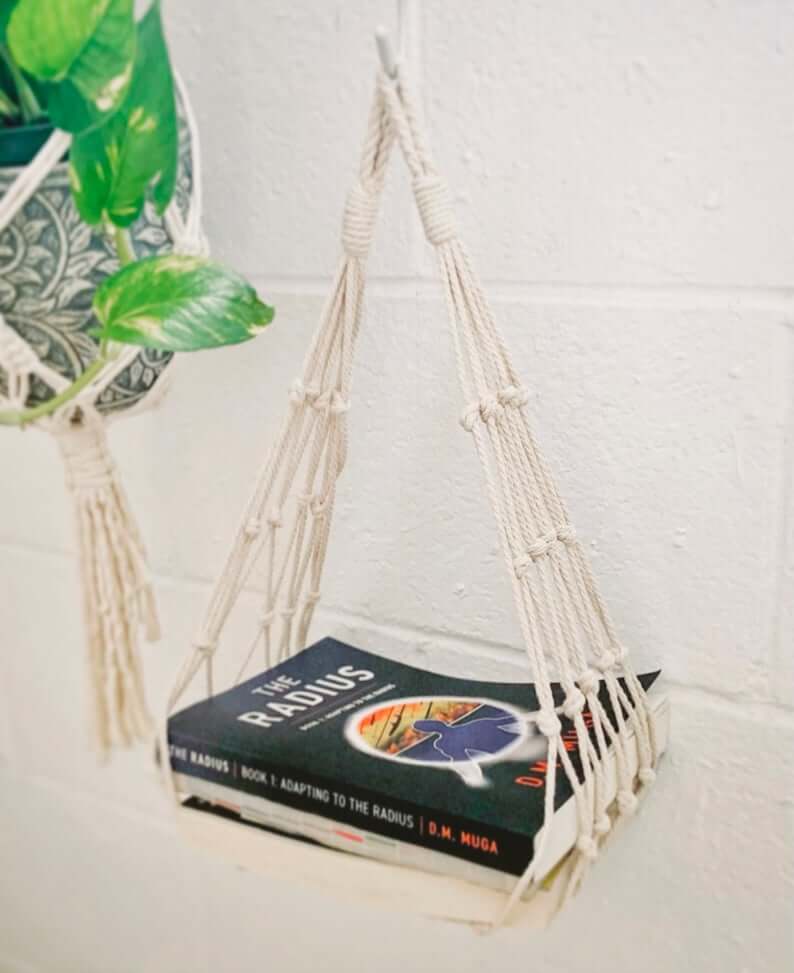 All of your lazy days at the beach beckon for some reading time. Here's a great way to keep your current page-turner nearby in this macrame hangout. As you're heading to the backyard or beach, you can easily grab this and go. It is a nice change of pace from the traditional wooden bookshelves lining the den.
53. Good for the Soul Beach Sign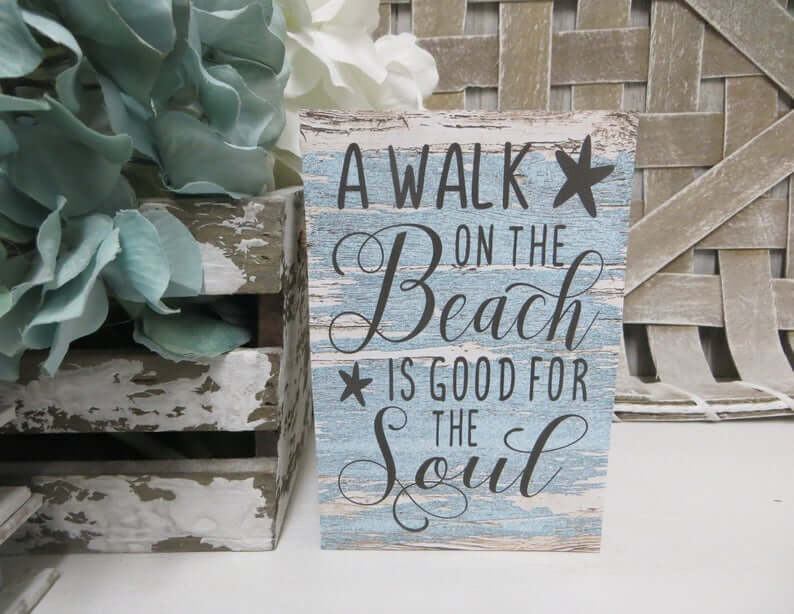 Encourage a new retiree to enjoy the good life in their golden years with this beach sign. It's a wonderful sentiment to add to your beach house as well. Sinking your toes into the sand certainly does wonders at easing the mind and relaxing the spirit.
54. Blue Beaded Berry Nautical Starfish Wreath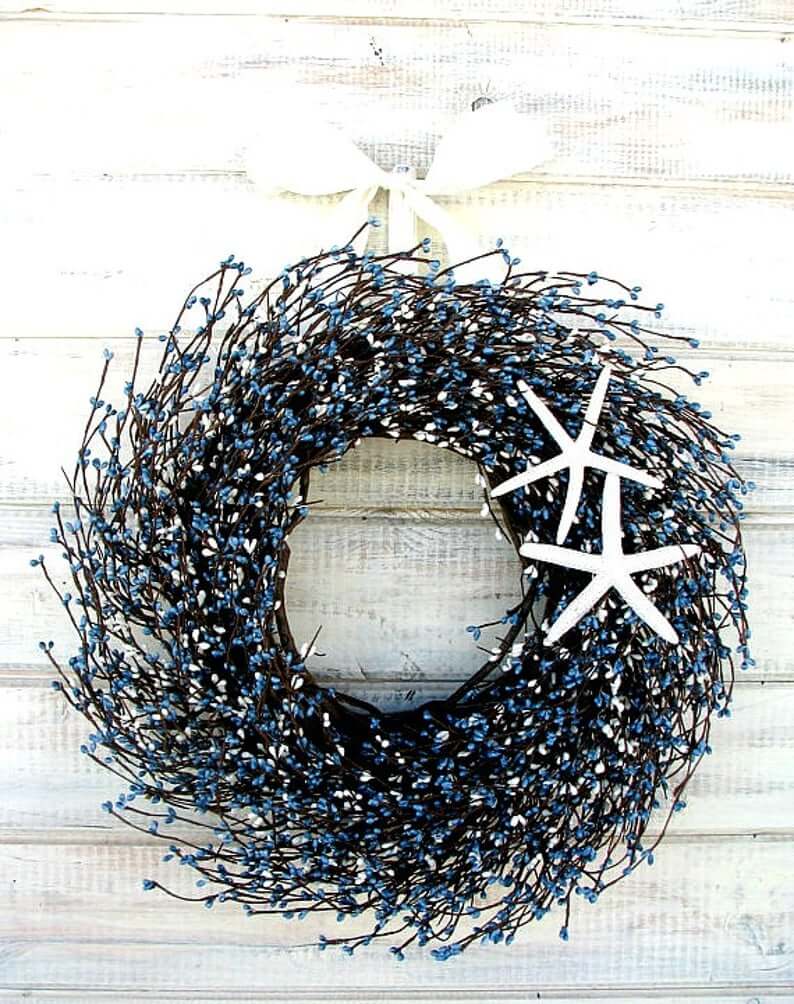 Put a coastal spin on the traditional country beaded wreath by choosing a blue color and adding a pair of starfish. Hanging on your front door, this wreath greets guests with a slight whisper of the ocean waves. It looks stunning on a shiplap wall to decorate your modern farmhouse for summer too.
55. Vintage Cup with Turquoise Beaded Tassel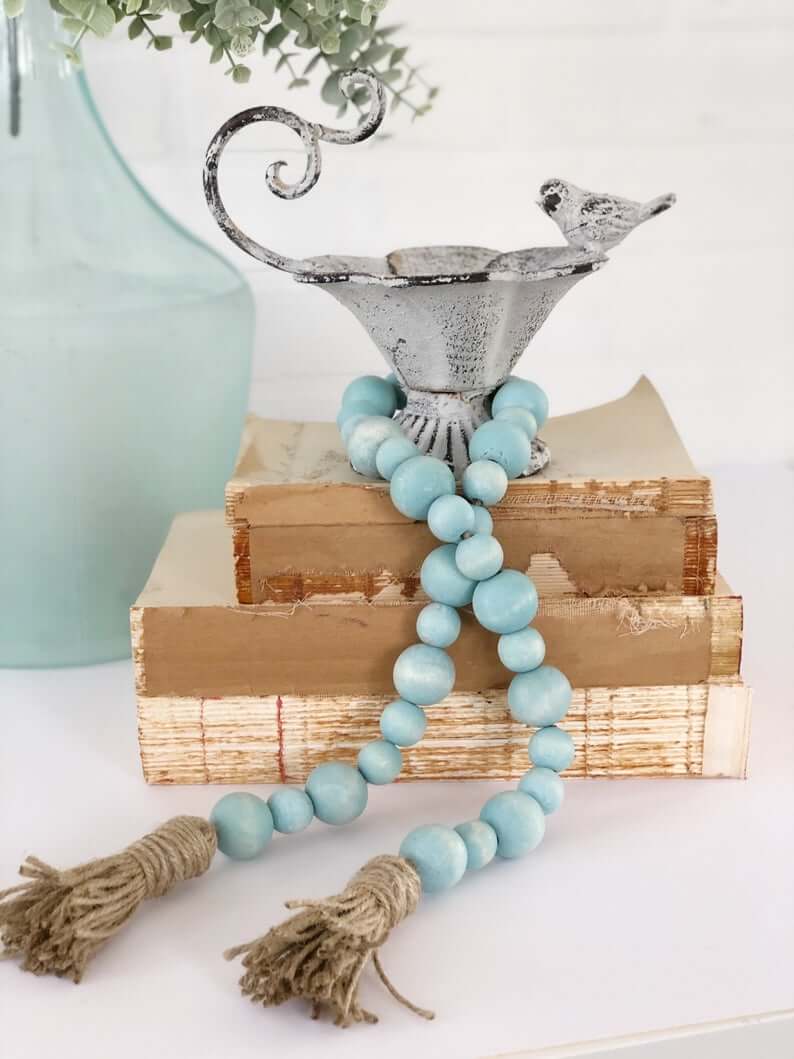 Emphasize a set of antique books by topping them with this dainty vintage cup featuring a tiny bird on the rim. Secure the look with a strand of wooden beads finished with a tassel to add more charm and character to your bedside table.
56. Ocean Blue Watercolor Sea Inspired Pillow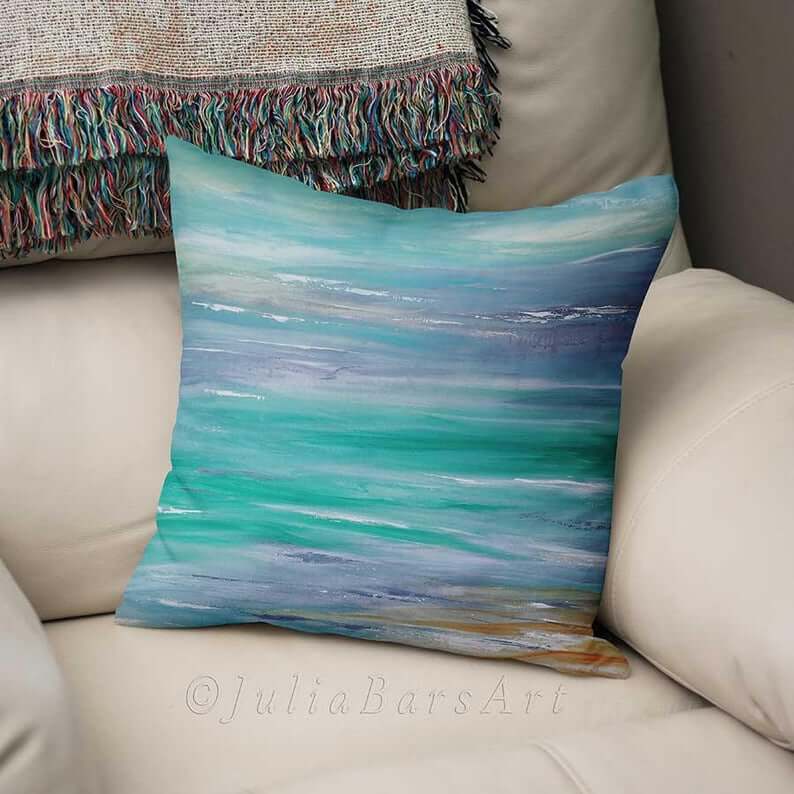 Toss this accent pillow onto your favorite cozy chair to give your room a small feel of the ocean. The gorgeous artistry in this watercolor design captivates your soul with all of the blues and greens rolling in the ocean waves. It would look perfect at a beach house or in a modern contemporary home.
57. Set of Starfish Beach Home Decorations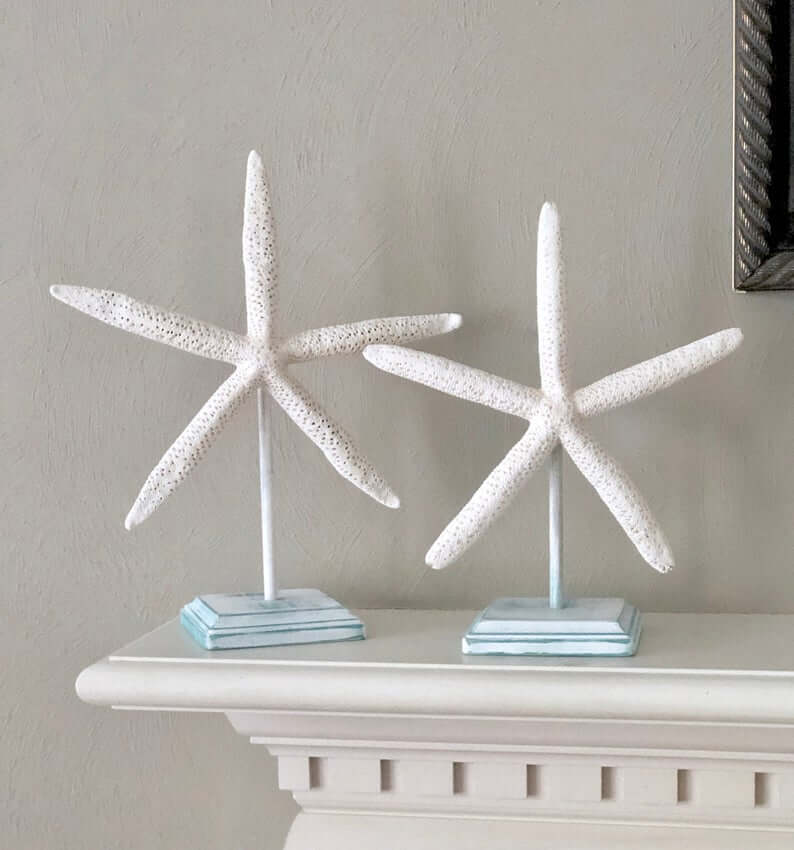 With a base that channels the worn and weathered blue of the sea, this set of starfish decorations brings a part of ocean life into your living space. Spaced together on the mantel, they blend in with the existing decor and can also be used in a windowsill that overlooks the kitchen sink.
58. White Metal Lighthouse Shaped Lanterns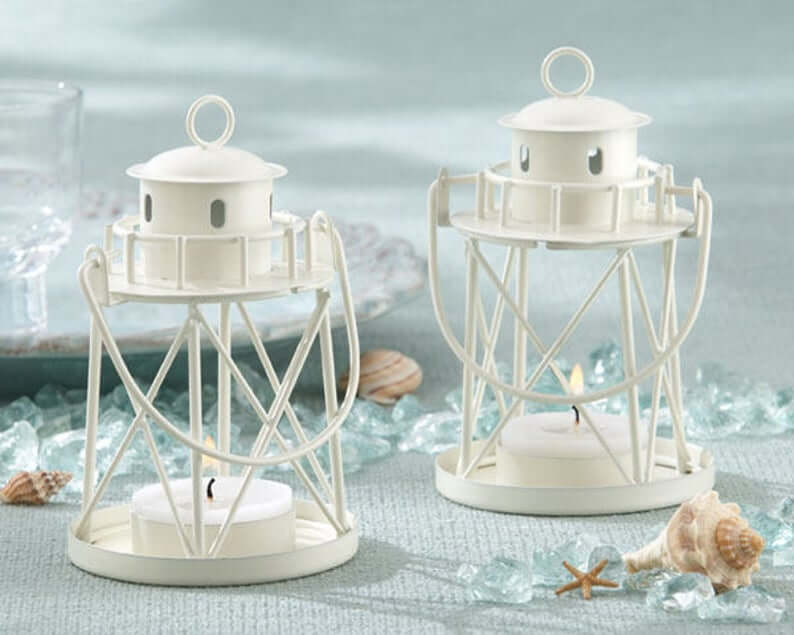 This set of white metal lanterns are adorable in their lighthouse shape. They are the perfect lantern to use in decorating your coastal cottage. Ignite the tea light and you'll enjoy the warm glow during conversations with friends as you listen to the sounds of the waves.
59. Rustic Coastal Flower Box Centerpiece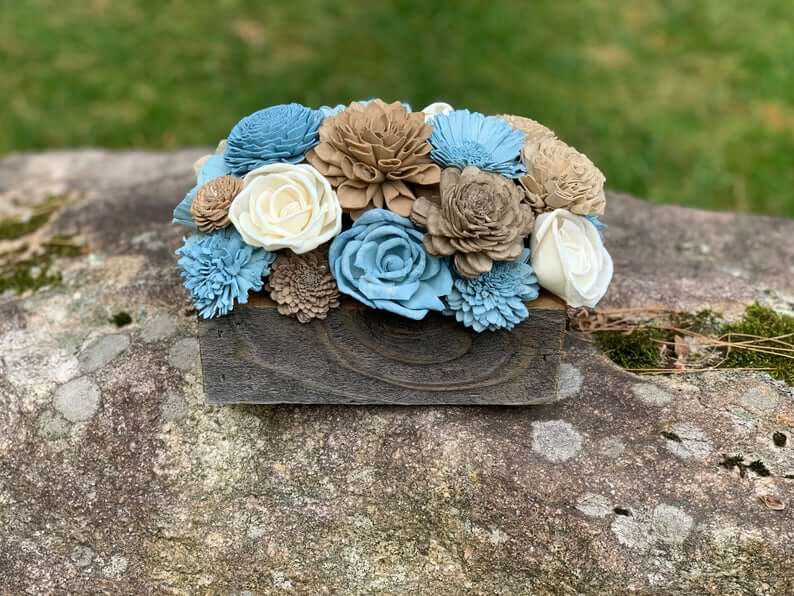 Display these beachy flowers of blue, brown, and cream on your table as a magnificent coastal centerpiece. The rustic flower box creates the ideal base for showing off these stunning flowers. Your beachy decor will coordinate well with these blooming beauties.
60. Rope Wrapped Starfish Glass Candle Holders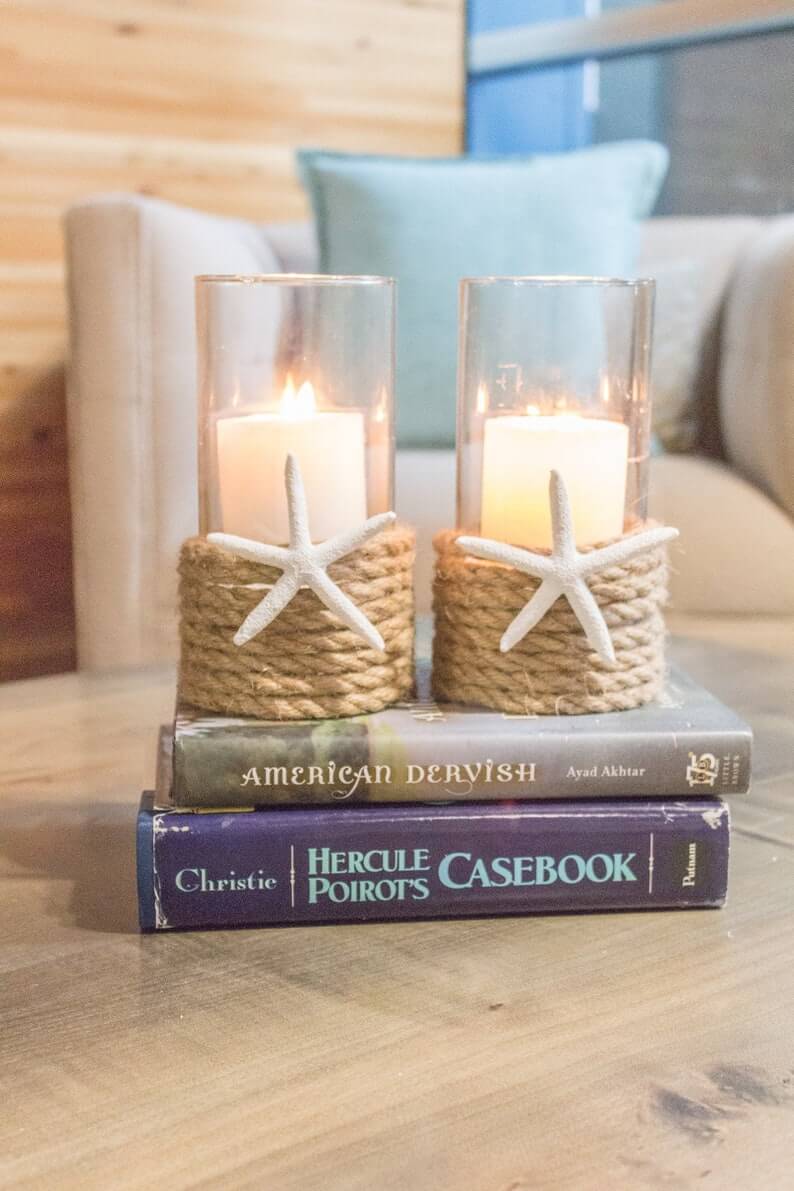 Just a few simple embellishments and your DIY project look like it came from the beach section of your hobby store. The clear cylinder is wrapped halfway with some nautical-looking rope and a medium-sized starfish is glued on it to increase the appeal. All of this texture makes the soft glow of the candle really light up the night!
61. Surrounded with Sea Shells Blue Jar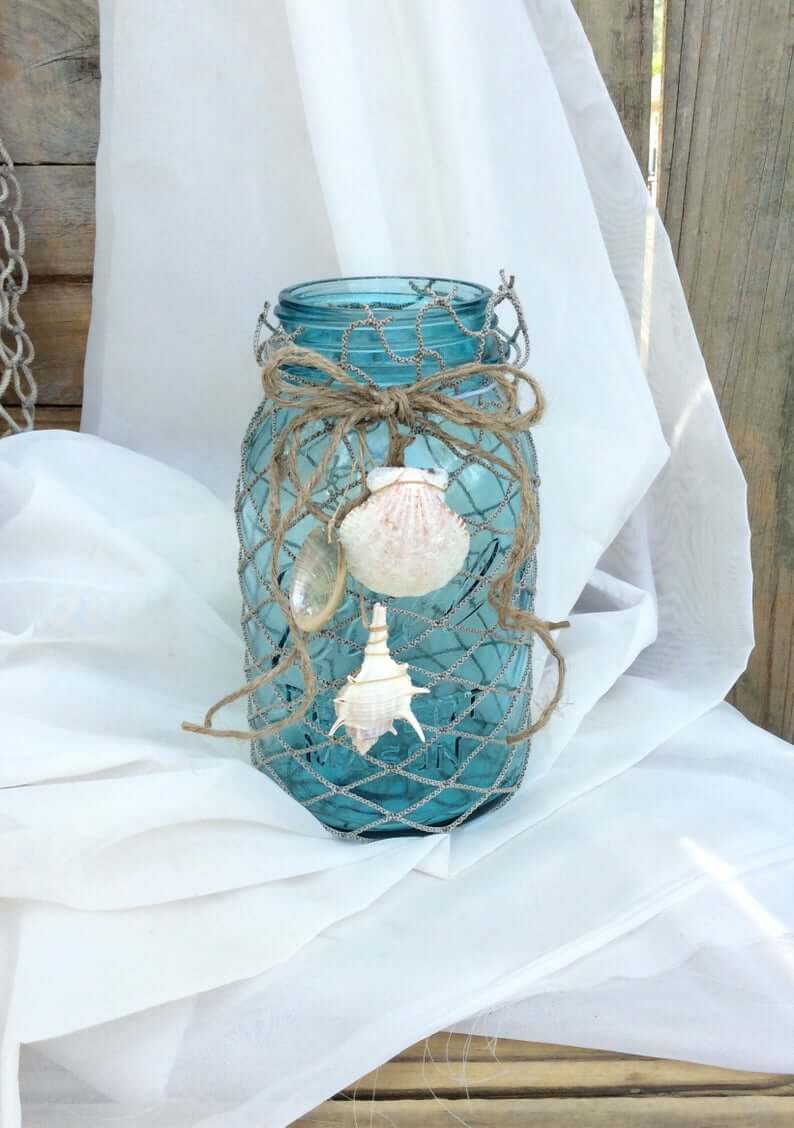 Cast your net on this glass jar to make it a completely coastal creation. Tied with twine that's holding a trio of shells, this would make a nice gift for a neighbor or friend. It would be a nice and pretty storage solution as well.
62. Two-Tone Vintage Shell Vase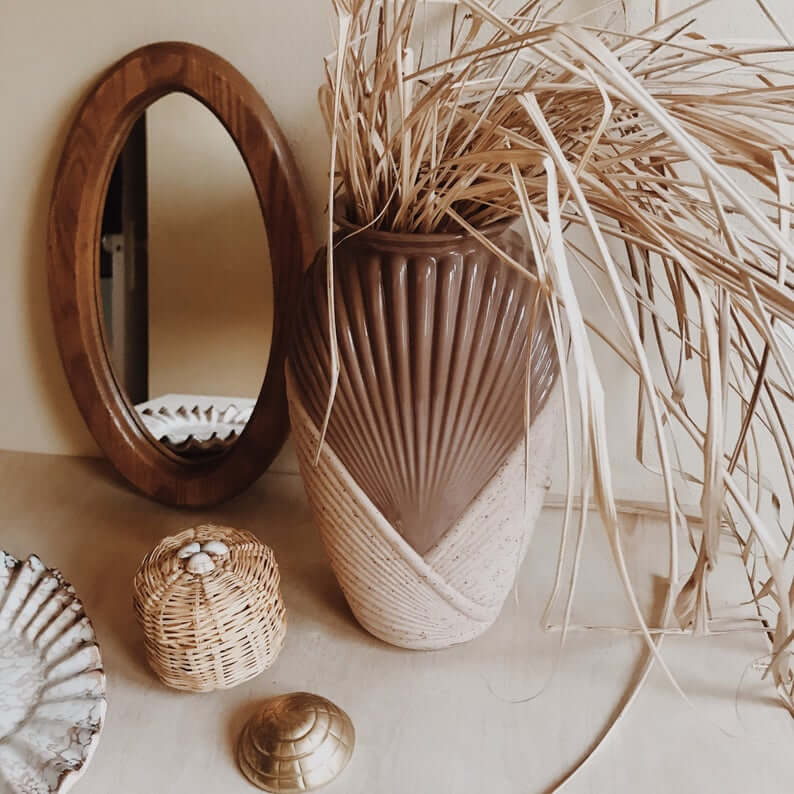 Your beach decor can incorporate some vintage and bohemian elements quite easily with this two-toned shell vase. Filled with raffia or plumes of seagrass, it brings a healthy dose of texture and interest to your entryway table.