Whether or not you live at the beach, a themed sign is a fun way to bring that feeling of sun-soaked relaxation home. People who have a special love for the ocean will want to decorate their home with these pretty, inspirational signs.
45+ Cool Beach Themed Wooden Signs to Bring the Seashore Home

Many of these signs come in a refreshing palette of summery colors like blue, turquoise, and white. The combination of cool, fresh colors and elegant lettering makes these signs unique. Some are made of distressed wood or driftwood for a sun-weathered look.
Seashells and nautical details like rope and twine bring texture to the signs. Twine creates lovely lettering on one sign. Other signs have authentic sand dollars and starfish for that unique ocean front look.
Many of these signs have whimsical sayings to bring home the relaxed fun of going to the beach. They vary from one or two word sayings to complete thoughts. These are often quirky and funny, with a few serious examples in the mix. Several signs have religious themes that inspire the viewer.
Pick up one of these 45+ beach themed wooden signs and enjoy the special feeling of total relaxation that you can only find at the seashore.
1. Pallet Style "Relax" Sign with Metal Letters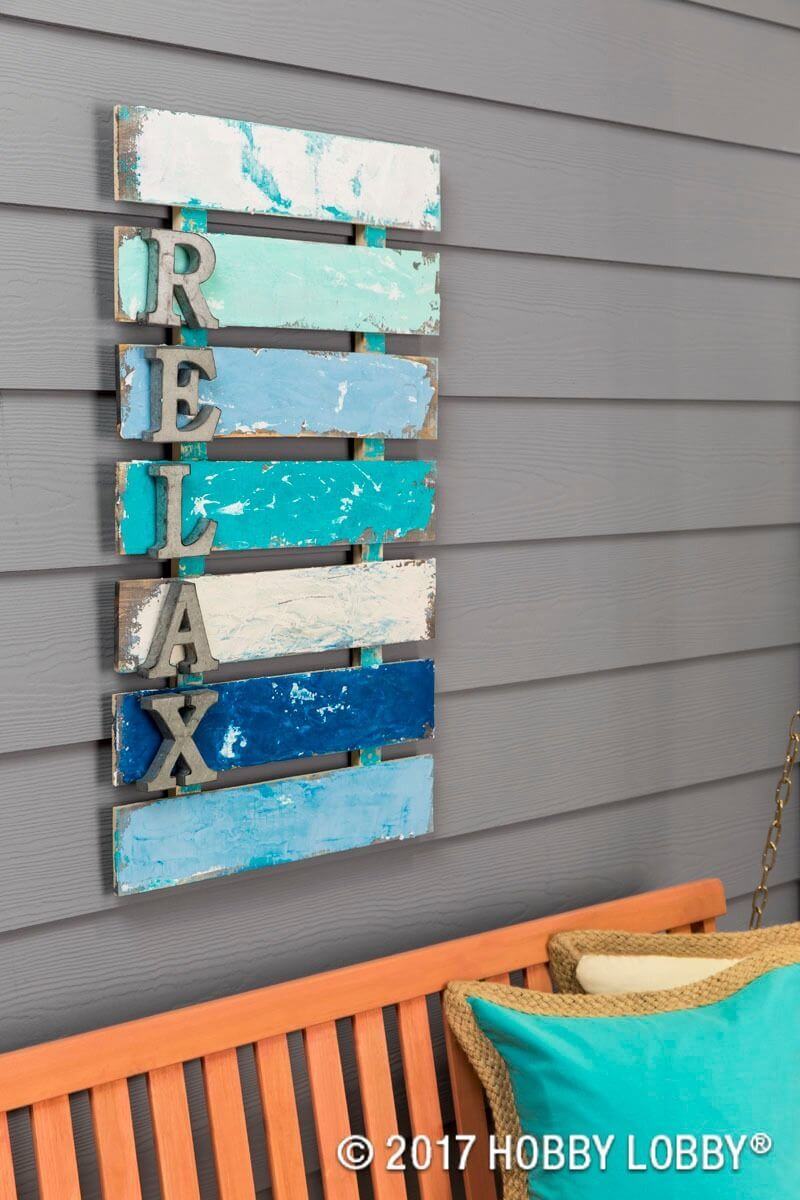 2. "Life is Better at the Coast" Sign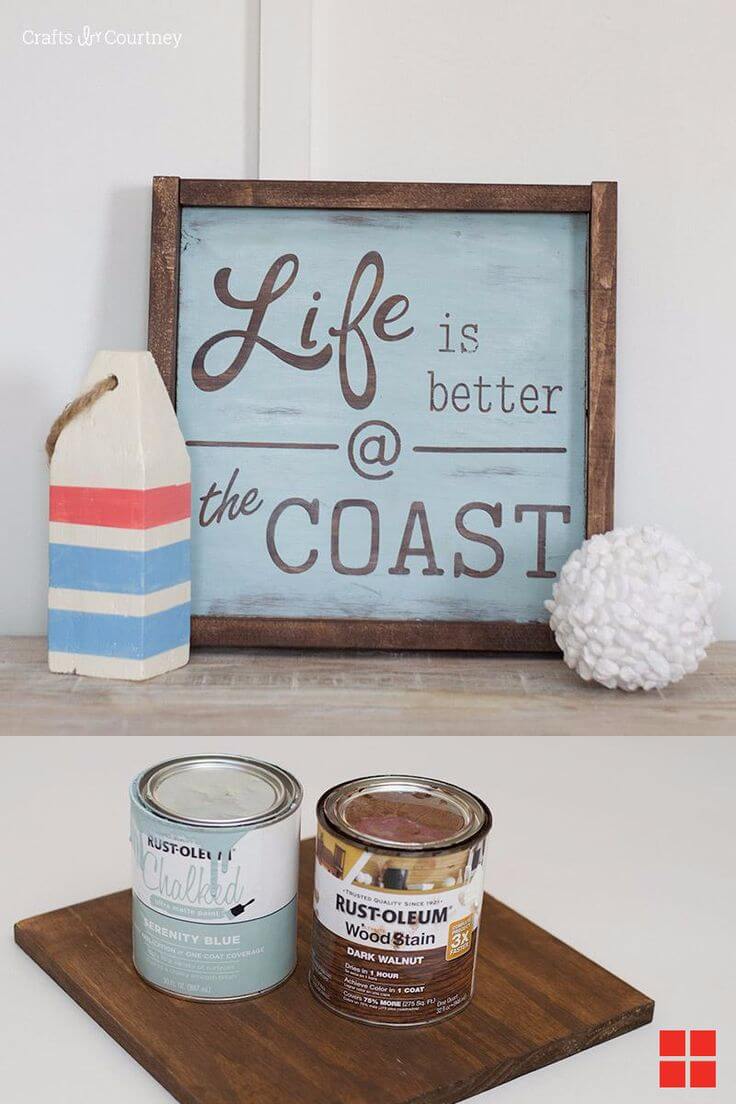 3. Driftwood Sign with Sand Dollar and Starfish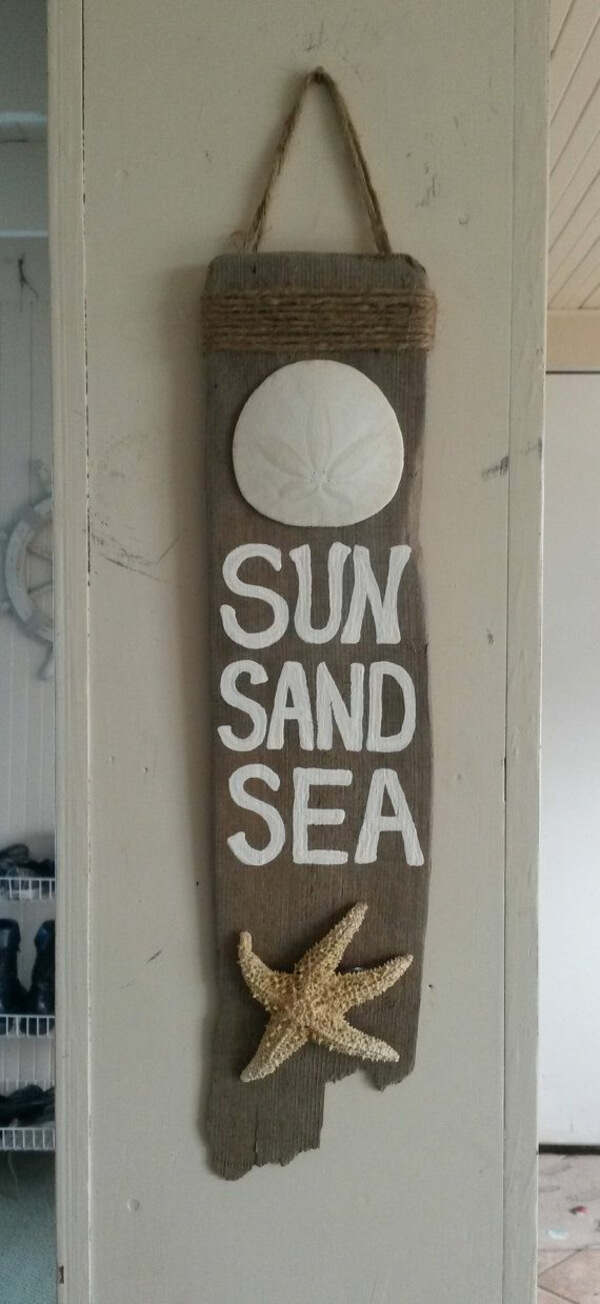 4. All the Best Things about the Beach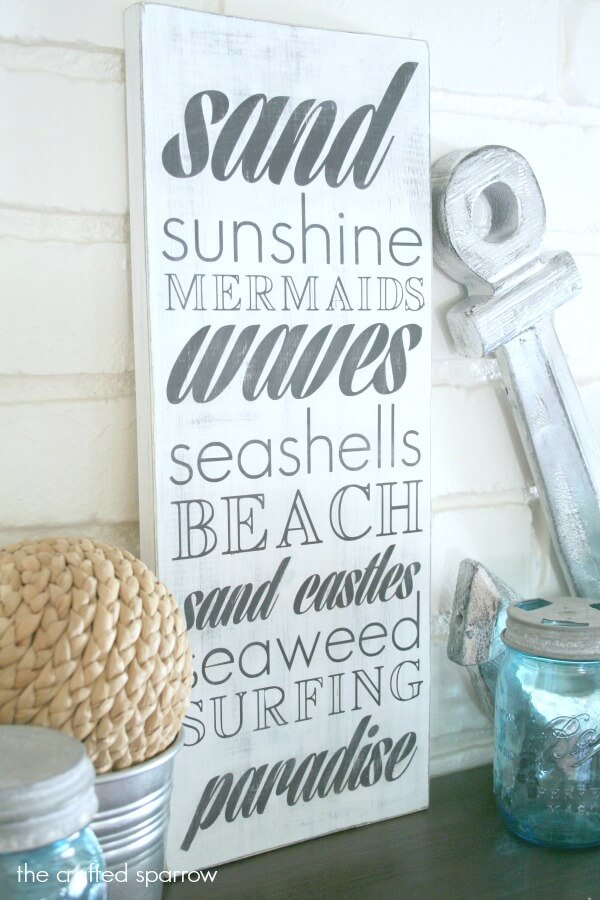 5. Which Way to the Beach? Sign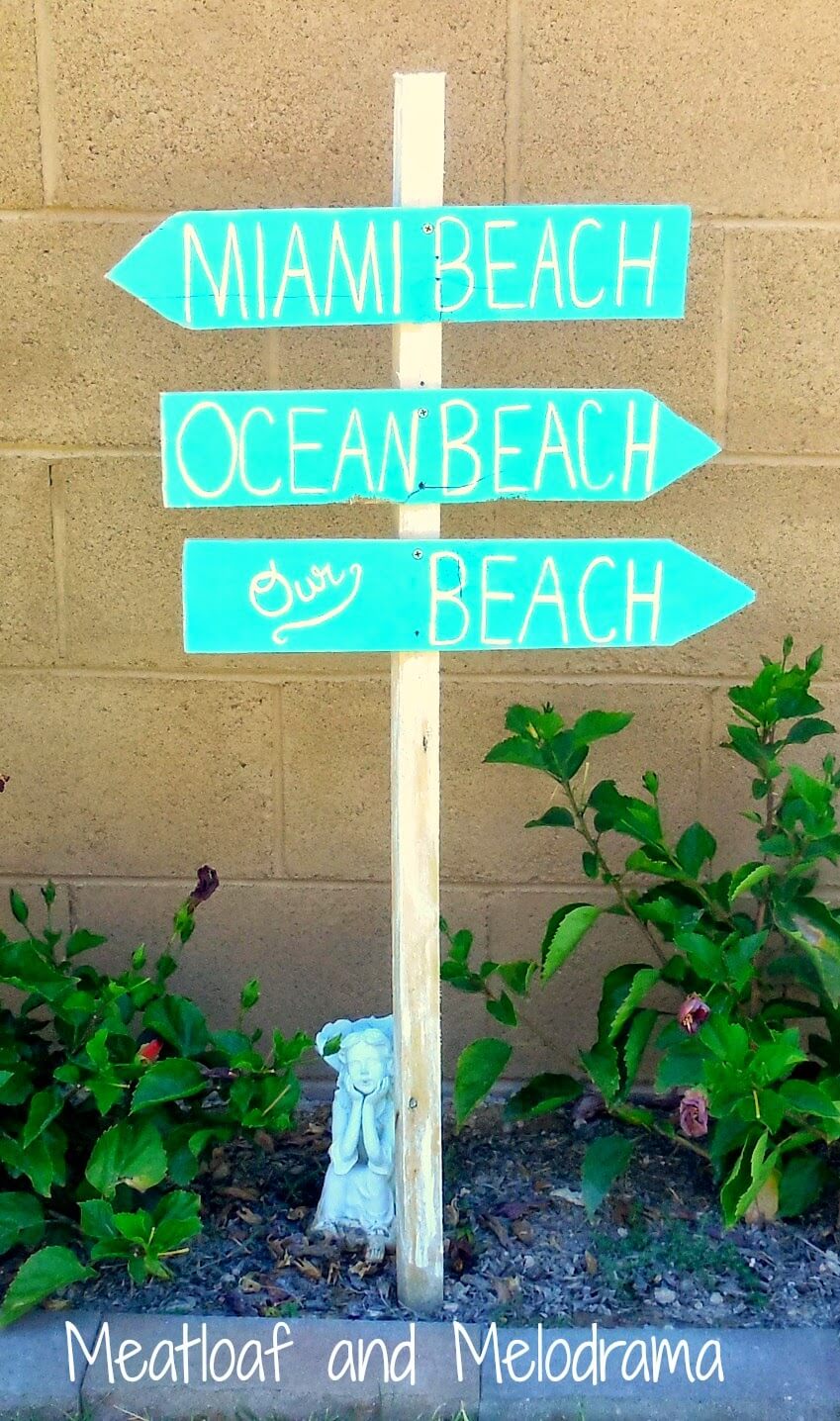 6. Watercolor Look Sign with Oversized Letters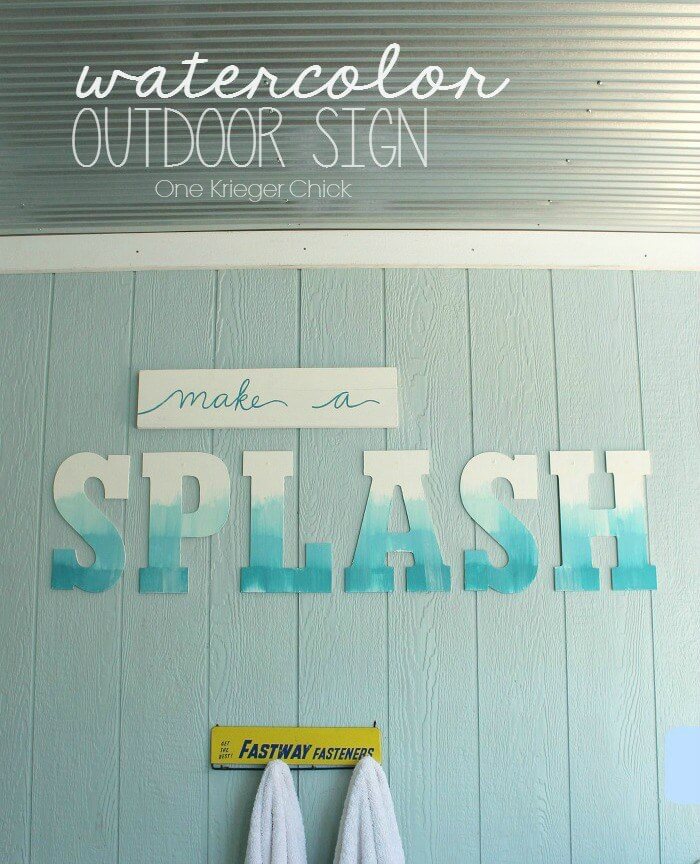 7. Charming Little Welcome Sign with Shells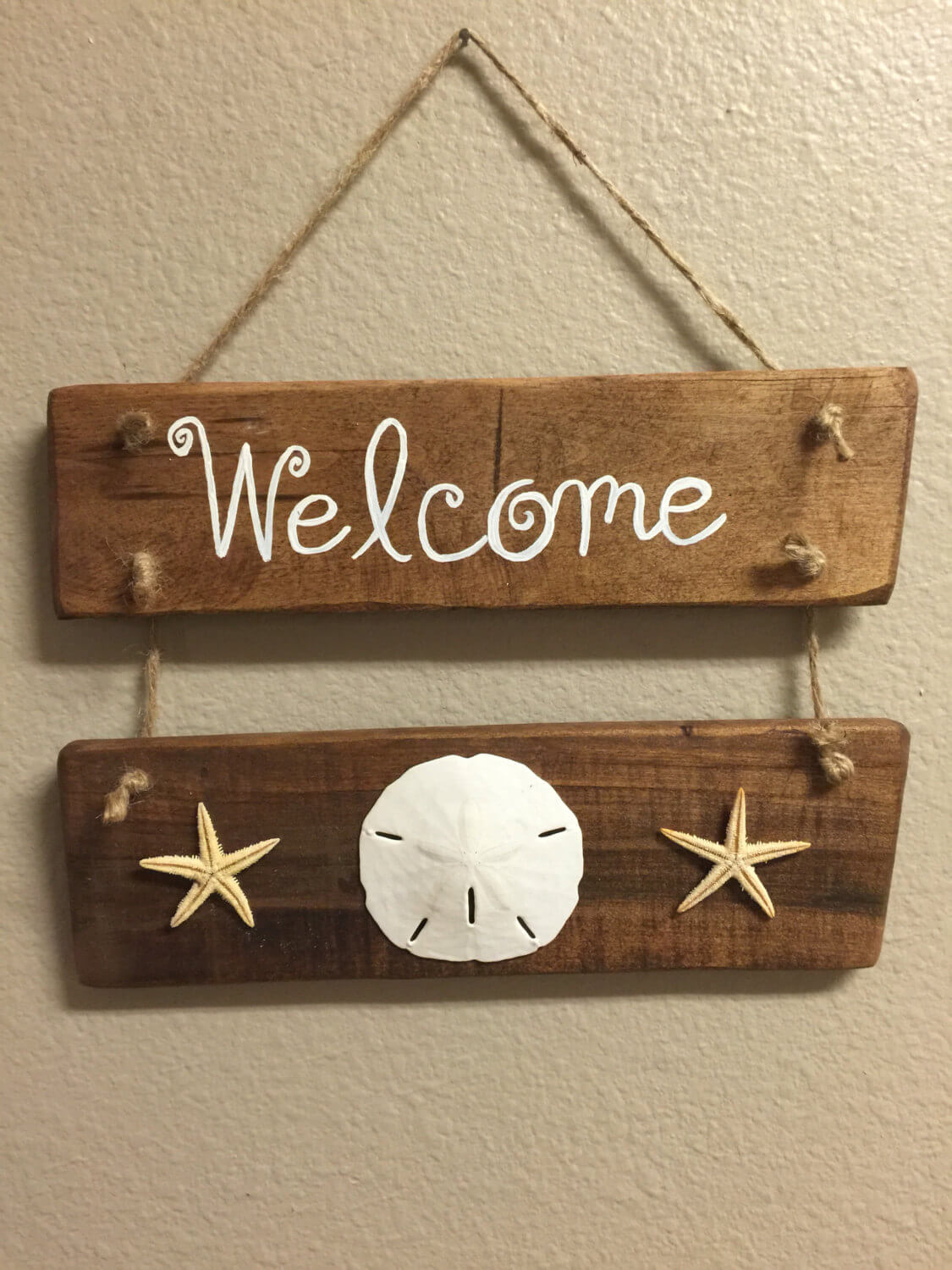 8. Wooden Sign Painted in Ombré Style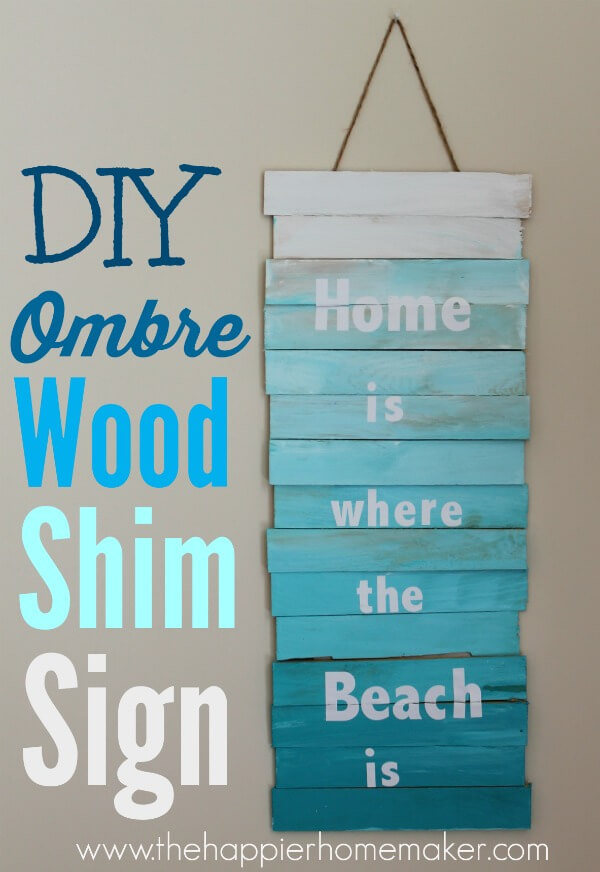 9. Sign with Cursive Twine Lettering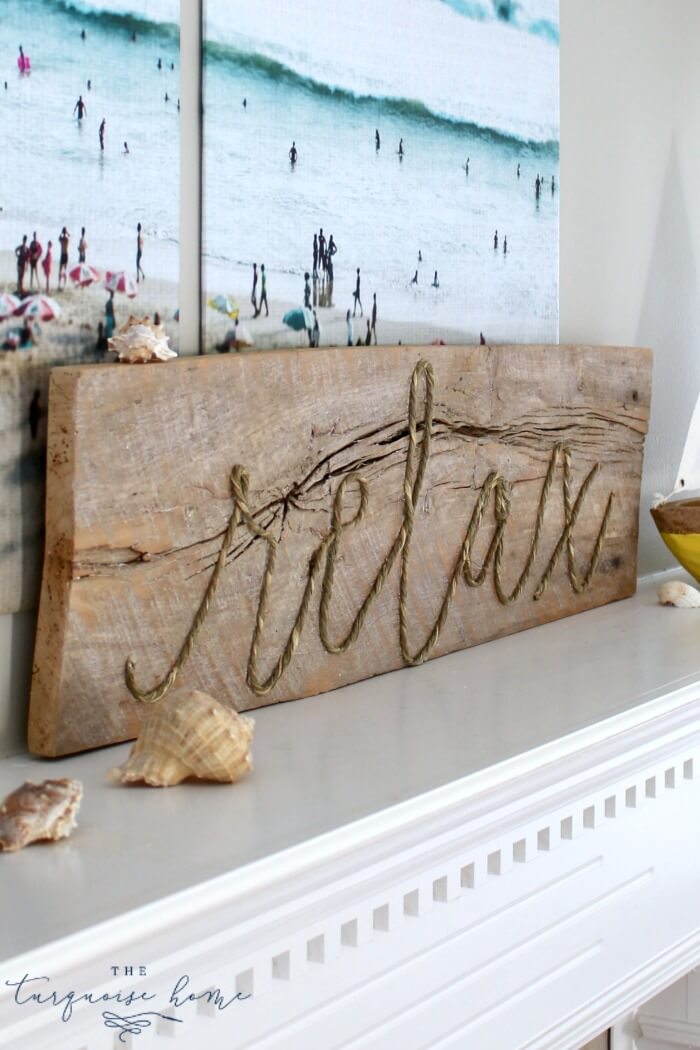 10. Make Your Own Distressed Lettered Sign

11. Sweet Sign for a Child's Room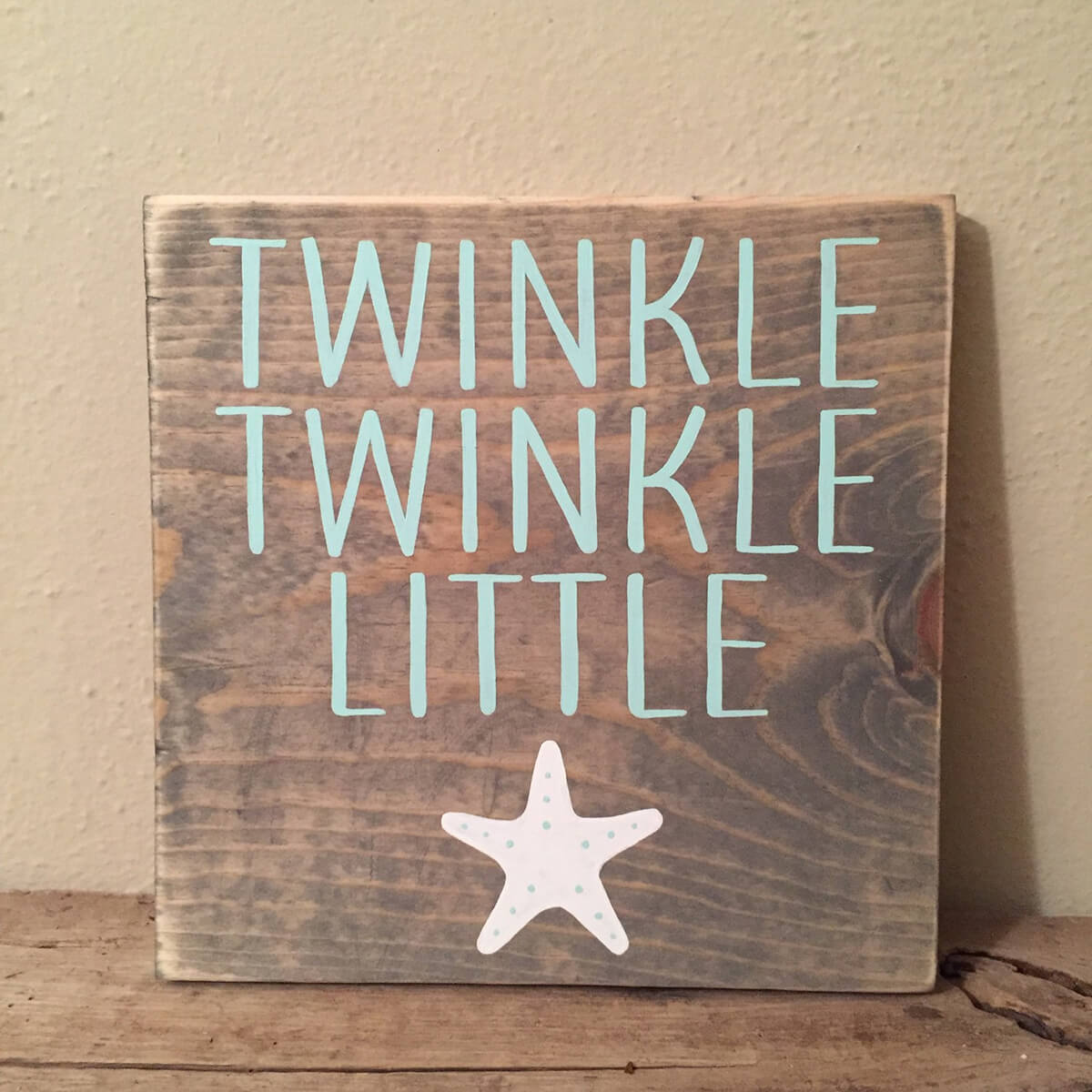 12. "Eat, Sleep, Beach" Sign for Outdoors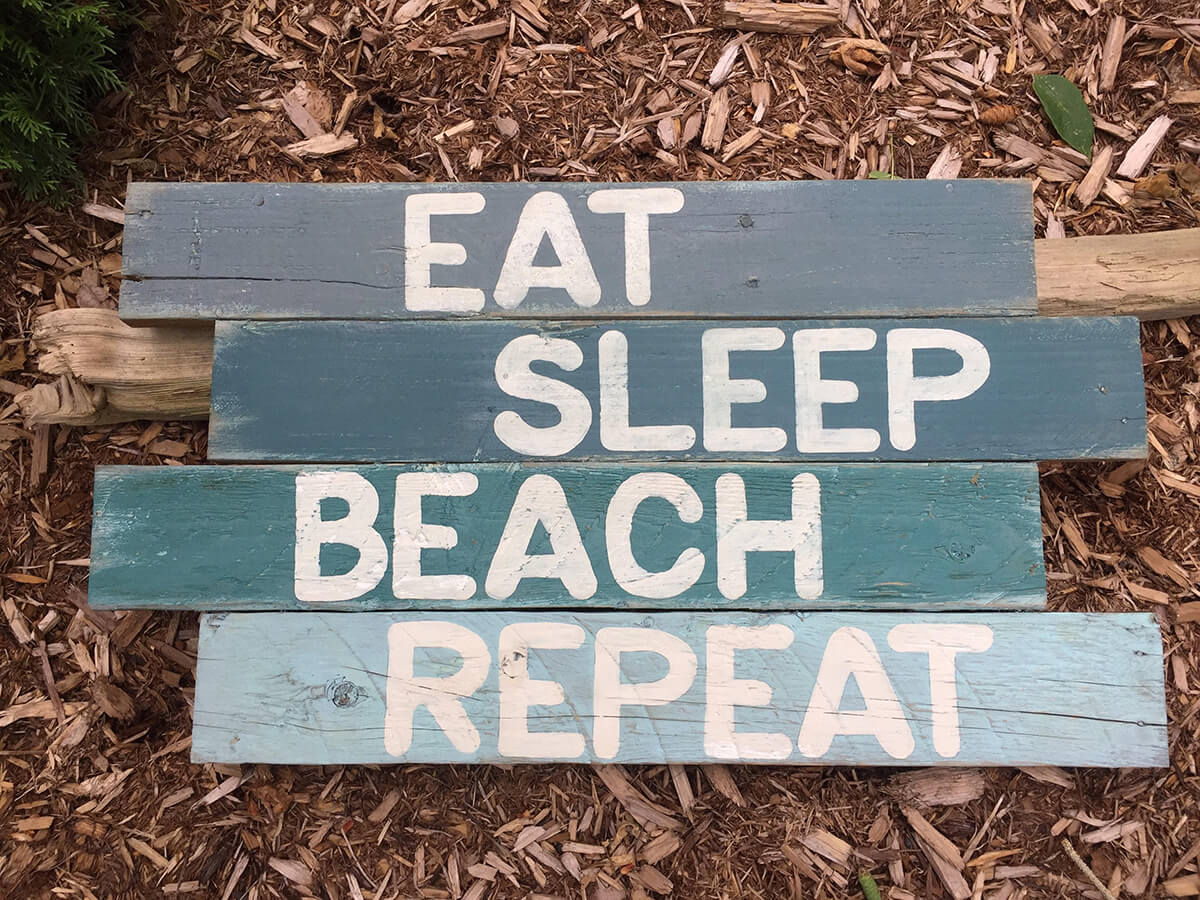 13. Good Advice Learned at the Beach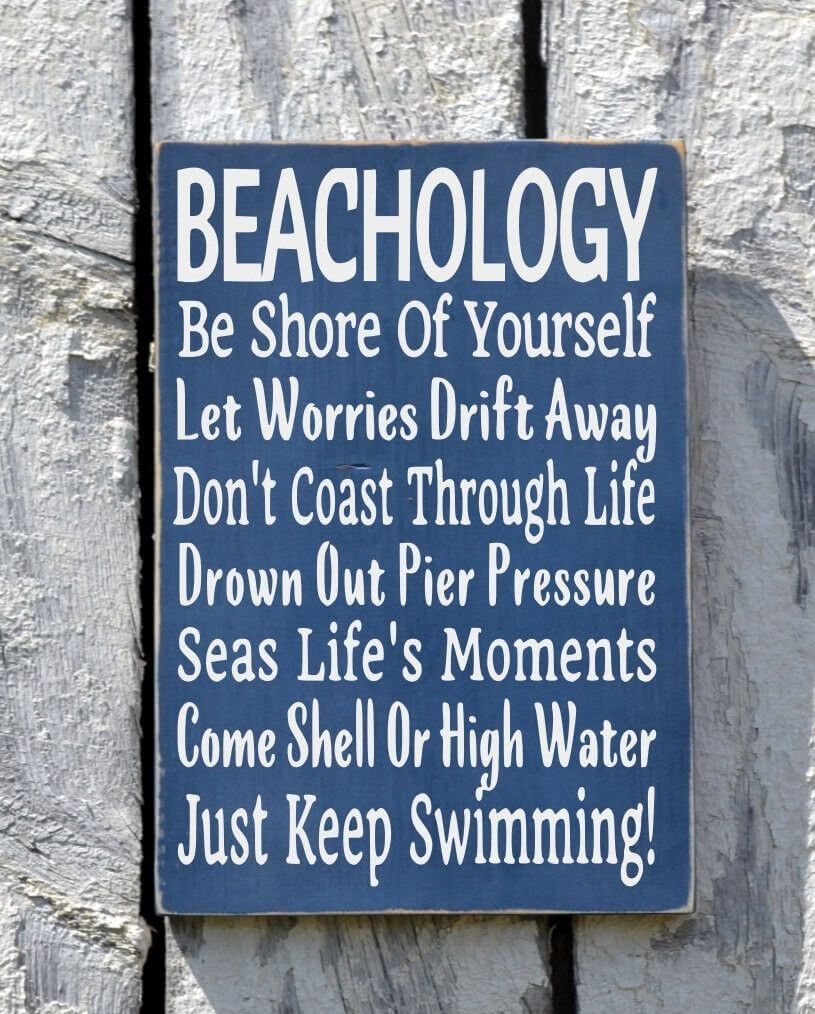 14. Stenciled Palette Sign with Inspirational Saying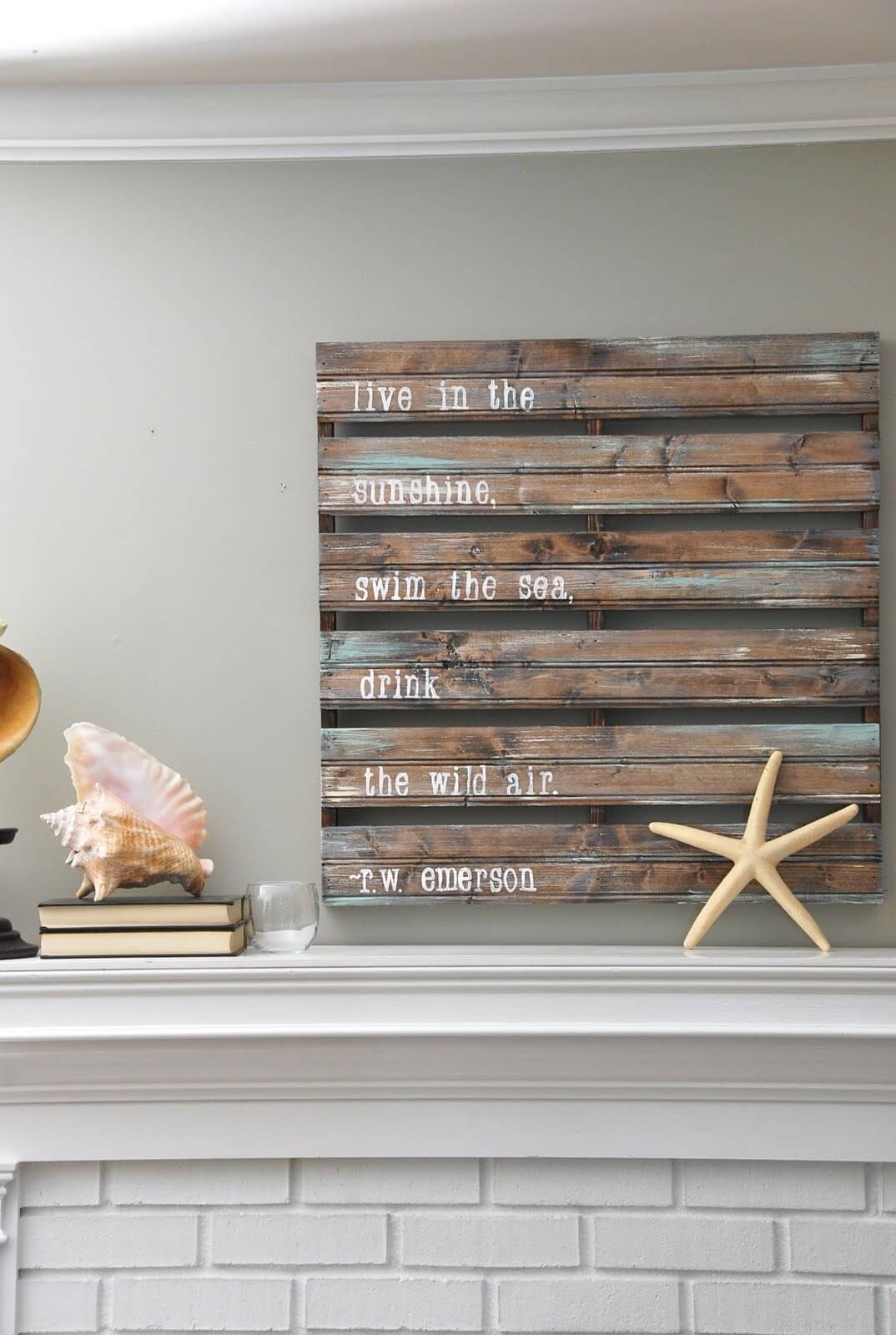 15. Hawaiian Themed Sign with a Fun Saying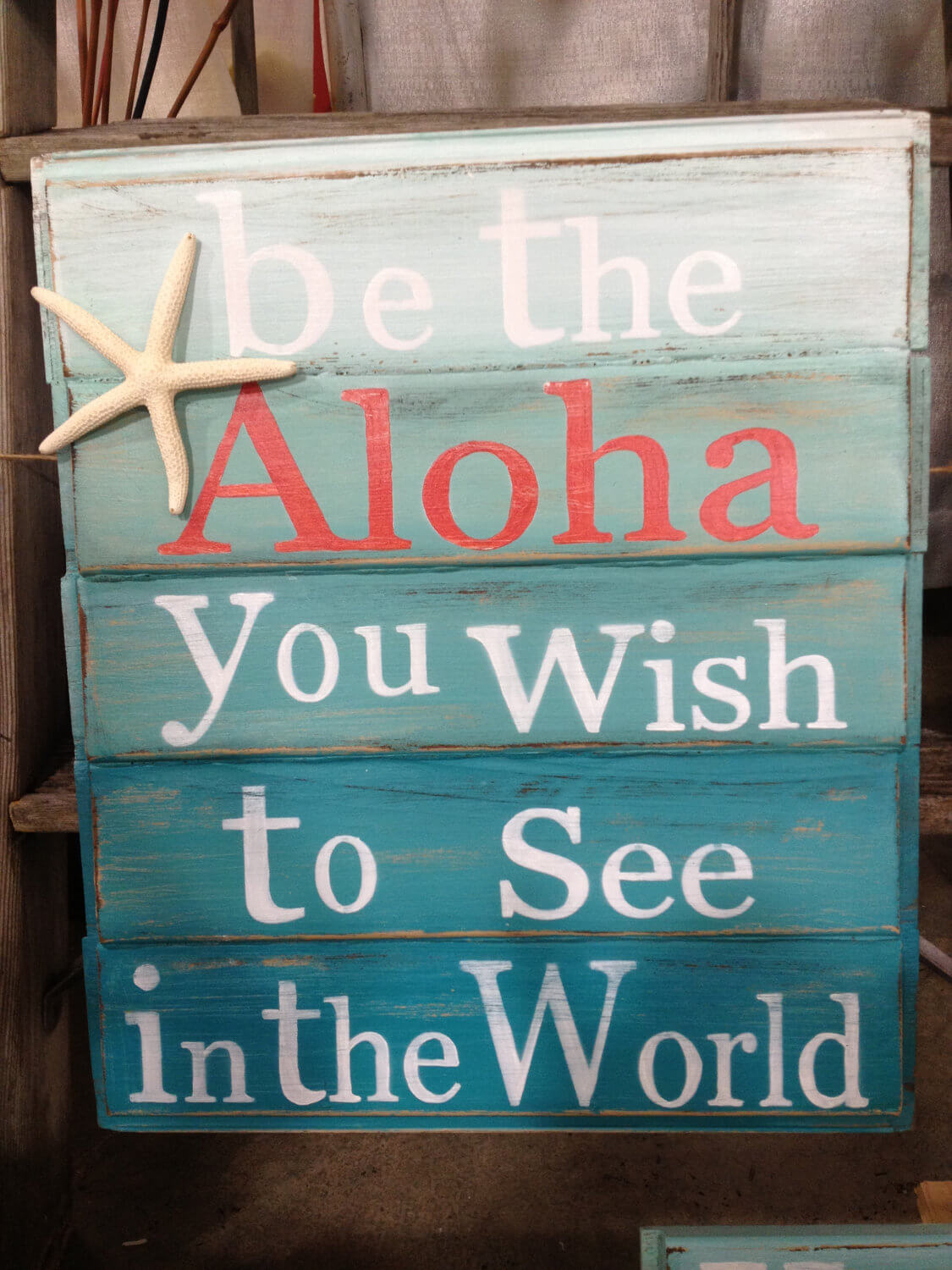 16. Make Your Own Driftwood Room Signs

17. Weathered Beach Themed Wooden Sign

18. Cute Love Themed Wooden Sign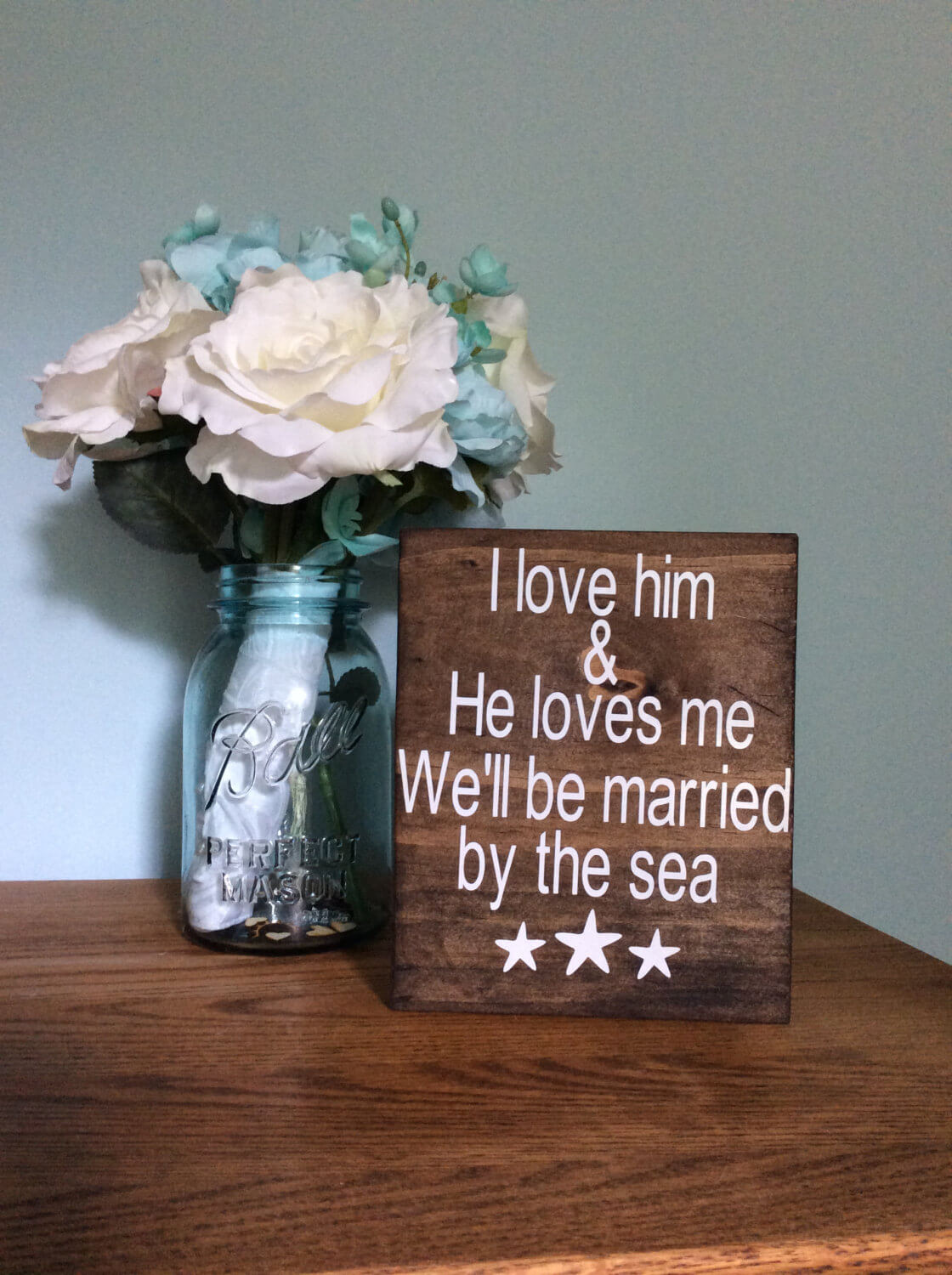 19. Sign with Stenciled Palm Tree and Waves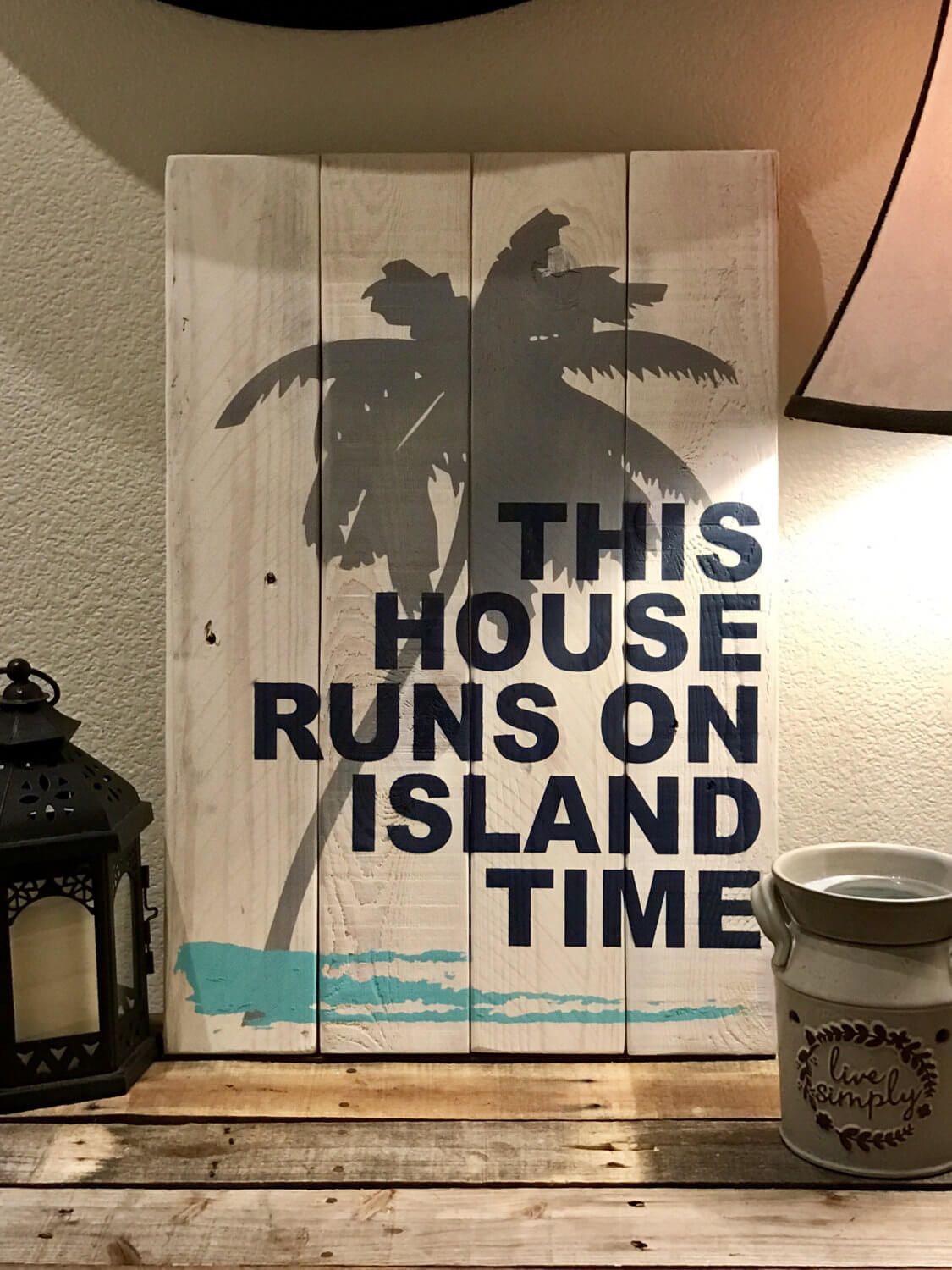 20. Calming Blue Sign with Peach Lettering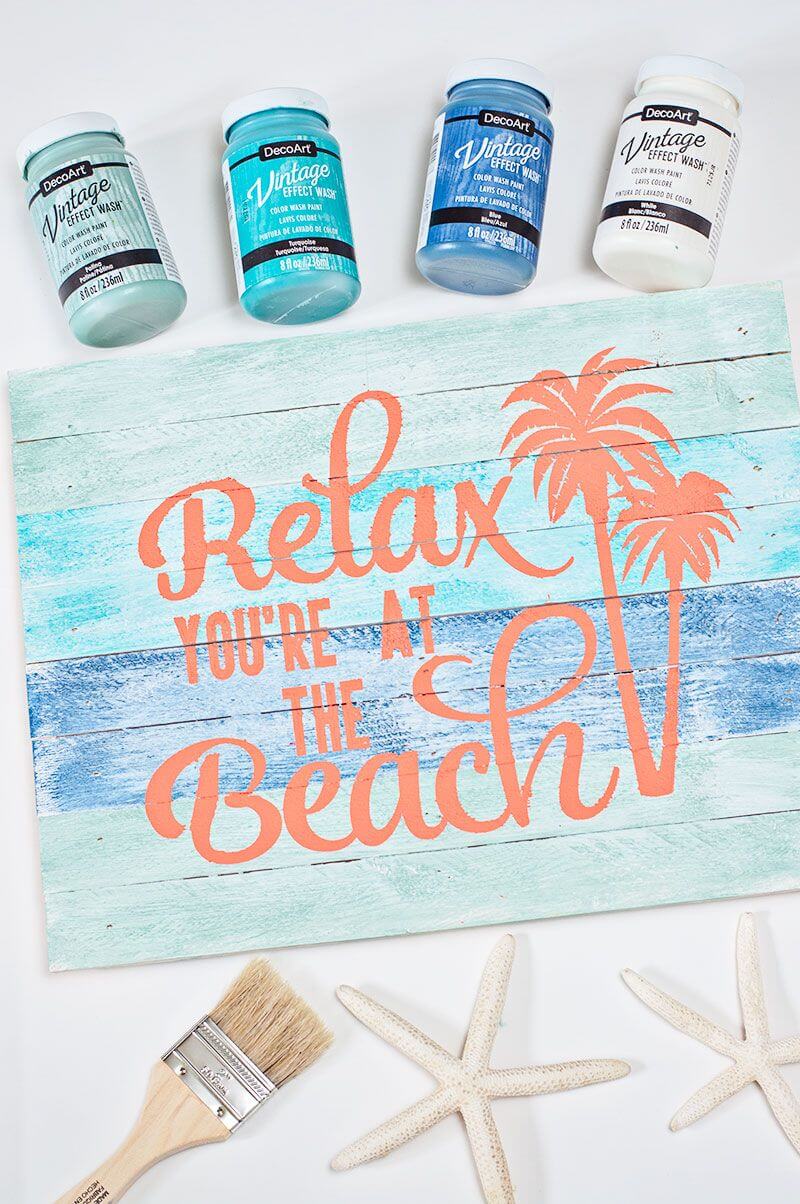 21. Do You Know Where The Beach Is?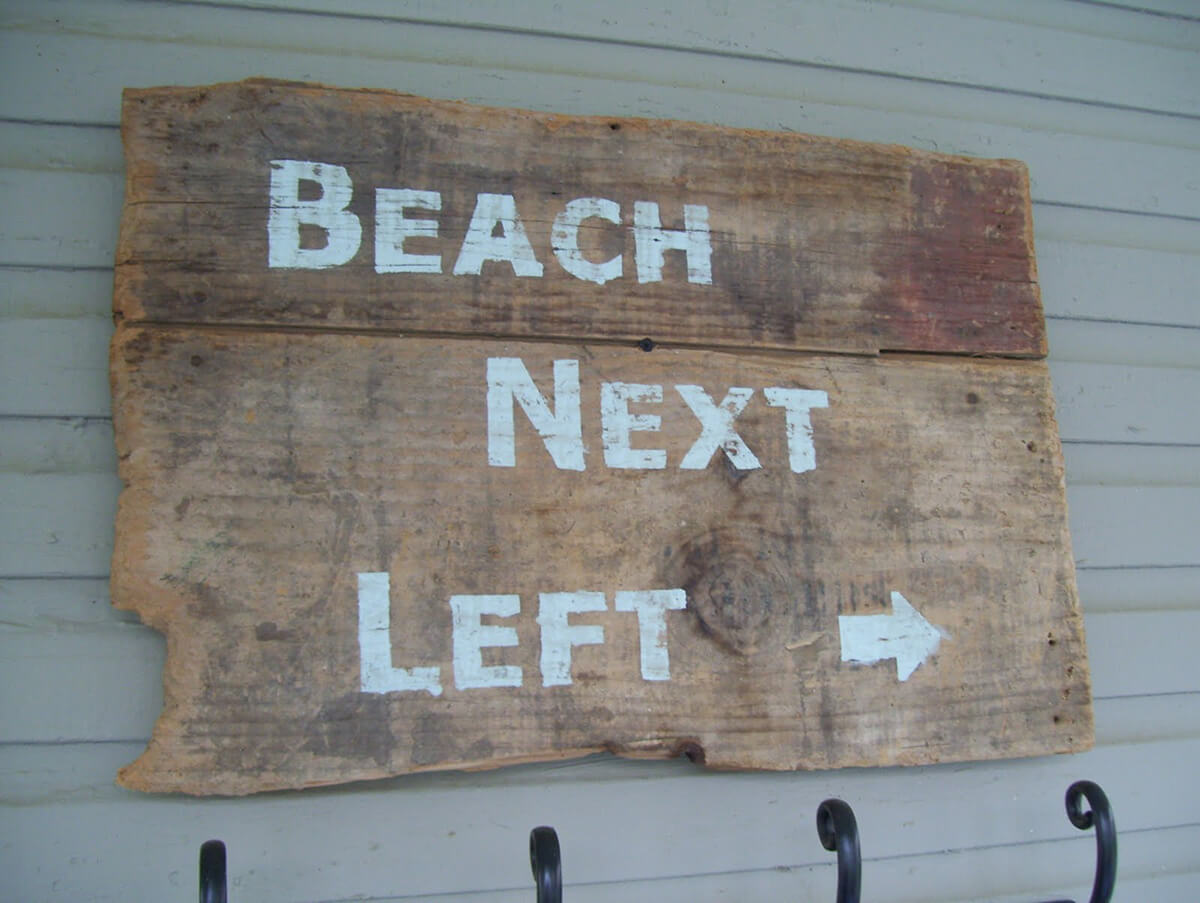 22. Green, Blue, and White Beach Sign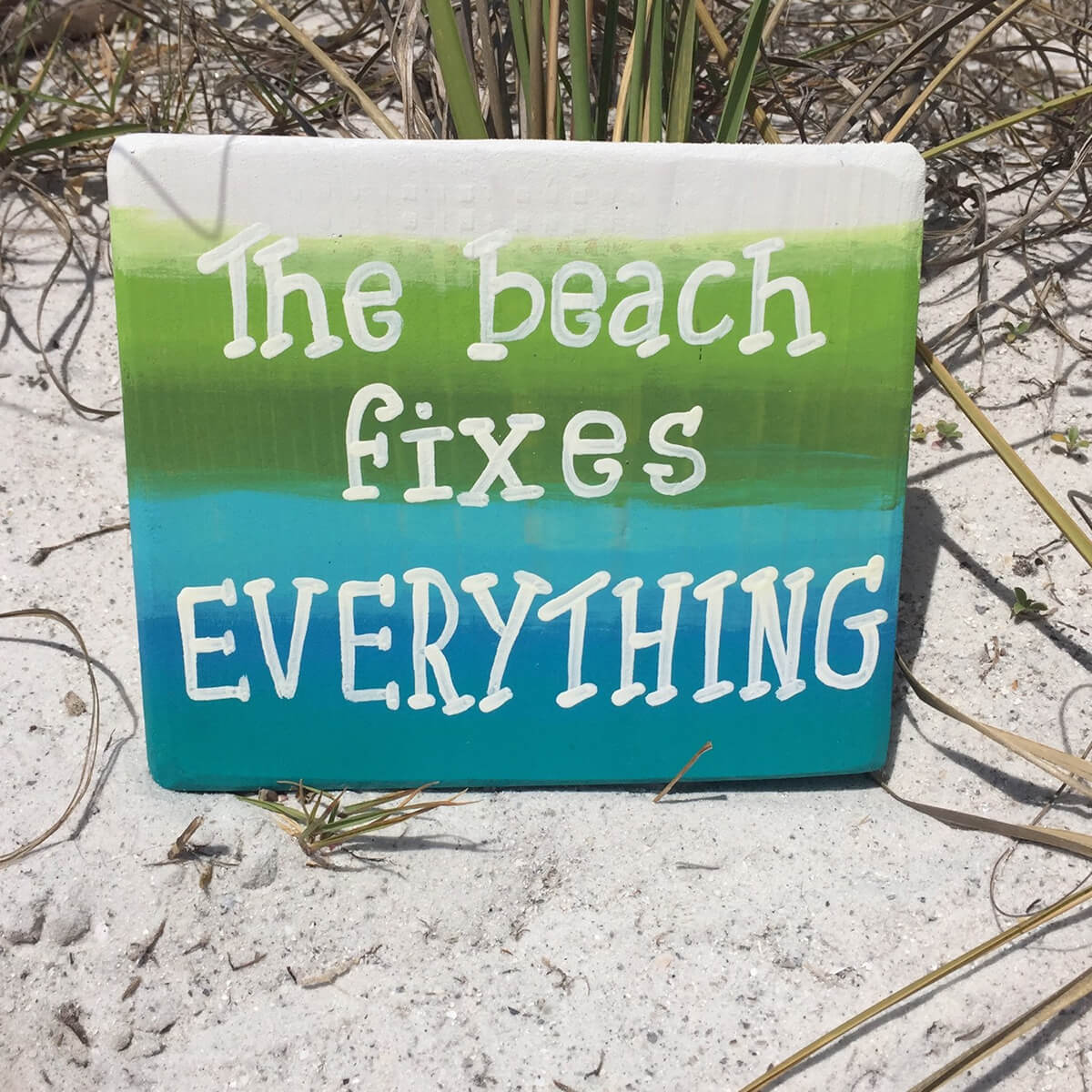 23. Loving Beach Themed Wooden Sign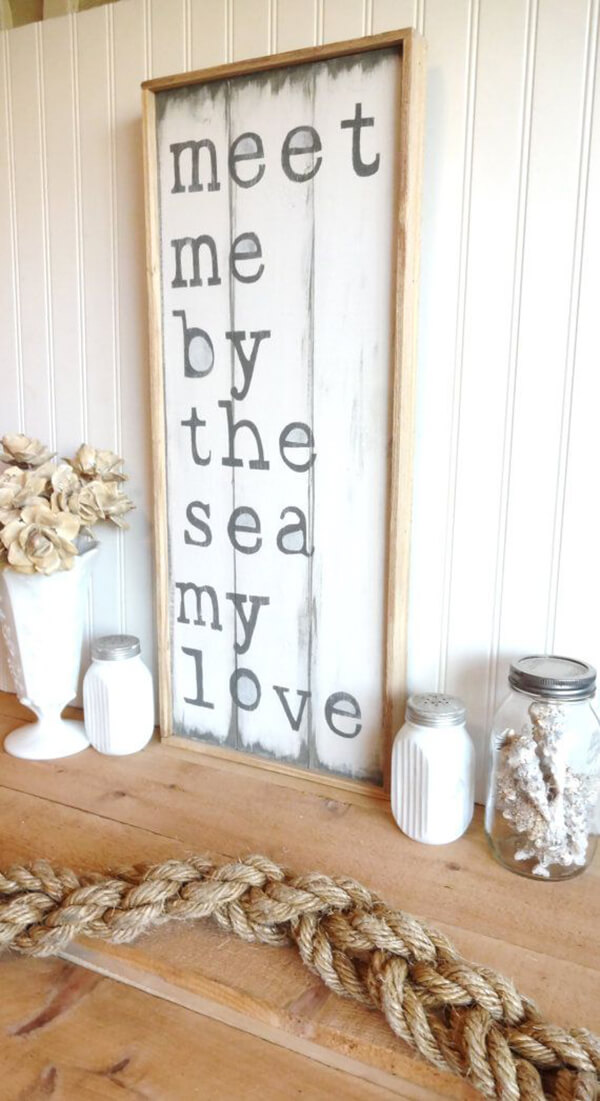 24. Religious Saying on a Wooden Sign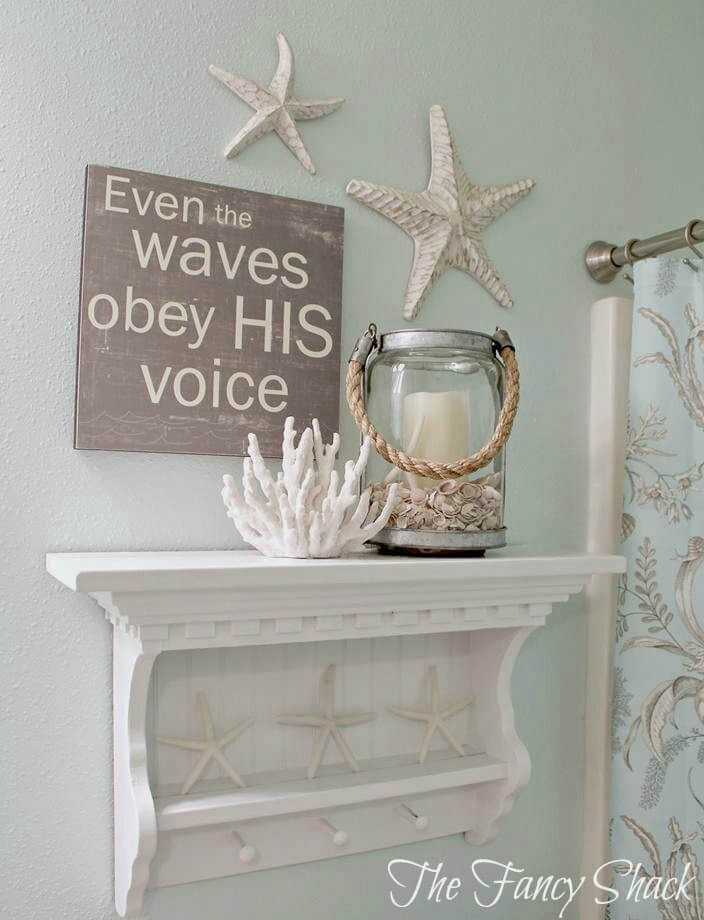 25. Oversized Letters on a White Wall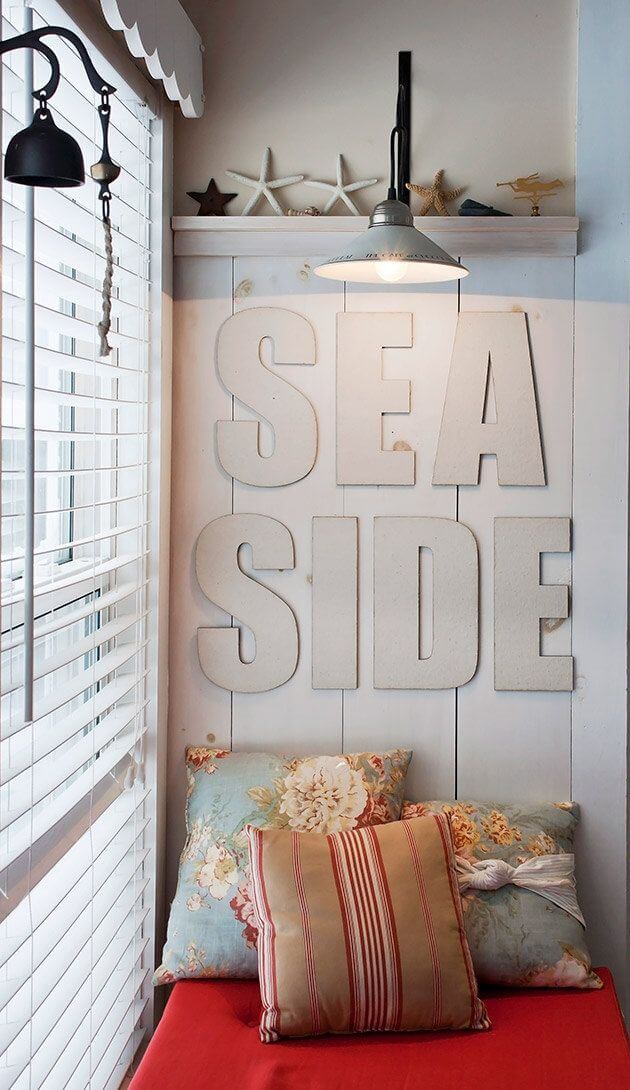 26. Relax and Kick Off your Shoes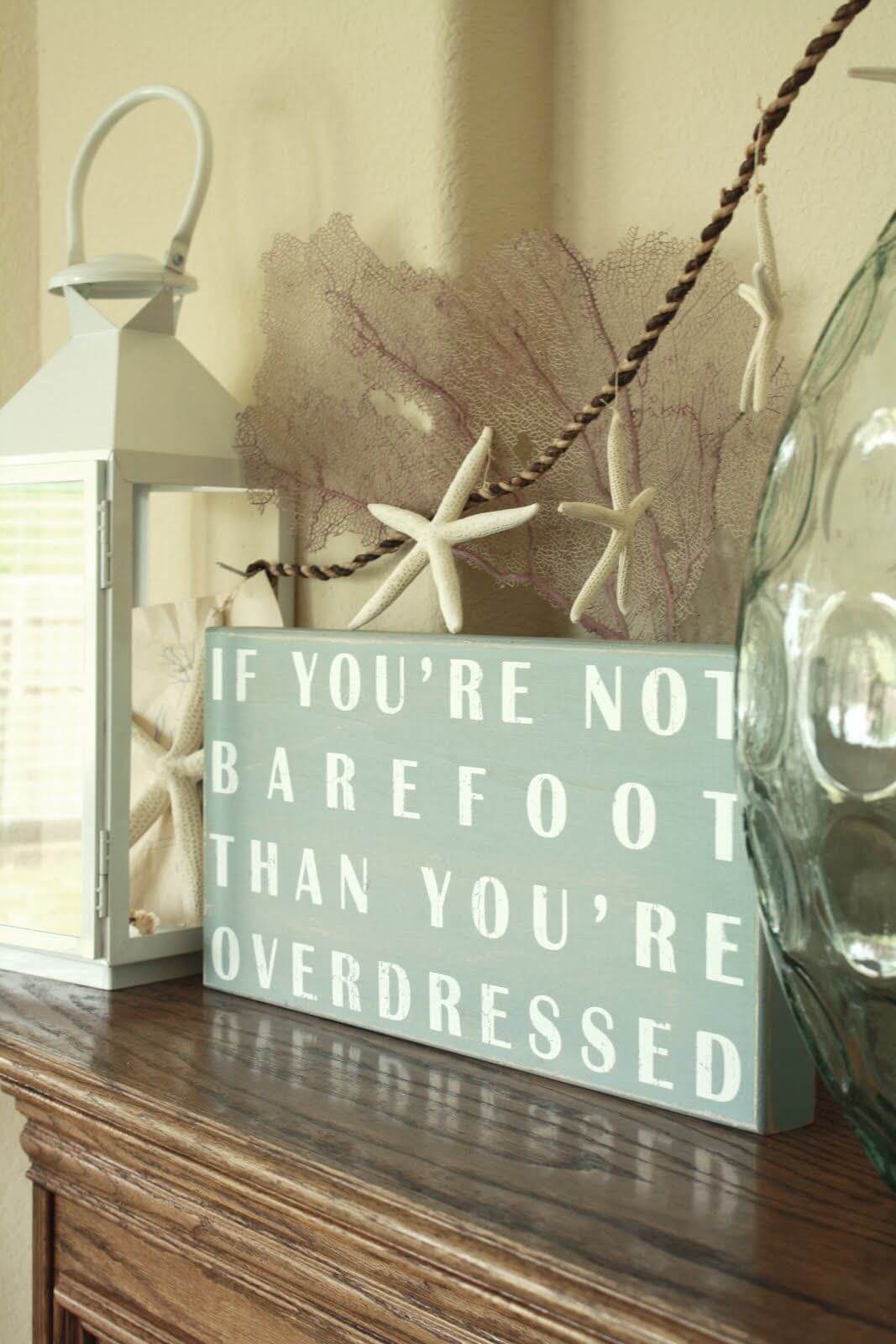 27. Inspirational Religious Sign for the Beach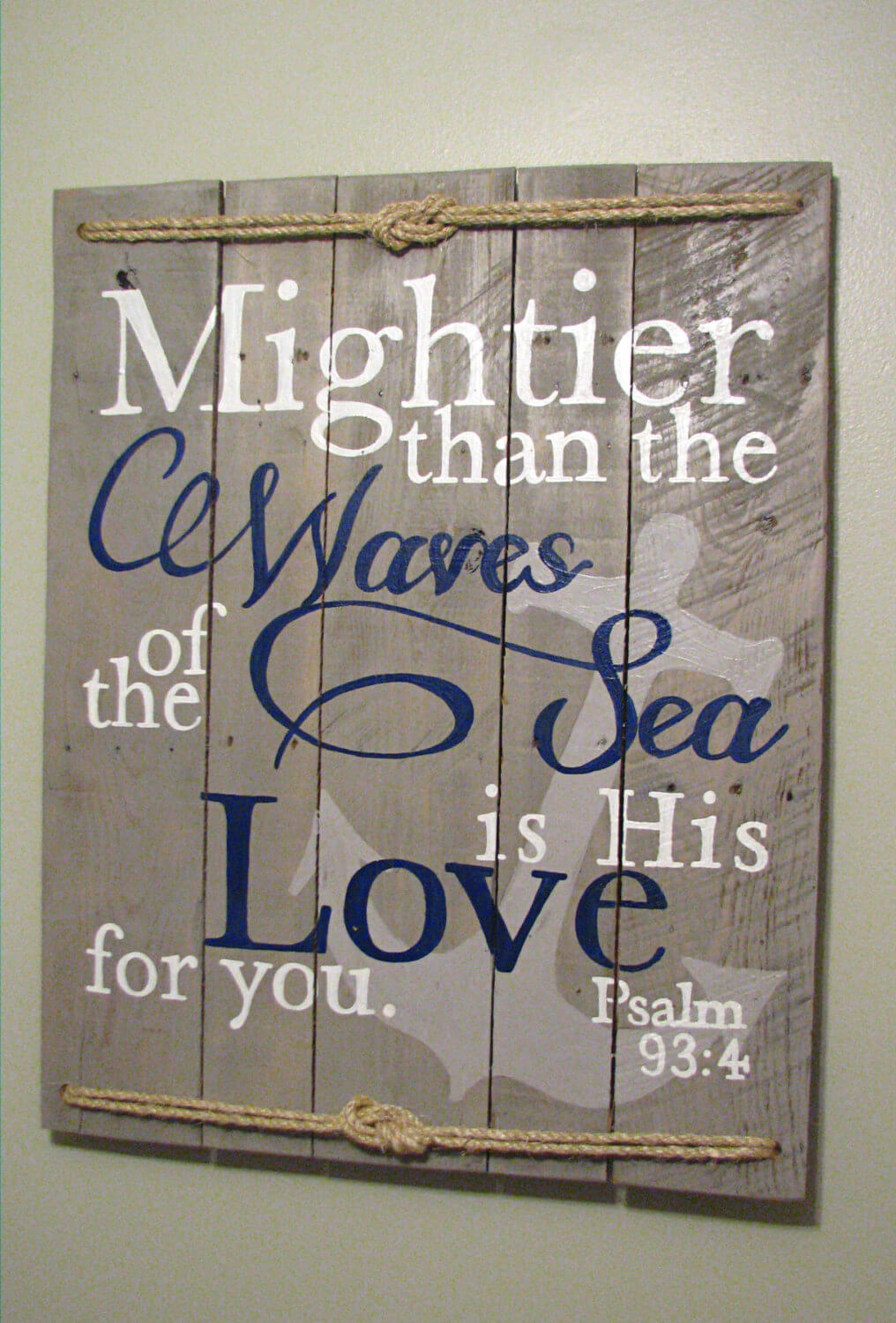 28. Relax, Unwind, and Enjoy the Beach Life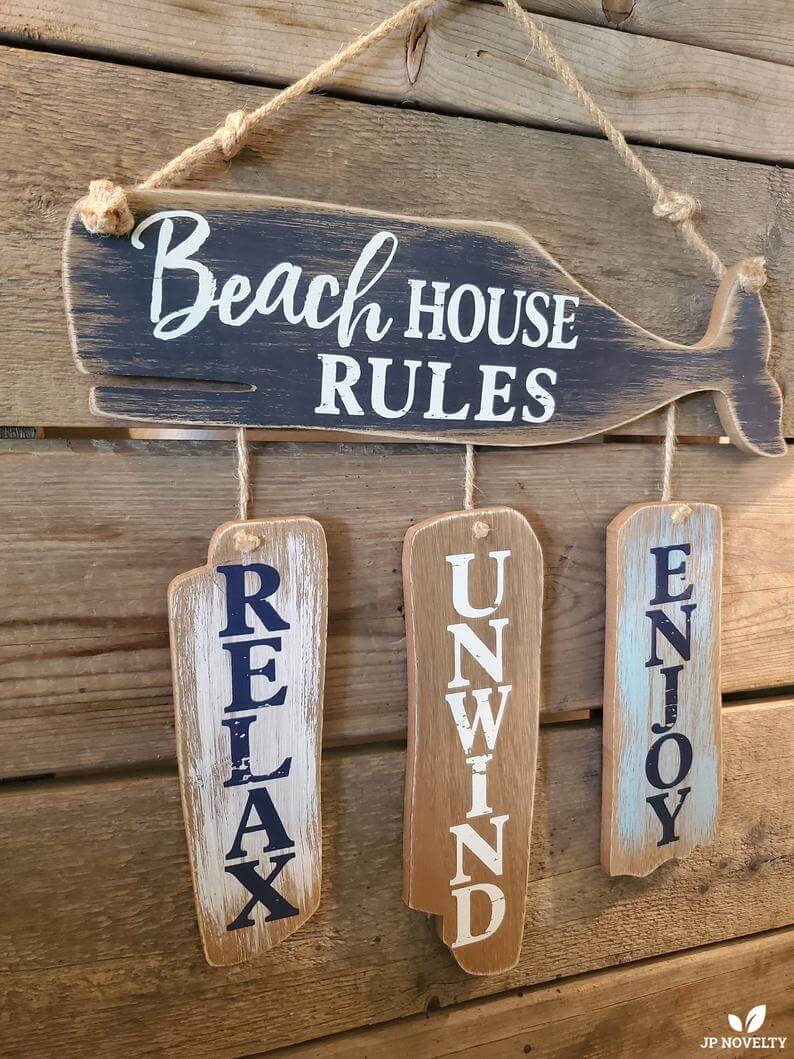 Every beach lover needs a fun sign for summer and this cute whale one delivers. Created in blues and beiges that are reminiscent of lazy days at the beach, this sign has three driftwood-inspired dangles hanging from it to serve as a subtle reminder of the laid-back lifestyle. Everyone is encouraged to relax, unwind, and enjoy their time spent as the waves break onto the beach and they find themselves at peace with the world.
29. Farmhouse Fresh Beach Themed Decorative Sign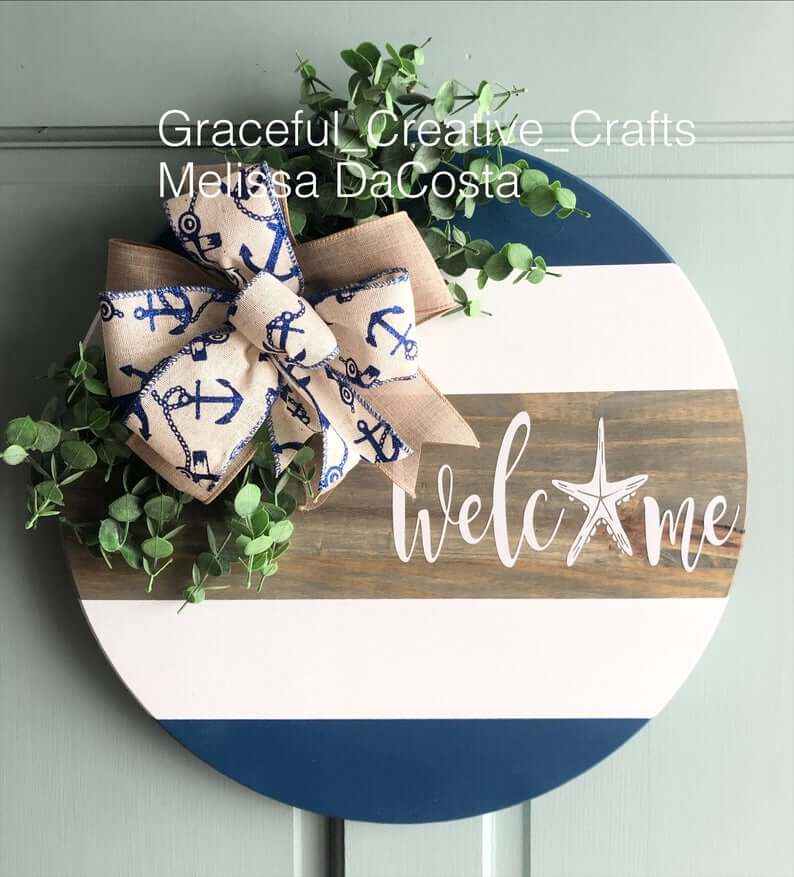 This circle has loads of appeal with its crisp and clean white, blue, and wooden lines that form the background for this amazing decoration. On the corner, the large burlap bow comes to life with metallic blue anchors to give that nautical nod while the lush greenery sprigs add a nice and welcoming touch. The scripted "welcome" greeting completes the look with the use of a starfish in place of the "o" to make this a great beach-themed sign.
30. Destination Ocean Escape Wooden Compass Sign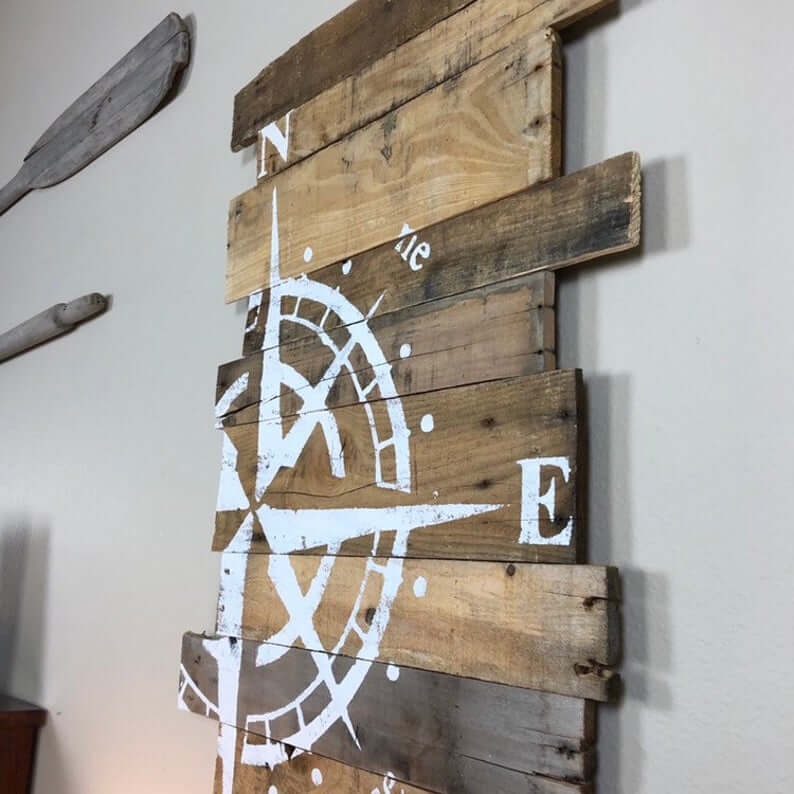 Check out the awesome wooden planks that form this amazing sign! They are thoughtfully staggered to create a unique shape to show off this portion of a compass rose that's been hand-painted to finish the design. Your head will follow your heart as this sign points you in the right direction to enjoy the ocean life this summer.
31. Life is Better at the Beach Sign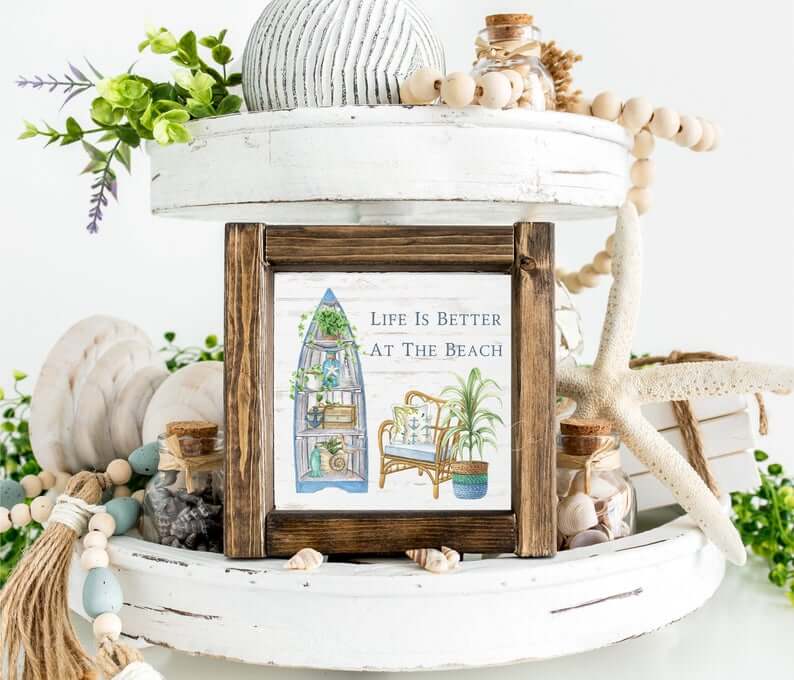 Who doesn't adore the trendy tiered trays and what better way to bring them up-to-date with the current season than with a beach-inspired sign? This cute, little square sign features a rich wooden frame that perfectly holds this darling print. Highlighting a refreshing, plant-filled corner complete with a cushioned chair and canoe-shaped shelf, this little painting gets right to the point reminding us that life is better at the beach!
32. Starfish and String Wooden Welcome Sign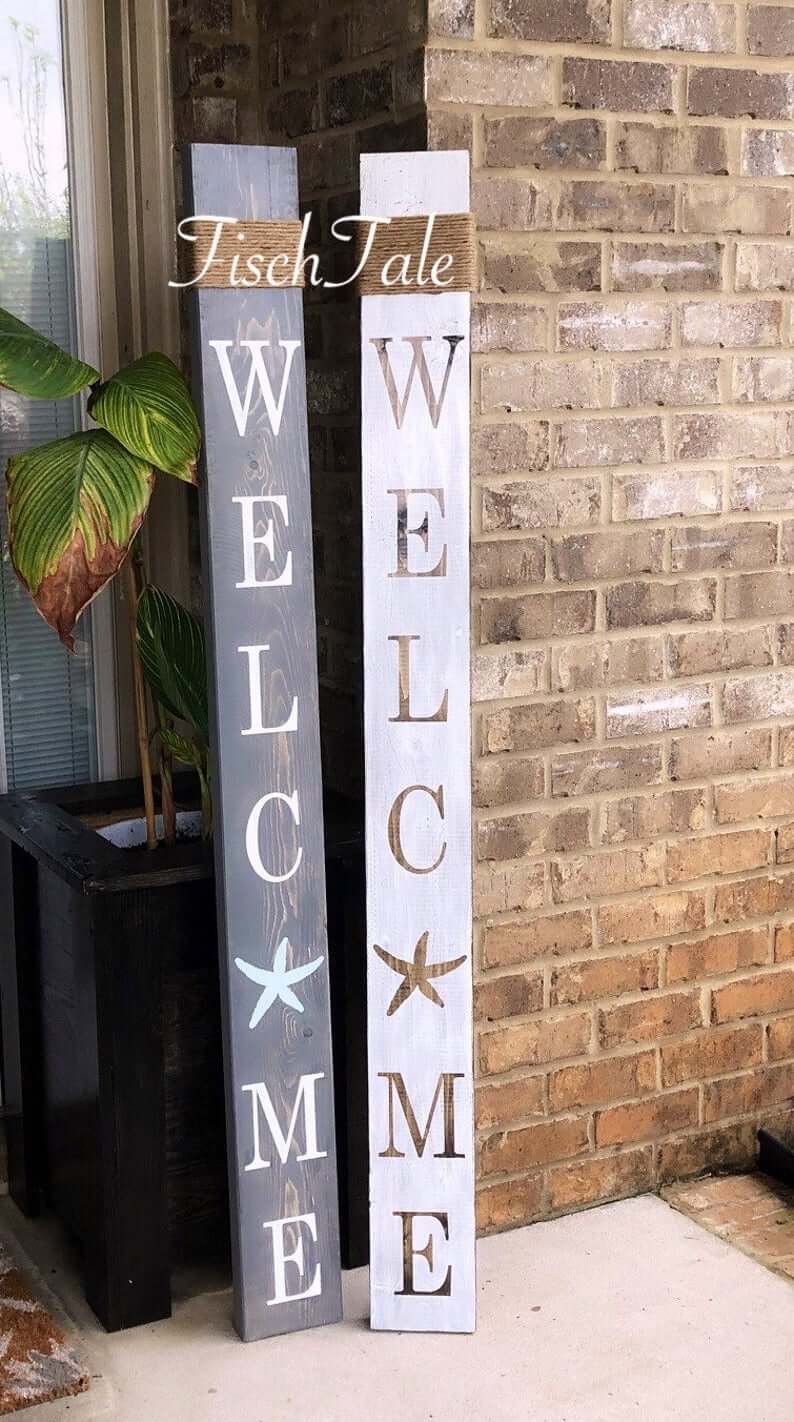 Prop this slender sign by your front door to welcome guests all summer long! The top has been adorned with some string wrapped to nearly resemble the bold stripe on top of a buoy. As the "welcome" letters go down vertically they are infused with beach love as the "o" is replaced with a stamped starfish design. Add a wooden anchor or lighthouse and drape a net over top and you'll have a fresh, new beachy porch look this summer.
33. Better at the Beach Simple Sign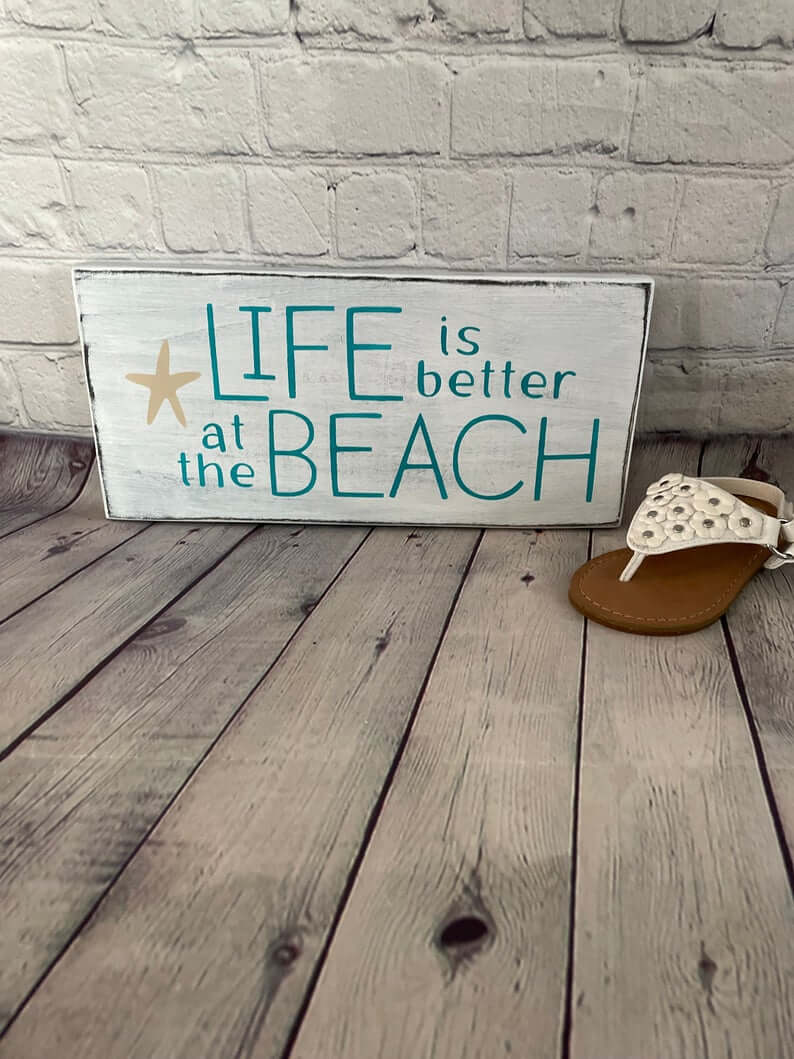 This lovely white-washed background creates the perfect wooden sign for any beach lover. With a starfish and the use of gorgeous turquoise blue writing, the beach is calling you back to enjoy your best life there. Place this on the mantle of your home or hang it on your back patio for everyone to enjoy. Next to a hearty palm houseplant is a great hangout to channel even more beach vibes into your decor.
34. Good for the Soul Distressed Beach Sign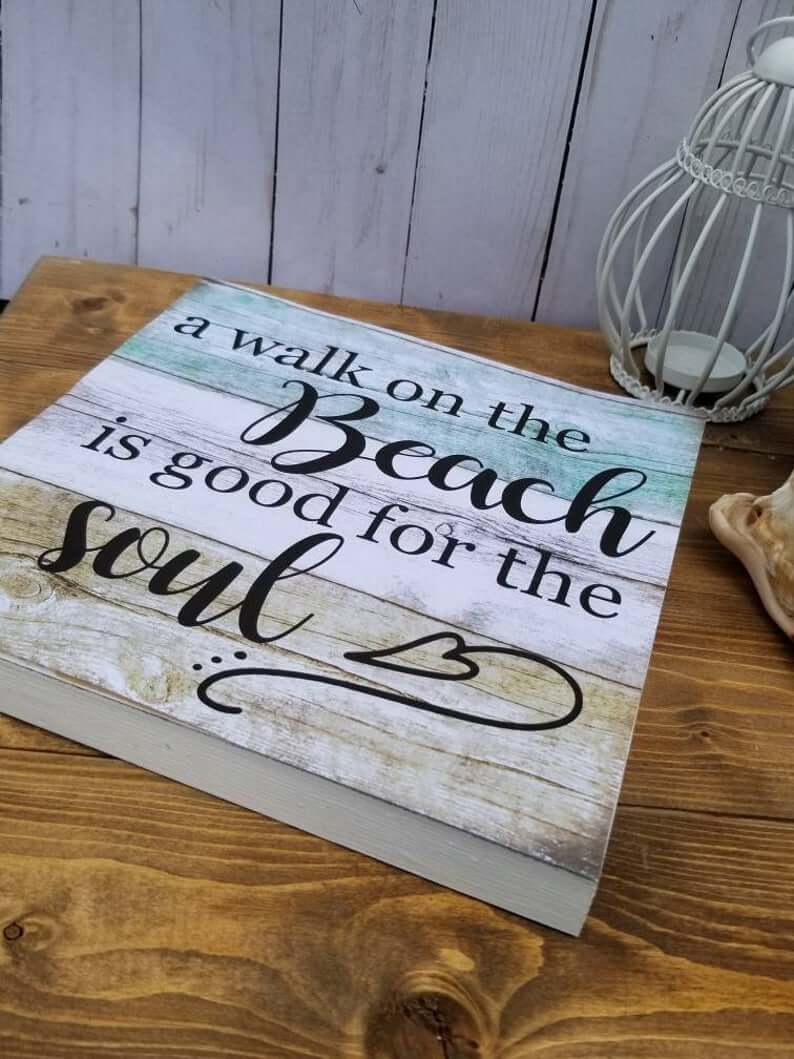 The amazing weathered and colored planks create an interesting and coastal design for this wooden beach sign. Align your soul with the stars as you take a stroll along the beach and give yourself the rejuvenation you deserve. With a subtle blue, beige, and white color palette that's nearly ombre in design, this cute sign will be a great addition to your existing decor or hanging alone on blank wall space.
35. Must Go to the Lake Wooden Sign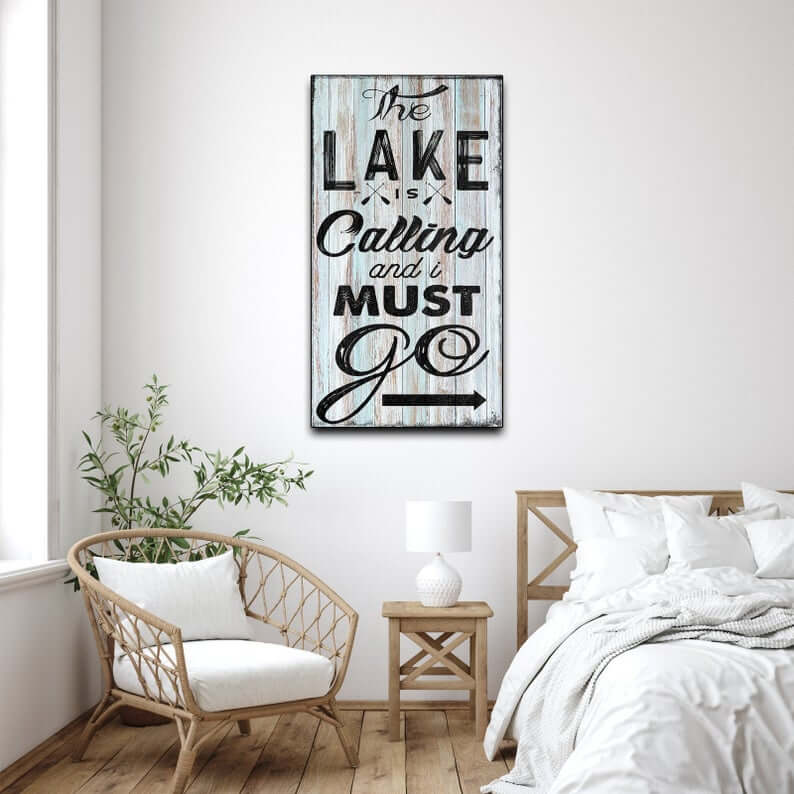 Who could say no to this powerful sign? When the weekend arrives and it's time to take a break from work, look no further than this "lake is calling" sign. Shabby chic distressed white washed planks form the background while cute embellishments like oars and an arrow complement the quirky font. Hang this large wooden sign over your mantle or replace a painting with this for summer to encourage the lake life and all it offers.
36. Cute and Beachy Namesake Sign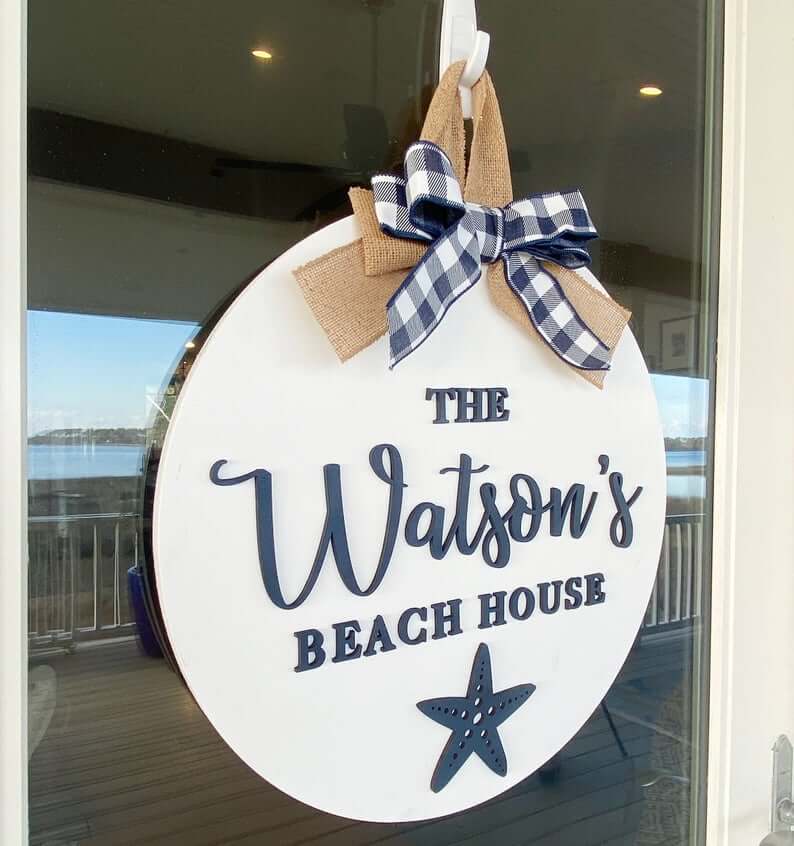 Replace the outdated wreath on your front door with this cute circular sign. It quickly and easily identifies the home's occupants as it greets guests with a friendly splash of blue gingham for summer. Feast your eyes on the darling sea star at the bottom that hooks the burlap and gingham bow together. This is a simple, yet pretty way to update your front door for the warmer months of the year.
37. Peace Out Cool Driftwood Beach Art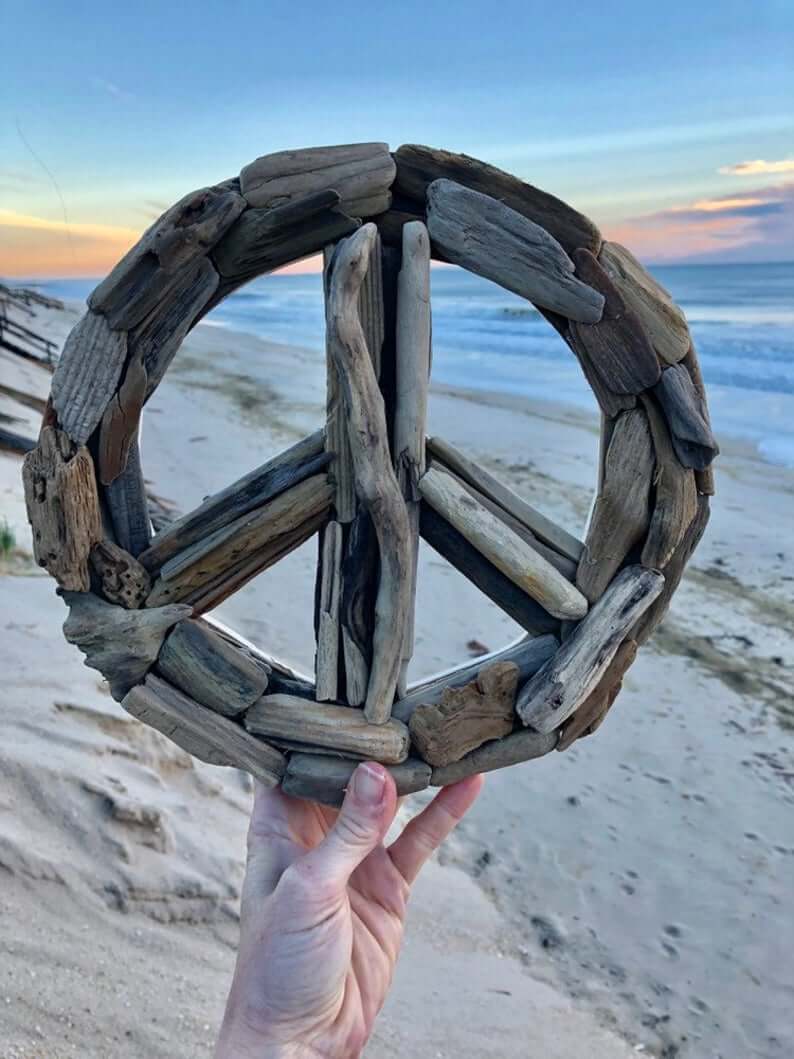 Contemplating what to do with all of that leftover driftwood sifting in the sand? Here's a cool craft idea to create a youthful vibe in your beach haven. The shape of a peace sign is easy to see as the various driftwood pieces unite in this symbolic universal design. It's a great addition to your home for a teenage bedroom or to incorporate into a large gallery wall design.
38. Vintage Beach Bus and Surf Side Sign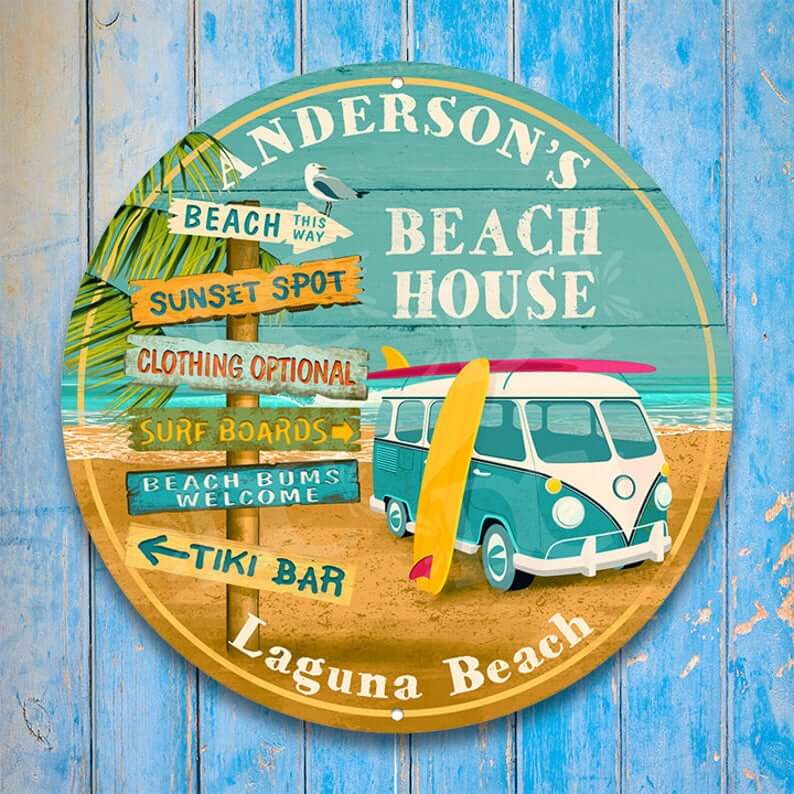 Let the salty breeze and the warm sand fill your home with all the retro summertime vibes by adding this vintage beach bus sign to your home. With a personalized label, you'll welcome guests to your own piece of heaven on earth. The circular sign really pops with its use of bright and vibrant colors that captivate the spirit of summer. On your front door or on your pool house can be two of the best places to show off this cool and hip beach house sign.
39. Personalized Tiki Bar Wooden Beach Signs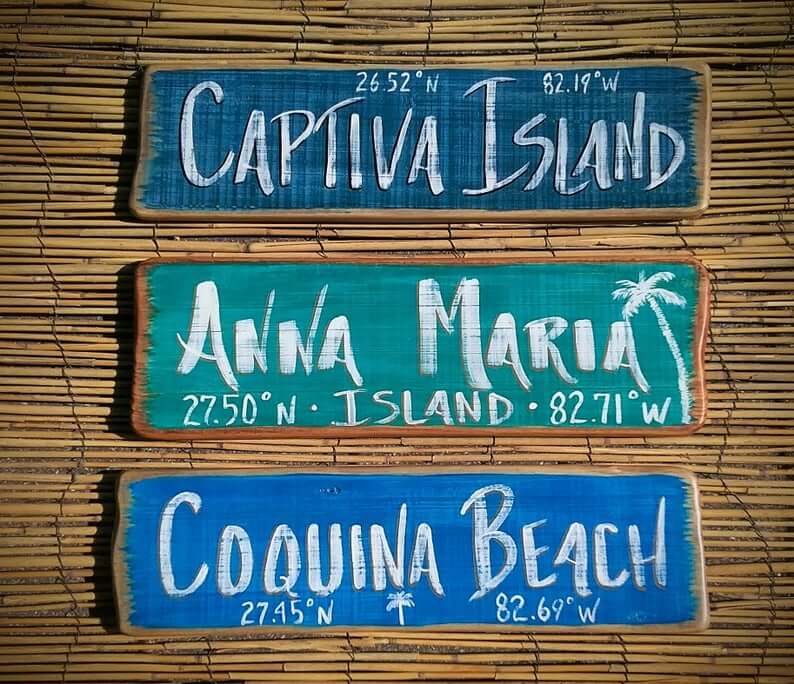 Create a unique hangout in your own backyard with these custom wooden beach signs. You are the designer when it comes to the customization of each sign that is waiting to highlight your favorite vacation destination. Complete with the name of the location as well as its GPS coordinates, the details continue to add style with the distressed finishing. Choose a background paint that reflects the true blue and green of the ocean and your white lettering will stand out. Decorate your tiki bar with these cute signs as you enjoy a refreshing beverage this summer.
40. Welcome to the Beach Vertical Porch Sign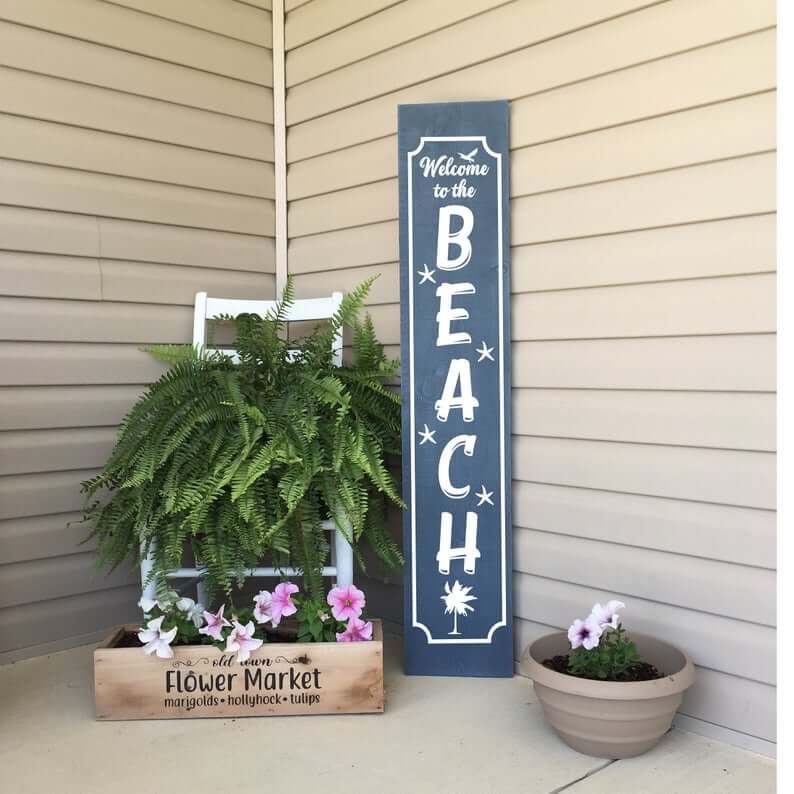 Greet your guests this summer with a sign that takes up little space, but gets the job done. This lovely blue vertical sign is just the right size to prop up in the corner of your porch or next to your front door. With white lettering, the ocean-friendly color scheme is alive and well and a few beach dwellers adorn it from seagulls to starfish. Since it takes up such little space, this would be the perfect sign to incorporate into a small seating space near your pool too.
41. Trio of Sea Treasures Distressed Wood Signs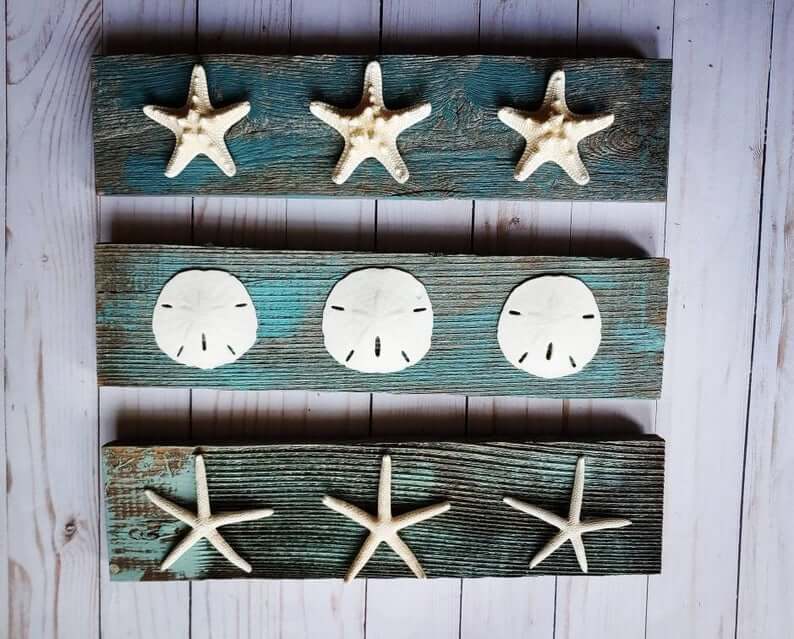 They say good things come in threes so this set of charming sea treasures must be a good thing! Each distressed wooden board features a trio of sea treasures from sand dollars to starfish. It gives this decoration some character and authentic beach flair as it takes walks on the beach to the next level by using the bounty from your sand bucket. Arrange them together as a grouping on the wall or place them separately around the room to create the look you crave.
42. Gorgeous Road to Marriage Beach Wedding Sign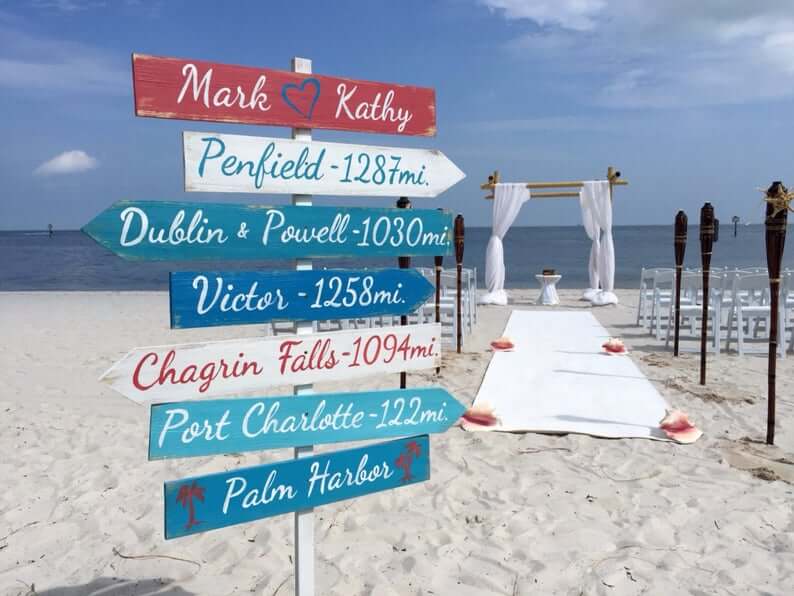 Make your beach wedding even more special with this unique and custom sign. Guests will enjoy taking note of the path traveled together by the lovely couple and the bride and groom will delight in the memories recalled along the way. You'll be pointed in the right direction to a beautiful beach-filled happily ever after with this amazing wedding decoration that will become a perfect accent piece for the couple's new home.
43. Vibrant and Rich Blue Relax Beach Sign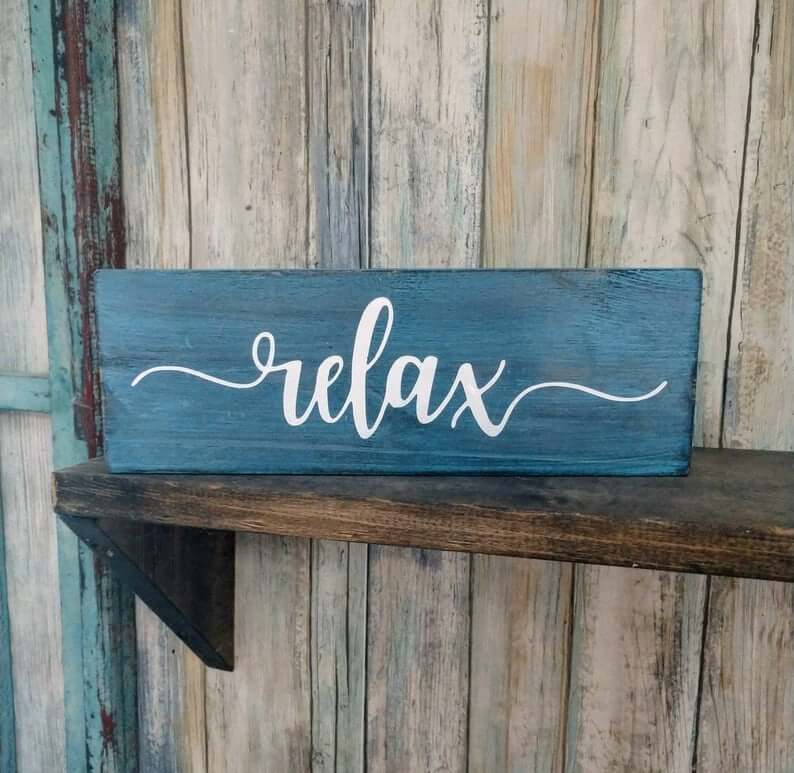 Sometimes we all need a reminder to slow down and smell the roses. This beautiful blue beach sign offers just that with its simple scripted "relax" message. Place it on the mantle or windowsill to add a bold pop of color with a contrasting and point-on reminder. This would make a perfect gift for a newly retired friend or family member.
44. Kitchen Closed Colorful Wooden Beach Sign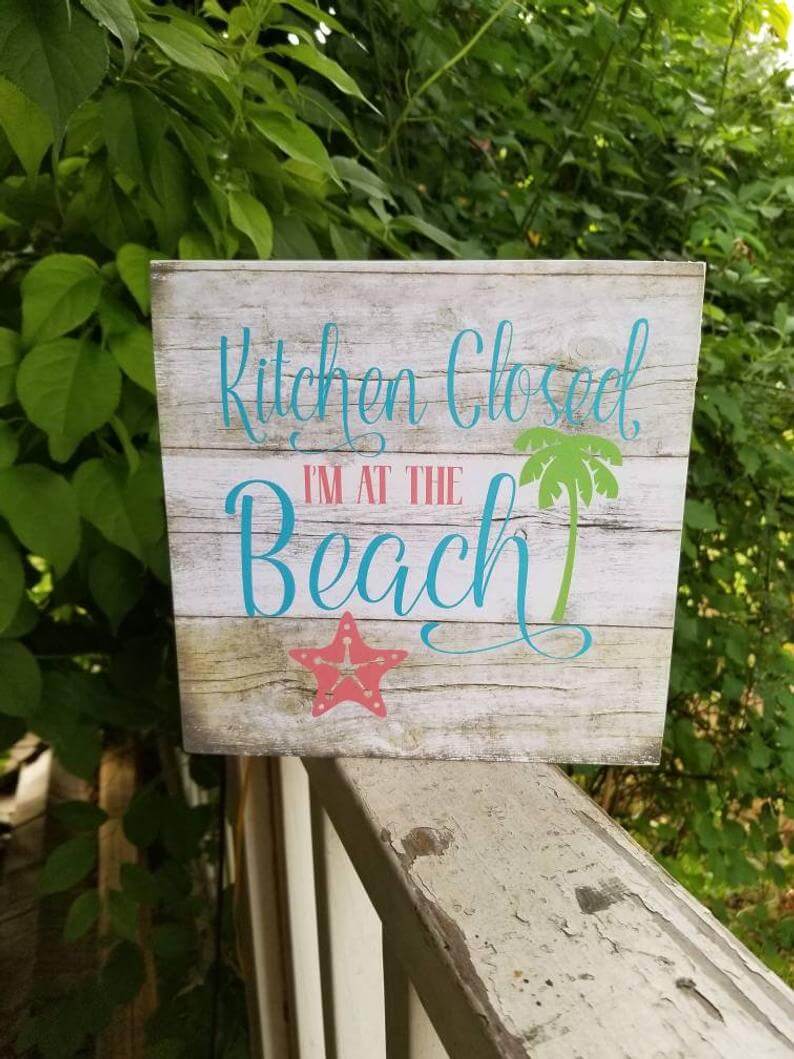 Summertime calls for slower days and a more laid-back lifestyle. For some, this begins with taking a break from kitchen duty. Help your favorite home cooking diva enjoy some time off with this colorful and fun wooden beach sign. With a palm tree and pretty starfish, the bright colors give a tropical feeling to this sign's style and design. Hang this in your kitchen, place it on the windowsill, or add it to a tiered tray for some kitchen humor this summer.
45. Rustic Metal Beach This Way Sign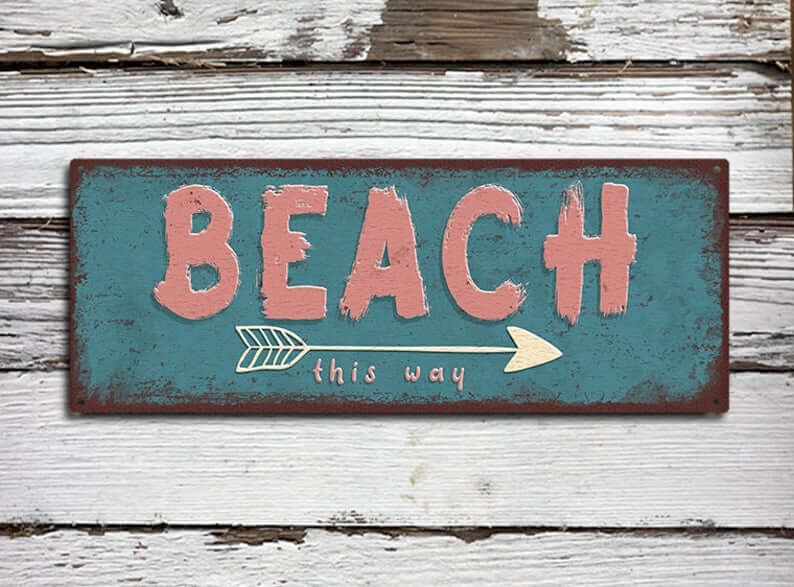 There's so much character and charm in this rustic metal sign that is perfectly contrasted by the lovely peachy pink and turquoise teal paint. It gives a vintage flair to your summer and beach-themed decor at your home or weekend getaway. The gorgeous and lovely pink tones would pair perfectly alongside some collected seashells to add the right touch for a complete look.
46. Livin' the Dream Sea Shell Sign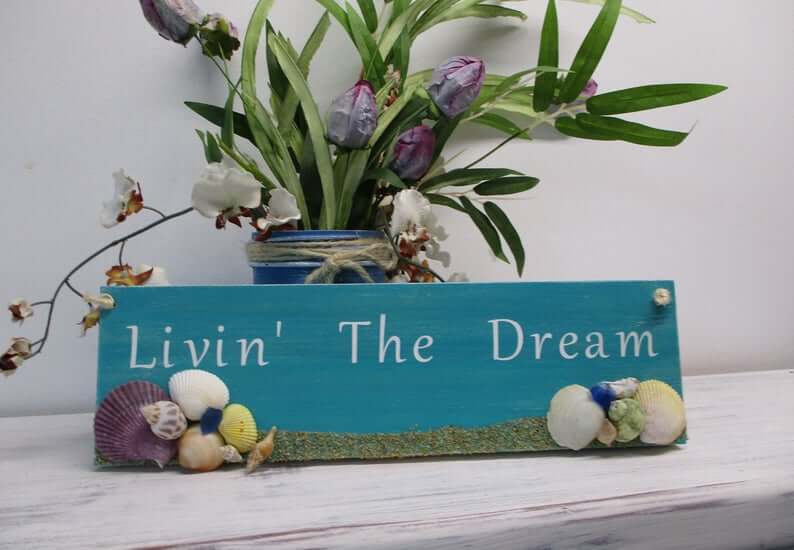 If you're wanting to add some sea inspiration to your existing decor, consider this seashell "livin' the dream" wooden sign. The bottom corners show off a nice arrangement of a small collection of seashells while the message is clearly stated across the center. Summertime never feels better than when you can kick back and relax as you enjoy the beach life of the American dream.
47. Elegantly Etched Custom Lake House Wooden Sign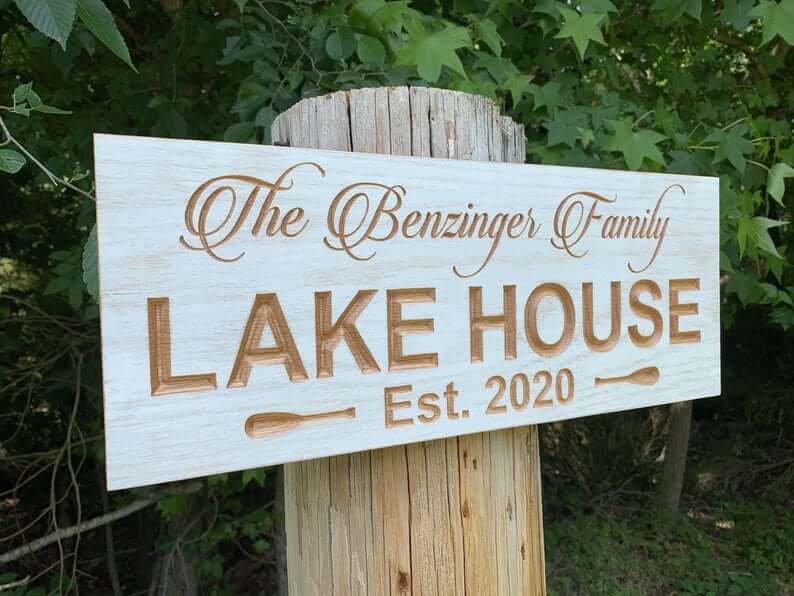 Here's a great gift idea for a new couple that enjoys all the lake life has to offer. All of the natural beauty of the wood shines through with this simply stated and elegantly designed etched wooden sign. The family name along with a date gives the right customized look to make it personal without overdoing it. Hanging next to the front door or mounted on a thick post outside would be equally pleasing ways to display this lake house sign.
48. Shiplap and Rustic Wood Beach House Sign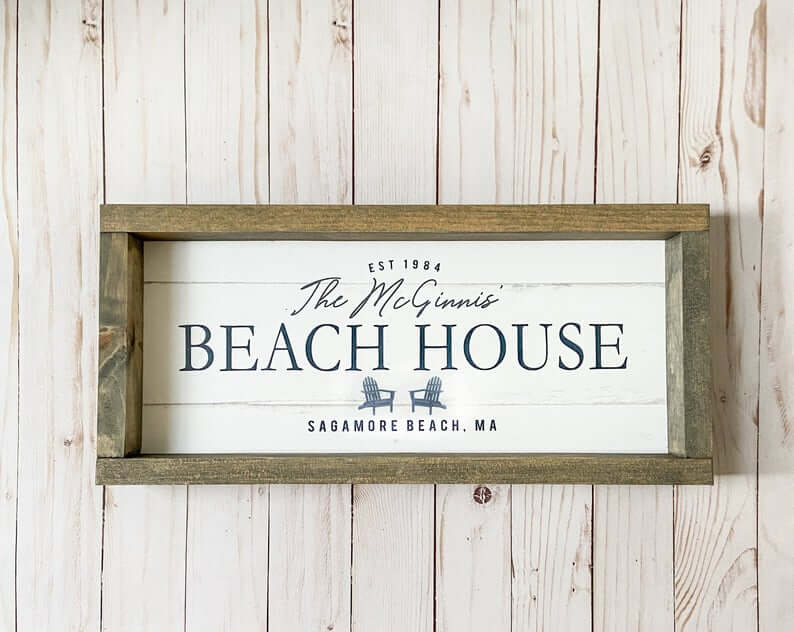 For a newly married couple or an older one renewing their vows, this casual yet stylish beach house sign makes a great gift choice! Featuring a pair of Adirondack chairs on a white shiplap background, this beach sign is customized for your favorite couple. The contrast of the rustic wooden trim further adds beauty to this beach house sign. Set it on the entryway table for everyone to enjoy.
49. Heaven's Closer Near the Ocean Wooden Sign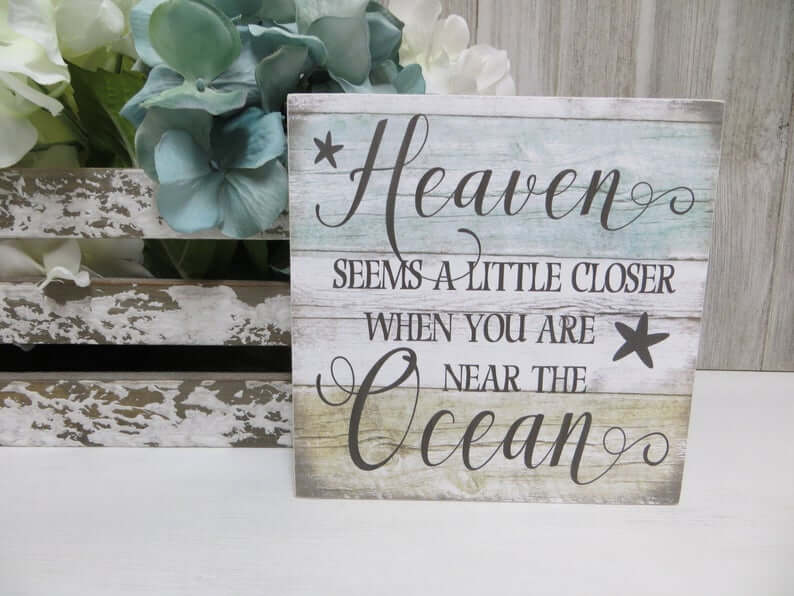 Everyone loves the feeling of being near the ocean and perhaps this is why. As the crashing waves and salty breeze fill your senses, the beauty can only be a glimpse into the soul's understanding of what Heaven will be. Share this sentiment with your dear ones by including it in your home's summertime decorating scene. Place it on a shelf in the bathroom or perch it on a small table on the back patio and you'll be happy with your quick update to your summer space.
50. Simple Stay Salty Square Sign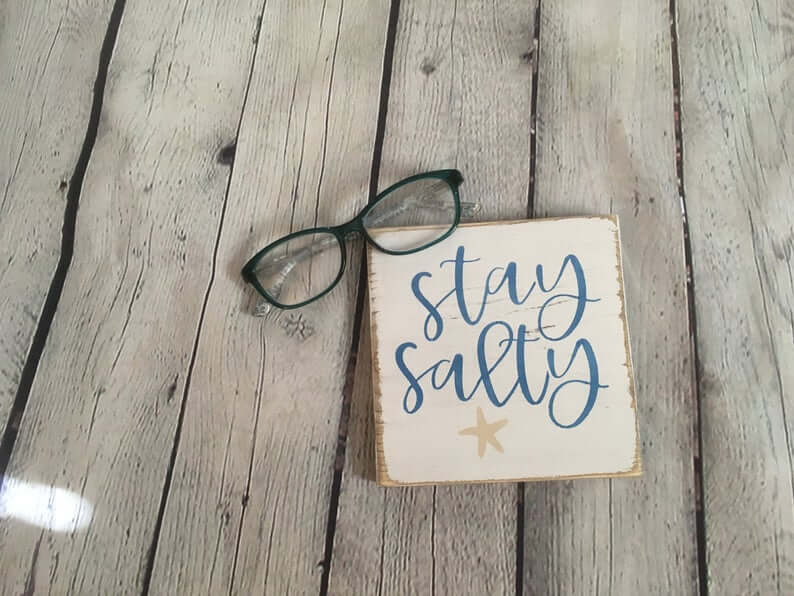 Add another small sign to your favorite tier tray display with this "stay salty" sign. Including a tiny beige starfish, this little sign is big on charm and fun. The friendly scripted lettering creates a cool atmosphere and it is sure to be a perfect fit with your existing beach-loving tiered tray display. If a tiered tray isn't your thing, add this little sign to a favorite houseplant for simple summer decoration.
51. Shabby Chic Starfish Vintage Beach House Sign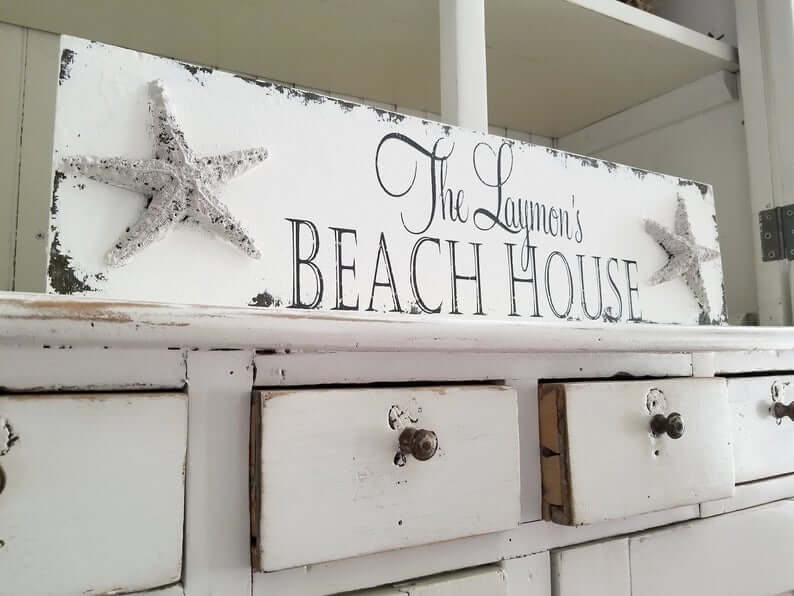 Check out this amazing vintage beach house sign that capitalizes on style. Each end features a large starfish to add a fun embellishment without looking overdone. The classic and simple lettering creates a gorgeous old-world feel including some distressing on the corners. Created in neutral white, this sign works in almost any decor from modern farmhouse to beach cottage.
52. Relax You're on Beach Time Round Sign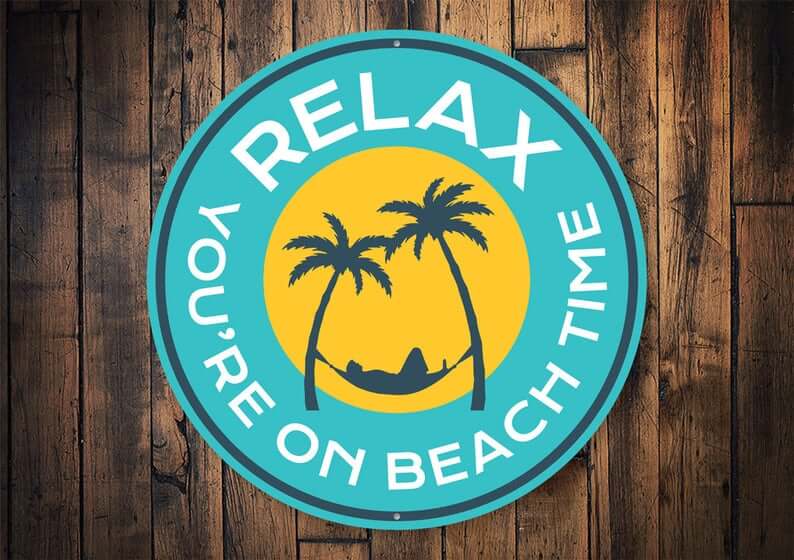 Summer's blue skies and the yellow sun come alive in this round sign. Showing off a resting image of an afternoon in the hammock, the message of relaxation is clear. It adds a bright pop of color to your backyard oasis for summer. Hang it on a nice shade tree and secure your own hammock nearby to model the proper way to relax this summer.