If you love reading design magazines and watching interior decorating shows, then you know that putting together the perfect bedroom requires careful curation. Every big bedroom makeover starts with palette selection. Our gallery of 12 bedroom color schemes will get you off to the right start.
12 Inspiring Bedroom Color Scheme Ideas to Create a Sanctuary Straight Out of Your Favorite Magazine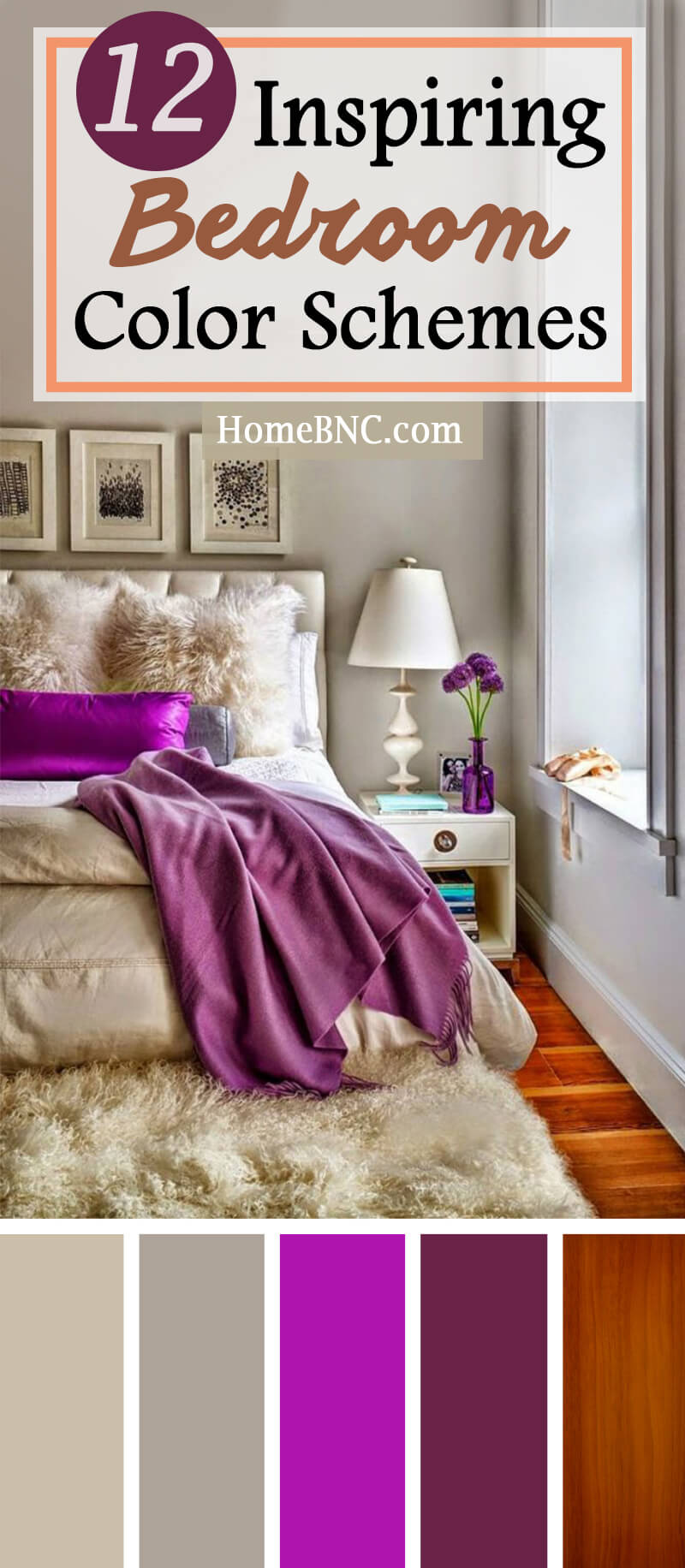 Too many amateur designers allow their beds and the rooms they're in to become detached from each other. If you already have your bed, then consider bedroom color scheme ideas that work with its stain and echo its style. To get a professional looking interior, all parts have to harmonize. Wall and flooring colors set the stage, but even the art and bedding should complement each other.
Creating a magazine-worthy look takes patience and precision, but it's worth the effort. We're glad to help by offering stylish inspiration. Note how each of the following 12 interiors is flawlessly balanced, right down to the accessories. The window dressings, lighting and even the plants are all seamlessly integrated into the overall design. By using the same light and discerning touch in your own bedroom, you'll create a sanctuary straight out of the pages of your favorite magazine.
1. Fresh and Feminine with Blush and Teal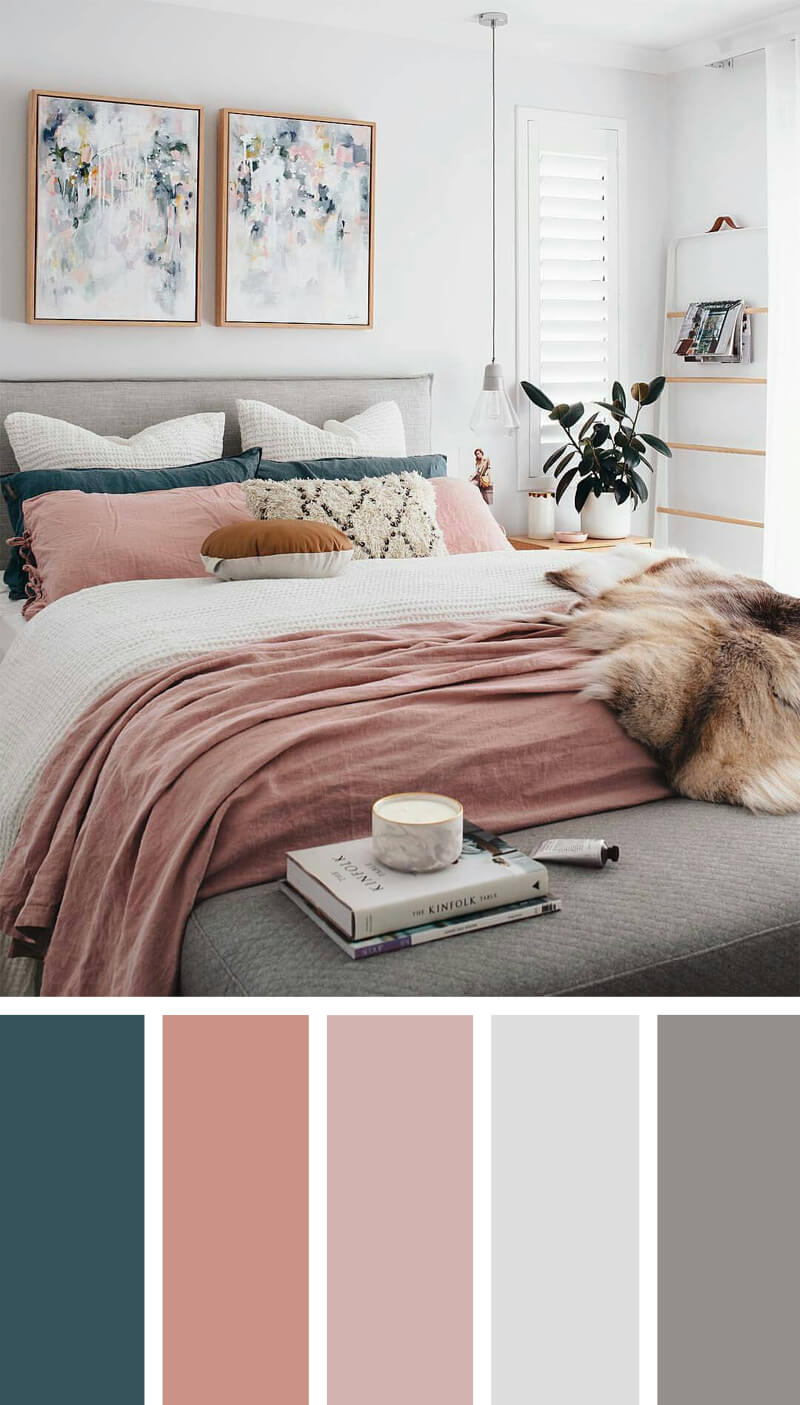 Like your favorite go-to makeup kit, this bedroom look has a little bit of everything. Pastels are set off by a pop of jewel tones on the pillows and in the art. The end result is a feminine color scheme that's warm but light. Textured accessories like a fur throw, a glossy green plant and a nubby gray bench keep this pretty bedroom from becoming too precious.
2. Perfect Nude Bedroom Color Scheme Ideas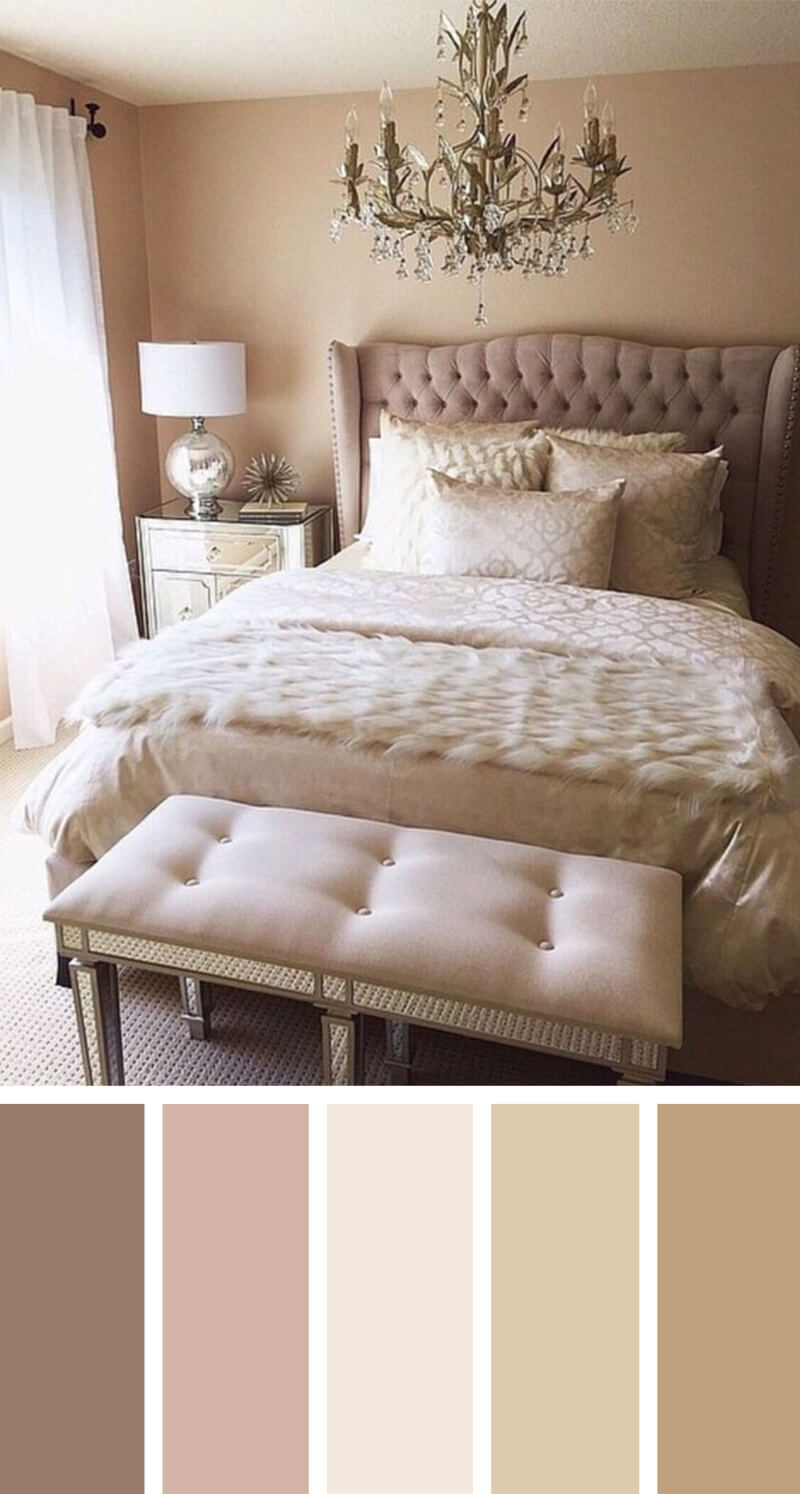 Who would think nude bedroom color scheme ideas could be so elegant? The understated nude-based palette of this bedroom allows for more dramatic choices in other areas, like the tufted upholstery, the mother-of-pearl inlaid bench and a brass chandelier dripping with prisms. Taupe and champagne look especially luxurious in fabrics like satin and brocade. By contrast, winter white practically glows on the windows and lamp shade.
3. In the Bedroom Everything Goes with Chocolate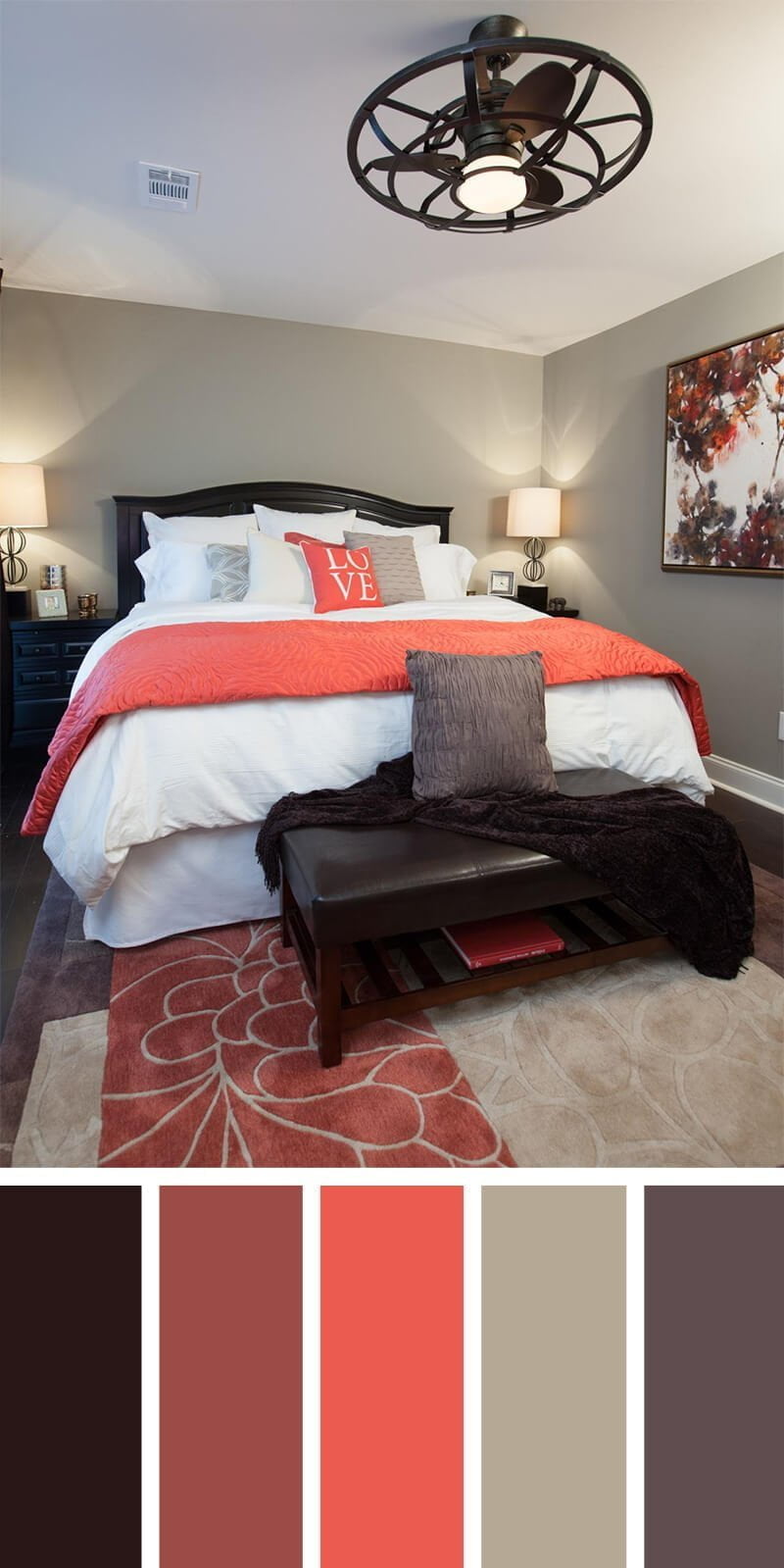 Chocolate makes a sumptuous base for any bedroom color scheme. In this interior, dark wood floors and furniture make dusky blush and salmon pink look especially vivid. Classic neutrals like gray and beige offer an appealing middle ground on the walls and floor. Chocolate reappears in textured accents like pillows and throws while carefully selected art pulls all the colors together. An industrial light fixture adds a masculine finishing touch.
4. Purple Satin and Powder Gray with Hardwood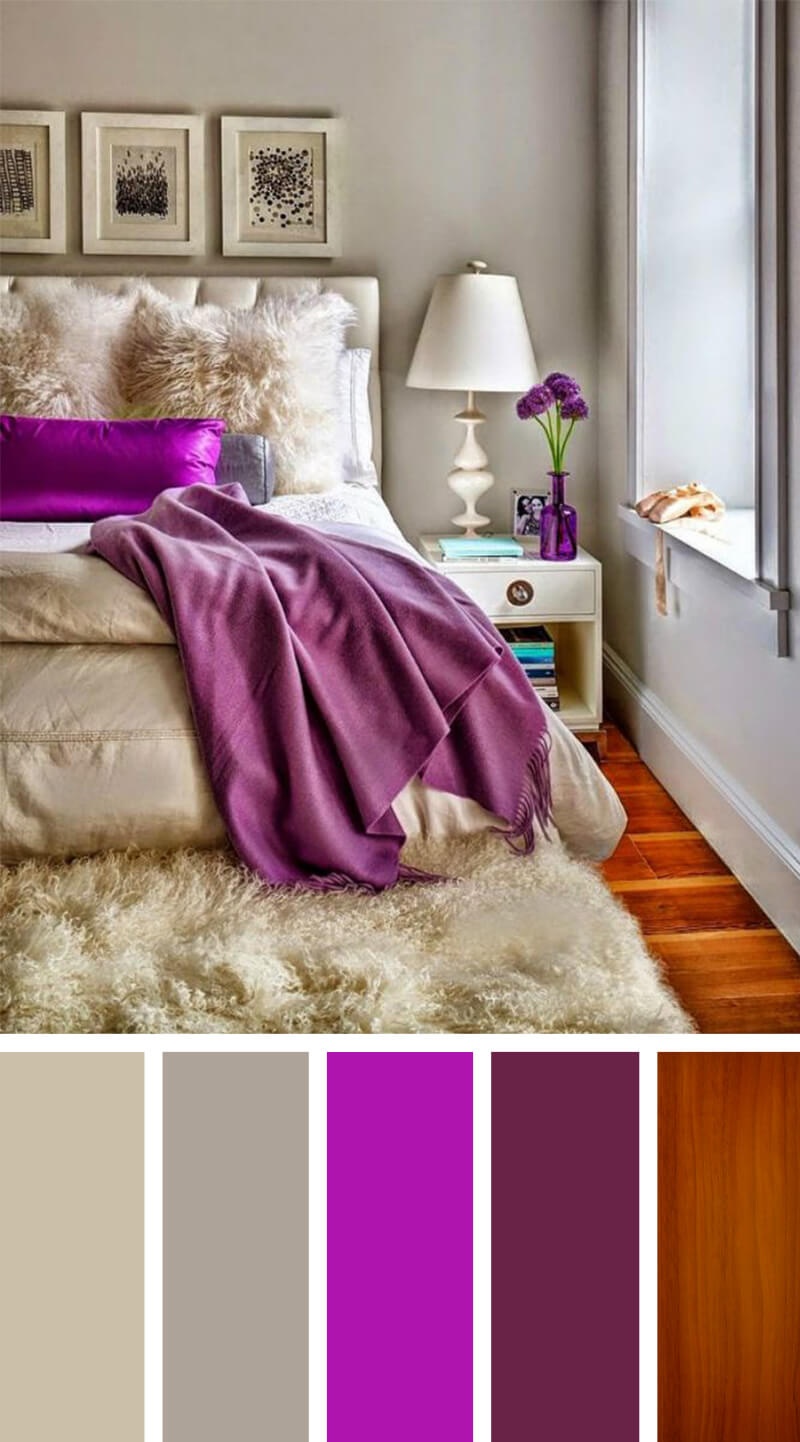 While some bedroom color scheme ideas are more subdued, this one is all about embracing rich tones and textures. Powder gray is the new white when it comes to wall colors. It really brings out the honeyed hues of the hardwood floor. Off-white looks très chic in fur and satin. A little bit of a color as strong as purple goes a long way. Slight shade differences between the sham, throw and flowers keep it from overwhelming the rest of the décor.
5. Warm Winter Navy, Gray and Goldenrod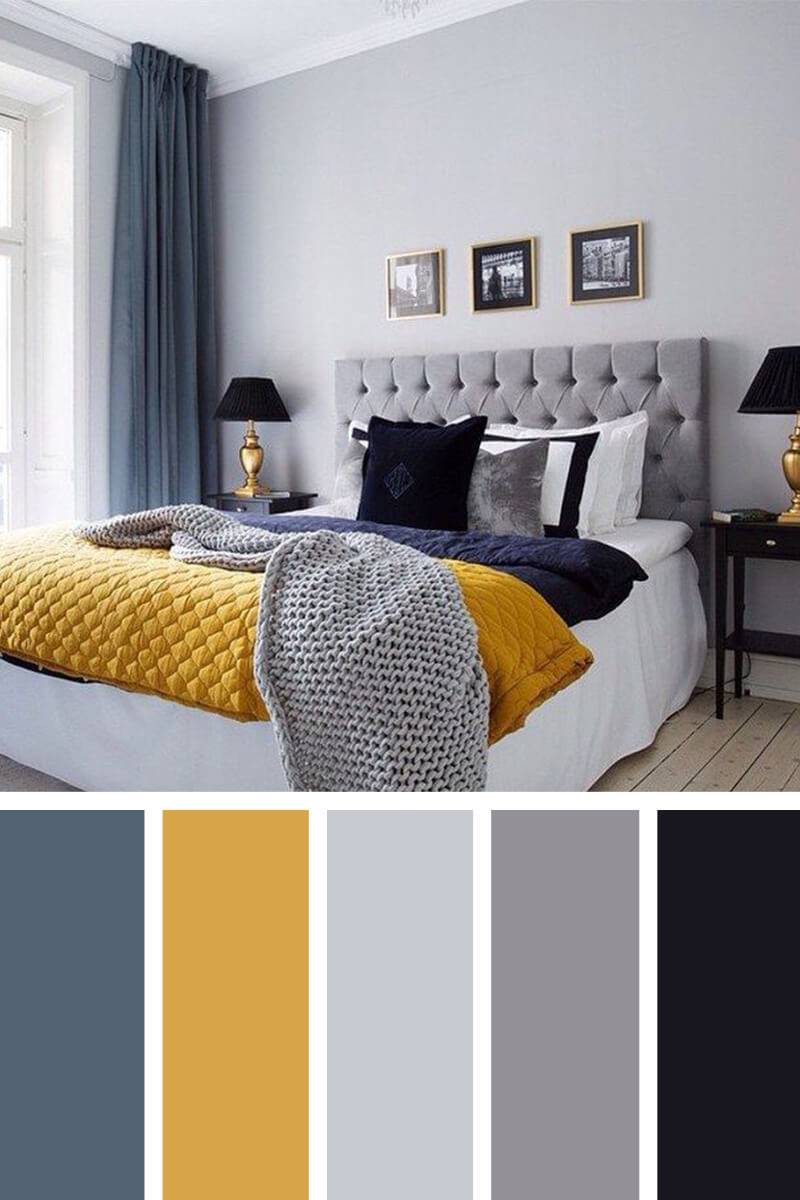 Don't be afraid to stray from the traditional bedroom pastels. As this color scheme clearly demonstrates, stormy blues and grays are relaxing without being boring. A goldenrod yellow comforter adds some much-needed color and also coordinates well with brass lighting and picture frames. While this design is cozy enough to appeal to single ladies, it's also sure to please any men in the house.
6. Modern Romance with Turquoise and Dusty Rose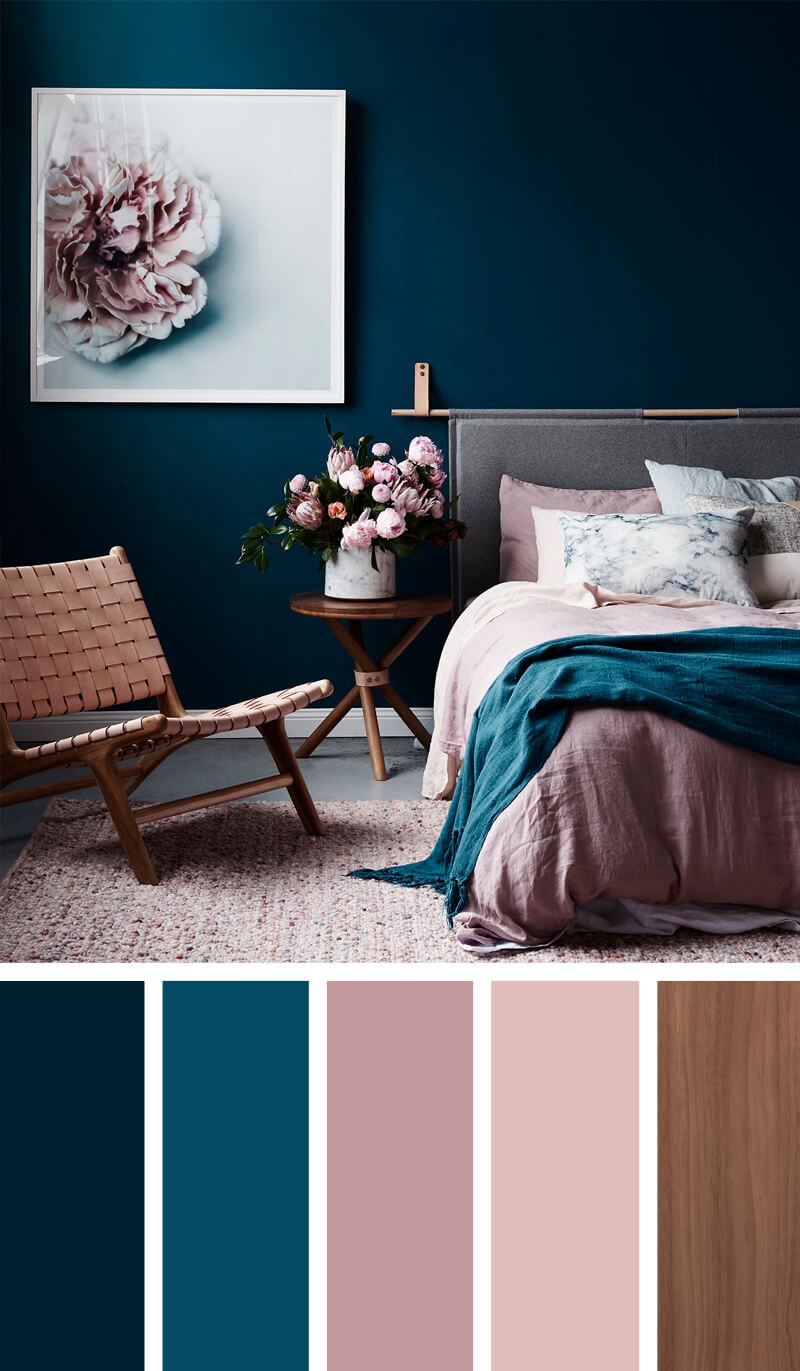 If you want a bedroom that's both bold and beautiful, then this is the decorating scheme for you. A dark teal accent wall draws the eye while soothing the mind. Dusty rose colored art, bedding and peonies offer a soft contrast that's romantic but refined. Modernist wood furniture is surprisingly at-home in this pretty palette. A turquoise throw adds texture while marbled pillows echo the steely gray of the headboard.
7. New Way to Do Pink Color Scheme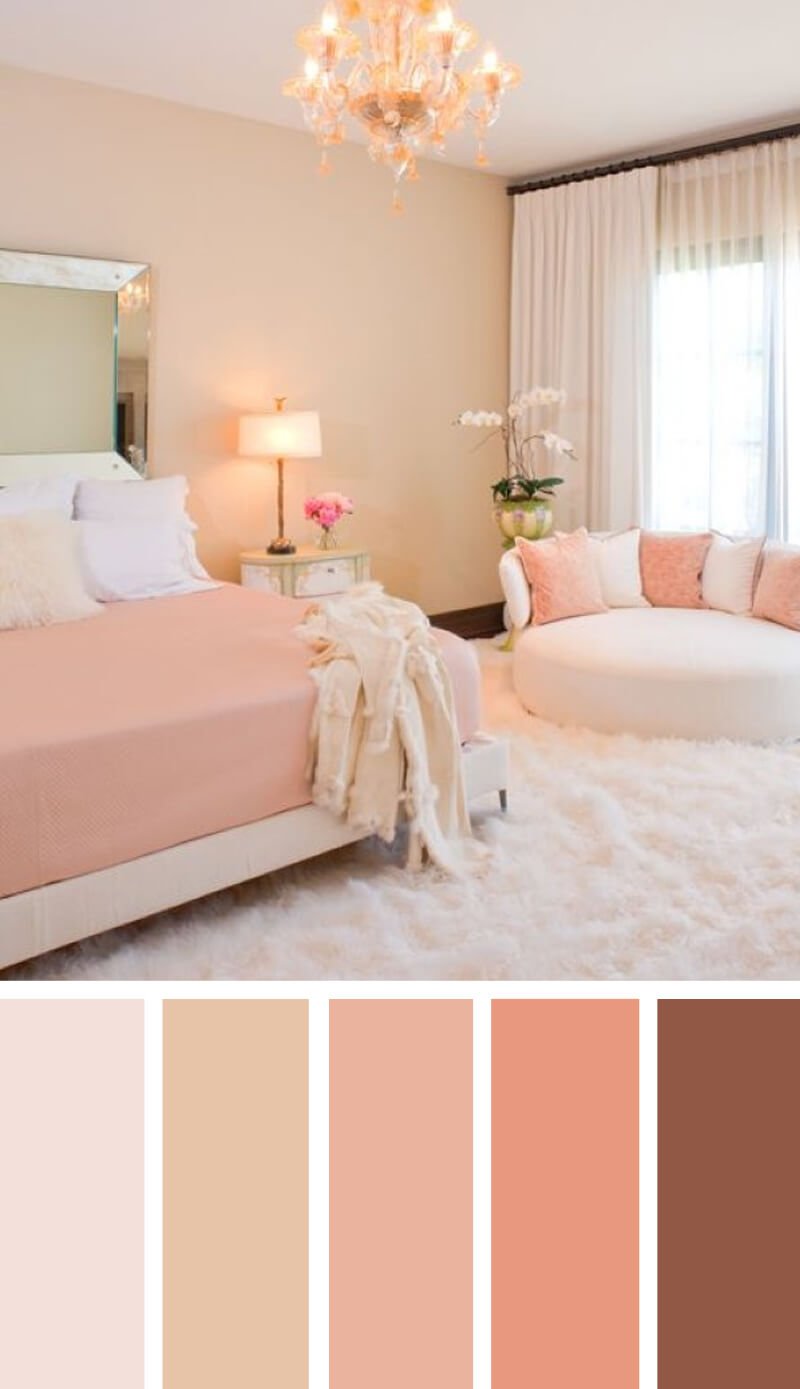 Many little girls dream of having pink princess bedrooms. Growing up doesn't have to mean letting go of pink. As this lush bedroom proves, the right pink color scheme can be very sophisticated. While this interior doesn't shy away from feminine touches, it uses the strongest shades of pink in moderation, matching the pink sheet with a few throw pillows on the coordinating loveseat but also off-setting it with large swathes of beige and white on the walls, windows and floor. Elegant lighting and a beveled mirror further elevate the design.
8. Mixing Patterns in Ash and Green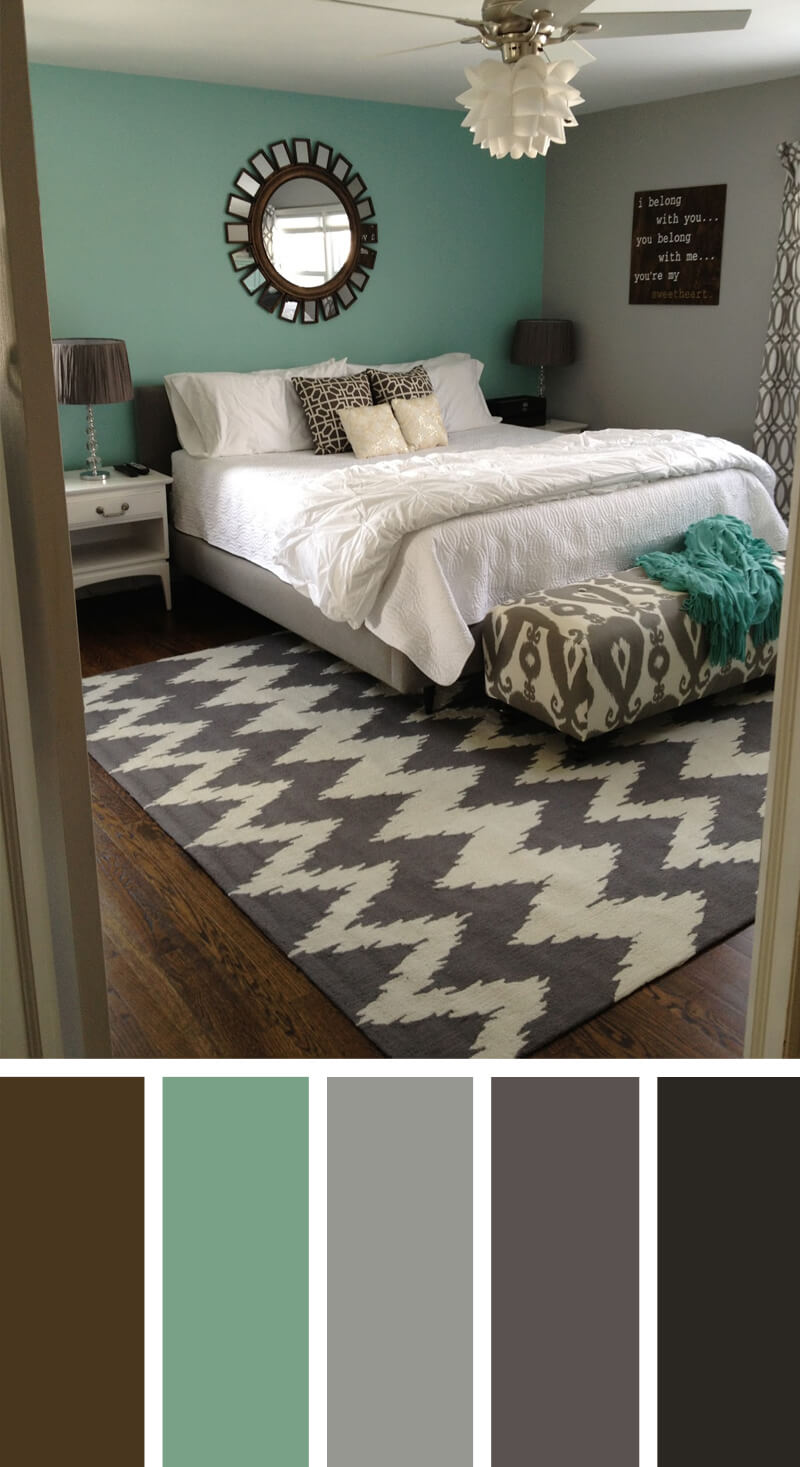 This contemporary color scheme is very couples-friendly. It also proves that the minimalist style can still be inviting. At first glance it's decidedly decluttered, but the more you look at it the more you'll love the subtle palette. The sage green accent wall gives the whole room a woodsy feel, but modern lighting and an ash-colored chevron area rug add interest. Classic white bedding downplays the pretty brocade fabric while mixed patterns bring some much-needed personality.
9. Blue Walls Dark Floors Bright Neutrals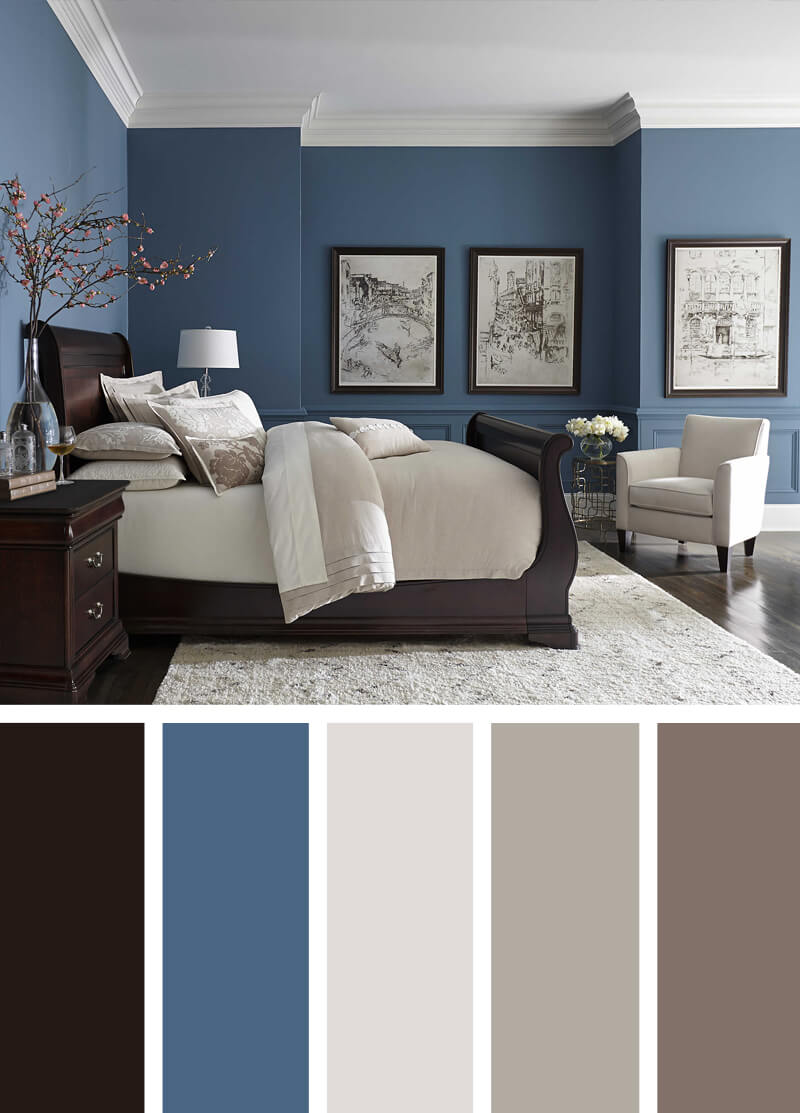 Slate blue may seem like an intimidating color choice for your bedroom walls, but as you can see it's ideal for large spaces. A bright white ceiling and crown molding ensure that the room still makes good use of natural light. The off-white upholstery, bedding and rug keep this interior looking cozy while also setting off the espresso furniture and frames. Large prints and sprawling floral arrangements create interest above eye level.
10. Decorating with Cool Mint and Metallic Accents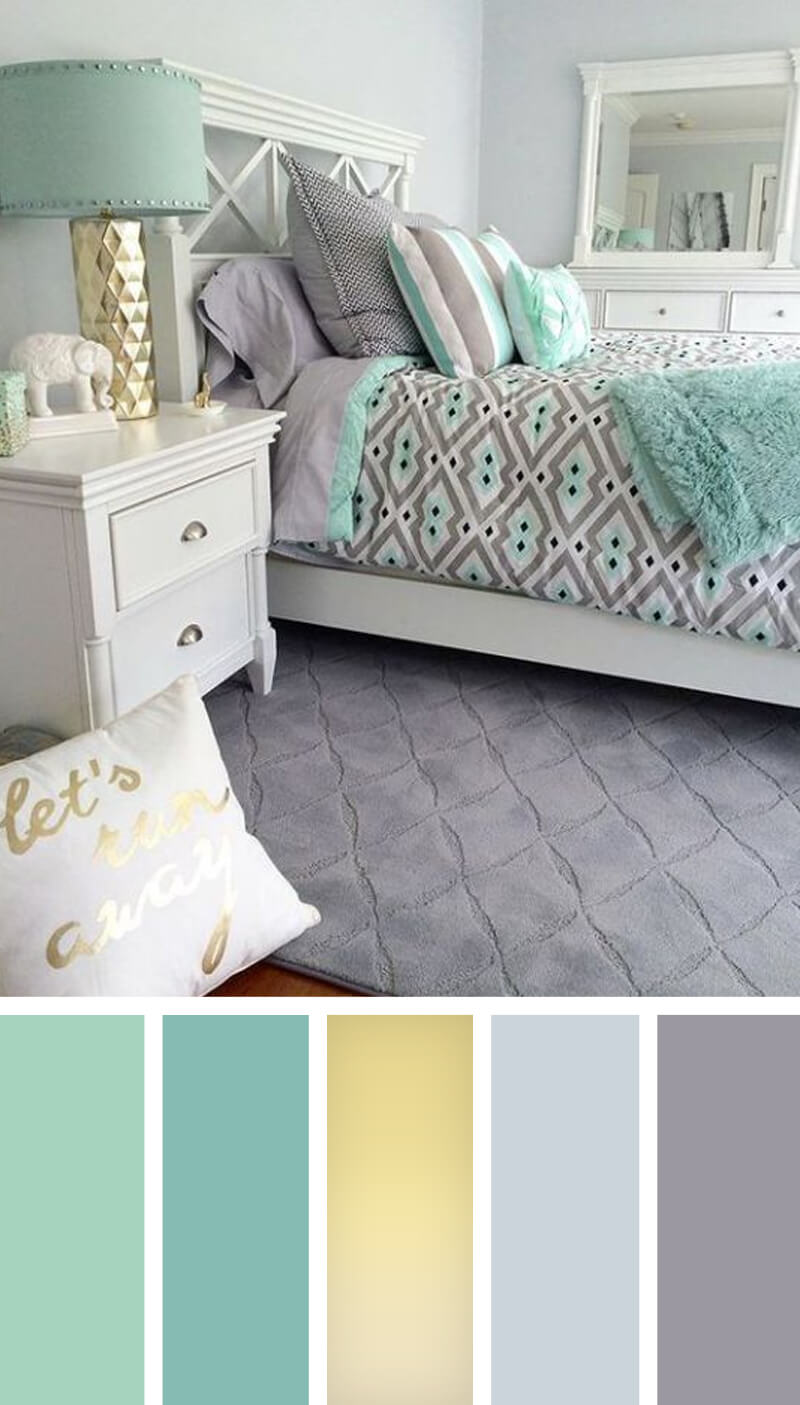 Art Deco mint meets the ubiquitous seafoam green of the 1950s to create a look that's totally modern. Pale blue walls and a textured gray area rug give the palette a serenely aquatic feel. Classic white cottage furniture is both pretty and architecturally interesting while hints of gold make it clear that this girl's room is all grown up. A restrained use of texture and patterns elevates it from catalogue to magazine spread level.
11. Elegant Silver, Plum and Lavender Palette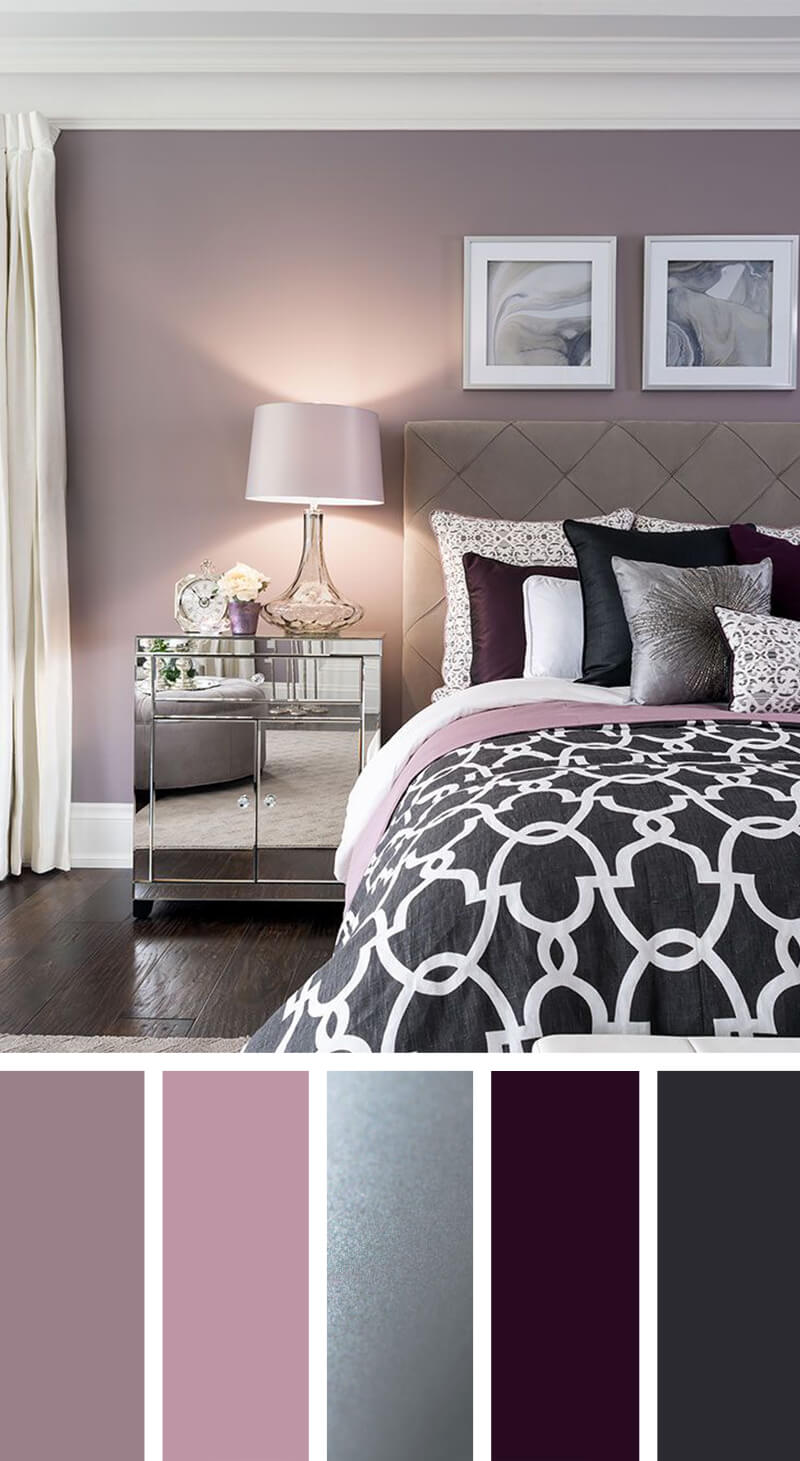 This dramatic interior design is the smoky eye of bedrooms. It features three shades of purple, from sweet lavender to sexy plum. Silver and charcoal finish out the mature color scheme while hints of white keep it from feeling too dark. A reflective nightstand further brightens the room. Mixing solids and patterns in the bedding prevents the purples from feeling too heavy-handed while also bringing the entire look together.
12. Cottage Chic Suite with Icy Pastels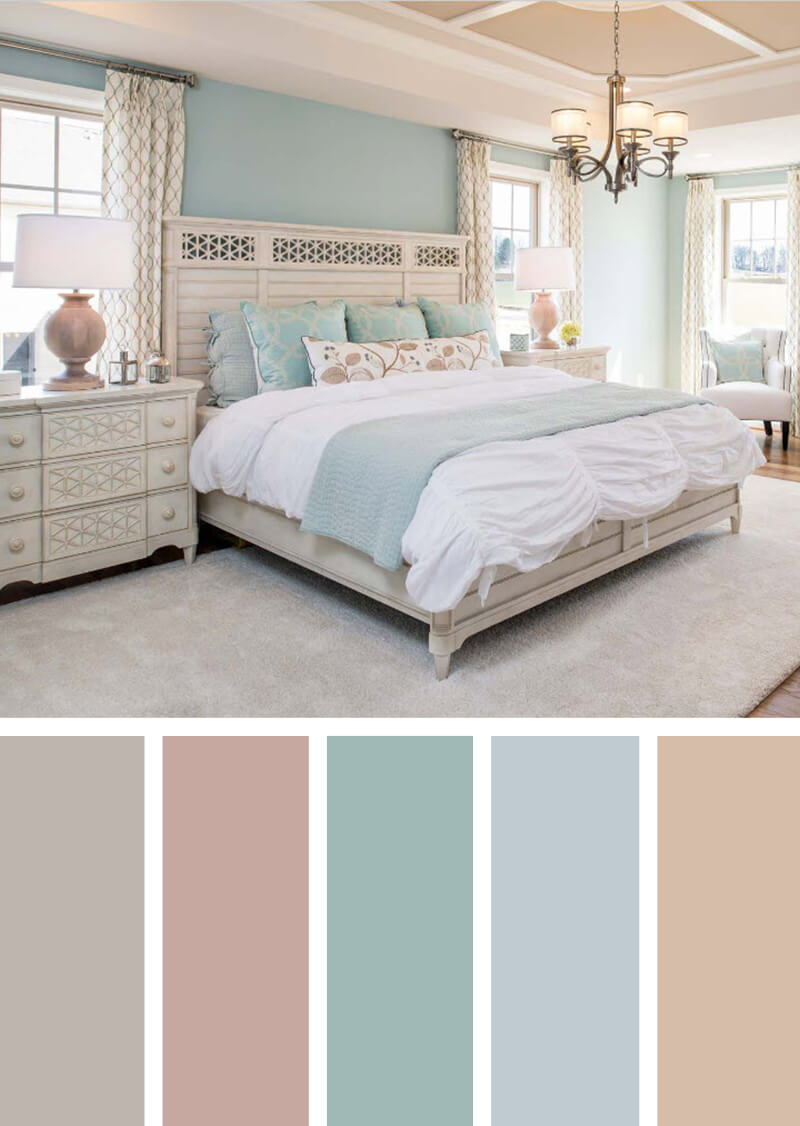 The cottage aesthetic is all the rage in decorating right now. This palette pays homage to the whimsical tone of the cottage look without feeling childish. The beige ceiling accents, white molding and baby blue walls breathe light. A deeper blue is used in the bedding while soft mauve is scattered like flower petals on patterned pillows and pottery lamps. A dove gray carpet grounds all the pastels while echoing the lived-in finish of the furniture.