The best bedside table lamps are ones that makes you smile when you see them. Your bedside lamp is the very last thing you touch before bed, and its light is the last impression you get before you fall asleep. This means that, although it may be a small thing, your lamp is actually an important part of your personality.
25 Elegant Bedside Table Lamps for Your Bedroom

With that in mind, what kind of lamp do you click off every night? Do you pull the cord on a vintage lamp with a flaxen shade? Do you touch the base of a modern lamp and cycle through a few brightness settings? Or do you flip the switch of a super stylish decorative lamp that you simply can't live without?
The lamps in this list are suited for every kind of personality and bedroom. There are ambient lights, classic lights, task lights, and decorative lights. Go for a retro-style lamp that charges your phone, or take things from a super minimalist angle with an industrial Edison design. Remember to consider the size of your nightstand; vertical lamps take up less space and are better suited to small surfaces.
You should also think about the bulb in your lamp. Check the wattage before you buy replacements; the wrong lightbulb will cause flickering and short-circuits. Wattage aside, you actually have a wide variety of lighting choices. Warm bulbs are good for ambient light, while cool white bulbs are good for studying. The Edison style bulb is meant for display; the coil is visible but gentle on your eyes. You can also buy colored bulbs that will turn any lamp into a piece of modern art.
Remember to match the metal fixtures on your lamp with other metal elements in your room. If your bedframe is bronze, choose a lamp with bronze accents. These little details will help you make a cohesive room design.
Choose the lamp that makes you fall in love. It's an important part of your daily life, and it's also a great way to brighten up your bedroom decor.
1. Playful Color Changing Bedside Lamp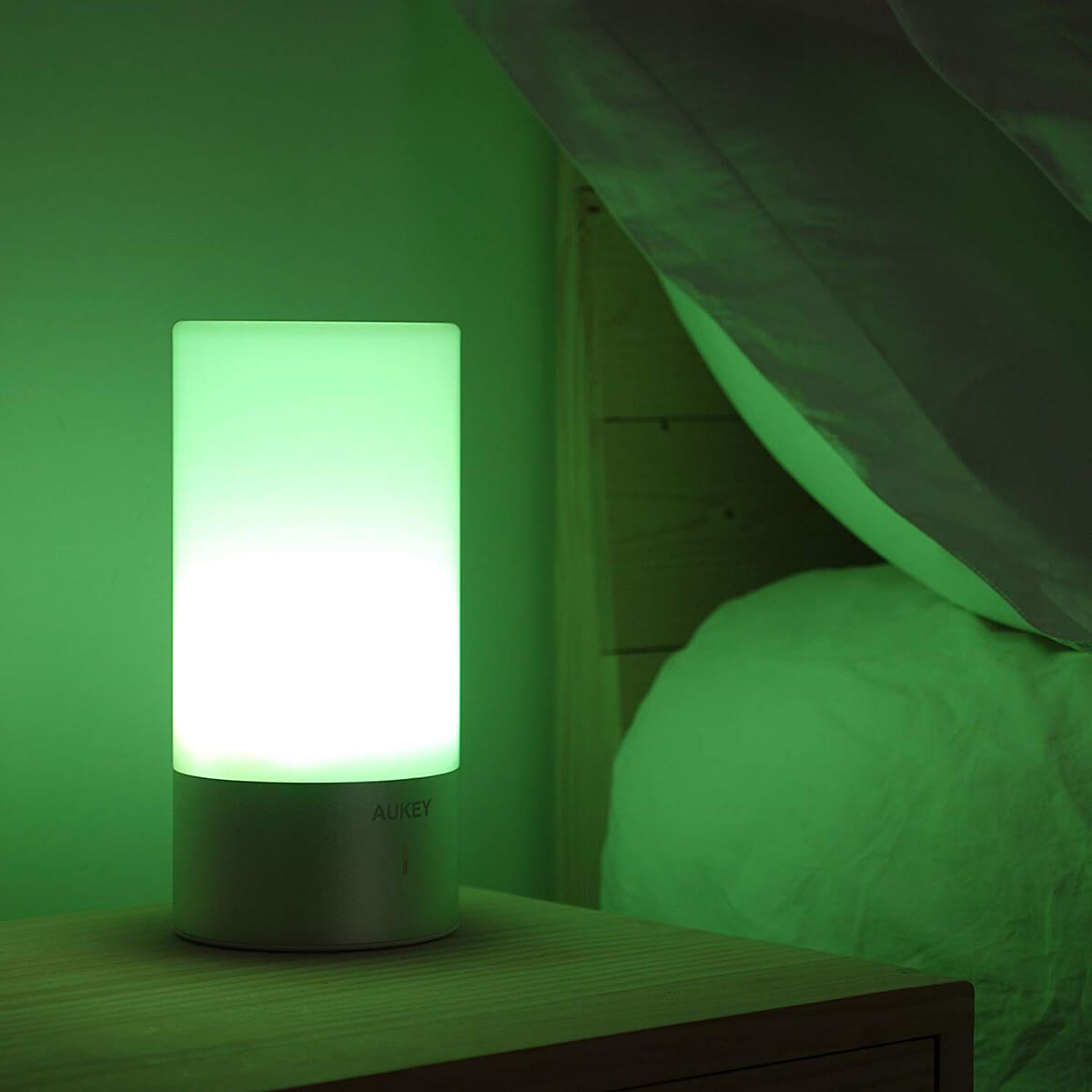 This bedside lamp lets you illuminate your room with soft and colorful light. The simple cone shape works with nearly any room design, and the light that it emits is pleasant but not overwhelming. Choose from three different light modes; you can select soft, ambient, or bright light depending on your needs. When you want to change the color or turn the light off, just tap the base. There are six different colors, but the lamp can also display any shade in between – just press the button when it cycles through a color you like. Both kids and adults will have fun with this playful design.
2. Phone Charging Classic Table Lamp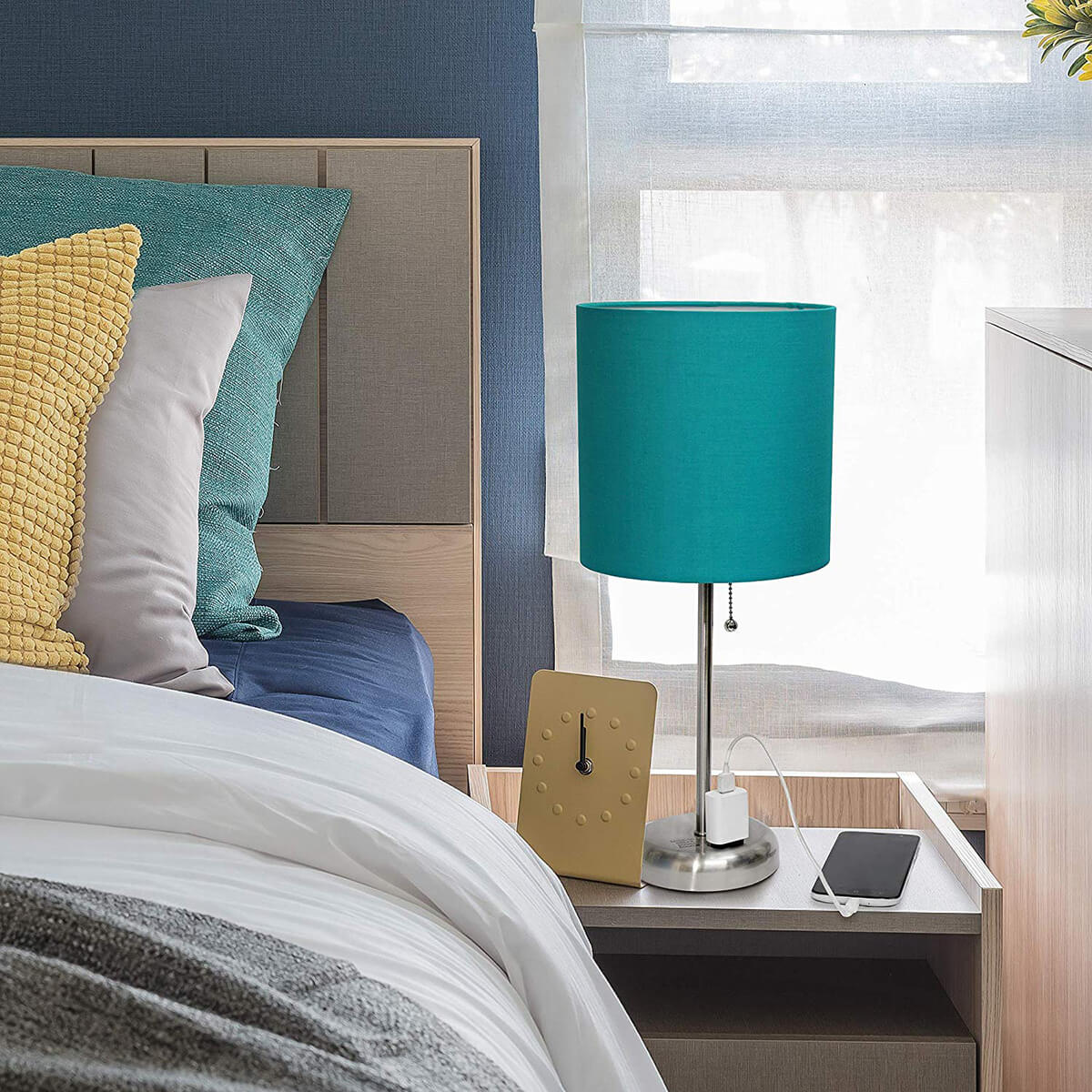 When you want a classic design with modern functionality, check out this clever table lamp. At first glance, this is just your average lamp with a fabric shade; you can choose from several different colors to match your room. But when your phone or tablet runs out of juice while you're reading an ebook in bed, you don't need to fumble for a wall charger. Instead, plug it into the clever outlet at the base of the lamp. This is one of the best bedside table lamps for a college student, avid reader, or anyone who stays up too late on the internet.
3. Chunky Leather Retro Table Lamp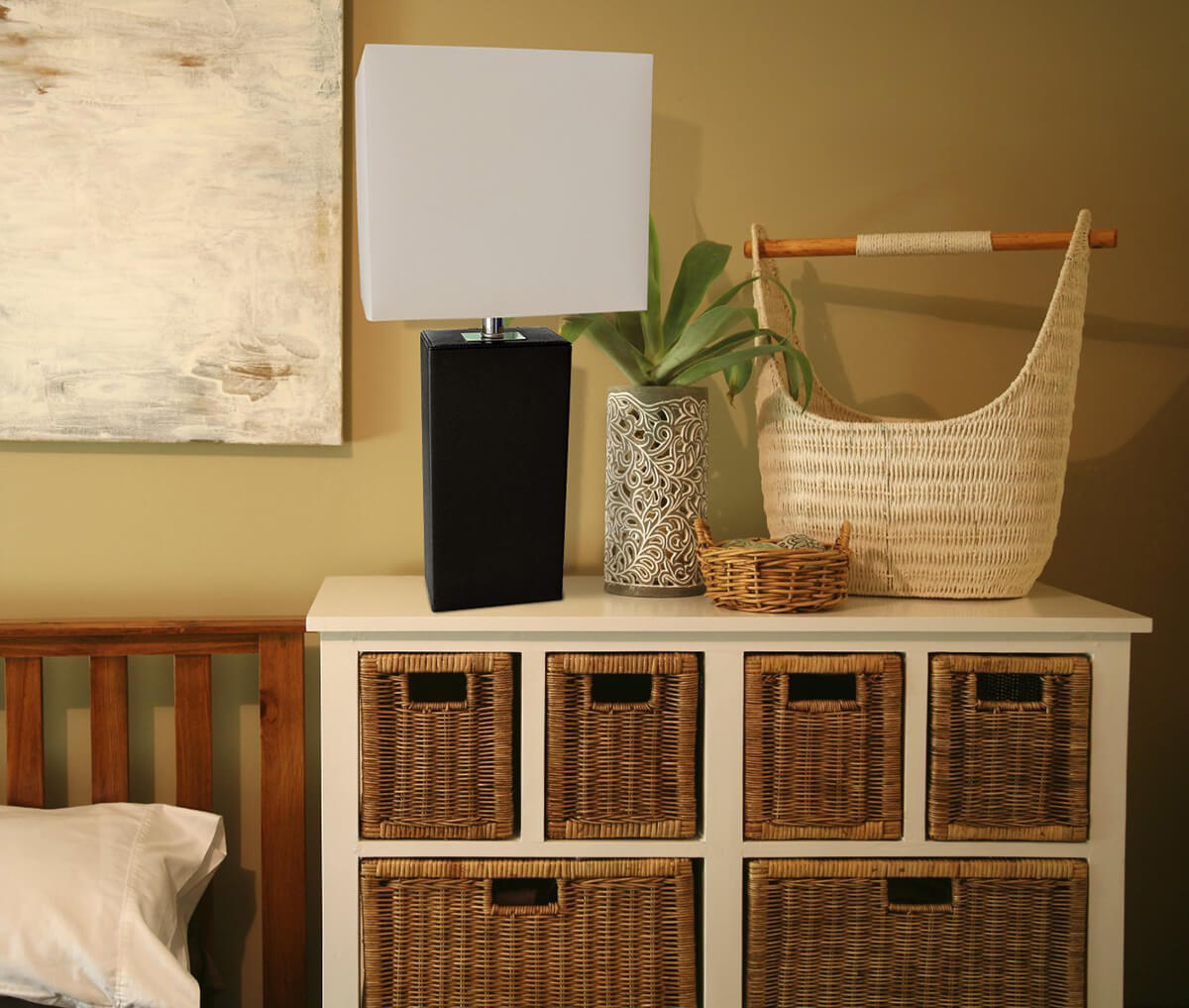 Leather couches hit the scene in the '60s, and the rest of the decade was pretty much sold on leather designs. Mix retro style and modern aesthetic with this fun and chunky lamp design. You can choose a leather base in any color you like; for a true throwback look, try the tan or the teal. A simple white fabric shade provides cool light that's perfect to read by. Match this lamp to a square table, or mix things up by placing its sharp lines on a round surface.
4. Warm and Elegant Bedside Touch Lamp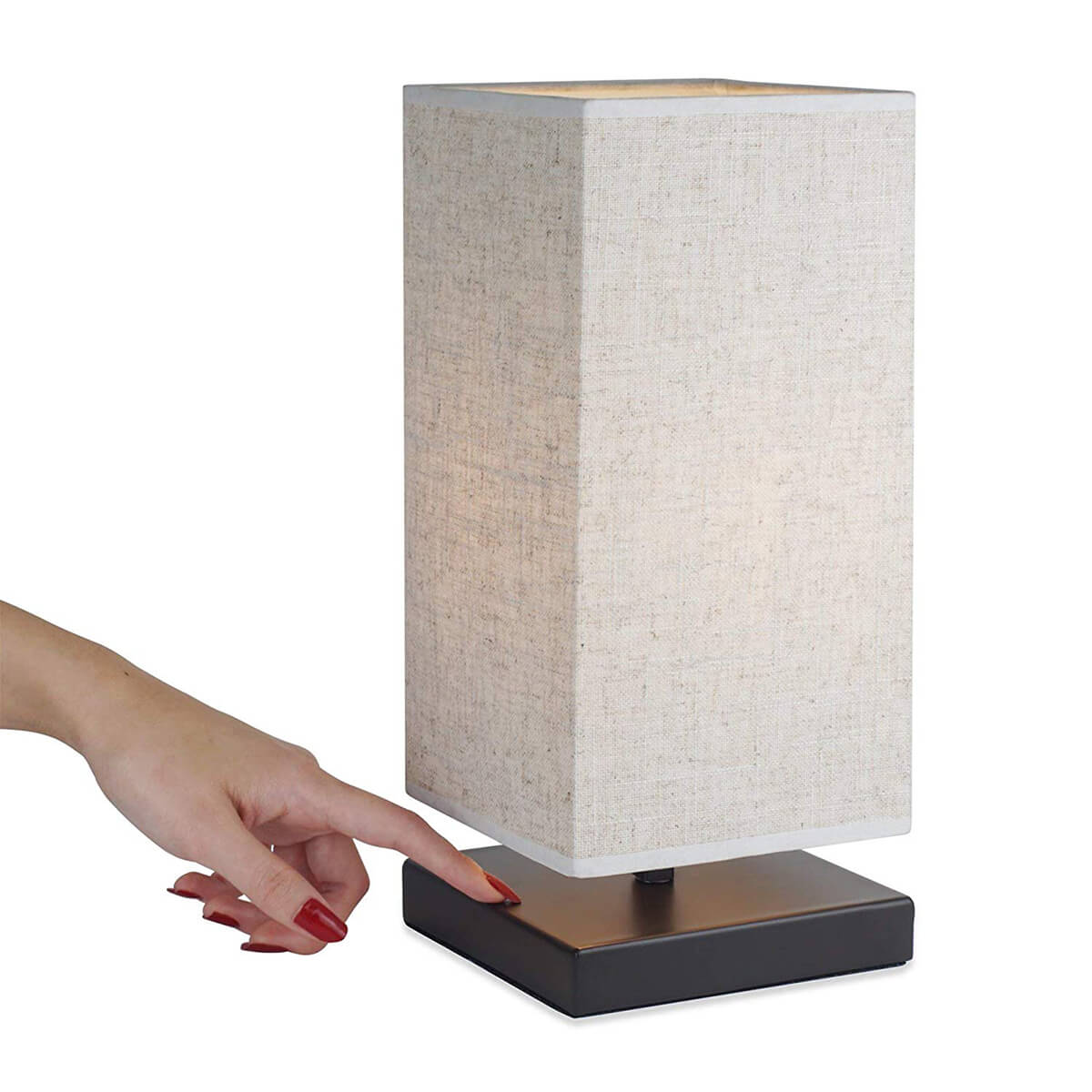 Don't fumble for the light switch when you hear a sound in the night. Instead, illuminate your room with a single tap on the base of this beautiful bedside lamp. This lamp's classic design looks great with both modern furniture and bedroom antiques. The honey-beige lamp has a large presence and a warm glow that will make any setting feel cozy; there are also a few other lampshade options available. Touch lamps are the best bedside table lamps for readers, heavy sleepers, or anyone who wants that instant-light convenience. Set down your book, tap the lamp, and fall asleep.
5. Set of Two Traditional Table Lamps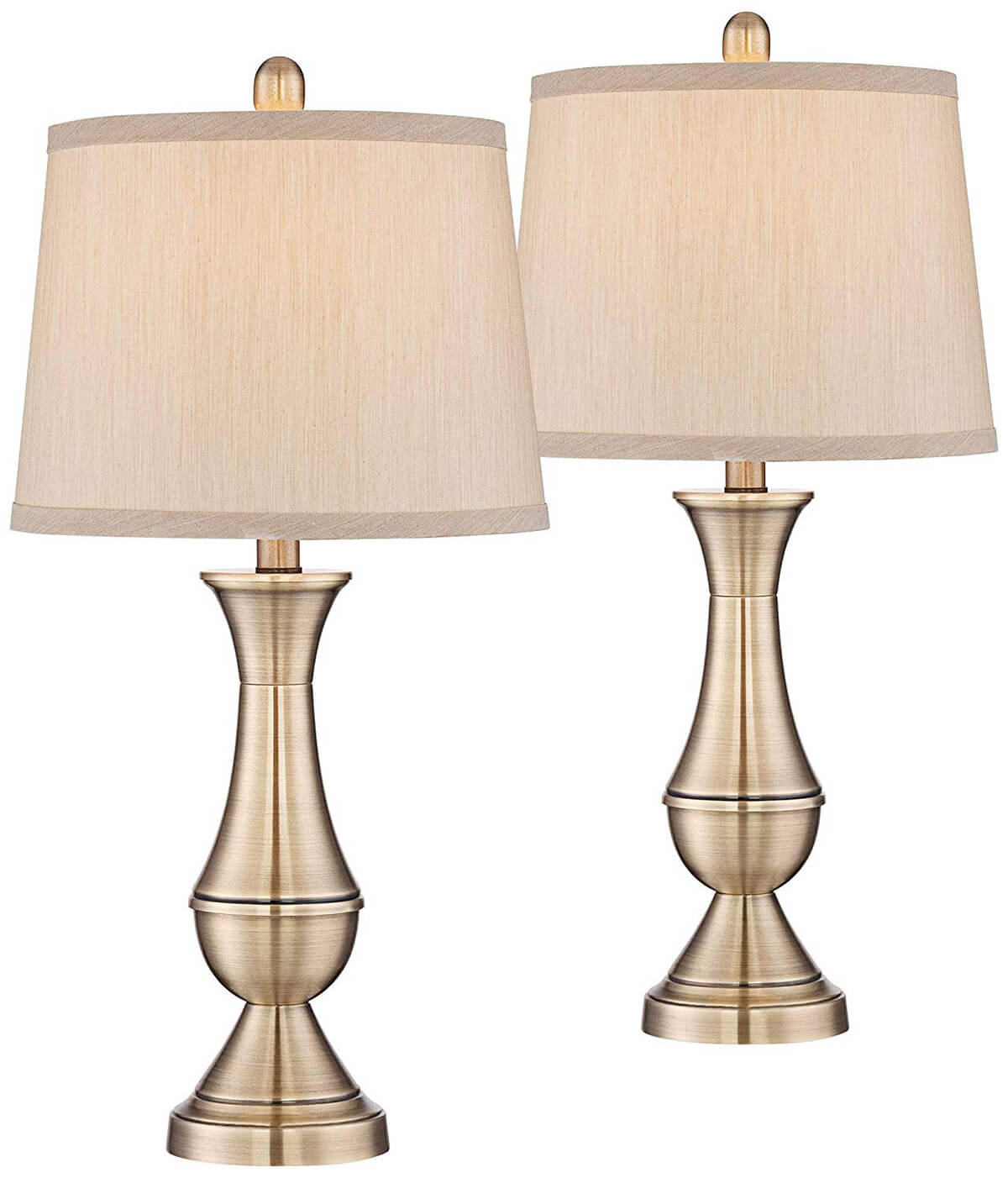 When you have two nightstands, you need two lamps. Make your bedroom look like the movies with this elegant antique design. The shiny bronze base will look perfect in a romantic or traditional room; notice the careful curve of the metalwork. The warm light is bright enough to read by and will give your bedroom a delightful nighttime glow. These lamps take regular bulbs for easy replacement, and the light switch is conveniently located next to the socket. Choose these lamps when you need comfortable nighttime illumination for two.
6. Touch Control Crystal Table Lamp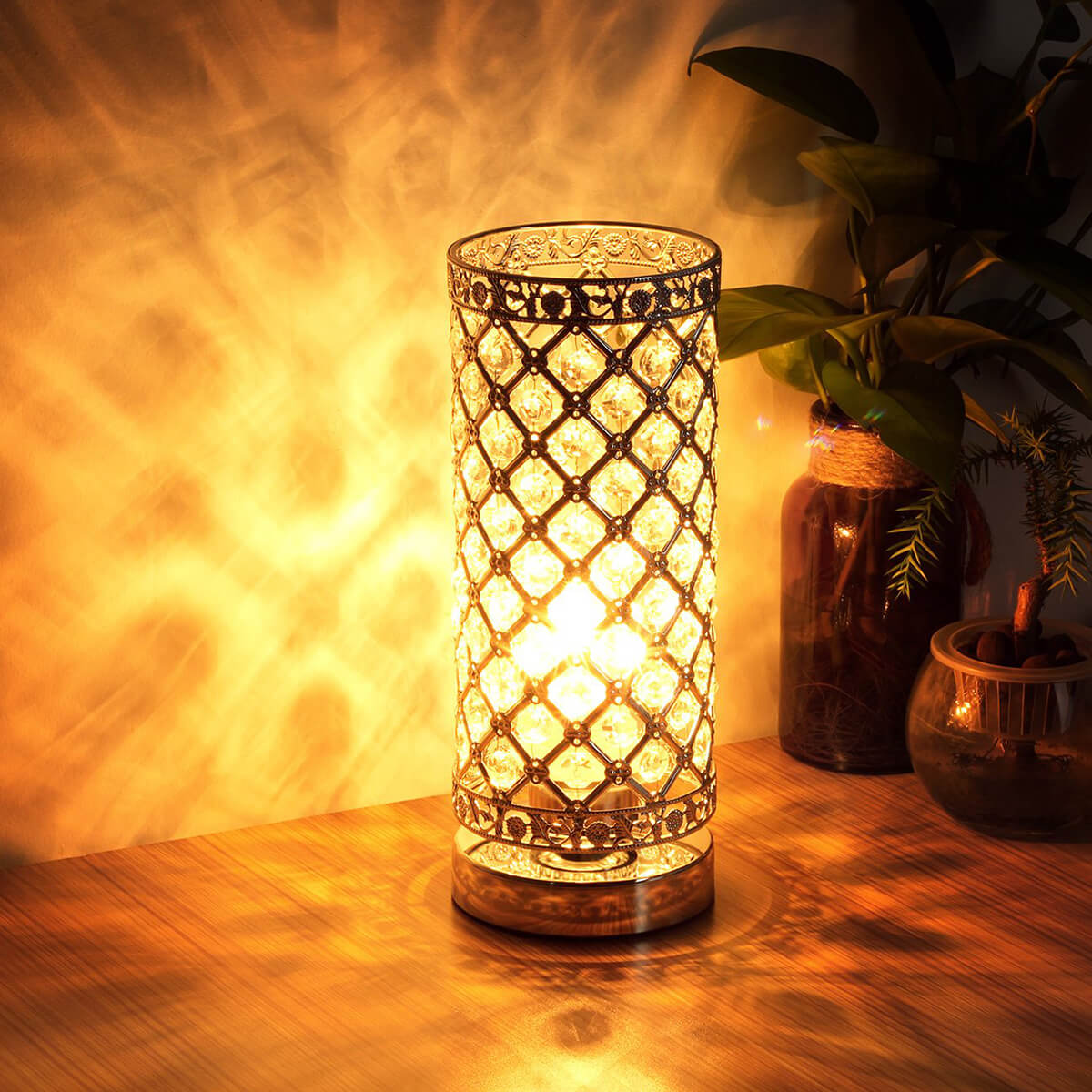 This bedside lamp creates stunning light patterns whenever it's turned on. The base is made from a combination of decorative silver metal and tiny crystal pieces that are wired into the design. Without light, it's a beautiful centerpiece that features enchanting metal florets. When you turn it on, you get warm golden light that cascades across your bedroom. One more feature makes this design almost too good to be true – it's touch-sensitive. Tap the base on and off for your own personal nighttime light show. You can choose from low, medium, or full brightness to get that perfect evening atmosphere.
7. Minimalist Touch Control Bedside Lamp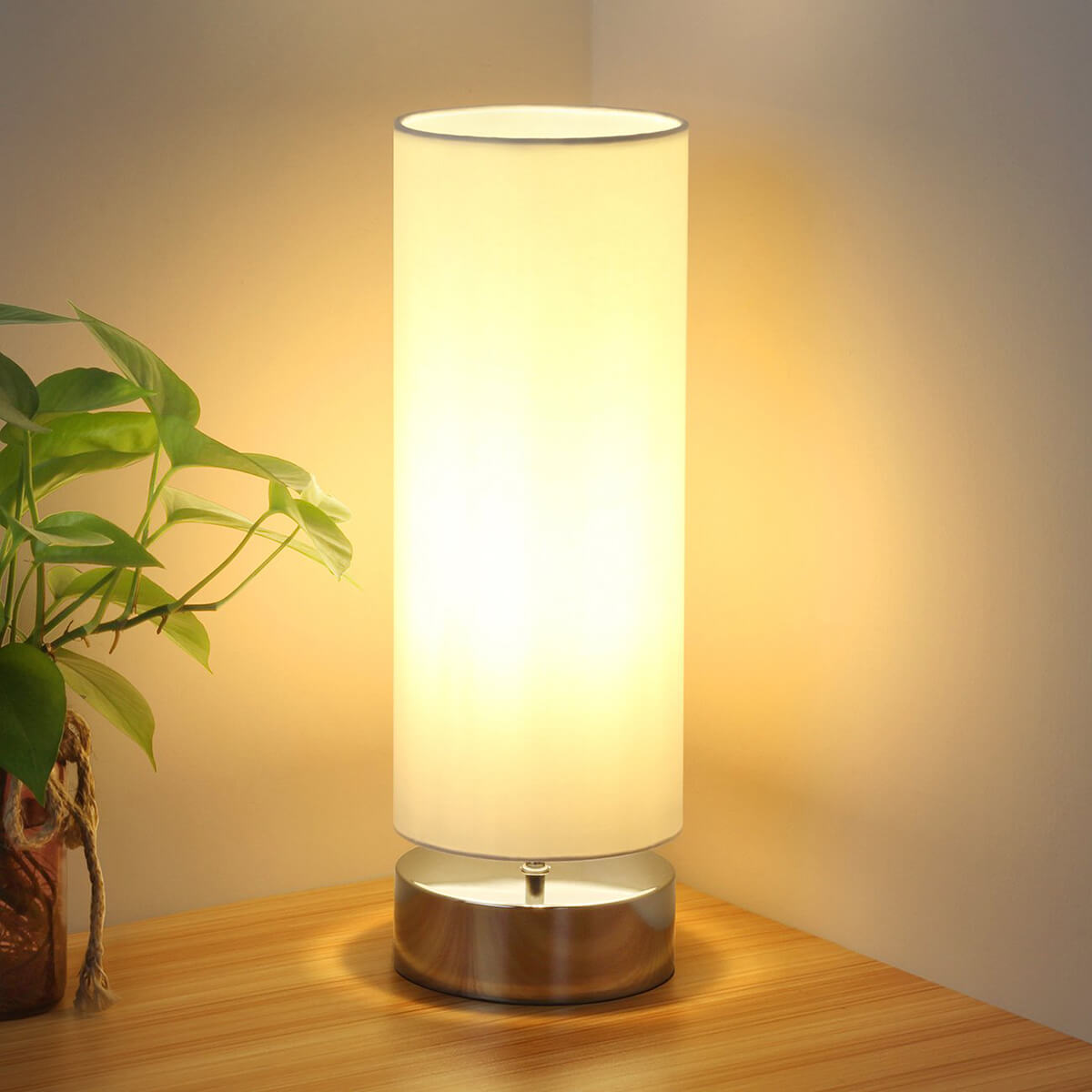 When you want touch control with none of the fluff, this minimalist lamp is exactly right for the job. A smooth cylindrical shade spreads light across the entire room. The lamp might look simple, but it actually features a classic Edison light bulb design that creates an even glow. Tap the base to explore three different dimness settings. Whether you choose full brightness or gentle ambiance, the light will be soft and never harsh. You could place this lamp on a nightstand, accent table, study desk, or really anywhere that needs more light without sacrificing space.
8. Modern Art Spiraling LED Lamp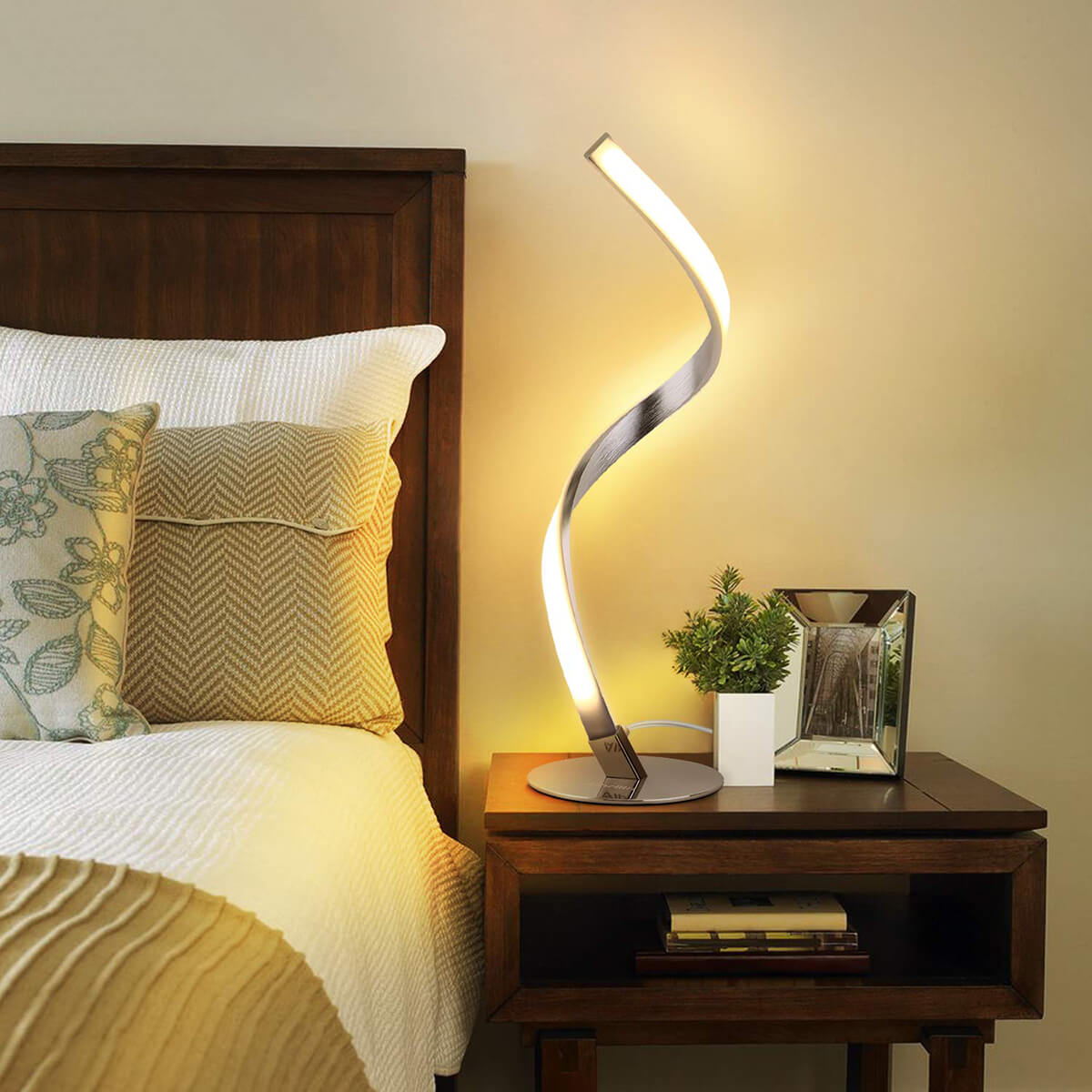 Sometimes your lamp needs to be a statement piece. Illuminate the room and spark conversation with this swirling bit of modern art. The spiral shape extends to the light pattern on the wall for a uniquely ambient effect. The LED design consumes almost no electricity and makes a great environmentally-friendly installation. The lamp is about a foot and a half tall, and its white light reaches across the entire room. This piece takes up vertical space, but it leaves the horizontal completely open. You can use the rest of your bedside table to stack books or add decorative nicknacks of your choice.
9. Funky Ambient Bedside Touch Lamp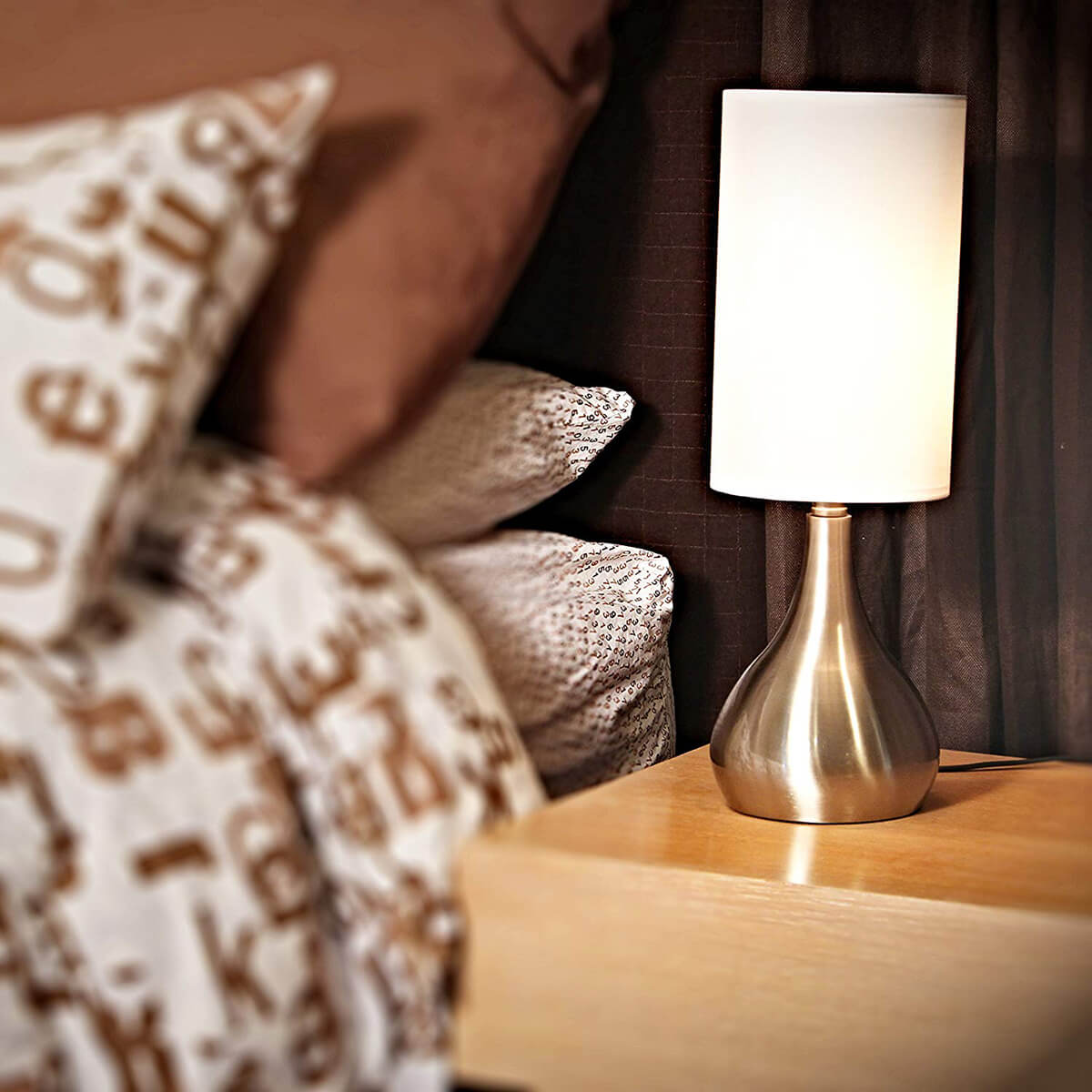 This design is quirky while still being classic. The nickel base has a nice visual weight to it; the light draws your eye downward to any decorations you might have on the table. The tall white shade casts a beautiful light over any room that it's in. Like all of the best bedside table lamps, the base is touch-sensitive. It also comes with three dimness settings for perfect bedroom ambiance. The nickel coating is completely fingerprint resistant, so no matter how many times you cycle through the settings, your lamp will stay looking squeaky clean.
10. Aquatic Blue Glass and Natural Rope Lamp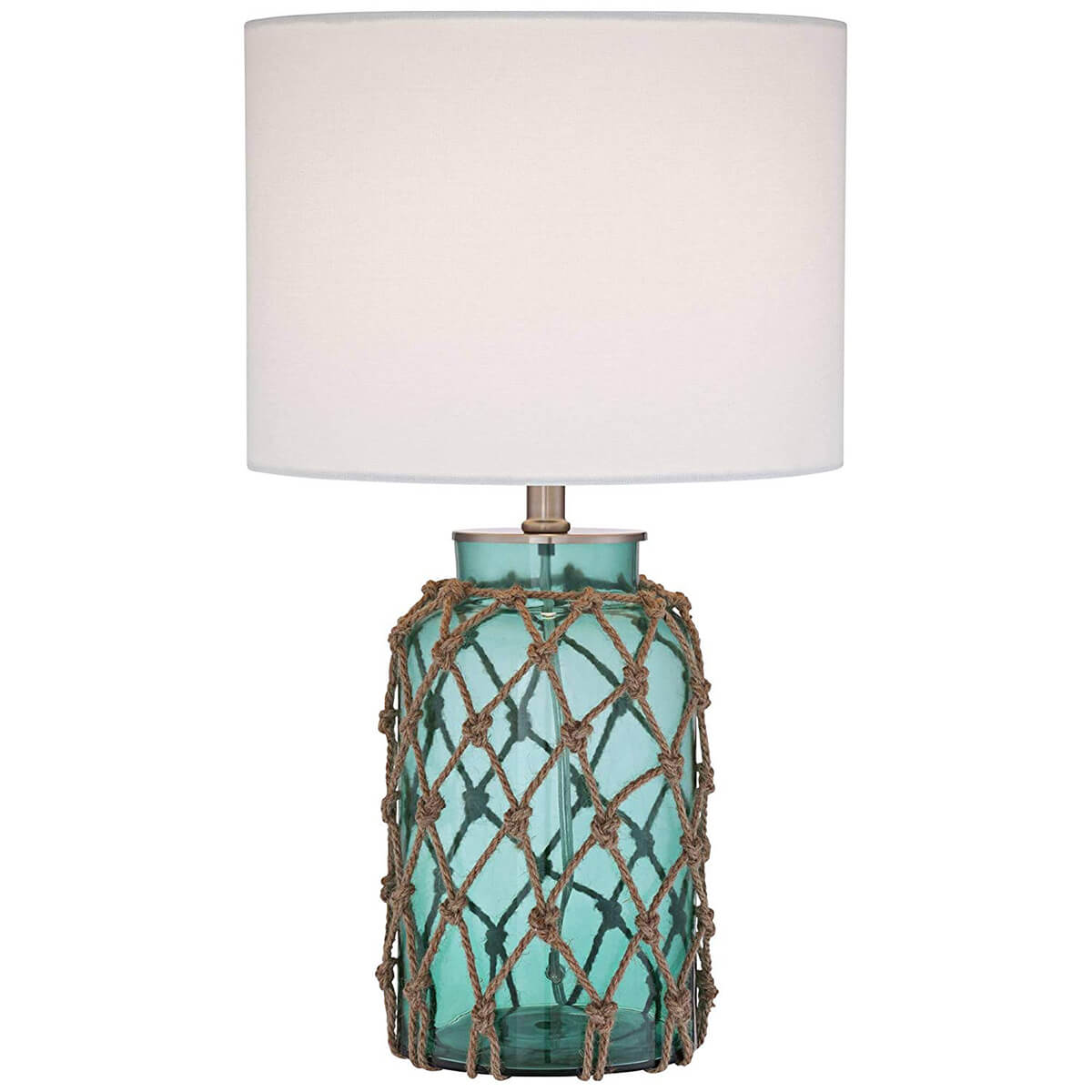 Bring a bit of the seaside to your bedroom with this charming table lamp design. The base of the lamp is made from seafoam-colored glass that has a lovely reflection when the light is on. The sturdy drum shape takes up just the right amount of visual space. A net of rough-spun twine makes the perfect accent for this coastal bedroom decoration. The lampshade is a classic true white color that is reminiscent of the sails of a ship. Work this lamp into a nautical theme, or simply think about the ocean every time you turn out the lights.
11. Warm Rectangular Lamp with Flaxen Shade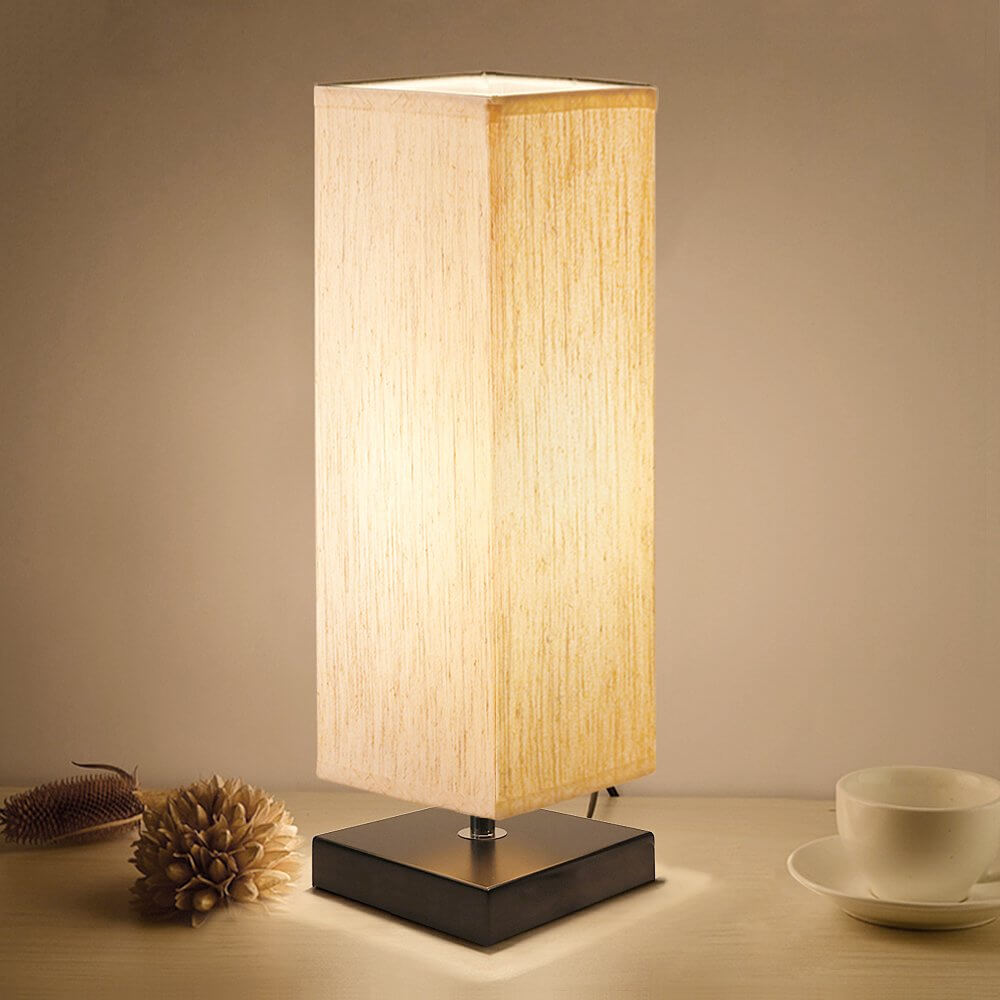 Some rooms just need a comforting glow that can only be produced by the right lampshade. The flaxen shade on this rectangular lamp provides soft, gentle light that works in nearly any setting. The small black base is made from real wood and will look great next to your existing furniture. The sleek vertical shape of this lamp fits well into tight spaces; you could place it on a mantle shelf, the top of a dresser, or a small accent table. Try working this piece into a guestroom or a warm yet modern bedroom design.
12. Fun and Colorful Adjustable Task Light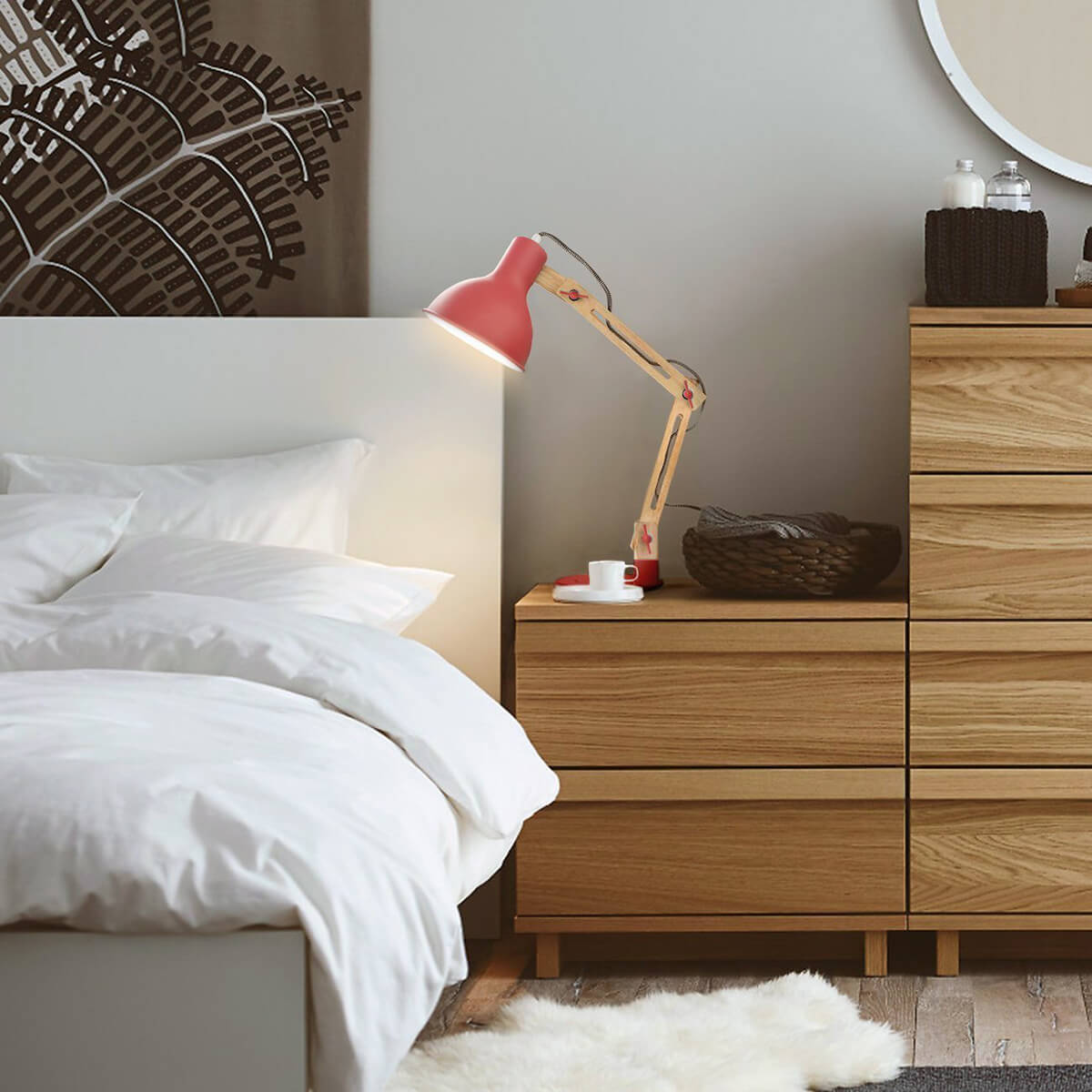 A task light lets you point the light right at what you're reading or working on. This fun design features a colorful base, a wooden arm, and a striped cord protector. Point the lamp at your book, or change the angle to illuminate the entire room. Small and equally colorful locking pegs keep the lamp in position after you've positioned the angle just right. Choose your favorite color to make it match your current bedroom; five different shades are available. Task lights are the best bedside table lamps for college students who need to study until it's time to fall asleep.
13. Vintage Decor Dimmable Touch Light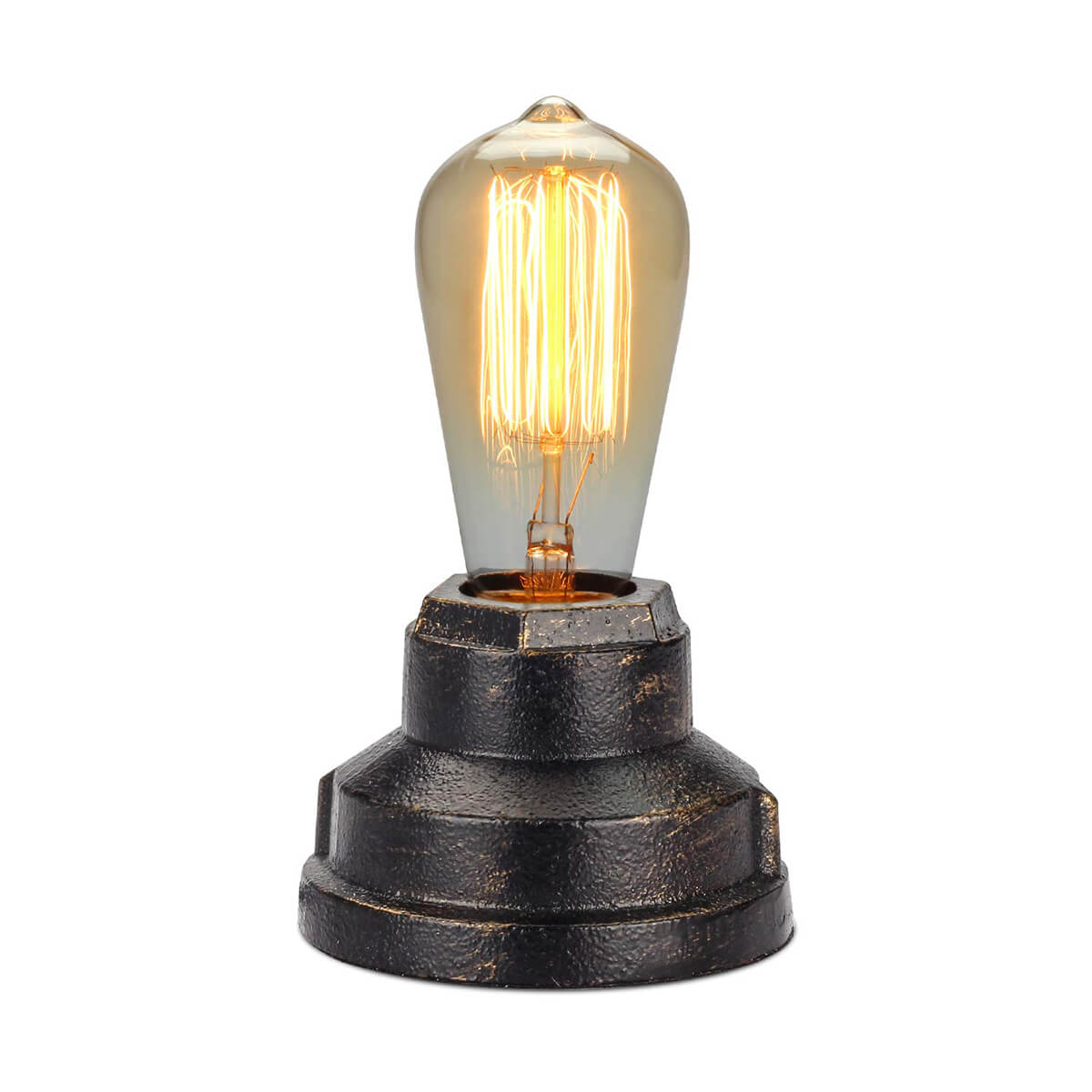 Edison would be charmed by this vintage-style bedside lamp. The base is made from wrought iron and sits on your desk with a satisfying weight. Don't worry about scratching your antique nightstand; the bottom of the base is padded. Although it looks vintage, this lamp is completely modern. Tap the base to get three different brightnesses. Screw in your favorite lightbulb and watch the whole room get brighter. An intimate view of the inner coil definitely adds to the rustic visual effect. You could even choose a colored lightbulb for an extremely steampunk vibe.
14. Phone Charging Table Lamp with Pull Cord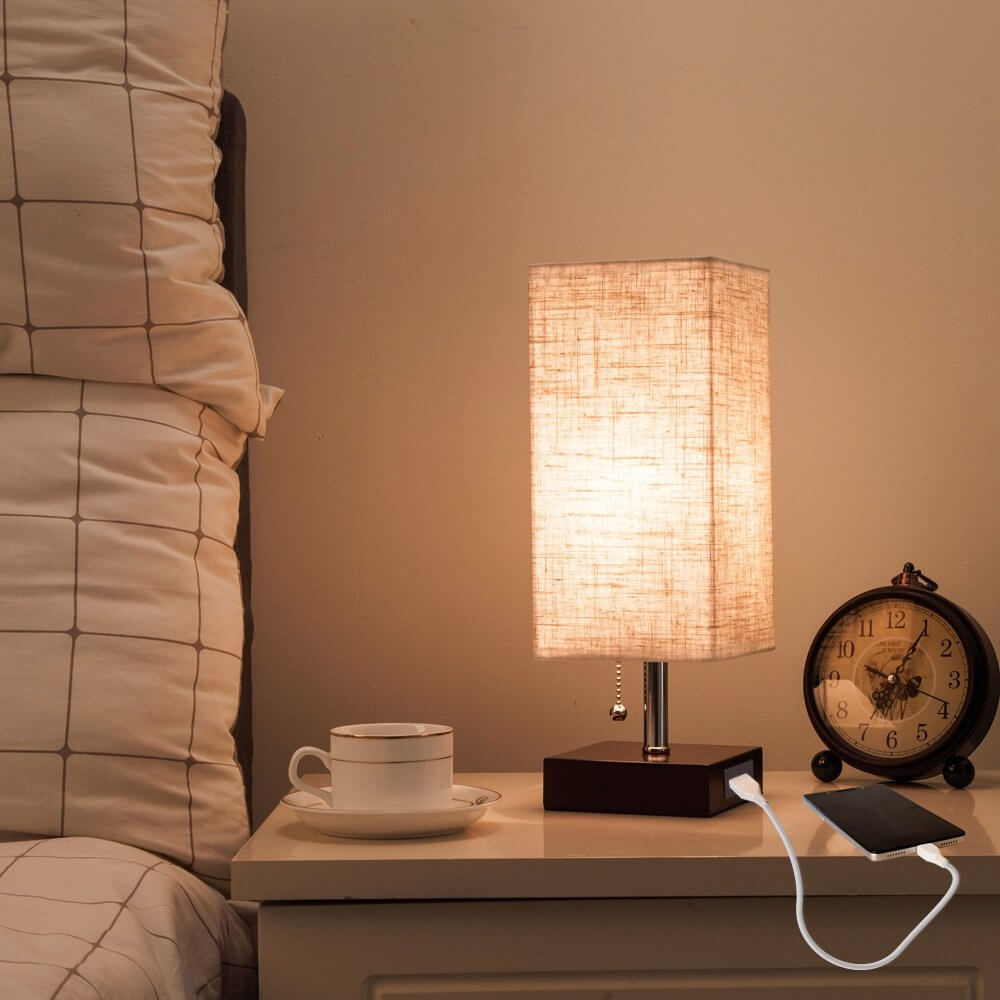 Don't you love that satisfying click that happens when you pull a lamp cord? Experience the joy of retro lighting alongside modern convenience with this fun bedside lamp. A warm lampshade gives a modern appearance, and the small square base fits neatly on your desk or table. The USB port on the side of the base lets you charge your phone, tablet, or other device. A clever bit of circuitry lets you charge your phone while the bulb is off; the pull cord controls the light, but a separate "on" button powers the entire device. Never wake up to a dead phone battery again.
15. Round and Bold Ceramic Table Lamp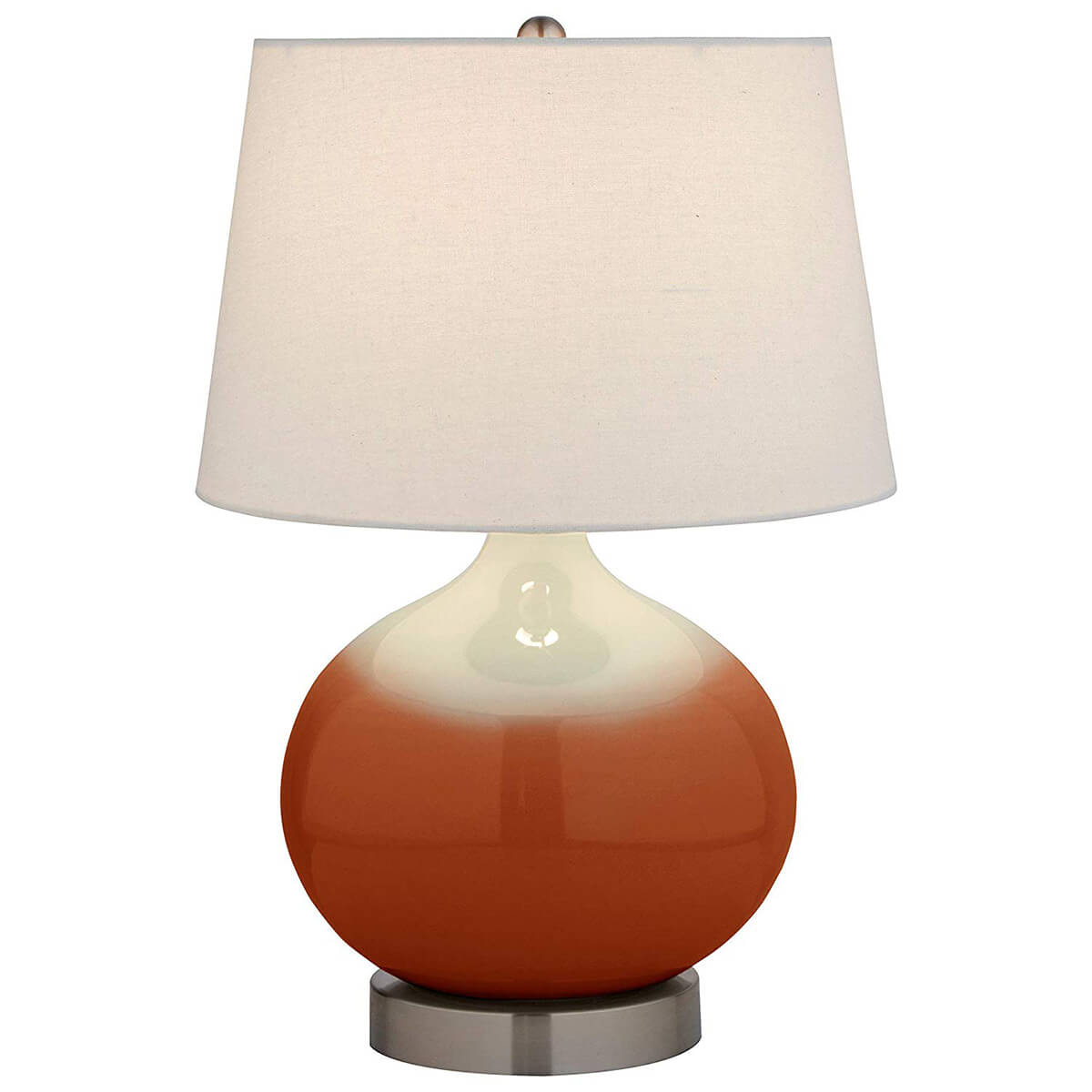 Something about this design is extremely visually satisfying. The burnt color of the ceramic looks great in any light, but it's especially amazing when the lamp is turned on. The glow of the bulb creates an ombre illusion that shifts as you move around the room. Choose from three subtle tones to find the perfect match for your bedroom. A metal base keeps the ceramic bulb safe and protects your furniture. This lamp is simultaneously classic and modern. Work this in next to a few pieces of handmade pottery, or fit it into an art-deco kind of design.
16. Modern Glass and Gold Bedside Lamp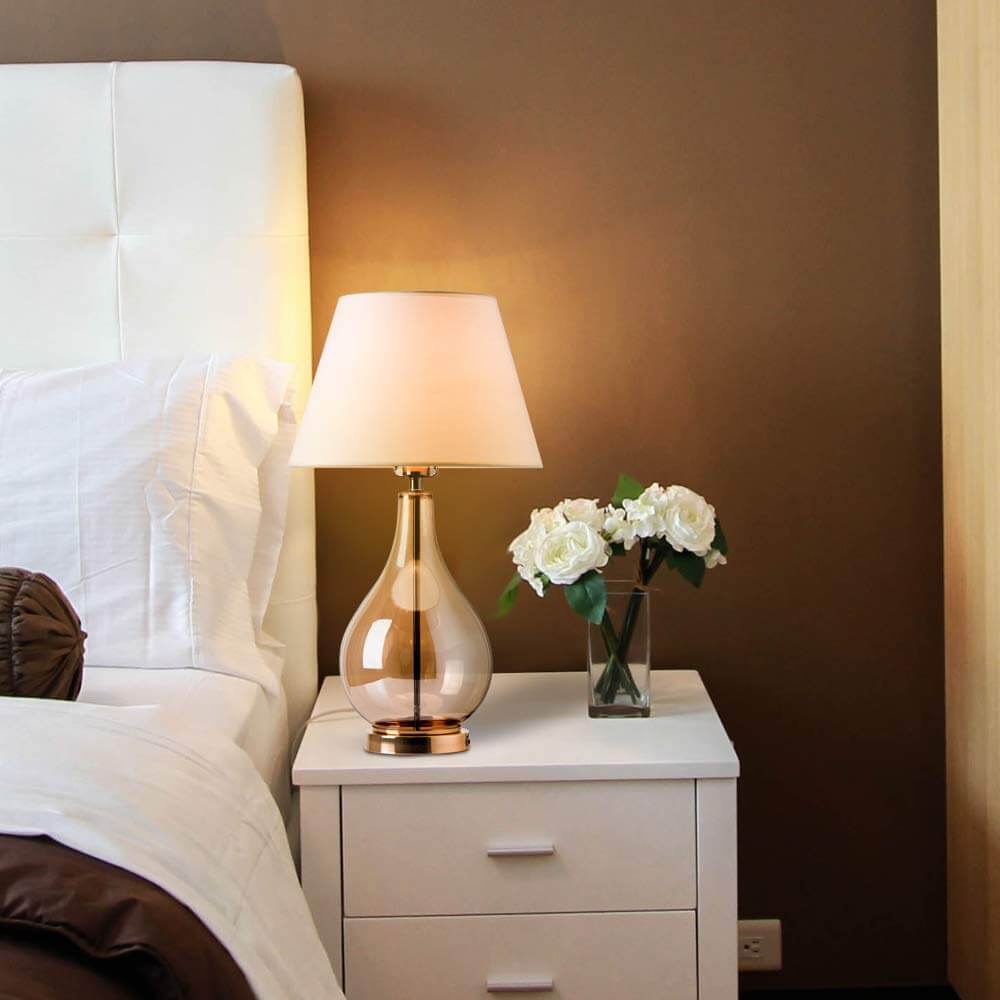 A glass piece like this one is a sign of status and style. The orange glass really lights up when you turn the bulb on; enjoy soft room reflections and a delightfully ambient glow. The golden base helps work this piece in with the rest of your furniture and nightstand accouterments. Try staging it next to a gold-detailed picture frame with your favorite family photo; the reflections will be lovely. A curved silhouette adds visual interest and encourages your eye to move through the room. This lamp is perfectly paired with a classic off-white shade that creates a gentle evening atmosphere. Enjoy this combination of balance and beauty in any bedroom design.
17. Cute Pleated Shade Bedside Lamp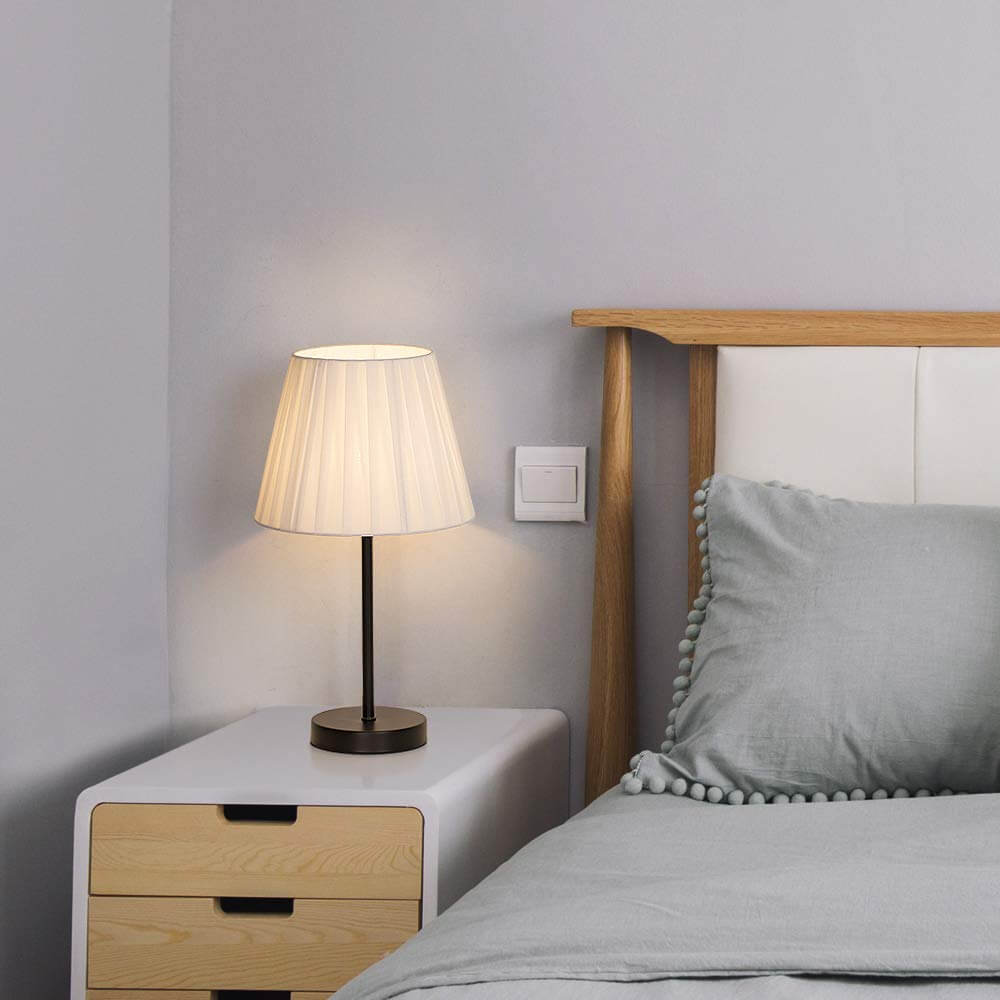 The pleats on this fabric lampshade are simply darling. The design is simple but visually endearing; use it to dress up a cool, linen-themed bedroom. The thin black base makes an excellent contrast to all-white furniture or a room with muted tones. The lampshade casts light downward in a beautiful half-circle pattern that looks lovely against the wall. This design is both friendly and minimalist; the lamp doesn't have extra features, but it also doesn't need them. As an added bonus, this lamp always comes in sets of two. Place the pair on your bedside tables and enjoy the relaxed atmosphere.
18. Opal Wineglass Bedside Accent Lamp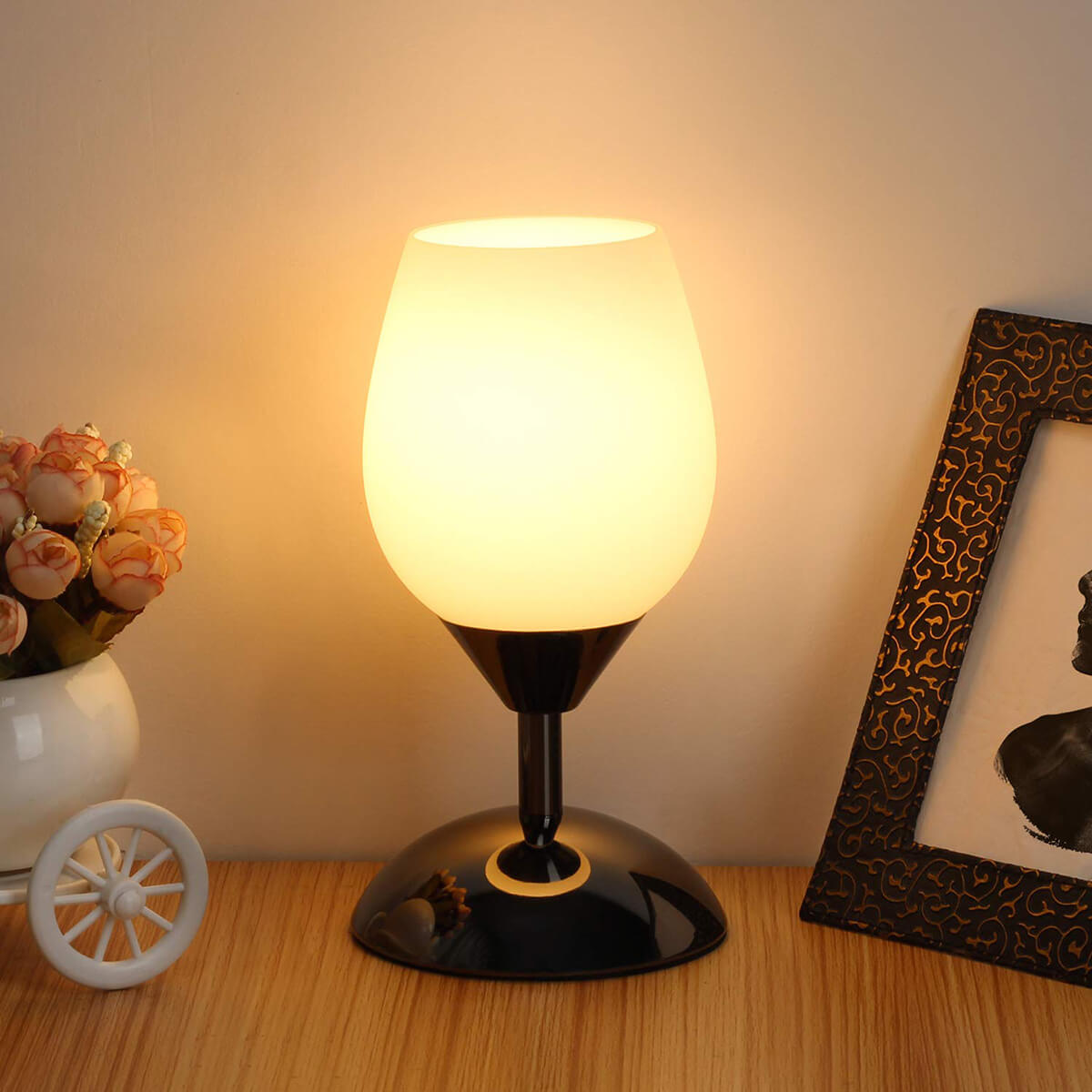 Light flows out of this lamp like wine from a cup. The thick opal glass keeps the room bright and warm without hurting your eyes. The tall black base features a beautiful curve and would look great next to both modern and classic furniture. This light is touch-sensitive and has three brightness options; it's a sweet little accent that will add charm to your bedside table. Try adding this piece to a romantic bedroom setting, or use it as a nightlight for the little loved one in your life. The gentle ambient light will make any room feel like an evening paradise.
19. Clever Eye-Caring Bedside Task Light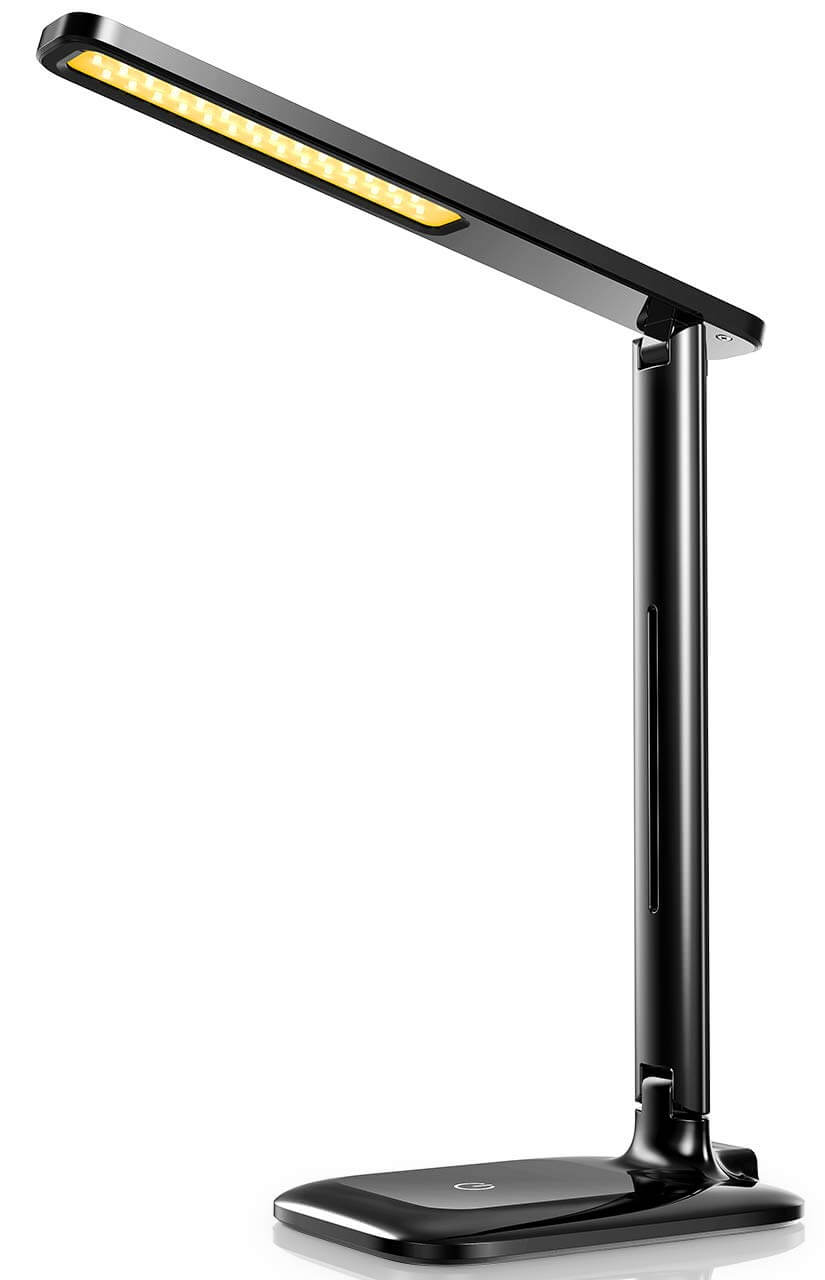 Task lights aren't just for tasks; they're also an excellent choice for a minimalist design. Task lights make the best bedside table lamps when they are extra flexible and have multiple light settings. Luckily, this eye-caring light meets all of those needs and more. Use the touch-sensitive base to filter between three different light colors and three different brightness settings; that's a total of nine ways your lamp can shine. Point the light at the book you're reading or the picture you're drawing; the light isn't too big, so you can avoid waking up anyone else in the room. This cute little lamp can sneak into almost any room design.
20. Retro Hanging Lamp with Charging Outlets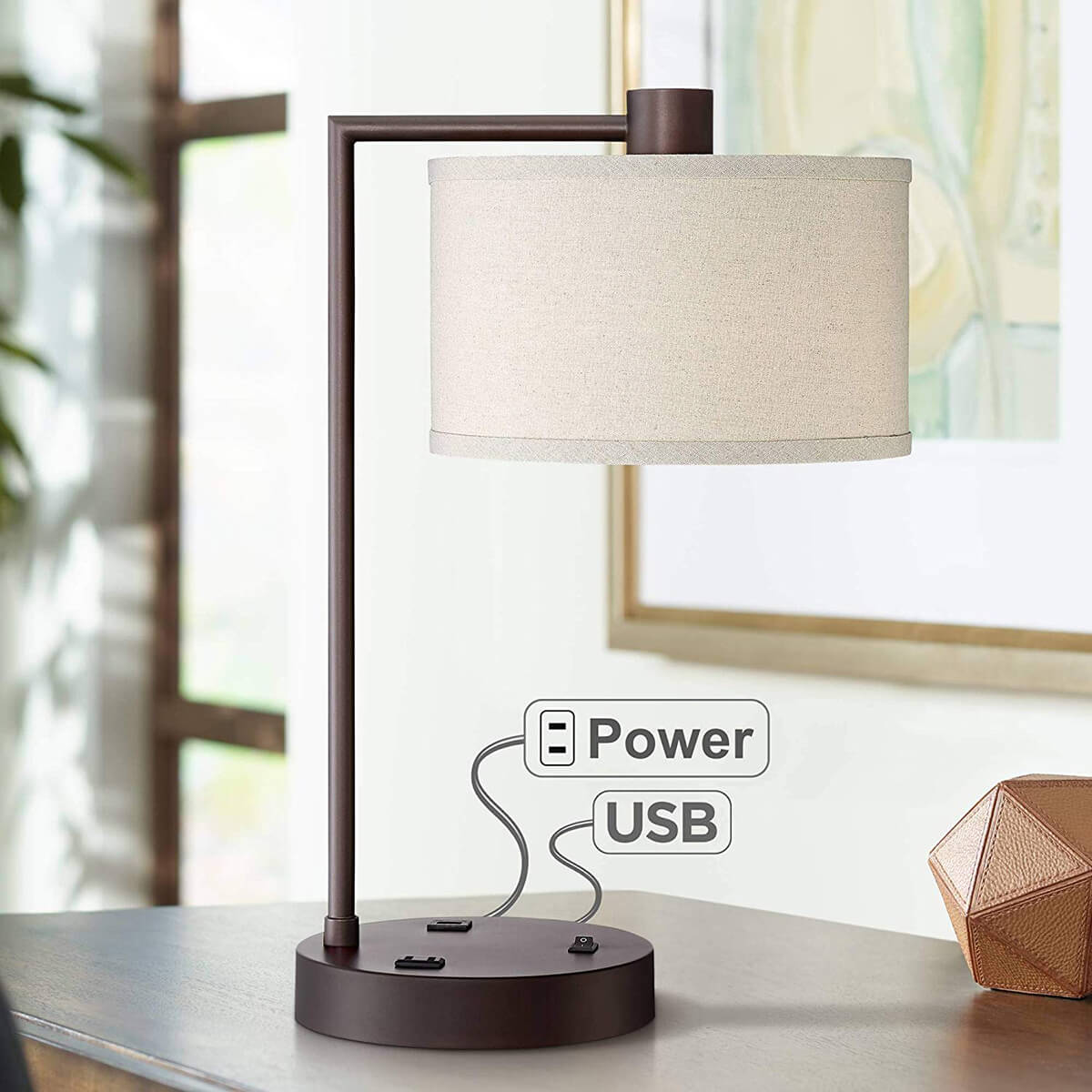 If they had cell phones back in the day, everyone would have rocked one of these lamps by their bedside. The antique brass base is perfect for a vintage or classic bedroom style. The base is weighted, and the sturdy pole is off to one side so that you can fit a book directly under the light. Each lamp comes with both an outlet and a USB port; you can plug in an alarm clock and charge your phone at the same time. Enjoy the useful yet decorative shape of this lamp while your devices keep you connected to the modern world.
21. Hollow Cage Minimalist Lamp Design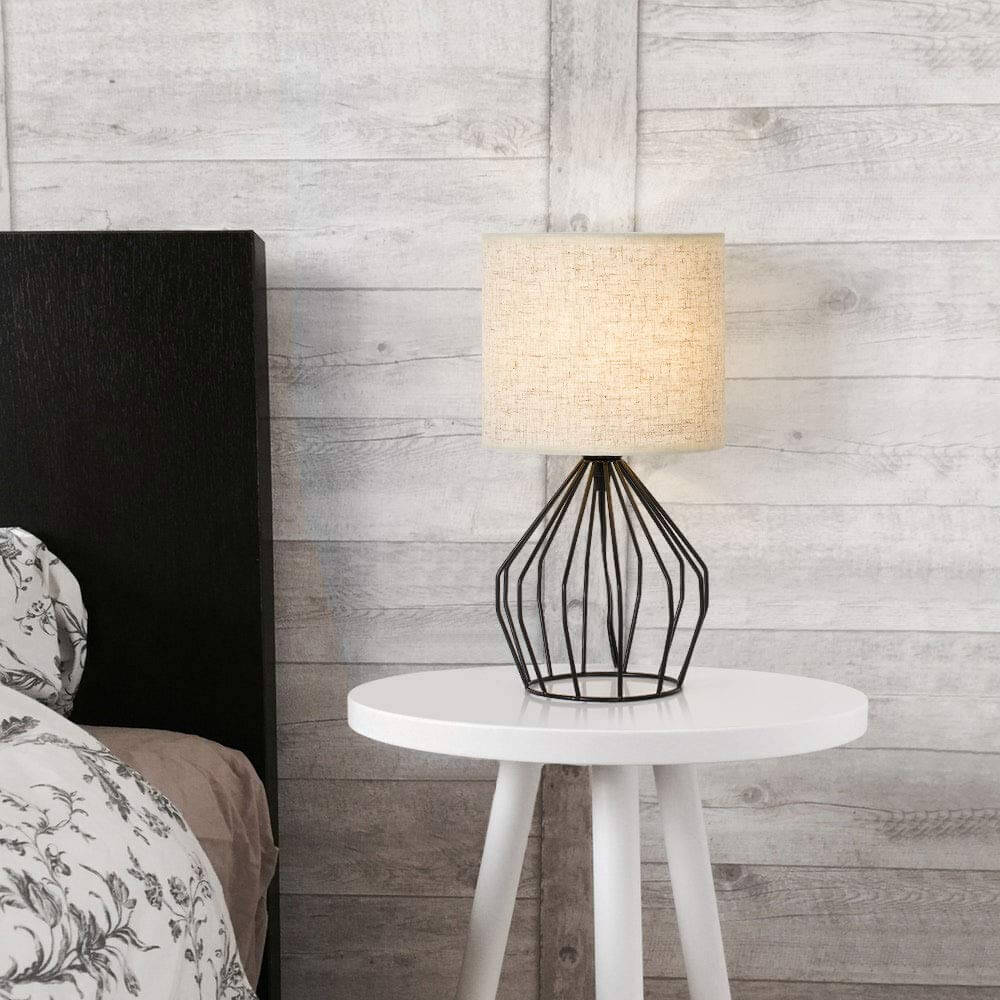 The best bedside table lamps are decorations in their own right. This clever cage design holds up the bulb while leaving a hollow space beneath. Stand it on its own, or place something clever in the empty space. The light reflects beautifully off the polished metal and makes a lovely pattern on the wall. You can choose from gold, rose gold, or black metal finishes. This design is modern without being simple, and it's wide without consuming too much visual space. It's the perfect design to add charm to an already busy room or to liven up a minimalist setting.
22. Sweet and Simple Industrial Edison Lamp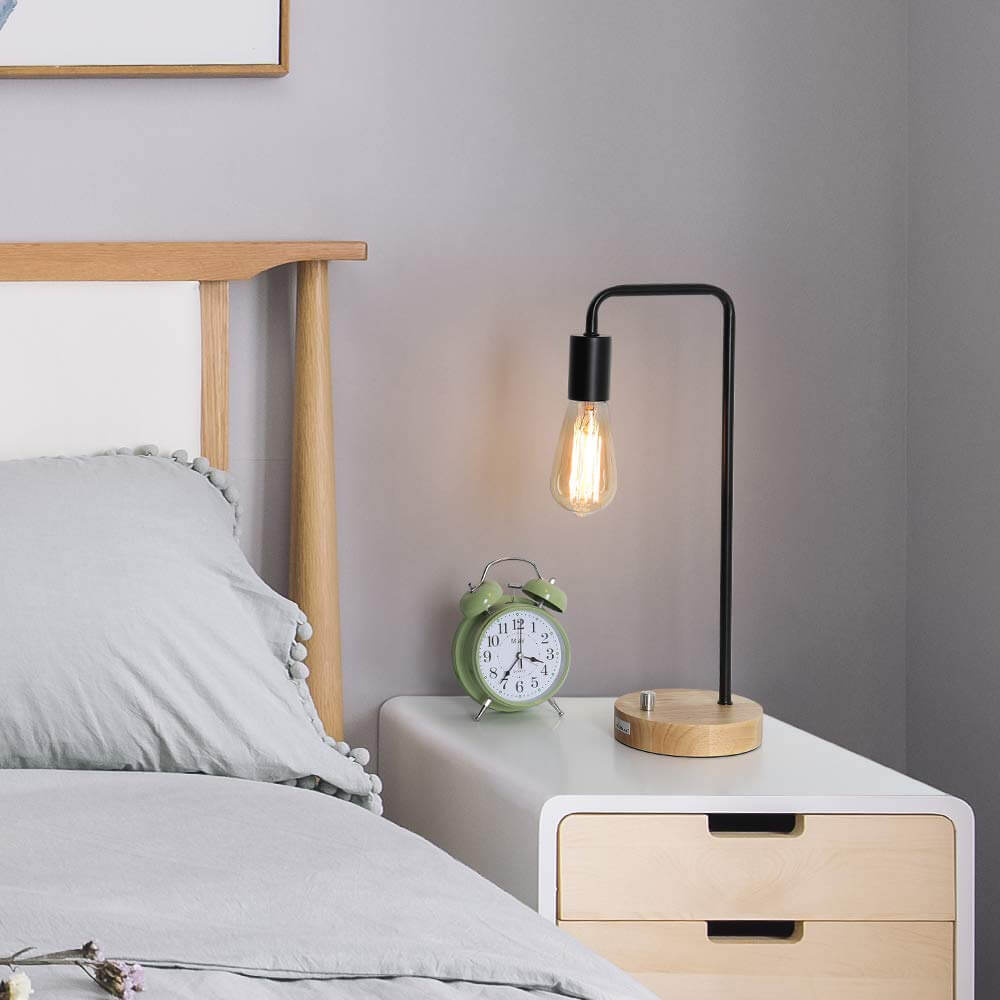 At its most fundamental, a lamp is a lightbulb on a mount. This design dispenses with the frills to give you the perfect minimalist bedroom accessory. The lightbulb is truly the star of the show, so choose one with a design that you love. The simple black stand has a task light shape and can be directed over your project or reading material. You can also choose blue or pink colors to match the style of your room. All colors feature the same classic wooden base with a simple on and off switch. Fit this industrial-style lamp into a modern or funky room design.
23. Geometric White Ceramic Bedside Lamp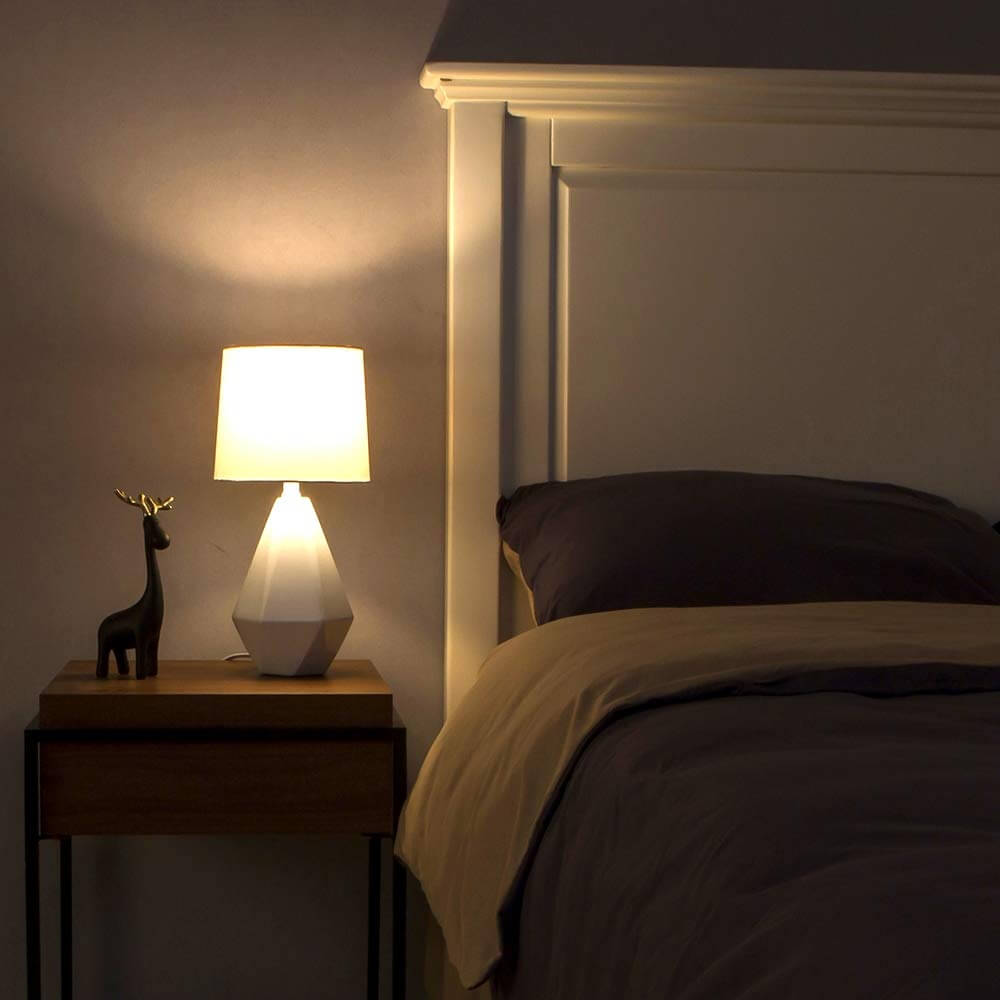 At first glance, this white ceramic lamp blends into the background. But when you give it a second look, you suddenly notice the clever geometric design of the lamp base. This is modern design at its finest; this piece doesn't steal the show, but it still provides visual interest at every turn. The glossy white finish is perfect for reflecting extra light throughout the room. When it's turned on, the geometric shapes of the base create an interesting effect: the bottom stays completely dark, the top shines brightly, and individual triangles are illuminated in different amounts. Place this lamp in any room for instant modern appeal.
24. Hollow Triangle Cage Lamp Design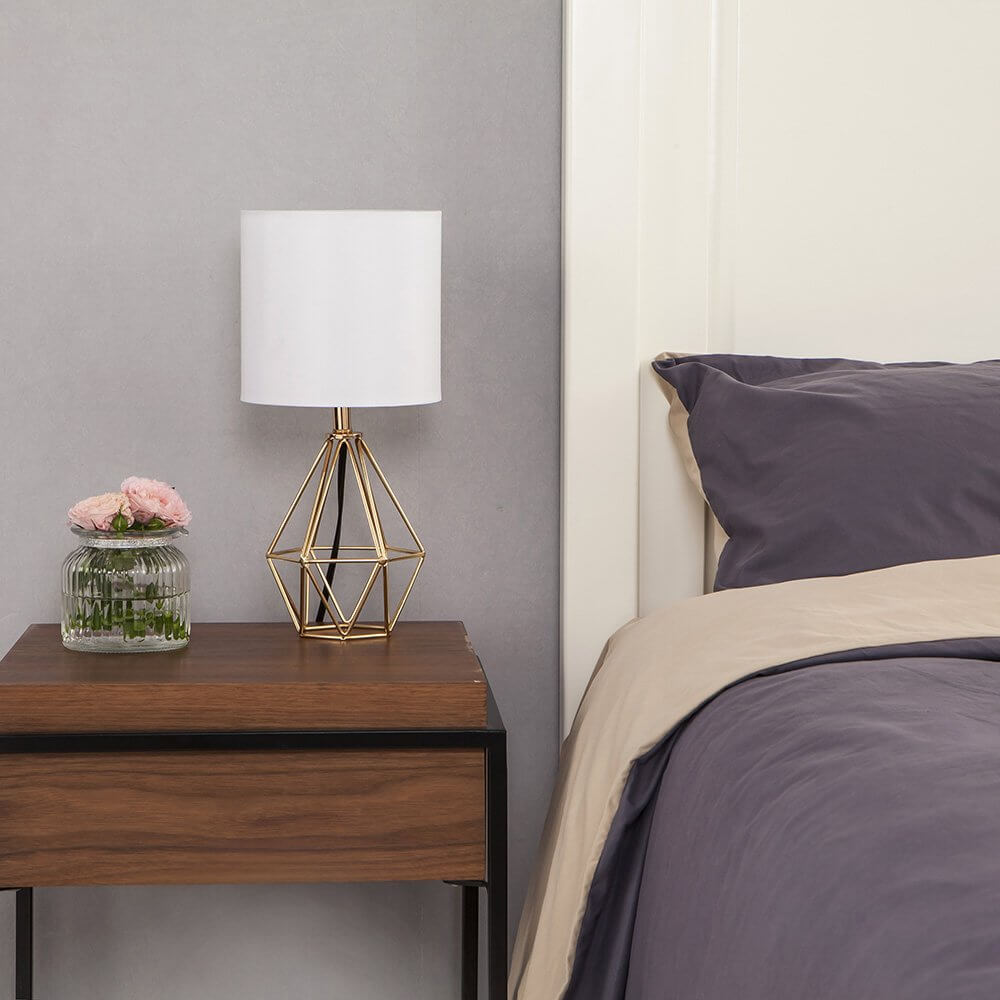 Triangles are one of the most versatile geometric shapes; they can be used to create nearly any kind of three-dimensional object. This lamp uses minimal wire triangles to make a gorgeous decorative golden base. The metal cage offers just enough reflection to change the pattern of light and shadow on your tabletop. Combine this piece with other golden accents in your room, or let it stand alone as a piece of decorative art. The off-white lampshade creates a romantic ambiance in any room; it's perfect for late-night reading or musing about life.
25. Wooden Tripod Lamp with Soft Glow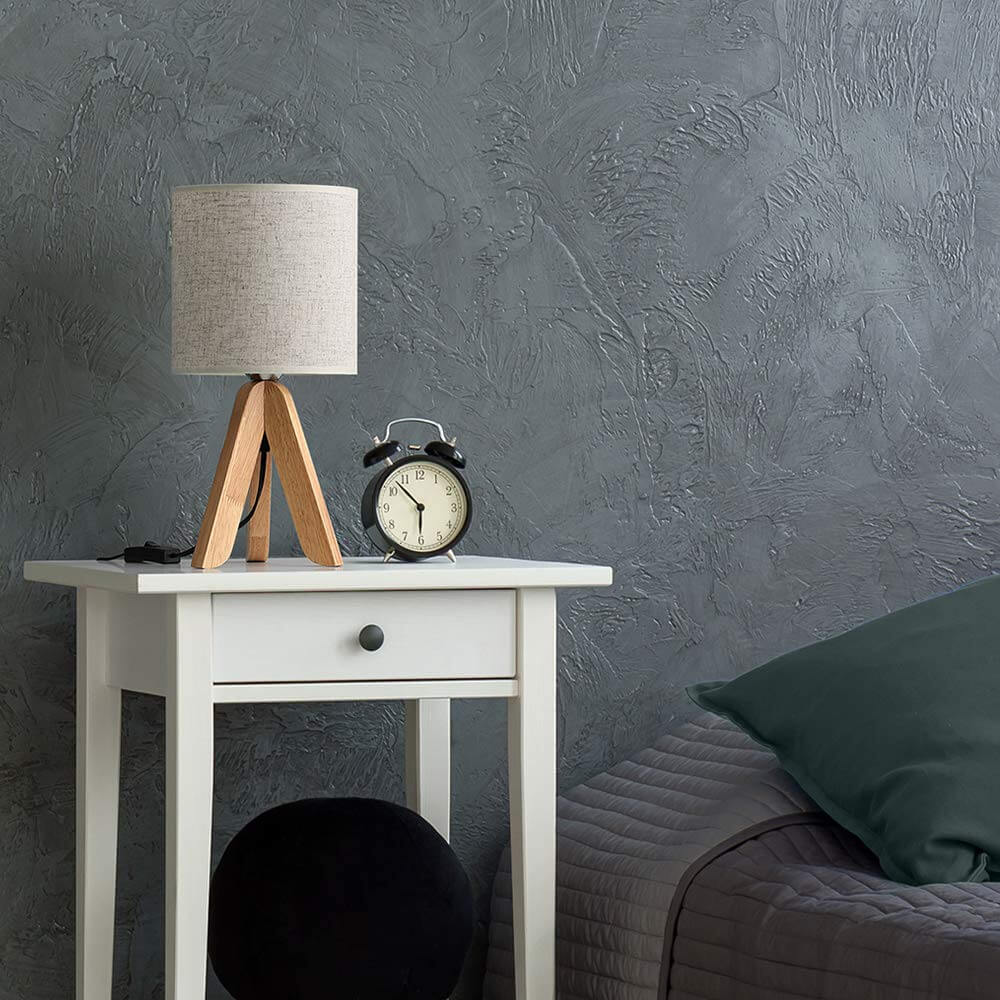 This truly clever base design takes up less room while keeping your lamp extra sturdy. The tripod is made from light-colored wood that fits in well with natural furniture. Choose either the black or the white lampshade for a modern visual touch. The lamp is small enough to fit on a shelf and bright enough to illuminate the whole room. The silhouette as a whole is elegant and interesting, but it's still doesn't overwhelm your existing decor. It's cute, sweet, simple, and modern – the perfect thing for a cozy and upbeat bedroom design.
25 Beautiful Bedside Table Lamps to Finish Off Your Bedroom Décor
A bedside lamp features four elements to consider: the design of the base, the color and shape of the lampshade, the light and style of the bulb, and the method by which it turns on and off. Some lamps have features like touch controls, brightness settings, and charging outlets, but these aren't necessary if you love the way your lamp looks.
Select a lamp that is suited to your bedroom decor. Bronze fixtures and classic lampshades look great with antique bed sets. Minimalist lamps fit in very well with modern furniture styles. It's fine to mix and match, but make sure that your shapes and materials go well together. Avoid elements that contrast too strongly; you want accent pieces like lamps to blend into your design.
The most important thing is that you smile when you turn your lamp on. It should be bright enough for you to read or relax at the end of the day. Find something simple, sweet, and fun; if you have a great lamp, you can work the rest of your bedroom design around it.