To bring this special season into the comfort of your own home or porch, be sure to include some of the best bird nest home decor ideas when planning your decorating. Spring is just around the corner and it's time to prepare all of those cute decorations with bird nests and bird eggs for their seasonal debut. The sights and sounds of this season wouldn't be the same without the chirping and tweeting of these friendly air pioneers as you hear and see them swoop and glide on a chilly spring morning. Maybe one of the best alarm clocks, the sweet song of a bird just makes everyone feel a sense of anticipation for the season that brings rebirth and new life.
20 of the Cutest Ways to Decorate with Bird Nests and Birds this Season

With wreaths and tea sets displaying this chipper creature, the added interest of the sticks and moss used to form the nest brings a lot of appeal to your design. Incorporating some of the delicate and lovely flowers that are also bursting onto the spring scene is a perfect way to complete this look.
Many items on ETSY can be customized to create the desired look you seek or consist of the exact color palette you need. Whatever your goal is, adding a touch of whimsy with decorative bird eggs in a nest is a wonderful way to welcome the season with open arms!
1. Moss Wrapped Nest with Perched Bird Inside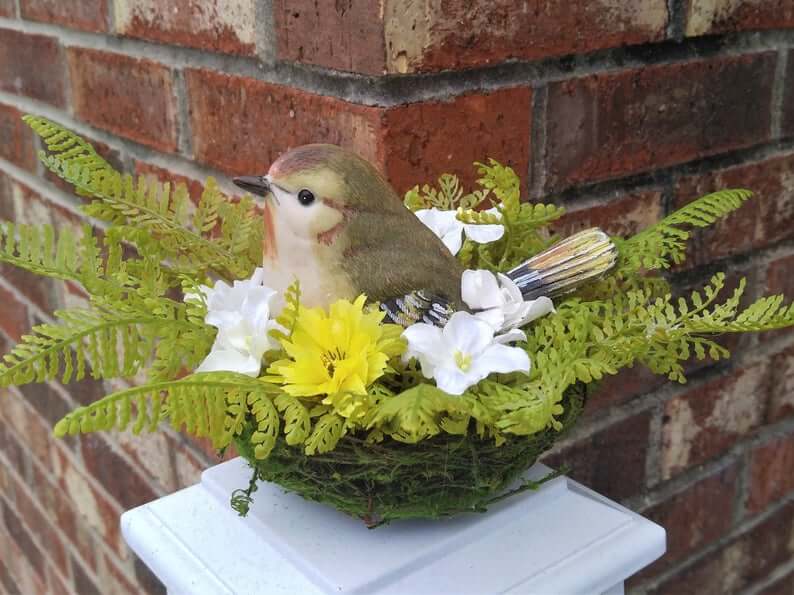 Look closely and you're certain to find spring's mascot cuddled inside this little nest. Constructed with traditional twigs and trimmed with moss, this little bird nest is filled with fern fronds
frolicking out and about to draw the eye into this pretty home decoration. There are even white and yellow flowers intricately placed to complete this look. This cute bird and nest would be a fun gift for a friend or co-worker. It would even be a perfect seasonal display in the dining room or guest room of the home.
2. Tea Cup and Saucer Bird Babies in Nest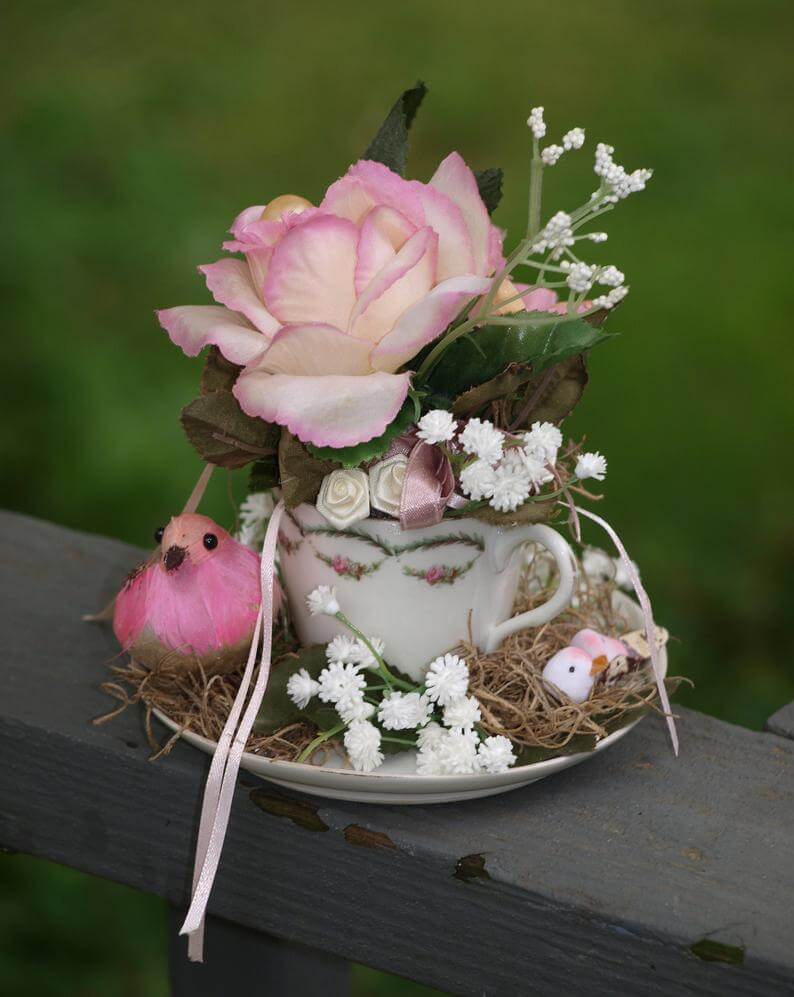 Pretty and dainty might come to mind when you see this tea cup and bird nest home decoration. It brings together the delicate nature of fine kitchen ware with nature as the white birdie babies are nestled snug amid all of the springtime flowers. Soft white baby's breath, ribbon and silky white tiny flowers finish off this showstopping saucer set that would look cute displayed on the book shelf, mantel, end table or night stand.
3. Wooden Tool Case Filled with Bird, Nest and Flowers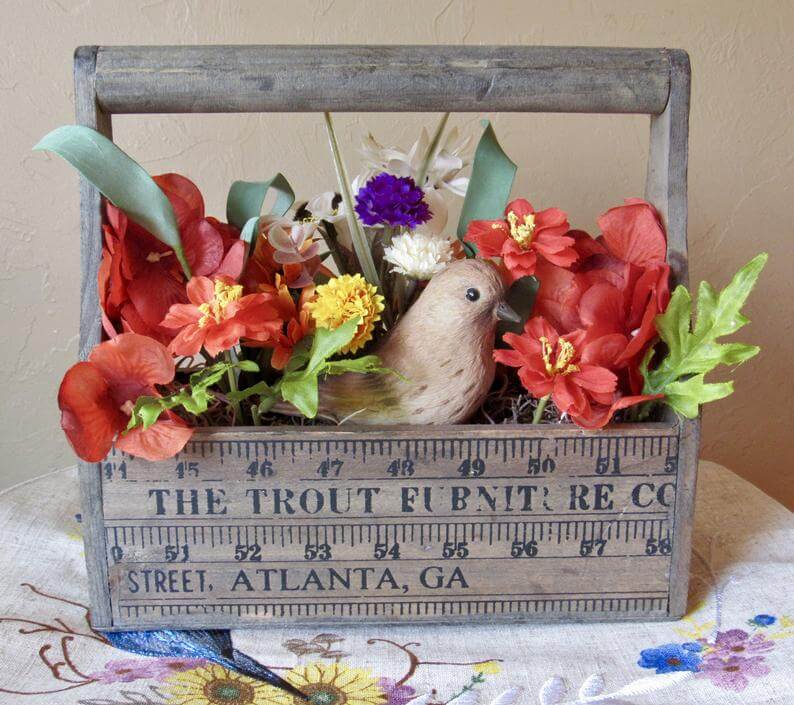 Spring wouldn't be complete without a home decoration prominently displaying the season's mascot along with its nest and a plethora of pretty flowers. And what better way to showcase this scene than in a vintage-inspired wooden tool box from an Atlanta-based furniture store. The combination of rugged tool box with melon-colored flowers and bird add just the right feminine and masculine touch. Position this piece in the center of your kitchen island or in the middle of your living room's coffee table. Either way, this unique piece is sure to get the conversation started with its eccentric design.
4. Watering Can with Sunflowers Bird and Spring Bouquet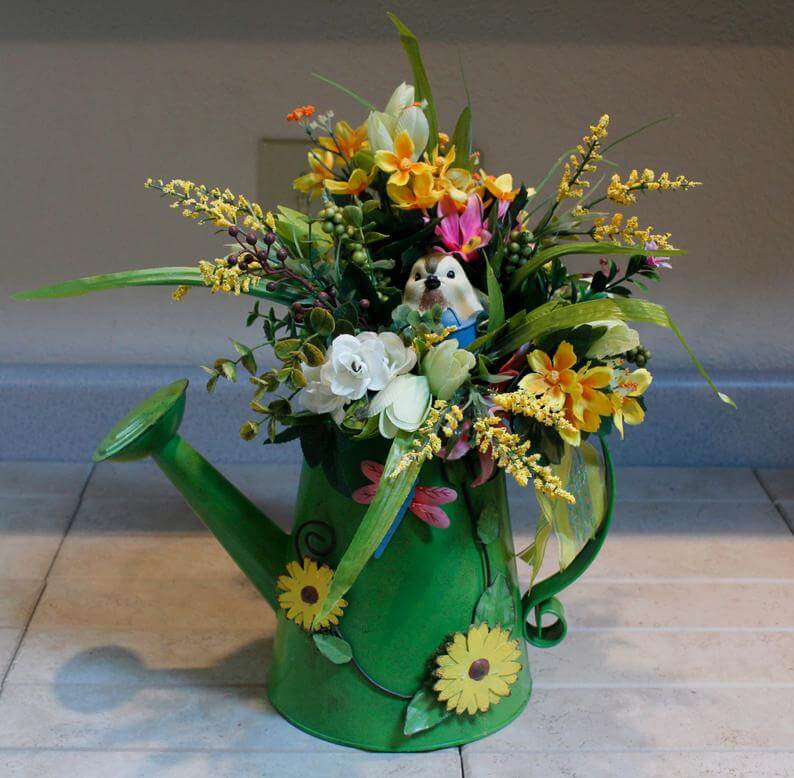 Make a special spot for this green metal watering can as it is a wonderful way to share some spring cheer with the world. On the outside, this vibrant grass green can has a sunflower vine winding up the side. Inside you'll see the whimsical bird hidden in the center. This bird is nestled among a colorful spring bouquet of yellow, pink, green and white. Give this gift to a gardening friend or keep it for yourself. It would be ideal as an extra embellishment in your kitchen space or near your front door on a small decorative table.
5. White Vase Filled with Nest and Bird Wearing a Paper Hat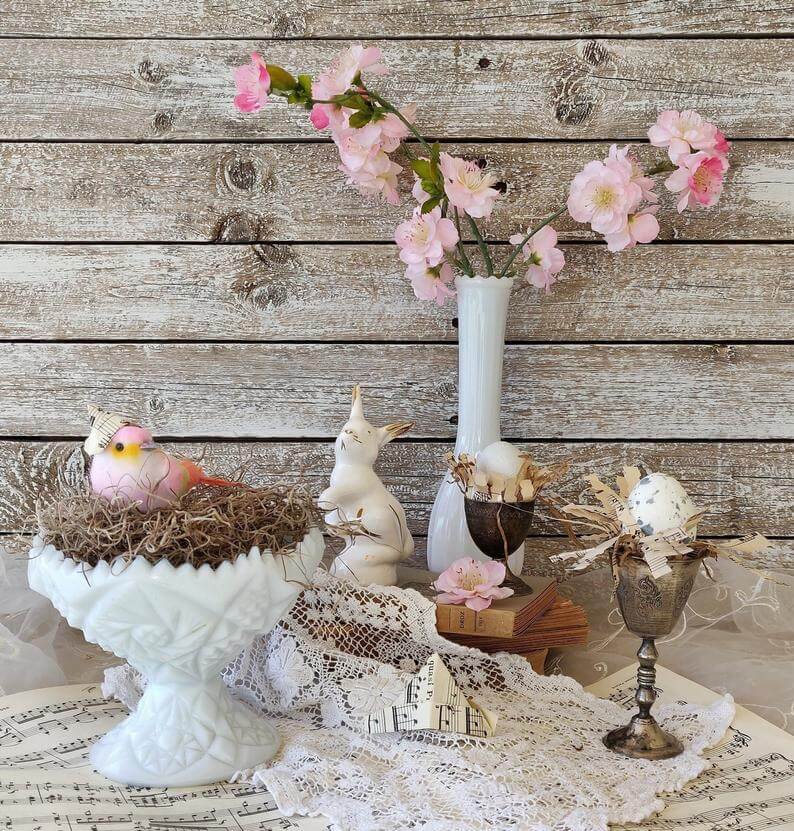 How cute is this little bird wearing a paper cap? This sweet little fellow is found resting in the comfort of these classic white vases. From a tall and lengthy vase to a bowl-shaped one on a small pedestal, the classic white vase lends a vintage feel to the well-known glassware collectors of the 1970's and 1980's alike. With the nest and bird, these vintage vases are a great way to display this bird and his nest. Incorporate them into an existing display case or on the mantel. Adorning a windowsill would be another fun way to bring a sprig of spring into your home decor.
6. Metal Silver Vintage Bowl on Pedestal with Bird Perched on Pearl Strand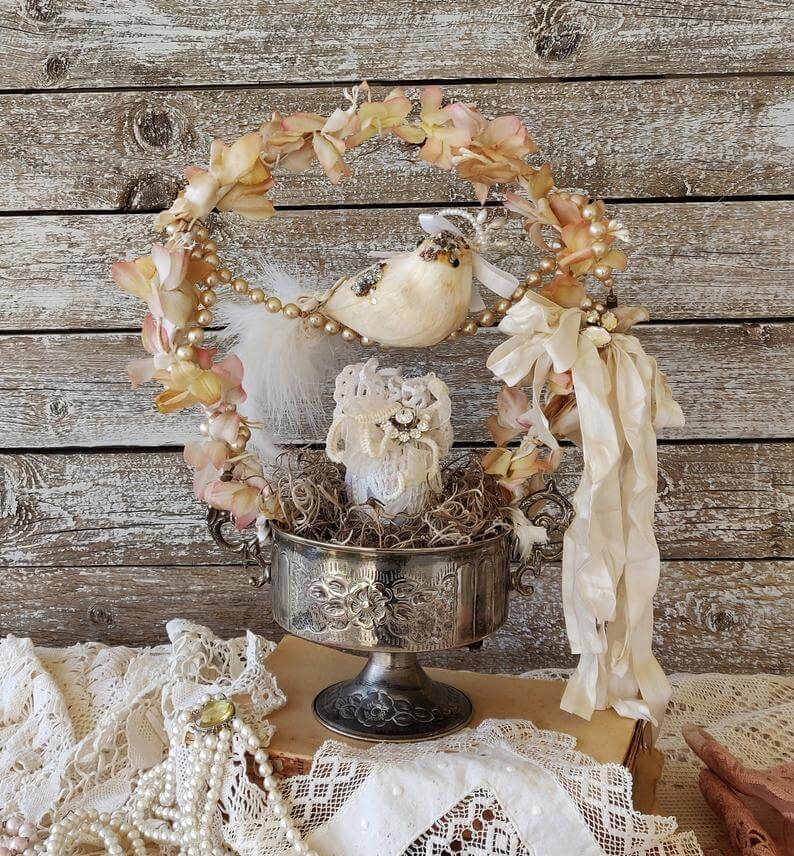 Add some charm and character to your spring decor with this vintage metal bowl and bird nest set. Filled with ribbons and flowers and adorned with a beautiful antique style brooch, this bird nest display is truly unique. The large handle stands up to add a lot of height to the overall look of the piece. Across this handle is a smooth strand of pearls where your little song bird is perched to perfection. Created with an all neutral color scheme, this decorative container and bird nest are sure to fit into any nook and cranny in your home. Proudly set in the middle of the dining room table or as an accent on a living room end table.
7. Tea Cup and Saucer Blossom and Blue Bird Flower Set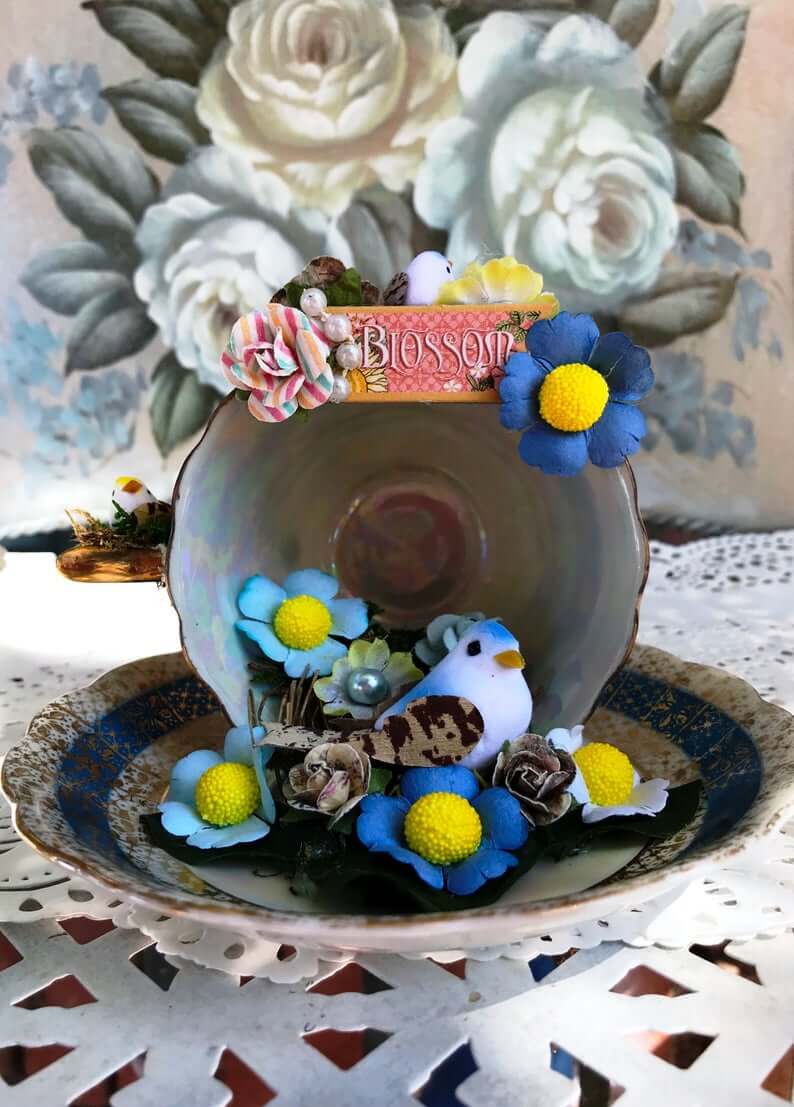 What an awesome idea! Here is a vintage tea cup and saucer set used as a home to this sweet little blue and white birdie. This tea cup is intentionally placed on its side where it seems to be spilling the entryway to the bird's nest onto the little saucer. A big "Blossom" sign hangs above the entrance and the inside is filled with gorgeous blue flowers with a vibrant yellow center in each. Throughout this cool display are many blue and yellow flowers to unite the entire look. This tea cup and saucer bird nest set would be a fun way to add some visual interest to your Easter dinner tablescape or to send as a warm greeting to a friend as you celebrate the coming of the season.
8. Two Story Wooden Bird House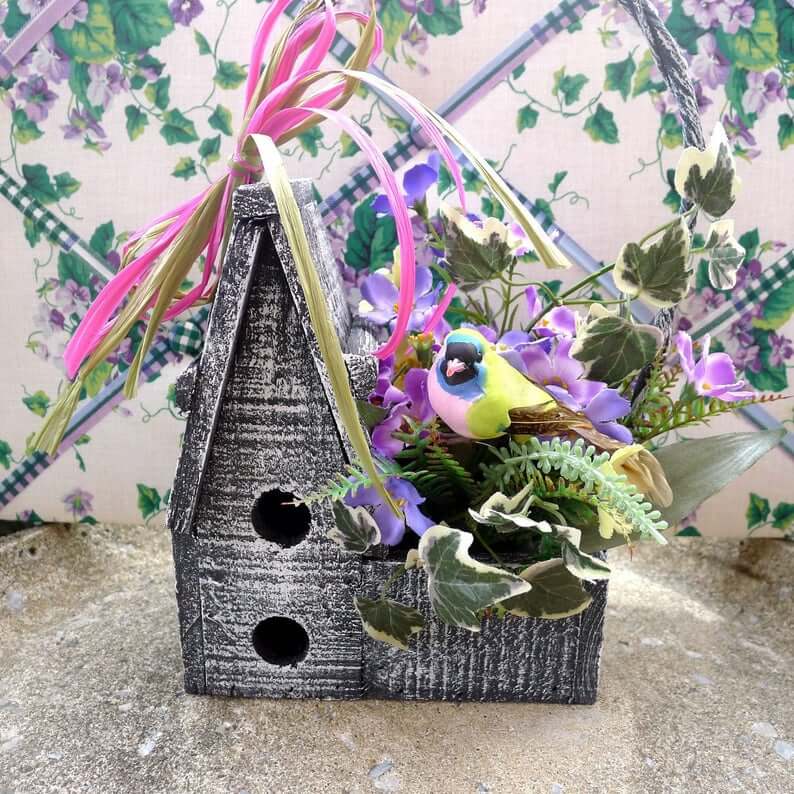 With a vine that spirals down from the fronds of some spring time ferns, this two story wooden bird house has a lot of curb appeal. Adding dimension with its dual heights, this bird house is a nice change of pace from the traditional house design. Resting on the shorter side of the house, there is a yellow and blue bird seeming to enjoy the comfort of this serene bird getaway. Any space will accommodate such a special piece whether indoors or out. This would be a nice addition to a back porch or covered floral garden in the back yard.
9. Grapevine Wreath with Birds and Eggs in Nest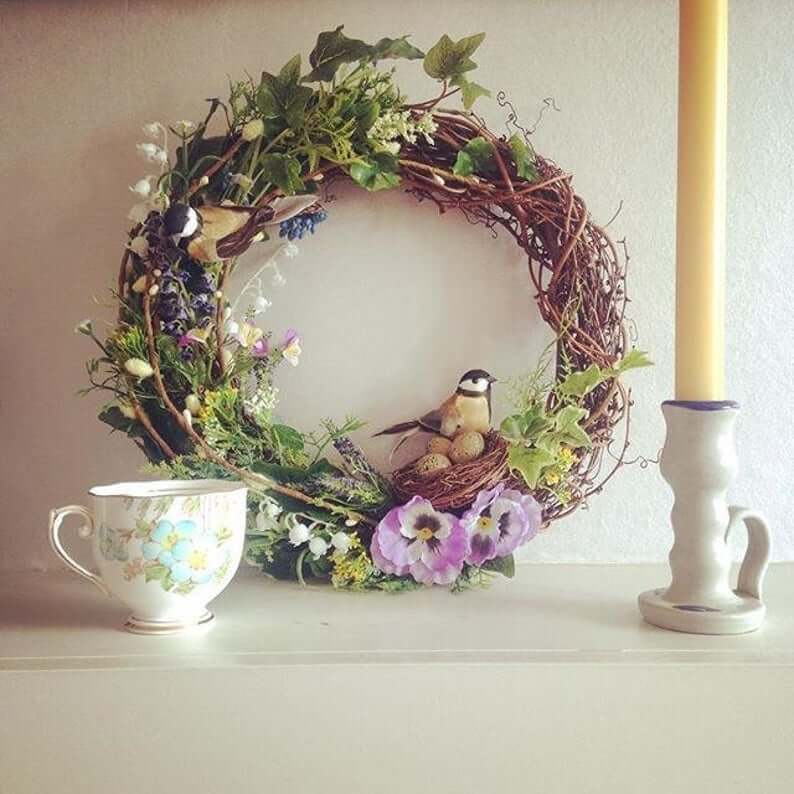 Using perhaps the ultimate background for a nature setting, this grapevine wreath ties the forest into the home with minimal effort. There are two birds placed on this wreath as well as a nest where three eggs call home. Continue your woodland theme with the nature-infused elements in this wreath design of traditional spring flowers. The lovely lilac color screams spring and offers a soft sense to the climate of the home. Whether you hang this beauty on your front door or above your mantel, it is sure to be a showstopper during the spring season.
10. Vintage Victorian Tea Cup with Gold Trim Bird Nest Spring Decor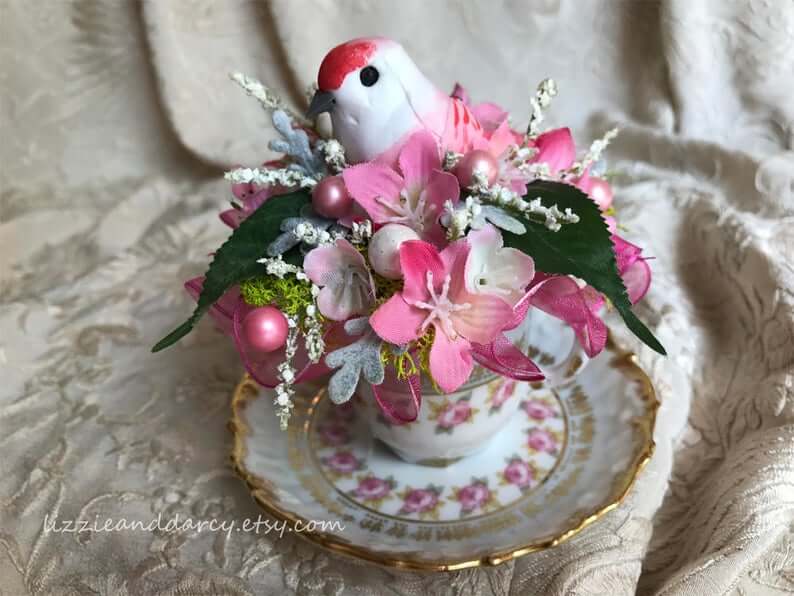 Echoing the sounds of spring, this vintage Victorian tea cup and saucer blend the old with the new. The trimmed in gold edge of this set adds a classic touch in a modest way. Inside you will see the bird snugly settled in the cup and protected in all directions with pink flowers, ribbon and beads of pearl. Utilizing all of these design elements of materials and textures makes this a cool and interesting piece. Add this to your coffee/tea bar to brighten up the space for spring!
11. Basket Full of Earthy Plants and Bird on Branch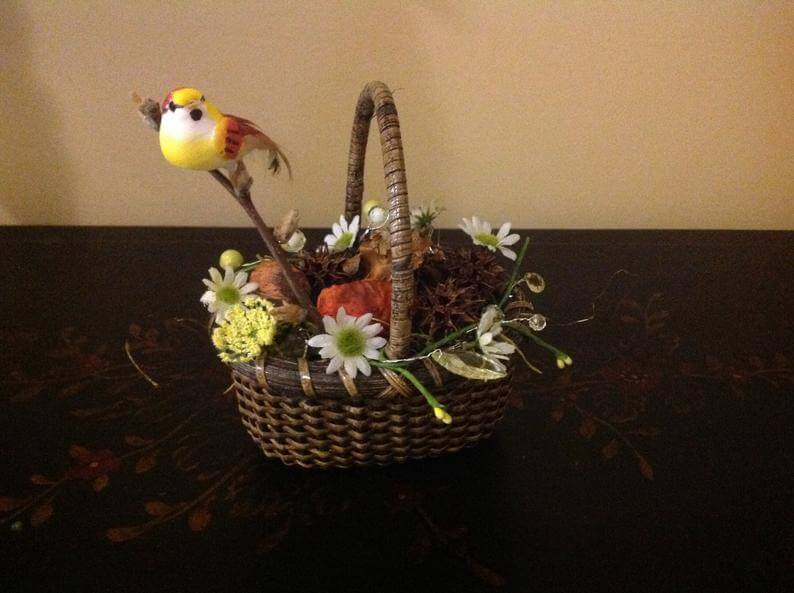 The rich and warm brown tones of this woven basket invite the cozy comfort of a cottage into your house. Filled with vibrant greenery, the earthy feel of this design is continued with the extending tree branch that holds one of Mother Nature's dearest winged friends- the bird. This yellow and white bird demands attention as it is proudly perched on this extended branch and can really take a good look at its new world. A great idea for a unique funeral arrangement to brighten someone's day or a nice addition to the curio cabinet or coffee table in the family room.
12. Rough Wooden Bird House with Rope Hook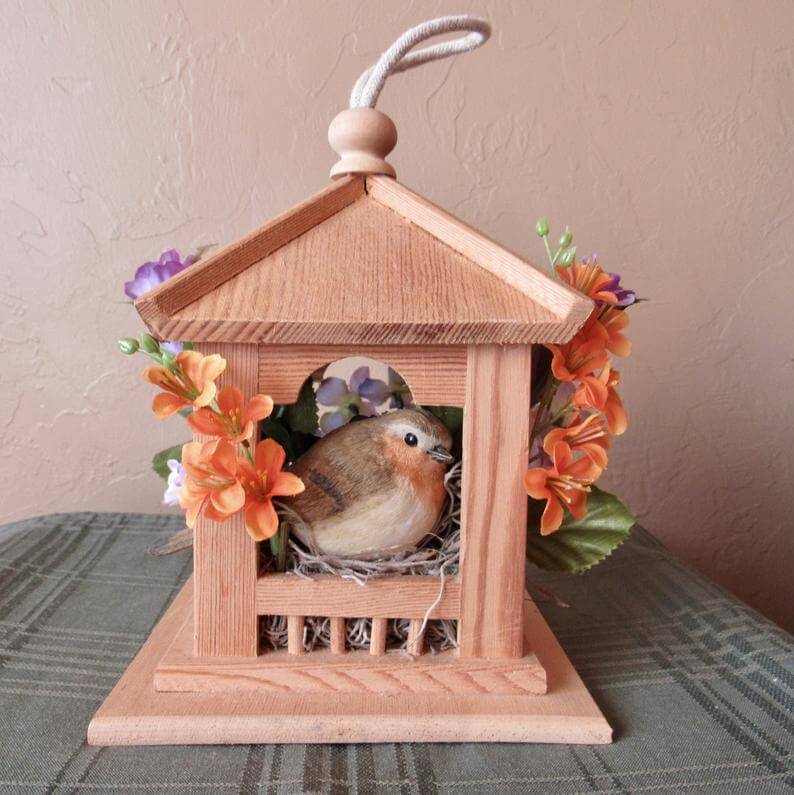 Constructed and left in a raw state, this rough wooden bird house is complete with a rope hook at the top for your decorating and displaying needs. With gorgeous arrangements of purple and orange flowers, this spring decor idea is one that is full of life with these vibrant color choices. The open sides of this wooden house provide you with a peek into the home's occupant as you will see a bird surrounded by all the trimmings necessary for a perfect bird nest. This would be a great spring decoration for a man or woman as it isn't too feminine like some of the others. Hang this from a shepherd's hook or sit it on top of the hearth for some visual interest during this season of rebirth.
13. Speckled Eggs Green Nest with Votive Flower Holder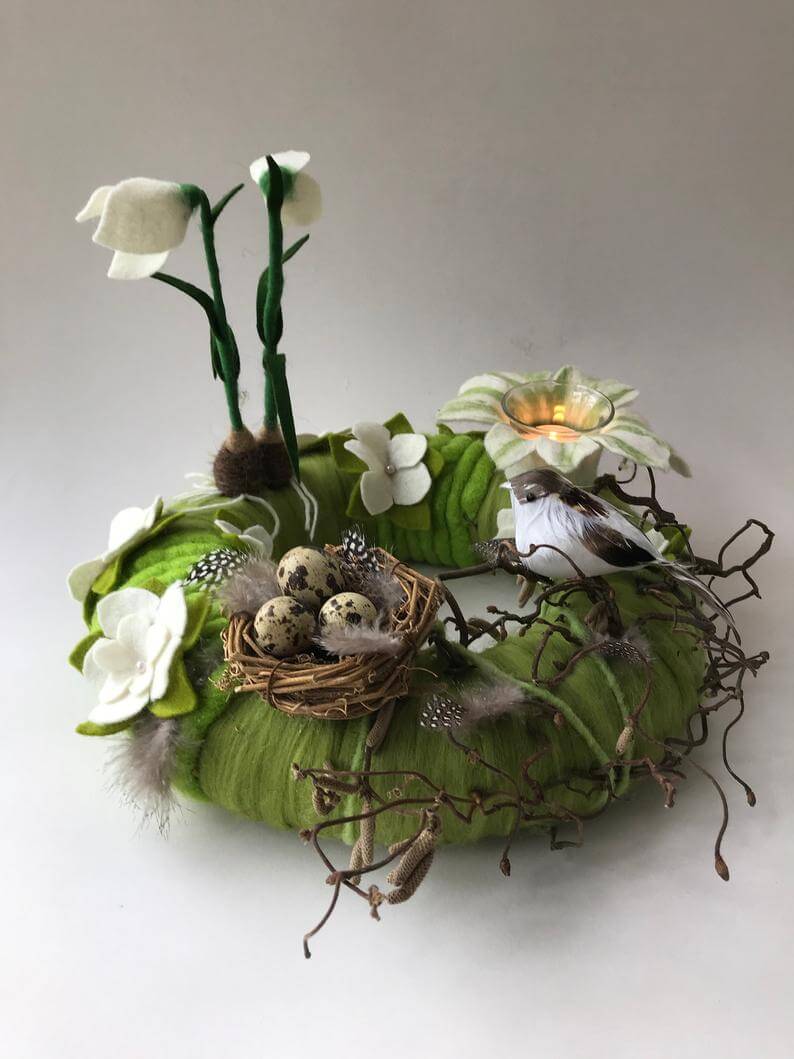 Visually appealing, this creative piece offers height and dimension infused with a variety of textures and interests. This round green nest is completed with a set of black and white speckled eggs and long white sticks. On the other side you will find a whimsical way to hold your favorite votive candle for an added element of light as it is housed inside a gorgeous open blossom of a white flower. The center of this blossom really ignites as it doubles as a votive holder too. This is an awesome idea for a spring family dinner centerpiece for yourself or the host of this special event.
14. Glass Dome Cloche with Wooden Base Bird Nest Display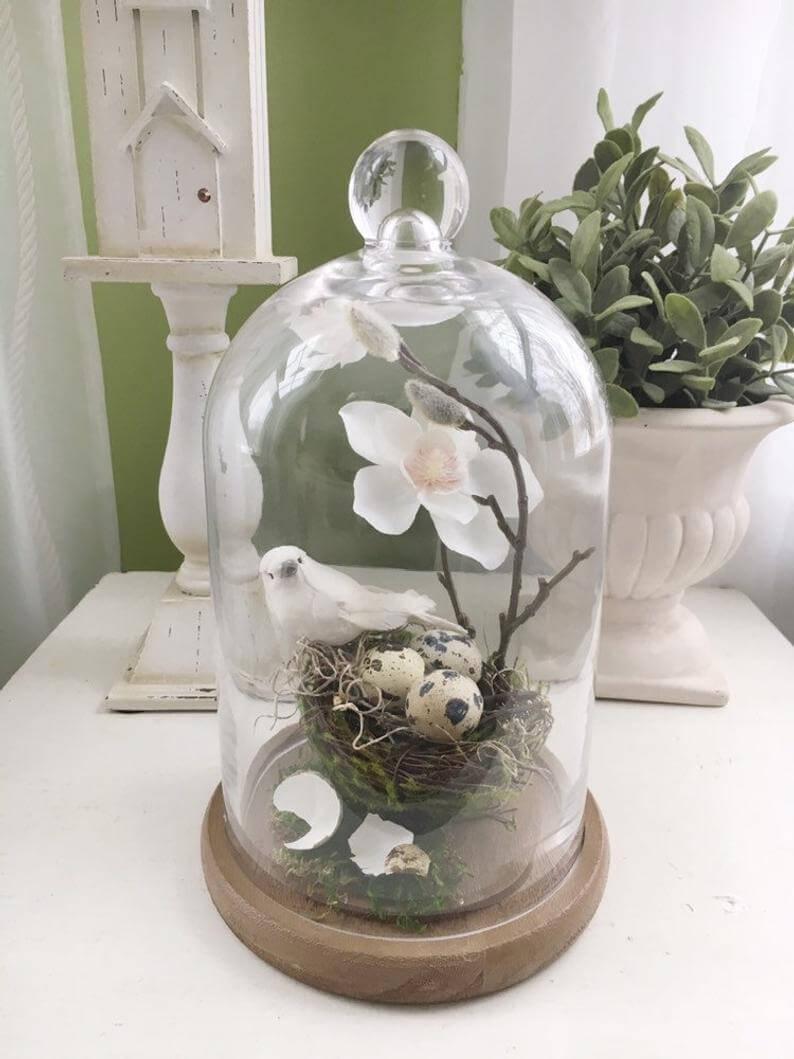 Add some elegance and nature into your design scheme with this attention-grabbing glass dome cloche. Complete with a wooden base, this glass dome cloche has the sleek and sophisticated lines of a modern piece while serving as a hub to some elements of nature that have been around from the beginning of time. Encased in this glass cloche you will find a tightly woven nest decorated with some moss and housing a set of three speckled decorative bird eggs. A dainty white flower compliments the design and an added visual interest is found at the bottom of the dome where a cracked egg has landed. Perch this polished piece on your kitchen island or on the focal point of the family hearth.
15. The Love Nest Featuring Two Birds in a Wooden House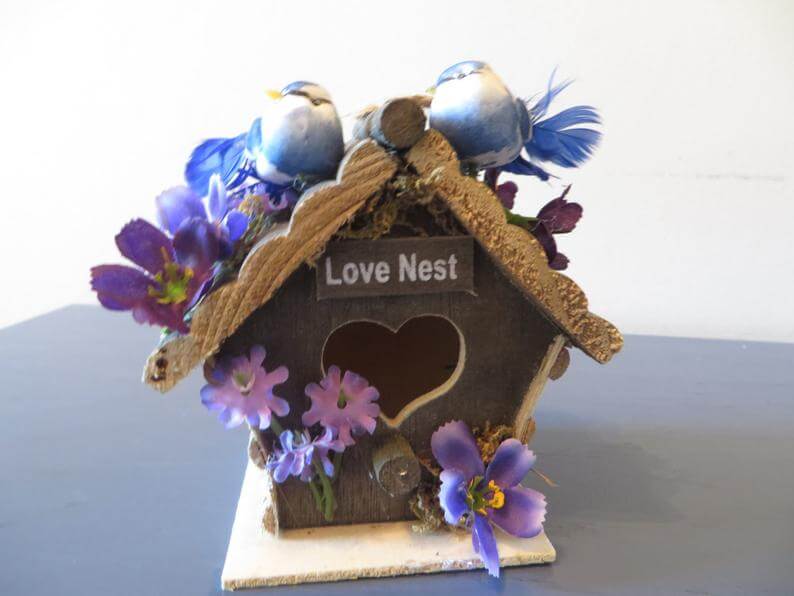 Love birds of all ages will delight in this cute and fun love nest. Featuring a wooden bird house where these love birds can reside, this love nest is filled with beautiful blue and purple flowers. The two blue birds complete the look and casually hint that love is in the air! Give this gift to a newly wed friend, at a bridal shower, or to celebrate an anniversary. This cool spring decor idea is great for updating the home for the season as well as it can take up residence in any corner of your home.
16. Small Rustic Bench with Nest and Green Plants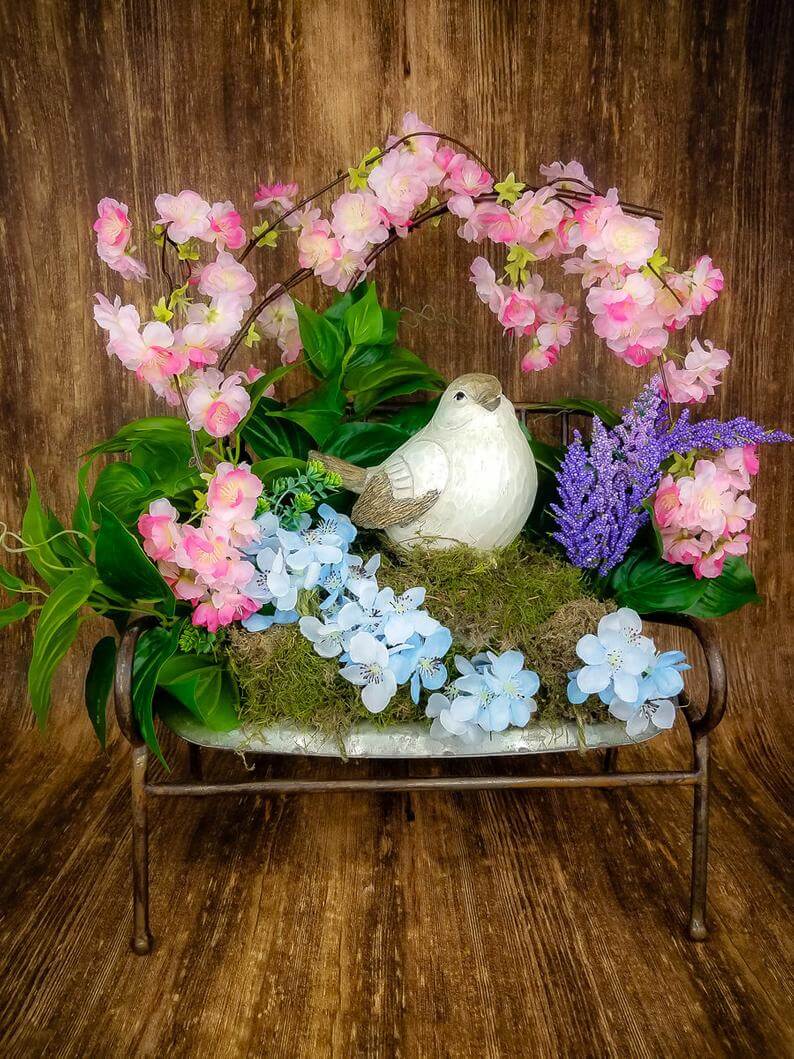 One of the best bird nest home decor ideas is this up-cycled piece. Taking something old and making it new again is the trend of today since we are desperately trying to reduce, reuse and recycle as much as possible. What better way that to re-purpose an old, deserted bench than into a nest with decorative bird eggs for a fun springtime look. Full of lush greens, this old metal rustic bench provides the resting place for some pale pink and blue flowers to take a load off. Front and center is a bold bird proudly seated under an arbor of pretty pink flowers. Secure this seated feathered friend beneath the lamp of your living room or bedroom.
17. Large Arrangement with White and Yellow Flowers and Bird Nest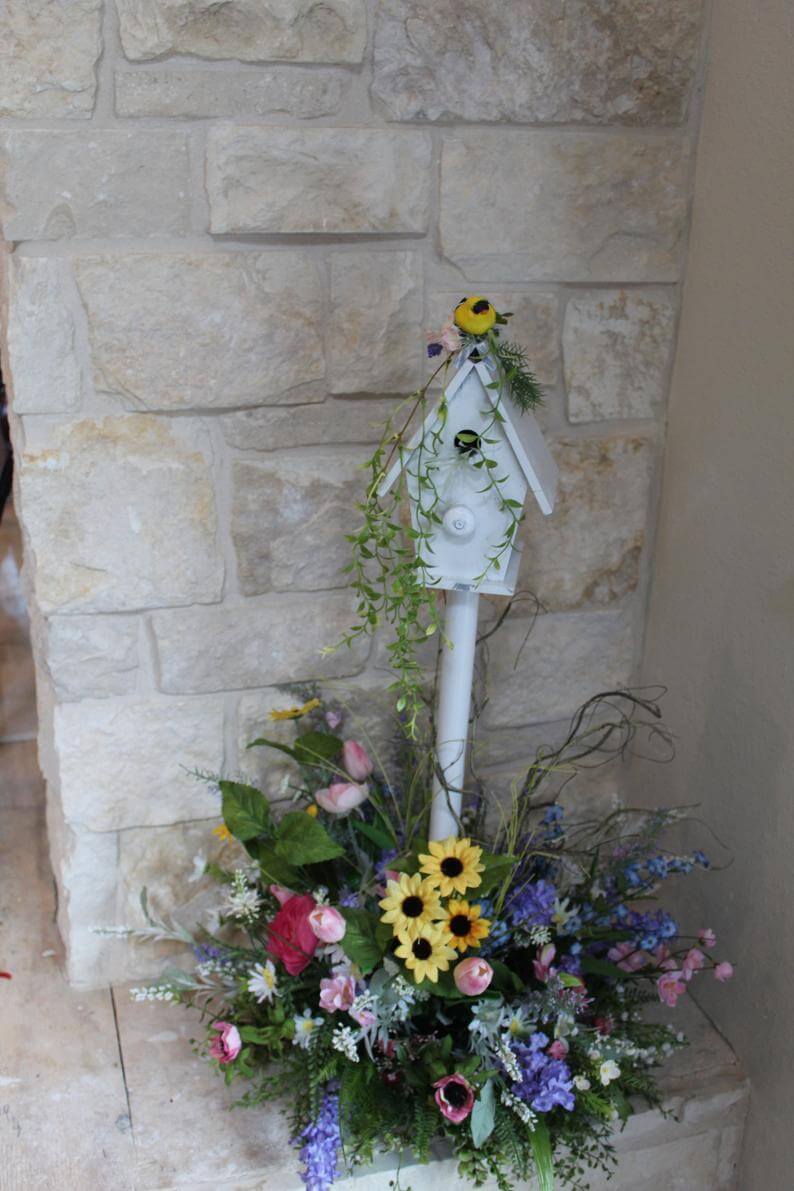 If you are lucky enough to have a fire place within your home, then look no further for the ideal way to update that focal point for spring. Here is a larger scale arrangement featuring some of spring's most iconic signs. From a bird house with yellow bird to a huge flower collection of varying heights, this arrangement needs to be seen and setting on the corner of the fireplace is just the right spot.
18. Gray Wire Bird Cage Holding Bird Nest Inside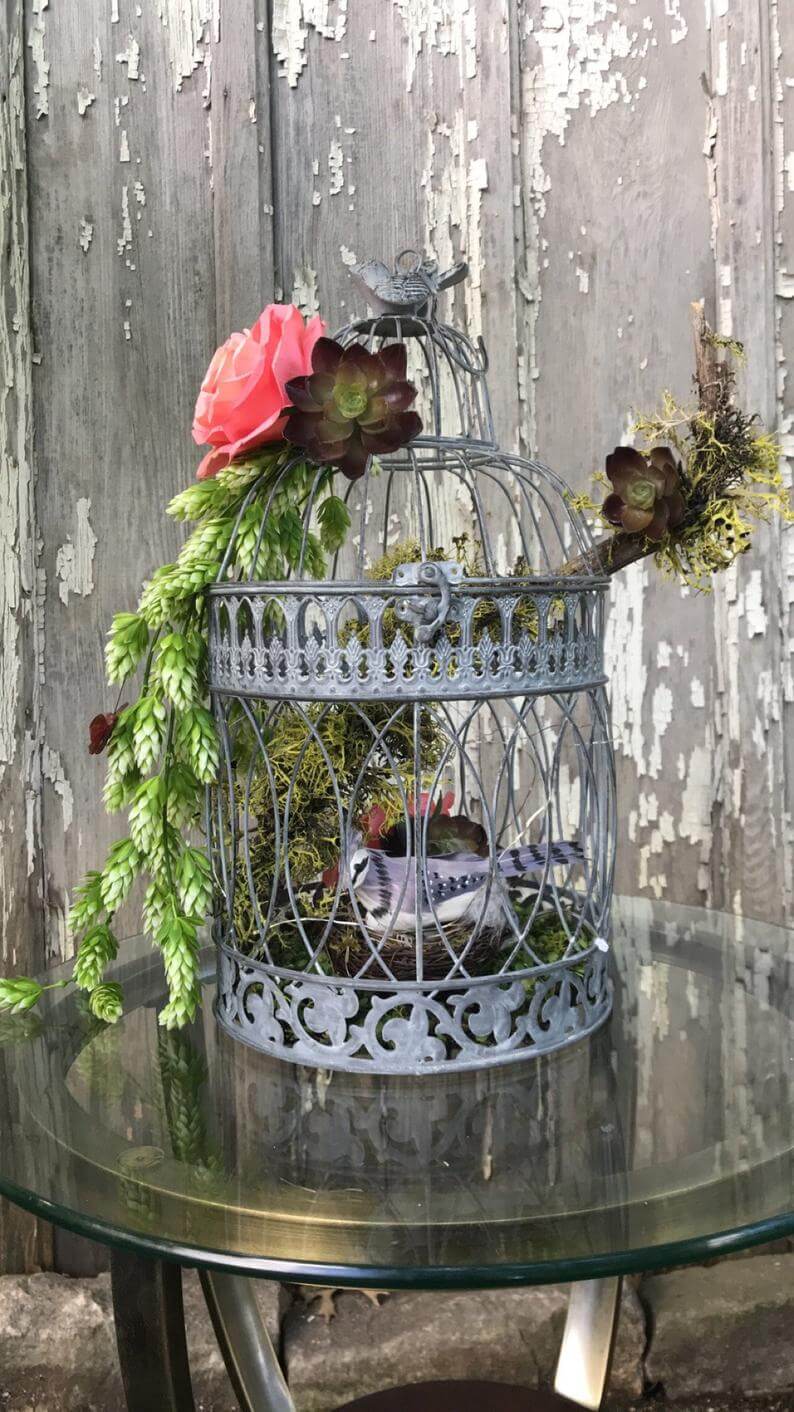 Wow! What a creative way to house some decorative bird eggs and a nest! This metal wire bird cage is constructed with a delicate scroll design across the bottom. Inside you'll find a pint-sized bird's nest with draped flowers all around. The neutral scheme of this gray, black and white bird is carried through onto the silver gray cage. Stay with the modern colors and add them to your existing space. This bird cage would look great near a window where some natural light could shine in.
19. Felt Flowers and Pink Polka Dot Spring Twine Wreath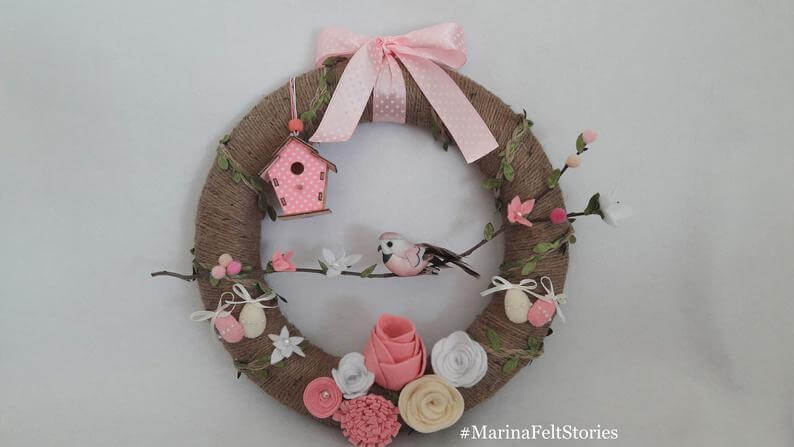 This wreath has been wrapped in twine to give it a down-to-earth vibe. This natural feeling is extended with the use of a branch holding a bird across the middle and the quaint bird house used. Pink polka dots and satin infuse a feminine feel throughout this piece. The addition of some felt flower buds and bird eggs provide a homemade feel to make this spring wreath stand out from the crowd. Freshen up your front door or share this beauty with your sister or friend as this wreath is one of the best bird nest home decor ideas you'll find!
20. Terracotta Pot with Tall Flower Grouping and Bird Nest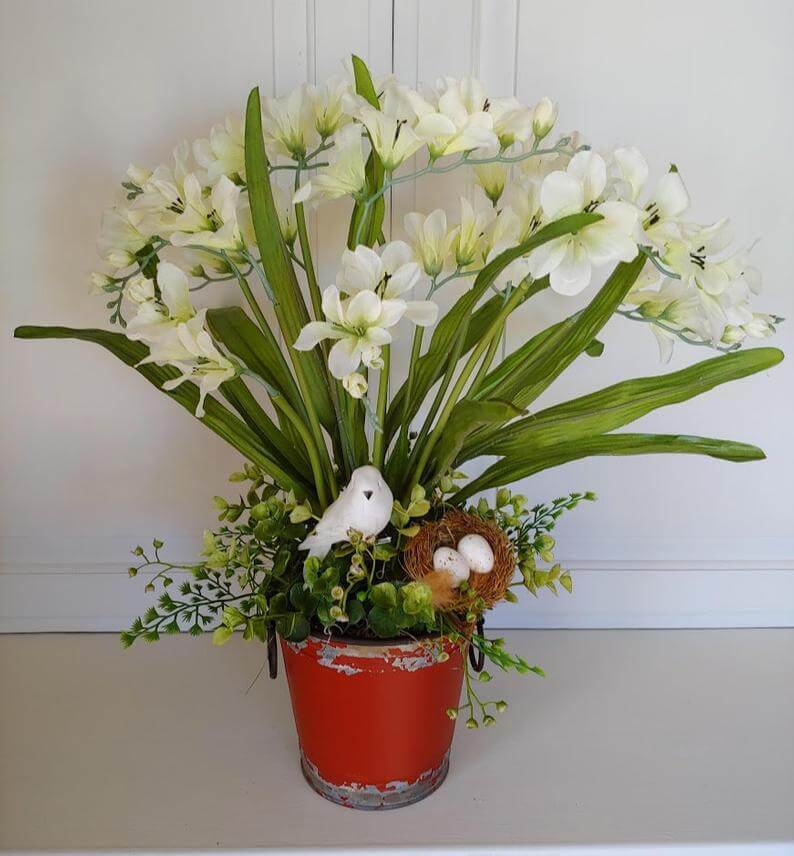 Look outside the box and you'll discover flower pots aren't just for flowers! What an amazing way to add some visual interest to an old, unused flower pot than by arranging a bold and big flower design with a bird nest feature. All things spring are here in one spot with this larger-than-life flower arrangement. This is one of the best bird nest home decor ideas as this piece incorporates all the necessary elements to really scream spring onto the scene. Brighten up an office space and make your desk come to life with all the beauty in this one springtime display.
20 Adorable Decorations with Bird Nets and Birds that will Add Charm to Your Home
No matter what type of decoration your heart desires, you are sure to find one of the best bird nest home decor ideas on etsy.com. The blue sky is the limit for all of the fresh ideas for updating your home or office with these collections of flower arrangements, decorative bird eggs, dainty nests, vines, twigs, moss and pearl strands.
One of the most obvious ways to bring a touch of spring inside your home is to add some of these seasonal touches and the wreath on the front door is the standard approach. While this is a timeless touch it isn't the only option. Today's creative market lends a hand to those who want to spruce up their interior space with some whimsy and flair.
Tuck a bird house into a dimly lit corner of your home or proudly display a bird cage or nest in a tea cup in your formal dining room. Choose a tea cup and saucer set to infuse the room with a little Victorian feminine flair. No matter where you choose to place your new spring look, there are plenty of choices for your awesome idea to come to life!