15. Lovely Ladder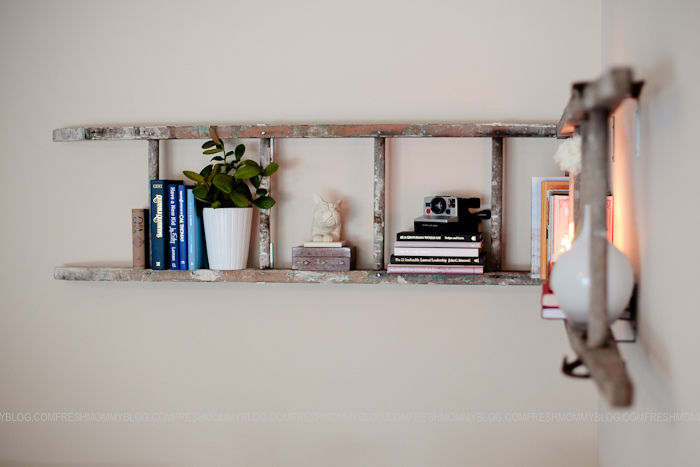 Think that old wooden ladder sitting in the shed needs to be thrown in the garbage? Think again. Give it a second life as a unique leaning bookcase. Hung against the wall, books and other items can sit on top of it and rest against the wall for added support. Leave the ladder in its worn state for a rustic look or give it a fresh coat of paint for a more clean, modern appearance. Different size ladders can be combined to create variety and provide for additional storage capacity.
16. Read All About It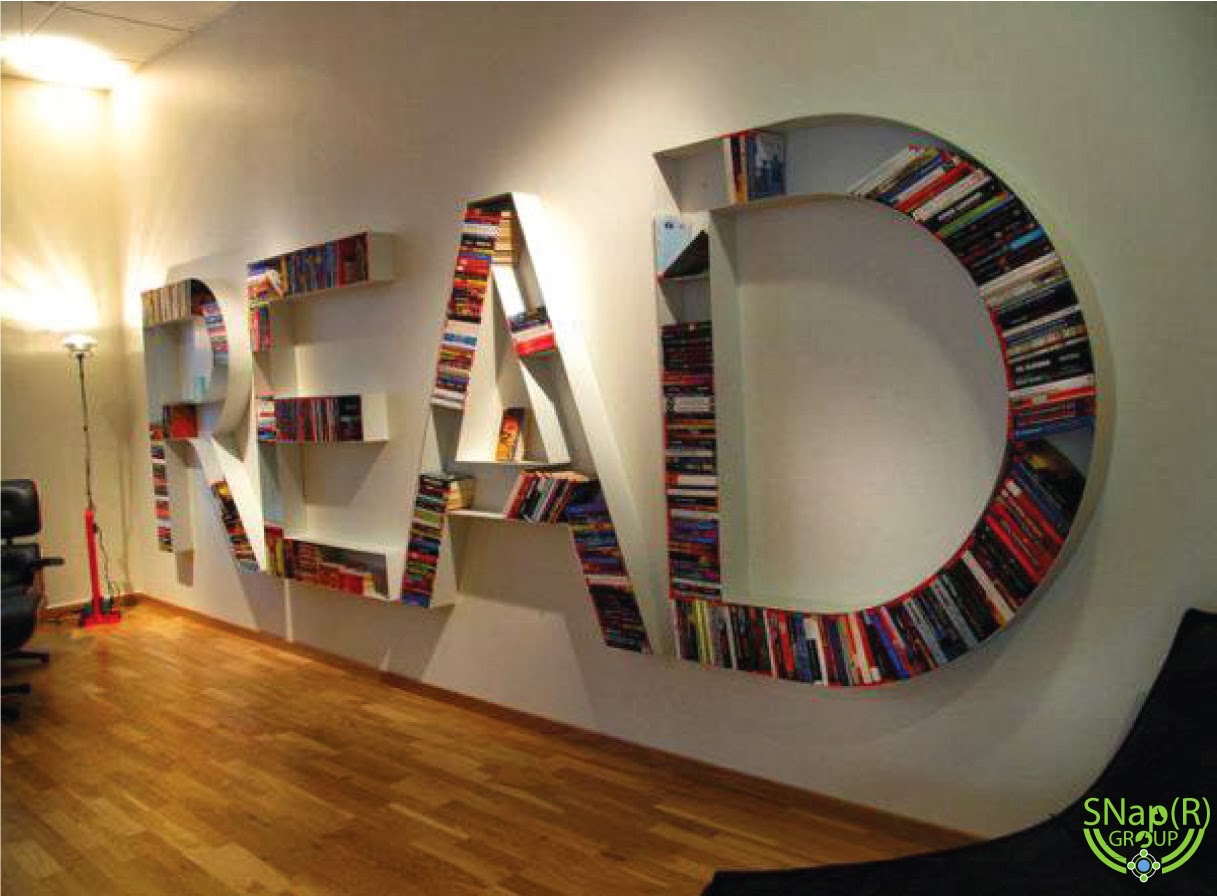 Have a huge wall just begging for a focal point? Love books? Love to read? These oversize letters instructing viewers to read may be just the thing. The large shelves offer enough space for a huge book collection to be on display, providing easy access for someone to choose a book and do just as the bookshelves instruct. White letters against a white background make the books themselves the dominant element as they spell out the word. Placing the letters against a dark background would allow the shelves to speak for themselves even if they were not totally filled.
17. Leaning Door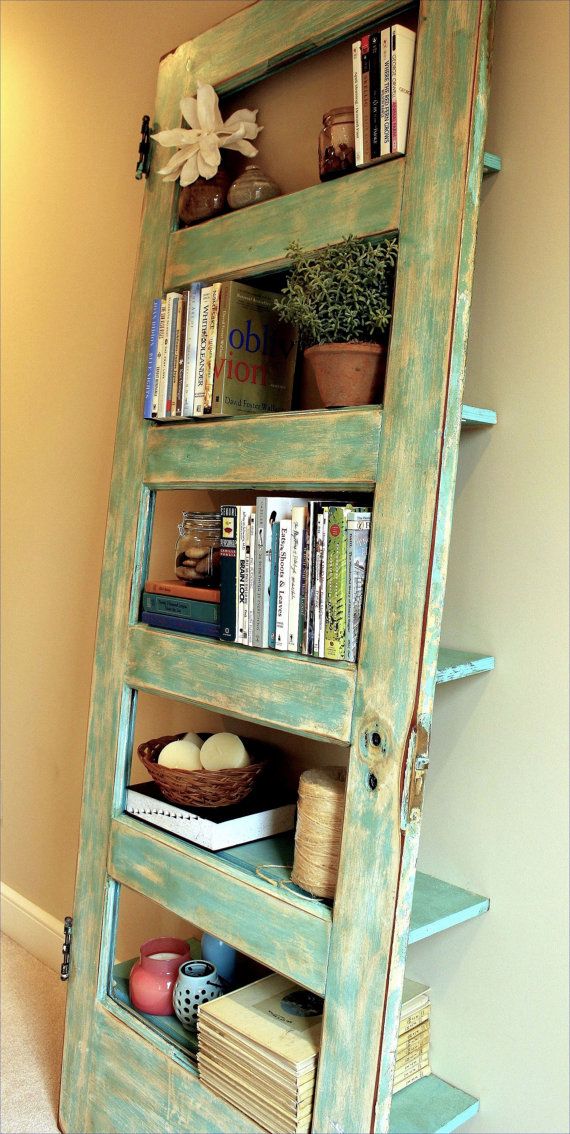 Bookshelf designs utilizing unusual elements provide an unexpected visual surprise. With a little ingenuity, an old door can get a new life as a leaning bookcase. The vertical openings have been built out with shelves varying in size from large on the bottom to small on top, offering space for different size books and items to be displayed. The door and shelves can be painted in a matte color and then sanded to create an antique distressed look or they could be given a high-sheen gloss for a totally different appearance. Hardware can either be removed or left on, depending on the style one is going for.
18. Diagonal Design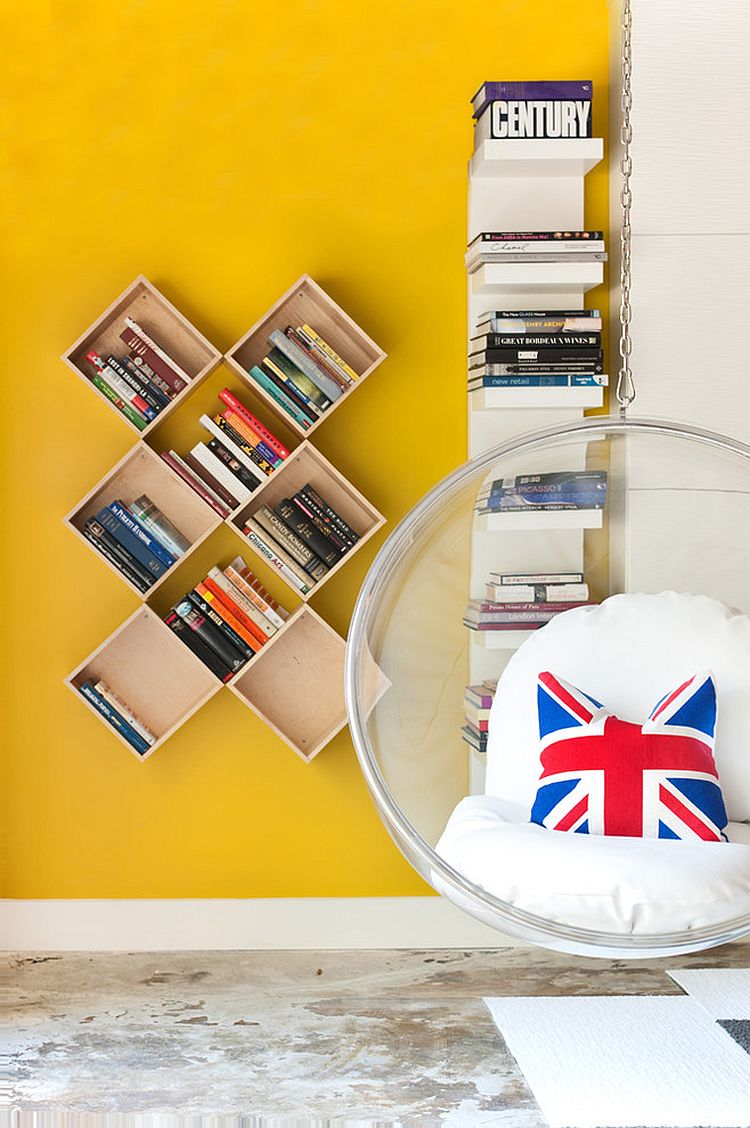 Bookshelf ideas making use of storage cubes are nothing, but turned on their side to create a diagonal pattern, they can make an impressive focal point. If one has a small book collection to house, a few blocks may suffice, creating a simple design. If more storage is needed, a full wall could be covered with cubes. Alternate cubes could be used to house books creating a quilt-like pattern. By the same token, similar colored books could be stored in individual cubes to enhance the artistic quality.
19. Elegant Built-In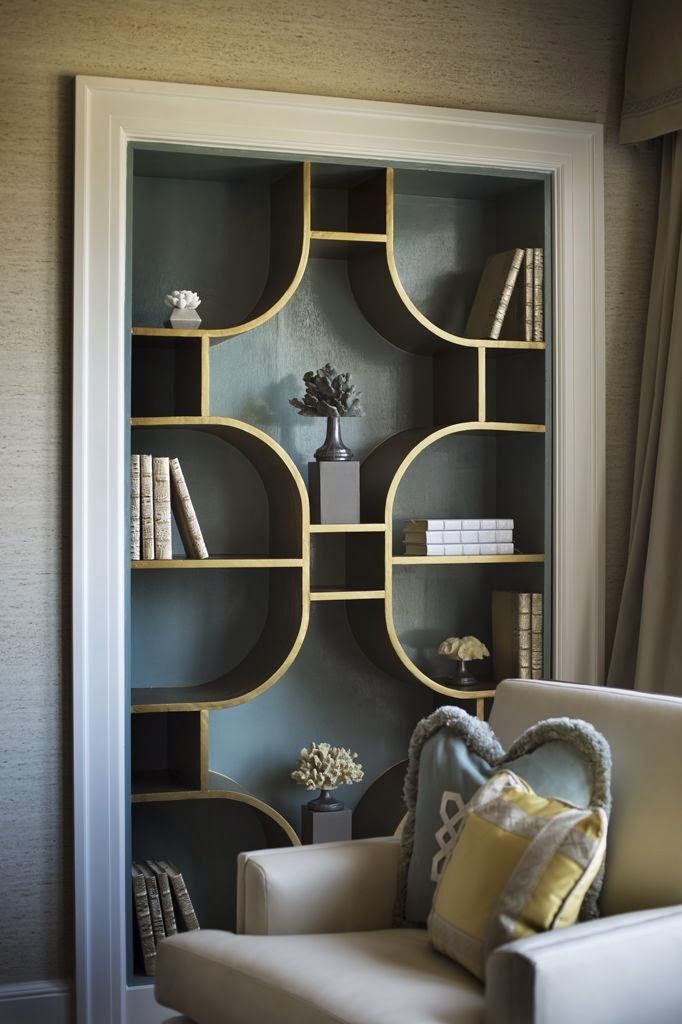 Built-in bookshelves always look impressive. The curved symmetrical, geometric shapes of this bookshelf only add to its elegance. The large frame on the outside highlights the display area, while the cross-shaped center areas are ideal for highlighting a floral arrangement or work of art. The smaller outer shelves can be used to exhibit cherished books or photographs. This bookshelf is sure to attract attention in whatever room it graces.
20. Comfortable Curves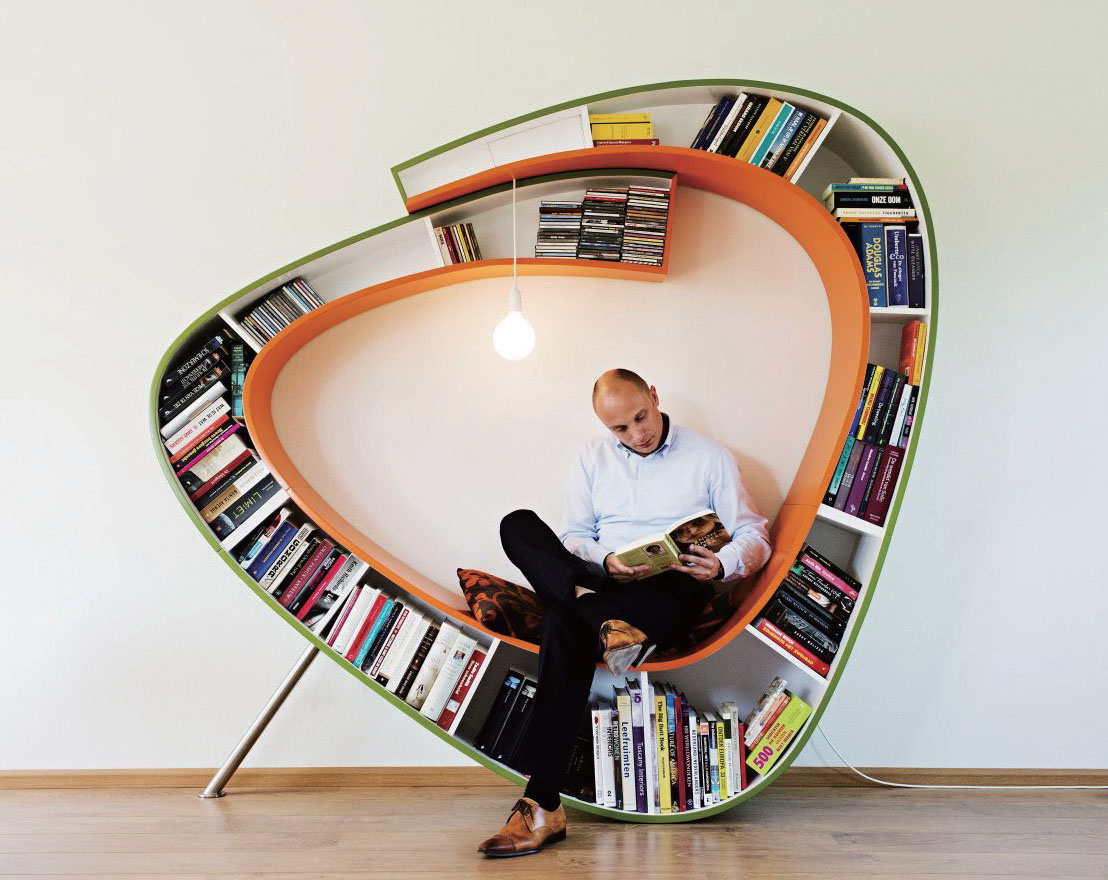 Bookshelves always need a seat nearby so that one may choose the perfect book and then curl up and read. How much better is it if the bookshelf itself includes a seat? This curved bookshelf creates a striking design element while providing a comfortable place to sit and enjoy the latest book by your favorite author. Built-in dividers create spaces for the books or other items to rest on the curves allowing for maximum storage in an unconventional space. Different size storage areas allow similar size items to be grouped together and create a pleasing aesthetic.
21. Modern Classic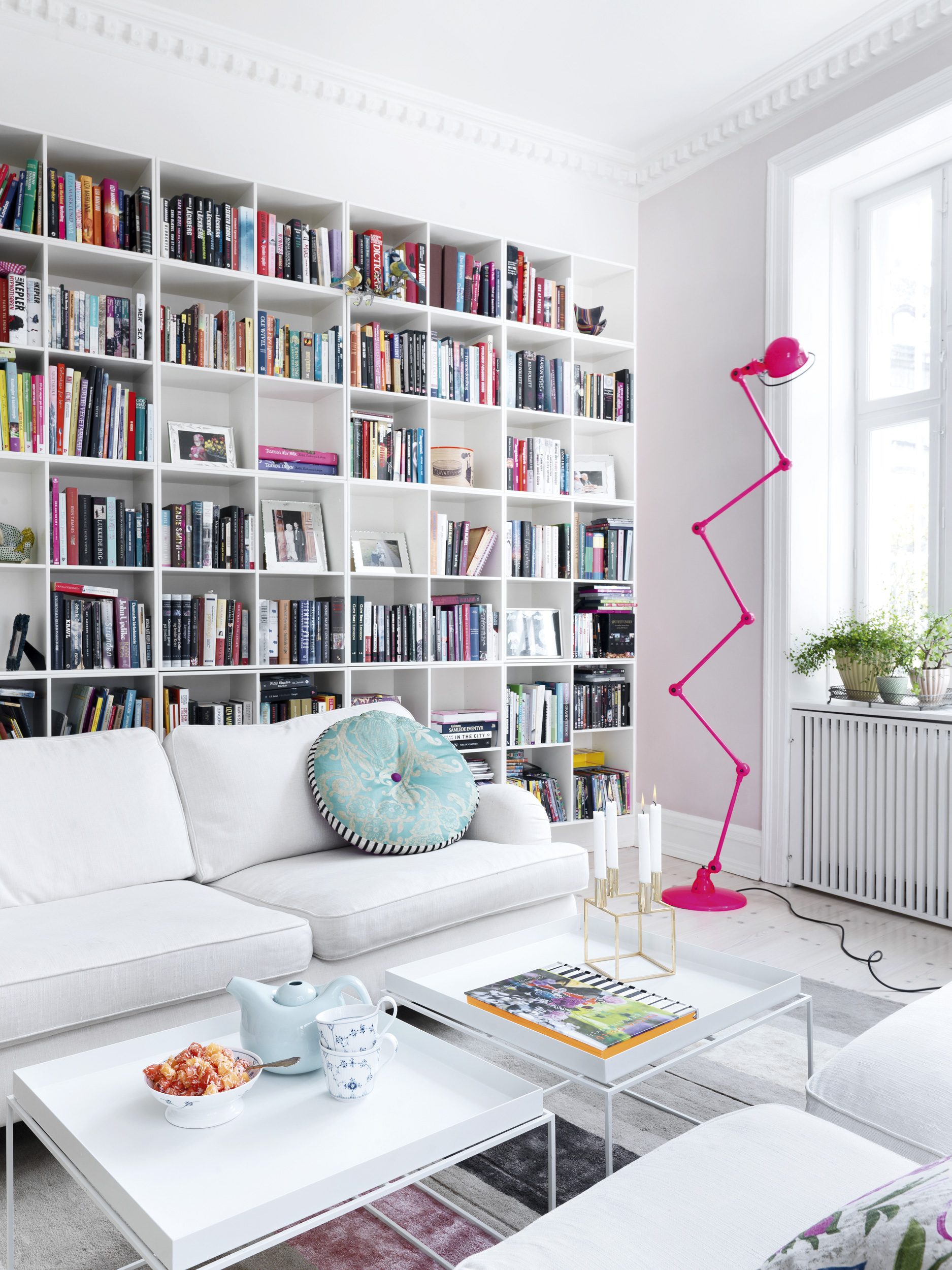 A large solid wall in a living room, library, or study is the perfect location for floor-to-ceiling bookshelf ideas. This is a traditional look designed for holding a large number of books, photographs, or small pieces of art, but the white shelves and white background give it a modern appearance. In this bookshelf design, the items on display become the primary focal point, enjoyed for their own artistic value and beauty. This piece is extremely functional, providing a storage solution and a design solution at the same time.
22. Reading Organizer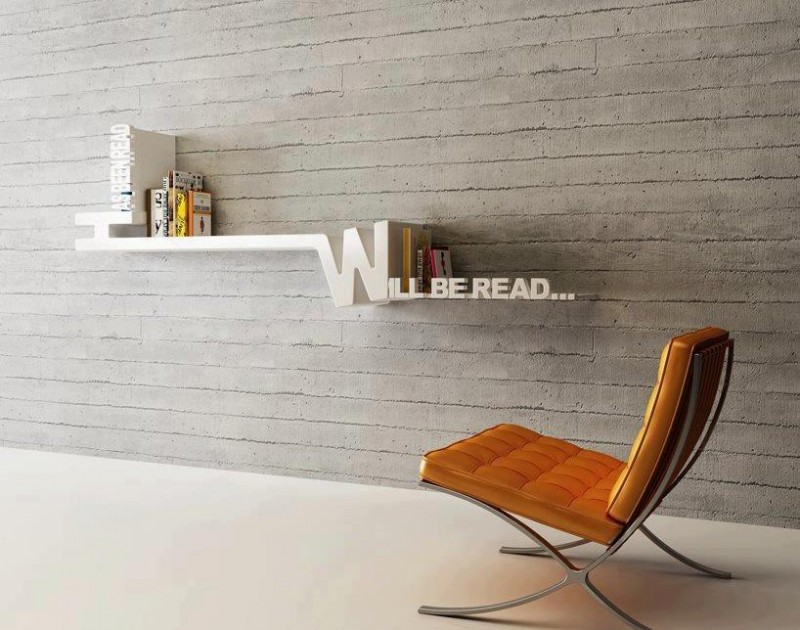 This minimalist bookshelf features two shelves in one. One proudly proclaims, "Has been read," while the other offers a reading to-do list, emphasizing "Will be read." The "H" and "W" are large elements of the design while the other letters are in small caps. A relatively small collection of books can be exhibited on these shelves, but it is the perfect conversation starter for "What have you been reading lately?" It also provides a simple organization system for keeping track of the books one wants to read next. The simple modern lines would look sleek in any contemporary setting.
23. All the Right Moves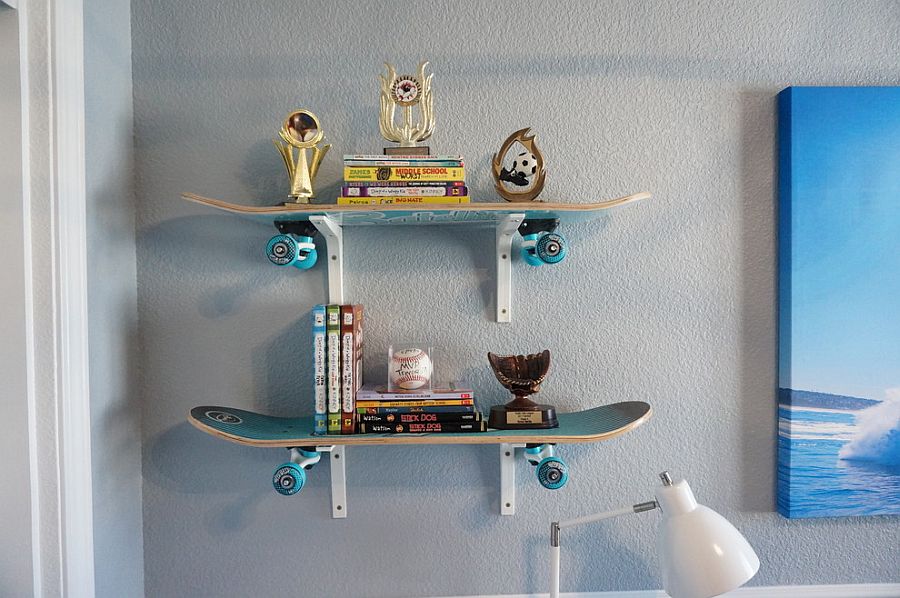 A pair of repurposed skateboards create an unexpected display area for books, trophies, or other showpieces. Lightweight items such as jewelry, hair ties, or award ribbons could be hung from the wheels adding more storage capacity. Some simple hardware and a drill are all one needs to convert these well-loved boards into a lasting attraction. The gentle curves add some visual variety to a blank wall, while the pattern of the skateboards themselves add to the design quality. These would provide a fun touch to a tween or teen's room or could be a much-loved reminder of youth in a man cave.
More stunning bookshelf ideas on the next page…