24. Symmetrical Storage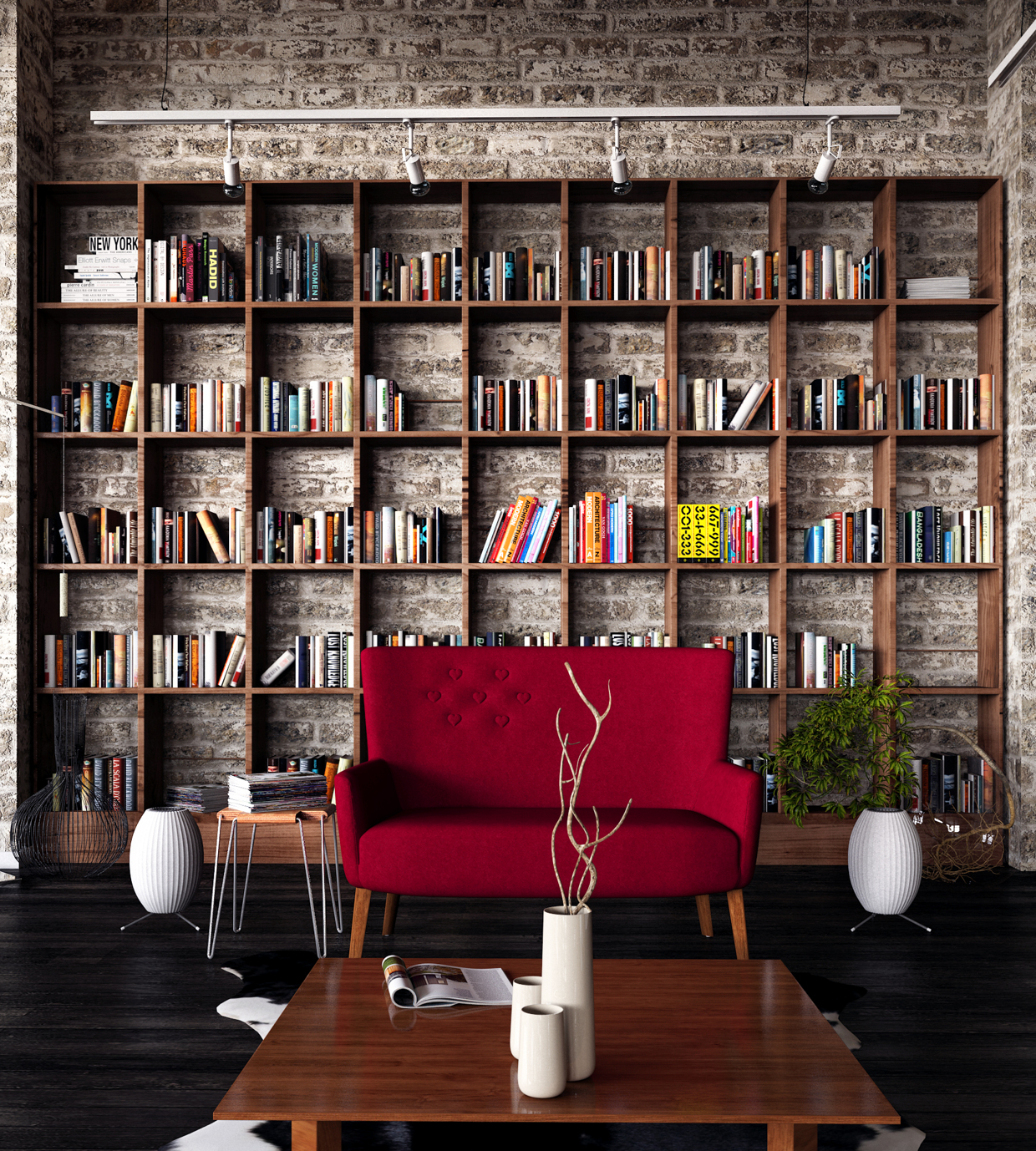 This full bank of symmetrical rectangular storage areas is easy on the eyes while providing a great deal of room for books, photographs, and other items worthy of display. The natural wood tones almost blend in with the painted brick wall, creating a calming effect. This is an inviting place to relax after a hard day at work. A book collector could use every section to exhibit and catalog an impressive library, or one could vary the display sections, choosing to highlight select pieces.
25. Marks the Spot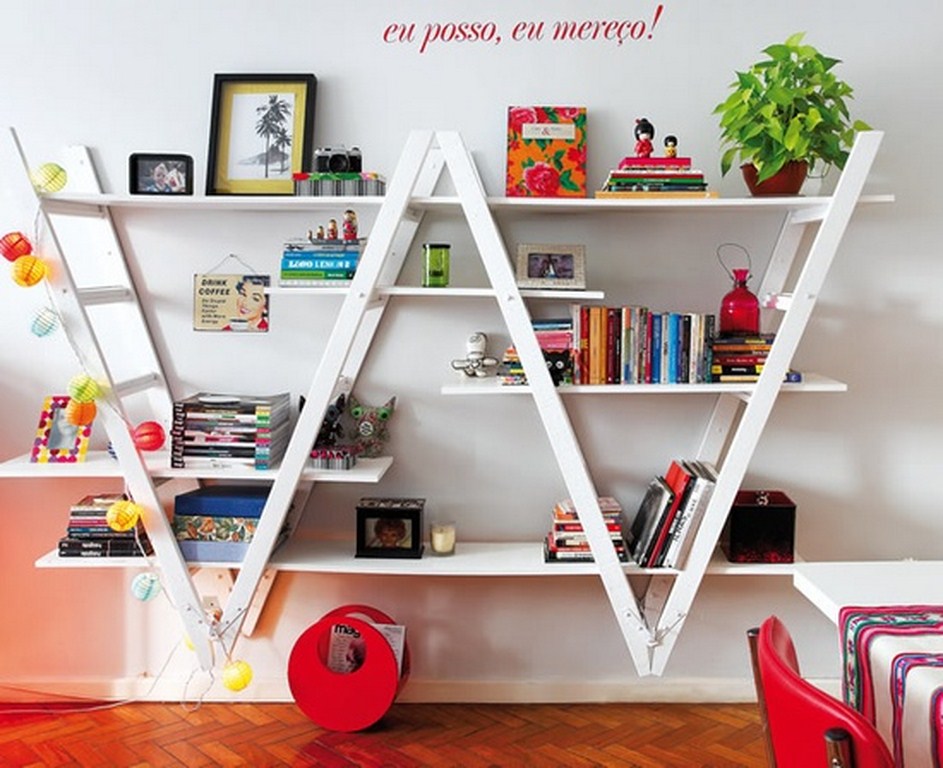 What do you get when you turn two hinged ladders upside down and place them next to each other? A large "W" that you can place planks across to create an innovative storage solution. White paint serves to unify the ladders and the shelves, allowing the vertical and horizontal lines to speak for themselves. Placing items of various heights and shapes on the shelves helps accentuate the unique design. Wherever this "W" is placed, it is sure to be a unique showpiece and a highlight of your home design.
26. Geometric Floral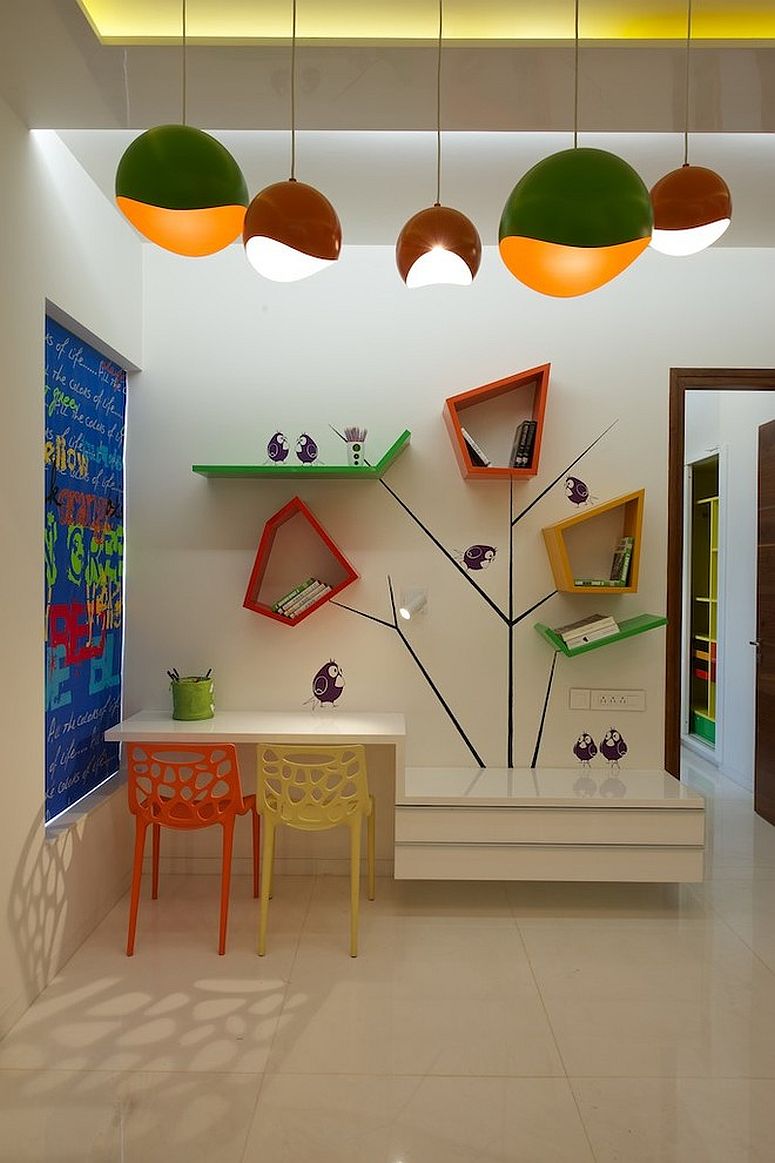 Bring a touch of spring into your home all year long with this ultra-modern geometric floral pattern. The combination of the brightly-colored three-dimensional flowers and leaves contrasted with the two-dimensional stems and birds provides a visual punch while providing unusual storage areas. While this configuration does not offer a great deal of room for shelving books, it is perfect for highlighting a few select pieces worthy of attention. Items chosen for display can be used to emphasize the geometric elements, adding to the overall artistic impression.
27. Kitchen Solution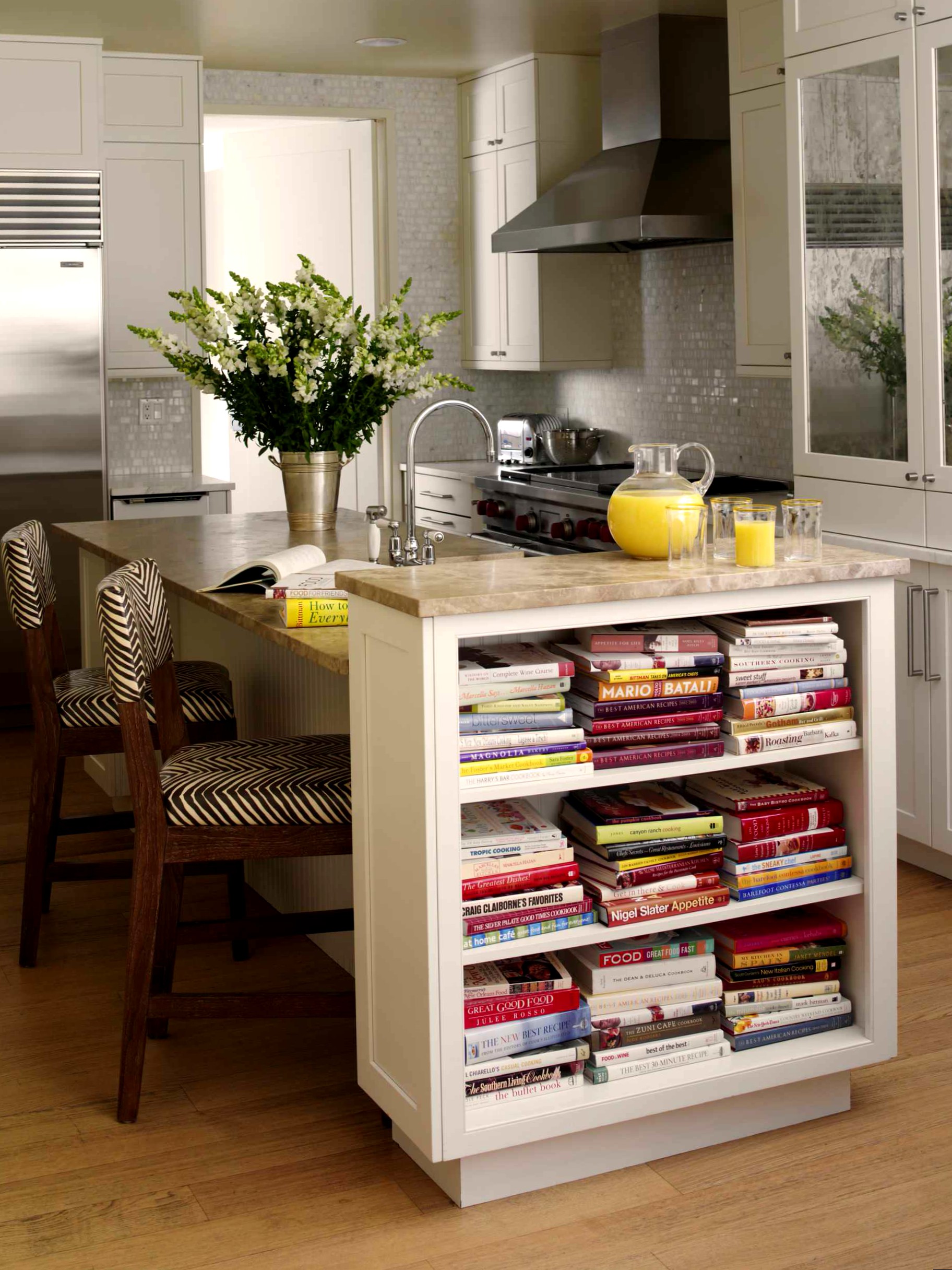 Any foodie enjoys the pleasure that comes from leafing through cookbooks to find the perfect meal to pull together for an intimate dinner for two, a family luncheon, or a holiday affair. Finding a place to store these treasure-troves of ideas can be a challenge. This kitchen island bookshelf is an easy solution. The solid top adds additional serving space to the kitchen island while the slim profile takes up relatively little floor space. The traditional white construction is understated, yet elegant. Set against the white background, the decorative spines of the cookbooks add a splash of color.
28. Industrial Style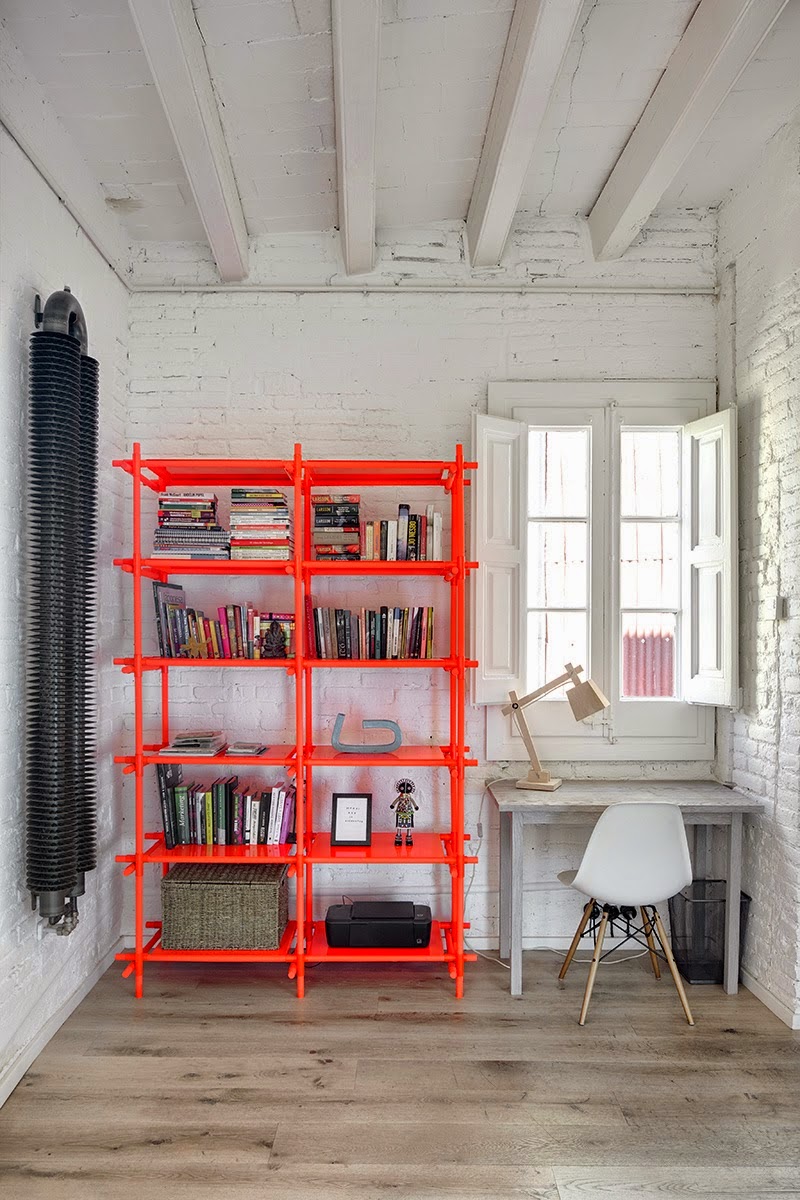 Strong and stylish, the sleek vertical and horizontal lines of this metal bookshelf are sure to be a focal point of your home decor. Perfect for a loft apartment in a converted factory and right at home in an urban setting, this storage solution would also make an unexpected statement in a more traditional environment. The bright red attracts attention, while the large sturdy shelves and open spaces can support anything you might want to put on display. Fabric or wicker storage baskets could also be used on the shelves to corral smaller items and keep them out of sight.
29. Double Duty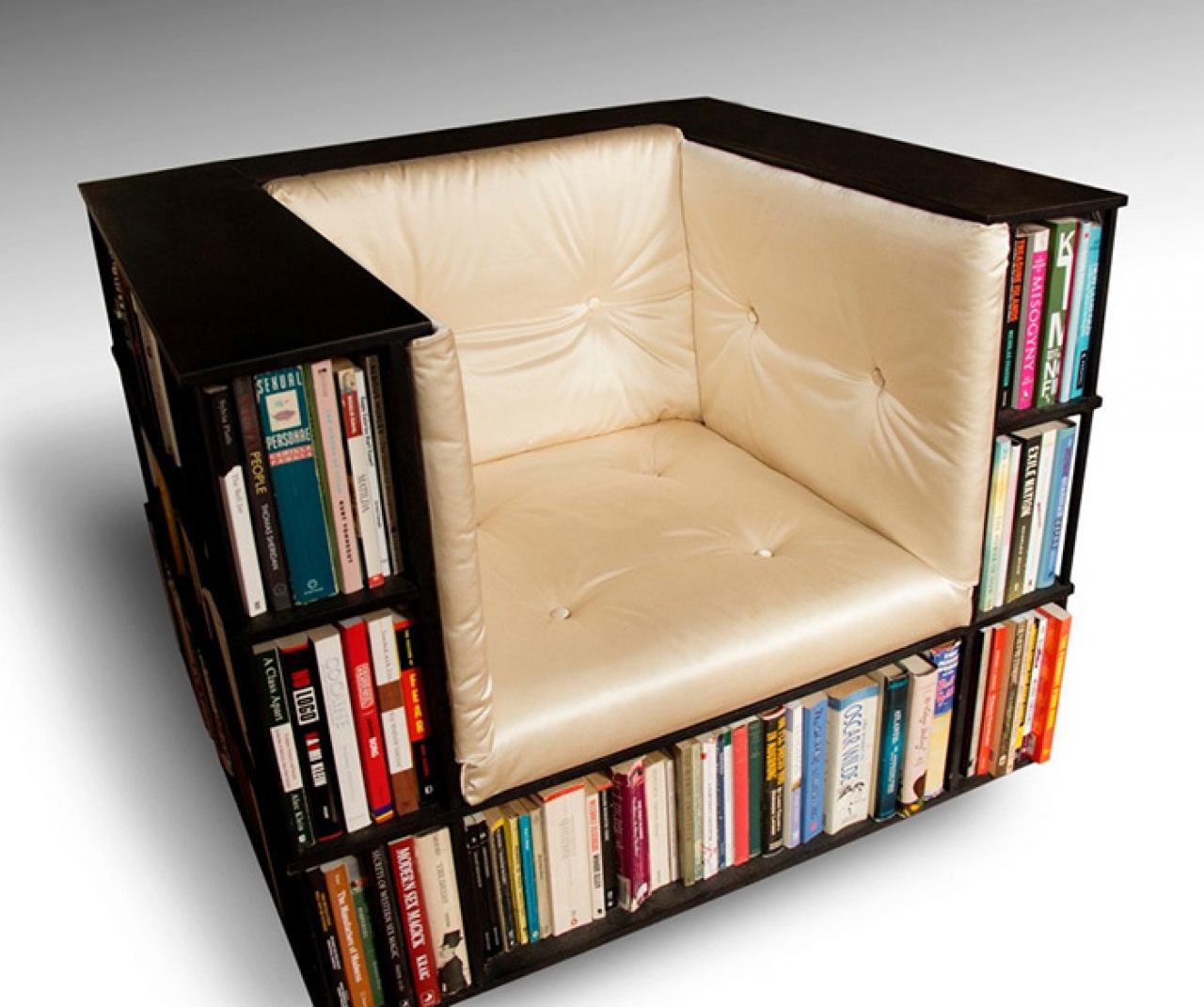 Trying to make the most out of a small amount of space? Looking for furniture that can serve multiple purposes? Look no further. A book-lover's dream, this unique chair bookcase not only offers a cozy, comfortable spot for sitting, it keeps favorite books within arm's reach. This piece is an exercise in contrast. The white upholstery and black frame are a classic color combination which will complement any design scheme, while the soft cushions and hard shelving combine to provide both function and form. This chair would be a great addition to any living room, bedroom, or study.
30. Dividing Wall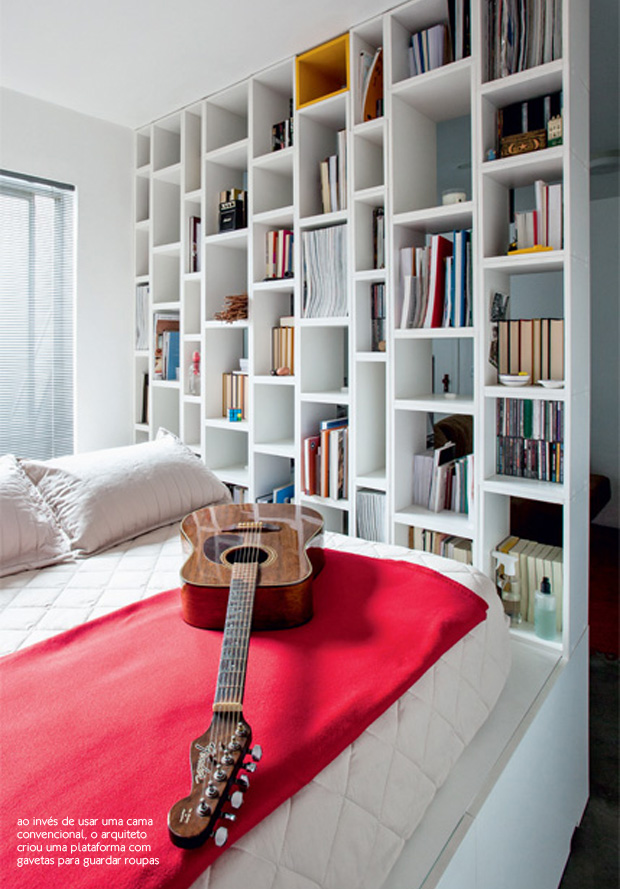 Small spaces call for innovative solutions for both design and storage. This wall of shelves offers a large amount of storage capacity while visually separating two distinct living spaces. The variety of shelf sizes offers a place to store and display items both large and small. The lack of a supporting back wall means light and air can still pass through, dividing the space, but not isolating it. The white color and open spaces are unobtrusive, providing visual interest while not dominating the space. The one yellow block adds a splash of color and provides an unexpected visual surprise.
31. Half-Moon Multitasker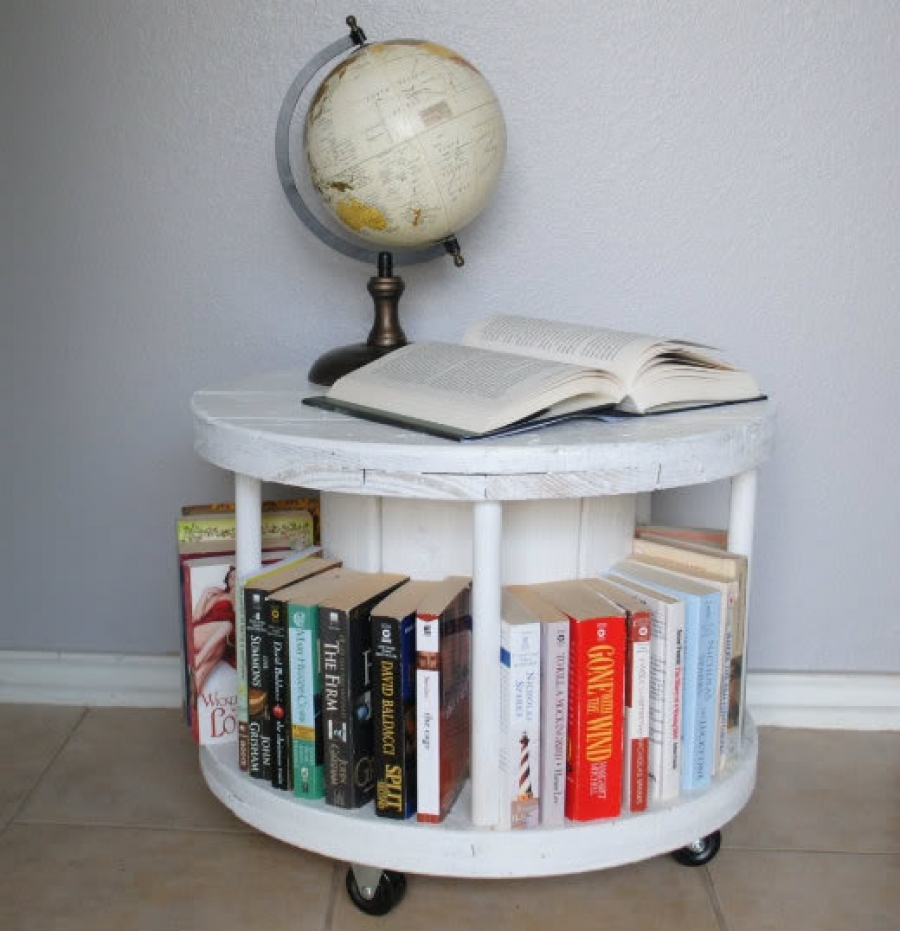 This versatile half-moon end table doubles as a bookcase, getting the maximum amount of use out of a minimum amount of space. The white bookshelf easily blends in with any home design style while the wheels enable the table to be moved wherever it may be needed. The circular shelf keeps favorite books within easy reach, and the top can be used as additional storage space, perhaps to organize school supplies or keep a drink handy while you read.
32. Arched Elegance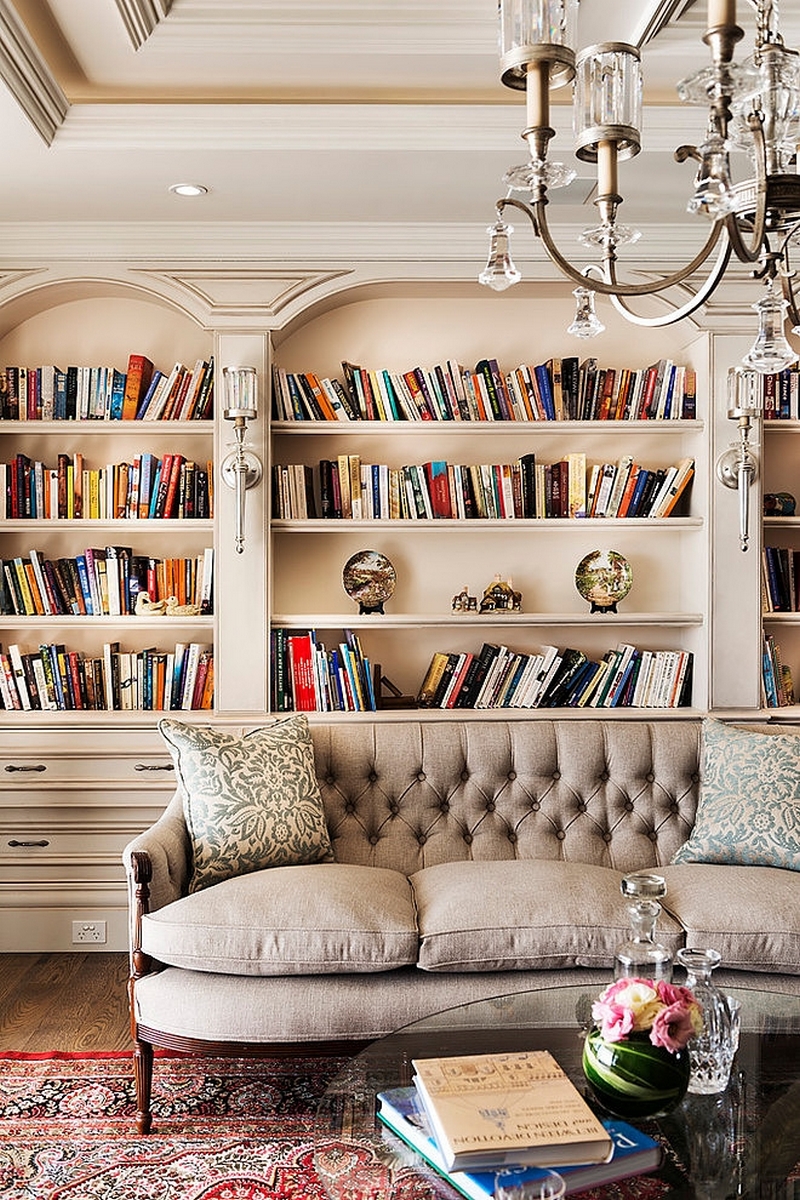 Channel the spirit of days gone by with this elegant arched built-in white bookshelf. The moulding serves to emphasize and enhance the architectural elements. The oversize shelves can hold a full collection of literary works with room to spare. They would also make an excellent display area for fine collectibles. The drawers underneath allow for hide-away storage of smaller items, while the traditional style pulls on the drawers are an attractive accent. The attached light fixtures add to the overall appearance while providing an additional source of light and ambiance during the evening hours.
More beautiful bookshelf ideas on the next page…