33. Inviting Window Seat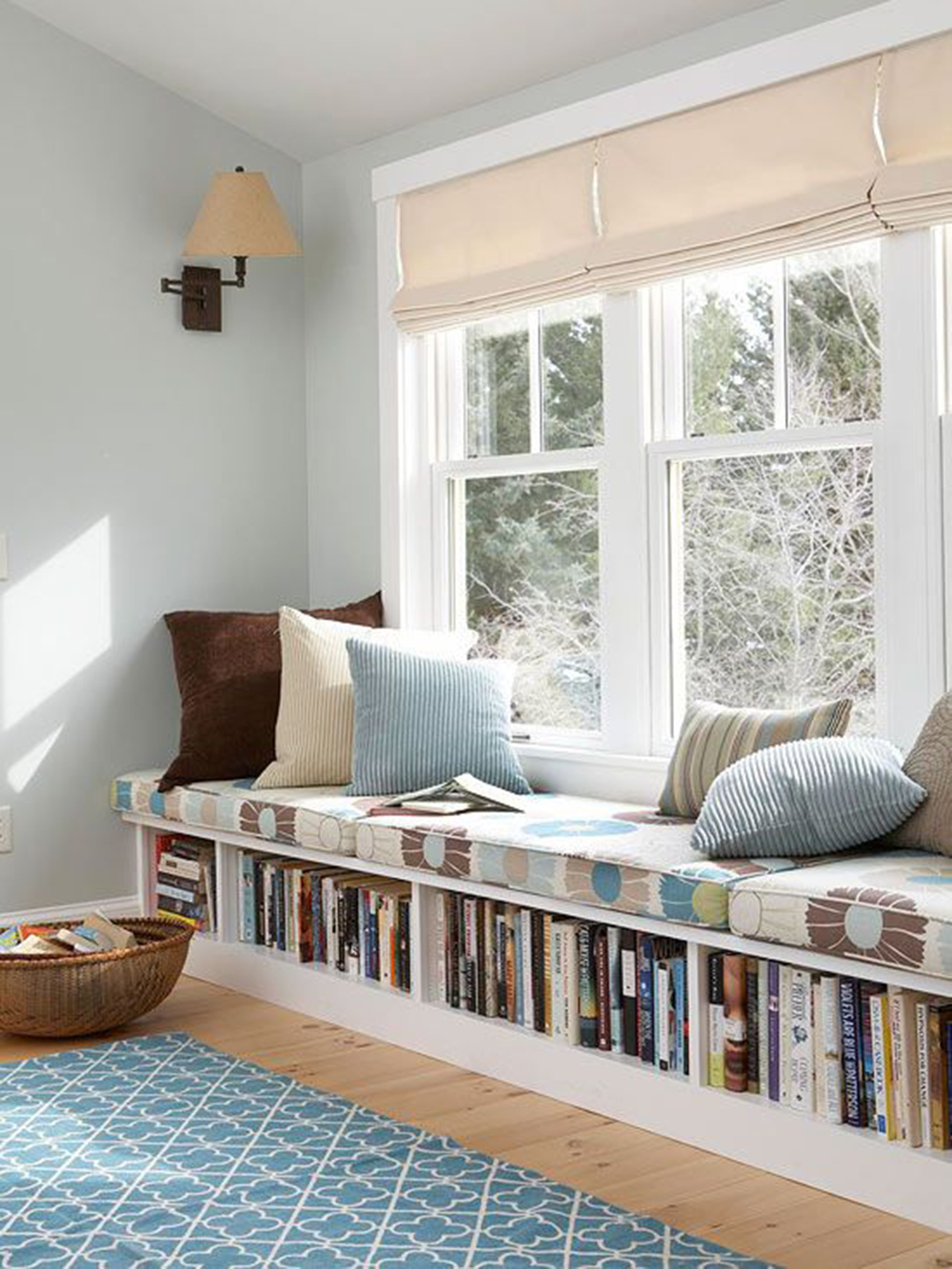 Is there anything more inviting than a cozy window seat covered by soft cushions and fluffy pillows? Soak up the sunshine while enjoying a much-loved book on this generously-sized window seat complete with built-in bookshelves underneath. This space-saving feature does double-duty, providing both a seating area and storage space. The white bookshelf offers clean, classic style. This comfortable, casual spot is sure to be a favorite location to sit and relax, either alone or sharing a cup of tea with a friend.
34. Multileveled Surfaces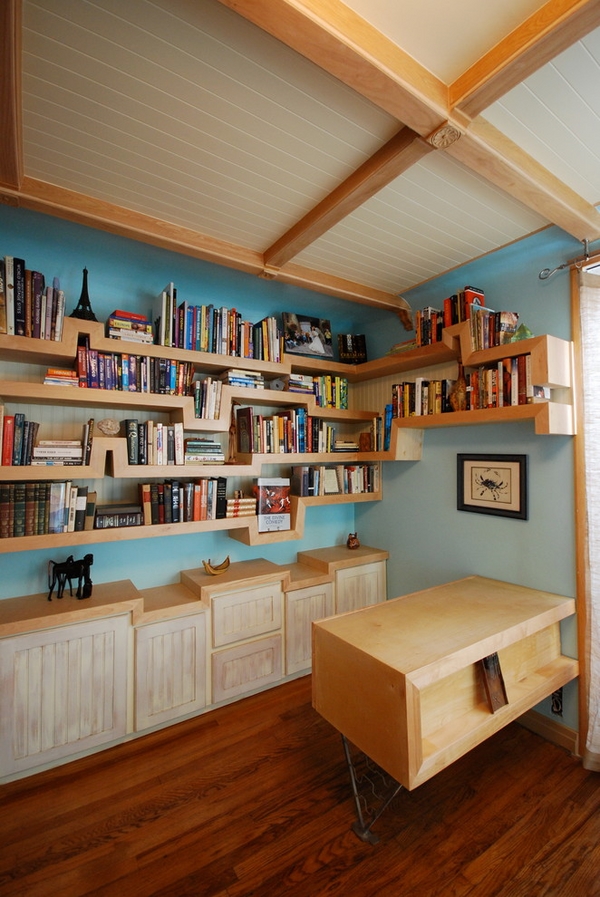 Say goodbye to long flat surfaces with these unique shelves. The various levels and architectural protrusions add visual interest while providing different size spaces for items of diverse sizes and shapes. The sturdy shelves provide ample storage while the natural light color of the wood and unusual lines creates a fresh, modern look. Books and other display items can be used to accent the existing shape of the shelves, adding to the overall appearance and impact. Using the same wood and similar style for cabinetry, desks, and ceiling accents serves to produce a very pleasing united appearance for a work space or office.
35. Stunning Sunburst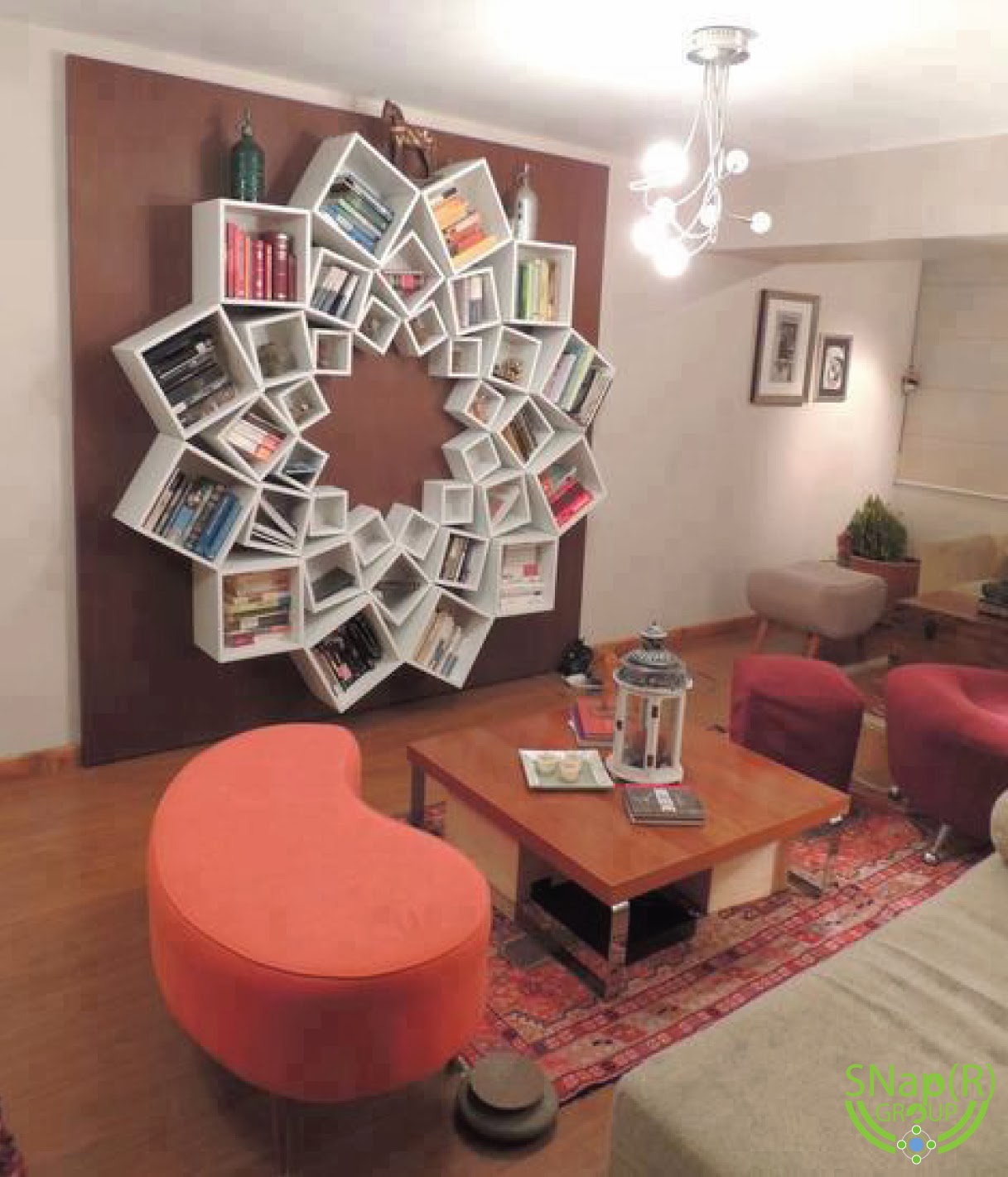 Give your home decor a "wow" factor with this artistic sunburst. The geometric squares radiate from the inside, increasing from small to large, set at rotating angles. This is a piece sure to attract attention. Set against a dark background, the white sunburst provides maximum contrast and interest. The three-dimensional design jumps out from the wall, adding both an architectural and creative component. It is also a practical piece, able to store a great deal of books, movies, or compact discs. Furthermore, the uppermost horizontal surfaces can be used to display additional pieces or sculptural works of art.
36. Pipe Performance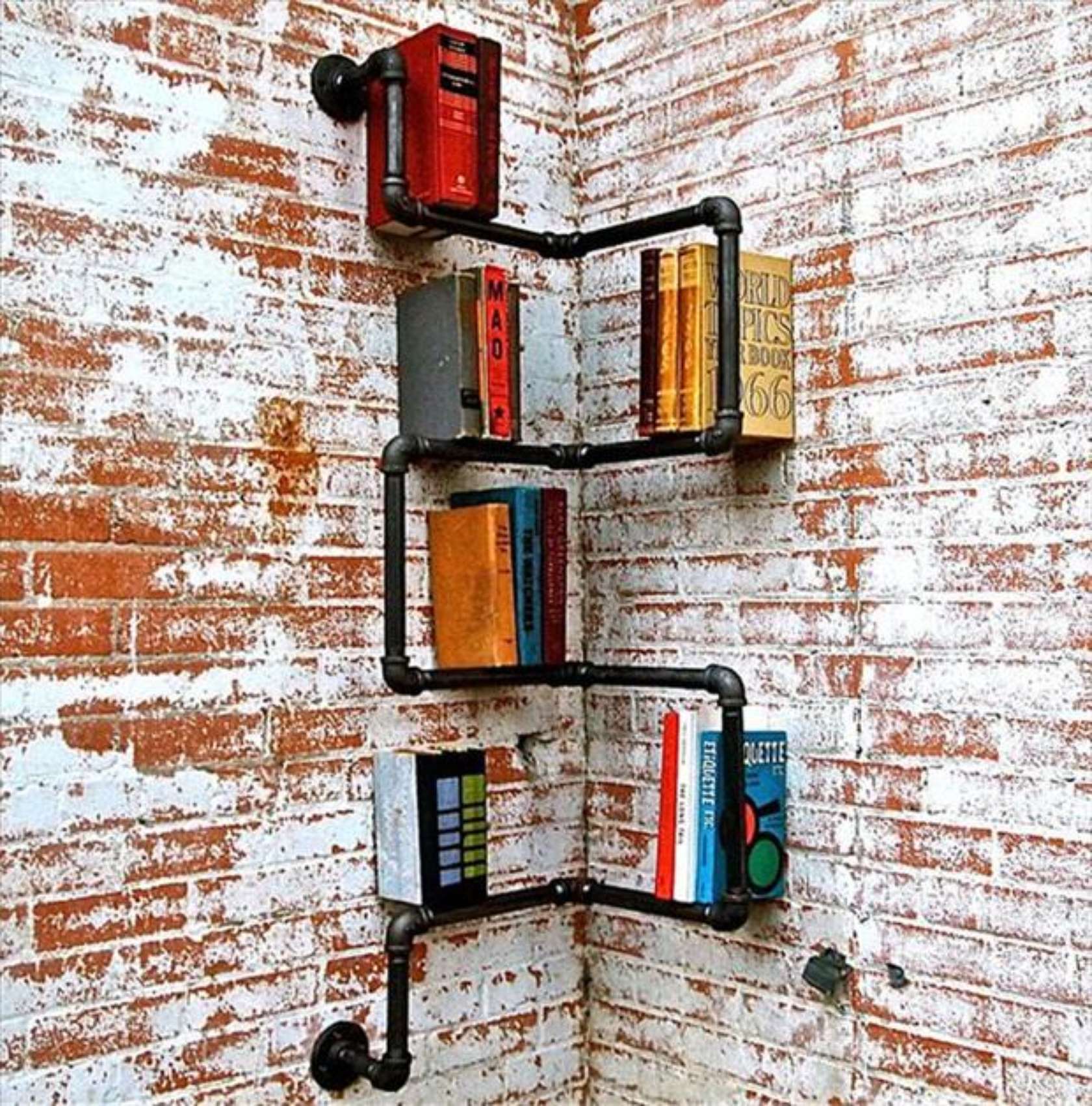 Make the most use of existing exposed pipe work with this unusual leaning bookcase. The pipe fittings and brick wall would look right at home in an industrial setting or converted factory apartment. The black color provides a definite contrast against the painted brick, while the right angles and vertical orientation exude strength and stability. Books are supported by sitting on the pipe and resting against the brick wall. Hardcover books with their sturdy covers would be the best choice for display on this unit.
37. Six-Sided Storage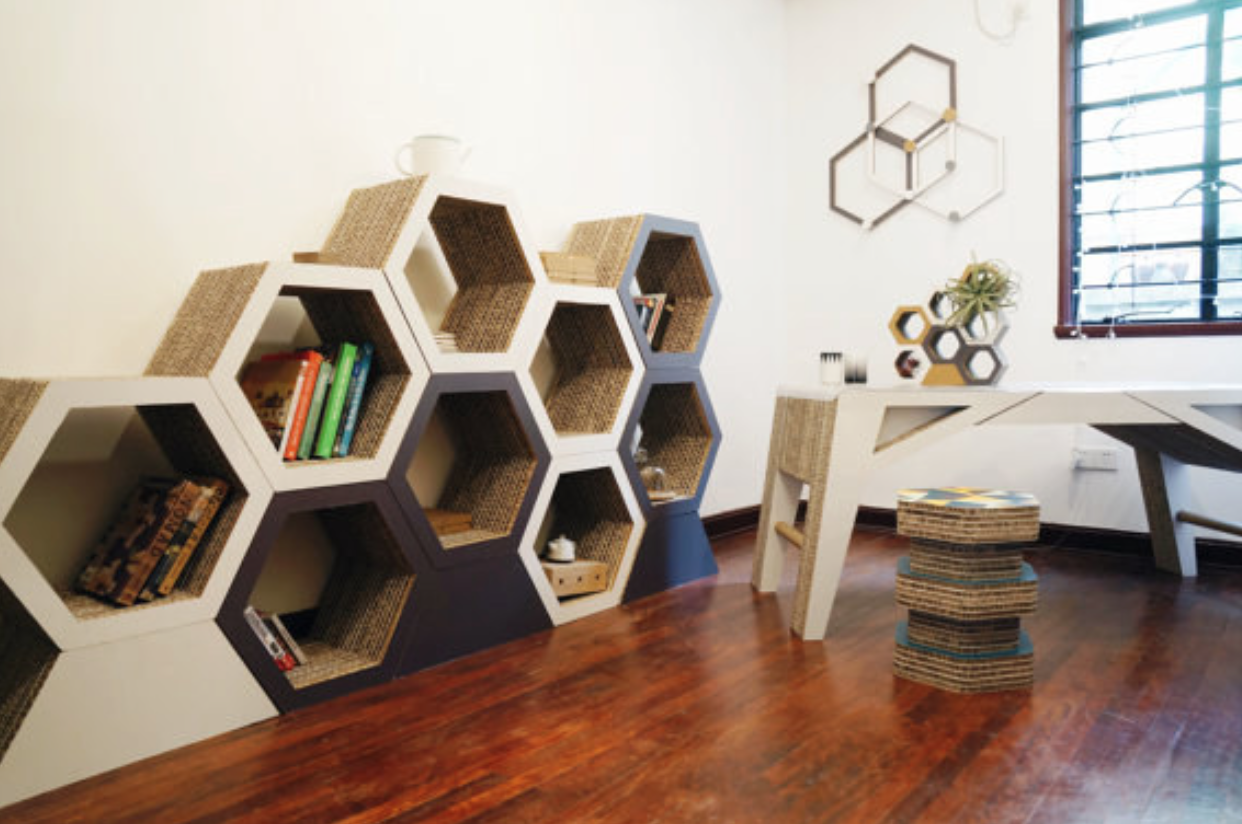 Hexagons have their moment in the spotlight in this honeycomb inspired configuration. The look of the hard white and black colored storage units is softened by the beige fabric interior and exterior. This creates a great deal of textural interest. The solid half-hexagon supports provide a strong footing, while the open units offer a good amount of storage capacity for books or other items. Additional components could be added to the top to provide even more options for both design and usability. The top horizontal surfaces of the hexagons can be used for display as well. Adding other hexagon-shaped art and accessories to the room completes the look.
38. Visual Divider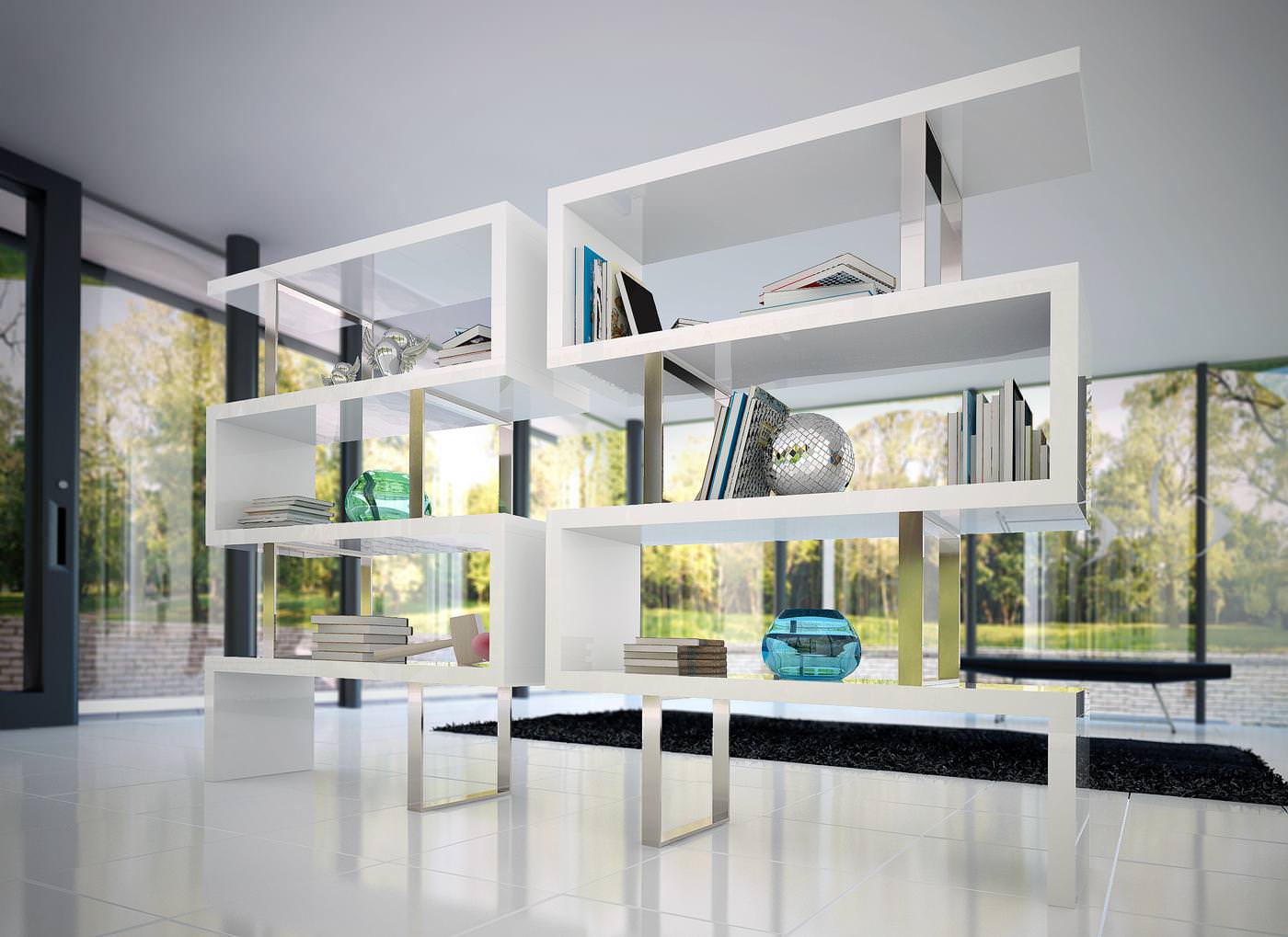 This white bookshelf visually divides two living spaces while allowing much light and air to circulate. The minimalist style provides the most impact in a clean, uncluttered environment. To take full advantage of the look, these shelves should be filled sparingly, permitting the air and clean lines of the structure to dominate. A few select artistic pieces and books add simple appeal. Glass pieces are especially welcome in this display as they also allow the light and air to transcend the space.
39. Vine Victory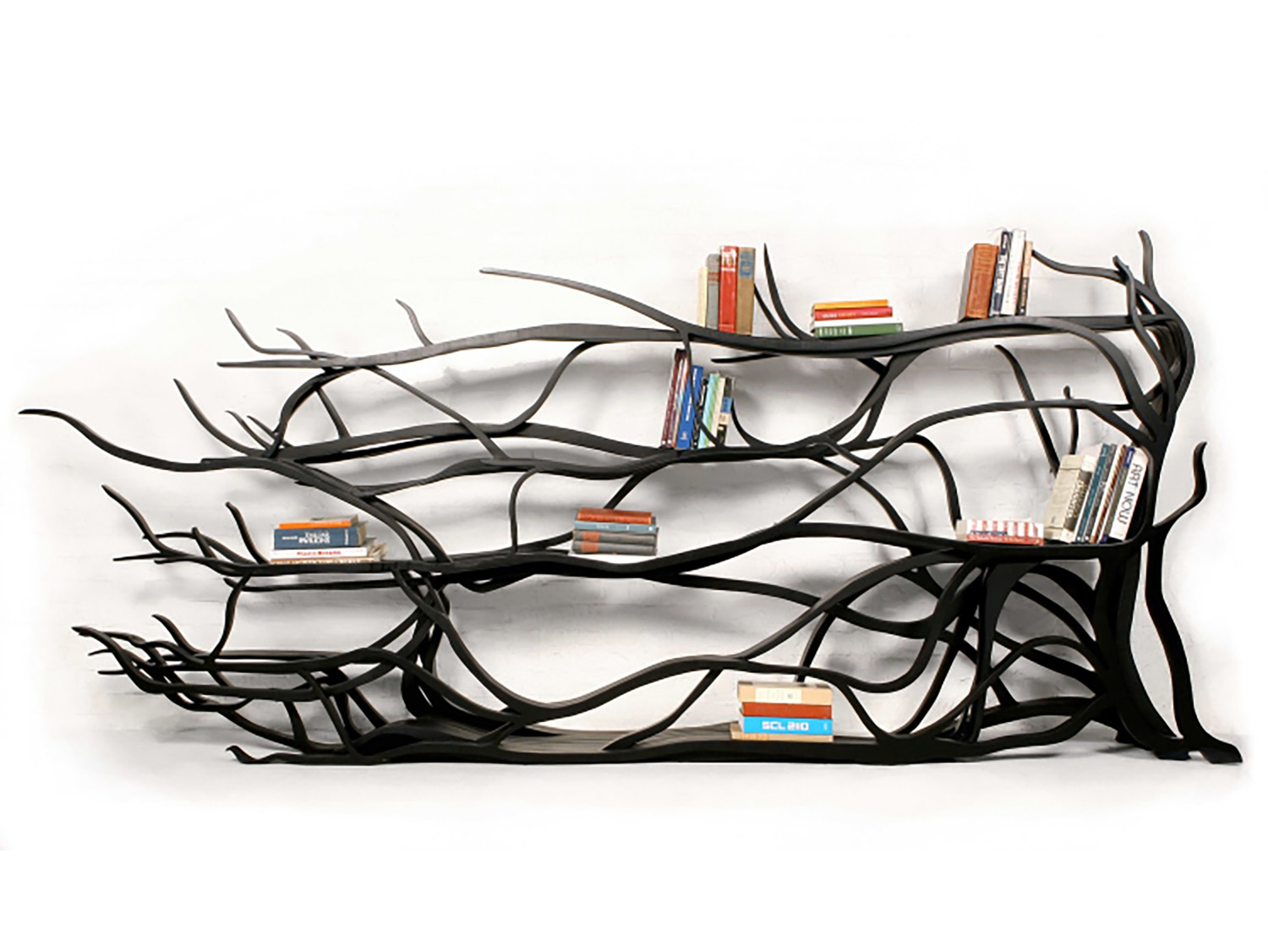 This metal sculpture takes its inspiration from nature. An amazing work of art in its own right, it is sure to be a conversation starter. Ideal in a modern environment, the classic black color and undulating curves provide contrast, textural interest, and a place to rest a few select volumes. The books on this piece are an unexpected surprise, adding a touch of color and straight lines to the monochromatic curved figure. The branches almost seem to embrace the books, inviting them into their secret world and protecting them from the outside.
40. Book Box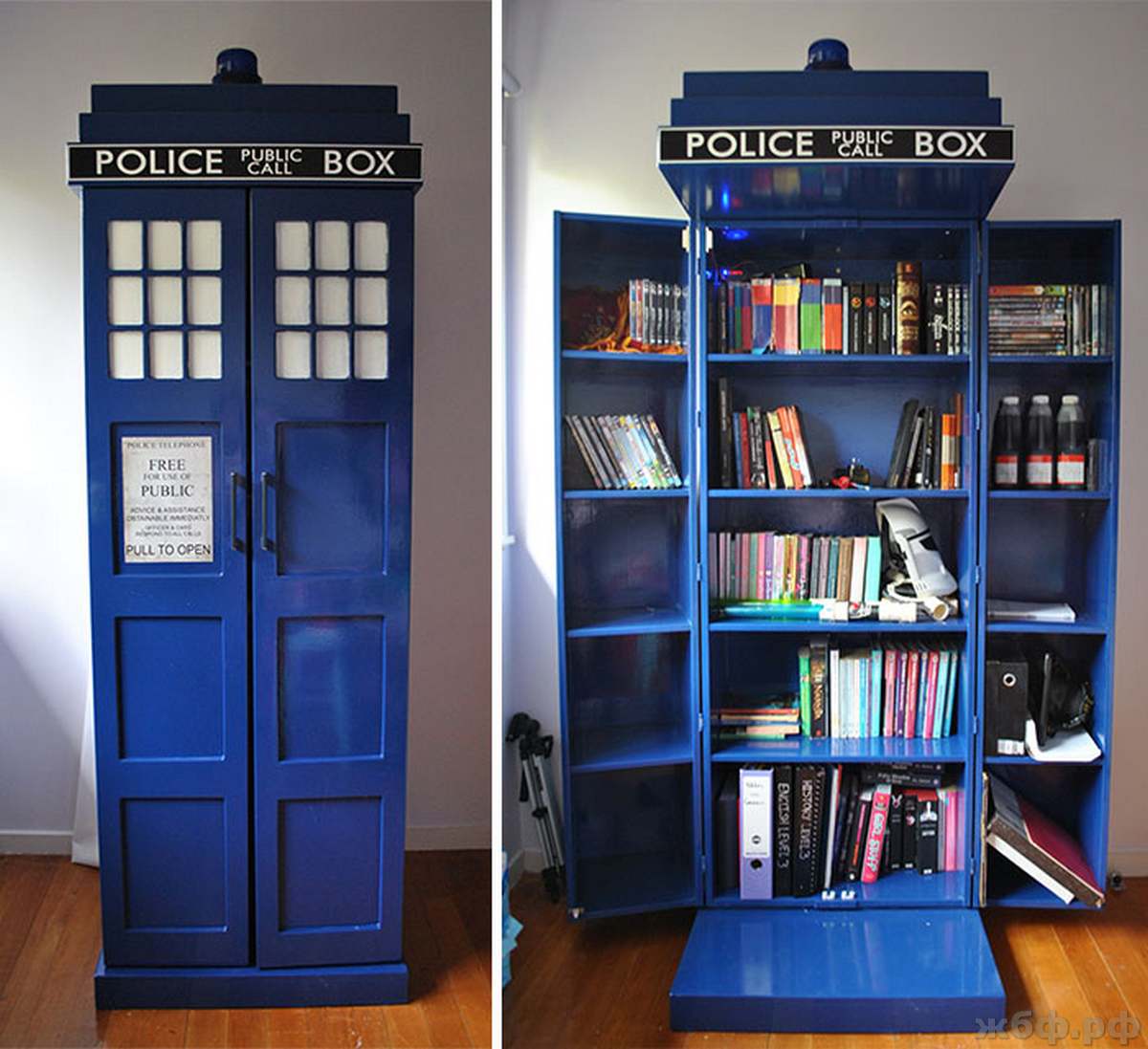 When closed, this police call box looks like a throw-back to a past era, waiting for Clark Kent to step inside and transform into Superman. When open, this box has experienced a transformation of its own, becoming a locker-style bookcase. This is a fabulous storage solution, allowing the books and other items to be hidden behind an interesting conversation piece and accessed only when needed. This is perfect for storing those books and items one needs, but don't necessarily want to keep on display. For example, this could be useful for holding craft books and supplies or hiding away a child's books and toys in a space that is also used as a living room by adults.
41. Floating Focal Point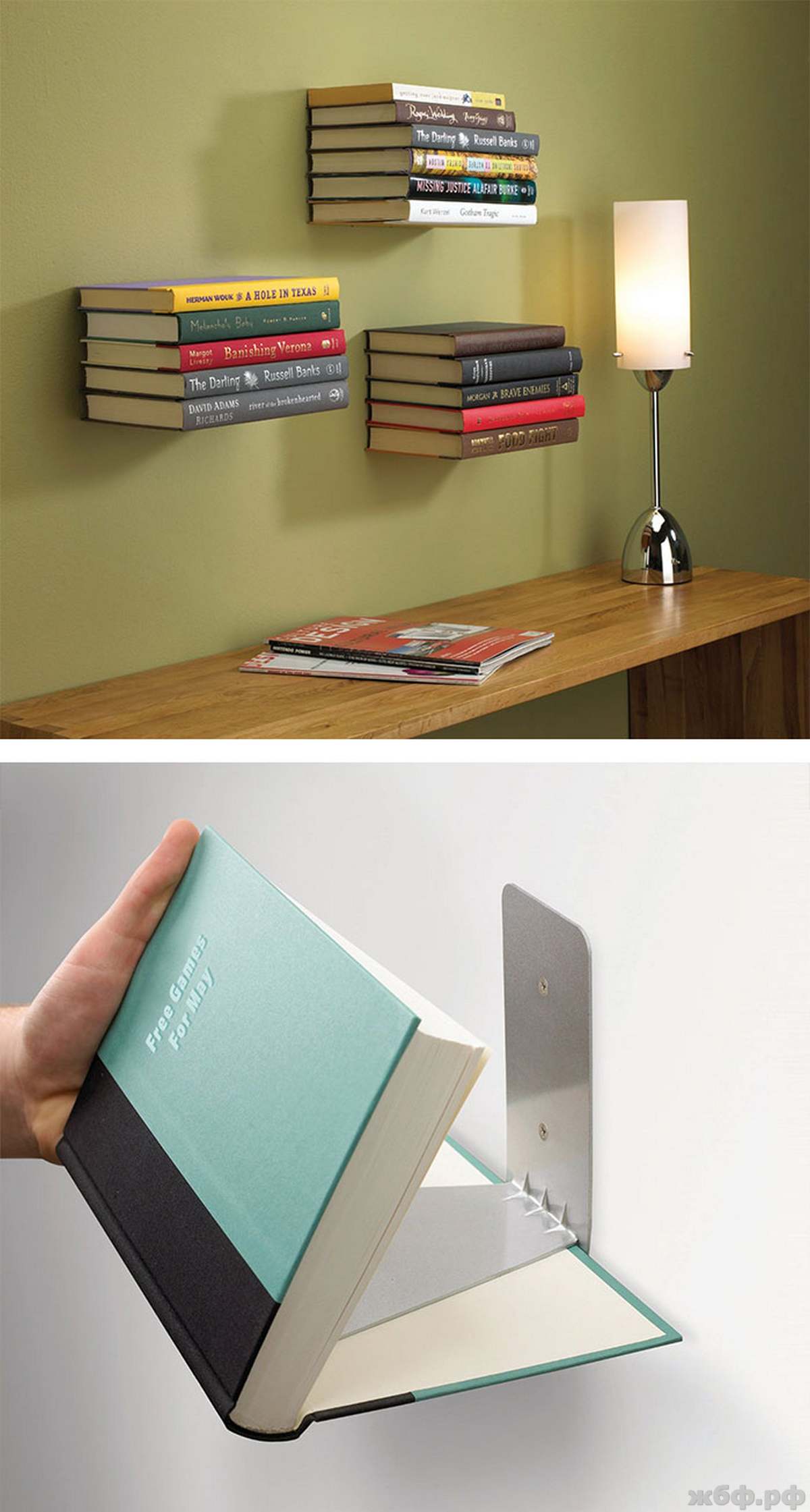 These unique support clips make it appear as if books are floating in mid-air. It is a style sure to invite second looks and questions. The hardcover books themselves become an architectural element. This would be an innovative way to display a select few favorite books. A collection of similarly bound leather editions would create a traditional, rich appearance, while brightly-colored bindings would add a touch of whimsy. No matter which books one utilizes, this optical illusion is certain to be a focal point of a stylish room.
More amazing bookshelf ideas on the next page…