42. Space-Age Style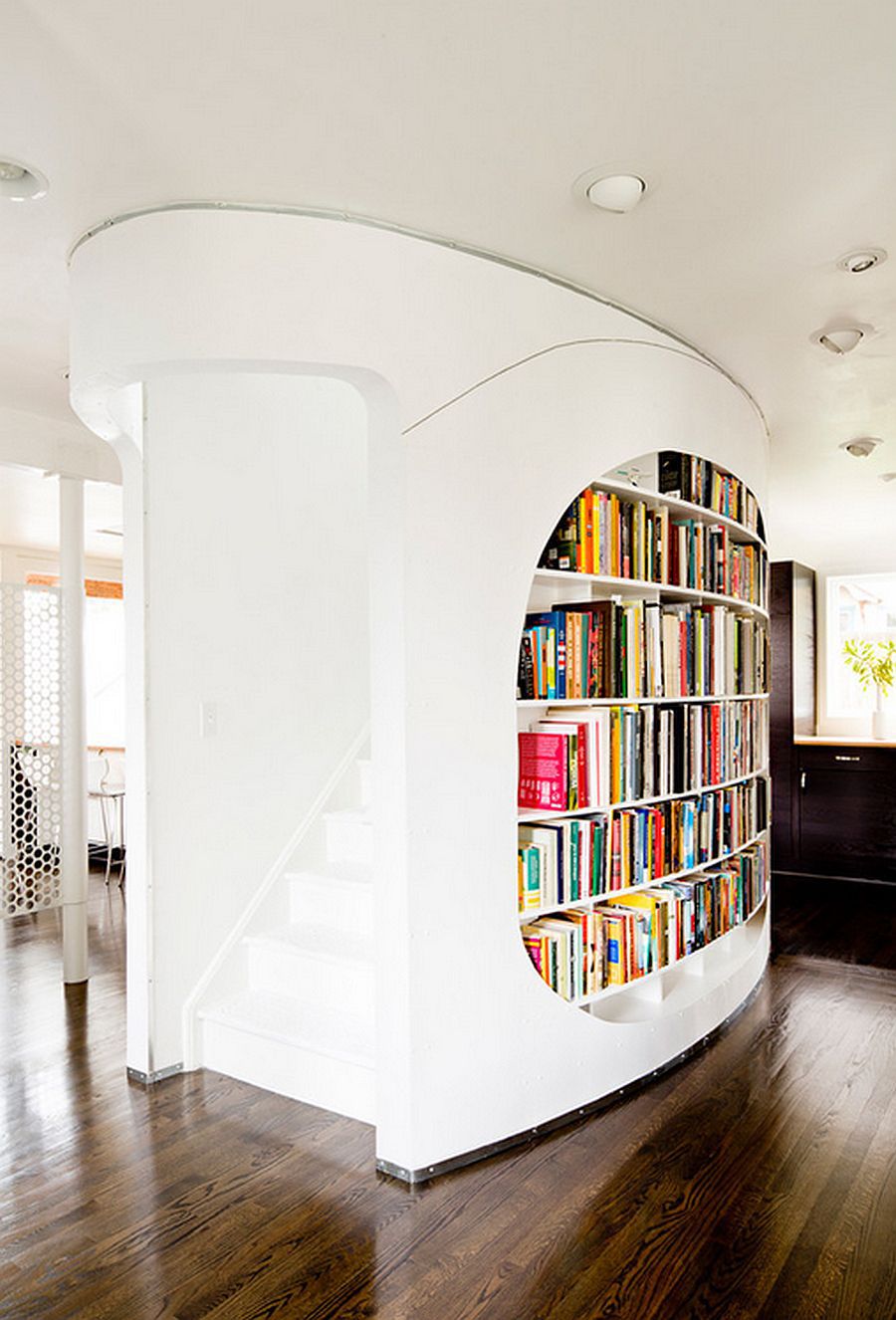 The forward-looking design of this white curved staircase and bookcase makes a strong artistic statement while providing a great deal of function. The curved shape has a space-ship type quality which contrasts with the straight stairs. The traditional books displayed on the shelves provide another juxtaposition between futuristic design and the time-honored act of reading volumes printed on paper. While on a piece such as this, one might expect a bank of touch-screens and e-readers instead, the books offer a pleasant surprise and serve to soften the look. This is an architectural structure that values both the past and the age to come.
43. Stepping-Up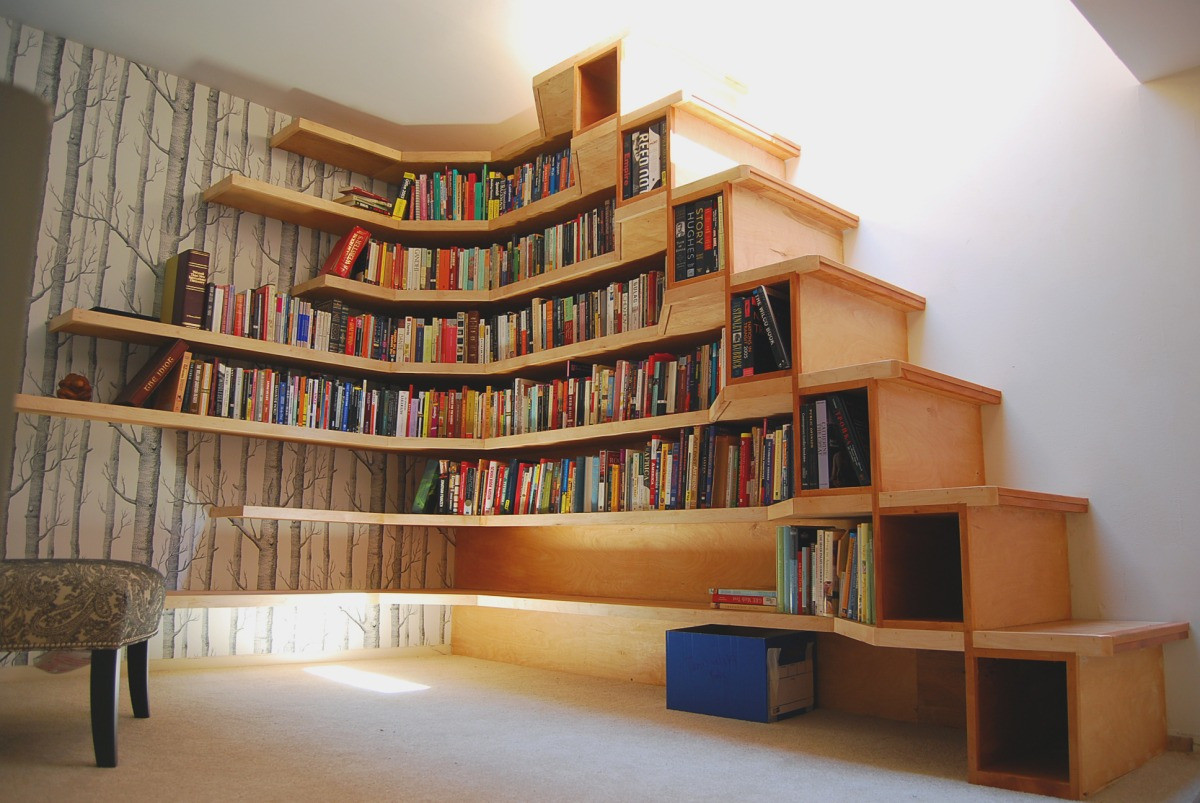 Create a functional and eye-catching feature of your home with these stair-stepped bookshelves. The rhythmic pattern of the even steps and blocks for storage is contrasted with the lighter design and varying lengths of the open shelving. This design supplies enough room for a large literary collection. The boxes on the end can be used to hold more books or to display photos or small objects d'art. This storage solution wraps around the room, taking full advantage of its corner orientation. The light wood exudes warmth and comfort, making this an inviting spot of any home.
44. Contemporary Cylinders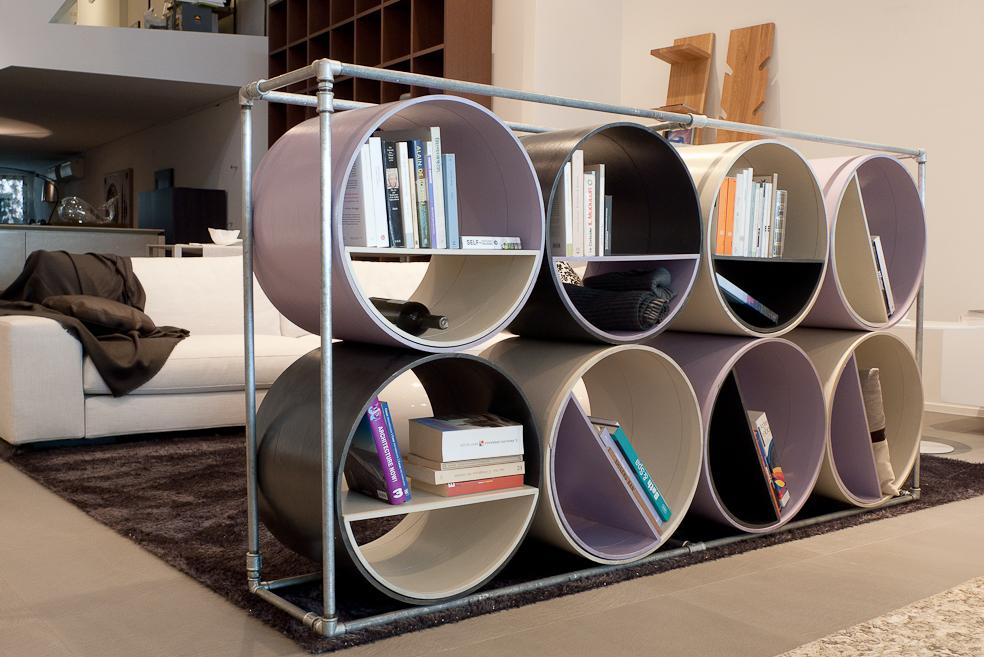 Think beyond the box or shelf with these innovative storage cylinders. The oversize design and industrial style are certain to make an impact in a modern setting. The inner planes can be placed at any angle within the cylinders. This allows them to be used either as shelves or dividers to provide more opportunities for storing items of different shapes and sizes. Use one half of a cylinder for books and the other half for a cozy blanket to curl up in. These storage cylinders could be placed against a wall in a living room or office, or could be set in the middle of an open floor plan to visually divide two living areas.
45. Time for a Tea Party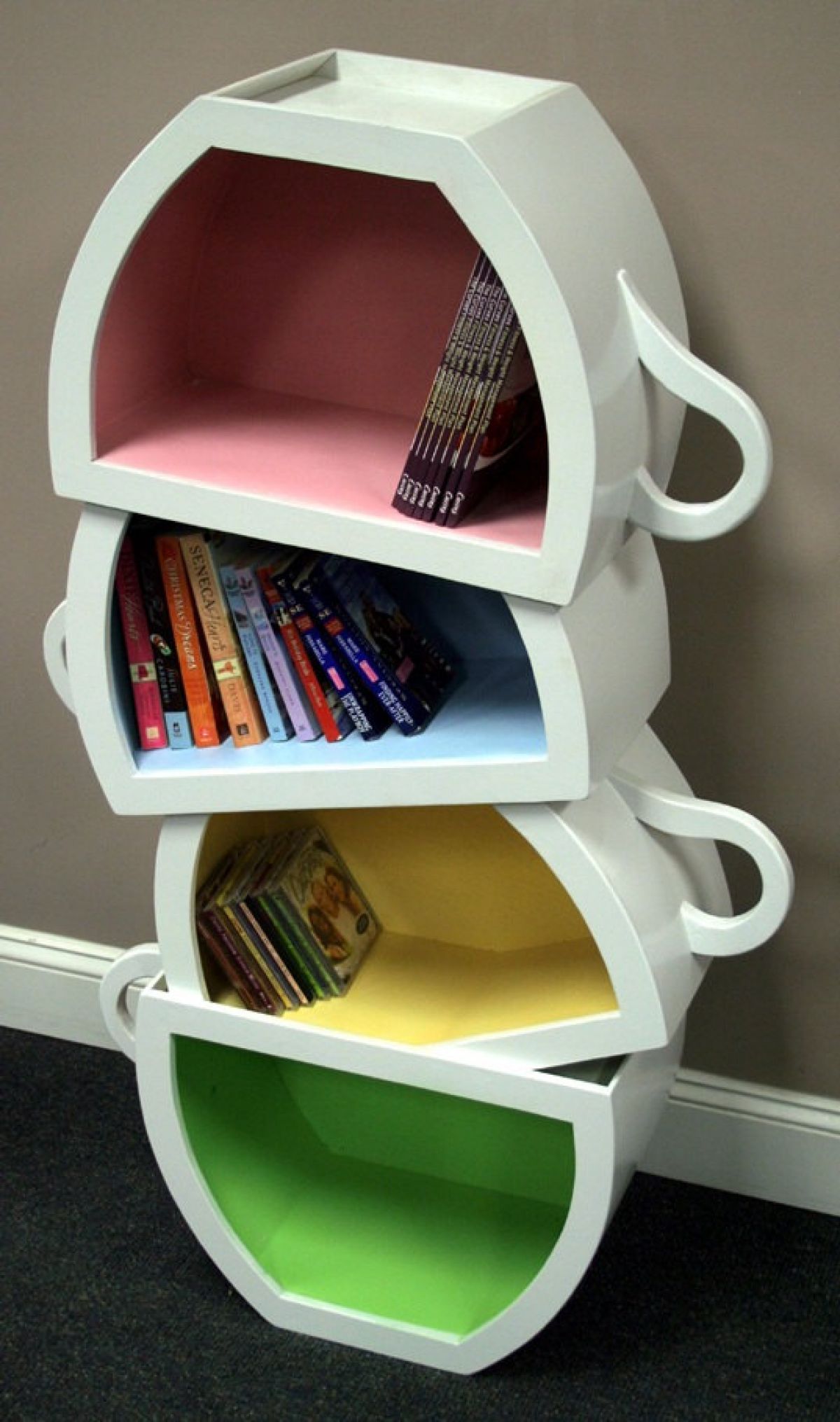 Stacked white teacups colored with interiors painted in gentle pastels would enliven the decor of a little girl's bedroom or playroom. Whimsical and functional, this unusual stack of open spaces can be used to store books, music, toys, or favorite stuffed animals. A child might even enjoy picking up her toys when she gets to store them in such a creative location. While it appears that these are four separate stacked items, this is actually a one-piece construction so there is no reason to worry about the teacups falling and causing any harm. This is a fun and useful addition to a child's room.
46. Creative Curves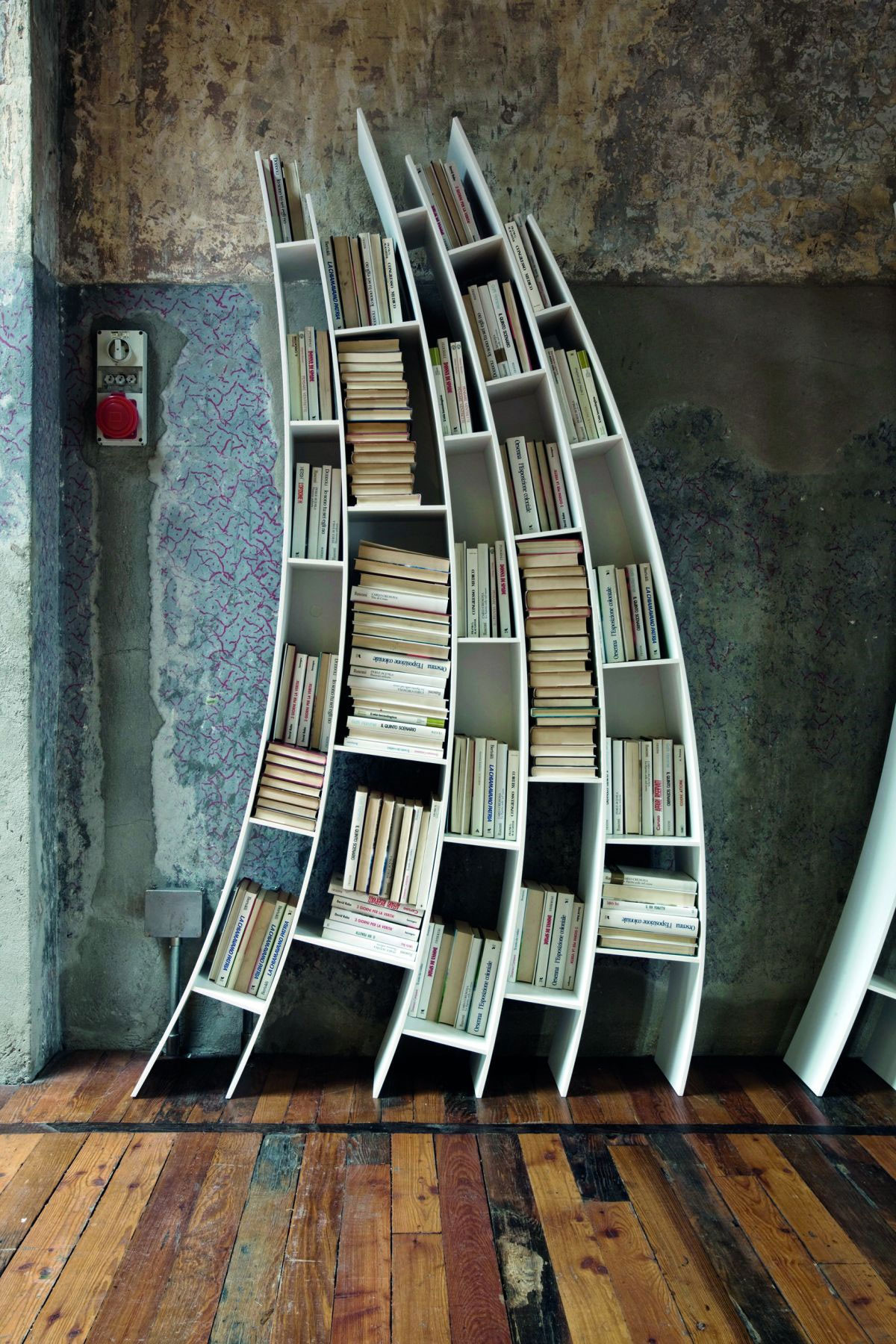 This curved variation on a ladder bookcase makes a unique decorative statement. The gentle curves narrow as they reach for the ceiling creating a pleasing visual effect. The shelves hug your books as they become part of the overall design. Stacking them vertically or horizontally within the individual spaces adds to the total impact. Arranging bindings by color could create a rainbow effect. This modern piece would be an unexpected accent within a traditional setting.
47. Undulating Waves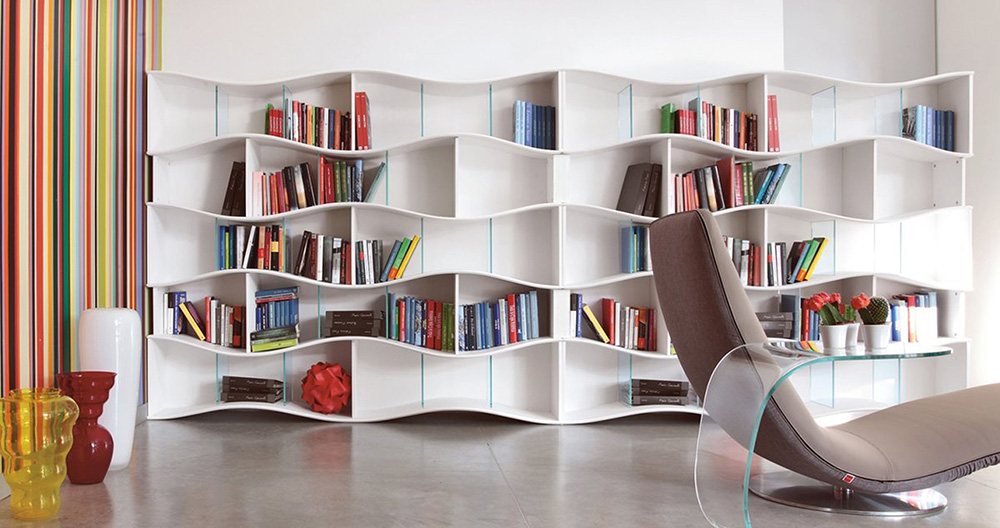 Bring the feel of the ocean into a home or office with this large expanse of wave-inspired bookshelves. The undulating curves are inviting and soothing, helping to create a relaxed contemporary environment. The white color is unobtrusive and will not compete with any other home decor. The simple blue-green vertical lines add a touch of color and visual interest at the same time as the books on display enhance the curves and add to the total image. The full wall of shelves can hold an entire literary collection while enhancing the overall appeal of a living space.
48. Maze Inspiration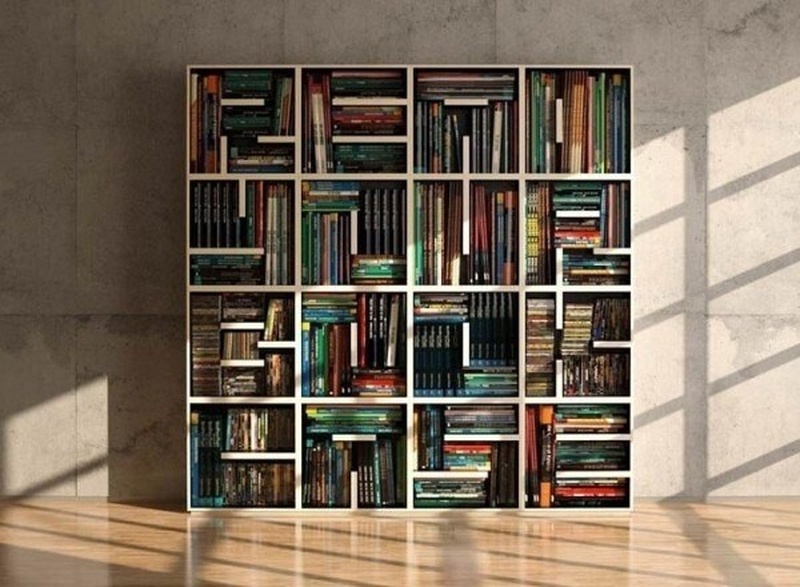 At first glance, this seems like a simple square bookshelf, divided into smaller square sections. A closer look reveals the additional horizontal and vertical divisions creating a maze-like effect. The divisions serve both an aesthetic and a practical purpose. They establish different size storage opportunities while adding an unexpected element to the overall appearance. The light natural color of the wood allows the books on view to become the dominant feature, especially when all the usable space is filled. The large size offers a great deal of storage capacity. Two of these bookcases could be placed side by side for use in a library or office.
49. Bookworm Pride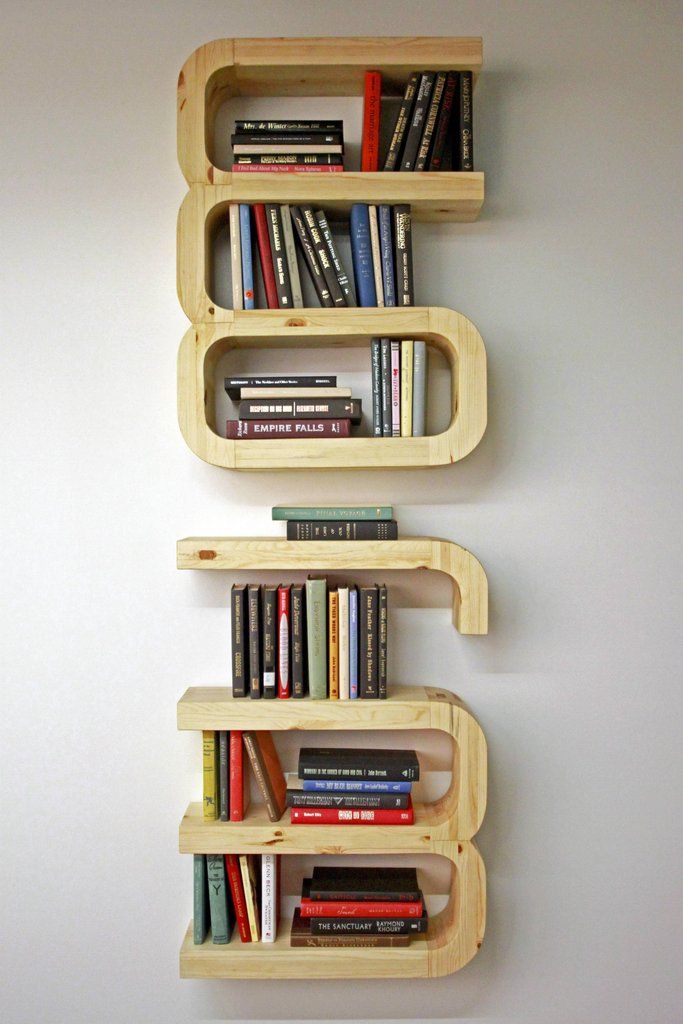 This unique handcrafted wooden bookshelf appears to be a contemporary design of random curves, but turning the image ninety degrees reveals the word "worm." The "w" and "o" are formed together as the top set of shelves with the "r" and "m" functioning independently. This piece is meant to celebrate a bookworm's love of all things literary while providing a place to store the objects so necessary to a reader's pursuit. A true combination of form and function, the attractive design is simple, useful, and certain to bring a smile to a booklover's face.
50. Literature Buffet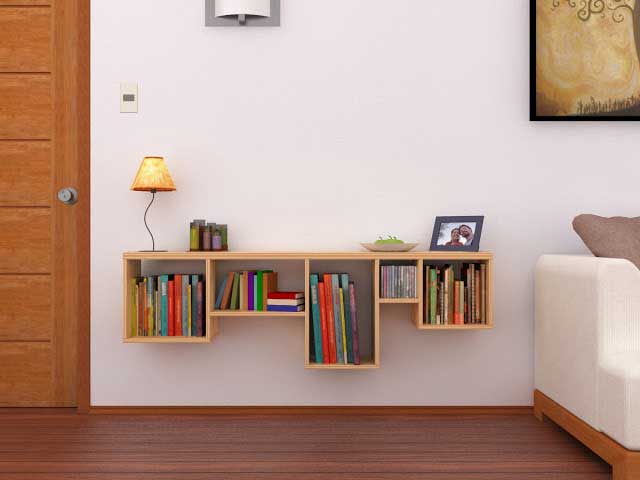 A narrow side table serves more than one purpose when combined with a set of modular storage areas. The top can be used to exhibit photographs, collectibles, or to serve appetizers and drinks for a party. Meanwhile, the underneath stores favorite books of various sizes. The different size cubes and rectangles have a modern look while the light color of the piece blends naturally with any color home decor. The overall appearance is simple and inviting, equally at home in a traditional or more contemporary setting.
Get Your Books off the Floor and Into One of these 50 Unique Bookshelf Ideas
"A room without books is like a body without a soul." While this quote by Cicero rings true for book lovers everywhere, it can be a creative challenge to find attractive ways to store and display these many objects of one's affection. Thankfully, there are many innovative bookshelf designs available.
This collection of fifty unique bookshelf ideas is sure to provide a solution for every book lover and every style of home design. With pieces both classic and contemporary, functional and artistic, there is something to fit every home decor. There are bookshelf designs that bring a touch of the outdoors inside, ones that have a sculptural quality worthy of being in a museum, whimsical touches, and minimalist style. There are styles that repurpose household items and give them a new life. There is a leaning bookcase and one made out of pipes. There are pieces that would be most at home in an industrial space while others are ideal for establishing a cozy spot for reading in a home. What do they all have in common? They provide an attractive solution to keeping books organized and on display. Any one of these bookshelf ideas is certain to be a conversation starter and a focal point of a home design.