It's often said that nature makes the best interior, and designers have been implementing the outdoors into their work for years. You may suppose only flora & fauna can make for attractive household implements, but there are a number of ways to decorate with branches that will leave your guests speechless.
40+ Style-Savvy Decorating Ideas with Branches that will Add Charm to Your Home

From wall-mounted displays to dazzling lamps and chandeliers, these 40+ unique branch ideas are sure to inspire some on-trend decor. Whatever region you reside in, there are dozens of local branches, twigs, and boughs you can collect and refashion into truly ingenious works of art.
The natural world is an ideal way to spruce up your space (no pun intended) without going overboard or breaking your budget. Even better, these organic touches lend an easy, unforced elegance that simply can't be bought. Whether you're looking for a fun DIY project this summer or poignant way to add some poetry to a room, to decorate with branches is to transform your home into your own enchanted forest.
1. Wall Hanging Branch Card Display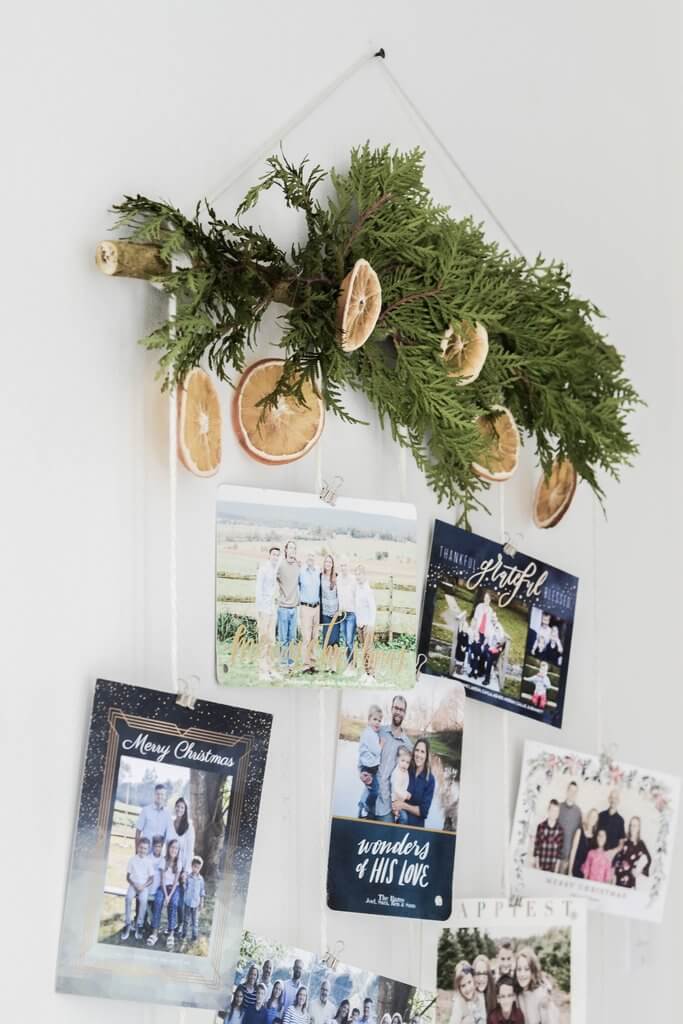 Many of us enjoy saving our cards from holiday cards to birthday cards, but it's easy to run out of room to show them off. A great way to proudly put them on view is with this cool hanging branch display. Dried orange slices serve as great accents to the piece, giving it a pop of color. Adding some colored yarn is another fun way to liven up the display, and you can even base it off the theme of the cards if you'd like.
2. Unique Picture Framed Painted Branches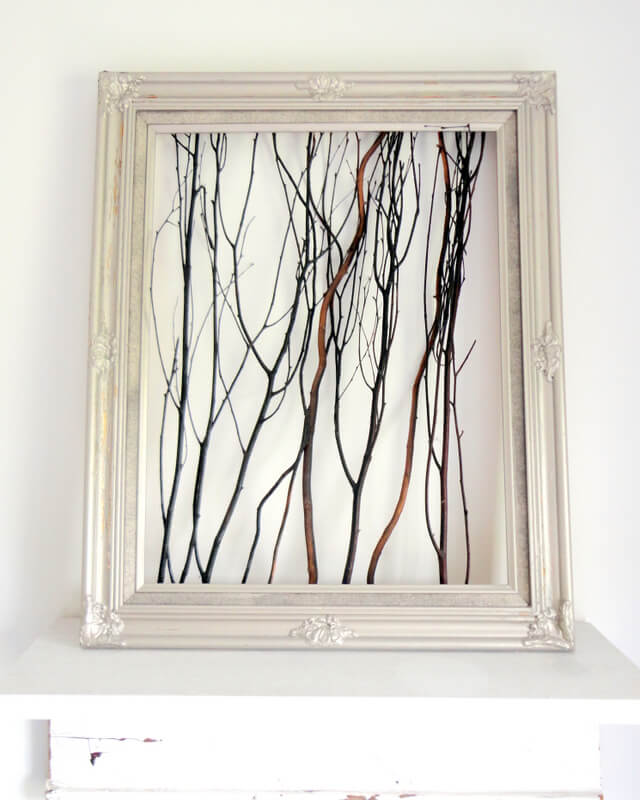 There are many ways to decorate the walls of your home with various paintings or pictures in frames, but if you want something that's truly unique, consider framing some branches. You can pick out some that look a bit distinctive from one another so each stands out. Give them a nice paint job as well to further help them make a statement.
3. Crafty Rustic Twig Picture Frame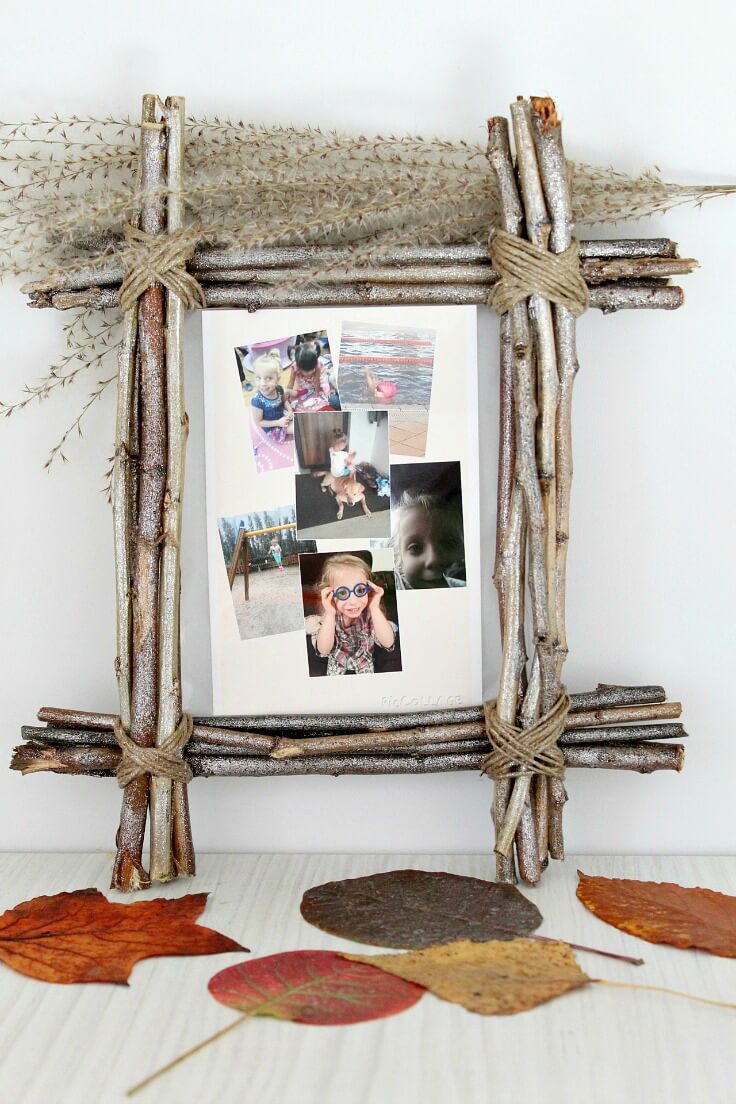 If you're going for a rustic theme, then using branches is a great way to go about it. This project is not only fun, but it's wonderfully affordable and simple to do. With a bundle of twigs, you can create an incredible picture frame that will capture the attention of anyone who enters your home. To further emphasize the unique twist of this frame, consider adding some abstract photographs inside so every piece of it stands out.
4. Stick Based Centerpiece Fruit Bowl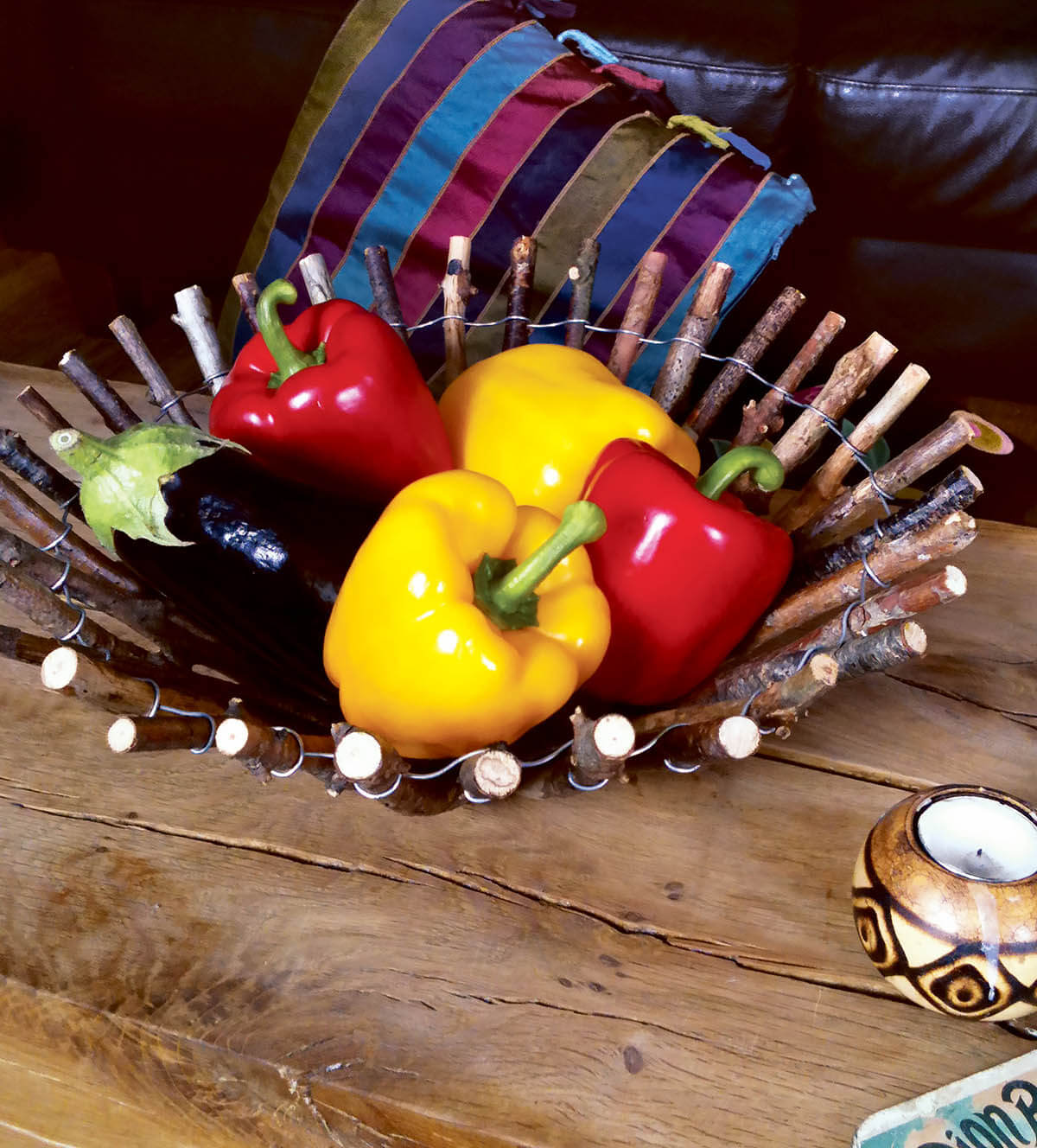 Who knew that a bunch of sticks can make a gorgeous centerpiece? This crafting project transforms the sticks using wire to create a compelling bowl that can be used to house anything from fruits to veggies. If you don't want to put in food, you can merely use it as a centerpiece to hold a number of different décor items including holiday-themed ones.
5. Cool Driftwood Wall Coat Hanger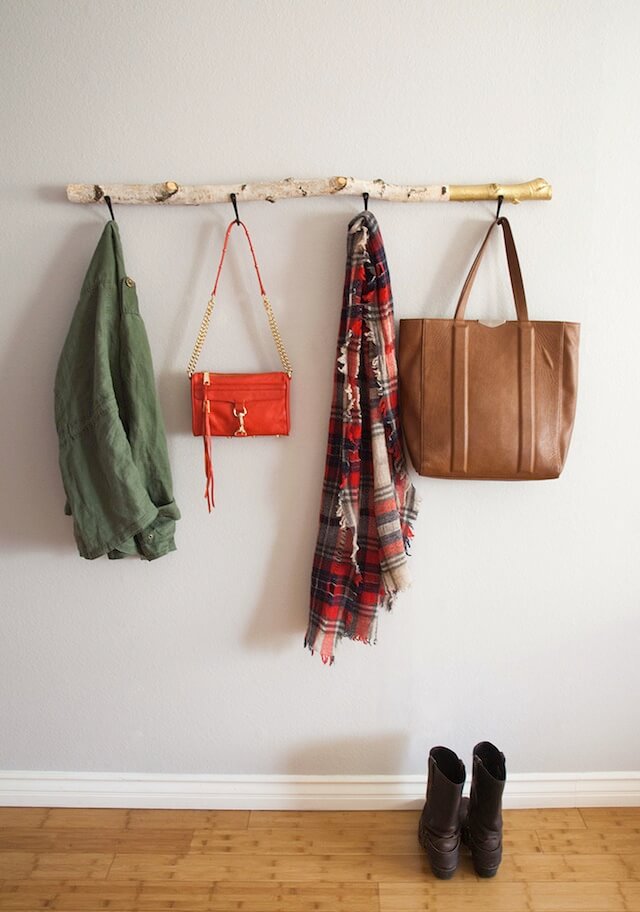 It's simple enough to find something to hang coats and bags on, but why settle for something you can buy at the store when you can just as easily make one using more appealing wood? This driftwood boldly stands out, making it a good addition to any home that leans more toward a farmhouse-style feel. Depending on how long it is, you can hang up a number of different items too.
6. Stunning Rustic Branch Curtain Rod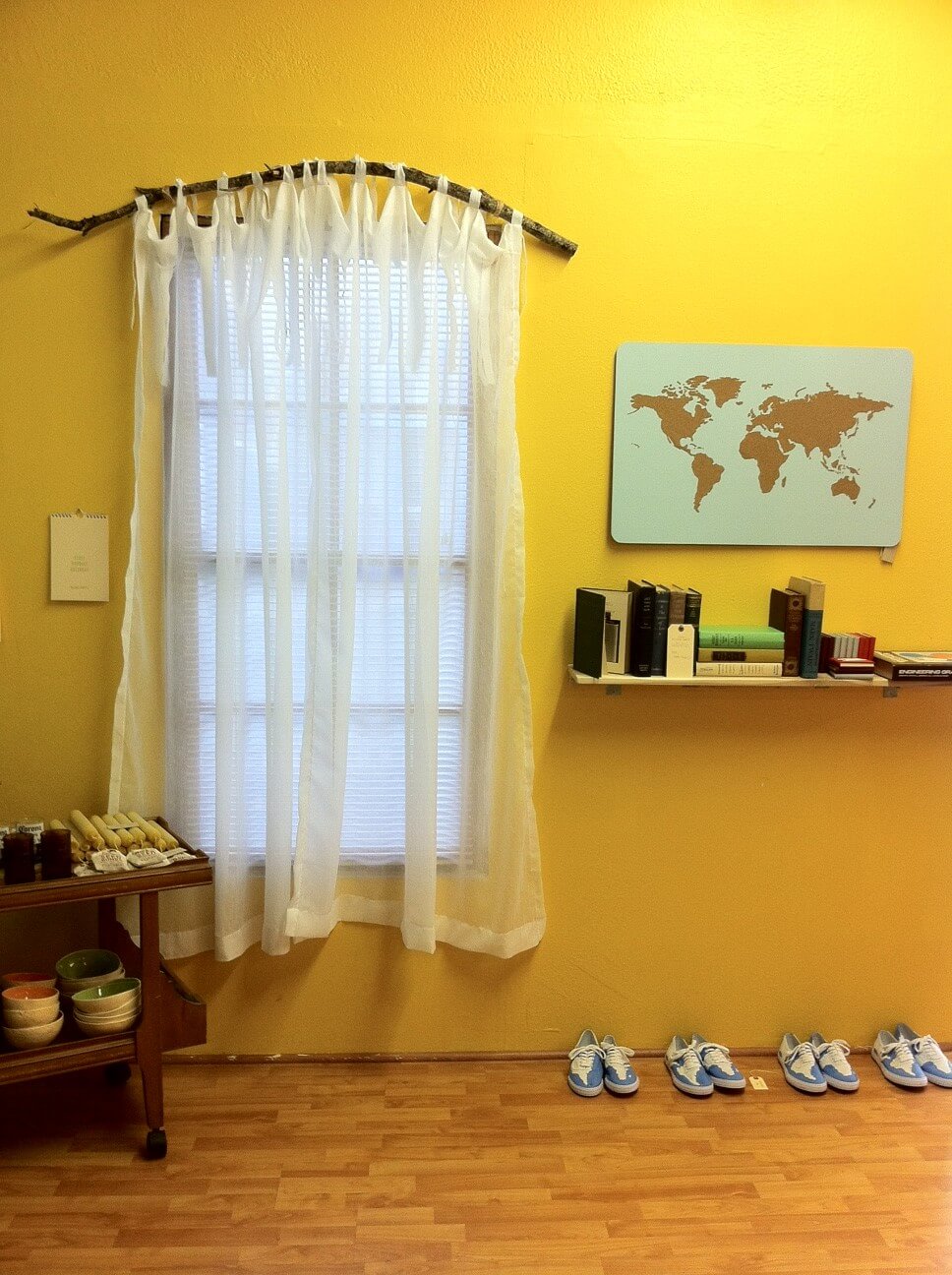 When decorating your home, it can be tough deciding on curtain rods that match if you're aiming for a more rural feel. In this case, using a branch is an awesome idea. Be sure to find a branch that's both thick enough and long enough to work. Curved branches are also a fun choice due to how unique they appear.
7. Eccentric Twisted Colorful Twig Bouquet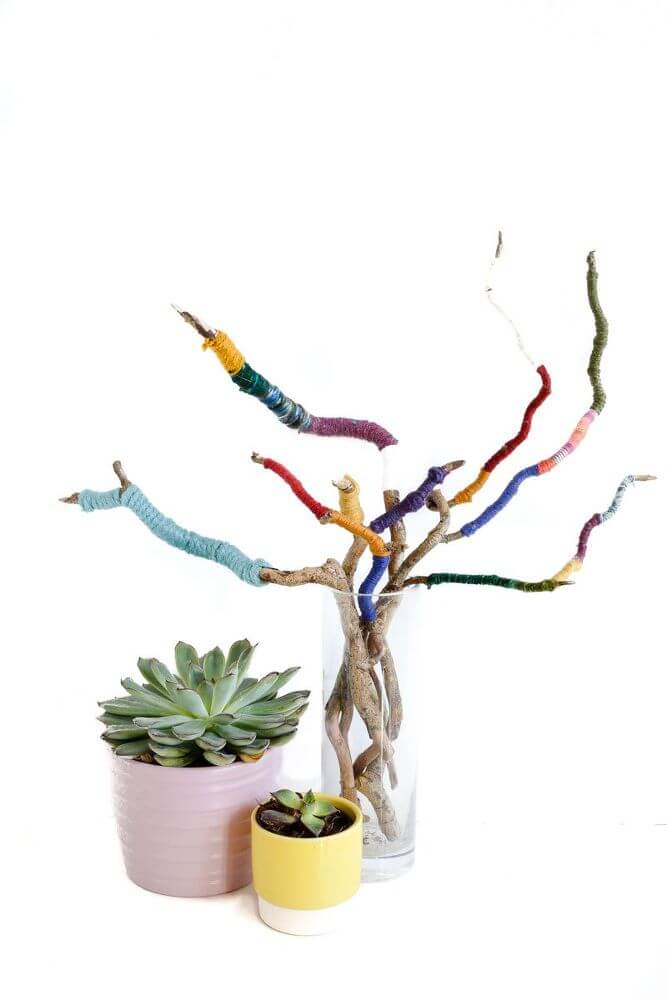 You don't just need to use a bundle of flowers to create a beautiful, colorful bouquet. Instead, try out these twirl-like twigs. Their bendy nature gives them a natural sense of movement so the bouquet makes more of a statement. All they need is some colorful yarn wrapped around the ends to emulate the appearance of flowers, and you have yourself an exceptional faux bouquet.
8. Painted Branch Plant Hanging Display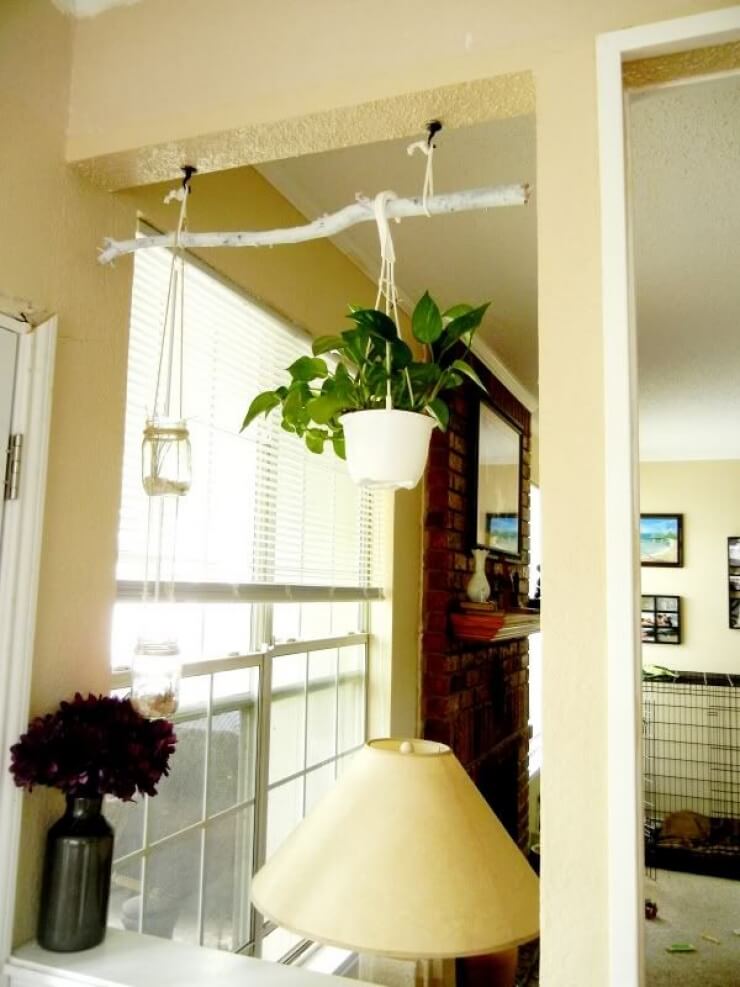 There are several ways you can bring some greenery to your home, but when you don't want them merely sitting around, then you could always utilize a branch to create a hanging display. This can work out well in any room in your home, especially the sitting area where plenty of guests can view it. Feel free to paint the branch too so that it better fits into your home's décor.
9. Faux Spring Blossom Branch Bouquet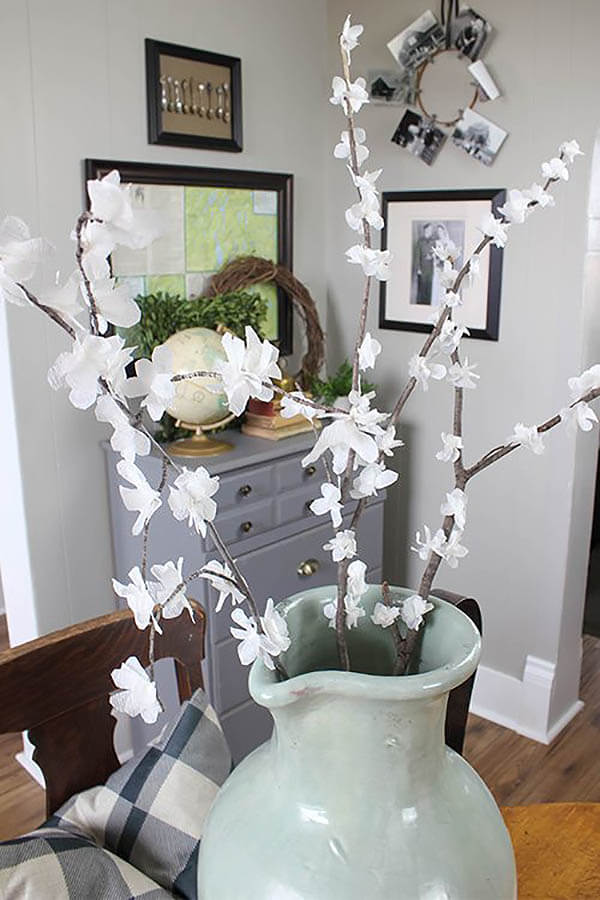 Bring the season of spring right into your home without using real flowers by creating this faux blossom display. The paper blossoms have a wonderful realistic look to them once applied to various branches. Stick them in a vase to create a beautiful bouquet that can easily work to add some brightness to your current décor. This is a great idea for those of you who can't have real flowers in your home.
10. Elegant Tree Branch Curtain Rod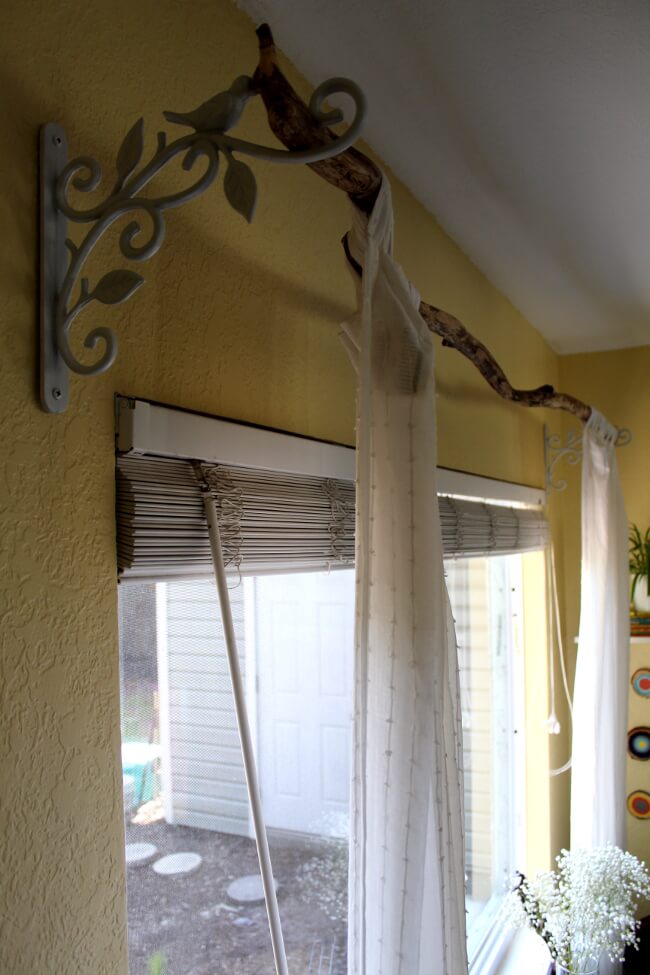 A great way to blend both rustic and elegant décor is with this gorgeous tree branch curtain rod. Try your hand at acquiring a branch that's smooth and unique in terms of color patterns as this can help give it that distinctive contemporary touch. How long it should be will be determined by the size of your window, so you may have to scale down by trimming it a bit.
11. Cute Mini Branch Sailboat Décor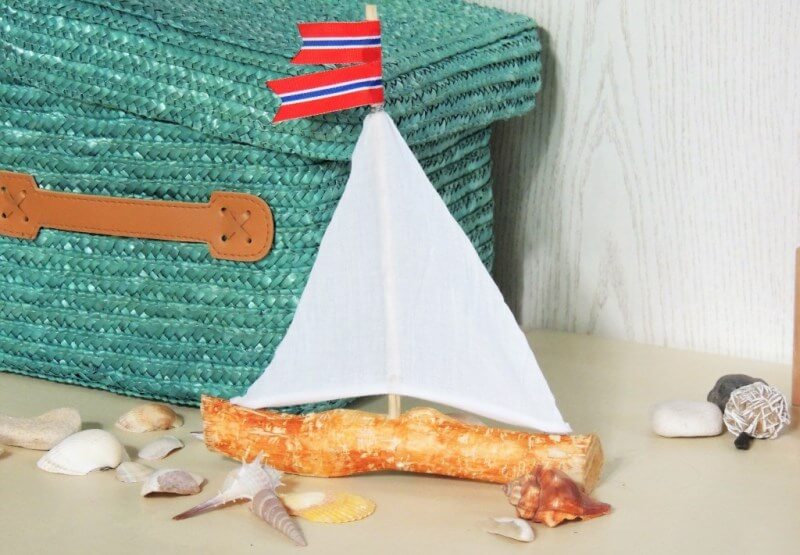 Want to add some décor to a modern, sea-themed room? Then check out this adorable mini sailboat. It features a thick piece of branch that serves as the main portion of the boat. Add in a good sail to make it sea-ready. This is a perfect, simple decorative piece to use in a room that features other ocean-themed items such as seashells.
12. Modern Multiple Twig Curtain Rod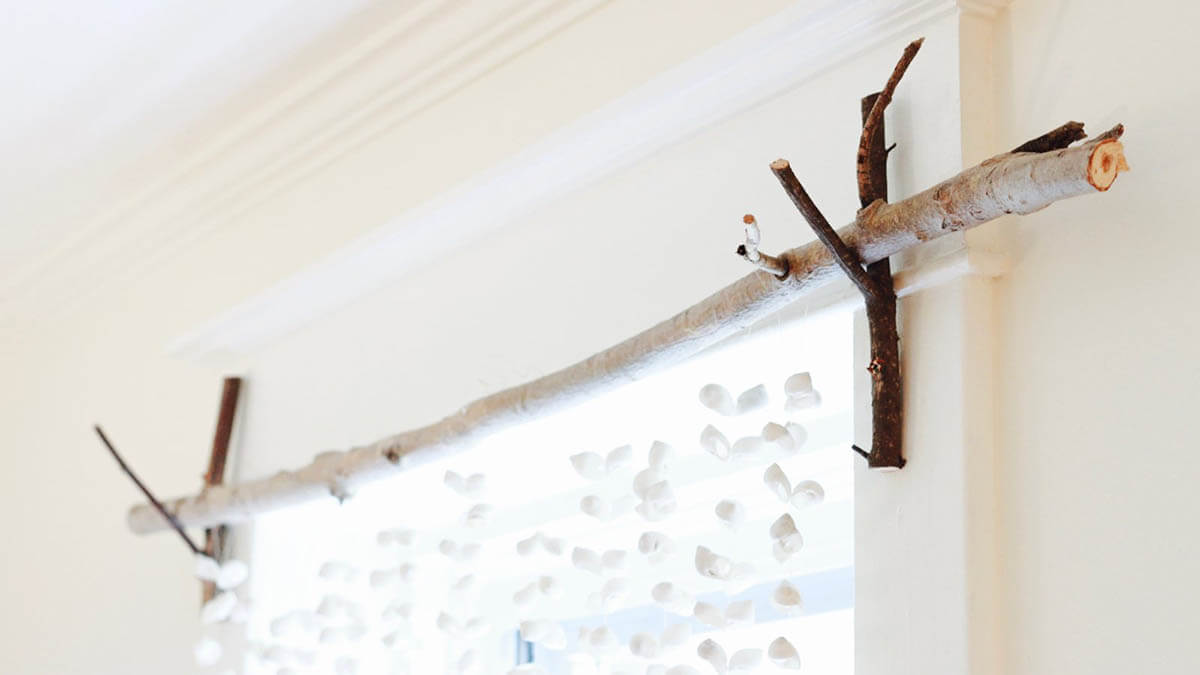 Sometimes, you may need more than one branch to create a curtain rod. Using multiple ones, two for the ends and one for the main piece can create a standout rod that looks good with any curtain. You can create numerous of these to suit each window in your home as they blend in effortlessly with the rest of your décor.
13. Rustic Birch Branch Candleholder Set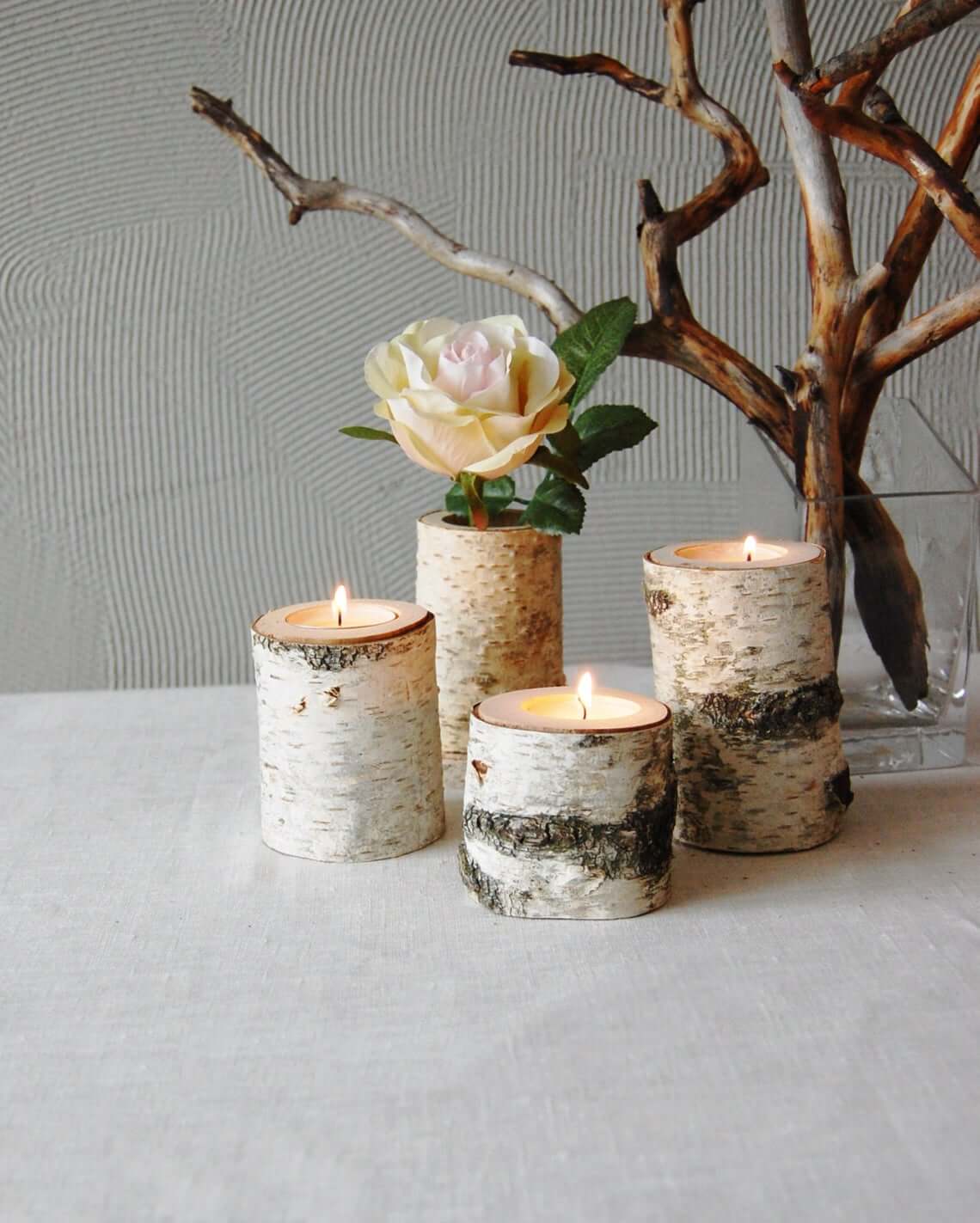 This beautiful birch branch candleholder set comes with three holders. They are handmade and ideal as tealight holders. These can serve as incredible decorations for weddings or other parties. They still look just as well throughout your home to add a cozy warm feeling to the room. As they're handmade, each item will be unique.
14. Set of Seven White Birch Logs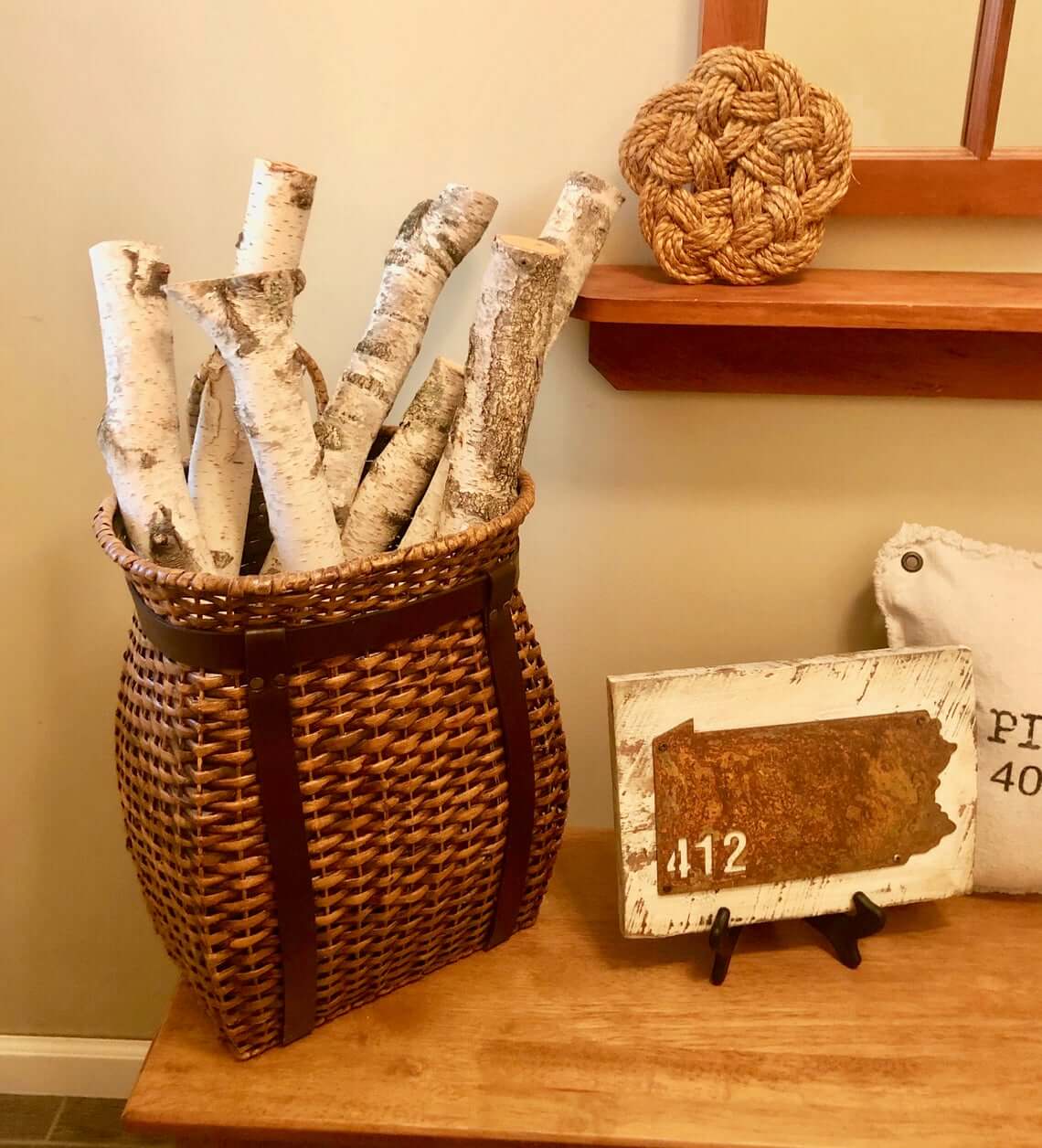 /a>
If you're in the market for some gorgeous logs to use for decorations, then check out this cool set of seven white birch logs. The bundle itself looks incredible as it's tied with hemp twine. It can serve as great décor in your home for a fireplace or even work out well as a great centerpiece item if you decide to keep it in the bundle. Otherwise, you can separate them to use them for your own crafting projects.
15. Floral Centerpiece Real White Birch Branches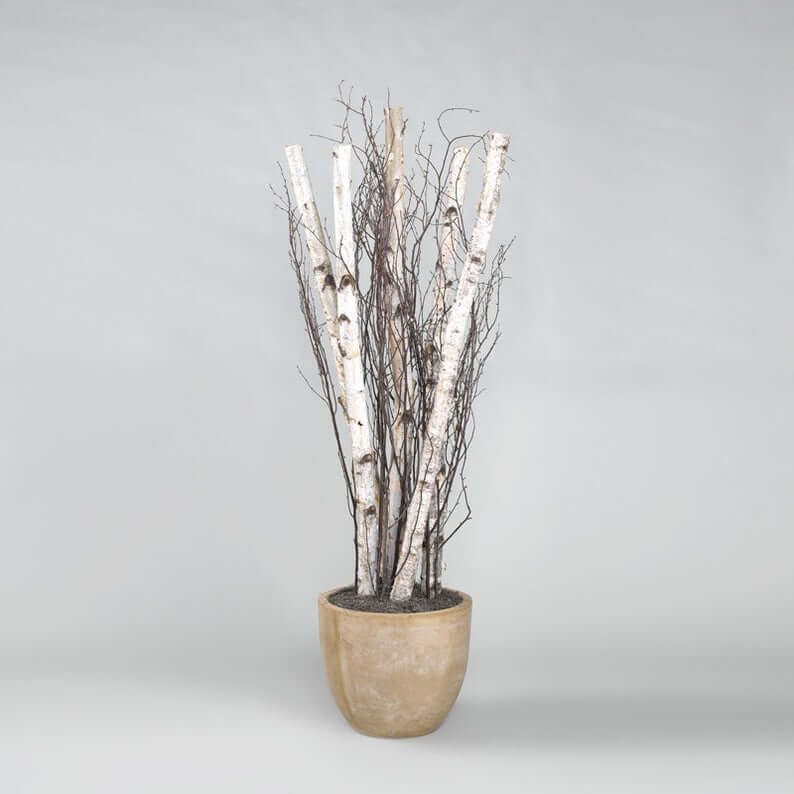 Add some brightness to a contemporary decorative set with these incredible real white birch branches. They can be used in your home for simple decoration, or you can add them to a party or wedding to be used as a part of the centerpiece settings.
16. Fine Birch Branch Vase Filler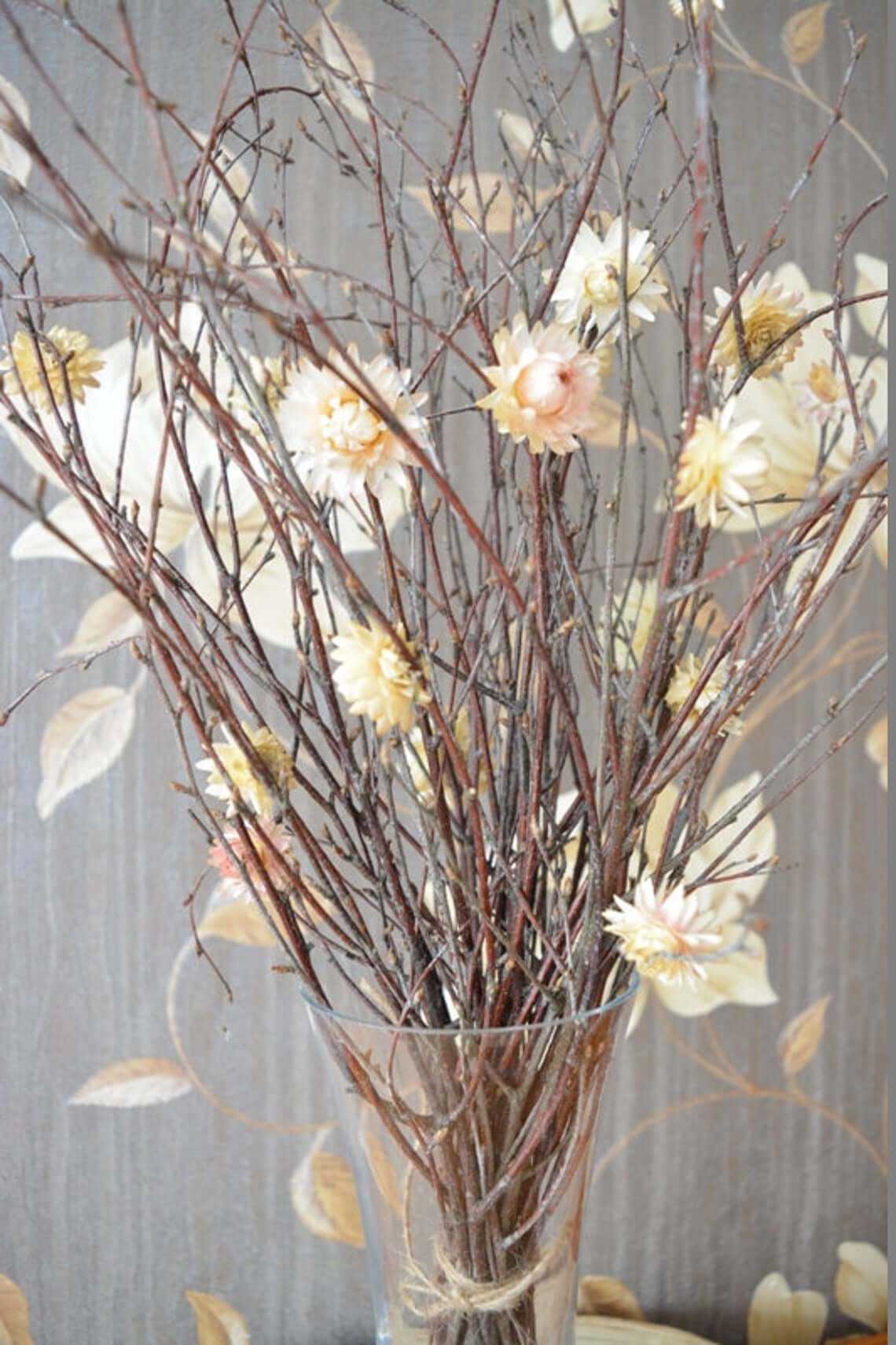 If you are looking for some straightforward way to fill up some vases, then try out this fine birch branch filler. You can select two different birch heights so that it best suits your decorative needs. This is another piece that can serve as exceptional décor in a rustic-themed home or party.
17. Stunning Driftwood Rustic Floor Lamp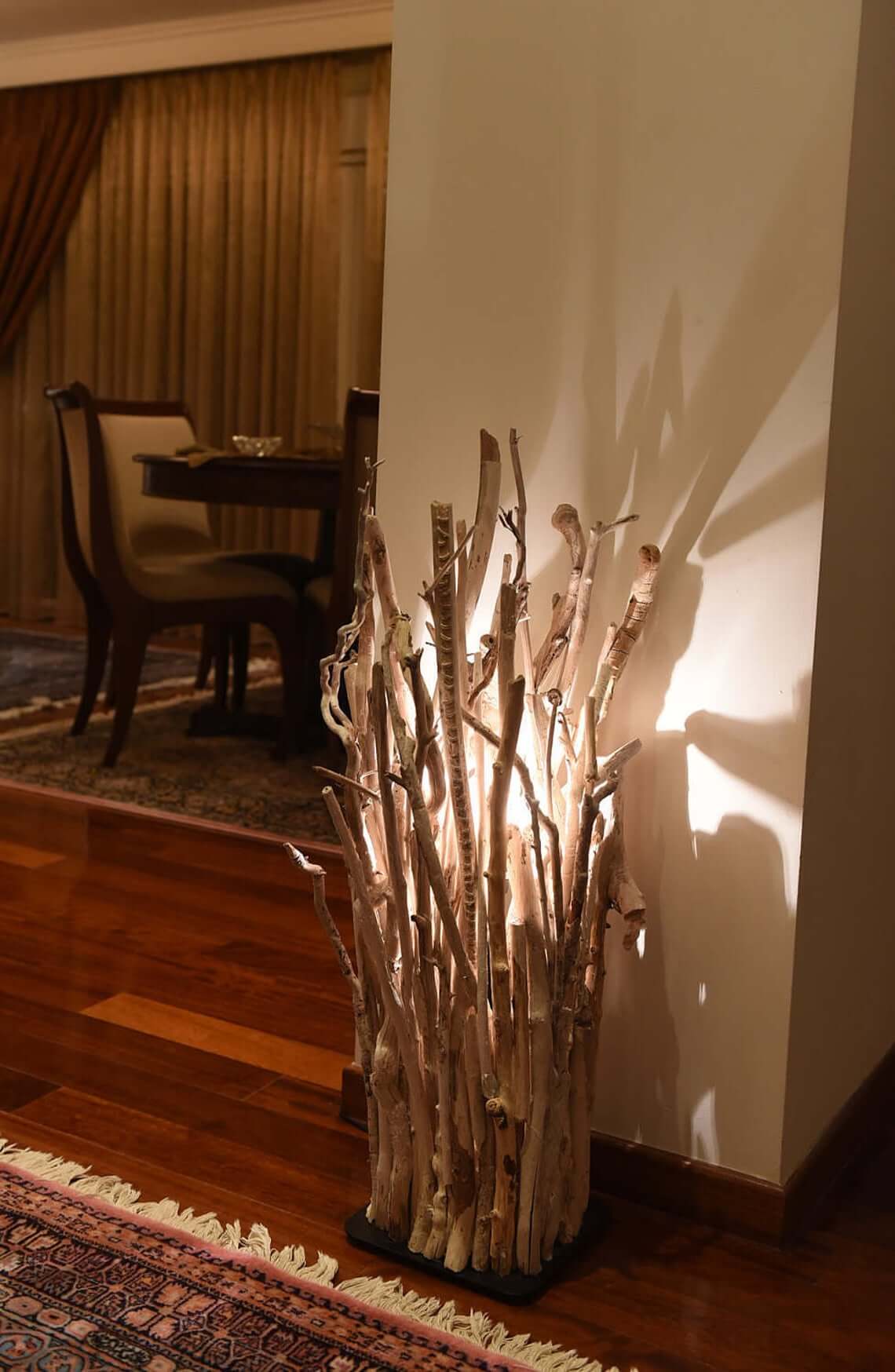 For those of you eager for standout lighting in a rustic, farmhouse-like room, then try your hand with this driftwood floor lamp. It features numerous pieces of wood to create an authentic look that will get anyone talking when they see it. When lit up, the beauty of it truly shines through.
18. Natural Elegant Rustic Wooden Wreath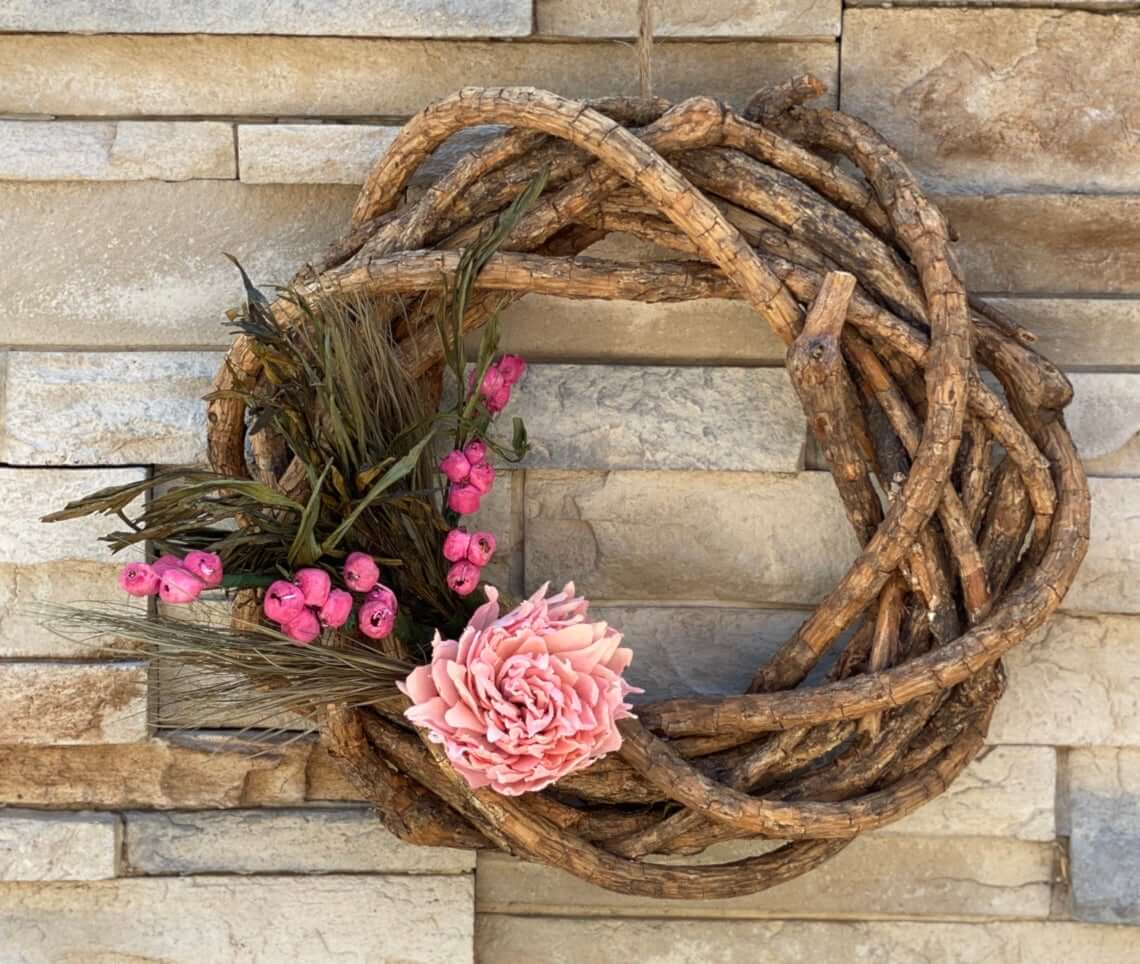 Not all wreaths need to be colorful and filled with various greenery. You can have a gorgeous wreath using simple wood with this wooden wreath. There is a pop of color with the flowers, but the wood stands out the most. You can select a particular scent if you want it to better match your home décor.
19. White Birch Forest Wall Art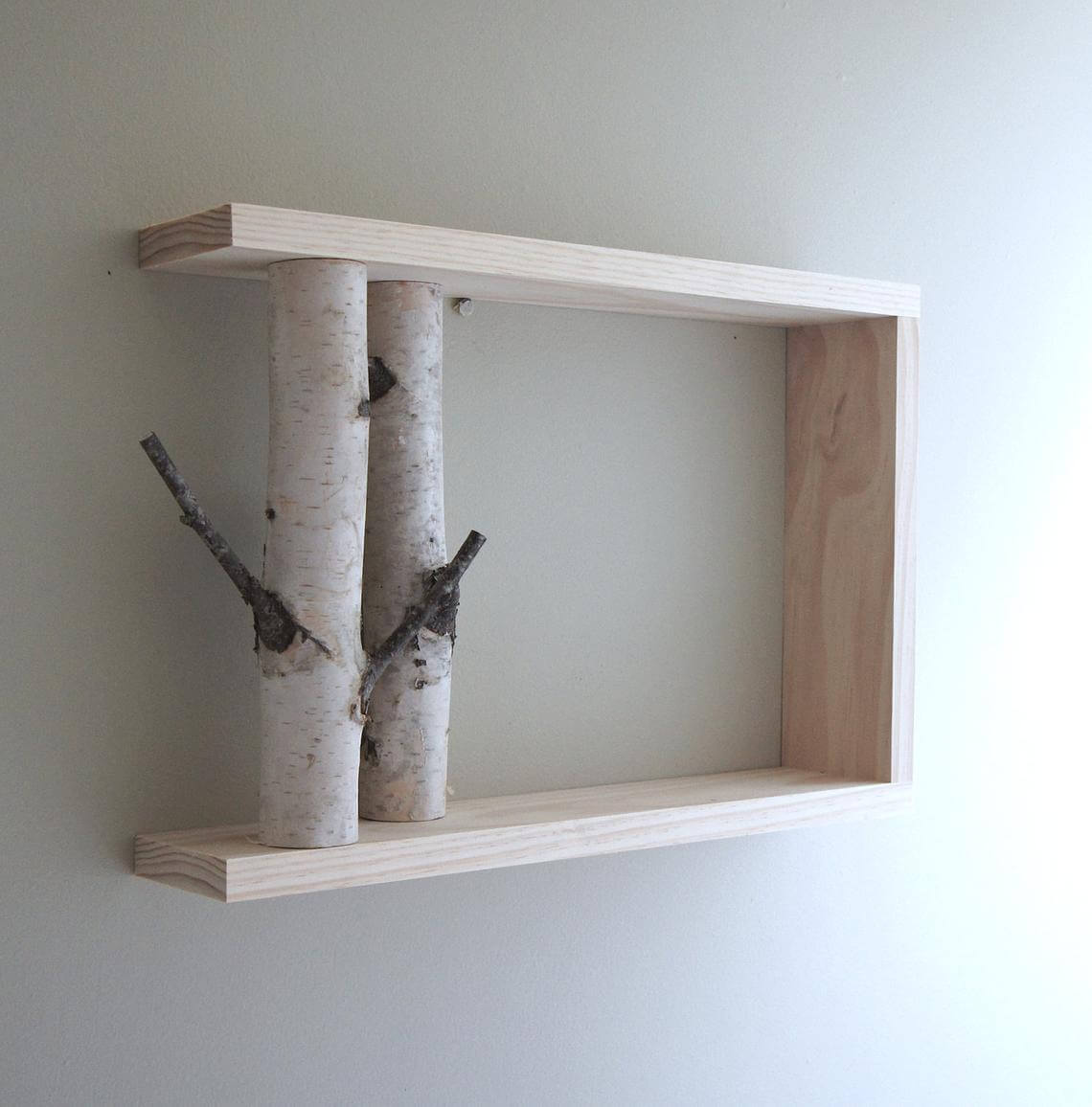 Bring nature back into your home with this stunning wall art made with white birch. You can select from a number of different wooden finishes so that the art will better fit into your home's personal décor.
20. Black Forest Repurposed Wall Rack

21. DIY Freestanding Front Hall Tree

22. Midsummer Fairy Light Forest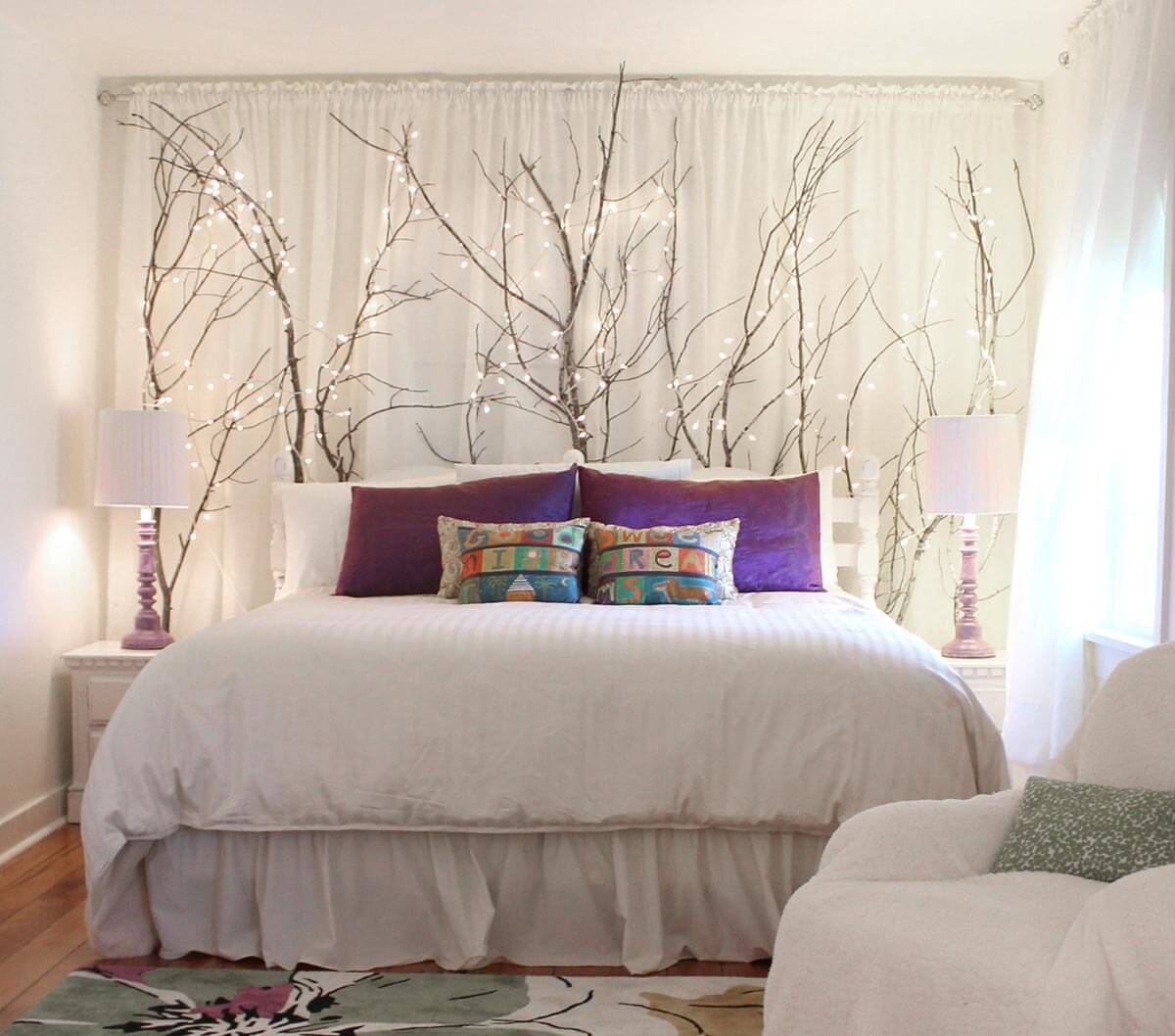 23. Natural Love Handmade Branch Chimes

24. Woodland Lettering Wall Art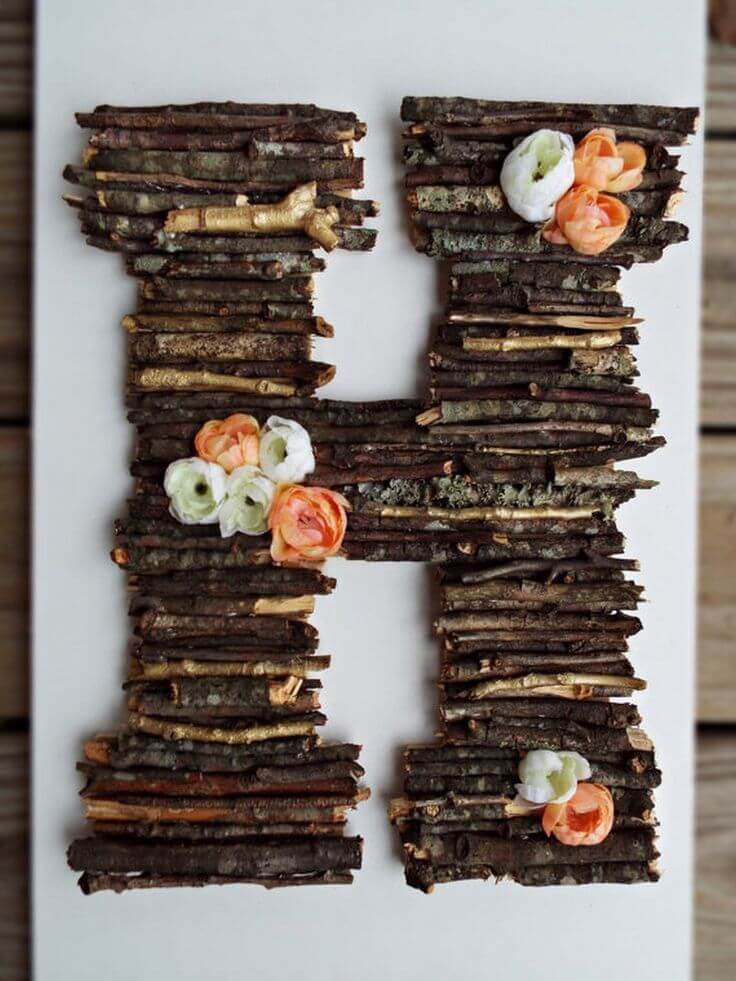 25. Tree Of Light Illuminated Lamp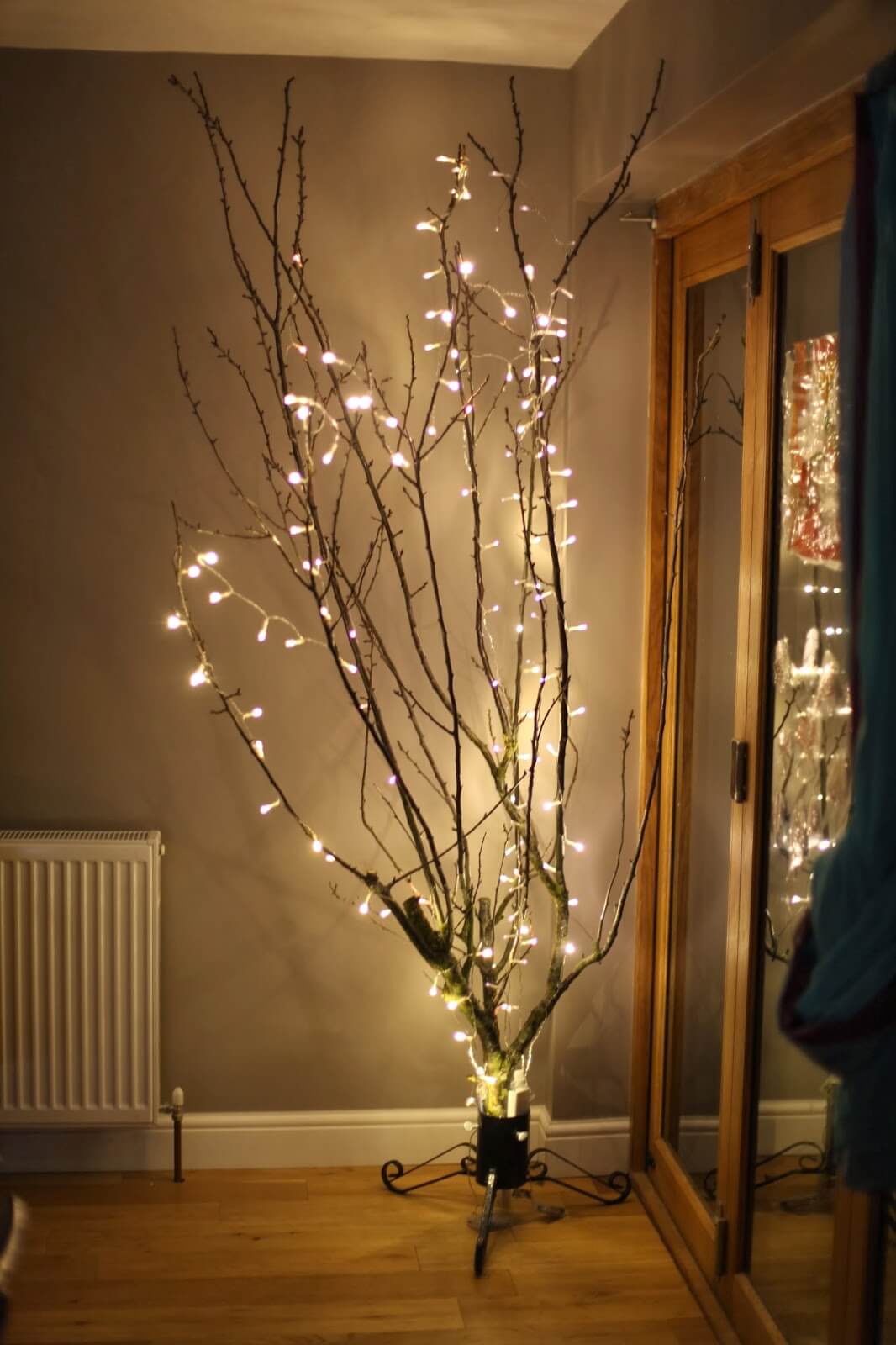 26. Logger's Lounge Bough-And-Bulb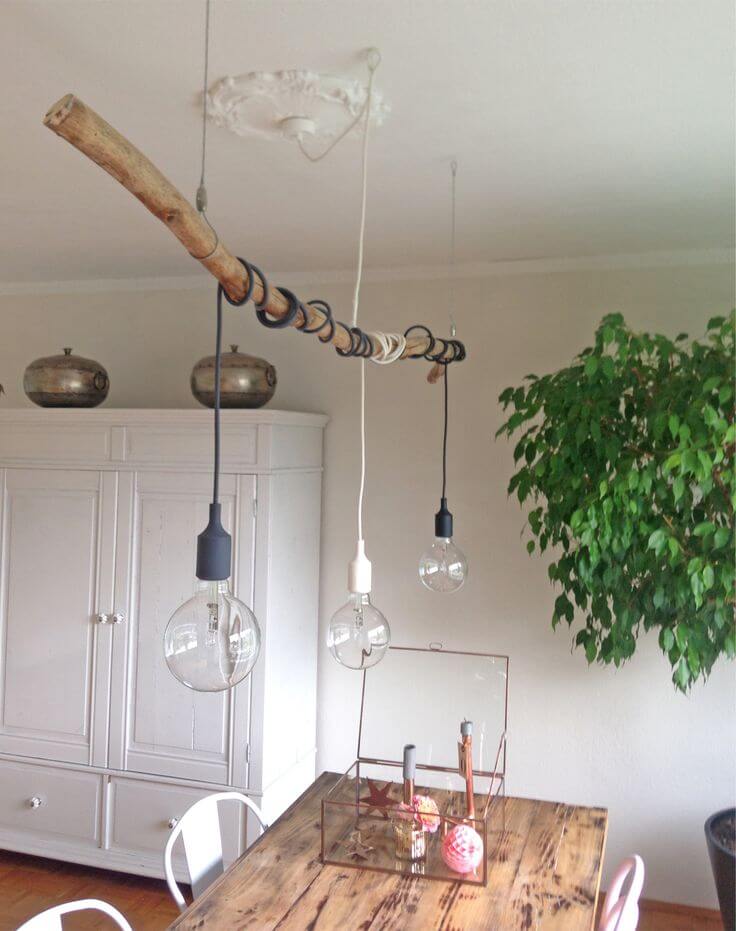 27. Twig and Memory Hand Assembled Frame

28. Crown Of Branches Window Lamp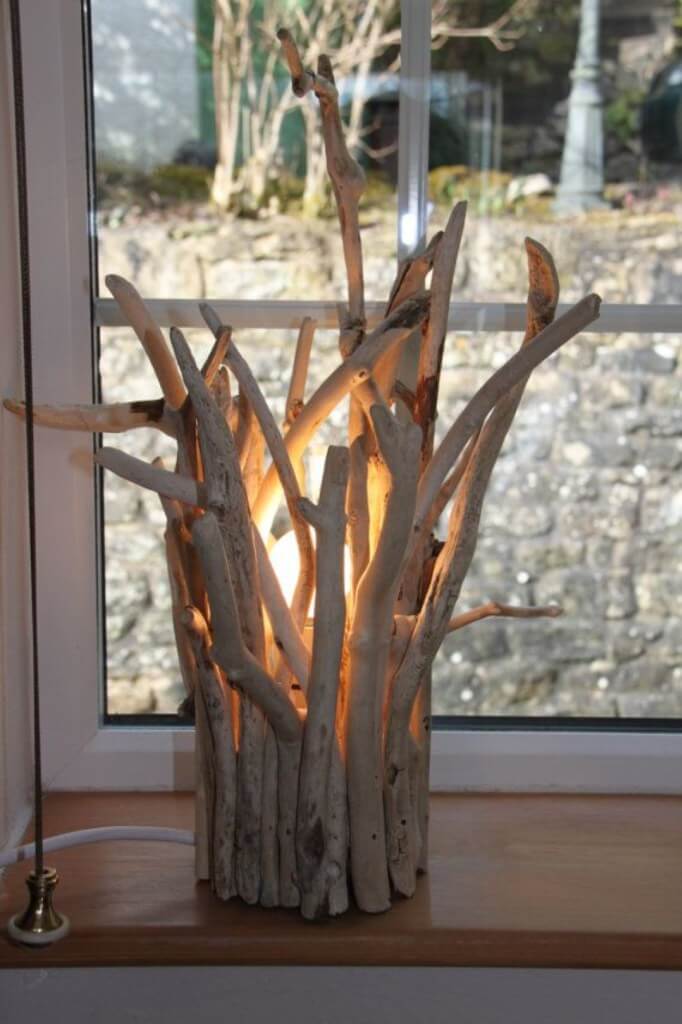 29. Beaded Bough Wind Chime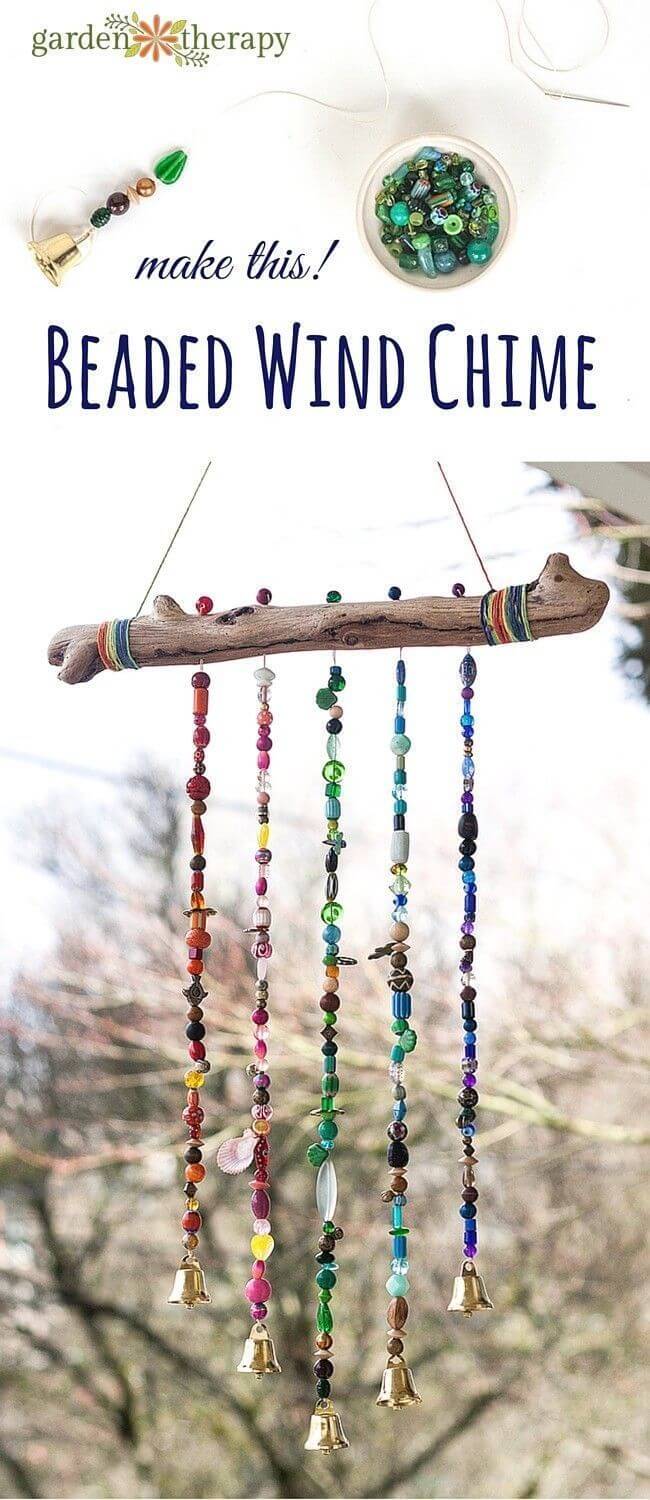 30. DIY Decorate With Branches Table Setting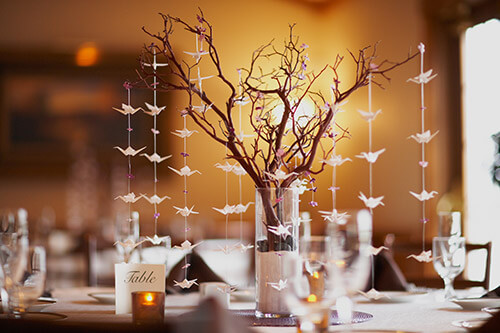 31. Gallerist's Walk Sectioned Wall Mount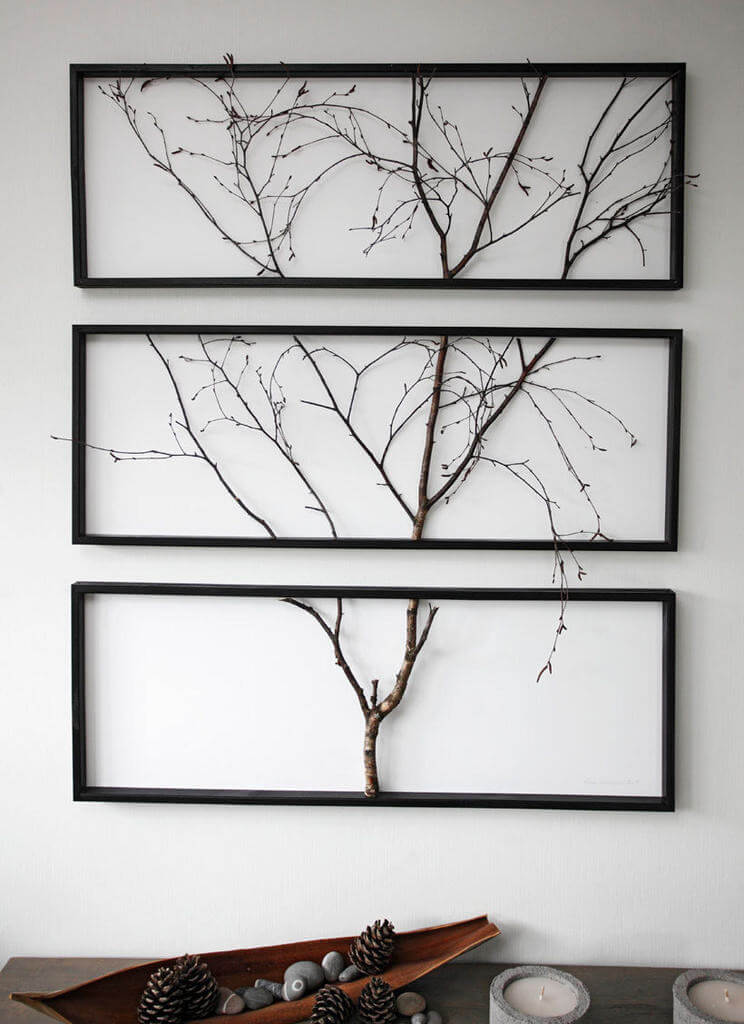 32. Floating By Candlelight Table Display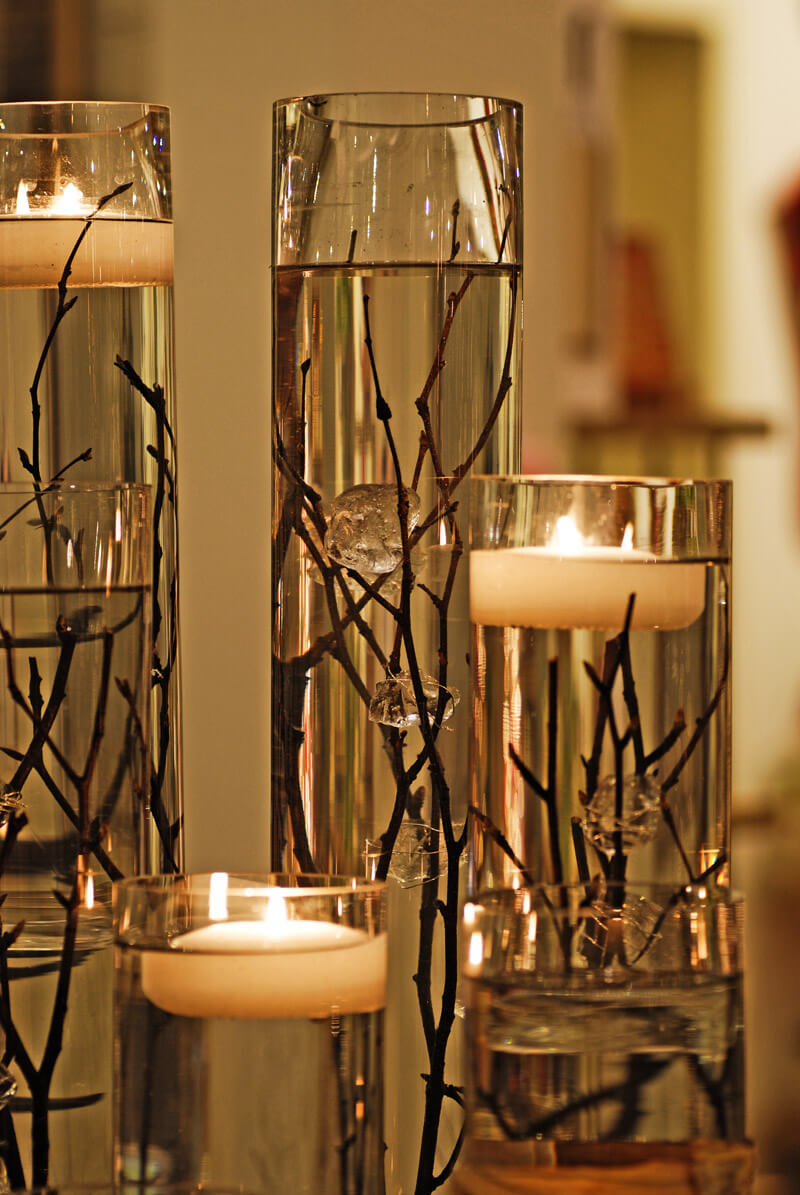 33. Indoor Forest Framed Branch Lights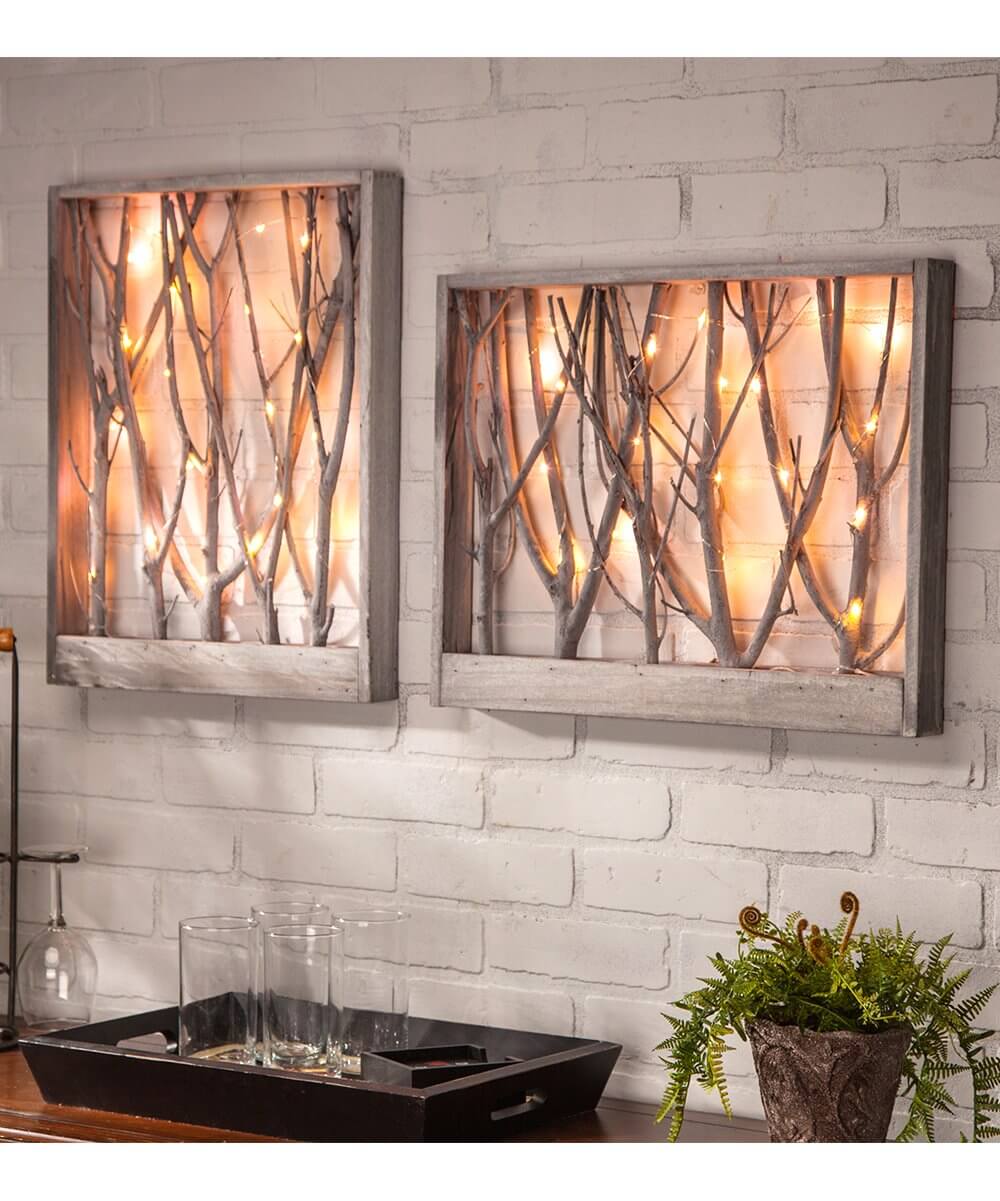 34. Birch Wood Stair Banister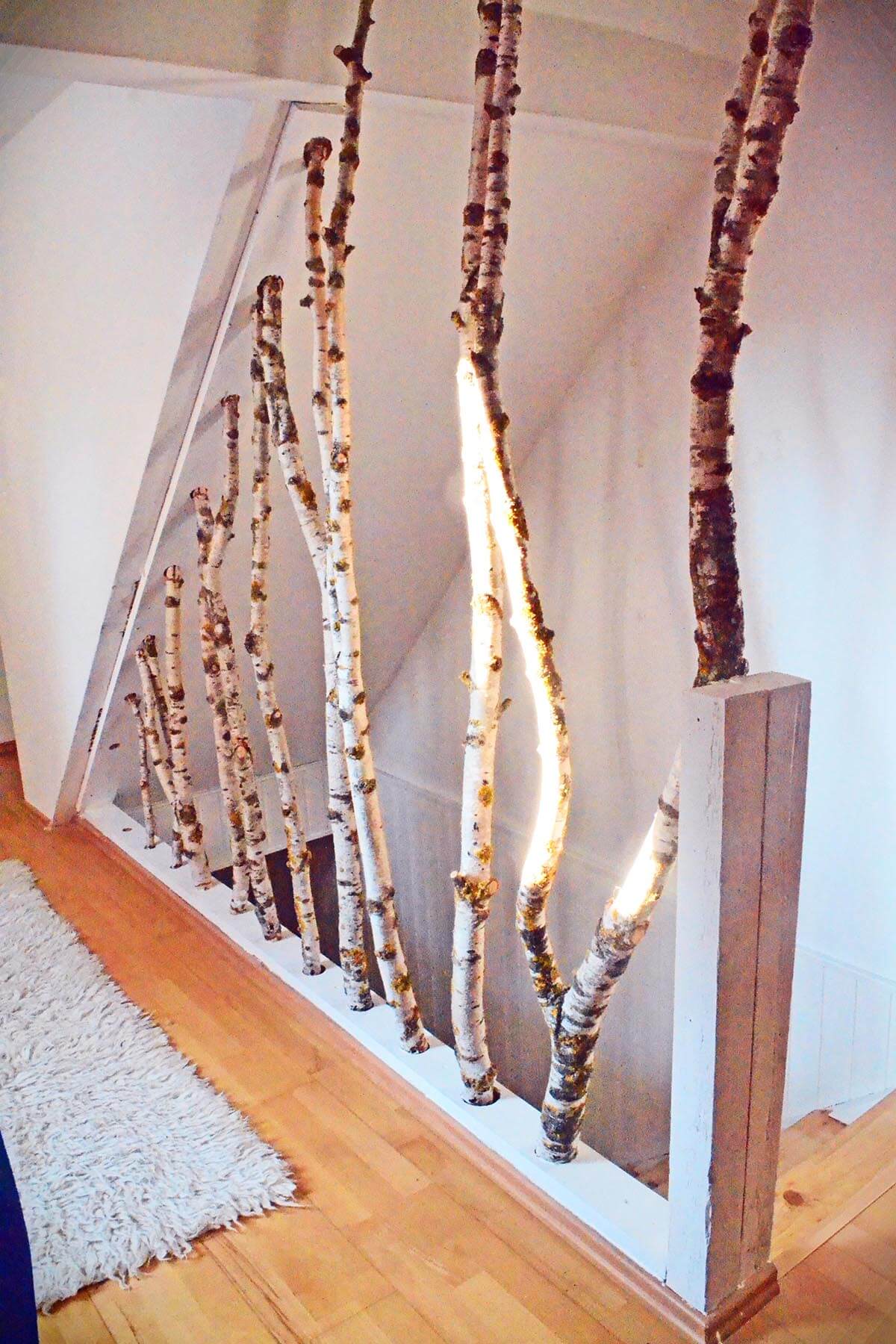 35. Floor-To-Ceiling Forested Hook Stand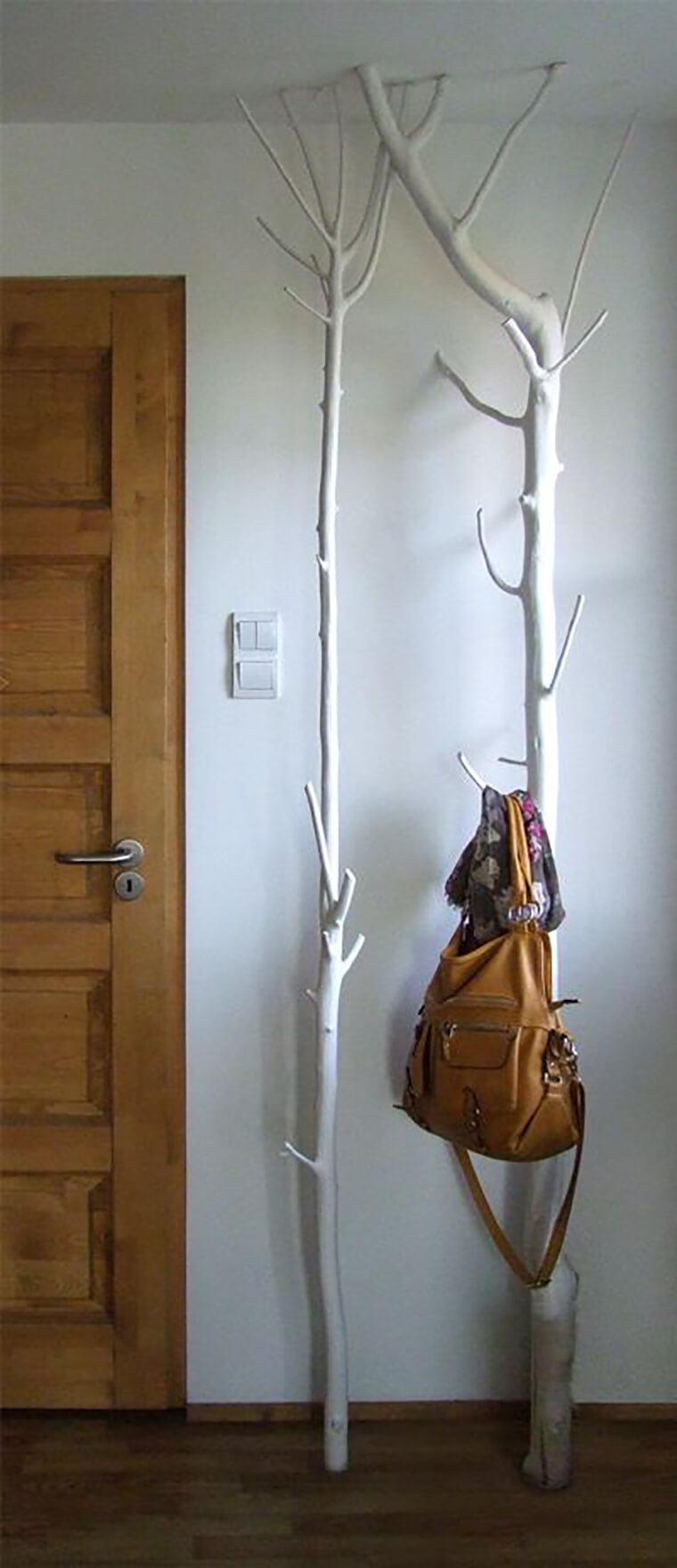 36. Big Sur Ballroom Chandelier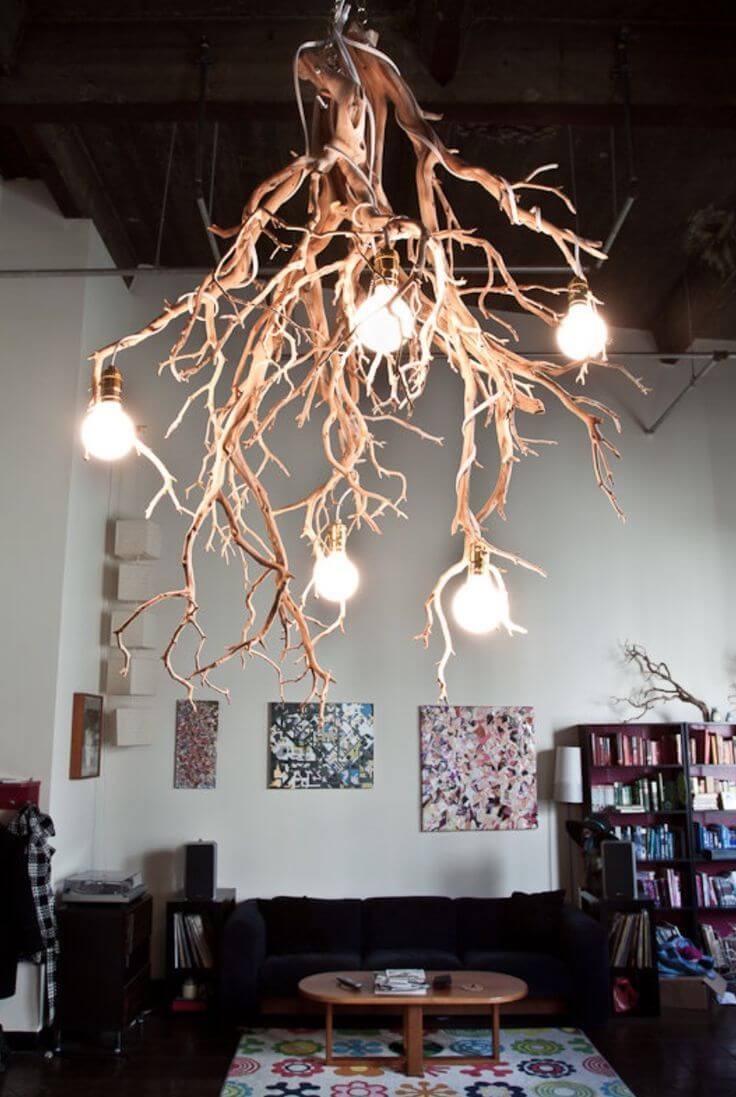 37. Handwoven Twig Dome Light

38. Simply Chic DIY Twig Curtain Rods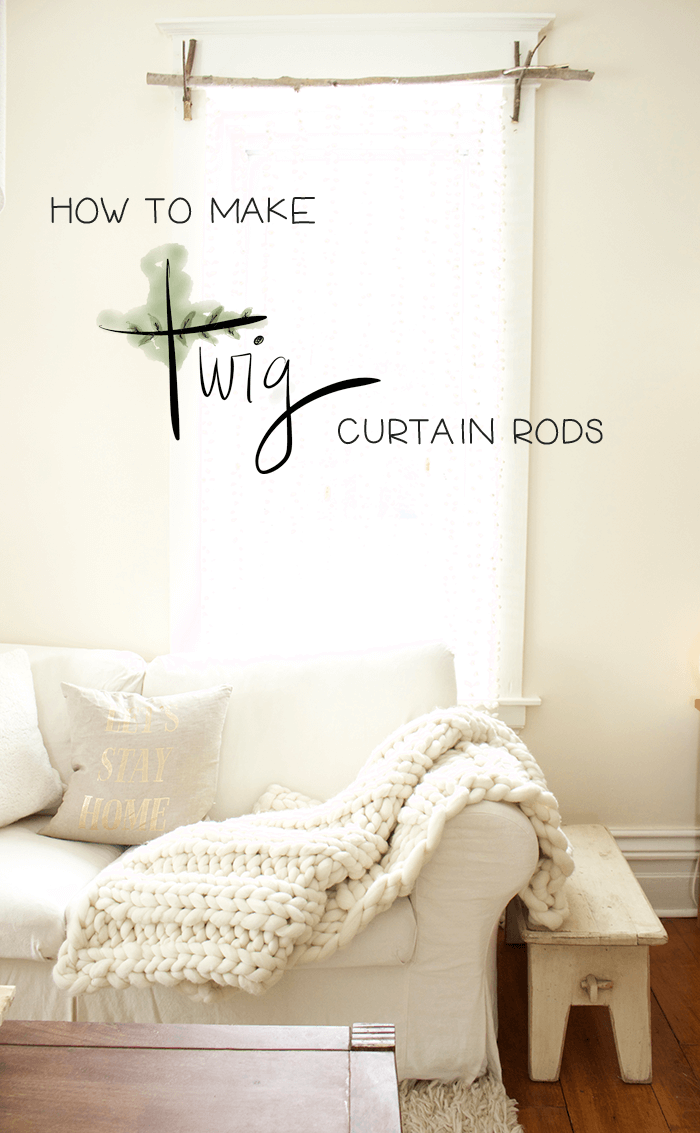 39. Brontë's Bouquet Handmade Twig Planter

40. Scandinavian Forest Four-Poster Bed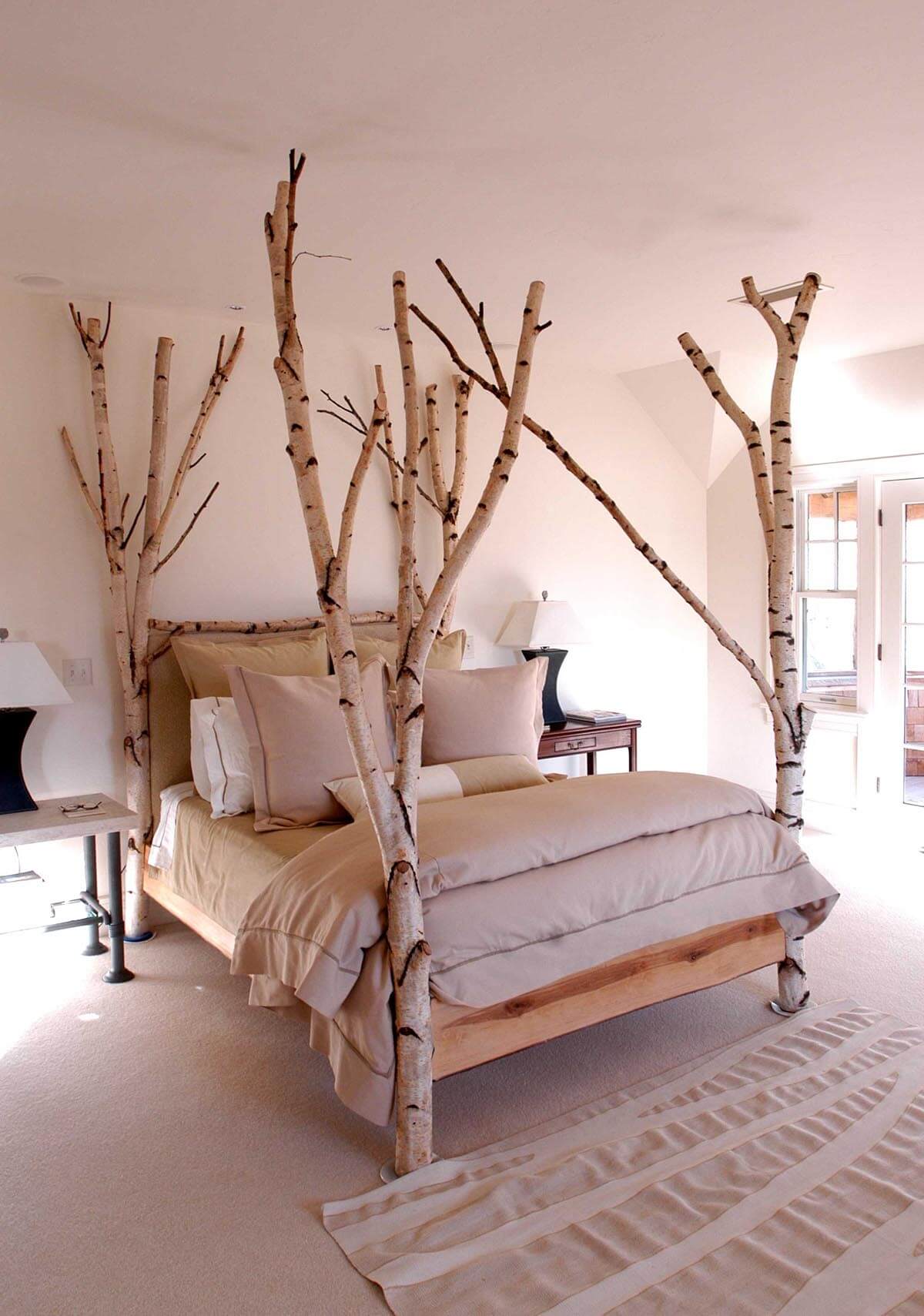 41. Winter Palace Sculpted Twig Chandelier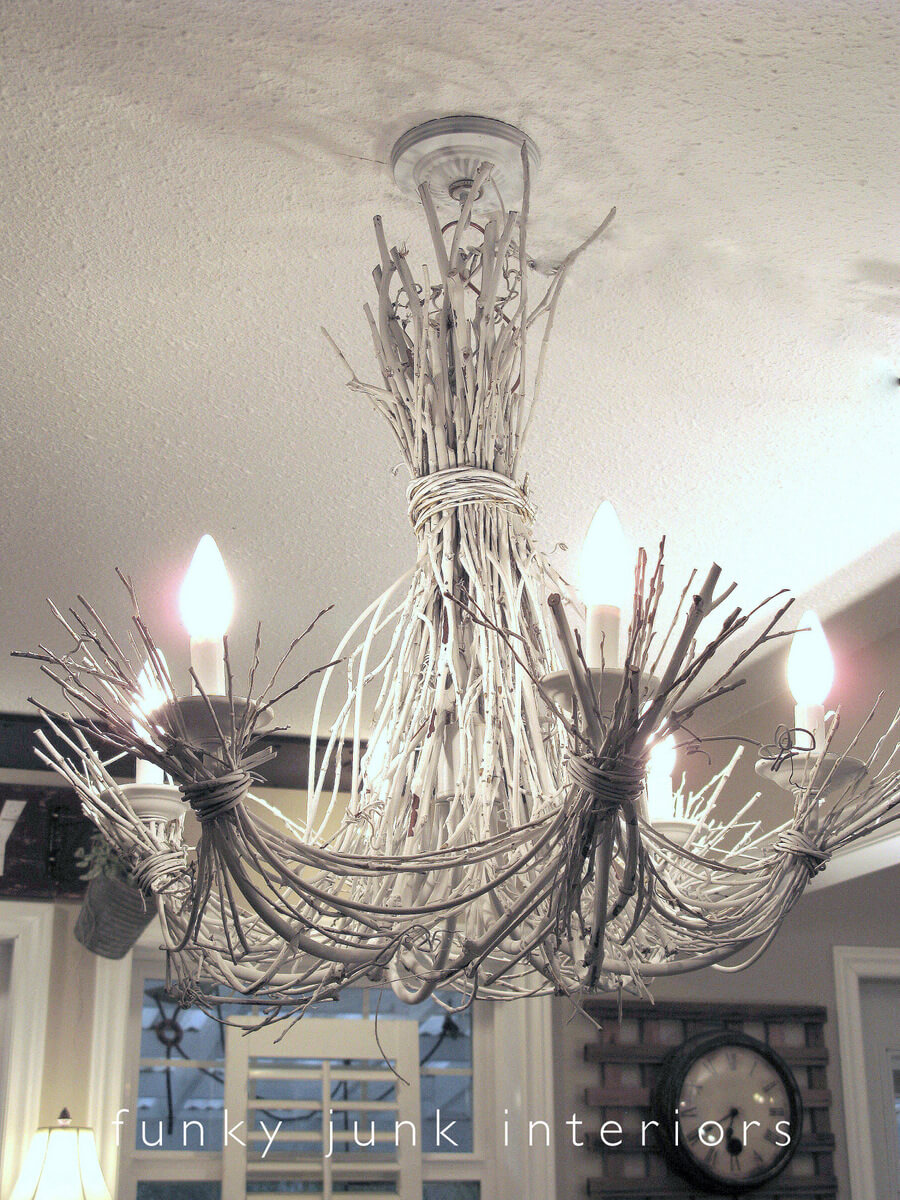 42. Poet's Garden Floral Branch Wall Hanging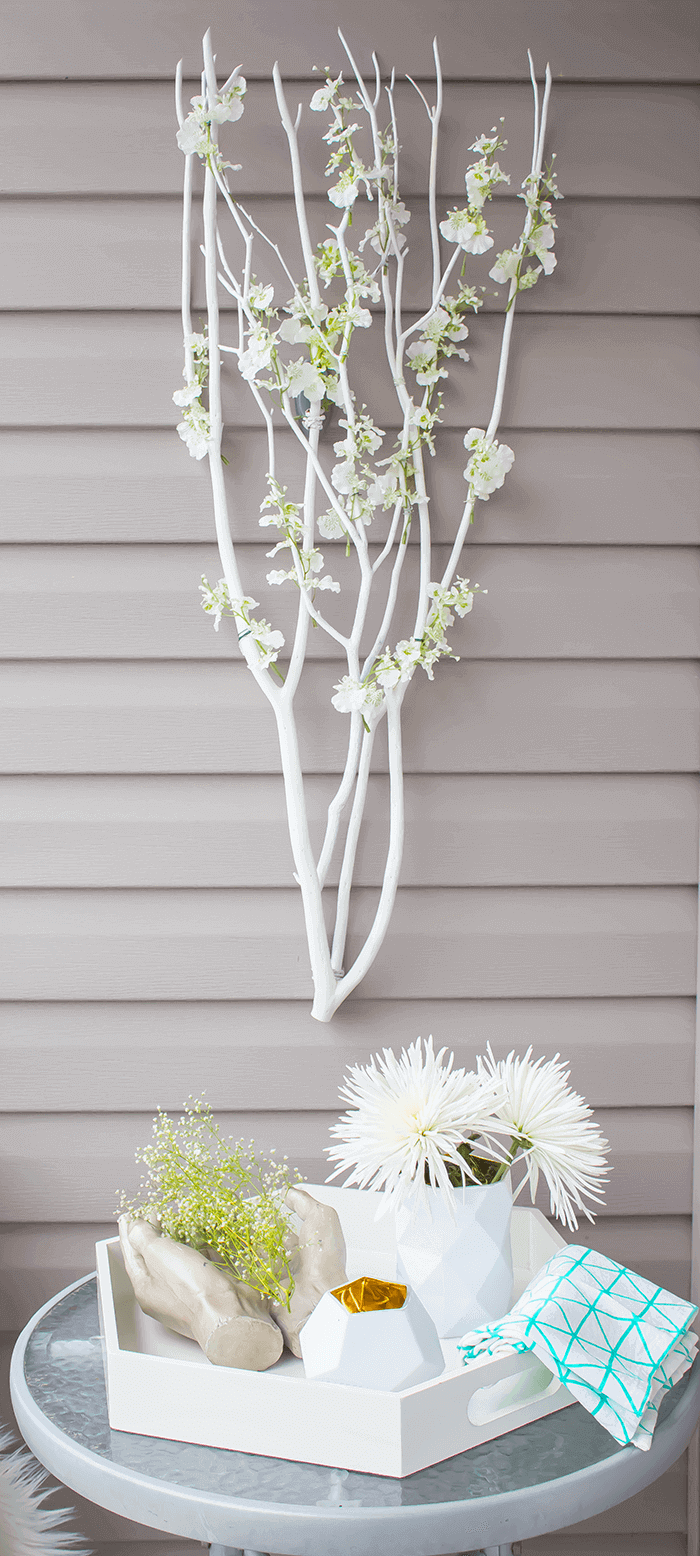 43. Bathroom-Beautiful Ways To Decorate With Branches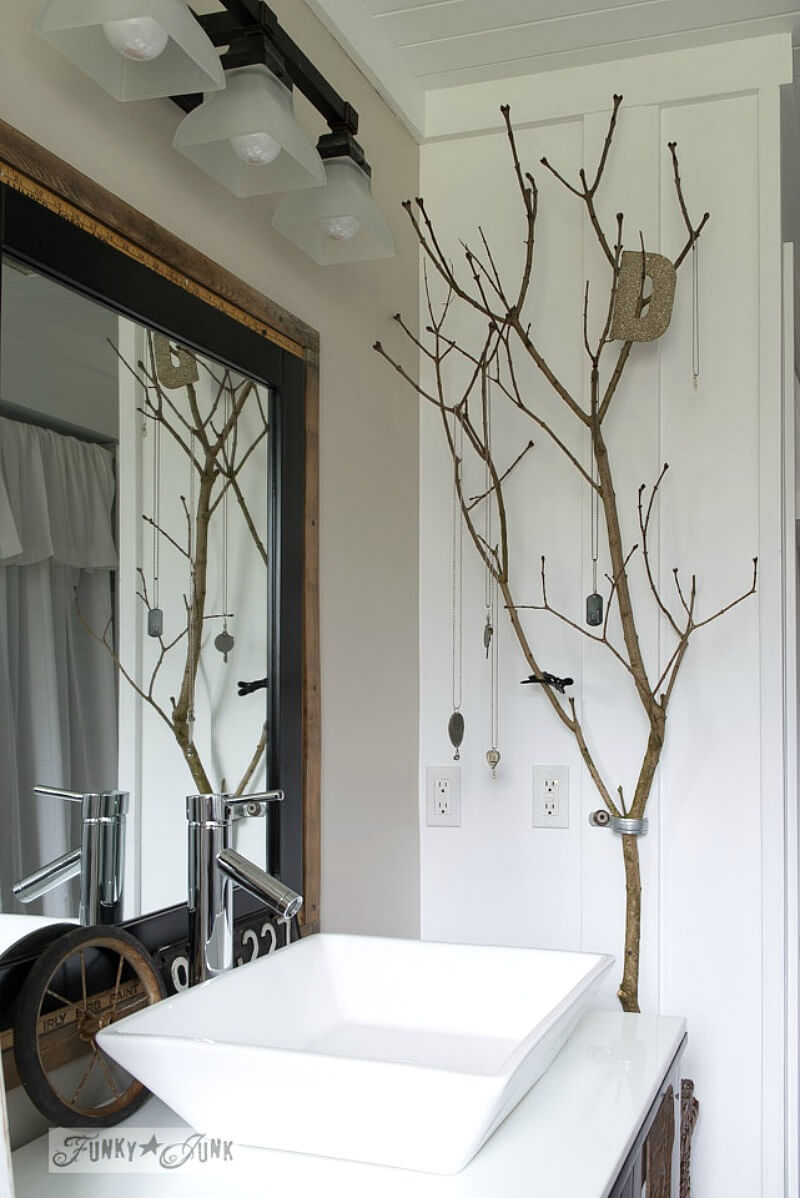 44. Pacific Canopy Beach Bedroom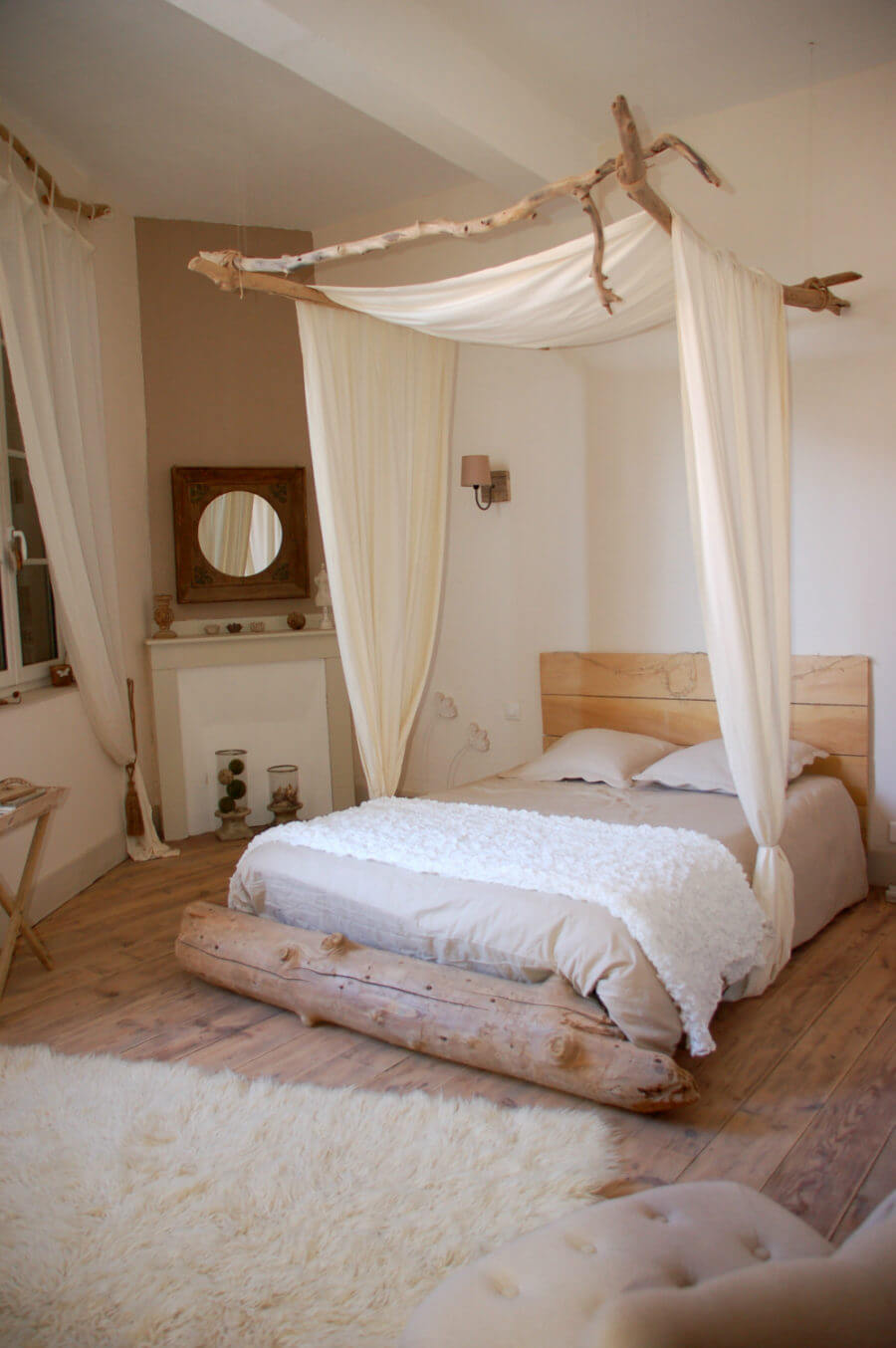 45. La Mer Handmade Driftwood Mirror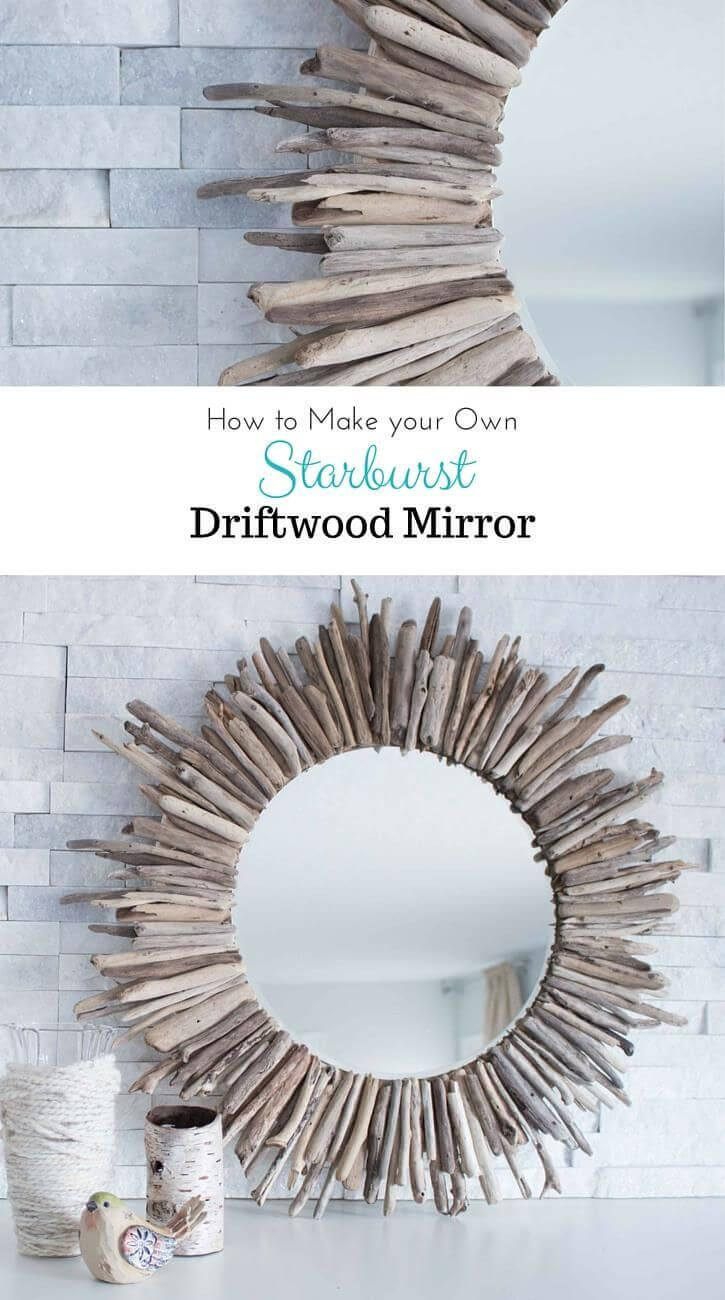 46. Metropolitan Orchard DIY Wall Art