Brick fireplaces are staples of home decor and these brick fireplace ideas will help you elevate yours to a whole new level! They are timeless – which is great because they tend to be extremely durable, too! With design trends shifting toward lighter neutral colors, minimalist aesthetics, and farmhouse chic, your fireplace might be feeling a little left behind. Time to update your brick fireplace design to get with the times? Then it is a good thing you have found 23 brick fireplace ideas right here! Fortunately, this type of home makeover is easier and quicker than you might imagine.
23 Easy and Stylish Brick Fireplace Ideas You'll Wish You Did Sooner

There are a few ways to make your fireplace feel new again. You can paint the brick, change up the mantel design, extend the mantel to the ceiling, add some fresh home decor elements, or all of the above. We have pulled together a collection of 23 brick fireplace ideas to show you just how many options you have when updating this particular area of your home. You may be surprised at just how versatile your humble brick fireplace can be.
In case you were wondering, there are a few terms about fireplaces and brick you should know. The fireplace is, well, the place where the fire goes. The mantel is the shelf above the fireplace. The hearth is the area below the fireplace, which can be just a small surface area or an elevated area almost like a bench. Whitewashing is a process of painting sheer white paint over a surface like brick to lighten its color. Painting, on the other hand, is when you completely paint over the brick with an opaque formula.
You do not need to have a big budget or lots of know-how to be able to update your fireplace. All you need is a great style idea and some motivation. In fact, you may be able to do a complete fireplace makeover with stuff you already have in your home. Most of these ideas can be accomplished in 1-2 days, so bring on the weekend warriors!
If you are feeling unsure about where to start or are hesitant about committing to a complete overhaul like painting your brick, then try playing around with the decor and the mantel. Just a few little changes here and there like a new piece of art or a vase of flowers on the mantel – or a new mantel – can make a major difference.
Let's get into it! Here are 23 awesome ideas for you to update your brick fireplace.
1. Beautiful White Washed Brick Fireplace Makeover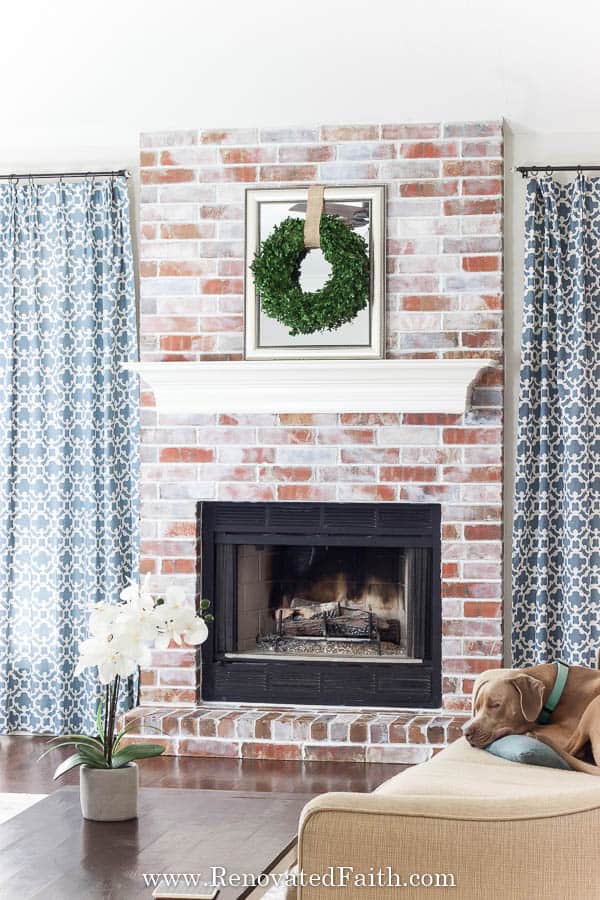 Traditional red brick has a warm, inviting feel but sometimes it can appear a little abrupt or harsh around softer decor themes. That's why whitewashing is so great! It can soften the appearance of traditional red brick while still keeping that warm color peeking through a little bit. When doing a project like this you should always start with less. Remember: you can add more paint to lighten things up but taking it away is much more difficult! Whitewashing your brick is a great weekend project and the results are amazing. Just look at this beauty! (Cute dog not included).
2. Farmhouse Home Decor and Fireplace Renovation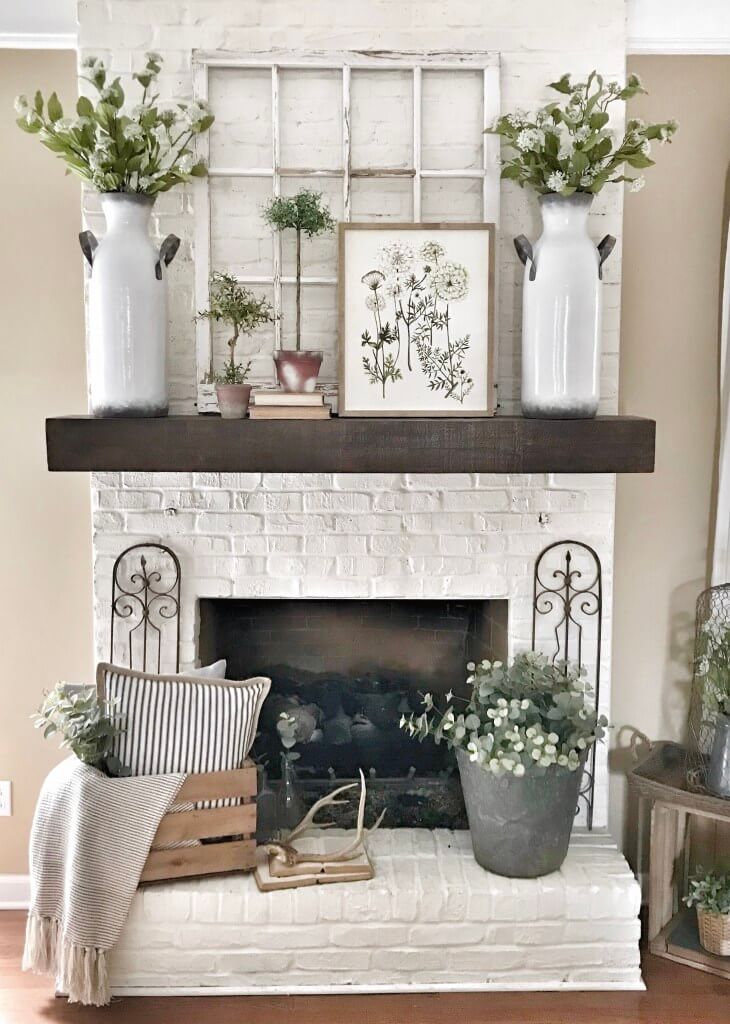 You can COMPLETELY change the way brick looks by painting it a nice soft, creamy shade. Farmhouse decor looks especially nice with brick painted in lighter colors. You get the texture and shape of the brick in a palette that goes perfectly with that classic antiqued white look of farmhouse decor. Contrast is key to keep things from looking too pallid. The wooden mantle in a dark finish is a fantastic choice that breaks up the lighter color and still goes with the overall theme. Traditional fireplace accessories like cast-iron tools fit right into this type of home decor, too.
3. Awesome Idea for a Beige Fireplace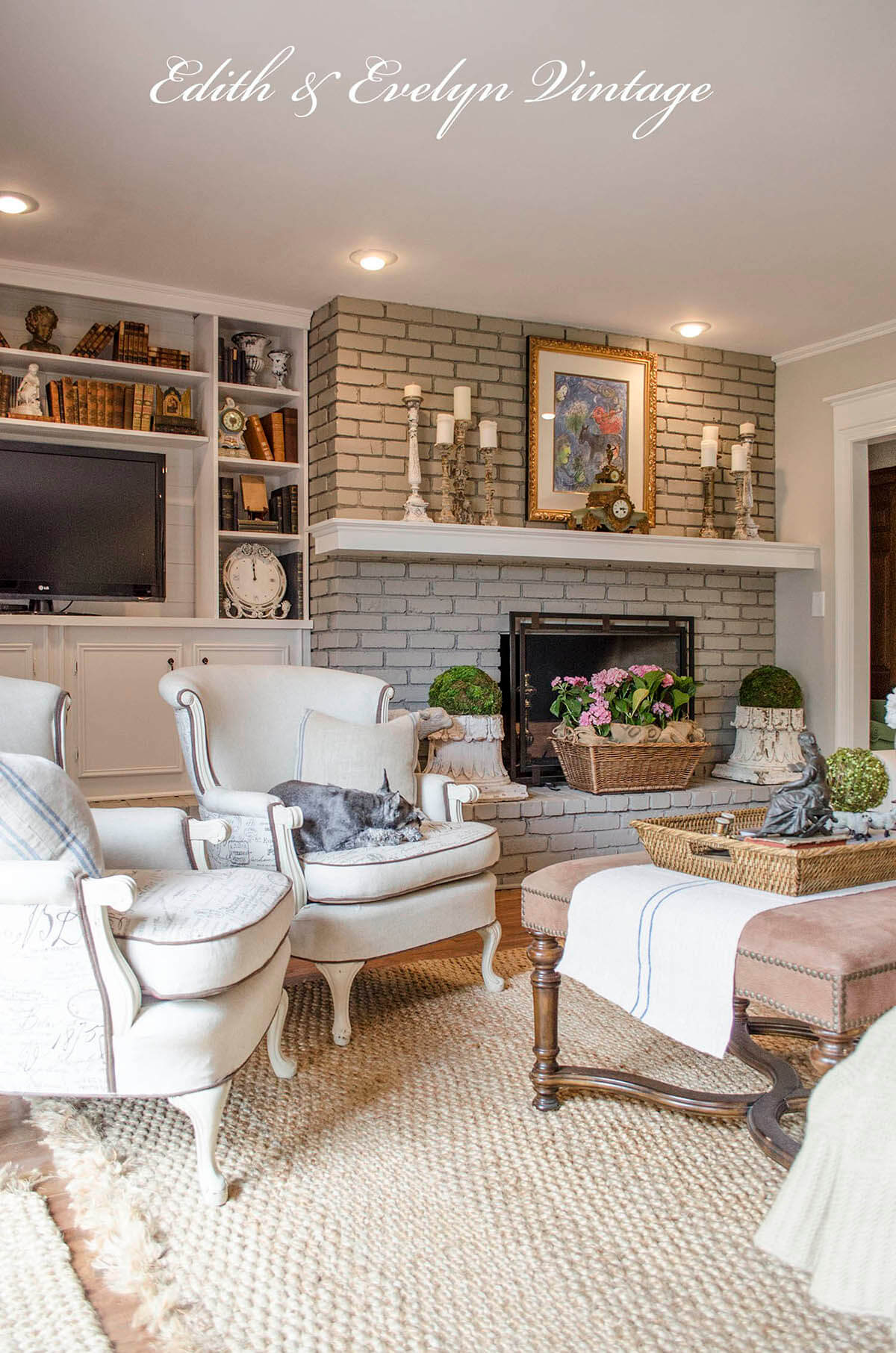 White and red are not the only color options when it comes to brick. Just take a look at this marvelous living space. Painting your brick fireplace a shade of beige or "greige" (a cross between grey and beige) is a great option to keep the contrast between the fireplace and wall while not having dark colors that can close up the space. A lighter color keeps things open and bright. A mantel with crown molding in the same shade as the adjacent wall is a really lovely way to keep the continuity of the wall color and to add dimension to the brick fireplace. This is one brick fireplace design that blends in flawlessly with the decor of the entire room!
4. Pretty Cream Brick Fireplace with Unique Mantel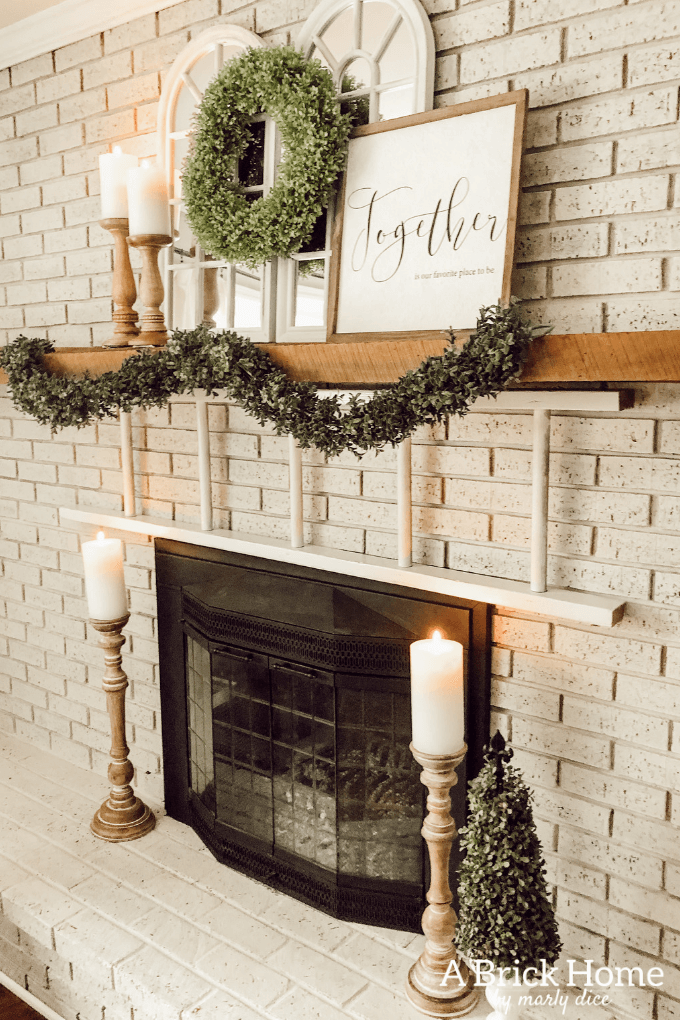 Any brick fireplace is a beautiful backdrop for home decorating. If you are lucky enough to have a light-colored brick fireplace, then it's practically like you have a blank canvas on which to paint your personal style! Use your fireplace and mantel to celebrate each season. It is a simple way to update your interior decor often without having to spend a fortune. Changing out what you put on your mantel by adding a new framed picture, candles, greenery, or something unexpected like this farmhouse ladder will make your living room look brand new every time!
5. Bright White Minimalist Brick Fireplace Makeover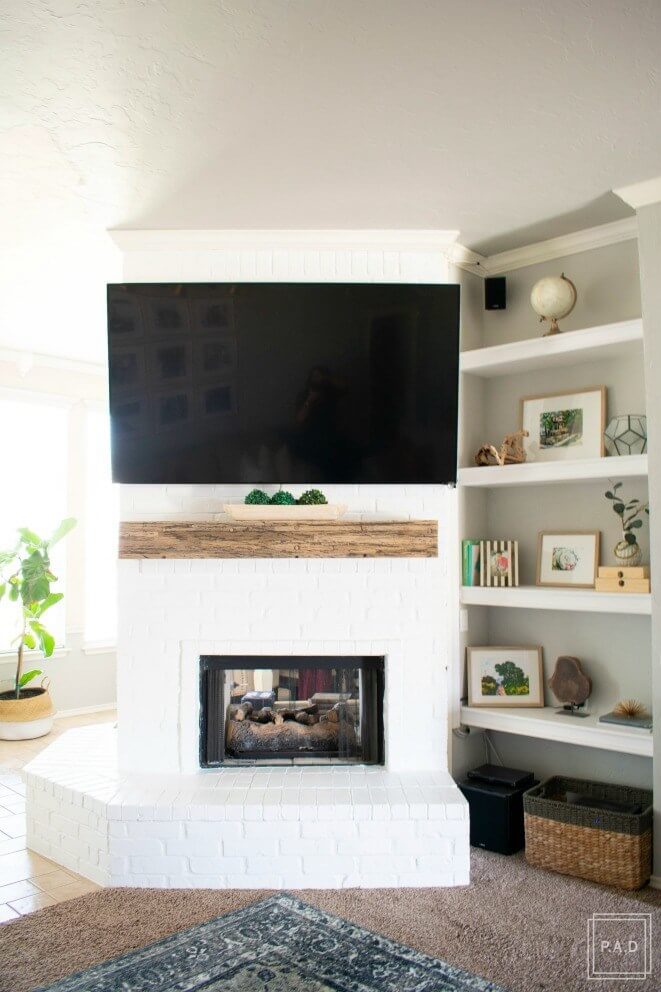 Brick is not typically what comes to mind when you think of minimalist design, but this fireplace makeover might make you think differently! Painting the brick and grout a stark, semi-matte white color and adding a simple textured wood mantel will make your fireplace unrecognizable. It's an entirely different "look" than any brickwork you've ever seen. Just be sure you're 100% committed to this style before you bust out your paintbrush – there's no turning back on this level of whitewashing! As brick fireplace ideas go, this has got to be one of our favorites. It is so unexpected and fresh.
6. Custom DIY Faux Paneled Wood Farmhouse Mantel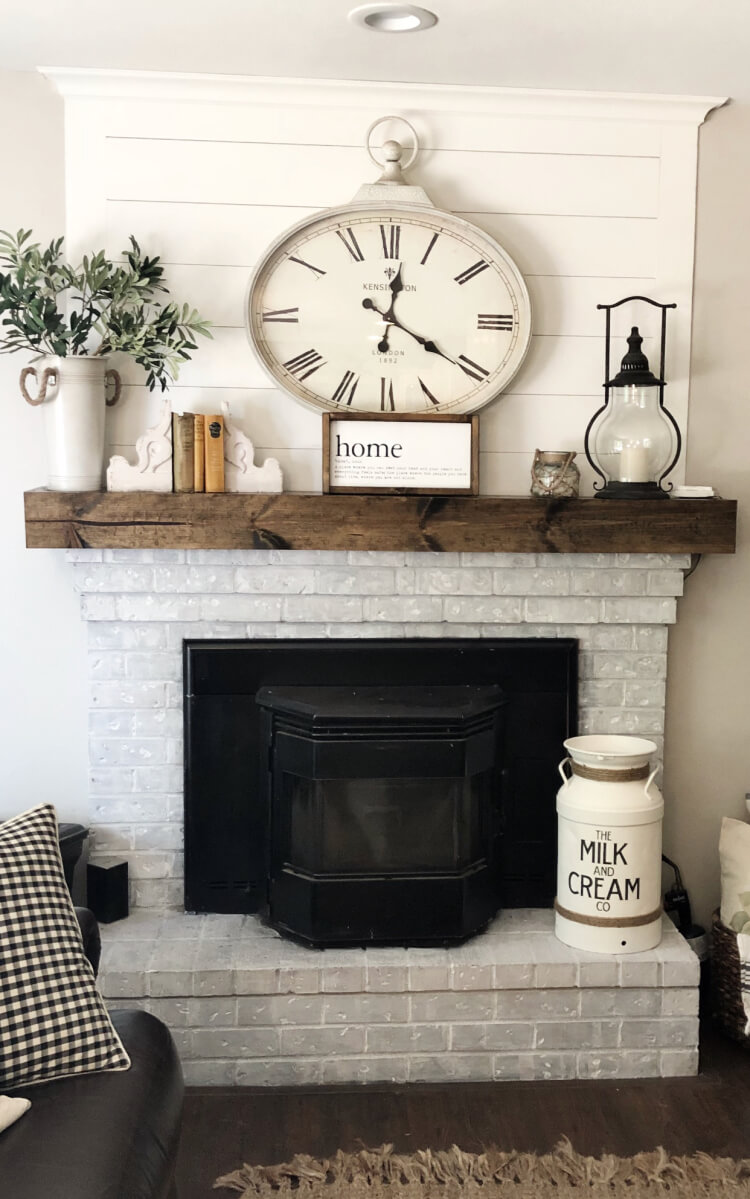 What do you see above your fireplace? Is it an empty wall? Consider this awesome idea to add a whole new dimension to your brick fireplace. This brick fireplace design idea is almost like a headboard for your fireplace. The paneled wood up to crown molding at the ceiling extends the mantel area. By drawing the eye up it makes the ceilings feel higher and the room feel more spacious. It also creates a very cool backdrop for decorating, especially in the farmhouse style! This looks amazing in a white or cream color that's a few shades lighter than the wall.
7. Aged Gray Brick Fireplace Transformation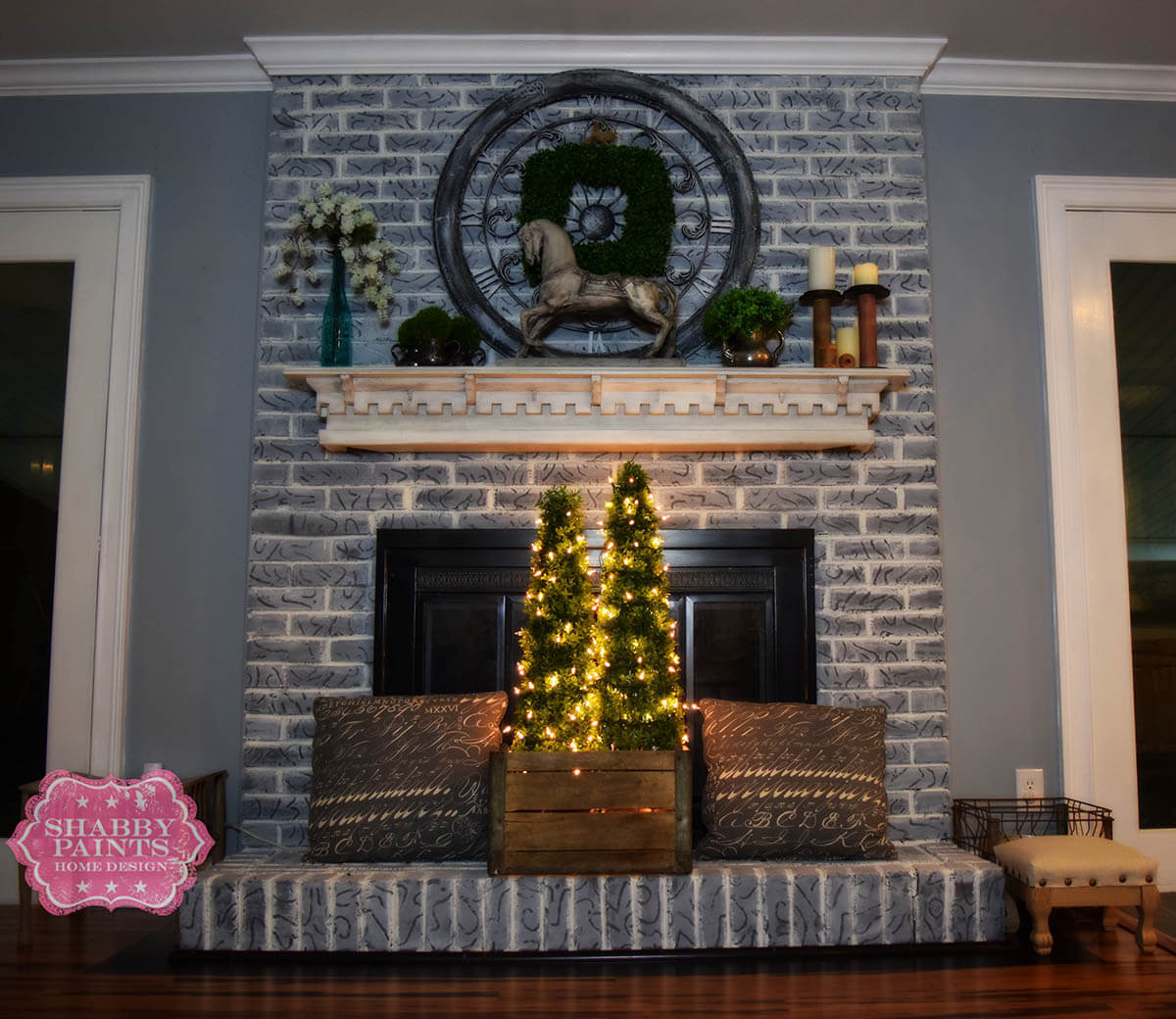 Whitewashing is not the only way to paint brick. Just take a gander at this incredible aged gray paint project! You can change the entire look of your living room with a can of paint by updating the wall and fireplace brick color to coordinate. Gray walls look gorgeous next to a gray painted fireplace. Using a sheer painting technique will help you keep the natural variations in brick color while still taking out the red. This is a surprisingly simple process that has a dramatic effect on the look and feel of your living space. The aged technique helps the fireplace keep its character while the gray color brings it into a more modern aesthetic.
8. Adorable Shabby Chic Farmhouse Brick Fireplace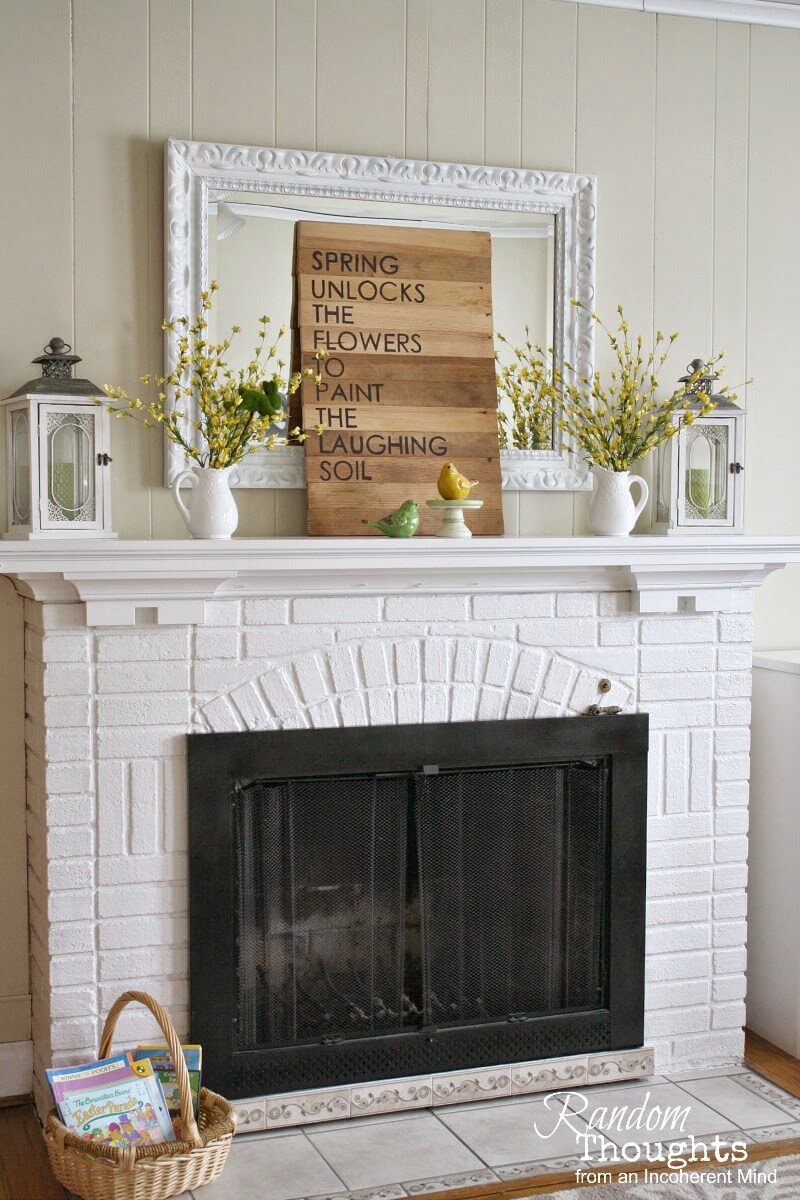 White brick is practically made for farmhouse decorating. Combine your white painted brick with antique knick-knacks, a framed or antique mirror, and some strategically placed greenery for a classic fireplace design that looks like it came right from the pages of a magazine. The combination of white painted brick, white molding on the mantel, and a painted white frame around the mirror hanging above the fireplace create a beautiful trifecta of flawless farmhouse style. The wooden painted sign is a nice touch that adds some contrast to the light color theme along with just a touch of green and yellow. This would be an amazing look for spring or any time you want a little pick-me-up in your interior design.
9. Preppy Casual Shiplap Fireplace Makeover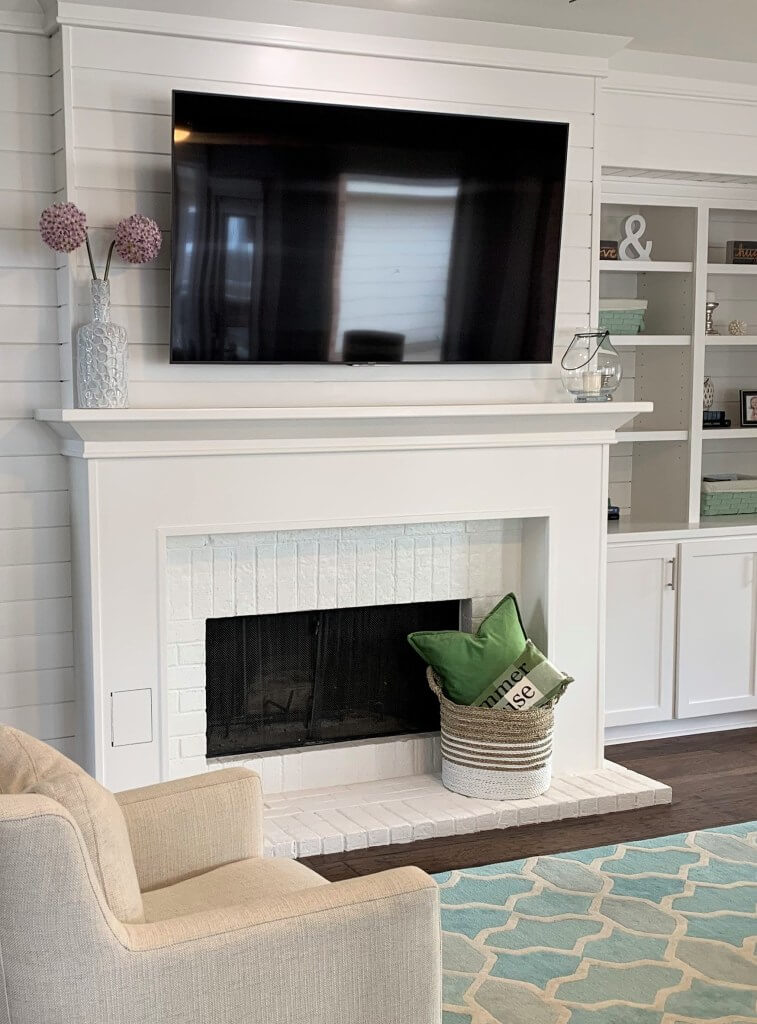 What an incredible brick fireplace idea for a total transformation! Shiplap is a type of wooden wall siding that uses horizontal boards to achieve the look of barn siding. This naturally lends itself to farmhouse decor, but it looks just as good with clean, airy and traditional preppy design. In this case, white shiplap is paneled over the wall and around the fireplace, and framed with crown molding. This fireplace already had a gorgeous white mantel, so the tile around the opening was painted white to match. White walls aren't boring when they have a texture like this! You get the best of both worlds – light, open space and interesting depth and pattern.
10. Timeless Whitewashed Brick and Wood Framed Fireplace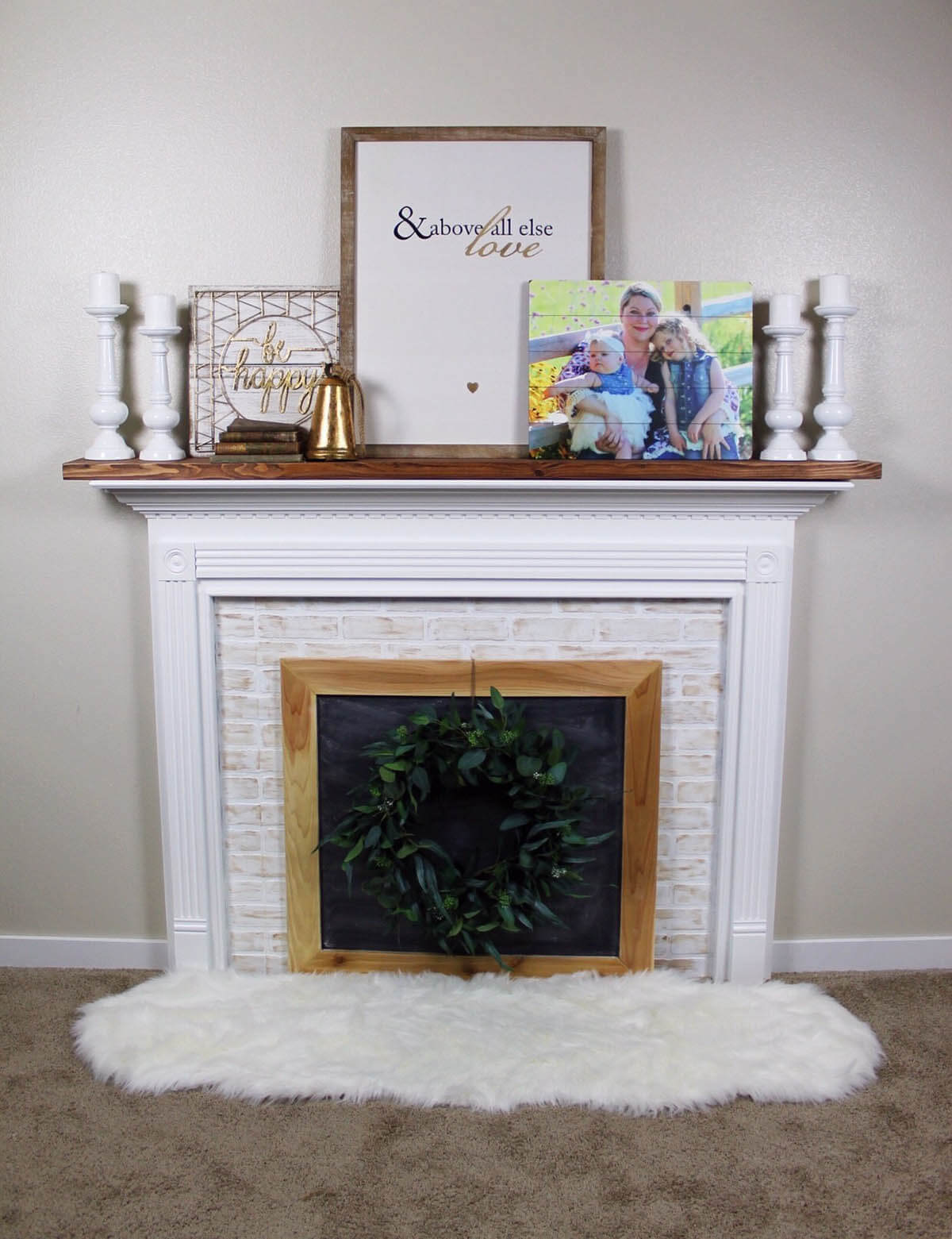 Wood and whitewashed brick go together like peanut butter and jelly, y'all. This is a good combination for a warm, stylish living room look that can be incorporated into an endless number of home decorating style ideas. This fireplace design has plenty of panache all on its own, but it is also neutral enough that it makes an ideal backdrop for whatever mantel decor your heart desires. Framed artwork? You got it. Candles? Absolutely. Holiday lights and greenery? You betcha! Just start with this beautiful neutral fireplace as your backdrop and then make it your own.
11. Rustic Stone Brick with Recessed Fireplace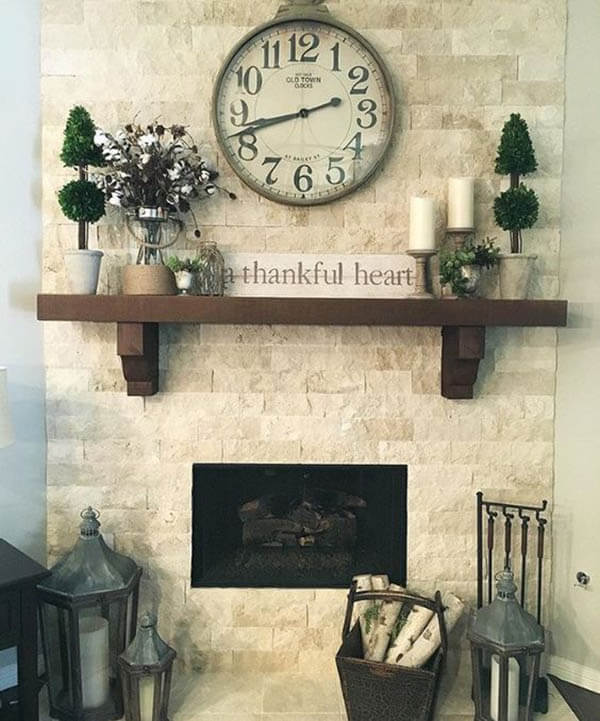 Stone textured brick with minimal grout makes for a really gorgeous and unique look. This isn't your typical brick-framed fireplace! The stone brick is set close together with very little grout, giving it a clean, sleek appearance. The tight edges are the ideal complement to the recessed fireplace – a gorgeous modern look. The thick dark stained wooden mantel is just right for a heartwarming sign and a few small, eclectic items. There's so much you can do with this type of style. It's versatile enough to go with modern trends, farmhouse, shabby chic, or any combination thereof!
12. Simply Chic Farmhouse White Brick Fireplace Idea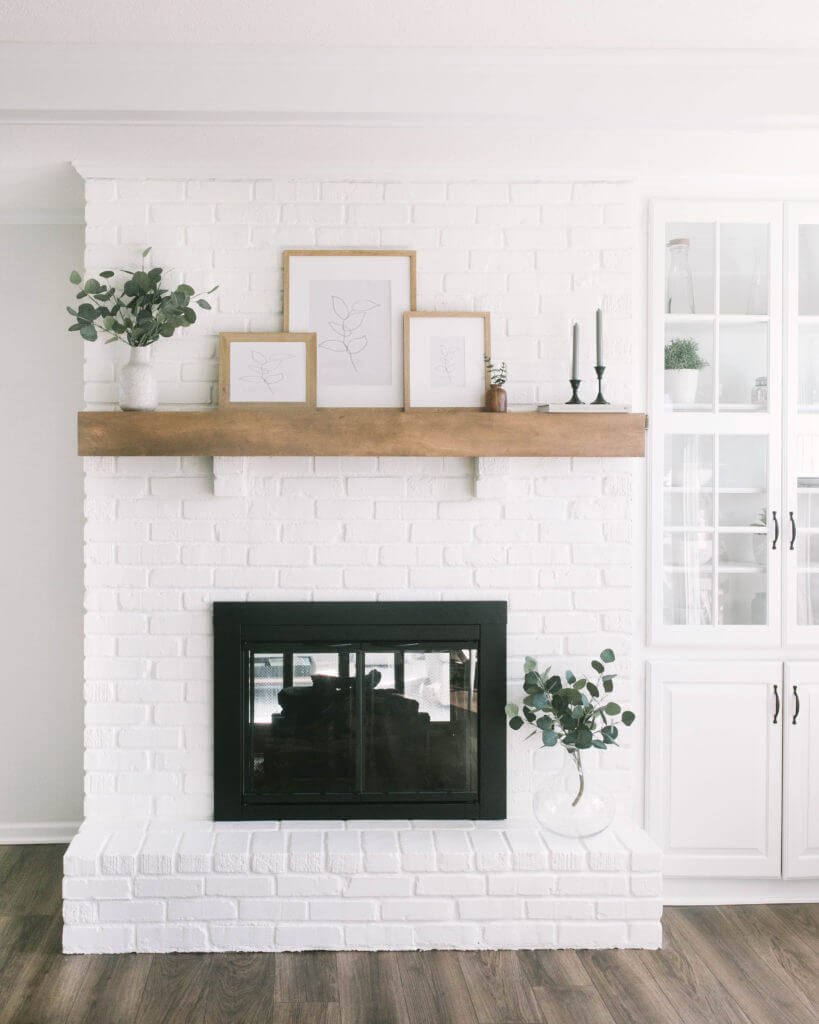 Minimalist farmhouse is one of our all time favorite design themes. It has the stark simplicity of minimalism balanced perfectly with the warmth of the farmhouse style. Just look at this absolutely stunning example. The brick painted white helps to keep the entire room looking bright and simple. The raw wood mantel on this fireplace is the ideal backdrop for raw wood-framed line drawings and simple greenery. You've only got a handful of items in a very limited organic palette – black, white, wood, green, and yellow – but it all comes together perfectly. This design is cool simplicity at its best. No clutter, no excess, just the basics to achieve a chic home setting.
13. Delightfully Eclectic Fall Mantel Home Decor Idea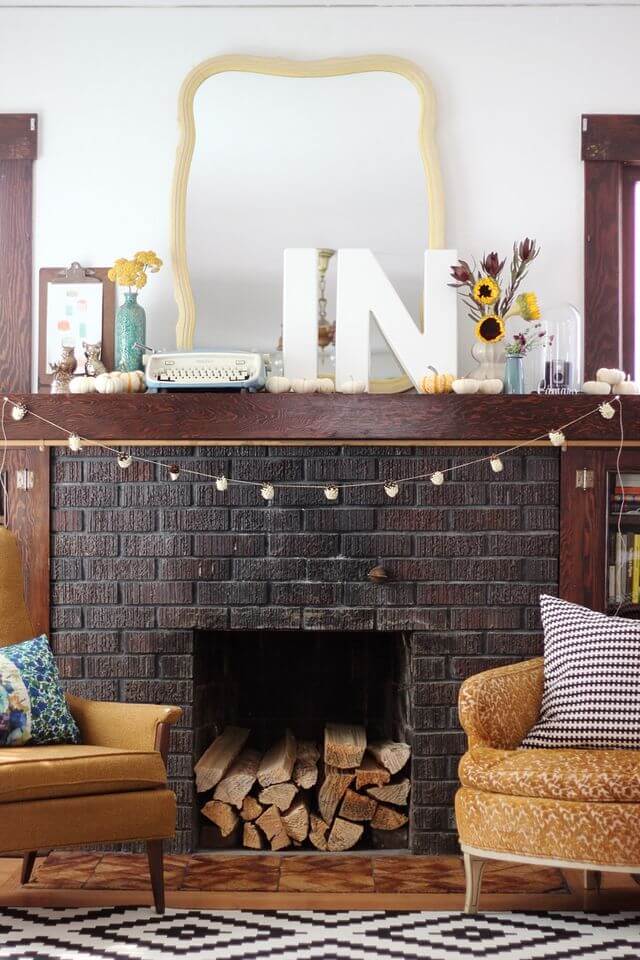 Does your design preference tend toward an eclectic mix of warm, interesting pieces? Then this is the brick fireplace for you, my friends! Top a simple fireplace with a collection of items that you want to showcase front and center. Aside from the obvious larger pieces like frames and vases of flowers, you can highlight smaller items by putting them under a bell jar or grouping them together. A string of seasonal lights is a good way for you to draw the eye from the brick fireplace up to the display on the mantel. This is too cute!
14. Fabulous Shiplap Mantel with White Brick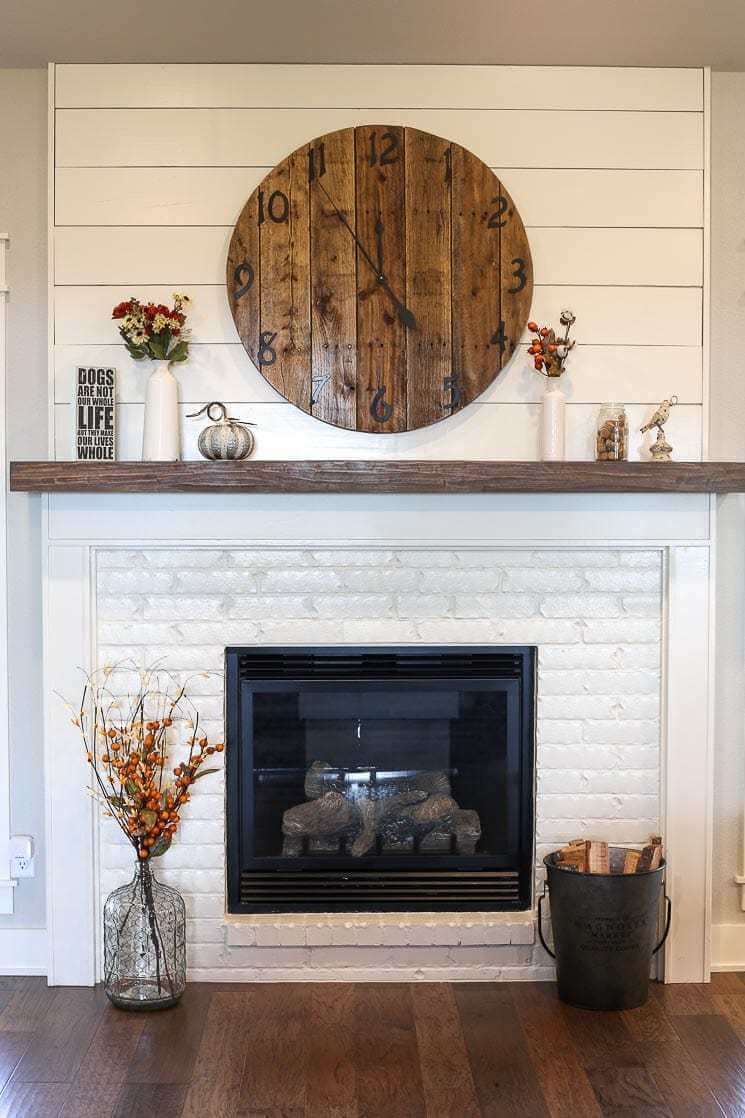 If your style leans toward the casual side, then you will love this shiplap and white brick fireplace idea. What makes this so perfect is that the white brick around the fireplace and the shiplap above the wooden mantel are painted the exact same color and set up in the exact same width. This creates a visual continuity even though the textures are different, which keeps it from looking messy. The glossy black of the fireplace and the dark finish on the wooden mantle and clock add gorgeous contrast to the white and really pull everything together.
15. Chunky Textured Wooden Mantel for Your Fireplace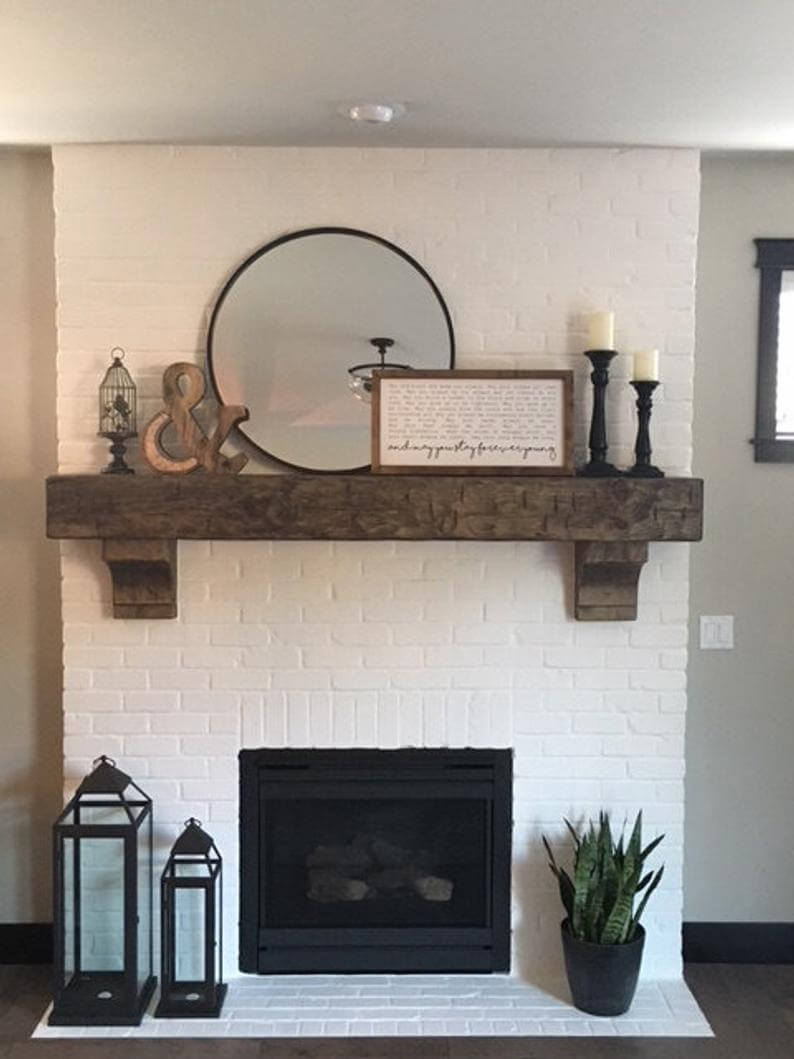 Brick fireplace ideas often hinge on a great mantel. It can really make or break your brick fireplace look. This is the perfect rustic mantelpiece for any fireplace in a home with farmhouse, warm minimalist, or earthy decor. The large 8" by 8" cut of wood makes a perfect statement piece to hang over a fireplace. It's weathered just right to give it that perfect antiqued look. You can add corbels for a more traditional look, or hang the wooden mantel alone for a more modern style.
16. Antique Style Window Frame for Brick Fireplace Mantel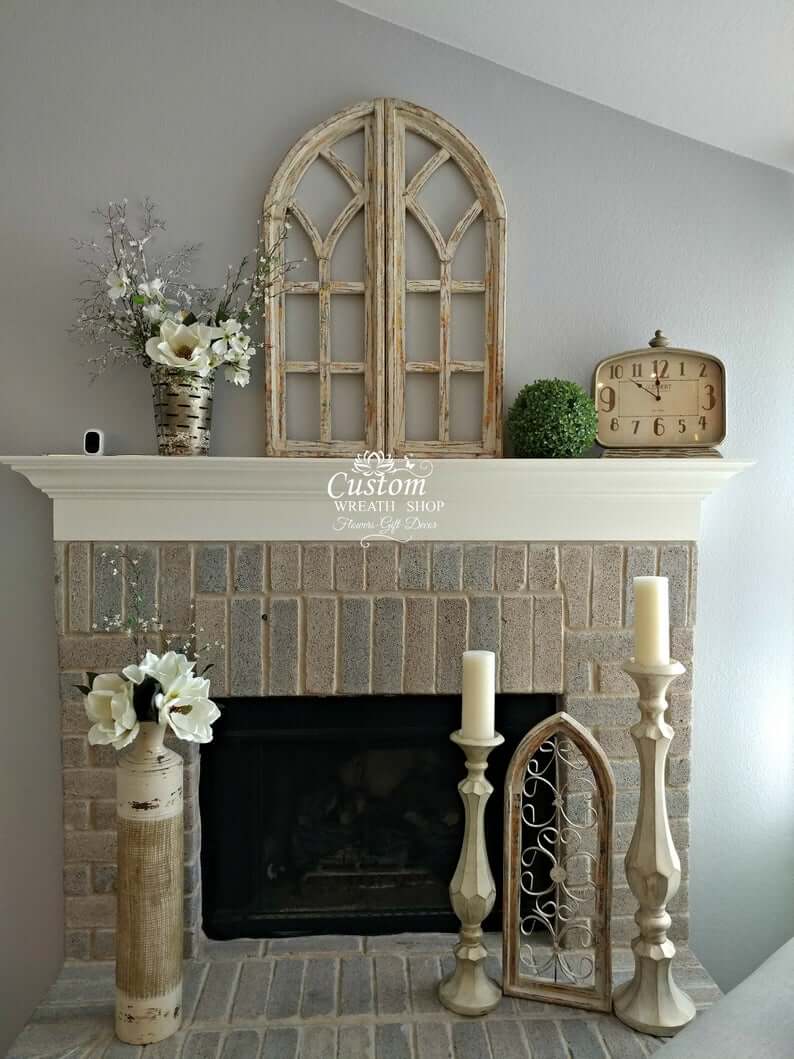 A window frame is a really cute design idea for any farmhouse style, but it looks especially adorable over a mantel. Antiqued window frames are something you see a lot of in farmhouse style decor. When placed over the mantel, the window frame adds height and a nice backdrop for your other decorative items. It is an architectural element that's both neutral enough to go with just about anything and unique enough to stand alone.
17. Unique Barn Beam Mantle with Black Metal Brackets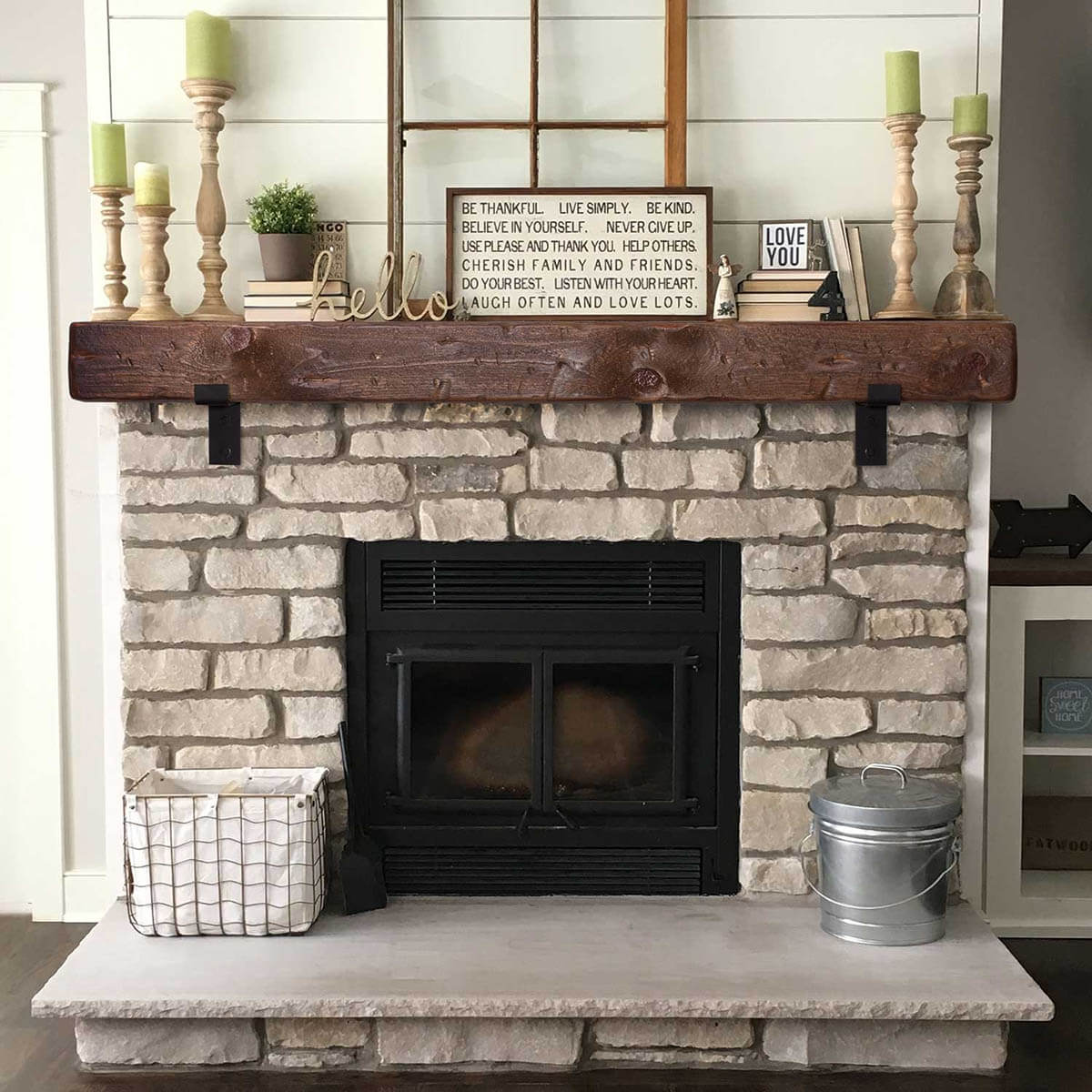 Wood and brick are at it again to create a winning fireplace style! This stone styled brick is particularly intriguing and goes absolutely perfectly with a large wooden barn beam mantle. The final look is rustic, chic, and handsome as heck! The stone and wooden barn beam mantle combination would give you loads of style on their own, but they're also perfect as a place to arrange your smaller decor items.
18. Cute Farmhouse Sign for Your Fireplace Mantle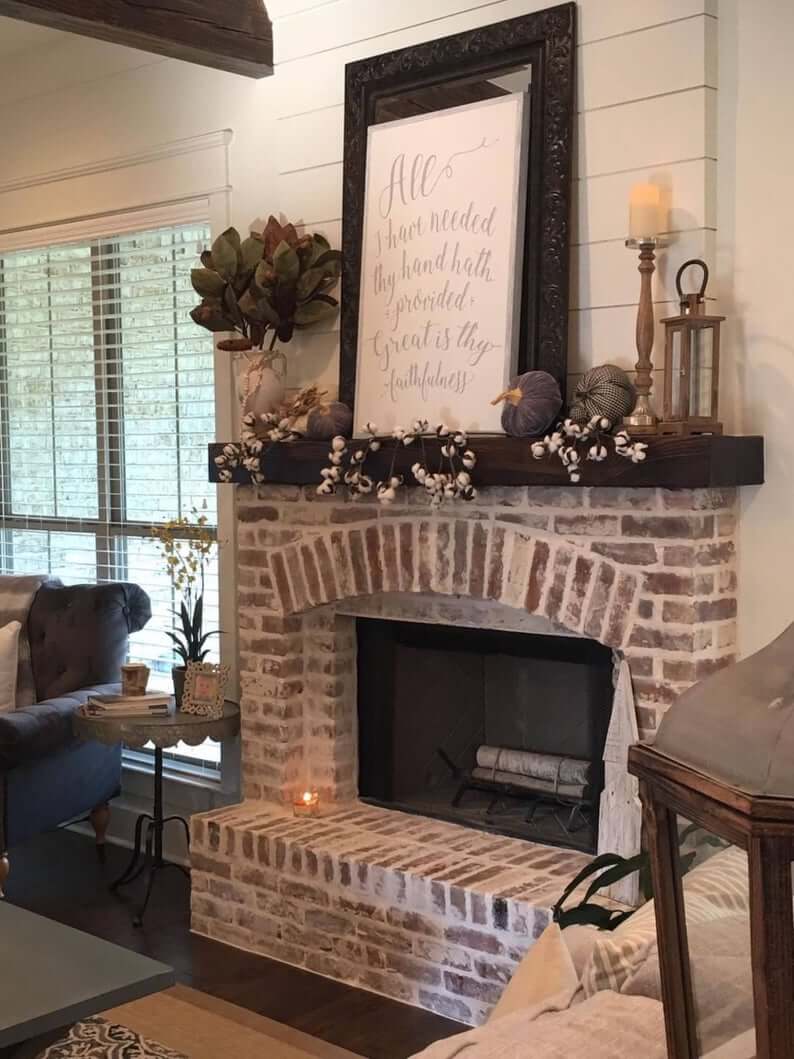 Message signs look superb with any farmhouse decor, especially over a fireplace! This cute, cozy style with an inspiring message on a wooden plank is just perfect for your mantle. A great way to style this is to set it on the mantle leaned against the wall instead of hanging up. Add some small decorative items around the base to make it really unique.
19. Effortlessly Chic Farmhouse Christmas Tree Sign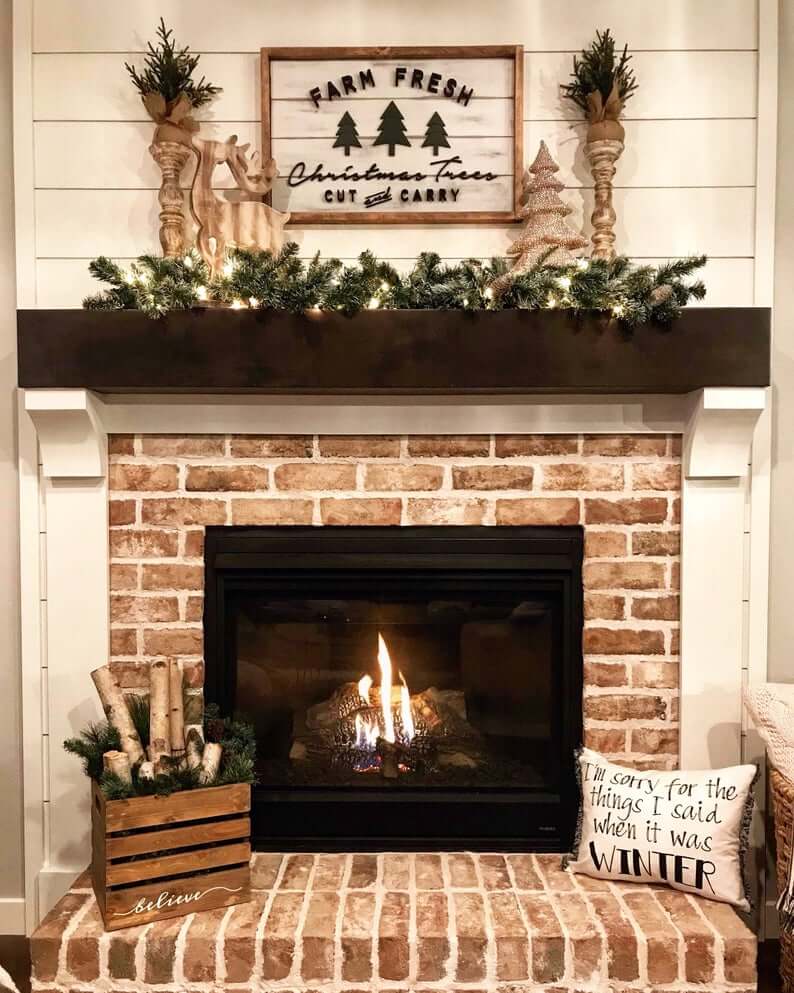 This adorable sign combines several of the best brick fireplace ideas and design schemes for any fireplace and mantle. You've got a shiplap backdrop, rustic chunky wooden frame, and clean and simple text design.
20. Sweet Handwritten Cursive Sign for Your Mantle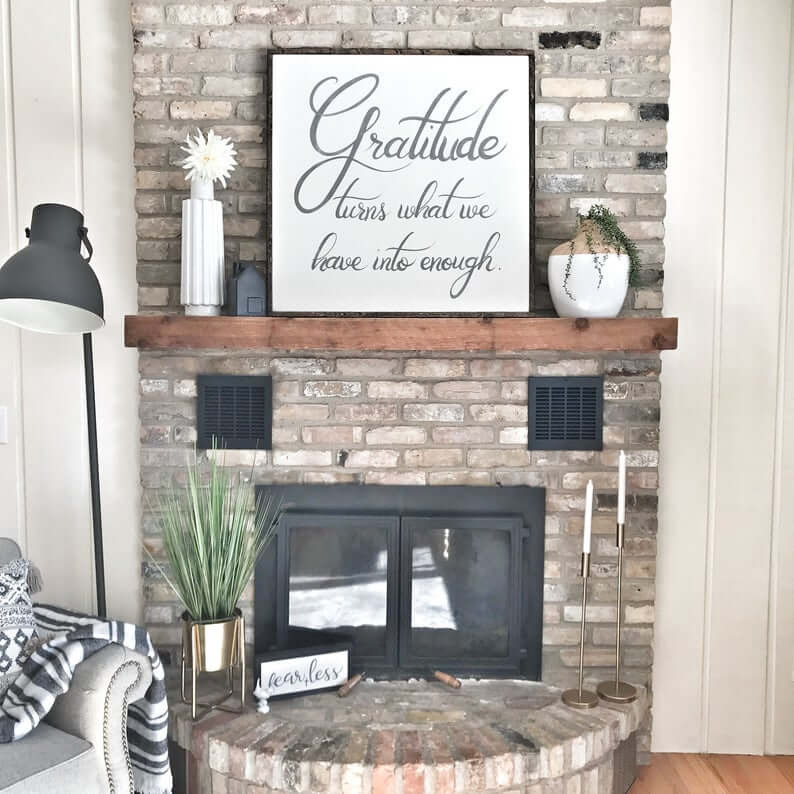 Sometimes we all just need a daily reminder to be grateful. This pretty sign is nice and big – 33 inches square. It's neutral color and simple style can go beautifully with just about any type of home decor. It looks especially lovely atop the mantel of a brick fireplace.
21. Inspiring Handwritten Sign to Inspire Grateful Living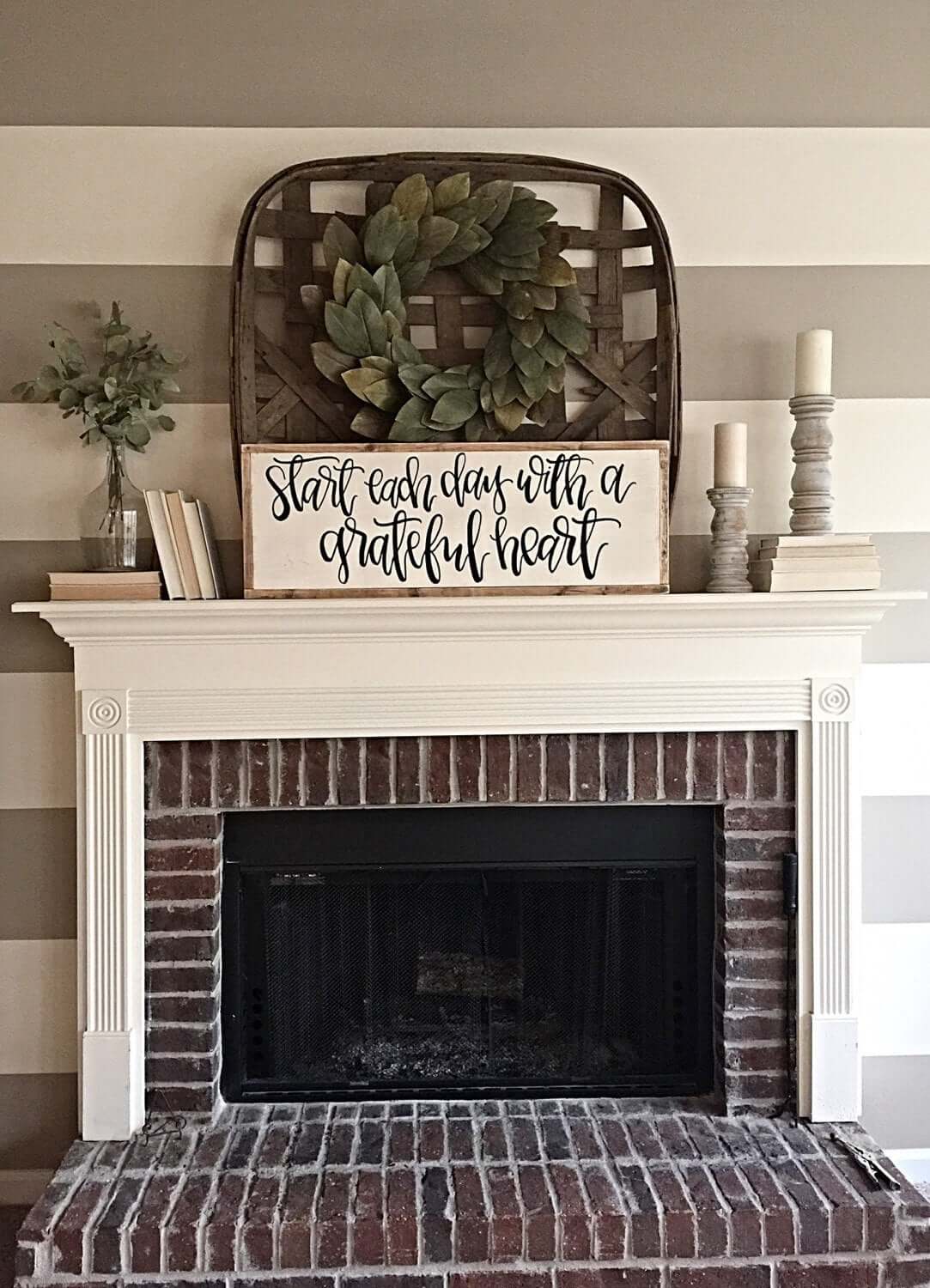 The hearth is sometimes called the heart of the home, so it's fitting to have an inspirational message waiting for you there. This sign has curvy handwriting reminding you to live with a grateful heart. It's hand-painted on wood, so it looks really nice with all sorts of decor, but especially cute with farmhouse and eclectic styles.
22. Floating Mantel for a Modern Rustic Fireplace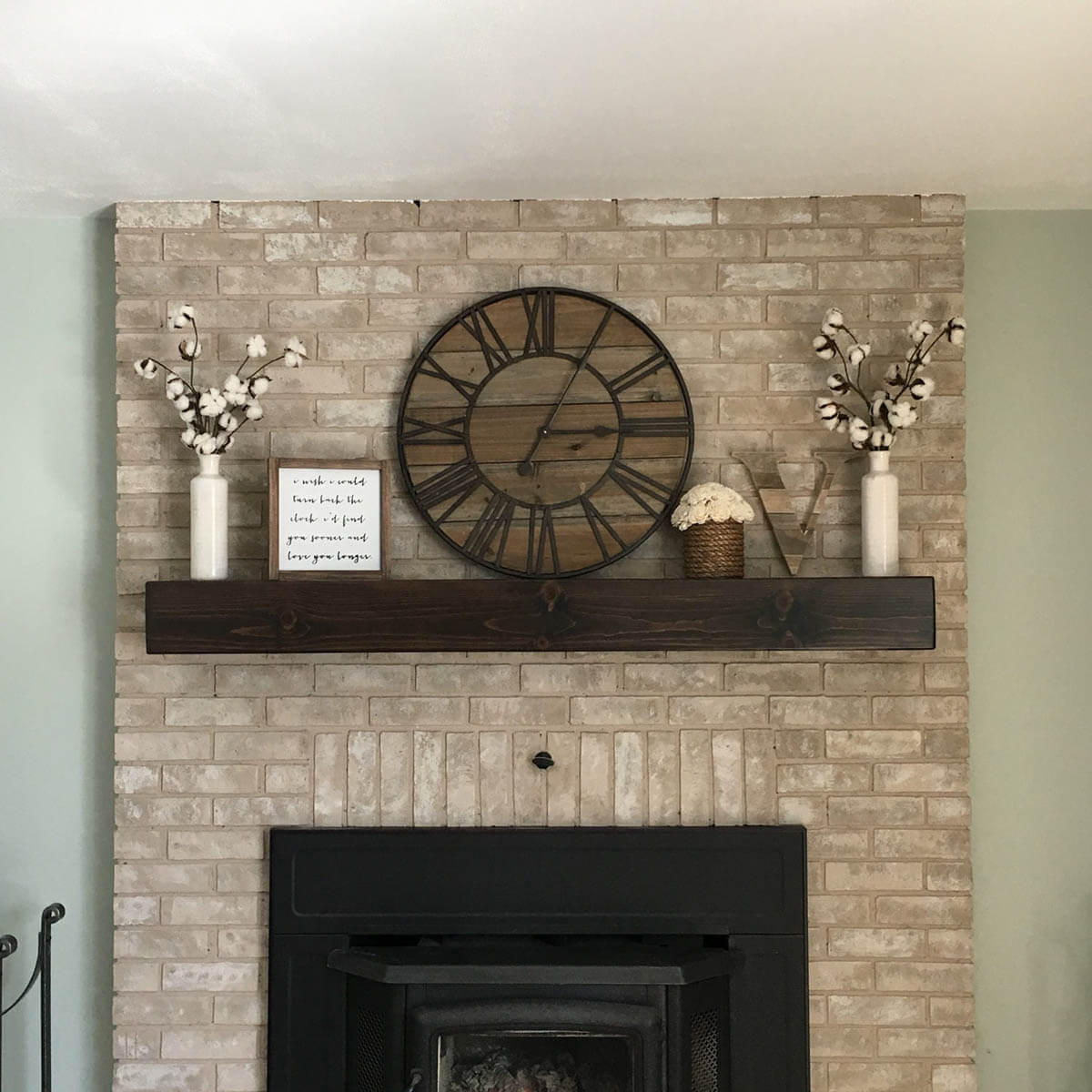 You've heard of floating shelves. How about floating mantels? Floating mantels look amazing with all fireplaces, but they're especially nice with brick. Brick can look dated or old fashioned, but a floating mantel is just the thing to update a brick fireplace to make it look modern. This one is especially cool because it looks like a solid wooden beam but it's actually hollow inside! That makes it lightweight and easy to install.
23. Ornamental Legs for a Coffee Table or Hearth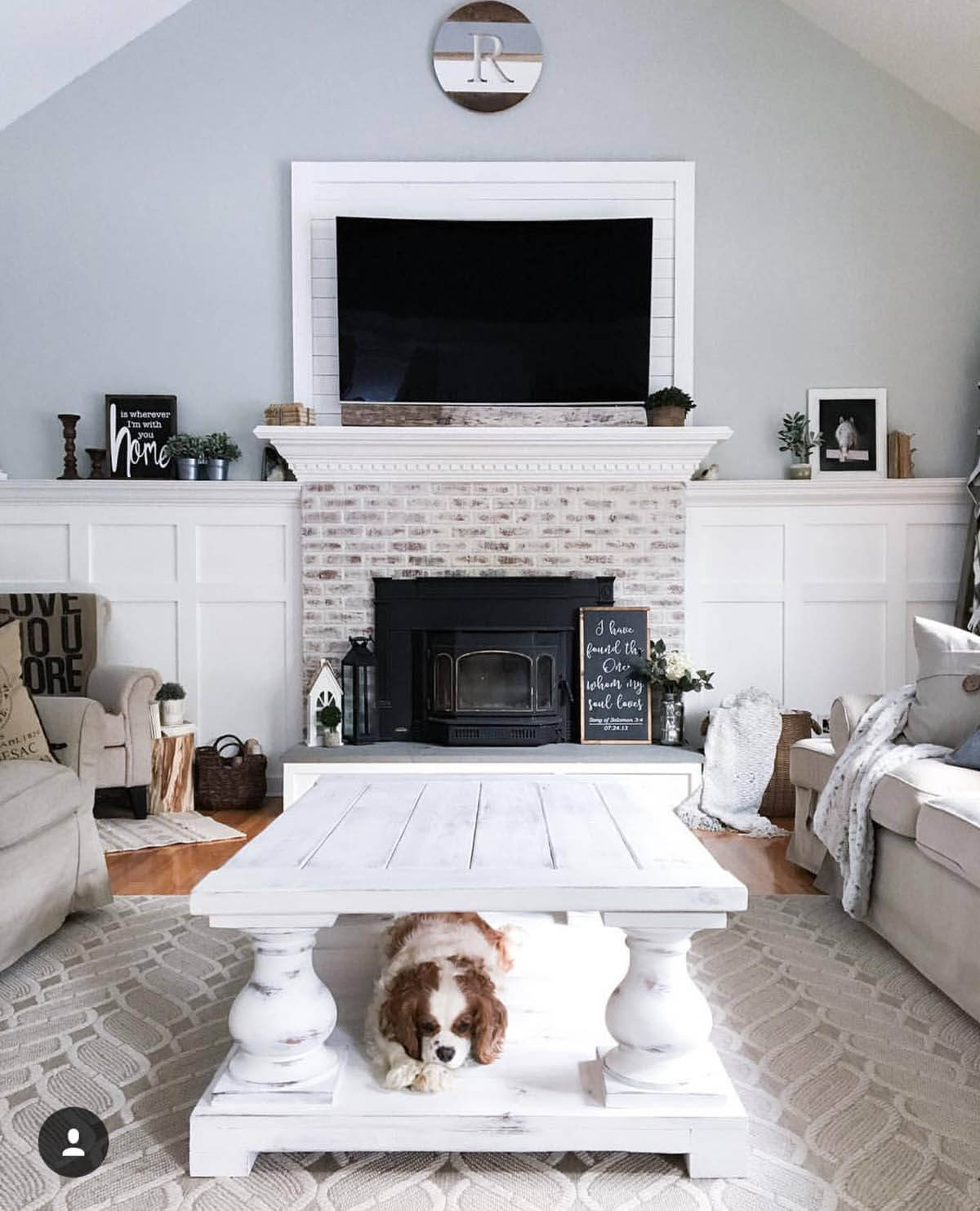 These gorgeous, curvy wooden table legs are absolutely perfect for a DIY coffee table project to set in front of your brick fireplace, or to create a custom hearth! These come as unfinished wood so you can paint and finish them in whatever style tickles your fancy. Decorating your own place is fun, but making your own furniture gives you a sense of pride that's addictive – look out, home improvement store, here we come!
23 Original Brick Fireplace Ideas You Can Pull Off in a Weekend
Which of these fabulous brick fireplace ideas will you incorporate into your home decor? Could you use some more height and the illusion of space in your living room? Try adding shiplap above the mantel. Could your brick fireplace use a more modern update? Then give a floating mantel a try. Does your exposed brick feel out of place with the rest of your living room decor? Give a painted brick fireplace design a try.
Let these brick fireplace ideas inspire you, then use your imagination and personal sense of style to make them your own. One of the themes you will see in many brick fireplace ideas is to create a neutral backdrop for a design statement. For example, whitewashing your brick fireplace and combining that with a white mantel with crown molding creates the perfect canvas for a collection of seasonal or other decors on the mantel, or even a bold work of art hanging above.
If it helps, think of your fireplace like a picture frame and the decor on your mantel as the picture. The fireplace provides a beautiful, functional setting for the decor and the decor tells a story about who you are and what you love. You'll love relaxing in front of these fireplaces as you watch the oak trees in your yard.