The best Buddha decor ideas transform your home into a place where your heart feels harmonious with nature Because everyone is on a unique journey, that zen corner looks different for each person. Depending on what comforts you, your soothing space can include statues of The Awakened One himself or a vast variety of Buddhist iconography.
The 21 Best Buddha Decor Ideas to Create Your Own Zen Sanctuary

First, you get to decide where your hushful nook will be. If you follow feng shui, your decision will be guided by those principles. However, if you are more freeform, your personal sanctuary's location depends on where you want to feel calm. Another important aspect is to choose which Buddhist elements to include in your space. Do lotus flowers speak to you, or would you prefer a collection of meditating Buddha statues? For some variety in your display, mix and match the different elements that calm your spirit.
To make sure that your meditation corner is in harmony with the rest of your space, you will probably need to consider color and tone. Cool tones like blues, silvers, and some greens can energize a space. Alternatively, choose warm tones like reds, oranges, or coppers to help your peaceful place feel inviting. While many of the ideas below come with multiple color options, some do not.
If the Buddha statue home decorations as they arrive do not vibe with your brand of calm ambiance, you are working to cultivate, there are some ways to personalize many of these ideas. Rock, crystal, and seashell collections often look fantastic when paired with many of the ideas below. Because Buddhism focuses on the balance between humans and nature, why not pair your new Buddha-inspired decor with houseplants? From chalk paint to gems, do not be afraid to modify these Buddha home decor ideas to fit your idea of serenity.
1. Achieving Balance with a Marbled Mandala Silhouette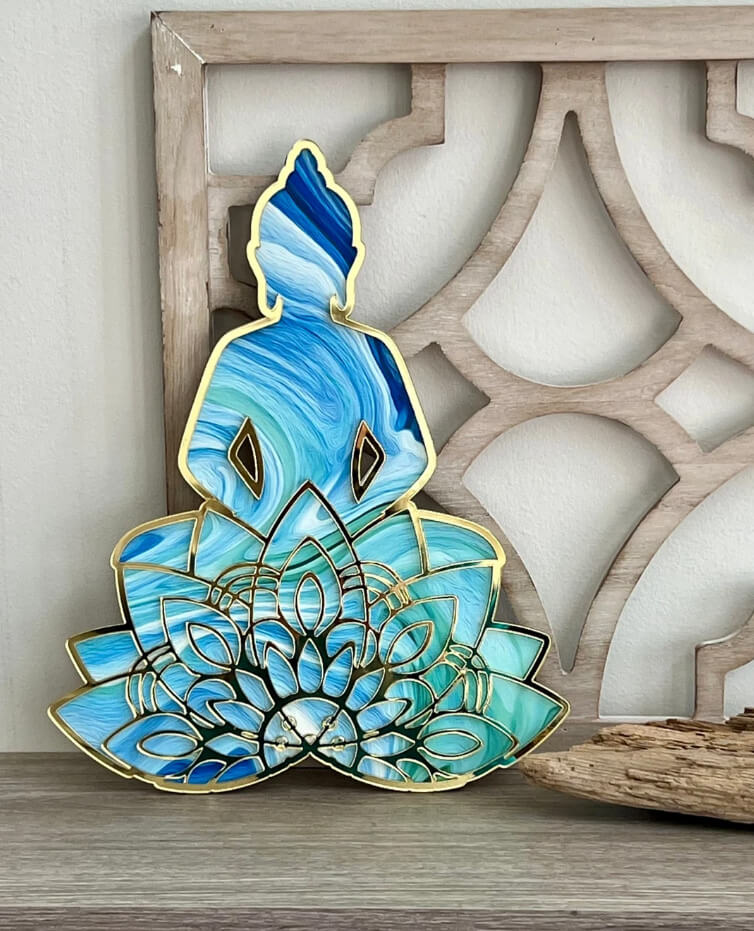 A gold outline accenting the green and blue swirls strikes the perfect balance between sophistication and glamor. Display this decoration in any room where blue, green, or gold is welcome, and you will have an instant reminder to achieve balance with nature. The vortex of soft greens and cool blues are compatible with a wide variety of color schemes. For a maximalist effect, pair it with colorful decor like crystals. To use as the focal point, display with decor dominated by neutrals. Depending on your needs, this artwork can be hung using an adhesive strip or propped against other decors as shown here.
2. Feng Shui Buddha Statue Home Decoration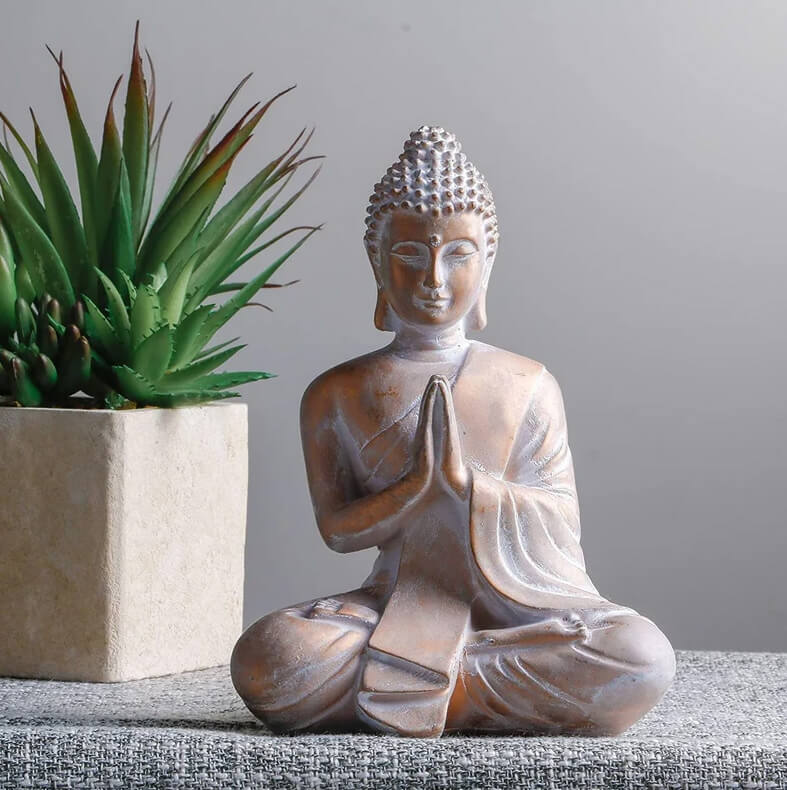 A statue that represents spiritual awakening is a great addition to any space that follows the principles laid out by feng shui. Place it next to your home's entrance to bring mindfulness wherever your life takes you. When located next to a plant as seen in this example, the statuette could represent the balance found in nature. Of course, you can place your statue anywhere that resonates with your heart. A subdued brass finish gives this resin sculpture timeless integrity that can grace a wide variety of home decor styles. At 6.3 inches tall, it is the perfect size to meditate on your desk at work.
3. Vintage Japanese Woodblock Print from 1930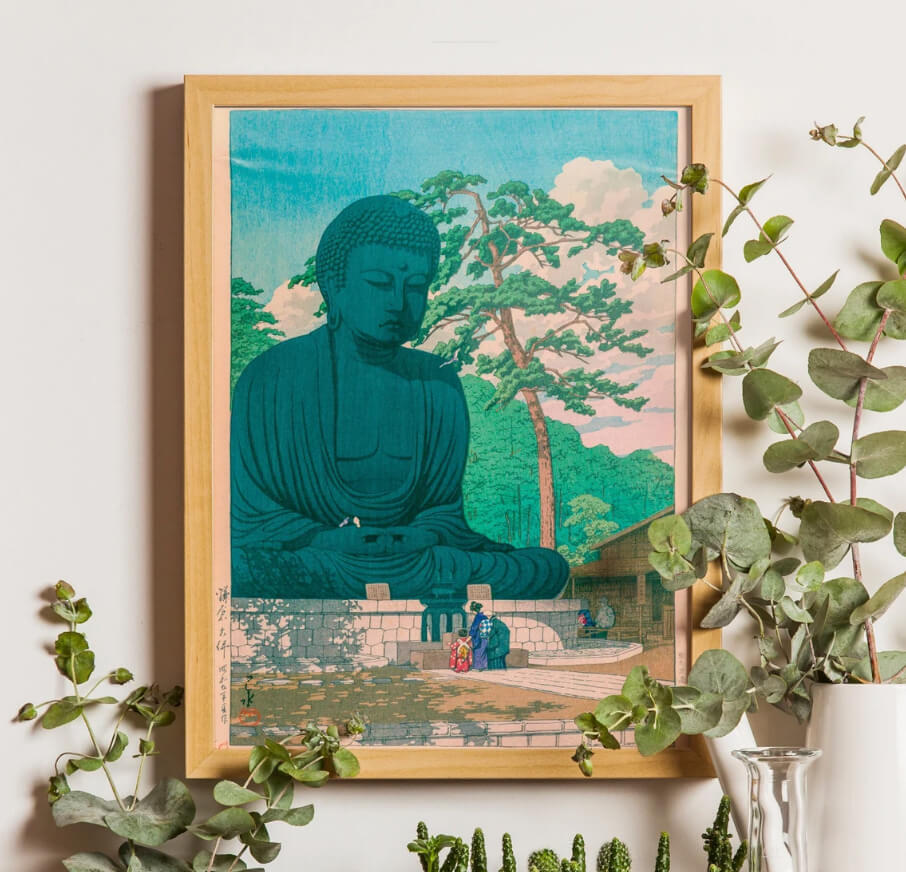 Kawase Hasui, the artist behind this stunning print, is legendary for being one of the greatest Japanese Ukiyo-e artists. This reprint features rich colors on museum-grade paper so that you can enjoy this masterpiece for years to come. A wealth of greens and blues mean that this print will happily vibe with nearly any room where these colors are welcome. Because you can actually visit this statue in Kamakura, this print is the perfect gift for anyone who loves Japan. Hanging this print is also a great way to connect with history, as the statue was cast nearly 1,000 years ago.
4. The Best Buddha Decor Ideas for Plants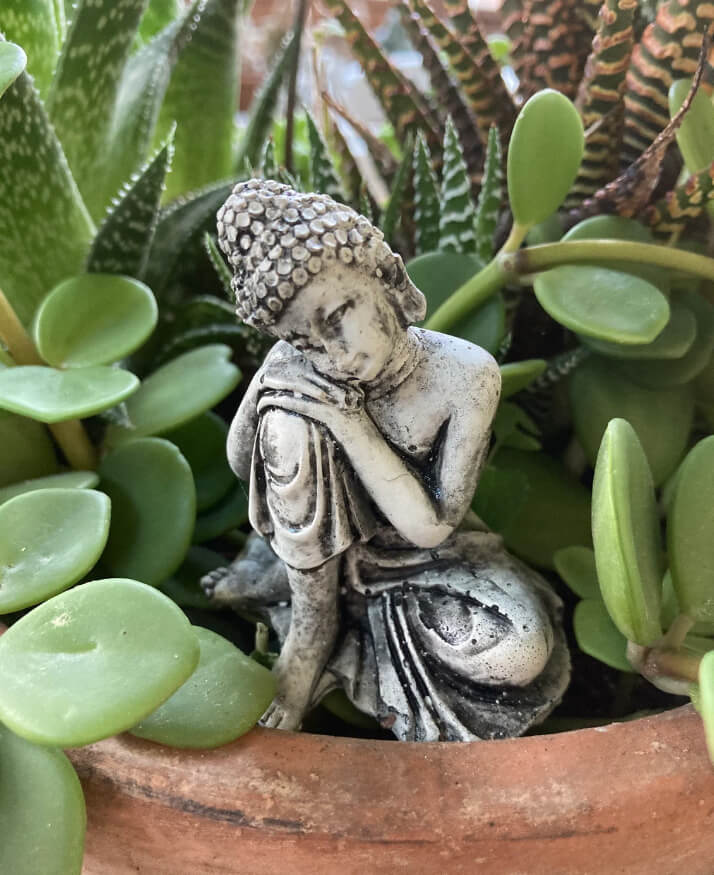 This small concrete statue is the perfect size to add international sophistication and joyful tranquility to the plants in your life. In this dream-like position, this statue will add a sense of calming whimsy to any decor. Because using plants in home decor is a popular way to connect with nature, including small decorations like this inside your plant pots, takes your greenery to the next level. Of course, if you do not have much luck with living plants, this statue will look fantastic with silk plants as well. For a zen-like ambiance, pair with a bonsai or even polished stones.
5. Setting the Mood for Yoga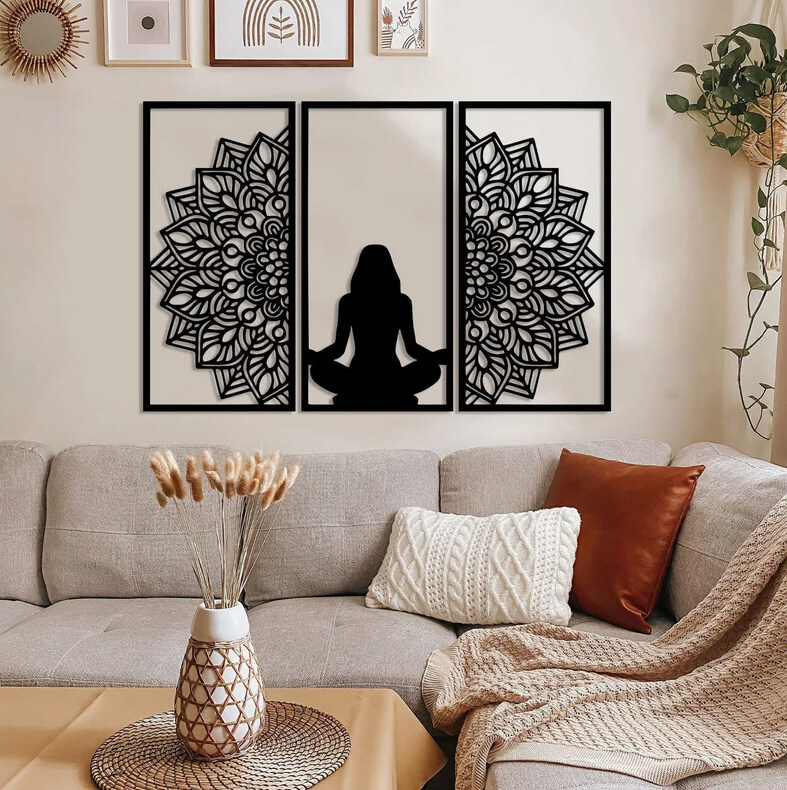 Three laser-cut steel panels make up this wall art perfect for anywhere you do yoga. A bifurcated mandala creates a pleasant bookend for the silhouette of an individual meditating. Because these panels rest nearly an inch off the wall, they cast subtle shadows and achieve a calming dimensional effect. For maximum effect, hang your panels on a wall that contrasts against the metal artwork. All the elaborate details catch the eye and will connect with any other mandala-inspired artwork in your space. If black is too dark for your space, check out the other finish options which include peaceful white, cool silver, jazzy red, and luxurious gold.
6. Freestanding Bronze Bust with Intricate Detailing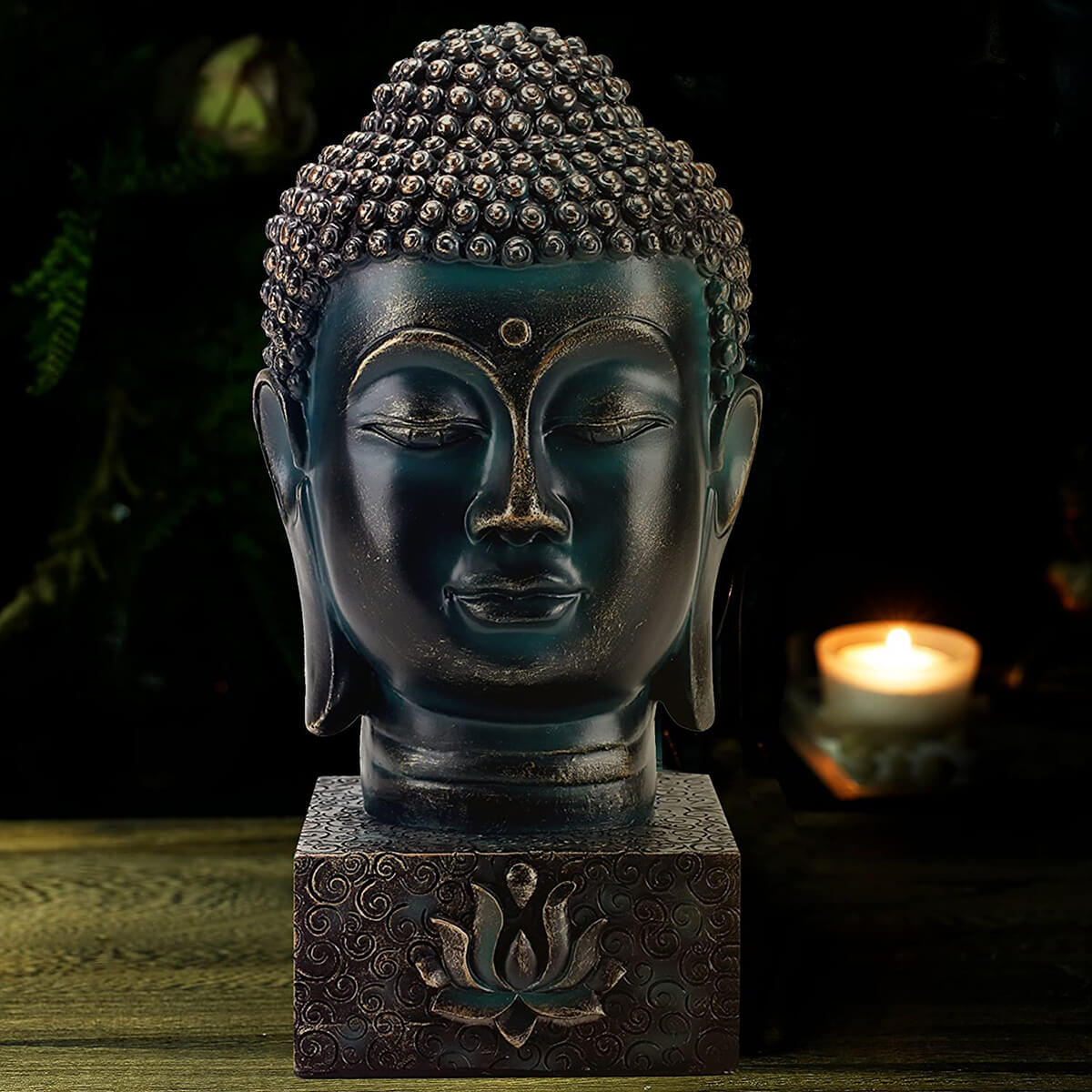 ]
At nearly 10 inches tall, this Buddha statue home decoration is tall enough to make a statement. Although it looks just like antique bronze, this sculpture is actually crafted from a lightweight resin which makes it easy to move if necessary. A faint blush of blue-green gives a hint of a patina. If you want more patina, break out your favorite chalk paint and get creative. This bust is not just about the head – the base features a sacred lotus accompanied by an abundance of intricate detail. When illuminated by candlelight, all the small swirling details will shimmer magically.
7. Tiny Buddha Home Decor Ideas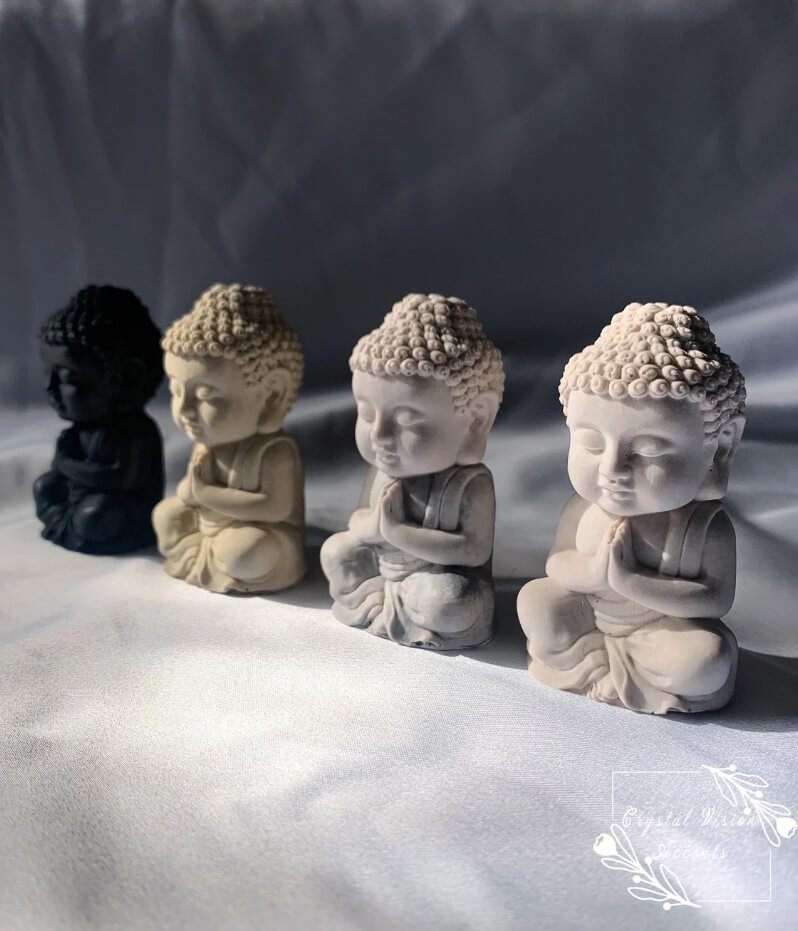 Although each of these figurines only measures 3 inches tall, they make quite an impact. While they are not large enough to serve as a focal point, they add to an ambiance of mindfulness and can work with another Buddha-inspired decor to create a zen space. Because they are made from a water-based material that is then sealed with beeswax, these statuettes are waterproof, eco-friendly, and non-toxic. Seven colors including cherry blossom, jade mist, and gold make it possible to personalize your statue to fit your decor. Pair with crystals, polished stones, or plants to enjoy them to their full effect.
8. Handcrafted Patinaed Busts of the Awakened One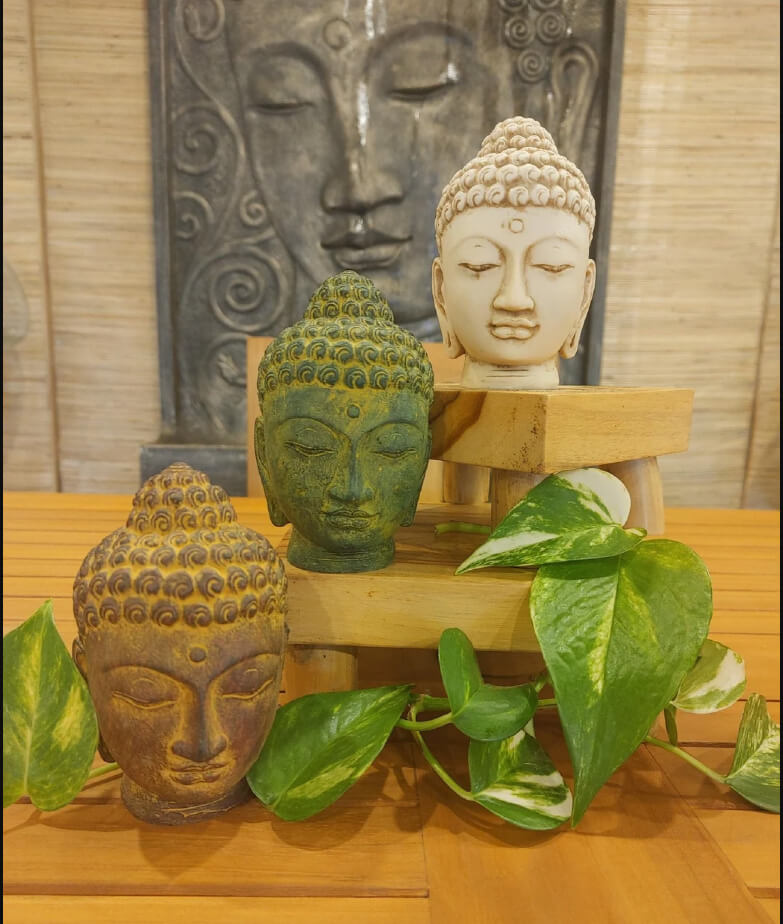 Patinas on home decor go beyond imparting character – they are a reminder that we all change as we go through life. These busts illustrate that it is possible to weather life's storms while remaining in a state of calm. Because you can choose among three finish options, each can fit a different role in a feng shui home. Beyond the spiritual meaning behind these patinaed sculptures, the tonal variety means that you can pair each with a wide range of decor. The beauty of handcrafted artwork is that each is unique – yours will be the only one in the world with that exact look.
9. Lotus-Embossed Concrete Hand Incense Holders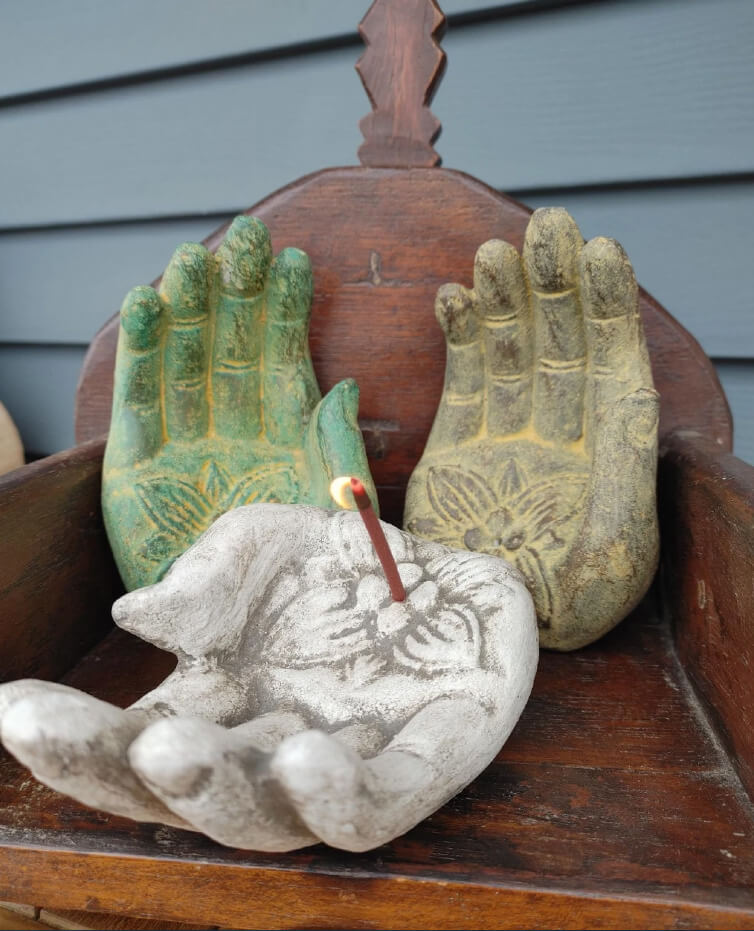 Each of these concrete hands is utterly unique and offers a weathered finish that tells a story. Because of their worn finish, these hands can add a little international flair to even the most rustic of spaces. If the white finish is not right for your space, choose antique brown or antique green for a flash of color. Constructed from concrete, these heavy-duty hands are highly durable and weatherproof. Each hand can find uses beyond holding incense. Try using them as planters, ring dishes, or soap dishes. Because the lotus flower has long been associated with Buddhism, it is a beautiful reminder to disconnect from the world's stresses.
10. Two Buddhas Meditating in Praying Hands Set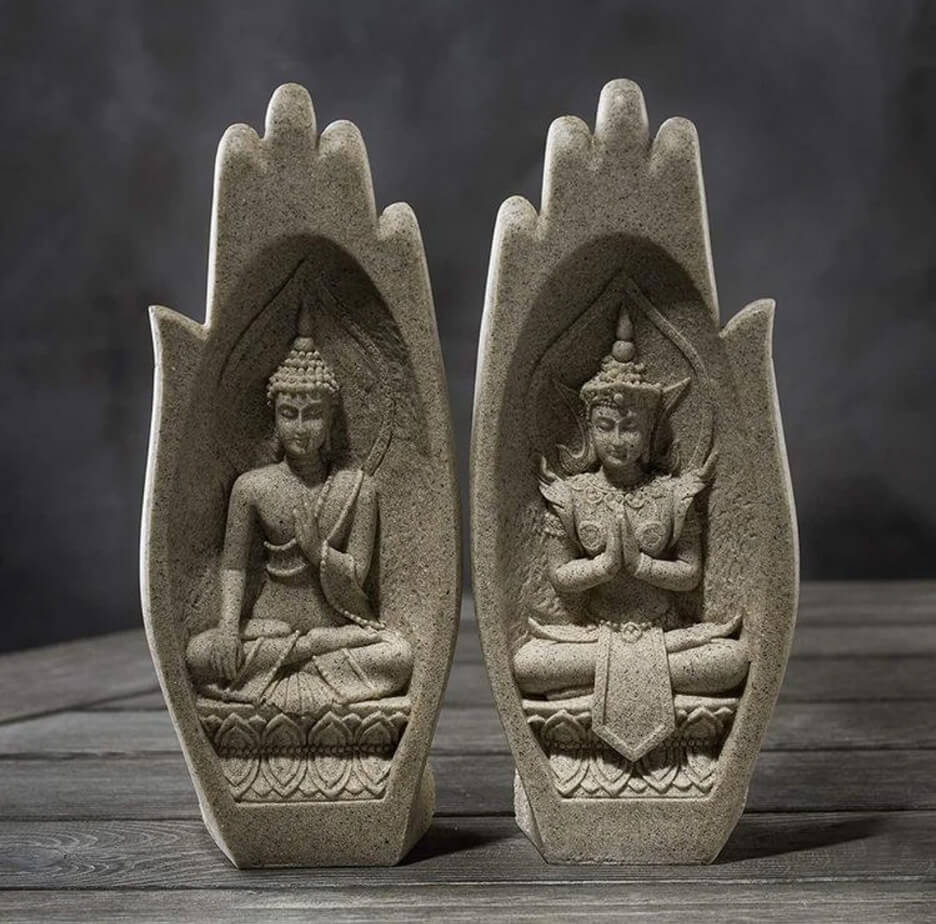 Because these statues come as a set of two, you have limitless decorating. Place them next to each other for a praying-hands effect. To tie a space together, place one on opposite ends of a display. Although they look like solid stone, they are crafted from lightweight resin and are easy to rearrange whenever you feel the need to switch up your decor. To achieve a zen state, place these matching statues next to candles. Because the seated figures are subtly different, they complement each other. To personalize these statues, experiment with different bases that tie into your decor.
11. Hand-Shaped Candle Holder with Buddha-Inspired Embellishments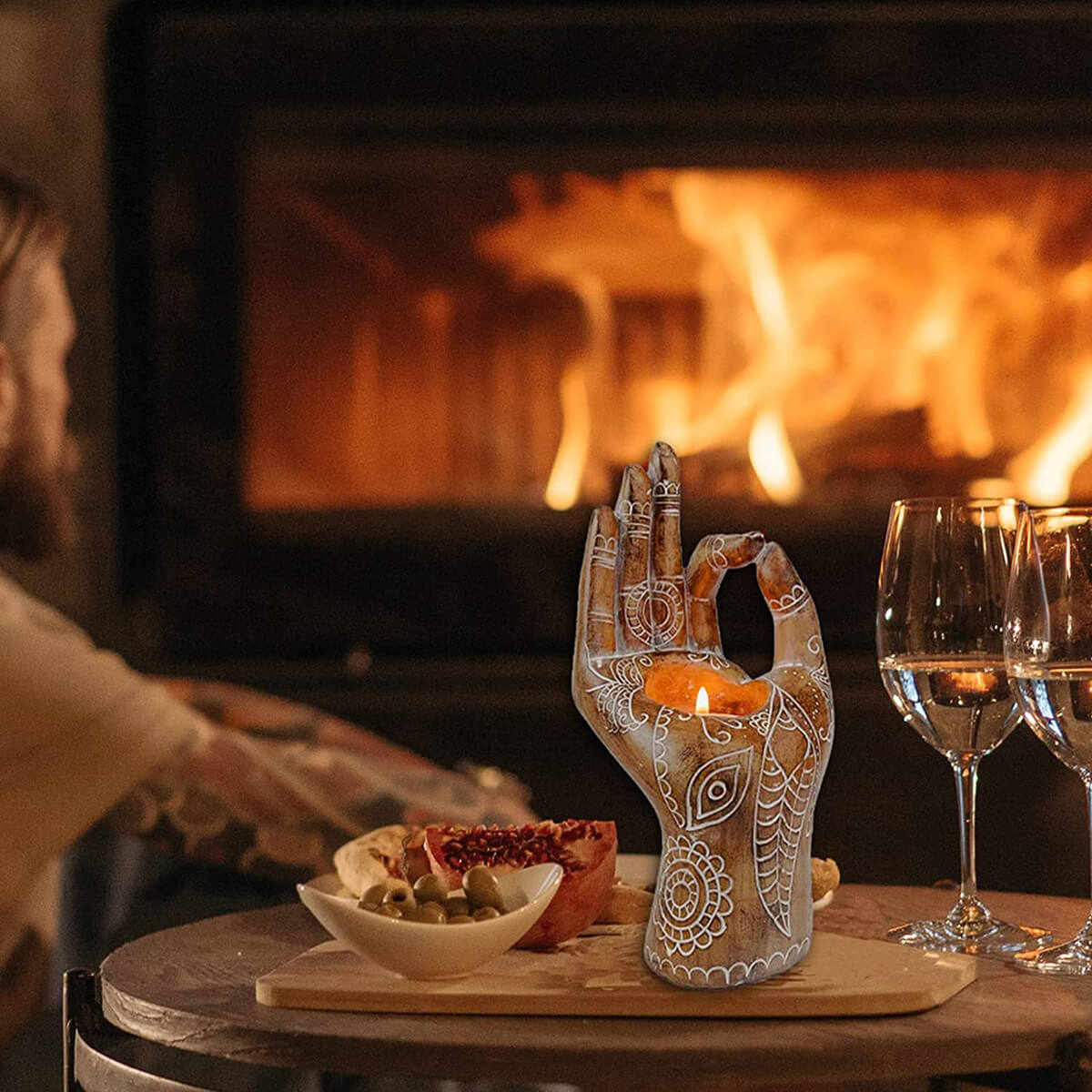 To give your space a peaceful lighting option, an upturned palm cradles a tiny tea light. Although the votive candle is not included, this candle holder is compatible with any candle that possesses a diameter smaller than 1.4 inches. This means that should you desire, you could use your favorite candle scent to achieve the ultimate stress-free space. Even though this candle holder is made from resin, it features a gorgeously rendered wood finish. Because it mimics wood, it provides another way to connect with nature. Eastern-style embellishments offer the final touch and mean that this candle holder will look magnificent with any zen display.
12. Translucent White Porcelain Diffuser for Aromatherapy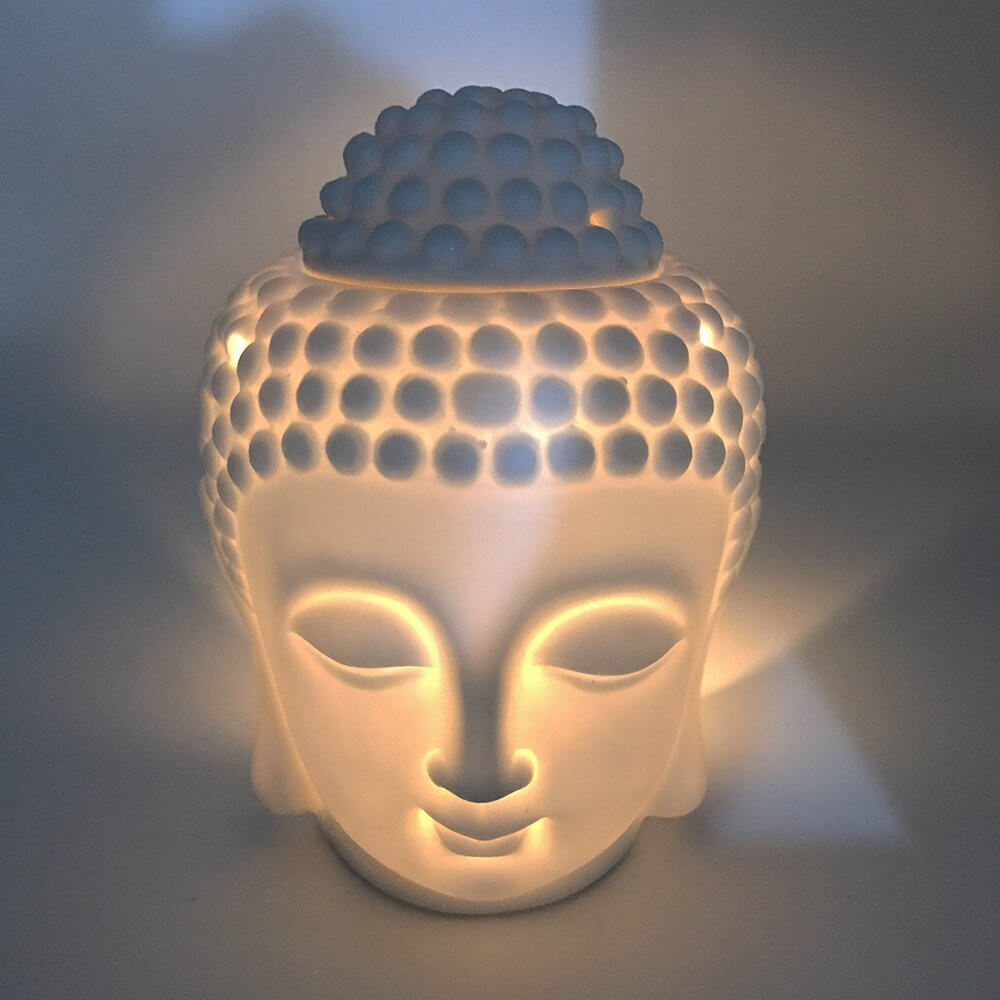 Although often overlooked, soothing scents are an important ingredient for a space designed to encourage serenity. Because it exudes your calming smells as well as a gentle glow, this is one of the best Buddha decor ideas for cultivating tranquility. Of course, how intense your illumination is will depend on what kind of candle you decide to use. This diffuser is compatible both with essential oils and scented wax so you will still be able to enjoy your favorite aromas. Made from high-quality Chinese porcelain, this multi-function bust appears as a glossy white statue steeped in sophistication when not in use.
13. Meditation Statue with a Hand-Painted Stone Finish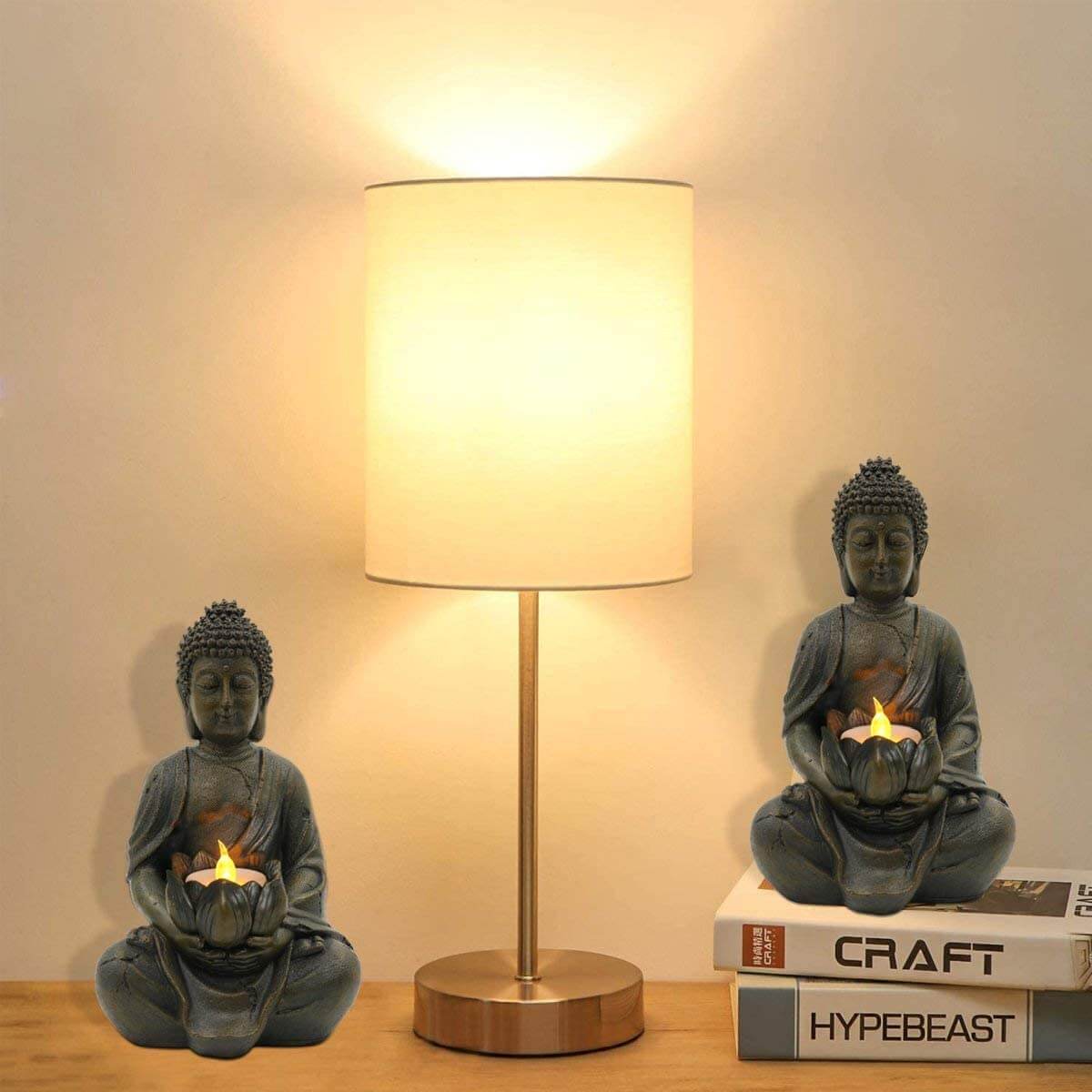 Beyond being sculptures, these two tranquility-inducing statues also offer a peaceful lighting solution. Each holds a battery-operated LED tea light that illuminates a room with a constant glow. If that is not your style, the included tea light can be switched out for one that provides a flickering effect or even a real votive candle. To give them an air of authenticity, small cracks are intentionally included in the natural stone finish. Because these are made from lightweight resin, they are perfect for shelves that are limited to small amounts of weight. Although the candles are not waterproof, the statues themselves can be used as outdoor decoration as well.
14. Buddha Seated in a Zen Garden Tray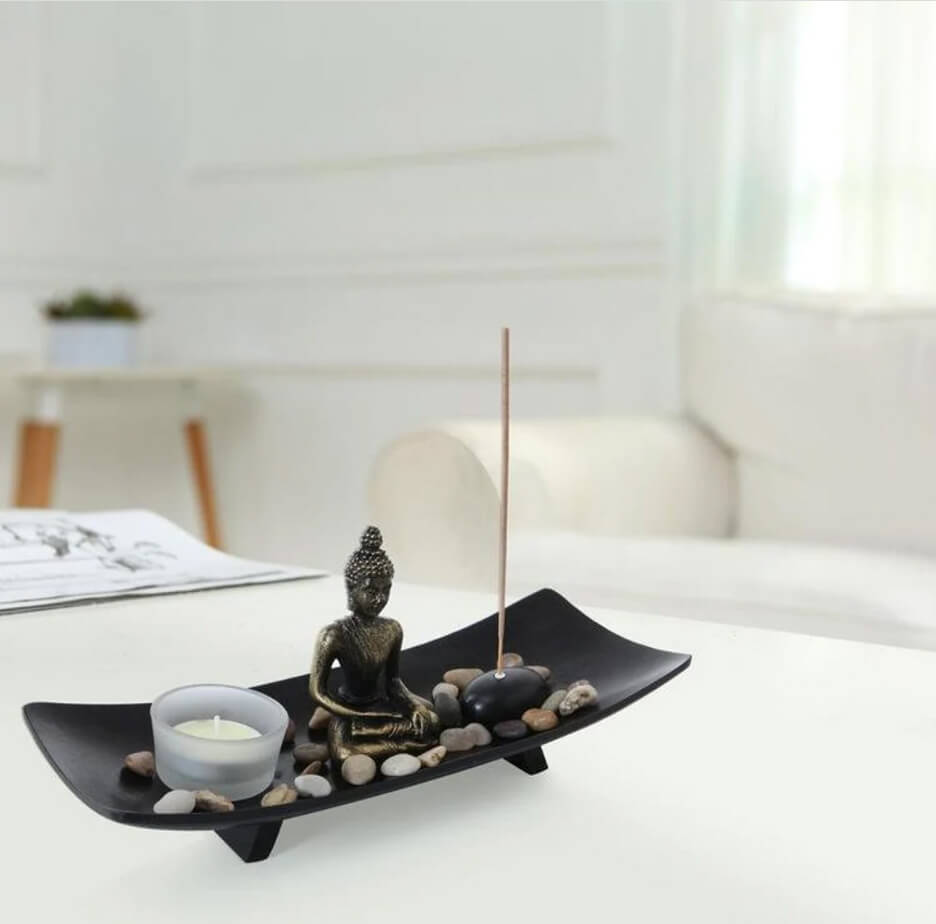 Complete with a polished stone zen garden, tealight, incense holder, and seated Buddha, this black wooden tray offers everything you need to embrace your inner calm. The tray's Asian-inspired silhouette means that it pairs beautifully with other Asian elements like bamboo decor and pagodas. Because no two stones are alike, you can savor each in its unique elegance. If you have a specific color palette in your space, this shop accepts custom orders and can work with you on selecting the perfect polished stones. This is one of the best Buddha decor ideas for anyone who loves to unwind to the scent of incense.
15. Unique Printed Glass Painting Alive with Color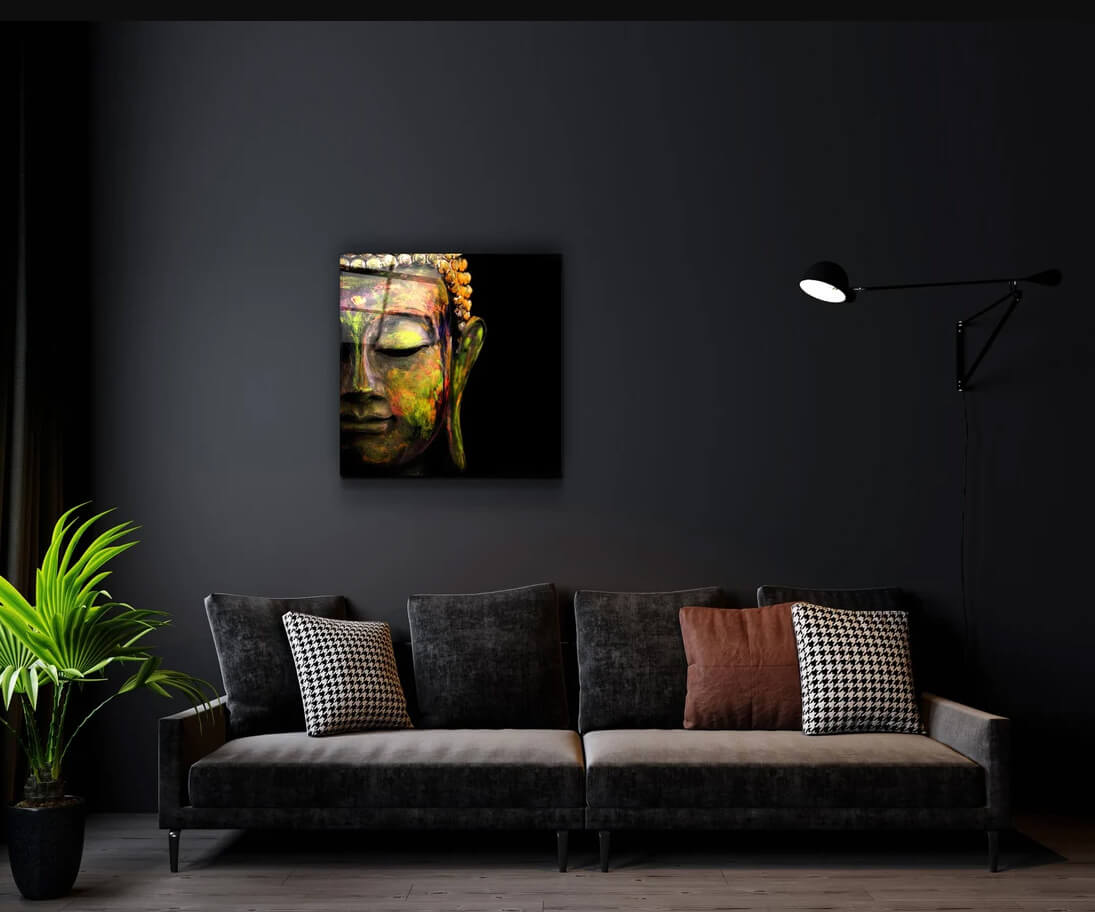 Vibrant color and glass come together in this unique piece of wall art to add one more reason to spend time in your space. Whether you hang it in your yoga room, office, dining room, or bedroom, this artwork will start conversations. Printed on tempered glass, this wall art is significantly tougher than ordinary glass. The explosion of oranges, purples, and greens means that it can slip seamlessly into many color schemes. All you need to do to tie this artwork into your space is to add some plants with the same bright green foliage as shown here.
16. Small Copper-Finished Buddha Statue Home Decoration Idea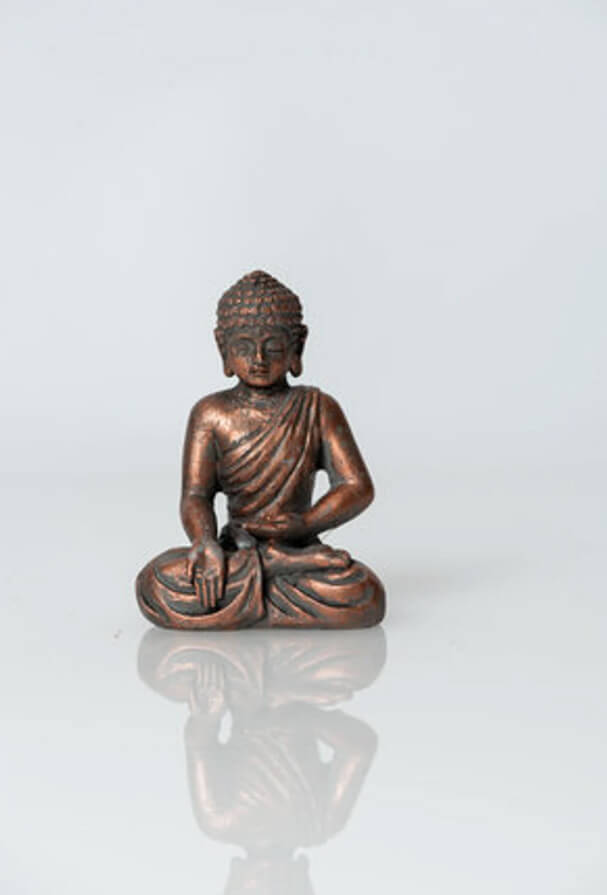 Sometimes, a tiny figurine is a finishing touch that you did not know you needed. At only three inches tall, this meditating figure can fit nearly anywhere and serves as a reminder to only invite the good vibes into your space. Place this figurine on a desk to encourage inner peace or nestled in a houseplant to remember that you are one with nature. For ultimate enlightenment, place it on a mirror and pair it with a few candles. A copper finish and resin construction mean that this figurine blends in most color schemes while being incredibly durable and waterproof.
17. Brass Buddha Home Decor Ideas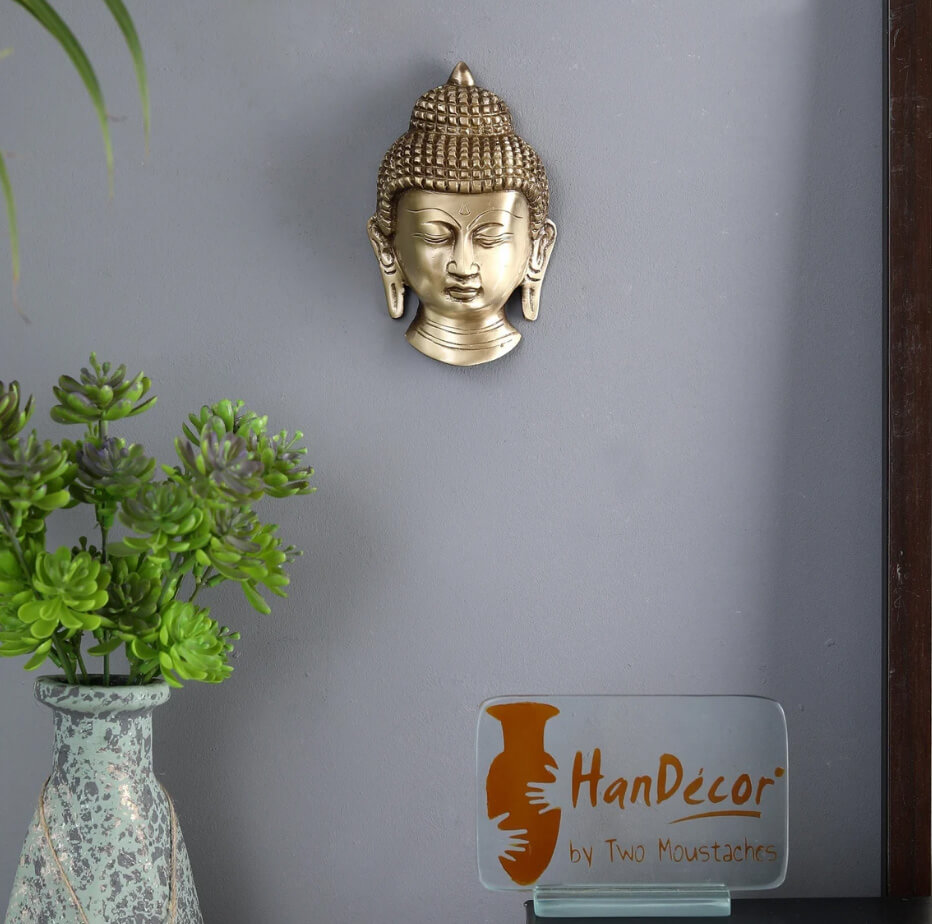 Handcrafted in Buddhism's homeland, this hanging brass wall art infuses a space with serenity. A very slight asymmetry blesses his face, which makes this statue feel like a real person. When light shines on this sculpture, the brass finish will work to illuminate its surroundings. To bask in twice the enlightenment, place this spiritual decor near a light source or hang a mirror opposite. Because it is 5 inches in height, it is small enough to fit in the coziest crannies without overwhelming the space. Pair with other Buddha-inspired decor or any artwork that brings your spirit peace.
18. Statue of the Founder of Buddhism Meditating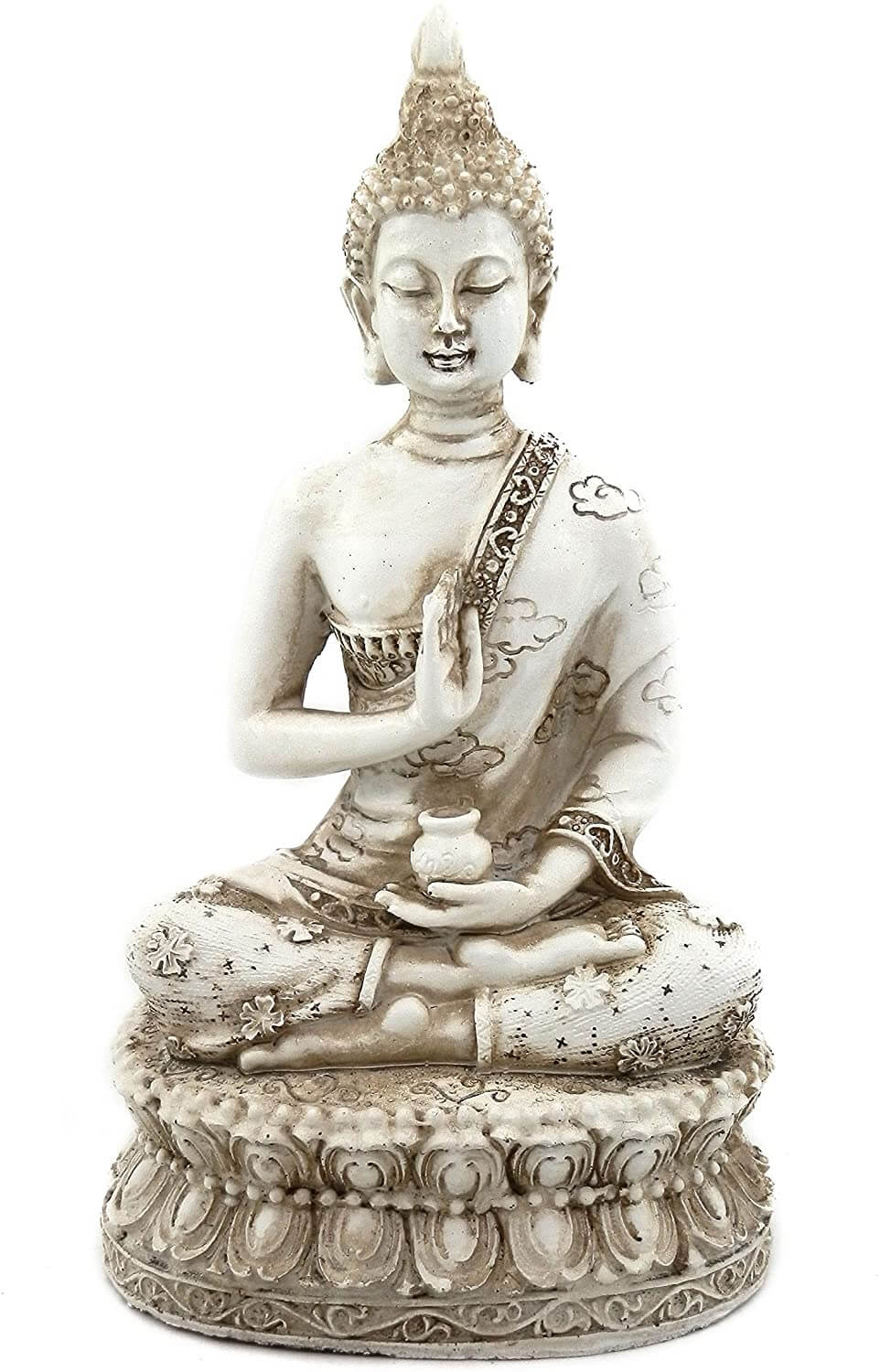 Exquisite detail and a weathered finish characterize this serene Buddha statue for home decoration. A contented expression and peaceful countenance are sure to help your zen space feel like a place you can unwind. If the true white shown here does not fit your color palette, you can also choose between red, green, and turquoise. For homes already filled with distressed pieces, turquoise might be the way to go as it looks like a bronze statue with a gorgeous green patina. Although all colors of this statuette are made from resin, it has a pleasant weight and is bursting with meaningful details.
19. Finding the Right Illumination for Your Space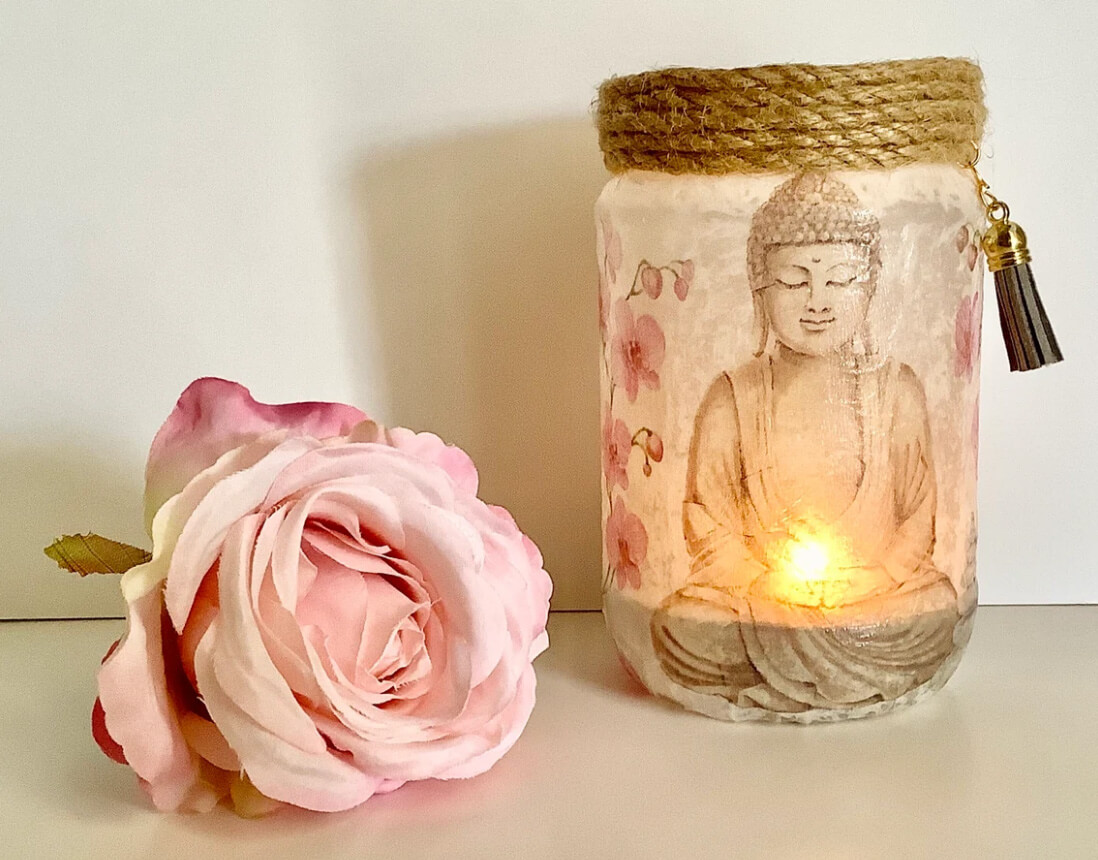 One of the best Buddha decor ideas is to ensure that your space has plenty of light. This decoupage light offers a warm glow from a battery-operated tea light. If you prefer, there is an option to switch out the tea light for fairy lights which appear as a flock of fireflies fluttering within the jar. Because both are battery-operated, you do not need to locate this lamp near an outlet. Jute twine tops the look off and means that this jar will tie into any rustic or nautical space. To provide a link to nature, a soft pink floral motif flows around the rest of the jar.
20. Spiritual Awakening Buddha-Inspired Wall Art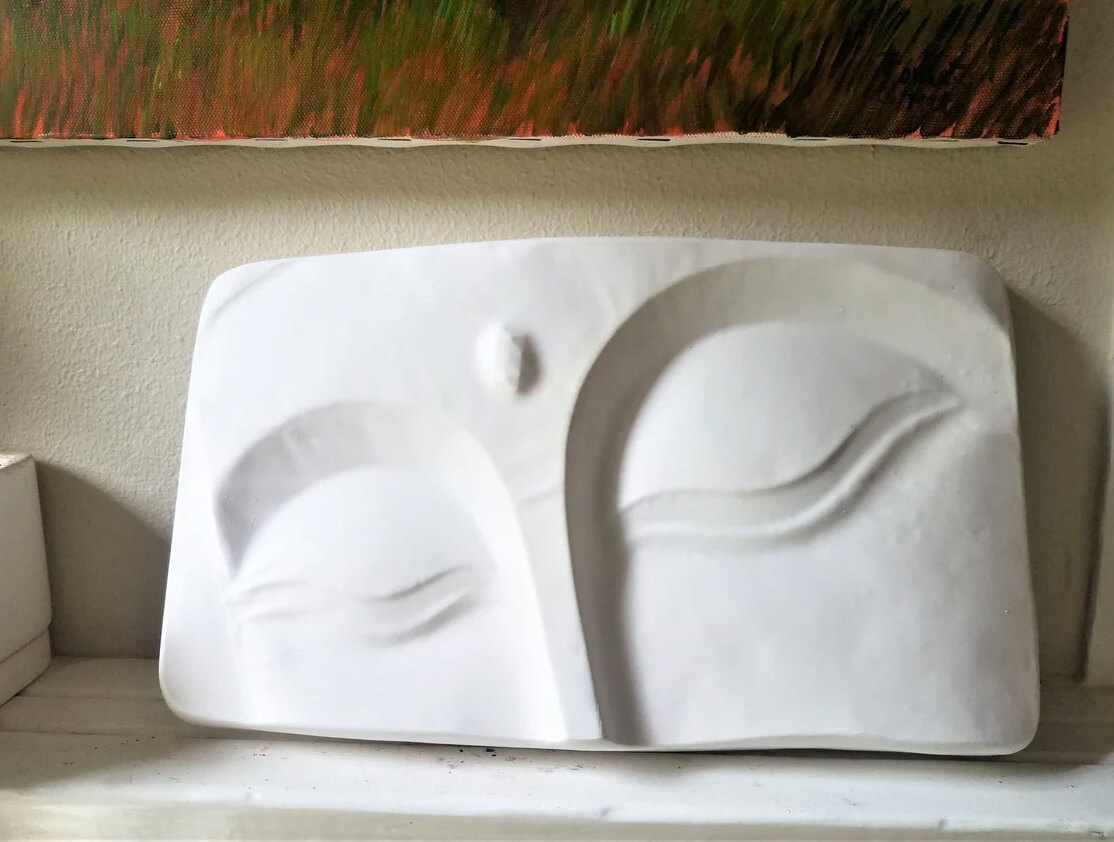 Eyes closed in meditation are the perfect reminder to take a deep breath and release your worries. At 12 inches long, it is large enough to catch the attention, but not too large that it would not fit in a smaller space like a bathroom or reading nook. With 12 finish options including glossy white, black, copper, silver, gold, and faux stone, this zen sculpture will be able to fill you with peace no matter what your other decor is. This shop can also create a custom finish should you desire. The three-dimensional aspect of this sculpture means that it will change as the lighting changes.
21. Iron-Toned Buddhist Tray with Lotus Candle Holders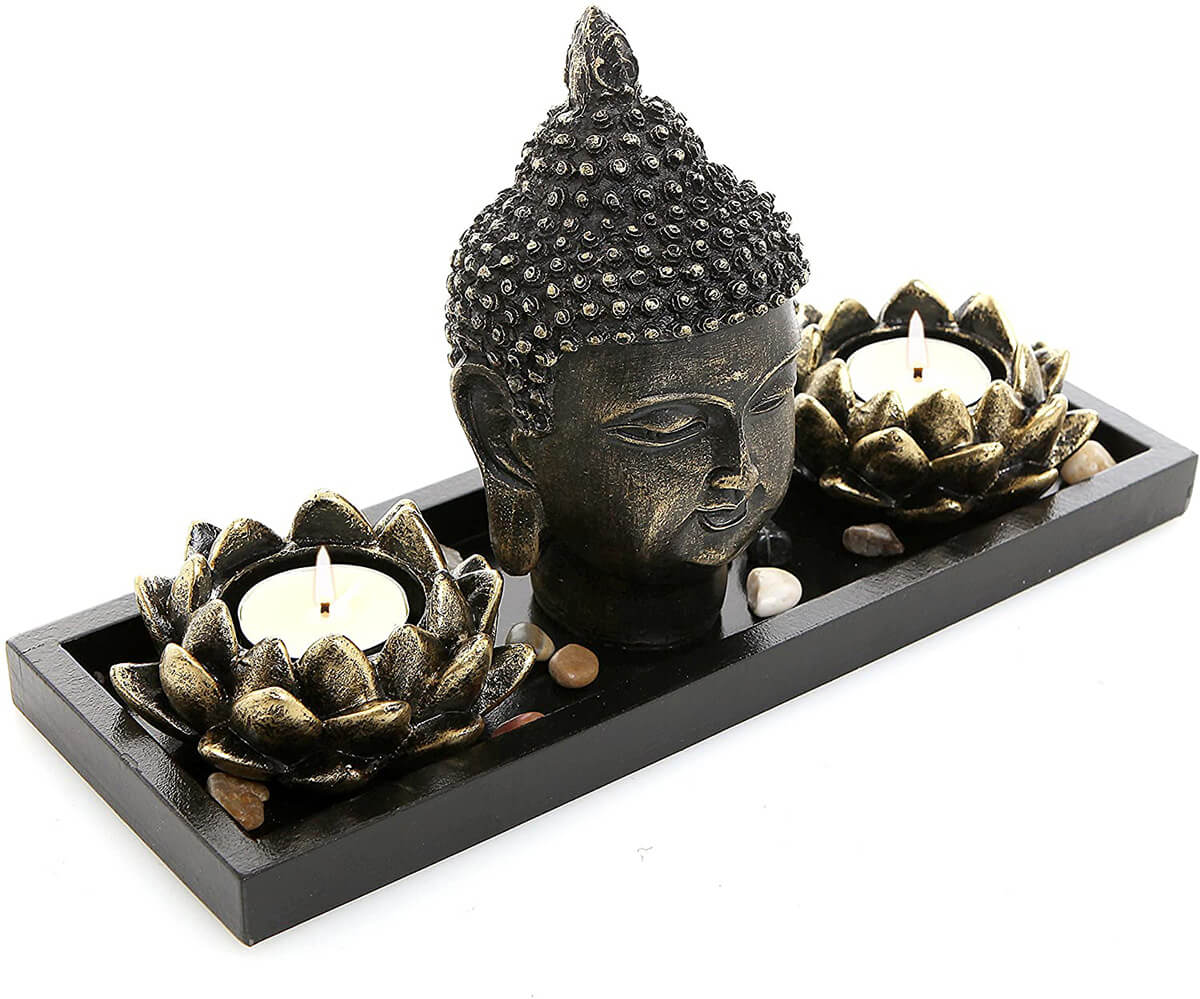 With cool iron tones, this tray energizes as well as soothes. There is also plenty of room to make it fit your style. None of the figurines are attached to the tray, so you could change their configuration should you desire. Because the twin lotus candle holders do not come with candles, you can customize the candle's color and scent to your room's color palette. The white candles shown here exude serenity and purity of mind, but other colors like lavender, jade, or garnet might be a better fit for your space. Although a small number of polished pebbles arrive with this tray, you can add stones from your travels, seashells, or even potpourri.
The Top 21 Buddha Decor Ideas for Your Meditation Corner and Beyond
As you build your corner of calm, remember that serenity transcends the visual. Adding layers of aroma and sound can help build the ideal zen ambiance. For tactile pleasure, include stones, crystals, or worry stones. Texture plays an important role in how your space feels. With options like wood, stone, and patinated bronze, there are plenty of options to bring peace to your spirit.
Of course, the most important part of this journey is choosing items that help relieve your stress. While color and form can be used to create a harmonious balance, prioritize items that bring you to your happy place.