Built-in planter designs can easily transform your outdoor living space from boring to beautiful. When you add these planters to your backyard, deck, or patio, you can add lots of greenery while saving on space. That is why these 33 built-in planter ideas are perfect for smaller outdoor living spaces.
33 Creative Built-In Planters

Try one of the tiered projects on this list to really save on space. Want to add some seating to your deck but don't want to sacrifice that planting space? Try the built-in planters that are both features in one! Climbing plants are a beautiful addition to a garden and with a planter with a built-in trellis like the ones on this list, you can grow these plants without the use of a wall.
If you are on a budget, never fear; many of the projects on this list are made from affordable materials like wooden crates and concrete blocks. If you want to give your outdoor space a natural, earthy feel, try one of the built-in planter ideas using stones and rocks. They are pretty, practical, and inexpensive. Read on to learn more about making all 33 DIY projects!
1. Deck Bench with Built-In Planters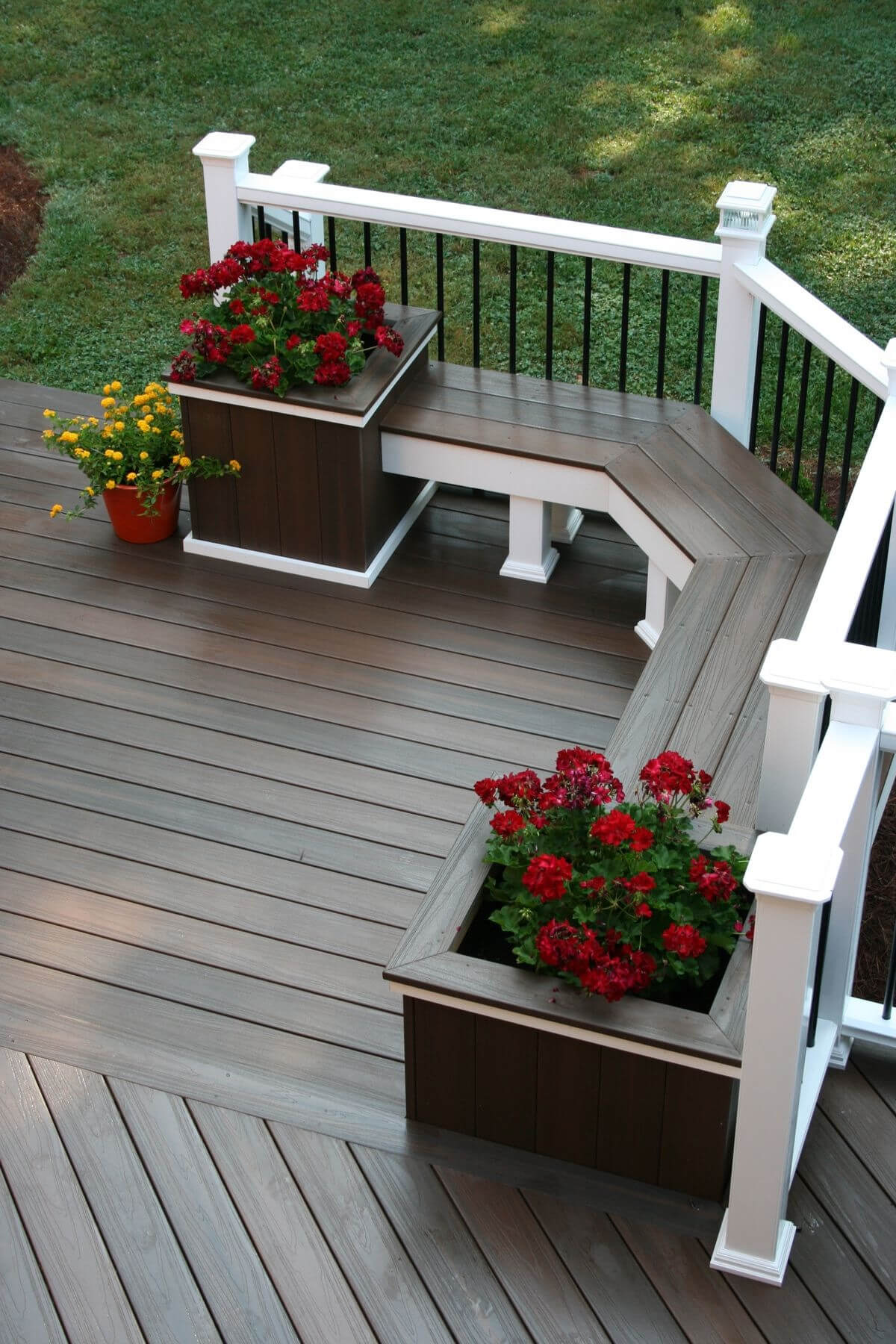 Bring the classic dark with white tuxedo look from your kitchen out to your deck, and tie the two areas together. To further coordinate the look, take extra posts from your deck fencing, saw them in half, and use them as the legs for your benches.
2. DIY Concrete Built-In Deck Planter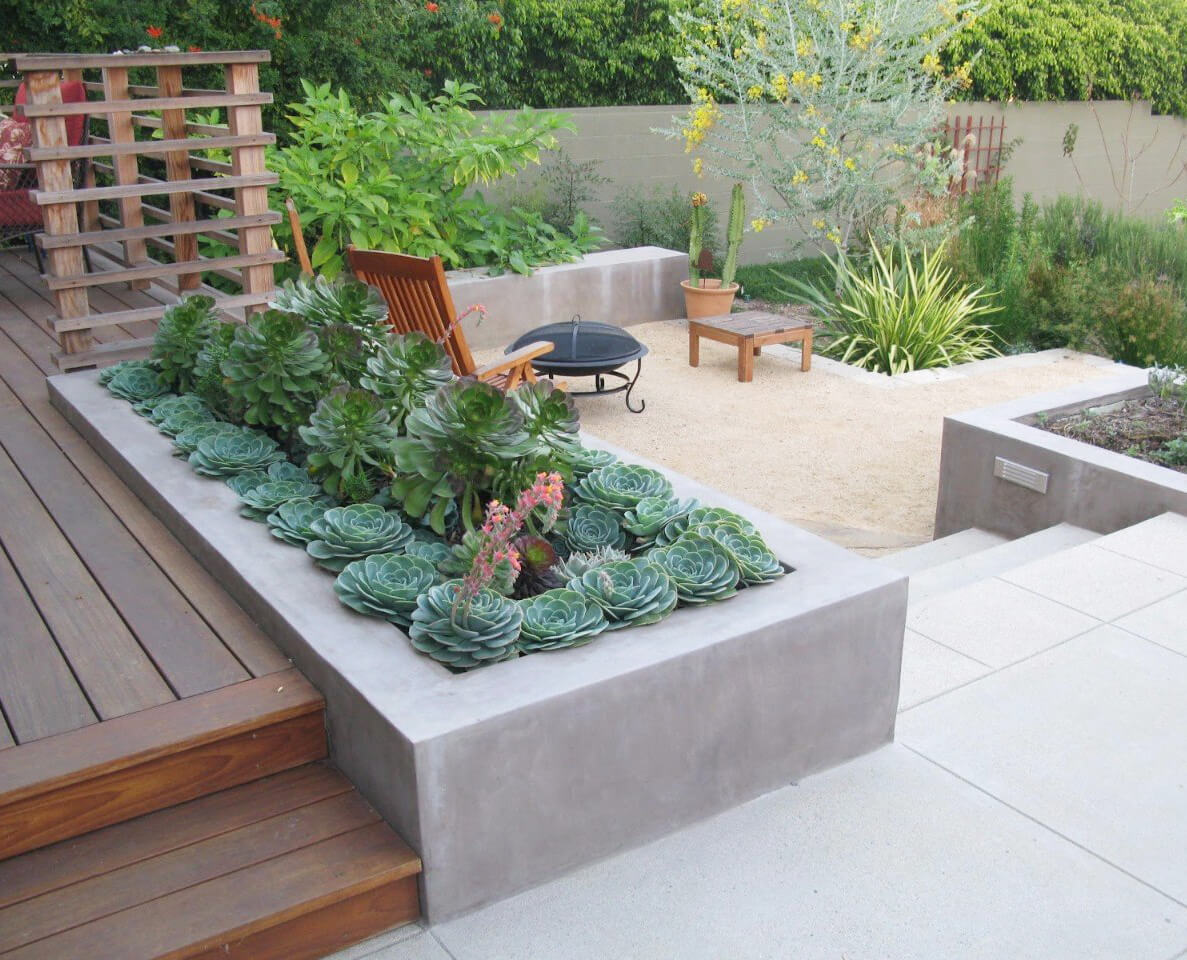 Use plywood to create a mold for the size planter that you want and quick-setting, concrete-countertop mix for your planter. Customize your planter with a translucent stain that complements your décor. The sleek, contemporary look of concrete is popular for outdoor décor as is mixing textures and mixing rustic furniture and accessories with contemporary elements.
3. Stacked Stone Planter with Bench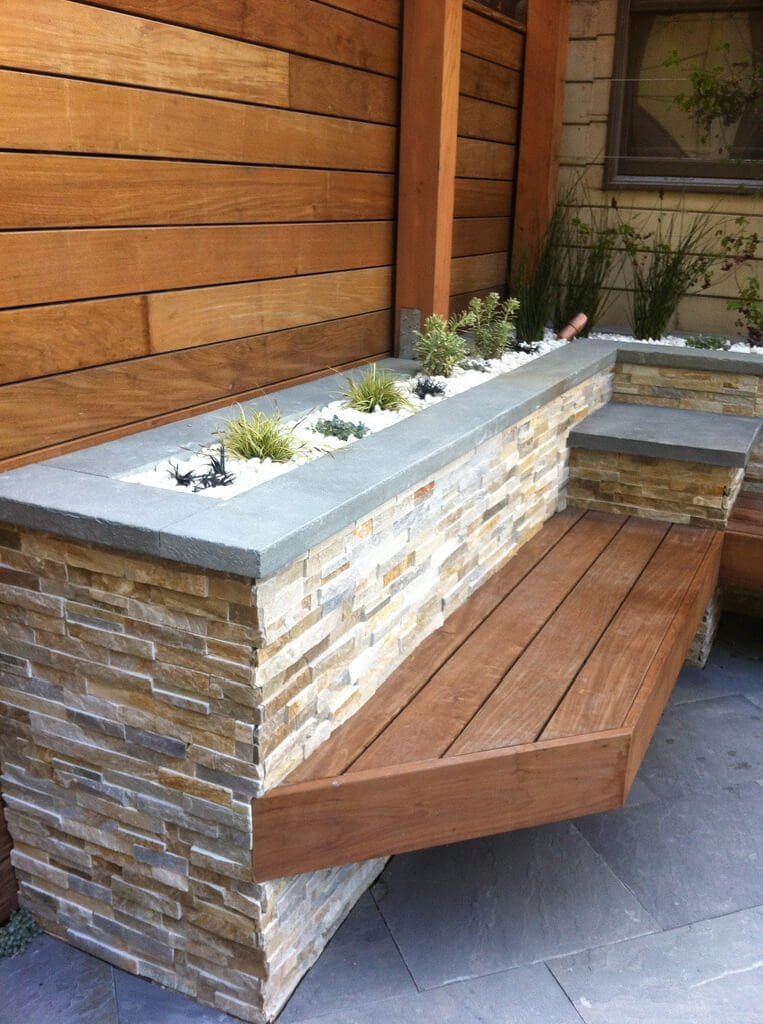 Before starting, sort your stones into three piles – large, medium, and small. Use larger, less attractive stones as a foundation, and then overlap where stones meet in lower layers with the next layer. Mix stones of different sizes and colors for a random look. Mortar isn't needed for a wall under 18 inches, but use mortar or use a caulk gun to apply beads of masonry construction adhesive between layers, or courses, to strengthen higher walls. Before applying the mortar or adhesive, switch stones around and try different stones in different locations until each course helps to create a look you like. Natural materials, especially locally sourced materials, are popular for decks.
4. Built-In Wooden Box Deck Planters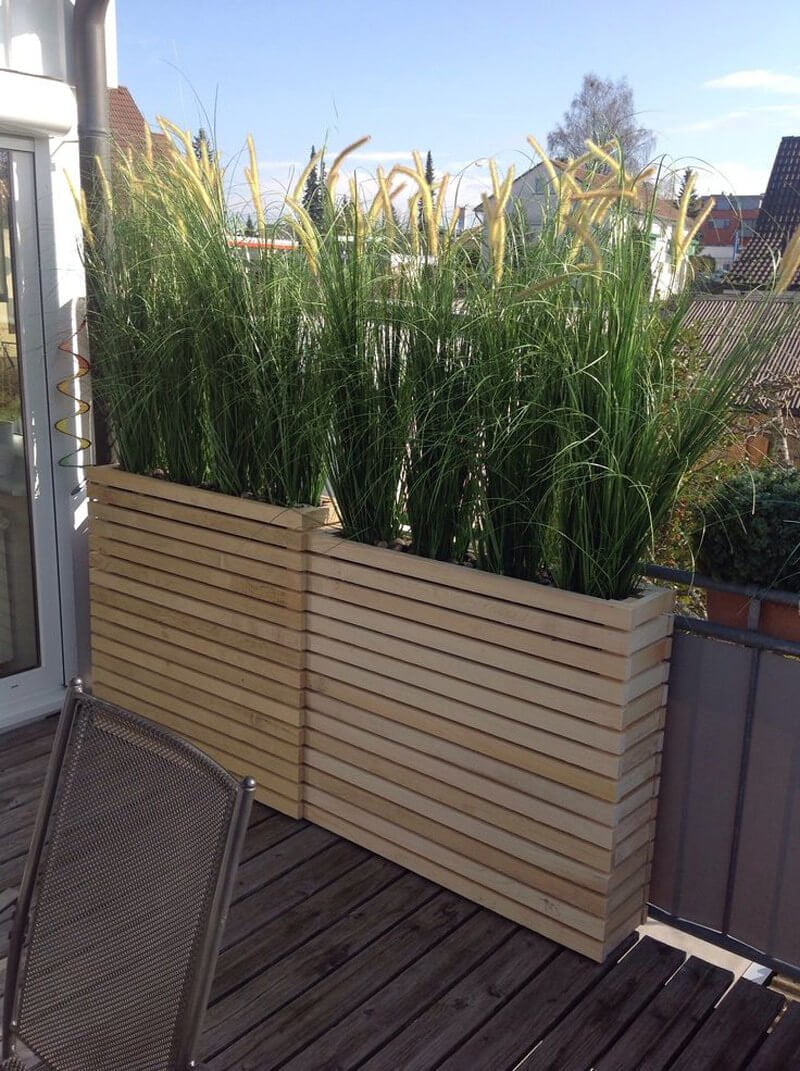 Privacy is often an issue for small patios, backyard decks, and balconies around urban areas, apartment buildings, and apartment complexes. These tall, narrow planters made from wood slats add design interest with their repeated horizontal lines without requiring much floor space. Add the tall grasses, and you have a privacy screen that still lets in the sun and the breeze.
5. Flower Bed with Built-In Stone Planter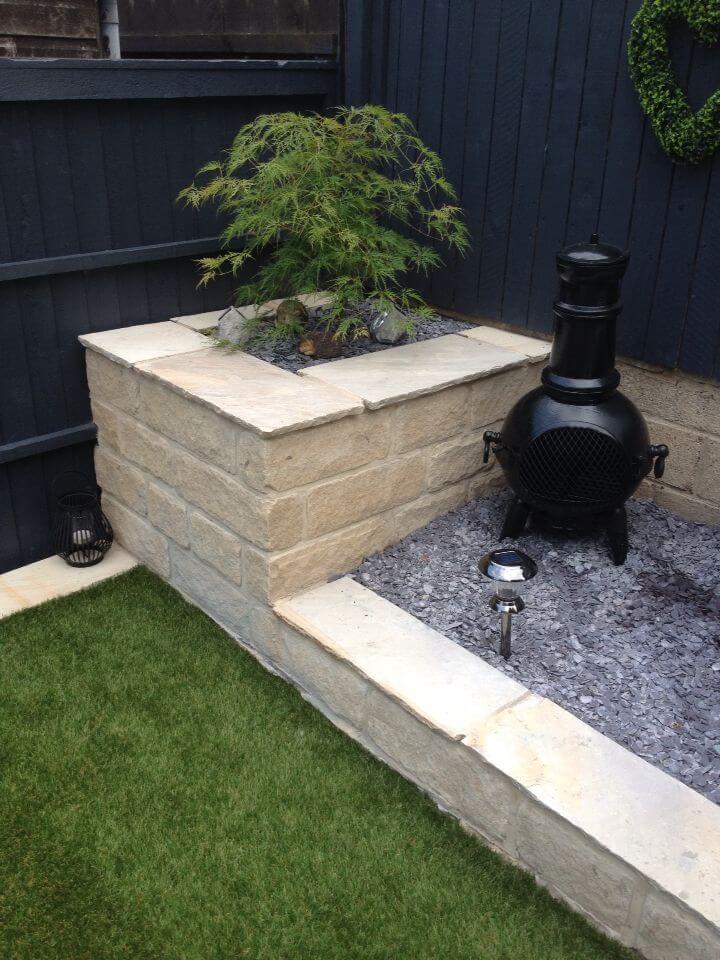 This attractive light stone planter uses mortar, which frames the individual stones, but it is low enough that it could be dry-stacked without mortar. It provides textural contrast with the fence, the stove, the candleholder, the grass, and the feathery, fern-like leaves of the plant.
6. DIY Wood Bench with Planters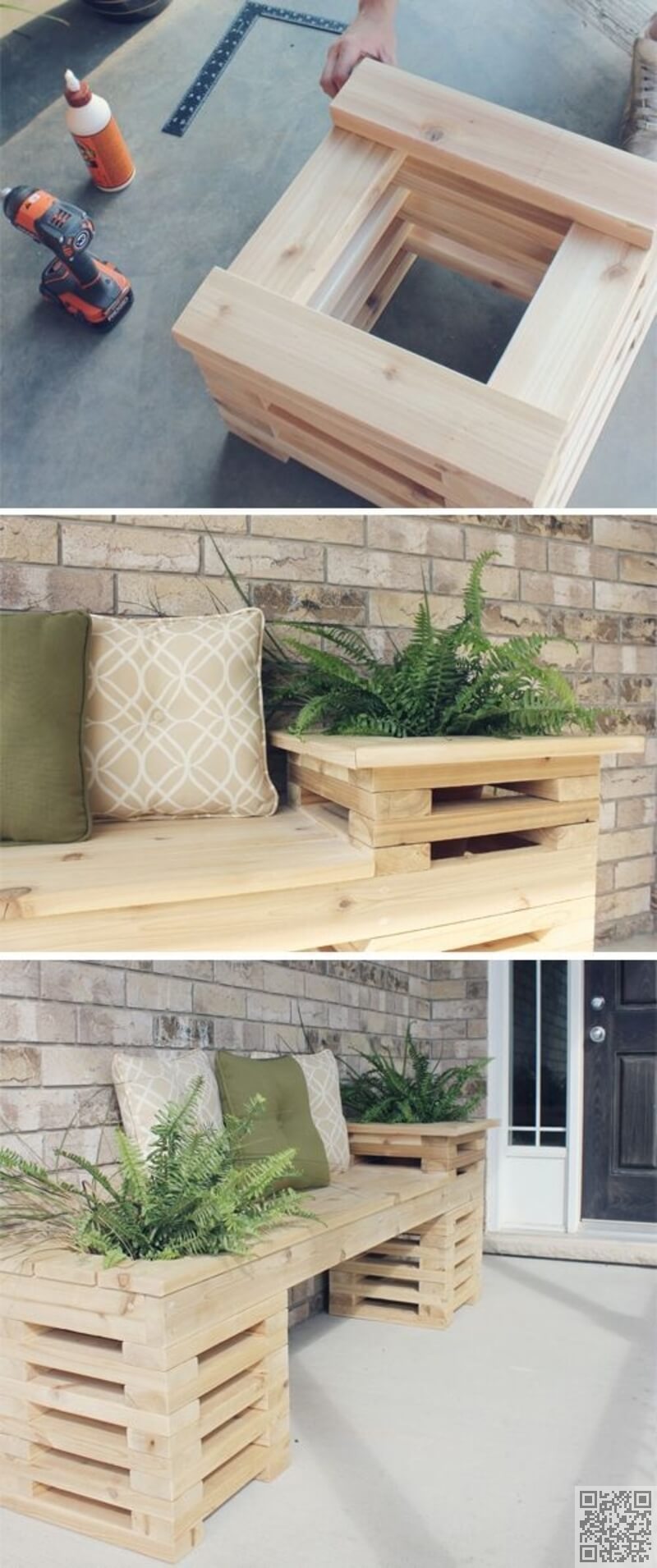 This cedar bench, with its asymmetrical planters, was coated with a varnish to let the grain of the wood show. This treatment gives it a casual, natural look, and the staggered placement of the boards for the planters adds to the open, airy feel. It's an inviting look that could blend well with a rustic, coastal, or contemporary décor, or it could fit into a look that mixes styles.
7. DIY Rusty Metal Garden Planters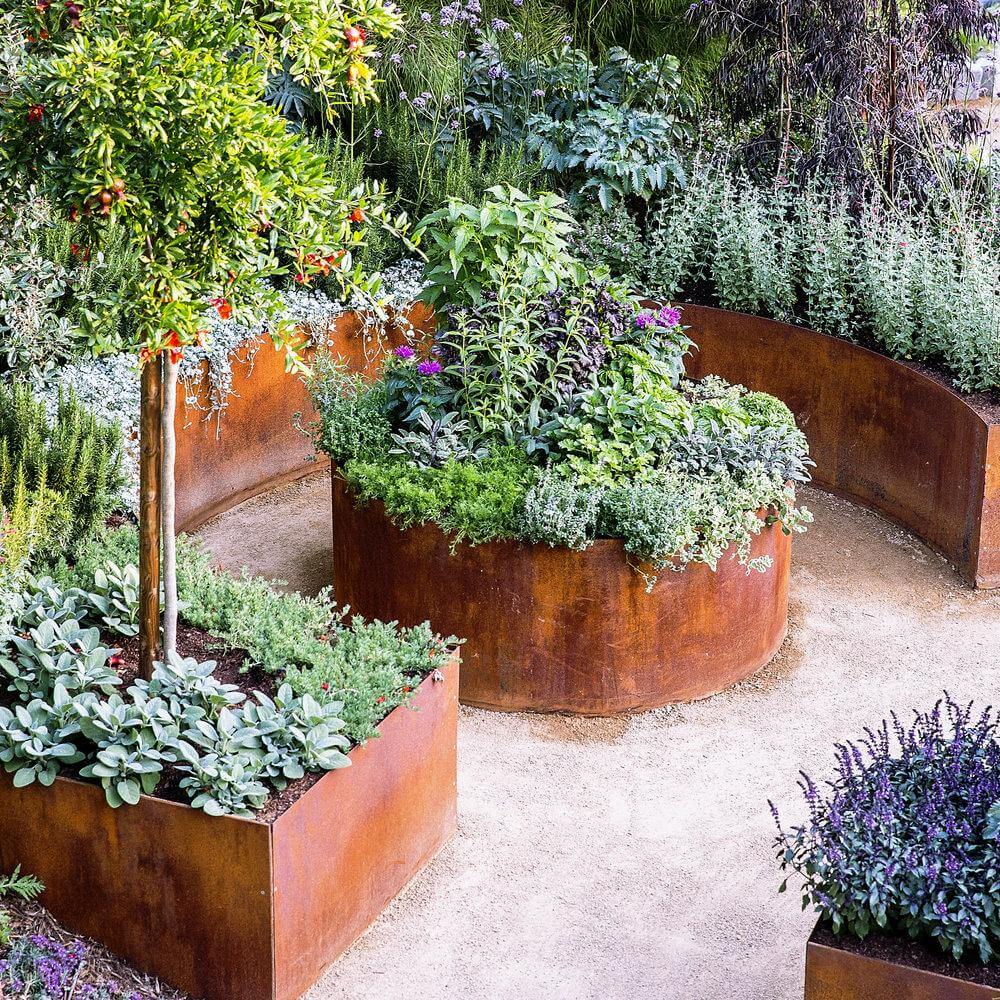 Some feel that gardens in the United States should reflect our cultural heritage, so they tuck cast iron manual pumps and hand plows into garden nooks instead of replicas of Greek and Roman statues. These rusty planters reflect that idea. The planters are made from recycled corten steel, which can be purchased in rolls so that you or a metalworker can cut it and weld it to create any size and shape planter you like. It takes three to six months to achieve the rusted look on the exterior, but the interior remains protected from the weather which means these planters last a long time.
8. Wooden Planter for Small Spaces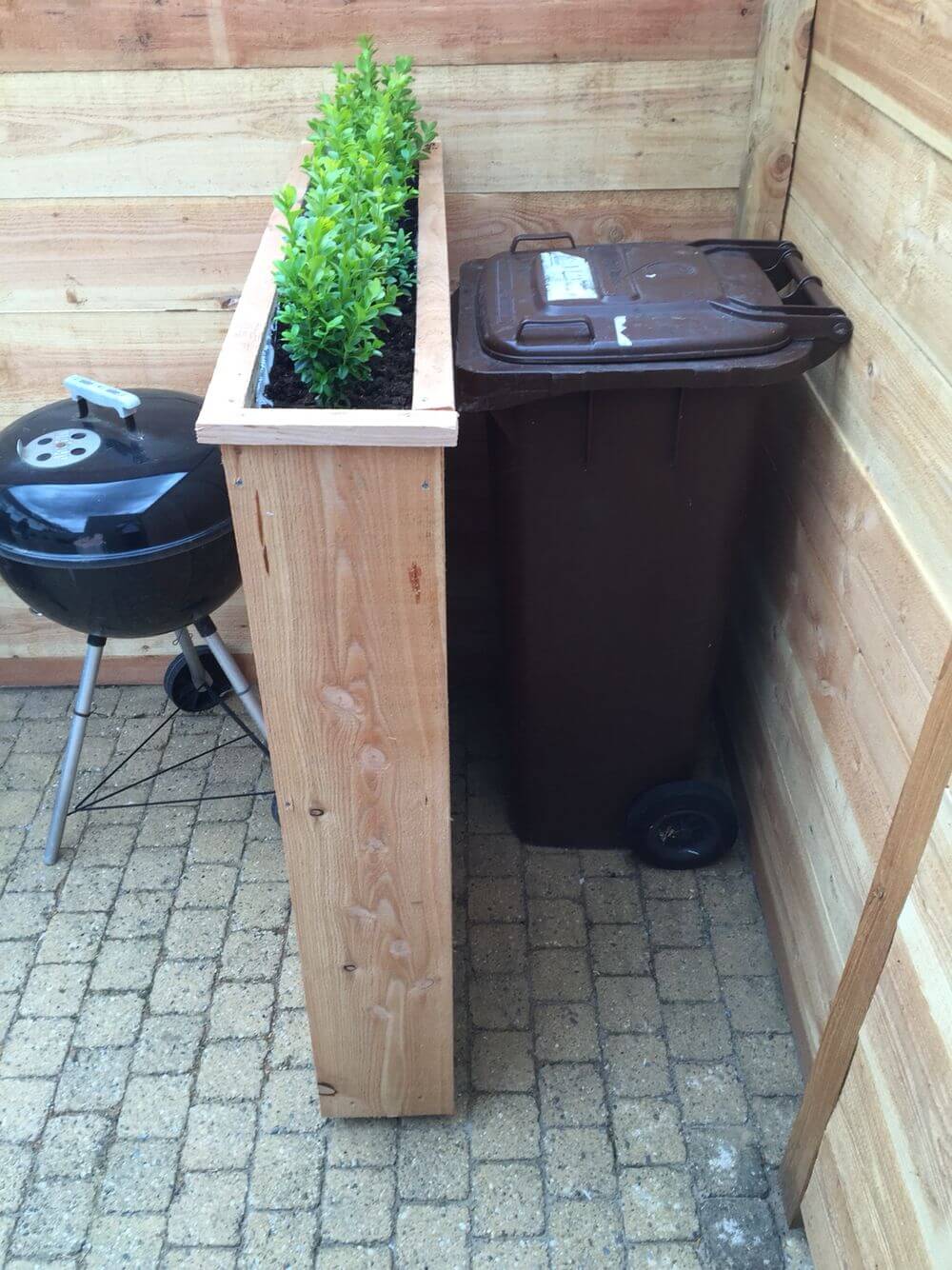 If you have a small space or you would like an attractive way to hide an air conditioner or a garbage can that occupies part of your patio, you can save work and make this narrow planter from shipping palettes. You need only add the boards at each end, the base, and a cap around the top. Finish it with varnish, stain, or paint to create the look that best coordinates with your décor.
9. Tiered Concrete Built-In Deck Planters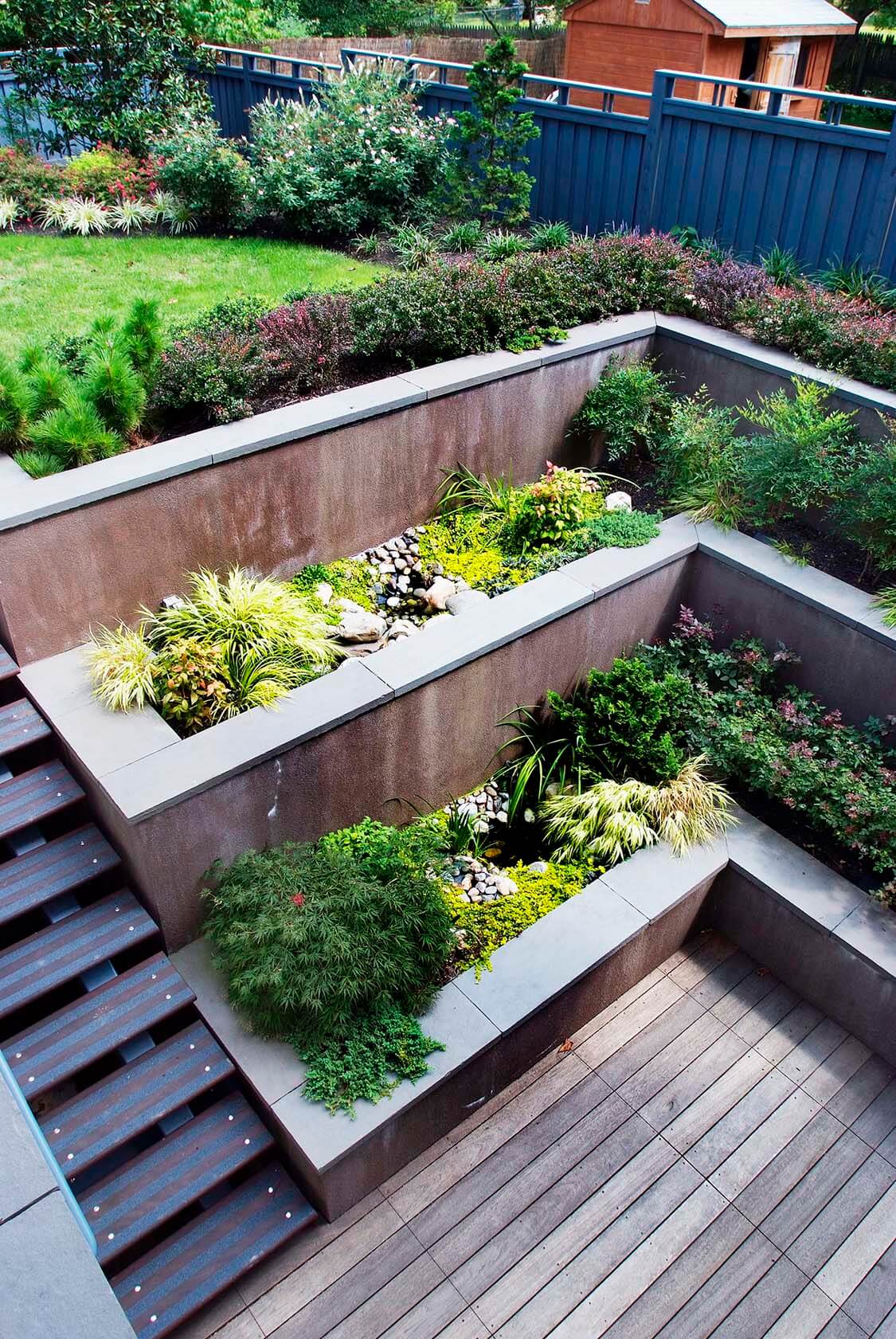 If your home is on a hillside or mountainside or it has a steep slope and you like a contemporary look, these tiered concrete planters might be your answer. They can act as a retaining wall, and they eliminate the need to mow a difficult and potentially dangerous area.
10. DIY Stacked Stone Plant Beds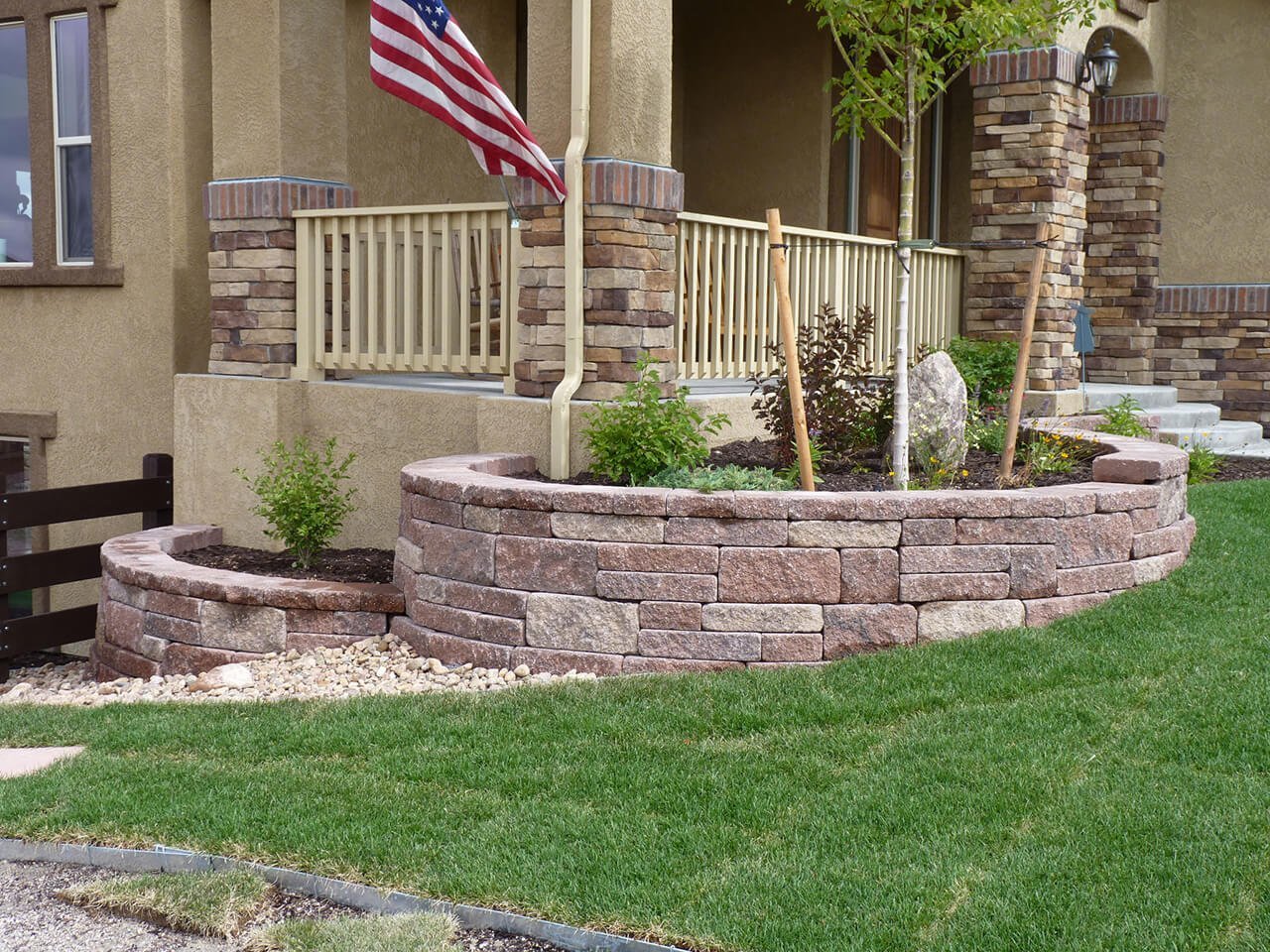 It's easy to create stacked stone planters in just about any shape you like. Decide on a location for the planter, and then lay out a garden hose or a length of clothesline rope in the shape you want. Use spray paint to spray around the outline of your shape. Then clear a one-foot wide space just inside the outline. Tamp down the soil inside the space you have cleared to provide a firm base for your wall. If the area you choose for your planter slopes, tier two or more planters. Start with building the lowest tier, and link the tiers by running the capstone of lower layers under the foundation of the next higher tier.
11. Built-In Planter Half-Wall with Bench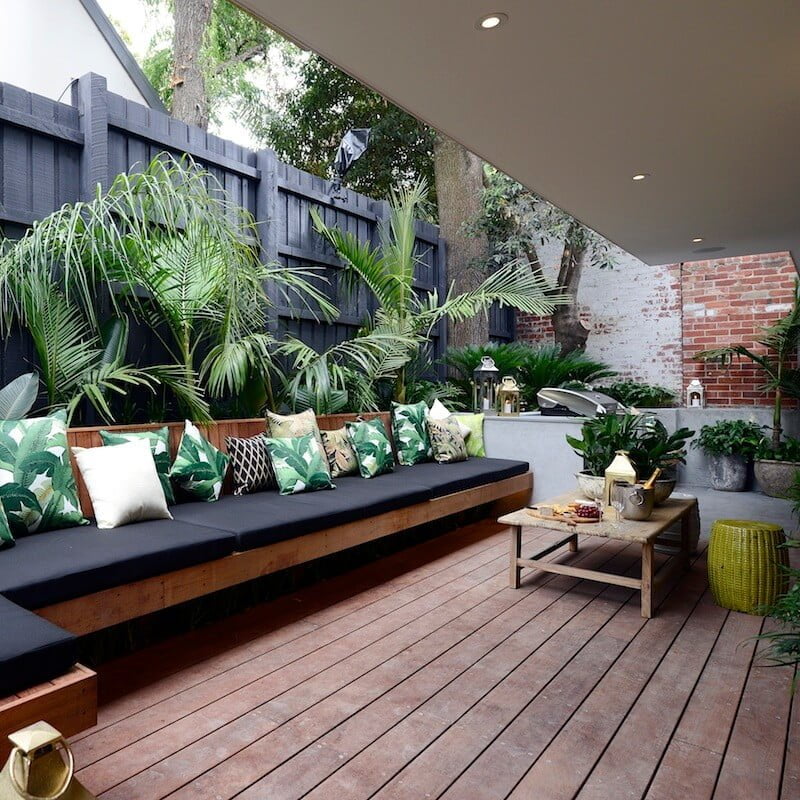 If you have the ugly side of someone else's high fence that you want to hide or a high wall that you want to soften, try building this long planter and bench against the wall. Fill the planter with dwarf trees, and consider pruning them espalier-style, or try tall plants like tree kale. You also could add a trellis to your planter and grow climbing vines.
12. DIY Tiered Wood Planter Boxes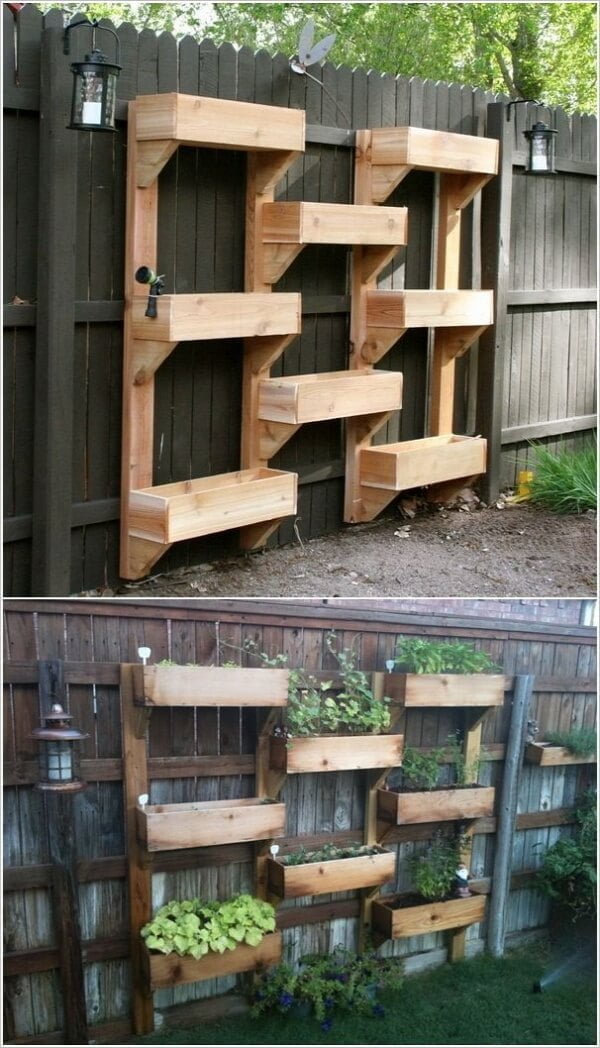 If you'd like to grow flowers, herbs, or salad greens and other shallow-rooted veggies but you think that you don't have the space, think of vertical space. Use two-by-fours, wood wall-shelf supports, and small, cedar window boxes to create a vertical garden that you can attach to the cross supports on the interior of your fence. Fill as many of the spaces between the vertical posts as you like.
13. Concrete Block Planter and Decoration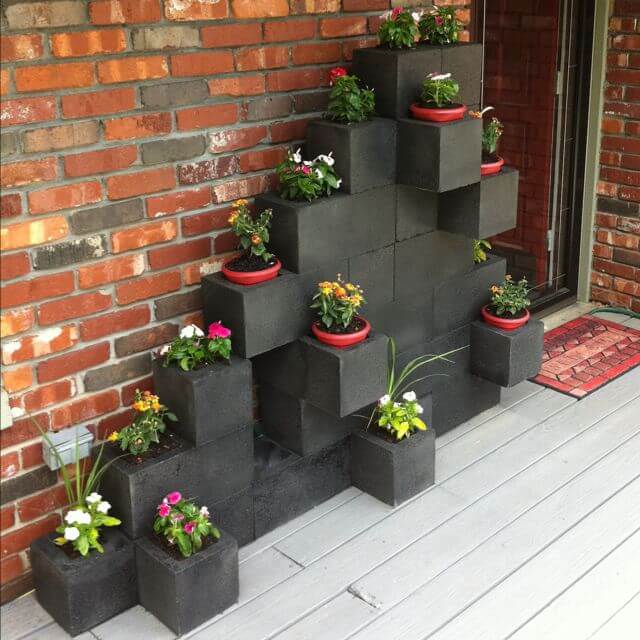 Create this dramatic statement planter using concrete blocks and half blocks. Paint the blocks black or some other strong, dramatic color that fits your décor. Stack the blocks with the holes facing up in some intriguing shape, placing some of the full blocks so that they extend out from the front of the planter. Leave open spaces between some of the blocks. When you have the blocks arranged in an interesting shape, place potted plants in the visible holes.
14. Planter Boxes with Climbing Trellis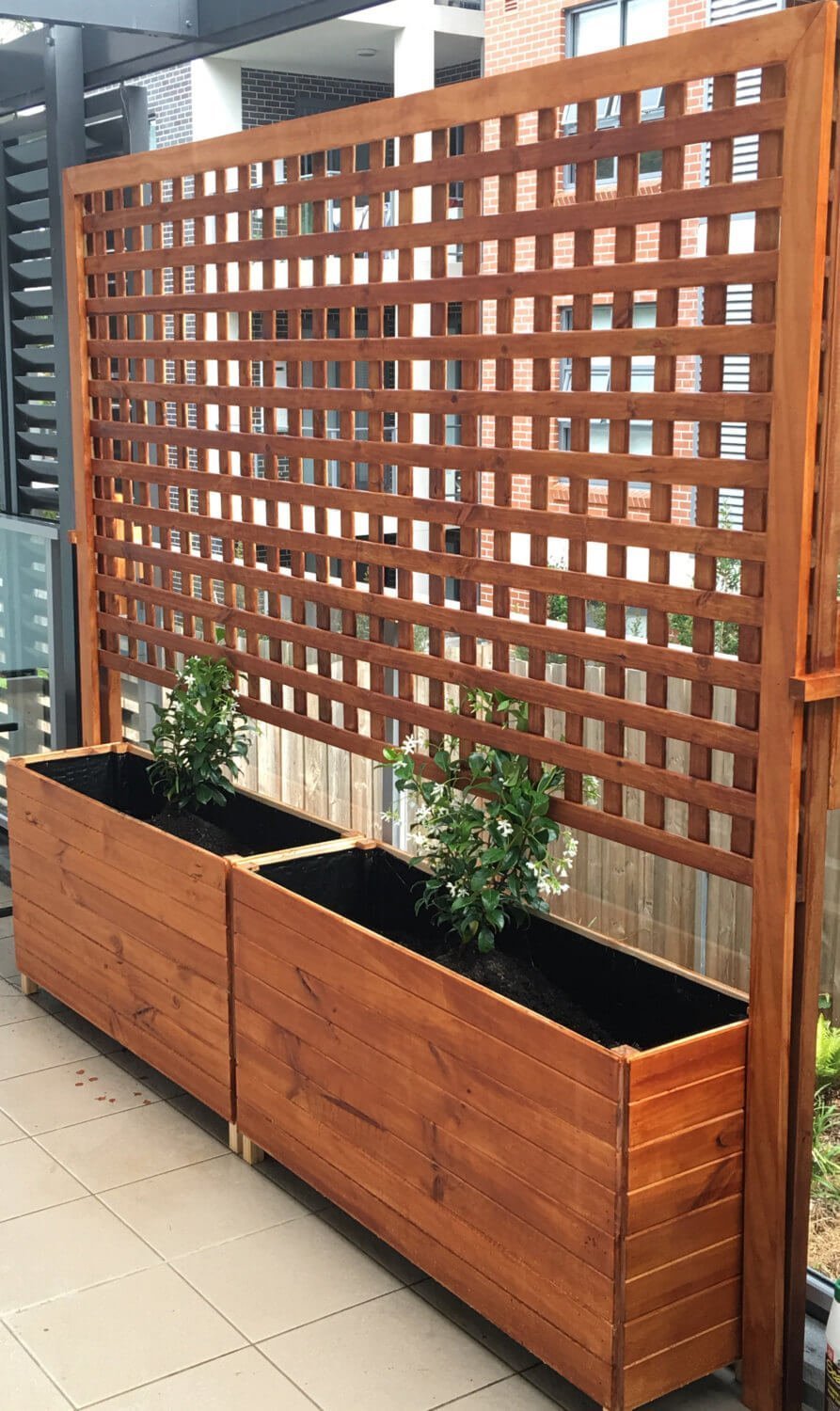 This planter offers another solution for an area where you might like a privacy screen but where you also want to let in sunlight and a breeze. Place a row of planters along the area that you want to screen, and then attach lattice work trellises to the planters. Grow flowering vines or vining vegetables using the trellis to the back of the planter with more flowers or veggies to the front.
15. Built-In Patio Planter Boxes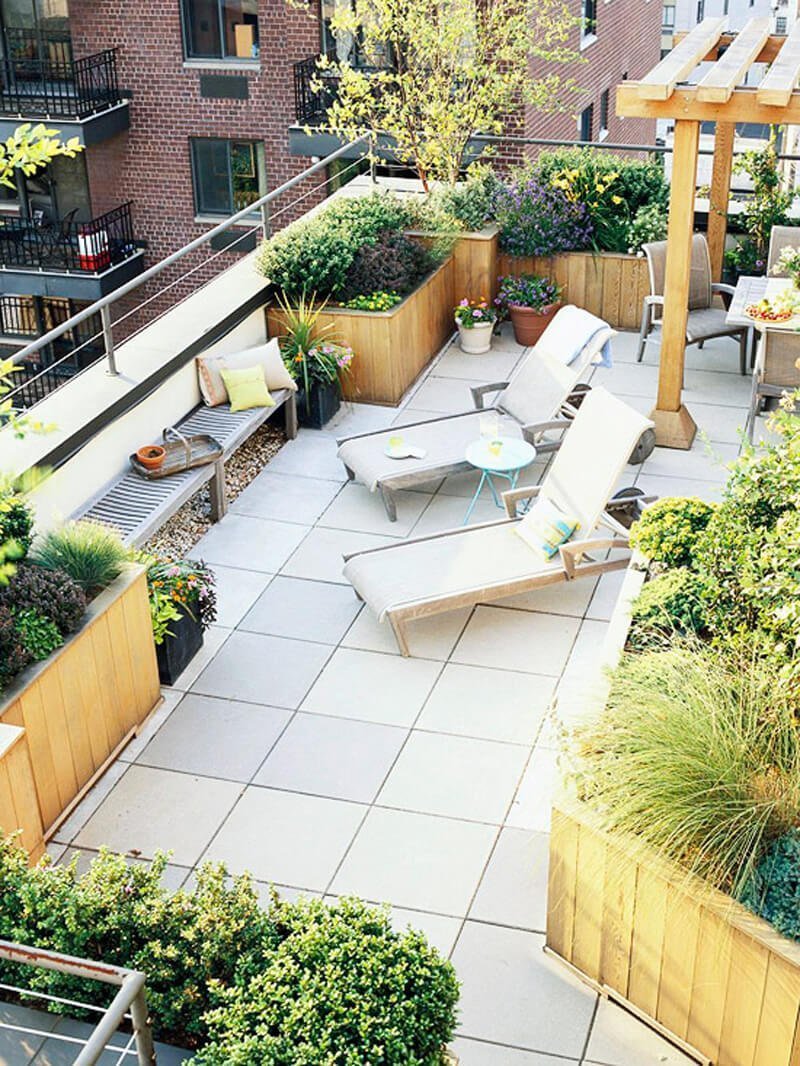 To create the feel of an outdoor meadow or garden on an urban apartment balcony or patio, arrange planter boxes of varying sizes and heights around the walls and railings bordering the space and fill them with dwarf trees, shrubs, and flowers. Use tall plants, trellises and vines, or hanging baskets with vines around areas that you want to screen, or use the planters to create an urban vegetable garden.
16. Built-In Deck Planters for Privacy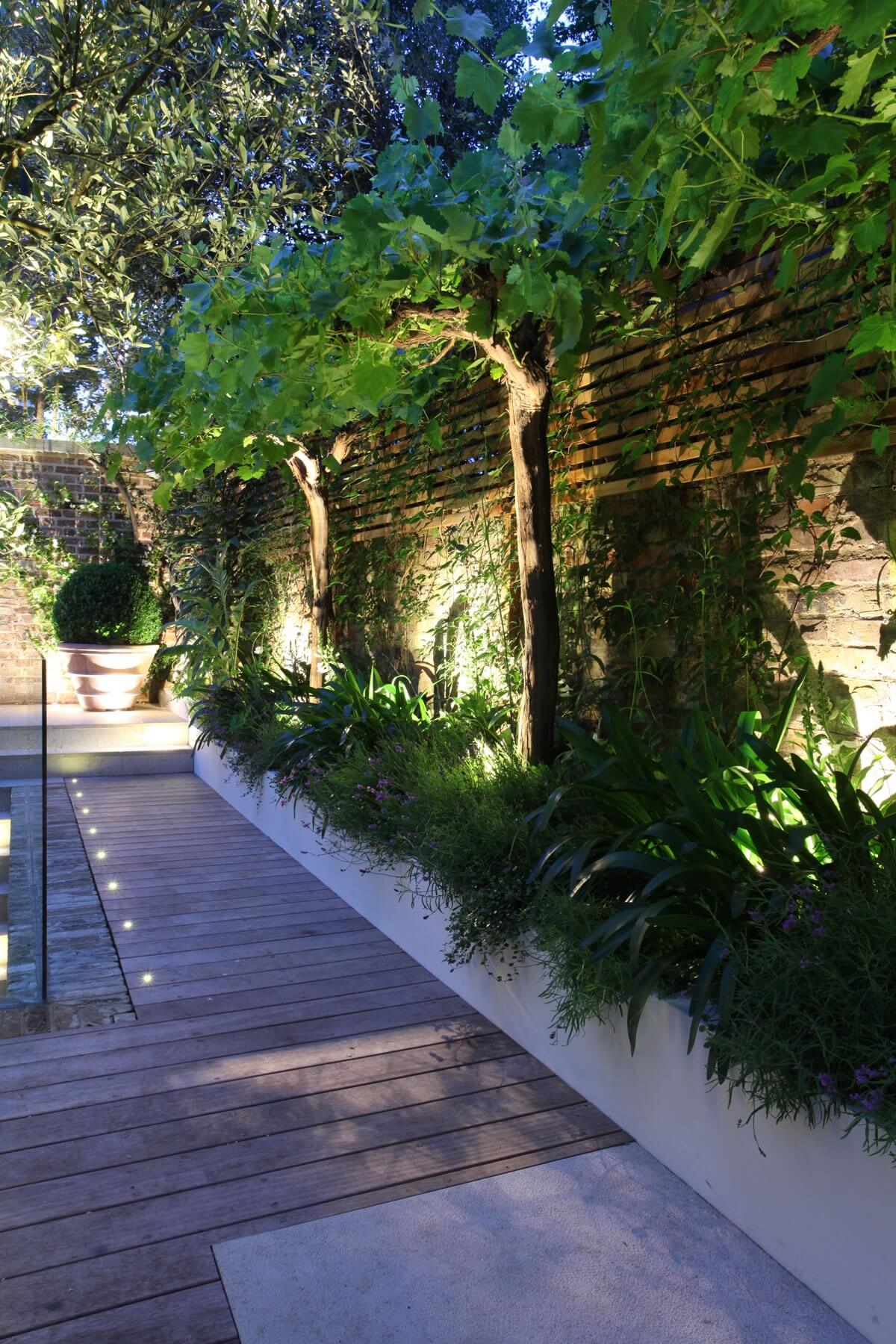 If you have a backyard with a larger deck that you would like to screen, you have enough space to mold concrete planters large enough to grow small trees. Intersperse the trees with shrubs or taller plants that are native to your area, the types of plats that you might find growing under the trees in the shaded areas of local woodlands and forests. This creates the natural look of a woodland glade for your deck.
17. DIY Wood Crate Planter Boxes

To create this asymmetrical statement look, decide how tall and wide you want the arrangement to be and how you deep and long want the individual boxes to be. Cut boards of the desired height, width, and length for the sides of each section of planters and for the bottoms of each planter, and cut enough slats of the desired length to make up the height of each planter front and back. Nail the planter bottoms and slats to the sides in the correct position for the way you want to arrange the planters. You could create planter columns or a planter arch to create an entrance to an area of your outdoor space, a privacy screen, or a vertical herb or vegetable garden.
18. Green Wall Backyard Planter Project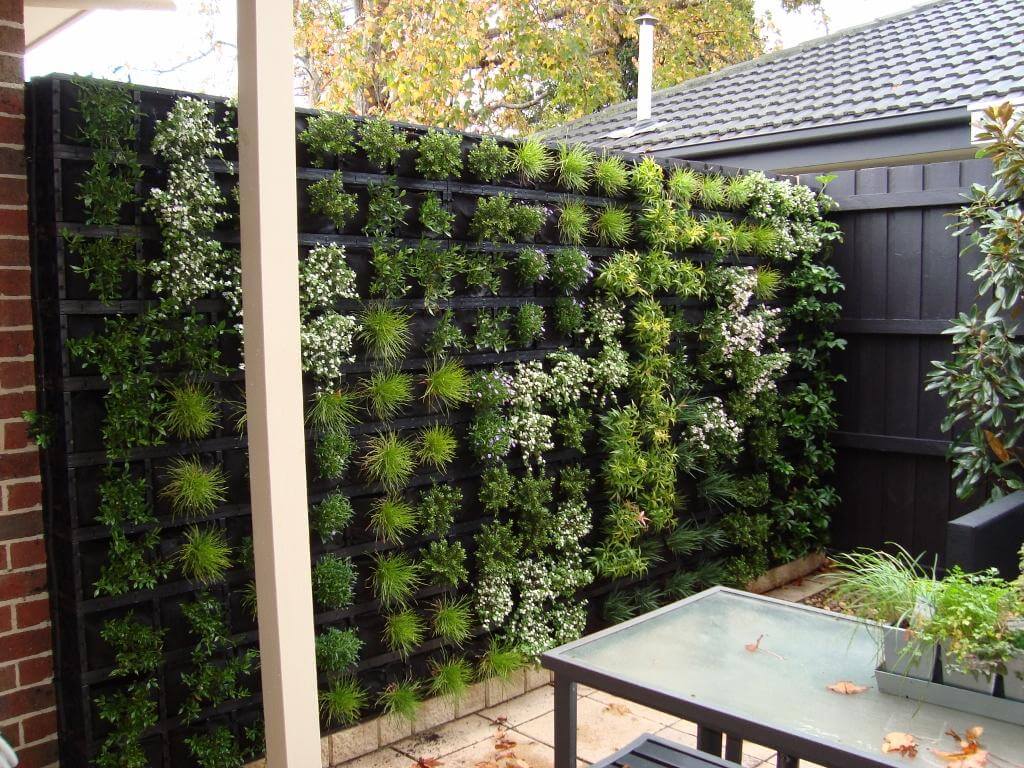 This Gro-Wall is a modular system for vertical gardening that permanently attaches to a wall or fence. Because it's modular, you can easily create a wall that is as tall and long as you need it to be. It can be single-sided or double-sided with an attractive wall of greenery on each side. The watering system is contained within the modular units, and it is designed to conserve water by preventing and capturing leaks. In addition to creating vertical gardening space, a two-sided wall would provide a lush, attractive privacy screen.
19. Built-In Patio Planter with Bench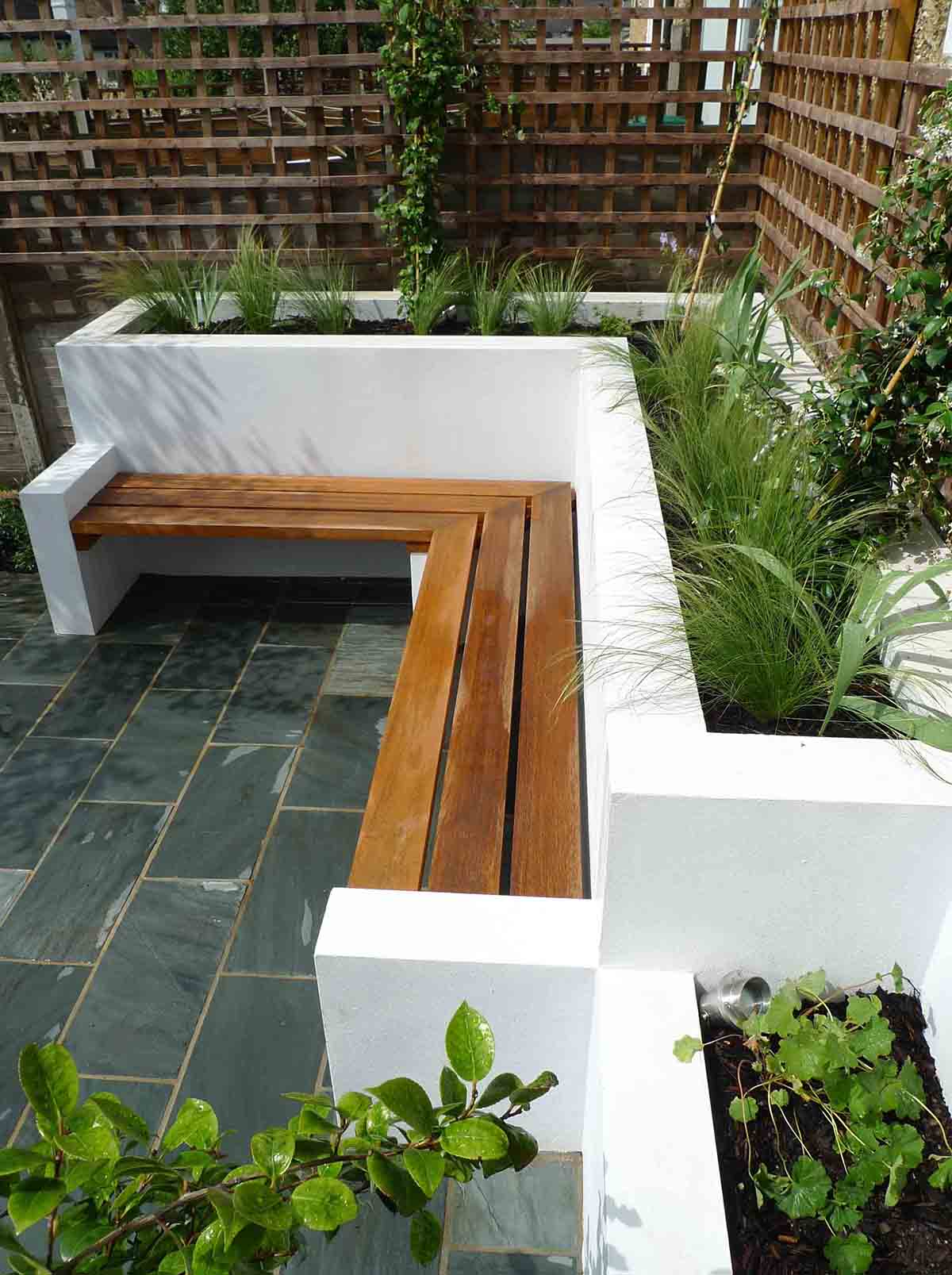 Create molds for the planter and the end and corner support for the L-shaped bench. Again, use quick-drying, concrete countertop mix and choose a stain to complement your style and home décor. Use a caulking gun and masonry construction adhesive to attach the bench supports to the planter. Build each length of the bench seat, place the straight ends of the bench in the notches, and then attach the mitered ends to the square of wood that caps the center support. To soften the look, add pillows.
20. Built-In Rock Garden for Succulents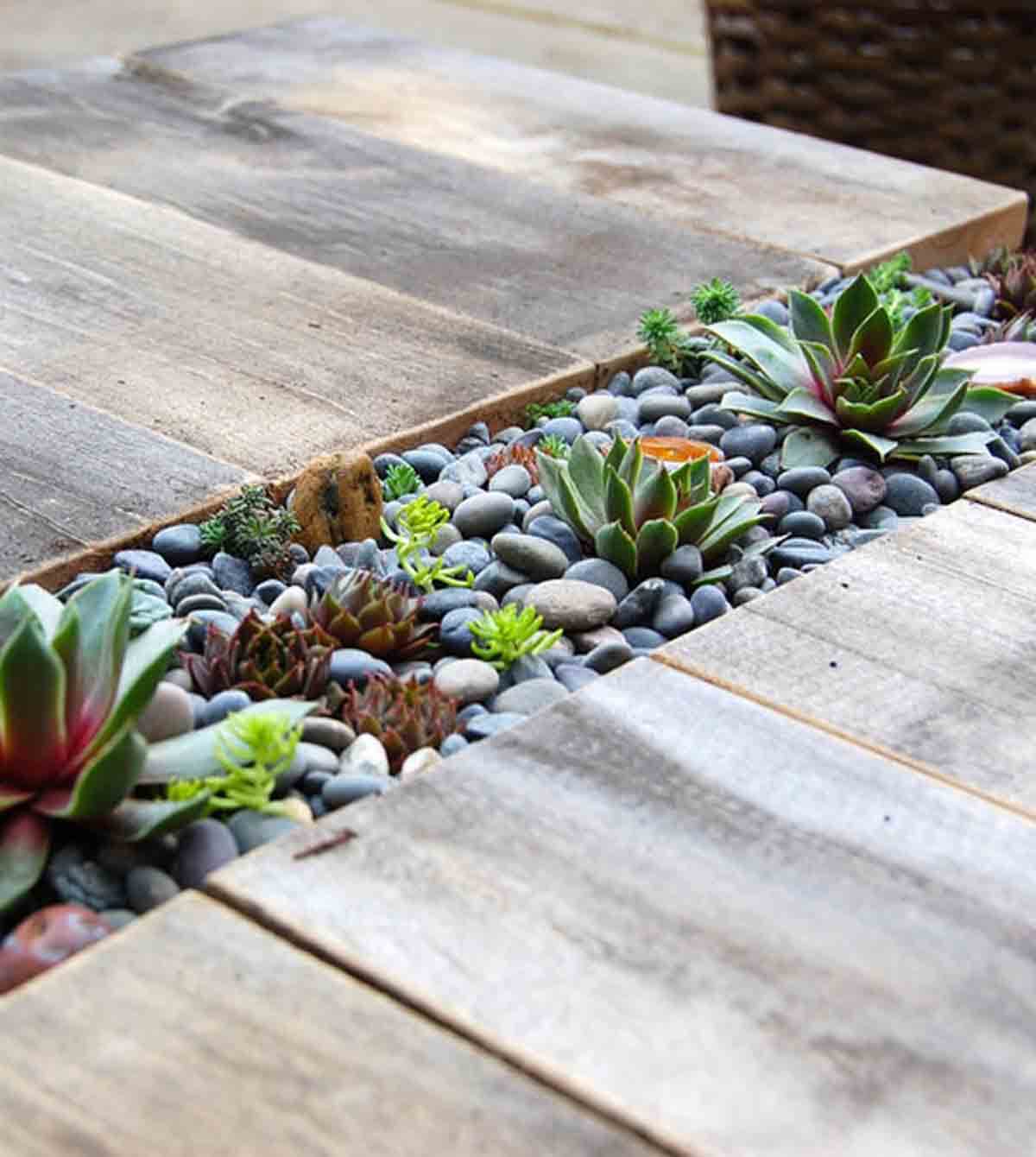 This planter is the center strip in a rustic patio side table. Each half of the top of the table was created from the two sides of a repurposed, shallow crate that was used for shipping art work. The short succulents require little care, and they create an interesting contrast in textures with the smooth stream pebbles and the weathered-looking wood. This table would fit in well with a southwestern or rustic look or with a look mixing the contemporary and the rustic.
21. Tiered Wooden Crate Built-In Planter Boxes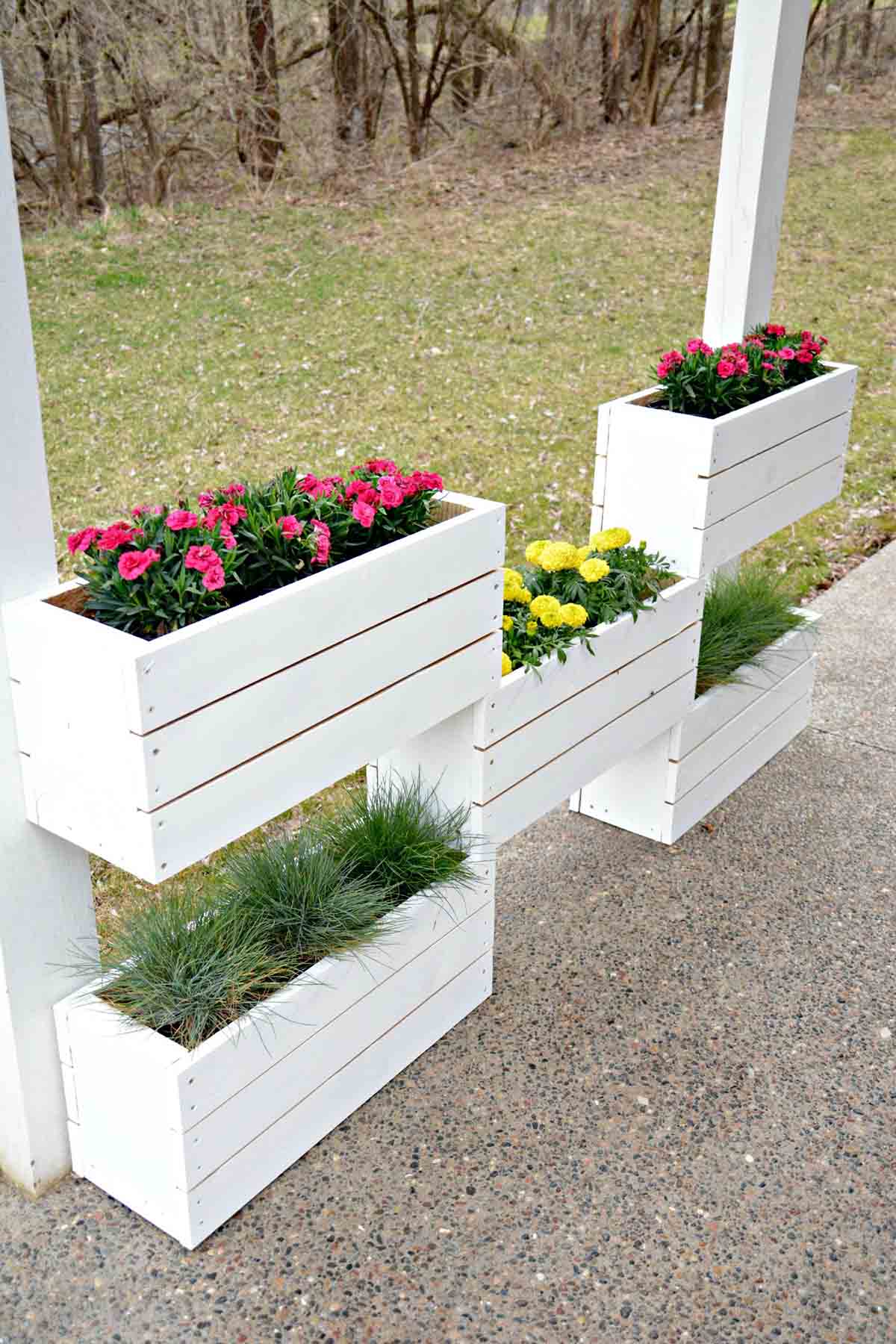 These crate-like planters are easy to create. You can mix shallow ones with deeper ones and place them in a symmetrical or asymmetrical arrangement. Fasten them to your patio or deck posts to create a railing, or fasten them to your fence posts to soften or disguise your fence.
22. Built-In Planters with Water Feature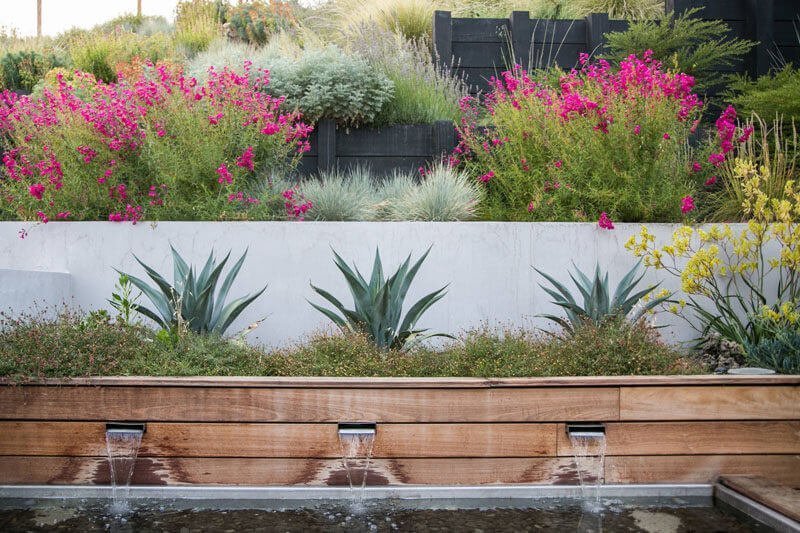 Add a pump, filter, tubing, and waterfall features to this planter, and place it beside an above-ground or in-ground pond to add the pleasant sound of splashing water to your backyard. Include fish and water plants for a soothing effect. This planter could be the centerpiece of a meditation garden.
23. Deck with Built-In Planter Boxes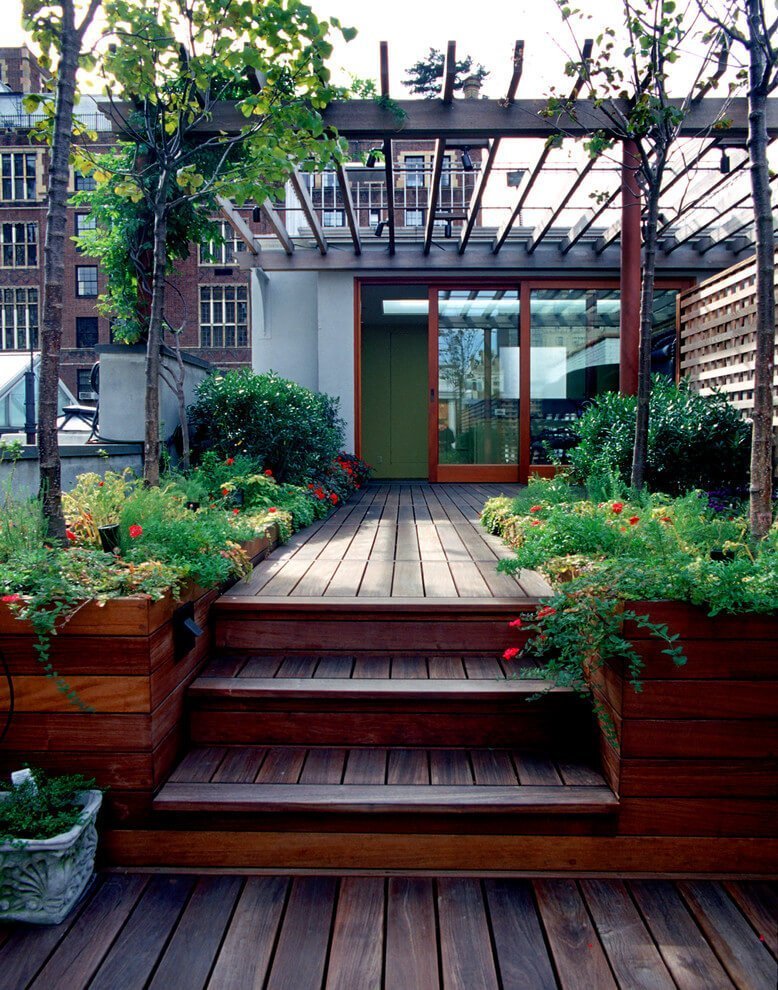 To create the look of a woodland boardwalk, place tall box planters around the sides of your deck. The planters should be just slightly higher than the edge of the deck. Add small or ornamental trees, flowering plants, and ground cover to the planters. Native woodland plants would be a particularly good choice for this look.
24. DIY Metal Tub Planter Boxes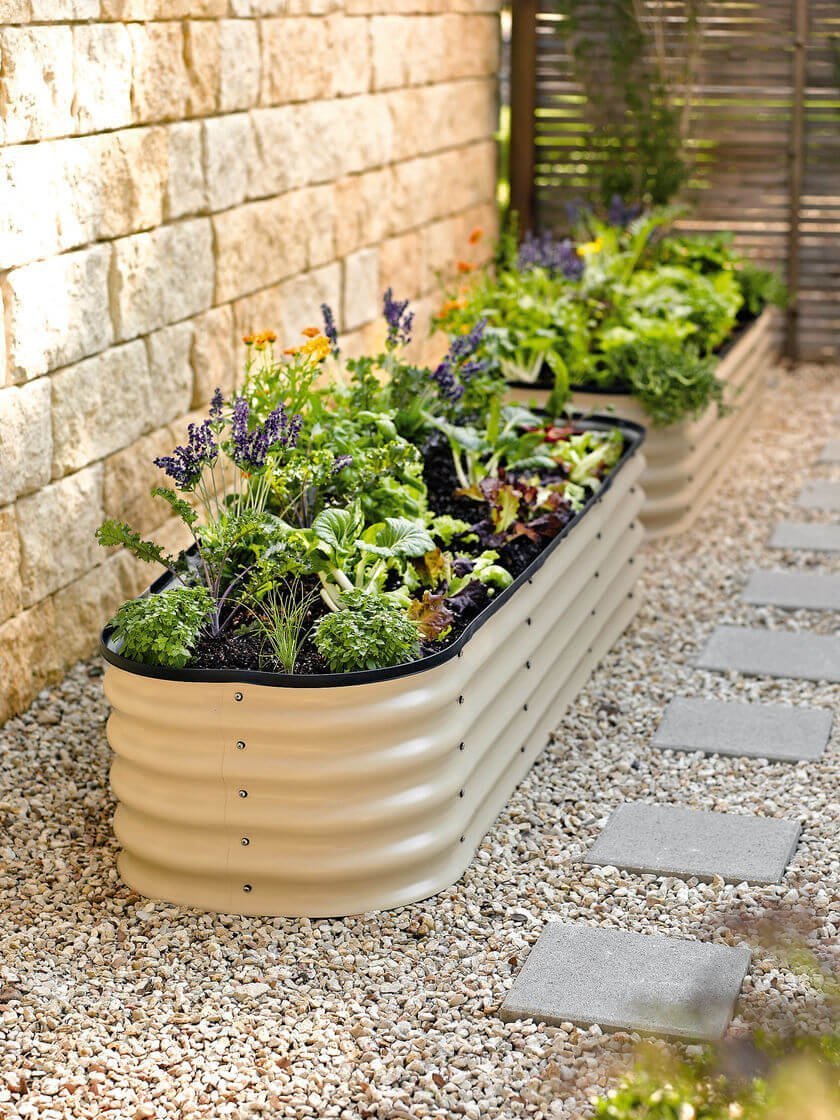 Metal tubs are a natural choice for raised-bed planters. Use old tubs if you have them, so long as you know that they have contained no toxic chemicals. If you don't have old ones, you can purchase new ones in a number of different shapes. Plant them with flowers, herbs, or vegetables. Raised beds are especially handy for those with mobility issues because they can reach the plants more easily to care for them and to gather flowers for vases or to harvest vegetables and herbs.
25. Easy Planter with Built-In Bench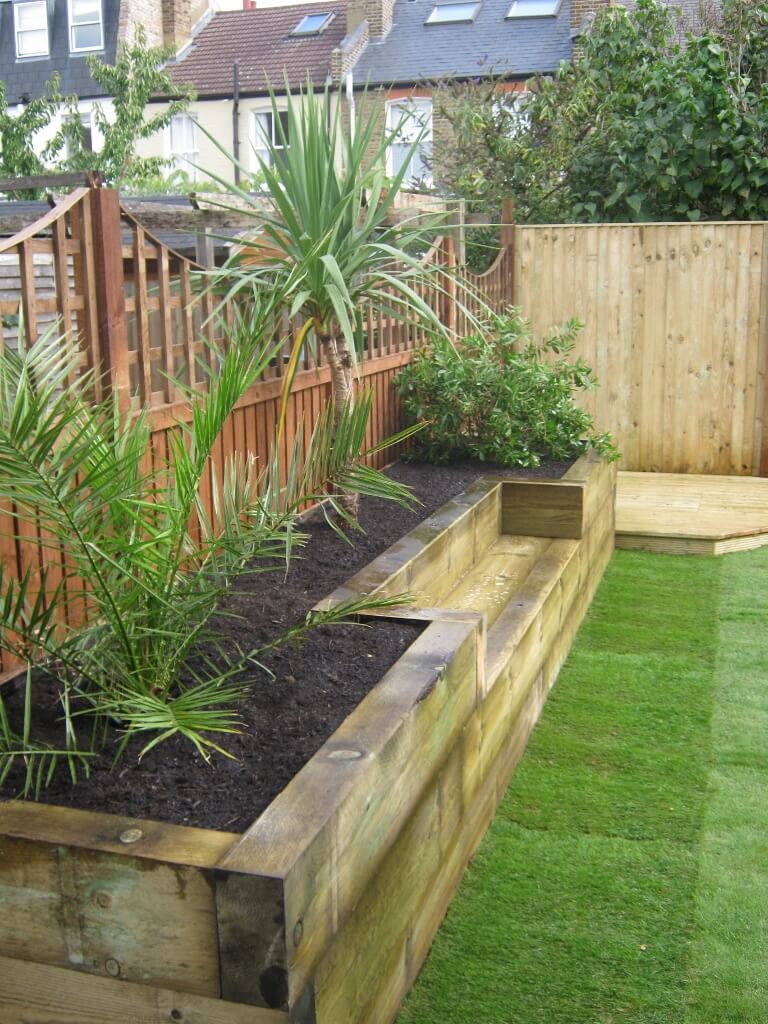 This planter with its inviting, symmetrically centered bench is made from railway ties or sleepers. Railway ties offer an eye-catching contrast in size and shape to other boards, but only use new, untreated ties for your projects. Old ties will have been treated with creosote to protect them from wood-boring insects. The US Environmental Protection Agency (EPA) states that creosote is a possible human carcinogen and is not approved for treating any wood that is intended for residential use, including for landscaping.
26. Patio with Built-In Planters and Benches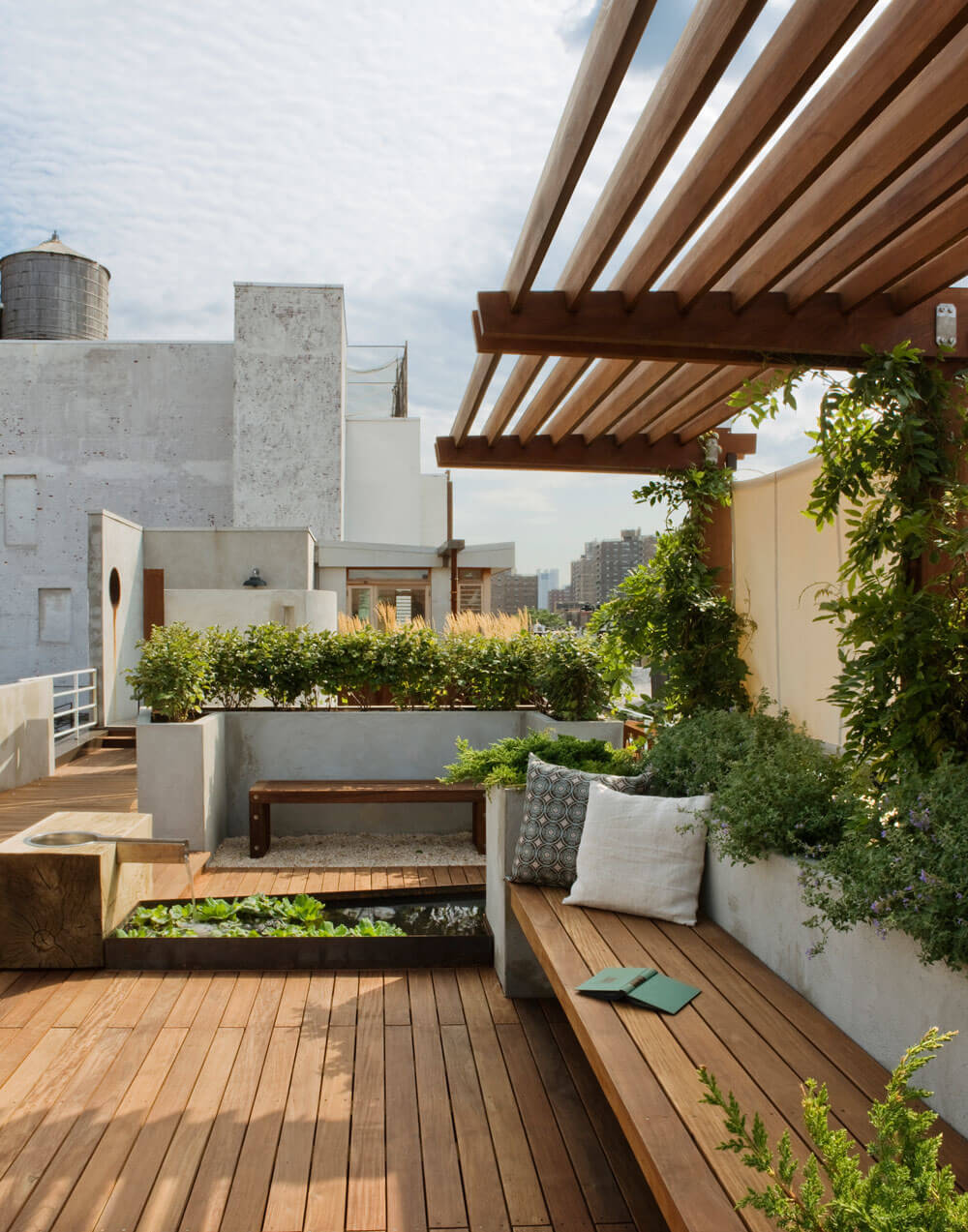 This outdoor, rooftop living space uses planters to define different areas for different uses. It features one concrete planter with a built-in bench in the foreground. A pergola with an attached window blind shades this area, and vines from the planter climb the posts. Eventually, the vines could be trained to grow across the pergola for more shade. In a meditation area in the background, another planter in a block "C" shape creates a quiet nook for a second-hand, free-standing bench that sits on a raised pebble-strewn area. The raised area is reached by a ramp. It overlooks a shallow planter that receives a cascading waterfall from a concrete and metal water feature. Pillows soften the look.
27. Concrete Planters and In-Set Grass Patches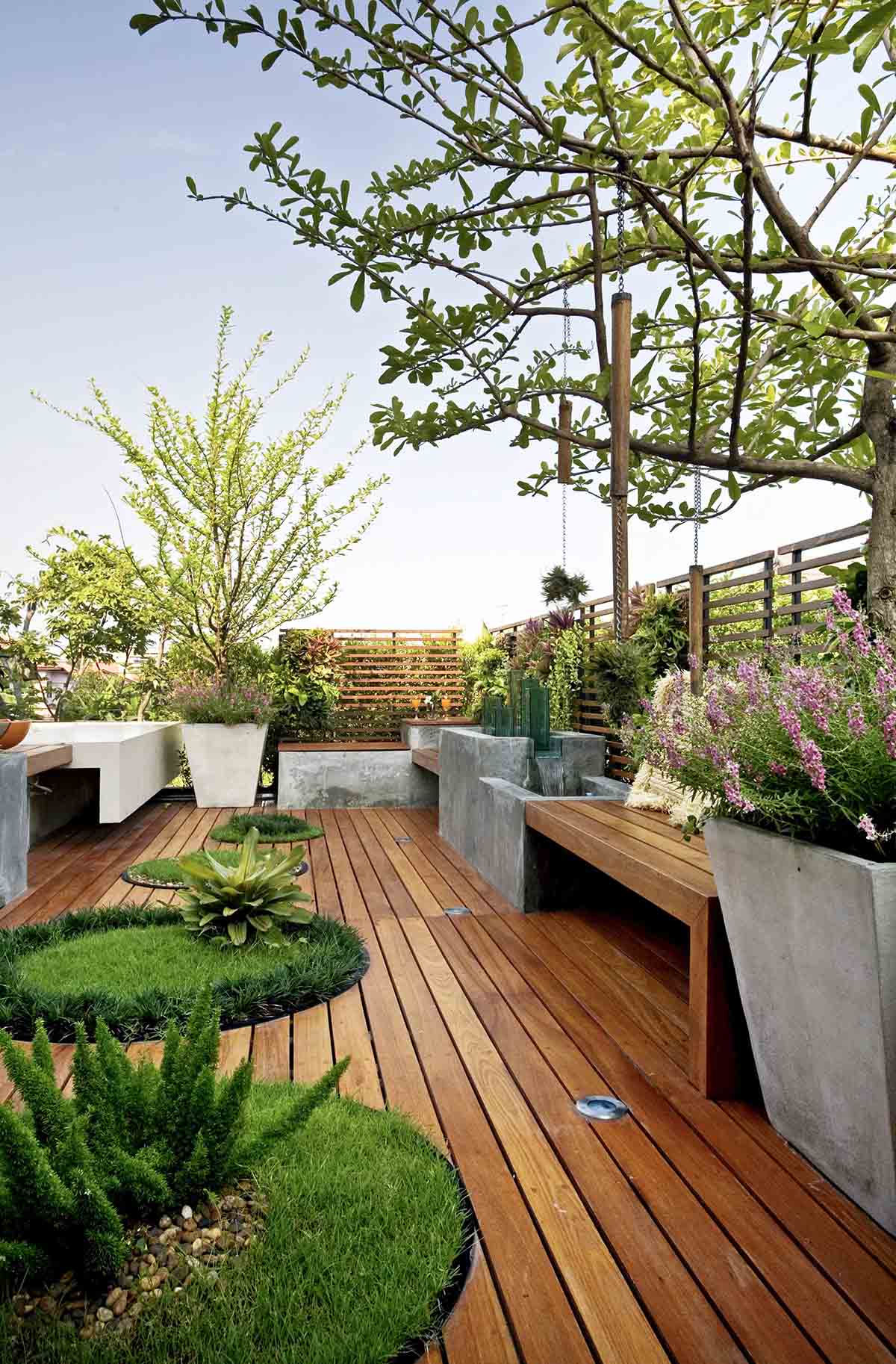 Bring your lawn up onto your roof or deck with the ideas from this rooftop garden. Cut the deck boards to leave circles, or whatever shape you like, for grassy patches of lawn. White and marbled light gray planters provide privacy with dwarf or small trees, tall plants, and vines trained to grow on trellises behind the planters.
28. DIY Wood Planter with Built-In Benches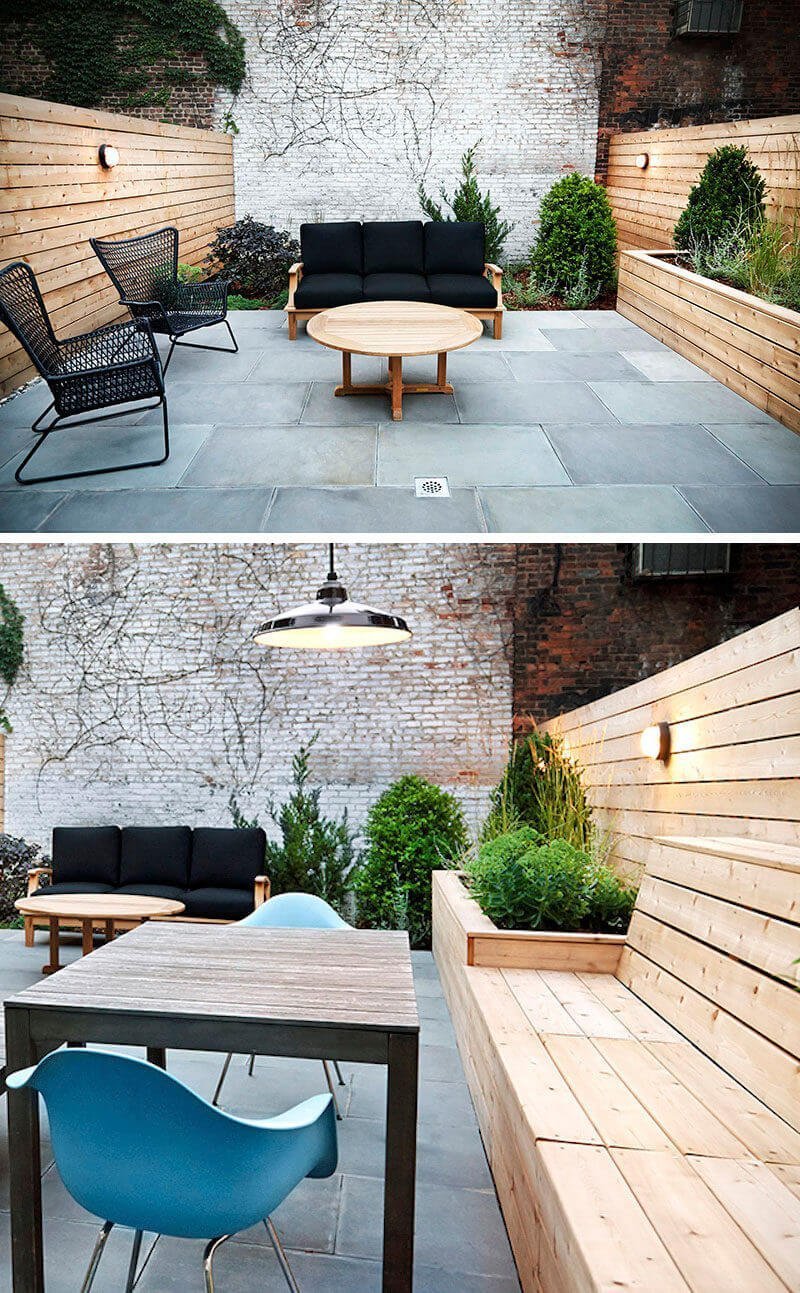 The furnishings of this patio subtly play on contrasts between light and dark and a natural, casual, rustic feel versus a sleek, modern vibe. The light-color of the varnished wood of the planters and bench and the dark wood of the table in front of it carry the rustic feel. The two black metal chairs, the two chairs with the plastic seats and chrome legs, and the hanging light strike a retro 50's feel. The light-colored, round coffee table and the light-colored wood bench with the black cushions combine the contrasting two vibes tying the contrasting looks together.
29. DIY Tiered Wooden Corner Planter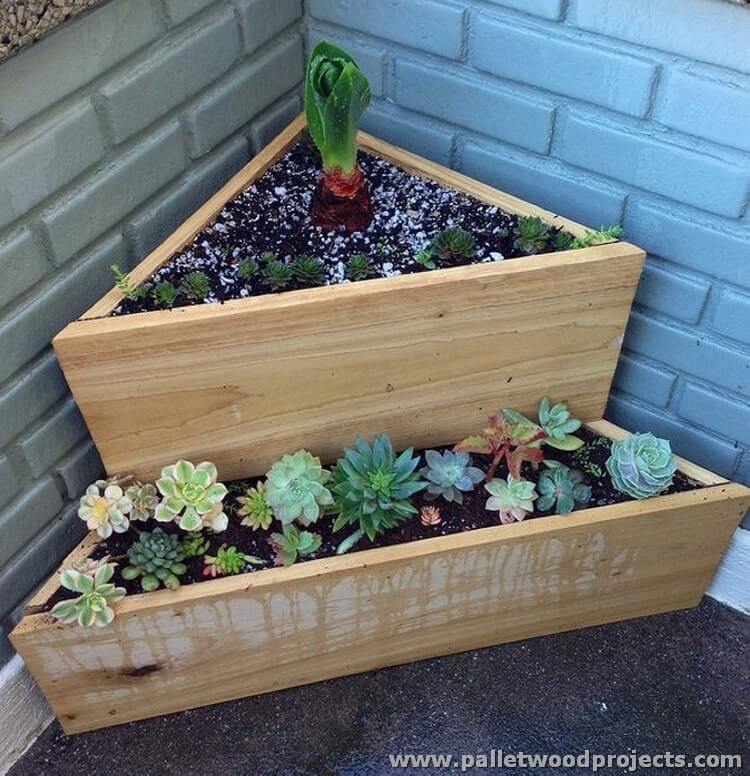 If a corner of your deck or patio looks bare and needs a little something to fill it, try this tiered corner planter. Succulents are easy to care for if you want low-maintenance plants, but tall grasses in the planter's upper section would provide an attractive backdrop for flowering plants that would add color to your corner.
30. Tiered Planter Garden With Waterfall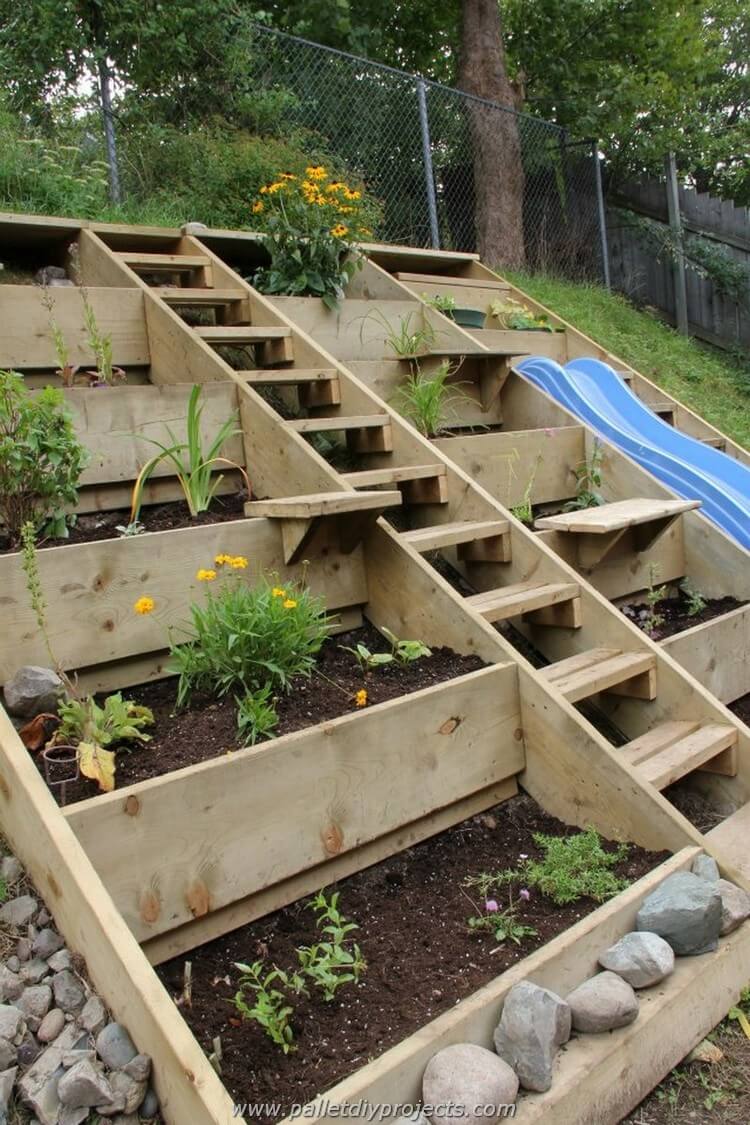 This arrangement of wood planters, steps, and a slide offers another idea for landscaping a sloping area of your property. The planters double as a retaining wall, the steps makes caring for the plants easy, and the wavy design of the blue slide suggests a waterfall while providing a play area for kids.
31. Concrete Block Corner Garden Planter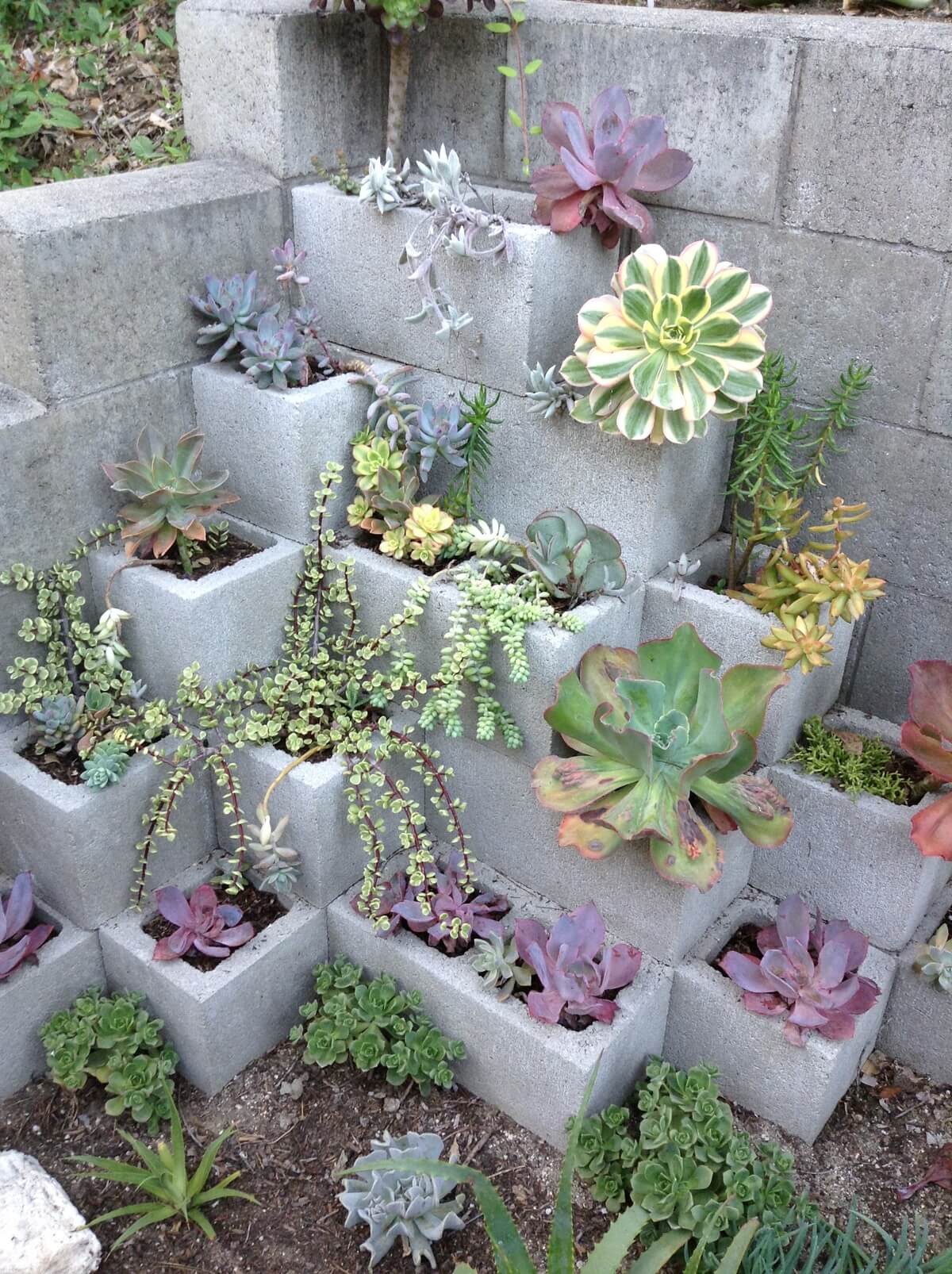 If you want an unexpected but easy-to-create statement planter for a corner of your deck or patio, stack cement blocks and half blocks into an irregular mound with a triangle as the base. Fill the holes with small pottered plants.
32. Built-In Tiered Wood Planter Boxes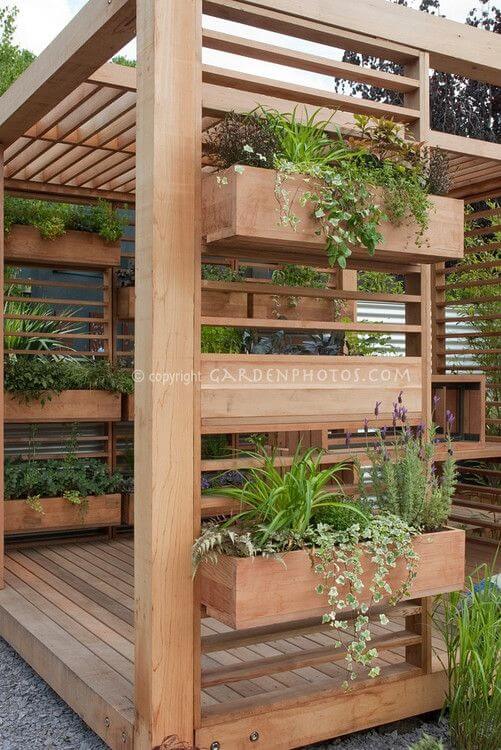 Add privacy and a vertical garden space to a pergola by alternating two or three trellis-like slats with shelving for built-in planters. Fill the planters with herbs, low-growing veggies, flowering plants, or a selection of all three.
33. Corner Planter Box with Climbing Trellis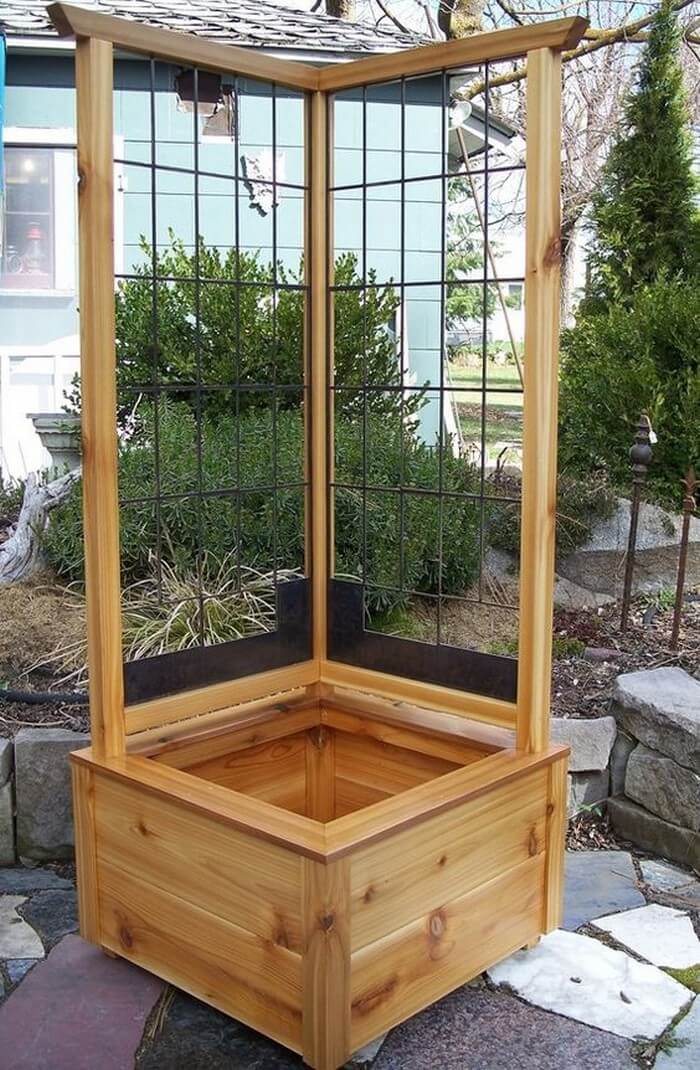 Build a square planter to sit, diamond-like, in a corner of your patio or deck, and then add a trellis to two sides of the planter. The black lattice of this trellis together with the molding of the posts and top piece suggest an oriental look, but different choices of wood, color, and shapes could create a Victorian, rustic, coastal, or sleek contemporary look.