We're always looking out for the best trends in home decor and design! We all know that color is an immensely important aspect of any design. It has the power to bring a space, or even an entire home, together and to make it feel cohesive. Color sets the tone and mood for a room. And it can also make a design feel current or dated. Color gives visual interest and personality to statement pieces. And color can be a simple way to refresh any space, by changing up just a few accents.
24 Burgundy and Red Decoration Ideas to Refresh Your Space with Style

The power of color to transform any design is astounding. That's why we are constantly watching the current color trends. And we are in love with one color trend in particular at the moment. Reds and burgundies are having their moment, and this trend is cropping up everywhere! From holiday decor to home decor, red and burgundy are making huge waves. We're here to show you exactly why this trend is one to embrace!
We've put together 24 of our favorite burgundy and red decoration ideas to inspire your creativity, and to get you to fall in love with these accent colors as much as we have!
1. Burgundy Fall Decorations that Transition into Winter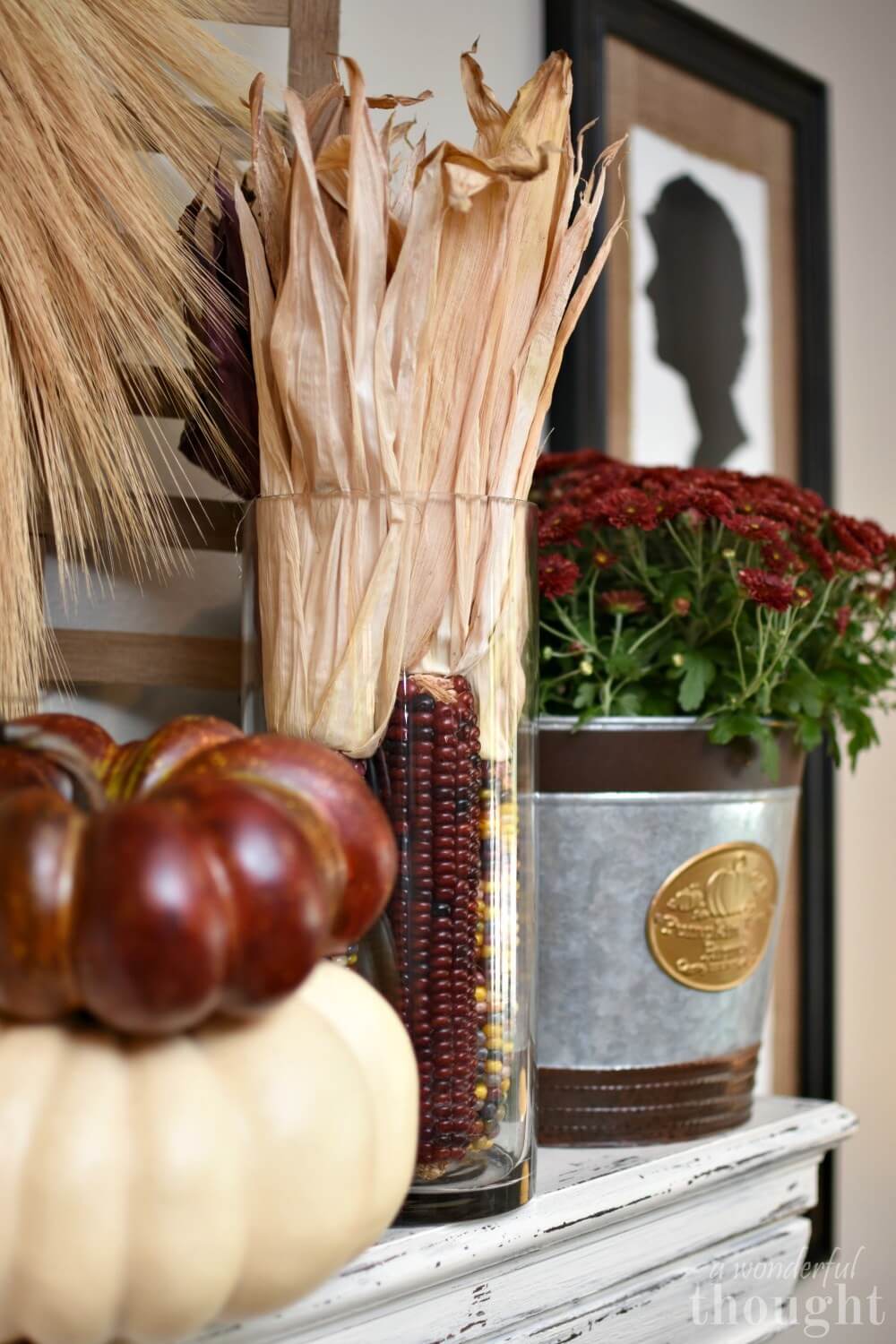 The burgundy hues in these pumpkins, mums, and decorative corn are the perfect way to transition any home's decor from fall to winter. It's a tricky thing to do well, but this look nails it! The deep red tones are offset by the light pumpkin, cornhusks, and white mantle lending a needed contrast.
2. Ornaments Decorate More than Just the Tree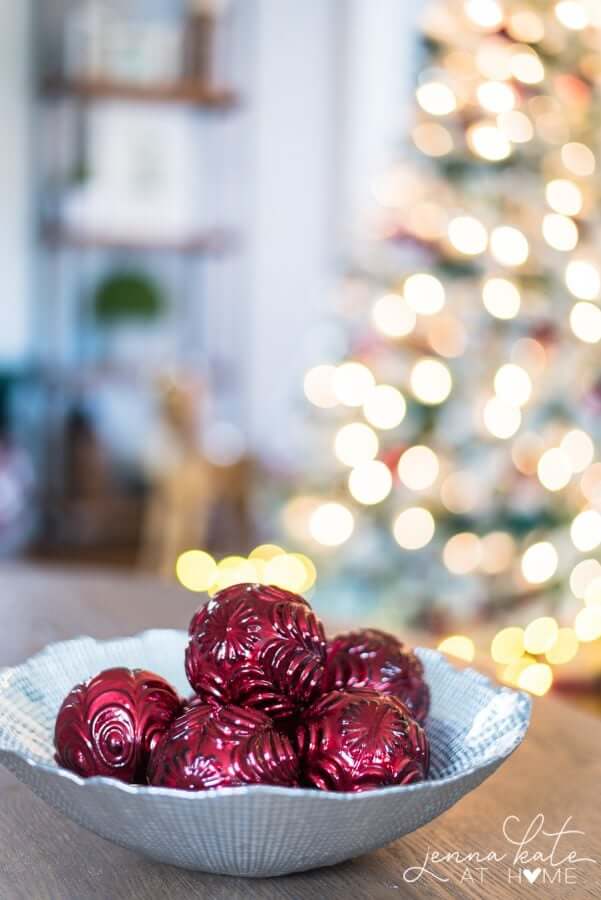 Ornaments are one of the simplest ways to bring holiday cheer into the home. Don't limit them to the tree. Place ornaments anywhere! They can go on the mantle, in a clear vase, or in a decorative bowl on a coffee table. These crimson ornaments give an air of elegant whimsy perfect to complete any space.
3. Vintage Looks that Still Feel Current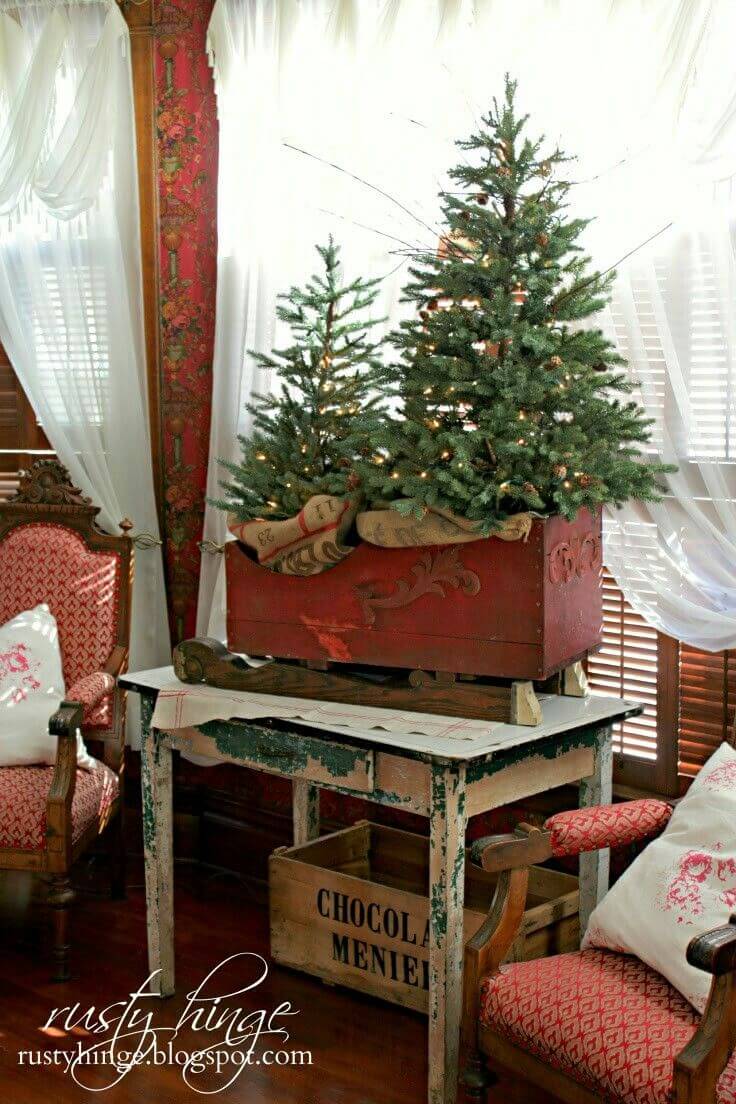 The tones throughout this space give it a rustic vintage feel. Bright classic reds throughout the room invoke images of holiday postcards. The unexpected twist of not one, but two minimally decorated trees nested in a vintage sleigh and displayed on the table is the perfect surprise to keep this look current.
4. Christmas Porch Decorations that Wow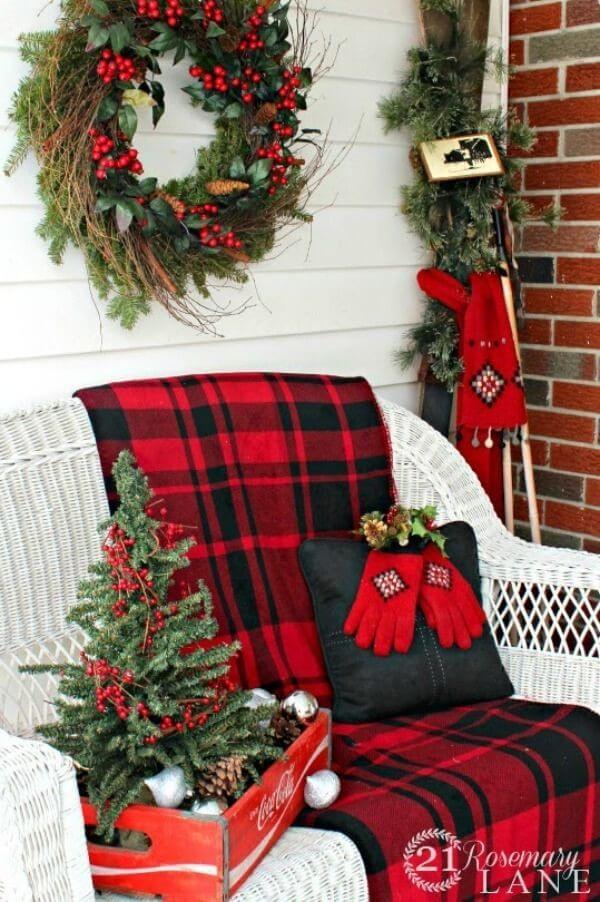 Cozy plaid blankets, warm festive knitwear, holiday greenery, and vintage touches welcome everyone who comes to the door. This festive corner looks snuggly enough to cuddle up and watch the snow fall. Make brilliant colors pop against a snow white backdrop like this porch, and you will be sure to stun any guest.
5. DIY Repurposed Red Mason Jars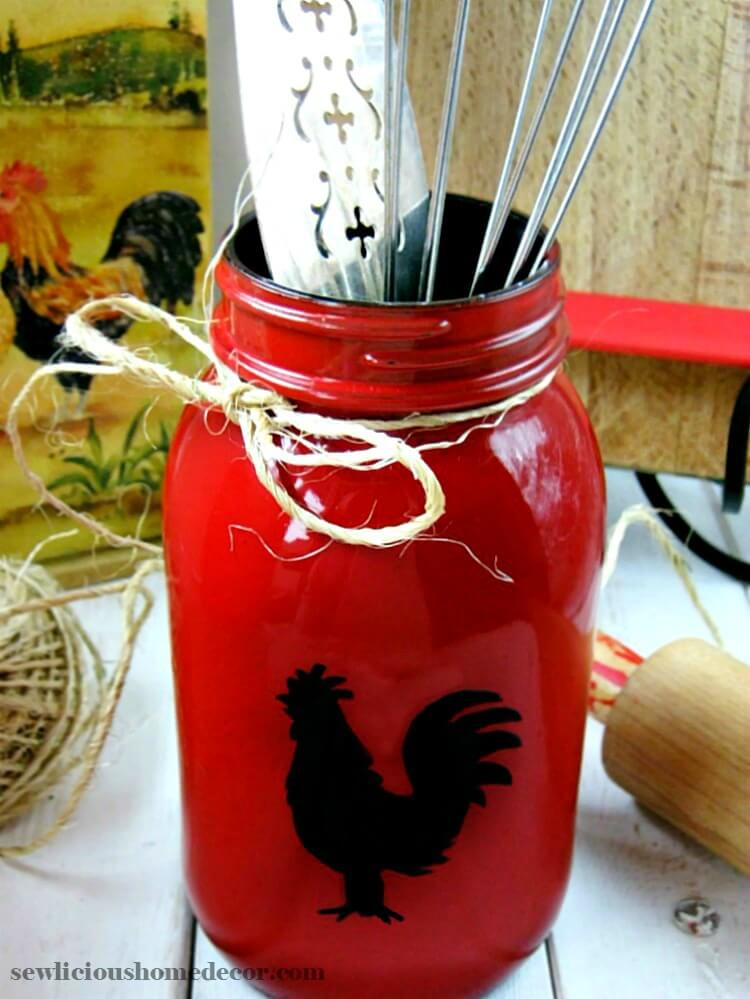 Mason jars have become a staple of home decor. Chances are you already have a few of these lying around in your pantry. Give them just a little facelift, and they can bring the perfect pop of color and practicality to any room. Just add a coat of bright red paint and a simple stencil design to any jar to get this look.
6. Make a Bold Statement with a Showstopping Chandelier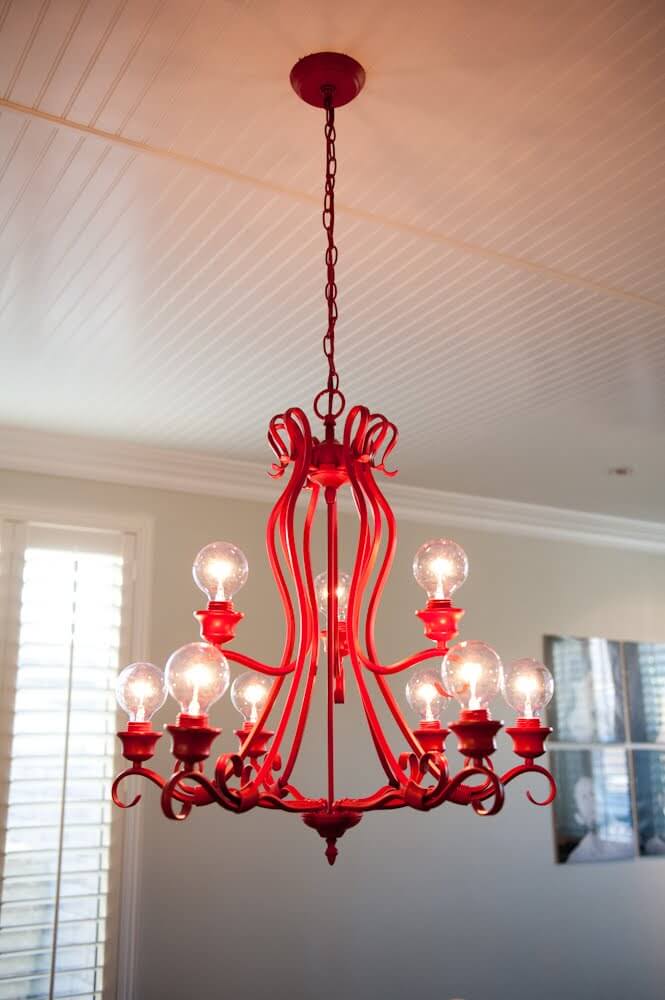 Chandeliers are the perfect way to add pizzazz and personality to any room. The best part is that there are so many styles to choose from! Add unexpected flair to your space with a red chandelier. A simple DIY update can elevate a thrift store or garage sale find. Red paint and exposed bulbs make this chandelier a playful and eclectic statement piece.
7. Simple Red Accents Warm this Space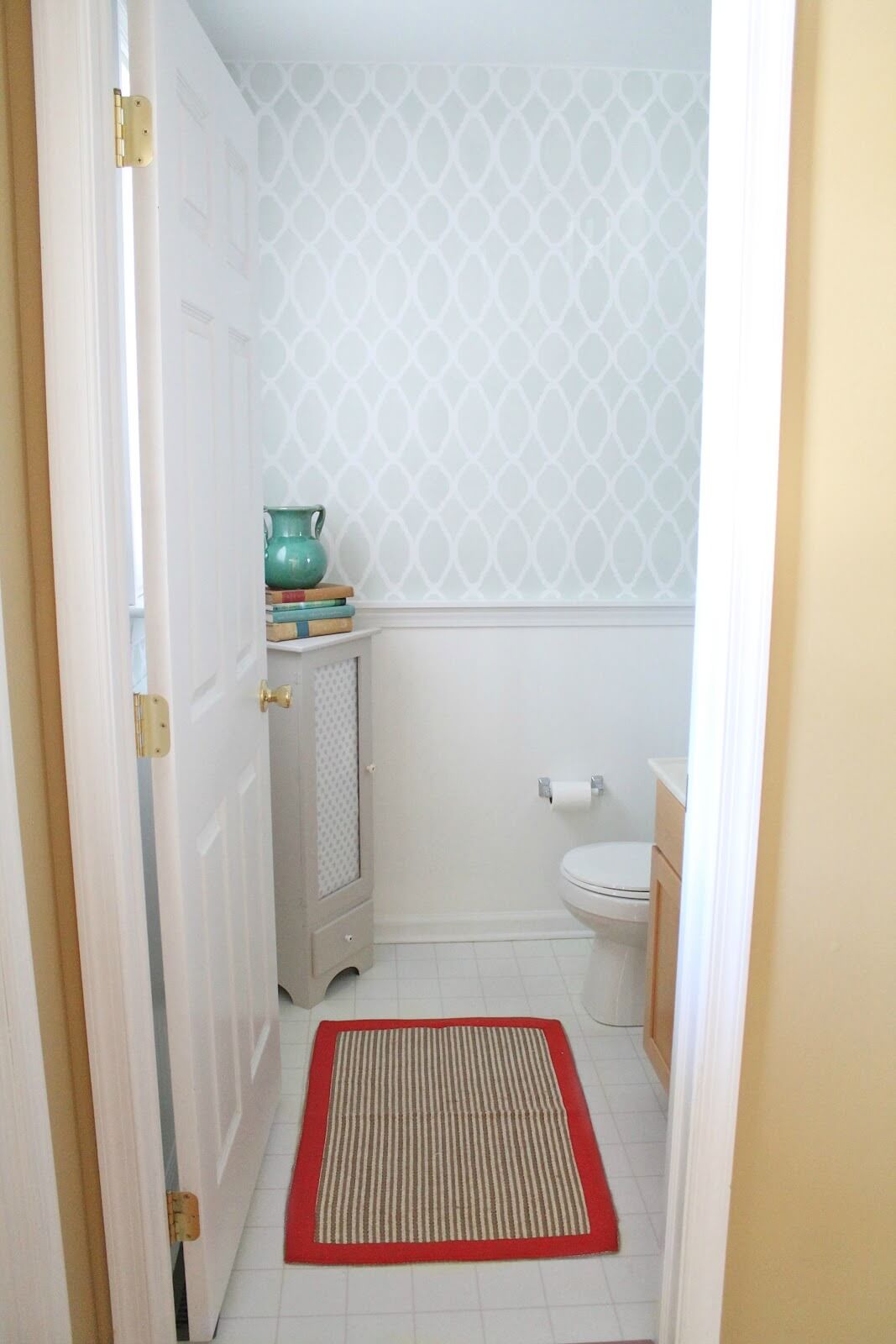 Incorporating red in your decor doesn't have to be overpowering. Simple details can be just the right touch. This is one of the easiest burgundy and red decoration ideas, and it's the perfect example. A red-bordered rug completes the look in this modest and elegant bathroom. If you're not sure what decorating ideas to use, remember that you can always keep it simple!
8. Cranberries and Greenery are a Classic Pairing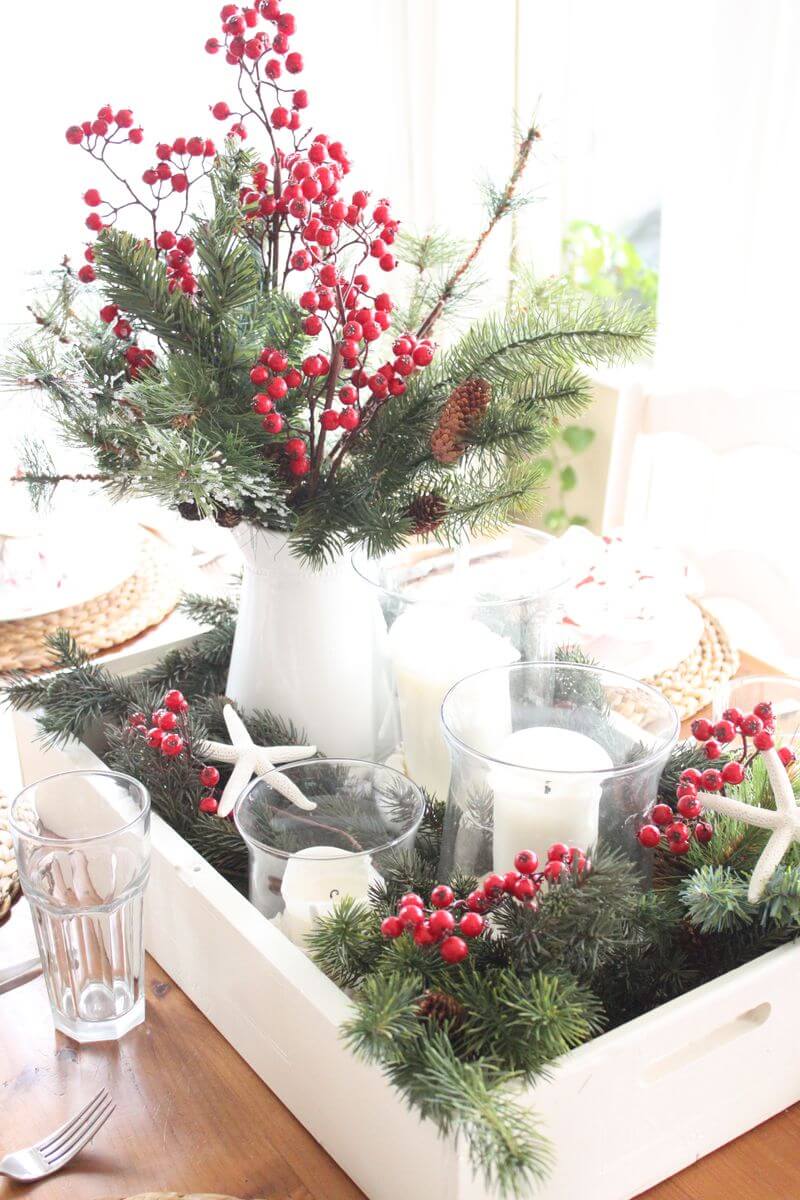 Holiday decorating can be intimidating, but it doesn't have to be! With a few classic staples, you can add plenty of cheer to any spot. A favorite idea is to add cranberries to holiday greenery. This simple trick brightens up a space, and you can add these beauties anywhere and everywhere!
9. Burgundy Woven Knit Rugs Keep Things Cozy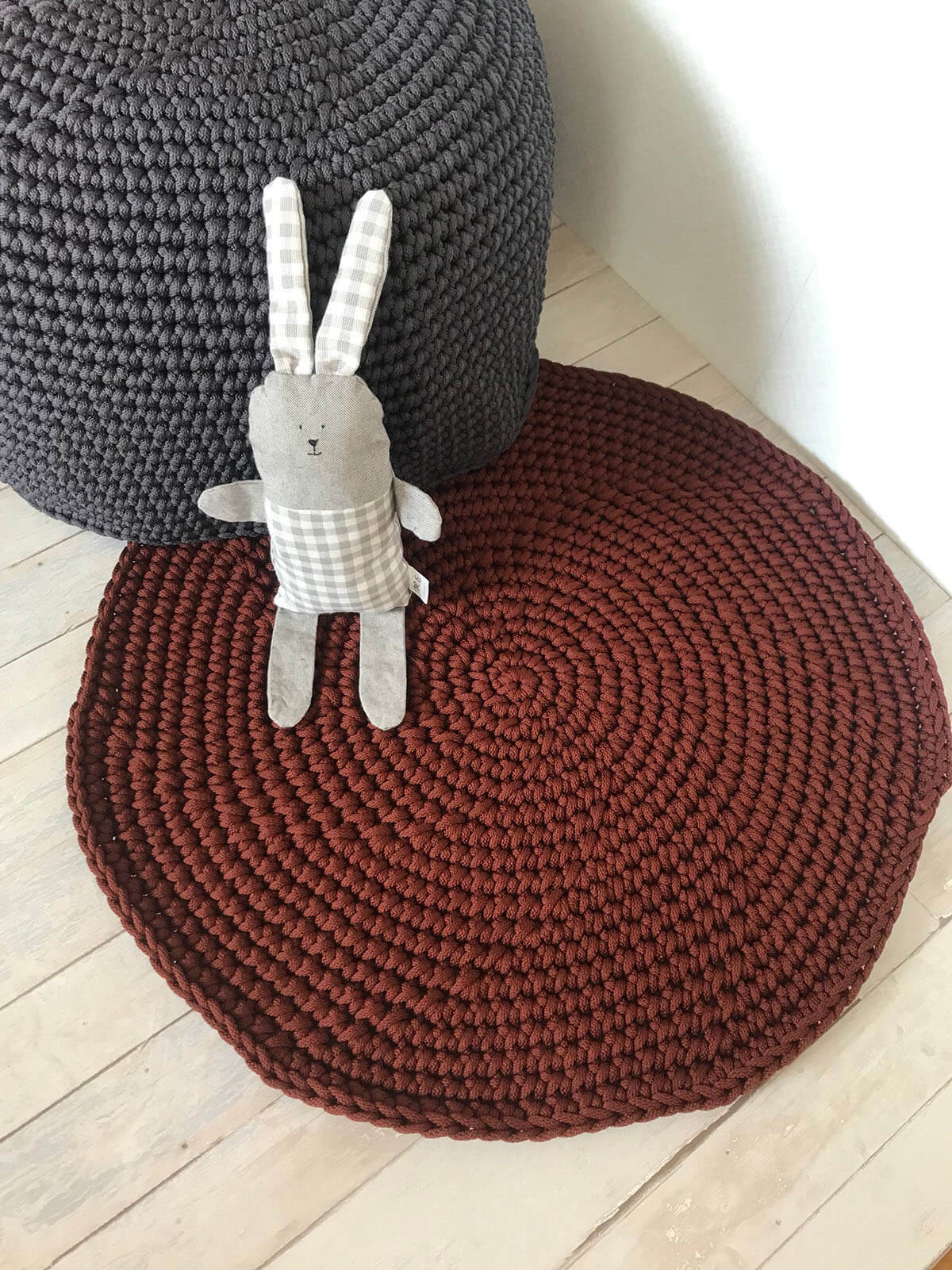 Coziness is all the rage right now. The Danish concept of hygge has made massive impacts on lifestyle and design recently. Especially in the winter months, it is the perfect trend to embrace in your home decor. This burgundy woven knit rug brings all of the cozy hygge vibes in a rich and unexpected shade.
10. Make Things Personal with Handmade Wall Art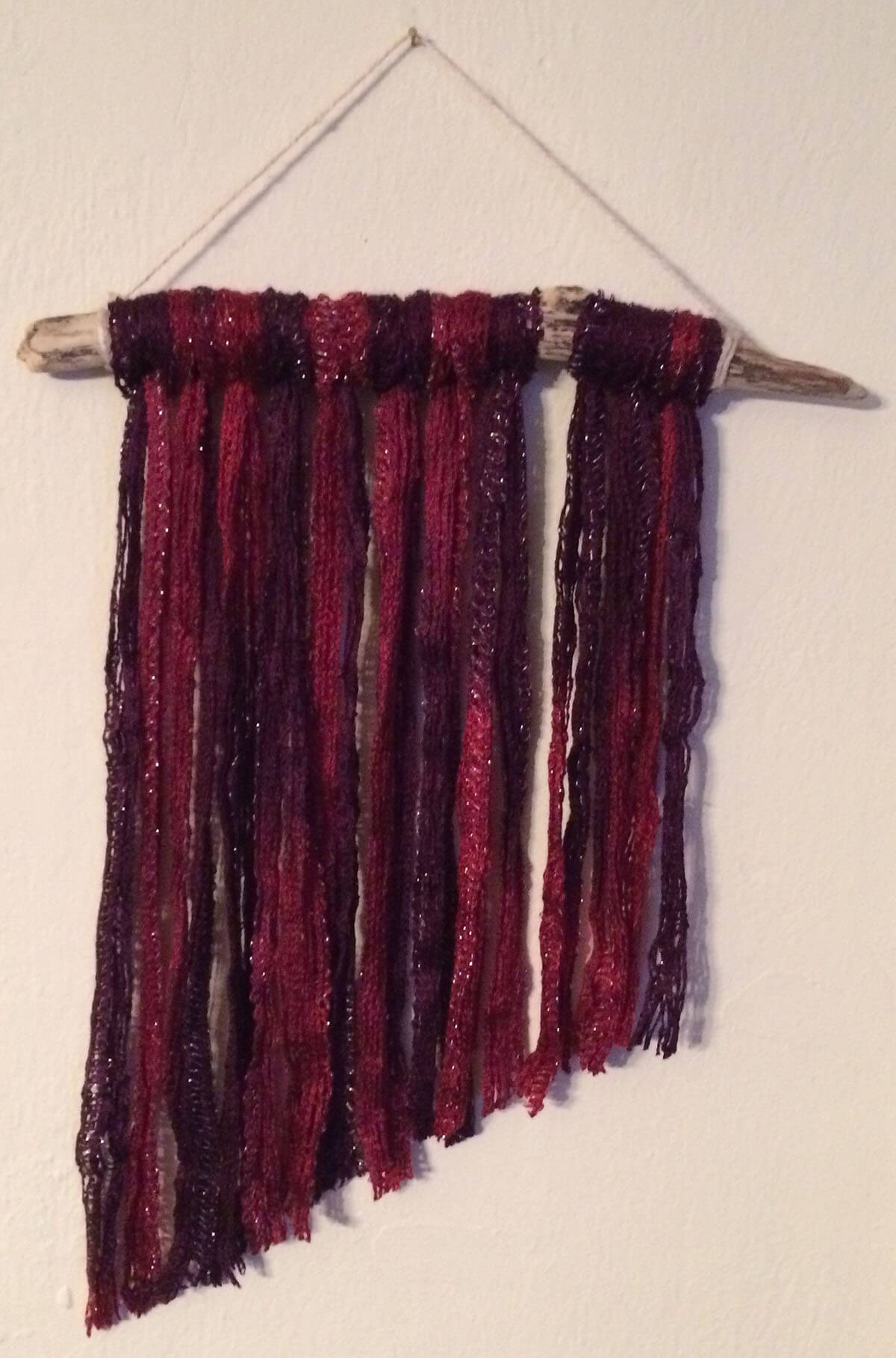 Every room needs a touch of handcrafted goodness. Wall art like this is the perfect way to show off your personality. Bohemian vibes combine with the modern burgundy decorating trend to make this piece shine. Display it as part of a larger gallery wall, or give it plenty of space to make its own bold statement.
11. Carve Out a Cozy Corner Anywhere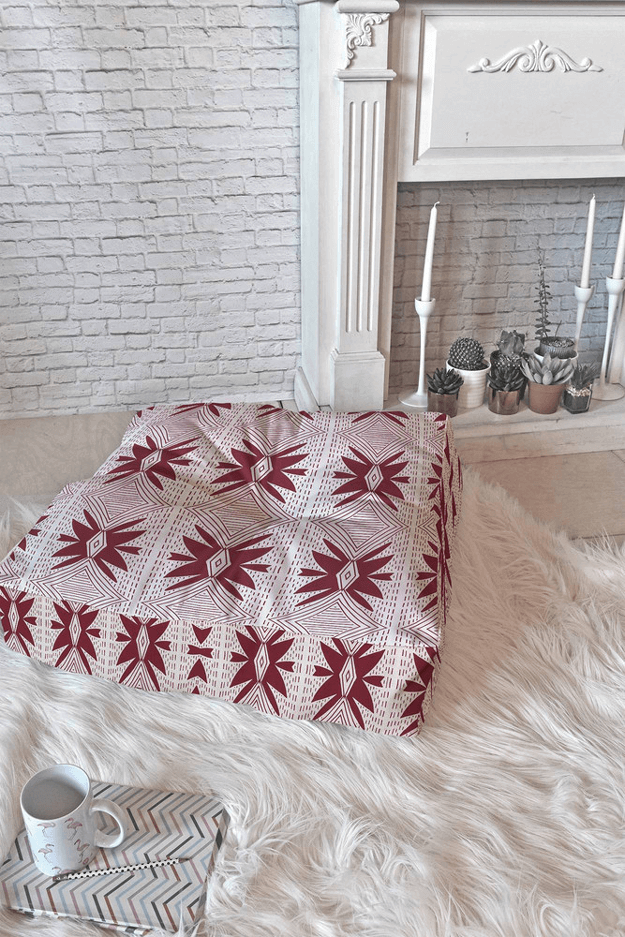 Does it get any cozier than this? If you want to embrace the hygge trend fully, you can make any space feel positively Danish with lots of texture and plenty of light whites, greys, and neutrals. What makes this space really pop is the single accent of burgundy in this gorgeous patterned floor cushion. Who wouldn't love to cuddle up here?
12. Vibrant Flowers Complete Your Decor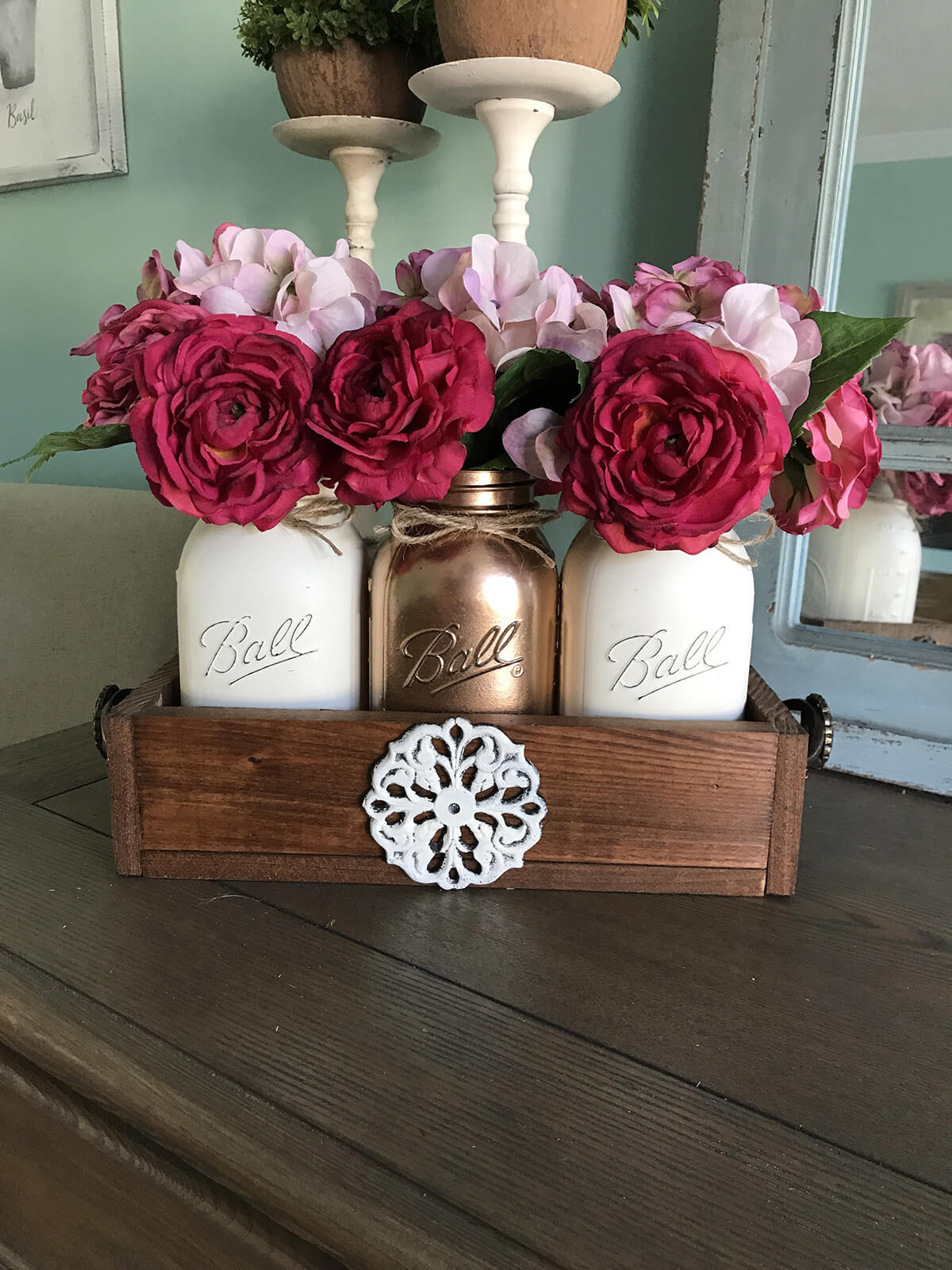 This is one of the simplest burgundy and red decoration ideas we've seen. The vibrant hues in these flowers punch up this gorgeous table. Keeping them in painted Ball jars makes them easy to display in this beautiful handcrafted box. Keep them all together for that 'wow' factor, or split them up throughout your home for a consistent feel. Either way, you'll want to use them again and again.
13. The Perfect Everyday Red Centerpiece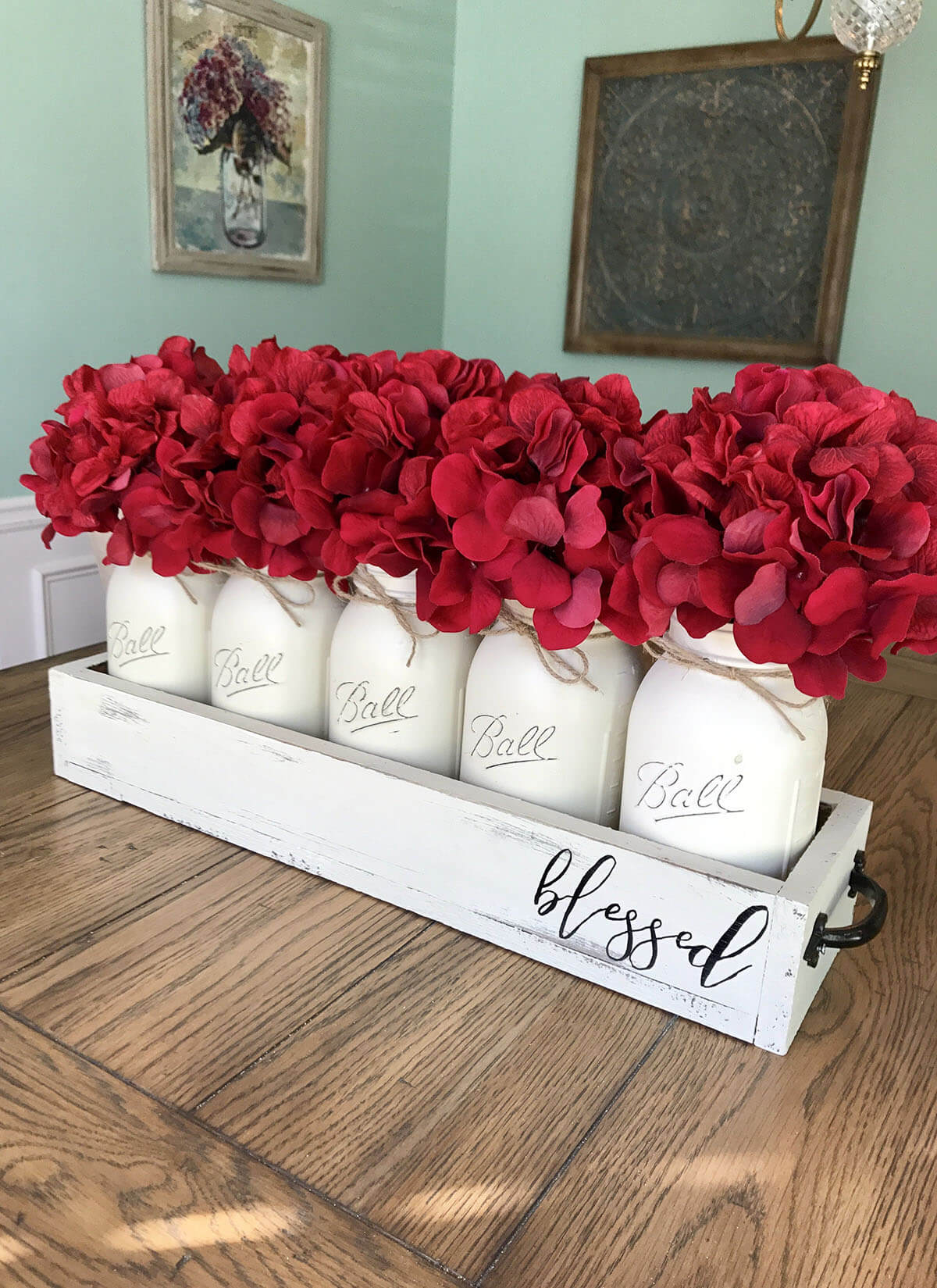 Looking for a showstopping centerpiece that can quickly be moved out of the way at family meals? This is the perfect piece! The bold red flowers command attention, and the simplicity of the white jars and box is just the right contrast. This centerpiece even has convenient handles, so it is easy to move.
14. Get Romantic with Illuminated Rose Letters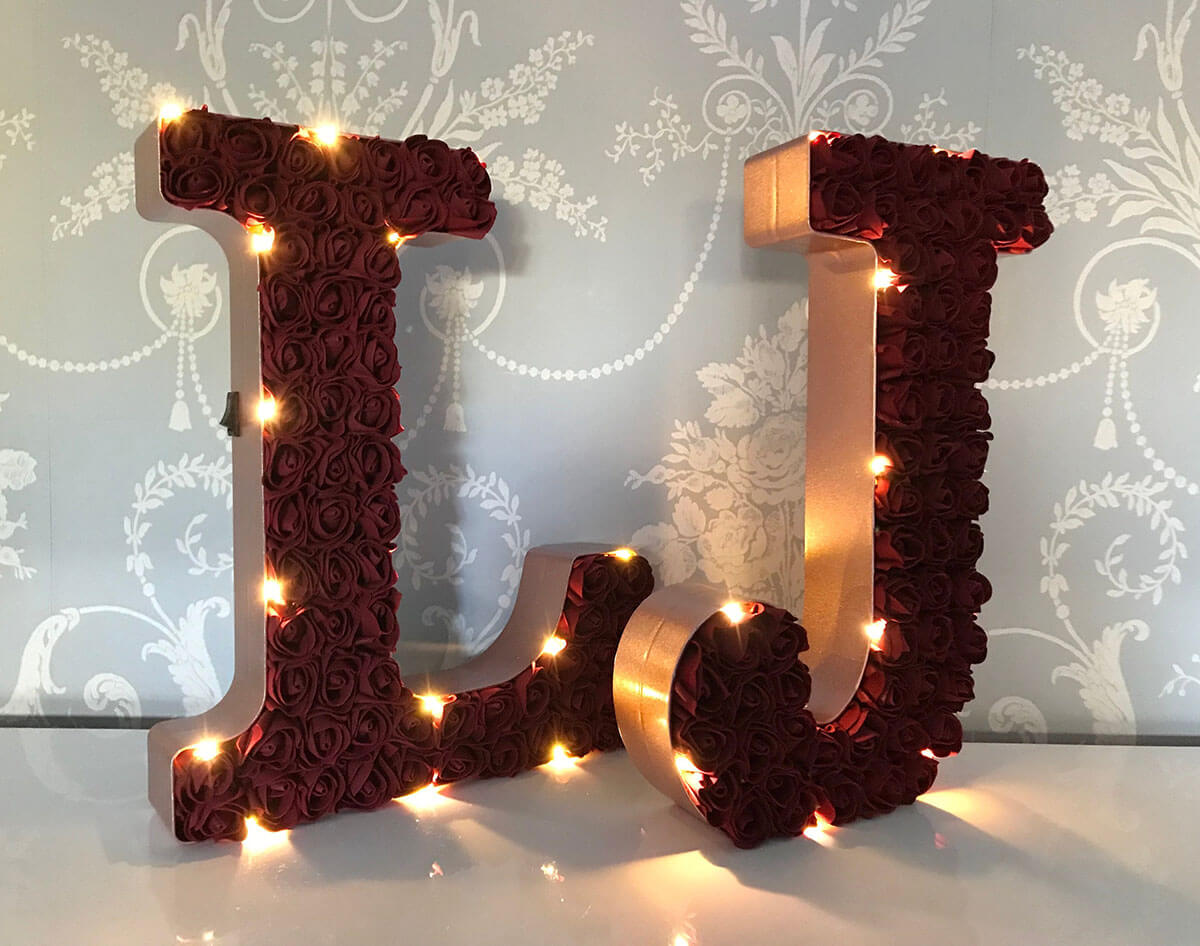 Decorating with letters has become a popular trend. Easily add a personal touch to any room with just a few decorative letters. Take this look to another level with the metallic opulence, romantic roses, and soft glow from these lights. Bring the passion into your space!
15. A Burgundy Sheepskin Rug Adds Luxury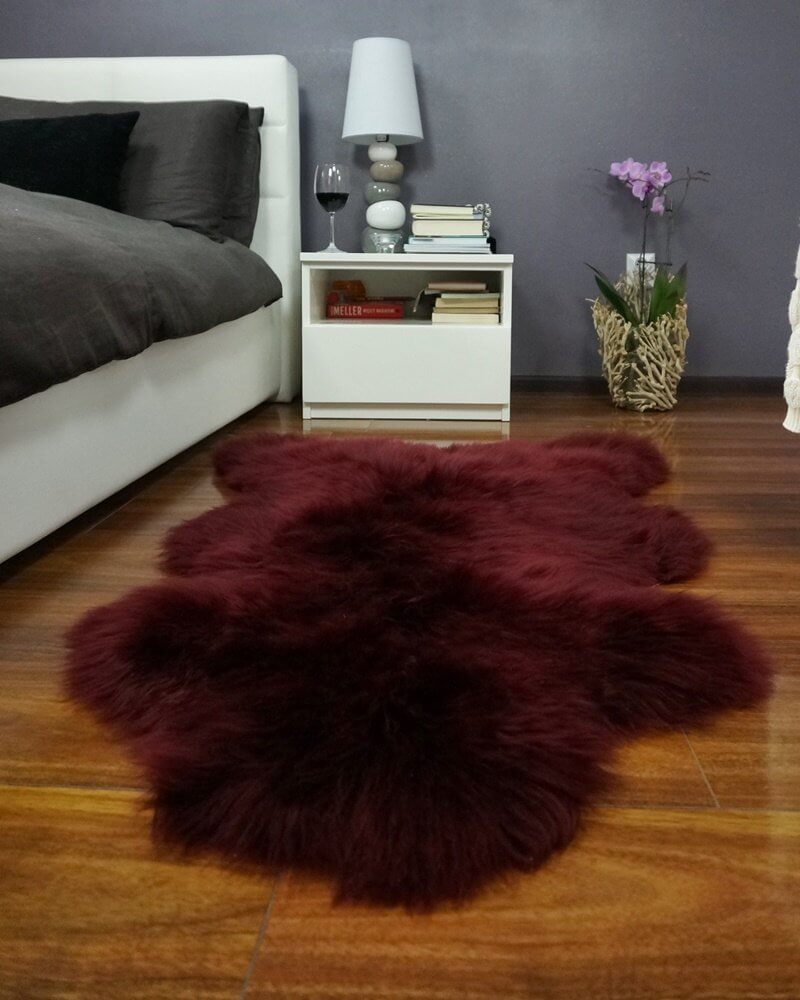 Another of our burgundy and red decoration ideas is this stunning look that creates an unexpected twist in this modern bedroom. A sheepskin rug always looks and feels luxurious, but when it's this beautiful deep hue, it's even more striking. Just one piece adds texture, warmth, and visual interest to any design.
16. Maximize a Small Bedroom with Color and Pattern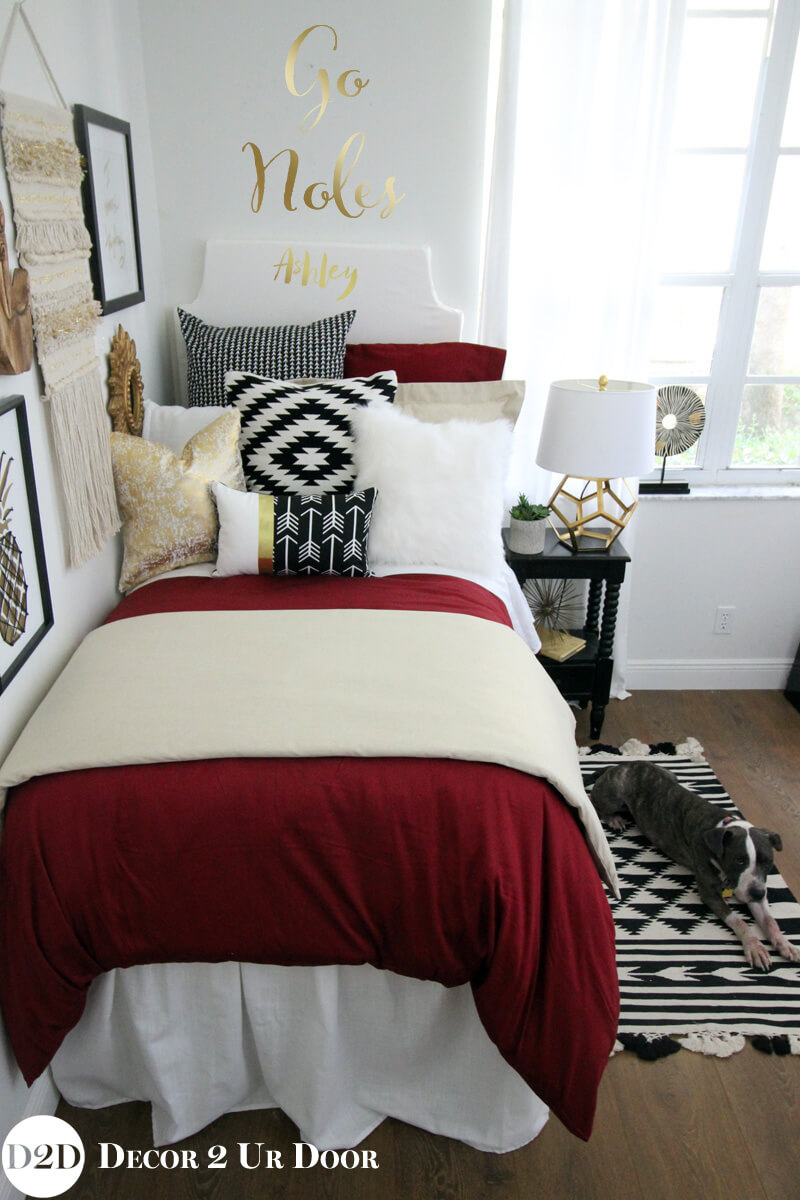 The trick to designing a stunning small space is to saturate it with visual interest. This eclectic bedroom is proof that you don't need a ton of space to make a huge impact! Plenty of patterned prints full of black and white contrast set the backdrop for gorgeous deep burgundy tones and gold accents. Just enough neutrals to give the eye a slight rest complete this look.
17. Farmhouse Inspired Red Floral Sconces/h2>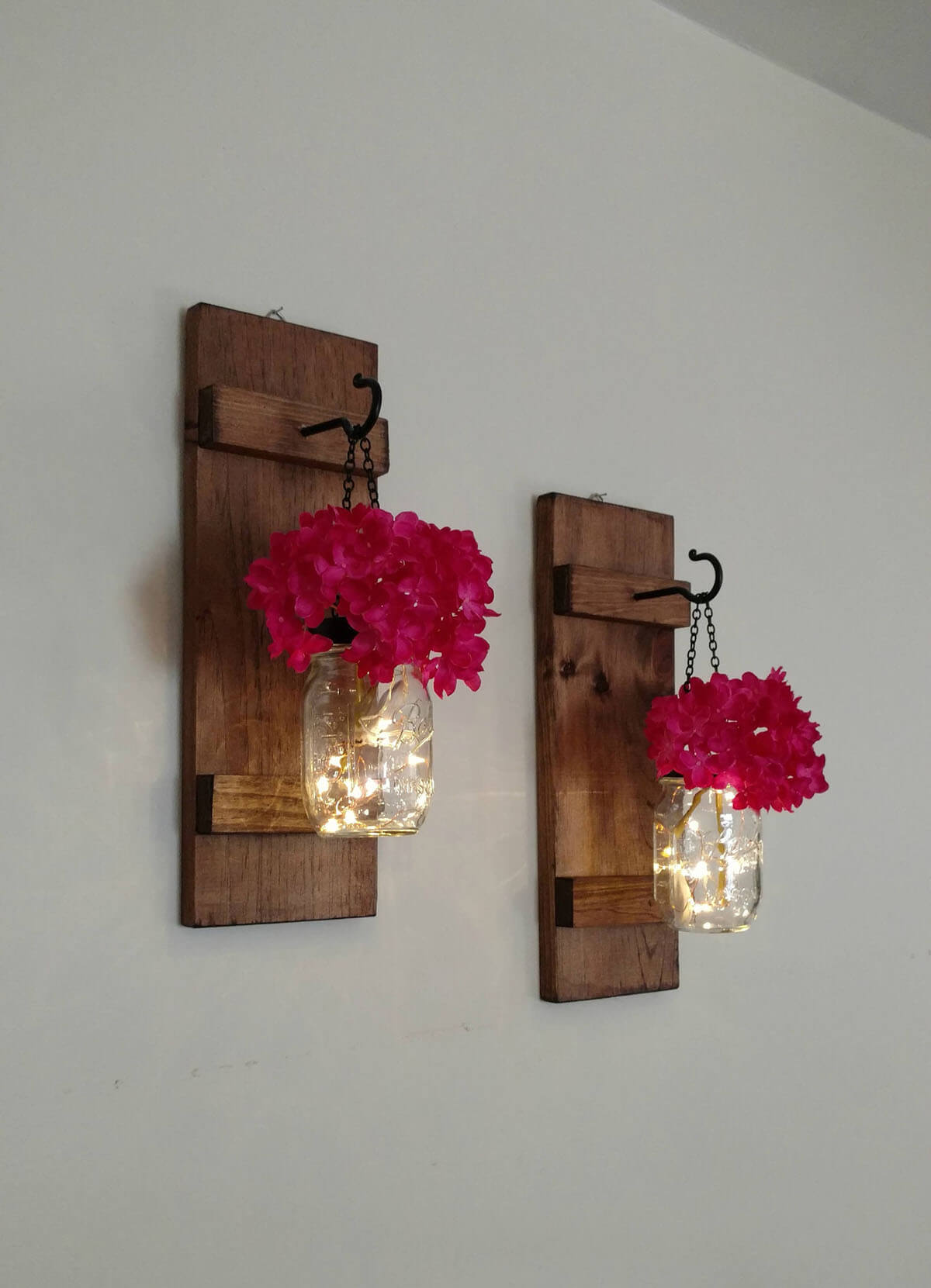 Wall sconces are a great way to add extra illumination to a room. These two bring tons of farmhouse charm and just a pop of color! The slightest glow from the fairy lights adds soft light. Easily swap out flowers to refresh your space for any season!
18. Oversized Utensils Create Country Charm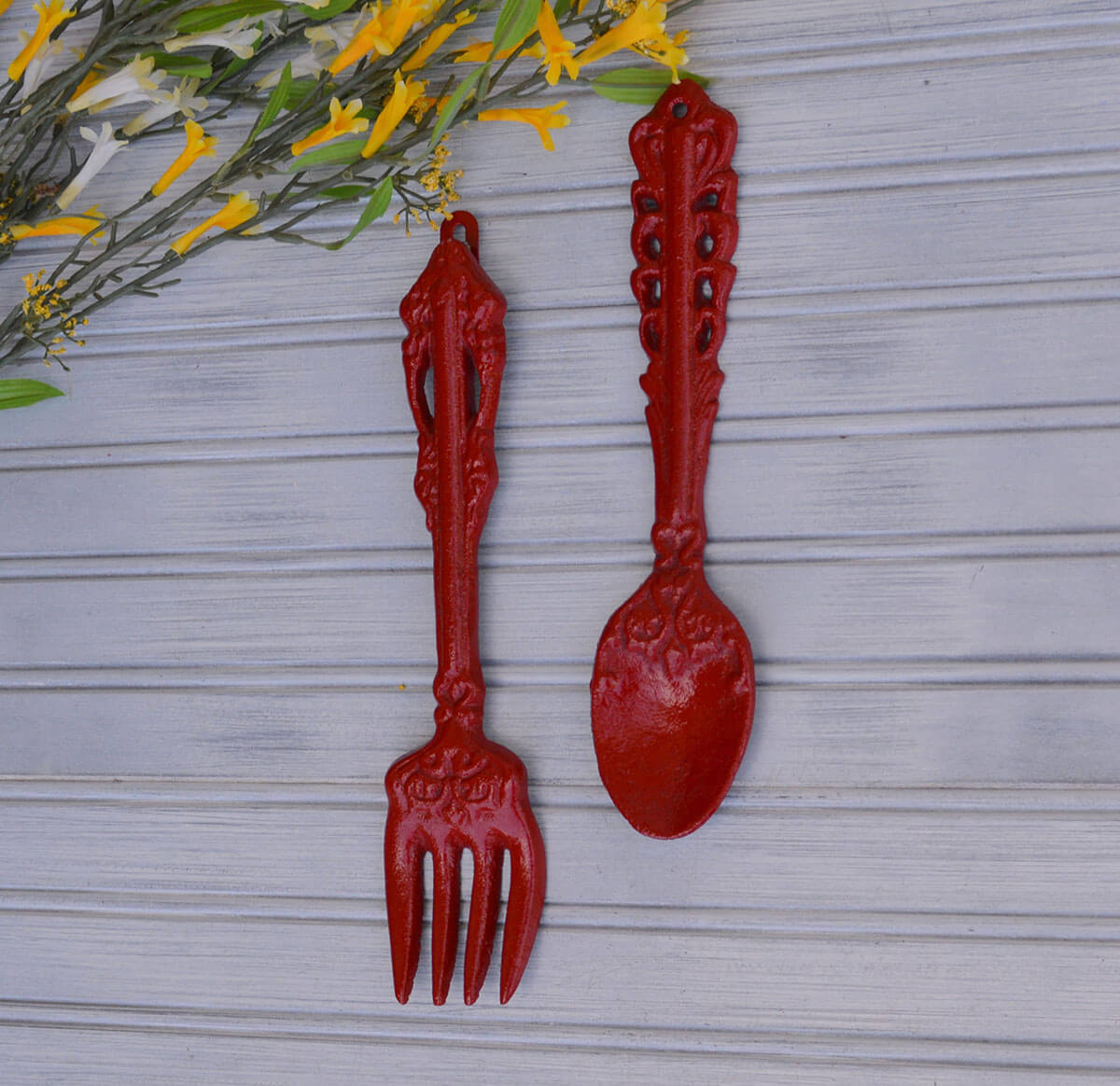 Statement pieces give your decor loads of personality. These quirky oversized utensils make a bold statement when mounted on a wall. Add welcoming country charm to your home, and keep things current with a modern color palette. These are a perfect focal point to add to your farmhouse-inspired space.
19. Ornament Wreaths Create Glamorous Cheer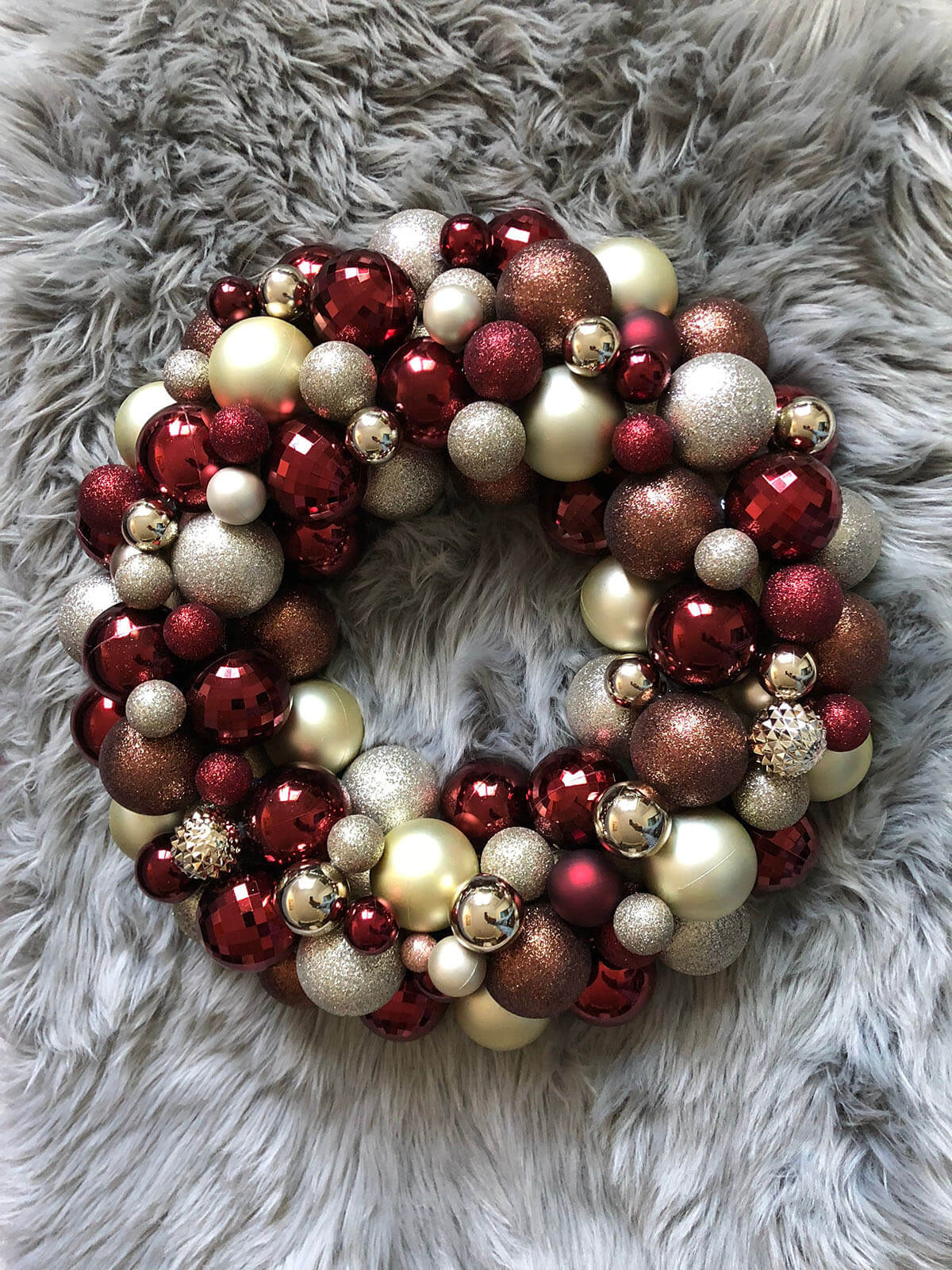 Winter wreaths are a decorating staple. They welcome guests to your home and spark joy and cheer throughout the season. Traditional wreaths made from greenery are beautiful and classic. But why not change it up with a sparkly ornament wreath? The beautiful golds and burgundies in this wreath are glamorous and festive. And the best part is, unlike the greenery wreaths, you can reuse this one year after year!
20. Burlap Garland Adds a Touch of Masculinity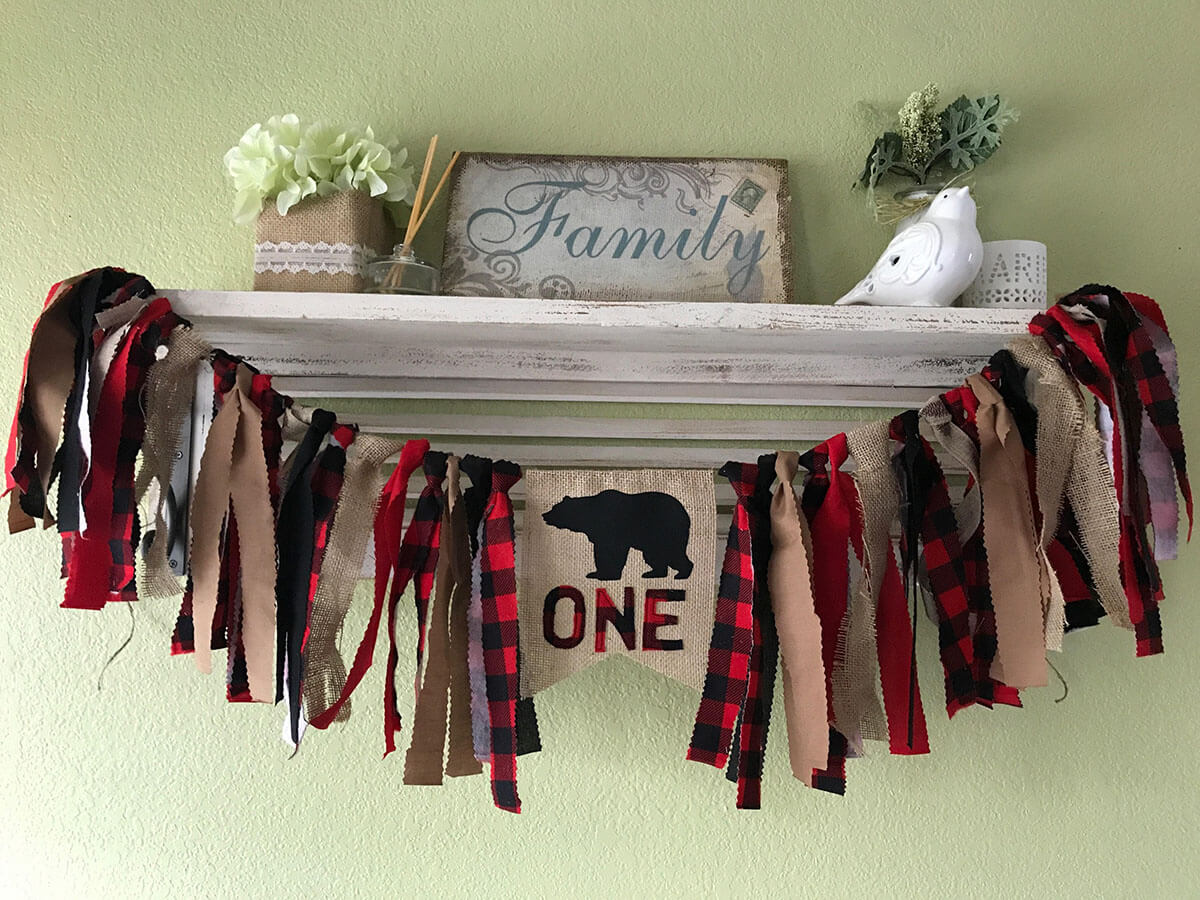 Looking for one of the best burgundy and red decoration ideas on our list to add a touch of masculinity to your space? This is the perfect garland to inspire you to get rustic. Burlap and red patterned strands give this garland a handmade feel. But the attention is pulled right to the silhouetted bear. Display your love for your family bear pack with this charming piece!
21. Cranberry Wreaths Provide a Natural Welcome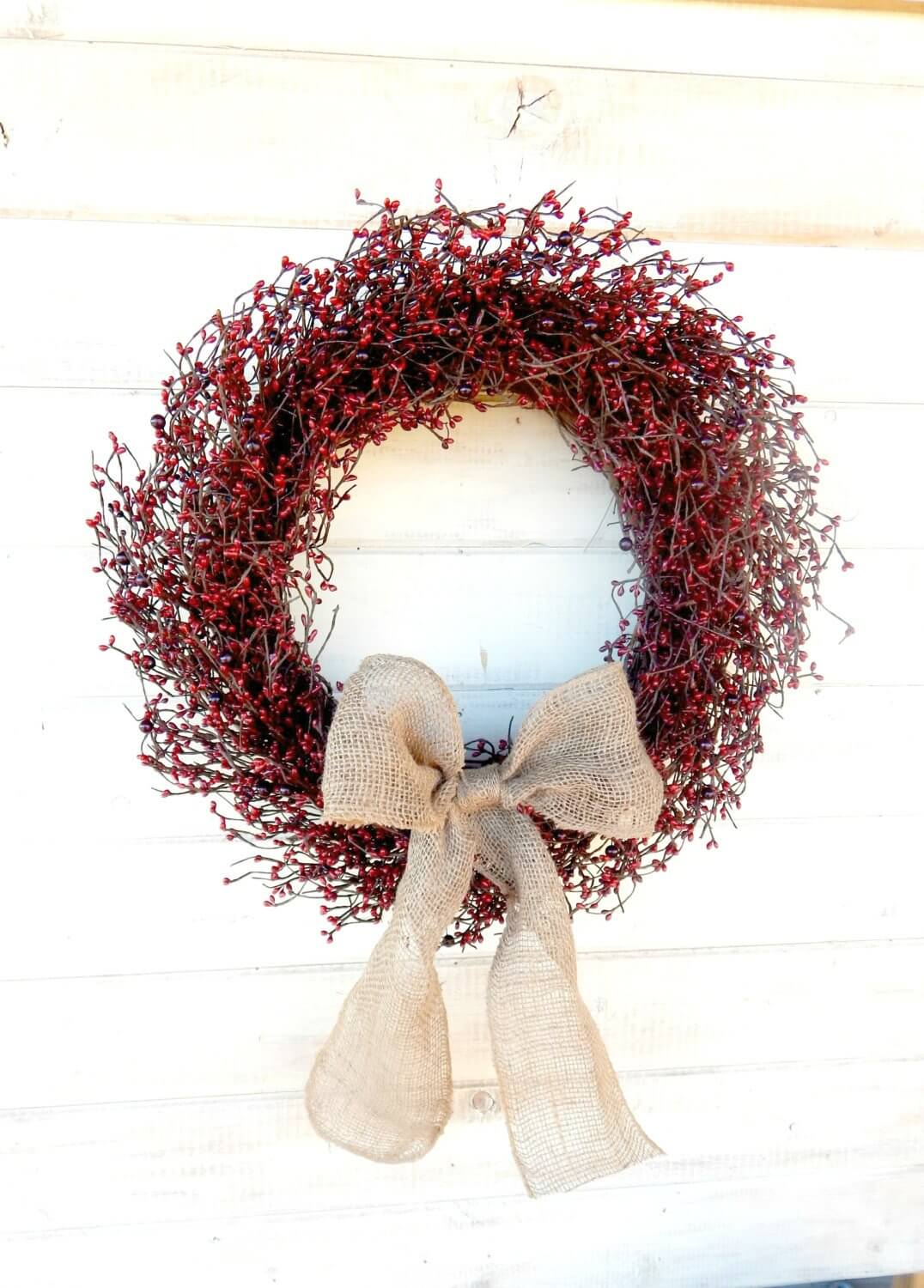 Show off your love of nature with a wreath of cranberries! The simplicity of an all cranberry branch wreath with a single bow makes for an elegant, understated welcome. When made with fake cranberries, this beauty can be saved and used every year! For extra cheer, spray your wreath with a cinnamon or cranberry scent.
22. Burgundy Knot Pillow Adds a Decorative Touch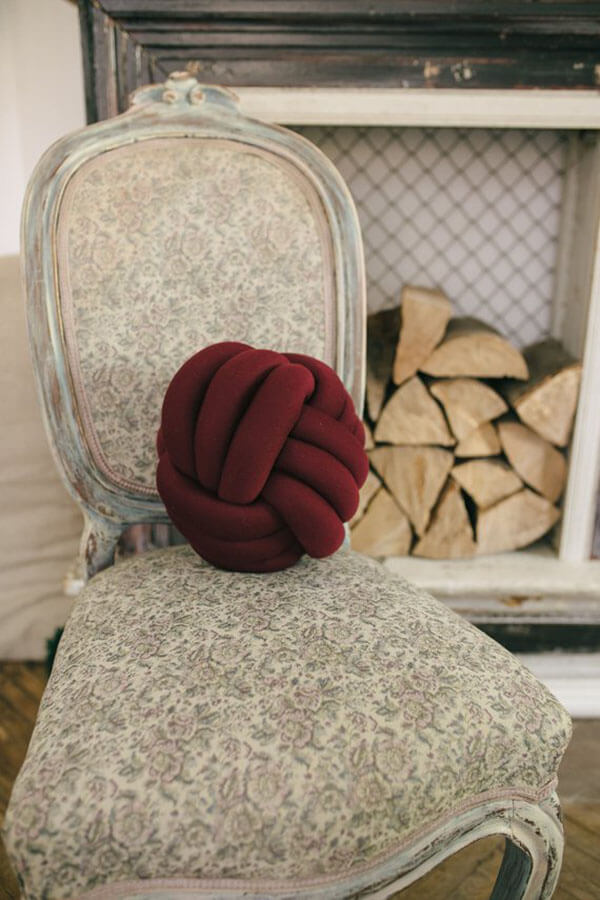 Sometimes a fun and straightforward decorative touch is all a space needs. This oversized woven ball creates simple visual interest, and it's a perfect way to add a bit of burgundy to any room this season. Because it's so soft and snuggly, it's impossible to resist the urge to try to unknot it.
23. Festive Whimsical Decorating for Kid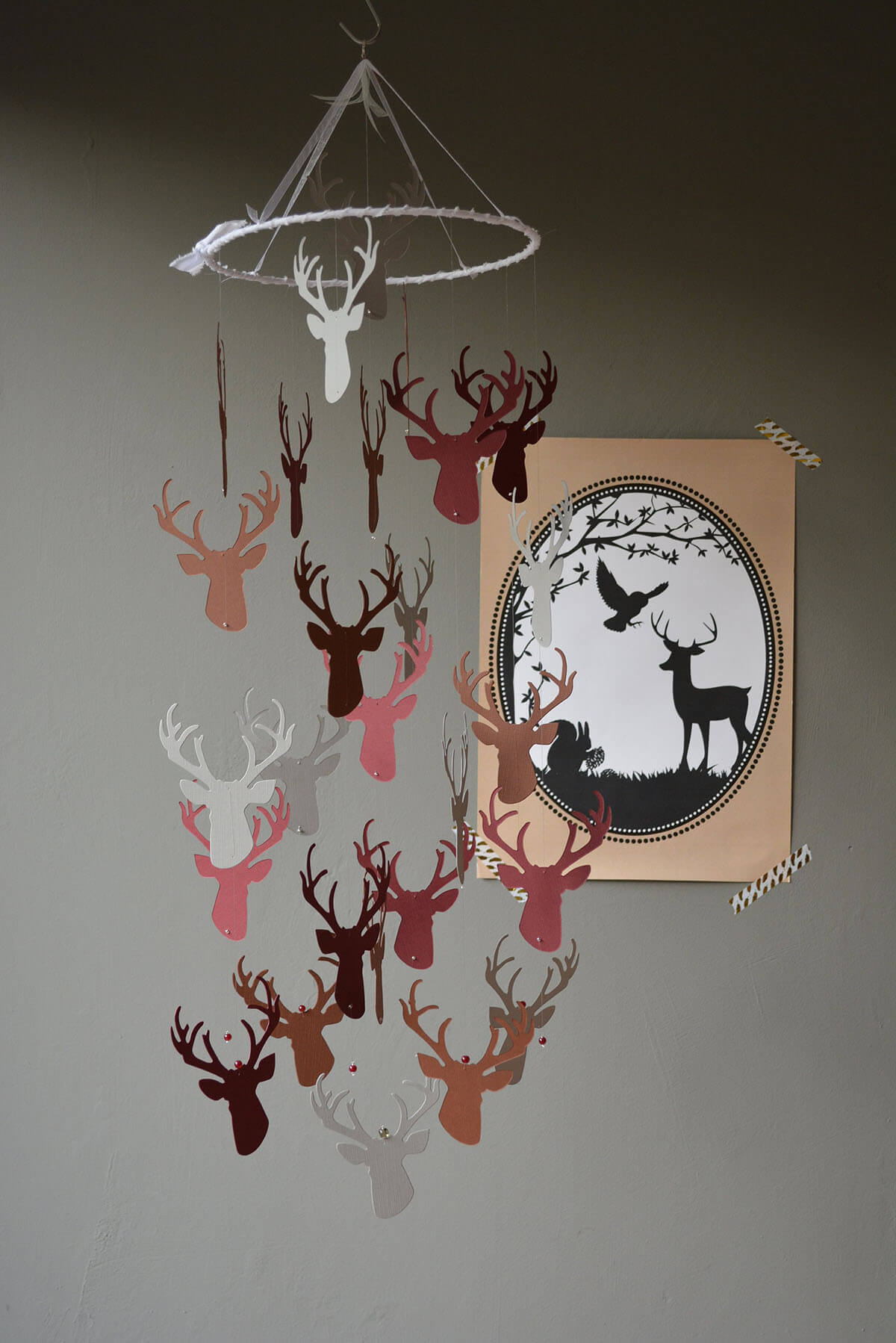 Festive decorations shouldn't be limited to adult spaces. Get inspired to bring the holiday spirit into any kid's room or nursery this year! A simple and whimsical reindeer mobile is a perfect decoration over a crib. But it would also look great in a child's reading nook, a playroom, or any other kid's space. Why should the grown-ups have all the fun?
24. Repurpose Unique Items as Furniture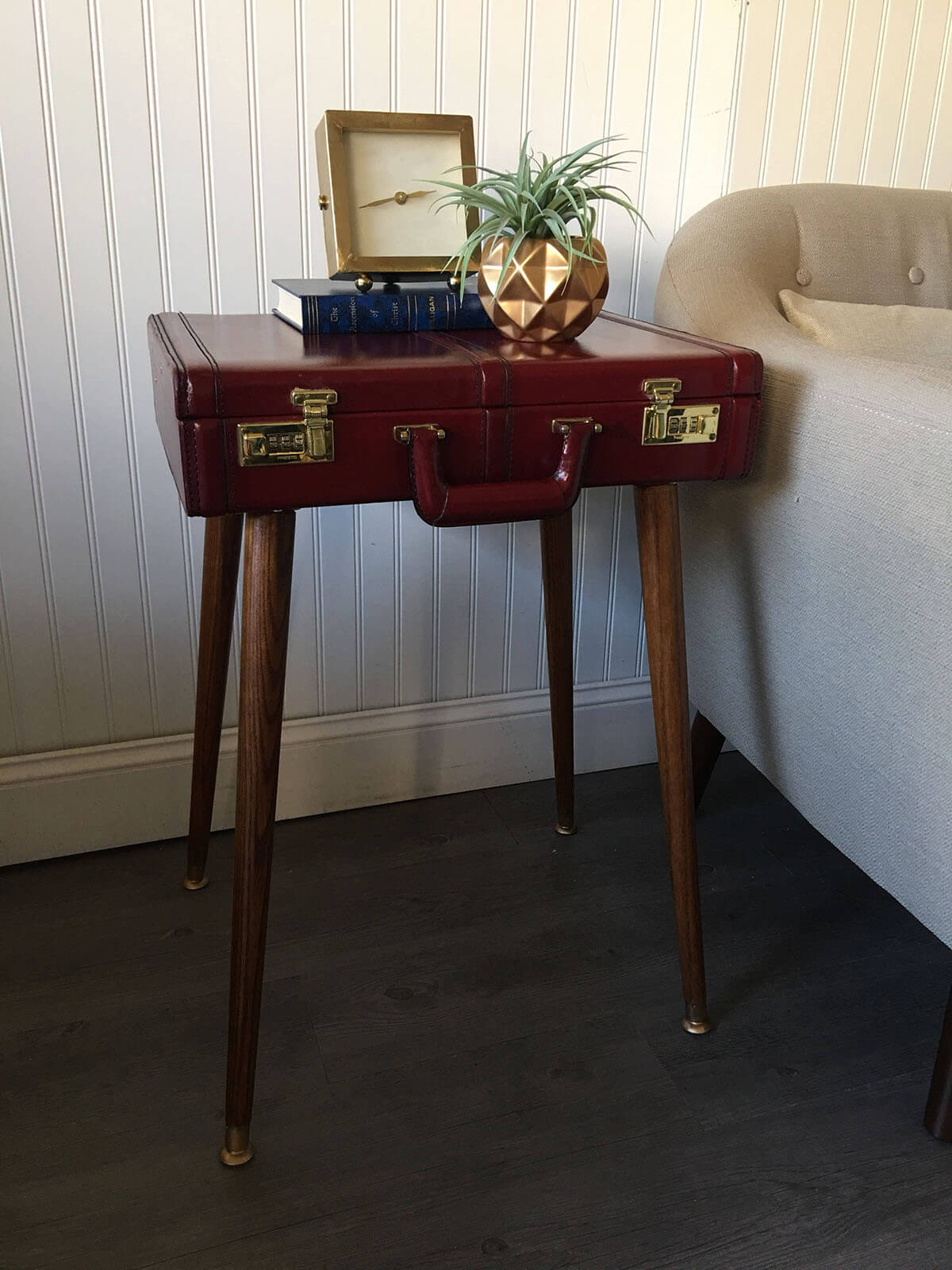 This vintage suitcase turned into a side table is a perfect way to showcase your love of travel. The deep red tones of the suitcase contrast with the shiny brass clasps to create even more visual interest. Top it off with a few metallic accessories, and you've got an iconic piece that is sure to inspire!