Autumn is finally here, and it's time for some decorating by using some of the best burnt orange and brown home decor ideas. This is an awesome idea to help get your home into the seasonal spirit and add the right amount of warmth to bring more joy and a cozy feeling to any room.
20 Stunning Burnt Orange Decoration Ideas to Beautify Your Room

This is such an inviting season we are in that it's no wonder many are feeling the urge to reflect it throughout their home. So, we discovered some incredible decorating ideas using burnt orange and brown color tones. Individually, the colors can create a modern, uplifting vibe that boldly stands out. When you decide to combine the pair, you can build even more unique and compelling decor that balances the scale of warm and energetic to breathe more life into a room.
There are numerous ways you can take advantage of these two colors that perfectly complement each other. You can use the tones in the bedroom, especially if you focus on the bed itself with colorful pillows and blankets. On the notion of pillows, this color scheme also works wonders to add some accent color to a couch in the living room. You can even find some remarkable decorations for the wall using artwork or other hanging items.
It is just about endless the amount of burnt orange and brown decorating ideas and items you can find to liven up your home and give it a distinctive appearance. Because of this, it can be easy to not know where to start. Thankfully, you can explore our top 21 list to find plenty of inspiration on a new item or project to undertake. Our selections are versatile enough so that anyone can find something to use in different locations around your home for well-rounded decorating purposes.
1. Artistic Burnt Orange and Brown Wall Art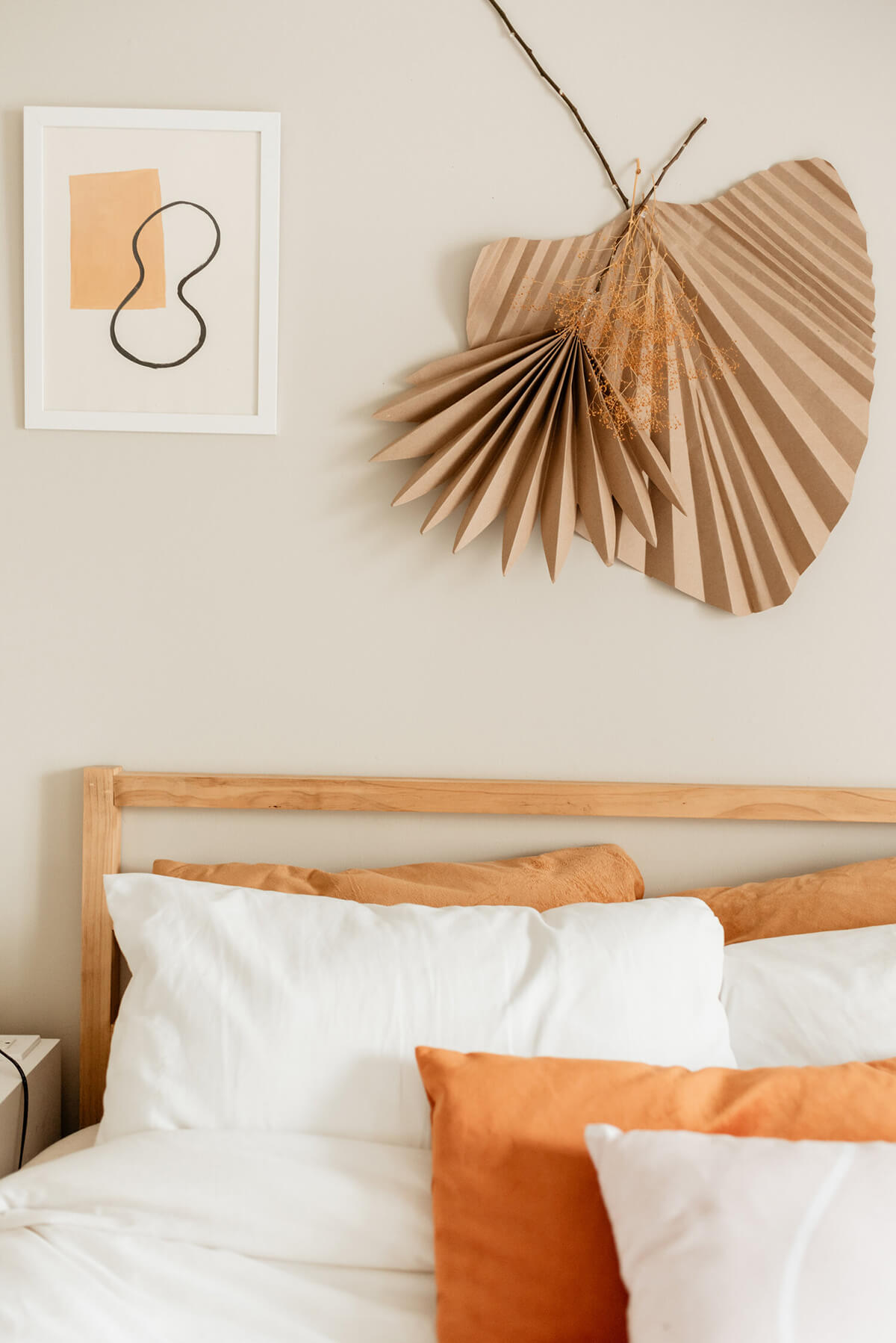 Artwork is a great idea when you are looking for a simpler way to take advantage of these two colors. Also, it is a fun project that you can tackle at home. The paper palm leaves add a wonderful layer of texture to your walls to make your decor stand out a bit more. You can always throw up some fun abstract art as well within the same color scheme too. The artwork gives your room a fun contemporary touch. If you hang these up in a bedroom, you can further emphasize the art by placing them on the wall above a bed that has accent orange and brown colors as well.
2. Easy Hanging Hat Storage and Organizer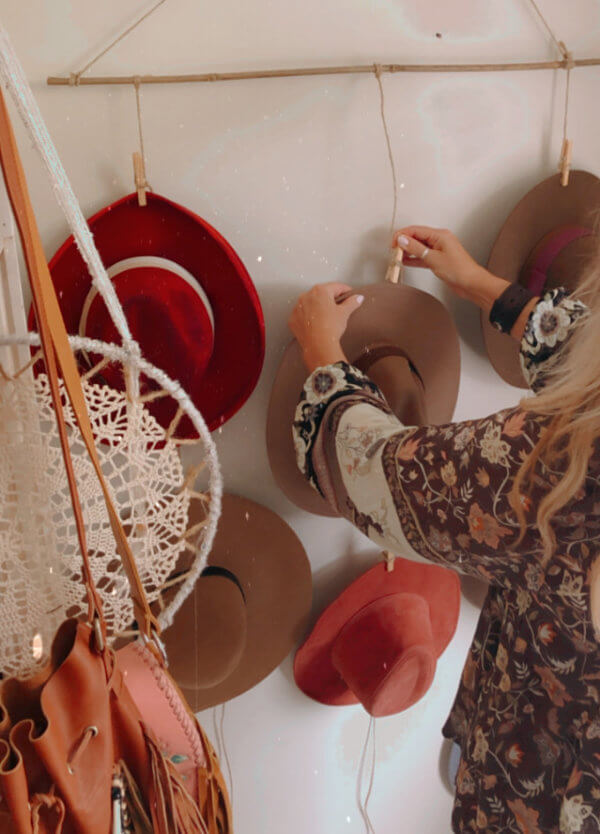 If you're looking for a way to add some sunburnt orange decoration to your home, but all you have are fashion accessories, then look no further than at this cool hat organizer. You can build it yourself to include as many hats as you own and hang it freely on a wall in your bedroom, living room, or anywhere else you have space. Not only does this add a fashionable look to your home decoration, but it is thankfully functional if clutter is a concern or you have minimal space available to set up your hat collection. Also, depending on how many clothespins and string you have, you can always add to it.
3. Holiday Pumpkin Theme Tabletop Decorative Tray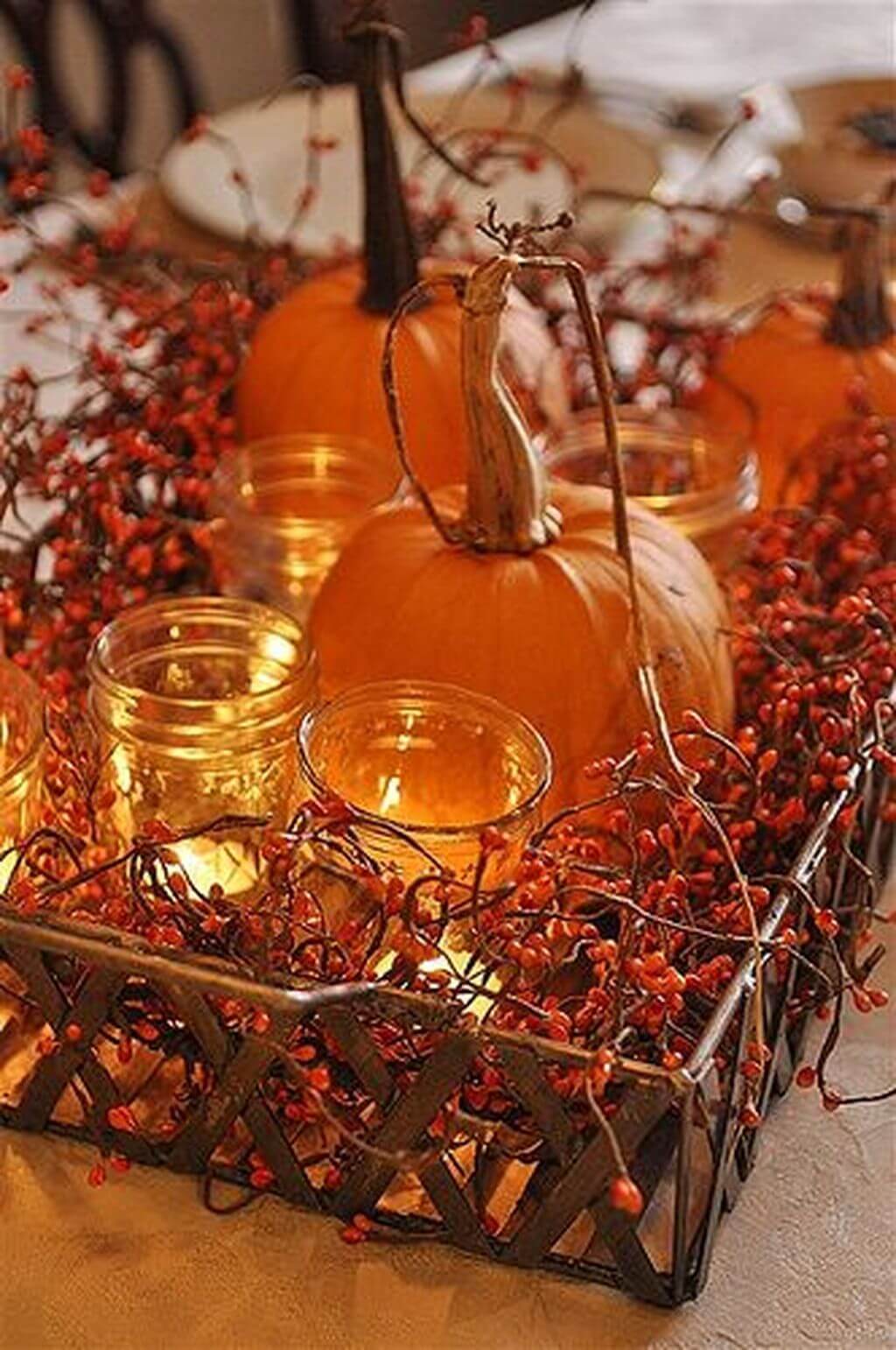 An awesome way to add burnt orange home decor to your room is successfully utilizing items that give into the theme of the Autumn season. Pumpkins are the perfect solution in this case. This project is a straightforward way to fill up an otherwise empty space on your dining room table with a customized centerpiece that will get all your guests talking. It can work out great to bring a sense of joy to the holidays. However, you can also use it to add some spooky vibes to your Halloween decorations as well if you have them. The pumpkins and candles are wonderfully versatile in that way.
4. Mid Century Burnt Orange Home Decor Dresser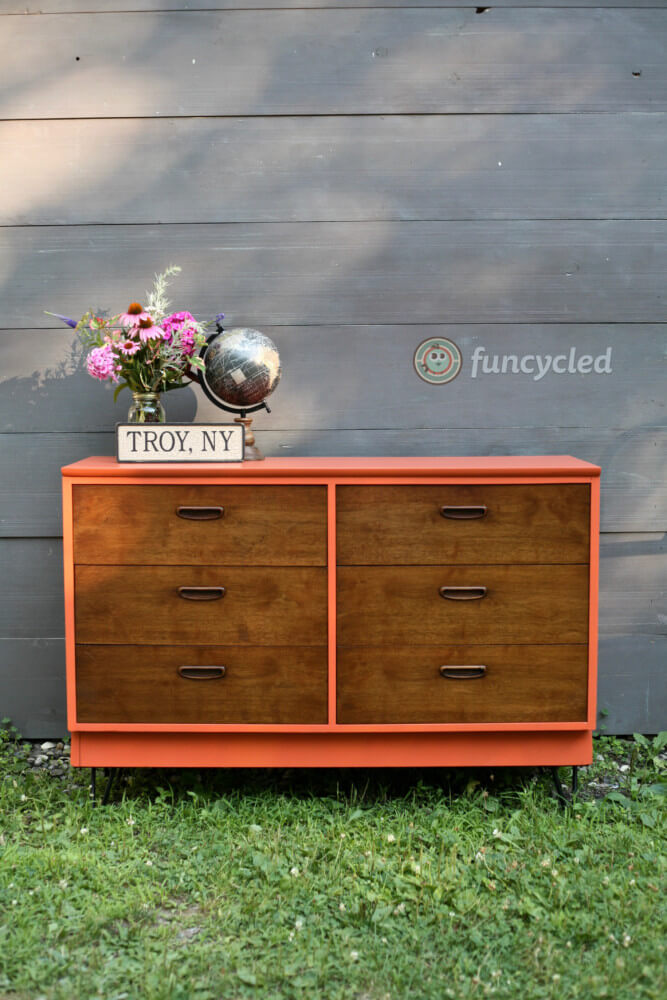 Although a mid-century dresser can naturally have a simple, if not rustic, appearance, you can switch it up with a custom paint job to better match your home's decoration or the holiday season. It is such an easy alteration that completely transforms the overall feel of the dresser. The burnt orange color scheme matches well with the natural brown from the wood to create a pleasant contrast that allows the dresser to assert itself in the room. This can also be a fun upcycle project for you to partake in if you have an old piece of furniture you aren't willing to part with.
5. Lively Burnt Orange and Brown Bedroom Setup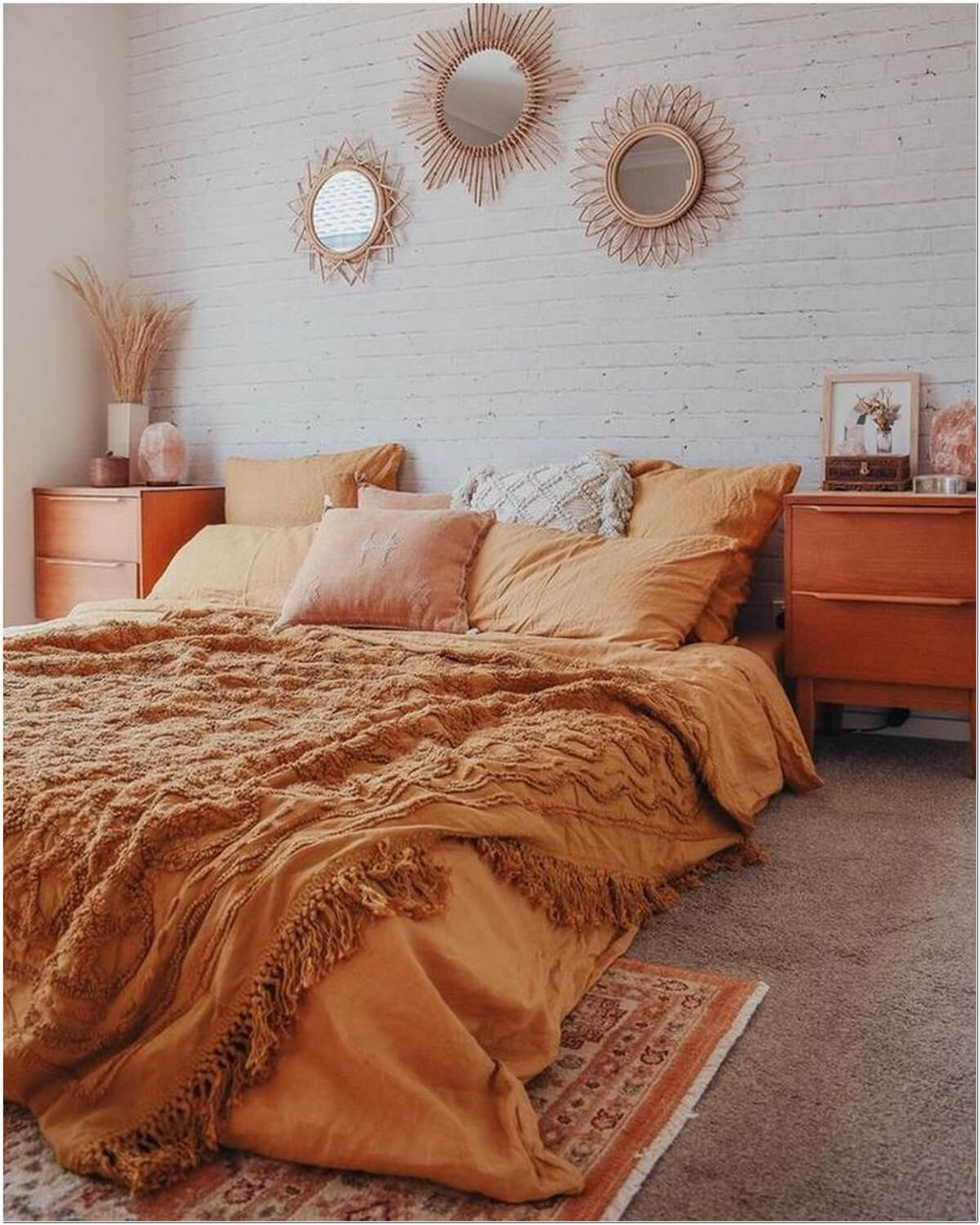 Sunburnt orange decoration is useful in providing wonderful pops of color, especially in a bedroom filled with spacious white walls. In fact, feel free to add the color scheme everywhere from the bed and pillows to the nightstands. Focusing on different shades, even if the variances are minor, can help each individual piece standout rather than become lost in the background. Consider adding some matching decorations to the wall as well for that extra accent to play off the white tones. It's easy enough to throw in some burnt brown hue too whether with the carpet, a rug, or additional small decorations throughout the room.
6. Abstract Rainbow Print Wall Art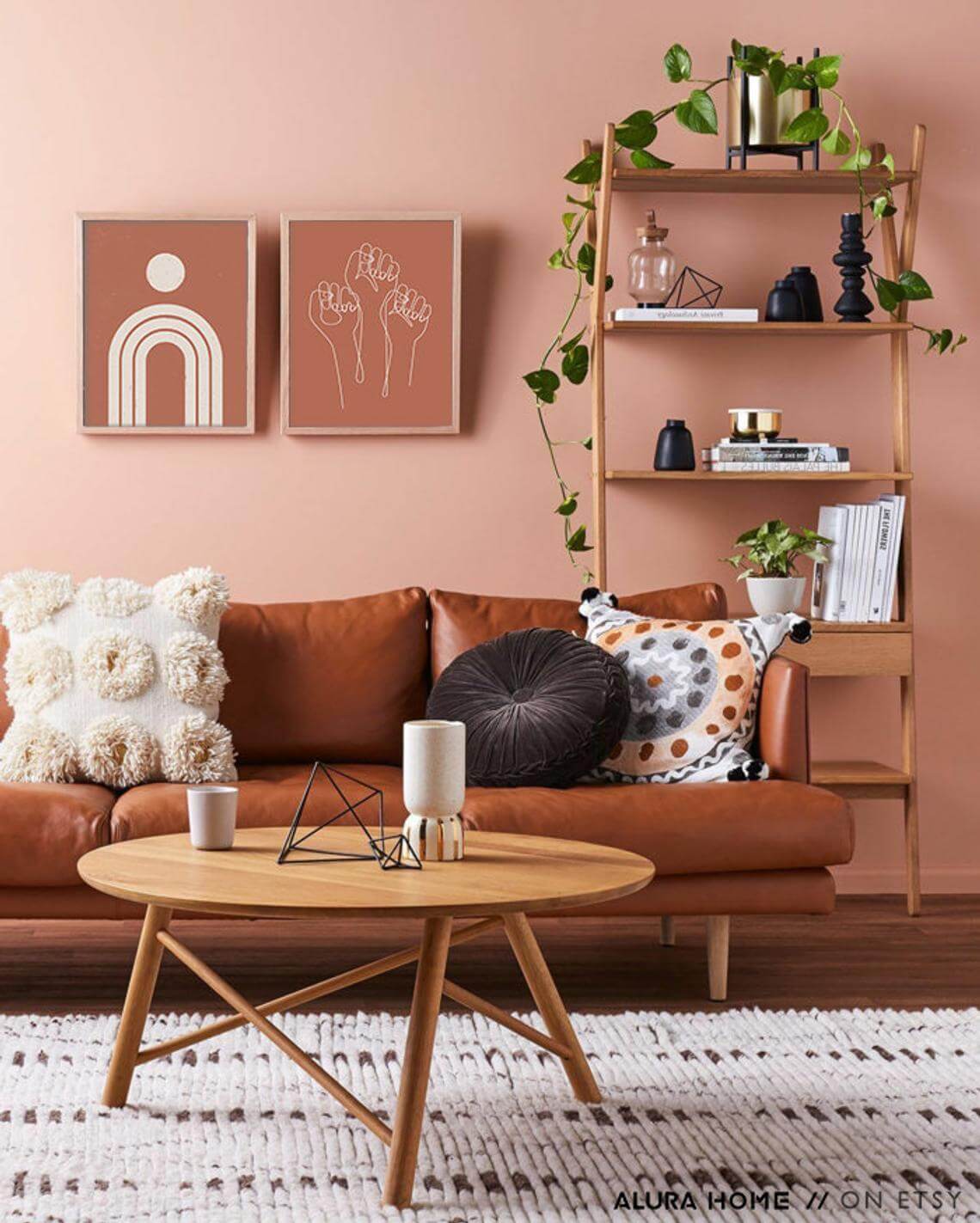 This awesome burnt orange abstract artwork of a rainbow is perfect if you want some conceptual, contemporary art to hang on your walls. Not only that, but it can fit well in a boho-inspired room too with the overall design and warm color giving a relaxing, beach-like vibe. Because it is a digital print, you can purchase the art to receive the digital file and have it printed out the way you'd like it. This way, it fits a number of different frames to better suit your decorating needs.
7. Cinnamon Waffle Linen Throw Blanket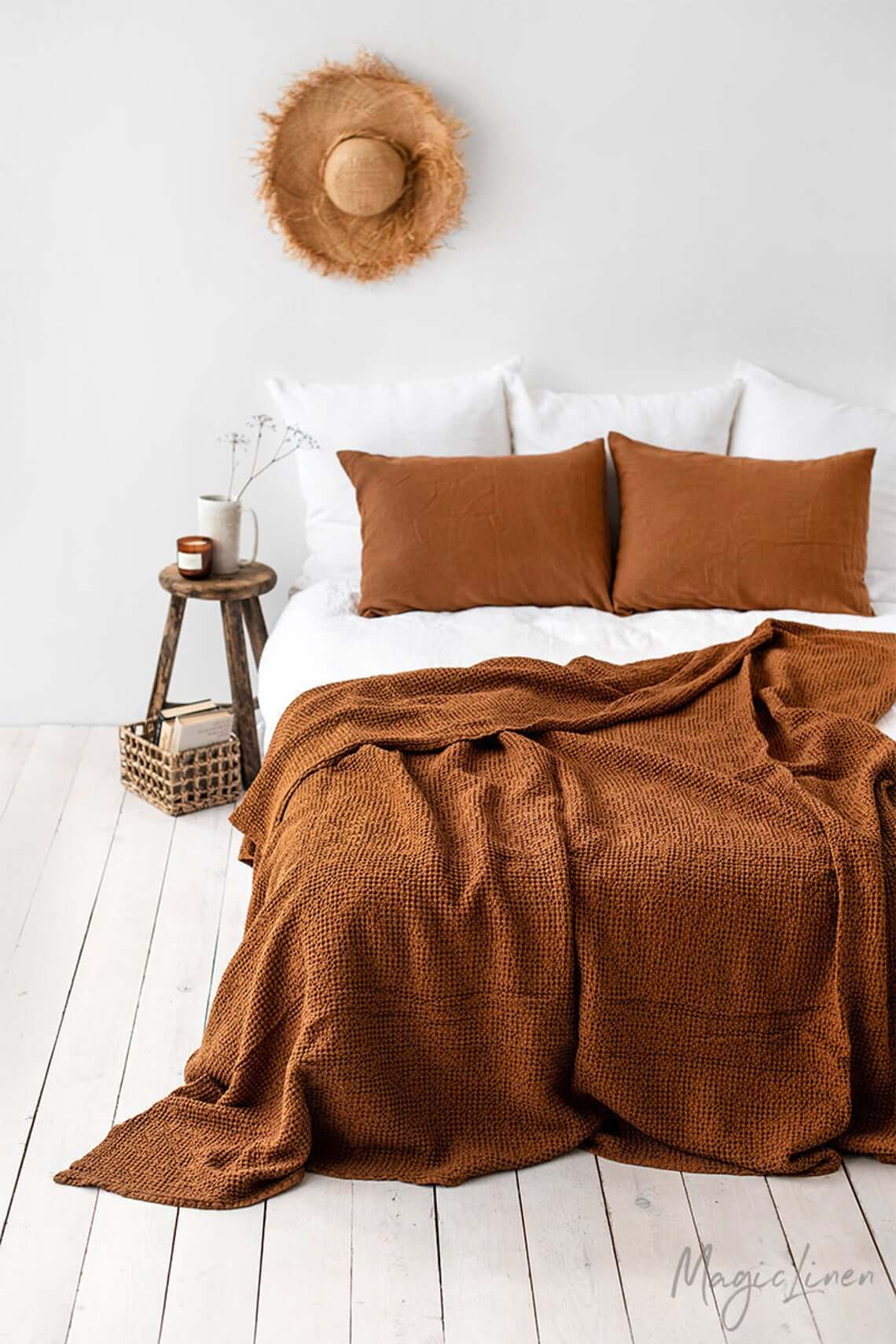 Made in two different sizes that best fit a queen-sized bed, this waffle linen blanket features a rich cinnamon color. It is created from a natural cotton blend that is soft to the touch. In addition, it is comfortable enough to use as your regular blanket for your bed thanks to the moisture-wicking properties and the breathability naturally found in the material that helps make it thermo-regulating. This can also be a great way to enhance the decor in your room, more so if you already have items throughout that are burnt brown or orange such as the pillows on the bed.
8. Brown and White Rust Rainbow Pillow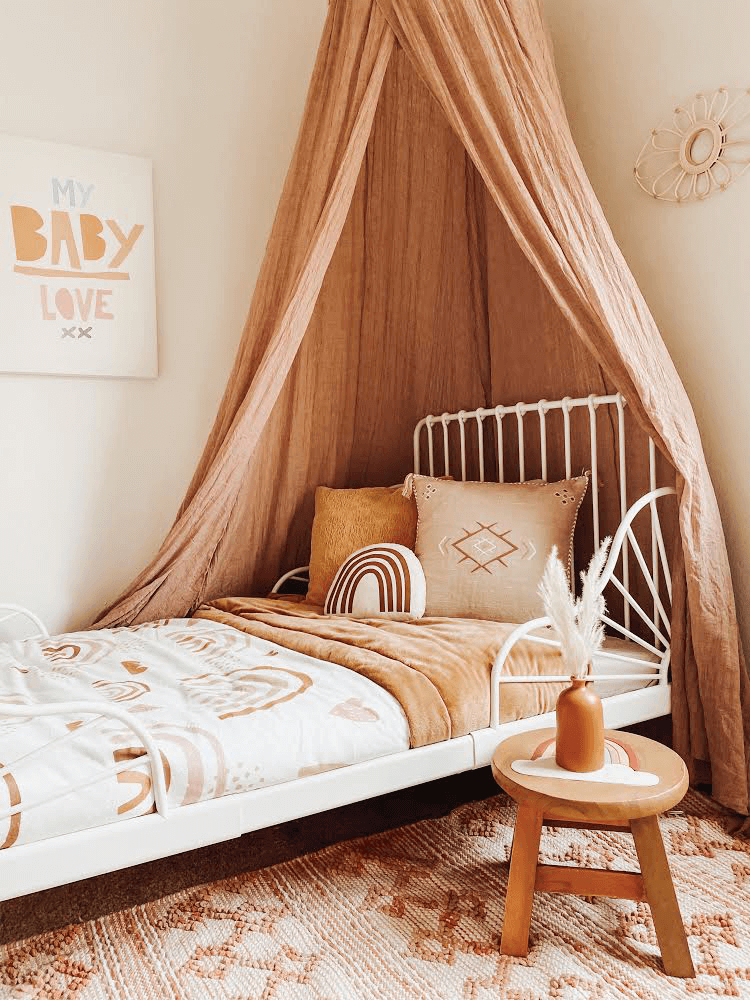 With this playful rust rainbow pillow, you can instantly brighten up a child's playroom or bedroom area. Everything about the pillow is handcrafted. It is sewn and screen printed on a natural canvas, and it is average in size to suit kids of various ages. In fact, it may even work well in a toddler bed or in a crib with older babies. This adorable pillow provides just the right touch of color to a room that may already focus on using burnt orange and brown tones.
9. Rusty Long Linen Window Drape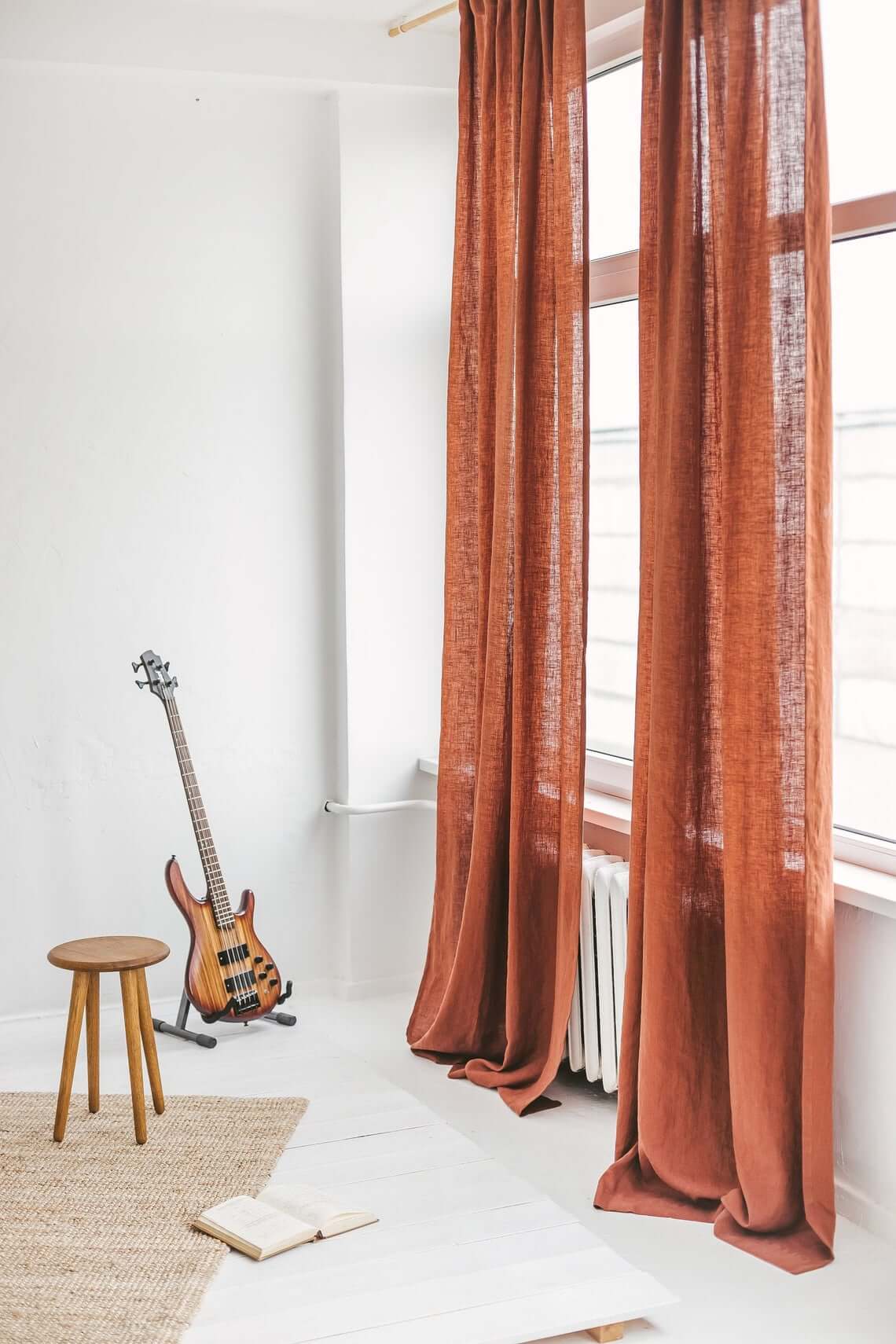 Although they are created in numerous colors, the rusty hue simply works well when you are looking for that pleasant burnt brown or burnt orange touch to go along with the rest of your decor. They are naturally soft, but it is important to follow the care instructions to keep the curtains that way. The curtains are handmade and environmentally-friendly, and they come in more than a dozen different size options to choose from. This way, you have a better chance at finding something to specifically suit your windows. If you need more personalization, you can request custom sizes also.
10. Sand Dunes Boho Desert Art Print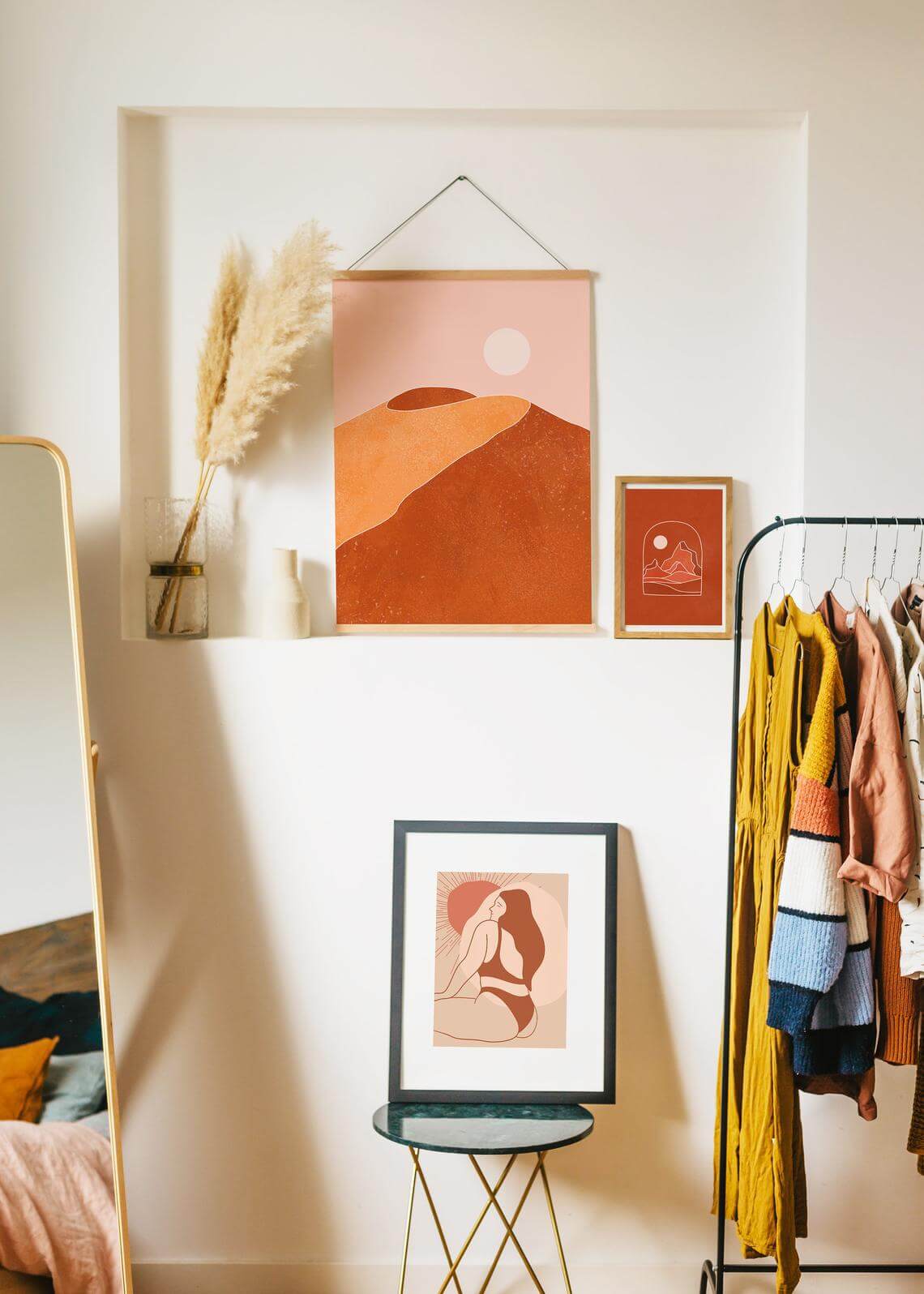 This Boho-themed desert art print readily brings a relaxing vibe to your home. It is a simple landscape work of art with an emphasis on an abstract environment that successfully uses a blend of burnt orange and brown color schemes to make you truly think you are looking at a picture of a barren, sun-soaked land. You can download this gorgeous artwork to digitally print it out in the comfort of your home. This is intended to be printed out in five different sizes each with a different ratio aspect so it can fit a variety of frames.
11. Unique Hanging Macramé Wall Tapestry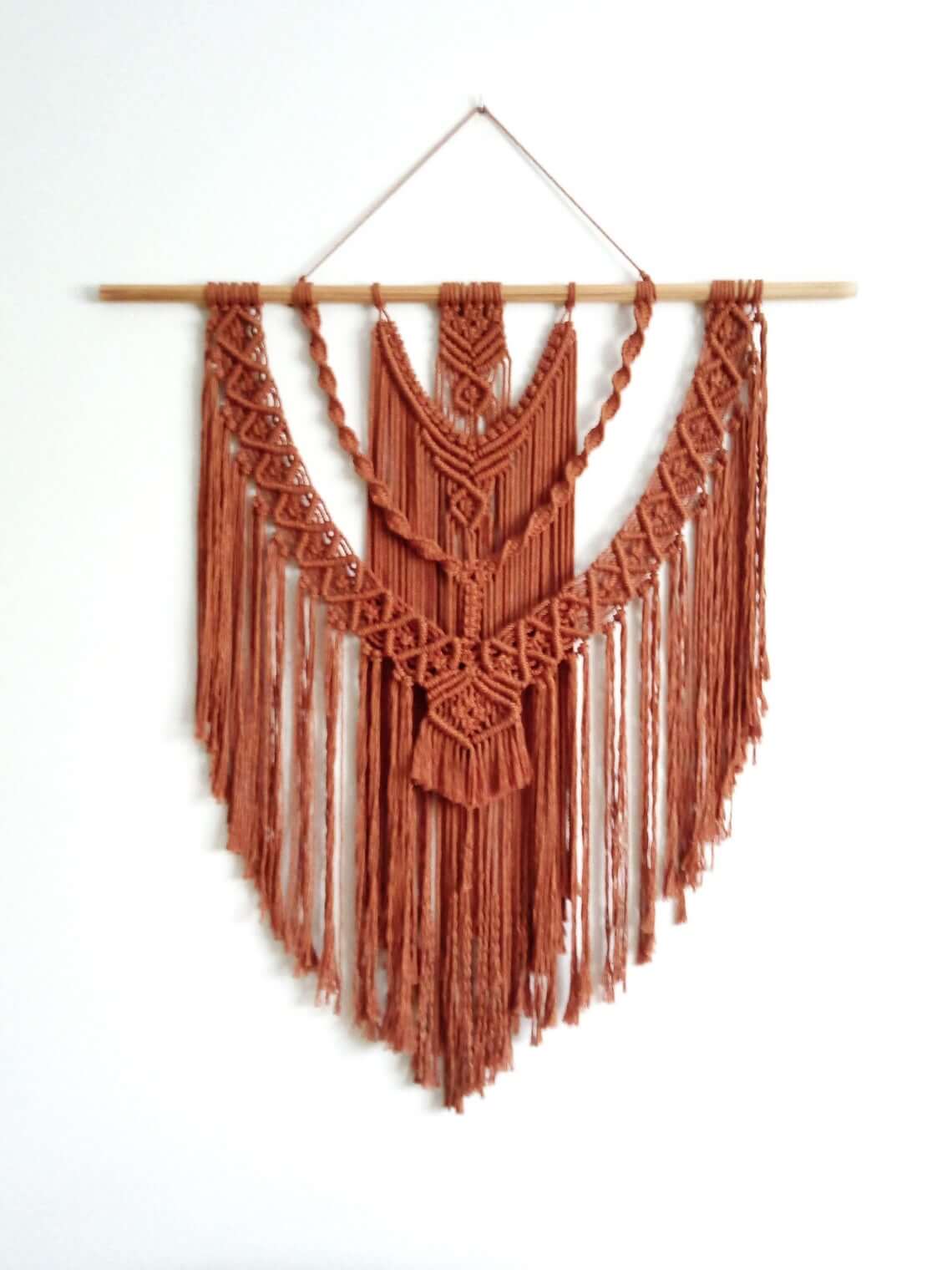 A good idea to use in any space that needs more color, this macramé tapestry is a gorgeous work of art that can be created in a lovely burnt orange tone. It is made out of out triple twisted cotton string and natural pine sticks. This goes beyond providing warmth to the room thanks to its color, but this tapestry also features such an elegant design that it won't look out of place if you decide to use it alongside other boho or beach-themed home decoration items. The darkness of the burnt orange may actually help it stand out more in a well-lit room, more so if hung on a white wall.
12. Modern Sienna Chorlton Corner Sofa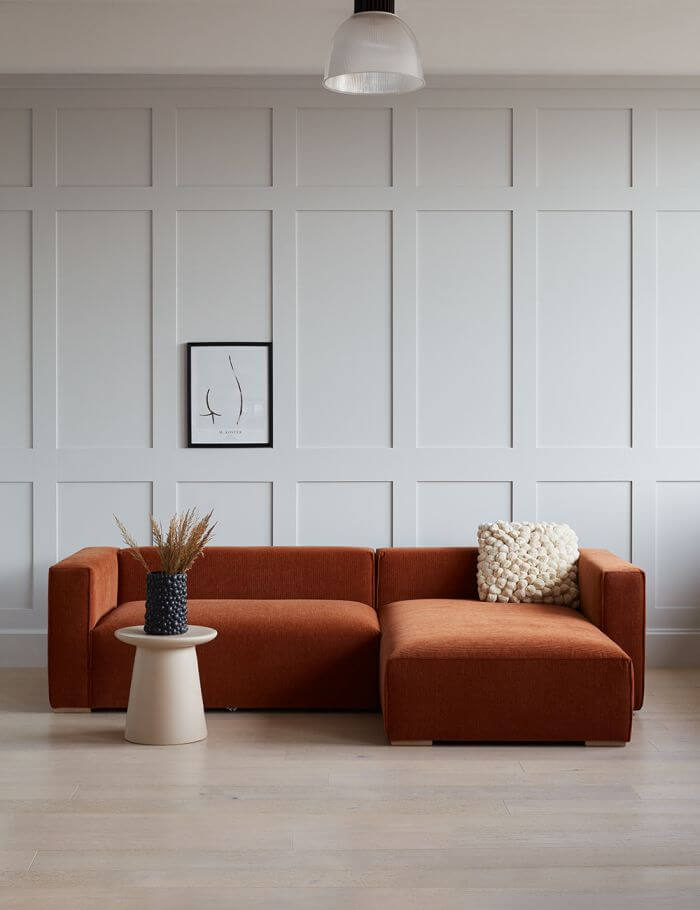 A contemporary styled home can benefit from a modern sitting area, and this corner sofa provides you with all you need to set your decor apart from others. Even if you don't have a modern style home, the couch still works thanks to the simplicity of the design that allows it to work in a more everyday home-style too. You can find this low-seated sofa available in a lovely sienna tone so that it can align well with a burnt orange color scheme. For more personalization options, you can purchase it with the chaise positioned to the left or positioned to the right to better suit your current room layout.
13. Rounded Pleated Velvet Throw Pillow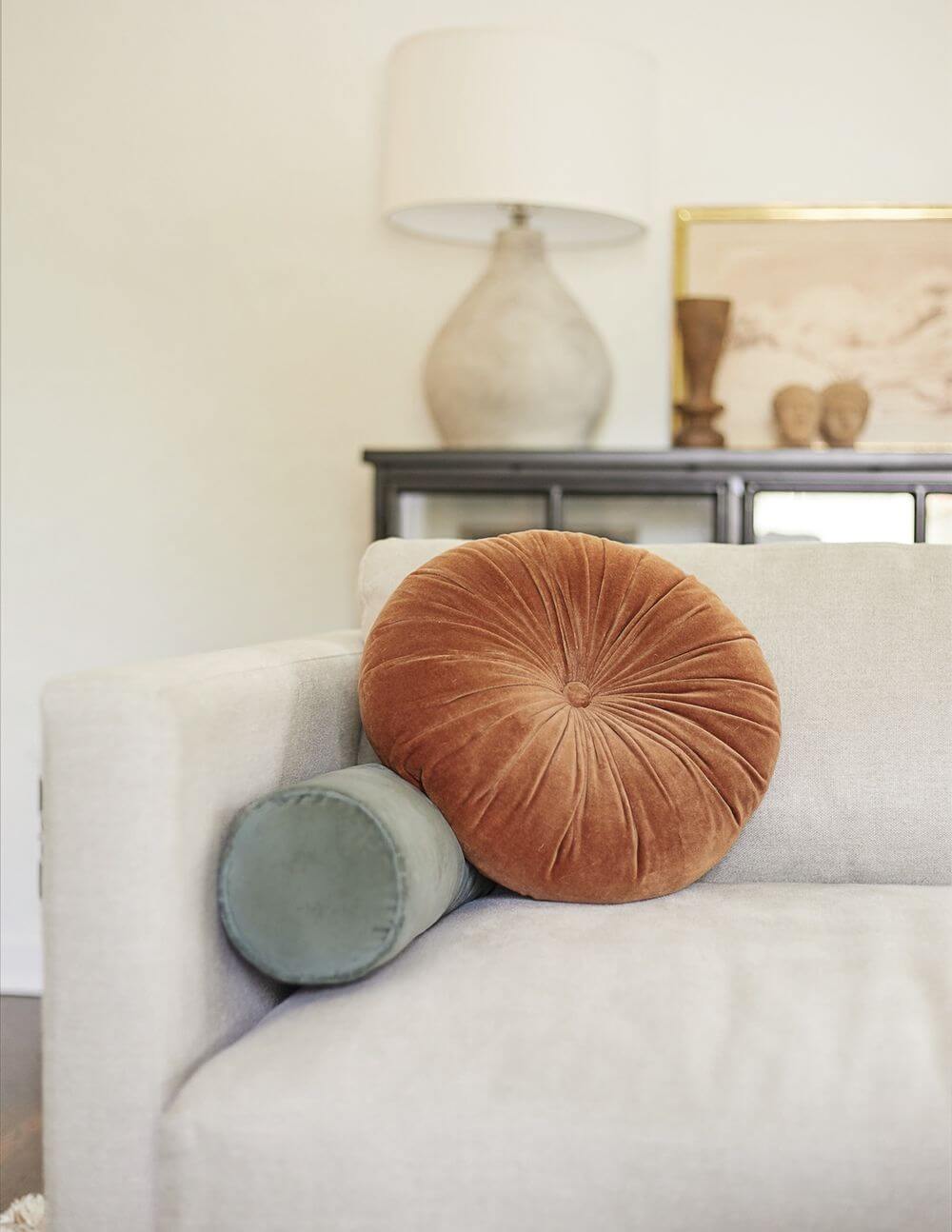 Sometimes, all a bedroom, sitting room, or bench needs is the right decorative throw pillow to give it more life. This rounded velvet pillow is a wonderful addition to have, especially when it comes to following a burnt orange home decor style. It is made of 100% cotton velvet to give it a welcoming soft-to-the-touch feeling. Beyond the bold coloring that can help it blend in with other burnt brown or burnt orange designs, the pillow has a beautiful pleated texture throughout. The pillow insert is included with this, so you can place it in the room and set it up right away.
14. Tribal Terracotta Multi-Colored Shower Curtain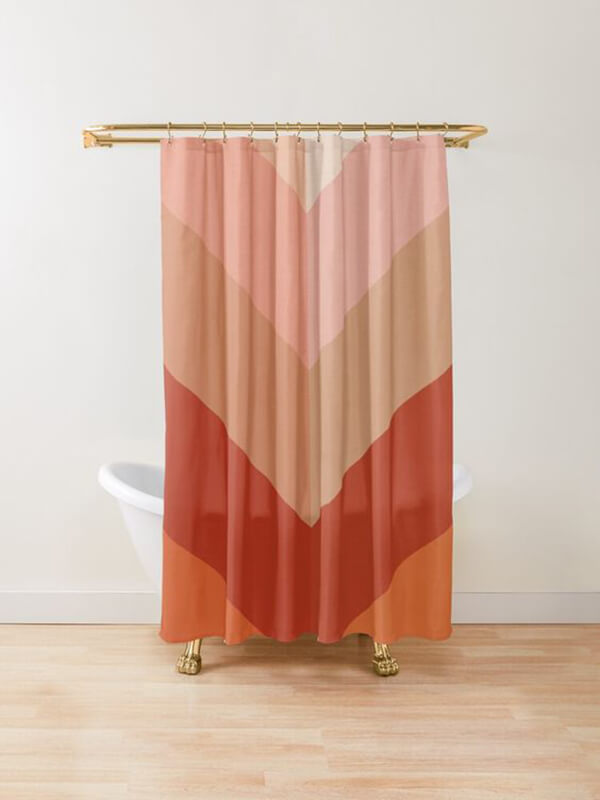 A bathroom can be such a fun area to decorate, and you can effortlessly incorporate a burnt orange and brown color scheme into the room by using this lovely tribal terracotta shower curtain. This can uplift the area thanks to its vibrant multi-colored styling, pushing out the warmth through meticulous use of pink, beige, and burnt orange. The tribal-like styling closely resembles a cool retro vibe, so this shower curtain might also work out well if used inside a bathroom that is vintage-inspired. It is made from 100% polyester, and it is designed to easily fit with most common showers and bathtubs.
15. Terracotta Abstract Line Art Rainbow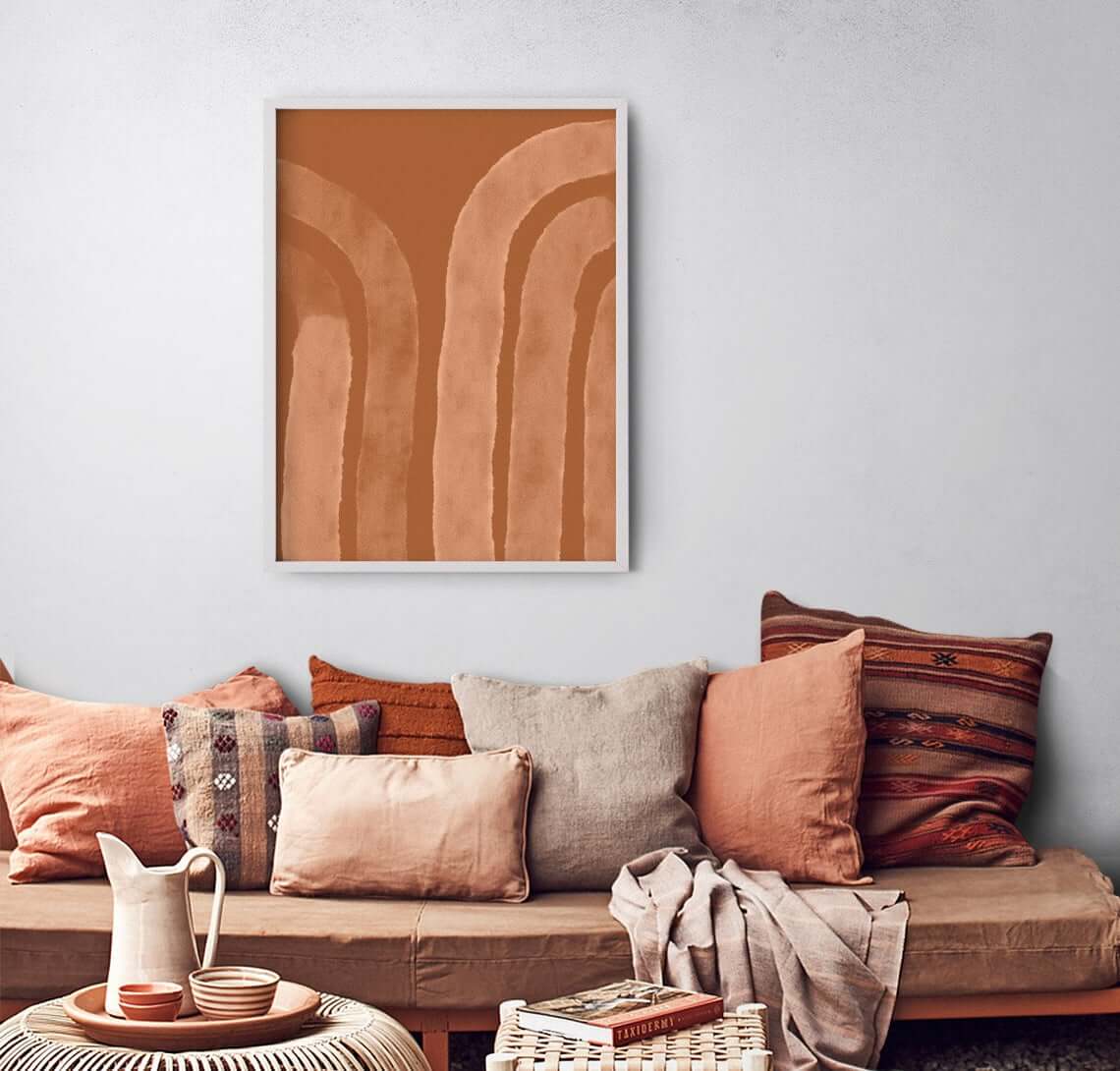 If you want a way to utilize some rainbow art in your home that has a more adult twist, then check out this trendy abstract rainbow line art. This is almost boho in terms of style, and it smoothly uses various shades of burnt orange in order to have each individual line stand out. It is an awesome idea when you are looking for minimalistic decorations or geometric inspired artwork. As it is available as a download, you can print this out according to five different scale high-resolution settings. These offer you the chance to get the exact size you need to fit whatever frame you have.
16. Hanging Rust Canopy Play Tent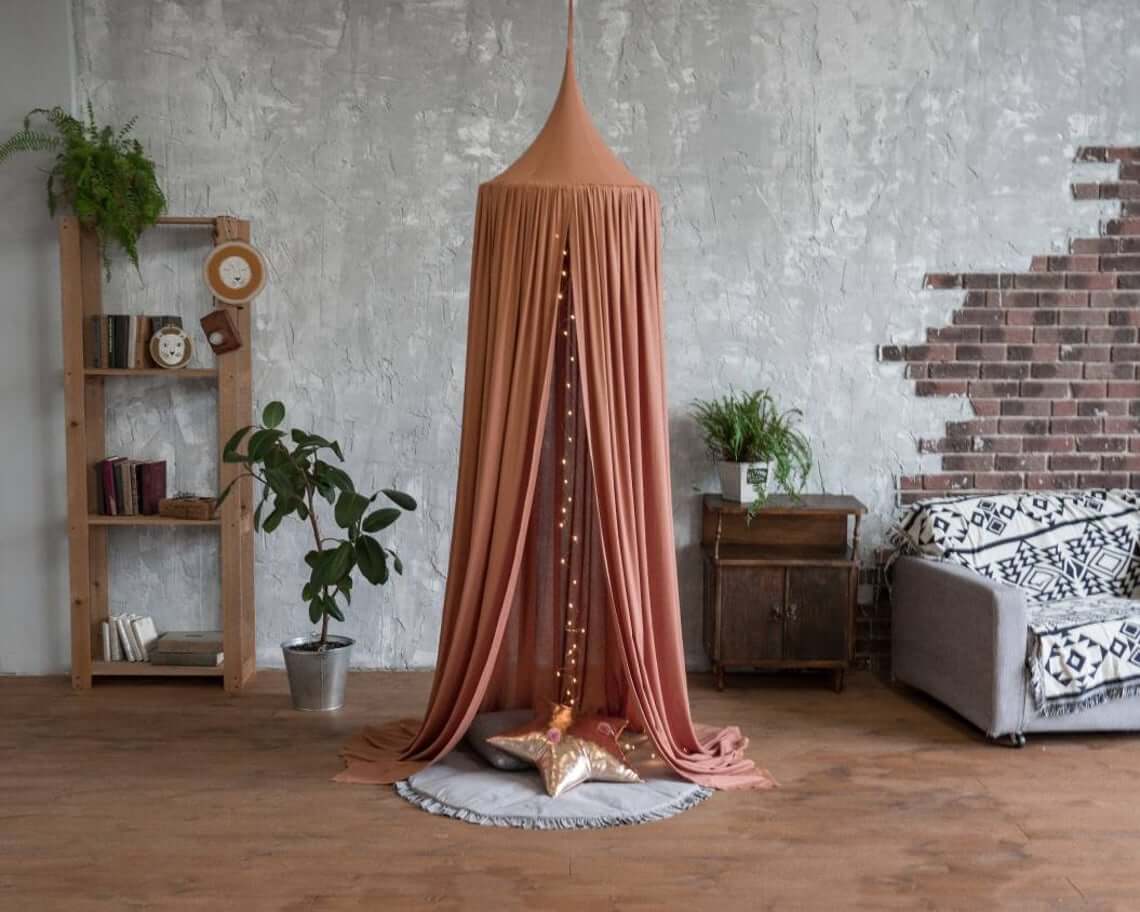 Embrace your child's imagination and give them their own safe space to go to with this gorgeous canopy play tent. The rusty, burnt orange color has a gentle, yet compelling hue that still works well inside a child's room or playroom. There are four ropes underneath the dome allowing kids to hang up small decor items from flashlights to toys. When you purchase this long canopy, you will also receive LED garland lights that measure out 5m. Those are a great way to brighten up the canopy and transform it into a fairytale land of sorts that kids will love.
17. Burnt Orange Wedding Cheesecloth Table Runner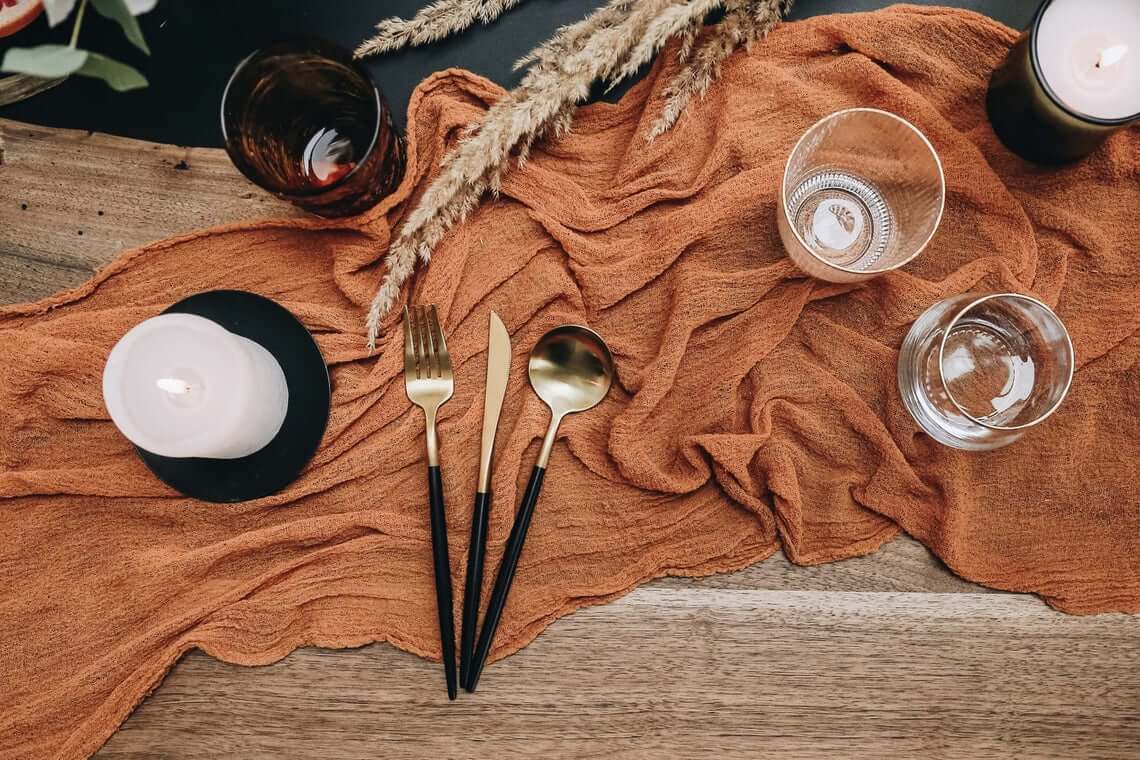 This cheesecloth table runner is not just ideal for burnt orange home decor, but it works beautifully as part of a wedding decoration thanks to its high-quality design. It is ideal in a wedding that features more rustic or boho styled decorating, serving as an attention-grabbing backdrop for the tables. There is such elegance found in this table runner that you can truthfully use it for any celebratory occasions or perhaps as special decorations for dinner parties or holiday gatherings. The cheesecloth gives your style a good amount of texture too so that it can serve well as an accent piece too. This can fit a variety of table sizes also since you can purchase it in more than a dozen different dimensions.
18. Geometric Diamond Vintage Area Rug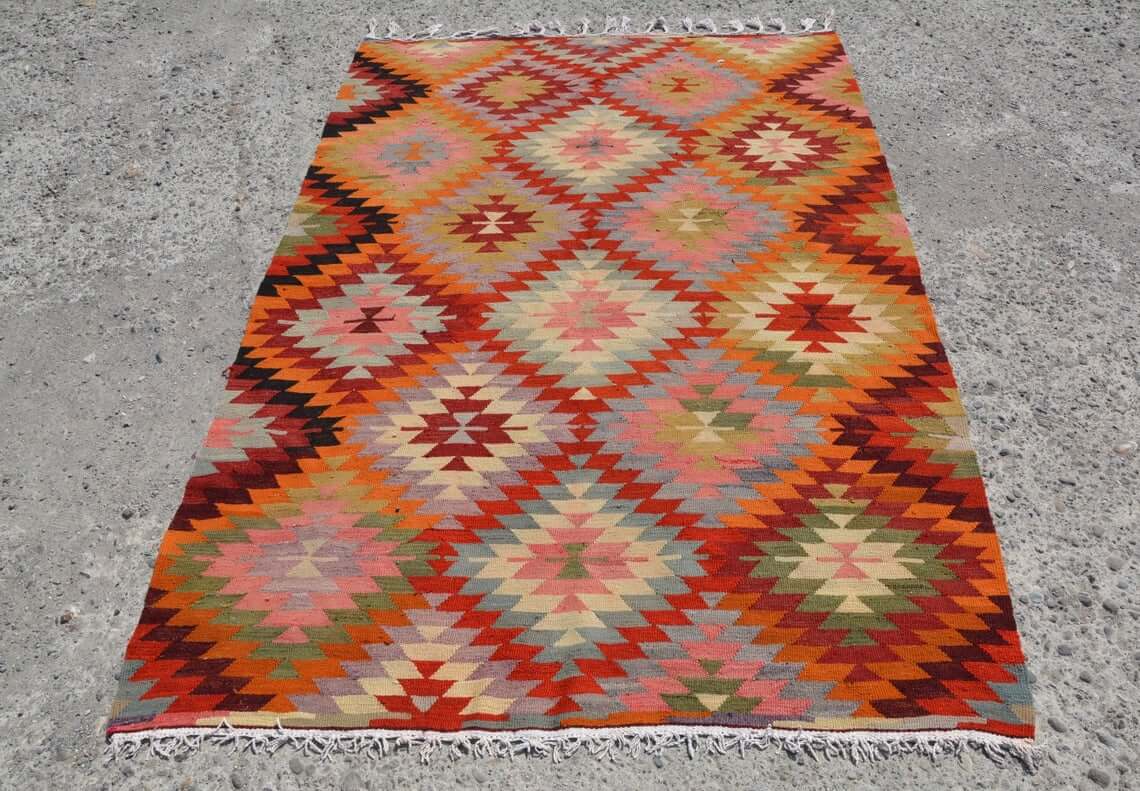 Made from cotton and wool material, this vintage oriental area rug brings several pops of color to your room thanks to its vibrant design. It features geometric styled diamonds throughout, and there are several different colors found within the rug. At the same time, the burnt orange is predominant and still captures attention as the other hues blend alongside it with minimal effort. It is handmade and features only one size: 108in. in length and 75in. in width. Add it to your living room, bedroom, hallway, or anywhere else in your home you feel is lacking that extra bit of aesthetic.
19. Burnt Orange Lumbar Velvet Pillow Cover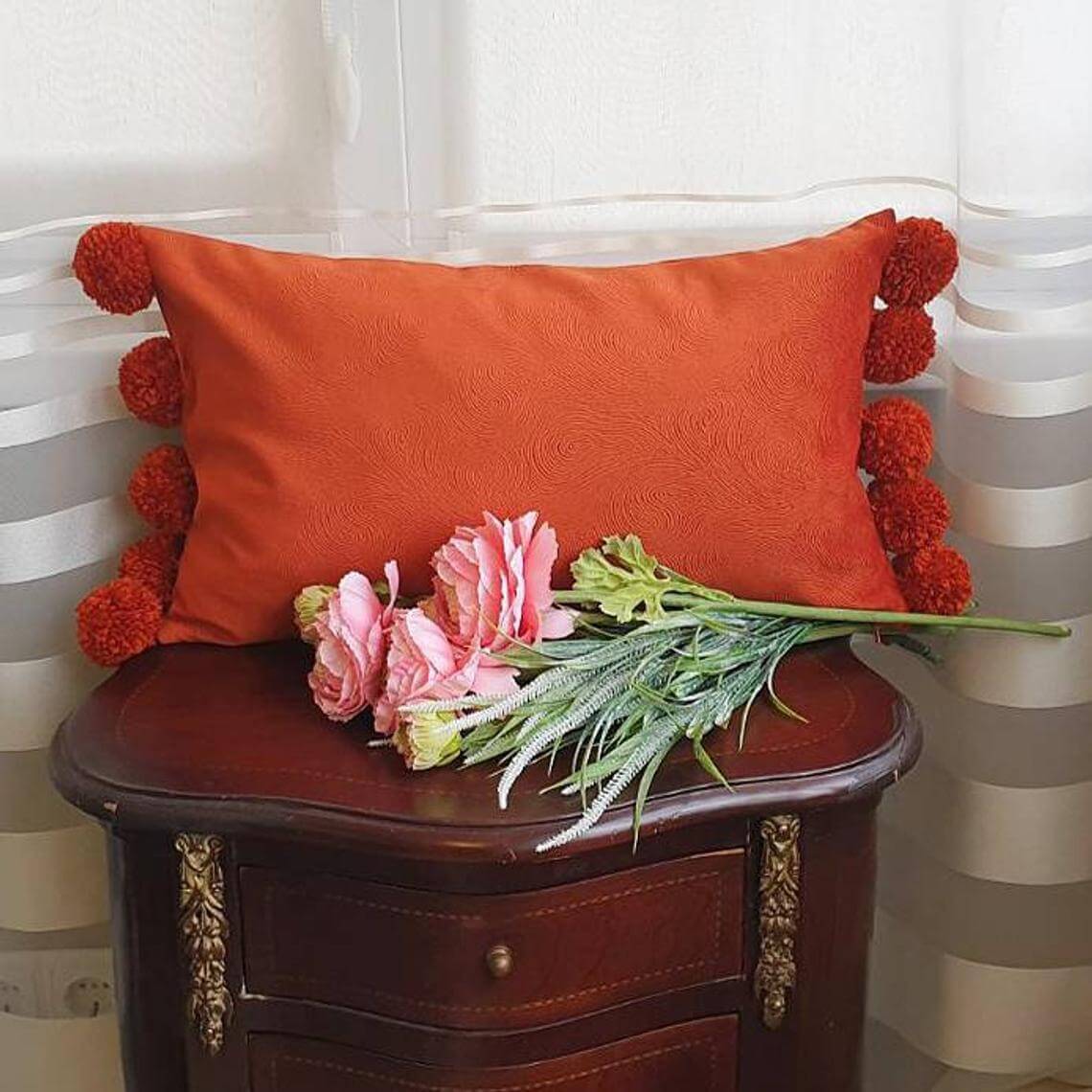 Throw pillows serve as great accents to many rooms in your home, but when you need to switch up your color scheme to a warmer, seasonal feel, consider changing out your covers with this burnt orange pillow cover. This comes in 16 different dimensions so that you can readily find the one that best suits your pillow. Made from a lovely velvet material, the cover is high in quality and features a decorative design to add some elegance to your style. Furthermore, there are fluffy pom-poms on the pillow cover on either side made out of yarn using a similar color to the rest of the cover.
20. Orange Burlap Autumn Table Runner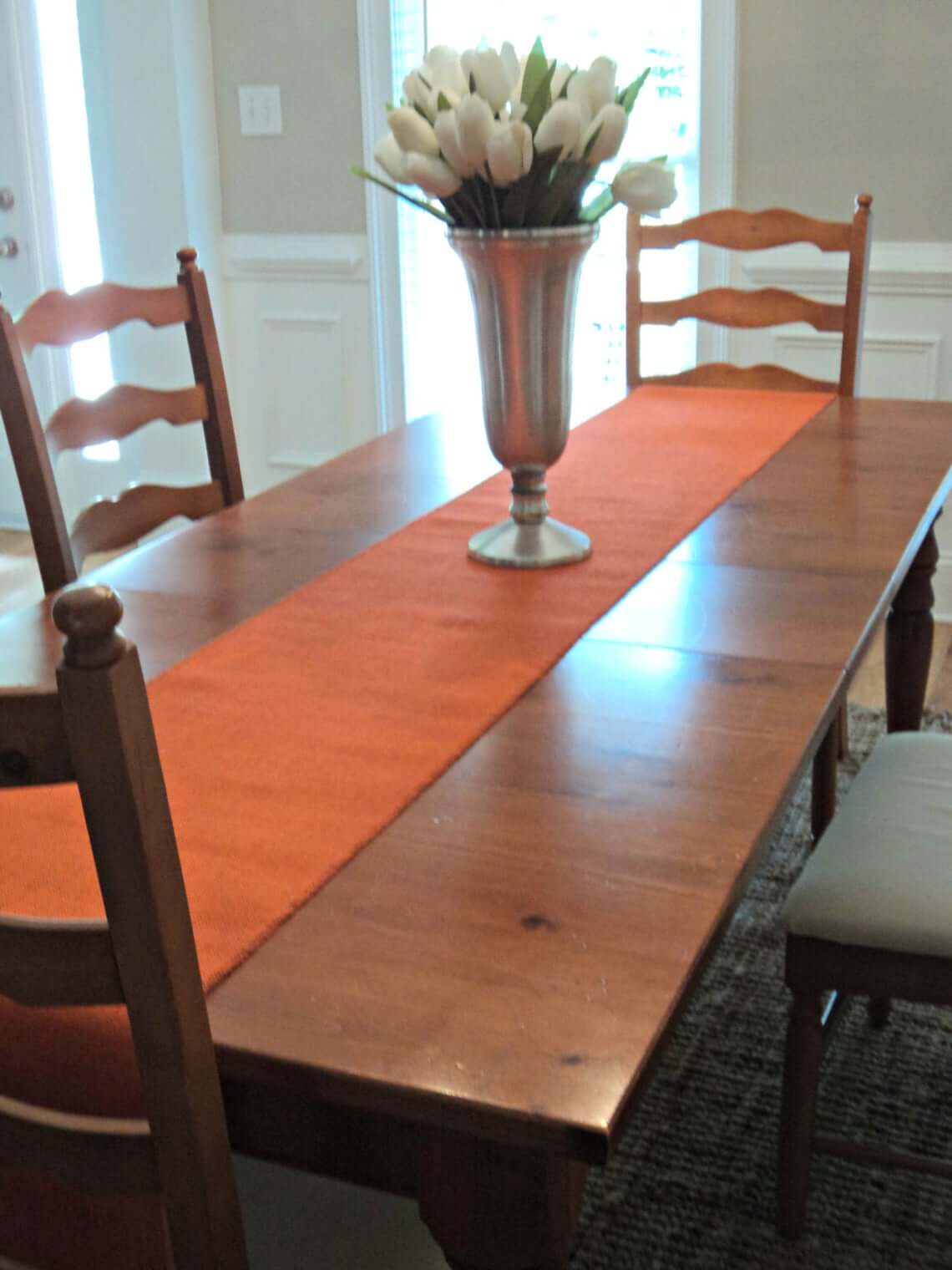 When it comes to burnt orange home decor, some of the best items are ones that can elevate the rest of your decorative pieces. Take a look at this table runner, for example. It is simplistic, yet the burnt orange coloring adds a lovely touch of the Autumn season to your home. If you need an awesome place to set up a cool tablescape, this table runner will give you all the space you need. Not only does it work for seasonal decorative items, but it can also be a place where you set up Halloween decorations too if you wish so. There are more than 20 different sizes to choose from.
20 Incredible Burnt Orange and Brown Decor that will Add Warmth to Your Home
Burnt orange and brown decor is a wonderful choice when you are looking to decorate your home to bask in the Autumn seasonal spirit. It can serve well as a backdrop to other seasonal items, or you can make use of the color scheme to liven up your house in time for Halloween. At the same time, this color scheme is versatile enough that it works all-year-round as it is a good way to create a warm and welcoming environment in your home.
If you are unsure where to begin your decorating journey, the list above should provide you with more than enough ideas and items to start out with. You can utilize the color scheme in just about any room in your home. There are items that work well such as living room furniture, or you can add in some accent color tones using throw pillows or some kind of wall art. Depending on the piece you grab, you may even connect with another style like boho or contemporary. No matter what you choose, burnt orange and brown provide an incredibly cozy feel that anyone can feel the moment they enter the room.