15. Have Yourself a Handmade Christmas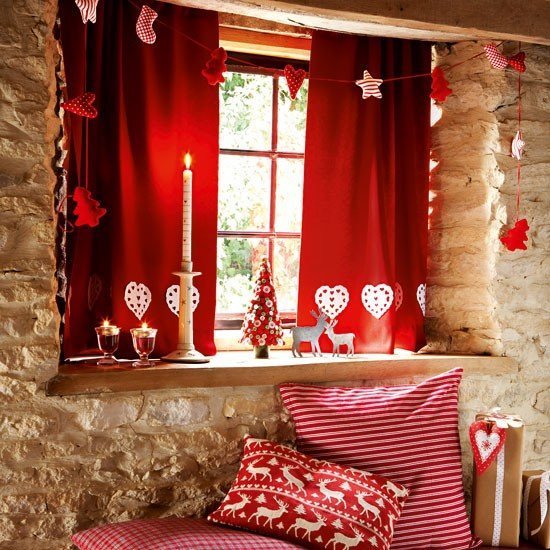 Maybe you've recently moved and don't have any go-to decorations of your own. Or you've embarked on a new chapter of your life and wish to start from scratch. Whether you're a seasoned pro or just starting out, homemade Christmas ideas are fun for all and craft wonderful memories when done alongside loved ones in addition to giving you one-of-a-kind decorations. Holiday cookie cutters and stencils can be used to create outlines from felt or Christmas curtain fabric which can be sewn and stuffed with polyfill stuffing and hung on the tree or given curled wire hangers. Cutouts can also be used to hot glue onto a new red stocking, making a customized and heartfelt gift or memorable family activity.
16. Candy Cane Wreath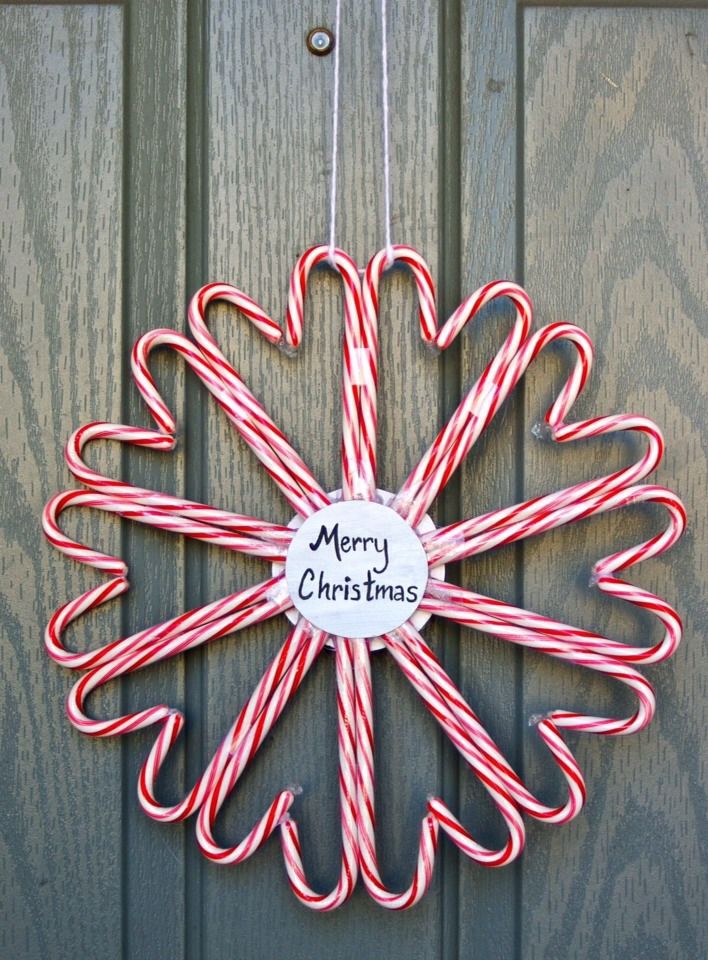 Who doesn't love Christmas decorations you can eat? A sweet candy cane wreath not only boasts the snowy white and jolly red of the season, but is a traditional Christmas treat that's as delicious to suckle on as it is a classic decoration. Hung from trees or on sticking cuffs may be the traditional means, but you can use simple clear Scotch tape to form a wreath. The meeting curved tops will form hearts, and the wreath can be completed with a circle cut out of paper and taped to the middle, bearing a cheerful holiday greeting.
17. Dreaming of a White Christmas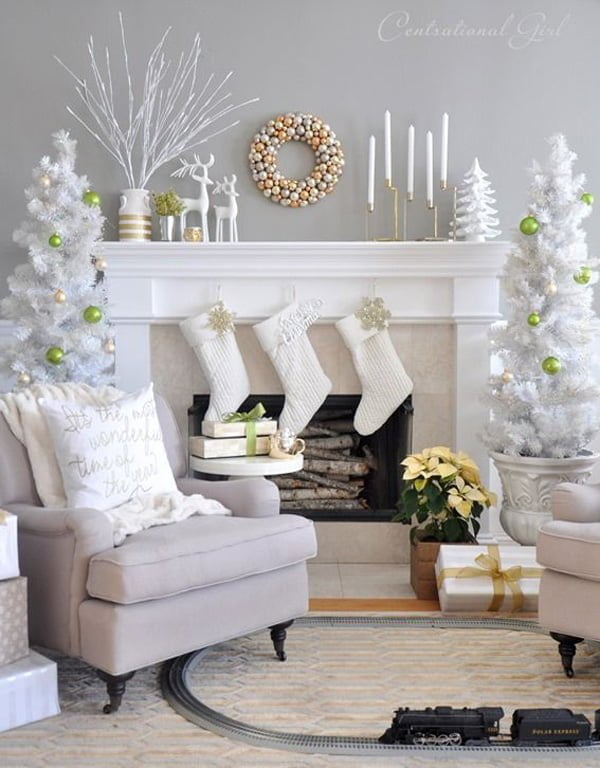 It's elegant, easy and works in just about any home. All white Christmas decorating ideas evoke soothing images of new-fallen snow and the magic and wonder of the season. Most white Christmas decoration themes are done with variants, such as creams and ivory to add depth and warmth to the space. Oatmeal wool stockings, twinkling star-shaped lights and a white tree embellished with small glittery ornaments and topped with a bright ribbon for contrast is one crisp, minimal way to decorate your home this Christmas.
18. Space-Saving Christmas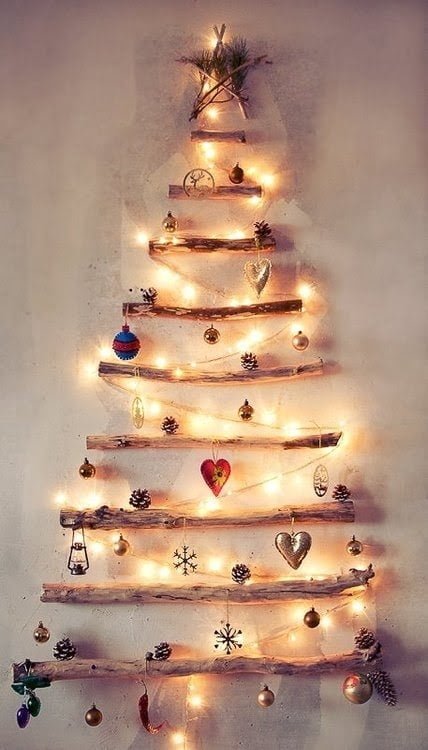 You don't need a six-feet tall evergreen to enjoy the holidays. If you live in a small space and need to conserve as much room as possible this year, there are plenty of ways to do so without missing out on the fun of Christmas decorating. Small halve trees are sold at vendors like Target specifically for apartment dwellers, but there are also non-traditional ways to add a tree to your space, like arranging a string or two of lights on a wall to form the shape of one, adorning fresh evergreen branches in festive vases with ornaments, attaching branches of decreasing sizes with lights to the wall, or even arranging all those books collecting dust on your shelf into a literary tree and topping it off with dazzling white lights. You can also hang lights across the ceiling and cut out paper snowflakes to stick to the windows to give your living space a wintery flare.
19. Sweet Dreams in a Christmas-Themed Bedroom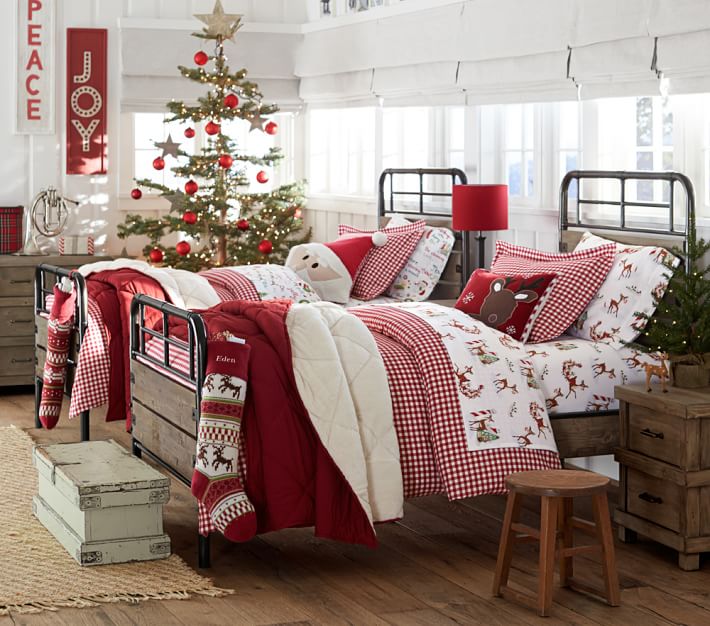 Give yourself a merry place to let visions of sugarplums dance in your head by swapping out your typical bedding for a festive alternative. Swap out the summer's light cotton sheets for heat-retaining wool or cotton ones. Matching sets in holiday prints like classic red and white Norwegian Christmas patterns can be purchased for nearly any bed size and design. Add on fur throws or fuzzy decorative fleece holiday blankets, and top with playful pillows shaped like Santa, reindeer and other familiar faces celebrating the holidays. This new set up won't just keep you snug and warm, but it will also create a sense of magic and wonder that carries on after you've dozed off.
20. A Kid-Friendly Christmas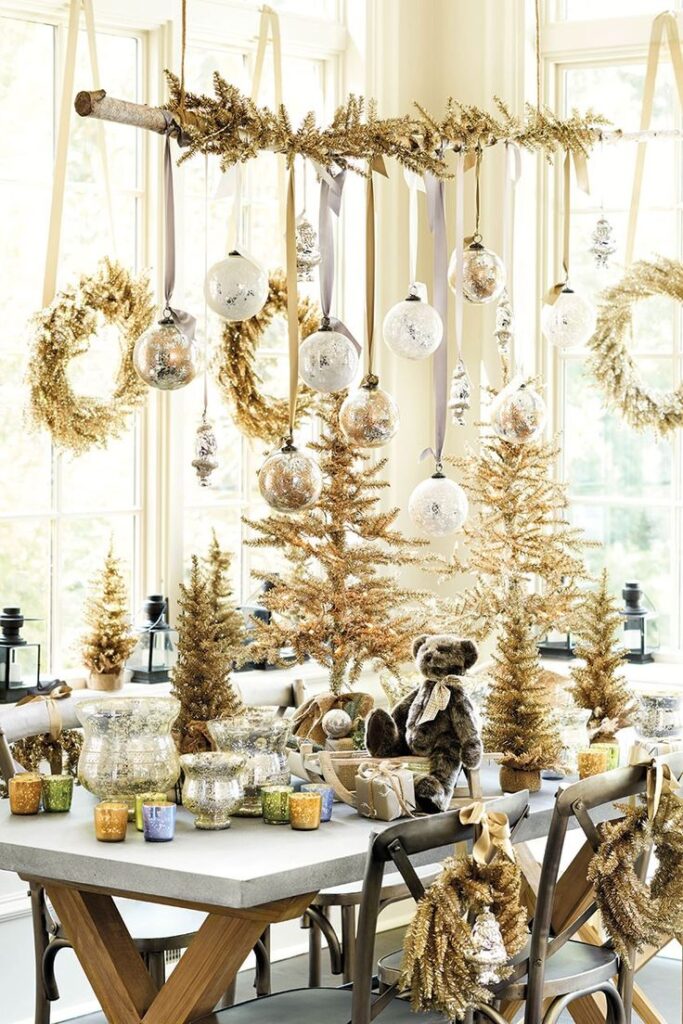 A lot of ideas for decorating seem to advanced or have end products that wouldn't earn a parent's seal of approval. If you have a family with little ones or anticipate many eager little hands to be exploring all your hard work during the holidays, search for ideas that aren't just child-proof, but ones that let them get in on the action without losing any elegance. The key terms for Christmas decorating with kids to keep in mind are "Boldness", "Playability" and "Durability. Stock up on plain plastic ornaments that won't shatter when dropped and let the kids help roll them in glitter. Swap glass candlesticks and vases for colorful metal, and accentuate with lots of pillows, wonderfully wrapped stacked boxes, holiday teddy bears and other large, gleeful objects that are interactive and will make your home shine.
21. Kid's Christmas Candy Cottage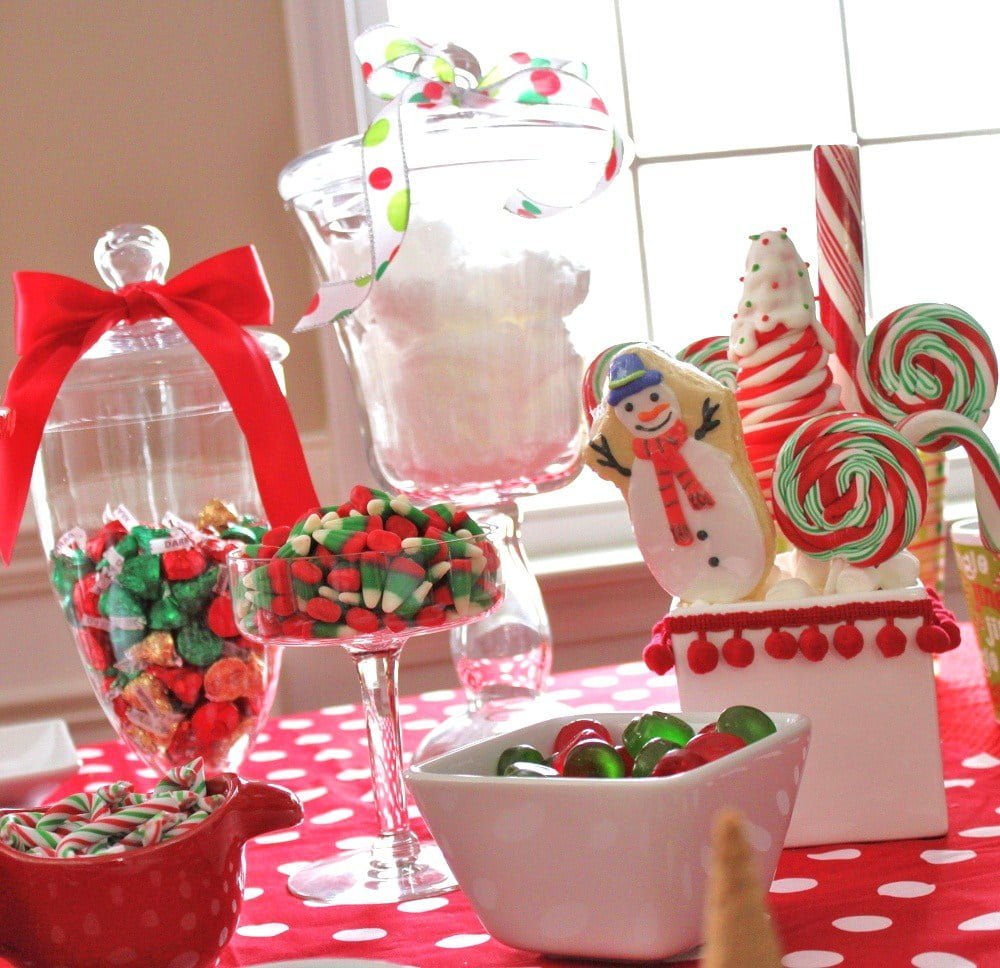 Whether you have a birthday party to throw or just want to make Christmas at your house extra fun for the younger members of the family, a colorful surprise kids are guaranteed to love is a Christmas candy buffet spread. A holiday tablecloth, clear jars of varying heights filled to the brim with Christmas sweets and tied with bows are sure to delight. Kids will love the treats, and their parents will be in awe of the whimsical and energetic display. It's also a nice way to treat yourself to a little something sweet after all you're hard work putting it together.
22. Easily Extravagant Cottage Christmas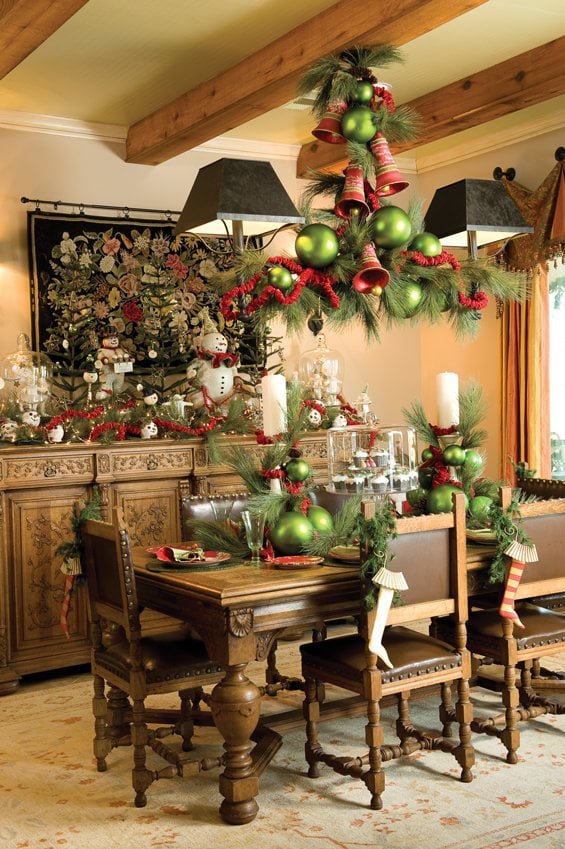 You may not live in a sprawling cabin in the Alps, but that doesn't mean you can't capture some of that mountain winter magic in your own home. It doesn't require six figures in the bank to achieve the same opulence either! When going for a luxurious cabin style, the trick is to stick with the classics and focus on the details. Surfaces lined with garland and tall, thick candles attract attention, while commanding and festive centerpieces arranged throughout and the swapping of chair cushions, table runners and new tableware in the colors of the season will help establish a sense of continuity and immersion.
23. DIY Cinnamon Christmas Candles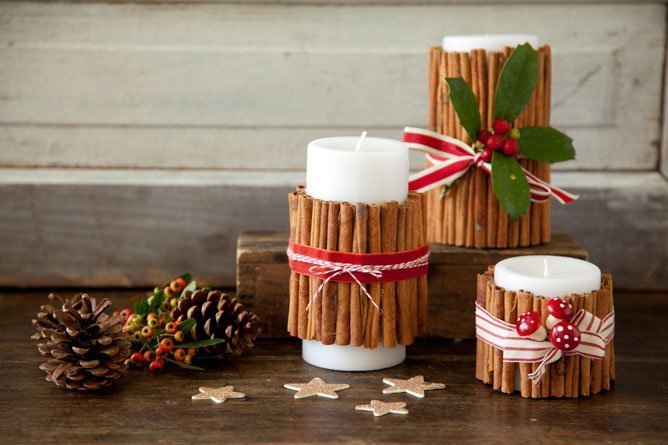 Cinnamon and vanilla are two of the Christmas season's signature scents. You can embrace them both with a set of affordable homemade candles. This DIY project will take you less than an hour, but leave your home smelling festive and fresh all winter long. Nearly all fond holiday memories are intertwined with unforgettable comfort of a sweet and spicy scent. Custom made cinnamon stick candles like these will take you right back to the best Christmas' of your youth and surely become a staple on your DIY Christmas To-Do list for years to come.
More Christmas decoration ideas on the next page…