24. Modern Christmas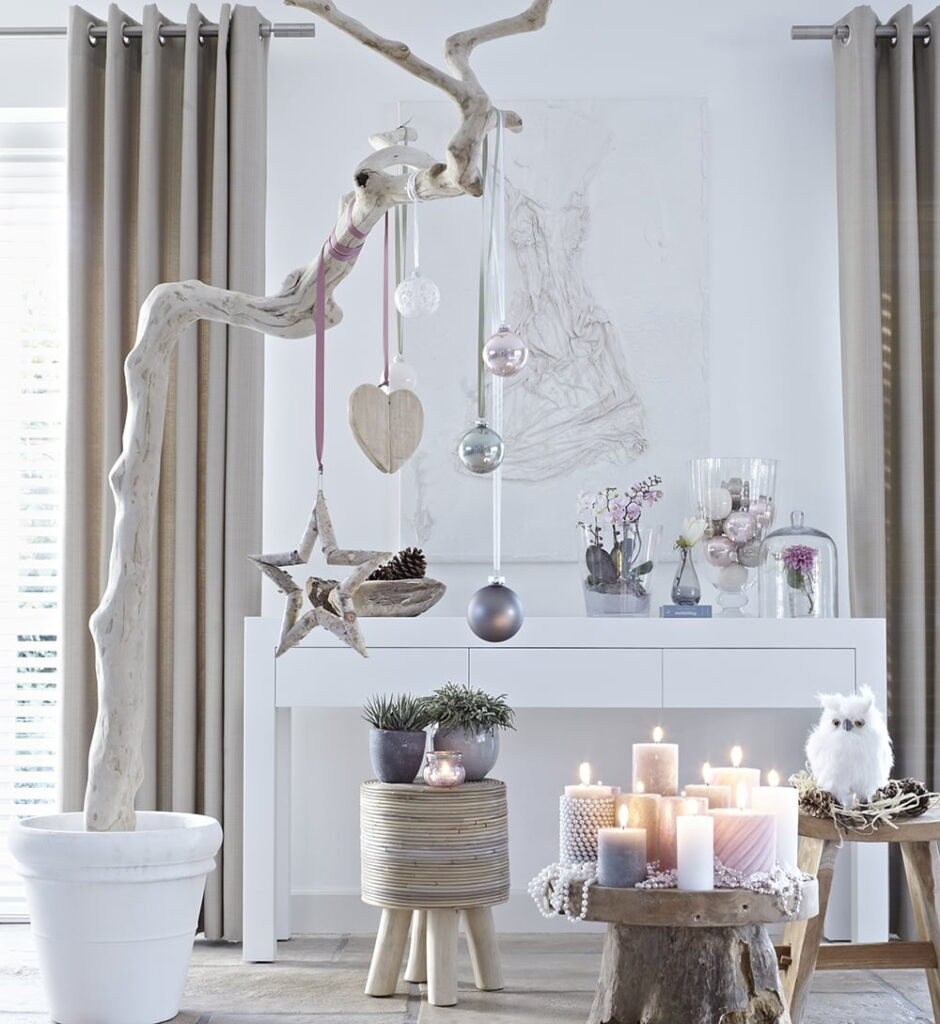 If classic Christmas decoration ideas aren't your thing, than perhaps some of the emerging modern trends will suit your style. Disco balls? Check. Silver star balloons and thick strands of LED lights in unexpected colors like hot blue? Check. Modern decorations are sleek, simple and in many areas, forego traditional altogether in favor of something more chic. Christmas tree made from crisp white birch branches, anyone? Ornaments can be suspended from thick cuts of silver and white ribbon, and subtle woodland accents will anchor the look to winter.
25. Front Door Christmas Decor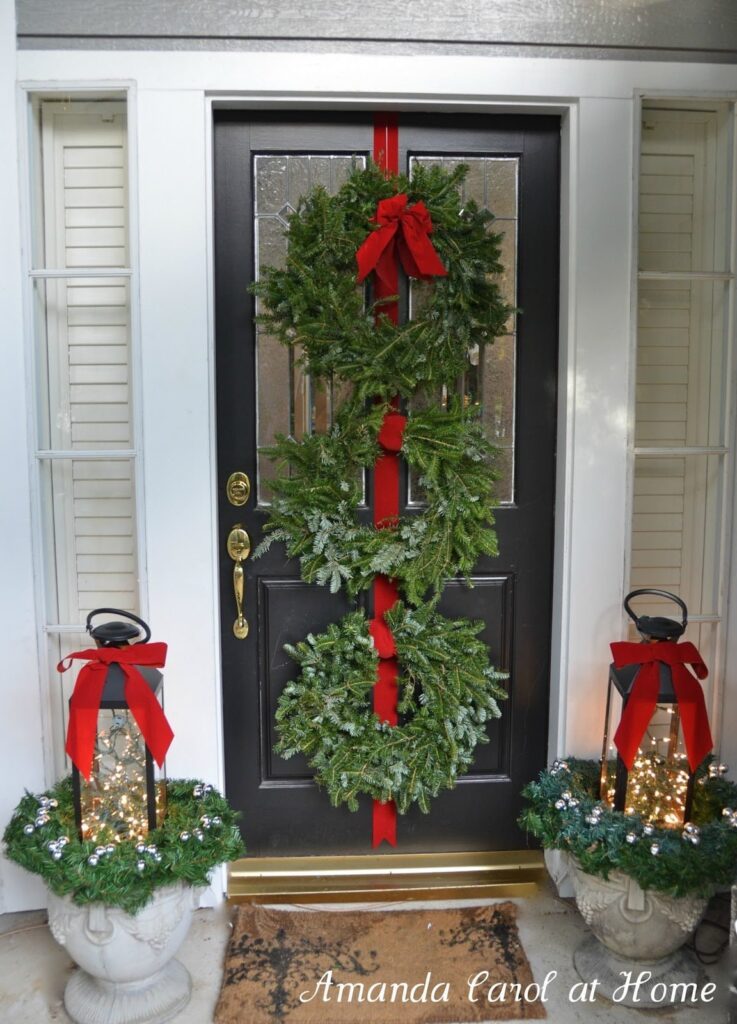 Wreaths are great, but why stop at just one? If you have a large front door, why not stack three together and create an eye-catching display? And there's no need to stop where the guests come knocking. Windowsills can be fastened with wrought-iron baskets, filled with decorative evergreens and red ribbon. Instead of just storing your extra lights, curl them in a glass lantern and disguise any extra cords and wires with a fresh wintery green garland. Taking Poinsettias from standard containers and arranging them in old wicker wine baskets will infuse your porch with a delightful downhome touch that makes guests feel welcome before they've even stepped through the front door.
26. Decorative Noel Letters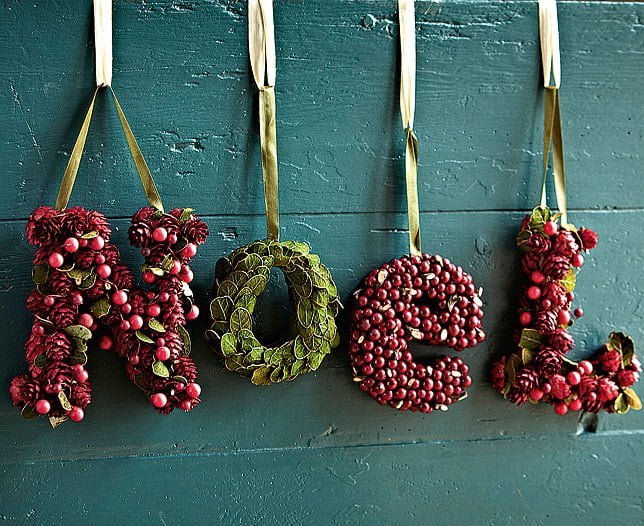 Spread Christmas cheer and good holiday tidings to all who pass by hand-crafted Noel letters. The essence of the season is perfectly captured by creating each letter in its own unique color and texture, from rich brown pine cones, crisp evergreen foliage, silver and white birch twigs and deep red faux berry accents for a lovely natural contrast. These letters can be hung in front of a window, a door, above a mantle and anywhere else people will pass and be able to receive the message of joy and peace.
27. Fancy Christmas Kitchen
Old style accessories can infuse your kitchen with a vintage trend that makes it the perfect winter repose from the often frenetic pace of the season and our day-to-day lives. Kitchens big and small must be centered around three things: function, amusement and comfort. Even if you live in an apartment and your kitchen space is limited, wreaths, wall ornaments and other simple holiday kitchen accessories can turn your space into a warm and inviting place to savor all the sweet flavors of the season and lovingly prepare your holiday meals.
28. Christmas Deer Pillows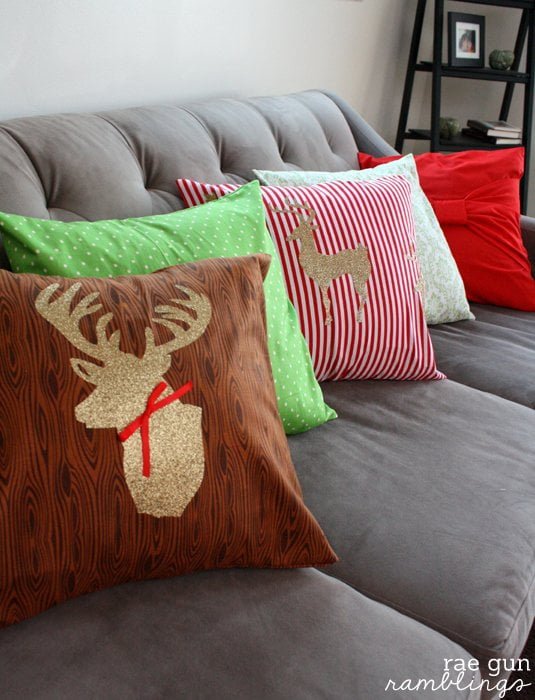 Depicting one of Santa's hooved helpers on a pillow is a wonderful way to add some holiday cheer to your sofa or bedroom. The rustic-inspired wood fabric pays homage to the animal's woodland roots, while a glitter application of the deer itself is both festive and stylish. The base fabric can also be striped or candy-cane themed for a dash of extra gleeful winter whimsy. Children are bound to love a snuggly pillow to cuddle up to, and it's even more special since its handmade. A Christmas deer pillow can even be used as a base for other designs that reflect your favorite symbols of the season.
29. DIY Christmas Pinecone Projects

Pinecones are available out in the wild for free or at any local craft store. Many even come scented with cinnamon or other holiday odors, which adds a nice finishing touch to any project you craft with the pricky Christmas symbols. Pinecone Christmas decorations ideas can be adopted as new traditions by parents, make a fun party activity or even incorporated into the classroom for daycare and elementary school teachers. Whether it's glittered tree ornaments hung from silky satin ribbons, pinecone reindeer with adorable googly eyes and red cotton ball noses, pinecone-carved mice or a unique pinecone Christmas tree, nature's winter wonders are a must-have for any crafter's project list this season.
30. Pretty in Pink (and purple!) Christmas Decor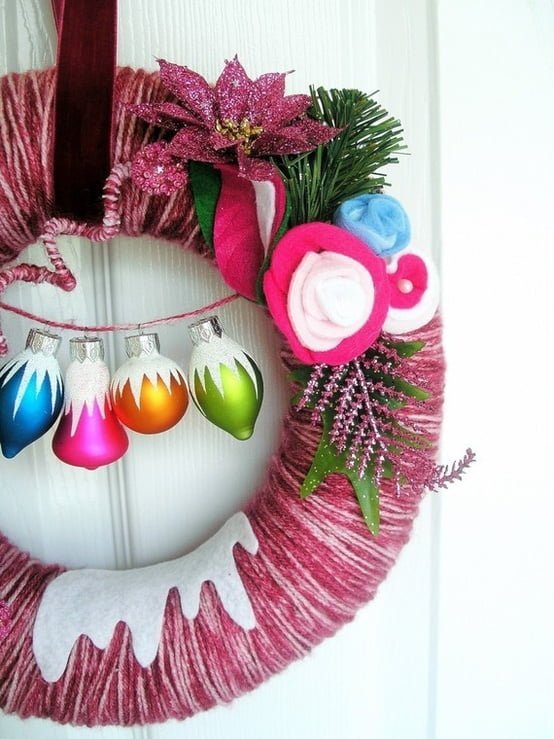 One favorite alternative Christmas color palette for decorators is pink and purple. These feminine colors are whimsical and fun, and usually call upon the use of plenty of candy-themed ornaments, glittery oversized bows, twinkling lights and loads of pretty wrapping paper. Christmas trees done in large decorations and even made with pines that are pink or purple instead of the classic green or white are reminiscent of whimsical places such as Lewis Carroll's Wonderland or, more recently, New York's famed Serendipity restaurant. If you want to embrace your inner diva or have a little girl that is in a pink craze, turning to the rosy side of the color spectrum for Christmas inspiration is one way to truly personalize your Christmas.
31. DIY Christmas Mantle Hanger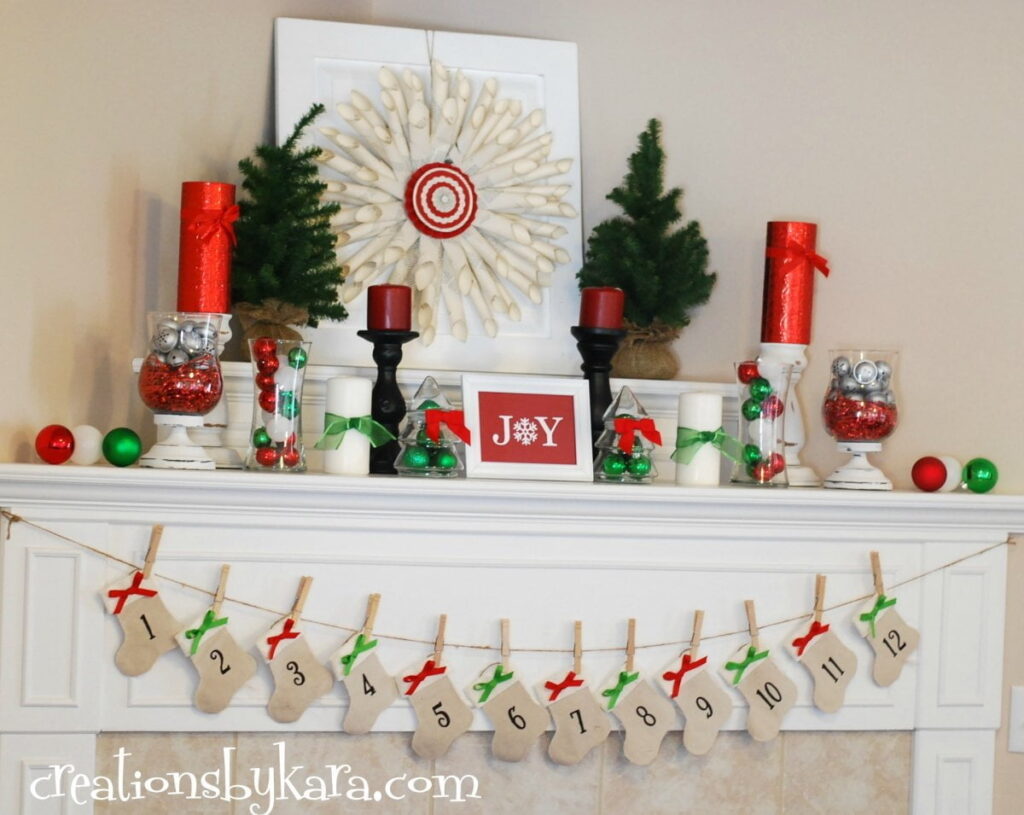 Source: Pinterest
Stockings aren't the only decorations you can have above a roaring fireplace. The mantle is a wonderful way to express your creative side, in addition to being a perfect place to showcase all your favorite decorations. While miniature Christmas figurines, gingerbread houses, garland, snow globes and more can be placed on the mantle itself, strung across can be your own custom-made Christmas countdown chain. Paper socks numbered 1-25 in cheerful red and green paint or makers can be secured with clothes hooks along a string to create a laundry-line effect that lets you take down a sock each day that passes and brings you closer to Christmas!
32. Christmas Decorating Ideas for Staircases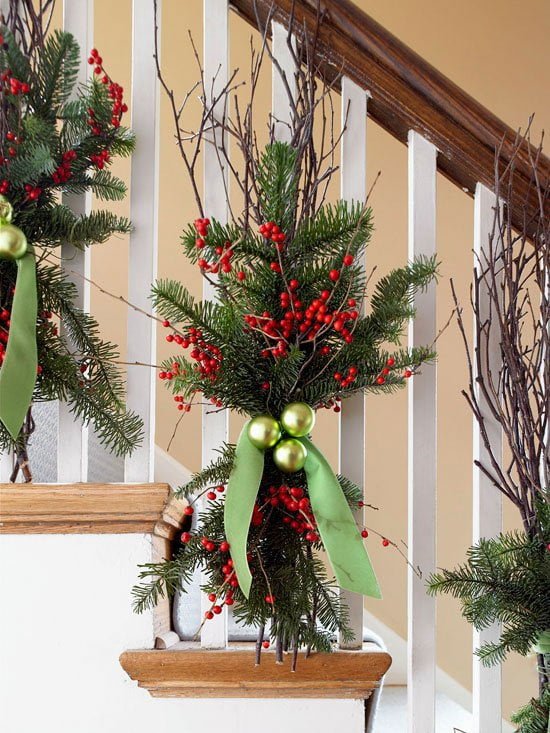 Home owners may have one single, narrow set of stairs, while others may be faced with a winding grand staircase that encloses a foyer. Regardless of architecture, all can agree that staircases are bases just waiting to be adorned with the seasonal decor. However, there's no need to stick to evergreen garland and tinsel. Christmas decorations can turn a staircase into a work of wintery art, and a few unique embellishments are all it takes to transform your bannisters and brighten your entryway for Christmas. Bows, bushels of greenery secured to railing posts, ornament garlands and even stockings are versatile and easy ways to dress up your staircase this season.
More Christmas decorations on the next page…