Christmas is coming. You can tell by the mail order catalogs flooding your doorstep these days. Pretty soon your favorite radio stations will be playing non-stop Christmas music. Of course, it is the most wonderful time of the year. People are more friendly. There's the anticipation of gift giving. You get to host a family gathering. Okay, maybe not that last one. But you get the idea. It's a time for celebration!
50+ Ways to Make Your Outdoor Space Unique for Christmas with DIY Décor

It's also the most wonderful time of the year for, you guessed it, DIY projects. That's right. This is the perfect time to show off your crafting skills with some Christmas DIY outdoor decor.
An original display of Christmas DIY outdoor decor is your chance to let everyone know how much you love Christmas. Sure, you could be like your neighbors and put out your best store bought decorations. But why settle for ordinary? After all, these are the kind of projects you love.
Your decor doesn't have to be extravagant either. Even the simplest ideas can turn a bah humbug into a Merry Christmas!
So make it your year to stand out. Be the envy of all your friends this holiday season with these Christmas DIY outdoor decor ideas.
1. Fabulous and Festive Flocked Fir Artificial Tree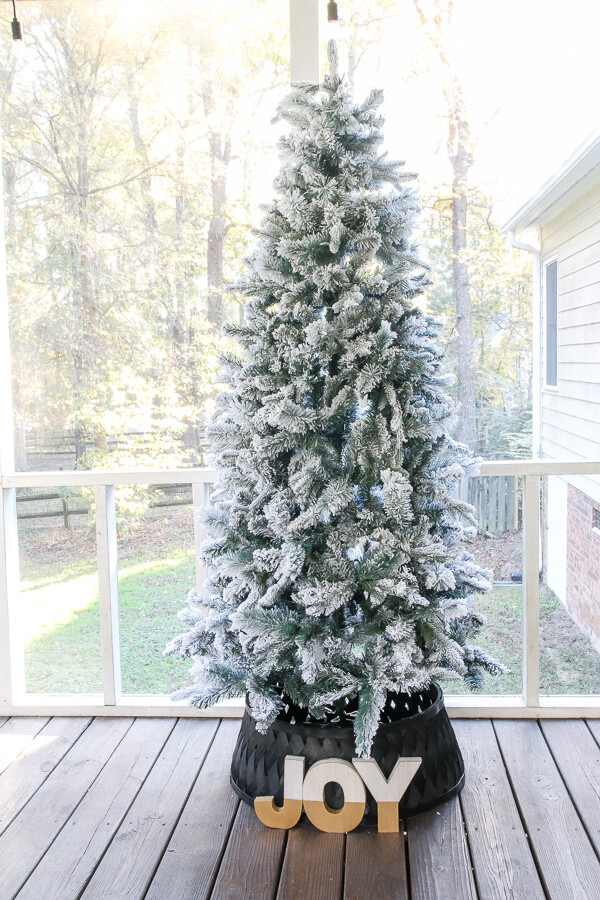 What's not to love about this fabulous flocked tree? Even without a single decoration, it still looks fully festive all on its own merit. It's a great choice for an outdoor space, like your front or side porch entryway, to add some extra curb appeal this winter. String along with a set of white lights to continue the flocked fun long after the sunsets.
2. Winter Wonderland Snowflake Sled Christmas Decor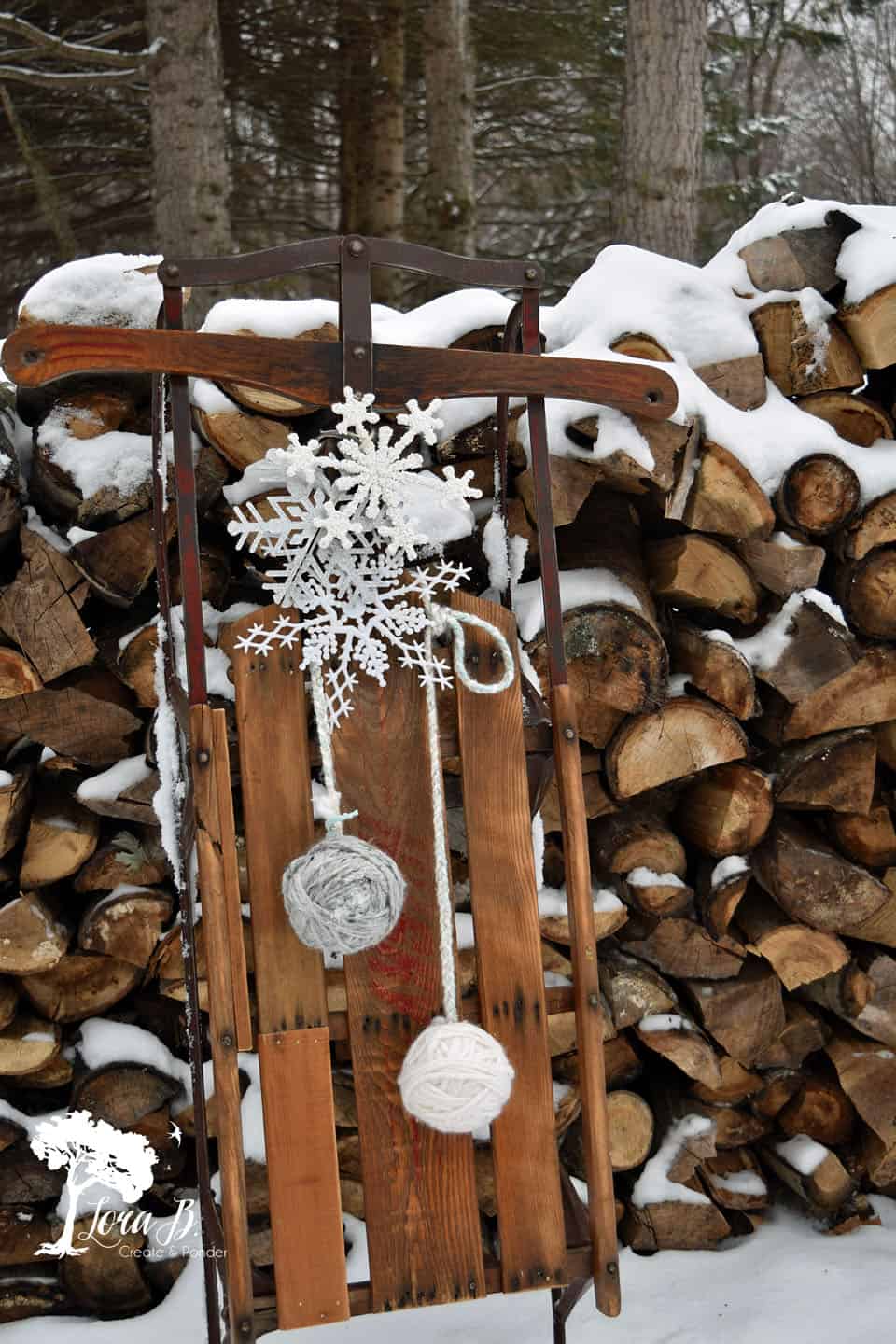 One of winter's favorite modes of transportation doubles as a fun decoration. Prop up your old wooden sled from childhood days and give it a new sense of purpose. Its vintage flair and timeless memories will pull on the heartstrings of everyone. Adorn it with some handmade snowflakes and tie it with some spheres of yarn for a true winter wonderland-worthy work of art!
3. Old Fashioned Christmas Window Pane Decoration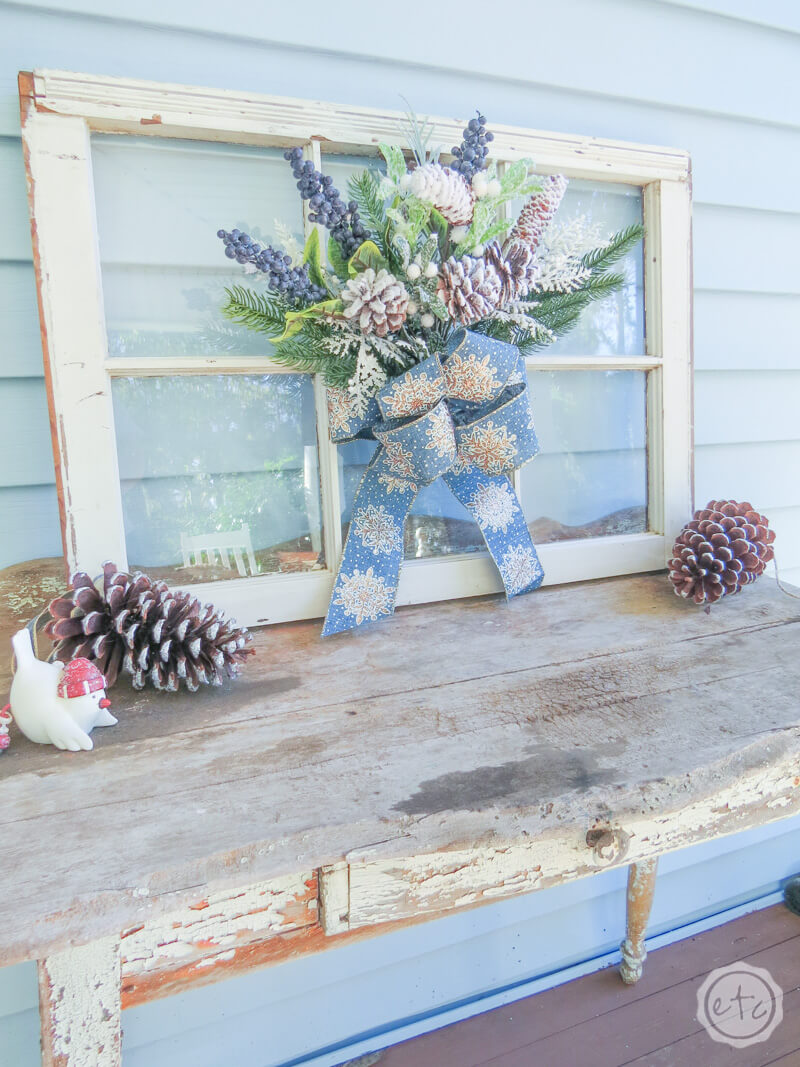 Repurpose an old window into a unique and vintage-looking winter decoration that is the perfect addition to your front porch this December. Customize a large bow with a snowflake or plaid ribbon and incorporate some sprigs of greenery, berries, and pinecones to create a beautiful, one-of-a-kind decoration. The pinecones and winter greenery can extend the life of this decoration beyond the Christmas season and throughout the winter months.
4. Tidings of Planters in Joy Holiday Decor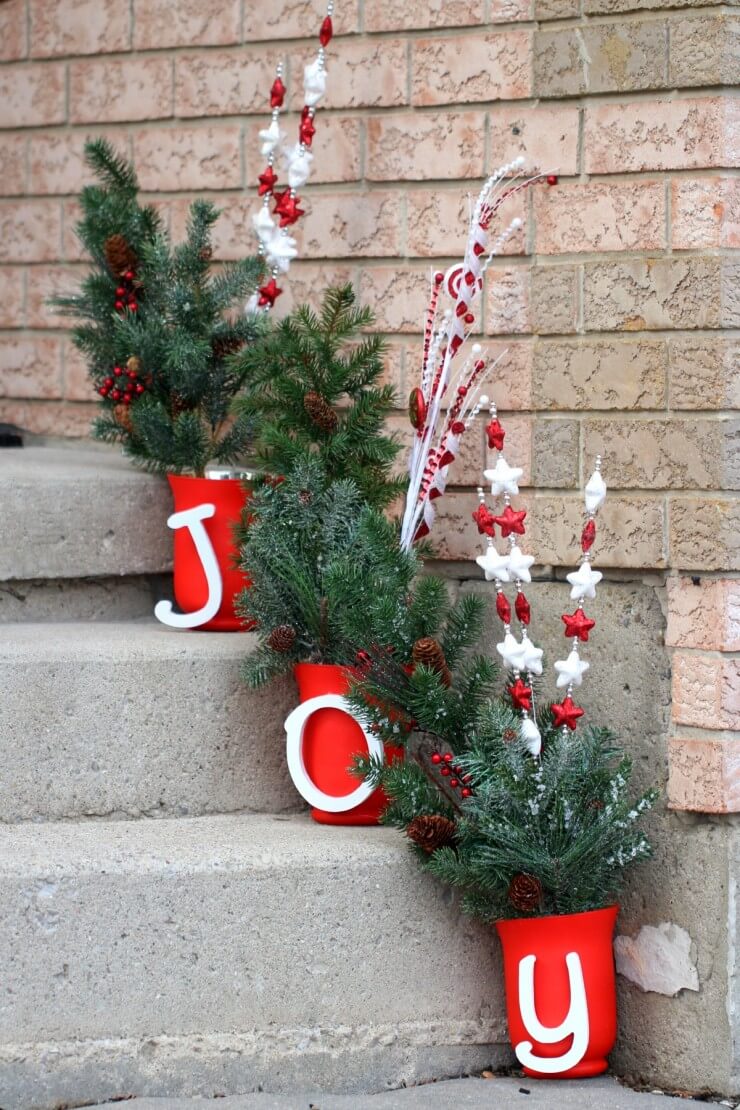 Line your front porch steps with some festive flair this winter season as you spell out "joy" to greet all of your family and friends. All who enter your home will enjoy this sweet sentiment and the gorgeous greenery spiked with red and silver ornaments. If you don't have any steps, you could always set them side-by-side on a small table too.
5. Cute as a Button Wooden Christmas Tree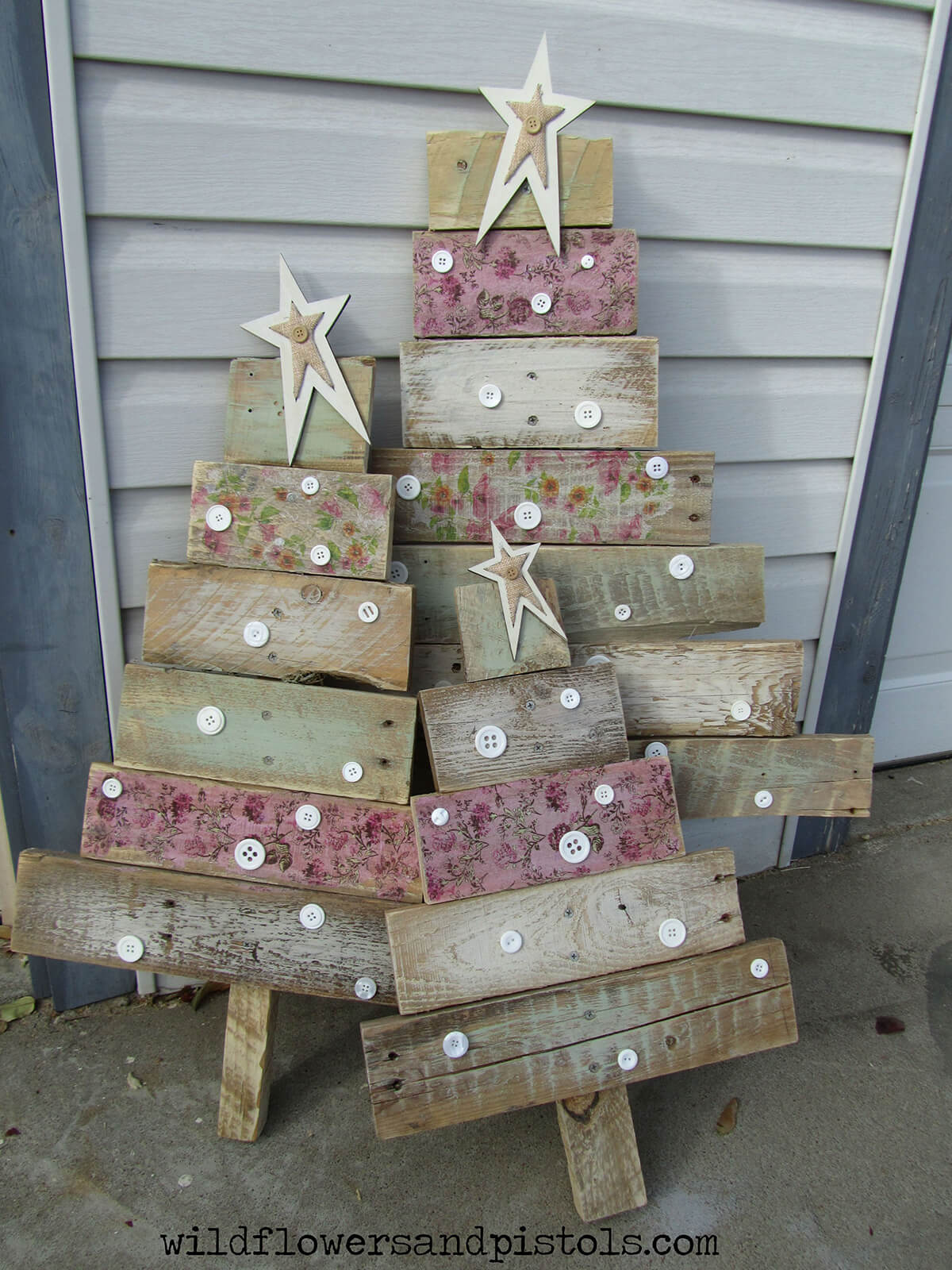 Don't throw away those scrap pieces of wood. Instead, use them to craft a charming Christmas tree decoration for your home. Since no tree is complete without some decorations, grab a handful of those leftover buttons and attach them to serve as your ornaments. A layered wooden star topper takes the cake and a couple of rows of decoupage put your own touch on the design.
6. Favorite Holiday Travel Destination Signs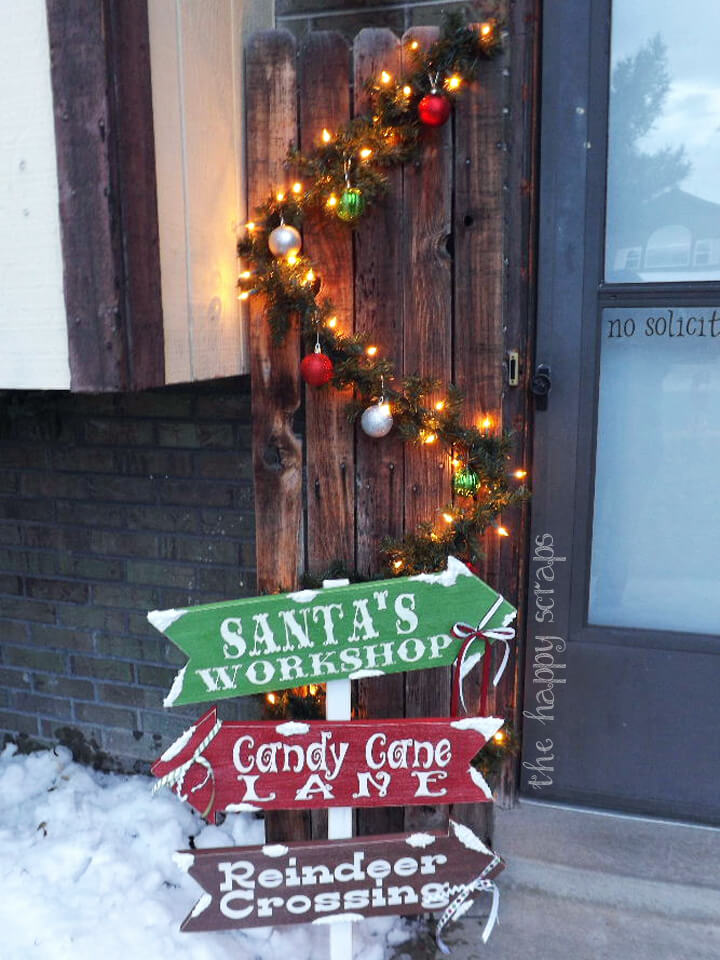 Make navigating to your favorite holiday travel destination a little easier this year with these fun signs to steer you in the right direction. No matter if you choose to treat your sweet tooth on Candy Cane Lane or prefer to enjoy some wildlife sightings by following Reindeer Crossing, you will enjoy placing this holiday marker in your front yard this Christmas.
7. Simple and Sweet Wooden Tree with Lights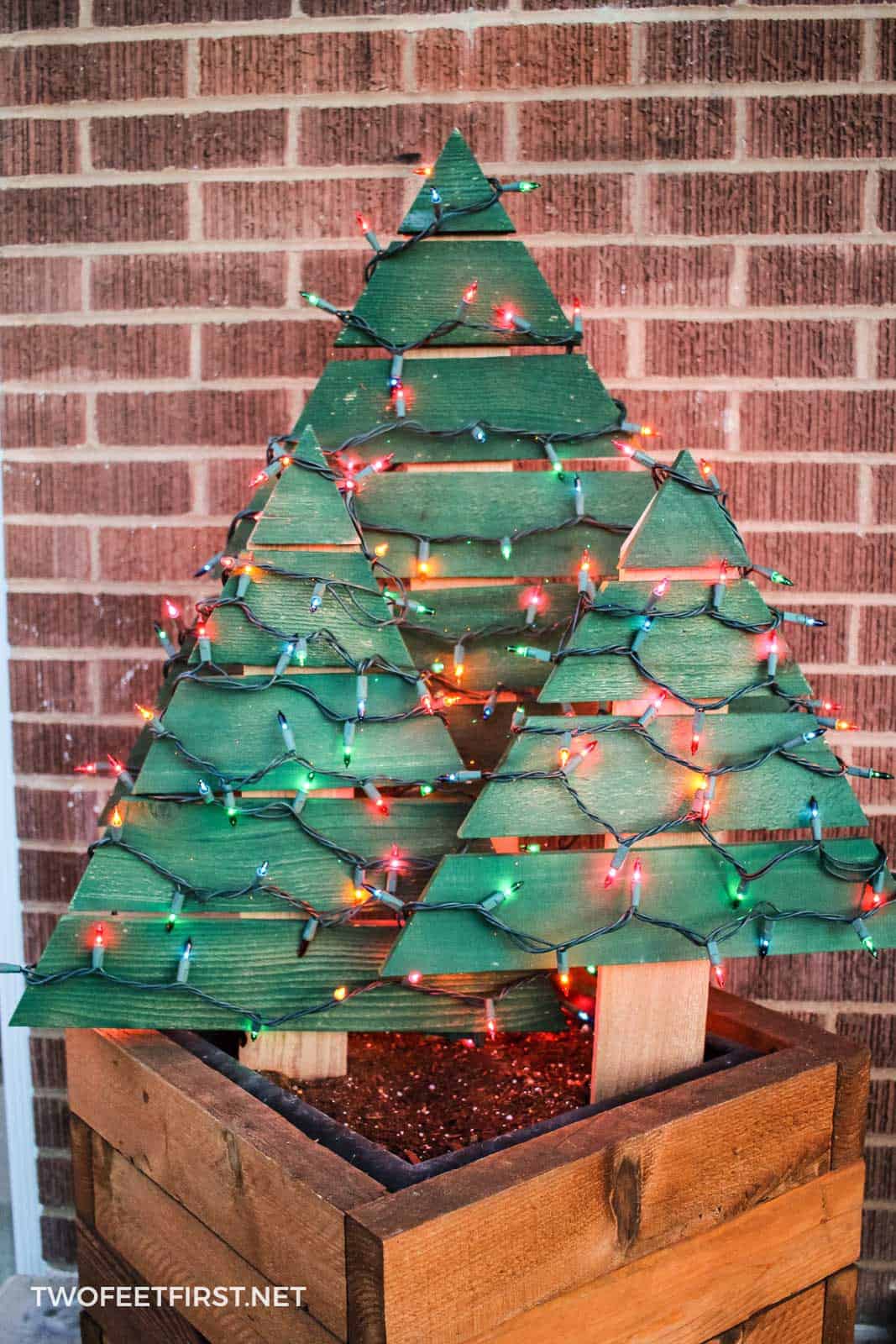 Sometimes less is more, so why not create this adorable little wooden tree? Slap on some green to make the tree come to life with the color of the season and add a strand of colored lights to complete the look. You can prop this up in the corner of your porch or use it inside your window for all passersby to see. It would make a nice gift for some of your dear friends during a small holiday gift exchange as well.
8. Creatively Crafty Spindle Snowflakes Winter Decor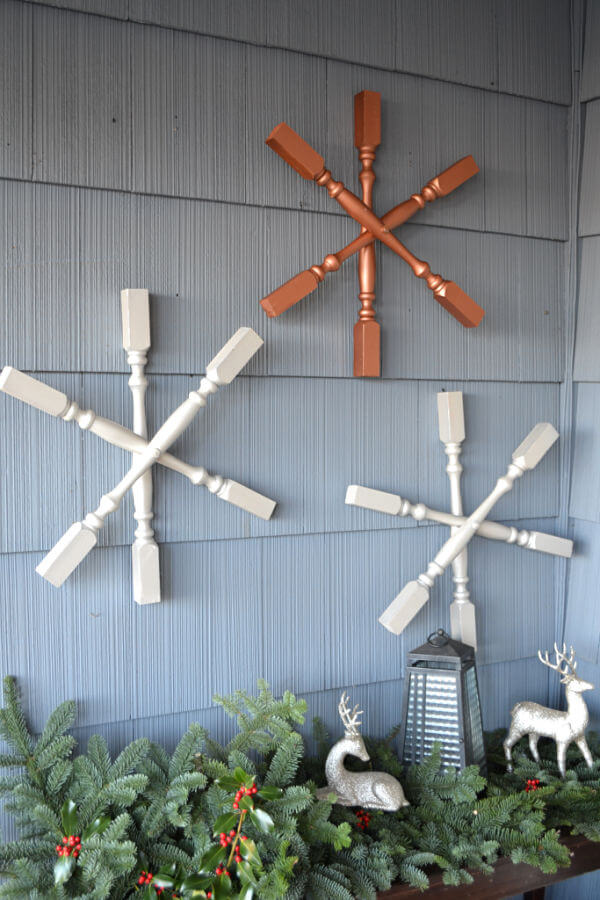 Think outside the box this winter and transform some wooden spindles into unique snowflake decorations. These frosty winter friends can be painted in a crisp white, sparkly silver, or cool blue to help you decorate your front porch space as Mother Nature blows the cooler temperatures onto the scene. Even when you're stuck indoors, it is comforting to enjoy some fun winter decorations to keep the winter blues away.
9. 3D Freestanding Painted Wooden Christmas Tree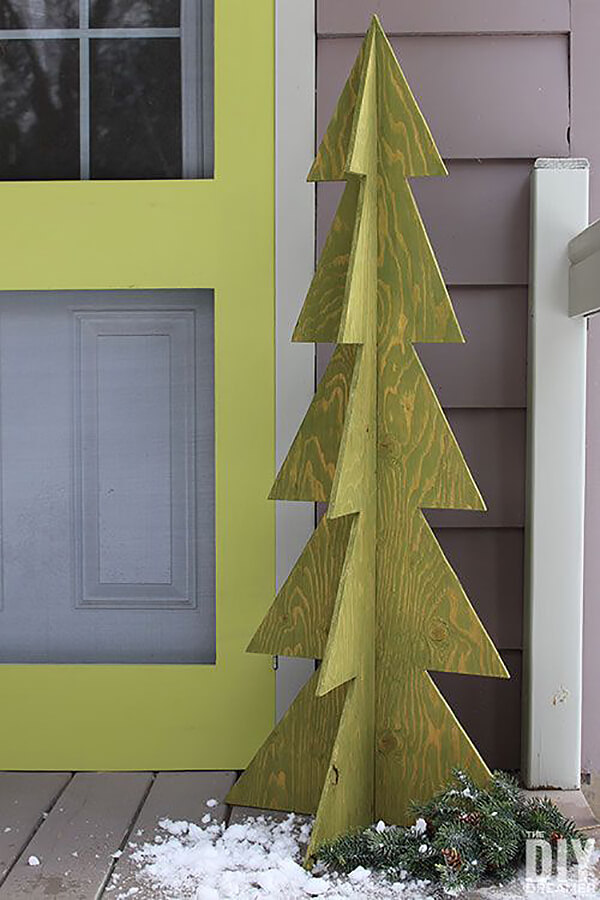 Add some depth to your porch with this original three dimensional wooden Christmas tree. Since it's freestanding, you may choose to place it in the corner or right beside your front door. Paint it any shade of green that suits your fancy to infuse some of your own personality into this piece. Draping some metallic or rustic pine cone garland would be a fun touch to dress it up a little more for this holiday season.
10. Striped and Splendid Pretty PVC Candy Cane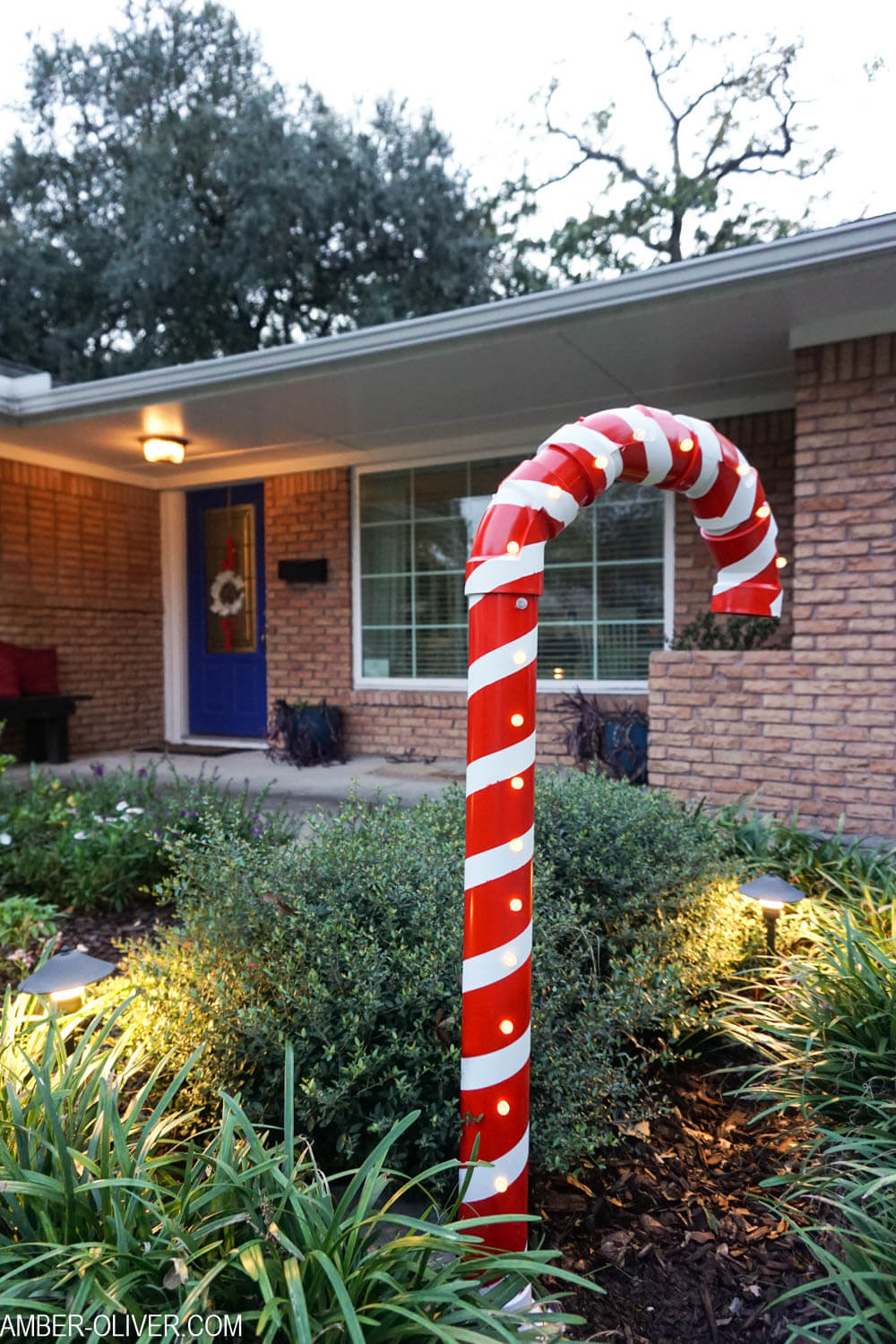 Don't forget to hit those home improvement stores when you're searching for your holiday decor items. Taking a few pieces of PVC can turn your front lawn into the winter wonderland of your dreams. These red and white striped candy canes are larger-than-life and look amazing from the street view. The addition of the white lights helps to light the way so Santa doesn't forget to stop.
11. Star of Wonder, Star of Lights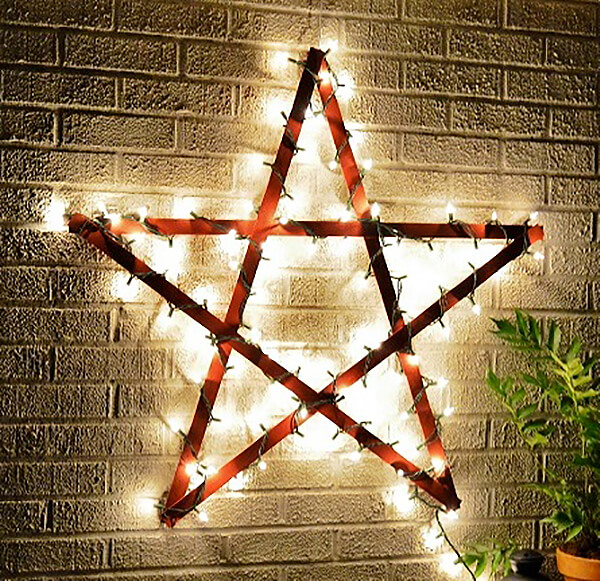 Light up the night from the comfort of your front porch with this wooden star wrapped in white twinkle lights. Just as the shepherds looked for the star, your friends can use this as their guide to your home for the holidays. Hanging it in the peak on the front of your garage or shed is another great way to display this bright star.
12. Fun and Festive Holiday Gnome Christmas Trees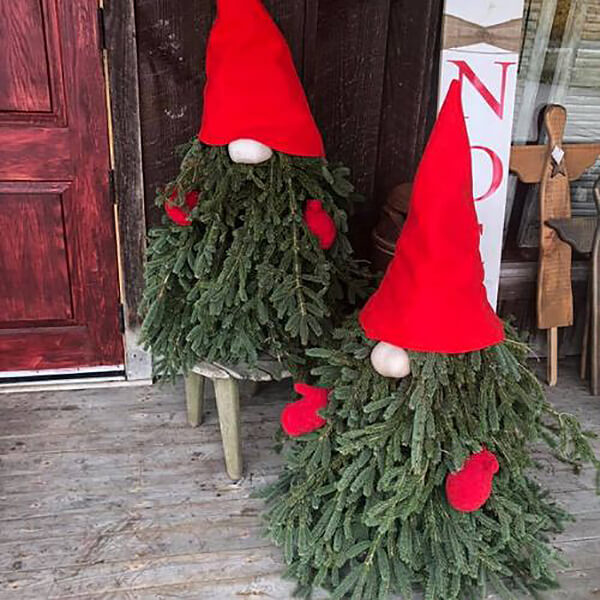 There's always room for more red and green when you're decorating your holiday scene. Add these cute and fun holiday gnome trees to your mix to add some character to your decor. Short and stumpy, this stocky evergreen gnome is just what your front porch needs to greet guests this Christmas. His red Santa hat and matching mittens complete his look.
13. Light Up the Night Twinkle Light Trees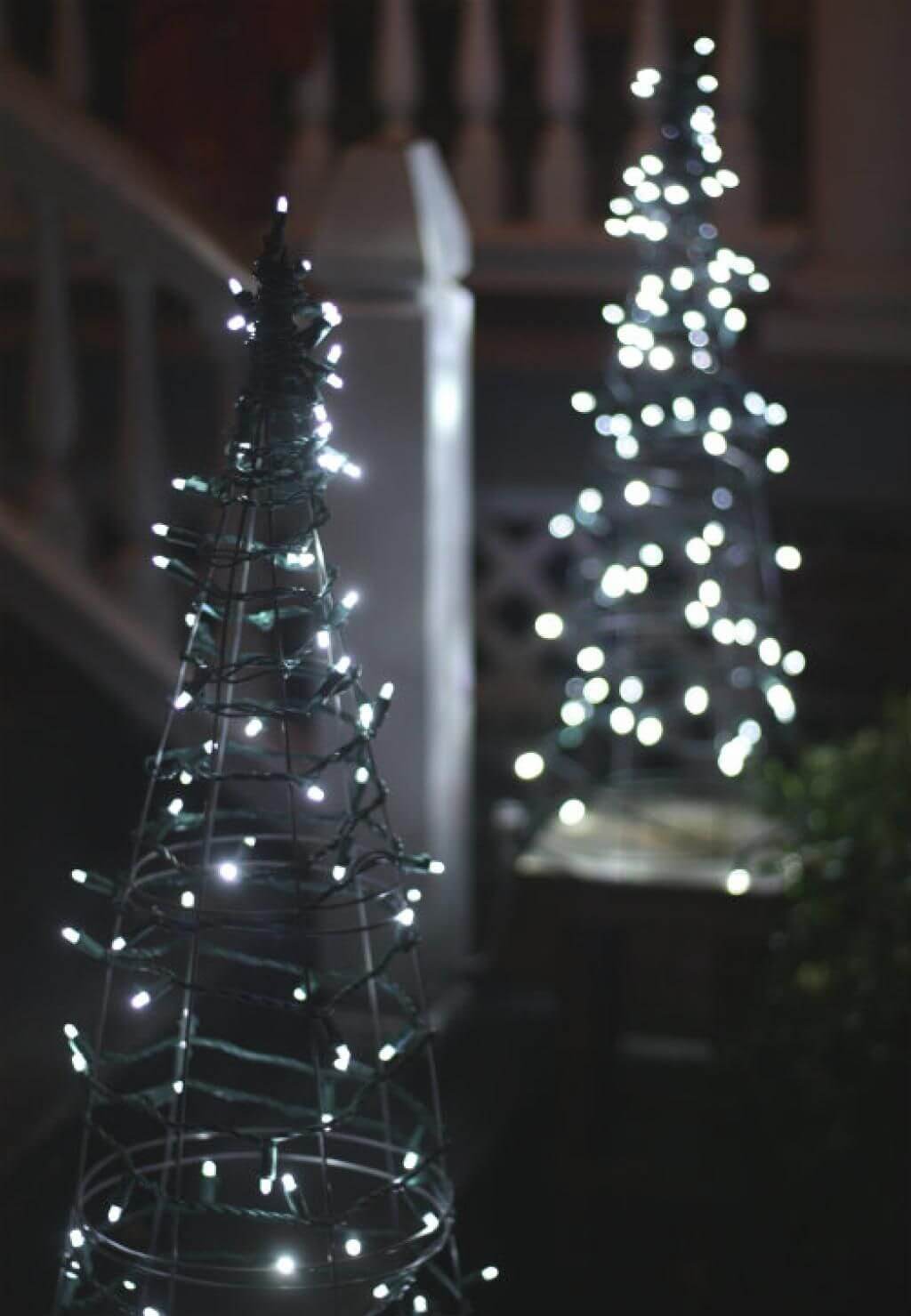 Find a purpose for those tomato cages long after the harvest season as you transition them into some terrific twinkle light trees. Since they'll only be taking up space in your shed as you store them this winter, give them some new life as they decorate your front yard with holiday cheer! Add one or line your entire driveway to celebrate the season.
14. Charming Wooden Lantern with Mason Jar Light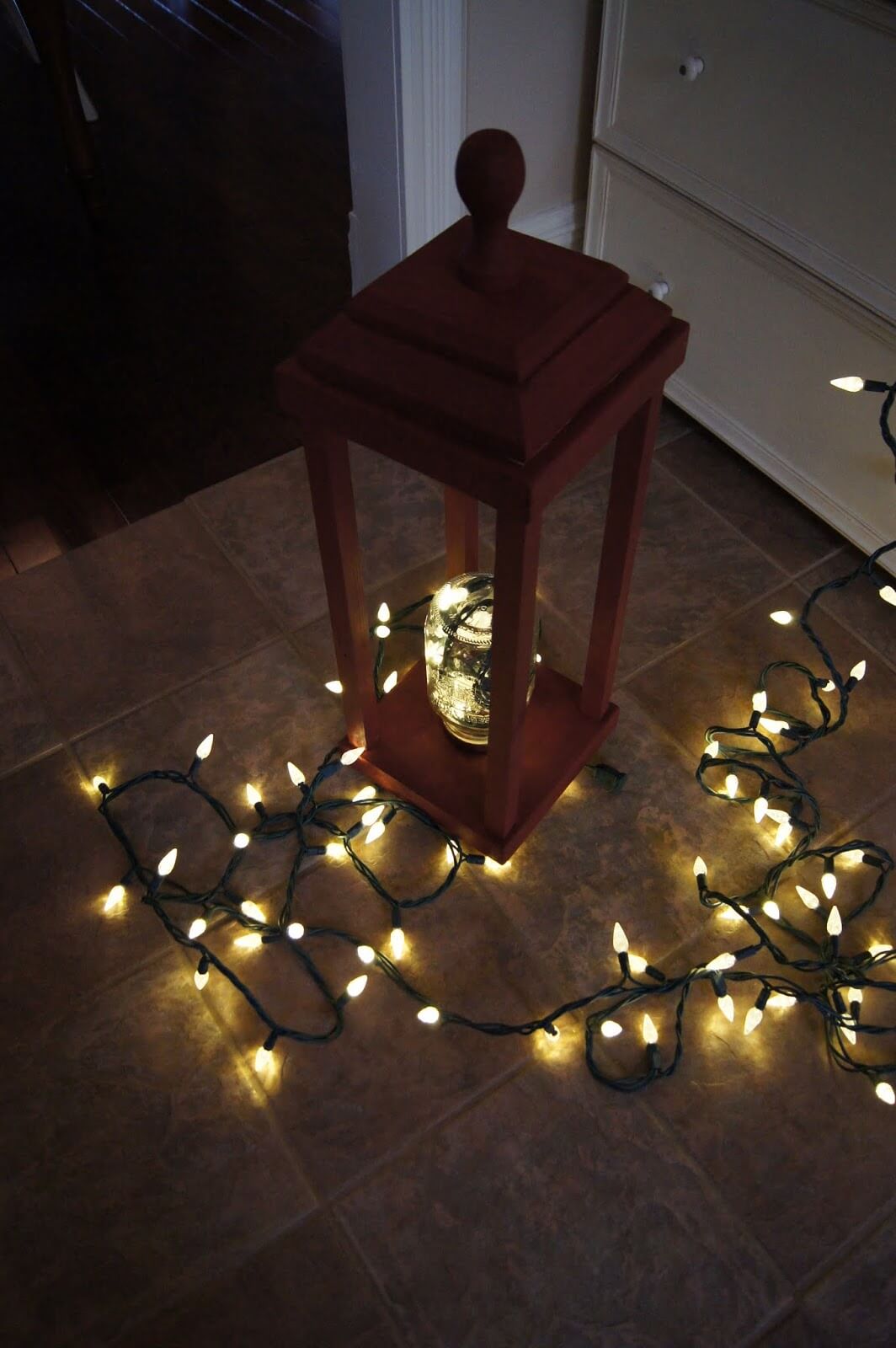 Here's a new way to style your decorative lantern this winter. Turn an unused mason jar upside down and fill it with lights to create a new and interesting holiday decoration. You may choose to drape the remaining lights as a garland along your mantel or neatly wrap them around the exterior of your lantern. It's always a good idea to add some lighted pieces into your holiday decor to bring some warmth into the cool winter scene.
15. Merry Christmas Holly Berry Door Mat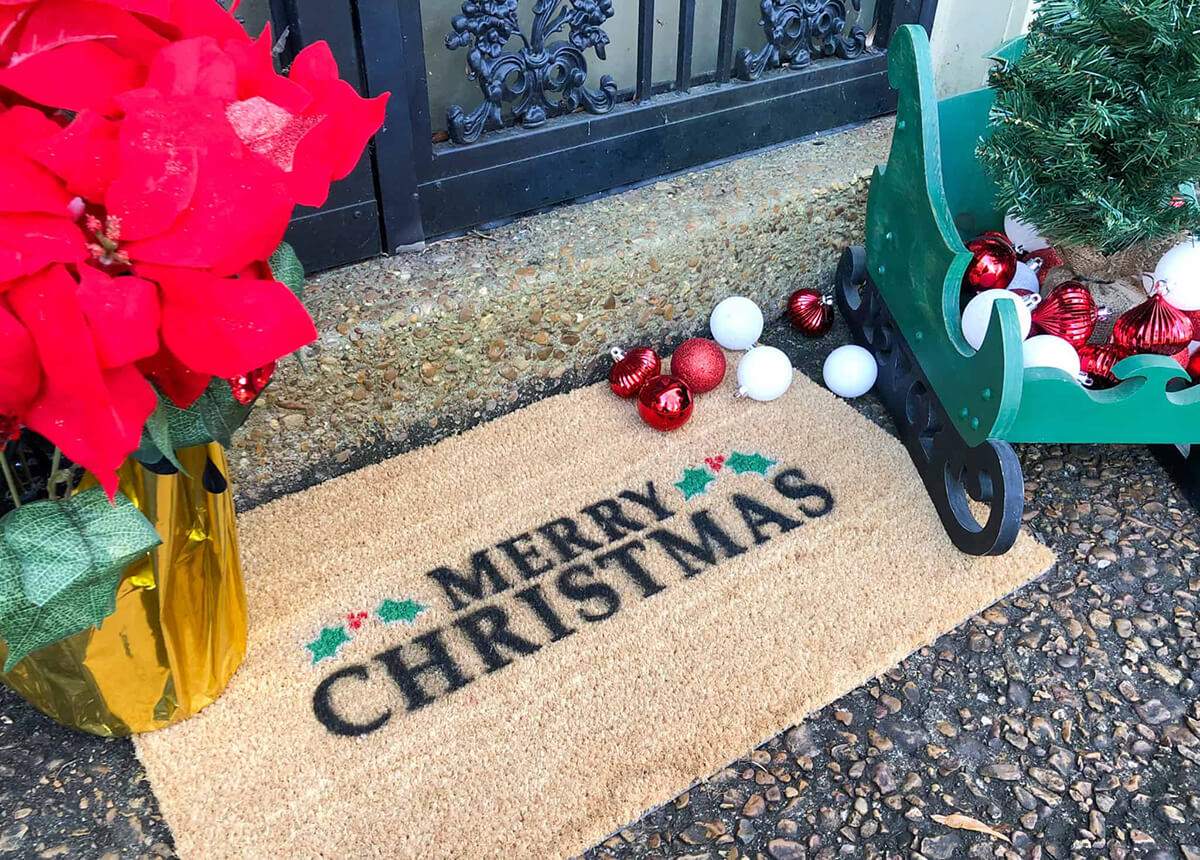 Deck the halls and don't forget to throw down a new doormat this holiday season! The creamy background is a perfect foundation for the red and green scripted "Merry Christmas" that is adorned at the top with some festive holly berries and leaves. Changing out your doormat is the icing on the cake in terms of tying together your porch for a total Christmas look.
16. Set of Snow Nice Snowmen Porch Decoration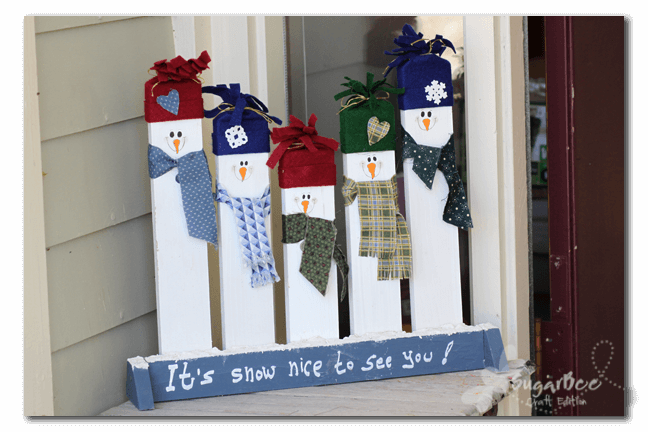 Bring some winter cheer to your porch this year with this darling set of snowmen. This family of five is all decked out with their scarves and hats to greet you with a friendly "It's snow nice to see you" as your guests step up to your front door. These pleasant snowmen are a favorite decoration as they can be used the entire winter season extending the life of your traditional holiday decor.
17. Lighted Cut Out Reindeer and Sleigh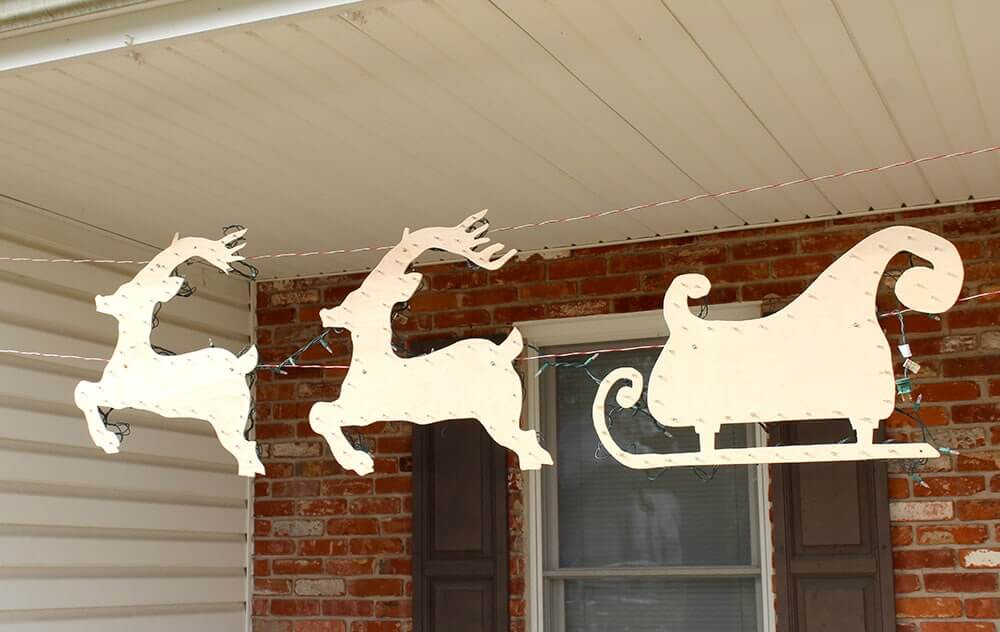 And what to your wondering eyes should appear, but this cut out lighted sleigh with two tiny reindeer. As your porch seems bare from the lack of hanging baskets, fill this space with Santa's sleigh and a few reindeer. The trimming of white lights makes it really come to life on your front porch after the sun goes down.
18. Super-sized Red Ball Christmas Bulb Decorations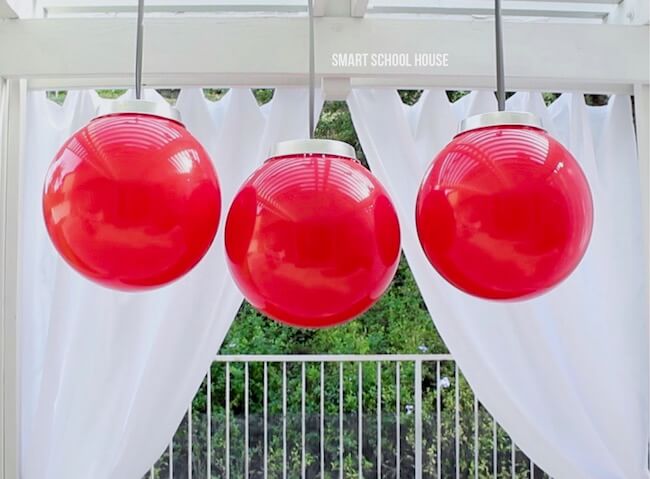 Grab a cart full of those plastic red balls in the sporting goods section at your local department store and re-imagine them as super-sized bulbs for your Christmas curb appeal. You might choose to hang them from your porch or suspend them from a tree in your yard, but either way, they are sure to be noticed by everyone traveling through your neighborhood.
19. Return to the North Pole Sleigh Set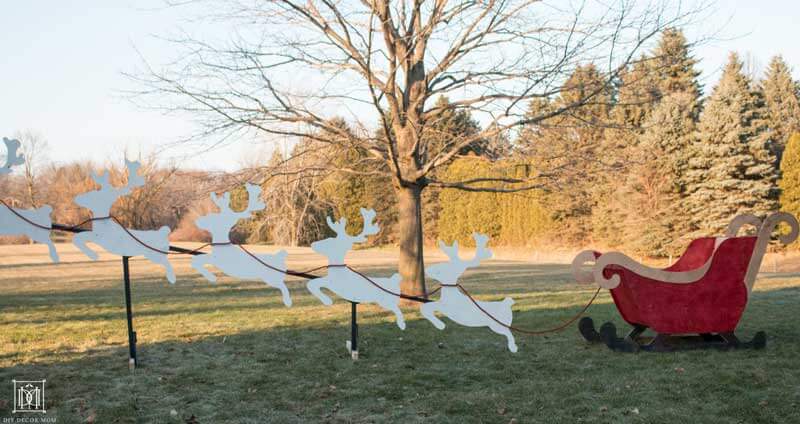 Santa's sleigh and reindeer are set to return to the North Pole this Christmas Eve as they are packed and ready in your front yard! The royal red color of the sleigh adds a pop of festive color to enhance your winter curb appeal. With all the leftover boxes from online deliveries, you can easily create some large presents to add to this Christmas scene. Have fun creating the North Pole of your own, in the comfort of your own front yard, to share with your neighbors and friends.
20. Merry Christmas Wooden Circles Garland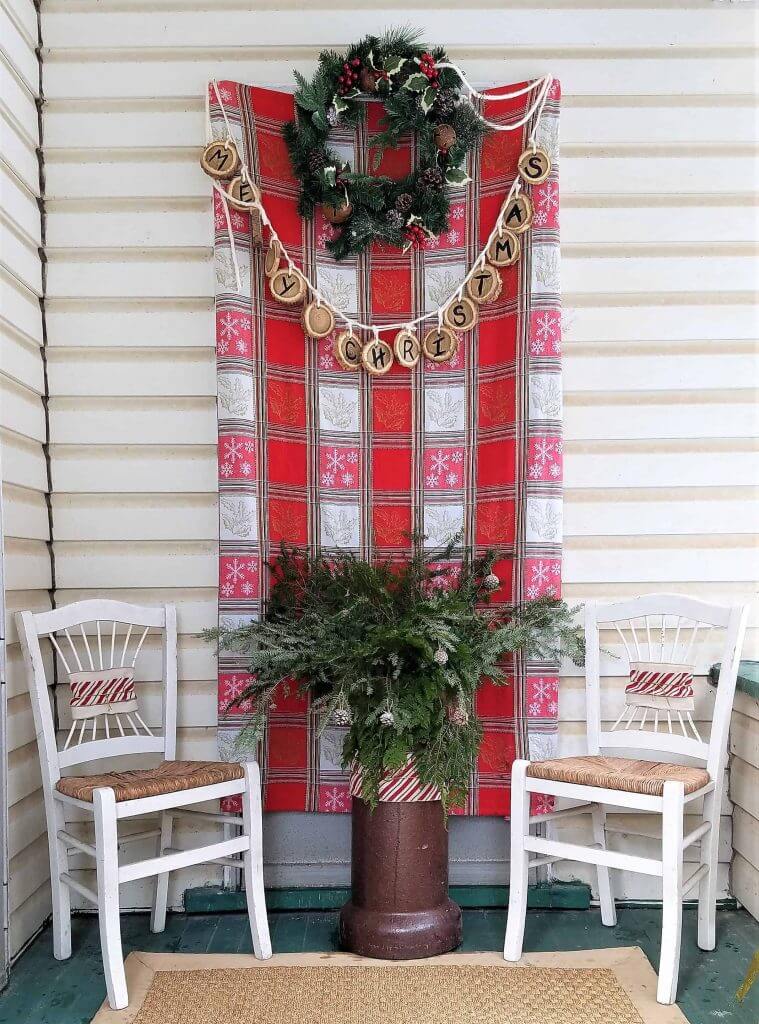 Choose "Merry Christmas" or your favorite Christmas song to display on this rustic and farmhouse-inspired wood garland. Make it really pop by including a lavish red plaid blanket as the backdrop for this front porch display. An evergreen wreath further adds a winter touch to this holiday scene.
21. Winterize Every Inch for a Christmas Entryway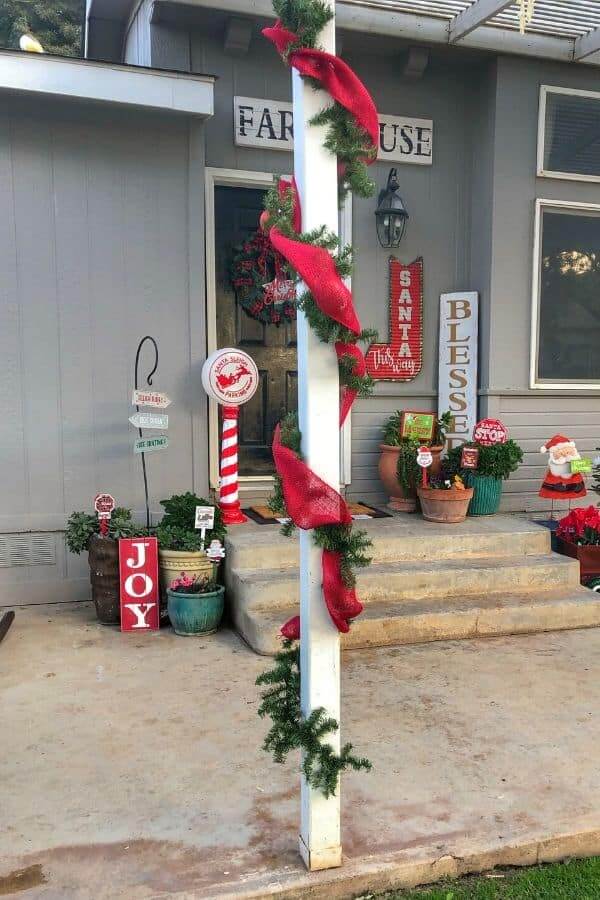 Wrap the columns of your porch with some greenery and ribbons of red to begin the winter wonderland that covers every inch of your entryway! Next stop, front door! Gather your favorite Christmas signs that beckon a visit from Santa plus a few odes to the joy of the season and place them in collections on both sides of your front door.
22. Hand Painted Crisp Winter Snowman Sign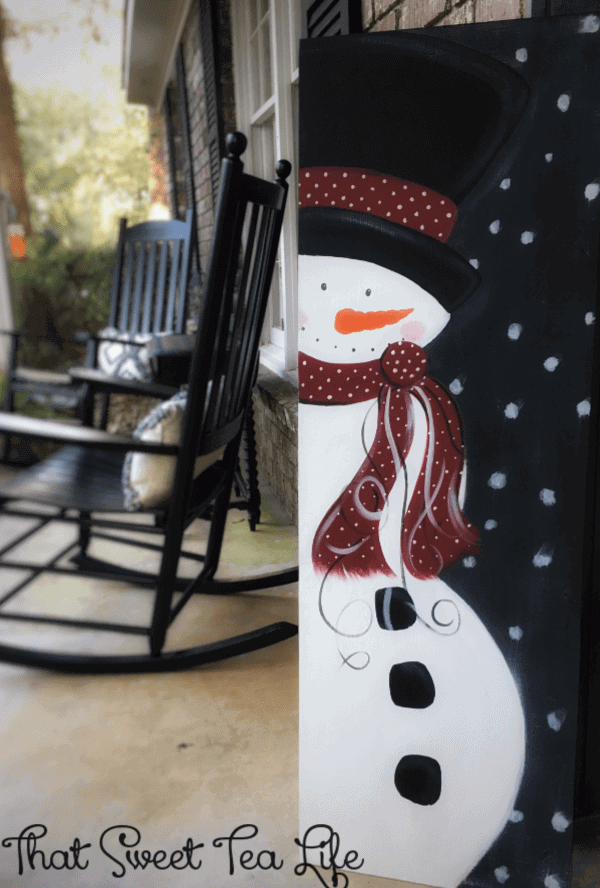 Steal the show with this beautiful hand-painted snowman sign. It easily props up next to your front door and is a darling accent to your existing porch decor. Set it out in late November and leave it until the first sign of spring so everyone has plenty of time to enjoy winter's favorite friend.
23. Jazz Up Your Garden with Ribbons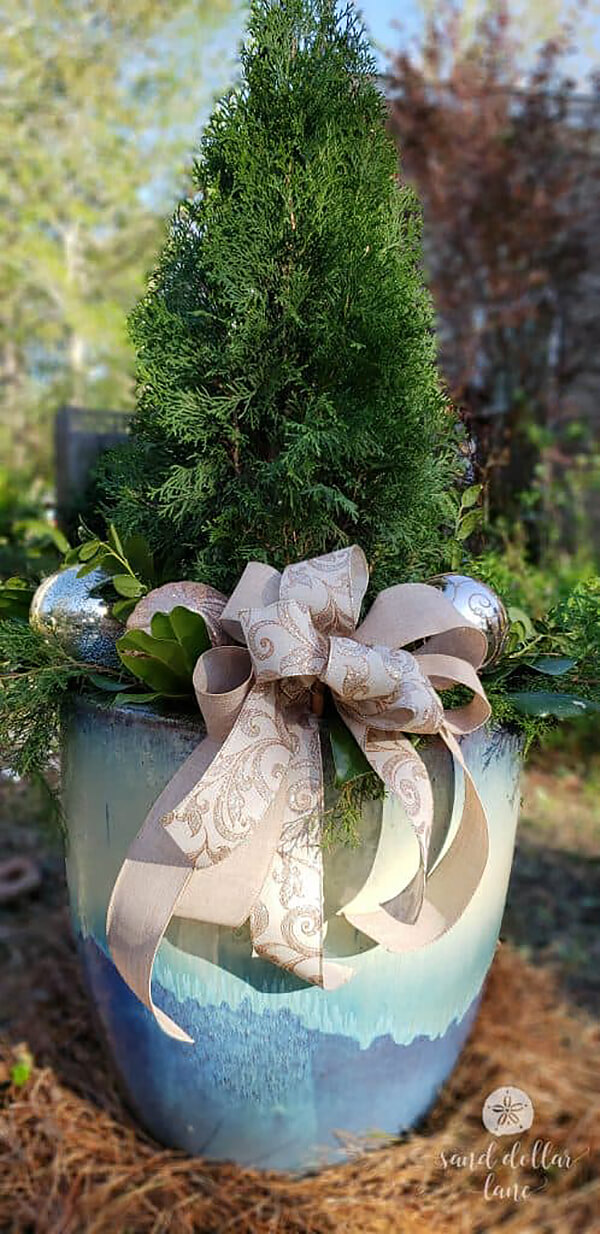 Don't forget about those potted pretties when it's time to hibernate. Jazz up those potted greens with some super-sized bows and large metallic bulbs. The golds warm up space and make everything feel a little fancier than your everyday plants. When your flowers can't be in bloom, bring some beauty to the scene with these glistening gold accents to keep your garden alive and thriving this winter.
24. Reclaimed Wood Pallet Lighted Christmas Tree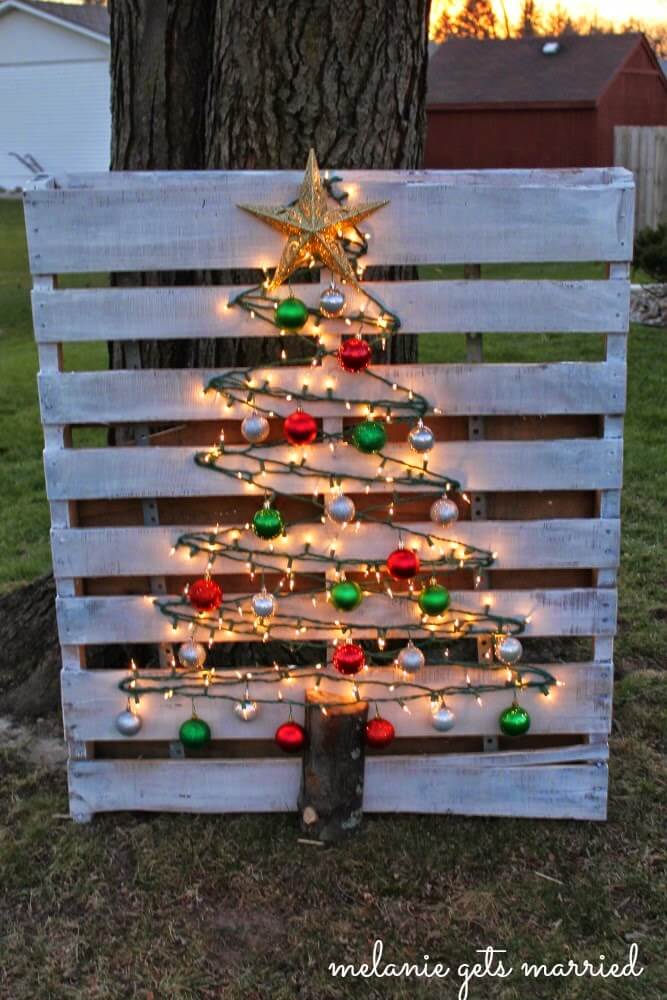 25. Santa Claus Fire Wood Bundle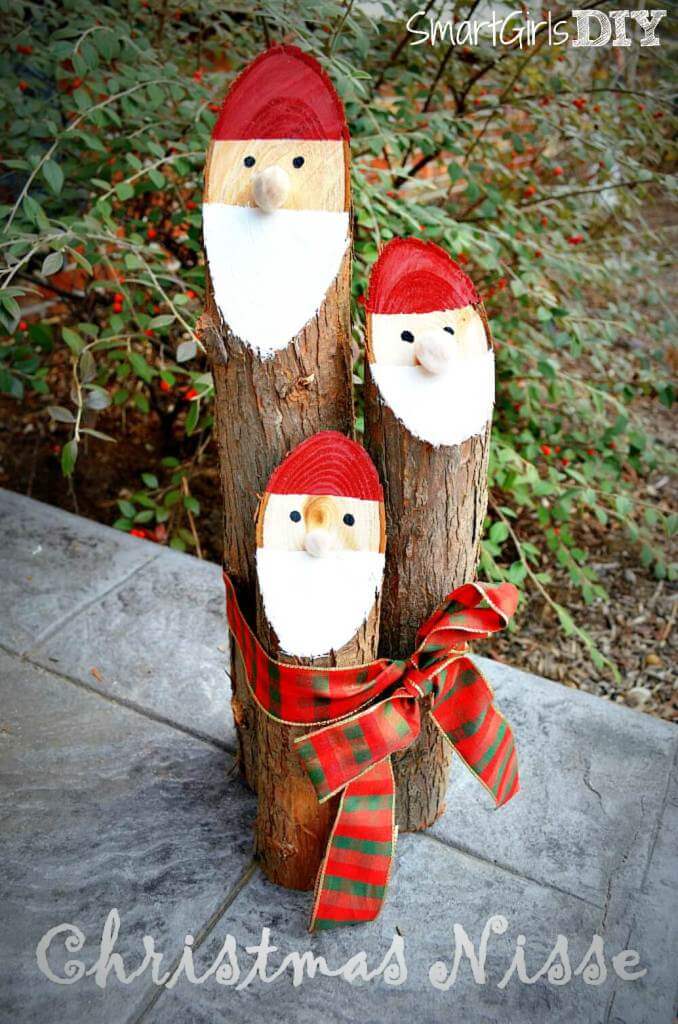 26. Stacked Terra Cotta Planter Snowman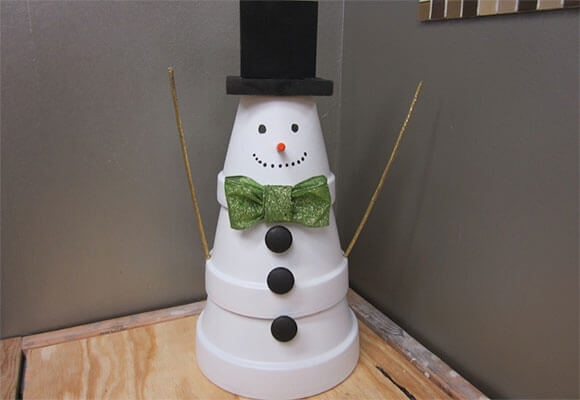 27. Lamppost or Door Hanging Pine and Bow

28. Re-purposed Wood Pallet Christmas Tree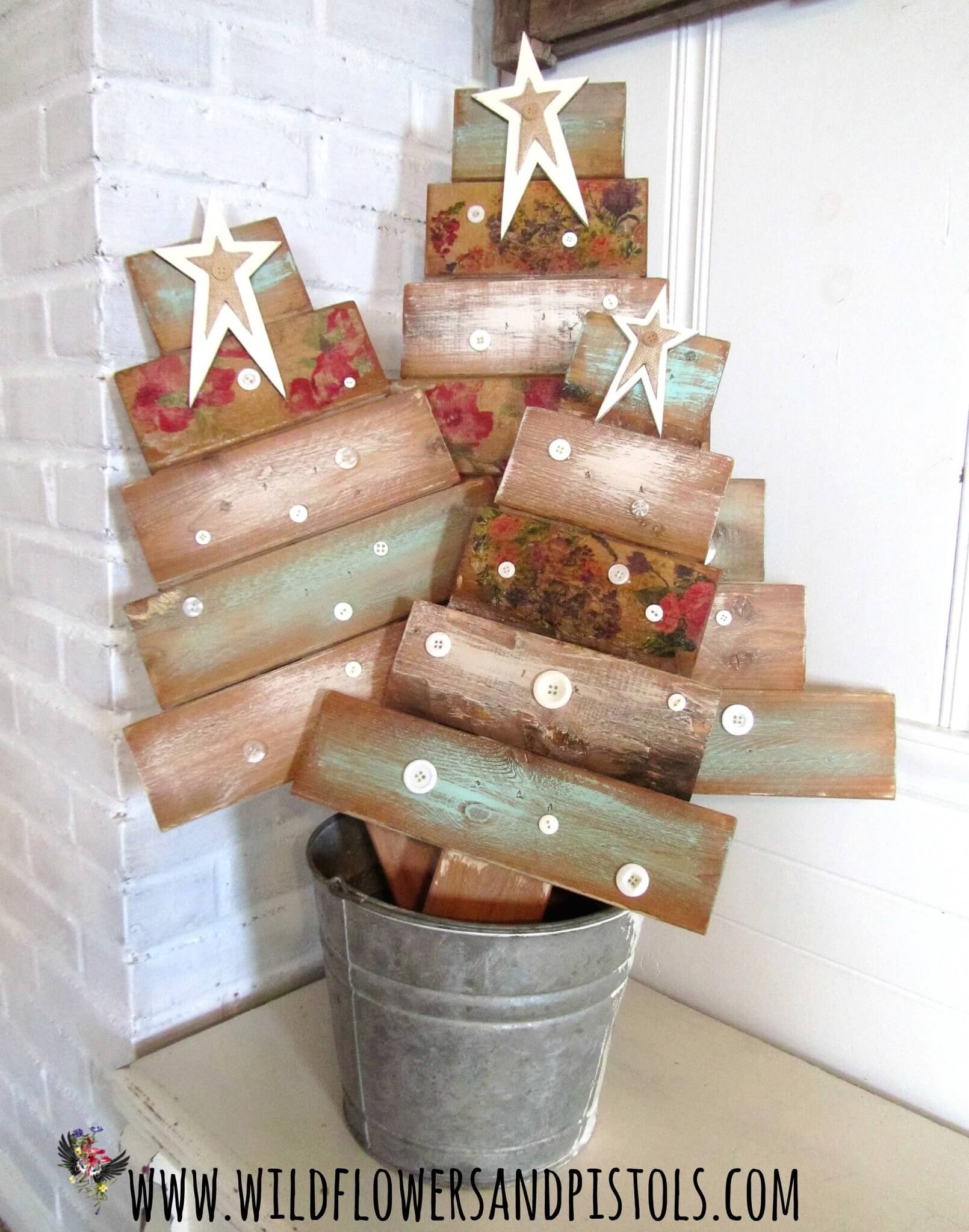 29. Super Cute Recycled Wood Snowman Family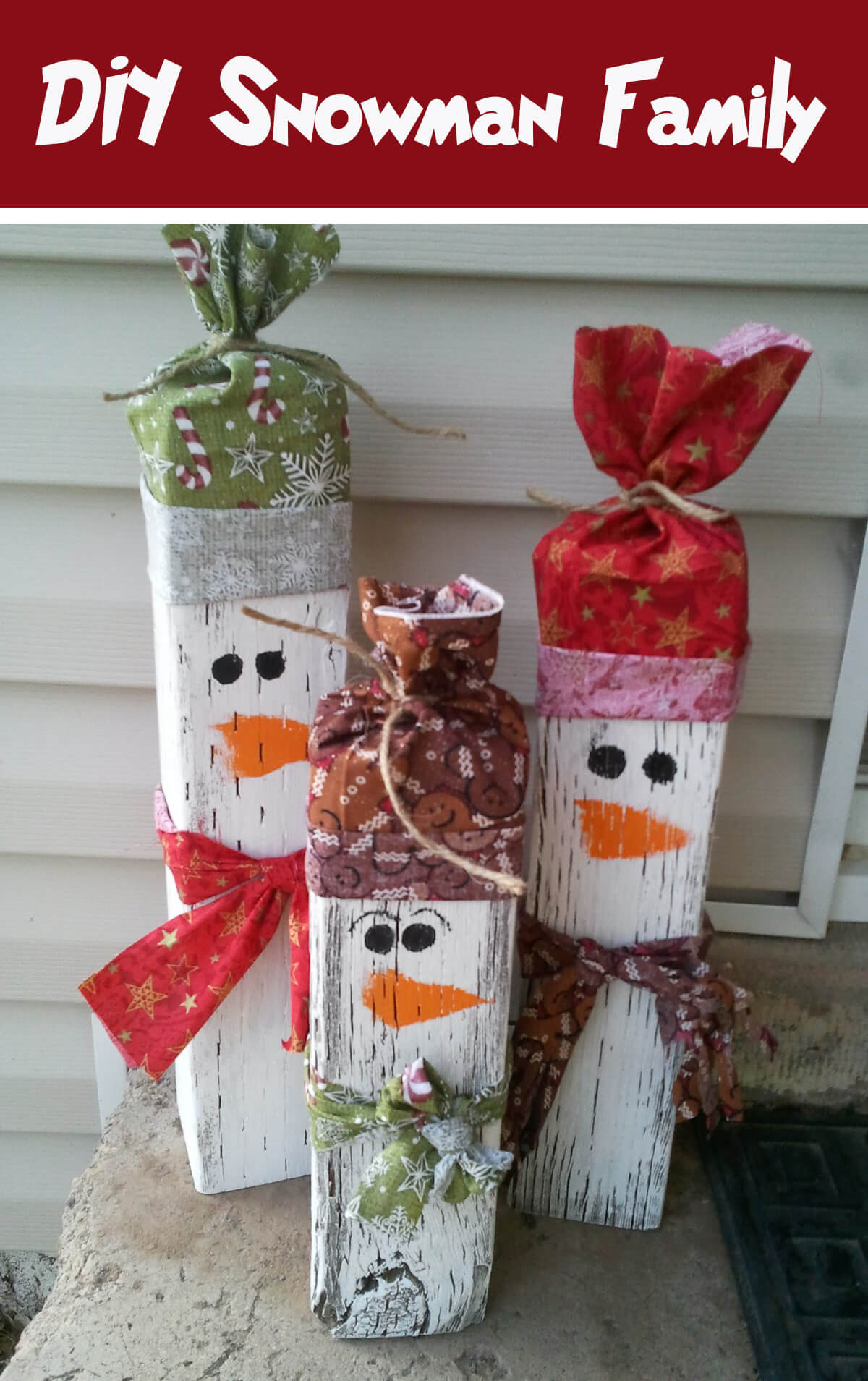 30. Aluminum Tomato Cage Lighted Tree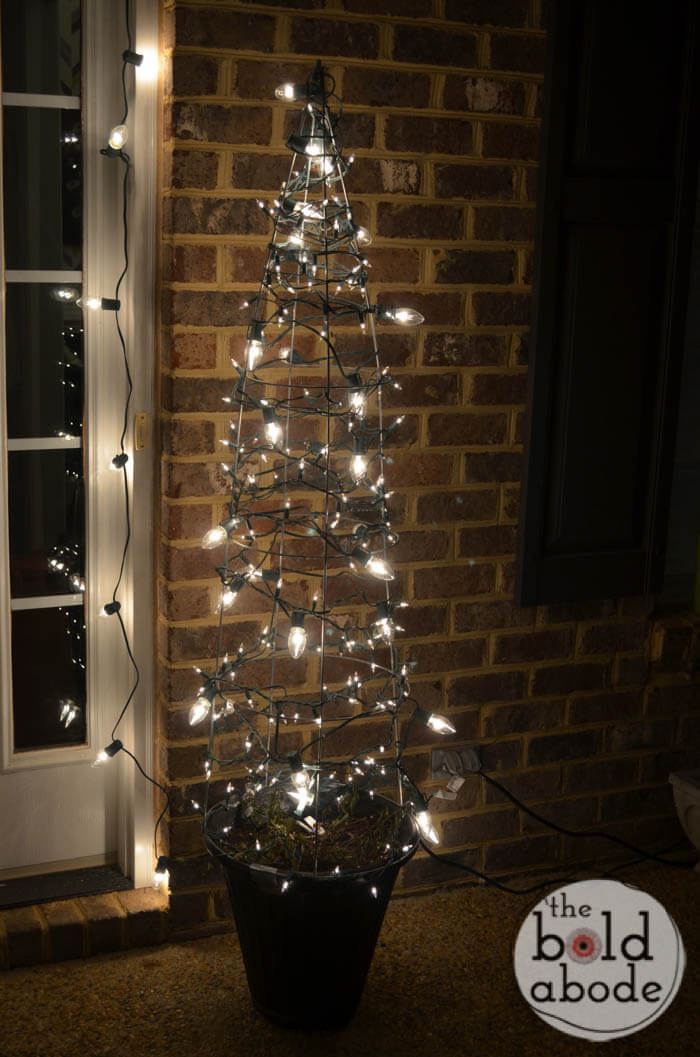 31. Hand Made Traditional Christmas Wreath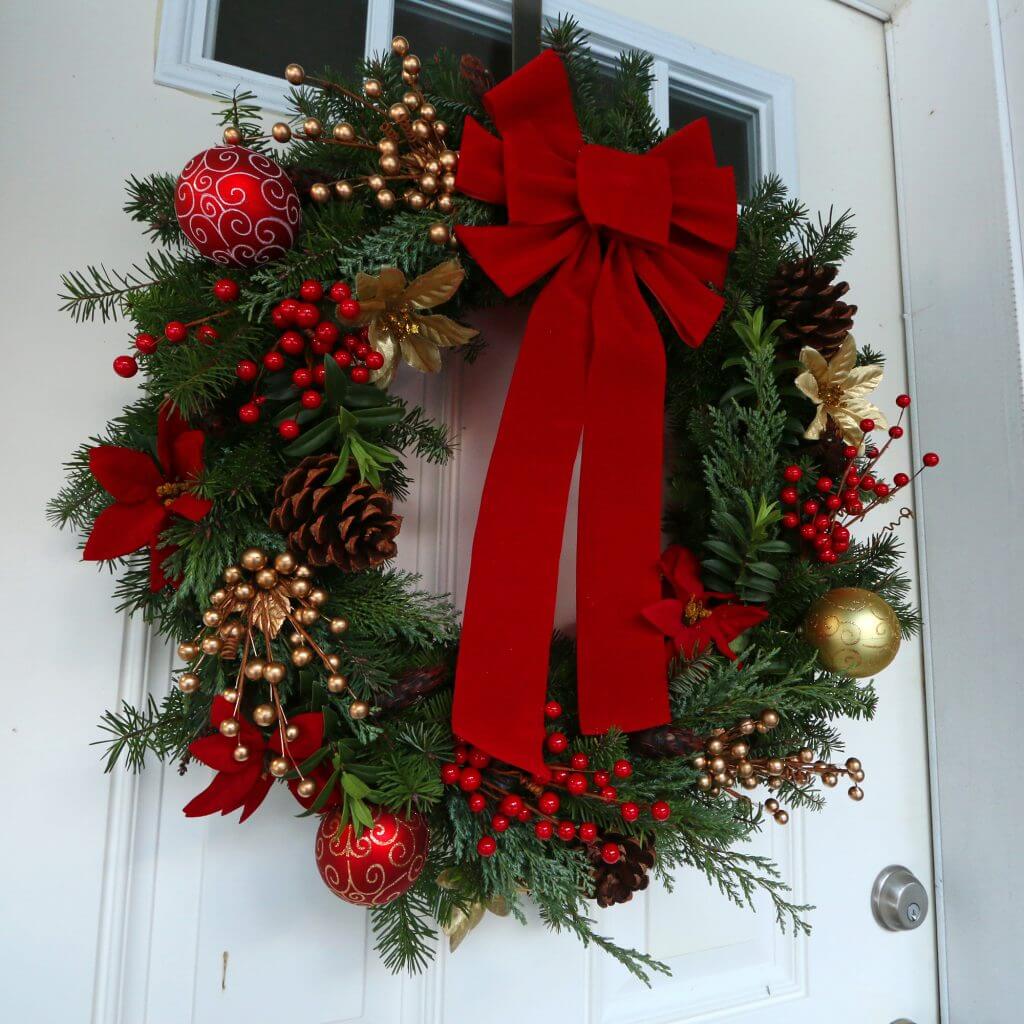 32. Adorable Cut Wood Core Snowman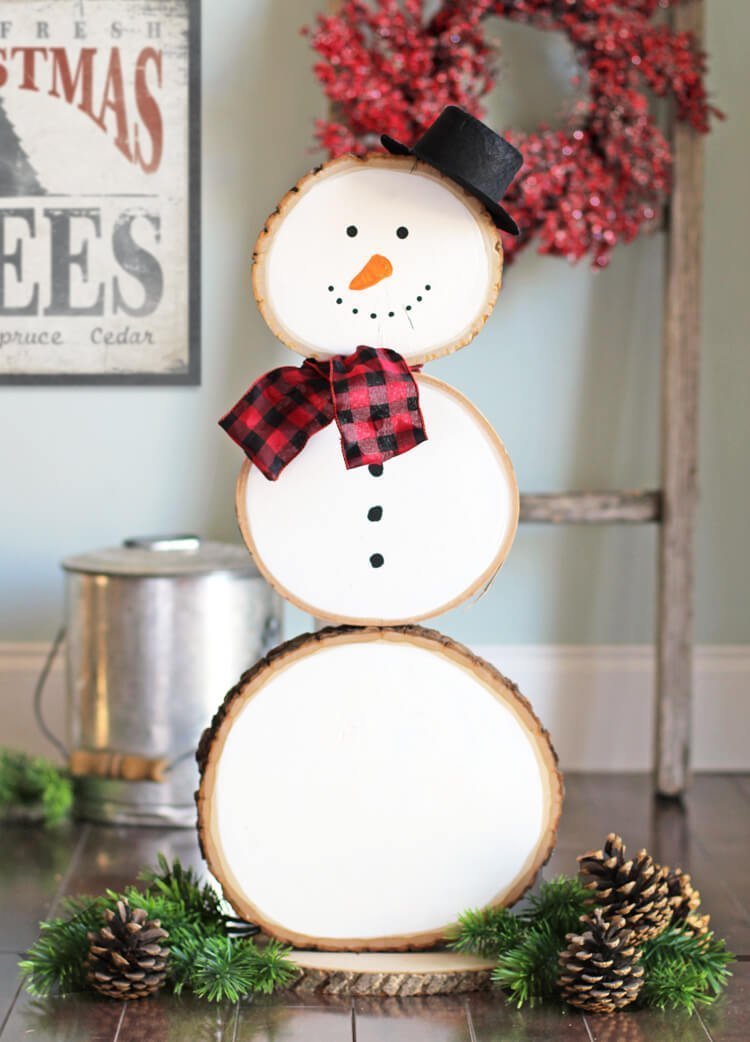 33. Wood Plank Front Porch Christmas Sign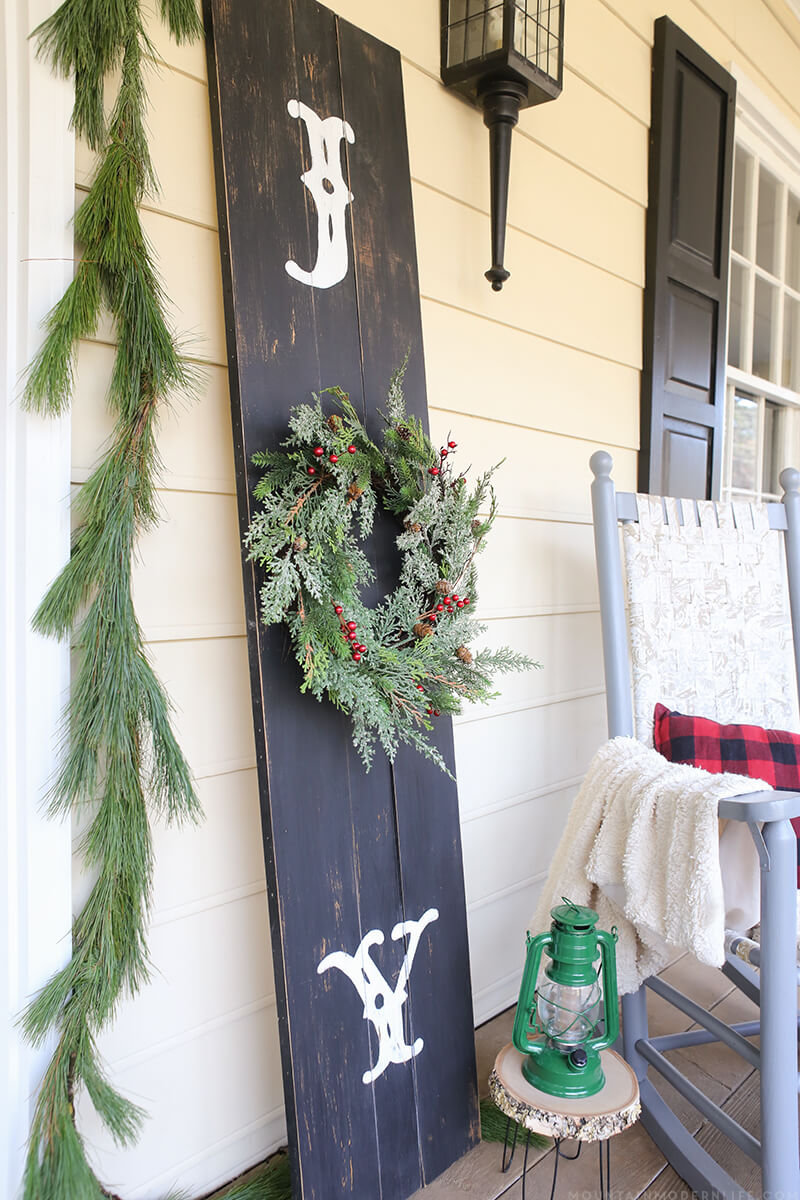 34. Oversized Reclaimed Wood Decorative Snowflake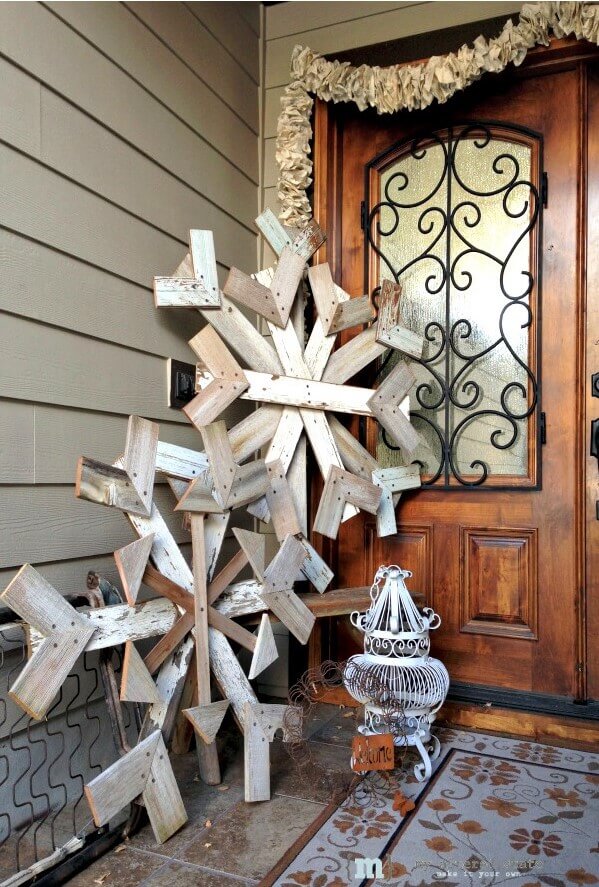 35. Wire Frame Lighted Christmas Balls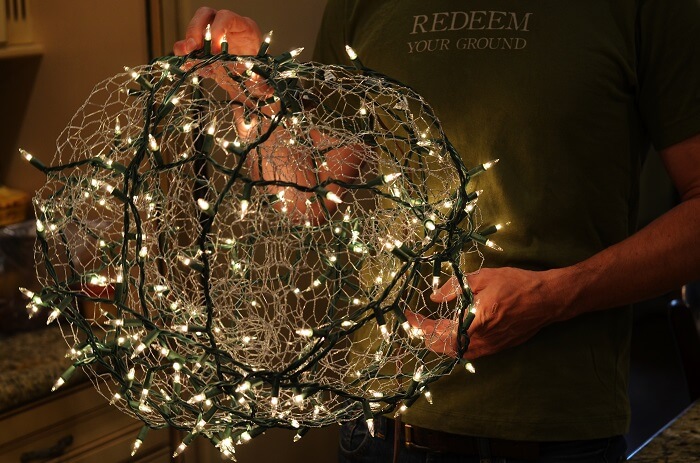 36. Front Door Christmas Present Gift Wrap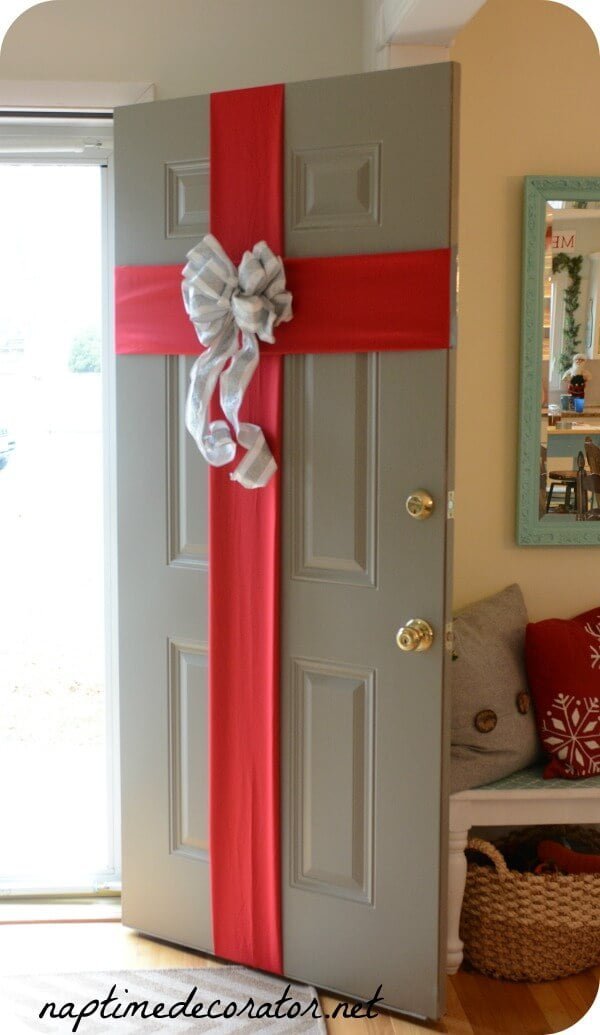 37. Extra Large Potted Advent Wreath

38. Reusable Shipping Box Gift Tree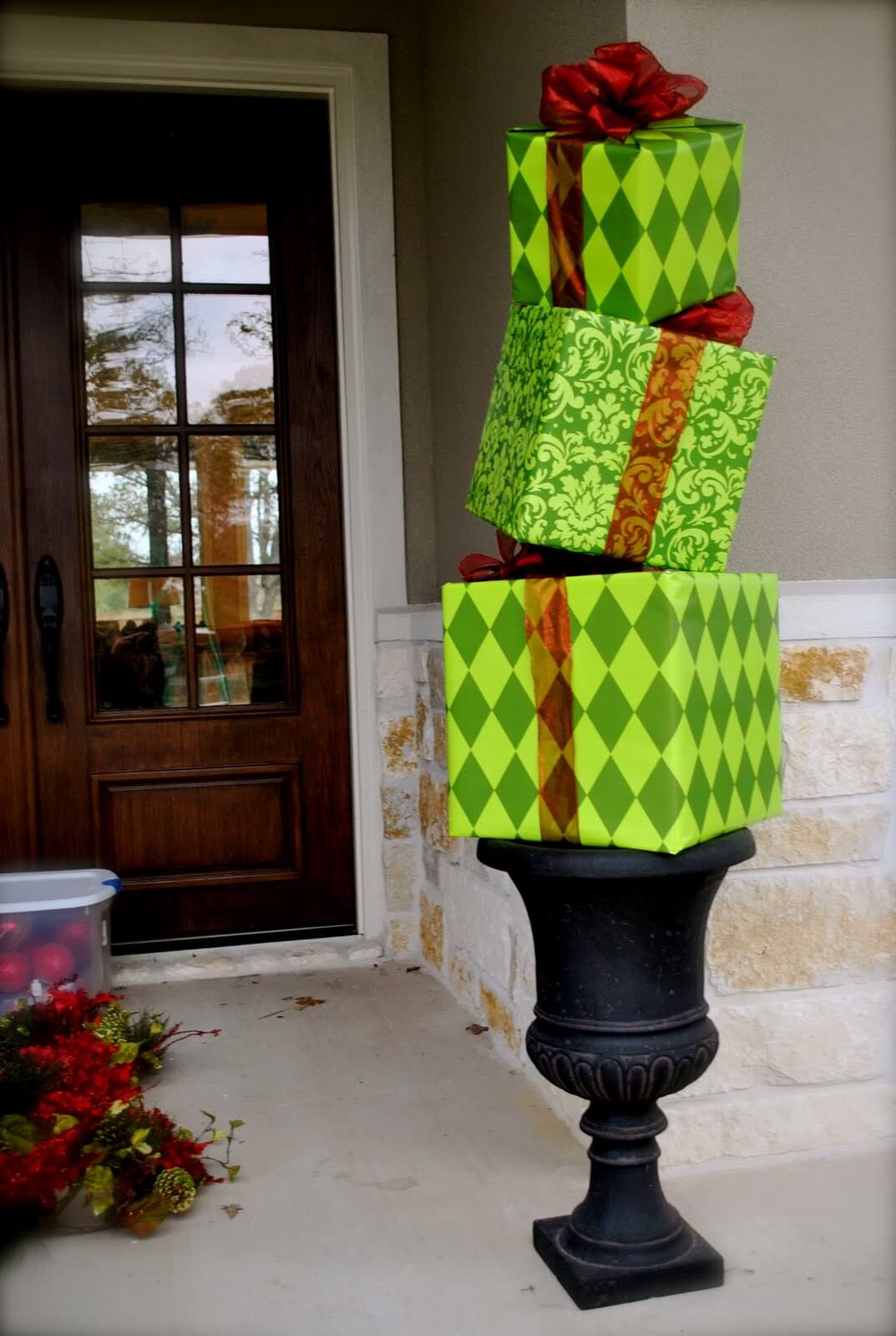 39. Christmas Bow Front Door Wreath and Snowman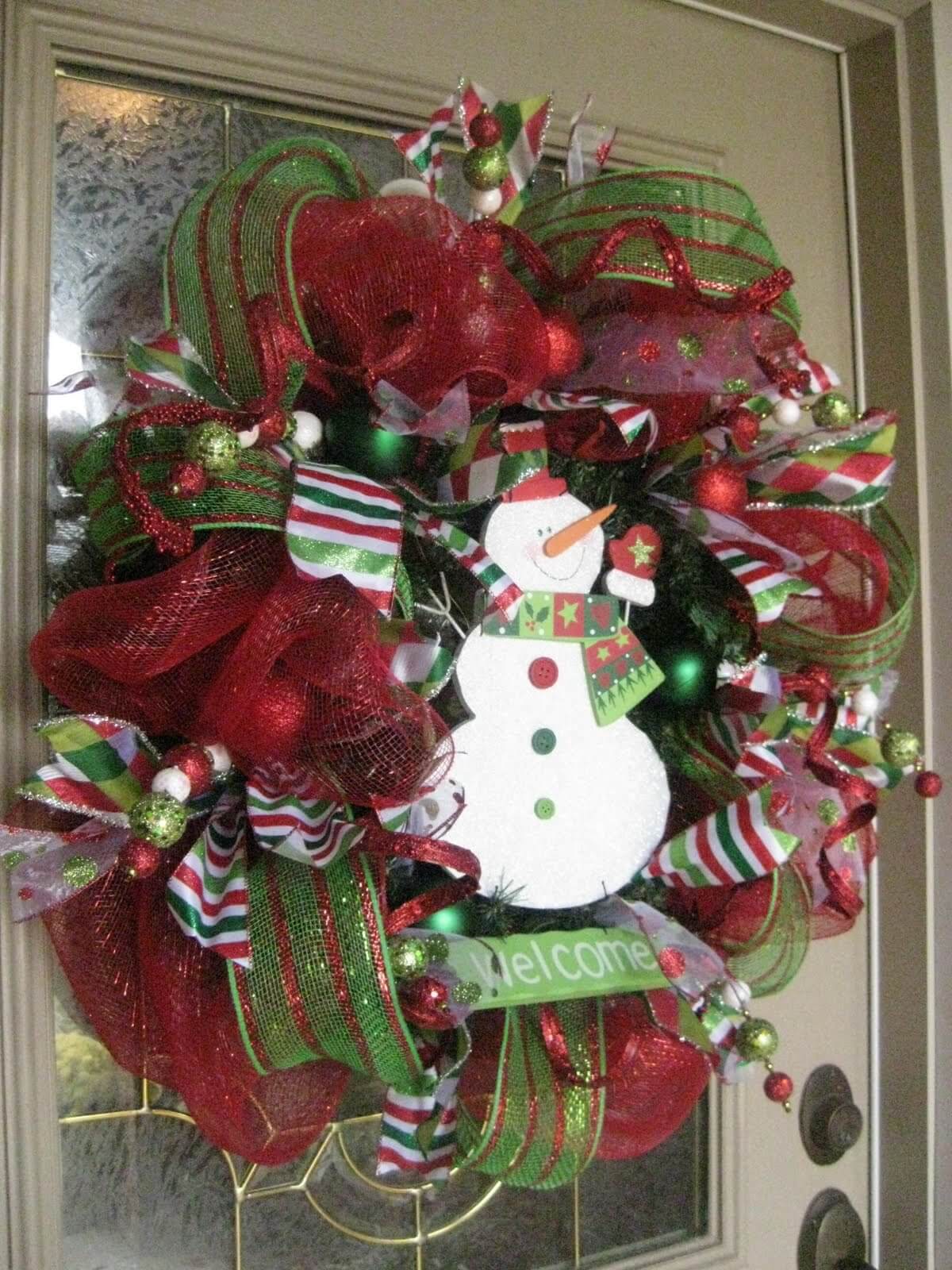 40. Pine Tree Branch Rope Ladder
41. Hand Carved Wood Reindeer Silhouette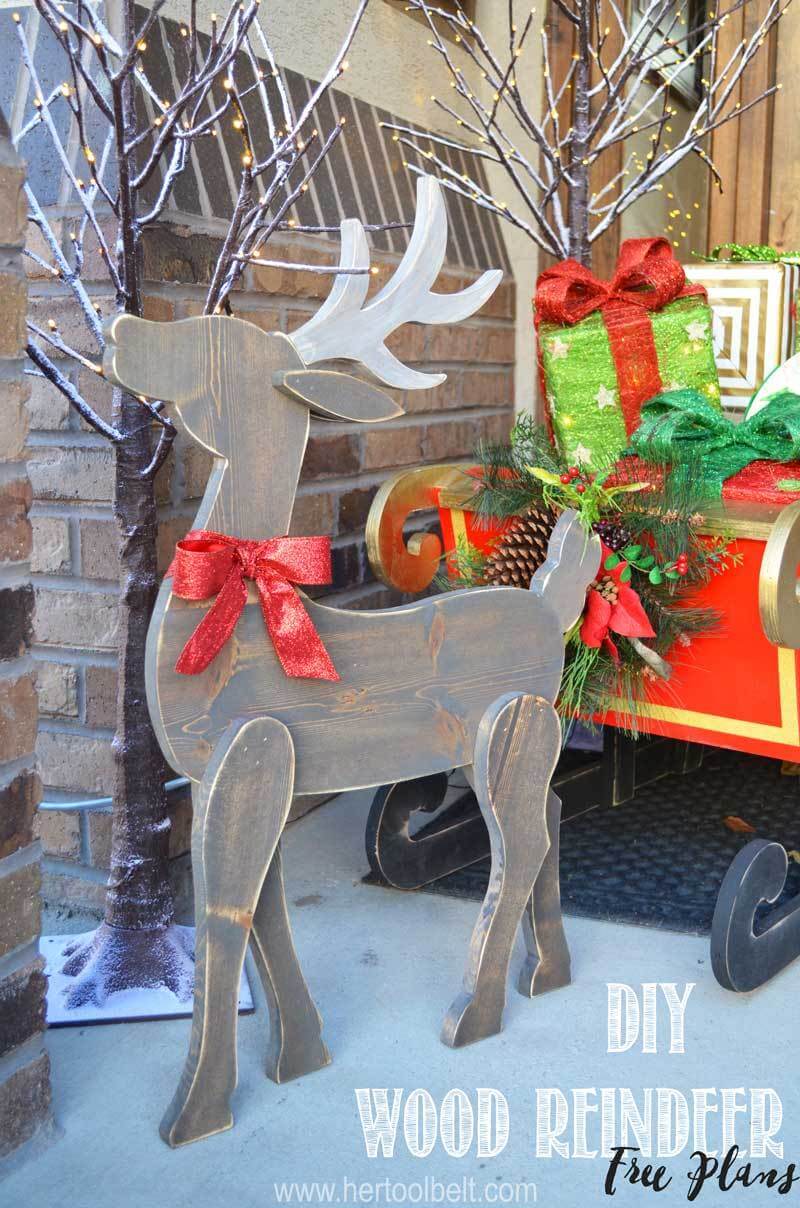 42. Wood Toboggan and Bunched Wreath Display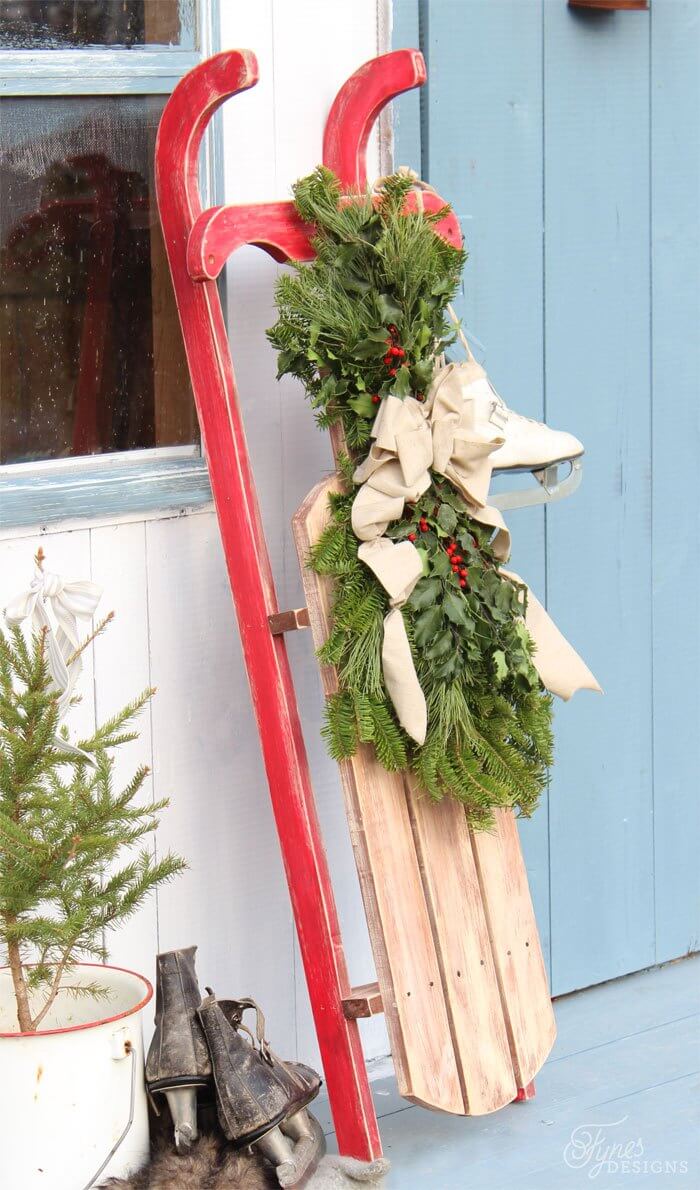 43. Repurposed Wood Pallet with Marquee Lighting

44. Oversized Christmas Tree Ornament and Lighting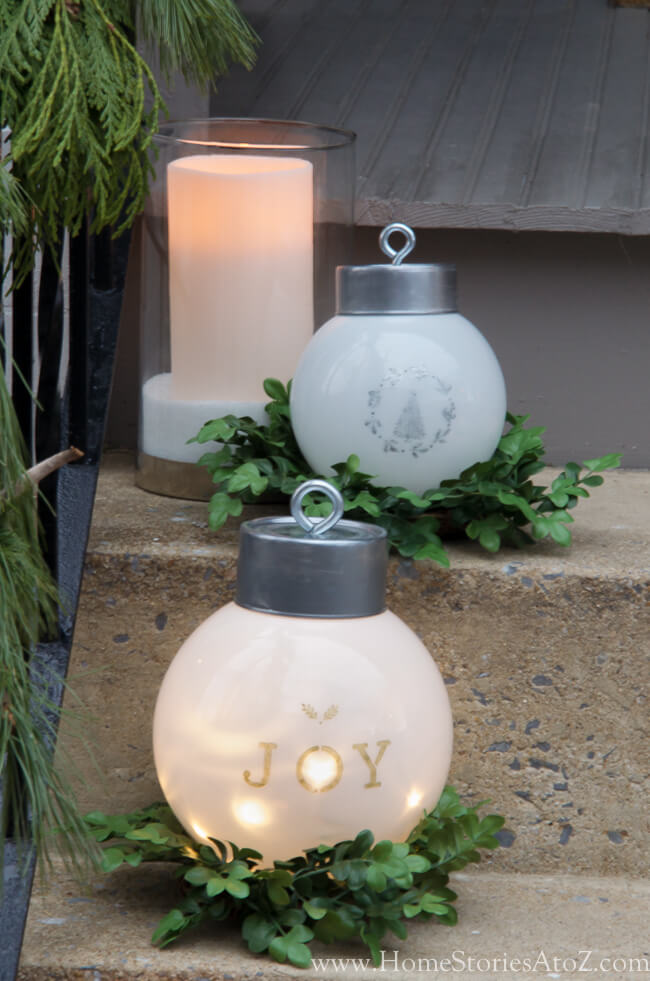 45. Metal Tomato Cage Christmas Tree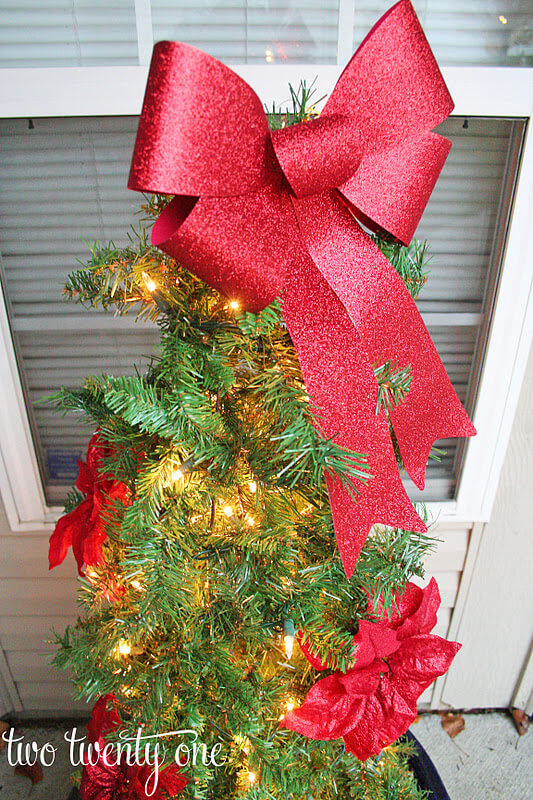 47. Cement Block Gift Box Set and Bow

48. Giant Paper Plate Lollipop Candy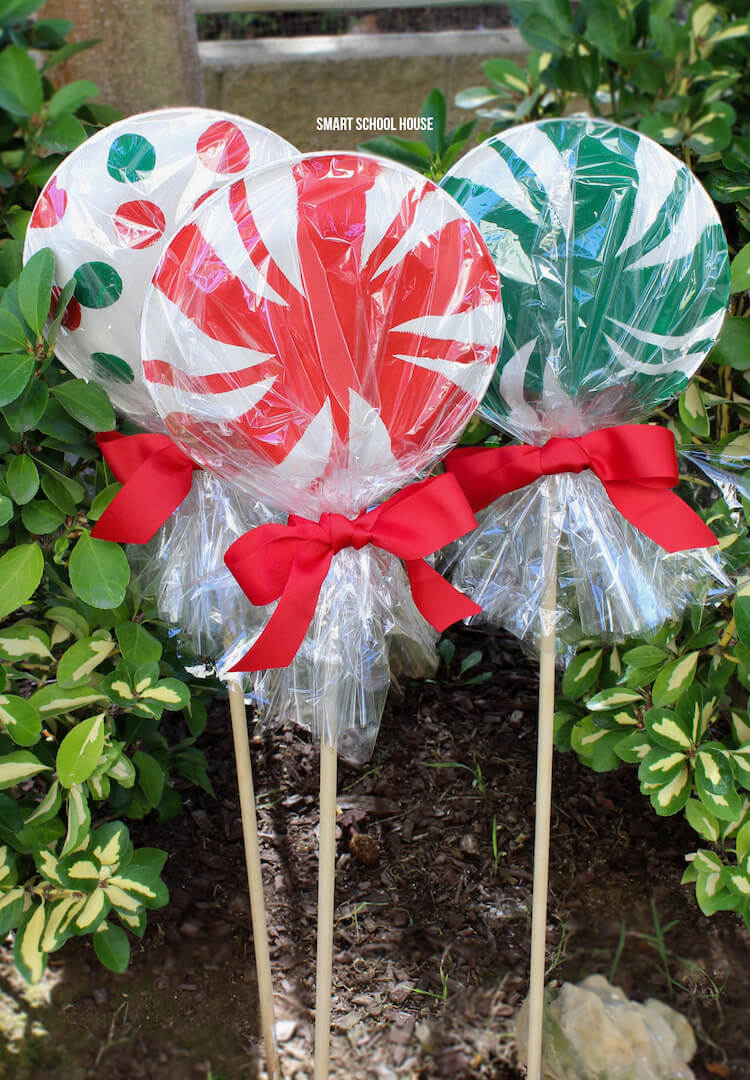 49. Scrap Wood North Pole Direction Sign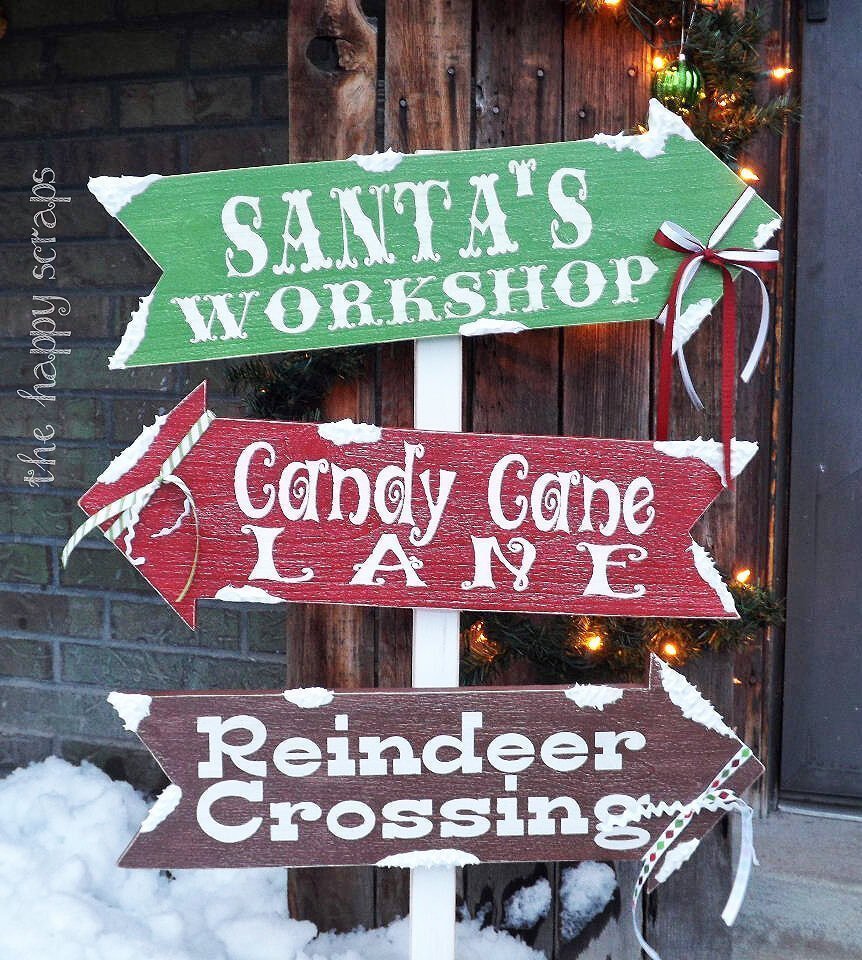 50. Super Sized Red Christmas Ornaments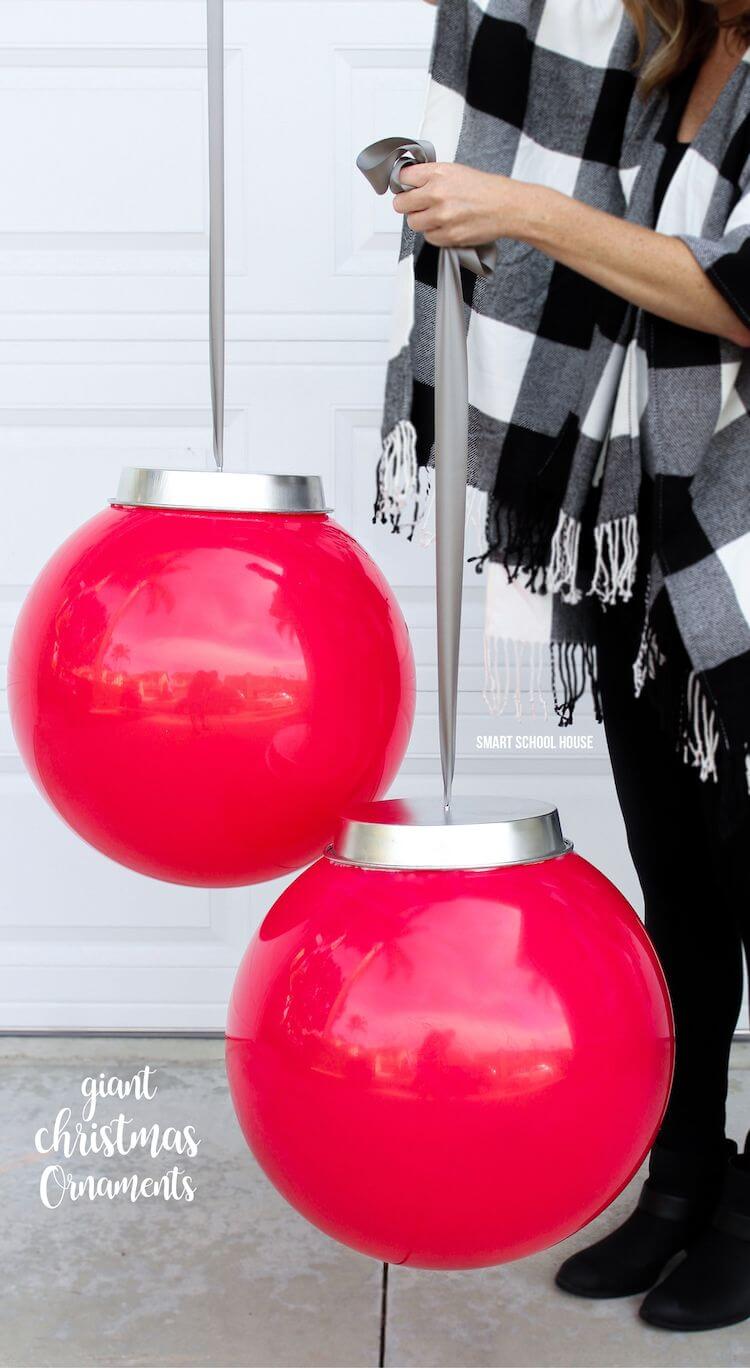 51. Whitewashed Wood Plank Christmas Tree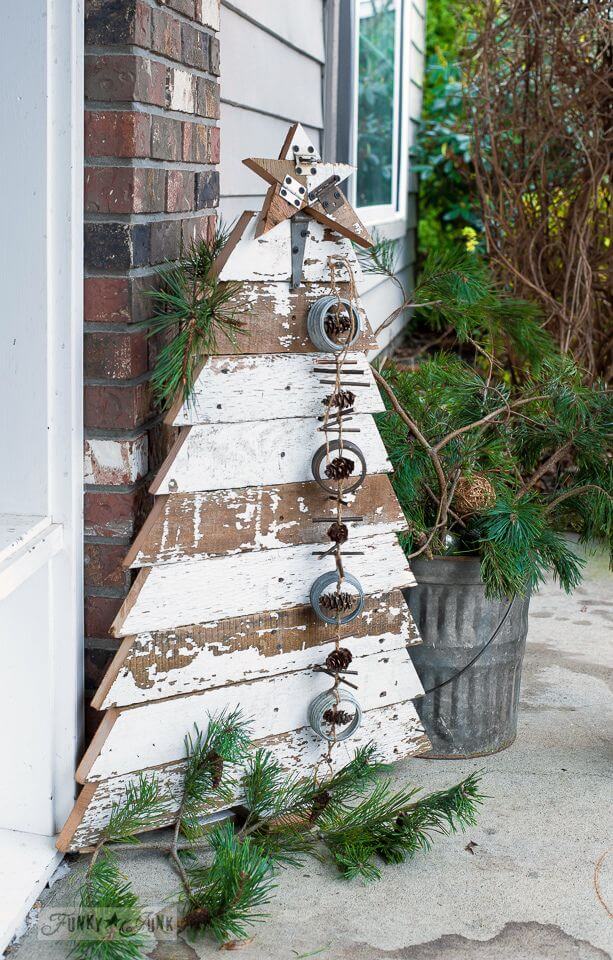 52. Large Silver and Gold Cylinder Tealights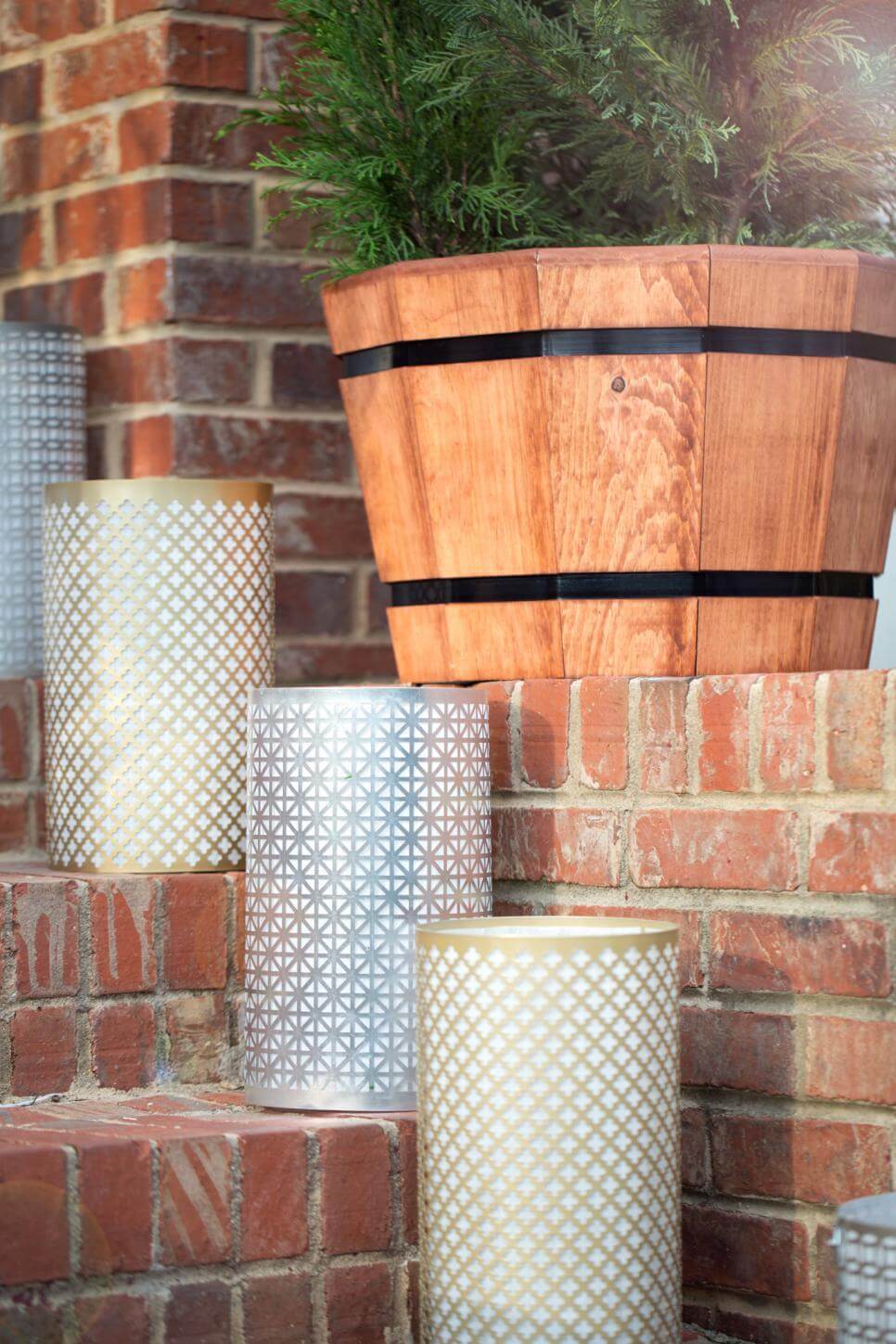 53. Gingerbread Cutout Front Door Hanger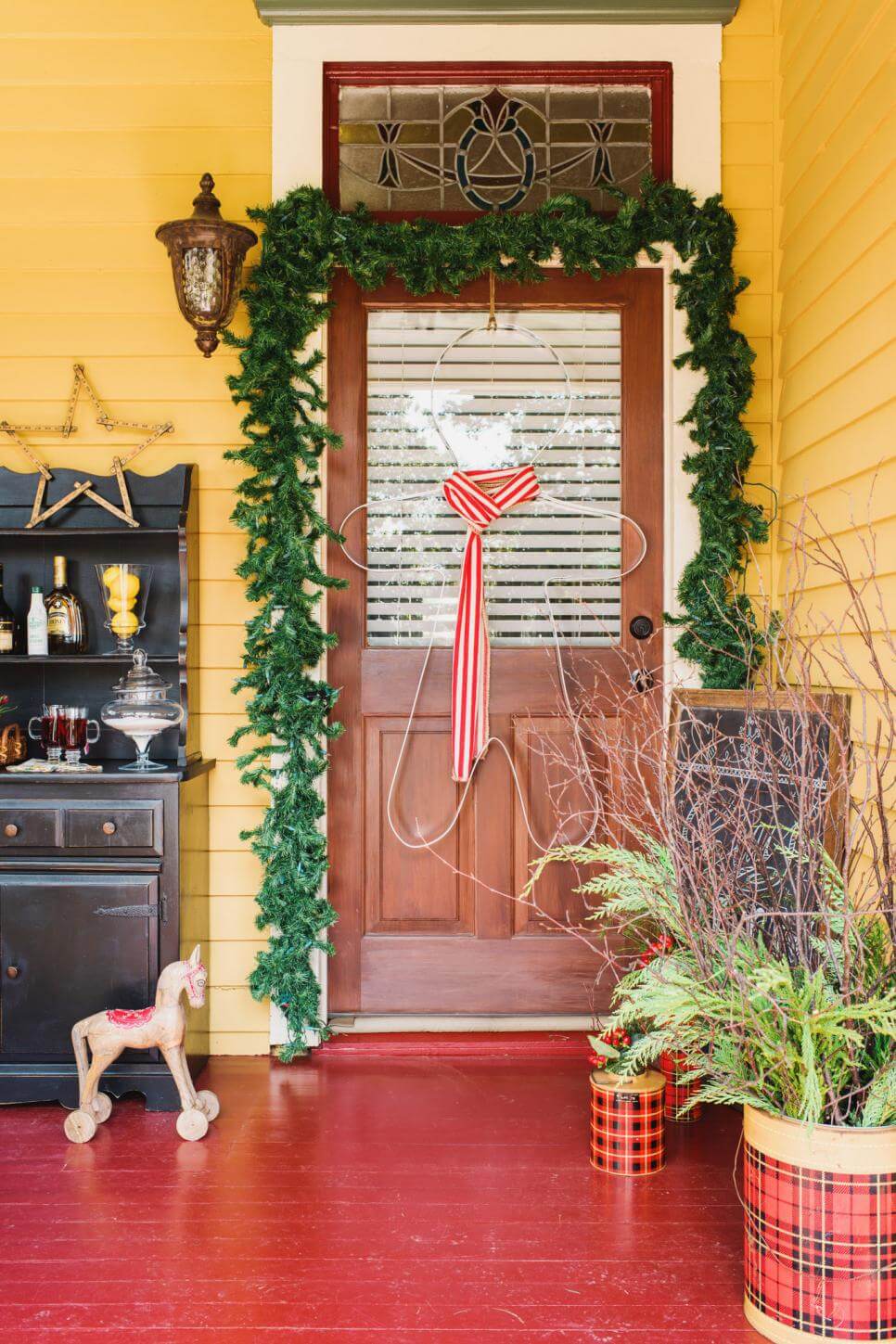 54. Ten Inch Hanging Rosemary Wrapped Snowflakes

55. Full Size Over Door Christmas Sign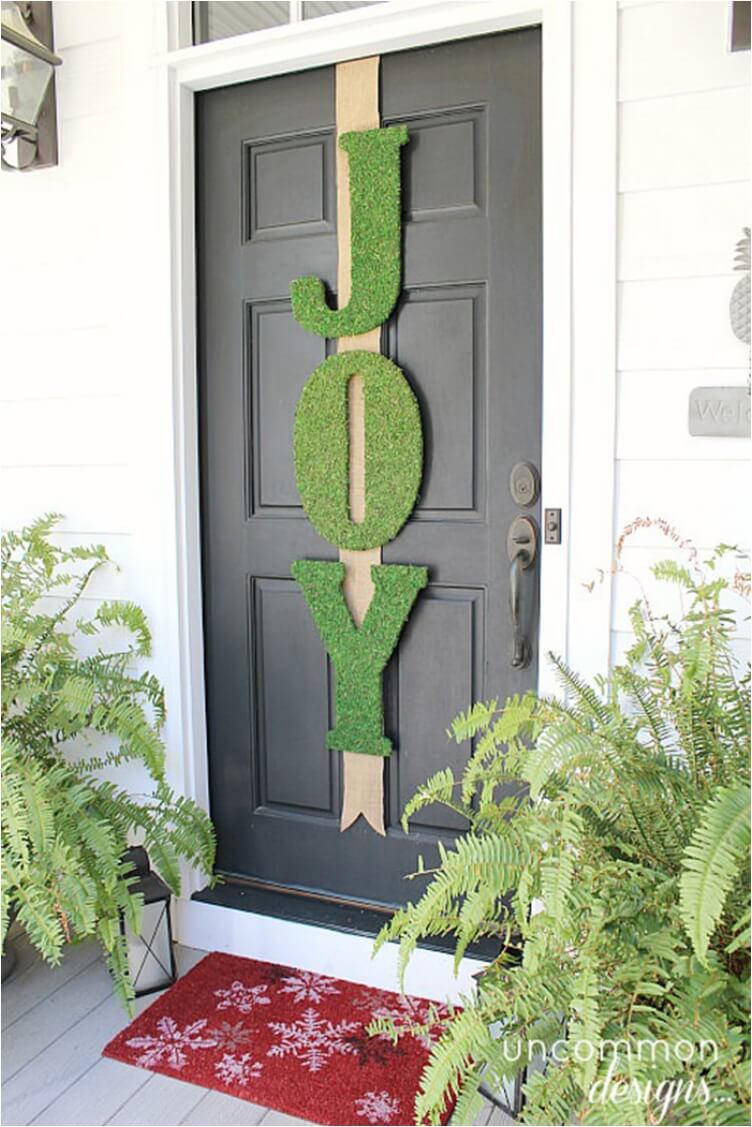 56. Merry Christmas Letter Tiles and Pine Rope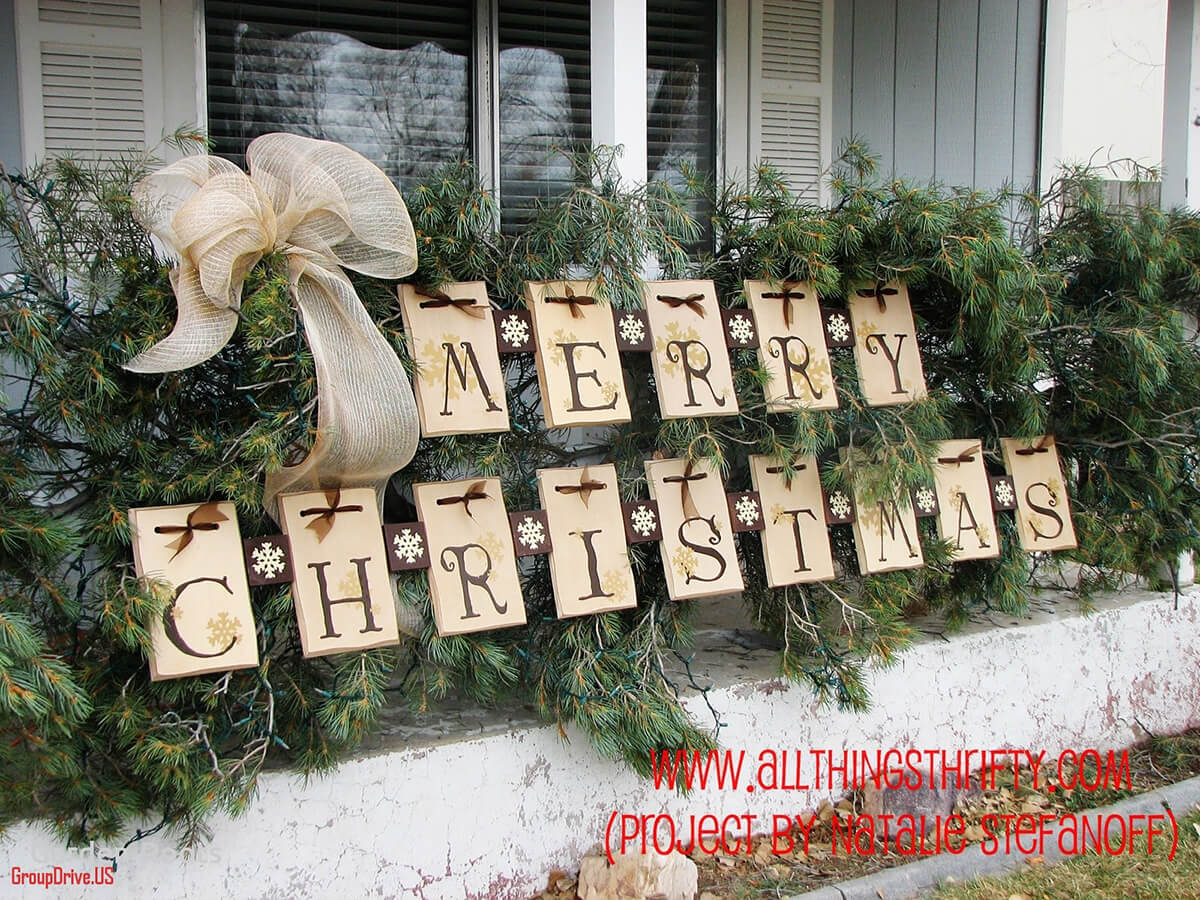 57. Beer Bottle Colored Light Strands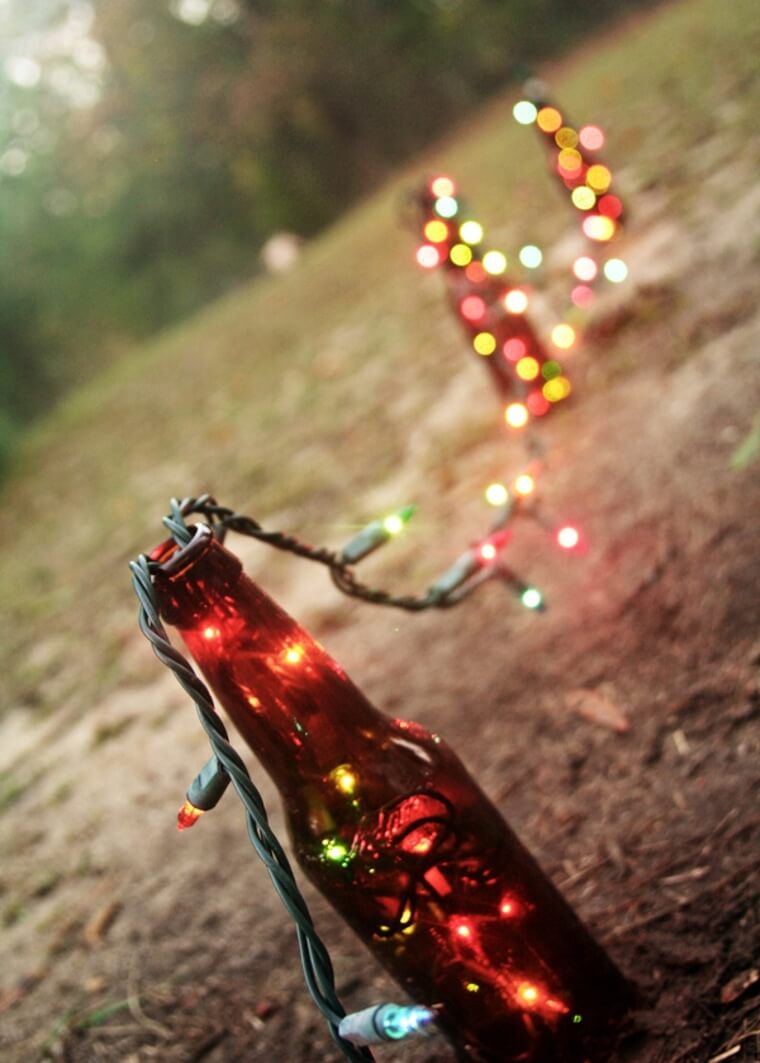 58. Lighted PVC Candy Cane Set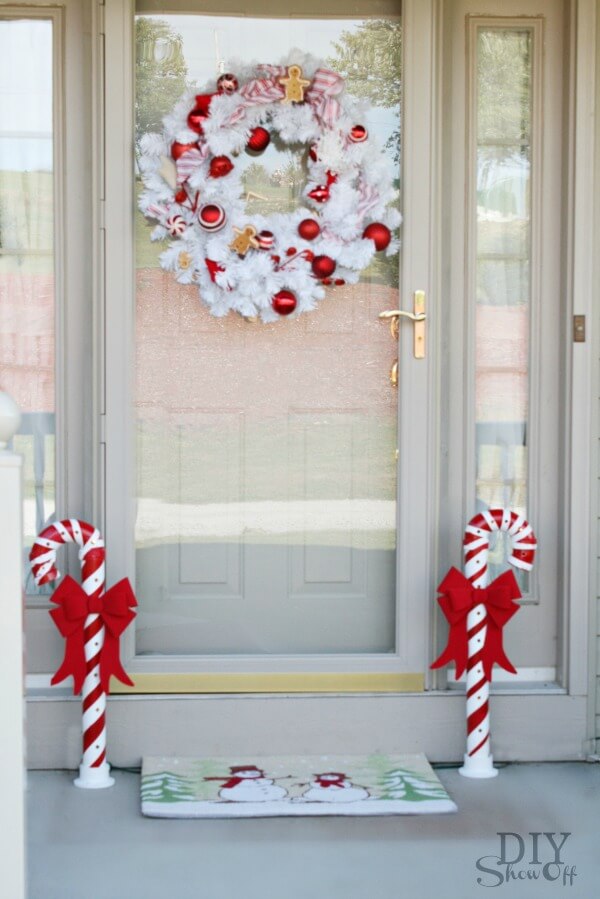 59. Snowman Painted Face Transfer Shovel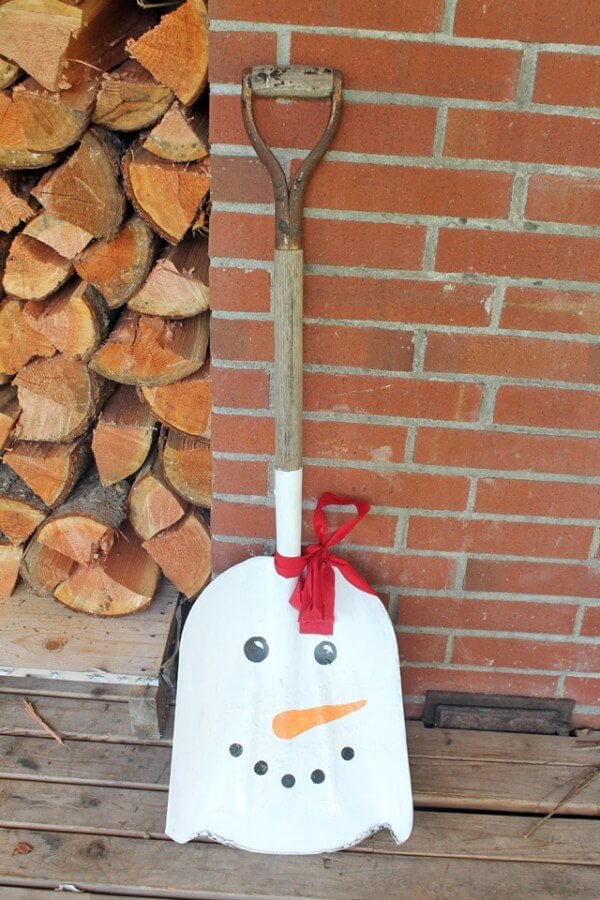 60. Oversized Winter Friends Mantle Display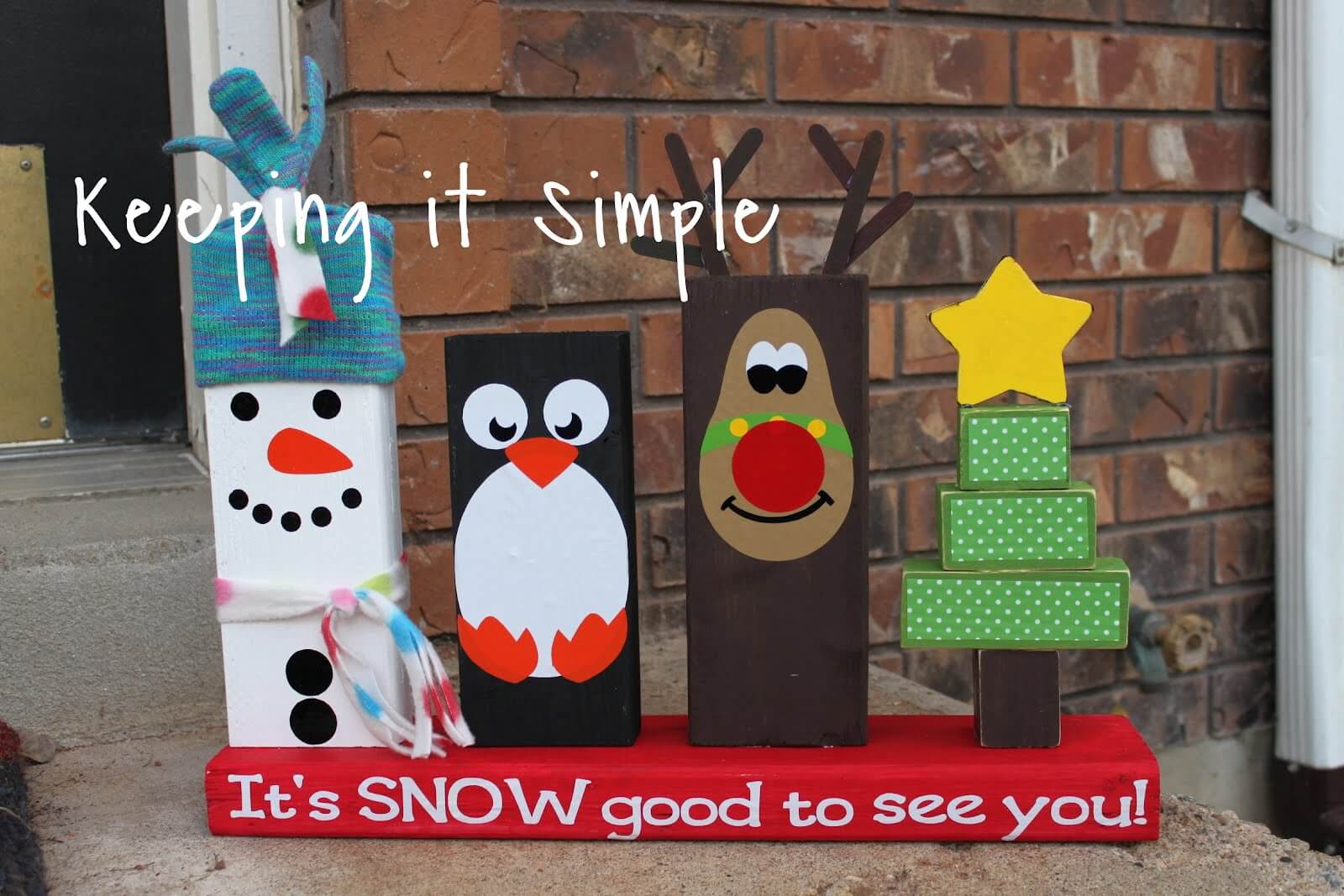 61. Front Step Sign with Pine Branch Fill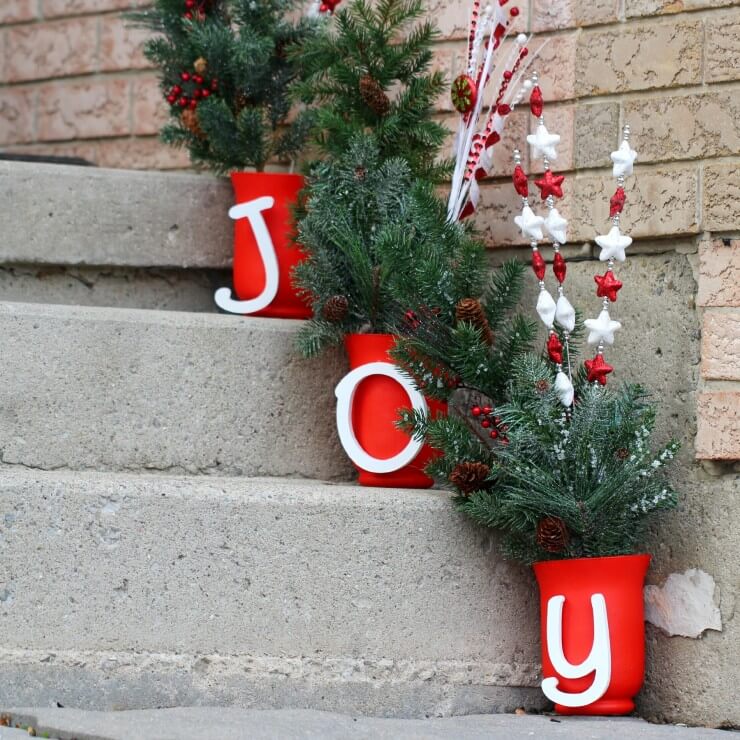 62. Tiny Garden Christmas Village Display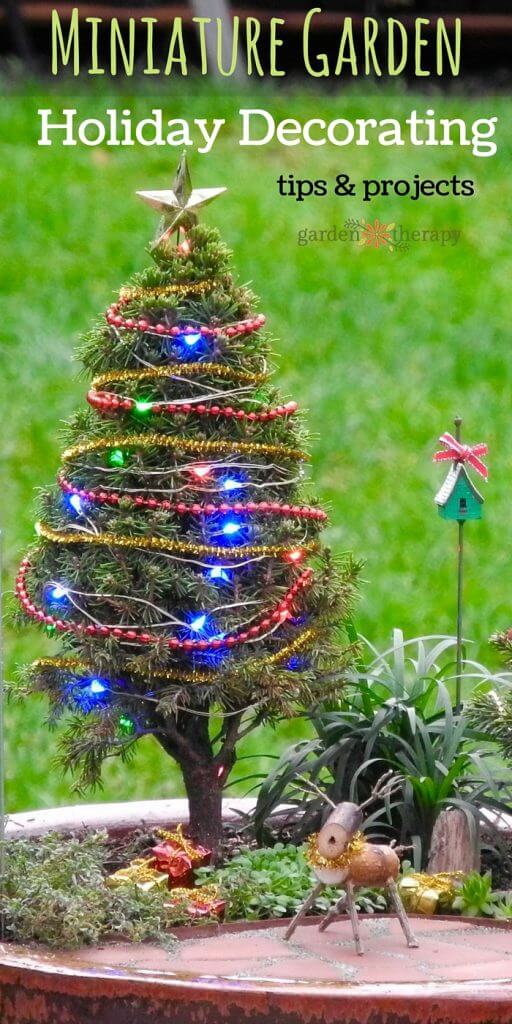 63. Hand Cut Wood Log Snowman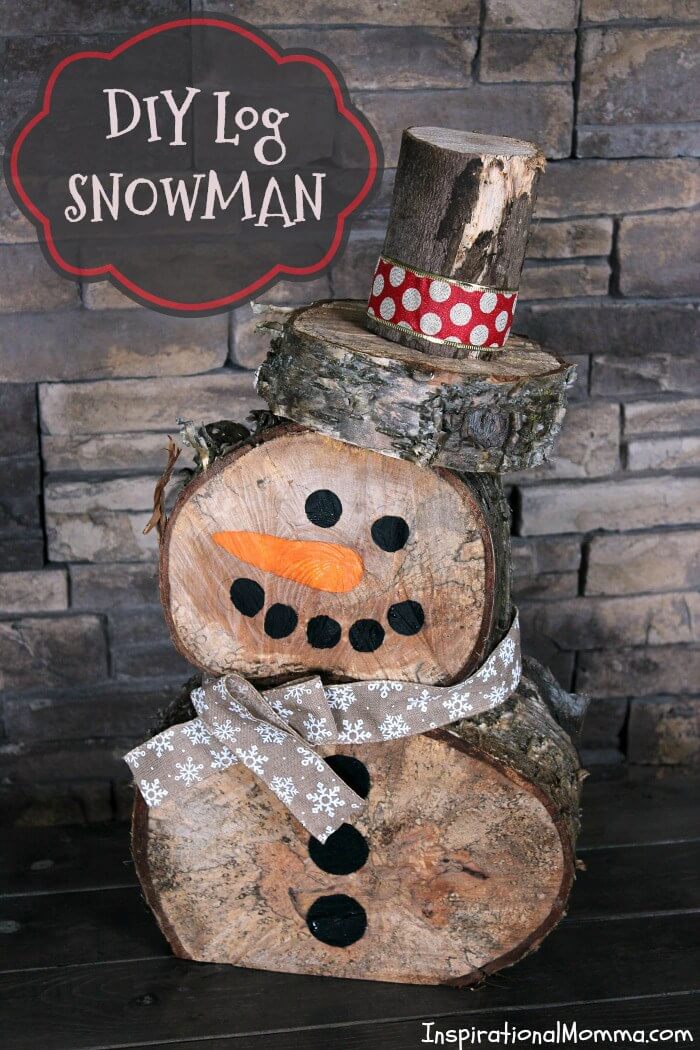 64. Weathered Wood Plank Christmas Sign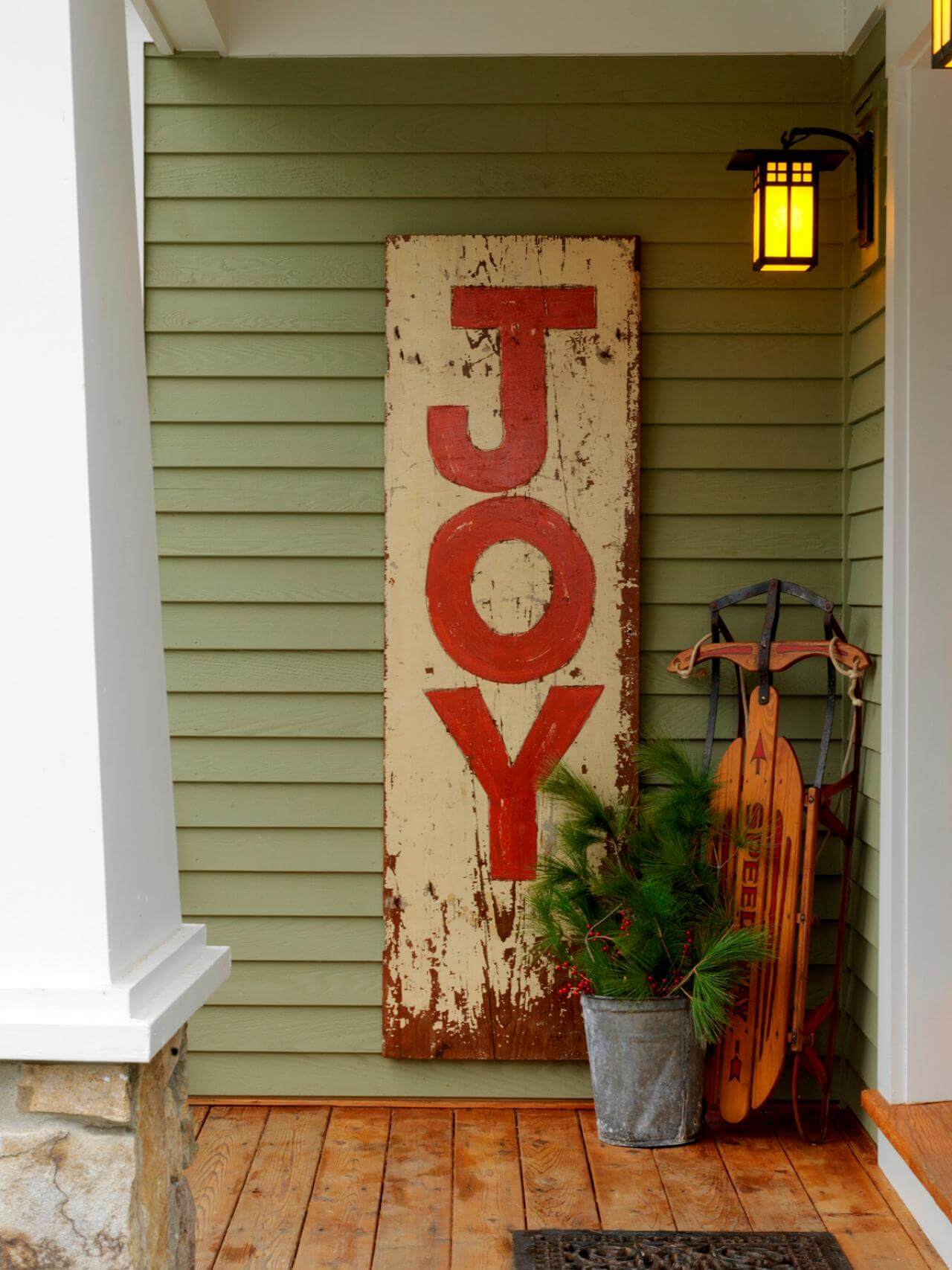 65. Common Board Lighted Christmas Tree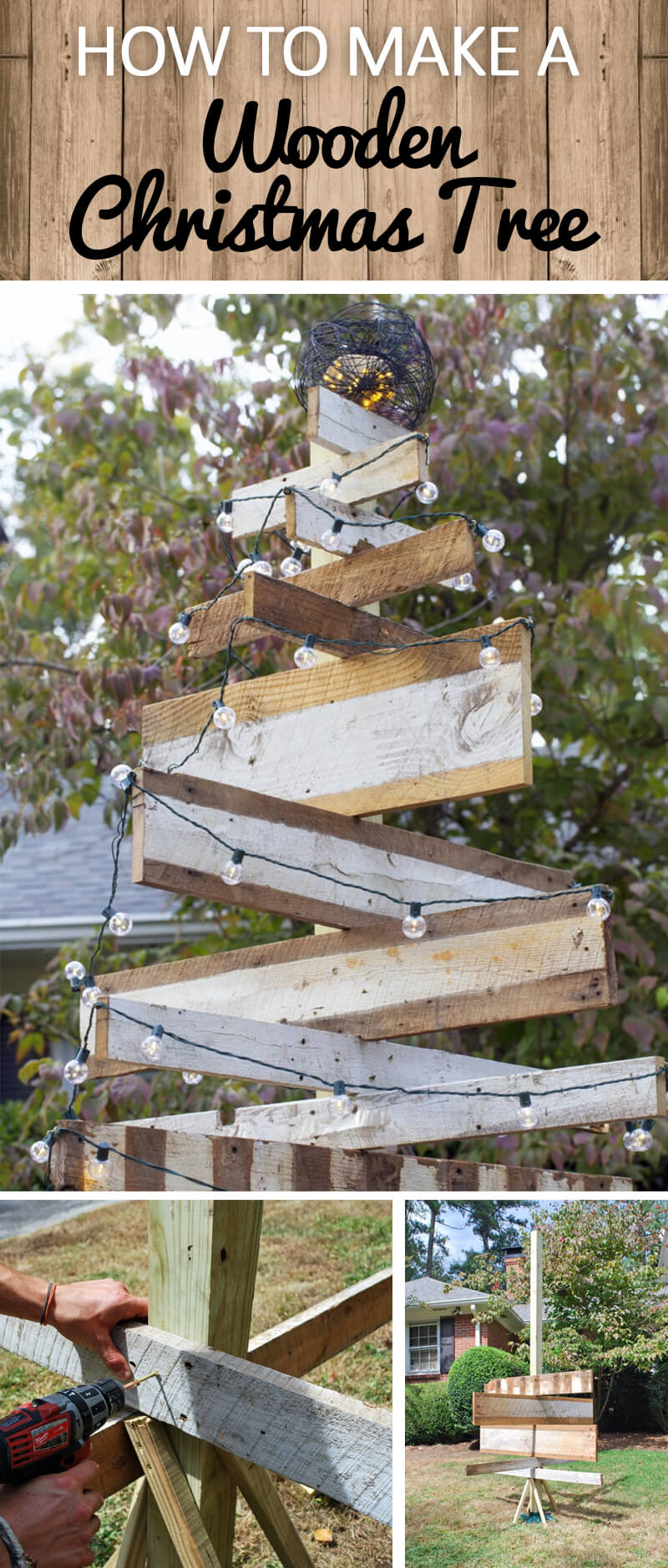 66. Wood Pallet Snowman at Night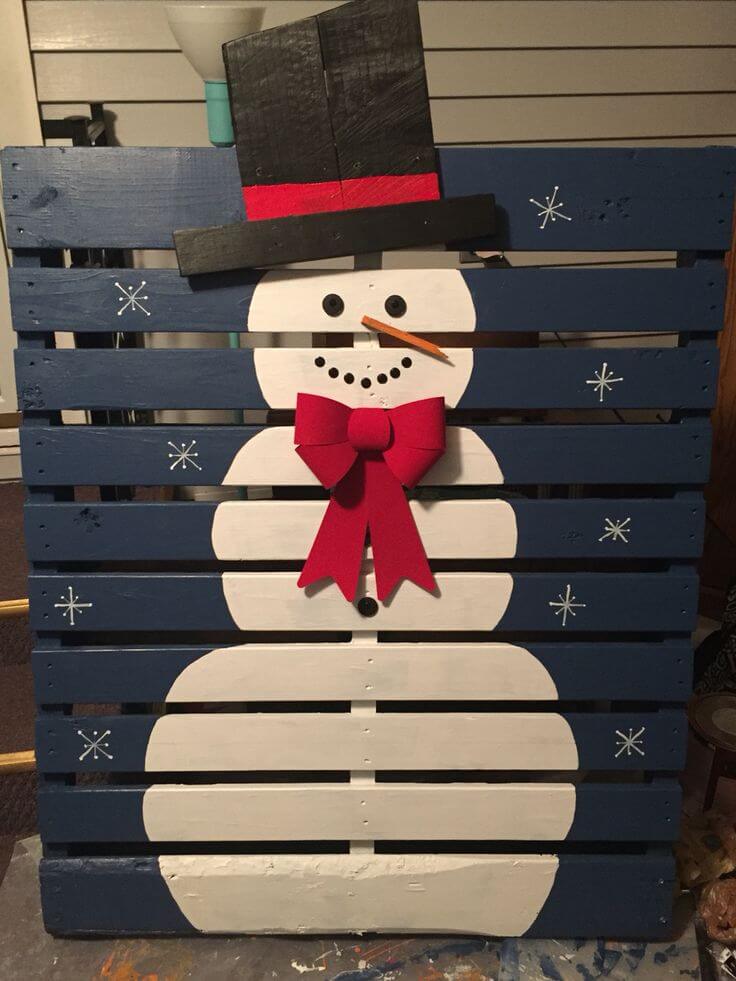 Our Favorite Christmas Decorations to Buy on Amazon