24. Dazzle With Decals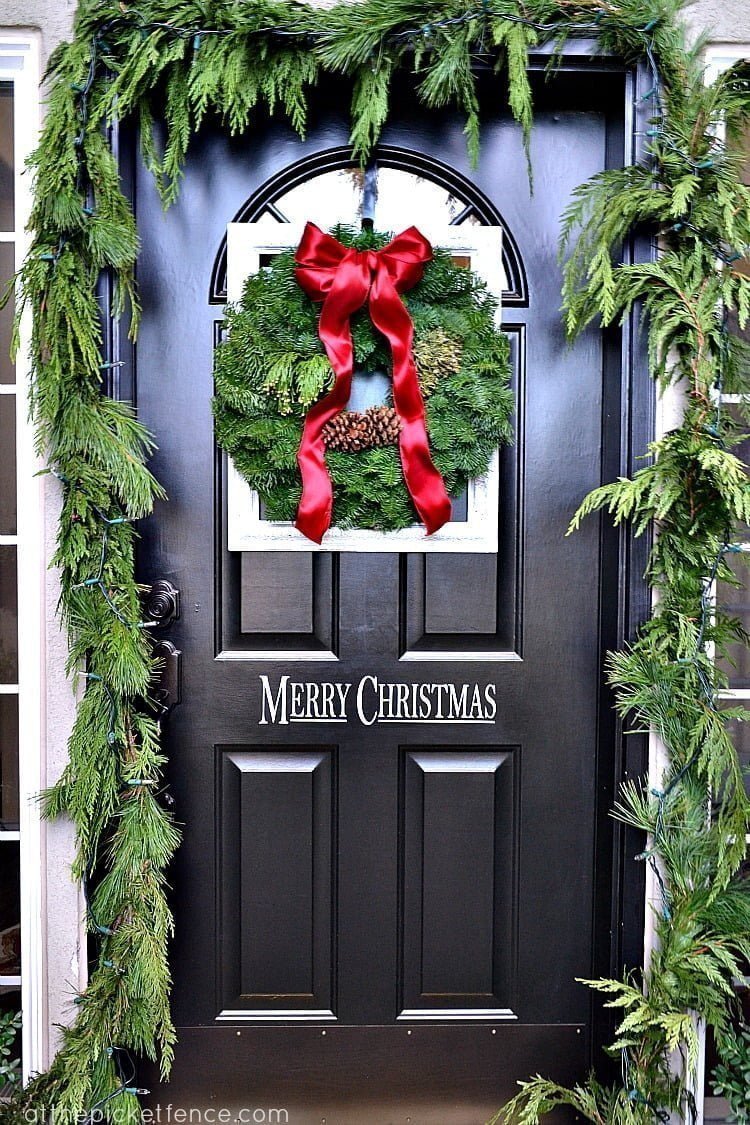 Decals aren't just for adhering sentimental quotes to our walls year-round. Instead, they can easily be incorporated in Christmas house decorations as well. The "Merry Christmas" white decal on this homeowner's very dark door creates a striking contrast, one that would look absolutely gorgeous under floodlights. Don't worry about these decals damaging the surface that you attach them to, as they are designed to easily be removed when the holiday season has ended. To remove, just gently scrape at the edges of the message or design with a credit card before proceeding to peel it off entirely.
25. Make A Bold Statement With A Multicolored Design Scheme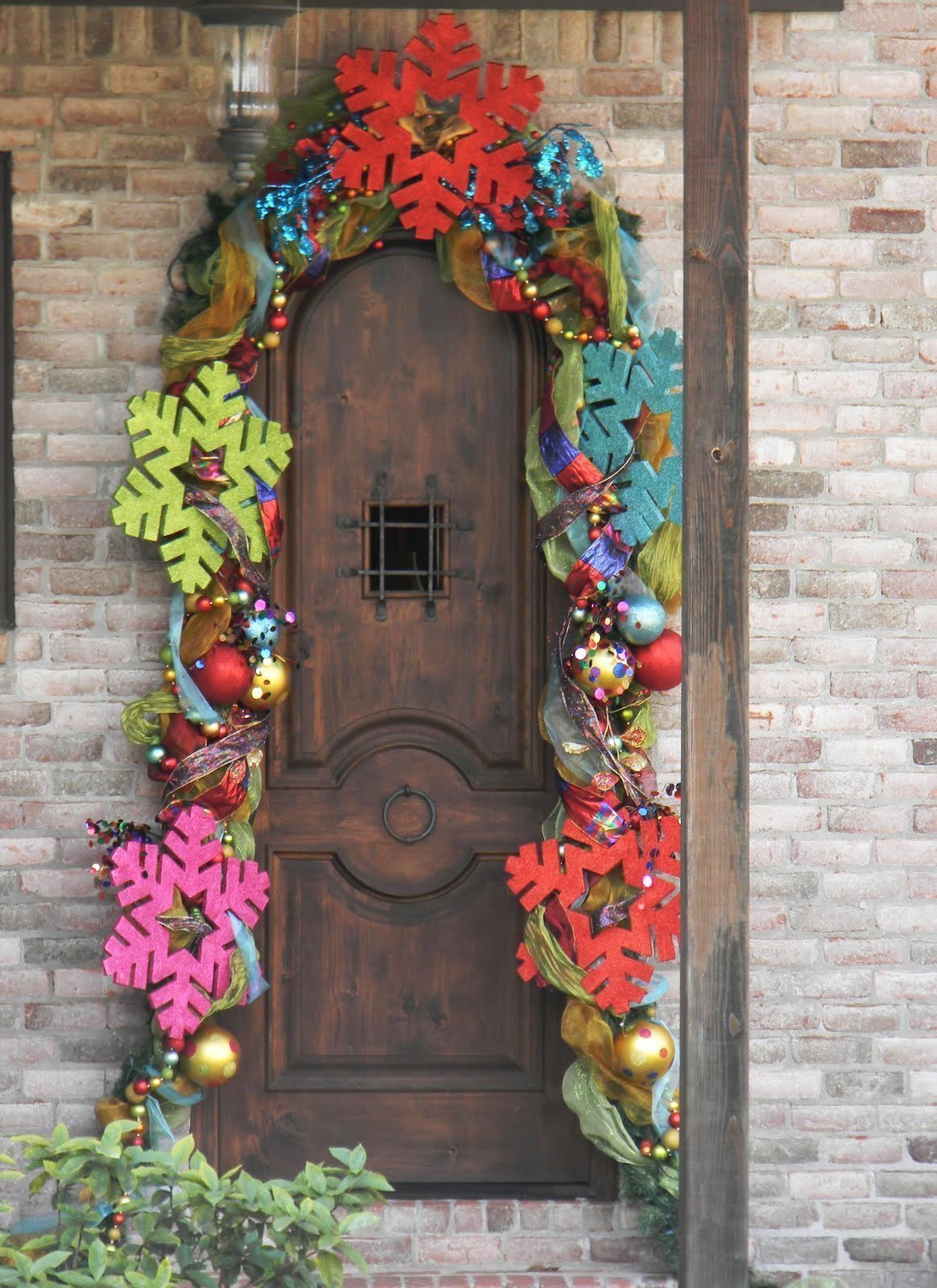 Many of the decorations on this list have featured classic color schemes, such as the traditional red and green or the classic candy cane-inspired red and white. However, if you're the type who never liked to color within the lines, spice up your front door look by working with a rainbow of colors. One of the most unique Christmas ideas when it comes to decor is to spray paint snowflakes in a wide array of colors, from purple to cyan to yellow. When attached to a garland and hung around your front door, they create a finished look that might not be "classically Christmas," but is undoubtedly festive and joyful.
26. Decorate With Greenery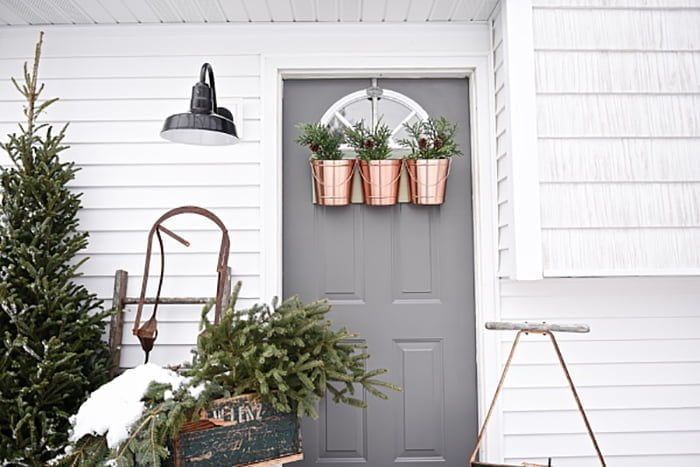 Balsam and fir are an essential element in any great Christmas decoration idea. This homeowner eschewed the bells and whistles and focused entirely on displaying greenery in an elegant and simple manner. To duplicate their door hanging, use hot glue or nails to attach three shiny metallic planters to a piece of wood, which can easily be hung from your door knockers. If the holidays are too hectic for you to have to worry about keeping plants alive, just use faux greenery from the craft store. When used outdoors, it's virtually impossible to distinguish from the real deal.
27. A Snowman Silhouette Made Of Wreaths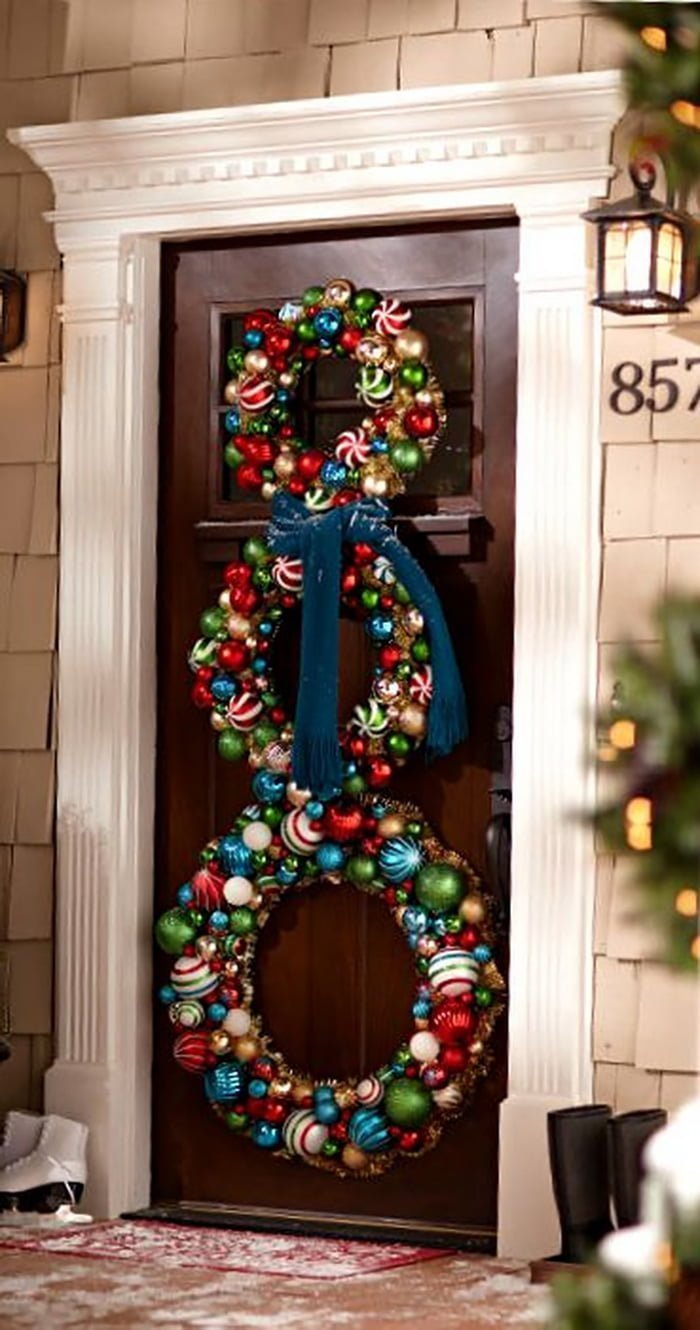 The best Christmas front door decors are the ones that really catch your eye. At first glance, this trio of wreaths might seem like just that. But take a closer look, notice the scarf wrapped around the "neck" and you'll realize that these wreaths create the perfect silhouette of a snowman. Decorate the wreaths however you choose, but make sure that they are uniform throughout all three so that the snowman design is not lost. To take it a step further, place a black top hat atop the smallest wreath.
28. Adorn Your Door With Two Beautiful Green Angels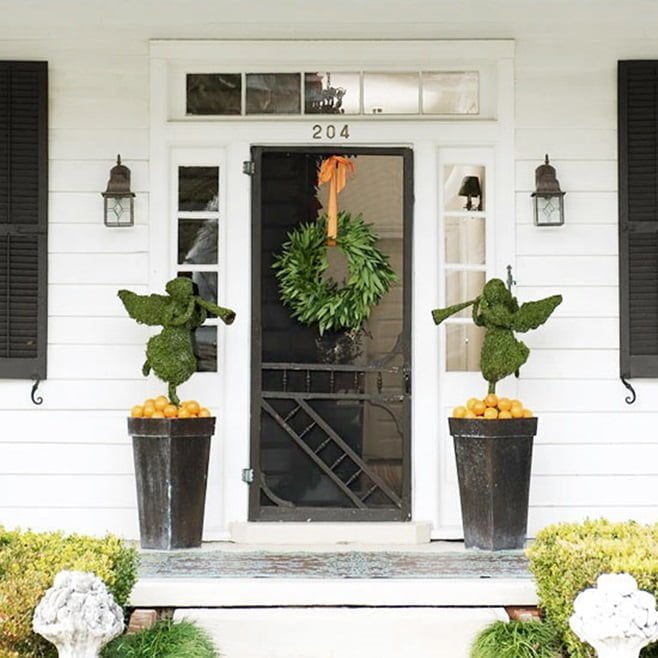 These two angels, constructed of wire and greenery, are absolutely beautiful on either side of this homeowner's front door. Any wire statue can easily become a Christmas tree-like decoration if you carefully wrap it with garland. Like many fun Christmas ideas, this is an inexpensive but unique way to give your home some holiday cheer. If you want your decorations to twinkle, carefully wrap them with white or gold string lights. These green figures also create beautiful shadows at night when placed in front of flood lights.
29. Evoke The Image Of A Starry Night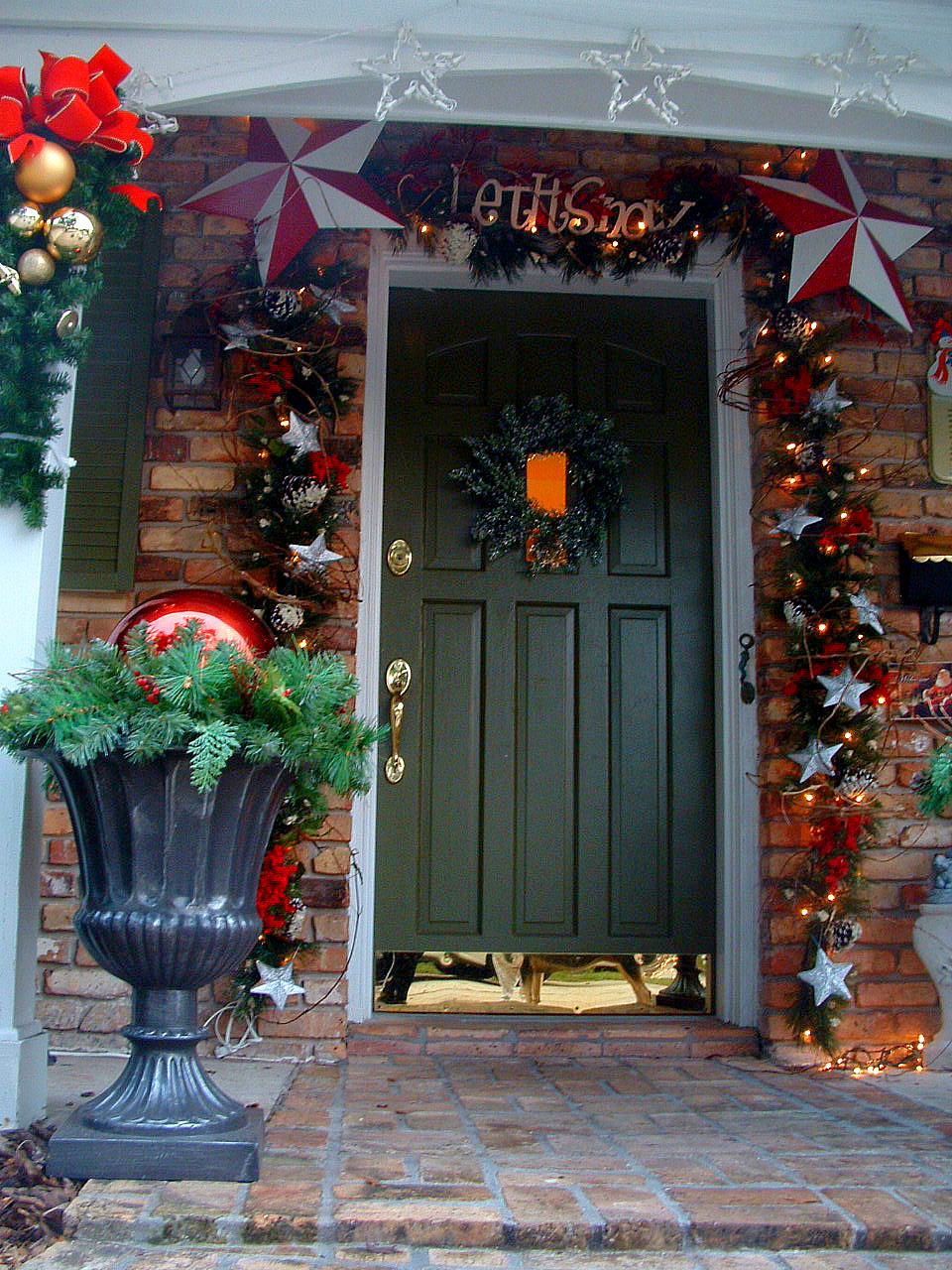 Stars are the best place to start when you're dreaming up the perfect DIY christmas decoration scheme. This homeowner used multiple star designs to create an overall beautiful finish. The two oversize stars at the top are accentuated by a garland of hanging star-shaped lights. The classic green garland features star ornaments throughout, which brings the entire design motif together. If you can't find stars in the exact hue you want when you're doing your decoration shopping, don't be afraid to use spray paint to get the exact look you want. Inexpensive star ornaments are quickly turned into something magnificent with just a bit of spray paint and spray glitter.
30. Spread The Holiday Cheer By "Upcycling"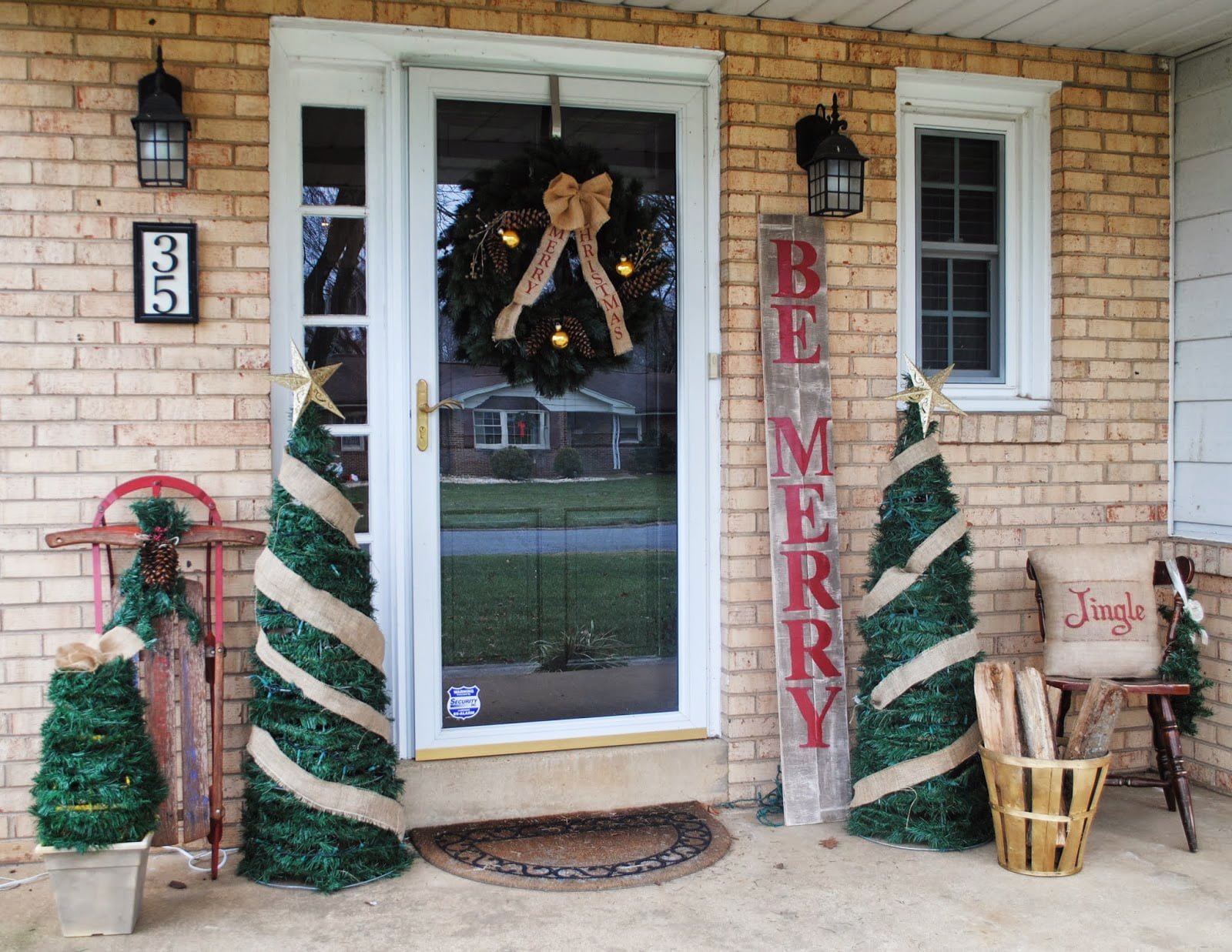 "Upcycling," a portmanteau of "recycling" and "upscale," refers to taking an old material and turning it into something impossibly stunning and chic. That's exactly what these homeowners did to create their beautiful "Be Merry" sign. All it took were some craft store letters and a little hot glue to turn this old plank of wood into something truly sophisticated. Finding an old scrap material in your basement and brainstorming ways to turn it into a department store-worthy decor item is one of the most rewarding Christmas craft projects that you'll embark on this holiday season.
31. Say It With Wooden Block Letters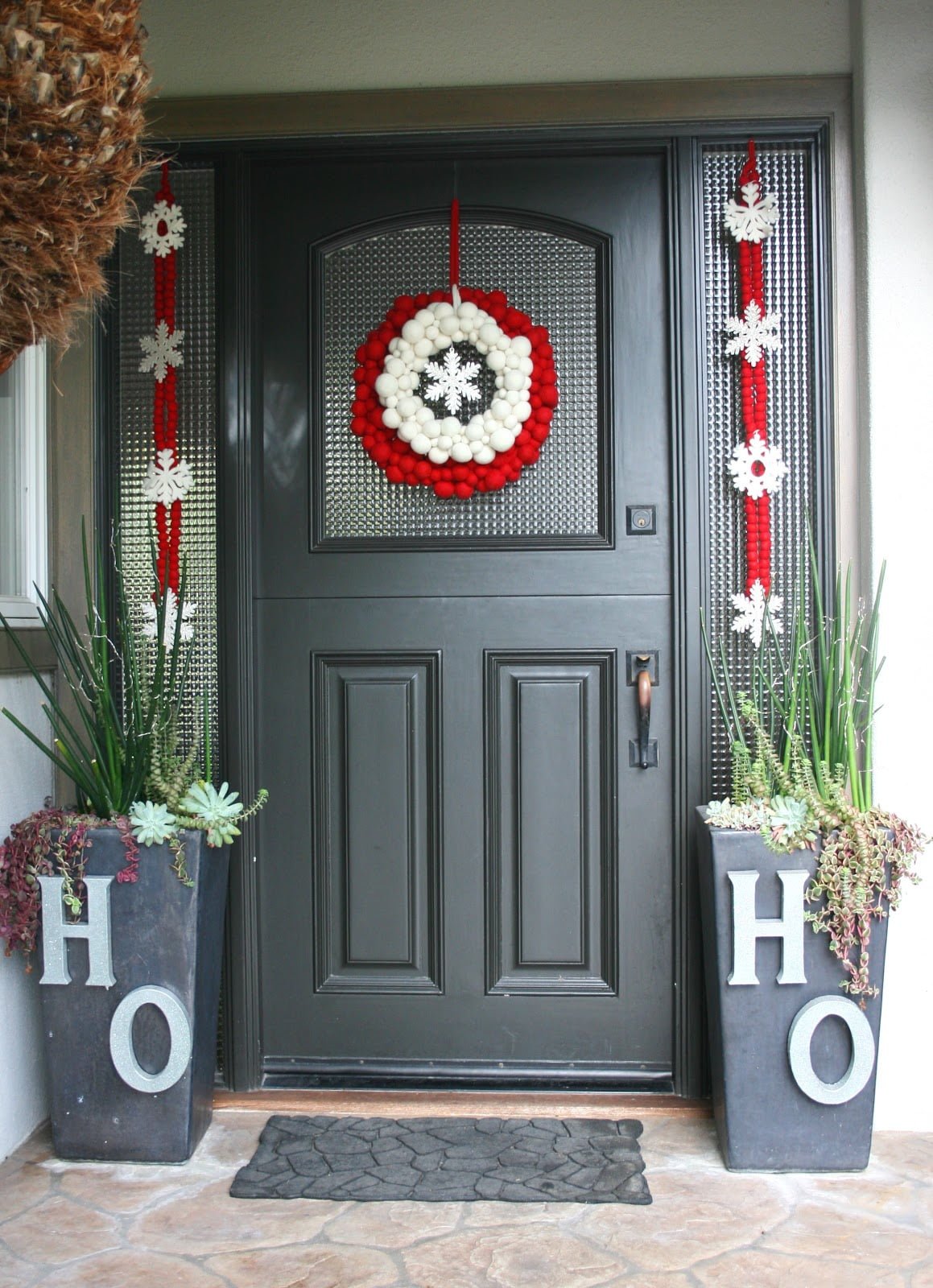 This crafty homeowner turned two planters into unique Christmas decorations simply by using wooden block letters from the craft store. These letters can be found unpainted, but you can customize them easily using spray paint. To attach them, use a weatherproof putty to make sure they stay in place without actually using a hammer and nails. When it comes to Christmas door decorating ideas, don't feel like you have to stick to a formula. Just about anything can be turned into a decoration with the right amount of imagination.
32. Bring The Indoors Outside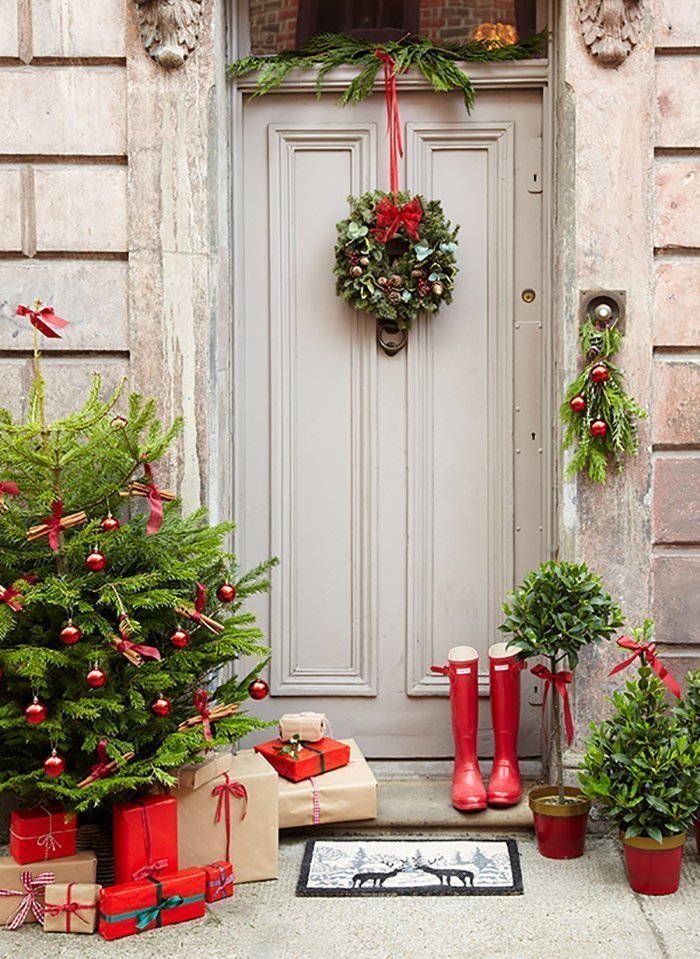 If you're looking for unique Christmas decoration ideas for your front door, consider taking a cue from inside your home. This crafty homeowner made their outdoor Christmas tree look all the more festive by surrounding it with faux presents. Even if you live in a rainy or snowy climate, you can still duplicate this look. Simply wrap cardboard boxes with a sturdy vinyl material in colors like red, gold or green. This tree, surrounded by wrapped gifts, looks phenomenal either lit up by string lights or illuminated by a few strategically placed white flood lights.
More Christmas door decorations on the next page…