33. Whimsical Ribbon Wreaths DIY Christmas Front Door Decor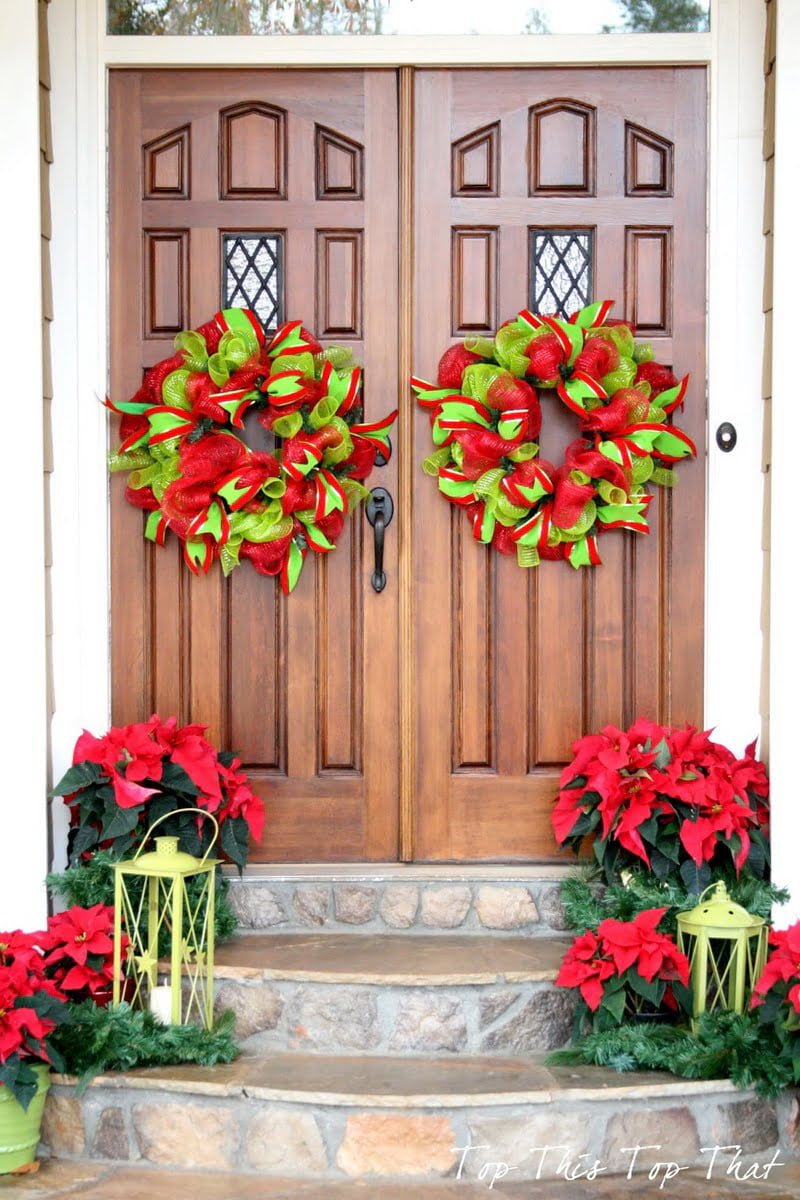 Source: Pinterest
The best DIY Christmas front door decors are the ones that put a unique spin on a classic Christmas decoration. This gorgeous duo of wreaths aren't made of balsam and fir, but rather crafted from beautiful ribbons, alternating in red and a surprisingly neon green. The decision to use two wreaths instead of one is perfect for any homeowner who has double doors instead of single doors at the front entrance to their home. The rest of the look is beautifully simple yet stunning, with two large candle lanterns surrounded by some classic red poinsettias.
34. The Beauty Of Contrasting Colors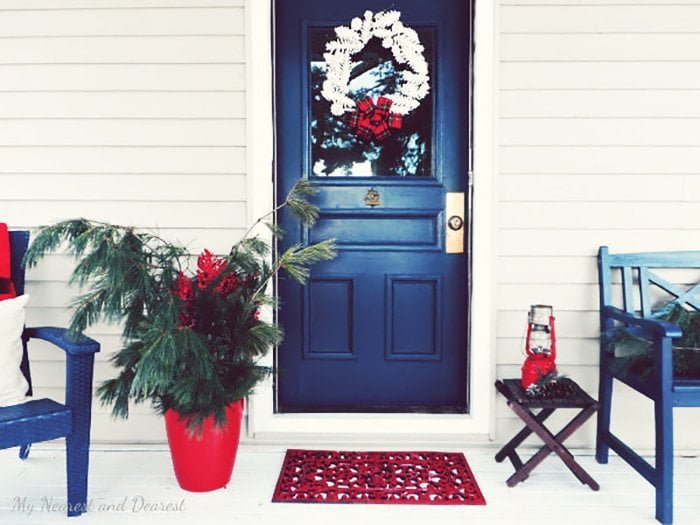 Not every homeowner has a front door that is a neutral wooden or mahogany tone. This homeowner has a dark blue and white color scheme on their home that may at first glance seem difficult to decorate for the holidays. However, they make it work beautifully by using a bright white Christmas wreath instead of the classic green color, which would have clashed with the blue of the door. This is perfect inspiration for any homeowner who needs to dream up Christmas house decorations that won't clash with the permanent color scheme of their home.
35. A Wintery Chandelier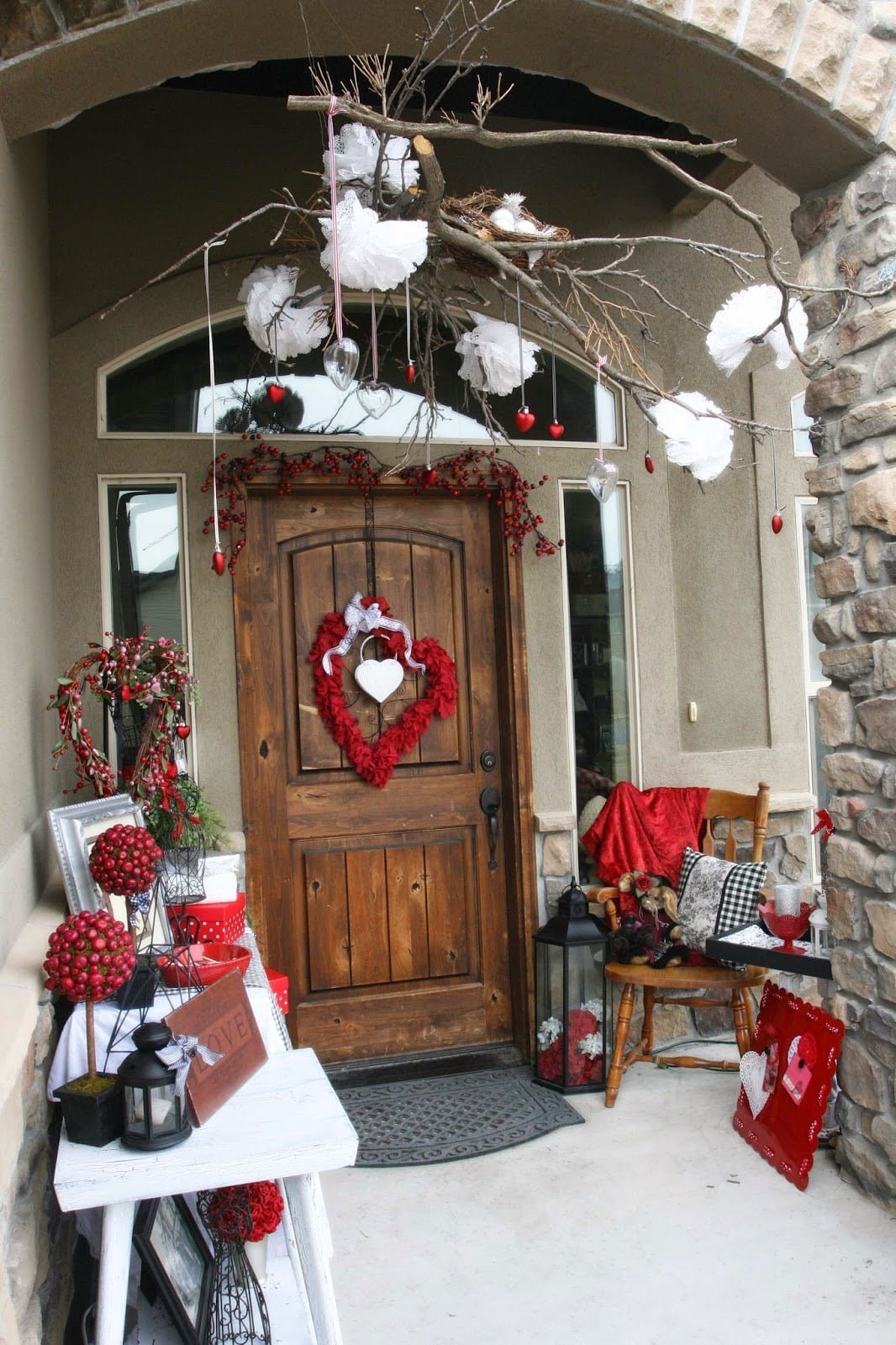 The ultimate cool Christmas decorations are the ones that are DIY but resemble something that would be found in an upscale home design magazine. This stunning "chandelier," constructed with fallen branches, white fabric balls and hanging red ornamental bulbs is a perfect example of one of these decorations. Construct your own by strategically hot glueing fallen sticks and branches together to create a bundle. Decorate however you see fit, be it with string lights, ornaments, fabric or tinsel. This beautiful hanging decoration looks positively stunning at night. Feel free to play with a wide array of colors or follow this homeowner's inspiration and stay with one color theme, such as the red seen here.
36. A Door Hanging So Simple, Yet So Beautiful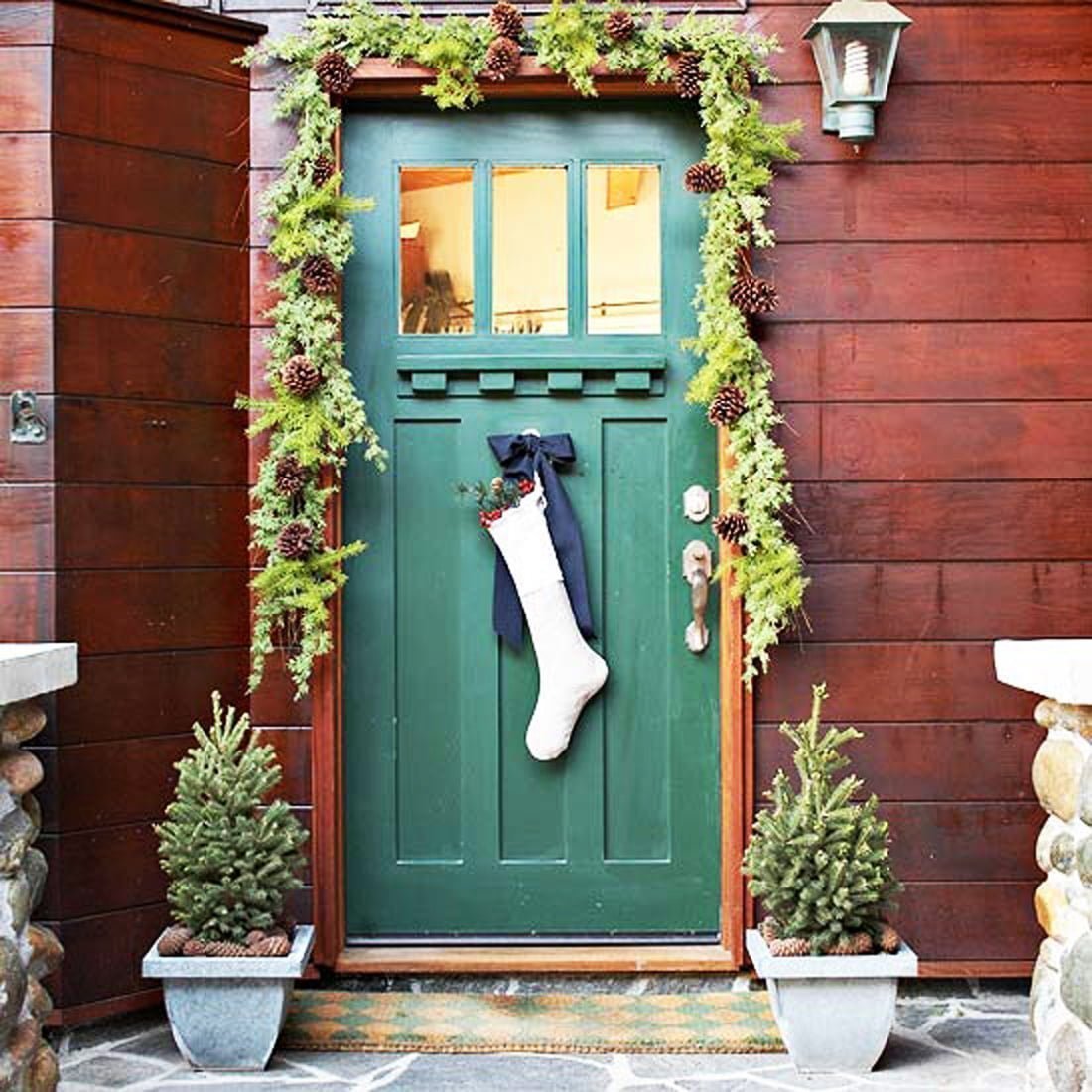 This is one of those holiday front door designs that is stunning in its perfect simplicity. To achieve this homeowner's look, simply fill a long white stocking with pillow stuffing or newspaper and hang it from your door knocker, accenting it with a medium bow. This home owner kept the minimalist theme by hanging a very neutral garland over their dar, decorated with pine-cones instead of ornaments or bulbs. This look is proof positive that you don't need to go completely all out to show off your Christmas cheer.
37. Hung From A Snowflake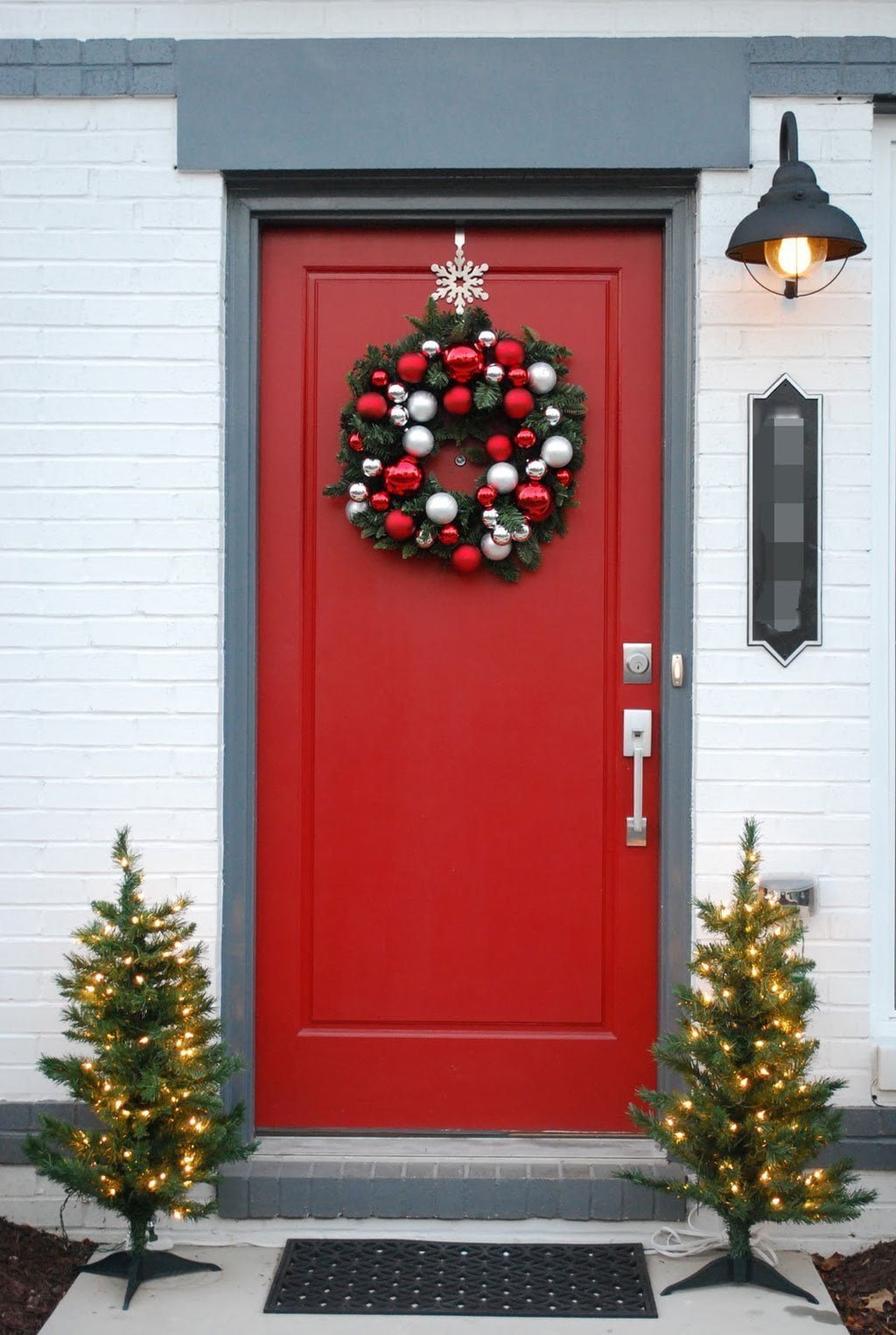 Many of the best Christmas door decorations present home owners with a conundrum. Indeed, they want to hang a wreath or decor item on their door, but they don't want to put any nail holes in their door. This homeowner used a snowflake ornament to solve that issue. Using a snowflake ornament of your choosing, tie a ribbon at the top. Nail the ribbon atop the door, where the hole won't be visible. Then, you can use ribbon to tie the wreath from the bottom of the snowflake. Not only is this a completely practical solution to a common concern, but the finished look is absolutely stunning.
38. Spread The Christmas Cheer With A Festive Chalkboard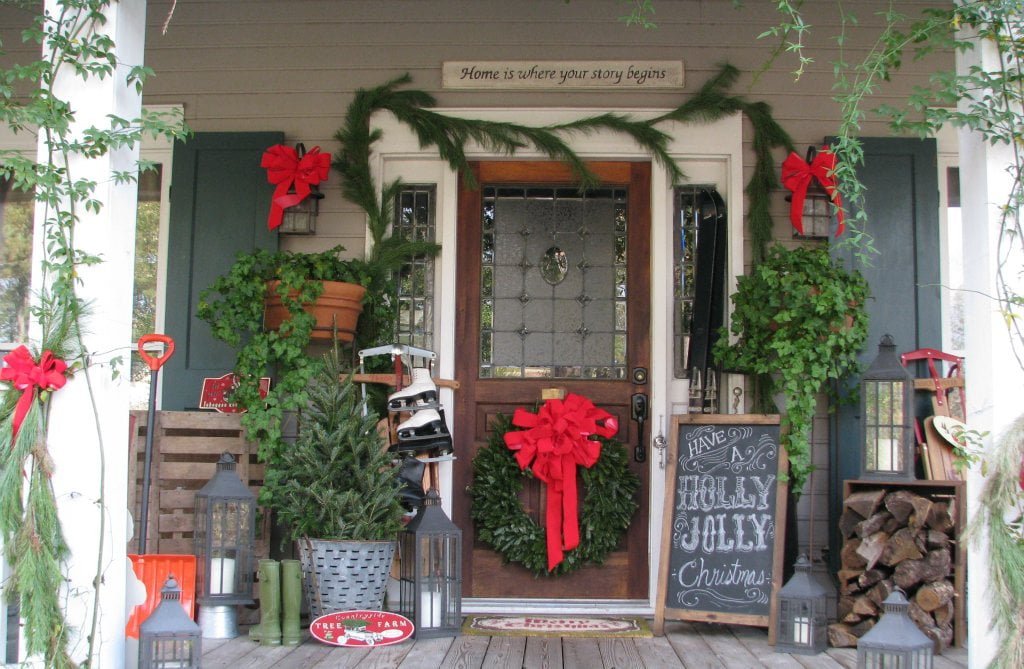 Source: Pinterest
This homeowner's front entrance is beautifully designed, with a plethora of garlands, wreaths and decorative touches. However, it is the use of the chalkboard that sets it apart from the rest. These standing chalkboards can be found easily and inexpensively at restaurant supply stores, as they are primarily used to advertise specials for eateries and bars. You can create one chalk design to last you for the whole season or you can change the message as you please. This decor idea is not only gorgeous, but festive and fun for the whole family.
39. A Mini Holiday Snowman Made Of Wreaths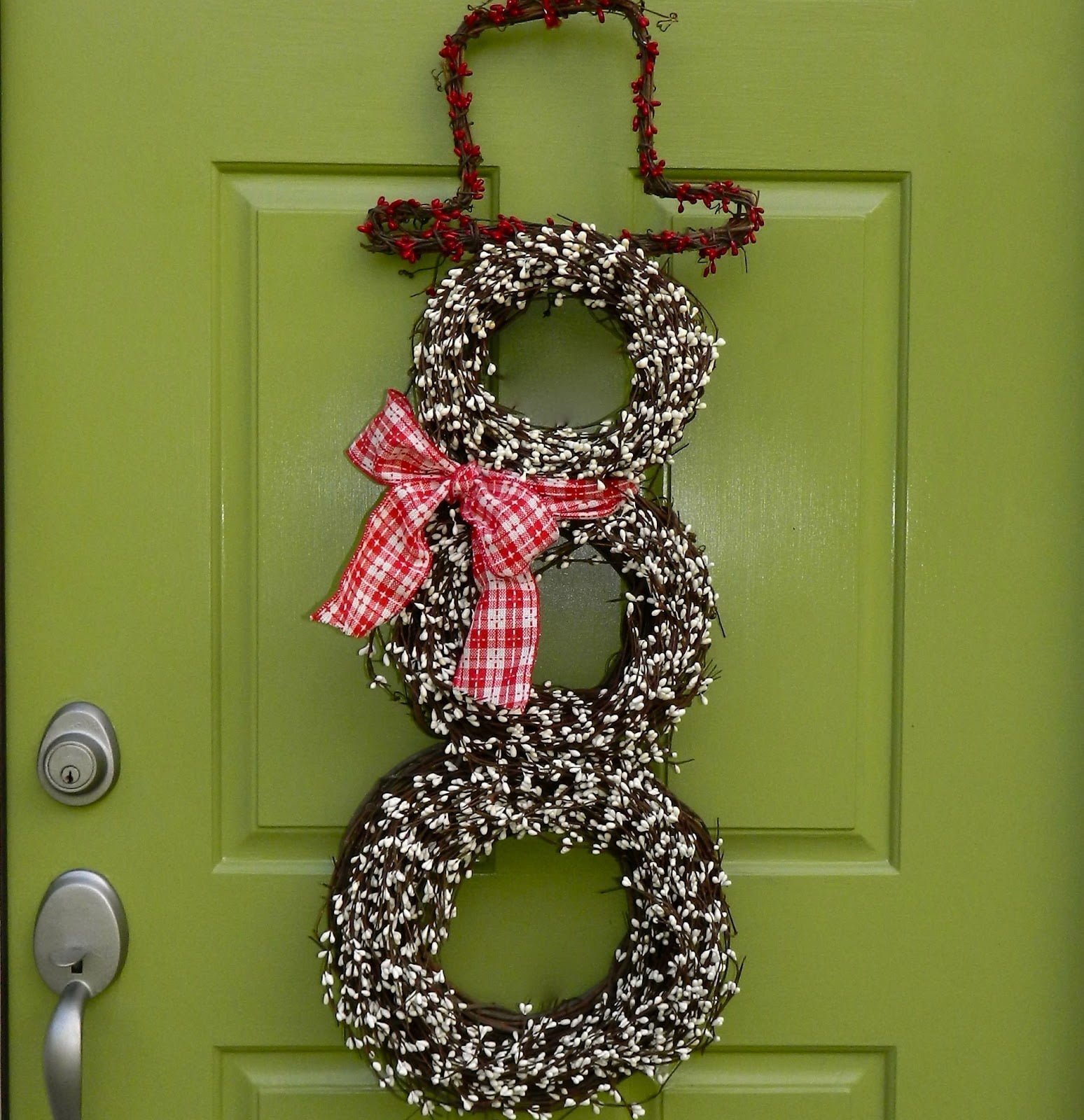 We've already seen a snowman made of wreaths on this list, but this beautiful little door hanging is more evidence as to why homemade Christmas decorations are the best Christmas decorations. This tiny snowman can easily be made using small wreaths or hoops from the craft store. Use strands of shimmery silver or white garland, looped around each wreath, to replicate the snowman seen in this photo. To create the top hat, create an outline out of wire and then wrap with brown string or twine. You can finish the look with a lovely red ribbon.
40. A Jumbo Wreath With Jolly Decorations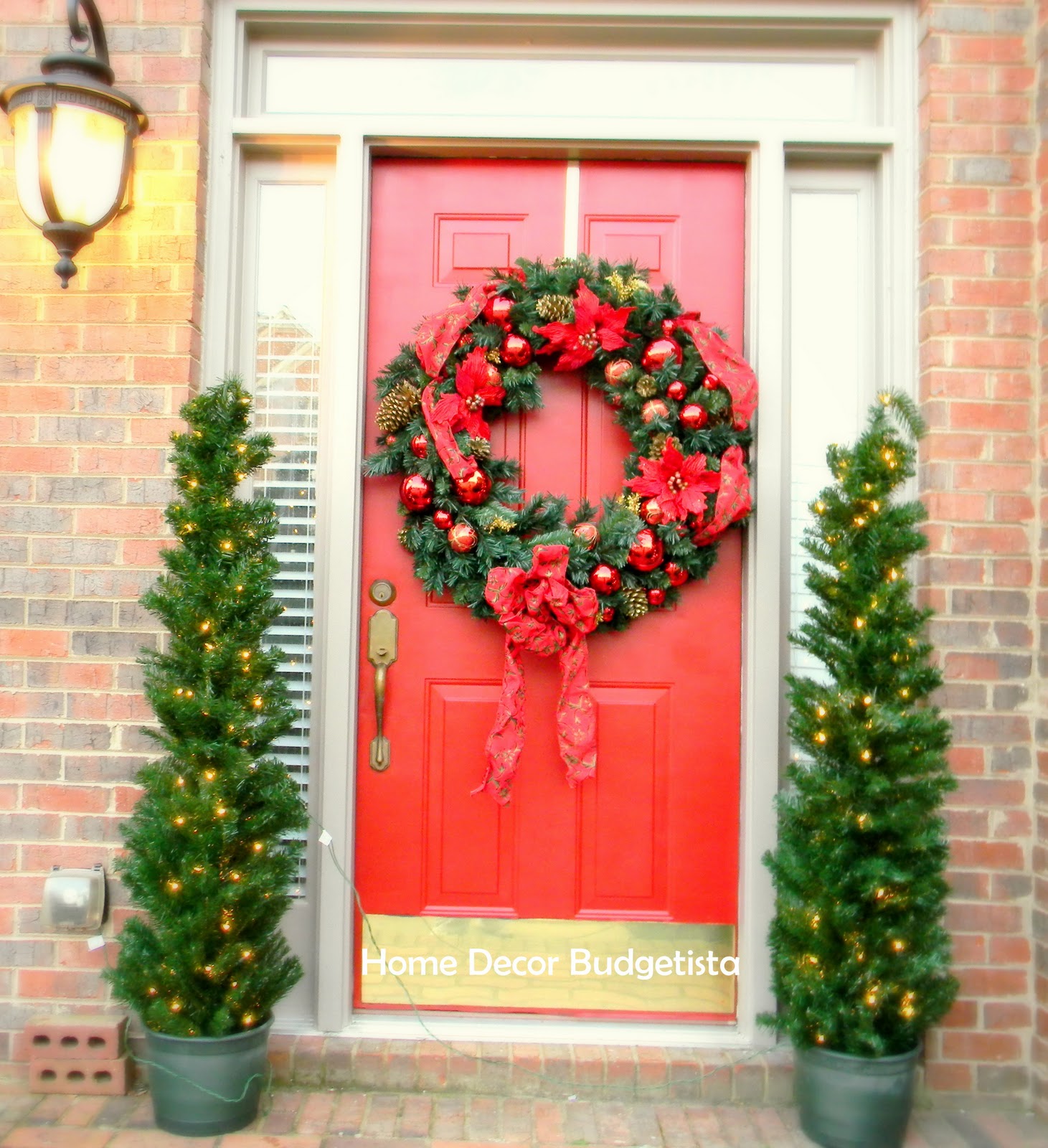 This homeowner chose a jumbo wreath, which they accented with a plethora of fun decorations. Adhere pine-cones, ornaments and red bulbs for a look that is utterly classic Christmas. To really add some festive cheer, add faux poinsettias from the craft store. Cut the stems off and use hot glue to attach them to your wreath. The red decorations on this wreath juxtapose beautifully with the homeowner's red door. The two simple trees on either side of the entrance, adorned with plain white lights, finish this look off beautifully.
41. Silver Bells Scream Christmas Cheer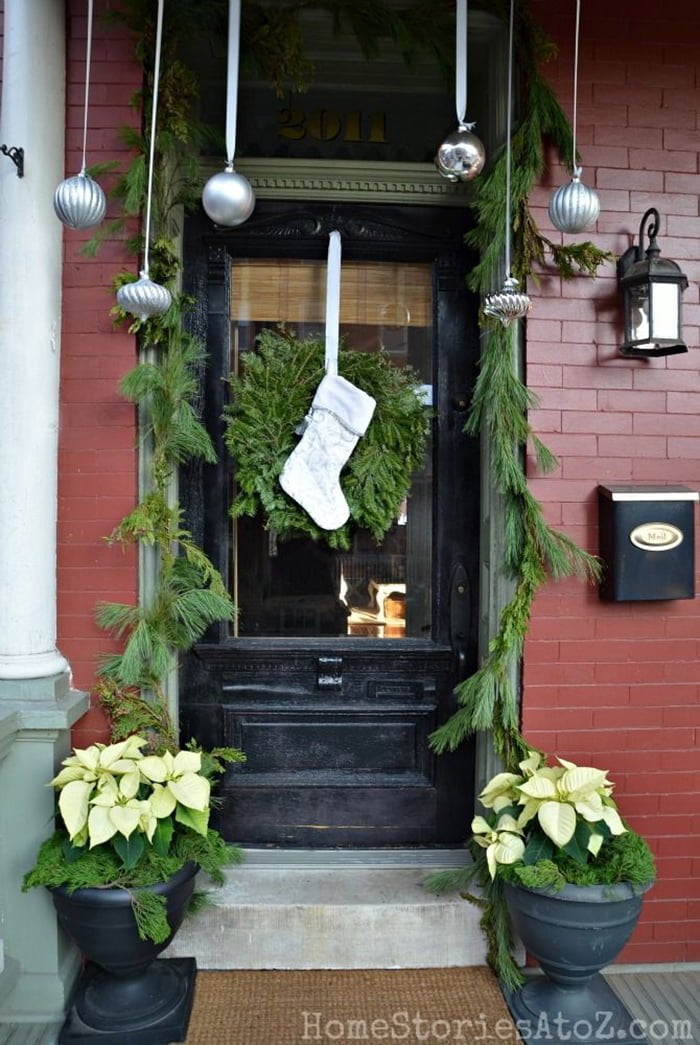 Source: Pinterest
This homeowner used large silver tree ornaments to create a beautiful image outside of their front door. Use ribbon to hang ornaments above your door, alternating lengths so that the ornaments are scattered height-wise. You can take a cue from this homeowner and use ornaments that are all the same color or you can alternate colors for a more eye-catching effect. This homeowner kept the rest of their look simple, adorning their door with a simple undecorated wreath and a chic bright white stocking. The garland around the perimeter is undecorated as well, giving this look a minimalist and sophisticated feel.
More Christmas door décor ideas on the next page…