49. Simple Greenery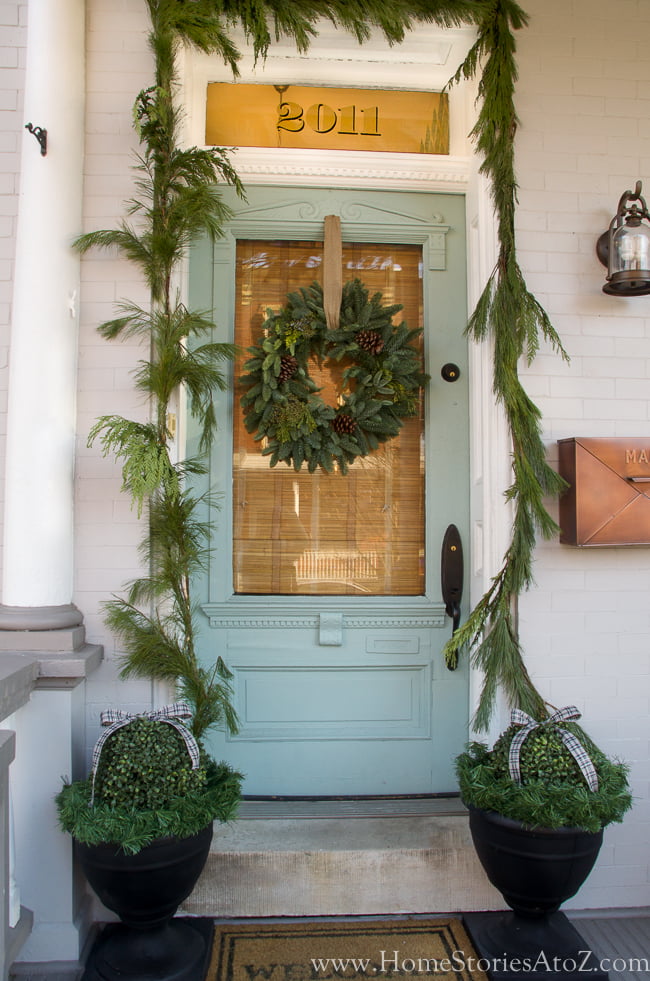 If you prefer a more subdued display, then this easy to duplicate option is for you. Too often it can be tempting to fill the porch with a colorful assortment of distracting holiday decor and endless strings of lights. With minimalism becoming more popular, this simple use of greenery has appeal and the simplicity gives this porch an airy and clean feel. The evergreen wreath is a conservative affair with only pinecones to add a bit of contrast, and the garland is simple greenery with no strings of lights or ribbons. In fact, the only nod towards the typical explosion of bows are the two simple ribbons in the bushes.
50. Miniature Christmas Trees in Olive Buckets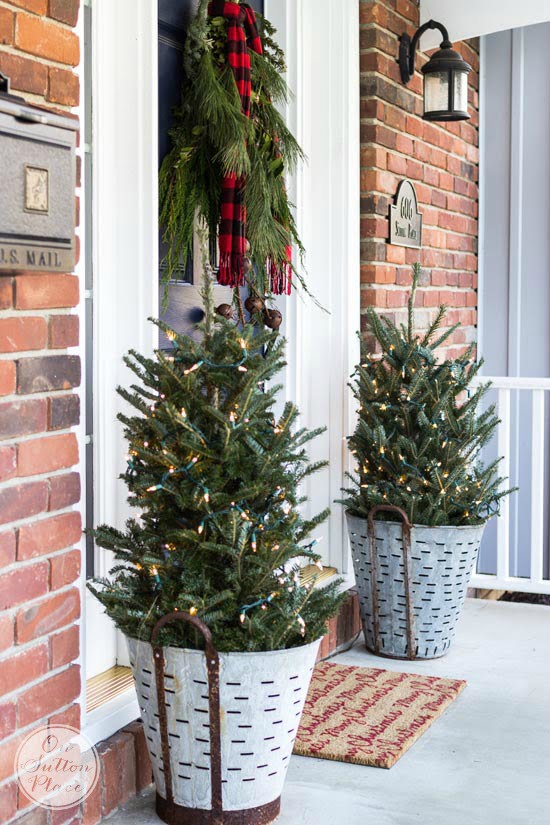 Another simplistic but effective display makes use of antiqued olive buckets and minimally decorated miniature Christmas trees to create a straightforward but pleasing entryway. The simple string of white Christmas lights around each tree makes it possible to warmly illuminate your porch at night. If you're planning to put up an ornate wreath on your door, going for something more simple like these trees as secondary decor elements is a good idea if you don't want to distract from the main focus of your Christmas porch decoration.
51. Elegant and Understated Entryway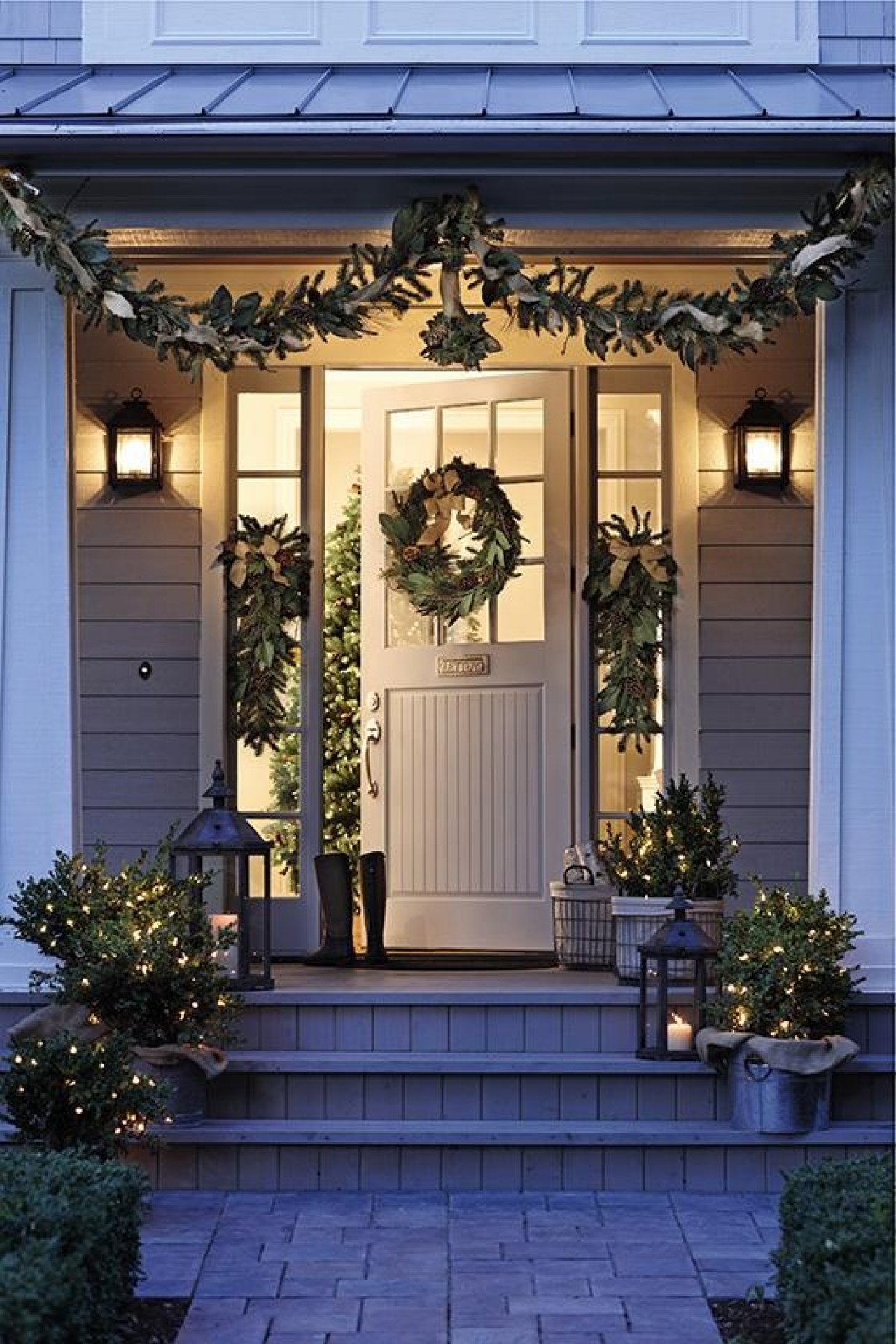 Reminiscent of a French country villa, this porch display makes use of abundant greenery and bountiful burlap to create a rustic yet refined entryway. The simple and sparse use of Christmas lights coupled with oversized lanterns lends a cheery glow to the steps while the repurposed wire laundry baskets and galvanized buckets add an old fashioned industrial charm to the overall look. Most importantly, the symmetrical way in which all of the decor is laid out means that the eyes of your friends and family will be immediately drawn to the tree in the foyer.
52. Old Fashioned Festive Lantern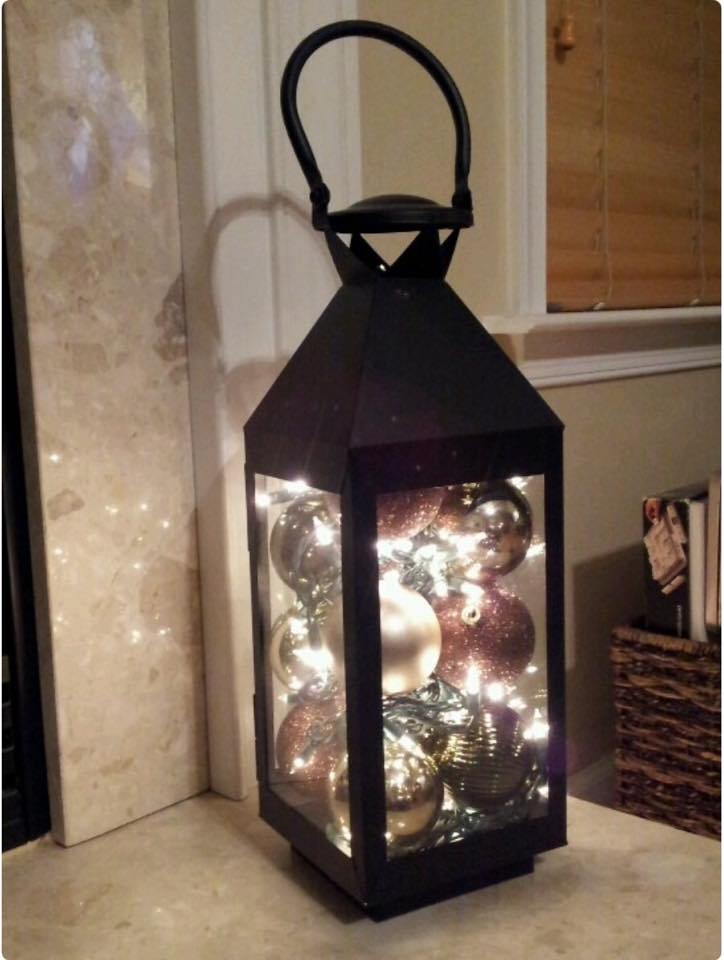 Looking for a way to light up your porch in a festive and cheerful way? Repurposing an old lantern can do just the trick. Remove the bulb or candle and fill with ornaments and battery operated lights to create a unique way to greet guests and carolers alike to your house.
53. Winter Wonderland Wagon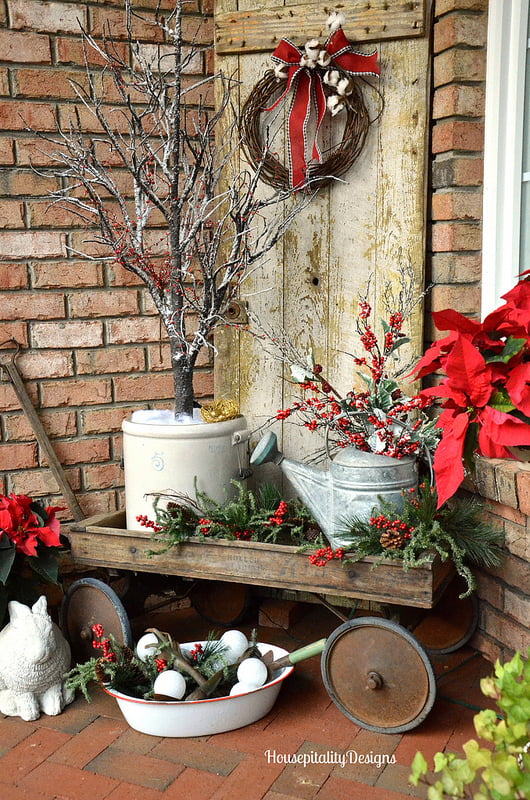 This shabby chic Christmas porch decoration idea makes use of antique finds such as an old ceramic crock, rusty gardening tools, an enamel bowl, a galvanized watering can and several other rustic pieces to create a playful display. The man centerpiece, however, is the old wagon. This is an inspired option for a Christmas spread since it allows for a creative display space. The elevated platform of the wagon bed is a great area to tuck some greenery around tall arrangements like the berry-laden holly branches in the watering can and the bare-branched tree.
54. Classic Christmas Column Garlands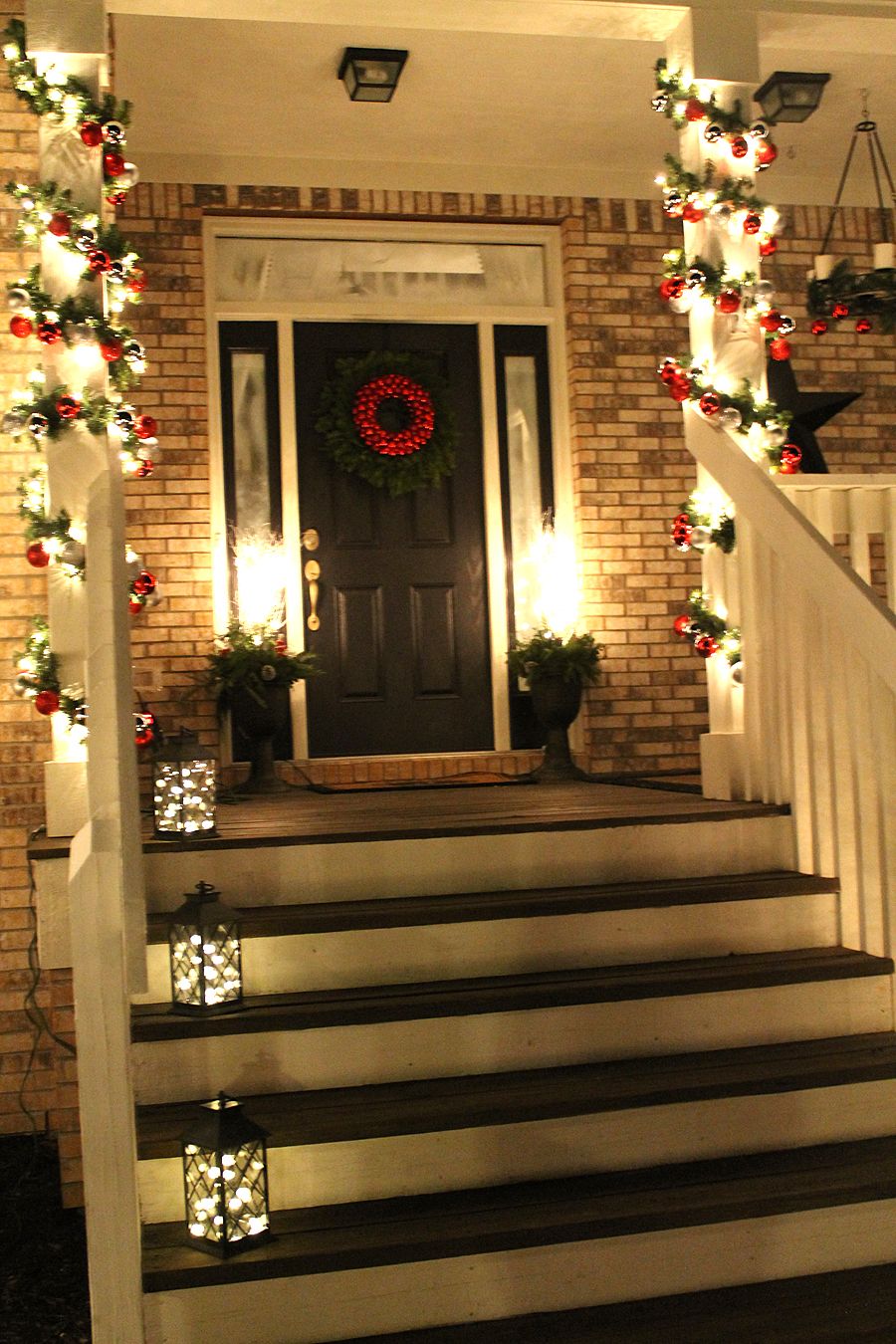 Make use of your columns to establish an eye-catching approach to your front door by accenting them with garlands. These reusable garlands have embedded Christmas lights. This makes it a simple task to put up and take down the garland each year. Simply hang some colorful ornaments from them for a pop of color, and you now have a stunning lighted entryway. Also of note are the light sprays in the planters by the door. Although the planters themselves are relatively plain, the addition of a few branches with Christmas lights adds a flair of the dramatic.
55. Dramatic Garland with Oversized Ornaments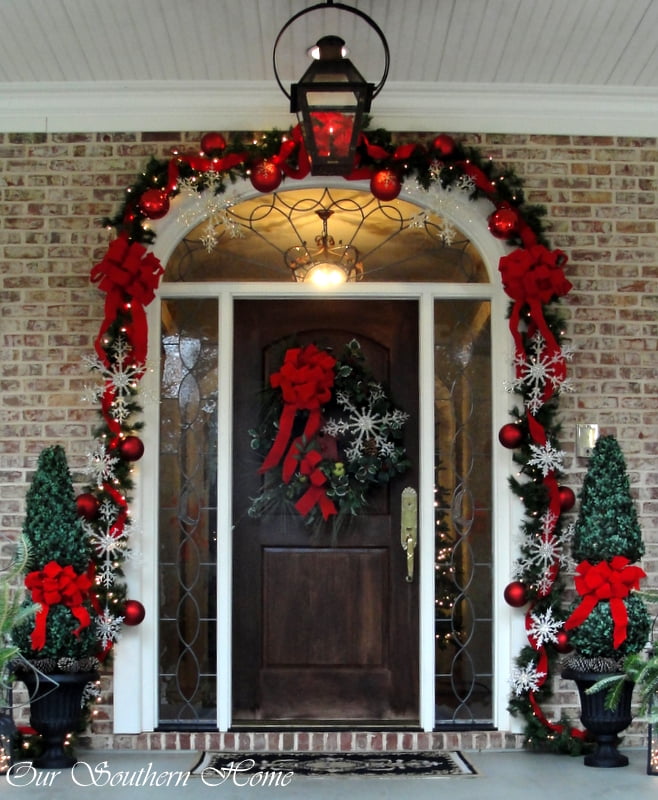 If you're drawn to home decor that makes a bold statement, then this Christmas porch decorating idea will jingle your bells. What sets this look apart is the abundant and oversized ornaments used to accent the otherwise plain garland around the door. Large snowflakes bedeck not only the garland but the wreath on the door, and gigantic red ornaments and huge bows grace every inch of the greenery. If your house has a large door which will become the focal point of your decorating efforts, then this boisterous garland is a perfect fit.
56. Wicker Sleigh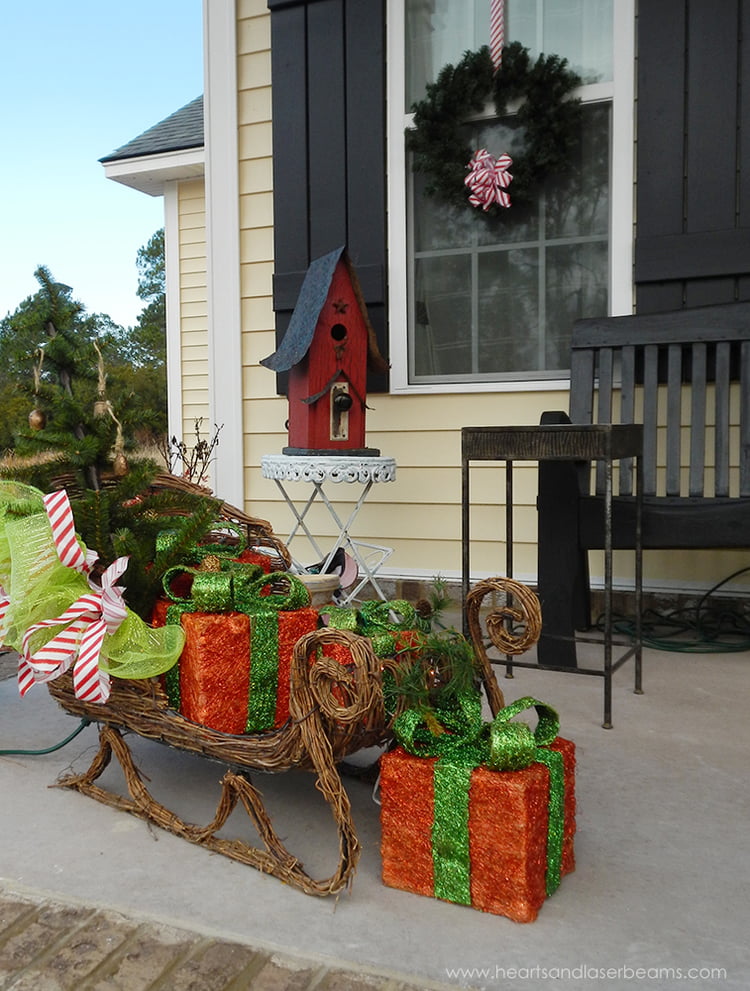 Although it's unlikely that this wicker sleigh would handle an overnight trip around the globe, it does make a fun and rustic addition to this porch. If you want to include a sleigh on you 'nice' list of decor ideas, you can make or buy one relatively cheaply. Load it up with brightly wrapped presents as shown here, or place a burlap sack in it with presents peeking out the top and a small Christmas tree beside it. This is one project where you can be as creative as you like.
57. Welcoming Seating Area with Cozy Blankets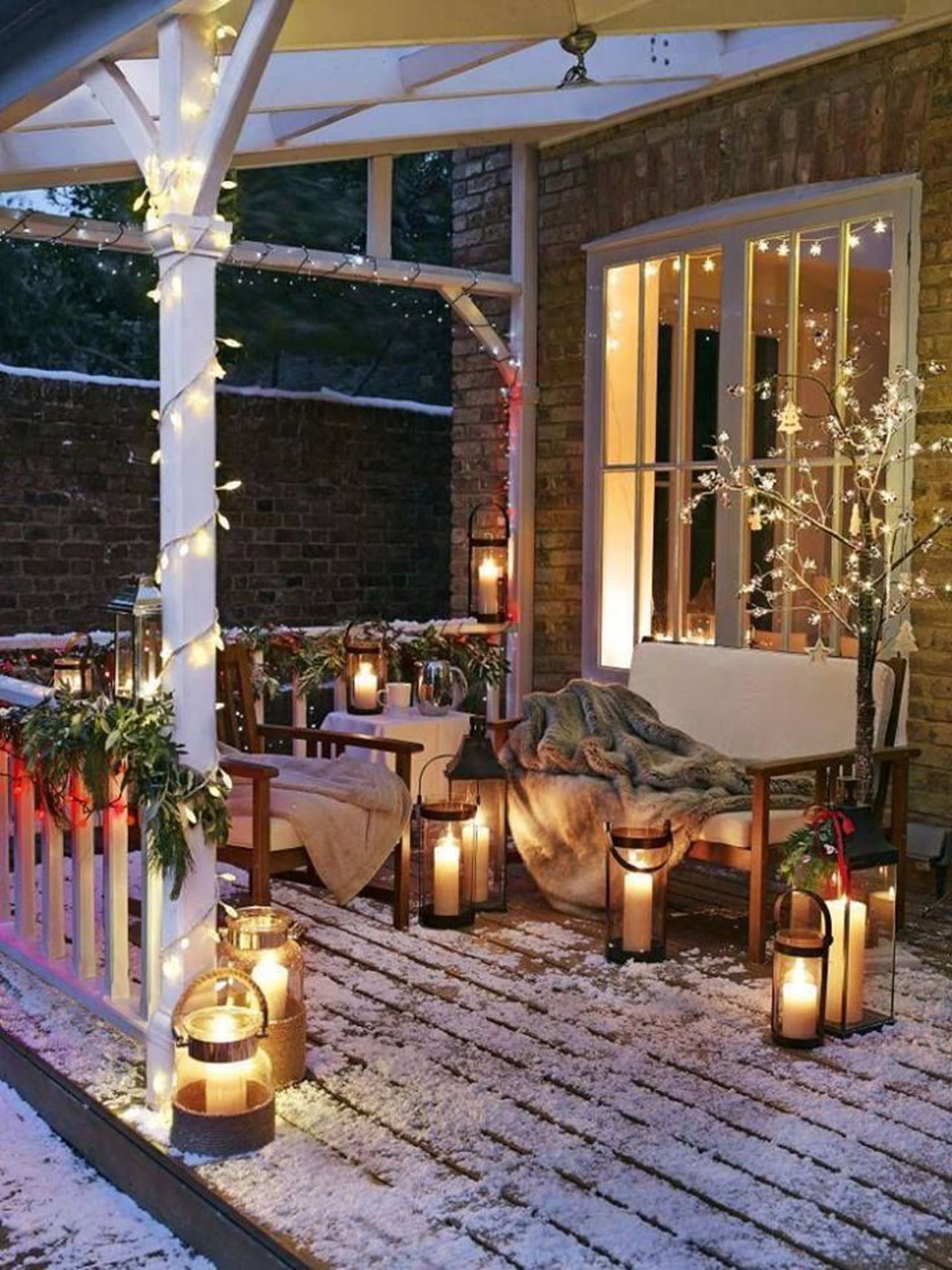 Most of us tend to retreat indoors once winter sets in, but this cozy porch might convince you to spend the afternoon watching the snow fall while you cuddle up in a warm blanket. Sizeable lanterns add the magic of candle light to this romantic display. The relatively simple strings of lights on the columns allow the seating area to be the main focus of this particular grouping. Although this particular porch uses muted colors and neutral tones, You could use bright pillows or plaid blankets to add some color to your entryway.
More Christmas porch decorations on the next page…