58. Red and White Monochrome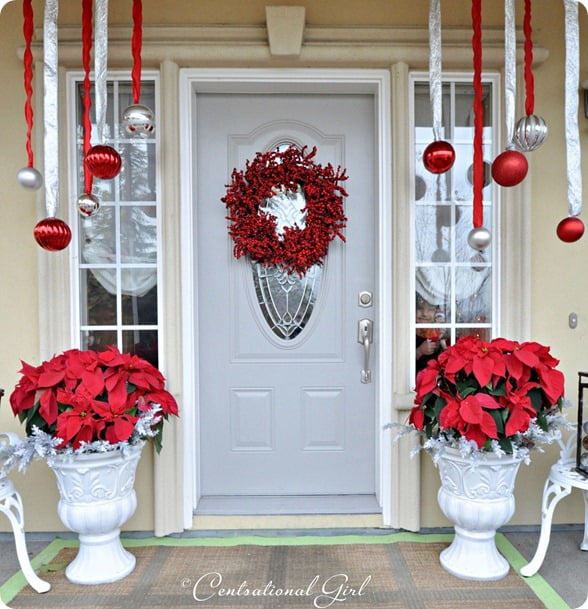 This simple and serene combination of cool white and vibrant red decorations is an easy way to give your porch some drama without overfilling it with too many adornments or overly large displays. Note that the wreath and planters are of an ordinary size, but because of the color contrast they are immediately noticeable. You could duplicate this look using any color, but the pops of red against the neutral, pale walls and the white door of this house are especially impactful. Decor ideas like this one prove that you shouldn't be afraid of bright and dramatic contrast when planning your Christmas decor.
59. Decorated Wrought Iron Bench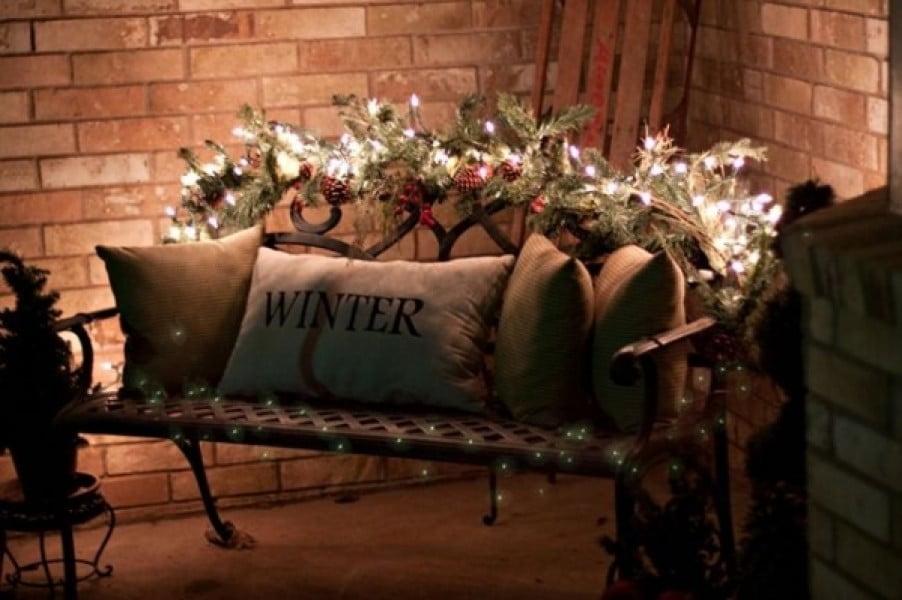 Benches often take a back seat during the winter when it's often too cold to spend a lot of time on the front porch. This Christmas porch decorating idea makes use of this overlooked area of the entryway to show off some extra garlanding, some lights, and a few seasonal pillows. Suddenly, the bench becomes a gently lit and agreeable nook rather than a forlorn storage space for wet boots. If you live in a windy area, this concept becomes even more appealing, since it's unlikely that the garland will be blown off of the heavy bench like it can be blown from a porch railing or doorway.
60. LED Branch Arrangement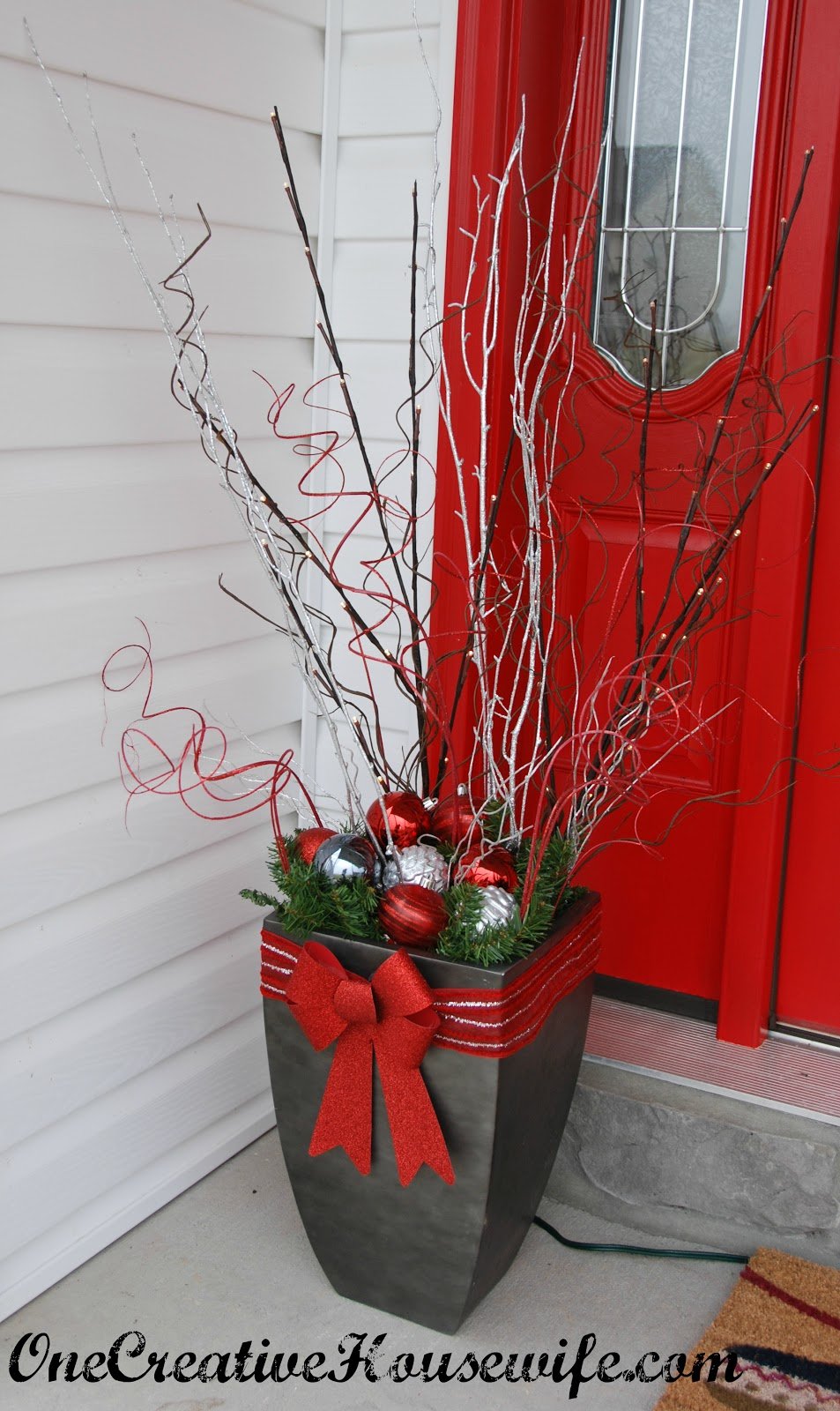 This easy to care for arrangement is a great alternative to having a small Christmas tree or other greenery by the door. Because the branches have LED Christmas lights embedded in them you need not bother with long tangles of unruly string lights. If you prefer a more modern approach to Christmas porch decoration, the simple colors and quirky curled willow branches are a way to eschew traditional holiday decorations while still keeping a fun touch of whimsy in your home decor.
61. Brightly Shining Christmas Lights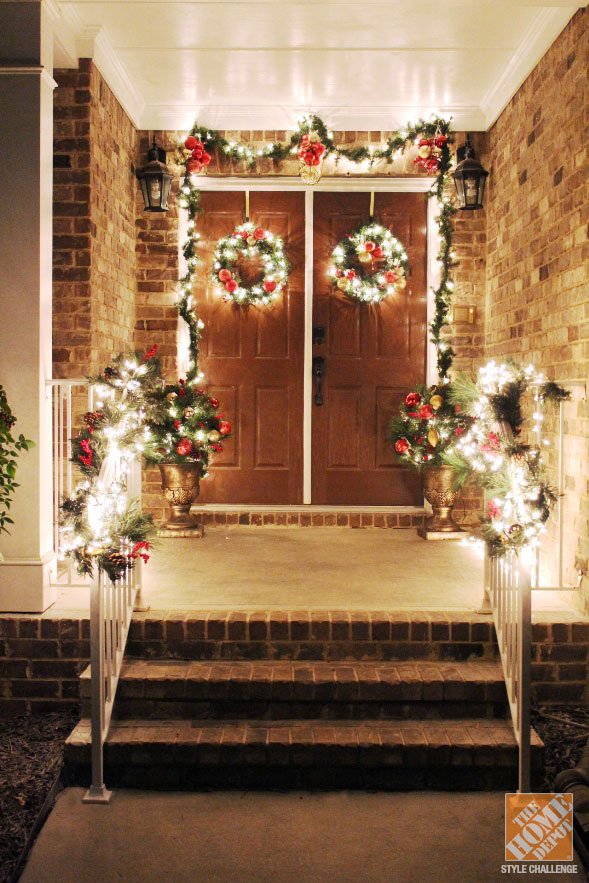 The crisp winter air might chill your bones, but creating a brightly lit space for reception to your house will help warm the hearts of guests and passersby alike. Creating lines of lights helps guide the eye towards the doorway which is framed with even more lights and garlands. Seeing a porch like this might make even Santa himself skip the traditional chimney entry into the house and decide to go in the front door instead.
62. Ornament Spires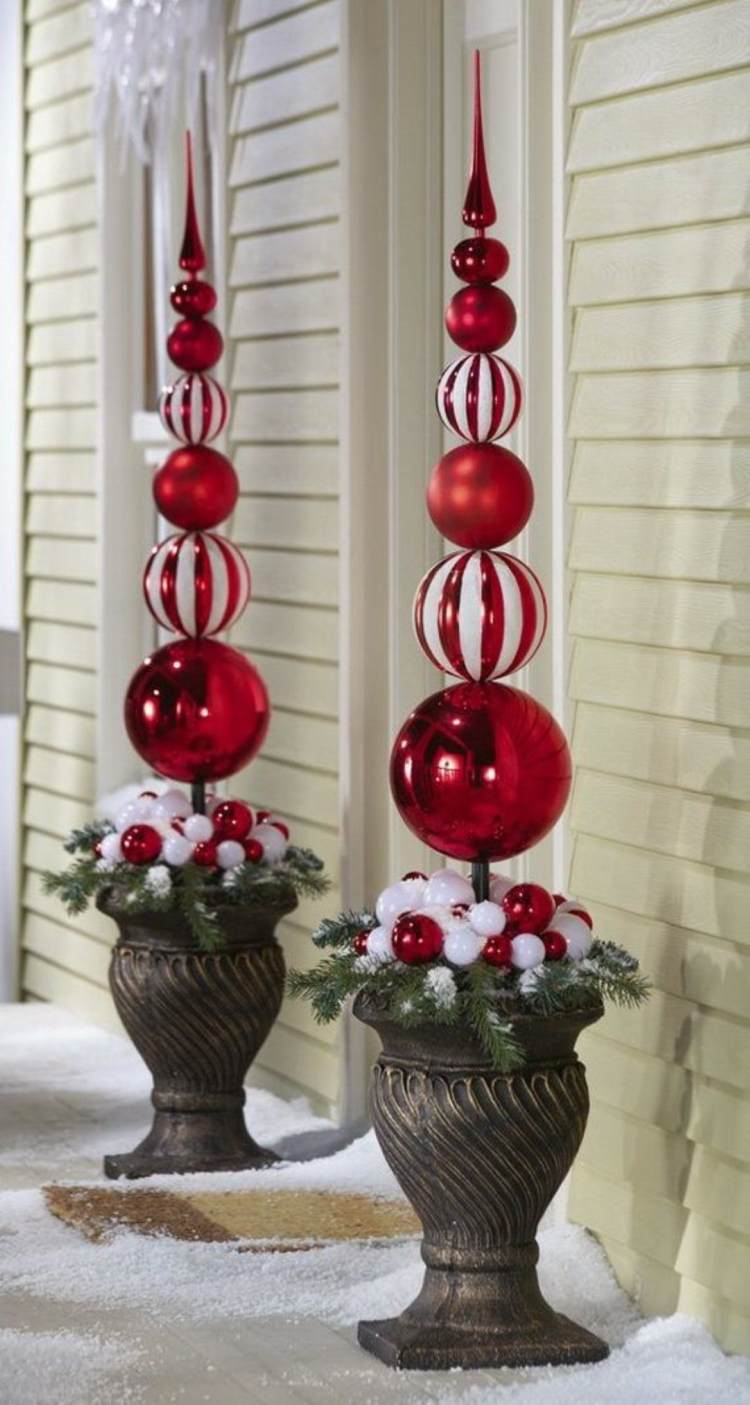 Looking for an alternative to the usual greenery for your porch planters? If you have a brown thumb or if you are tired of the same old evergreen shrubs flanking your door every Christmas, this design is a creative way to liven up your entryway. These visually arresting spires are a great DIY Christmas project that allows you to transform oversized ornaments into fun accents. Drill holes in each end of the ornaments, then stack them on a dowel and place them in a planter with smaller ornaments filling the base.
63. Christmas Tree Shaped Pallet Sign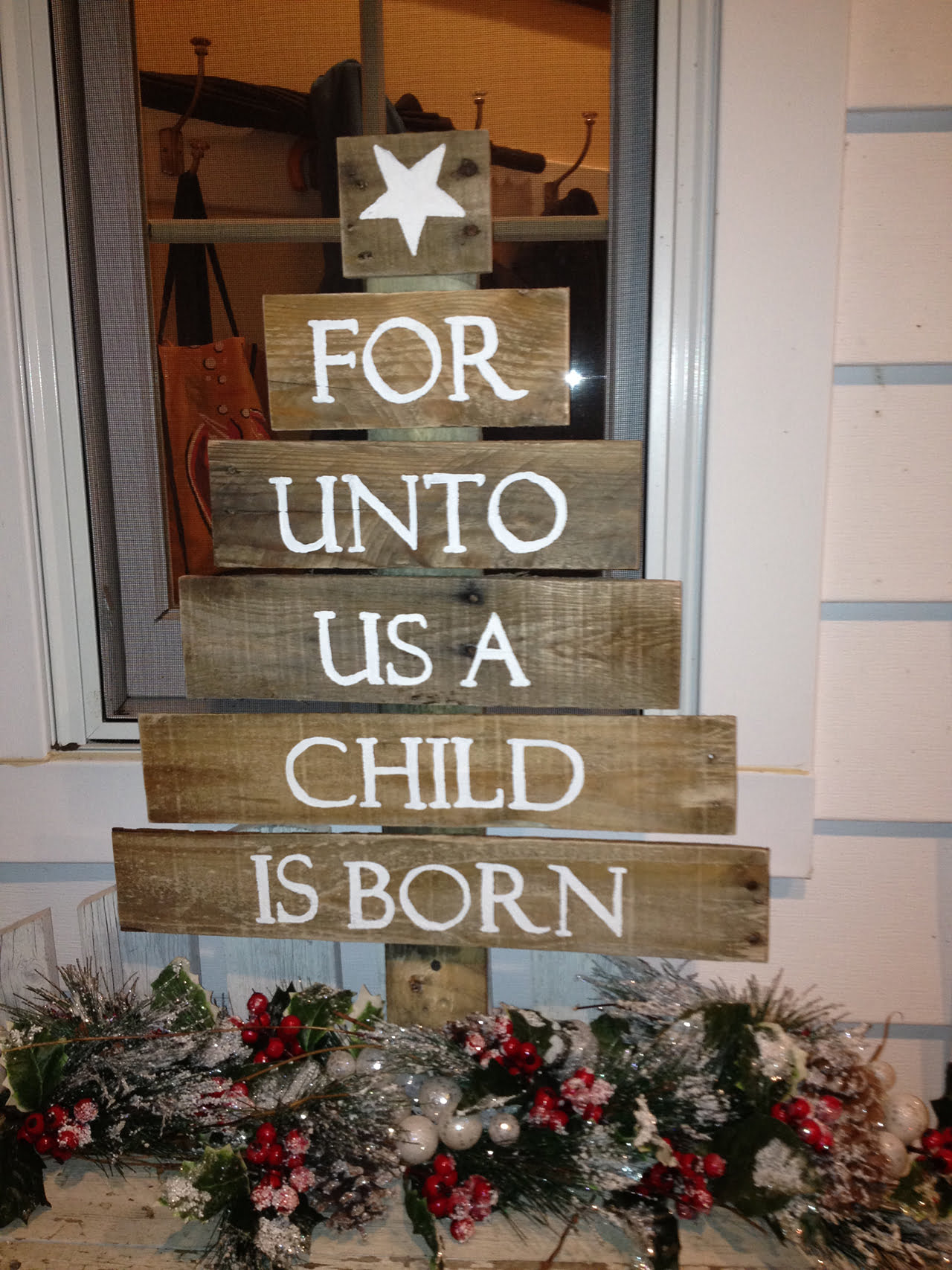 If you like the rustic feel of wood plank signs and are confident in your DIY skills, try your hand at making this recycled wood pallet sign shaped like a Christmas tree. With a few simple tools, you can create this memorable Christmas porch decoration for very little money. Feel free to tailor it to your space, since making it larger or smaller is a simple matter of adding more or fewer planks, and find a meaningful Christmas song lyric or phrase that fits comfortably on the planks. Think the barn wood is too stark? Whitewash it or paint it green for a shabby chic look.
64. Hand-crafted White Manger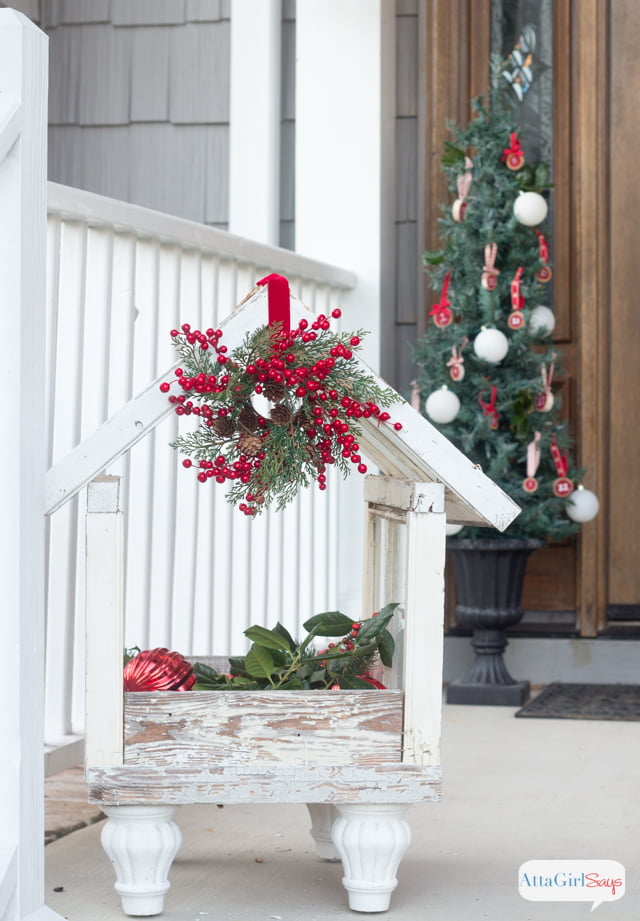 Sometimes basic is best. For those who want to celebrate the season without going overboard or racking up an enormous electric bill, this simple display of Christmas spirit can be the way to go. Constructing a small manger out of scrap wood can be a fun, hands-on way to celebrate the holiday while keeping it simple. As a plus, it can be used for other purposes throughout the year, or easily stored in a garage until next year.
65. Southern Porch Bunting Lights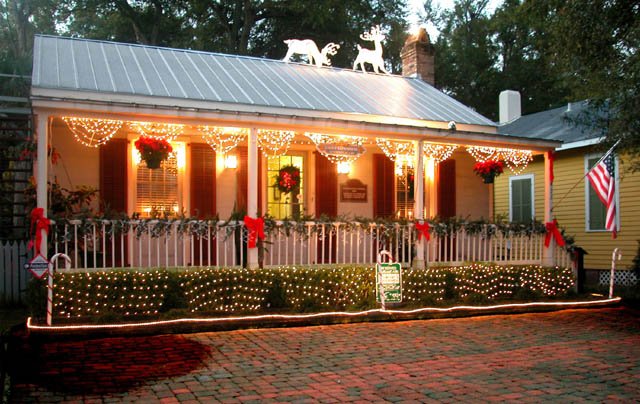 Small town charm oozes from this classic display of Christmas Lights. It hits all the traditional Christmas decoration points; reindeer on the roof, bright lights across the porch, garland wrapped around the railing. The American flag on the end is the exclamation point on the display, recalling simpler times. Viewing this house one can almost smell the baking pies and roasted turkeys that are undoubtedly being prepared inside for a family visit.
66. Intimate Front Porch Swing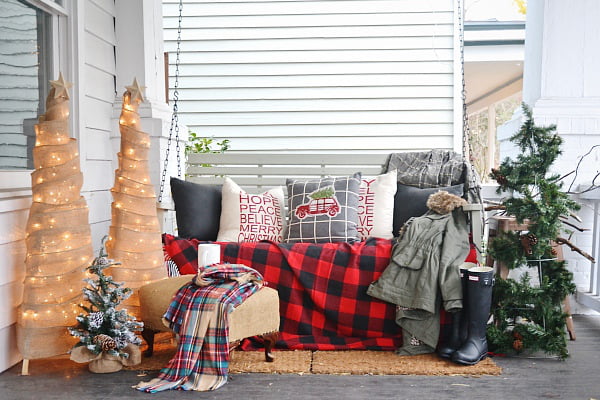 This cozy seating area proves that with the right accouterments, even a chilly porch can be warm and inviting. Big holiday cushions and the addition of an ottoman make the swing a more practical option for outdoor seating during the winter and give you the opportunity to personalize the space. Although this look makes use of some greenery, the burlap wrapped Christmas 'trees' are an inspired and rustic twist. Built over a straightforward wooden frame and topped with stars, these trees have Christmas lights inside making them a homey addition to this porch.
More Christmas porch décor ideas on the next page…