Are you excited about decorating for the holidays? Looking to instill all the joy and beauty of yuletide but not quite sure where to find the inspiration? – Look no further, we're here to help!
28 Unique Christmas Reindeer Decoration Ideas to Upgrade Your Holiday Décor

With the holidays quickly approaching, how about incorporating reindeer into your holiday decor that will leave your home feeling full of joy, warmth, excitement and the holiday spirit. Sure, there are tons of holiday decorations you can choose from like the traditional red and green color theme or snowflakes, snowmen and Santa's, but why not switch things up this year and start a new trend of your own this holiday season. It's amazing what a little reindeer decor can do for your home as well.
Reindeer symbolize wisdom, cleverness, knowledge, creativity and resourcefulness and are honored for their nobility. They became one of the most modern and beloved symbols of Christmas since the early 1800s when the infamous poem "The Night Before Christmas" was written about reindeer carrying Santa's sleigh across rooftops and throughout the night sky. We remember as a child thinking about how magical reindeer were. There was always something so fascinating with their uniqueness and mystery, which is why we love incorporating these beautiful animals into myour holiday decor.
If your style is more minimal, choose a simple piece like a reindeer throw pillow, reindeer portrait or a small wooden figurine to display on your shelf or mantle. If you love going all out for the holidays like us, then maybe consider a statement piece that's more focal like a beautiful reindeer garland, reindeer ornaments or large wreath. Whether you want to keep things simple or go all out, you'll likely find the perfect piece to represent your own style and personality in our curated reindeer decor list below. Here, we have gathered some of our favorite reindeer decorations from shops on Etsy that will truly make your spirits (and home) merry, bright and beautiful.
1. Baby Reindeer with Red Nose Printable Art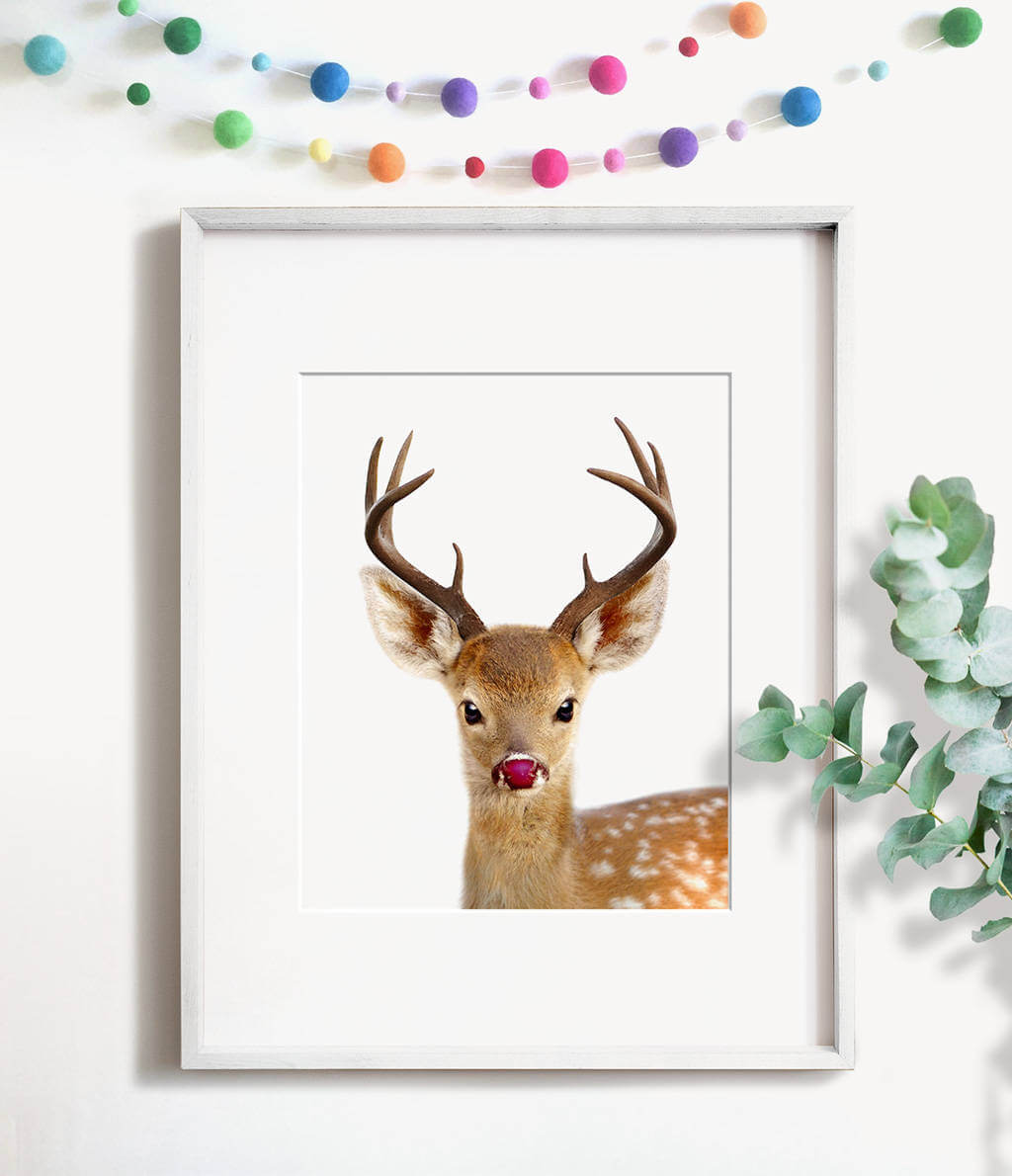 This adorable baby reindeer printable is perfect for the nursery, in a child's bedroom or even on your living room wall. The red nose adds the perfect, subtle element to your holiday decor and will match great with any current home design aesthetics. Since this print is an instant download, you can easily print the file in any size you choose. Frame it for a more rustic, modern look or keep it as it is. This little rednosed reindeer will look super cute and stylish this holiday season no matter where you choose to place it. You can even add a little tinsel around the frame or display it next to a pretty poinsettia for a more festive feel.
2. Rustic Buffalo Plaid Reindeer Ornaments with Burlap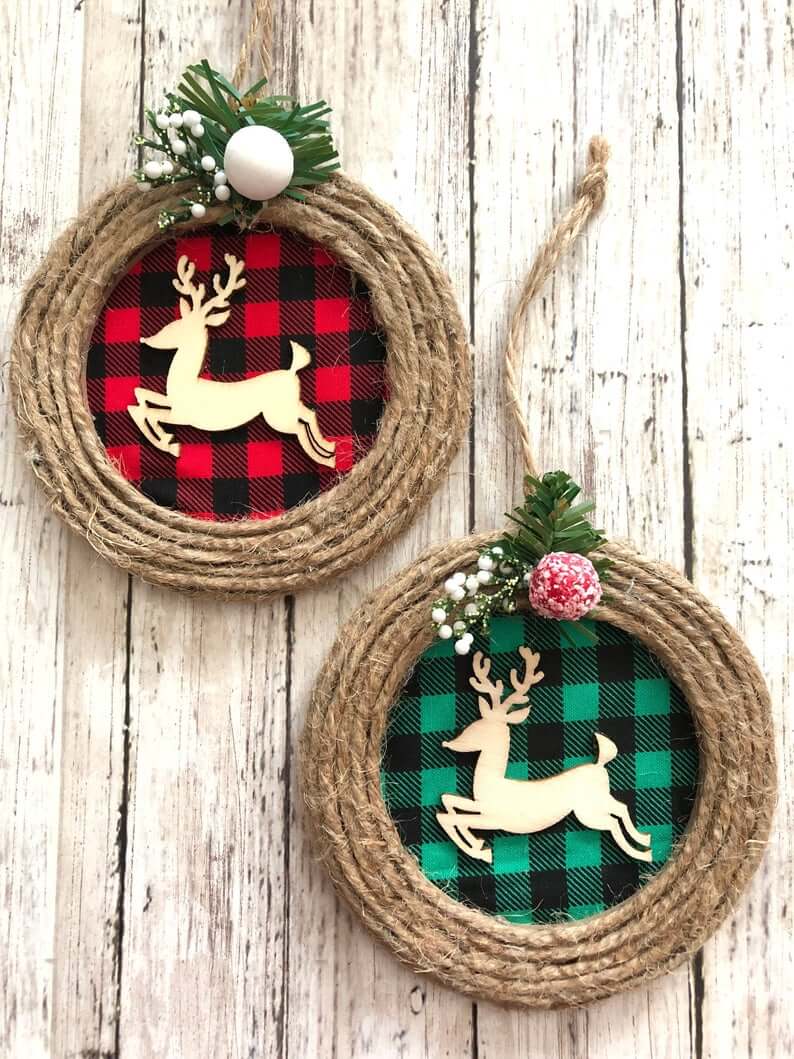 These lovely rustic ornaments are very cute and versatile. They feature red and green buffalo plaid fabric with a little wooden reindeer in the middle and a small detail at the top for a final touch. The burlap twine frames the reindeer and adds a wonderful rustic touch that's perfect for nearly any home decor style. Hang the two handmade ornaments on your Christmas tree, put them on a holiday wreath, hang them along the fireplace or even use them as a gift ornament for your presents! These ornaments will make such cute Christmas decorations no matter how or where you use them.
3. Silkscreen Printed Holiday Tags for Gifts or Decoration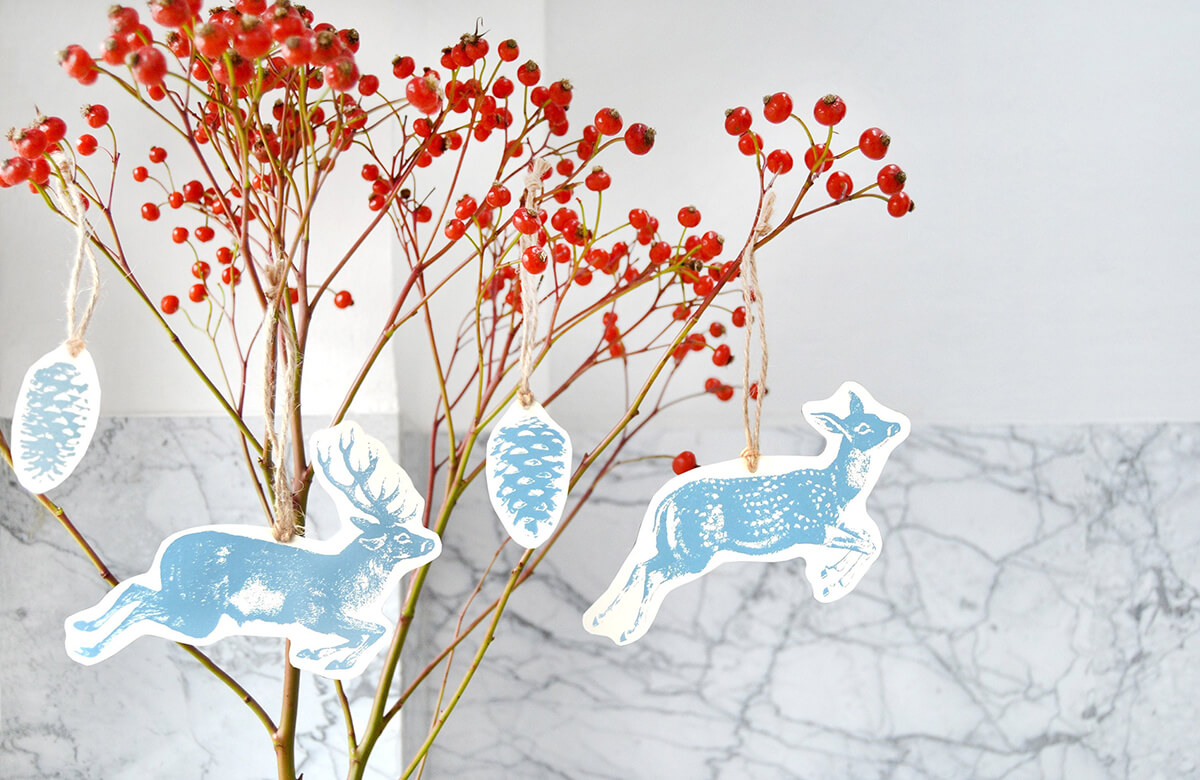 Gift tags come in all shapes, colors and sizes. They're super cute additions to presents and create a lovely packaging ready for delivering. These four silkscreen motives are printed on both sides and are perfect for decorating a small tree or used as a gift tag on presents. This set includes two pinecone tags and two deer tags in a light blue or red shade (your choice). Make your gift stand out this holiday with these custom-made gift tags. Gift tags can be such a fun way to upgrade your presents and can even be used as decor in small spaces around the house. Consider hanging them on a house plant for a fun and festive vibe.
4. Shimmery Personalized Wooden Reindeer Decoration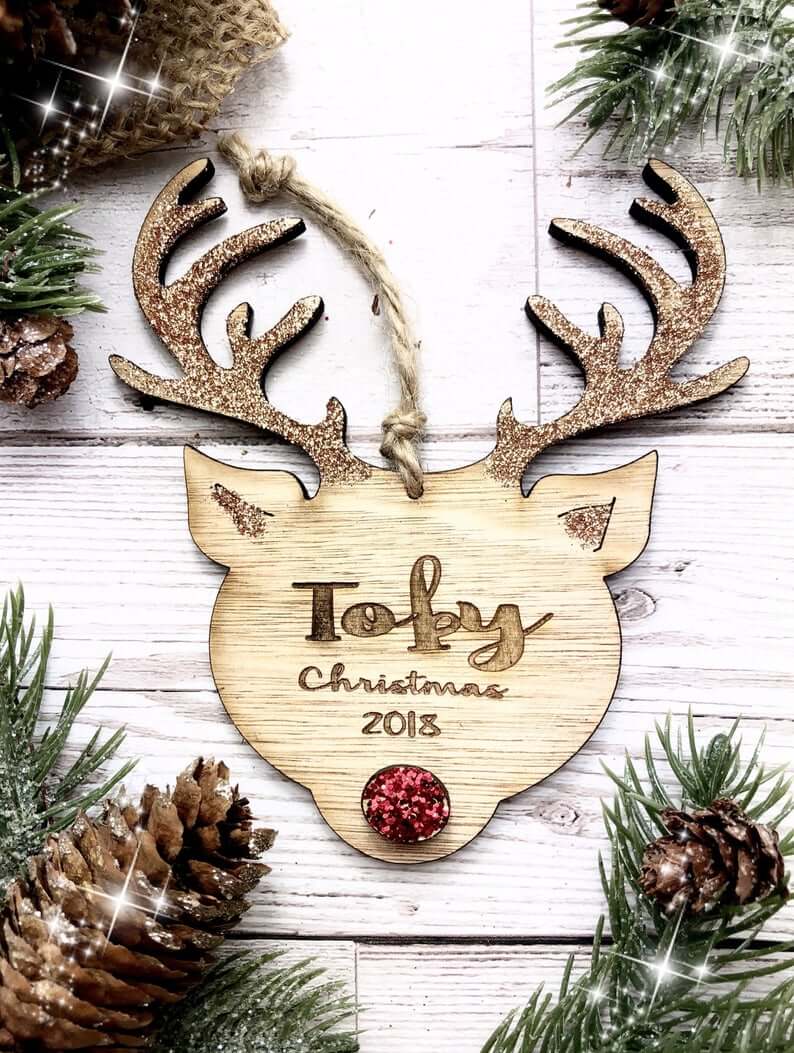 Personalized items are always a good idea for the holidays. It's a great reminder of all the special memories you and your family have had over the years. This beautiful rustic reindeer is adorned with shimmery glitter in your choice of color and is personalized with your name and a short message. This Christmas reindeer decoration idea is great for a baby's first Christmas, a newlywed couple or any other special moment that is worth commemorating. This cute little wooden reindeer is the size of a traditional ornament so it can be displayed on the tree or gifted to a special person in your life.
5. Geometric Wooden Reindeer Silhouette Holiday Decoration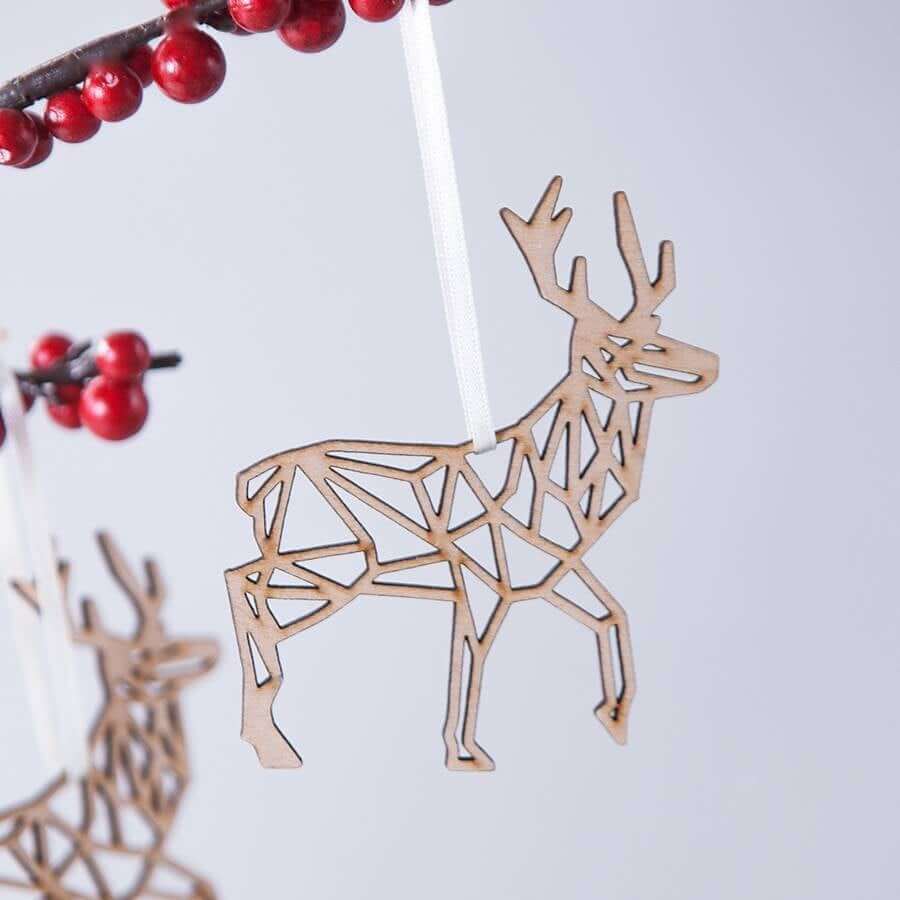 This unique Christmas reindeer decoration idea will make any area of your home a bit more festive this holiday season. This delicate handmade bauble decoration is available with a sleek ivory ribbon to hang directly on your tree or anywhere else you have in mind. The wooden geometric detailing is stunning and suitable for any modern home aesthetics. It can serve as the perfect keepsake for a new baby to remind them that the reindeer symbolizes wisdom, knowledge and creativity. Optional areas around the home to use hanging ornaments include hanging from a low ceiling, on a tree branch, organized in a glass bowl or even as garland.
6. Adorable Reindeer Cake Topper for Holiday Parties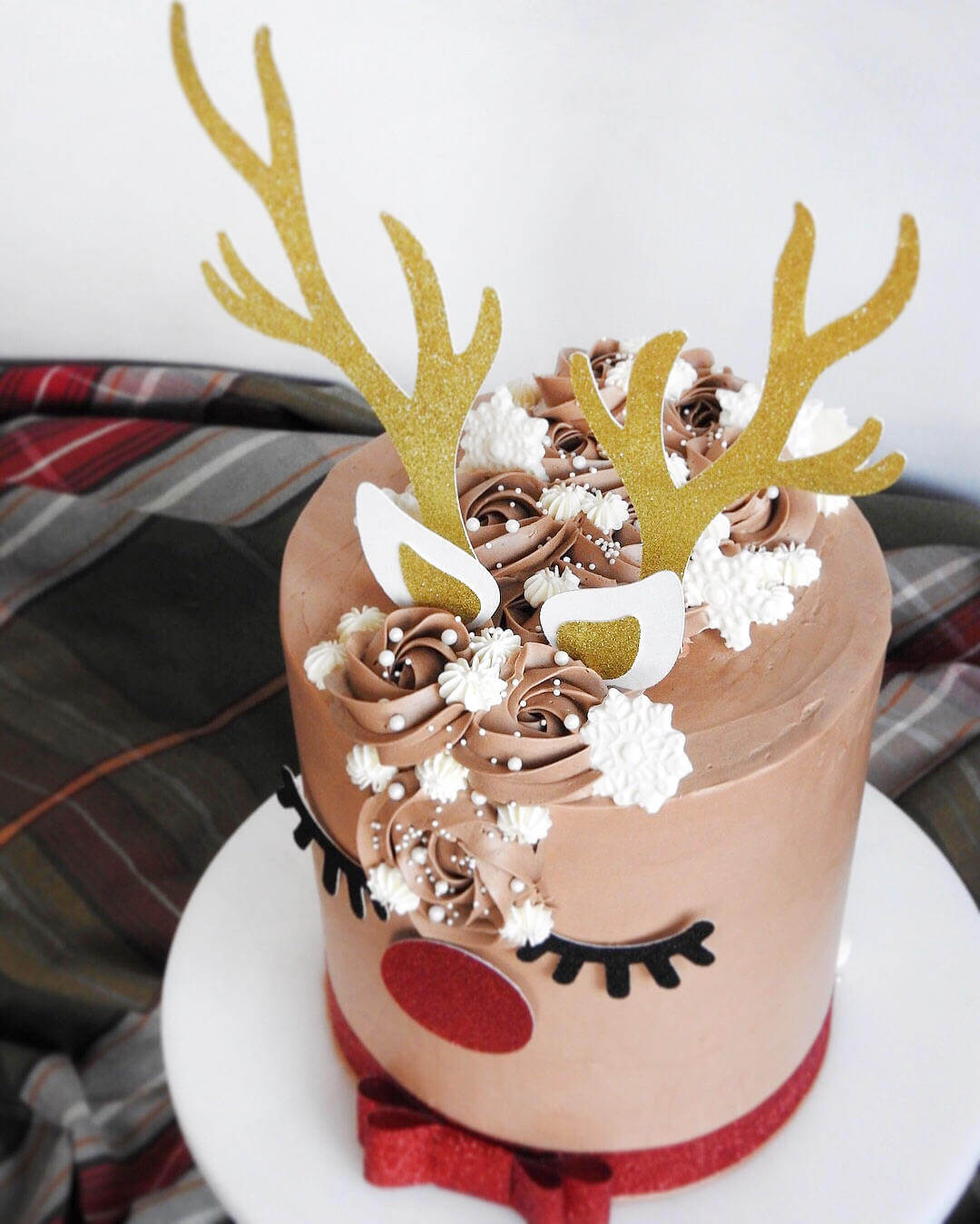 Hosting a fun holiday party for your friends or family this year? What about baking a cake for a friend or family member with a birthday around the holidays? This Rudolph cake topper will add a festive touch to your next holiday gathering or special event. This listing includes two gold glitter antlers, two white and gold matching glitter ears, two black glitter eye lashes and one sparkly red glitter nose. This is a new take on the super trendy unicorn cake I'm sure you've seen floating around the internet. No matter what cake you bake and decorate, these reindeer toppers will make your cake a total hit at your next holiday event!
7. Handmade Aluminum Metal Reindeer Tree Topper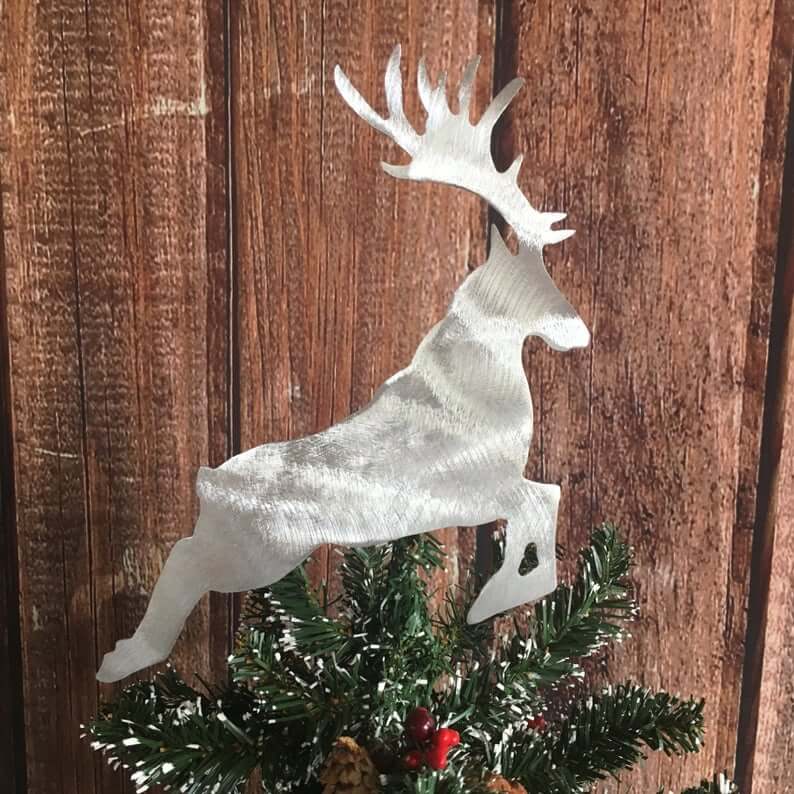 Your Christmas tree serves as the centerpiece of the entire season. Its decorations represent style, personality and past seasons and memories. Often, the most difficult decoration on a tree is the top ornament. While the star and angel remain the most traditional tree topper, don't be afraid to switch things up a bit. This beautiful reindeer tree topper is made from eco-friendly metal and aluminum with heavy duty clips to ensure it stays attached. It measures approximately 8 inches long and 8.5 inches tall so it would make a cool and one-of-a-kind holiday decoration for any size tree.
8. Personalized Burlap Reindeer Stocking with Embroidery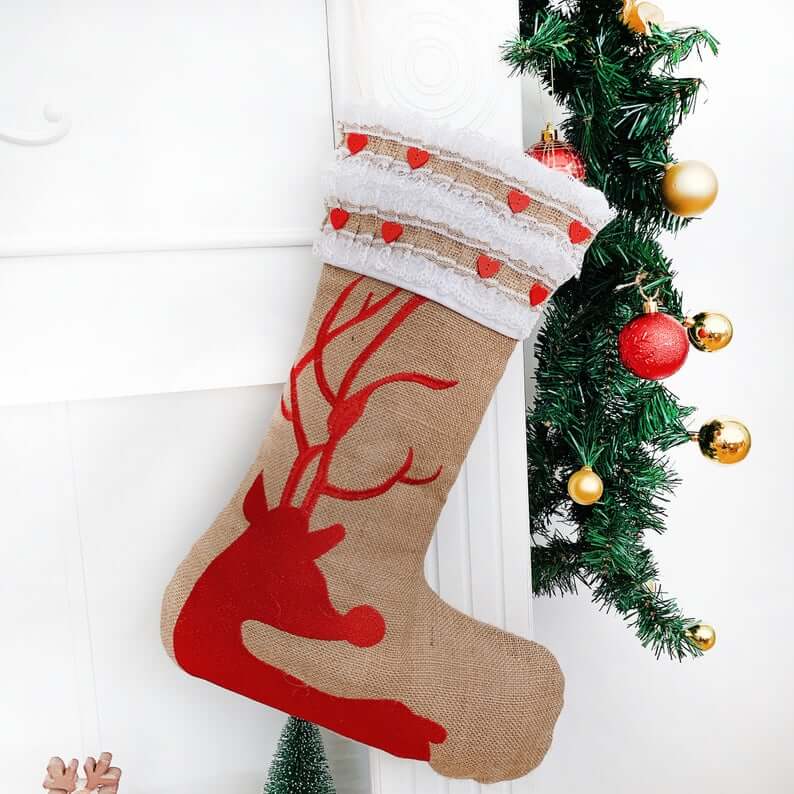 You absolutely cannot go wrong with burlap stockings for the holidays. Burlap is a common material that easily can tie all your holiday decor together. We often see burlap used for table runners, wreaths, garland and more during the holiday season, so why not consider swapping out your old stockings for new, beautiful rustic burlap stockings. Each one of these gorgeous stockings are handmade and adorned with red plaid, lace detailing and other charming designs to make each stocking special and unique. You can even have the stockings customized with the names of your family members so each person in your family has their own to use for years to come.
9. Stylish Reindeer Canvas Throw Pillow Cover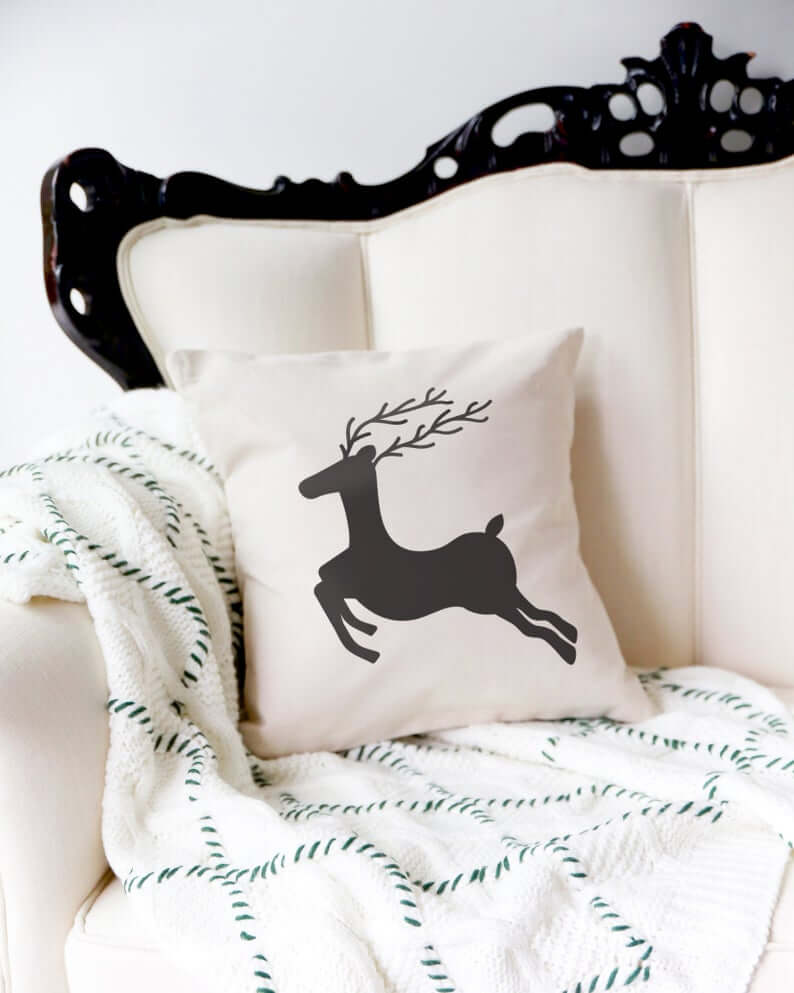 Get into the holiday spirit and decorate your home with these beautiful, simple and stunning reindeer canvas pillowcases. Pillows are a great way to bring warmth and coziness into any space of your home. Swap out your existing throw pillows for more festive ones like these for an easy and awesome idea that is sure to liven up the holiday spirit in your home. The reindeer image is printed on high quality cotton canvas material in a rich black ink. These neutral pillows allow you to mix and match various holiday prints and colors together beautifully without hesitation.
10. Merry Christmas Santa and Reindeer Wall Decal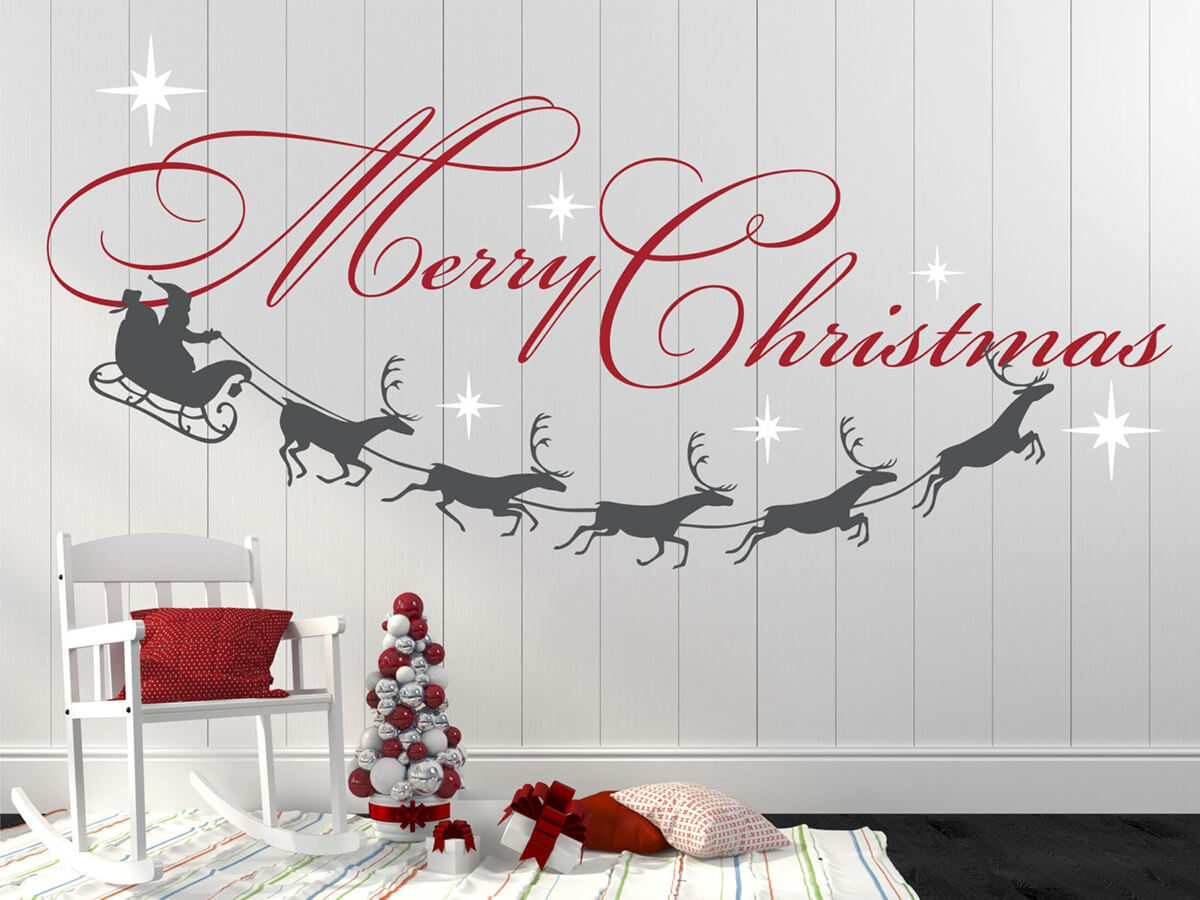 There's no need to leave your walls bare this holiday season when you have this beautiful Merry Christmas wall decal featuring Santa, his sleigh, reindeers and twinkle stars. Christmas decorations don't have to be big and bulky. With something as simple as a wall decal, you can bring the full joy and holiday spirit of Christmas right into your home with ease. The best part about this listing is that you can choose from over 60 beautiful colors for the lettering, Santa's sleigh and reindeer color and the color for the stars. It's a completely customizable piece that will make a statement in any room of your home.
11. Adorable Cotton Canvas Reindeer Santa Sack for Presents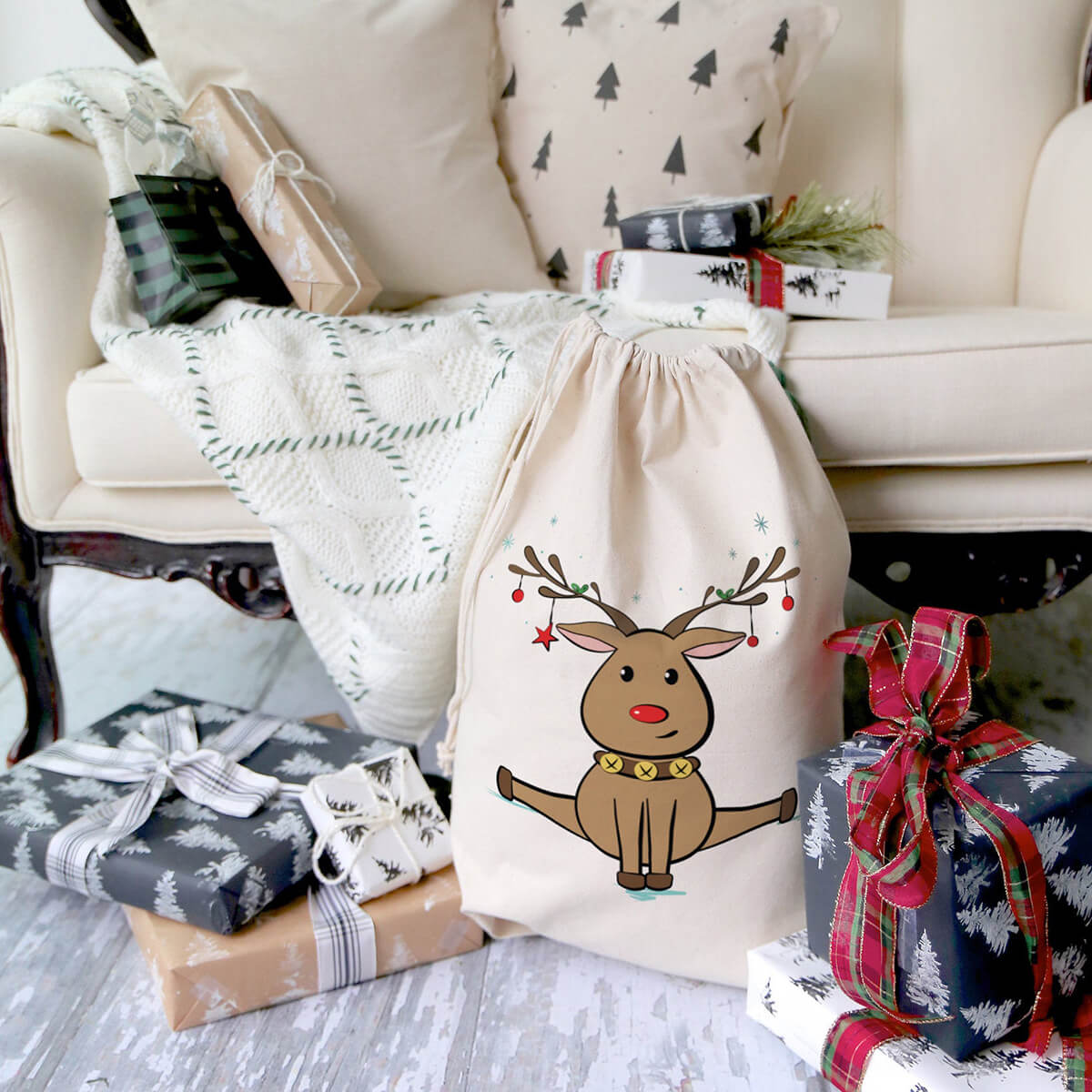 Looking for the perfect way to organize all those presents under the tree this year? These adorable Santa sacks are perfect for gifting to your family and friends. Made from a thick, heavy duty canvas material, these bags can hold up to 200lbs and can be reused year after year. These reusable bags feature a cute little reindeer on the front with a red nose and red ornaments hanging from its antlers. Whether you enjoy wrapping gifts or would rather ditch the wrapping paper this year, these bags are convenient for stashing toys, gifts, sweets, stocking stuffers and more inside!
12. Primitive Reindeer Nestled Inside a Santa Hat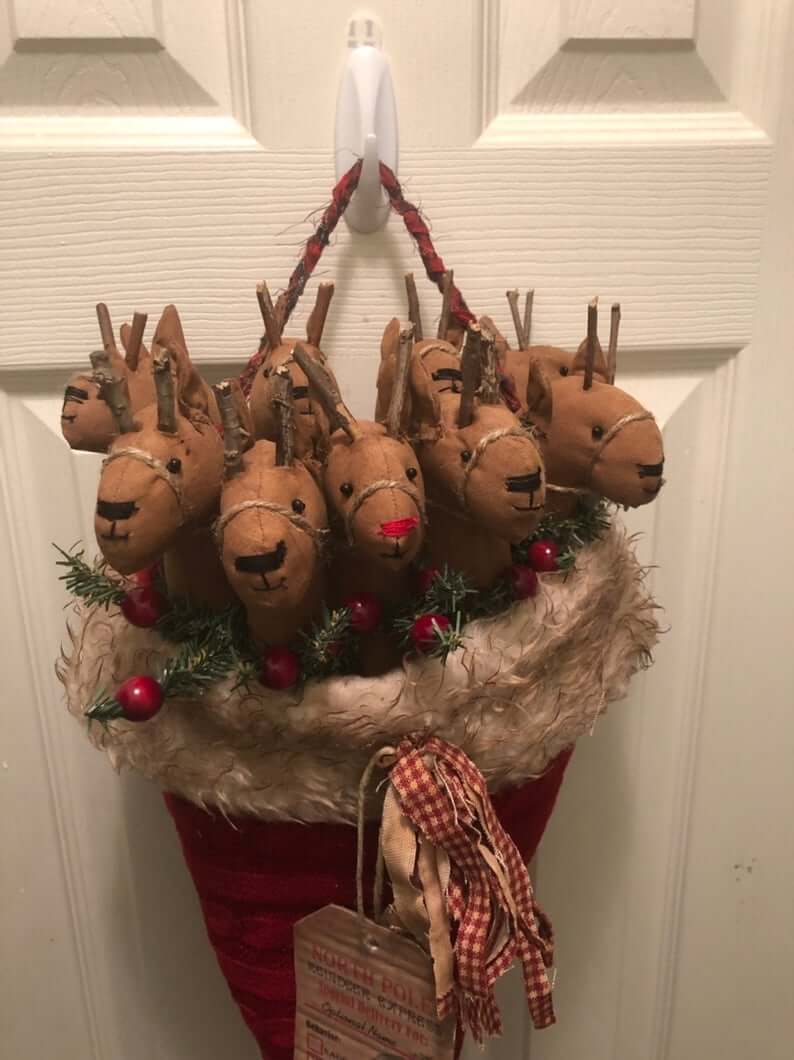 These unique and festive reindeer Christmas decor items are truly one-of-a-kind. The primitive reindeer all handmade are nestled quaintly inside a Santa Hat that's hung upside down. There are nine hand embroidered reindeer in all with one reindeer having a red nose. Twine is wrapped around the fabric to give the reindeer a reign just as Santa would have them for his sleigh. The antlers are made from sticks making this such a creative home decor piece to display for the holidays. Each reindeer also has decorative greenery and red beads that look like berries. To top it all off, there is a rustic North Pole Santa tag on the front along with gingham red and white checkered fringe ribbons. Hang this adorable Santa hat nearly anywhere in your home and let everyone love on those little reindeer peeking out!
13. Wooden Sign Reindeer Holiday Decoration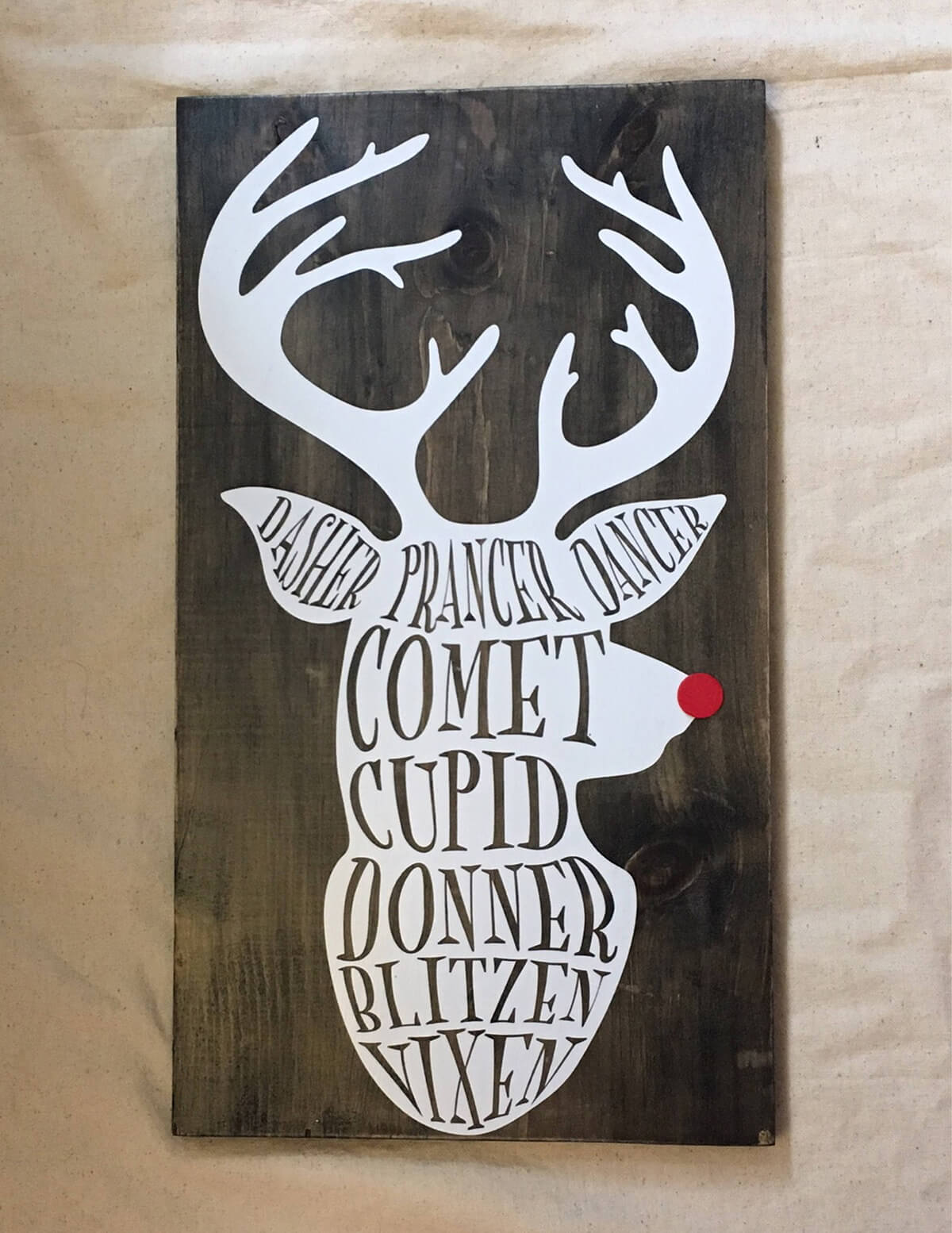 Whether you're looking to decorate a shelf, wall or mantle, this beautiful wooden sign features a reindeer silhouette with all the reindeer names cut out inside the deer shape. It includes a sawtooth hook on the back for easy hanging and would make a lovely statement piece for your home decor this holiday season. This rustic wooden decor piece measures approximately 11 inches by 20 inches and even features a red round accent for the reindeer's nose. Since this item is handmade, no two boards will be the same making it a unique and rustic holiday decoration for your home.
14. White Holiday Wreath Reindeer Christmas Decor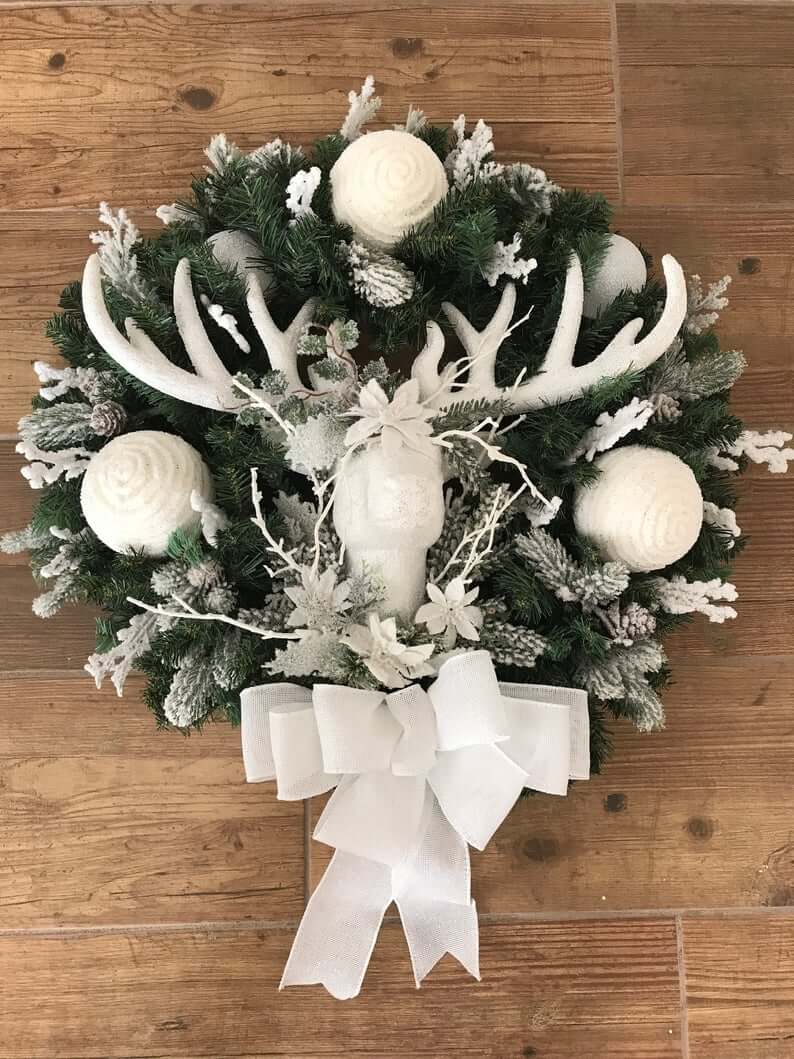 Elegant and glam, this white Christmas wreath is sure to make a statement. It features several white sparkly ornaments throughout along with white picks, small poinsettias, snowy greenery and a white reindeer in the center. This wreath also has a white gorgeous bow at the bottom center for a stunning final touch to this beautiful home decoration. The white reindeer is the main focal point on this festive wreath and its antlers spread perfectly throughout for a lovely arrangement. Hang this holiday wreath on your front door to welcome guests or display it above the fireplace for an eye-catching reindeer Christmas decor piece.
15. Miniature Clay Reindeer Tree Christmas Decorations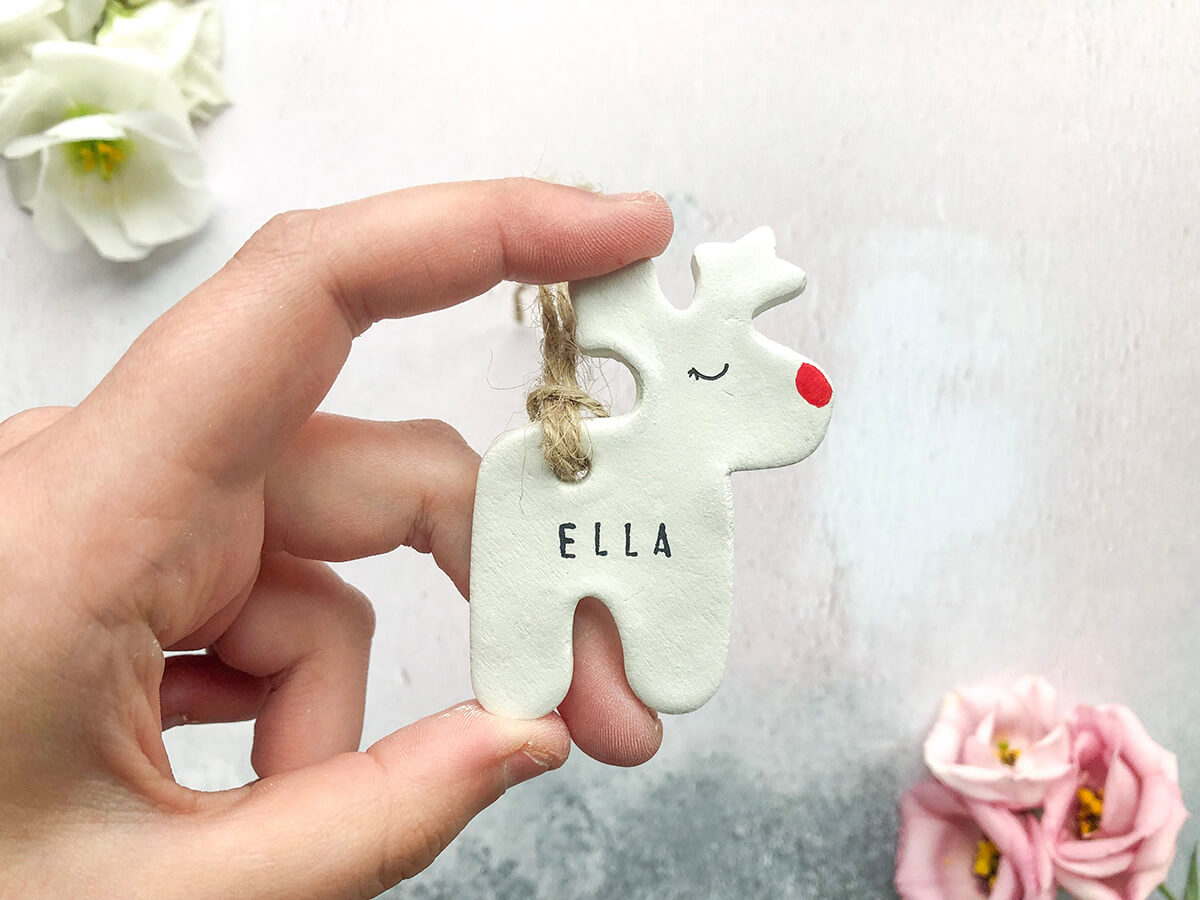 This cute little clay reindeer ornament is fully personalized and completely adorable. They're approximately 7cm tall and 5cm long making them an awesome idea for a little one in the family. Whether it's for a first Christmas, a new baby in the family or just someone who simply loves reindeers, this is a great home decoration piece to hang on the tree. Add your chosen name in the notes section to have the name beautifully written in the center of the clay reindeer ornament. The jute string is also a great touch making it a bit rustic and perfect for hanging.
16. Marvelous Wooden Firewood Reindeer Christmas Decor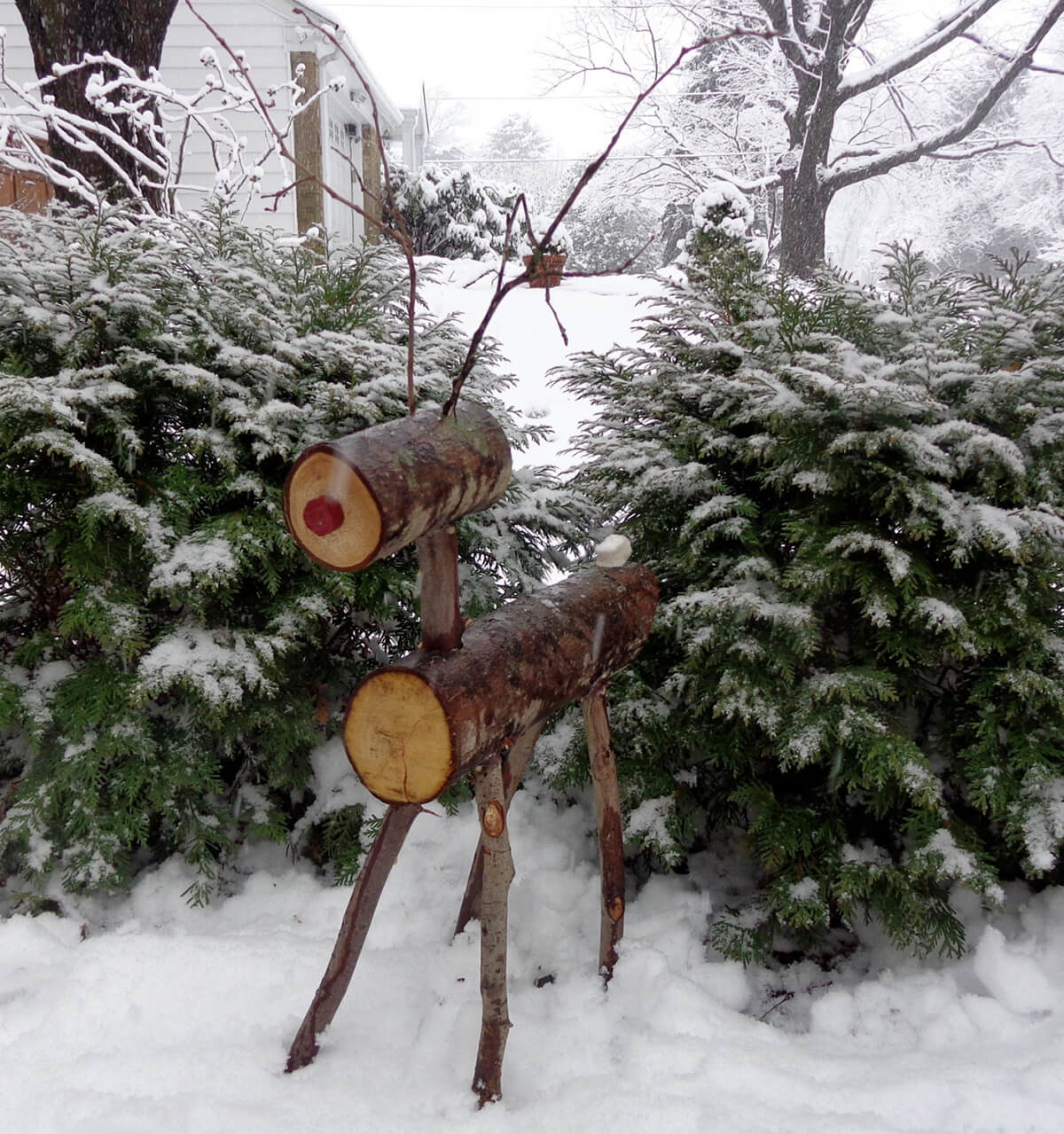 Want to have quite possibly the best holiday figurine in your yard or even inside your home? Look no further because this incredible wooden reindeer is built to make a bold statement. This reindeer is handcrafted from old tree branches and twigs and is built to withstand all the harsh elements of the outdoors. Each one stands about 18 inches tall excluding the height of the antlers and each one is slightly different in nature. Once this beautiful reindeer arrives, you will need to attach the legs and antlers, but all instructions are included for easy assembly. I can just see this marvelous wooden reindeer displayed in the yard, on the front porch or even inside next to the cozy fireplace.
17. Hand Painted Reindeer Letter Decorations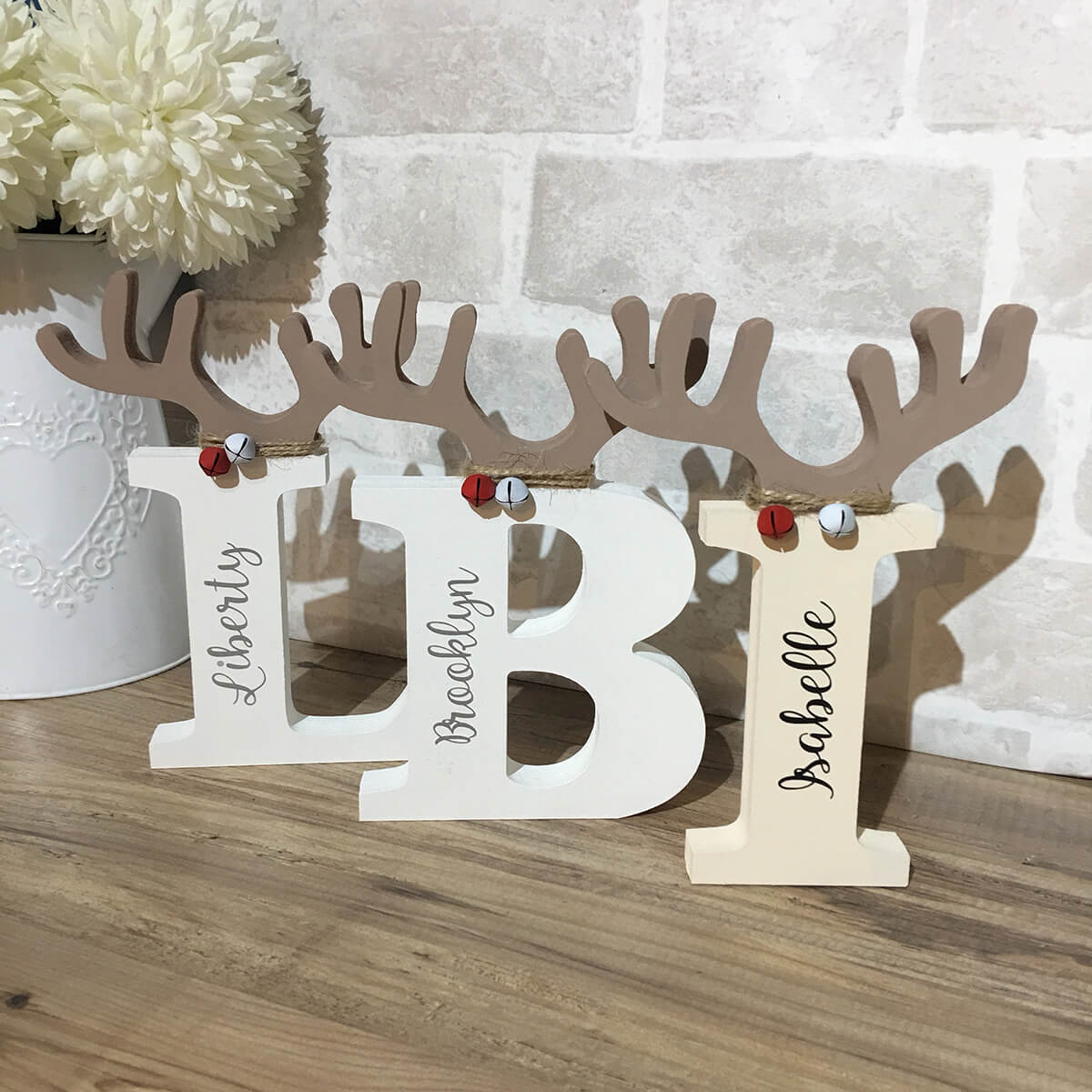 Embellished with natural twine, personalized vinyl lettering and tinkling bells, this custom made free standing wooden letter is a charming Christmas reindeer decoration idea. The top of the letter has wooden antlers attached with bells and twine to piece it all together perfectly. Choose between white and silver, cream and black, or red and white for the color scheme. Spell out a fun and festive word for the holidays like "joy" or "noel" with these super cool reindeer letters or simply get your initials with your name personalized in vinyl for a more unique keepsake for the holidays.
18. Holiday Burlap Banner with Santa's Sleigh and Reindeer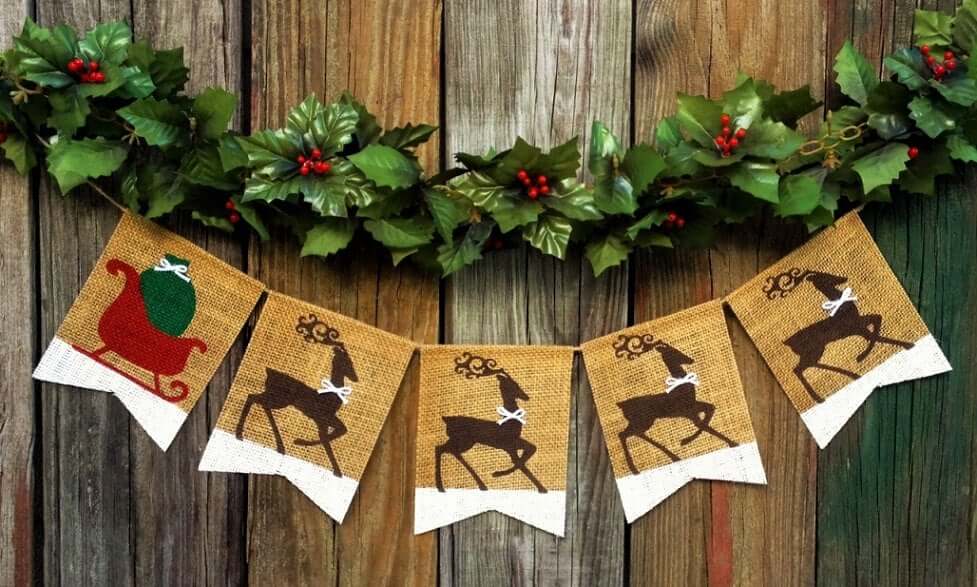 This isn't your typical holiday banner. Though burlap is a popular holiday decor material, this beautiful banner is full of fabulous detailing. It's made of burlap and jute and measures about 25 inches long which is excellent for a photo prop or fireplace mantle. The stenciled sleigh and reindeer design are hand painted and features sparkly snow detailing on the bottom of each burlap piece. The backside is solid burlap so it can also be used during other seasons and occasions. This burlap banner is also treated to prevent it from fraying so this is a long-lasting Christmas reindeer decoration idea you can use for years and years to come.
19. Beautiful Burlap Reindeer Wreath Featuring Rudolph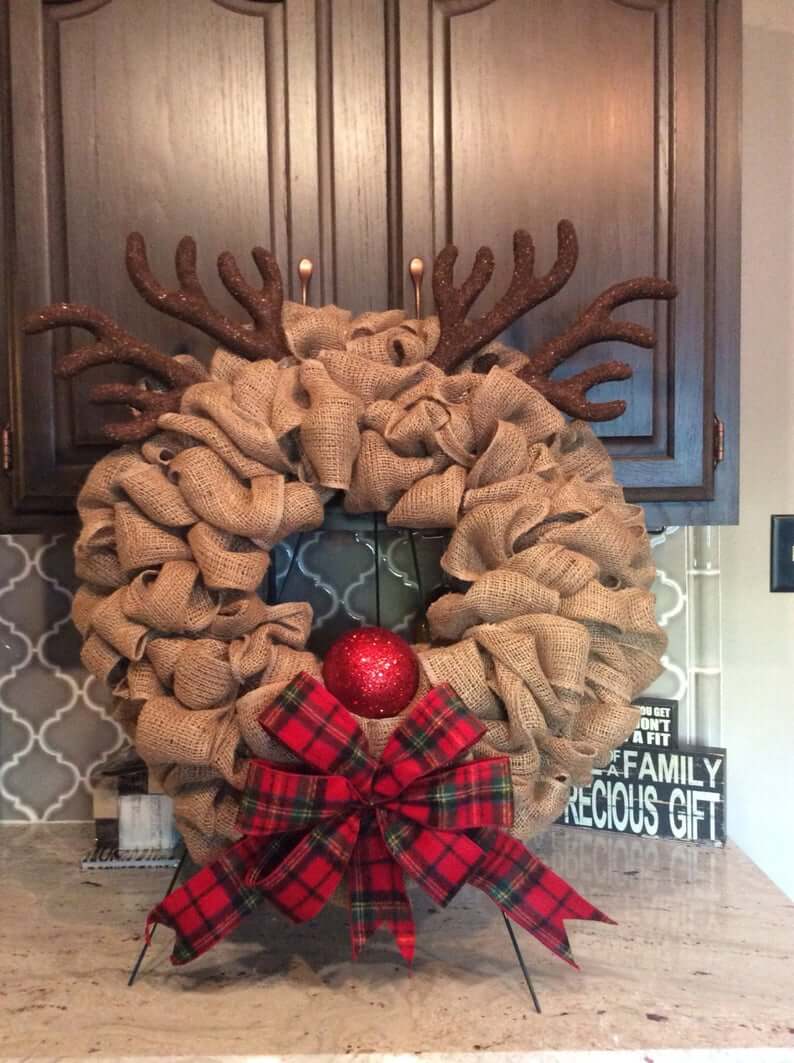 Measuring 37 inches by 24 inches, this large beautiful burlap wreath is absolutely adorable and super festive. This wire wreath features full burlap ribbon intertwined with wired antlers, a shimmery red ornament for the nose and a red and green plaid ribbon at the bottom center. This reindeer wreath will certainly dress up your door for the holidays and is sure to make a statement when you have visitors over this holiday season. The natural colors used in this wreath also make this decoration piece easy to match existing holiday decor that you may have in your home already which is always a bonus!
20. Creative and Unique Reindeer Candle Holder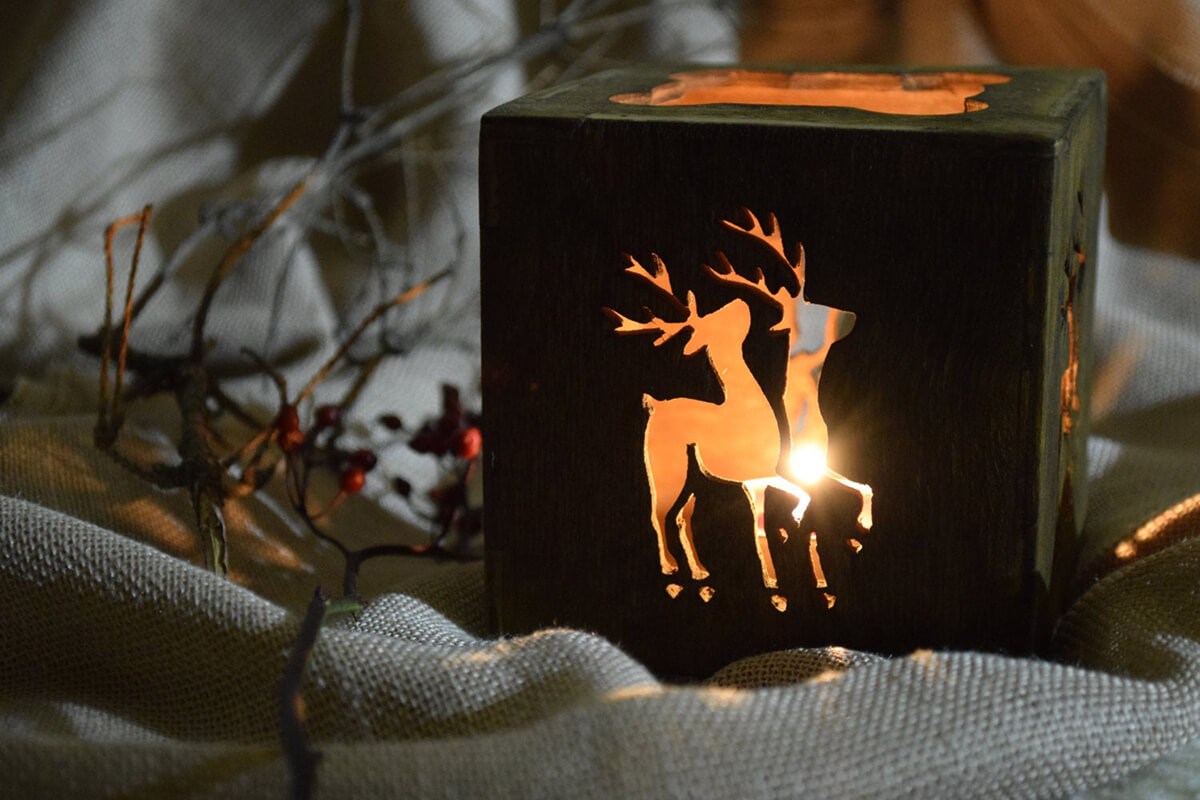 This rustic centerpiece is made from plywood and features two reindeer silhouettes cut out of each side of the wooden cube. Place a tealight candle inside the top of the wooden centerpiece and enjoy the flickering of fire with the wonderful aroma of a burning candle. This Christmas reindeer decoration idea will be absolutely beautiful no matter where you place it in your home. Set it on the coffee table for a warm and cozy vibe, place it on the fireplace mantle for a nightlight when the fire is not in use or place it on an end table to use as a reading light after everyone has wondered off to bed.
21. Colorful Reindeer Clothespins for a Fun and Festive Touch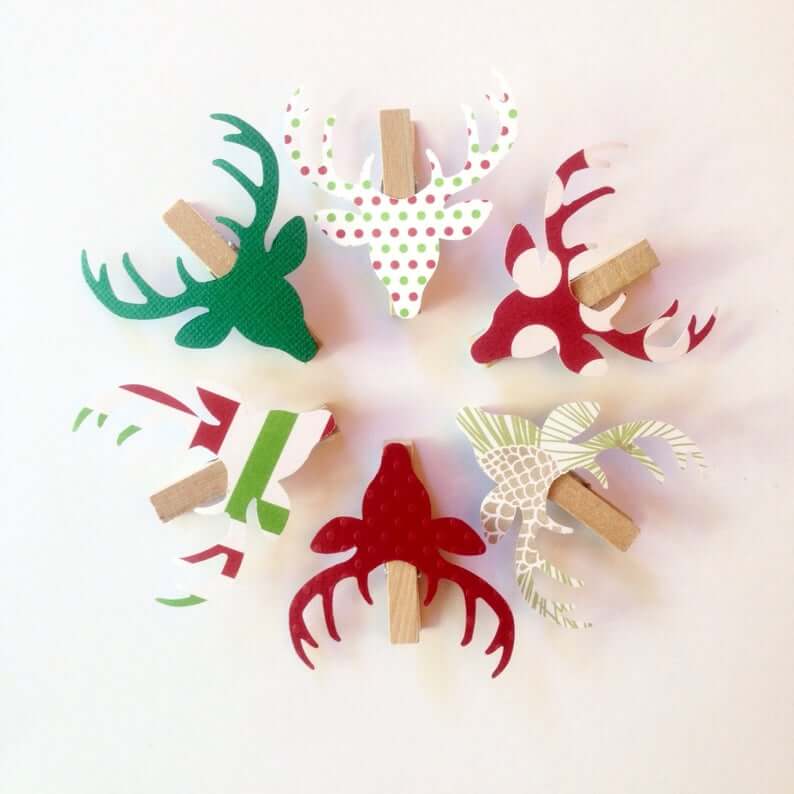 Brighten up the holidays this year with these unique holiday reindeer clothespins. The pins are smaller in size and perfect for gift tags, party favors or even marking drinks at a family gathering. This listing includes 12 deer head clothespins with each reindeer head cut from thick cardstock in a variety of colorful Christmas prints and patterns. You can also use them for displaying photos by attaching a string to the wall and clipping photo prints to each one. The possibilities are endless with these cute colorful reindeer clothespins. If you're hosting this year's family Christmas or throwing a holiday party, these clothespins are just what you need to add a unique touch to your special event.
22. Distressed Rustic Wooden Stocking Holder for Christmas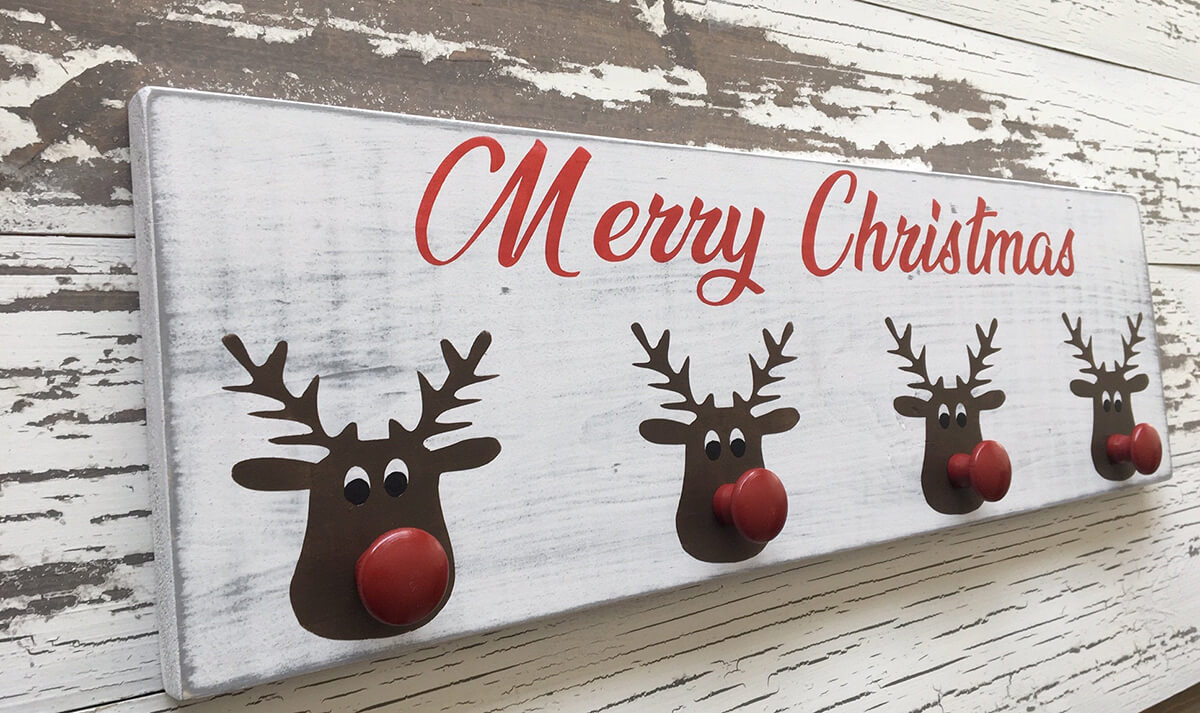 /a>
This lovely handmade stocking holder is made from reclaimed lumber with pine knobs to carefully hook your holiday stockings onto. It's hand-painted and features adorable reindeer with red wooden knobs for the nose of each individual reindeer. You can customize this one-of-a-kind reindeer stocking holder with your family's name or your favorite holiday quote. Choose how many knobs you'd like and you're on your way to having such a cute and festive wall art design that will showcase your family's stockings for all to see. This is such a good Christmas reindeer decoration idea that you can display nearly anywhere in your home for those who may not have a fireplace mantle to hang your stockings on.
23. Rustic Reindeer Holiday Sign Decoration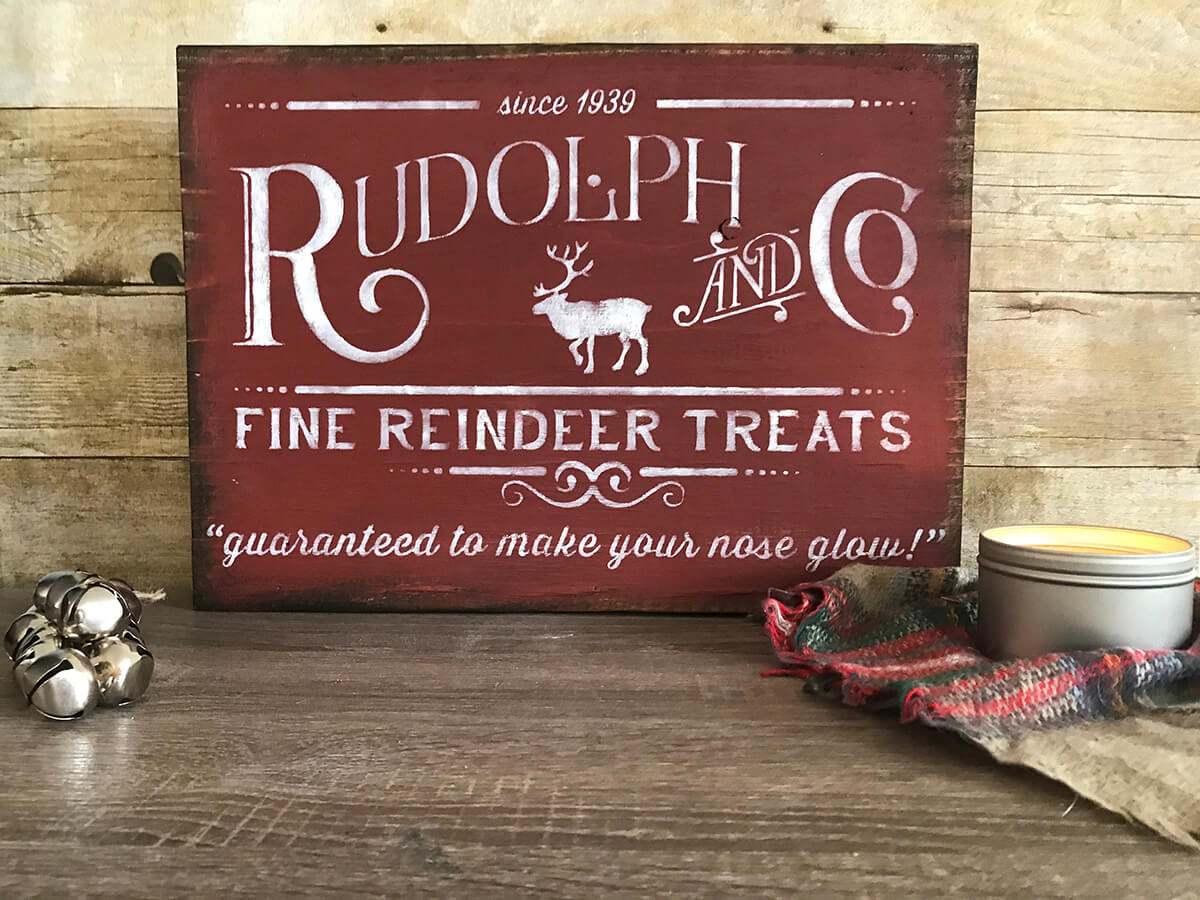 Who doesn't love a good old vintage sign to display in their home during the holidays? There's something about an old advertisement sign that really ties in old traditions and rustic decor at the same time. This old-fashioned Rudolph and Co. farmhouse sign was created to bring back the nostalgic, classic Christmas spirit. The wooden sign is painted red and distressed to look like it came straight from the 1930s. Each sign is freestanding so it can easily be displayed on the countertop, a shelf, on the mantle, or anywhere else you choose. This beautifully made reindeer treats sign is "guaranteed to make your nose glow!"
24. North Pole Reindeer Co. Vintage Sign for the Holidays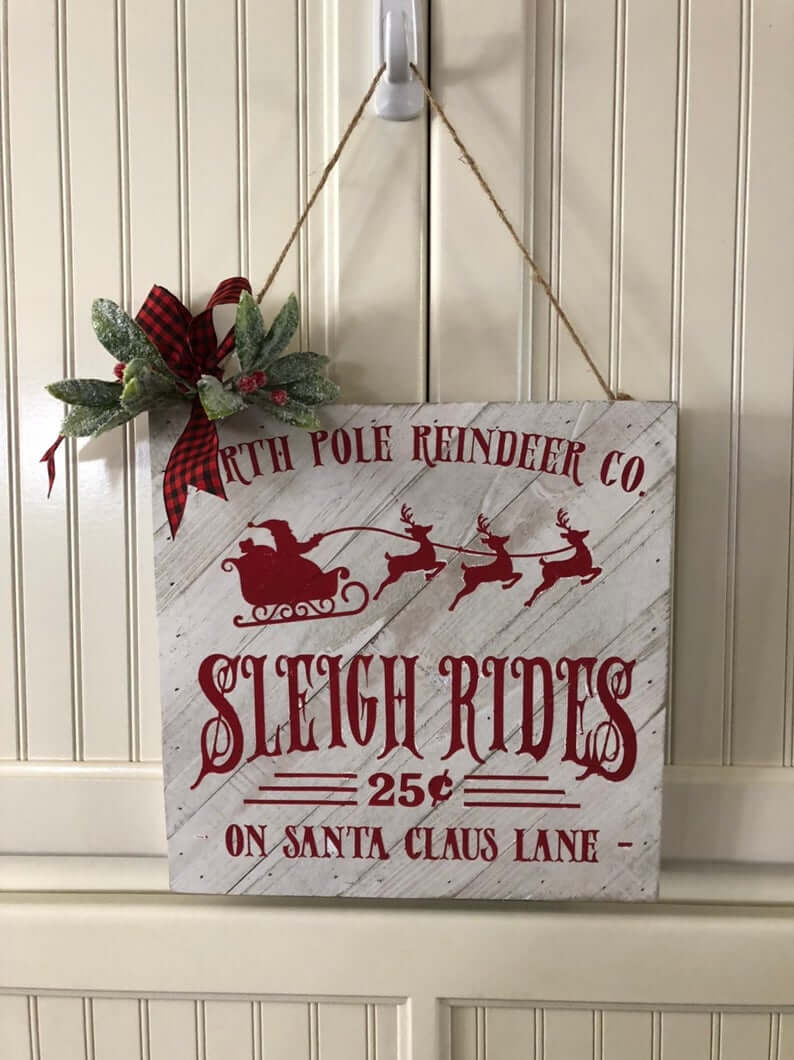 Calling Santa's finest reindeer! This beautifully made holiday sign features an adorable reindeer aviation advertisement that looks both rustic and vintage for a festive touch to your home decorations this holiday. This wooden sign can be hung or displayed on a shelf or table. The sign is 12" by 12" and is for indoor use only to maintain its longevity. The advertisement showcases an adorable reindeer offering to how to teach reindeer how to fly. This is such an awesome idea when thinking about decorating with reindeer this holiday.
25. Beautiful Personalized Clear Christmas Reindeer Decoration Idea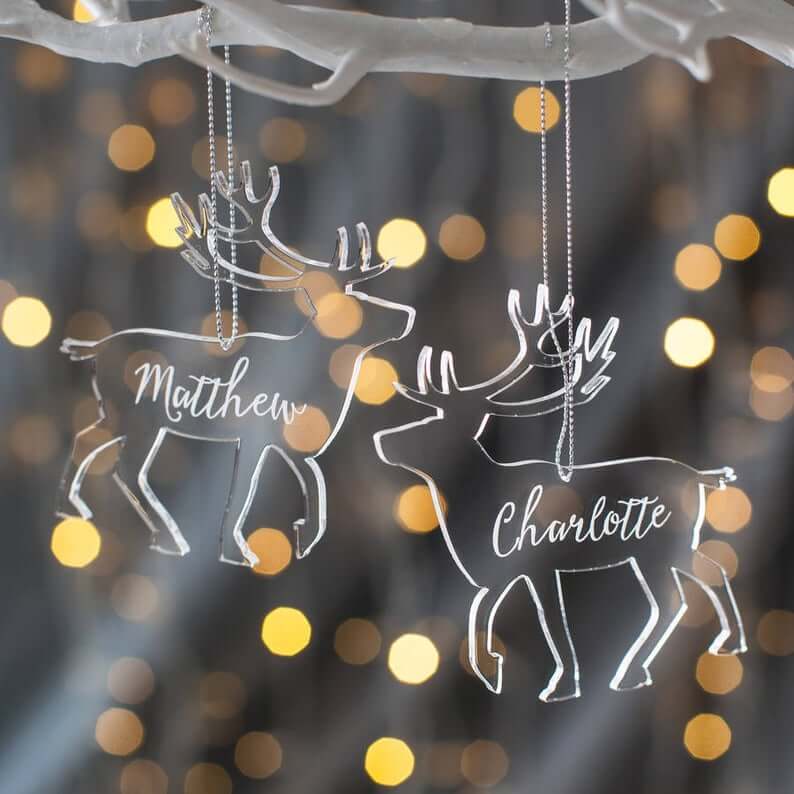 These beautiful clear reindeer hangings are a festive way to decorate your home. Made from clear acrylic, you can get your choice of name etched right onto the clear hanging for added personalization. Instead of the traditional burlap/jute string for hanging, this lovely reindeer hanging is finished with a silver cord adding a little extra flair to the finished product. If you're looking for a festive centerpiece idea, consider putting a bare branch tree into a vase and hang these lovely clear reindeer on each branch to represent everyone in your family at the dinner table for everyone to see. Hosting a party? You can even grab one for every member of your family and use them for table markers and take-home gifts!
26. Versatile Holiday Reindeer Garland DIY Pattern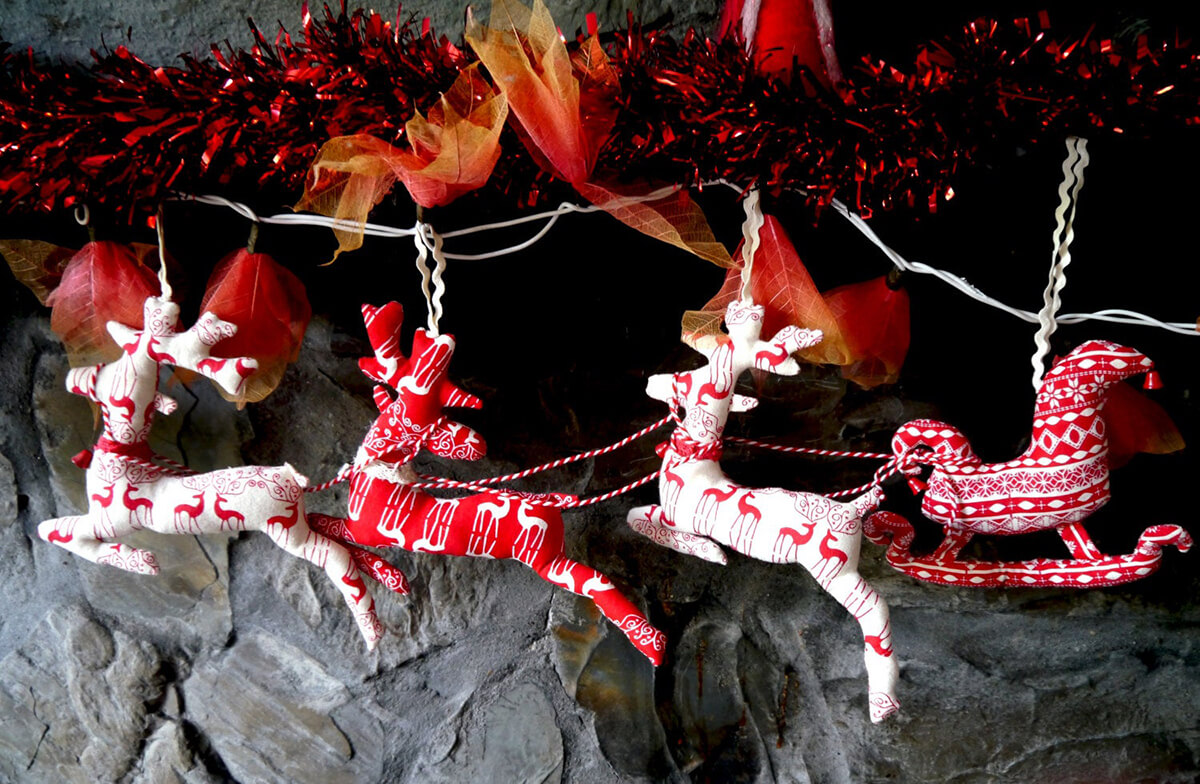 Feeling a bit crafty? This PDF digital download includes everything you need to know for making this beautiful and festive garland. By using a fat quarter of fabric of your choice, you can recreate this reindeer and sleigh holiday garland to match your holiday theme this year. The digital pattern you'll receive will include three different reindeer variations and one sleigh. Another awesome idea for this festive reindeer garland would be to insert a mulled wine or pine scented sachet inside each one that is sure to bring a warming festive smell into your home. Make one for yourself or give them as gifts… the possibilities are endless with this digital pattern!
27. Buffalo Plaid Reindeer Door Hanger for the Holidays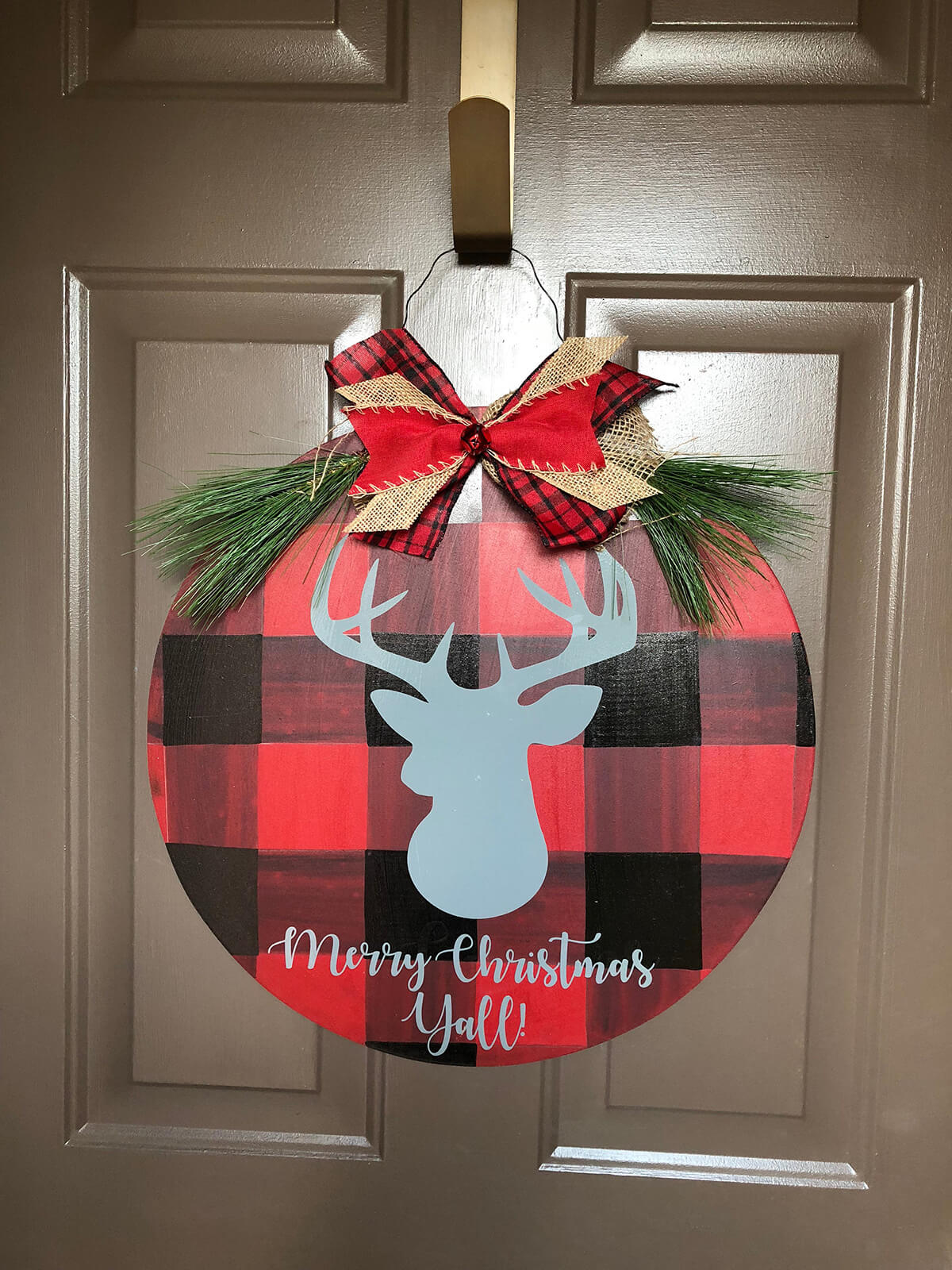 Looking for that wow factor for your front door? This new, trendy and adorable handmade reindeer door hanger is perfection. Personalized round wooden home decor is very on trend this year. We often see these round wooden hangings hung over a crib in a nursery, but this lovely holiday hanging would look stunning right on your front door. This wooden hanging features the popular red and black buffalo plaid print with a reindeer silhouette right in the center, custom wording underneath and a little greenery with a bell and a bow to top it off. If you already have a holiday wreath for your door, you can hang this enchanting work of art in the hallway or on a bathroom or closet door for decoration.
28. Trendy Wooden Christmas Reindeer Napkin Rings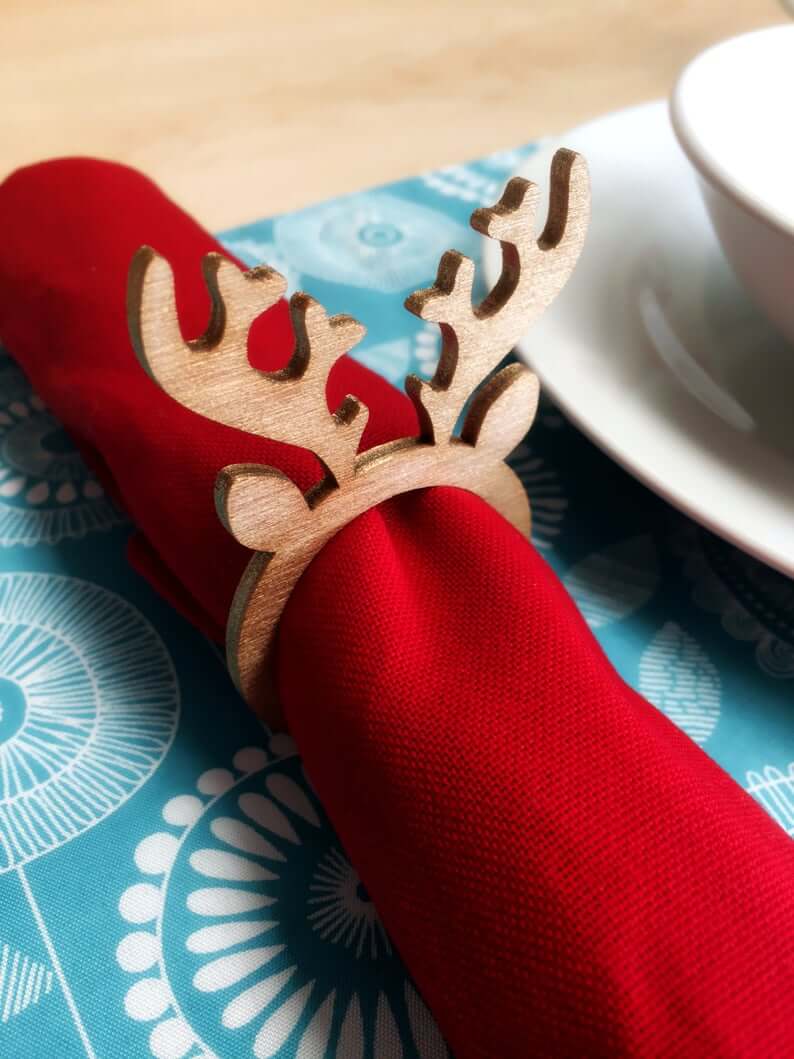 Ready to gather the family around the table this holiday? Don't forget to include a little reindeer Christmas decor with these exquisite wooden reindeer napkin rings. They are made from 3mm MDF and spray painted with a trendy antique gold color. This listing includes six reindeer napkin rings that will look charming at the table. Consider using red and green cloth napkins (or other holiday color theme of choice) to fill inside each ring for an even more festive and trending look that will have everyone at the dinner table excited to use. These reindeer napkin holders are sure to add a special touch to your family dinner at the table this holiday season.
28 Reindeer Decoration Ideas that will Make Your Christmas more Adorable
The holiday season is a time to enjoy precious moments with family and friends. It's also a time when we can decorate our homes with all the warm and cozy festive feelings that can instantly create an ambiance of cheer. Of course you can decorate your home with decorations you already have, but if you're looking for a new holiday theme this year or simply just want a little refresher, considering adding the most famous holiday spirit animal, the reindeer, into your decor mix is always a good idea.
Looking through this curated list of some of the most creative Christmas reindeer decoration ideas all found on Etsy, we hope you'll see the variety of reindeer decor options that fit all styles, personalities and budgets. Reindeer symbolize the magic of the holidays where people both big and small feel the enchanting spirits in the air. Regardless of how you spend the holidays or your own family traditions, the magic of nature is one of the loveliest gifts to us all. So, get ready to bring out the festive tableware, embellish your candles with tinsel and ribbon, hang all those decorations and don't forget to sprinkle a little reindeer cheer throughout.
Our Favorite Christmas Ornaments to Buy on Amazon