Think about your morning routine. You get up, brush your teeth, and go to your closet. Finally, when opening your closet doors, you're faced with a disorganized and unsightly mess. Does the chaos in your closet cost you time in the morning? How much easier would your life be if you could just stop thinking about the mess that lingers beyond those doors and get organized.
It can be done. With thousands of organizational systems on the market today, an organized closet can be achieved. Closets of every kind can be created with the proper forethought and planning. When planning a closet overhaul, you will first need to take a good, hard look at the contents of your closet and determine the kind of storage solution that will best fit your needs. When planning your closet makeover, be sure to measure your closet so that you can implement a new closet storage solution that perfectly fits your space.
How To Reclaim Your Closet – Powerful Closet Organization Ideas for this Year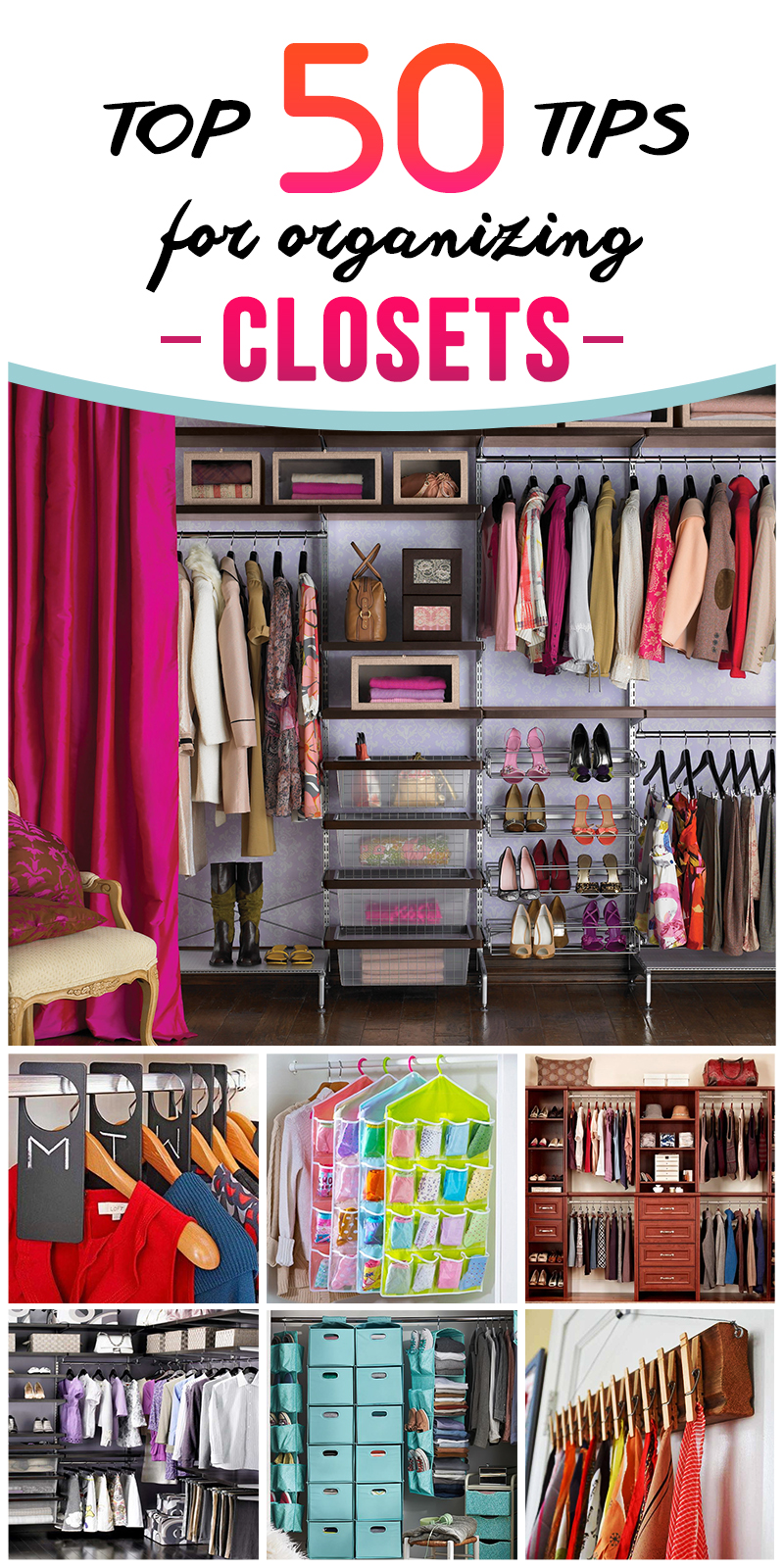 There are many storage systems that can make the most out of the limited space you have. For closet spaces of all sizes there are ways in which you can enhance your natural space. For those working with a smaller space, small closet organization may seem like a daunting task. However, with the right storage solutions, it can be easily achieved. No matter if you have a walk-in closet or a tiny wardrobe closet, home organization can be yours. Systems with hanging cubbies, hanging bars, and drawers can help you achieve maximum organization in spaces of any and every size.
Please be advised that you should not purchase your closet organizers until you know the exact dimensions of your closet. Before measuring your closest or installing the closet organizer system, you will first need to clear everything out of your closet. Before you begin working, designate an area for staging your closet's contents. Next, empty everything out of your closet into the staging area staging area. Use this time as an opportunity to prune away the old and make room for the new. Discard items that you do not use and sort the remaining items into categories.
Once your closet has been cleaned out you will have a better idea of the sort of closet organizer that you require. Measure your closet carefully and purchase your closet organizers with your individual space in mind. After the items have been organized, you can go ahead an install your new closet organizers. Once installed, put away all of your closet items. Lastly, breathe deep and enjoy your brand new, perfectly organized closet space.
1. Pretty In Pink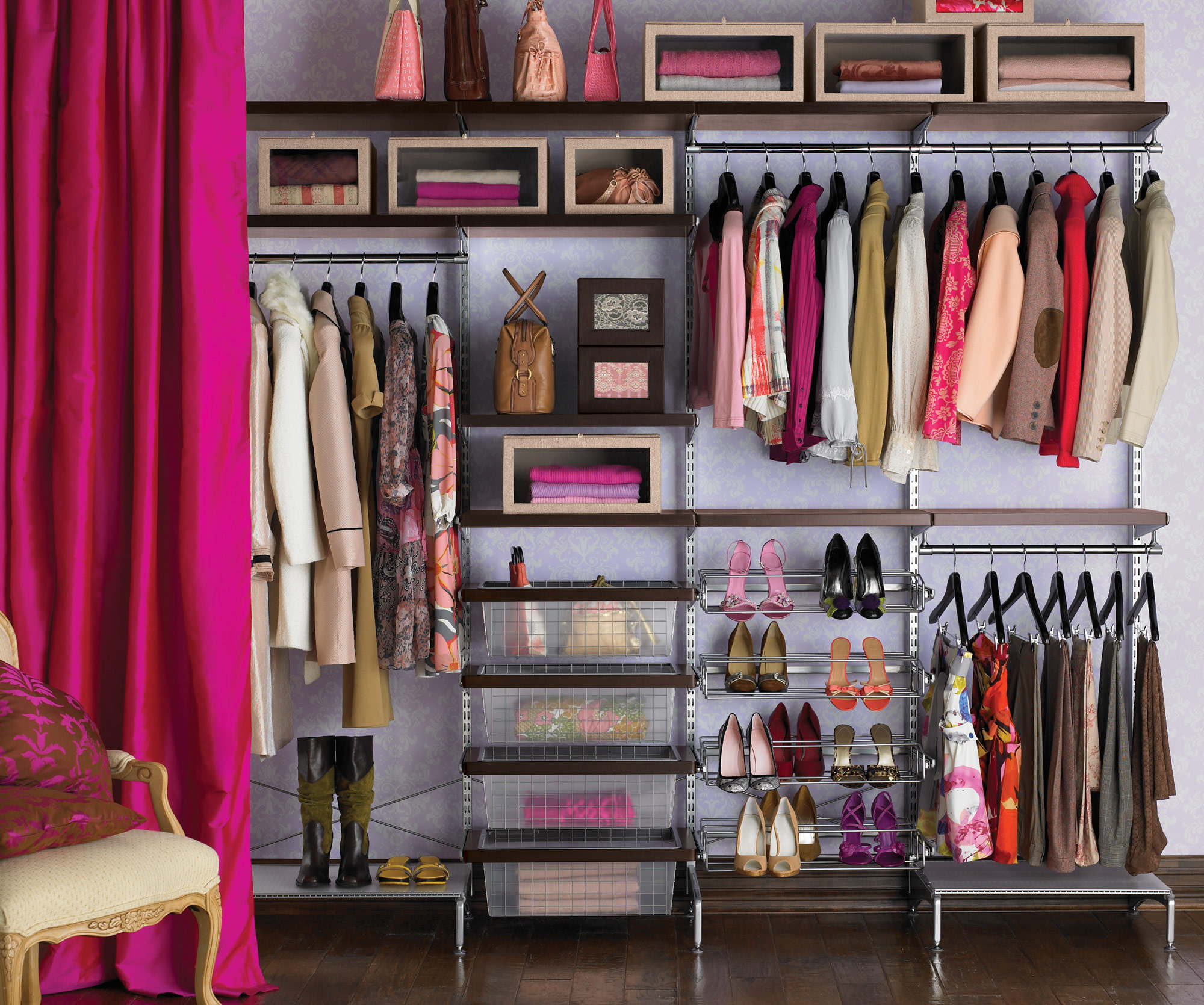 Source: The original source is not available anymore.
Who says that closet organizers need to be drab? Closets such as this one prove that home organization can be beautiful and colorful. You too can bring some color into your world and your closet. Consider, painting the back wall of your closet with an accent color or framing your closet with a curtain in a contrasting shade of pink. When framed with the right colors your closet can take center-stage and really shine.
2. Anything But Blue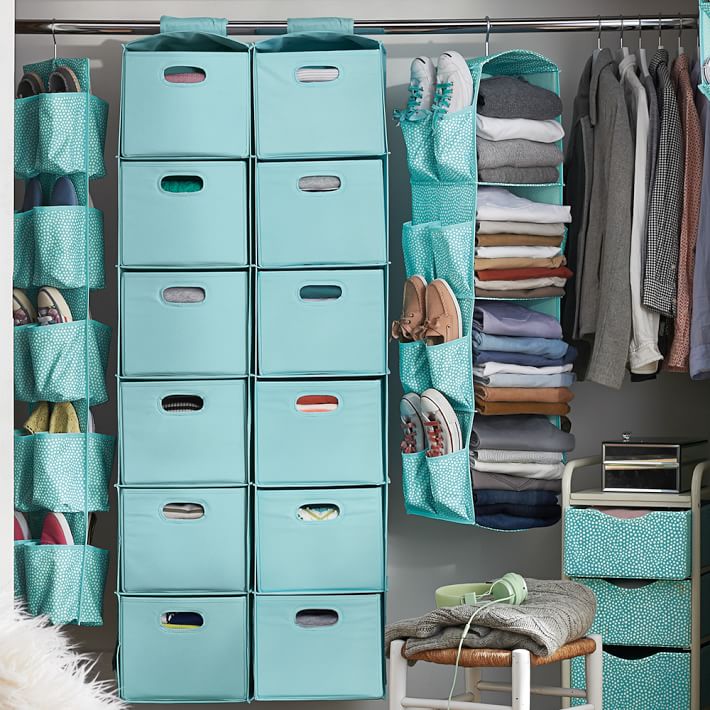 Source: The original source is not available anymore.
These storage solutions will leave you anything but blue. Perfectly minted to match the needs of an accessory heavy closet, the closet organizers employed here will take care of your shoes and leave you with some breathing room. Cubbies, clever shoe storage and hanging drawers all match in color and design, proving once gain that closet storage ideas can be funky and fun.
3. Sophisticated Solutions For Storage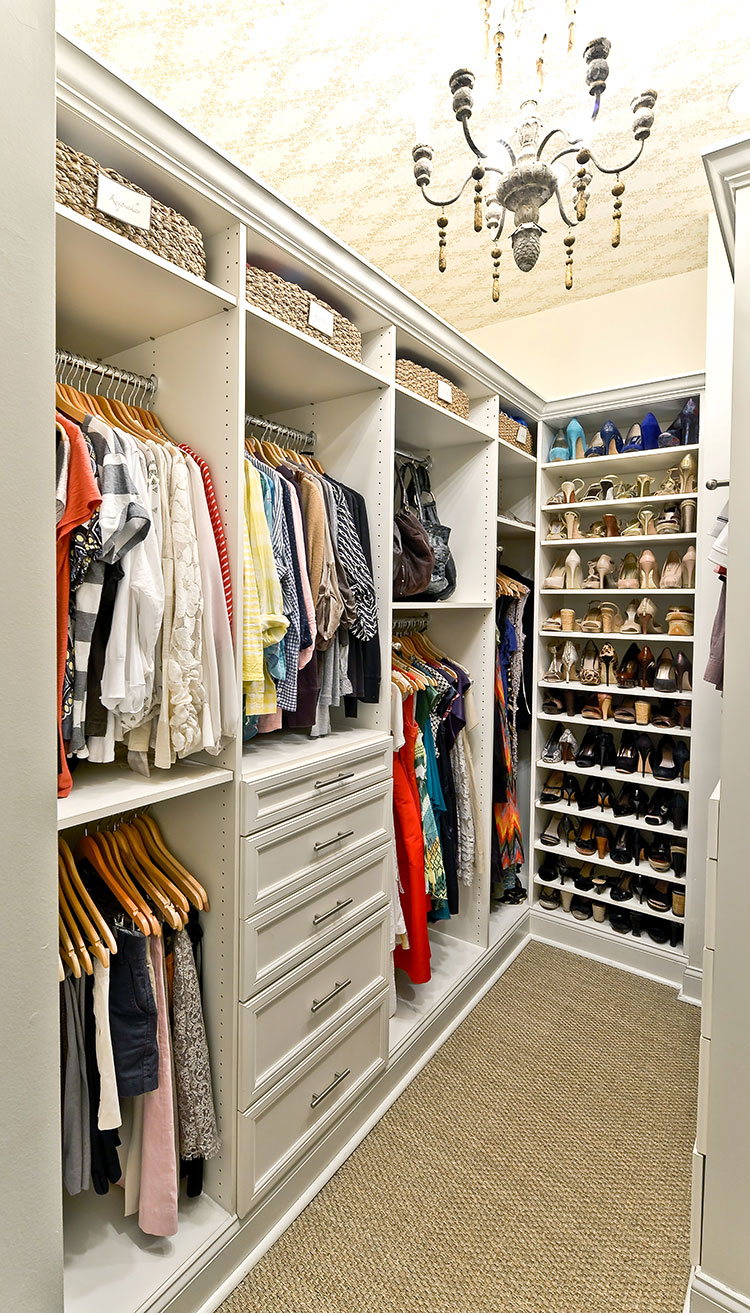 Source: The original source is not available anymore.
Everyone dreams of owning a walk-in closet that is perfectly organized. If you have the room, your closet can achieve its full-potential with the help of a well-thought out closet storage system. Built-in closet organizers and custom shelving can be further enhanced by fantastic lighting fixtures. If it is sophistication you seek, consider updating your walk-in closet with an elegant chandelier, such as the one pictured here.
4. Eclectic Storage Solutions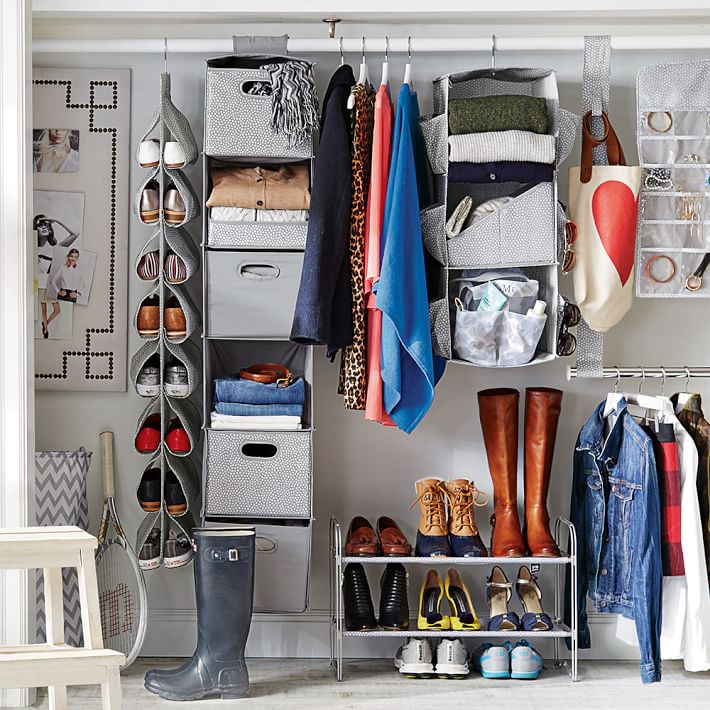 Source: The original source is not available anymore.
For the closet that handles everything, consider neutral finishes for a cohesive design. This lovely closet features a popular steel gray. The neutral finish makes a lovely backdrop for the modern closet that is able to hold it all. When tackling the question of how to organize your closet, the storage solutions will need to be thoughtful and varied if you are going to create a space that handles all of your home's storage needs. Think about your space carefully when planning your closet overhaul, and make sure that you have the right closet organizer solutions for your lifestyle.
5. Showcase A show-stopper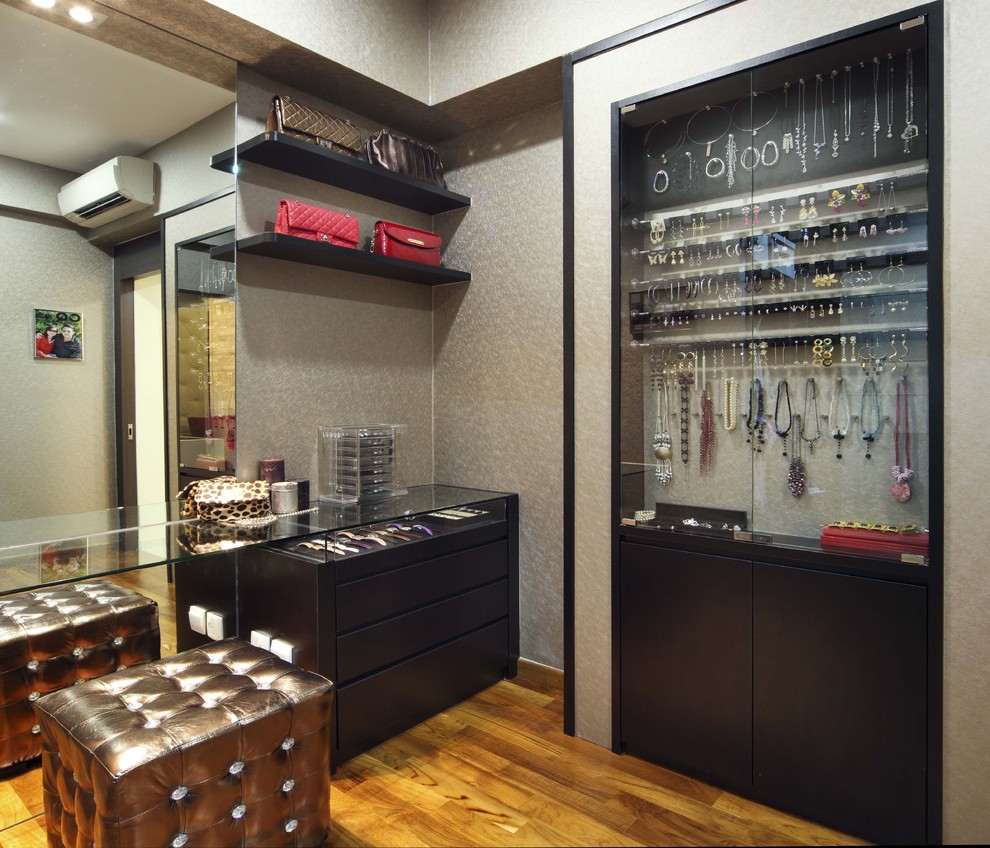 Source: The original source is not available anymore.
A closet has the potential to be much more than just a place to store your stuff. A truly beautiful closet can be a place where you are able to showcase your gorgeous items and designer goods. Display cases, such as those seen in the closet pictured here, are a wonderful way to store precious items. Not only are your things easier to find and well-protected in a display case, but they also are able to become fantastic showpieces in your high-end closet.
6. Refined Closet Elegance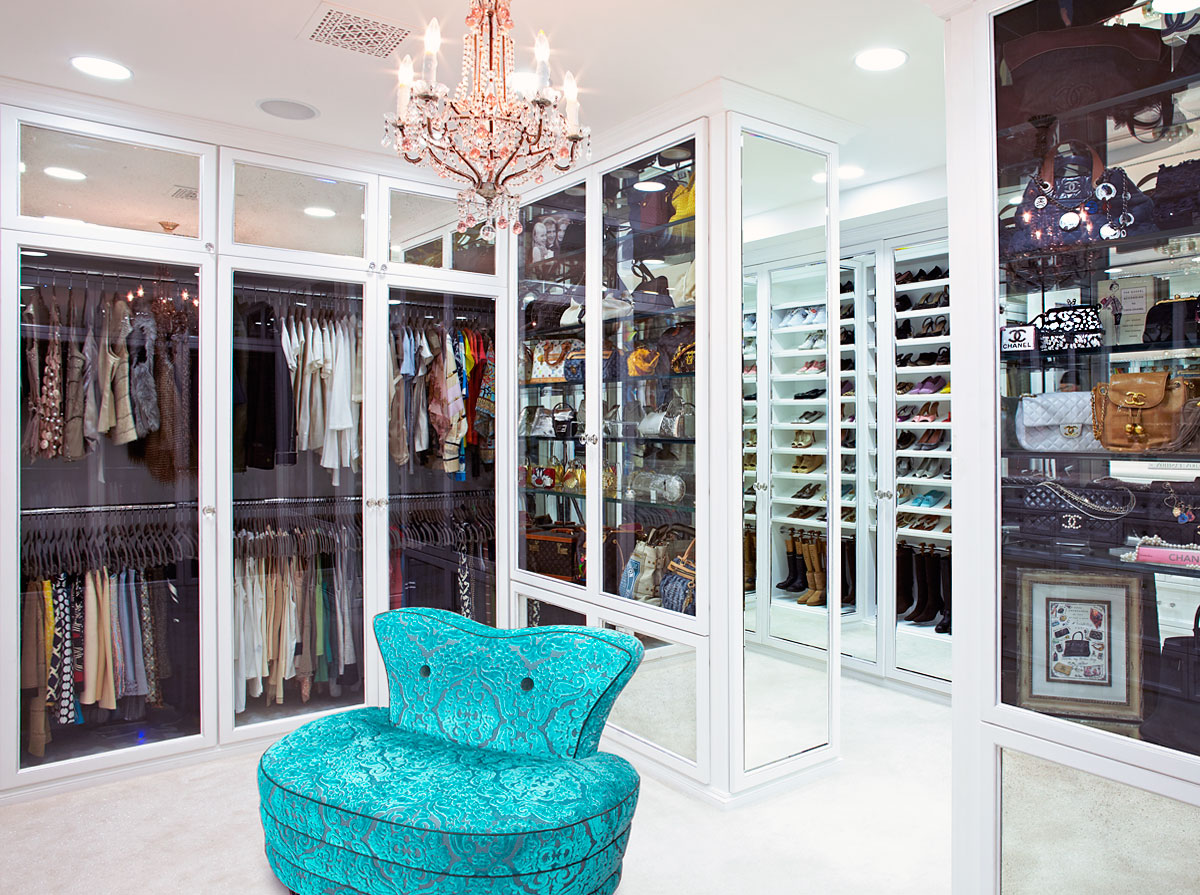 Source: The original source is not available anymore.
Making a closet appear larger can be done through the use of white paint, glass, and mirrored surfaces. An already large closet treated with these veneers will appear that much larger, more open, and more glamorous. To finish off a high-end look, consider adding glamorous fixtures. When you create a sitting area or hang a chandelier you are able to enhance the natural elegance and refinement of the closet's space.
7. Delightful Built-in Storage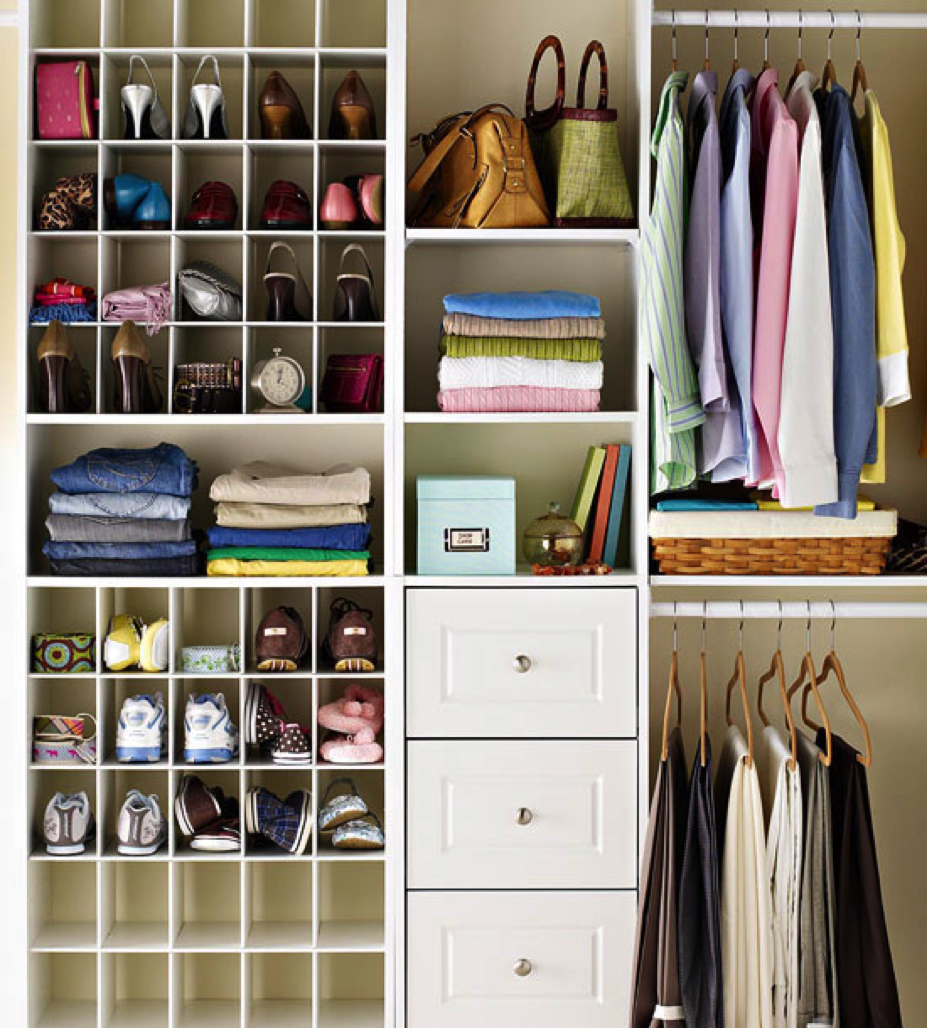 Source: The original source is not available anymore.
Built-in shelving with a thoughtful design can offer you all of the storage solutions needed to fit every piece of your wardrobe. Cubby storage, like that seen here, is great for shoes. Whereas, pull-out drawers can tuck away unsightly or hard-to-store items. When planning built-ins for your wardrobe closet, make sure that you have the right storage for your individual home organization needs.
8. A Perfect Space For Two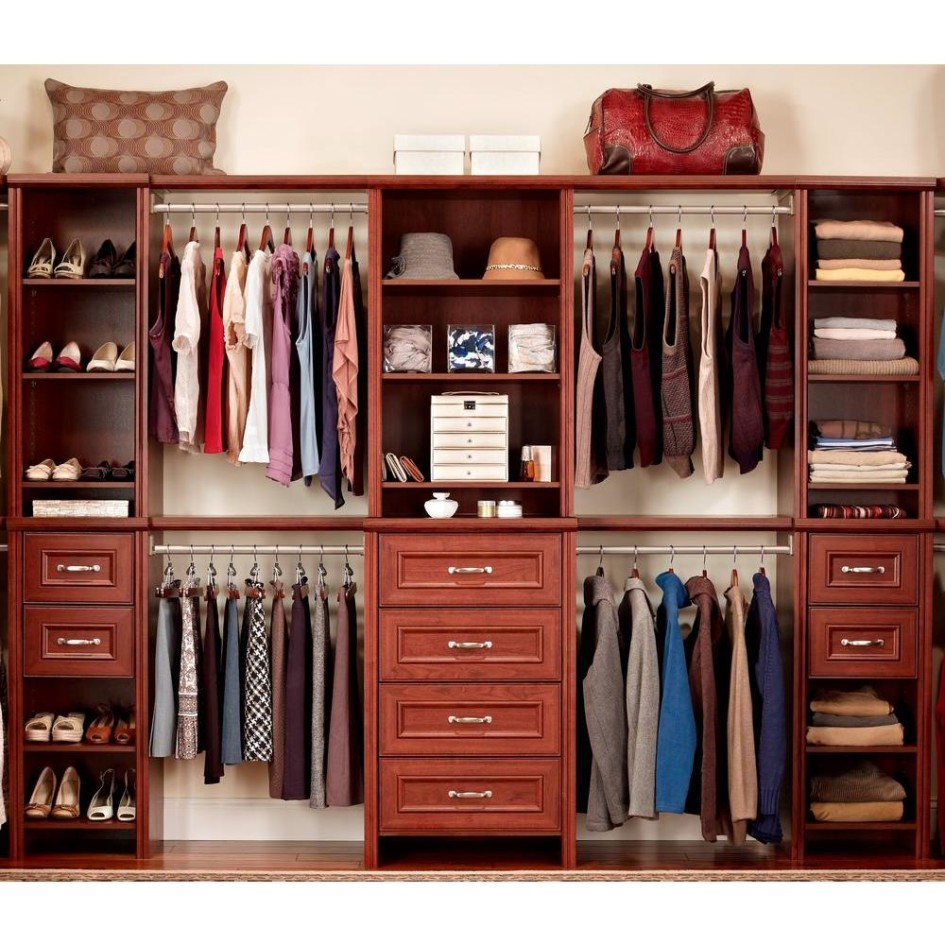 Source: The original source is not available anymore.
The battle over closet space is a real thing. However, you will never fight again if you adopt the use of 'his' and 'hers' closet organizers, such as those featured here. With so many solutions for your everyday closet organization, you are sure to have space for every piece of your wardrobe with plenty of room left over for your significant other to enjoy their fair share as well. These clearly defined spaces can keep the peace in a household and stop fights before they even begin.
9. Versatile Solutions For Storage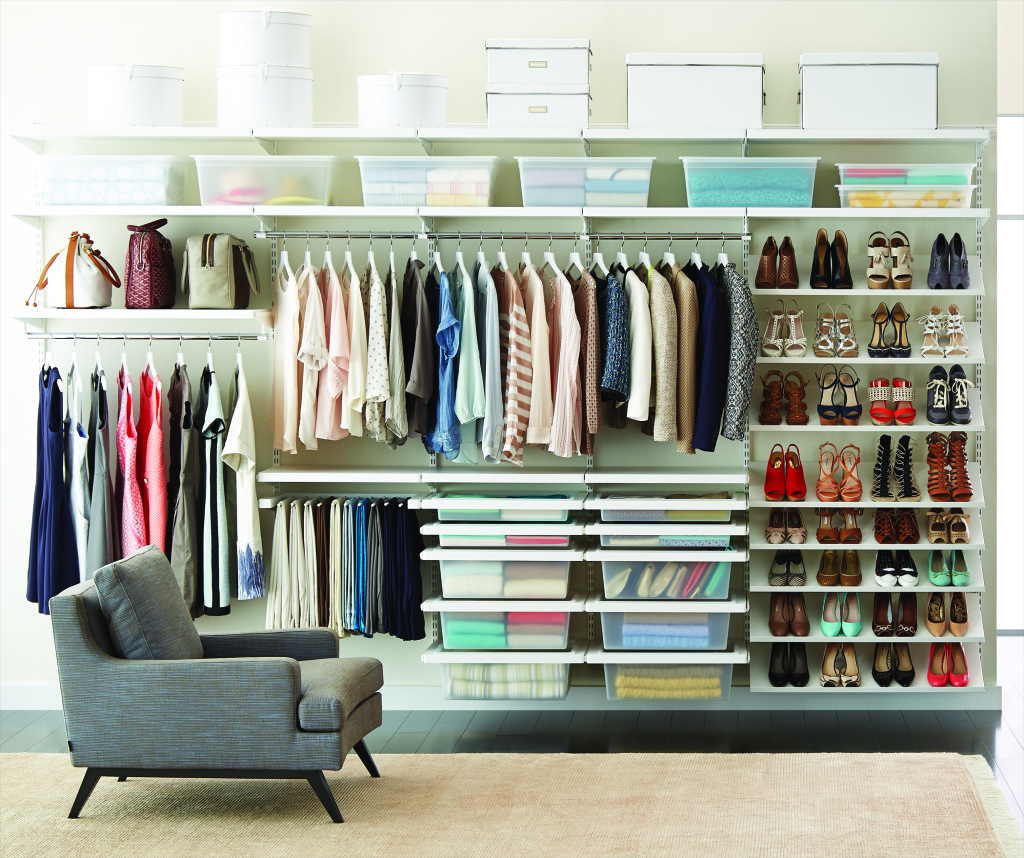 Source: The original source is not available anymore.
Sleek, stylish, with a hint of modern flair, this closet uses versatile solutions for functional home organization. For those who are looking for a fun and modern way to organize their closet, look no further. The white hat boxes lining the top shelf are perfect for hiding unsightly or rarely used items. Where as, the clear box, located just below, are fantastic at storing more commonly used pieces. Additionally, hanging bars and shelves offer solutions for storing an array of clothing and wardrobe items.
10. A Man-cave For The Modern Man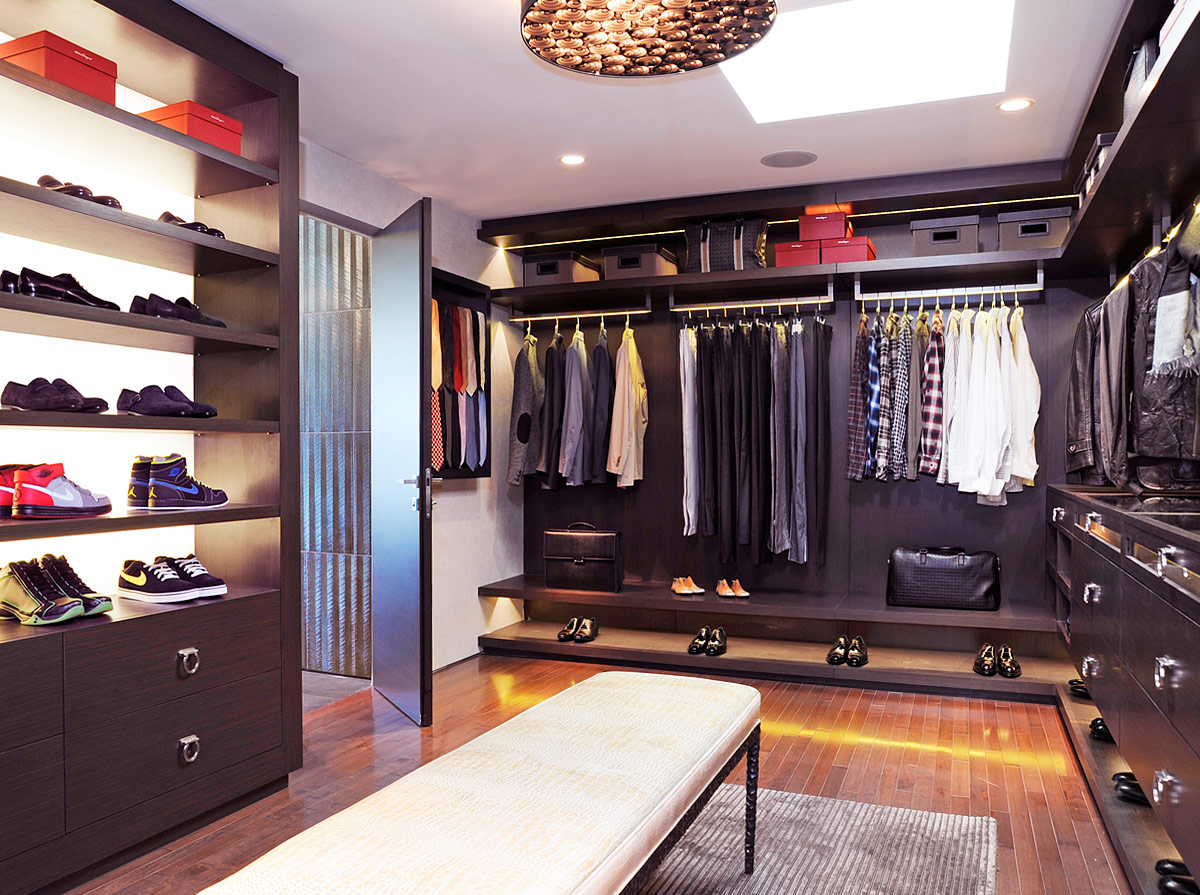 Source: The original source is not available anymore.
Who says a man-cave needs to be rugged and lacking in style? The modern and stylish man knows the importance of creating a sleek, organizational place for his wardrobe essentials. From dapper display options to dark wood paneling this man-cave walk-in closet has everything the modern fellow will need easily at hand. What more could a man ask for?
11. Roll-out Solutions For Storage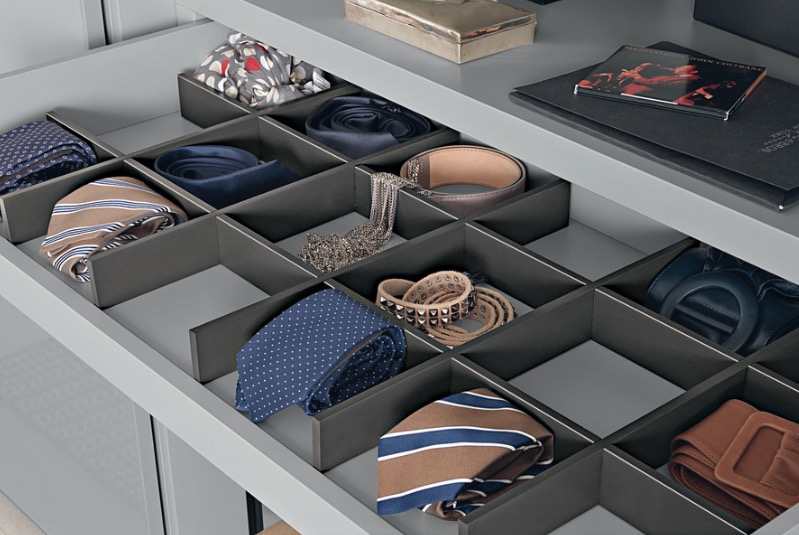 Hard-to-store items are perfectly tucked away in this sleek roll-out drawer. The lateral cubbies create little nooks for small wardrobe pieces such as neckties, belts, necklaces, and more. If you are looking for a storage option for these types of hard-to-store items, consider adding a drawer with similar functionality to your home's closet space.
12. Maximize Your Vertical Space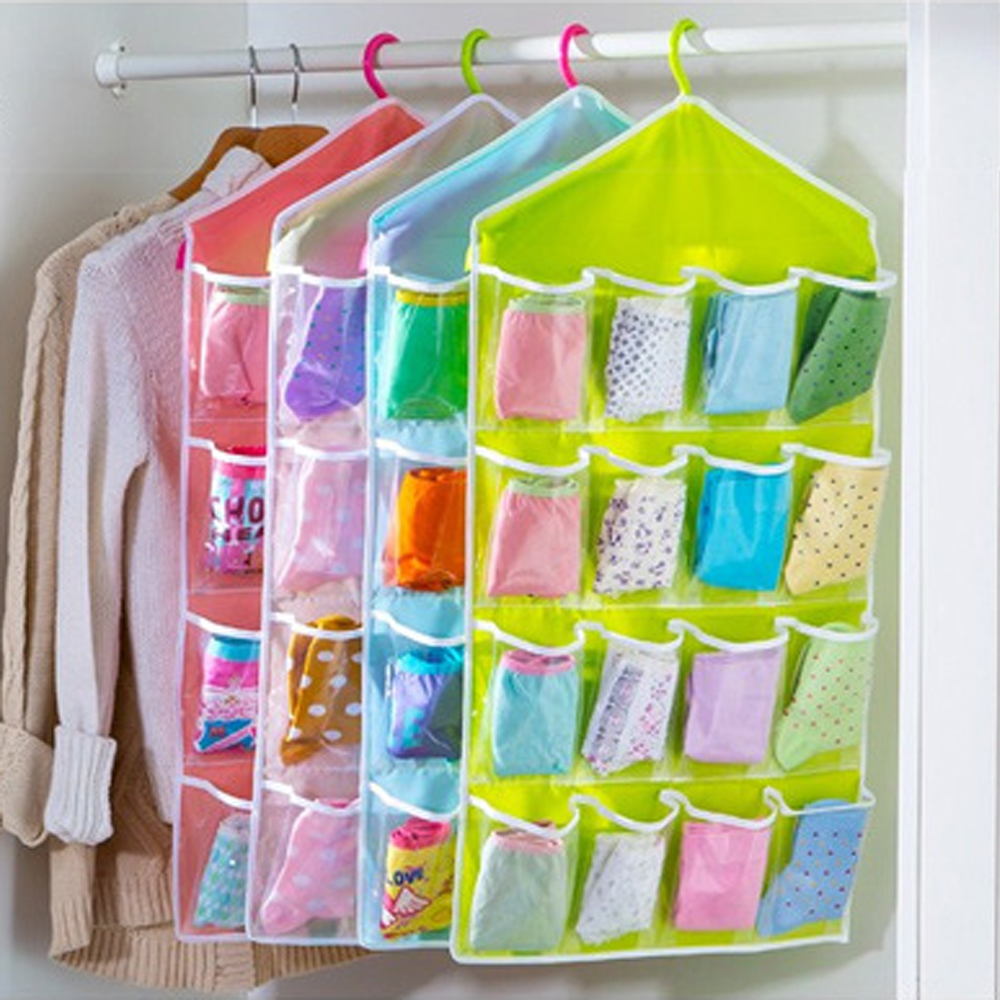 Source: The original source is not available anymore.
Vertical storage is an easy way to organize small items in your closet. Vertical hangers, such as those pictured above, are able to hold items such as shoes, underwear, handkerchiefs, neckties and belts. Maximizing vertical space, with the use of hangers such as these, is a great way to make the most of small closet organization systems within petite spaces. When planning your small space overhaul, think about how you can use your closet's vertical space to create more storage.
13. A Cohesive Overall Design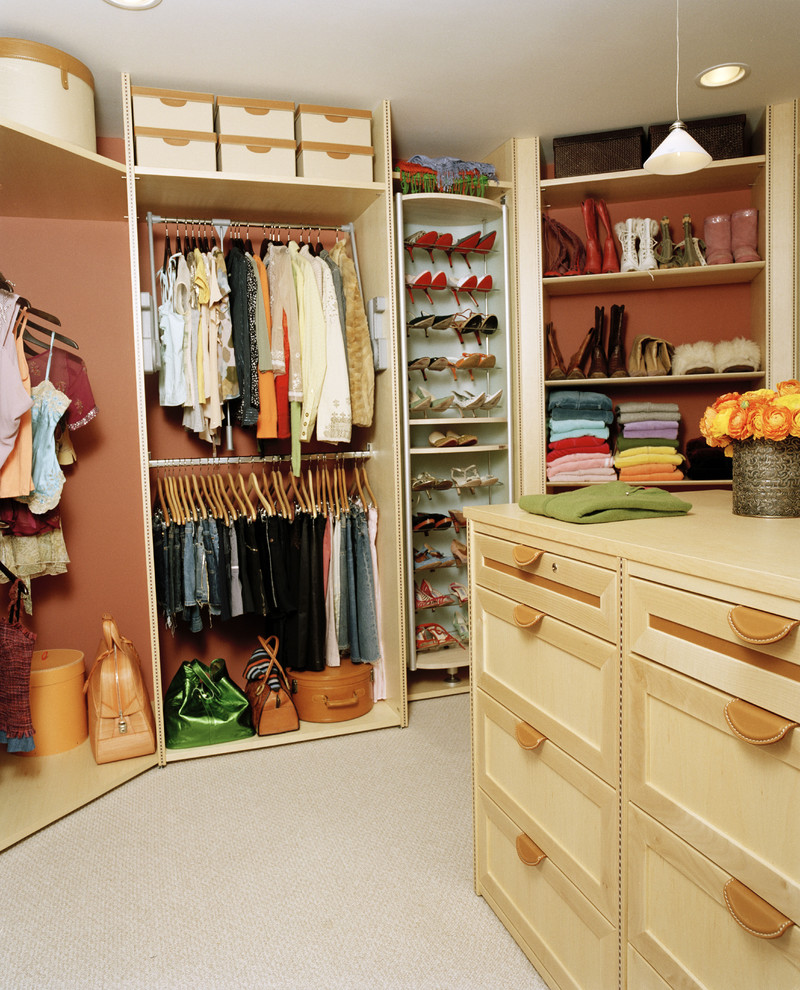 A traditional dresser can be incorporated into your walk-in closet with great success. In order to achieve a cohesive look, take care to ensure that all of your built-ins, shelves, and drawers have received the same finishes. This fantastic closest, draped in brown, has created a delightful sense of continuity through the repetition of certain forms, colors, and materials. Likewise, your closet can use the principles of design to guide it towards a cohesive overall look. Following these techniques, once finished, your design will look as though it was designed by a professional.
14. Use Perfectly Coordinated Colors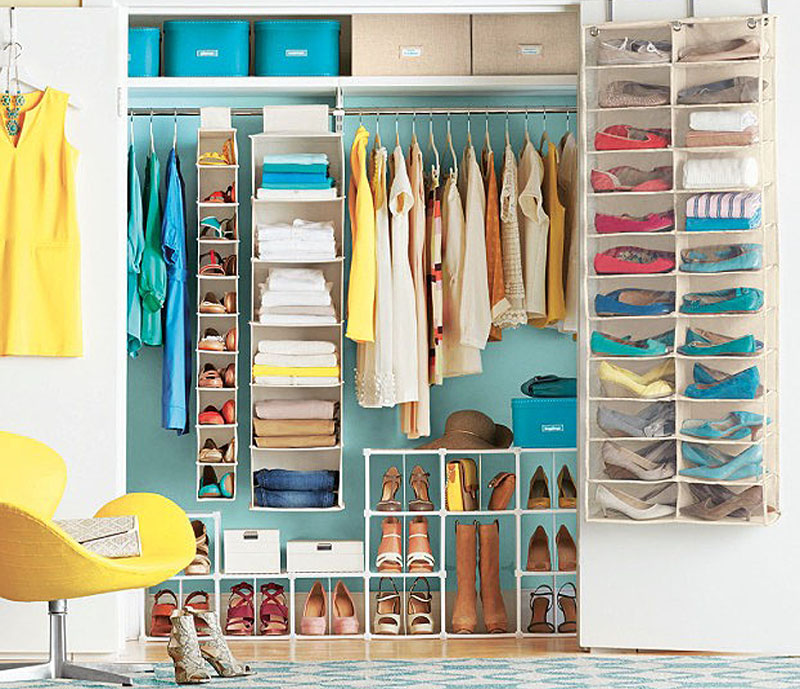 Color coordinated pairings, categorized cubbies, and well-planned closet storage ideas create the organizational map that is used to store for this closet's complete contents. For those who want to re-create this look, try color coordinating your blouses, shoes, and other displays. Organizing by color is one of the oldest design tricks in the book. However, the look never gets old. The result is sure to delight and dazzle. Try it for yourself and see.
Our Favorite Farmhouse Storage Items to buy on Amazon
15. A Simple Solution To A Tough Problem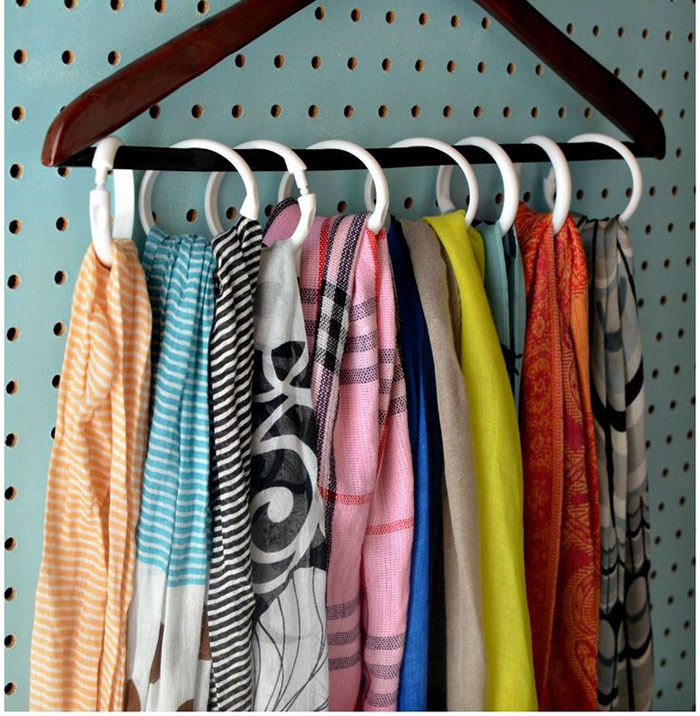 To save space, hang vertically. Items such as scarves, belts, and ties can be easily stored using simple and innovative closet ideas such as this. Simply take a hanger, add a few shower rings, and you have created a fantastic, affordable storage solution from everyday household items. Simple closet storage ideas like this one can be used in a pinch and on a dime. The results, you have saved both money and space. What could be better?
16. Like Items Go Together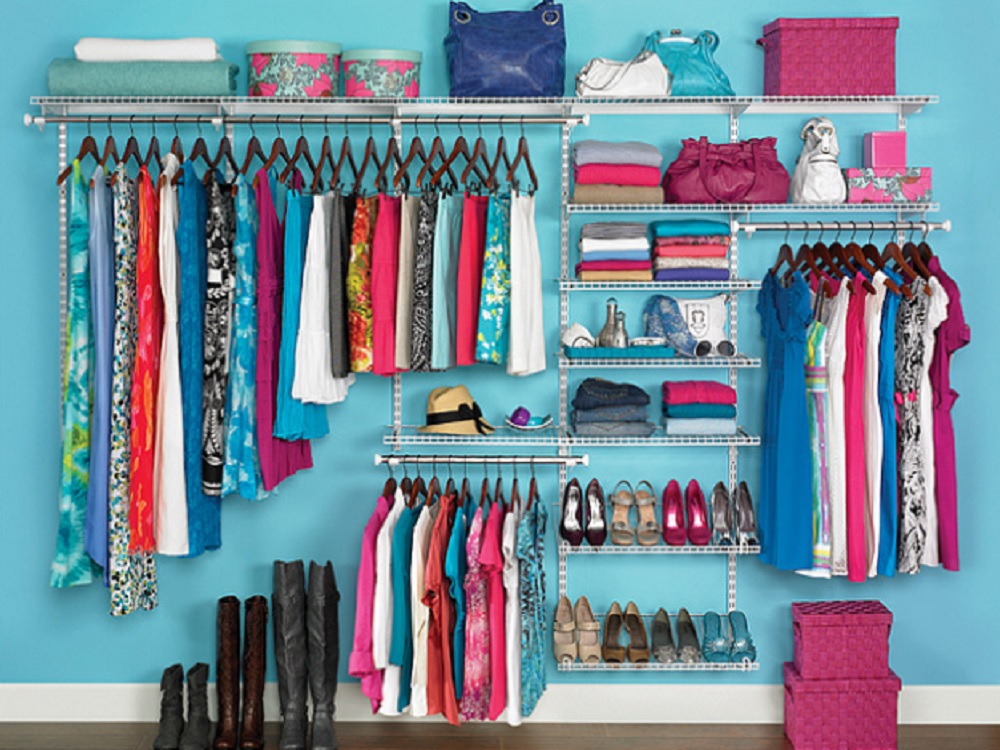 Why hide your something so perfect? This wardrobe closet is so organized that it doesn't need doors. Organization is a beautiful thing and nothing proves it more than seeing the contents of a closet on full display in perfect organizational harmony. Take a lesson from this closet makeover, and remember that every closet rehab begins by categorizing your things. Like items should be placed together and then hung together. This basic tenet of closet design makes it easier to find those items later and creates an overall more put together look.
17. Too Many Shoes And Too Little Space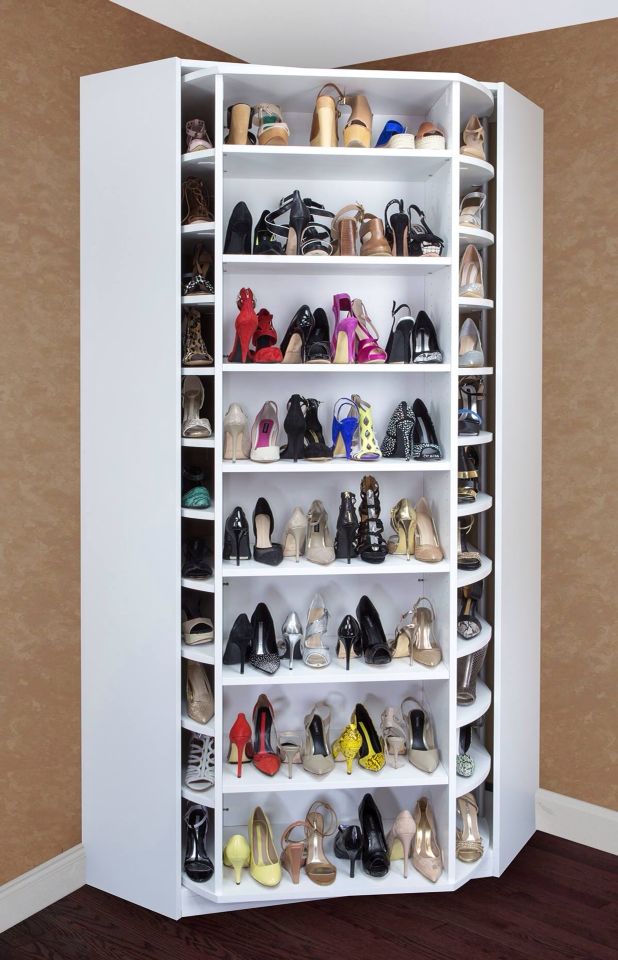 Tell the truth, are your shoes in a pile next to your front door, or sitting haphazardly at the bottom of your closet? If you answered yes, say hello to the solution to all of your shoe woes. If you are blessed or cursed with an overabundance of shoes, a custom shoe organizer is an easy way to categorize and display your shoes for safe-keeping. This built-in rotating corner shoe display is also a great way to use every bit of space during a small closet organization project. The custom built piece is the perfect solution for anyone with too many shoes and too little space.
18. Light And Airy, Clean And Comfortable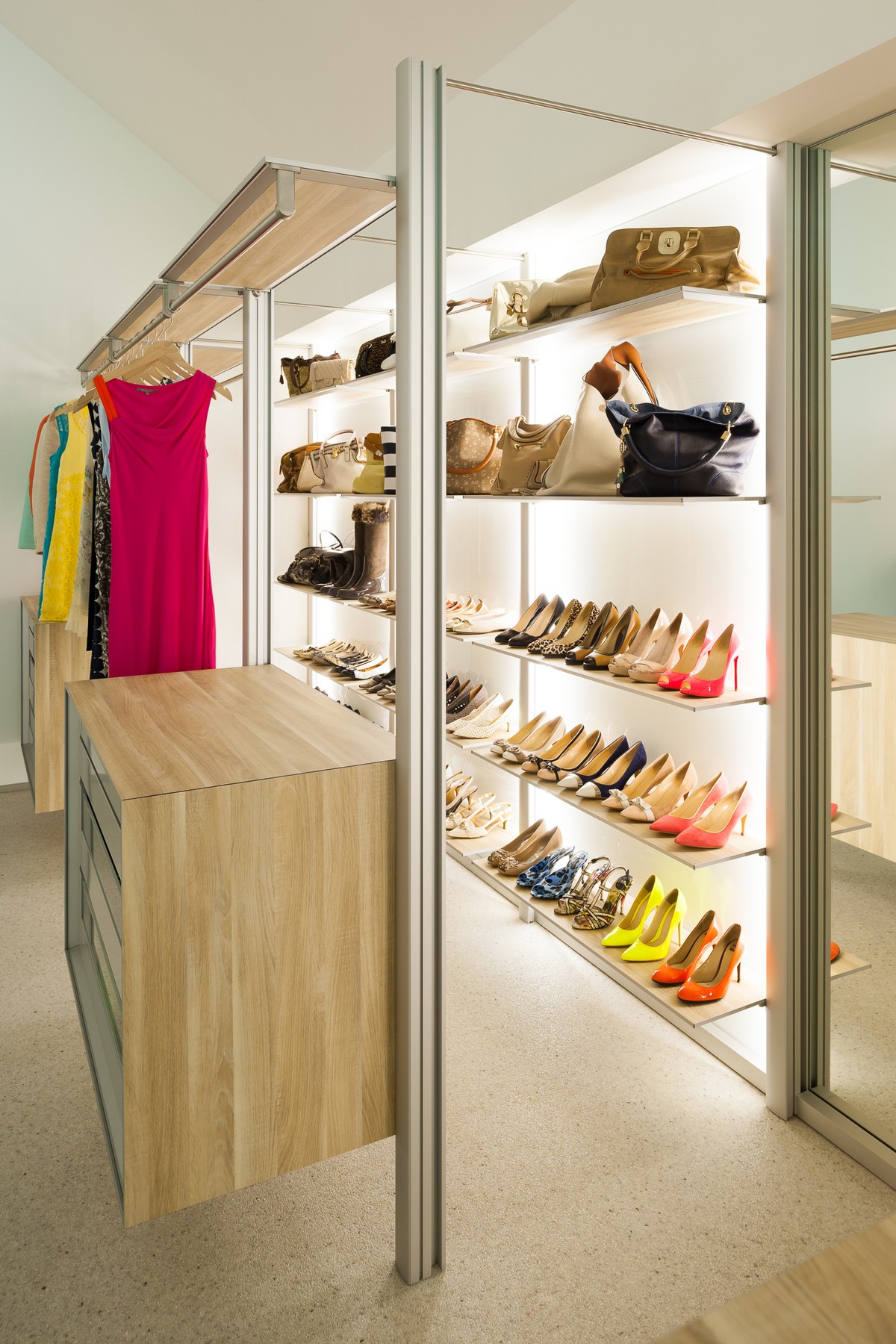 Source: The original source is not available anymore.
This light and airy display is perfect for the homeowner with a large shoe and purse collection. Backlit shelving creates a high-end display for the woman with an impressive collection of shoes and handbags. Additional storage is found in the floating drawers and hangers fronting the ethereal display.
19. Temporary Closet Storage Solution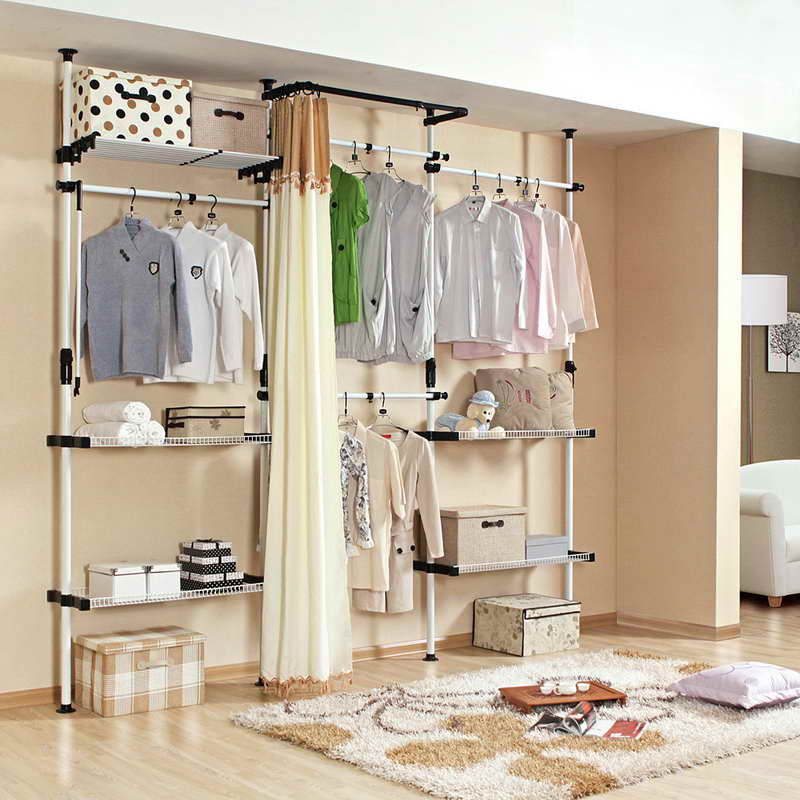 Source: The original source is not available anymore.
This shelving system is great for those who are not committed to making long-term changes to their living space. Through a series of extendable rods, this shelving unit is able to be secured into virtually any living area. Perhaps your closet is too small, but you are renting and don't want to make long-term changes. What should you do? Consider this as an answer to your dilemma. This storage solution offers you all the and organizational capabilities that your inherent closet design lacks. You can add storage space without making any permanent changes. Additionally, this solution can be used in almost any space.
20. A Sweet Surprise In This Nursery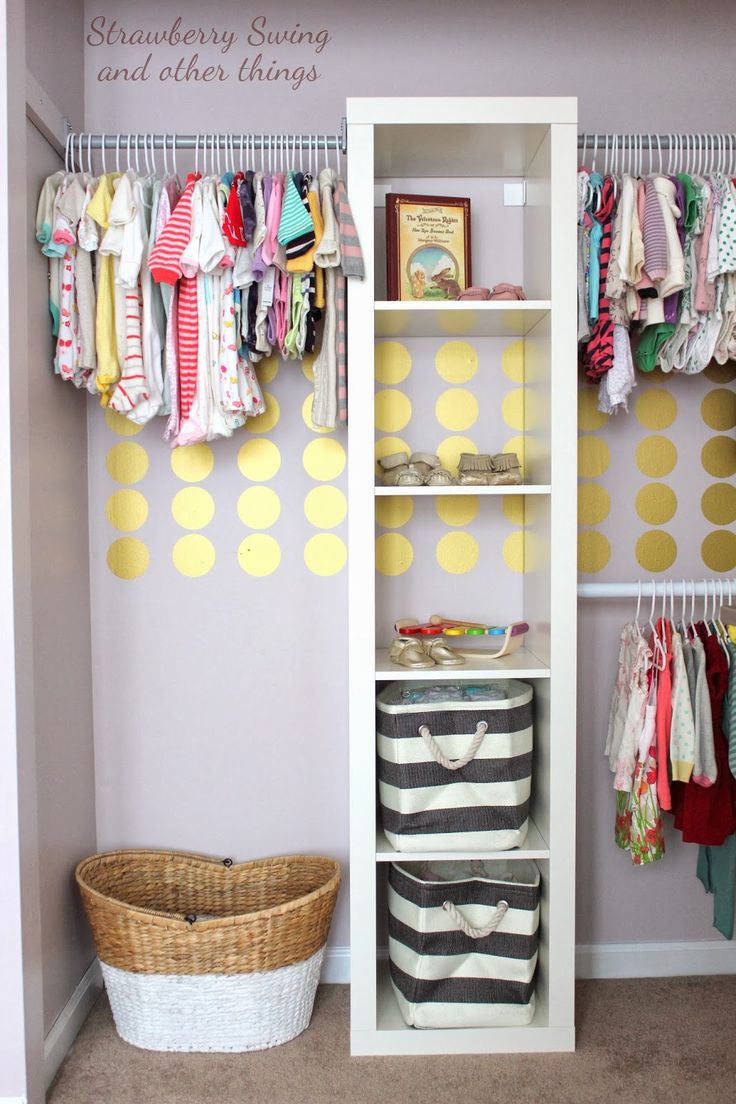 A few well thought out home decor accessories and wall-decals have turned this closet into a beautiful part of a sweet nursery. Home design at its best considers spaces like wardobes, cupboards, and garages. These organizational spaces can be lovely as well as functional.
21. Combining Bathroom And Closet Spaces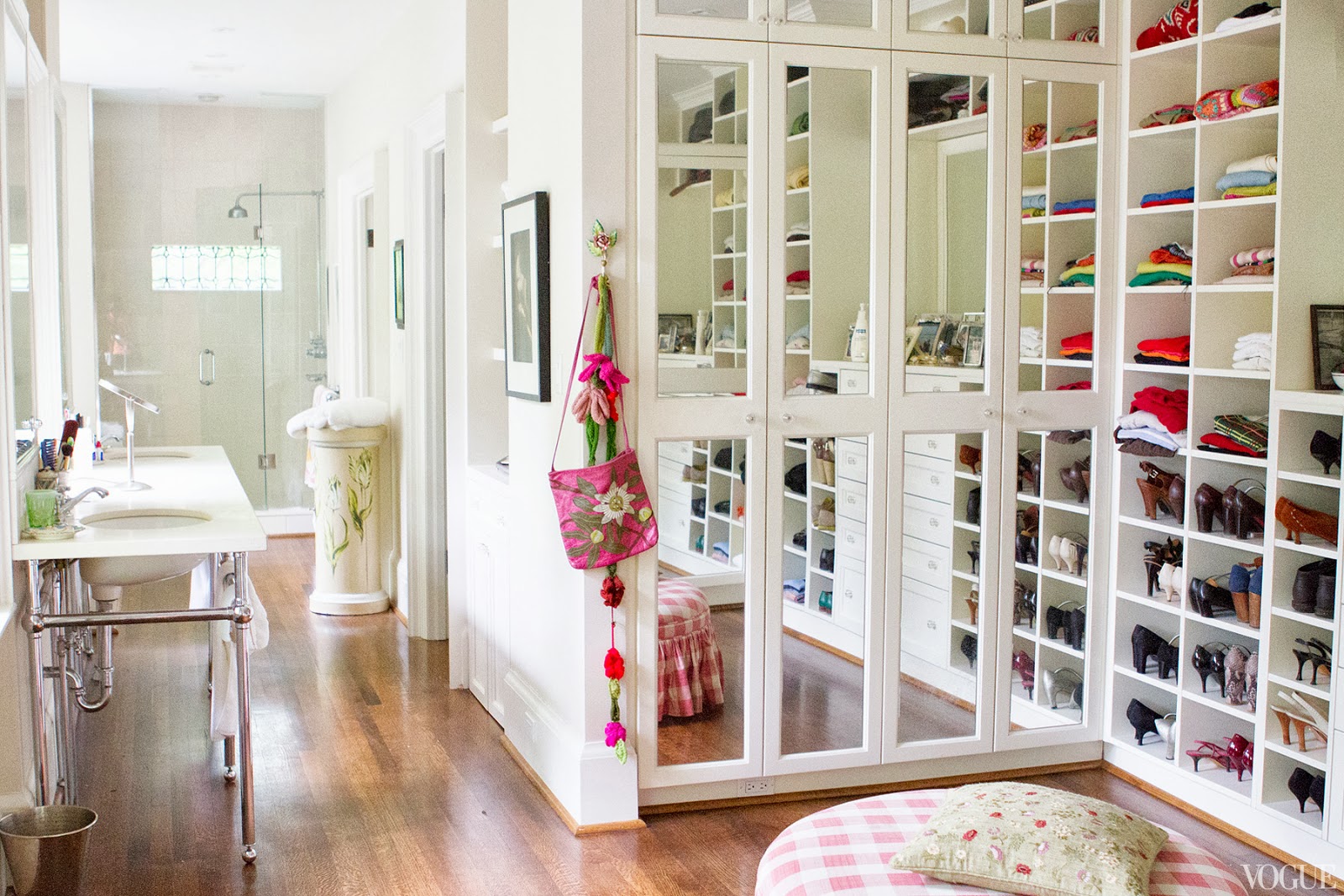 Source: The original source is not available anymore.
Combining a bathroom and a closet in a home can be any easy way to extend the square footage and usability of both rooms. After seeing this room, you may ask yourself, "why not knock down a wall and create a new room?" This lovely, airy space seamlessly incorporates both bathroom and closet to create a wonderful dressing area. Floor to ceiling shelving and vertical mirrored surfaces add height, space, and light into what could be an otherwise cramped dual purpose area. The larger than life open area is a great example of a bathroom/closet renovation done right.
22. Label Everything In A Child's Space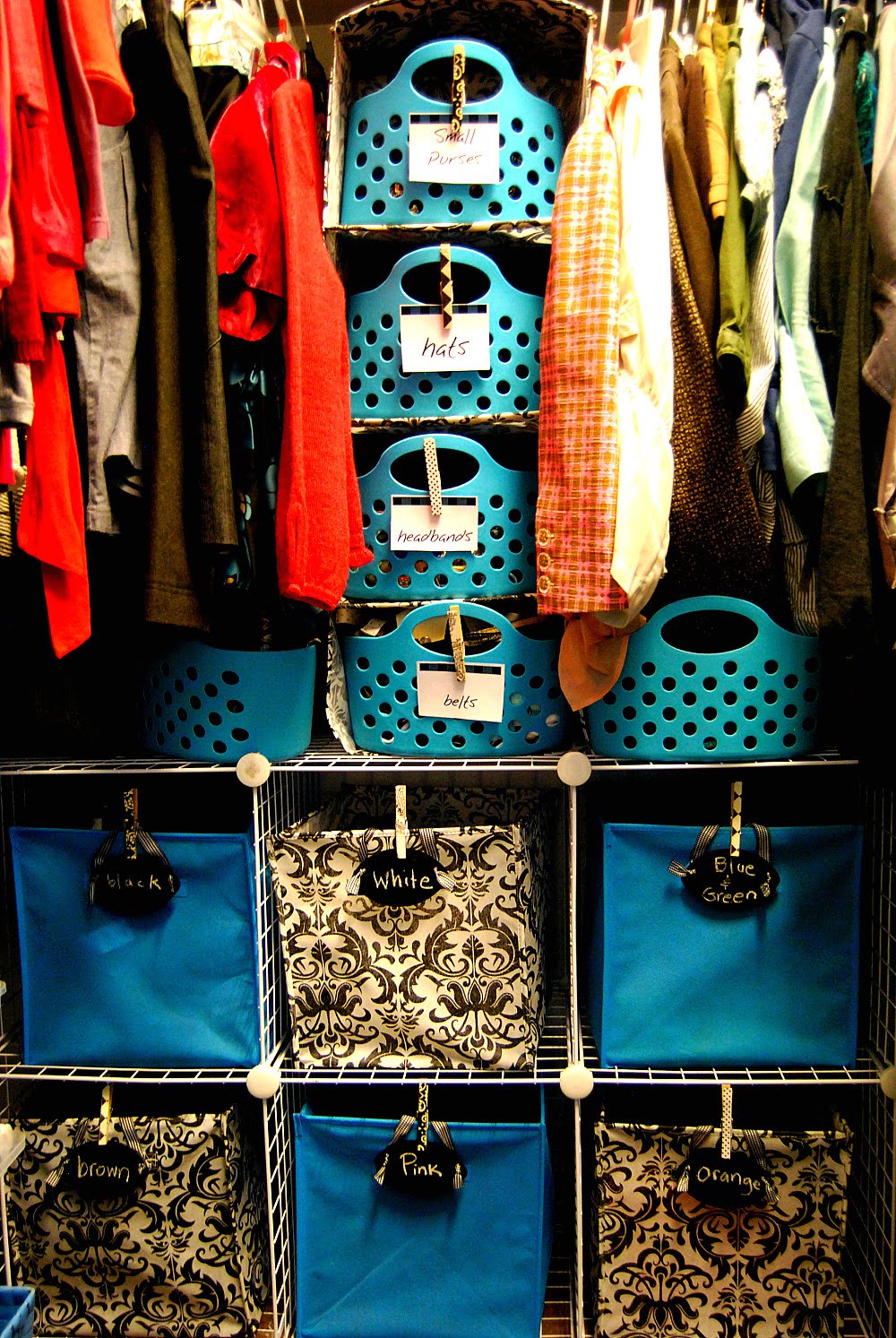 Source: The original source is not available anymore.
Small closet organization can be a difficult challenge. Especially when planning solutions that will need to work for a child's closet space. The closet above is a prime example of closet organization ideas that are uniquely tailored to work for the specific needs of children. When planning a small closet space for kids, the most important thing you can do is to label everything. If getting dressed or matching is a difficult task for your children, then consider labeling clothing items by color. No matter how you choose to organize your child's space, keep in mind your child's specific needs and habits when planning the space. The goal is always to create a closet that works well to fit the needs of you and your family.
23. Custom Cabinetry Saves The Day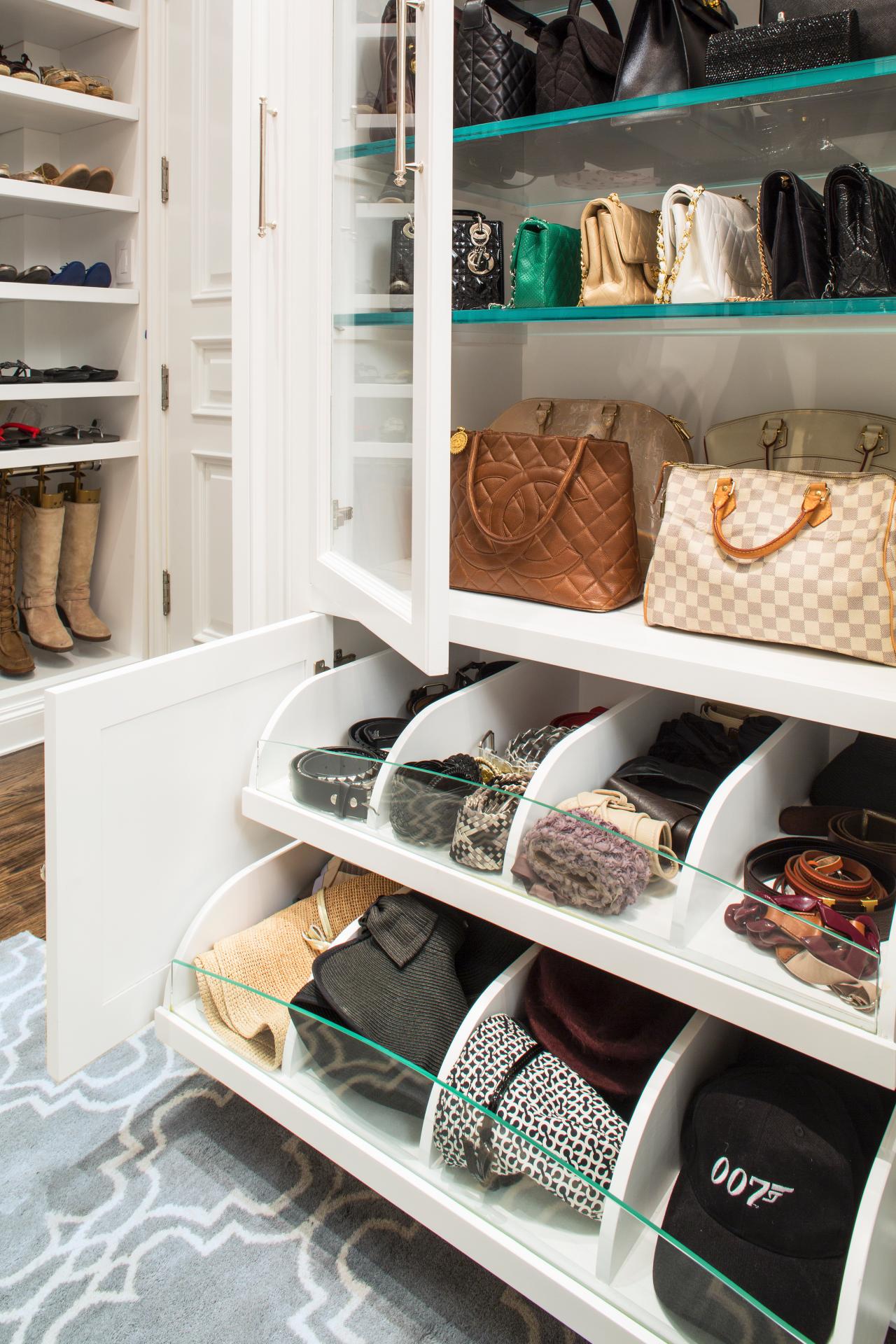 Every accessory is easy to find in this closet organizer. The individual compartments of the pull-out drawers are the perfect size to store hats, scarves, and belts. built-in custom cabinetry, such as that featured here, offers versatile storage options for the perfect walk-in closet. When planning your own dream closet, consider what items you need to be stored and how you would like to store them.
24. Innovative Solutions In Closet Design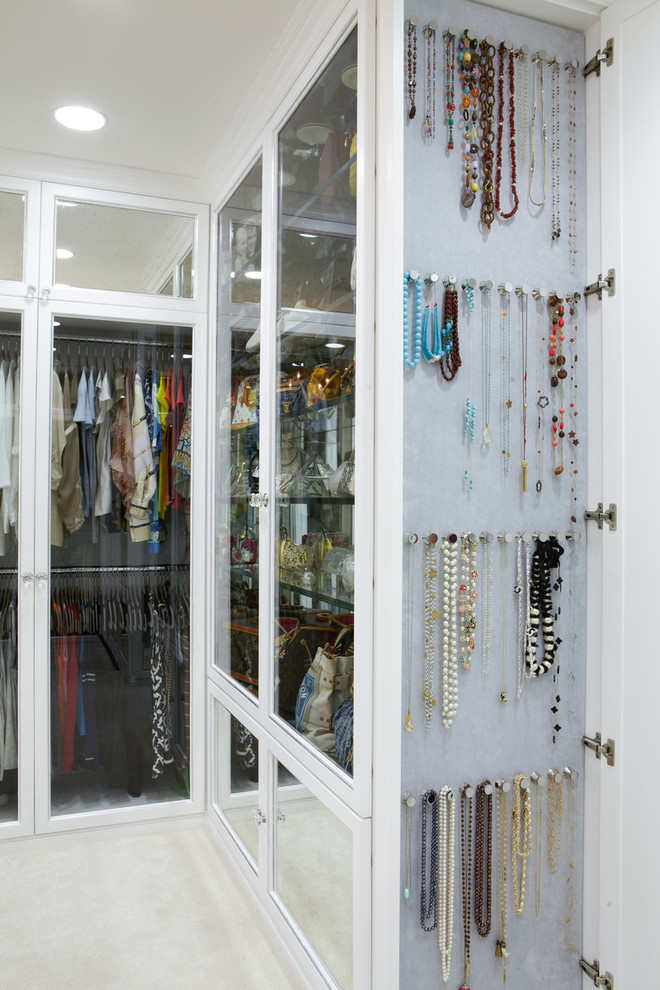 These glass faced doors are an elegant way to house your clothing in a space separate from your dressing room. Walk-in closets with custom glass-faced cabinetry, such as these, elevate the dressing area. The glass displays allow the closet to feel as though it is truly something special. With clothing behind glass, the space takes on an air of refinement. The closet pictured is also noteworthy for its clever organizational display of necklaces. Floor to ceiling, nobs have been strategically placed to allow for the walls complete coverage in colorful bobbles. What would have been wasted space is now a lovely and functional organizational closet design solution.
25. A Simple Solution And A DIY Project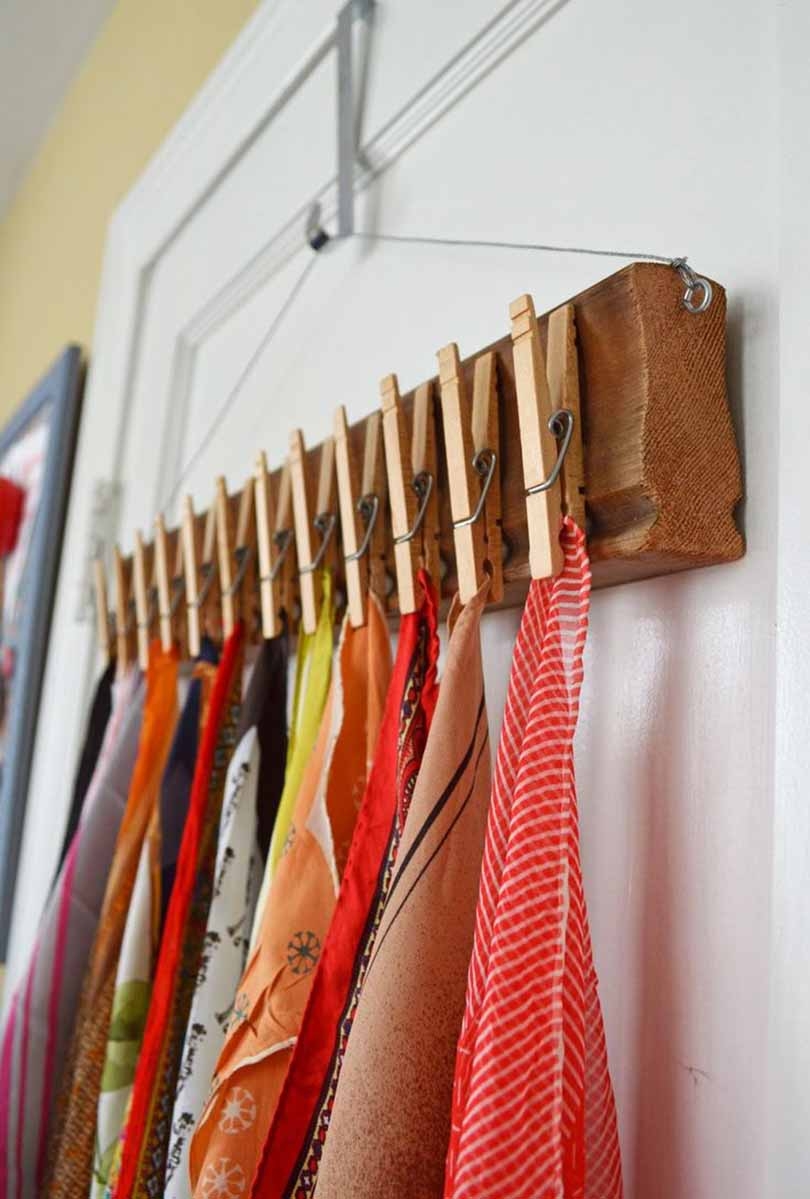 Organizing a small space requires ingenuity and creativity. You will find both of those qualities at work in this simple solution for closet organization. A simple board, two nails, a couple of clothespins, and some glue is all you will need for this DIY closet organizer. This is a wonderful afternoon project for those on a budget or for the crafty at heart. Hanging over a door, this lovely display doubles as home decor as well as functional storage for scarves, ties, and belts.
26. Storage Bins Are Key To This Closet's Success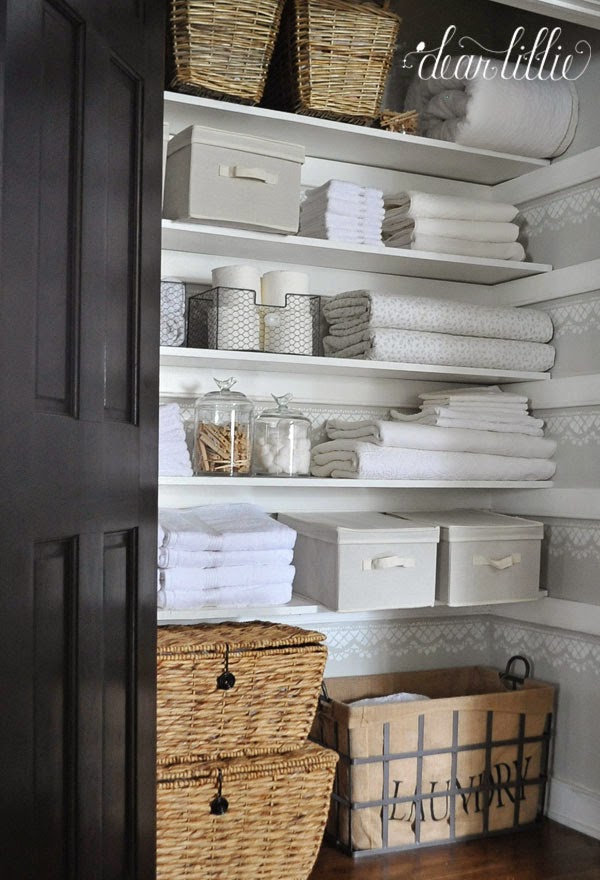 For many, bathroom closet storage is a troublesome proposition. However, with the help of some beautiful storage your once cluttered washroom storage area can become a lovely display of beautiful home design. When de-cluttering a bathroom closet, make sure that you have enough storage to tuck away your odds and ends. The benefit of using attractive storage bins is that once put on display they are able to double as home decor. When redecorating your linen closet, choose storage bins that suit your style and match one another.
27. Turn It On Its Side And See It In A New Light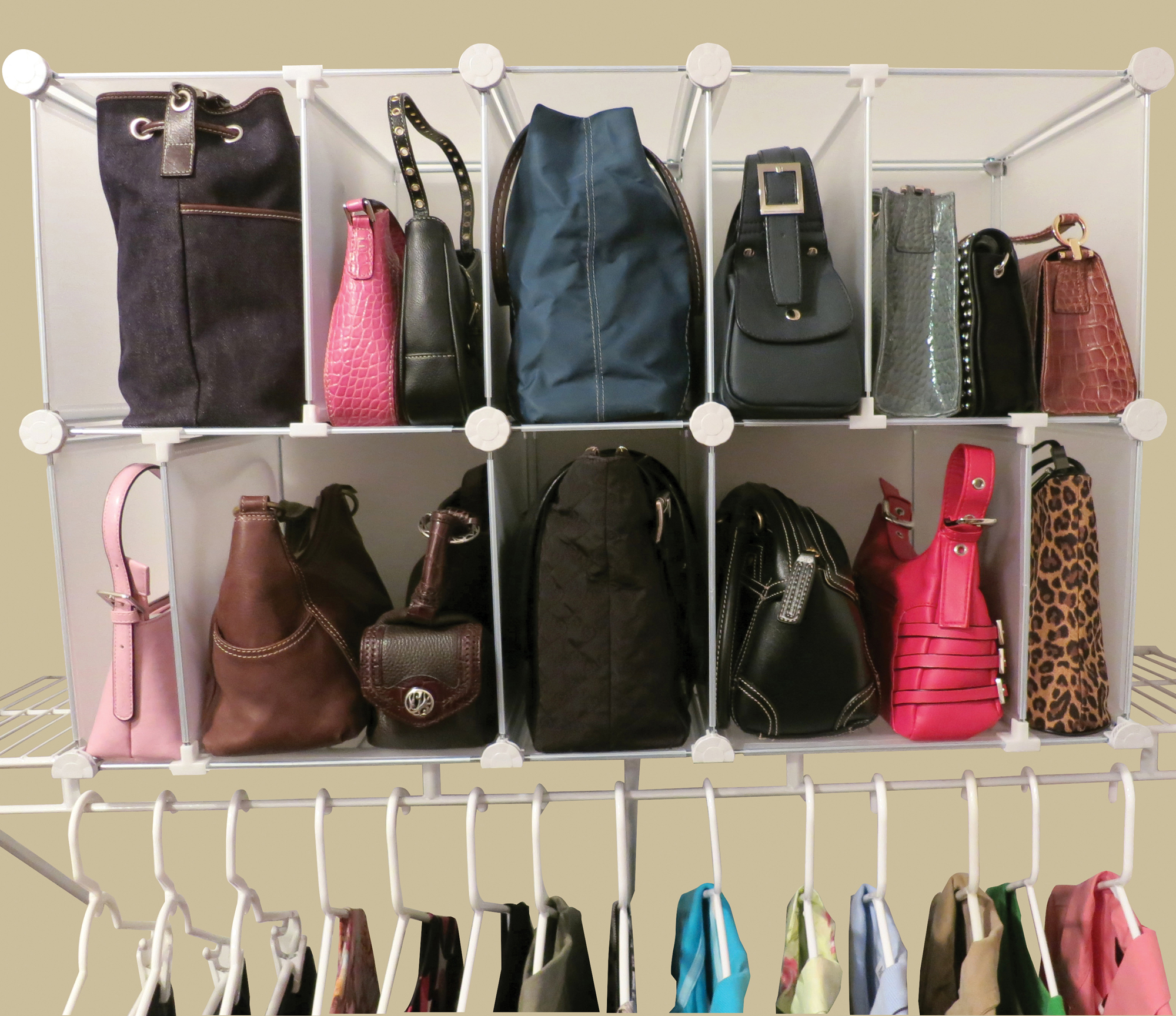 Source: The original source is not available anymore.
You don't have to spend a ton of money to get all of the storage that you need in your wardrobe closet. Simple closet storage ideas like this one are easy on the budget and offer a fantastic solution for small spaces that are in need of an organizational overhaul. For those who are working with little money, look for savings by repurposing old crates or by turning things on their side. Sometimes all it takes is a new angle to see the storage possibilities inherent in an existing item. Think outside the box when foraging your design solutions and you are sure to save money in surprising ways.
28. Cabinets Are Not Just For The Kitchen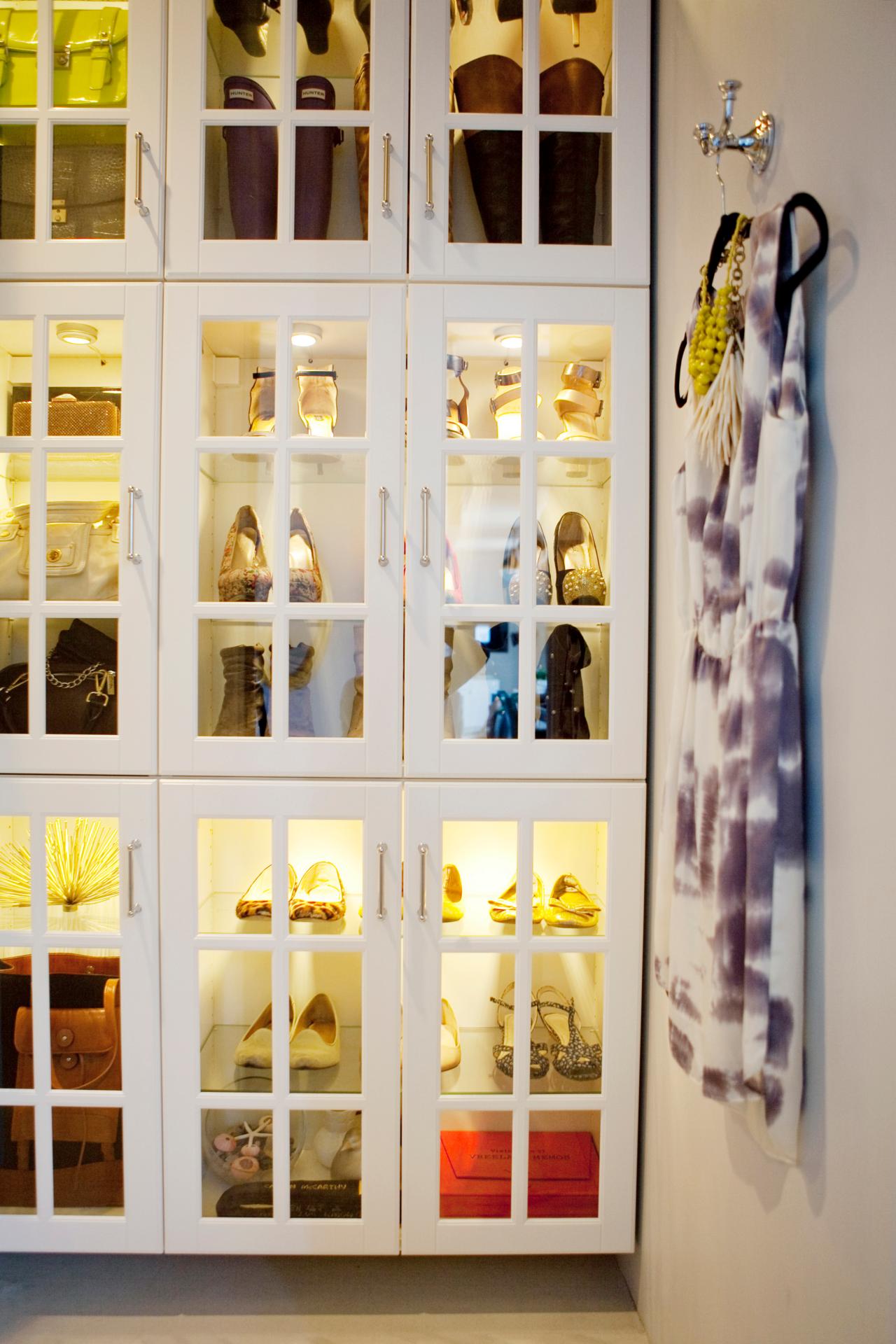 Traditionally you may expect to see glass-faced cabinets such as these in a kitchen setting. However, these lovely cabinets are able to store items other than stemware. Beautiful cabinets are a lovely addition to a walk-in closet area. The perfect marriage of form and function, floor-to-ceiling cabinets like these make fantastic display cases for shoes, purses, and other wardrobe accessories. If you are designing on a dime, consider repurposing old cabinets from a kitchen overhaul. Often these construction remnants can be found for very little money.
29. No Wasted Space In This Closet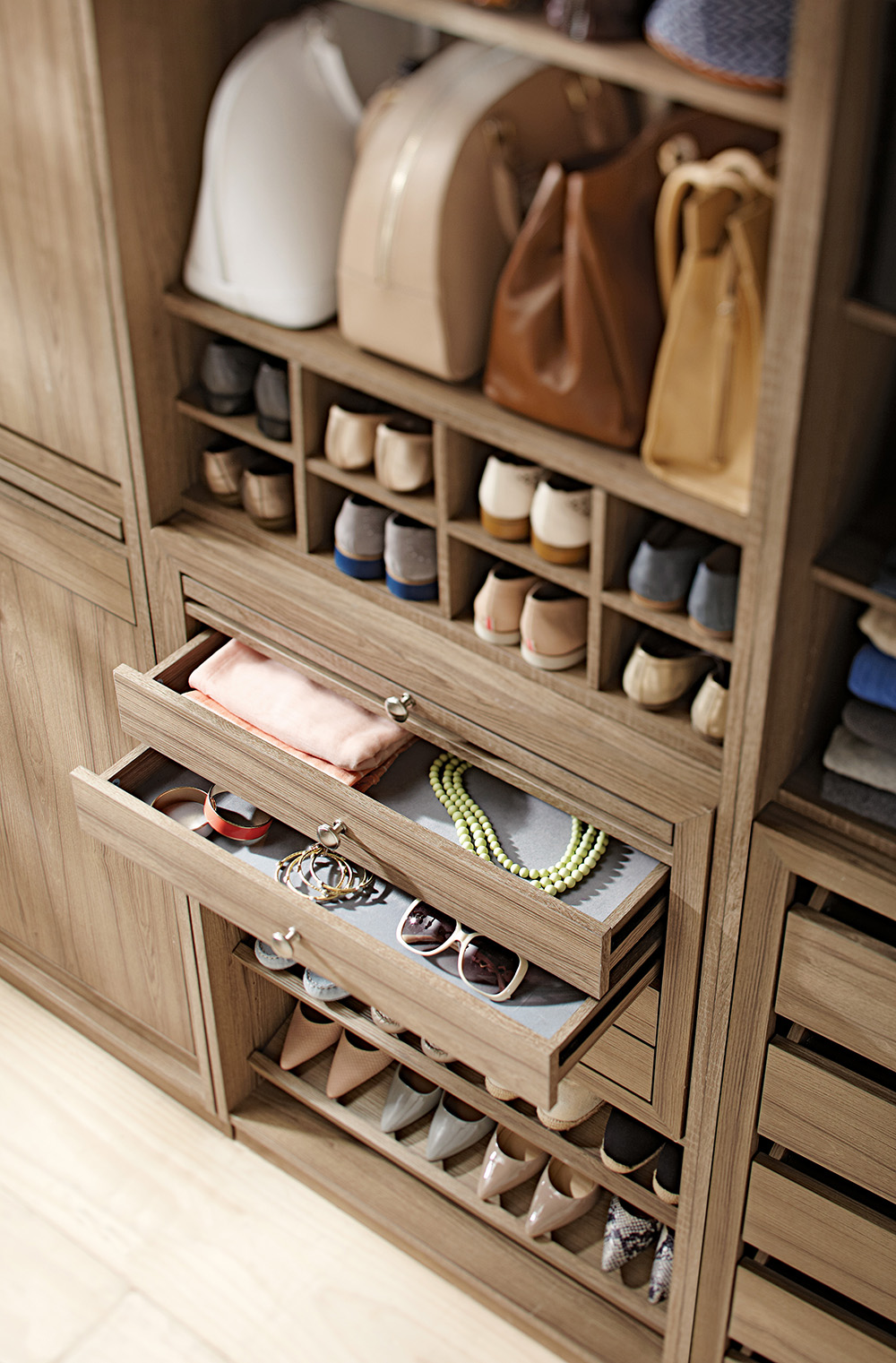 This space's design is a perfect example for those who are in search of closet ideas offering simple solutions for small closet spaces. When working in a small space, it is important to fully utilize all of the given vertical area, and that is precisely what this space has done so well. There is no wasted space in this built-in closet organizer. Every cranny, cubby, and shelf of this wardrobe is filled with closet essentials. Thinner drawers offer a great solution for storing smaller items. Whereas, the larger shelves are able offer resting place for unused handbags. When designing your closet's storage, consider the size of the items that will be stored. Plan on incorporating shelving and drawers that fit your specific needs.
30. The Hallway Closet Dilemma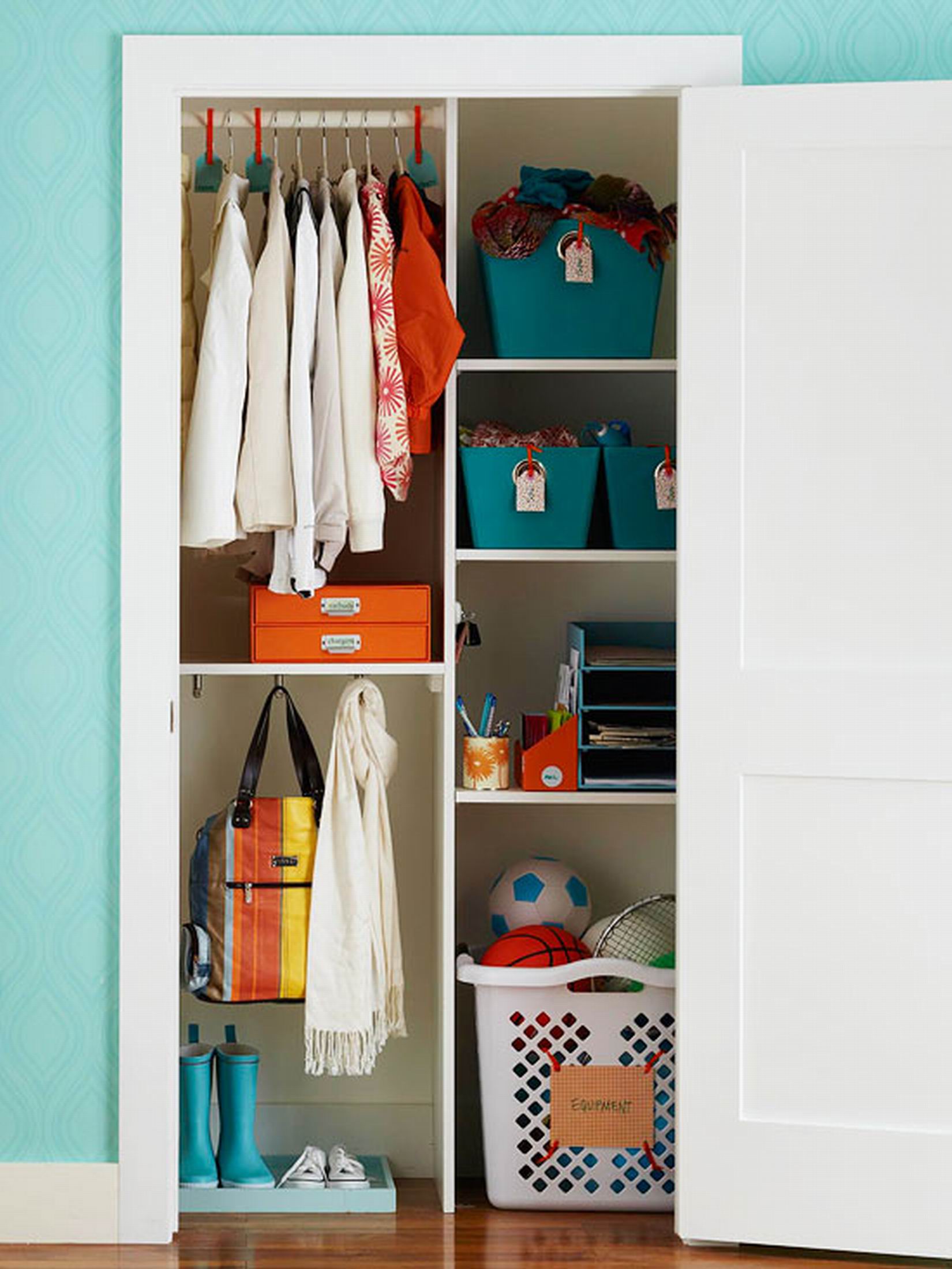 Source: The original source is not available anymore.
The hallway closet can easily become a catch-all for a home's everyday items. When doing a hallway closet overhaul, first se-clutter the closet by pruning unnecessary items and only leave the essentials. Over time a closet areas can accumulate a variety of items that belong in other closets or in other parts of the home. Often times, simply re-housing these items will make way for a surprising amount of usable space. Once clear, you can create new organization solutions for your closet. Adding a shelving system with variegated heights into in a small closet is a great way to offer versatile solutions for home organization. The key to having the storage you need is planning ahead of time. Decide what you absolutely need to keep in the closet and then you will have a better idea of the storage you will need. Hooks, hangers, and bins can be purchased and installed once you truly understand your closet's needs.
31. A Little Extra Storage Goes A Long Way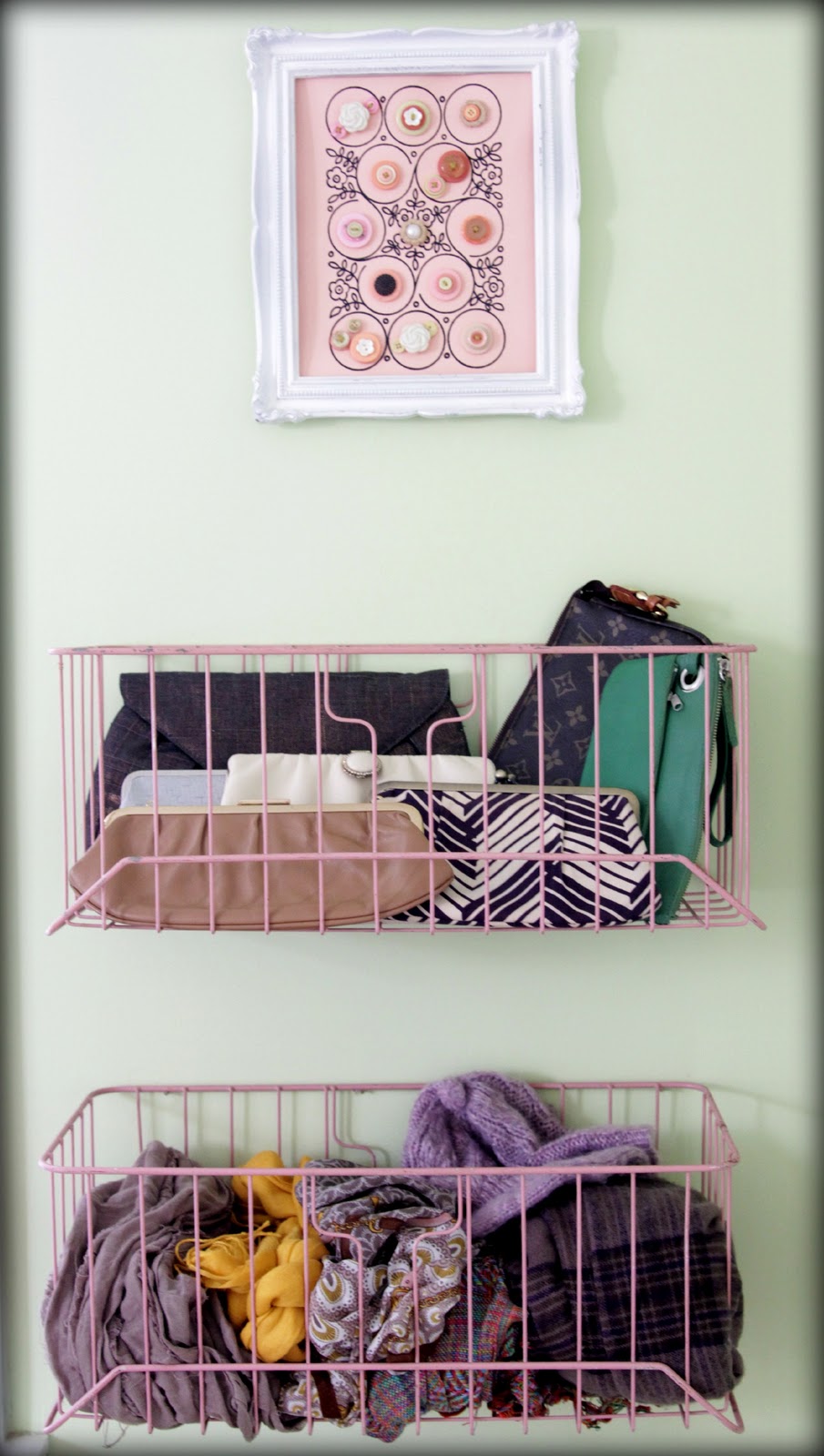 Source: The original source is not available anymore.
A little extra storage can go a long way when reorganizing a closet space. If you are short on depth or dimension, consider hanging baskets on the inside of your closet door or an unused wall as a solution to your small space dilemma. Matching wire bins, such as those that are featured here, are quite beautiful when placed in the company of matching home decor. The wire bins featured in this photo compliment the decorate picture hanging just above the functional forms. Small well-thought out displays allow the functional items to become a part of the home's overall decor and allow the storage to add rather than detract from the home's design aesthetic.
32. Label Everything And Save Precious Time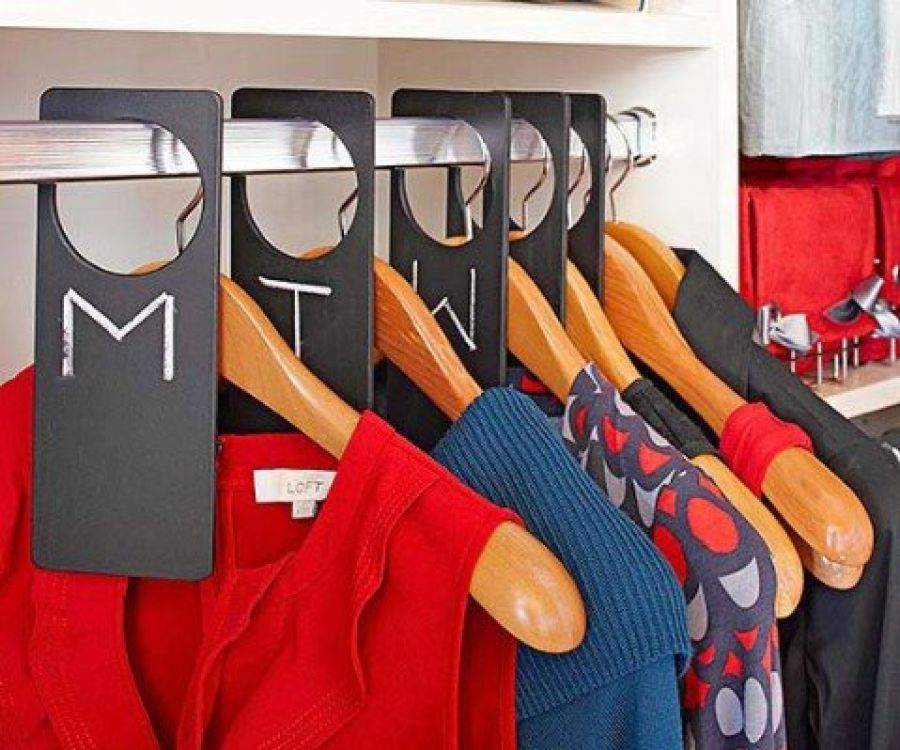 Source: The original source is not available anymore.
Are you tired of scrambling at the last minute to get it together in the morning? If you, like so many others, consider your morning time as a precious commodity, then you will be interested in discovering ways to save precious little time you have. Consider the photo above; these handy wardrobe separators will label your outfits for the entire week and save you time in the early morning for the things that matter the most. With the help of these easy-to-read labels you can sit back, relax , and enjoy your morning with a hot cup of coffee and the knowledge that a perfect outfit is waiting for you.
33. You Got To Keep It Separated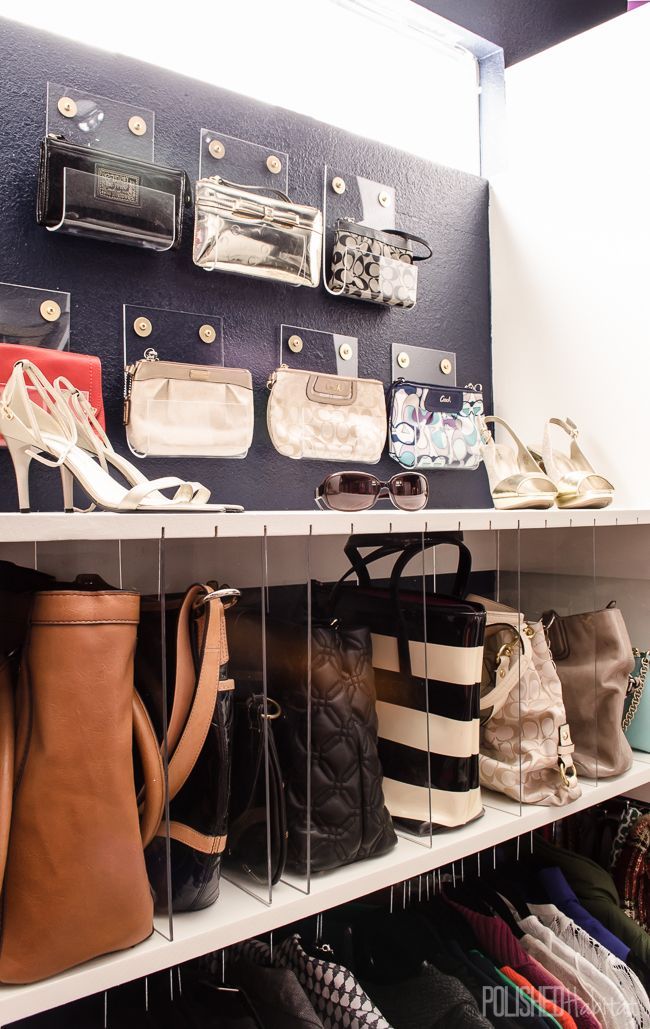 Storing purses is always a difficult task. The shape and size of the bag is what dictates how the purse can be stored. Women are always looking for new and innovative ways to store their purses when not in use. Stashing your bags on the top shelf just got easier with these clear bag separators and wall-installed clutch holders. These fantastic clips are the perfect size to really get a grip on clutches of any size. Additionally, these handy solutions make a lovely statement and allow your designer bags to really shine.
34. A Modern, Dramatic Statement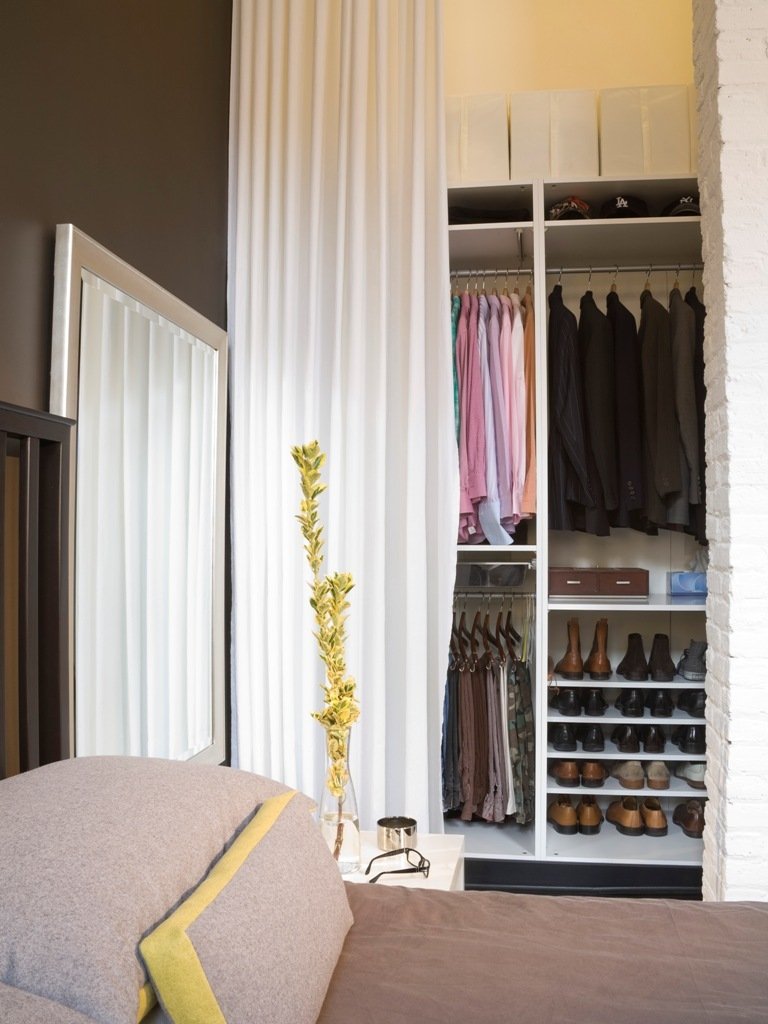 Source: The original source is not available anymore.
Sometimes it is the simplest items that have the largest impact. The long white vertical curtain, hung from high above, makes a dramatic statement in this ultra modern space. The curtain forms a long elegant line that extends the height of the room and the visual reach of the closet. Tucked tastefully behind the curtain is a spare, tasteful, and well-organized closet area. Compartments separate clothing items as the closet's shoes are neatly tucked away onto smaller shoe shelves.
35. Stacks And Stacks Of Boxes
This closet features stacks and stacks of clear organizational boxes and manages to make it work. Many times, you will see a closet with one or two plastic bins. However, a space like this proves that you can never have too many of these ubiquitous organizational items. Perfectly protected, perfectly stacked, and perfectly organized, spaces like this appeal to the organizer in all of us. However, we do recommend, when storing items in bins, placing like items together and always labeling, even when using clear totes.
36. Perfectly Peachy Walk-in Closet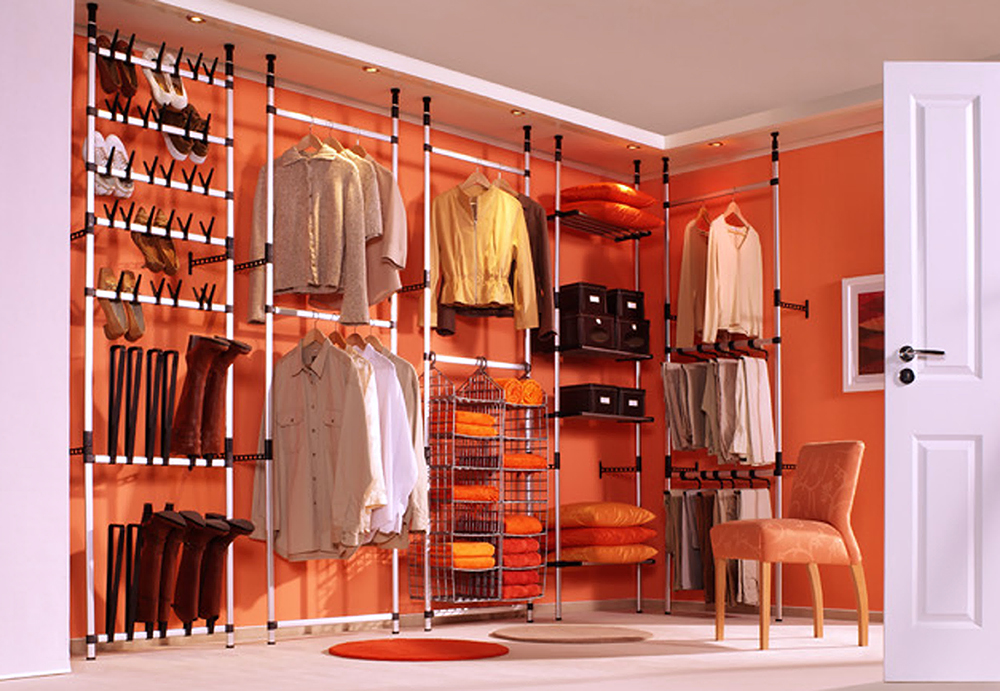 Source: The original source is not available anymore.
An extra bedroom or unused office space can be easily converted into the closet of your dreams. For those who are renting, consider temporary shelving or closet organizational units that can be easily removed. This perfectly peachy room has all the appeal of a large walk-in closet with the added bonus of great recessed lighting. Just above the shelving units, sit pot-lights that make it easier to find the right item or match the right color. Spaces like this prove that there is nothing that can stop you from creating a closet that you truly love.
37. Extend Your Home Design Into Your Closet Area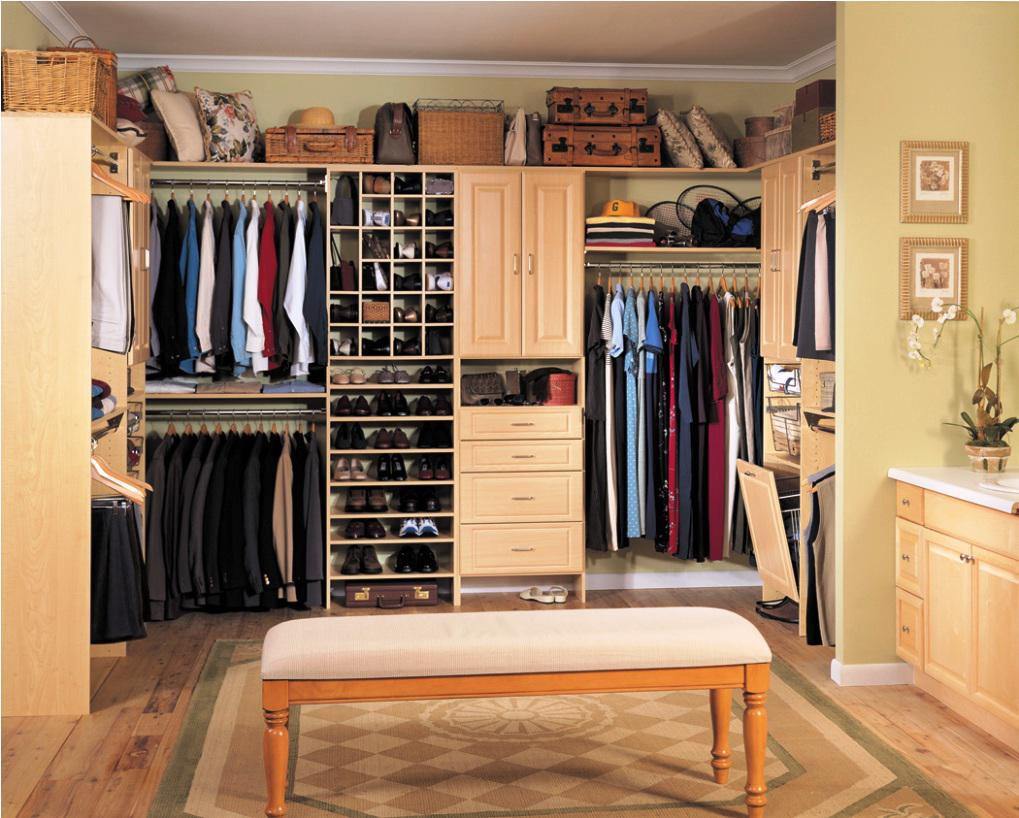 Source: The original source is not available anymore.
The words quaint, rustic charm come to mind when describing this elegant country closet space. Less-than-traditional wicker baskets and picnic carriers line the top shelf of the large closet space. Timber flooring, an earthy rug, and a tan bench come together and create a comfortable sitting room within the closet's cozy center. When designing your dream closet, incorporate your overall home design into your space. Closet areas like this one are great examples of fully incorporated spaces that extend rather than differentiate from a home's overall design aesthetic.
38. High-end Drama With Little Fuss And A Low Budget Solution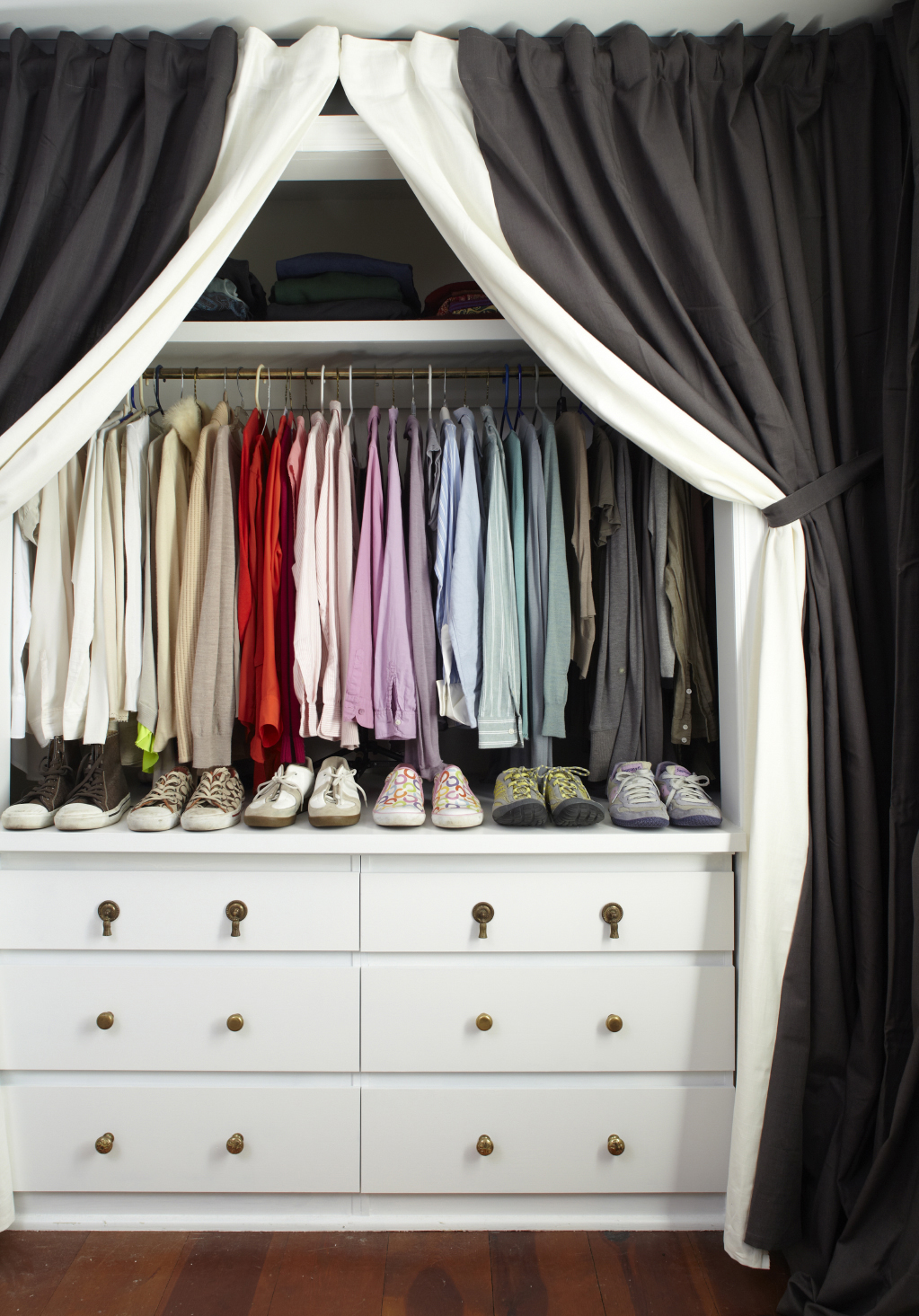 This closet makes a dramatic showing of a perfectly organized wardrobe. Color coded shirts hang above a perfectly sized dresser. This closet achieves a high-end look with the use of precious few resources. To recreate this look you will need to replace the doors of your closet with four panel curtains in two contrasting shades. Once the curtains have been added, the addition of a perfectly sized dresser will finish off your high-end closet look. If you are working with a small budget this look can still be achieved. If you are on a tight budget, A new coat of paint and a set of new hardware on an old dresser will do.
39. Floating Organization Creates Perfection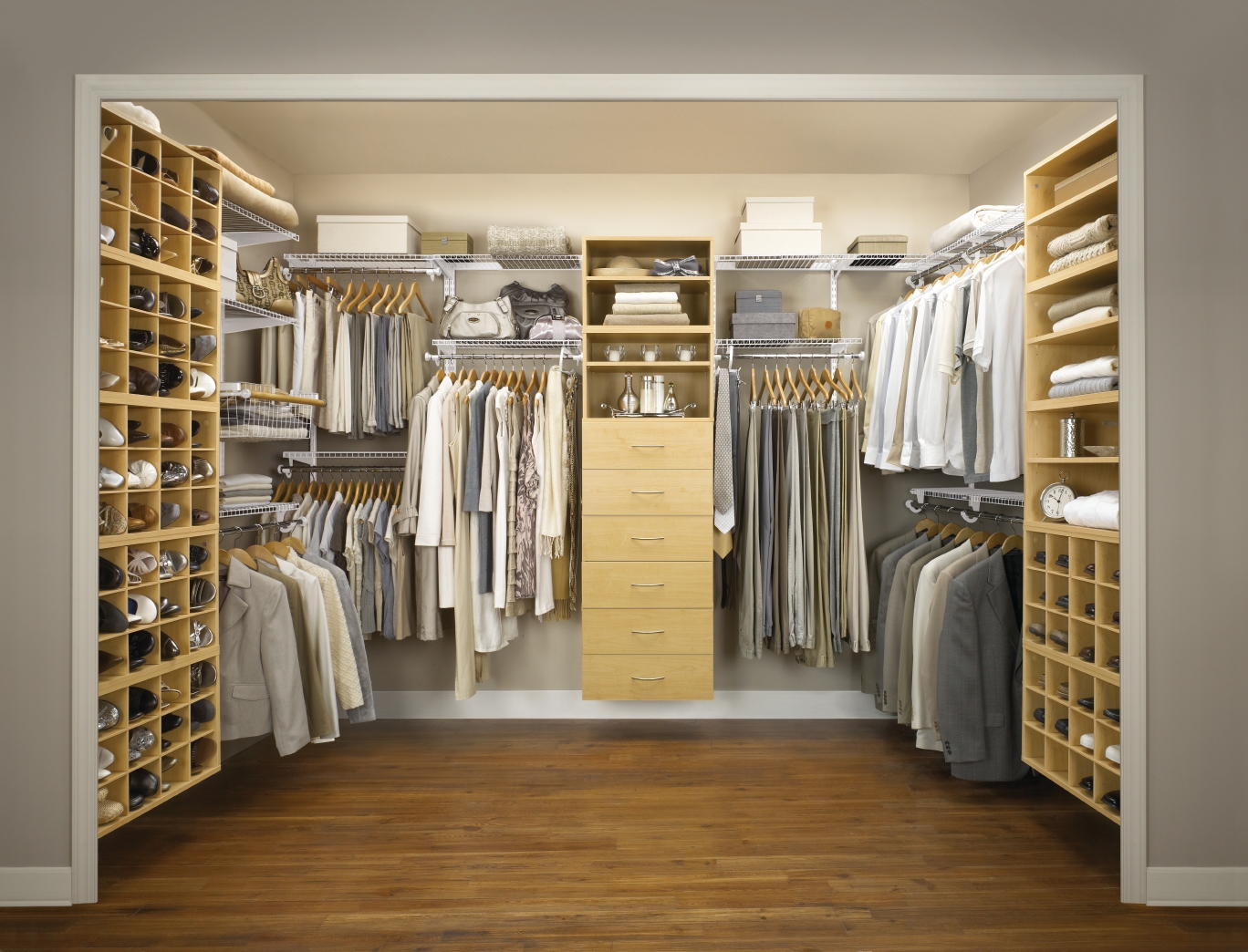 Source: The original source is not available anymore.
You cannot mess with perfection. You don't need to hide a closet that looks as good as this one. Floating shelves and drawers create a heavenly look in this picture-perfect space. The gray, tan, and white color scheme are the backdrop for a well-thought-out closet space that is sure to captivate any the heart of any and every homeowner.
40. High Impact Wall With Bonus Jewelry Organizer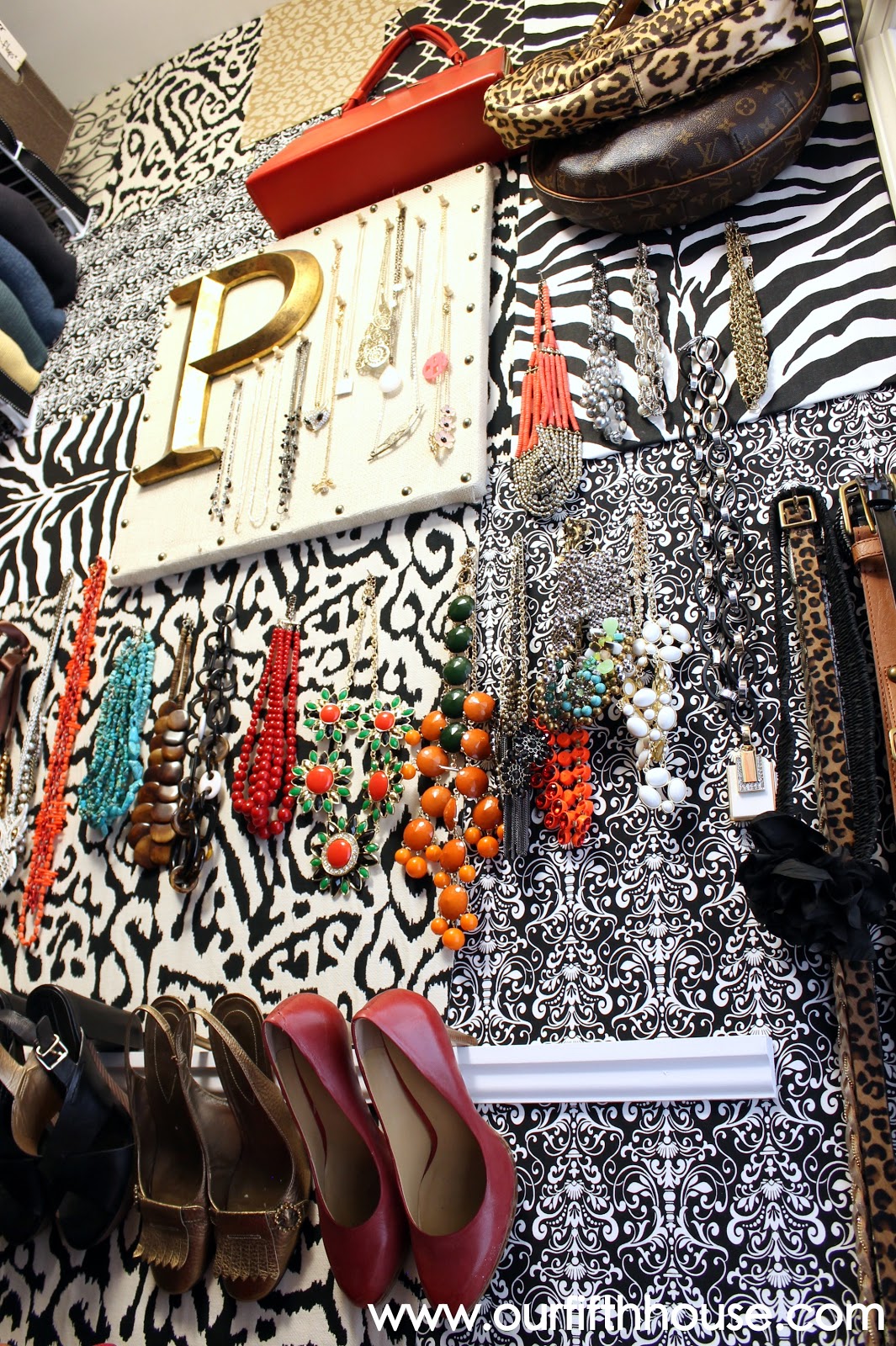 This closet wall really makes a statement. High drama is achieved through the use of mis-matched animal prints and black-and-white pattern play. The quilted effect achieved through the use of the patterns covers a wall and gives a high-impact area on which to hang wardrobe accessories and jewelry. To make this look your own, simply choose patterns that suit your own personal style and tastes. Stick with like colors to create your own accent accessory wall.
41. Add Your Own Flair To Your Closet Space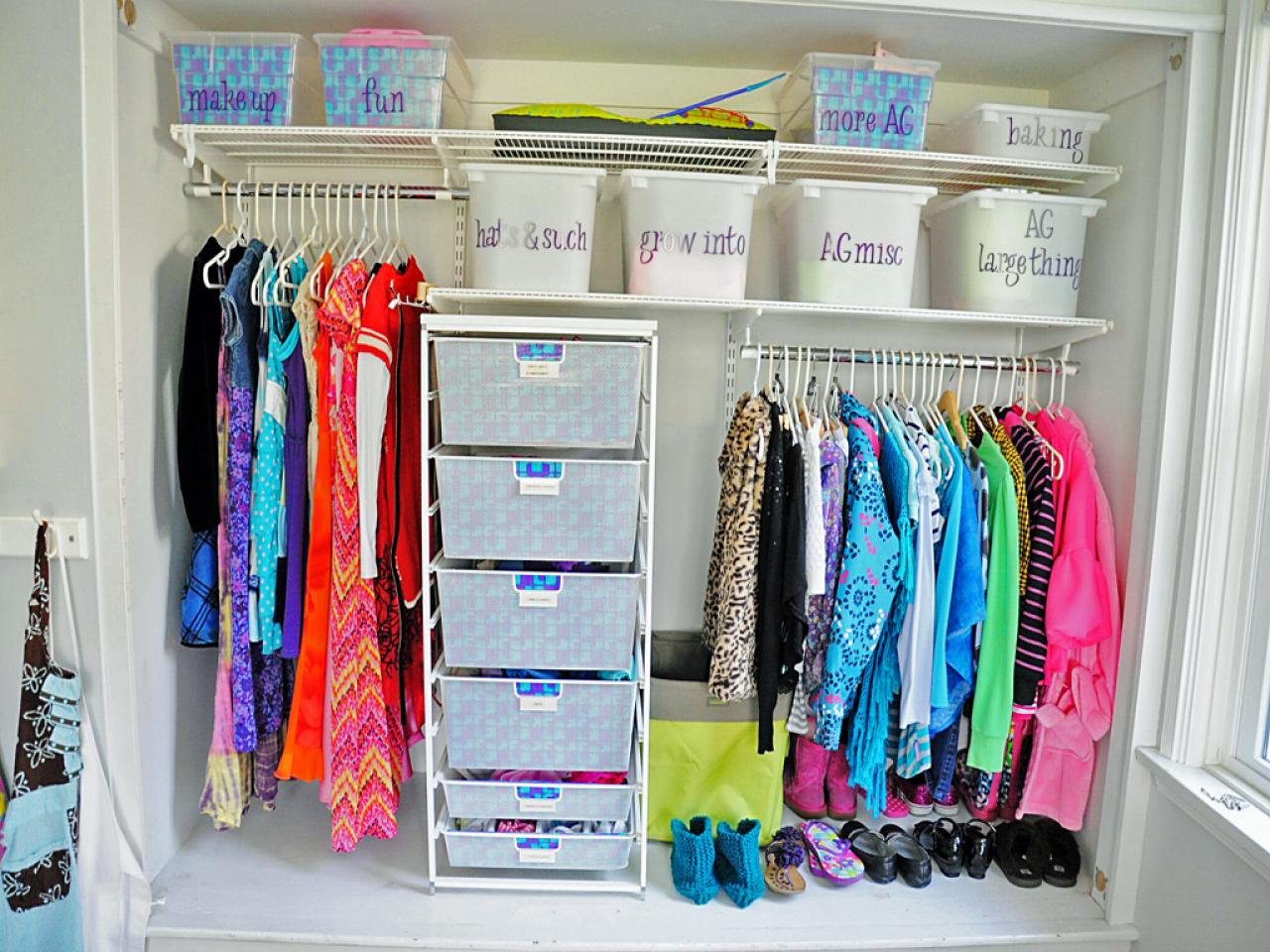 Many complain that organizational bins lack style and appeal. This closet offers a solution to the dilemma posed by dull organizational bins. Spice up simple organizers by adding your own flair. Patterned drawer liners peek through partially opaque organizer bins in this colorful wardrobe. Colorful patterns are not the closet ideas that make this closet noteworthy. The closet's labels, added to every drawer and bin, make this closet a fantastic example of closet organization at work.
42. Sleek Black Finishes Create A Sophisticated Design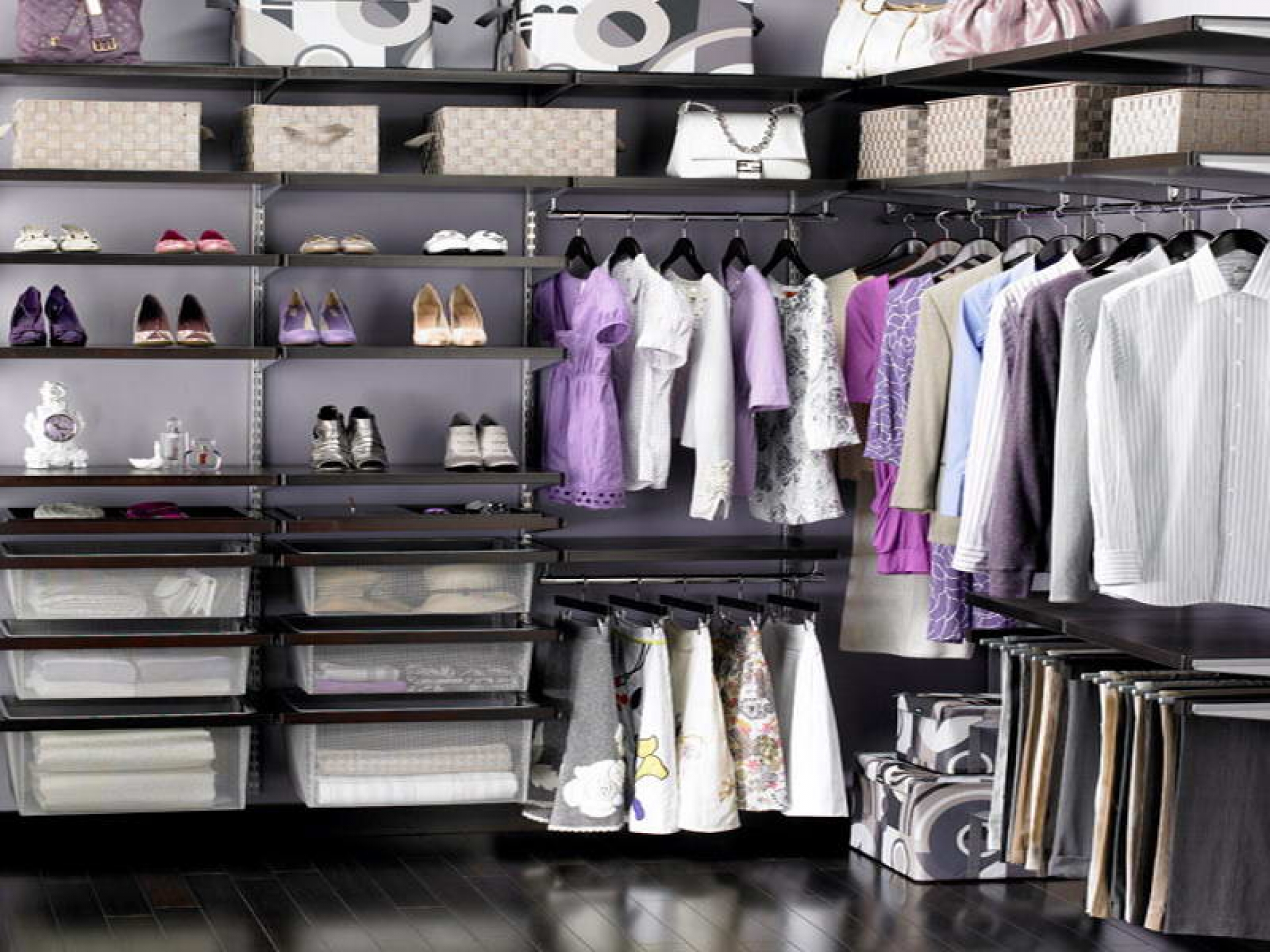 Sleek black finishes create a sophisticated and polished look in this posh closet space. Pull-out-drawers and shelves hover effortlessly above shiny black floor-boards. Touches of lilac and gray cement the room's well-thought -out color scheme and add to the design's cohesive look. The overall tone of the room is one of modern grace and is perfect for both women and men of refined taste.
43. Use Every Inch Of Space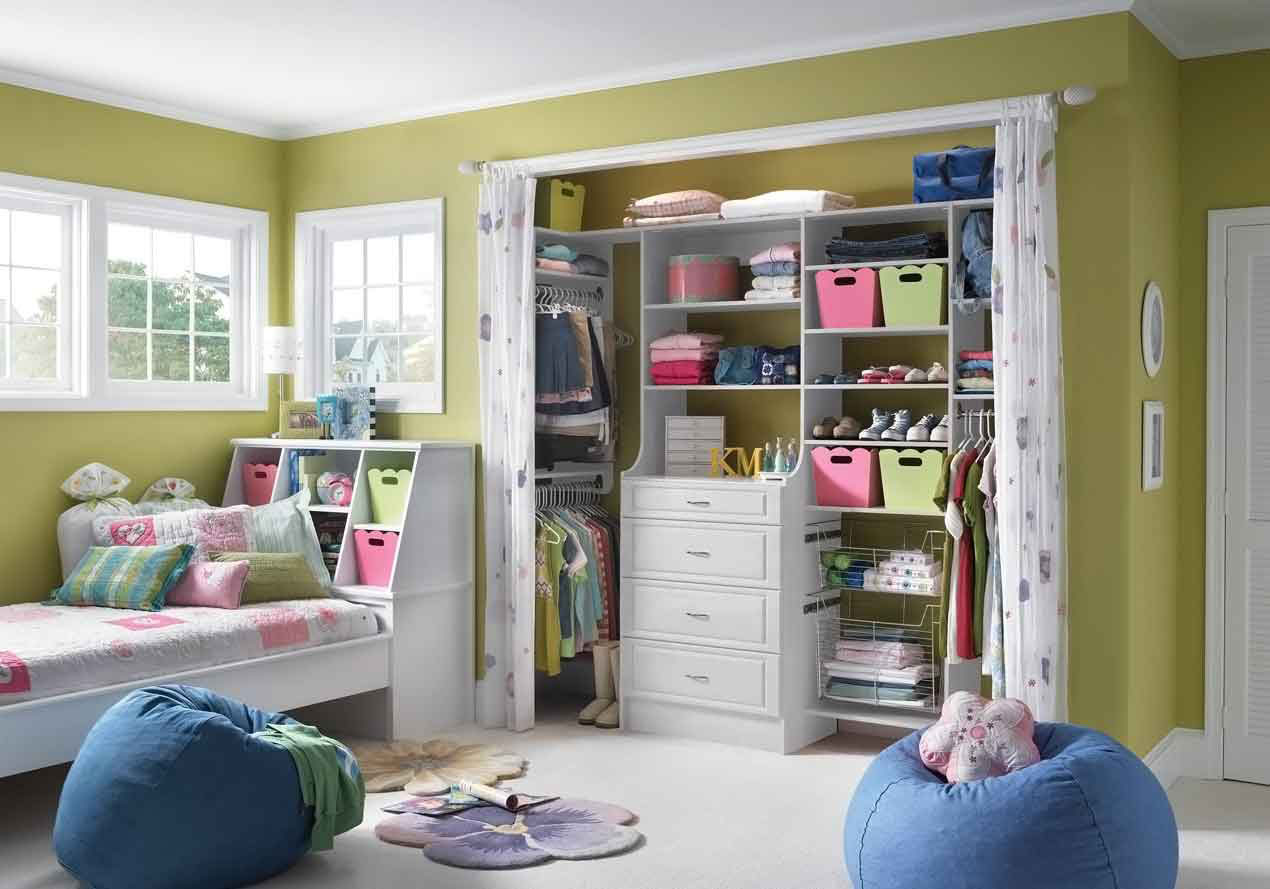 Source: The original source is not available anymore.
Making the most of its small space, this closet uses every inch of space in a unique or surprising way. The far left of this nursery closet shows several tension rods hung parallel to the closet's depth rather then than running along the entire length of the closet. This clever use of space frees up a large portion of the closet to be used for other storage options. Additionally, the closet doors have been removed, opening up the entirety of the closet's space for use. This closet's thoughtful use of space is great inspiration for those looking for storage options that satisfy the needs of a small space.
44. Store The Small, Tall, And Awkwardly Sized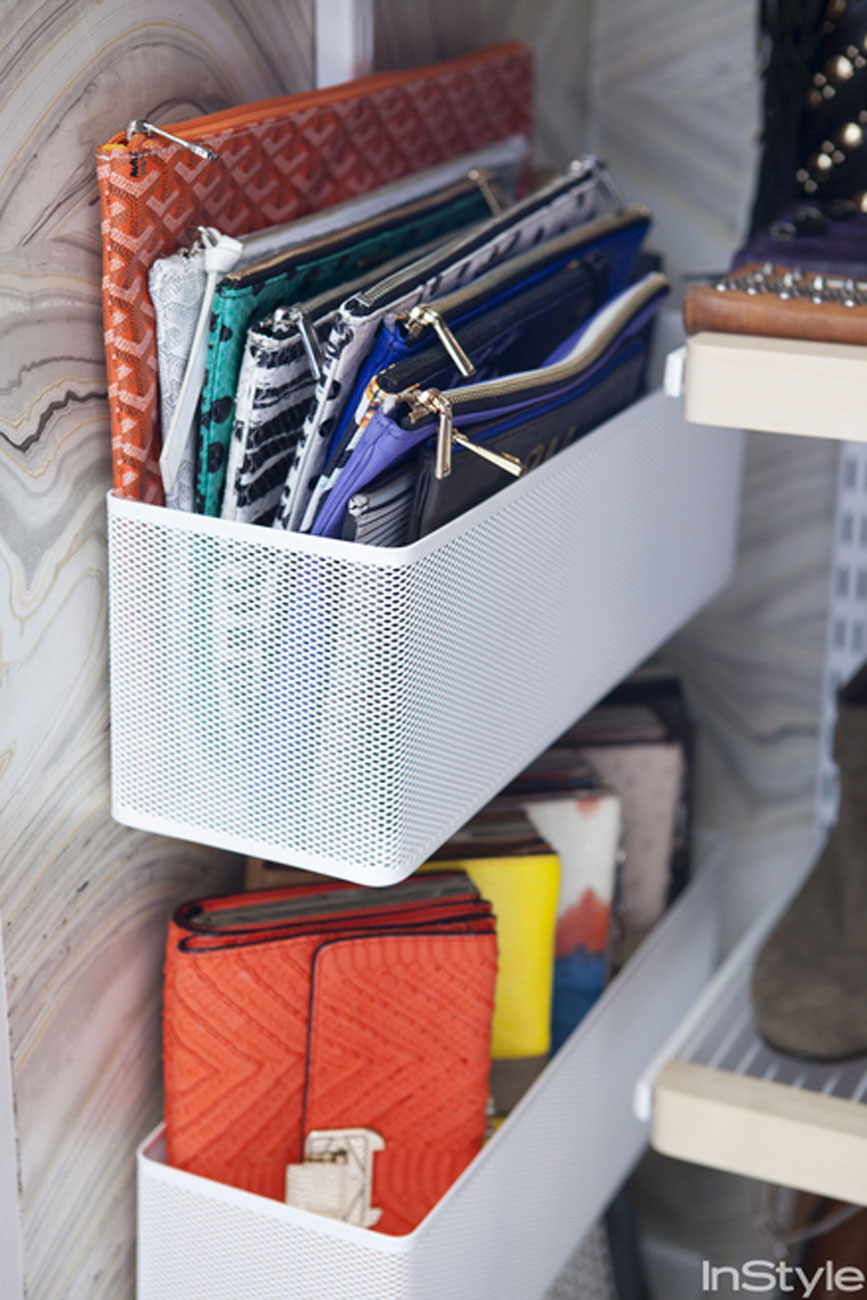 Small storage bins that are hung within a closet are able to offer surprising solutions to everyday storage problems. Items like, charge cables, wallets, and small toys often pose design challenges when considering storage. For homeowners with an excess of small items, wardrobe accessories, or awkward items, these cute displays are able store the items while allowing them to be easily accessible.
45. A Not So Permanent Collection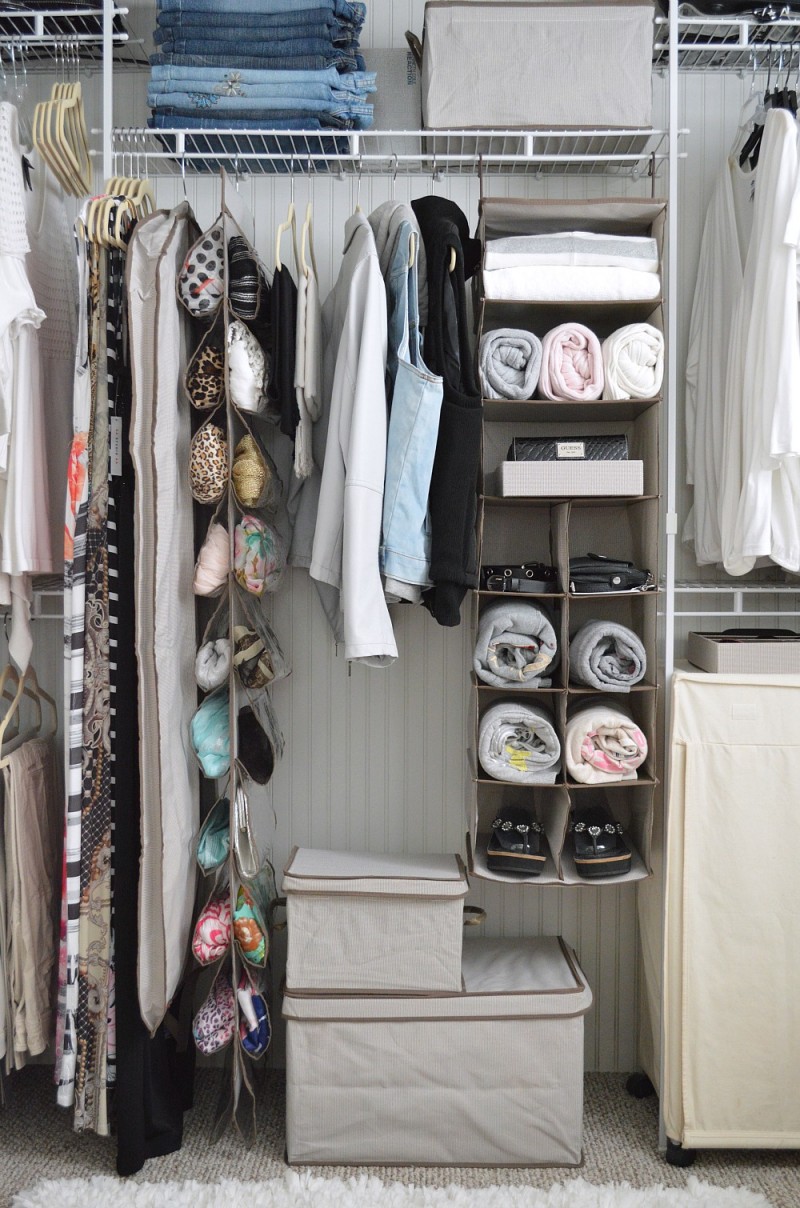 Collapsible storage is great for those who are not committed to a space or for homeowners who rotate their wardrobe on a regular basis. Additionally, hanging storage shelving and collapsible boxes are available in a wide range of sizes and design's styles.
46. Double The Duty, Double The Function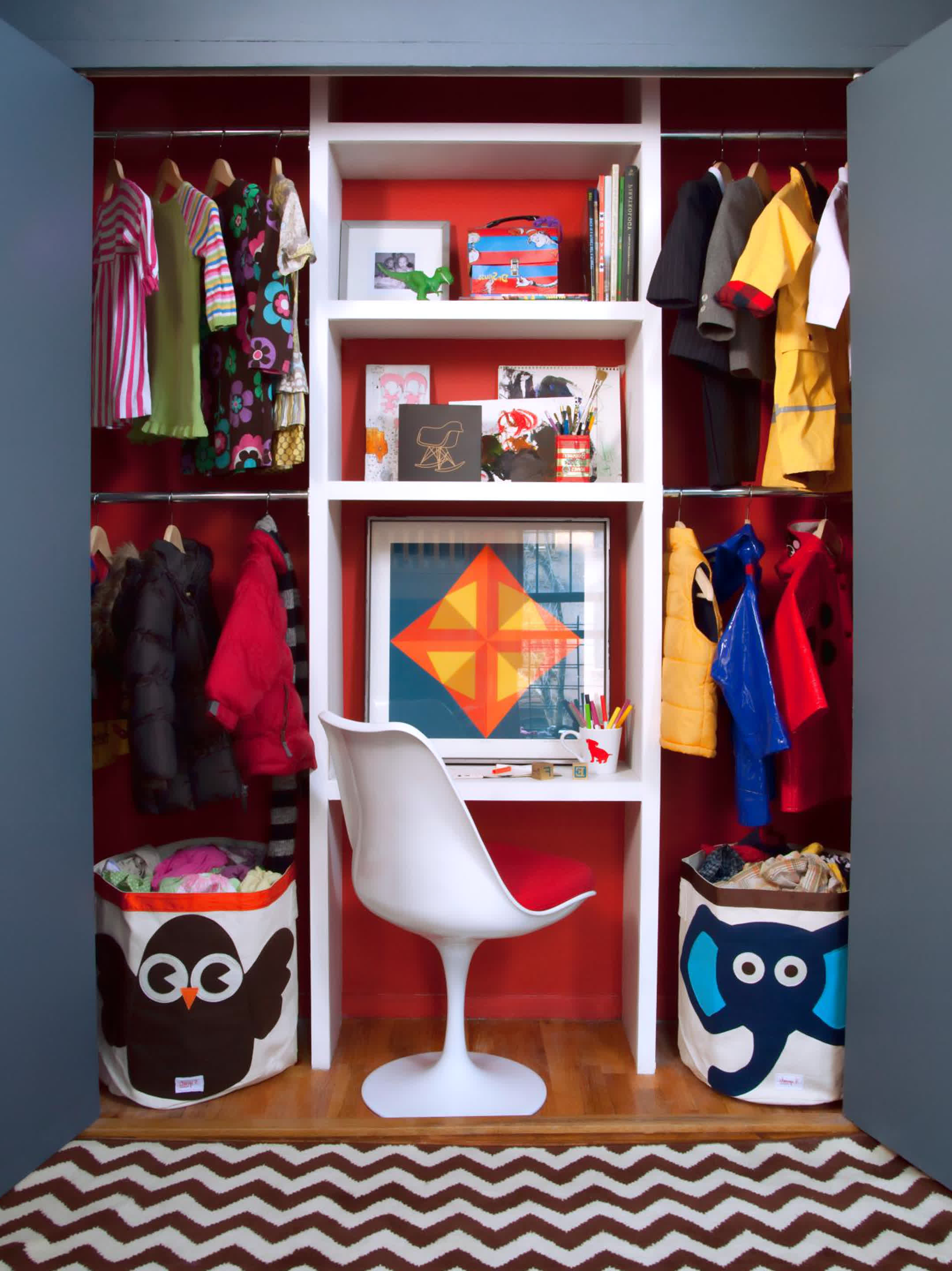 Source: The original source is not available anymore.
Clear out some space in your closet and you may have enough space for an entire office. This lovely closet works double duty as a homework station and an immaculately organized closet space. Fun and functional, the colors in this closet are far from the most interesting thing about the design. The bright orange accent wall, throughly modern chair, and cute animal storage bins form a space that can grow with a child's evolving needs.
47. Pegboard Wall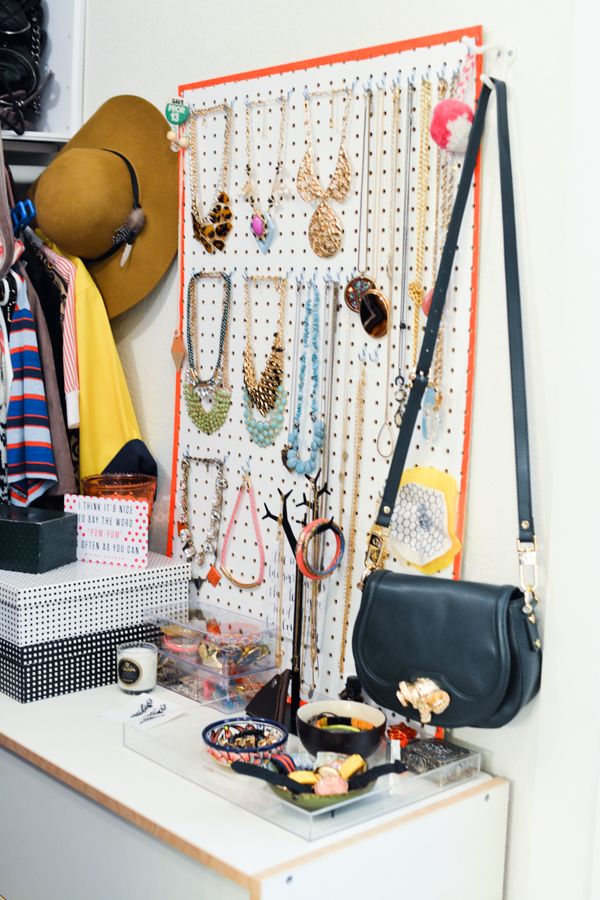 Source: The original source is not available anymore.
Not just for your grandpa's tool-shed, pegboard is a fantastic and affordable way to create a cute jewelry display. Placed on top of a dresser or lining the side of a closet, pegboard is a versatile solution to everyday storage dilemmas. Pegboard could also be used for scarves, belts, purses, and more.
48. Hang It Right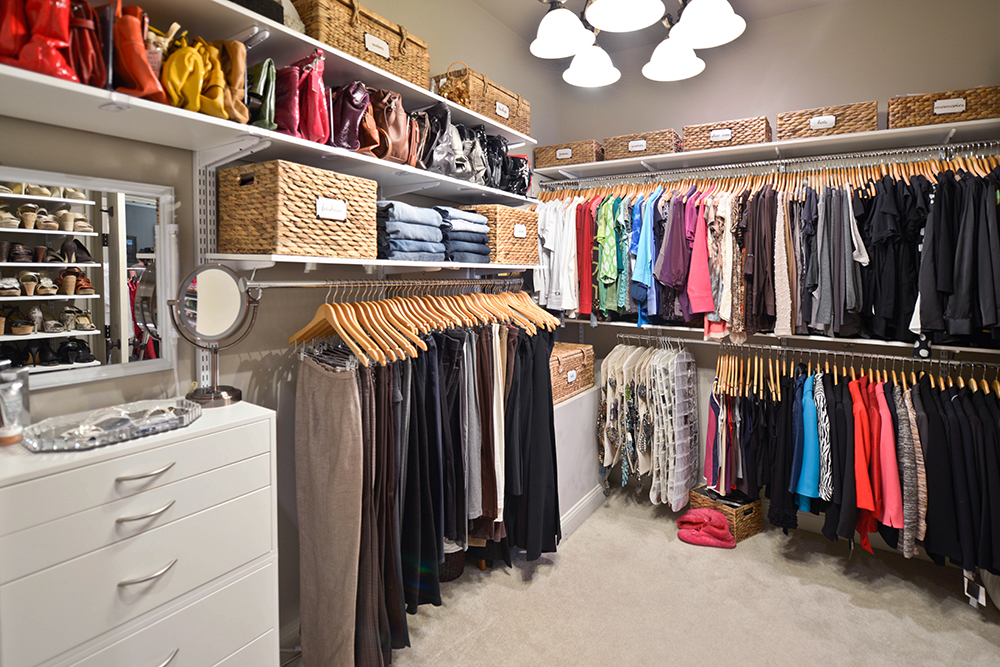 Highlighting several organizational techniques, this closet is a great example of what to do when re-organizing your closet. First separate items into categories and then file away. Label everything and systematically hang or place the rest. This wonderful space hangs organizes its clothes, shoes, and purses by color. Coordinating colors are an easy way to organize your clothing so that you can easily find what you need.
49. Creative Solutions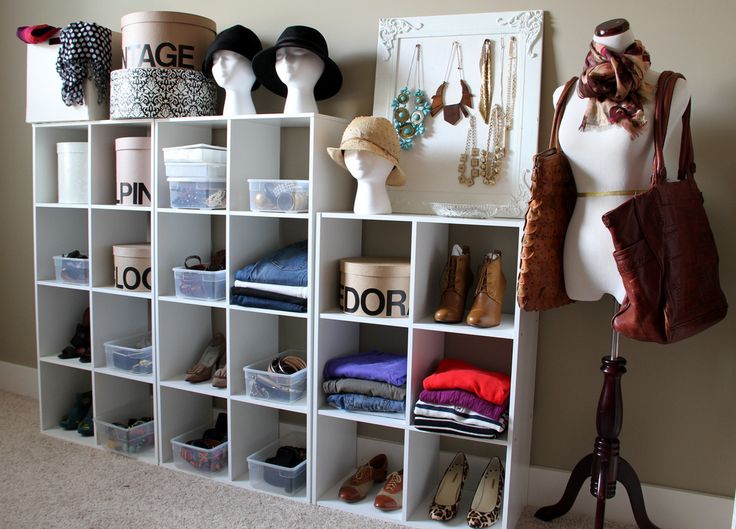 There is always room for a cute wardrobe display. The fun ways to display your wardrobe are endless. The closet space pictured uses a few fabulous techniques including the use of a mannequin, a framed jewelry board, and hat-boxes. Labeled hat-boxes are a great way for those who love hats to safely store their fedoras, bowlers, and cowboy hats.
50. The Beauty Of Organizing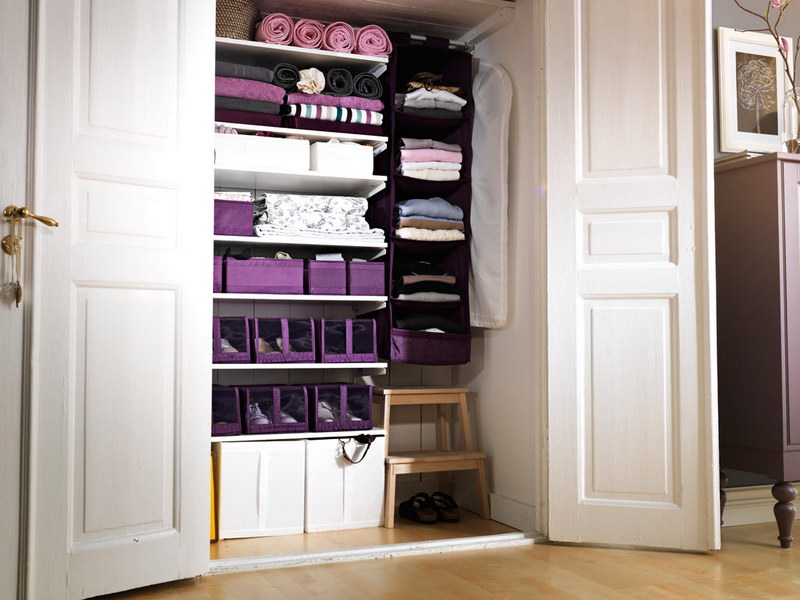 Source: The original source is not available anymore.
After looking at this closet you may look at your linens in a different light. This fantastic space shows the organizational possibilities that exist with the simple space of an everyday linen closet. Rolled towels, neatly folded stacks, and small storage boxes are some of the many beautiful ways this closet creates beautiful, organizational displays.
Are you wondering how to organize your closet?
Here are a few tips to keep in mind when overhauling your closet space.
First clean out your closet – Every closet overhaul begins by cleaning out the mess.
Out with the old – Get rid of items that are no longer in use
Organize what you keep – Categorize and organize your items
Keep your lifestyle in mind – When planning your closet, consider your lifestyle. For instance, if you often change your purse then keep your purses in an accessible area
Measure your space – Don't buy a complete closet system before measuring your space
Add back items in a way that makes sense – Place like items together and create a system for your closet's contents.
Powerful Closet Organization Ideas And Designs
Every imaginable space can be organized with the proper implementation of the creative closet ideas and solutions for storage. Walk-ins create opportunities for unbelievable storage and inventive uses of space. When dealing with a large space it is ok to think big. Create storage for seasonal clothing. Put away what you are not using and create dazzling displays for your shoes, handbags, and accessories.
Smaller spaces can prove more challenging but, like their larger counterparts, complete organization can be achieved with the right resources. Consider, all your options when overhauling your small space. Don't be afraid to think outside the box and use new materials in unexpected ways.
Rental properties pose special challenges. A closet organizer that is either collapsible or that is not a permanent fixture is a wonderful solution for a temporary space. Additionally, lightweight shelving, bins, trunks, and hat-boxes are storage options that can easily move with you.
When designing on a budget, try to use what you already have. Re-purposing items is a great way to save money on organization. Re-painting existing dressers and updating hardware are great ways to update the look of a space. For a new look, try an accent wall or place like colors together. Materials from unexpected places can be used in unusual ways. For instance, pegboard is a wonderful way to display jewelry and other small items.