Think about your morning routine. You get up, brush your teeth, and go to your closet. Finally, when opening your closet doors, you're faced with a disorganized and unsightly mess. Does the chaos in your closet cost you time in the morning? How much easier would your life be if you could just stop thinking about the mess that lingers beyond those doors and get organized.
It can be done. With thousands of organizational systems on the market today, an organized closet can be achieved. Closets of every kind can be created with the proper forethought and planning. When planning a closet overhaul, you will first need to take a good, hard look at the contents of your closet and determine the kind of storage solution that will best fit your needs. When planning your closet makeover, be sure to measure your closet so that you can implement a new closet storage solution that perfectly fits your space.
How To Reclaim Your Closet – Powerful Closet Organization Ideas for this Year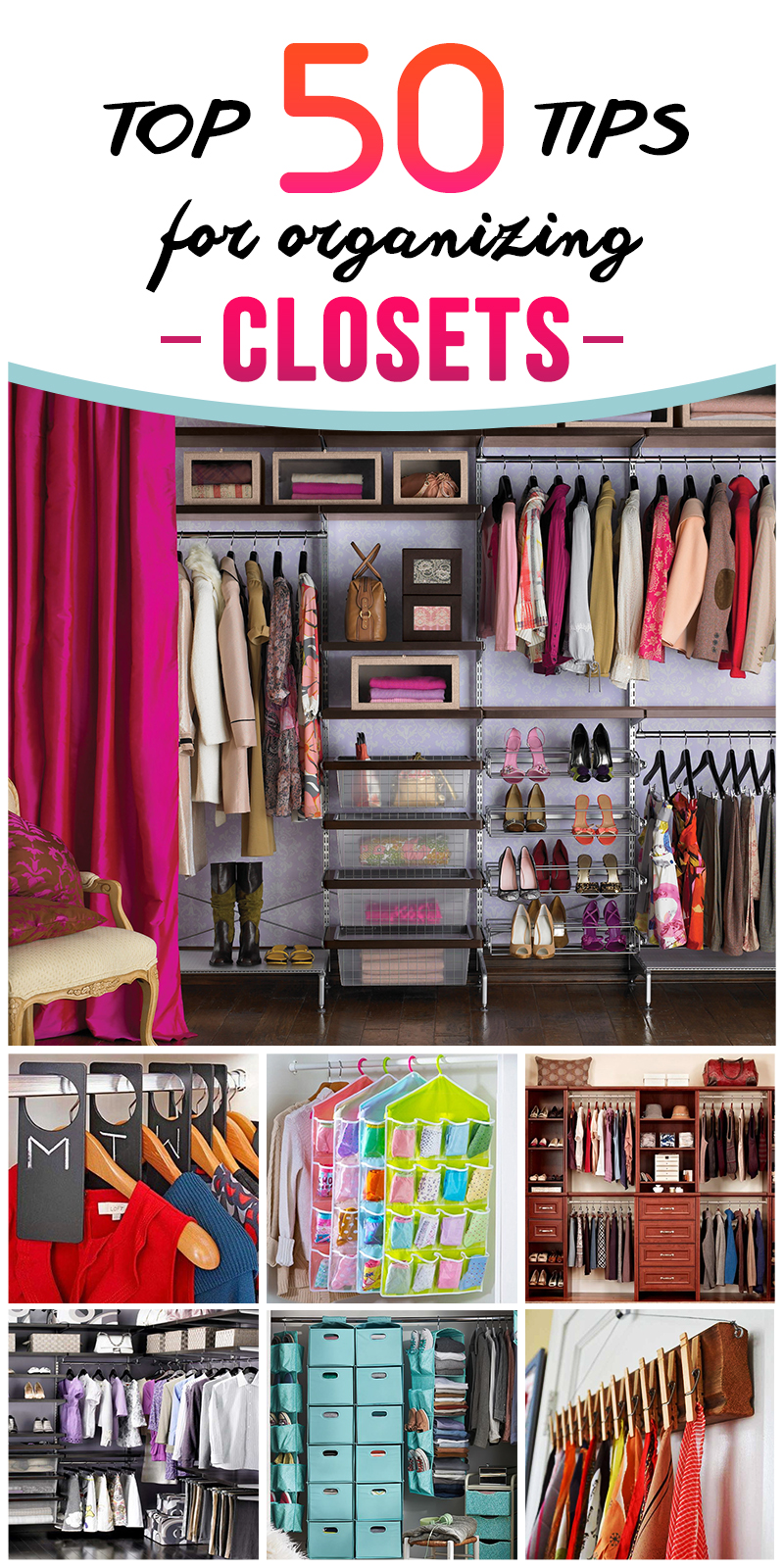 There are many storage systems that can make the most out of the limited space you have. For closet spaces of all sizes there are ways in which you can enhance your natural space. For those working with a smaller space, small closet organization may seem like a daunting task. However, with the right storage solutions, it can be easily achieved. No matter if you have a walk-in closet or a tiny wardrobe closet, home organization can be yours. Systems with hanging cubbies, hanging bars, and drawers can help you achieve maximum organization in spaces of any and every size.
Please be advised that you should not purchase your closet organizers until you know the exact dimensions of your closet. Before measuring your closest or installing the closet organizer system, you will first need to clear everything out of your closet. Before you begin working, designate an area for staging your closet's contents. Next, empty everything out of your closet into the staging area staging area. Use this time as an opportunity to prune away the old and make room for the new. Discard items that you do not use and sort the remaining items into categories.
Once your closet has been cleaned out you will have a better idea of the sort of closet organizer that you require. Measure your closet carefully and purchase your closet organizers with your individual space in mind. After the items have been organized, you can go ahead an install your new closet organizers. Once installed, put away all of your closet items. Lastly, breathe deep and enjoy your brand new, perfectly organized closet space.
1. Pretty In Pink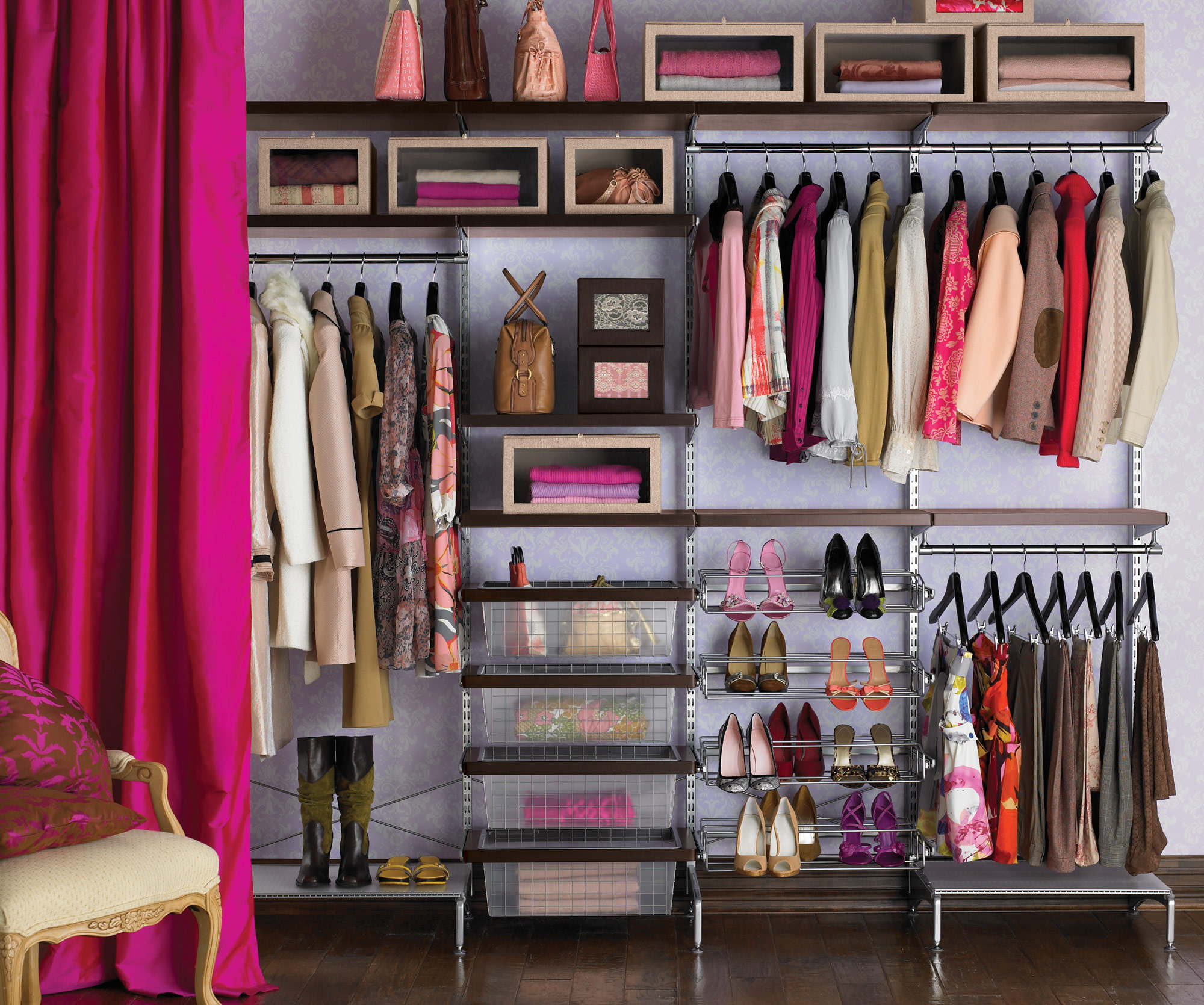 Who says that closet organizers need to be drab? Closets such as this one prove that home organization can be beautiful and colorful. You too can bring some color into your world and your closet. Consider, painting the back wall of your closet with an accent color or framing your closet with a curtain in a contrasting shade of pink. When framed with the right colors your closet can take center-stage and really shine.
2. Anything But Blue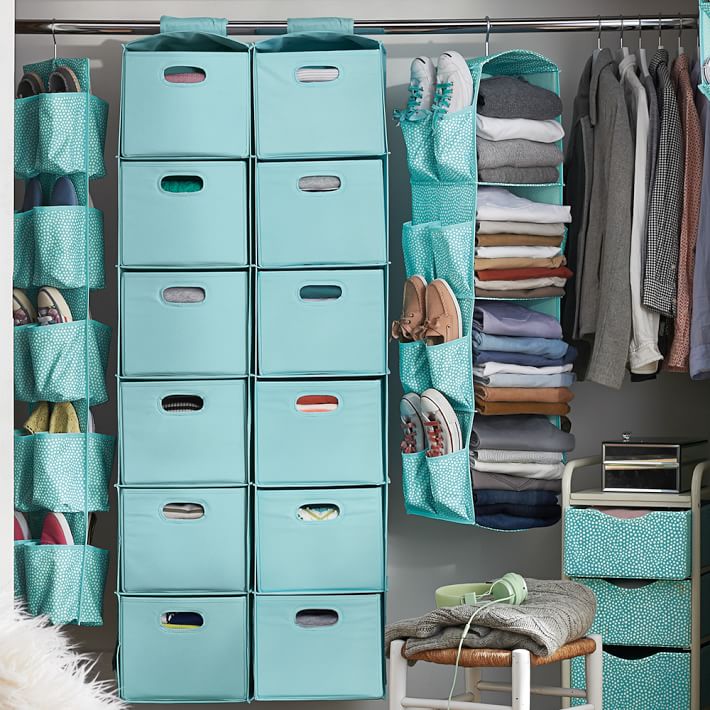 These storage solutions will leave you anything but blue. Perfectly minted to match the needs of an accessory heavy closet, the closet organizers employed here will take care of your shoes and leave you with some breathing room. Cubbies, clever shoe storage and hanging drawers all match in color and design, proving once gain that closet storage ideas can be funky and fun.
3. Sophisticated Solutions For Storage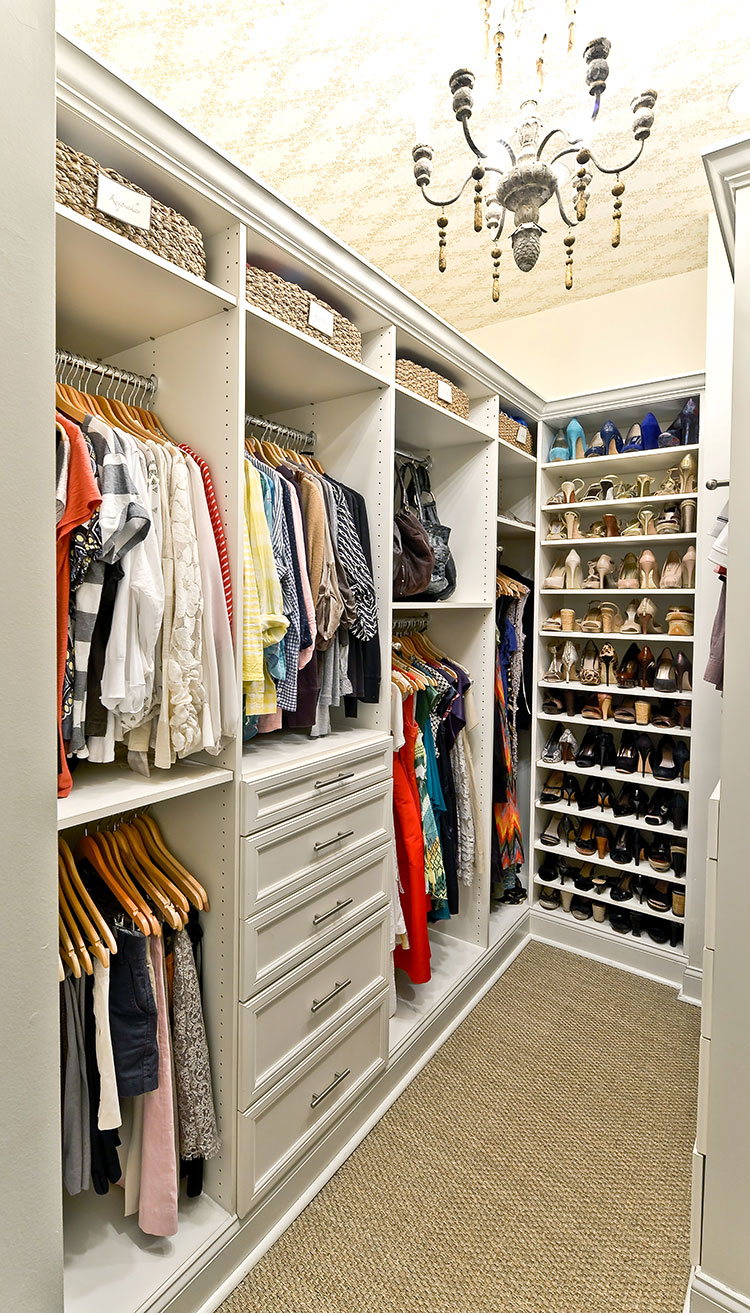 Everyone dreams of owning a walk-in closet that is perfectly organized. If you have the room, your closet can achieve its full-potential with the help of a well-thought out closet storage system. Built-in closet organizers and custom shelving can be further enhanced by fantastic lighting fixtures. If it is sophistication you seek, consider updating your walk-in closet with an elegant chandelier, such as the one pictured here.
4. Eclectic Storage Solutions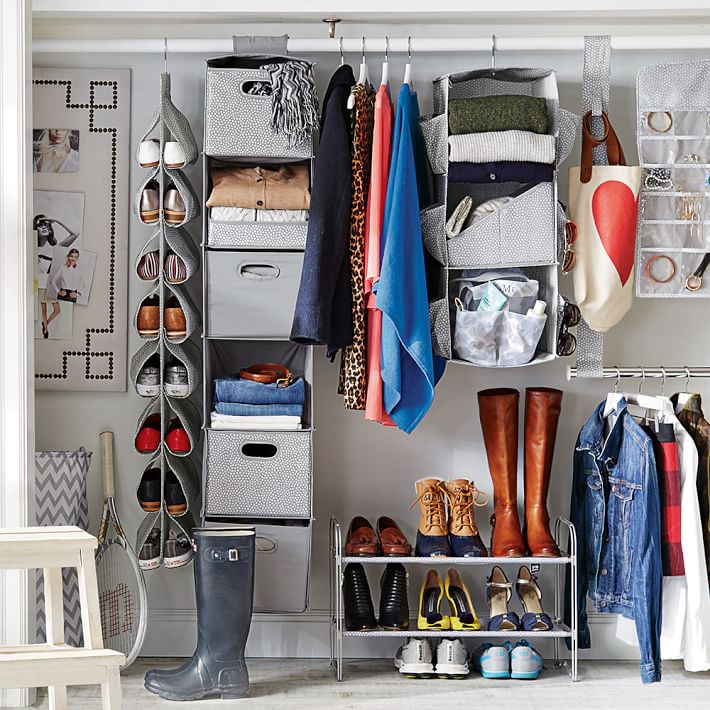 For the closet that handles everything, consider neutral finishes for a cohesive design. This lovely closet features a popular steel gray. The neutral finish makes a lovely backdrop for the modern closet that is able to hold it all. When tackling the question of how to organize your closet, the storage solutions will need to be thoughtful and varied if you are going to create a space that handles all of your home's storage needs. Think about your space carefully when planning your closet overhaul, and make sure that you have the right closet organizer solutions for your lifestyle.
5. Showcase A show-stopper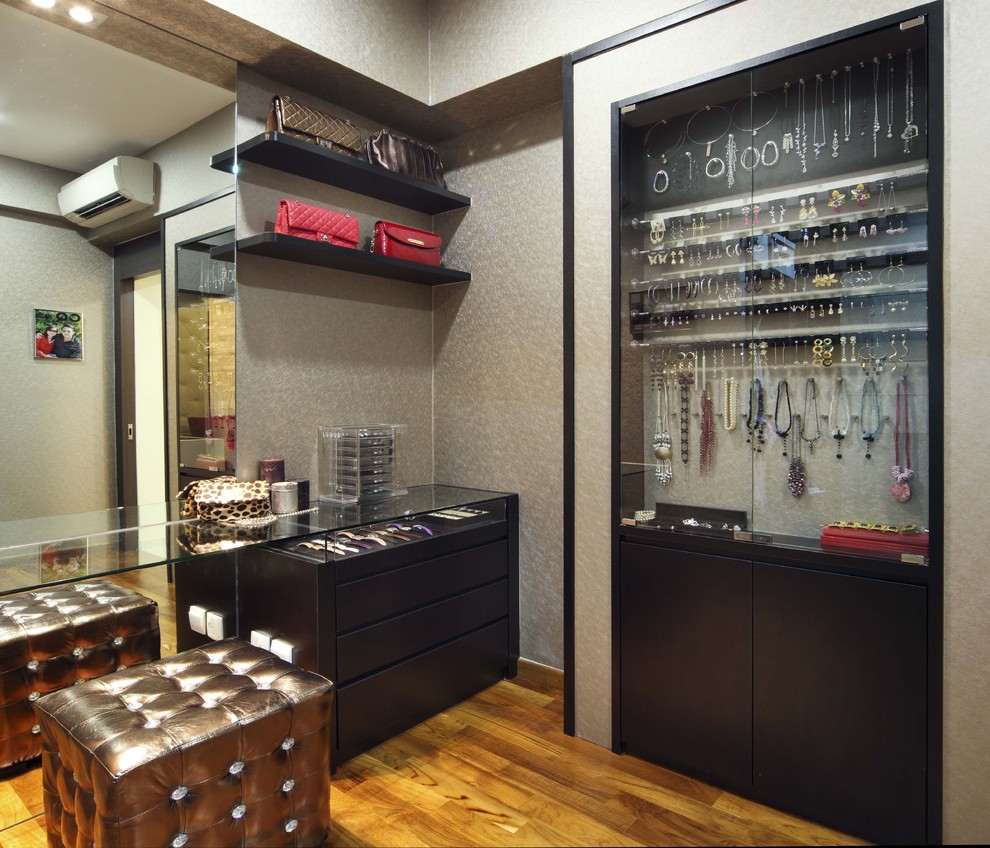 A closet has the potential to be much more than just a place to store your stuff. A truly beautiful closet can be a place where you are able to showcase your gorgeous items and designer goods. Display cases, such as those seen in the closet pictured here, are a wonderful way to store precious items. Not only are your things easier to find and well-protected in a display case, but they also are able to become fantastic showpieces in your high-end closet.
6. Refined Closet Elegance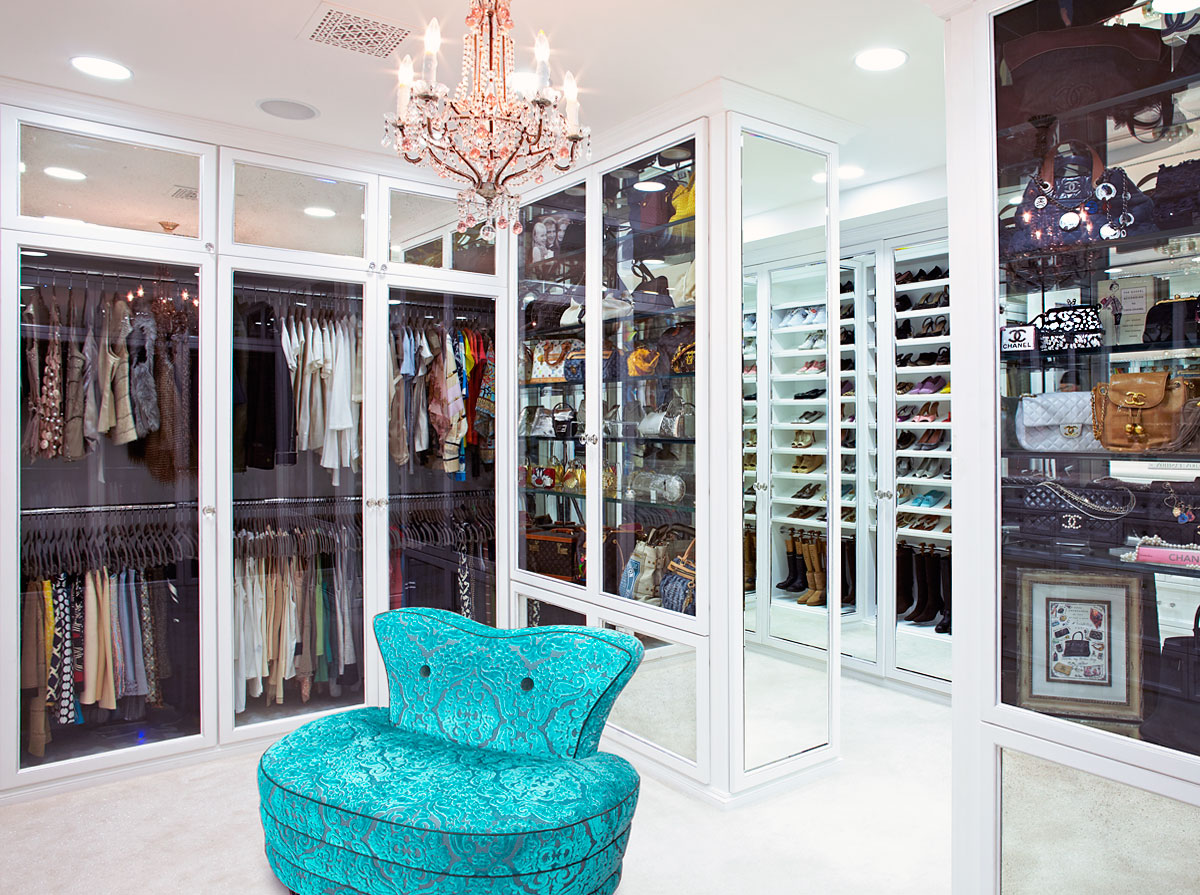 Making a closet appear larger can be done through the use of white paint, glass, and mirrored surfaces. An already large closet treated with these veneers will appear that much larger, more open, and more glamorous. To finish off a high-end look, consider adding glamorous fixtures. When you create a sitting area or hang a chandelier you are able to enhance the natural elegance and refinement of the closet's space.
7. Delightful Built-in Storage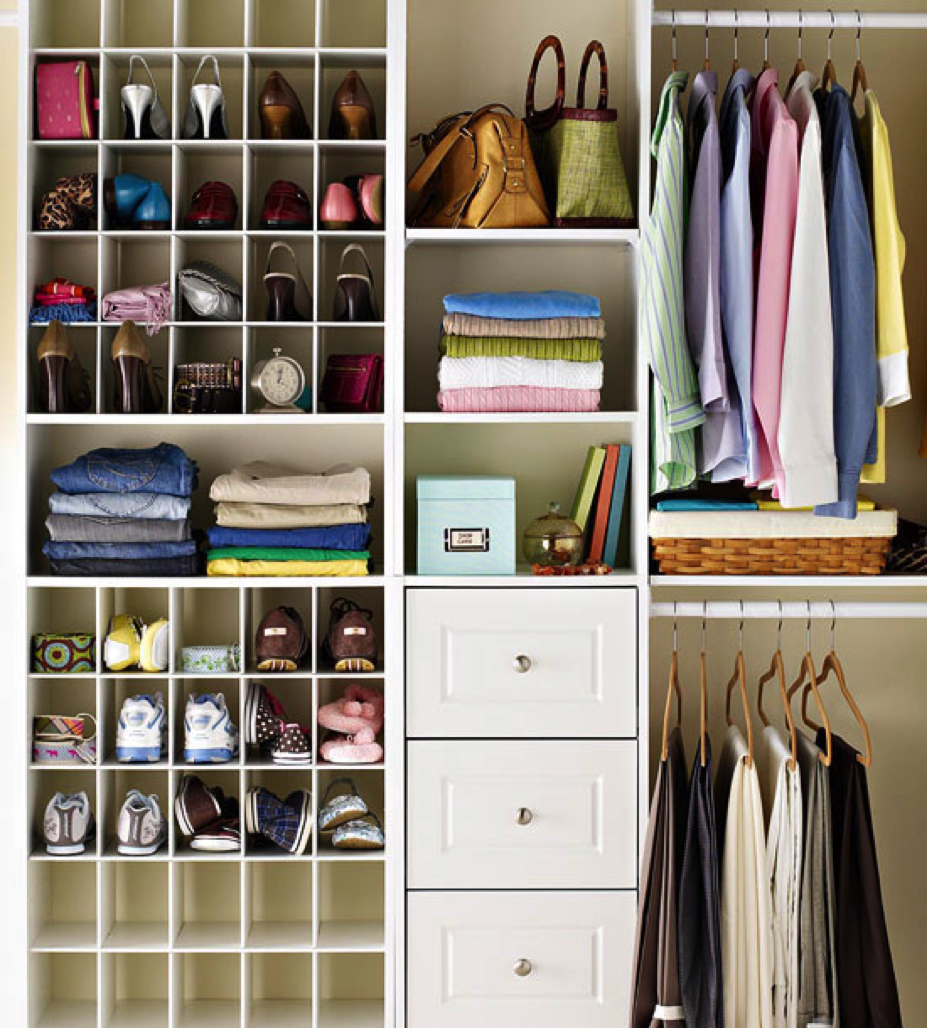 Built-in shelving with a thoughtful design can offer you all of the storage solutions needed to fit every piece of your wardrobe. Cubby storage, like that seen here, is great for shoes. Whereas, pull-out drawers can tuck away unsightly or hard-to-store items. When planning built-ins for your wardrobe closet, make sure that you have the right storage for your individual home organization needs.
8. A Perfect Space For Two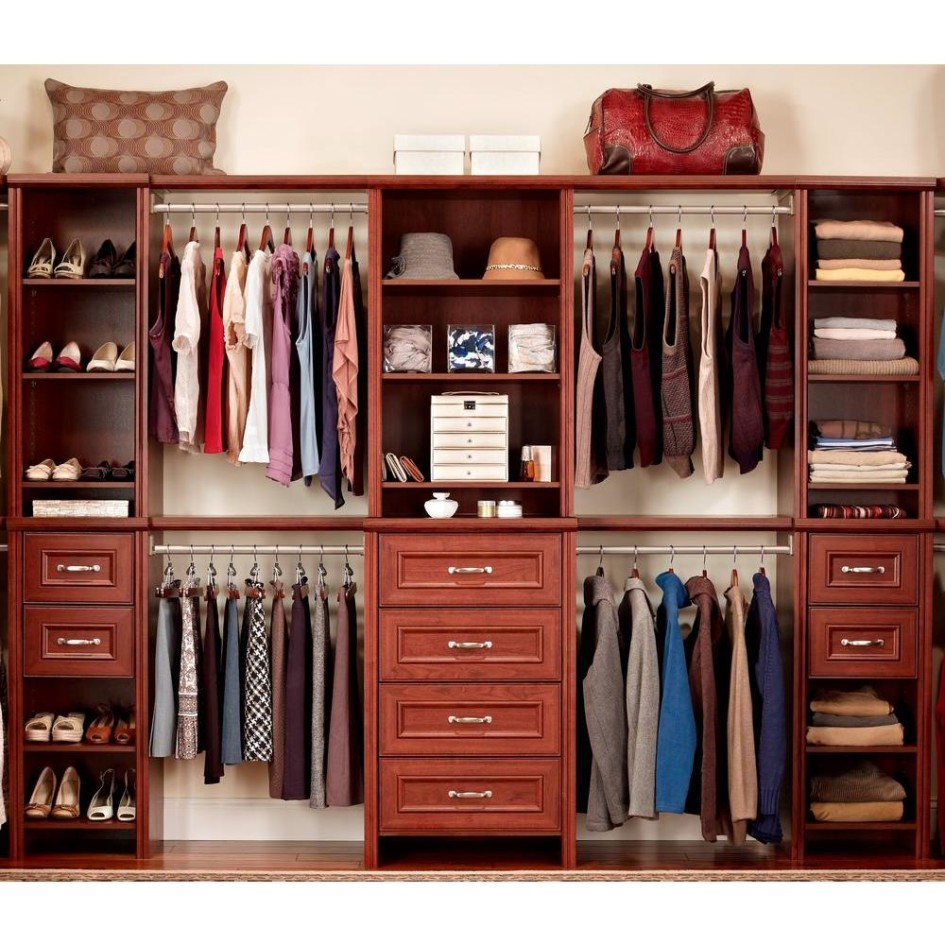 The battle over closet space is a real thing. However, you will never fight again if you adopt the use of 'his' and 'hers' closet organizers, such as those featured here. With so many solutions for your everyday closet organization, you are sure to have space for every piece of your wardrobe with plenty of room left over for your significant other to enjoy their fair share as well. These clearly defined spaces can keep the peace in a household and stop fights before they even begin.
9. Versatile Solutions For Storage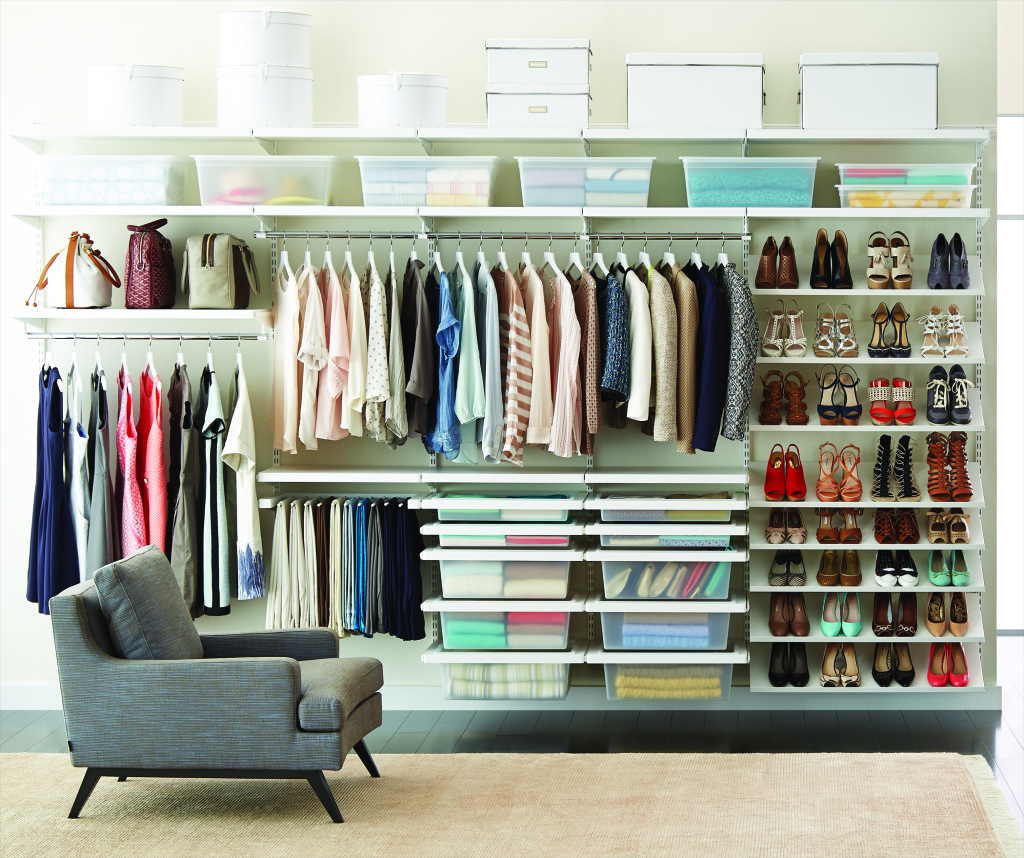 Sleek, stylish, with a hint of modern flair, this closet uses versatile solutions for functional home organization. For those who are looking for a fun and modern way to organize their closet, look no further. The white hat boxes lining the top shelf are perfect for hiding unsightly or rarely used items. Where as, the clear box, located just below, are fantastic at storing more commonly used pieces. Additionally, hanging bars and shelves offer solutions for storing an array of clothing and wardrobe items.
10. A Man-cave For The Modern Man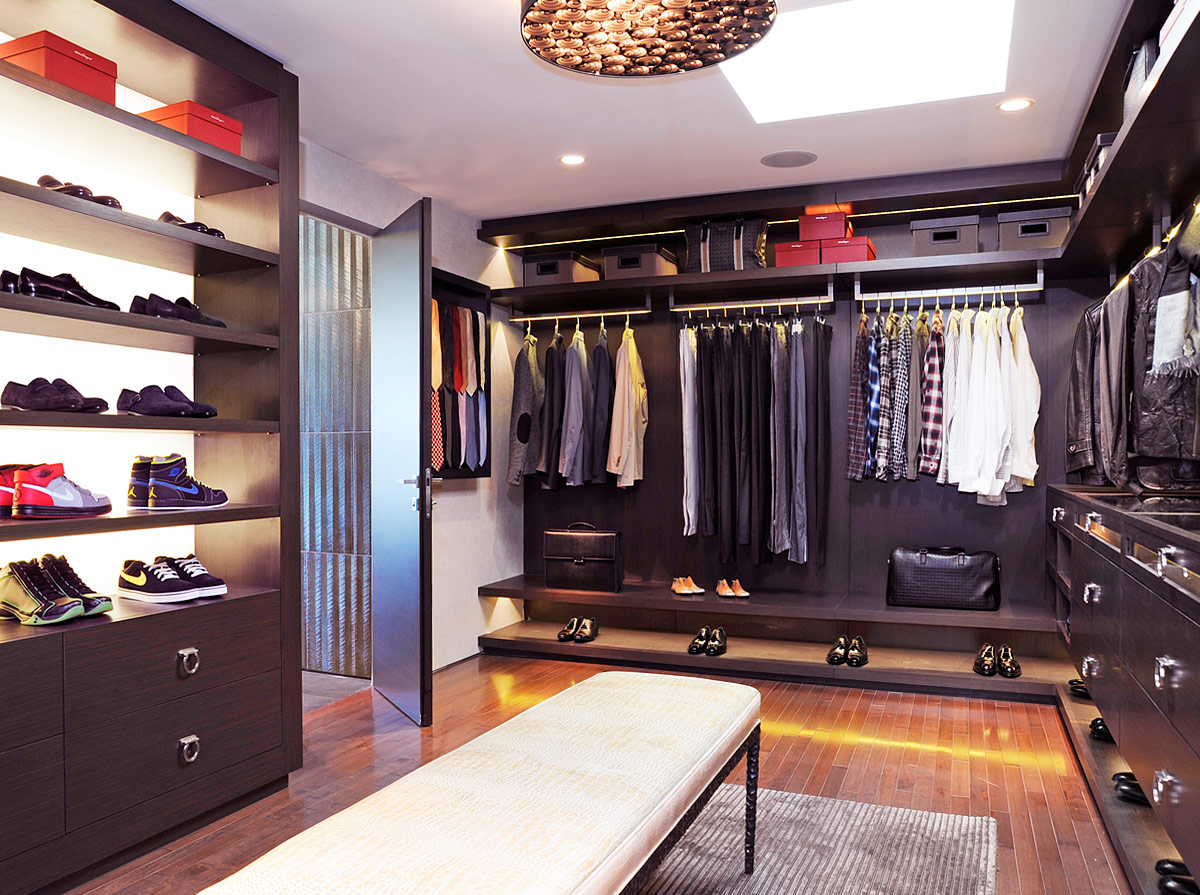 Who says a man-cave needs to be rugged and lacking in style? The modern and stylish man knows the importance of creating a sleek, organizational place for his wardrobe essentials. From dapper display options to dark wood paneling this man-cave walk-in closet has everything the modern fellow will need easily at hand. What more could a man ask for?
11. Roll-out Solutions For Storage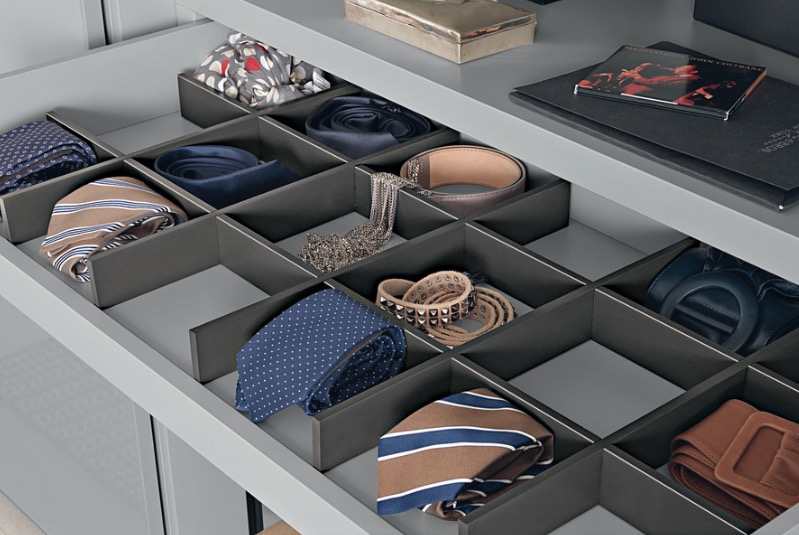 Hard-to-store items are perfectly tucked away in this sleek roll-out drawer. The lateral cubbies create little nooks for small wardrobe pieces such as neckties, belts, necklaces, and more. If you are looking for a storage option for these types of hard-to-store items, consider adding a drawer with similar functionality to your home's closet space.
12. Maximize Your Vertical Space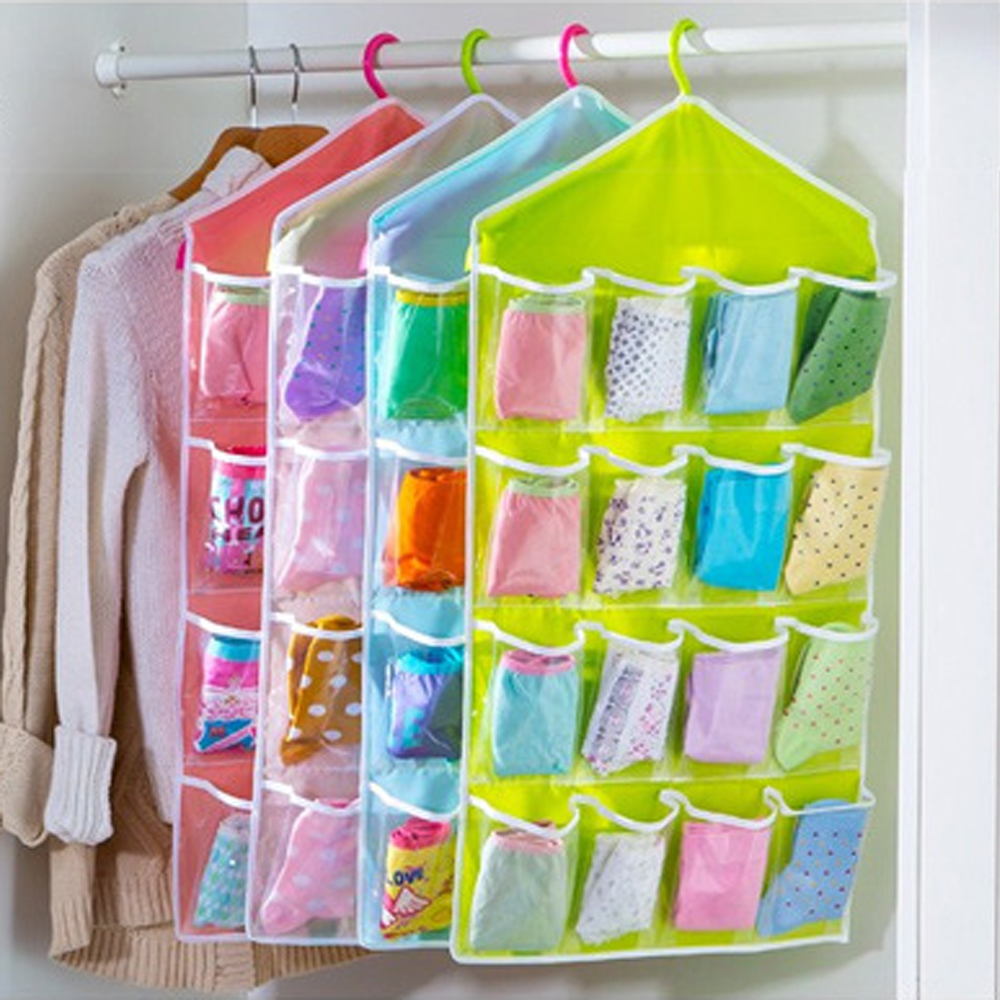 Vertical storage is an easy way to organize small items in your closet. Vertical hangers, such as those pictured above, are able to hold items such as shoes, underwear, handkerchiefs, neckties and belts. Maximizing vertical space, with the use of hangers such as these, is a great way to make the most of small closet organization systems within petite spaces. When planning your small space overhaul, think about how you can use your closet's vertical space to create more storage.
13. A Cohesive Overall Design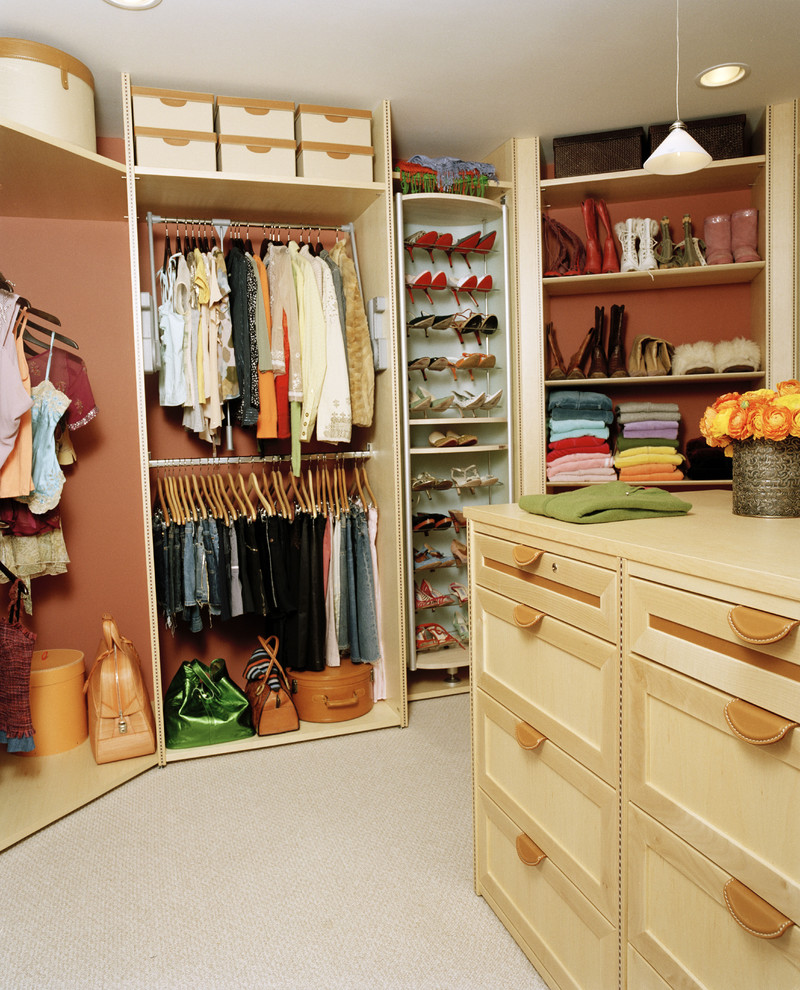 A traditional dresser can be incorporated into your walk-in closet with great success. In order to achieve a cohesive look, take care to ensure that all of your built-ins, shelves, and drawers have received the same finishes. This fantastic closest, draped in brown, has created a delightful sense of continuity through the repetition of certain forms, colors, and materials. Likewise, your closet can use the principles of design to guide it towards a cohesive overall look. Following these techniques, once finished, your design will look as though it was designed by a professional.
14. Use Perfectly Coordinated Colors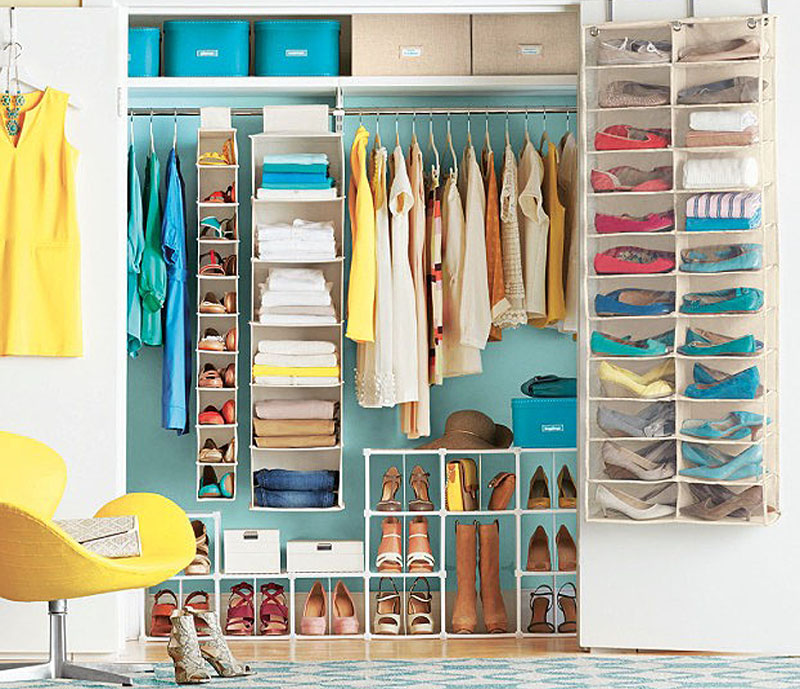 Color coordinated pairings, categorized cubbies, and well-planned closet storage ideas create the organizational map that is used to store for this closet's complete contents. For those who want to re-create this look, try color coordinating your blouses, shoes, and other displays. Organizing by color is one of the oldest design tricks in the book. However, the look never gets old. The result is sure to delight and dazzle. Try it for yourself and see.
Our Favorite Farmhouse Storage Items to buy on Amazon
More closet design ideas on the next page…