15. A Simple Solution To A Tough Problem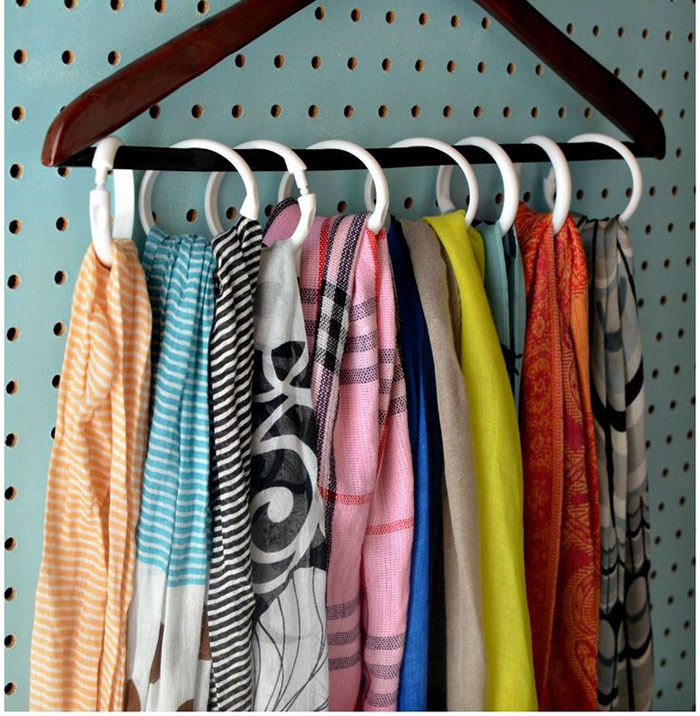 To save space, hang vertically. Items such as scarves, belts, and ties can be easily stored using simple and innovative closet ideas such as this. Simply take a hanger, add a few shower rings, and you have created a fantastic, affordable storage solution from everyday household items. Simple closet storage ideas like this one can be used in a pinch and on a dime. The results, you have saved both money and space. What could be better?
16. Like Items Go Together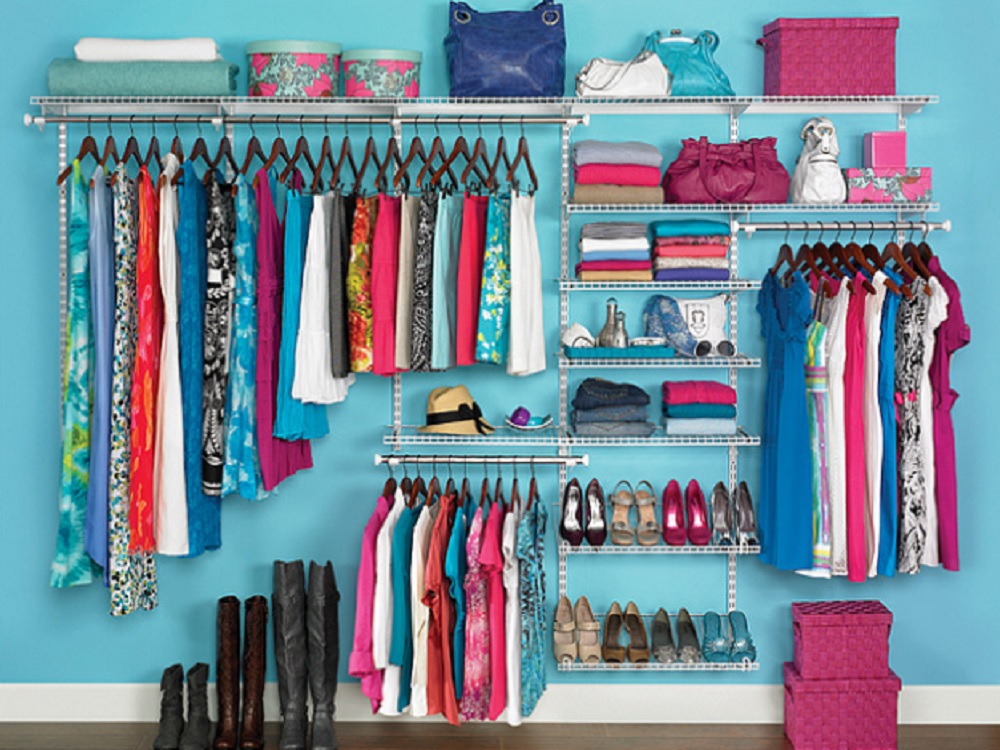 Why hide your something so perfect? This wardrobe closet is so organized that it doesn't need doors. Organization is a beautiful thing and nothing proves it more than seeing the contents of a closet on full display in perfect organizational harmony. Take a lesson from this closet makeover, and remember that every closet rehab begins by categorizing your things. Like items should be placed together and then hung together. This basic tenet of closet design makes it easier to find those items later and creates an overall more put together look.
17. Too Many Shoes And Too Little Space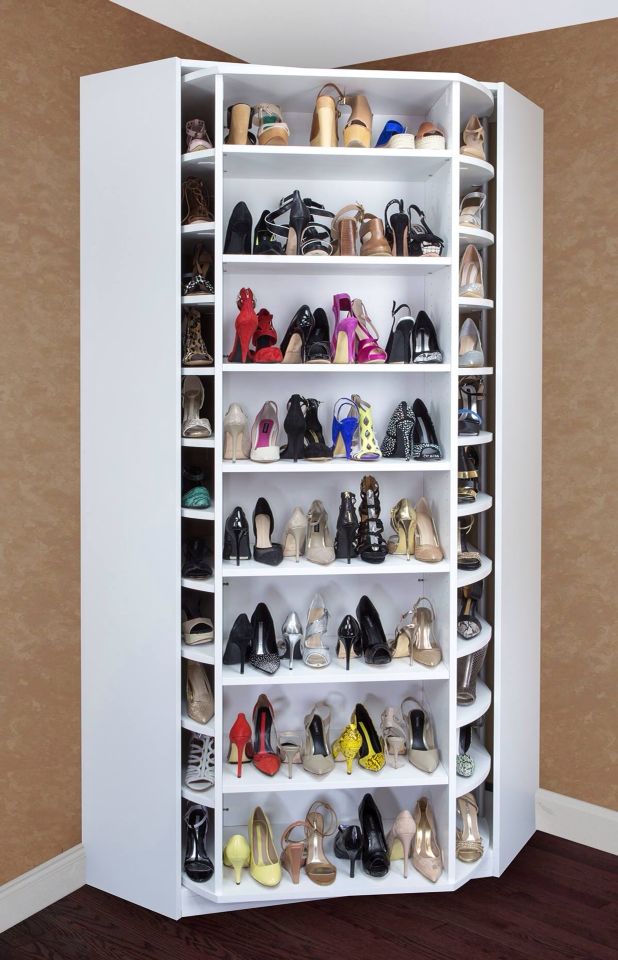 Tell the truth, are your shoes in a pile next to your front door, or sitting haphazardly at the bottom of your closet? If you answered yes, say hello to the solution to all of your shoe woes. If you are blessed or cursed with an overabundance of shoes, a custom shoe organizer is an easy way to categorize and display your shoes for safe-keeping. This built-in rotating corner shoe display is also a great way to use every bit of space during a small closet organization project. The custom built piece is the perfect solution for anyone with too many shoes and too little space.
18. Light And Airy, Clean And Comfortable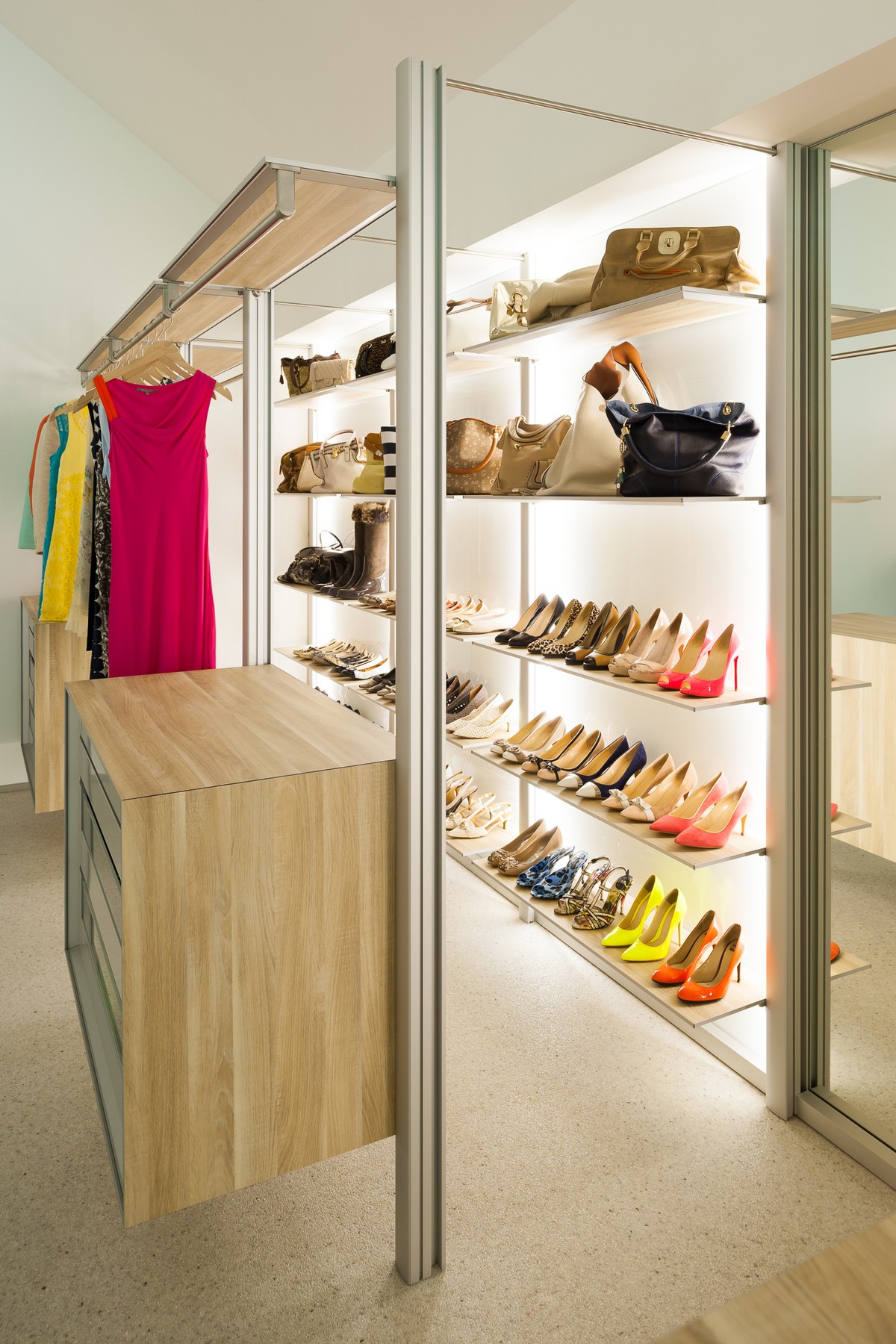 This light and airy display is perfect for the homeowner with a large shoe and purse collection. Backlit shelving creates a high-end display for the woman with an impressive collection of shoes and handbags. Additional storage is found in the floating drawers and hangers fronting the ethereal display.
19. Temporary Closet Storage Solution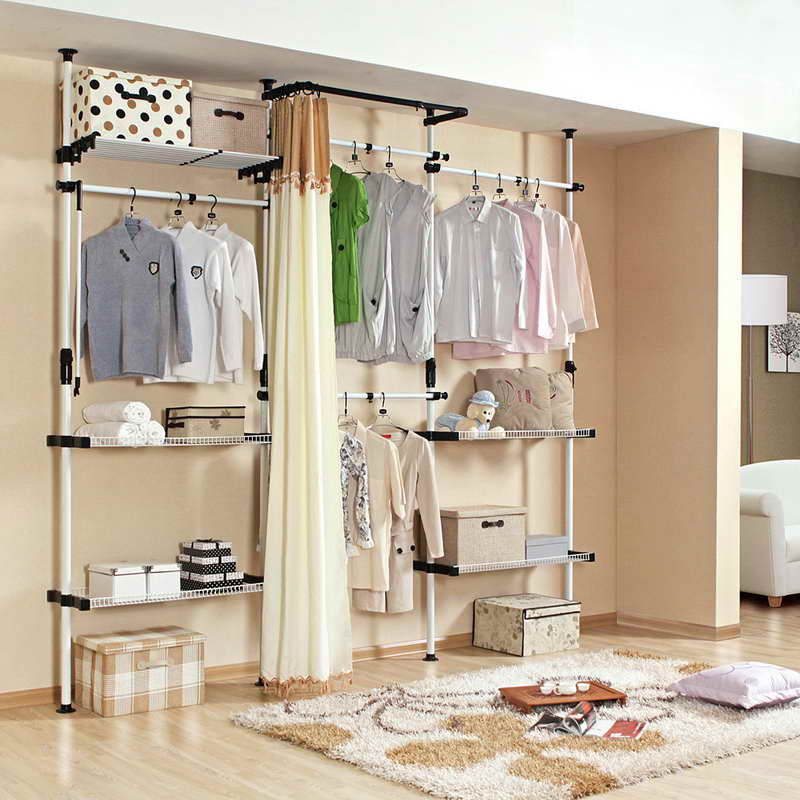 This shelving system is great for those who are not committed to making long-term changes to their living space. Through a series of extendable rods, this shelving unit is able to be secured into virtually any living area. Perhaps your closet is too small, but you are renting and don't want to make long-term changes. What should you do? Consider this as an answer to your dilemma. This storage solution offers you all the and organizational capabilities that your inherent closet design lacks. You can add storage space without making any permanent changes. Additionally, this solution can be used in almost any space.
20. A Sweet Surprise In This Nursery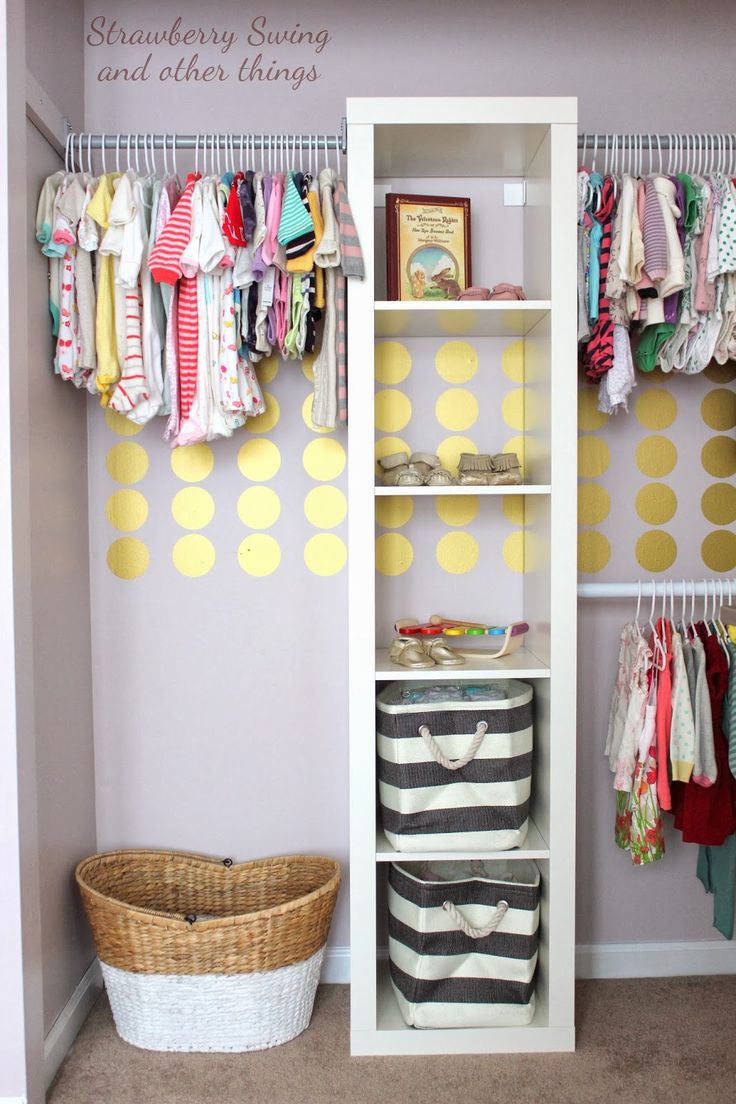 A few well thought out home decor accessories and wall-decals have turned this closet into a beautiful part of a sweet nursery. Home design at its best considers spaces like wardobes, cupboards, and garages. These organizational spaces can be lovely as well as functional.
21. Combining Bathroom And Closet Spaces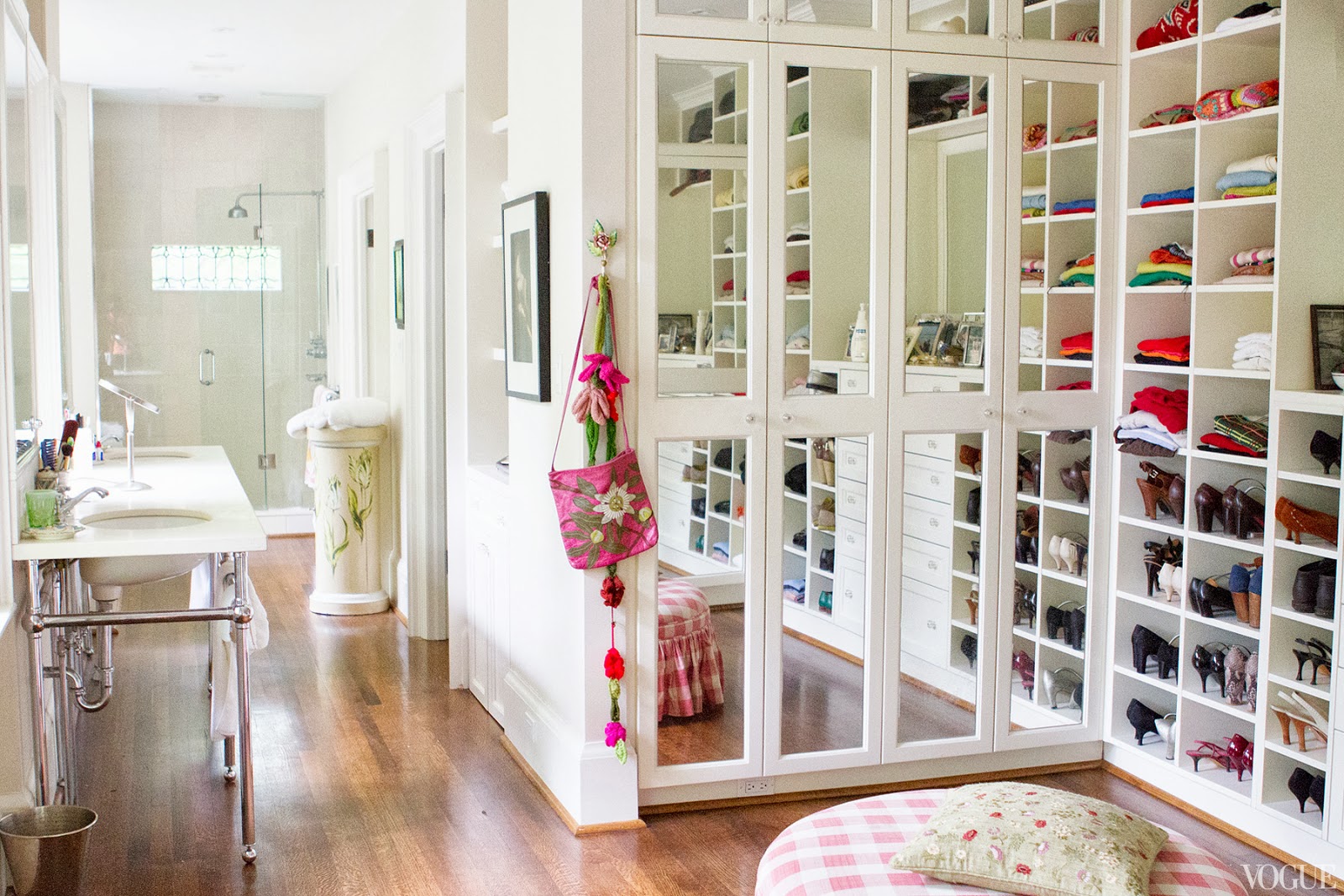 Combining a bathroom and a closet in a home can be any easy way to extend the square footage and usability of both rooms. After seeing this room, you may ask yourself, "why not knock down a wall and create a new room?" This lovely, airy space seamlessly incorporates both bathroom and closet to create a wonderful dressing area. Floor to ceiling shelving and vertical mirrored surfaces add height, space, and light into what could be an otherwise cramped dual purpose area. The larger than life open area is a great example of a bathroom/closet renovation done right.
22. Label Everything In A Child's Space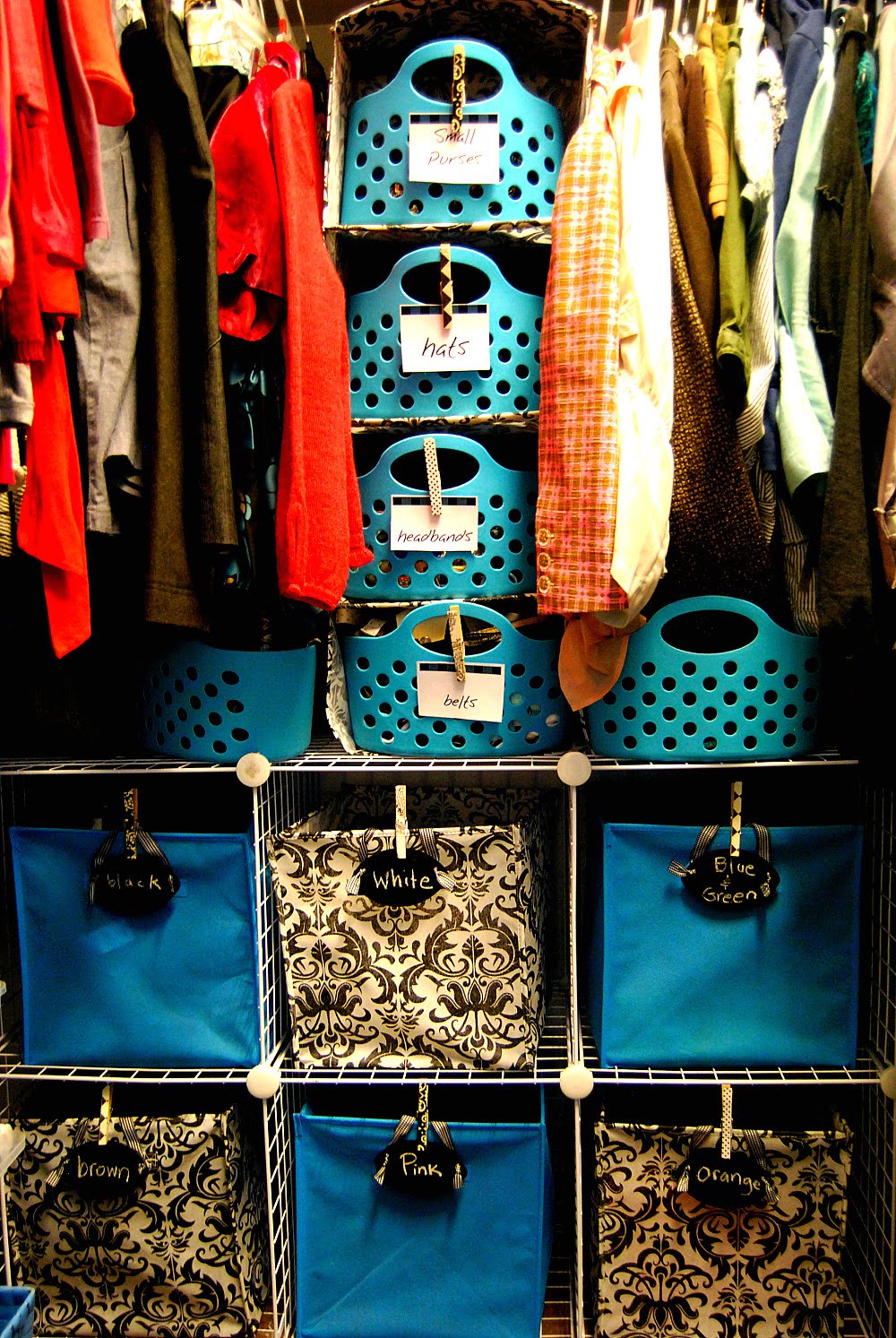 Small closet organization can be a difficult challenge. Especially when planning solutions that will need to work for a child's closet space. The closet above is a prime example of closet organization ideas that are uniquely tailored to work for the specific needs of children. When planning a small closet space for kids, the most important thing you can do is to label everything. If getting dressed or matching is a difficult task for your children, then consider labeling clothing items by color. No matter how you choose to organize your child's space, keep in mind your child's specific needs and habits when planning the space. The goal is always to create a closet that works well to fit the needs of you and your family.
23. Custom Cabinetry Saves The Day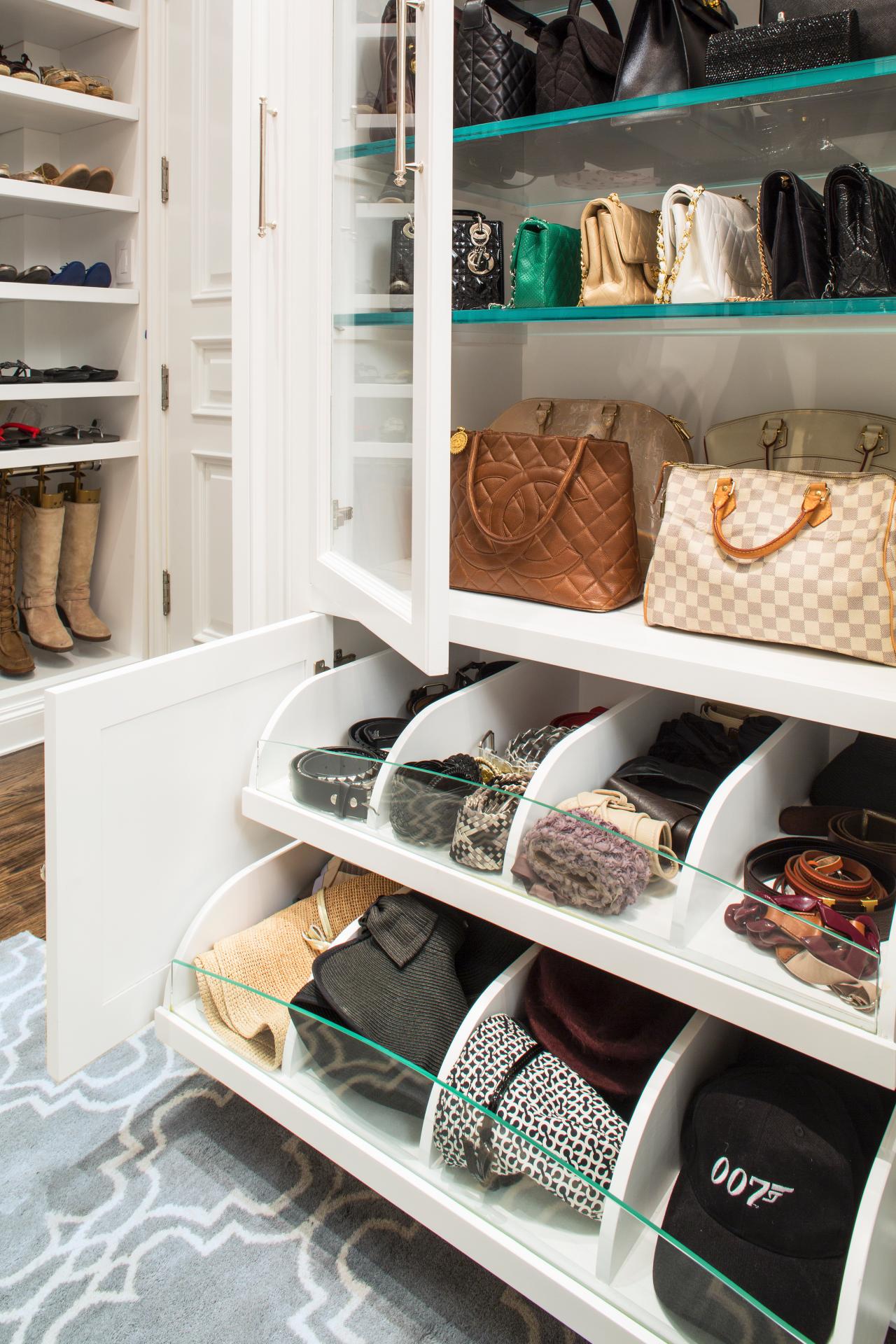 Every accessory is easy to find in this closet organizer. The individual compartments of the pull-out drawers are the perfect size to store hats, scarves, and belts. built-in custom cabinetry, such as that featured here, offers versatile storage options for the perfect walk-in closet. When planning your own dream closet, consider what items you need to be stored and how you would like to store them.
More closet decoration ideas on the next page…