24. Innovative Solutions In Closet Design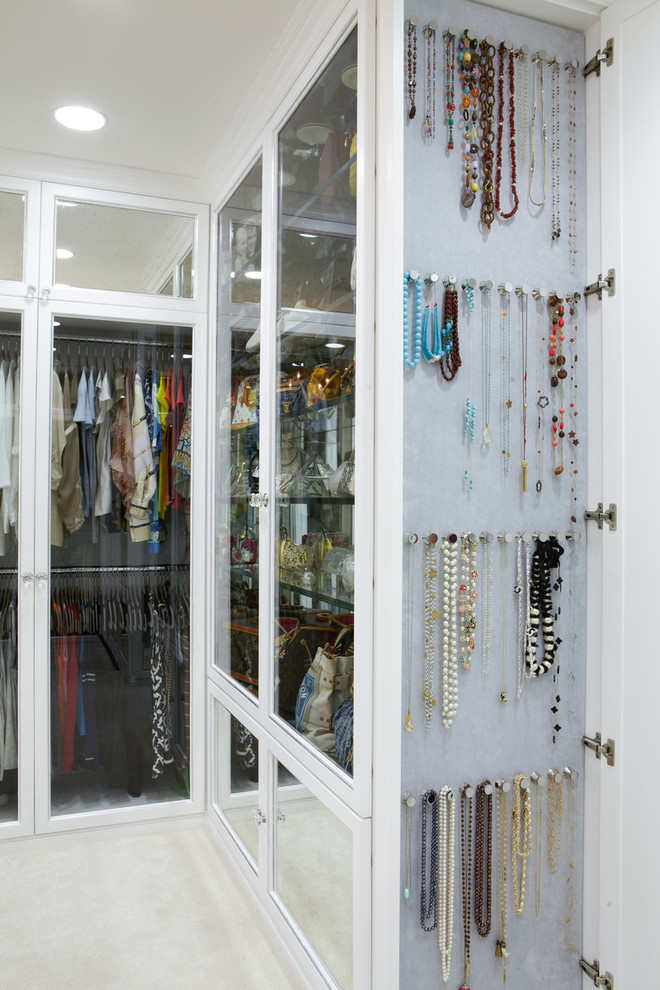 These glass faced doors are an elegant way to house your clothing in a space separate from your dressing room. Walk-in closets with custom glass-faced cabinetry, such as these, elevate the dressing area. The glass displays allow the closet to feel as though it is truly something special. With clothing behind glass, the space takes on an air of refinement. The closet pictured is also noteworthy for its clever organizational display of necklaces. Floor to ceiling, nobs have been strategically placed to allow for the walls complete coverage in colorful bobbles. What would have been wasted space is now a lovely and functional organizational closet design solution.
25. A Simple Solution And A DIY Project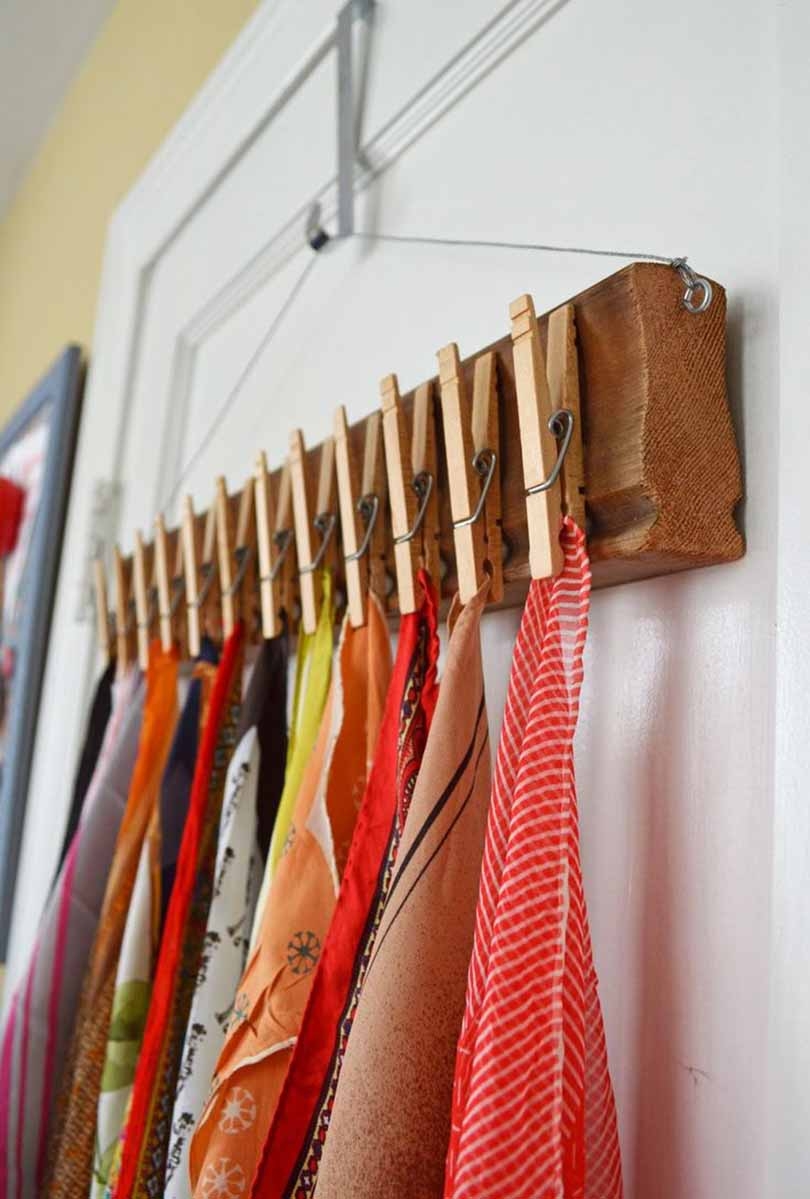 Organizing a small space requires ingenuity and creativity. You will find both of those qualities at work in this simple solution for closet organization. A simple board, two nails, a couple of clothespins, and some glue is all you will need for this DIY closet organizer. This is a wonderful afternoon project for those on a budget or for the crafty at heart. Hanging over a door, this lovely display doubles as home decor as well as functional storage for scarves, ties, and belts.
26. Storage Bins Are Key To This Closet's Success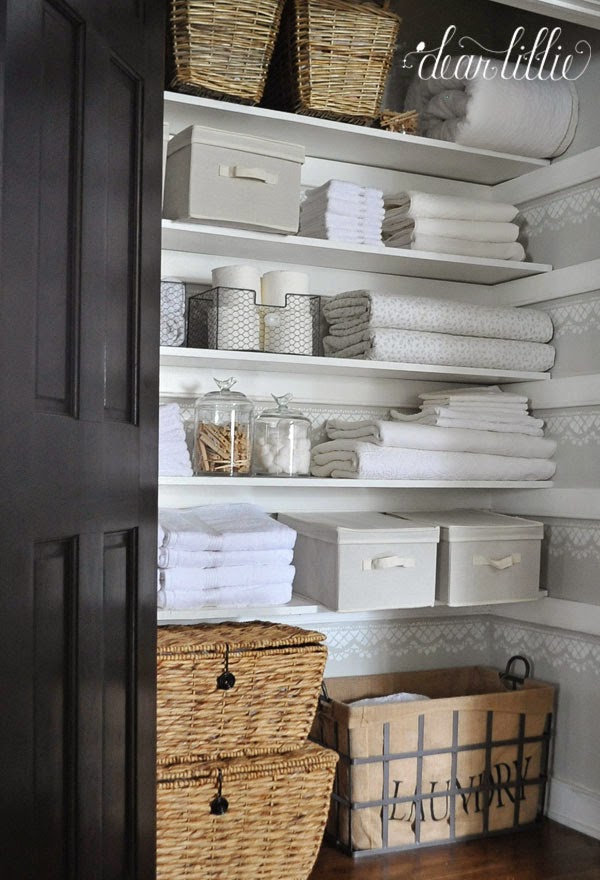 For many, bathroom closet storage is a troublesome proposition. However, with the help of some beautiful storage your once cluttered washroom storage area can become a lovely display of beautiful home design. When de-cluttering a bathroom closet, make sure that you have enough storage to tuck away your odds and ends. The benefit of using attractive storage bins is that once put on display they are able to double as home decor. When redecorating your linen closet, choose storage bins that suit your style and match one another.
27. Turn It On Its Side And See It In A New Light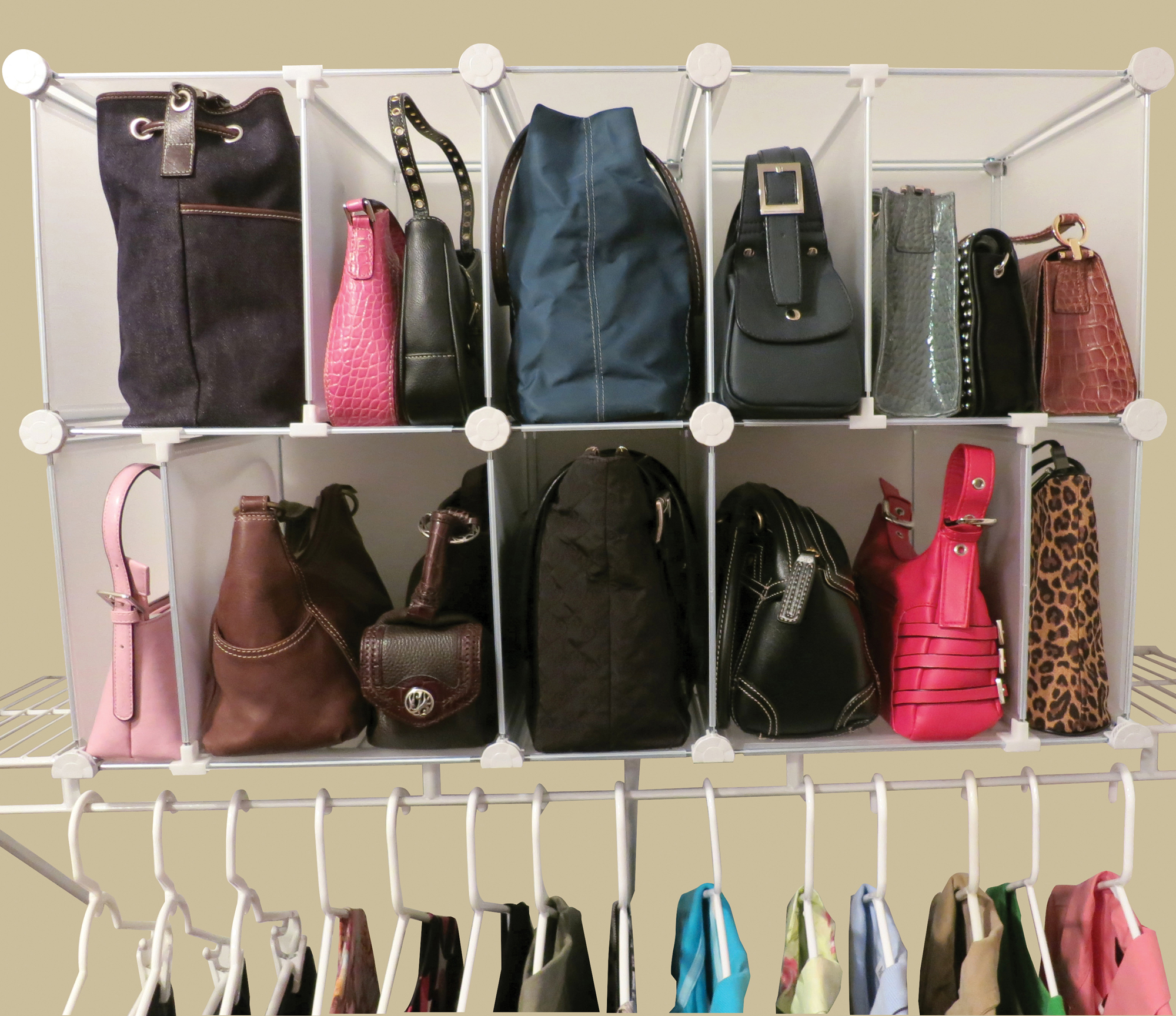 You don't have to spend a ton of money to get all of the storage that you need in your wardrobe closet. Simple closet storage ideas like this one are easy on the budget and offer a fantastic solution for small spaces that are in need of an organizational overhaul. For those who are working with little money, look for savings by repurposing old crates or by turning things on their side. Sometimes all it takes is a new angle to see the storage possibilities inherent in an existing item. Think outside the box when foraging your design solutions and you are sure to save money in surprising ways.
28. Cabinets Are Not Just For The Kitchen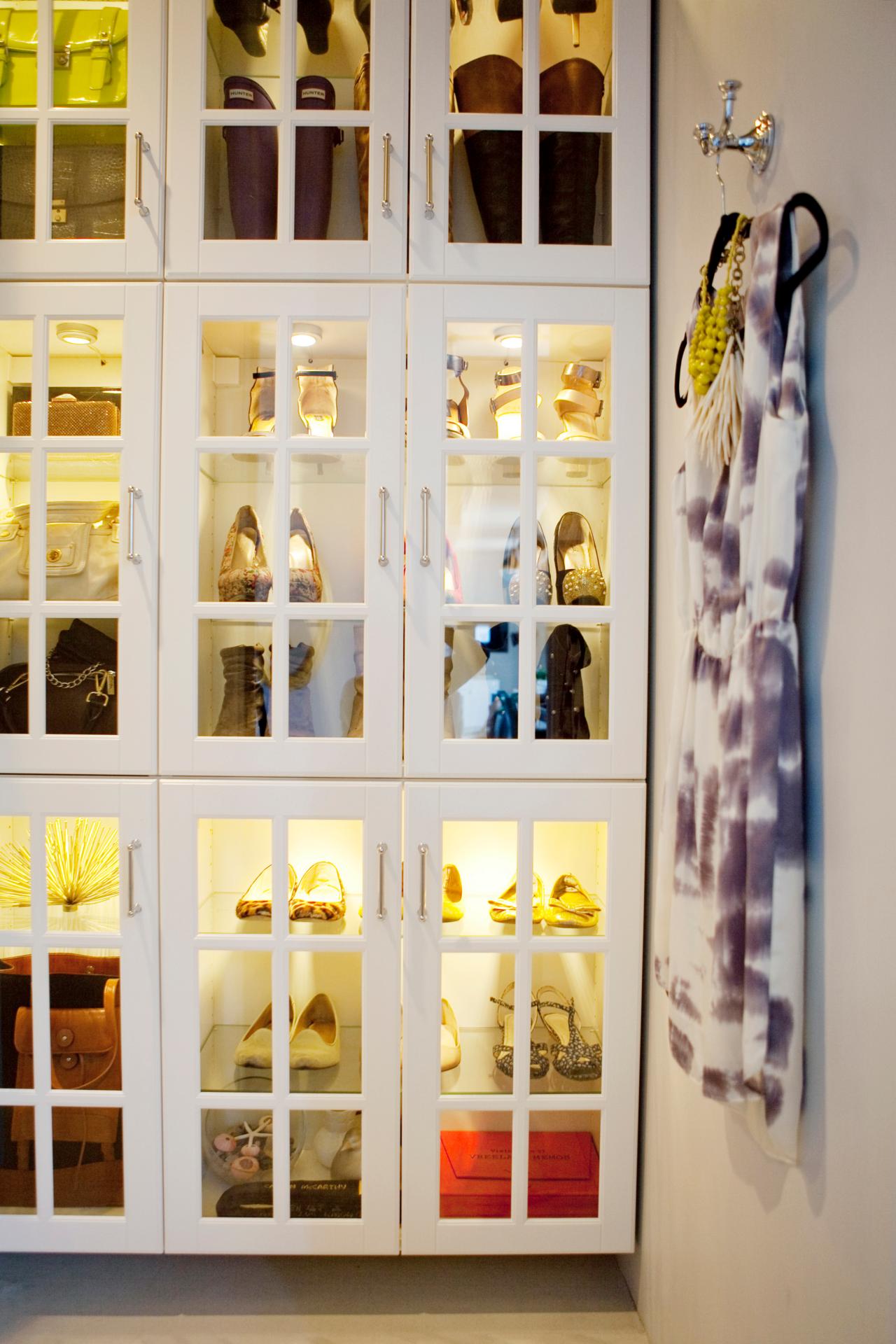 Traditionally you may expect to see glass-faced cabinets such as these in a kitchen setting. However, these lovely cabinets are able to store items other than stemware. Beautiful cabinets are a lovely addition to a walk-in closet area. The perfect marriage of form and function, floor-to-ceiling cabinets like these make fantastic display cases for shoes, purses, and other wardrobe accessories. If you are designing on a dime, consider repurposing old cabinets from a kitchen overhaul. Often these construction remnants can be found for very little money.
29. No Wasted Space In This Closet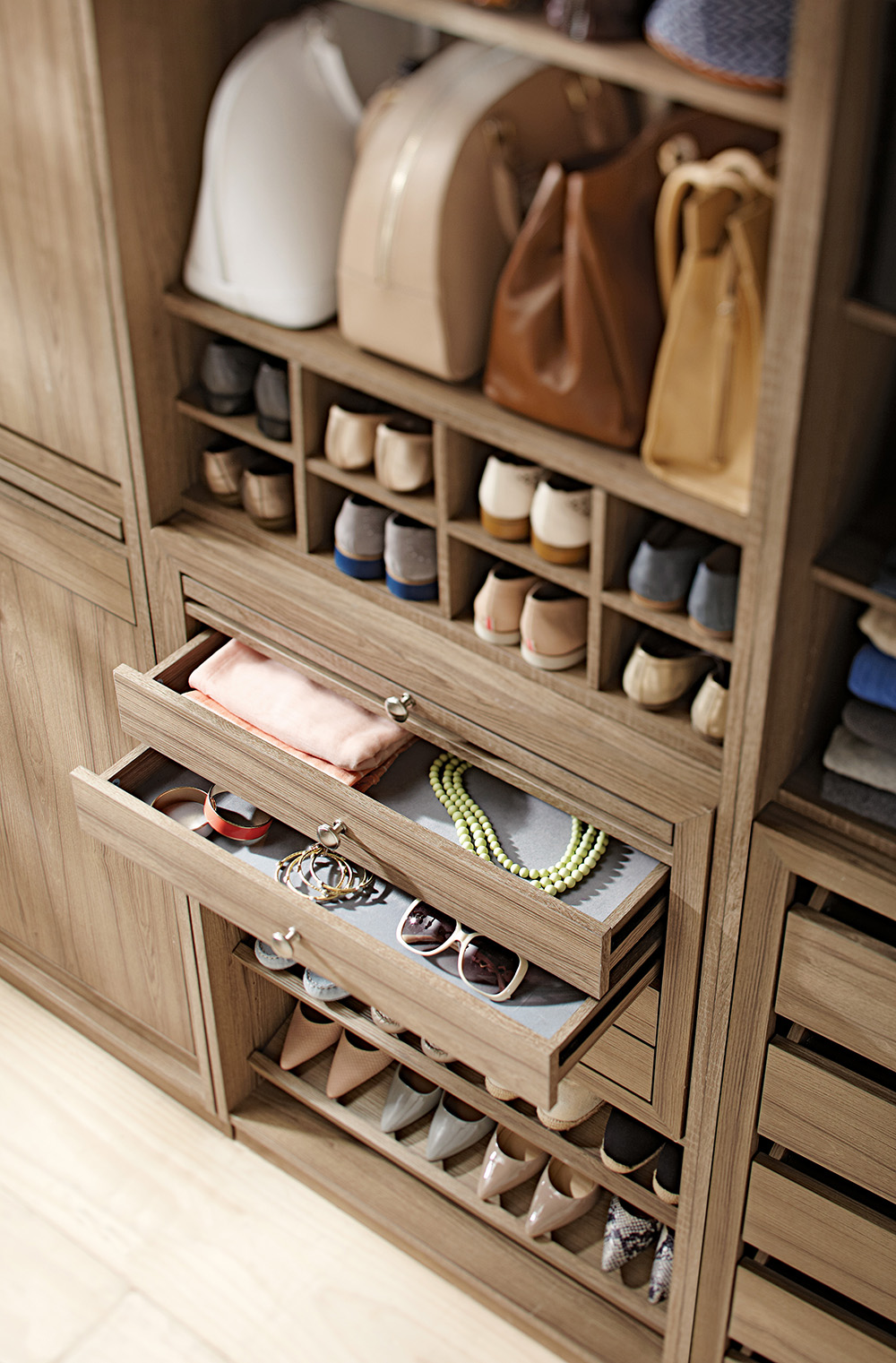 This space's design is a perfect example for those who are in search of closet ideas offering simple solutions for small closet spaces. When working in a small space, it is important to fully utilize all of the given vertical area, and that is precisely what this space has done so well. There is no wasted space in this built-in closet organizer. Every cranny, cubby, and shelf of this wardrobe is filled with closet essentials. Thinner drawers offer a great solution for storing smaller items. Whereas, the larger shelves are able offer resting place for unused handbags. When designing your closet's storage, consider the size of the items that will be stored. Plan on incorporating shelving and drawers that fit your specific needs.
30. The Hallway Closet Dilemma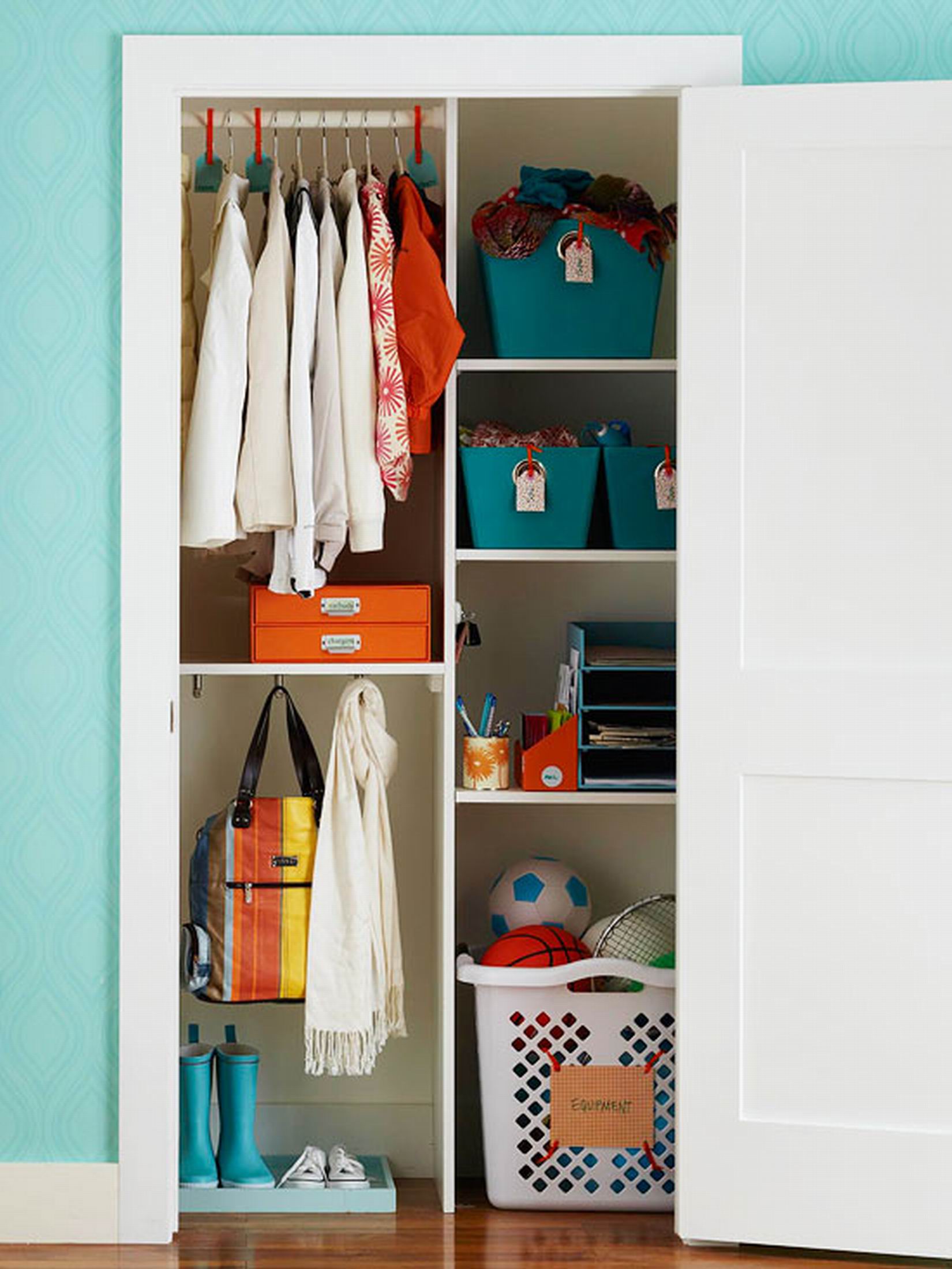 The hallway closet can easily become a catch-all for a home's everyday items. When doing a hallway closet overhaul, first se-clutter the closet by pruning unnecessary items and only leave the essentials. Over time a closet areas can accumulate a variety of items that belong in other closets or in other parts of the home. Often times, simply re-housing these items will make way for a surprising amount of usable space. Once clear, you can create new organization solutions for your closet. Adding a shelving system with variegated heights into in a small closet is a great way to offer versatile solutions for home organization. The key to having the storage you need is planning ahead of time. Decide what you absolutely need to keep in the closet and then you will have a better idea of the storage you will need. Hooks, hangers, and bins can be purchased and installed once you truly understand your closet's needs.
31. A Little Extra Storage Goes A Long Way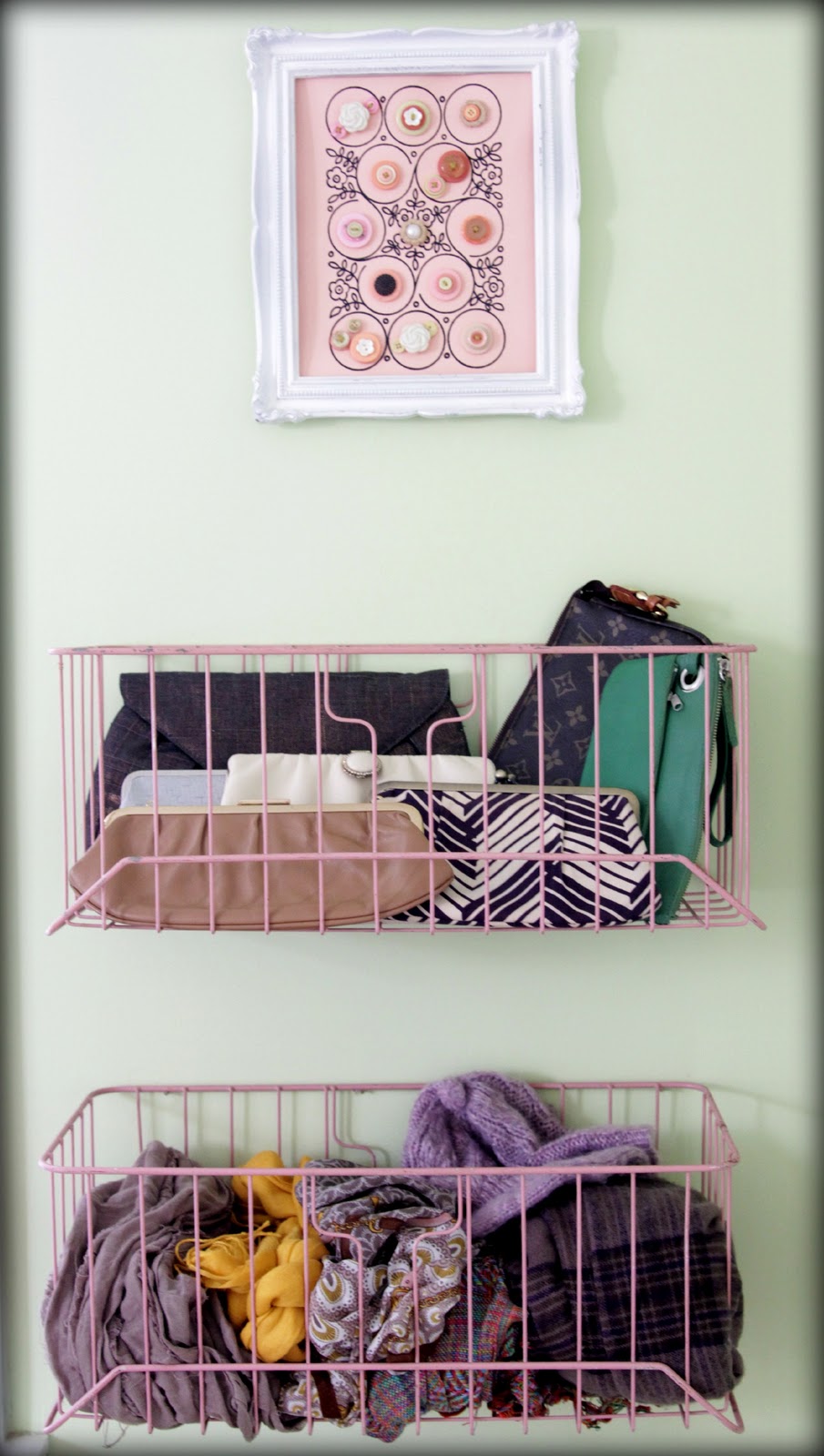 A little extra storage can go a long way when reorganizing a closet space. If you are short on depth or dimension, consider hanging baskets on the inside of your closet door or an unused wall as a solution to your small space dilemma. Matching wire bins, such as those that are featured here, are quite beautiful when placed in the company of matching home decor. The wire bins featured in this photo compliment the decorate picture hanging just above the functional forms. Small well-thought out displays allow the functional items to become a part of the home's overall decor and allow the storage to add rather than detract from the home's design aesthetic.
32. Label Everything And Save Precious Time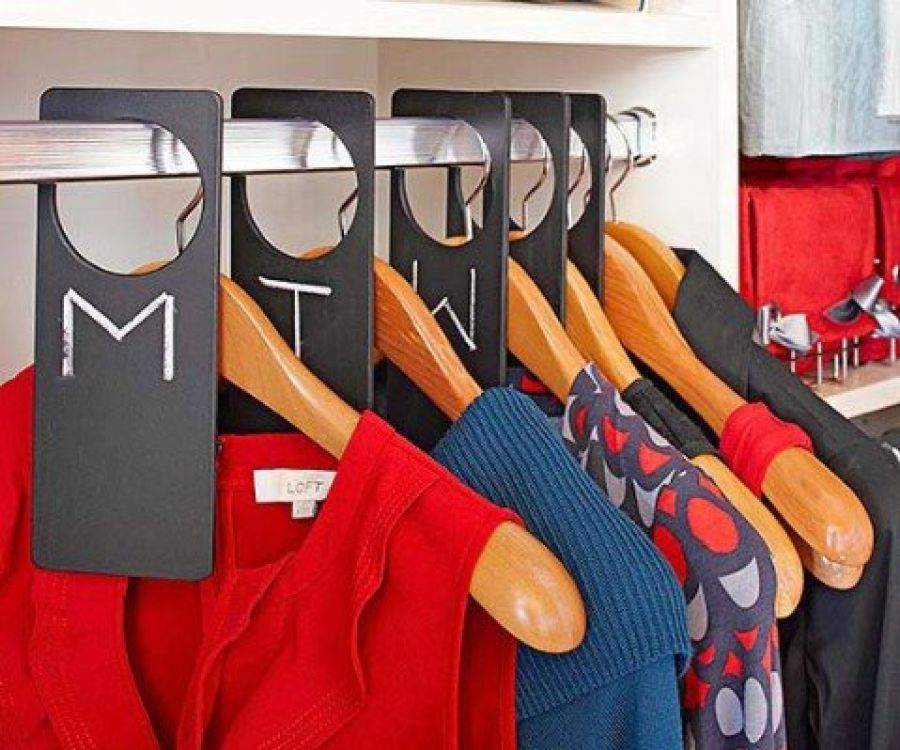 Are you tired of scrambling at the last minute to get it together in the morning? If you, like so many others, consider your morning time as a precious commodity, then you will be interested in discovering ways to save precious little time you have. Consider the photo above; these handy wardrobe separators will label your outfits for the entire week and save you time in the early morning for the things that matter the most. With the help of these easy-to-read labels you can sit back, relax , and enjoy your morning with a hot cup of coffee and the knowledge that a perfect outfit is waiting for you.
More closet decorations on the next page…