33. You Got To Keep It Separated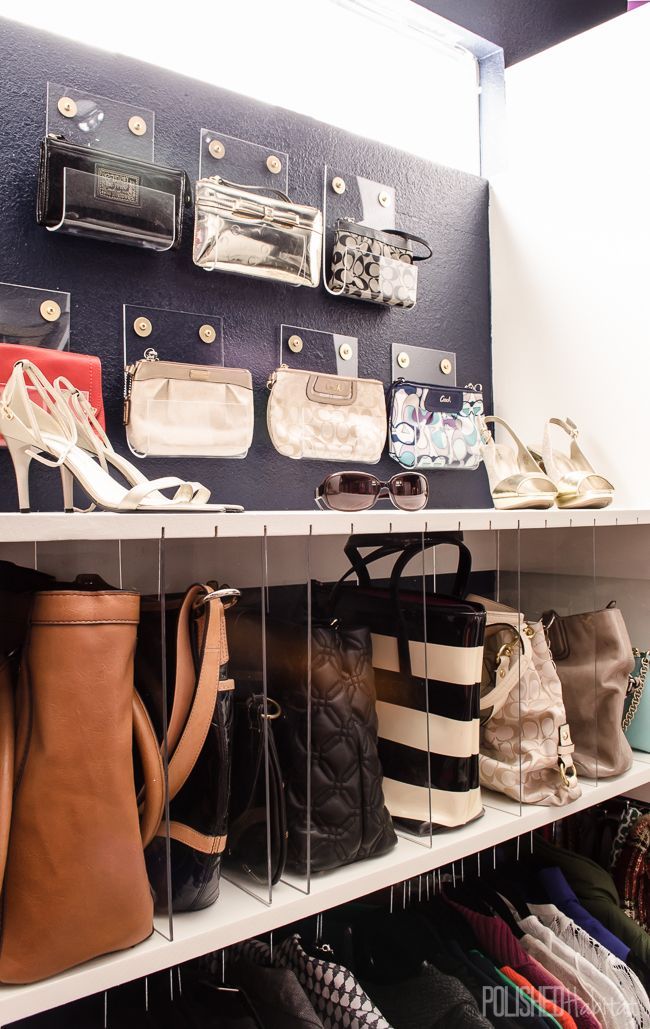 Storing purses is always a difficult task. The shape and size of the bag is what dictates how the purse can be stored. Women are always looking for new and innovative ways to store their purses when not in use. Stashing your bags on the top shelf just got easier with these clear bag separators and wall-installed clutch holders. These fantastic clips are the perfect size to really get a grip on clutches of any size. Additionally, these handy solutions make a lovely statement and allow your designer bags to really shine.
34. A Modern, Dramatic Statement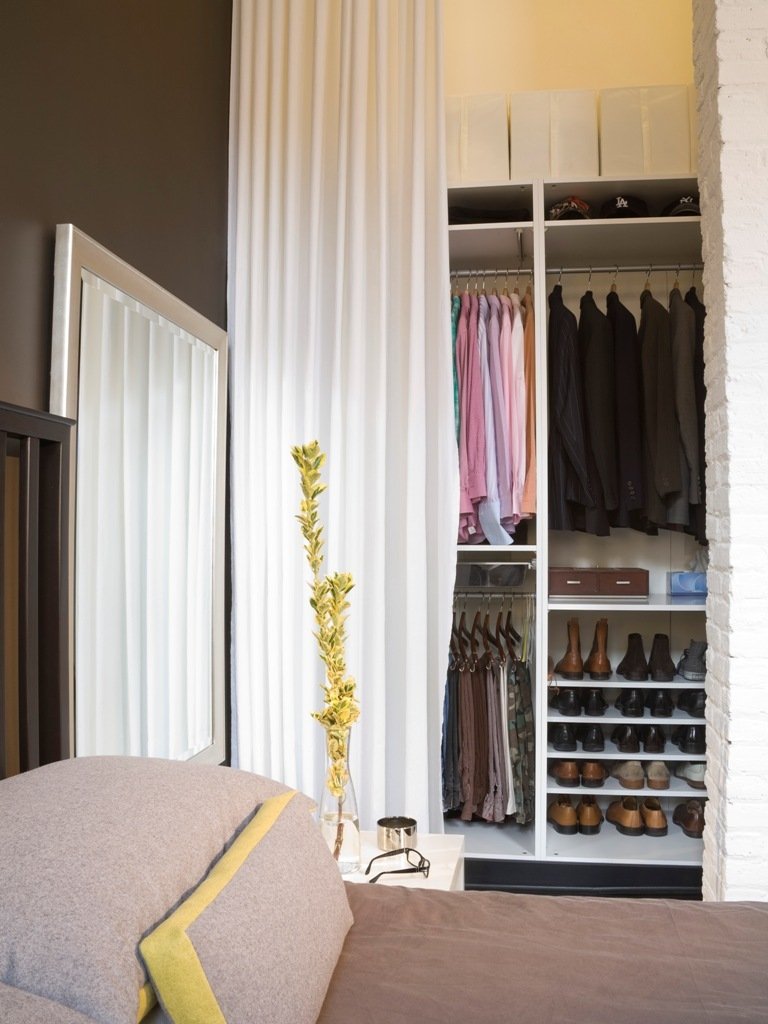 Sometimes it is the simplest items that have the largest impact. The long white vertical curtain, hung from high above, makes a dramatic statement in this ultra modern space. The curtain forms a long elegant line that extends the height of the room and the visual reach of the closet. Tucked tastefully behind the curtain is a spare, tasteful, and well-organized closet area. Compartments separate clothing items as the closet's shoes are neatly tucked away onto smaller shoe shelves.
35. Stacks And Stacks Of Boxes
This closet features stacks and stacks of clear organizational boxes and manages to make it work. Many times, you will see a closet with one or two plastic bins. However, a space like this proves that you can never have too many of these ubiquitous organizational items. Perfectly protected, perfectly stacked, and perfectly organized, spaces like this appeal to the organizer in all of us. However, we do recommend, when storing items in bins, placing like items together and always labeling, even when using clear totes.
36. Perfectly Peachy Walk-in Closet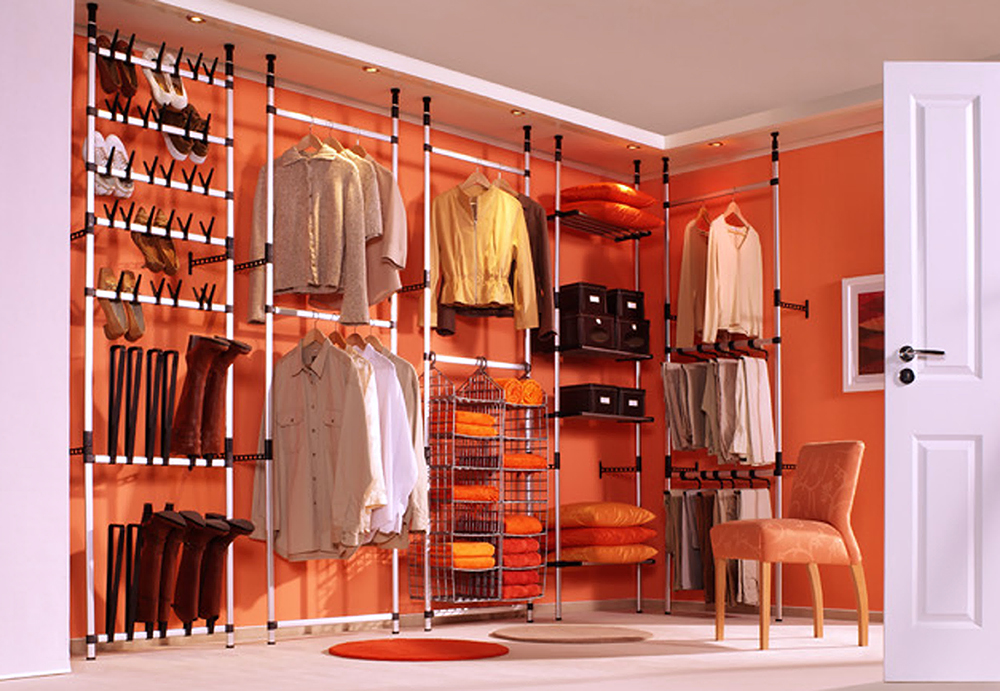 An extra bedroom or unused office space can be easily converted into the closet of your dreams. For those who are renting, consider temporary shelving or closet organizational units that can be easily removed. This perfectly peachy room has all the appeal of a large walk-in closet with the added bonus of great recessed lighting. Just above the shelving units, sit pot-lights that make it easier to find the right item or match the right color. Spaces like this prove that there is nothing that can stop you from creating a closet that you truly love.
37. Extend Your Home Design Into Your Closet Area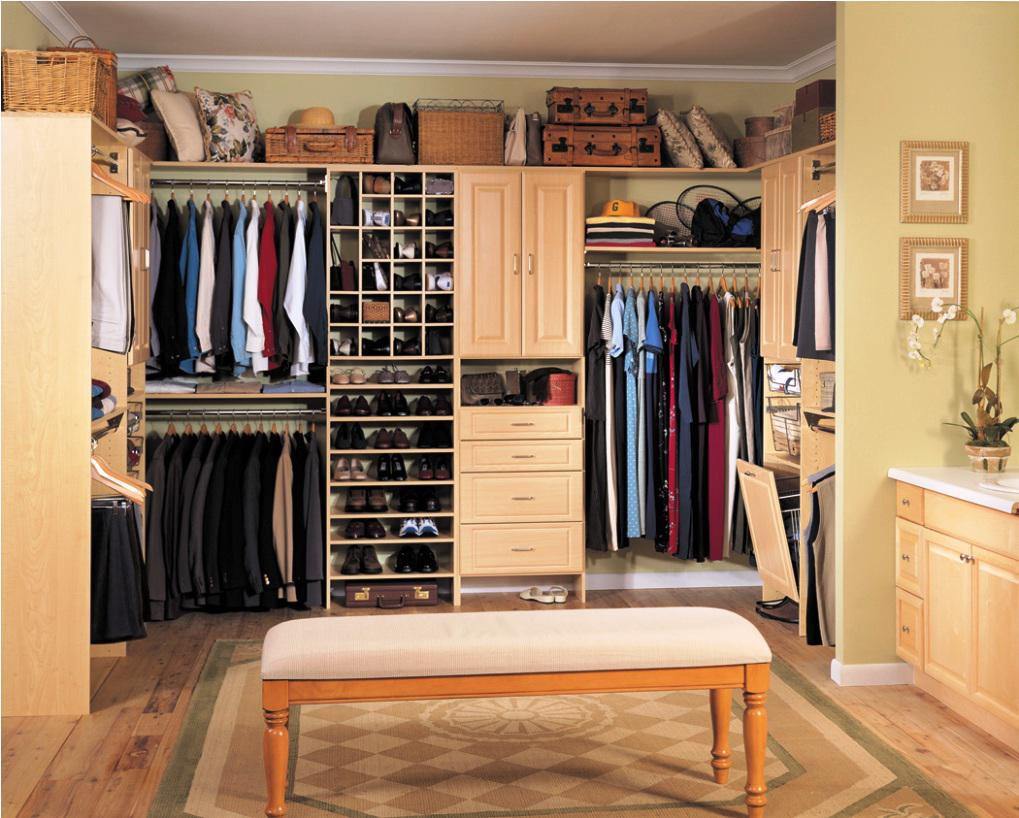 The words quaint, rustic charm come to mind when describing this elegant country closet space. Less-than-traditional wicker baskets and picnic carriers line the top shelf of the large closet space. Timber flooring, an earthy rug, and a tan bench come together and create a comfortable sitting room within the closet's cozy center. When designing your dream closet, incorporate your overall home design into your space. Closet areas like this one are great examples of fully incorporated spaces that extend rather than differentiate from a home's overall design aesthetic.
38. High-end Drama With Little Fuss And A Low Budget Solution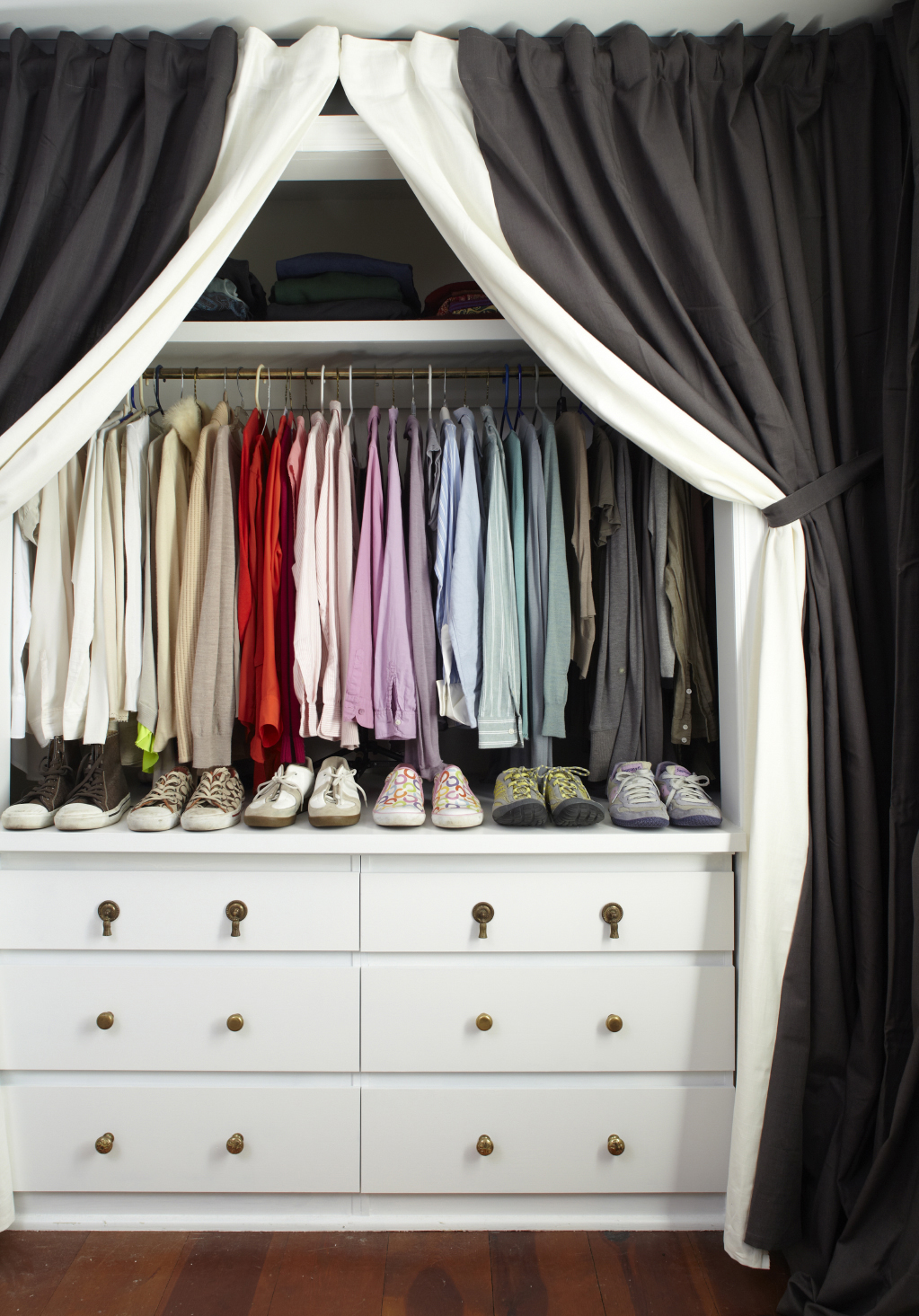 This closet makes a dramatic showing of a perfectly organized wardrobe. Color coded shirts hang above a perfectly sized dresser. This closet achieves a high-end look with the use of precious few resources. To recreate this look you will need to replace the doors of your closet with four panel curtains in two contrasting shades. Once the curtains have been added, the addition of a perfectly sized dresser will finish off your high-end closet look. If you are working with a small budget this look can still be achieved. If you are on a tight budget, A new coat of paint and a set of new hardware on an old dresser will do.
39. Floating Organization Creates Perfection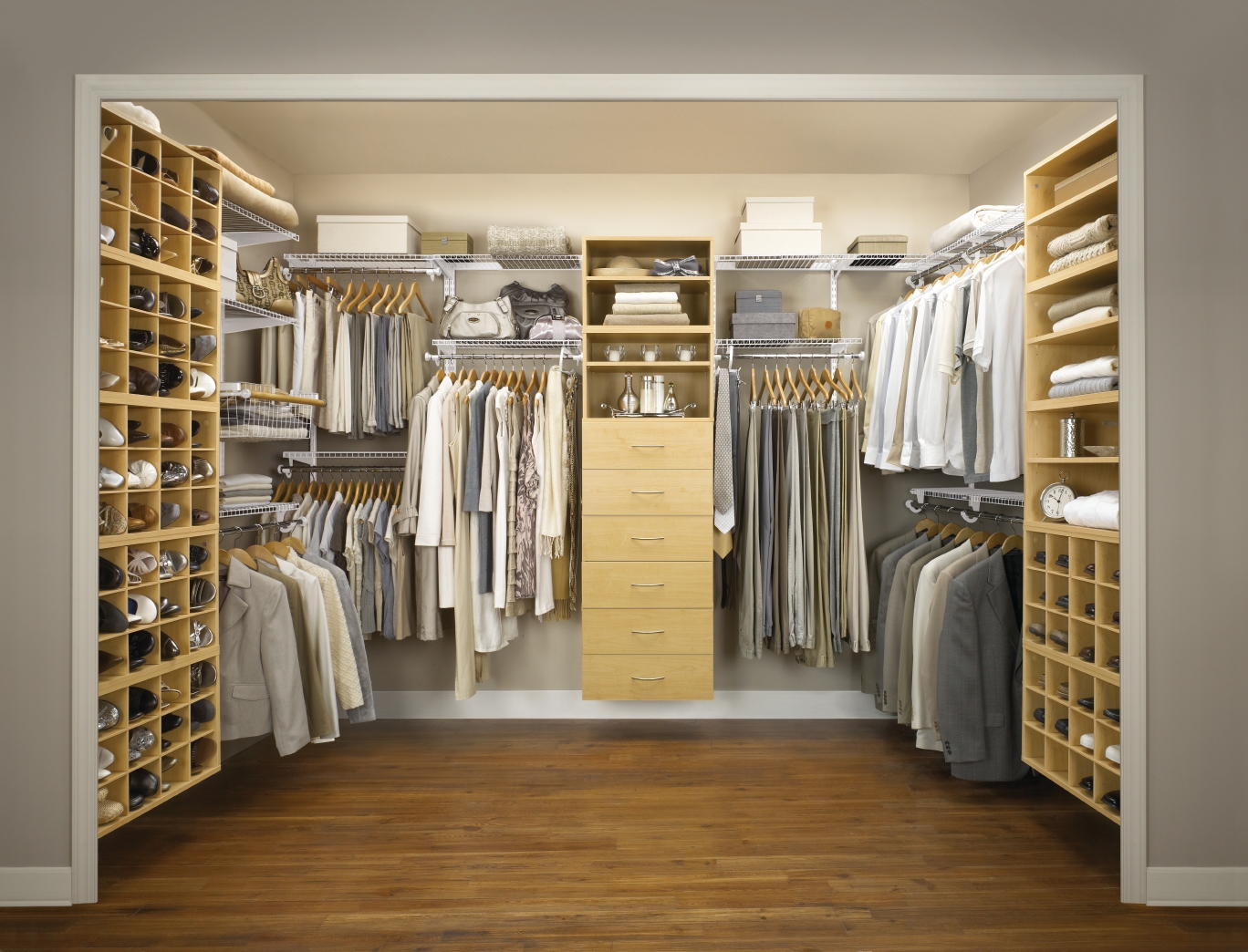 You cannot mess with perfection. You don't need to hide a closet that looks as good as this one. Floating shelves and drawers create a heavenly look in this picture-perfect space. The gray, tan, and white color scheme are the backdrop for a well-thought-out closet space that is sure to captivate any the heart of any and every homeowner.
40. High Impact Wall With Bonus Jewelry Organizer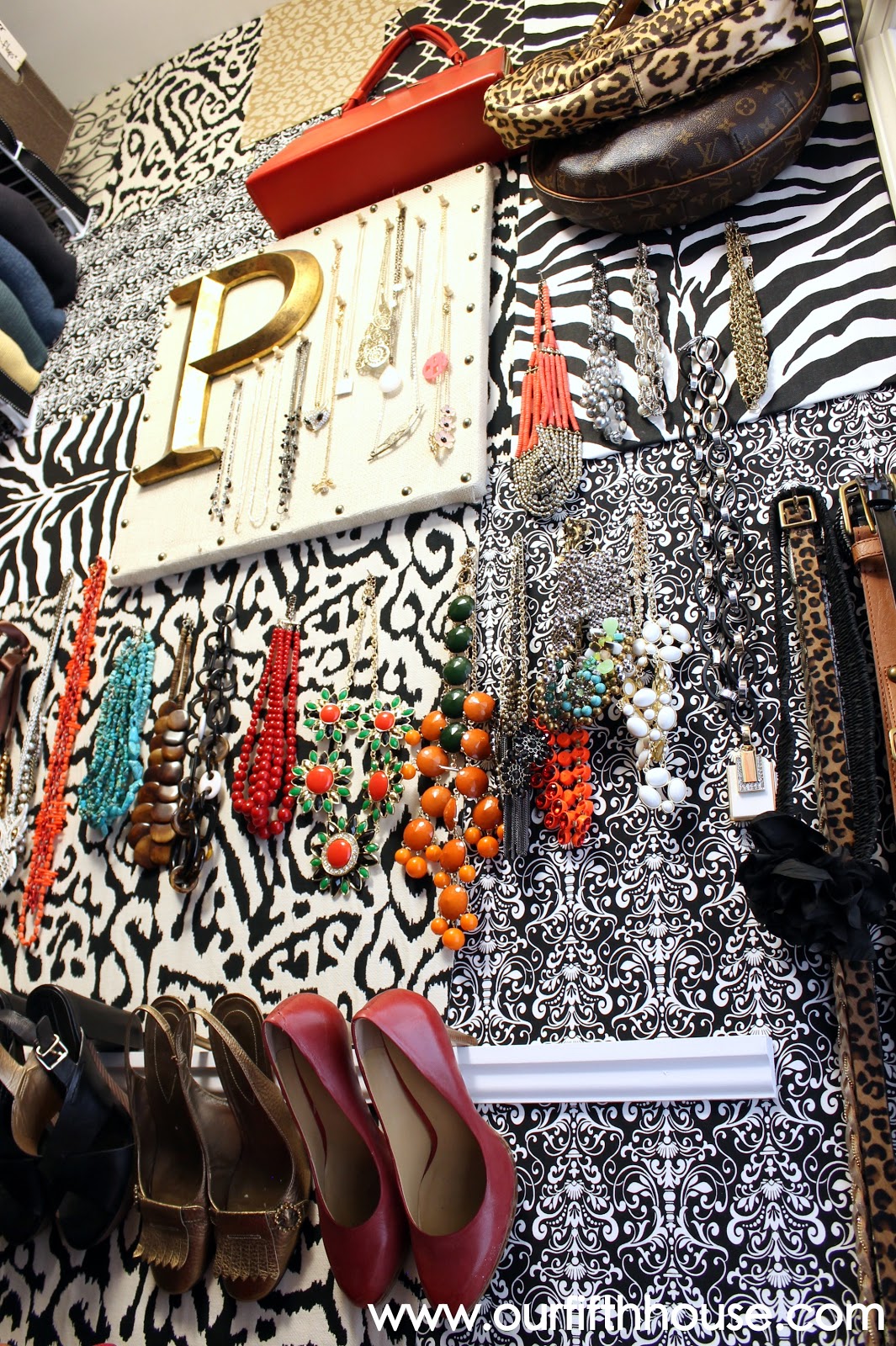 This closet wall really makes a statement. High drama is achieved through the use of mis-matched animal prints and black-and-white pattern play. The quilted effect achieved through the use of the patterns covers a wall and gives a high-impact area on which to hang wardrobe accessories and jewelry. To make this look your own, simply choose patterns that suit your own personal style and tastes. Stick with like colors to create your own accent accessory wall.
41. Add Your Own Flair To Your Closet Space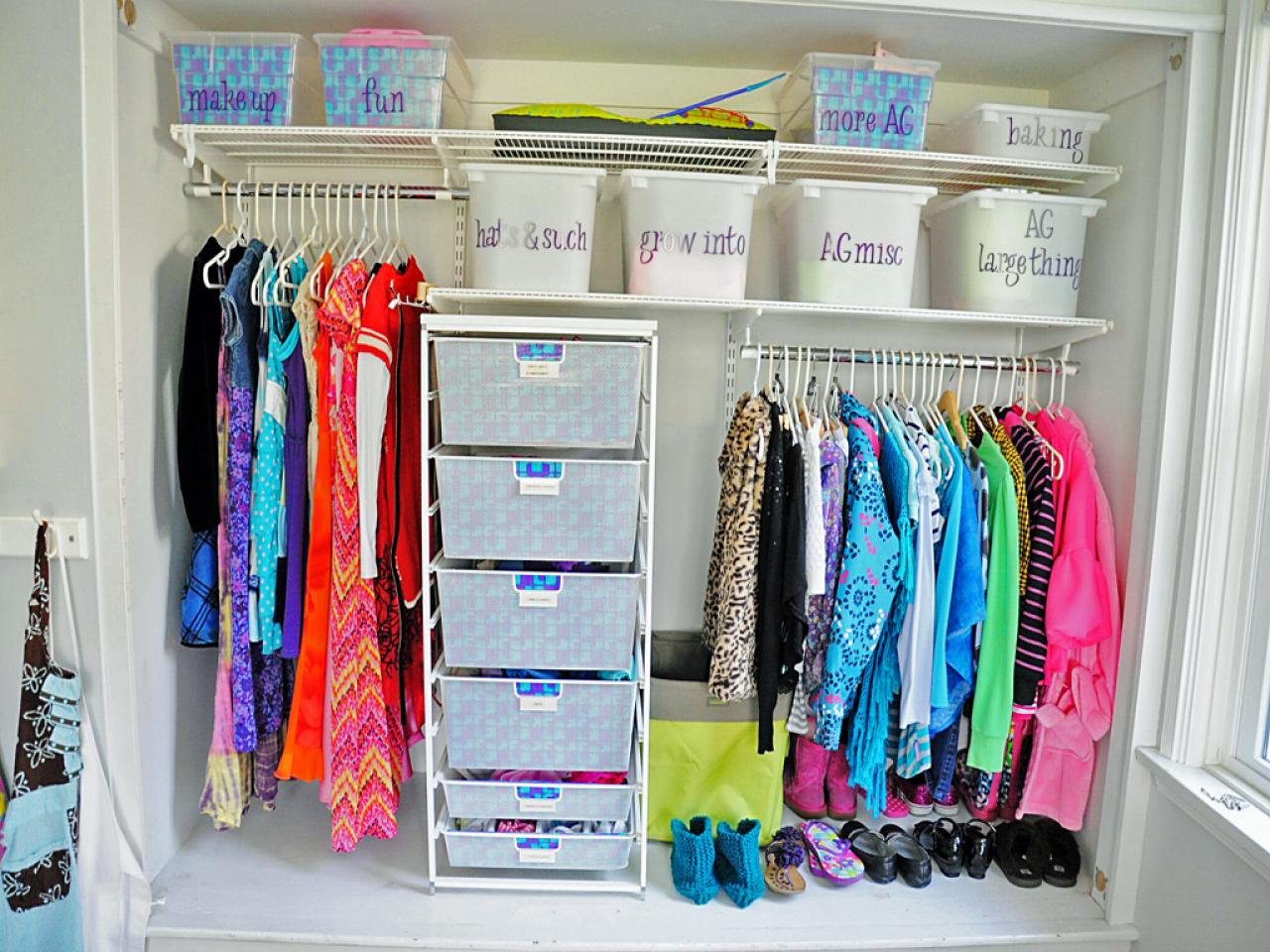 Many complain that organizational bins lack style and appeal. This closet offers a solution to the dilemma posed by dull organizational bins. Spice up simple organizers by adding your own flair. Patterned drawer liners peek through partially opaque organizer bins in this colorful wardrobe. Colorful patterns are not the closet ideas that make this closet noteworthy. The closet's labels, added to every drawer and bin, make this closet a fantastic example of closet organization at work.
More closet décor ideas on the next page…