Everyone is always on the lookout for the best closet organizers and it feels like a constant struggle to come up with a closet organizer system that works long term. Well, your struggle and search end here. This list of the 26 best closet organizers will help you craft your own custom closet that you will be happy with for years to come.
26 of the Absolute Best Closet Organizers to Tidy Up Your Home

The way one organizes a closet has a lot to do with personal preferences. It is important to consider what you are after in your closet organizer system. Are you looking for pure functionality, or would you like it to also have a bit of style and class? Do you hope for something to relieve all the stress of your piles of clothing, or do you just need a way to fill empty space? Take some time to consider what exactly your ideal closet would look like, then search for fabulous solutions among these awesome items.
If you don't have a lot of space to work with, that is okay, too. There are so many great space-saving options listed here that you shouldn't have a problem finding pieces that work for you. With many over-the-door and hanging options, you will quickly find that you may in fact have more space than you are currently utilizing.
Have fun exploring the vast world of storage options. It can be life-changing to get a chaotic space organized, and a closet – something that you use every day – is a great place to start. No matter how tidy or messy your current space may seem, there are options here for you if you take your time, consider your budget and space, and then go forward with a whole new look. You won't regret making the big leap into reorganizing or enhancing your current closet space.
1. Space-Saving Slim Metal Shelves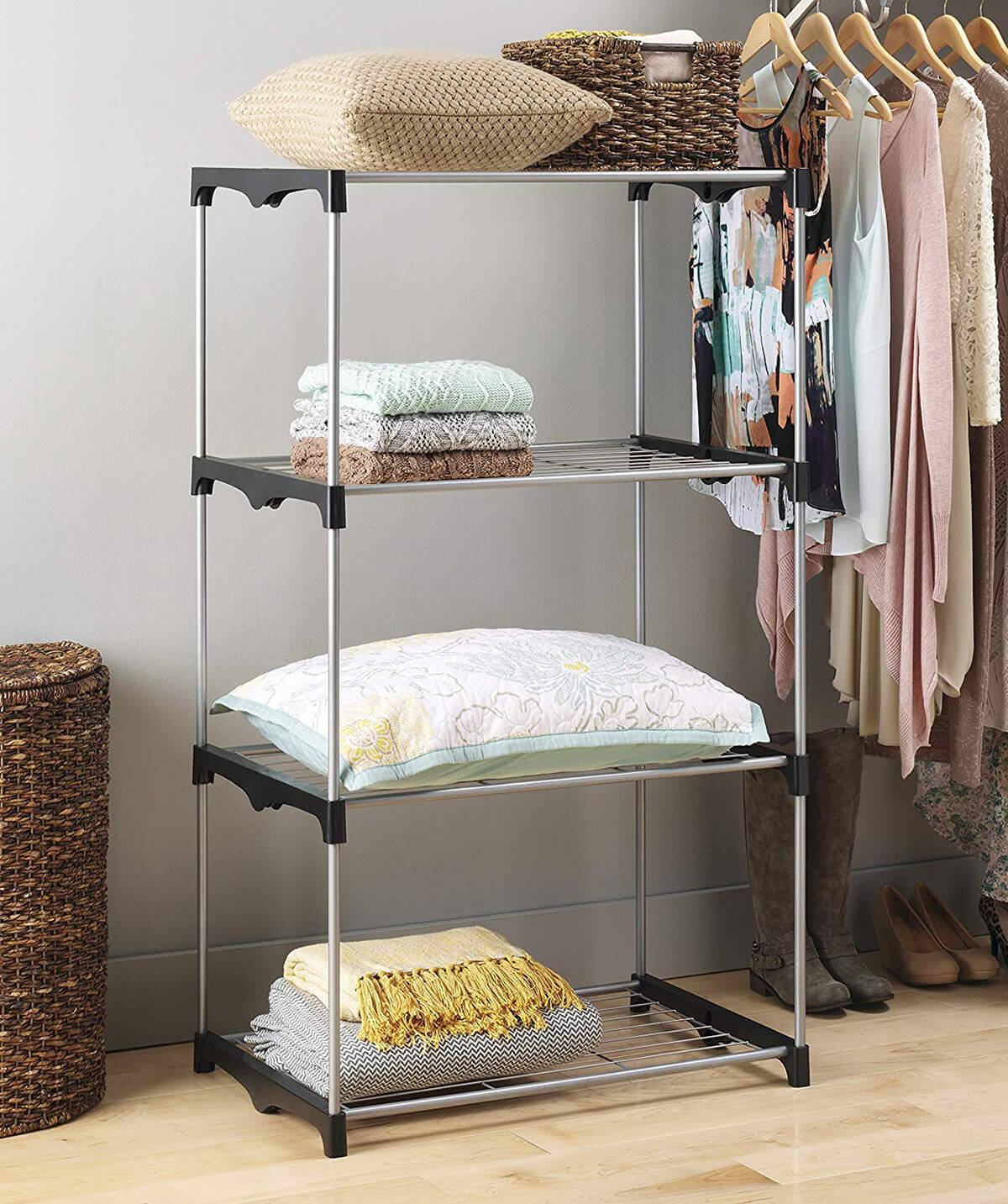 These are the perfect shelves if you are looking for a closet storage unit that is all function. Its super slim shelves mean that it doesn't take up more space than it needs to or attract any extra attention. It is functionality at its fines and works perfectly for storage in a large clothing or utility closet. Use it for clothes, linens, or whatever else you may need a little extra space for. If you choose to store smaller items, consider organizing them in baskets to ensure that they don't overflow off the sides of the shelves.
2. Sleek and Angled Shoe Rack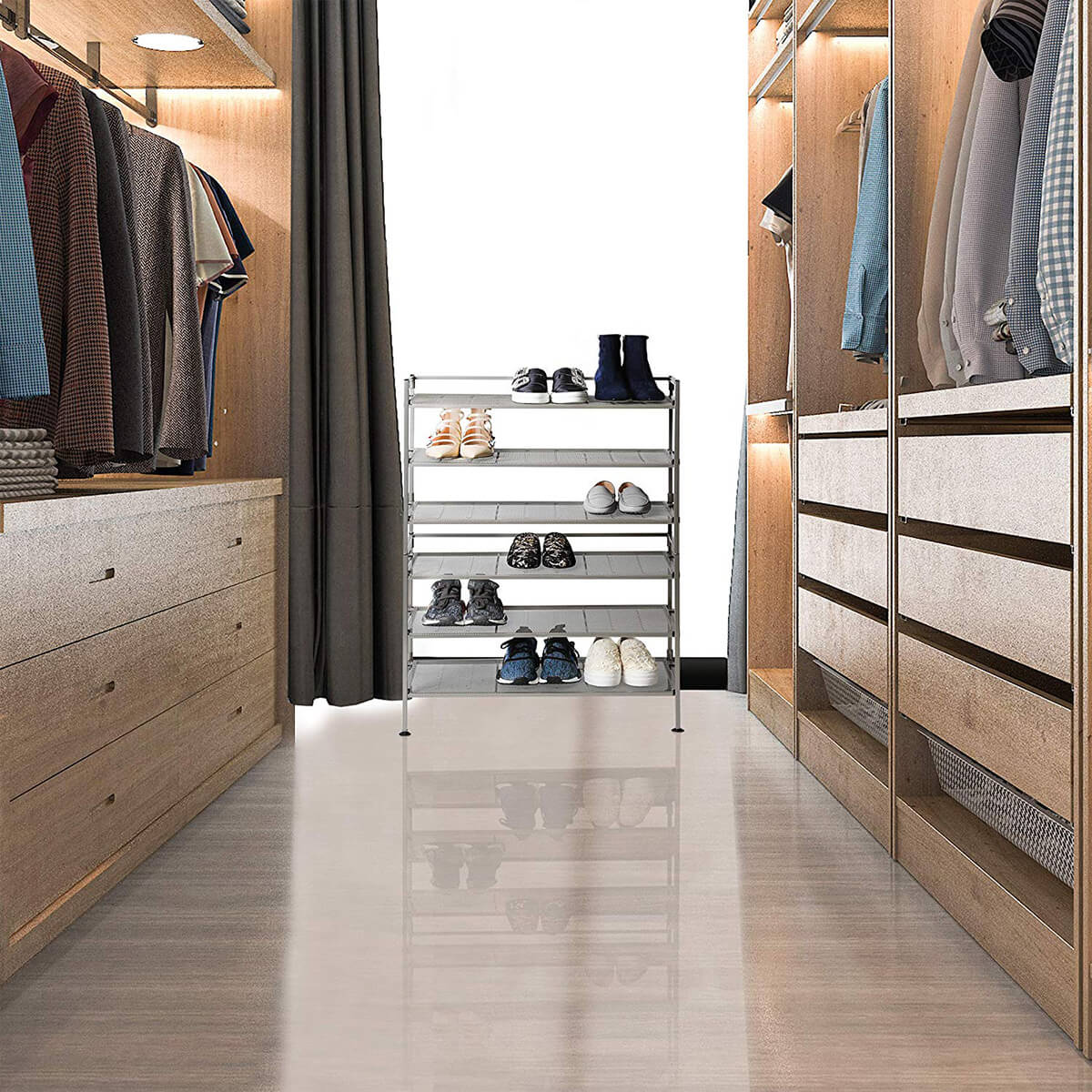 The best closet organizers use a small amount of space and keep everything on them visible. This shoe rack exactly fits that description. With a slim and sleek design, it is unassuming in its space and flawlessly serves its purpose. You can use this in a walk-in closet if you like to be able to select your shoes while deciding on your outfit for the day. Alternatively, if you are more the type who throws on a pair as you head out the door, it will also work well in a hall closet or mud room.
3. Innovative Three-Level Purse Hanger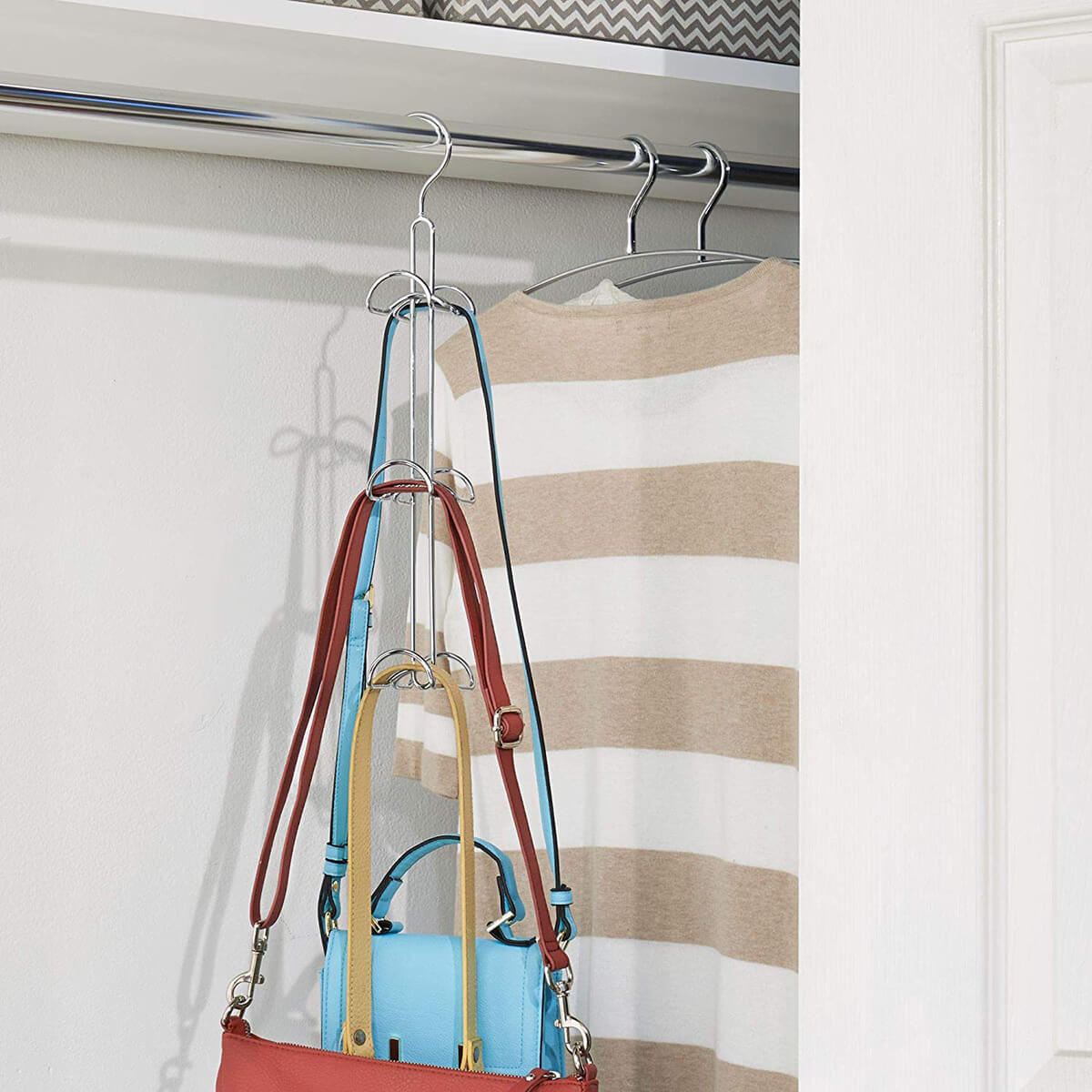 A purse is meant to be hung, whether it is over your shoulder, on a coat hanger, or even in your closet. Hanging your purse keeps it in good condition and ensures that neither the straps nor the bag get any creases or other snags that might occur if it were thrown in a drawer or tossed in the corner of a closet. This hanger is perfect for a bedroom if you like to pick a bag to match your outfit, and it would also work well in a hall closet for easy access when you are headed out the door.
4. Everything you Need Pop-Up Wardrobe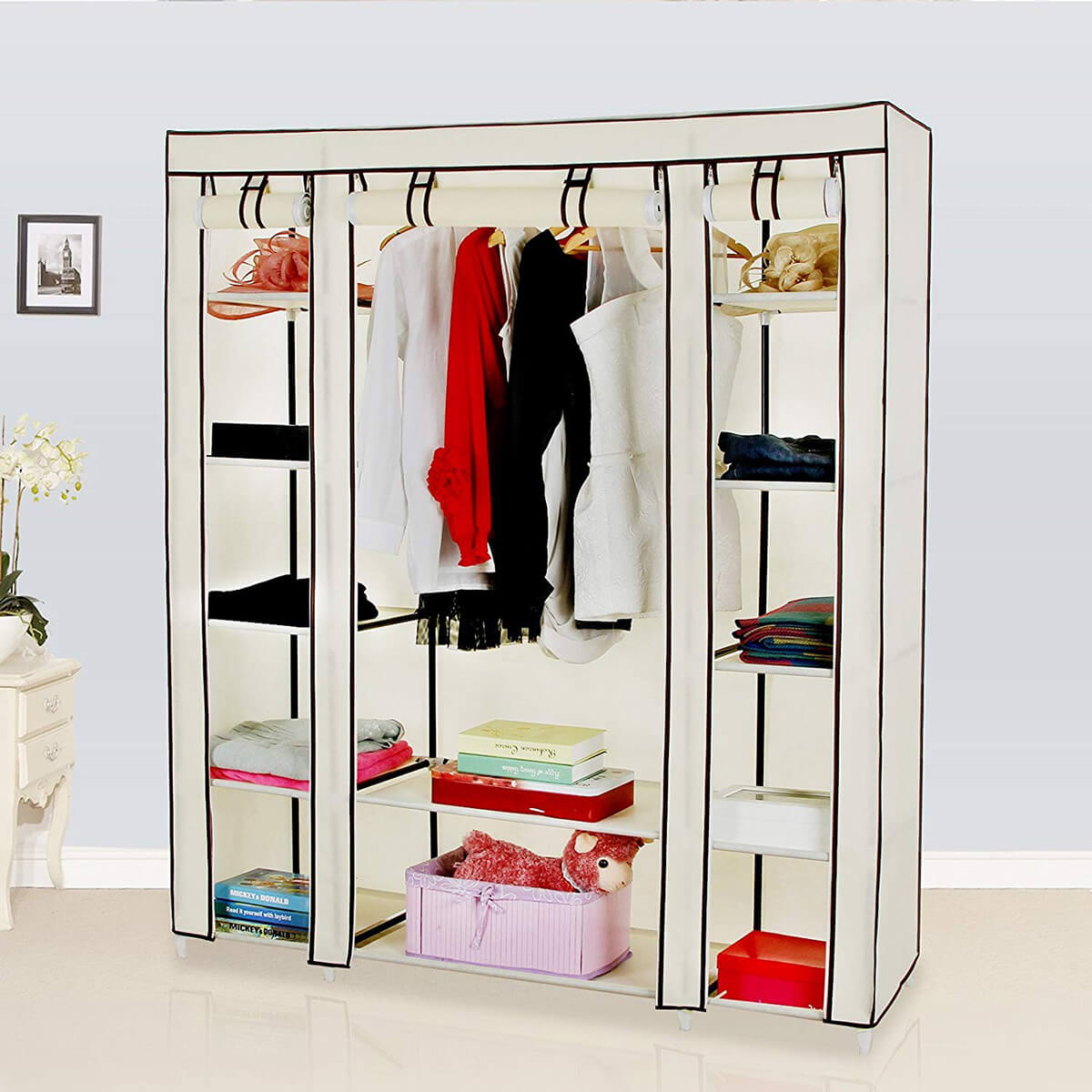 Some homes, especially older ones or smaller apartments, tend to feature teeny tiny closets. Shoving all your clothes into such a small space can feel like a nightmare – and don't even think about trying to get them back out again. If you face this problem, or simply need some more space, this pop-up metal and vinyl closet is a great solution. Offering abundant space for clothing and other odds and ends, it replaces the need for hanging space and drawers with abundant shelving options. Use this in a master or guest room for one of the best closet organizers that doesn't even go in your closet.
5. Custom Closet with Everything You Need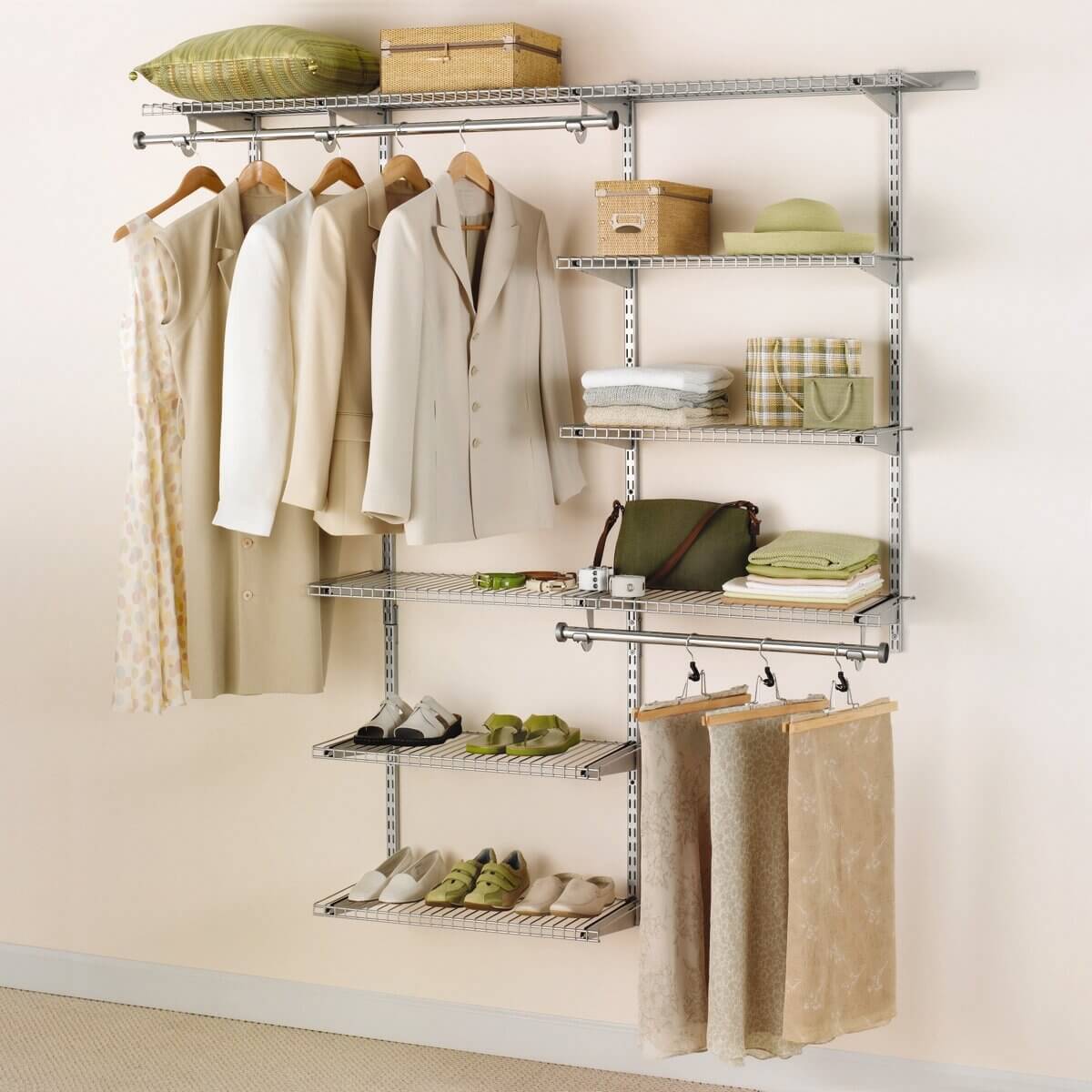 This super cool closet wall piece is versatile and can be completely customized to your preferences and needs. Need space for long dresses? Simply place the clothing bar over empty space. Need large shelf spaces for linens? You can easily space out the shelves to your desired height. This is one of the best closet organizers primarily because of its ease of use, small footprint, and simple set-up. It isn't flashy or fancy, but it does its job neatly and precisely and is everything you could want in a closet organizer.
6. Super Handy and Helpful Storage Bins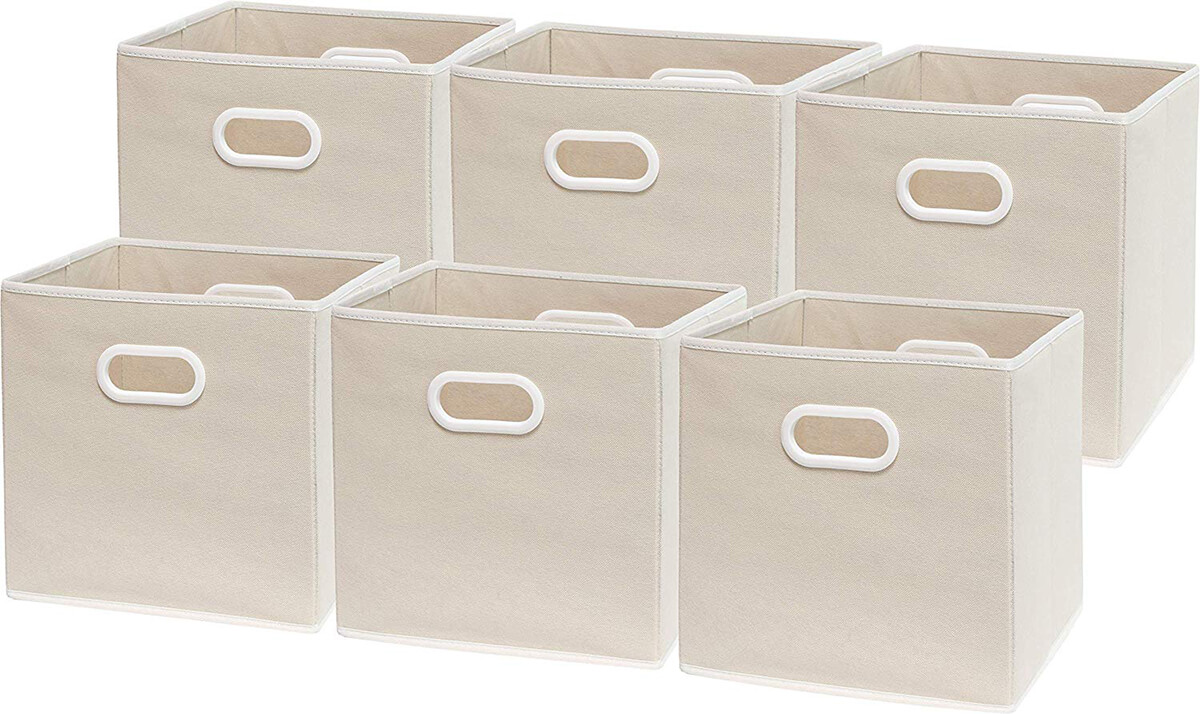 If you have not invested in some quality canvas storage bins, then you don't know what you are missing. If you are planning on designing a custom closet, these cubes are so helpful. You can use them in many different ways either on their own or as part of a larger shelving system. They can be used to store clothing, shoes, hats, bags, scarves, or other odds and ends. Just be sure that you remember to label each bin clearly so that you don't forget what they each contain. Have fun pairing different colors and sizes of bins for a varied but cohesive look.
7. Amazing Four-Layer Closet Hangers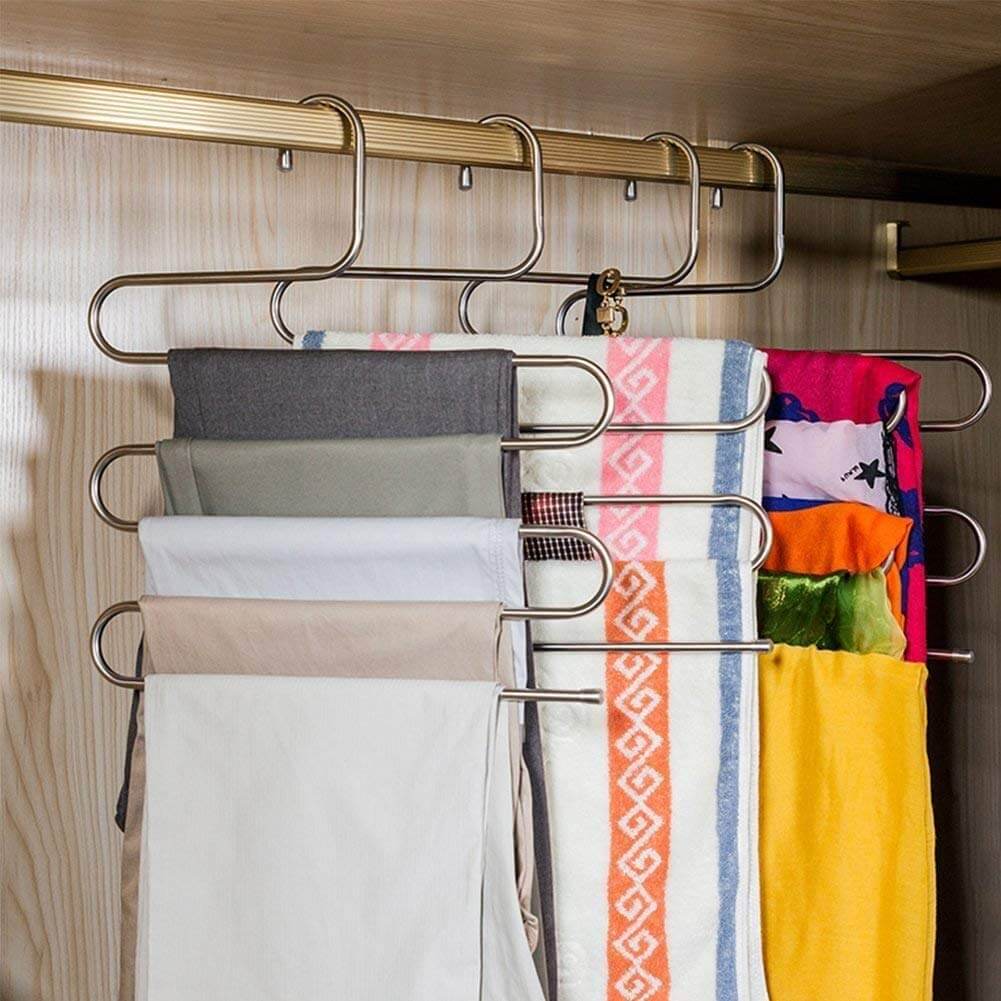 Sometimes traditional hangers can feel like a big waste of space. With just one shirt, skirt, scarf, or pair of pants, it seems like there must be a better solution out there. This four-level hanger is that solution. These hangers are great for pants, linens, scarves, or skirts and can hold up to four different pieces at once. You will be amazed when you take your closet from 40 hangers to just 10. Also, the way they are tiered makes it easy to locate the item you are looking for without having to shuffle through your whole wardrobe.
8. Clean and Sharp Custom Closet Unit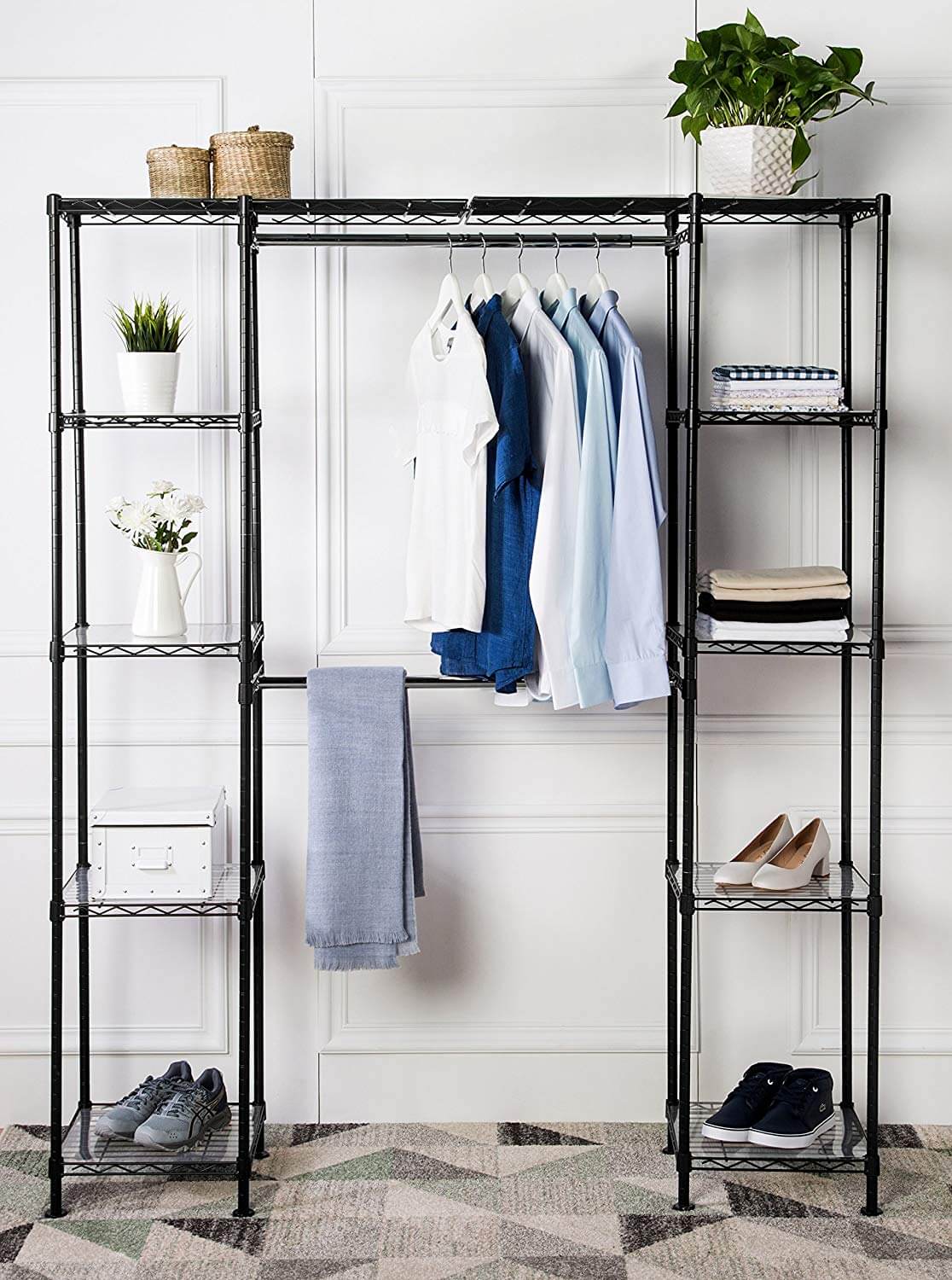 With two rows for hanging and eight individual and spacious shelves, this amazing closet organizer system is simply the best. With its thin wire design, it takes up very little space and can either be incorporated into an existing closet or used to create an all new closet space. The tall shelves allow for easy stacking or can even be used for fun accent pieces like plants or other home décor items. After all, just because you are the only one who sees the inside of your closet, doesn't mean it shouldn't be just as fabulous as the rest of your home.
9. Cool and Convenient Double Entry Organizer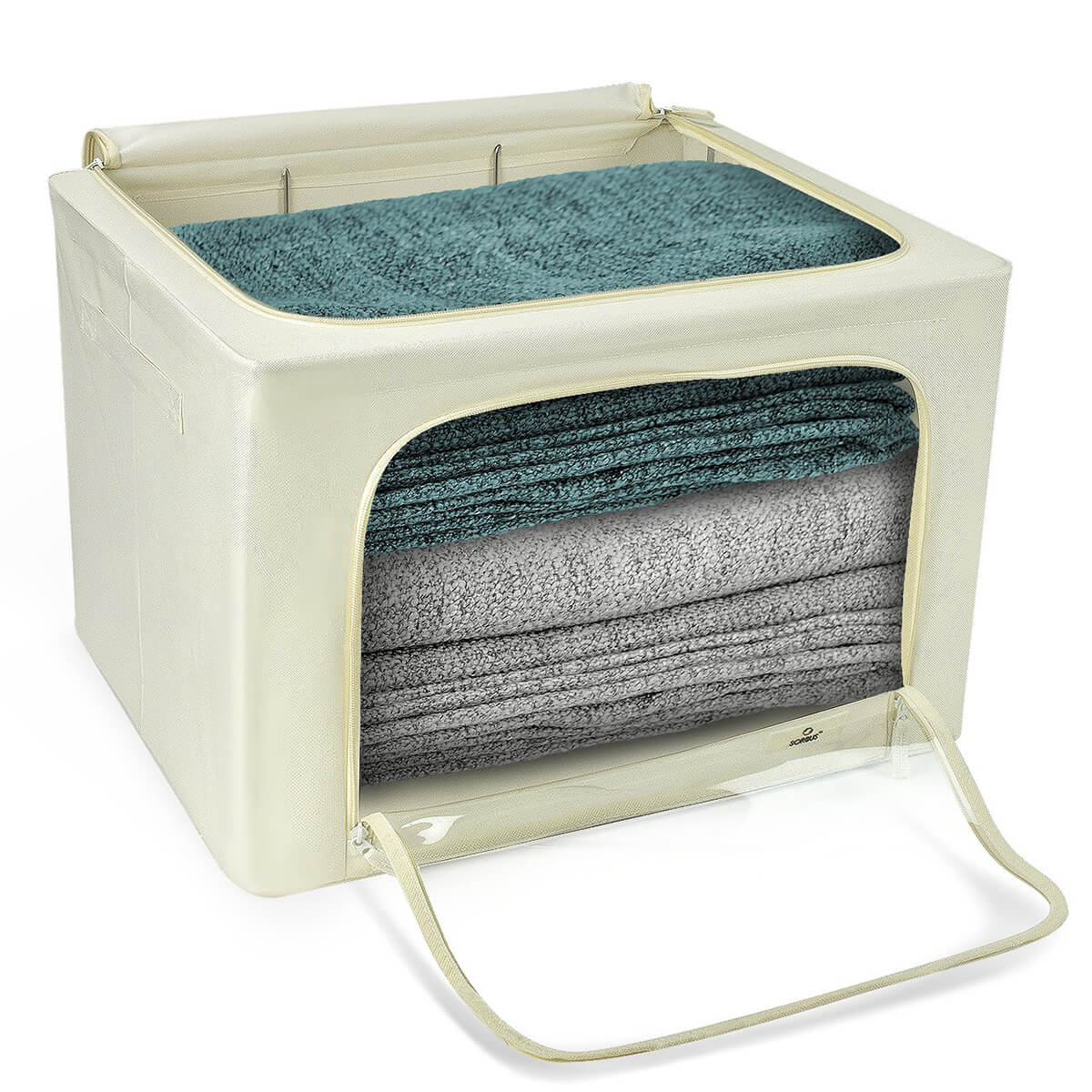 Canvas storage bins are so great, but sometimes it can be difficult to remember what is at the bottom of these often opaque cubes. This version solves that problem and even creates access to those items buried at the bottom with a clear zippered side. Now, since it opens from both the top and side, you can easily find whatever item you need and pull it out without totally upending everything else inside the storage box. Get a few of these for an easy way to improve your closet organizer system.
10. Stylish and Cool Leather Shelf Dividers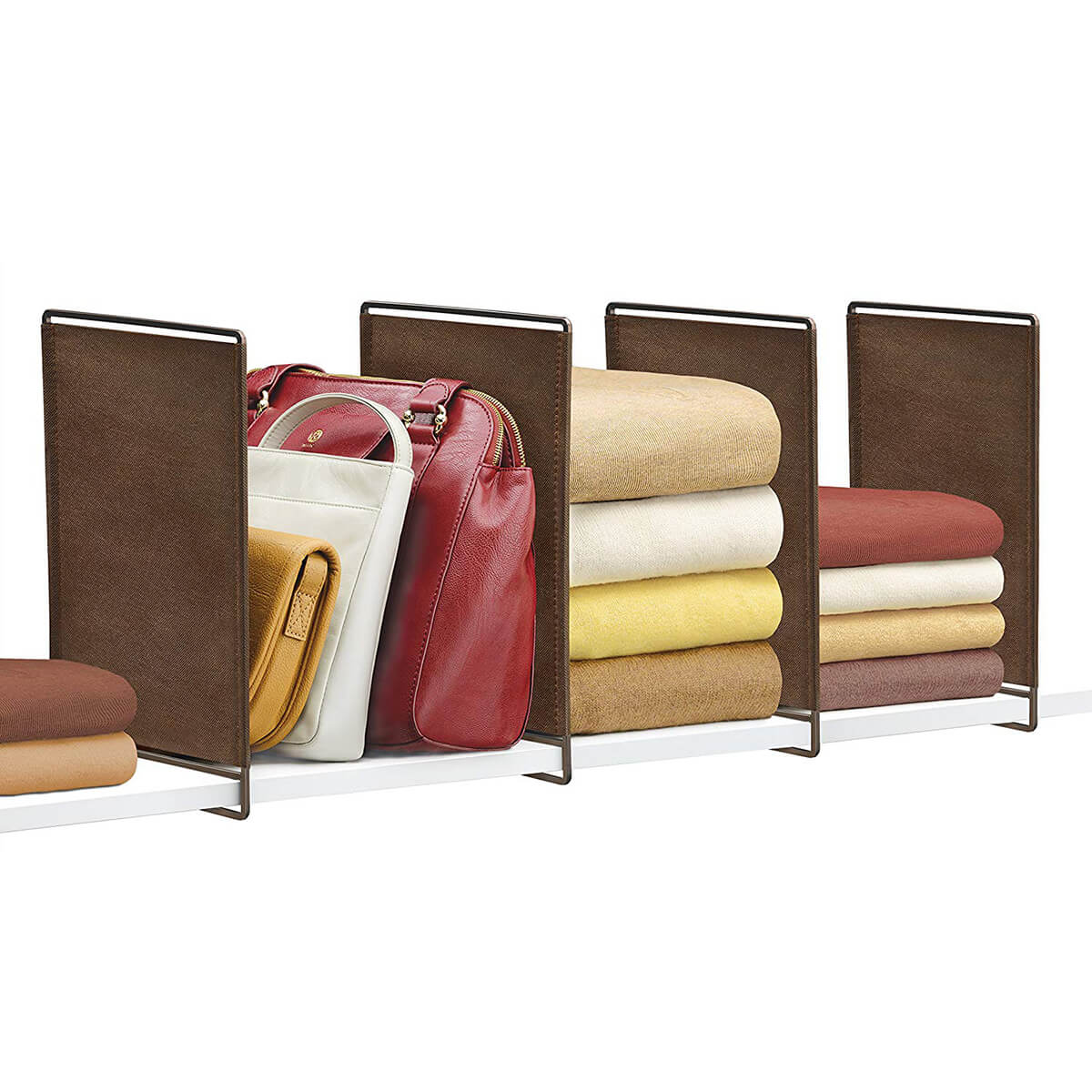 Making your closet awesome should be a priority. That doesn't just mean neat and accessible; why not make your closet stylish and attractive, too? Since this is where you get your inspiration for your wardrobe, it should reflect your personal style, too. These dark leather shelf dividers can be placed however far apart you desire and have a beautiful look, making them the perfect holder for all your precious clothes and accessories. Pick up a few matching ones so that you can divide any shelf into the number of segments you need for your purposes.
11. Hats off to This Closet Organizer System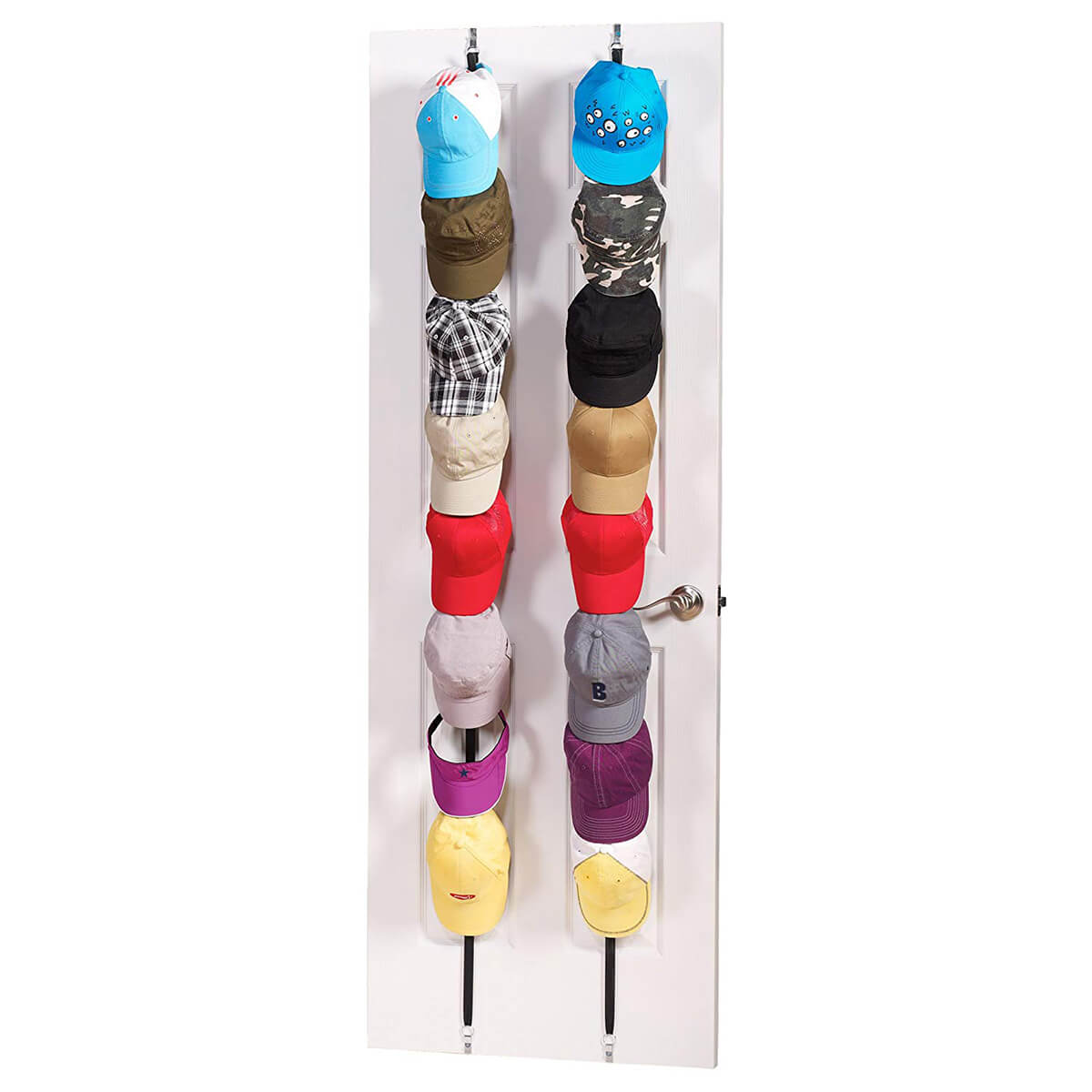 If you are someone who has and enjoys wearing lots of different baseball hats, this door organizer is a must have. The perfect system to keep all your hats visible, accessible, and tidy, this handy device installs over your door to give you an instant storage solution that can hold all your favorite caps. You can store this in any closet in the home and can even have multi-hat racks for different styles or different people's headwear. You can always take it one step further and organize your hats on the rack by color or by how much you wear each one.
12. Dark Canvas Pop-Up Closet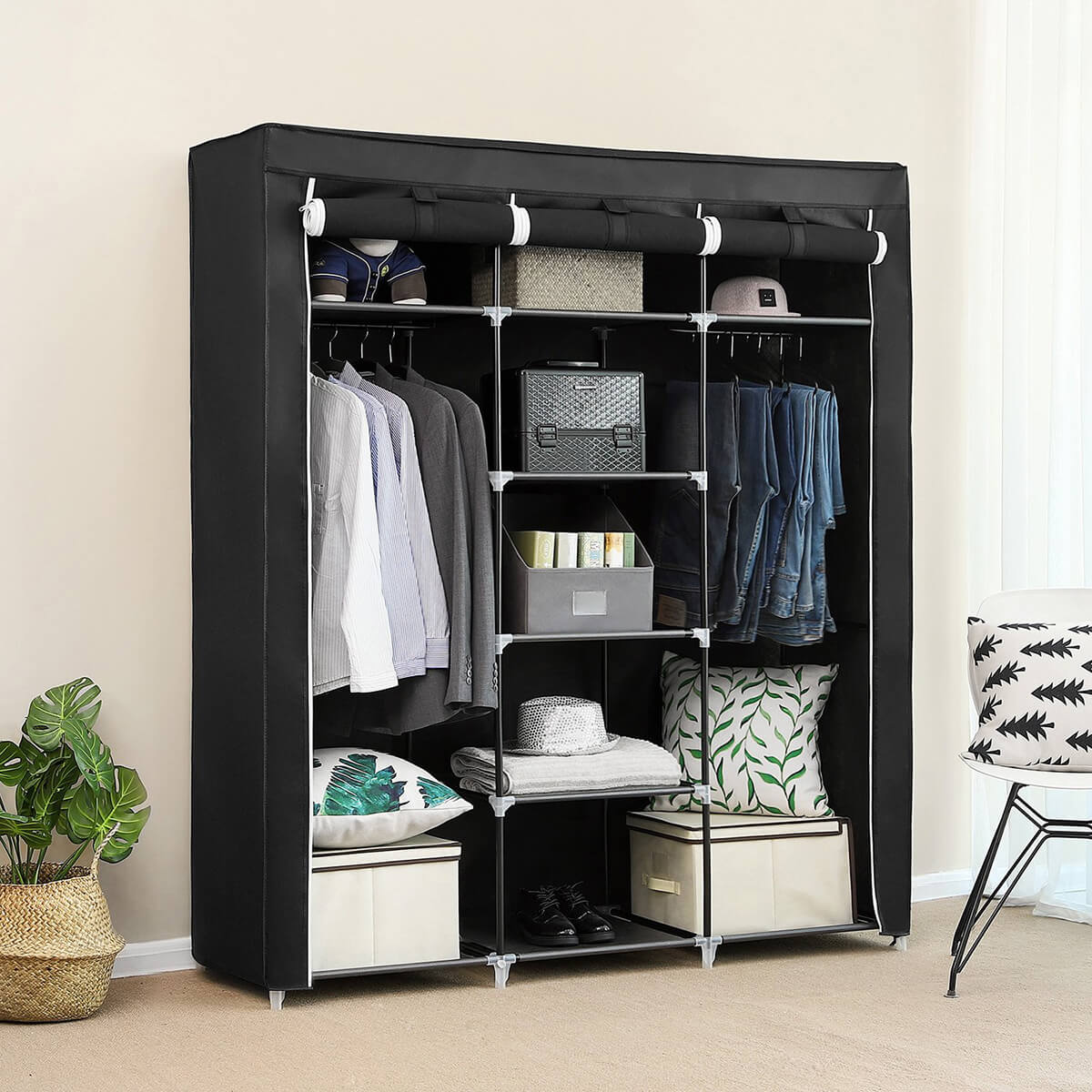 This dark wardrobe is so stylish and fits in so well with any modern home that it is difficult to tell it is made from soft materials. On trend to replace classic heavy and dusky wooden wardrobes, canvas options have become very popular for their versatility and ease. You simply construct the basic frame and voilà: You have yourself a stand-alone closet. It features roll-up flaps so that you can easily hide or display whatever is inside. If you decide to use one section for décor, you can easily close the other two and keep the third open when you have guests.
13. Gorgeous Gray Canvas Boxes and Bins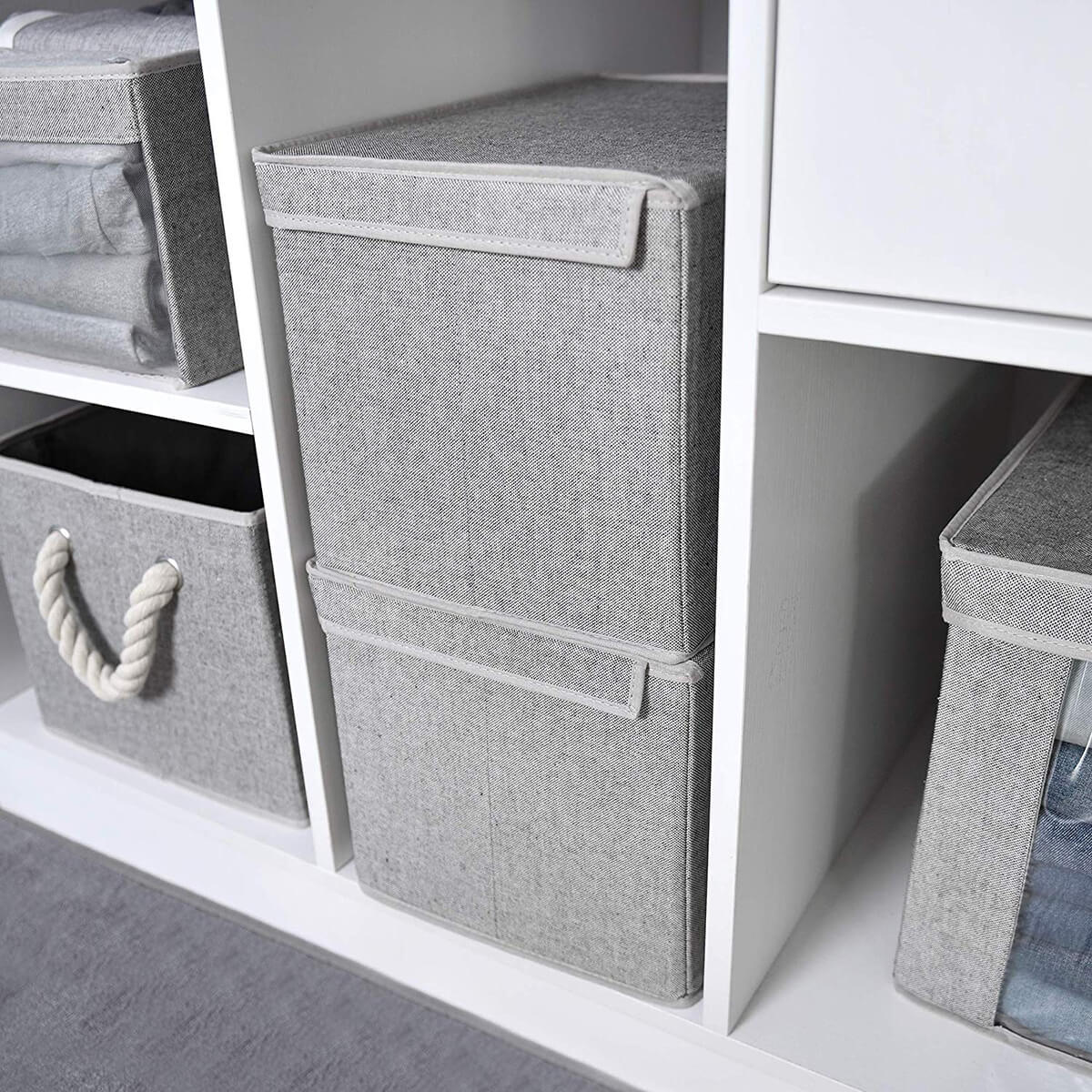 This set of gray boxes is wonderful because there are so many mix-and-match options. If you prefer to have a few items securely tucked away, simply use the closed-top opaque boxes. If you want easy access, then a crate-style open-top box may be best. And of course, if you want to utilize your space but still be able to find everything you need, the clear-sided boxes are perfect for that. Although these boxes each have their own usage and look, they go together perfectly for an interesting, tidy, and cohesive closet.
14. Extra-Long Hanging Shelf and Drawer Organizer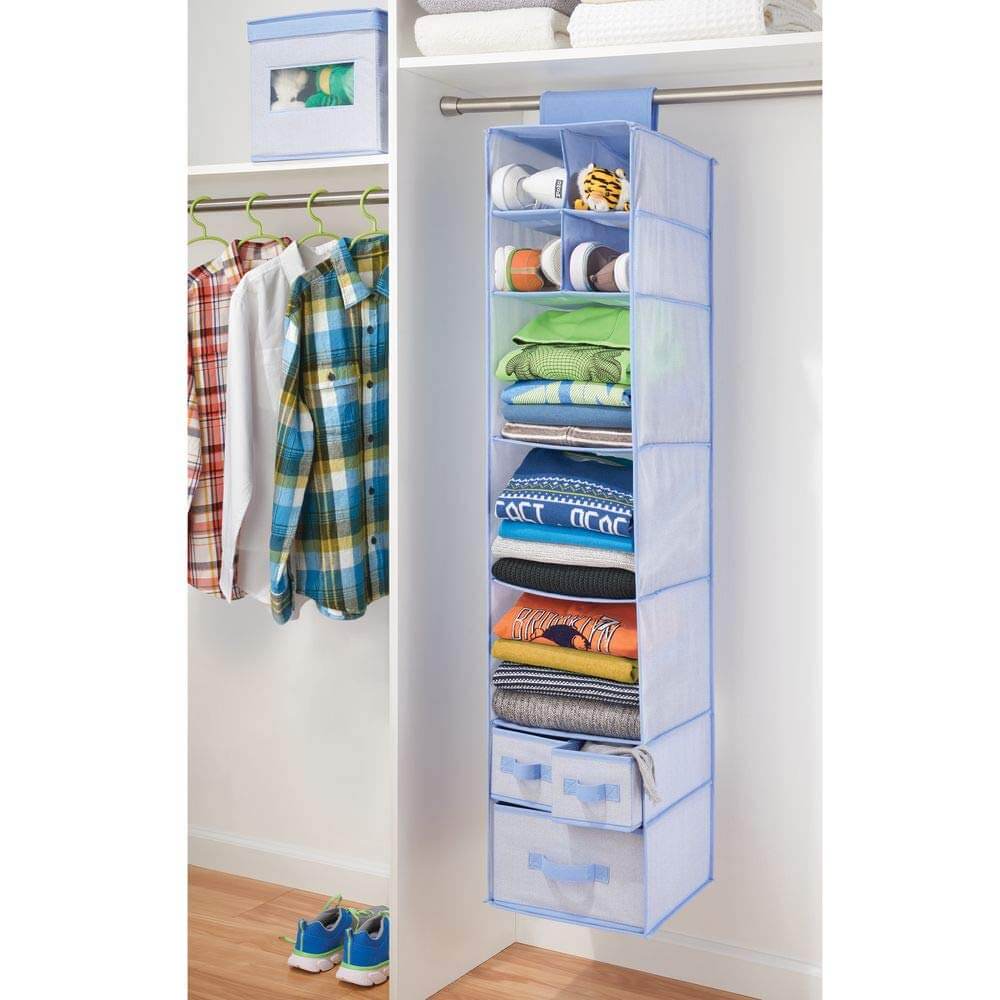 One of the simplest and best closet organizers is a classic hanging shelf and drawer set. Featuring 10 separate compartments, you can store everything from shoes to hats to scarves to shirts. With most sections boasting an open front, you can easily open you closet and see your options without having to dig through dark and deep drawers. So long as you are able to keep your clothes folded tidy and don't try to overstuff, you should be able to see each piece for easy access. Place intimates or other more personal items in an opaque drawer for a bit more privacy.
15. Fabulous Complete Black and White Closet Organizers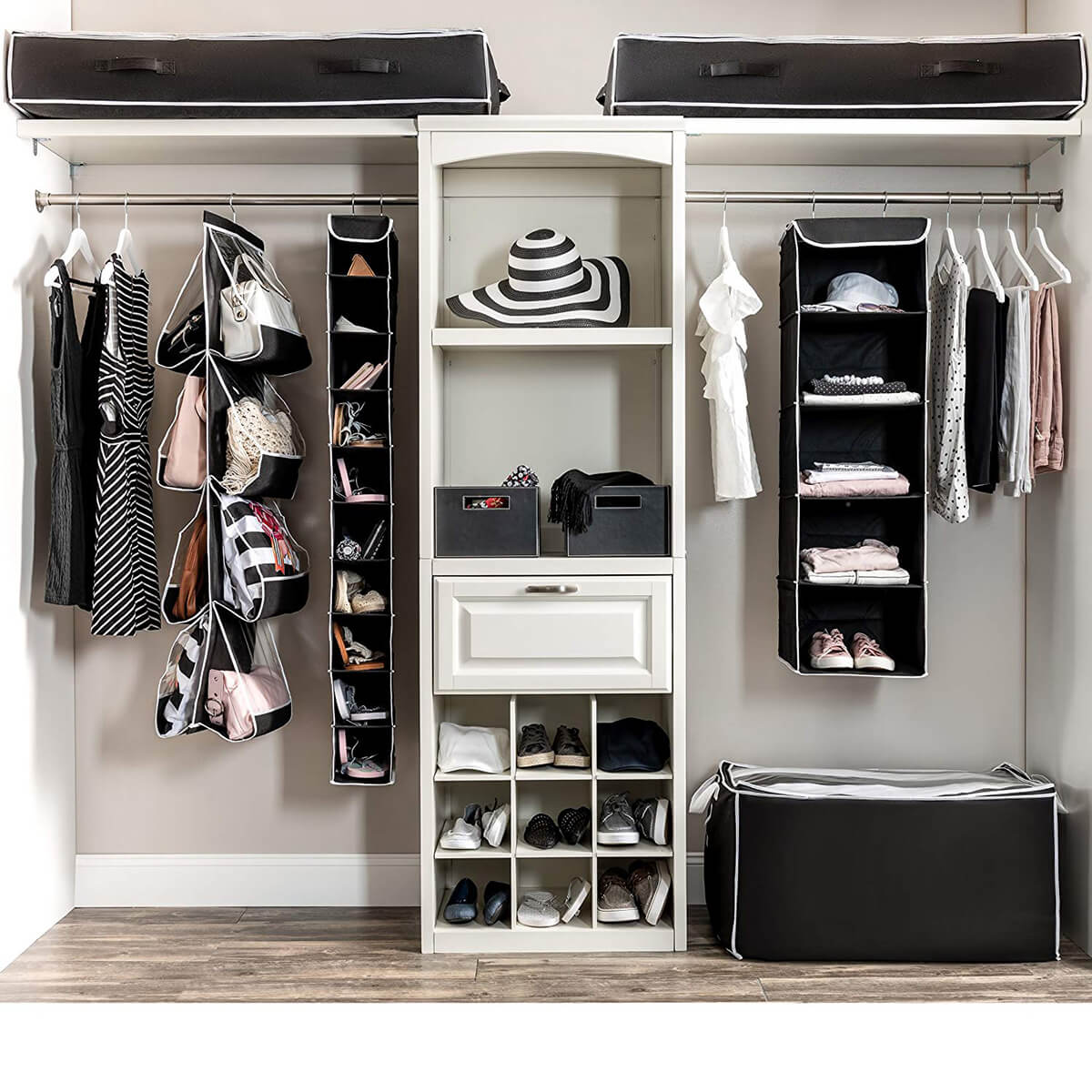 This closet is an organizer's dream. It is chic, simple, and everything has a proper and designated place. Utilizing multiple storage bins, you can see almost all the clothing you would want to wear and can easily accessorize with a great hanging shoe rack and bag holder. Also, note the three larger storage containers for clothes that may be out of season or possibly on hold for another occasion. If you have a large space like this to work with, this layout is great and would suit nearly anyone. Notice, by the way, how nothing is strewn on the floor, and use that as your inspiration.
16. Three-Tier Hanging Closet Shelf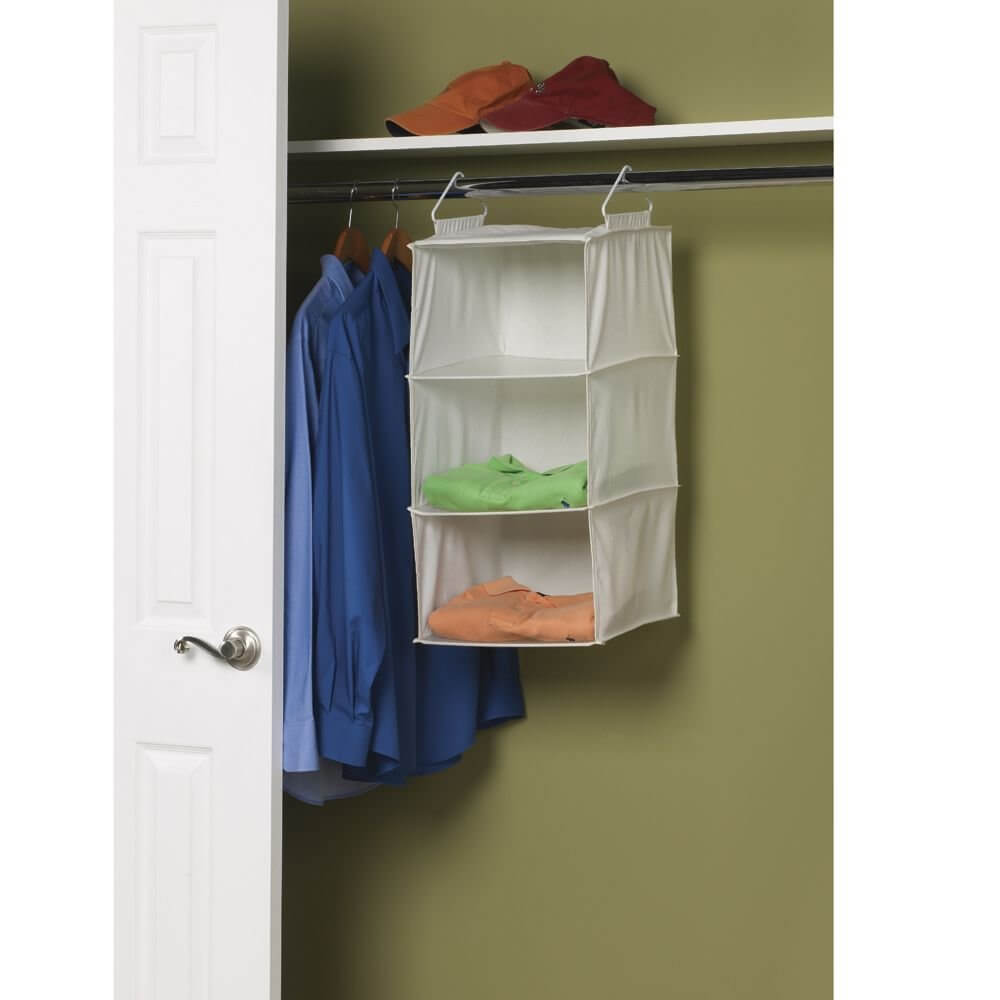 An effective closet organizer system makes it easier to put away and find your clothes. Often it can be very easy to find a dress or button-down shirt since those are often hung individually in closets. However, finding t-shirts or polos that are often folded and shoved in a drawer can be more difficult. This hanging shelf gives you a neat and simple way to keep those often hidden shirts on display and hanging right alongside your other clothes. Just be sure to keep your stacks neat and tidy so that you can see what all you have on your three shirt-sized shelves.
17. Overflow-Proof Shirt Storage Cubes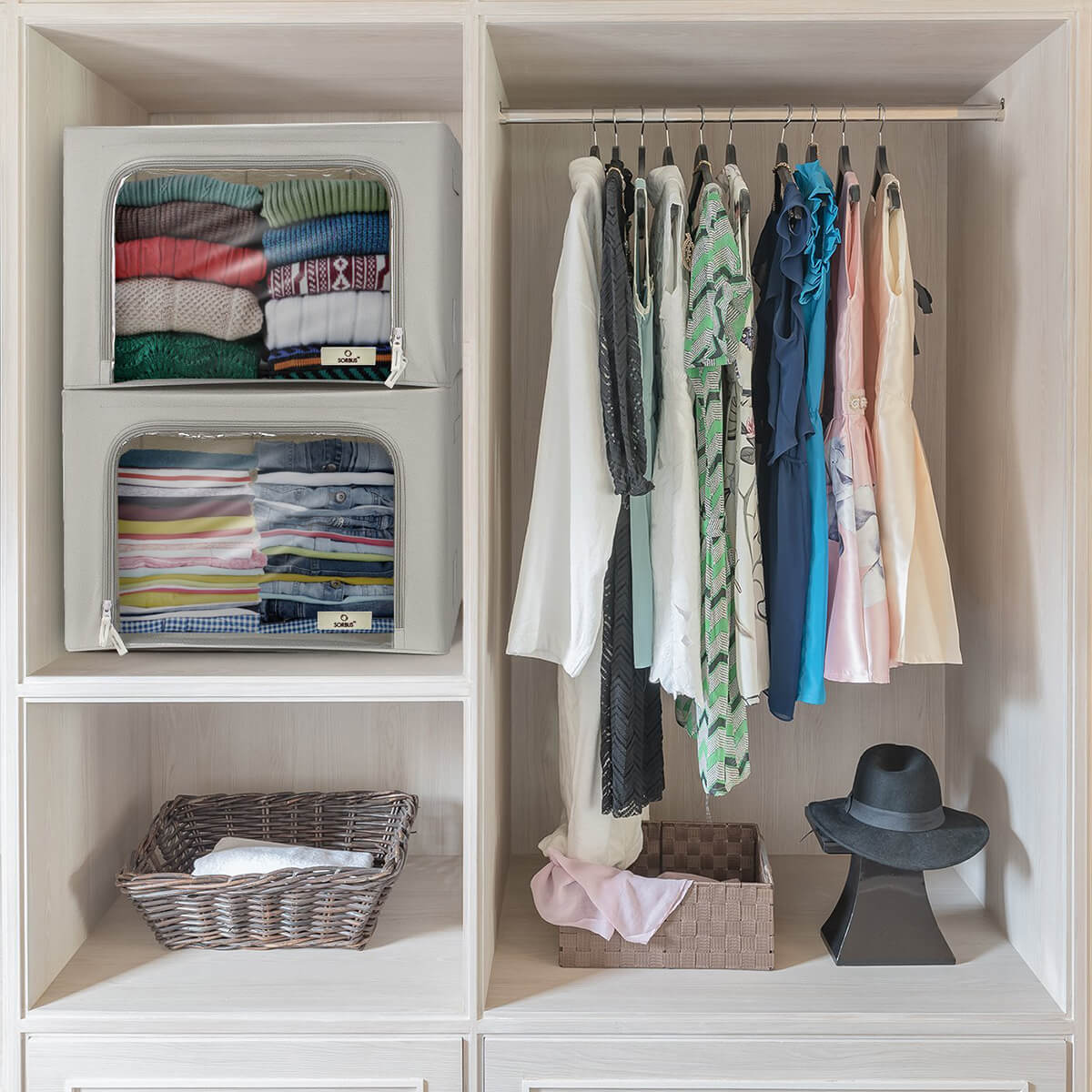 If you have drawers or shelves where you store your shirts and sweaters, you probably know that sometimes they can get out of control. On shelves, shirts tend to bulge out; in drawers, they tend to overflow. This isn't necessarily because you have too many clothes, but because they are not properly contained. These amazing storage cubes take the ease of shelves and make them a whole lot more functional and tidy for a win-win. With the simple side zipper, you can easily slide out your favorite tee without having to dig around and mess up every other shirt.
18. Multi-Use Five-Hole Clothing Hanger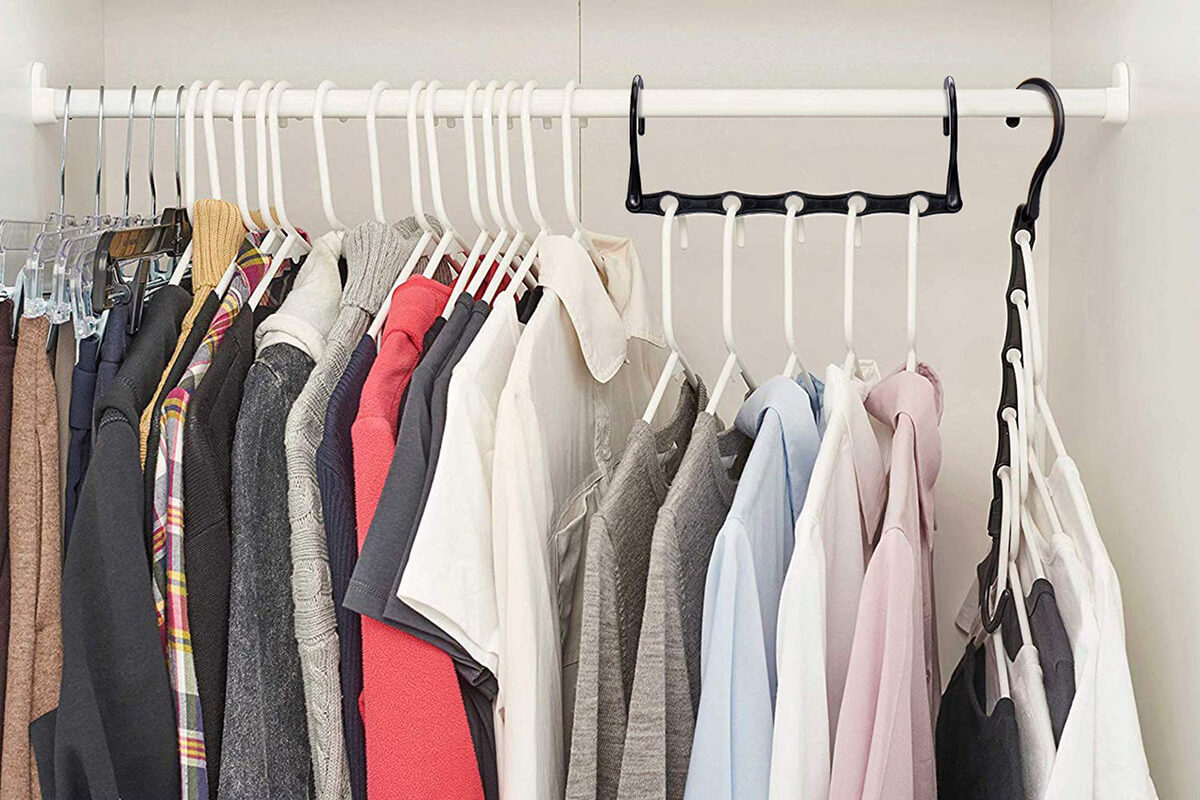 This little tool is one of the best closet organizers on a budget. Its design may seem simple, but in practice it can be a space-saving dream come true. With two ways to use it, you can either store shirts the traditional way, hanging them side by side but with a slightly different level from the main bar for easy access. The other option is much more innovative as it allows you to hang your clothes vertically, staggering hangers about an inch apart so that you can create so much more closet space. Just be sure to know what you hang where.
19. Multi-Sized Clear Containers for Easy Storage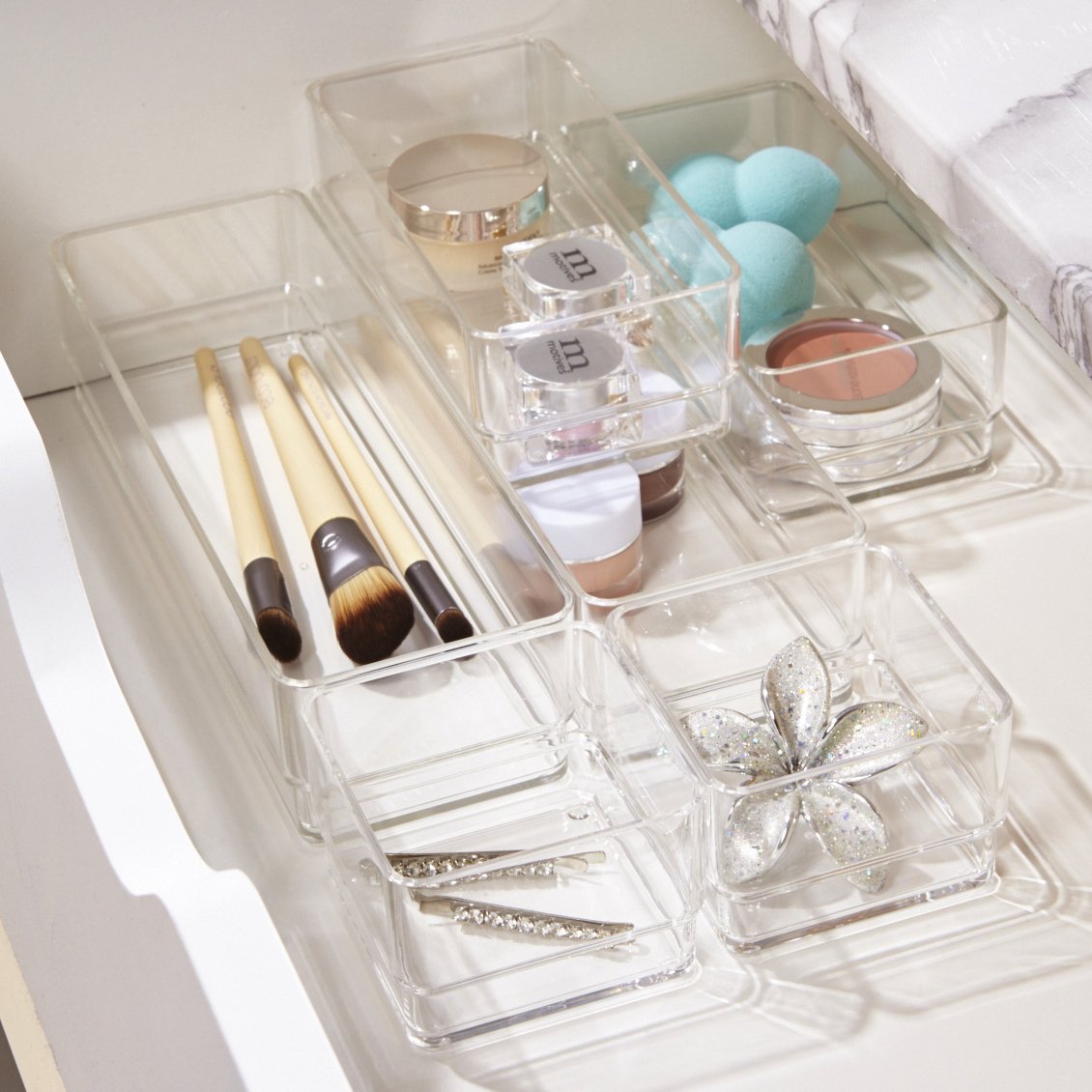 Sometimes closet drawers can be helpful, but not if they are just full of disorganized clutter. Bring some peace of mind to your space by using these small clear containers to put everything in its place. The great thing about using smaller containers inside of a drawer is that you can use as many as you like and divide them up for everything you can think of. If you don't mind a little searching, you only need a few, but if you like to be super organized, you can fill a drawer with little boxes so that everything has exactly its own perfect place.
20. Over-the-Door Hanging Spice Rack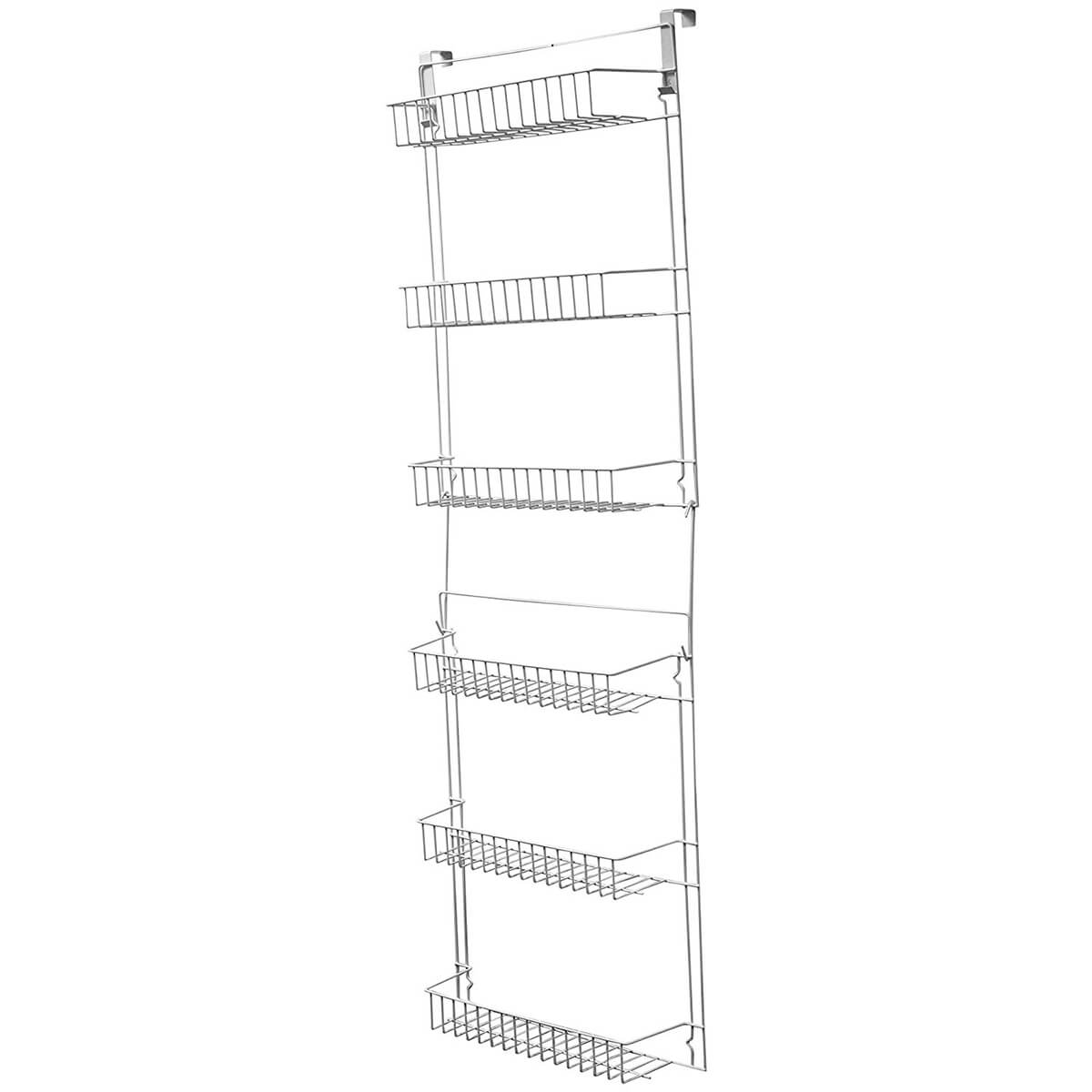 The bedroom is not the only room whose closet could use some organizing attention. A hanging spice rack is one of the absolute best closet organizers for the kitchen. Easily hung behind a pantry door, this rack can hold all your favorites spices, sauces, and so much more. With options for three or six tiers, you can really maximize your space or keep it simple. You can also think of other creative ways to use this rack in other closets for makeup or accessories. Use your imagination and have fun coming up with all the creative options this rack contains.
21. Clean and Simple Shoe Rack with Drawers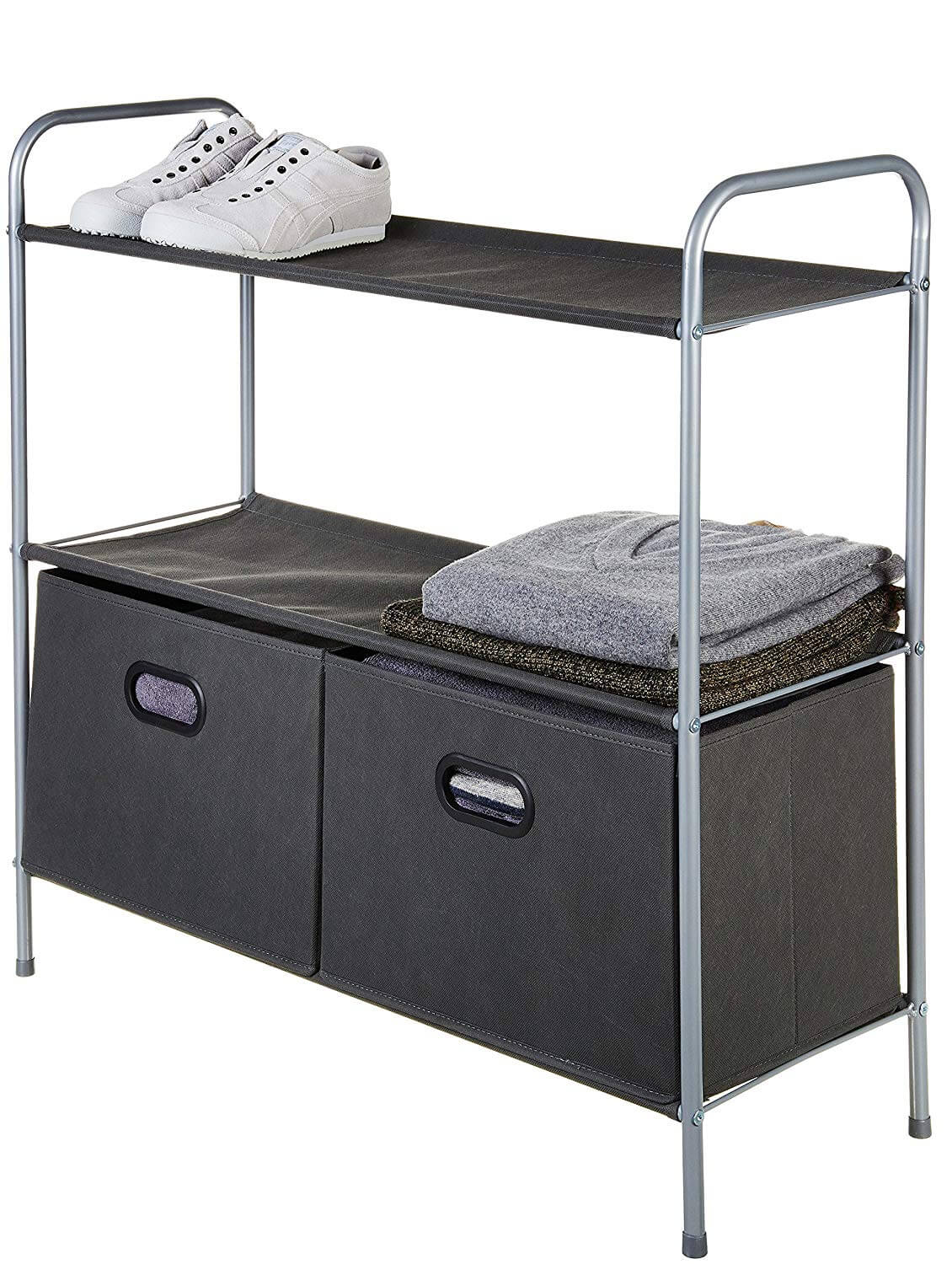 An essential item for a hallway custom closet is a good shoe rack. If you don't want a pile of messy dirty footwear taking up space in your entryway, you need a good place for people to store them. This awesome shoe rack is perfect for that entryway closet or even in a bedroom. With two shelves, you can store shoes, clothes, or accessories, and the bottom two drawers are like icing on the cake. They can be used for anything you can think of: blankets, coats, games, outdoor toys. They are there for whatever you may need to throw in them.
22. Cool and Compact Perfect Purse Hanging Organizer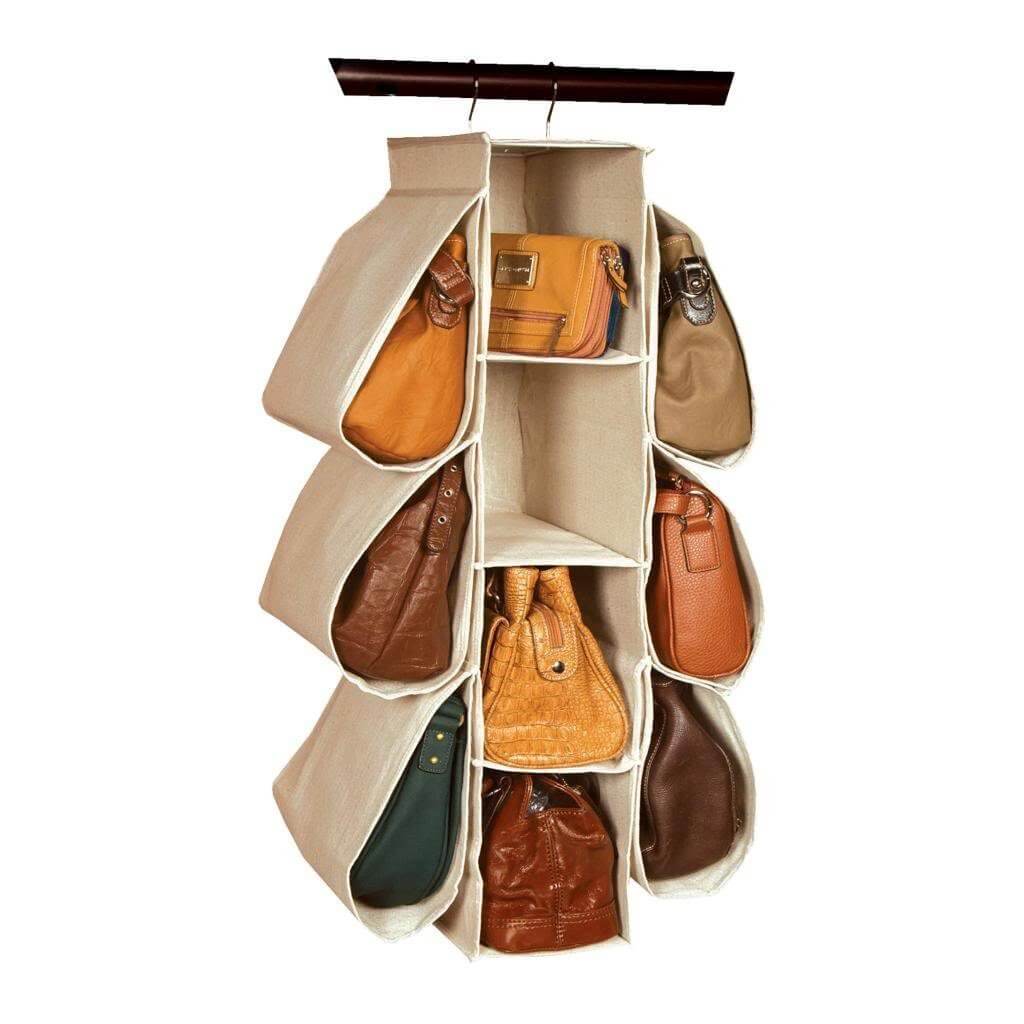 The best closet organizers for purses make sure that the purses aren't squished, that they are visible, and that they are easily accessible. This hanging bag organizer takes the cake. It is the absolute best way to store you bags, especially if you've noticed creases or tears in them from being neglected and thrown in a heap on the floor for far too long. With nice spacious pockets, you can store everything from small clutches to larger day bags. Never lose track of your favorites, and don't worry about them getting stepped on or soiled.
23. Low-Hanging Over-the-Door Double Hook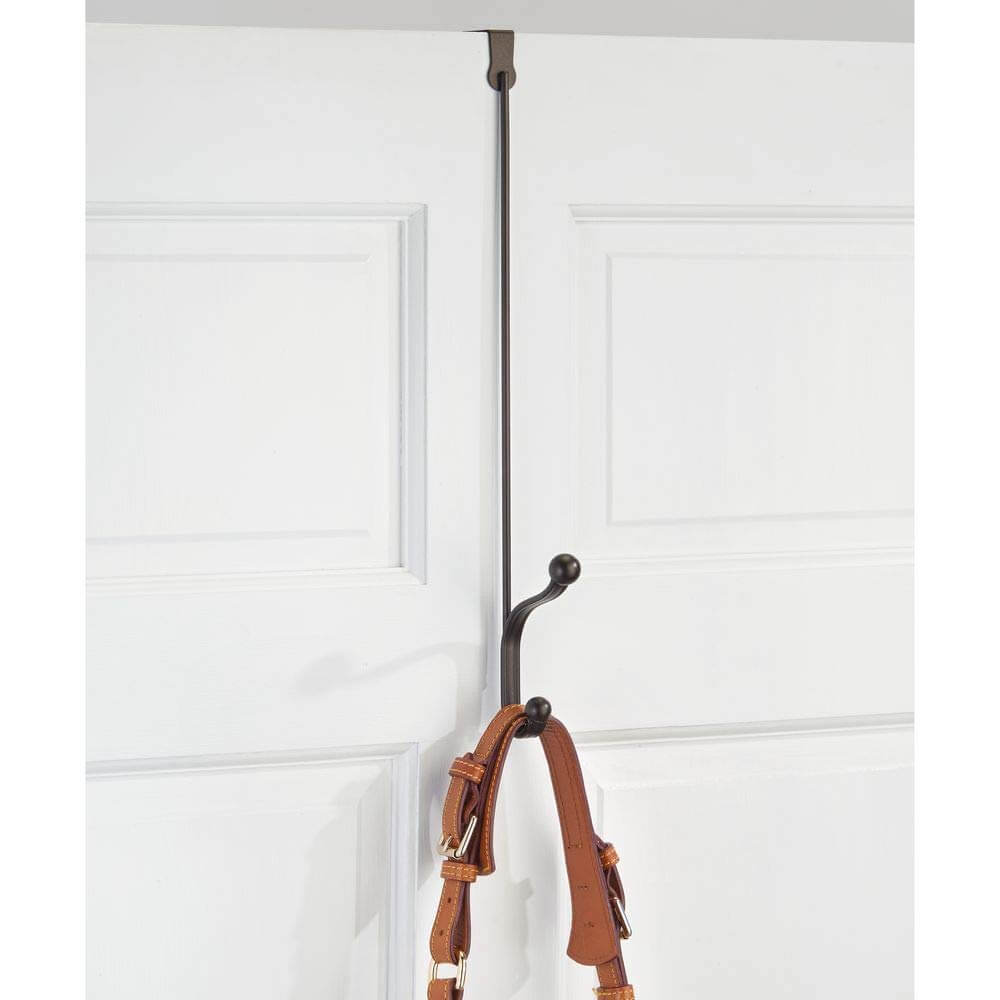 Simple yet sophisticated, this hanging door coat rack is one of the best closet organizers for its clean and easy design. There is no fuss and no mess with this organizer. Since it only has two hooks, you need to choose wisely what pieces you will hang. A good option is to hang your favorite coat and bag so that they are both in the same spot, ready to head out the door at a moment's notice. Or, consider rotating what hangs here based on the season: in the winter your favorite scarf, and in summer an easy day bag.
24. Unique and Innovative Space-Saving Hanger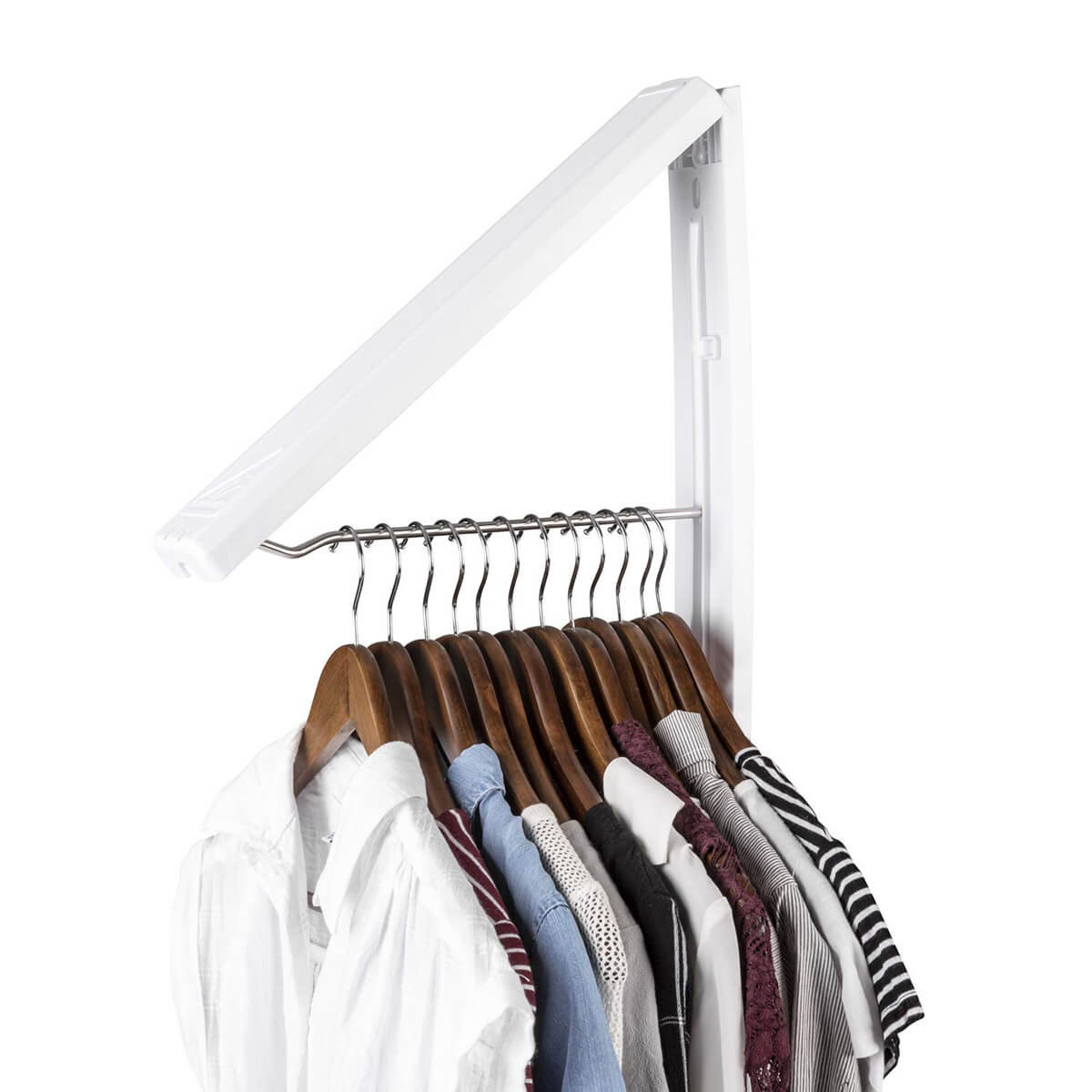 This wall unit may feel futuristic, but you are going to jump at the chance to time travel to the future of clothing storage when you see it. When lying flat, clothes are stacked neatly on a bar, overlapping each other. However, when the top bar is extended, the rod straightens parallel to the ground and you have a standard clothing rack ready to be perused. If you are looking for ways to save a lot of space without having to totally redo your wardrobe, this is a great option that you will be so happy you went with.
25. Tall White Wire Shelf Dividers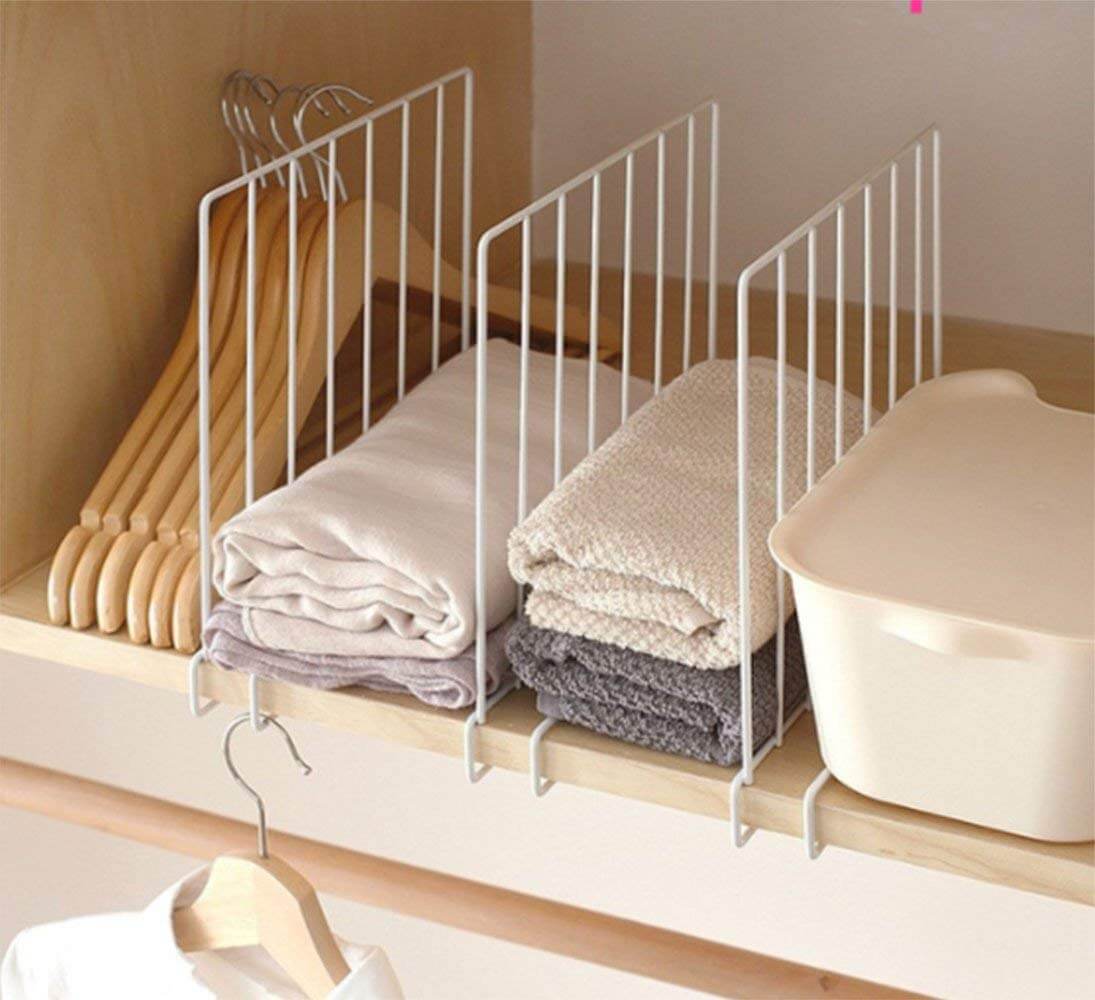 A simple and effective closet organizer system, these wire barriers stand tall and attach to your shelves to create individual compartments for all your favorite items. There is no need for drawers when you have these amazing dividers. They can be used as close together or as far apart as you choose, and their height lends them to keeping larger stacks well in place. Try them in any room of the home, and you will find they help immensely with tricky closet organization. They also offer space along the bottom for hanging blouses, belts, or anything else that you may prefer to hang off the rack.
26. Clear Door Hanging Shoe Holder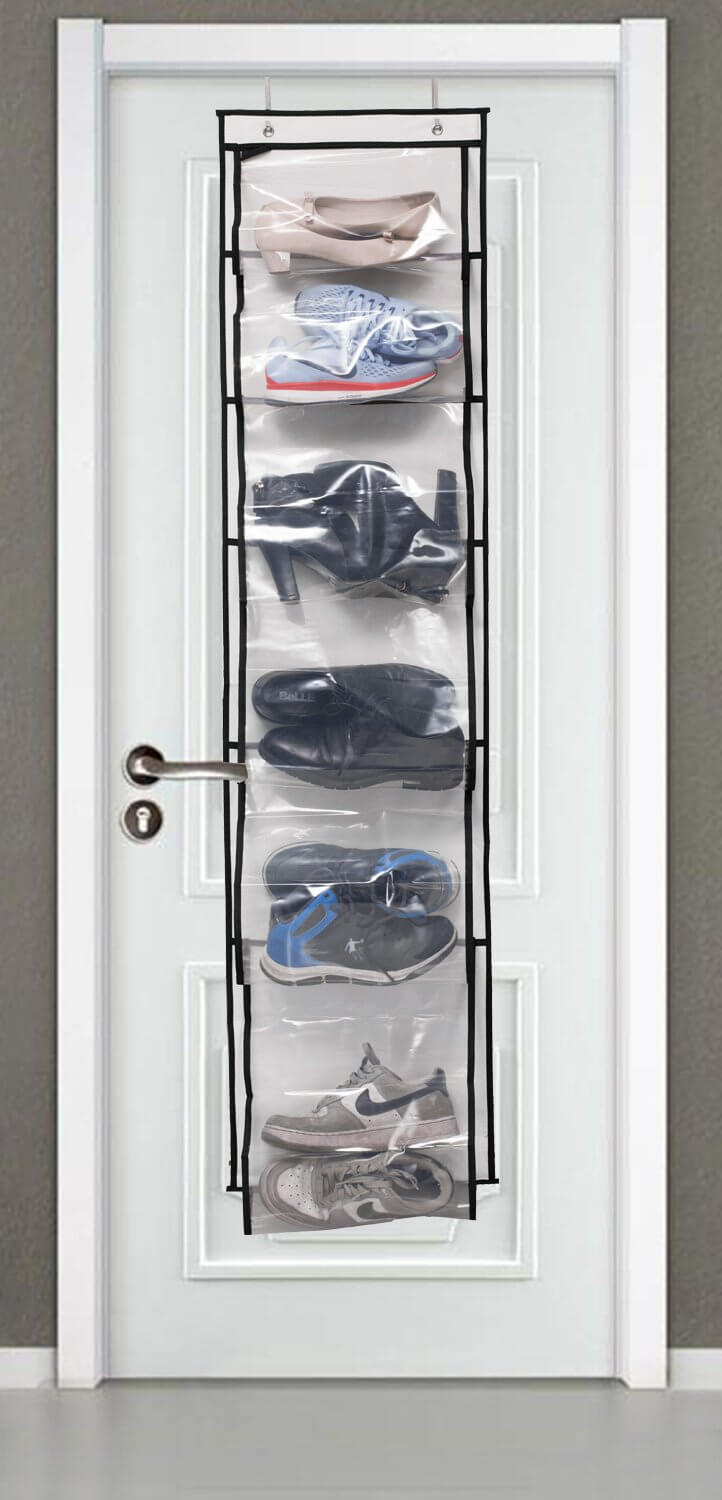 One of the hardest parts about storing anything, especially clothing and shoes, is not being able to find exactly what you want exactly when you want it. This clever shoe holder solves that problem simply and efficiently by using clear plastic as its primary material. You can easily see all your shoes so there is no more reaching around on the floor of a dark closet for that matching sneaker. Another great feature is that this hangs flush against the back of a door, making it super space-saving and easy to use and access.
26 Stylish Closet Organizers to Stop the Clutter and Improve your Home
You've heard the quote about desks, and the same applies to closets: A cluttered closet leads to a cluttered mind. While such a saying may or may not have scientific backing, the sensation of clutter and disorganization is certainly not a feeling that most people like to carry with them in their day-to-day lives. If your closet looks more like a "Where's Waldo" page than an organizational system, if your drawers are starting to grow muffin tops because they've been stuffed like Thanksgiving turkeys for years on end, maybe it is time to reconsider the way you have your things arranged.
This list of closet organizing ideas not only gives you a beautiful glimpse of what a clean storage space looks like – what freedom! – but it lets you imagine how you can make such elegant spaces yourself. Often, it's not a matter of rocket science or extreme home makeover to make your things fit in your closet. Instead, it's a matter of finding the right solution for the right space. And with these 26 options to compare, you are bound to land on something that will look handsome, fit your living arrangement, and give you the rare gift of tidiness.