If you can't function without your morning cup of joe, you aren't alone. Americans consume more than 400 million cups of coffee per day, so it should come as no surprise that coffee stations are becoming a must-have design element in the modern home.
Chalkboards and Cappuccinos: 35+ Ways to Decorate Your Coffee Bar

Before you start knocking down walls, however, there are a few things to consider about designing your own coffee bar. Here are some of the most important things to keep in mind as you're looking for coffee station ideas.
Area
How much room do you have for your coffee station? Can you make use of corners, kitchen nooks or unused vertical space?
Accessories
The coffeemaker is essential, of course, but you'll probably want a microwave nearby as well. You'll also need somewhere to store mugs, spoons, saucers, sugar packets and extra coffee filters.
Accessibility
Give yourself at least a foot of countertop space between your coffeemaker and the edge of the station. You'll need room to prepare your morning brew, and you won't want to play balancing games with hot mugs.
Aesthetic
This is where you can let your imagination run wild. The good news is that there are plenty of coffee station design ideas to choose from before you start building!
Once you've nailed down the four "A"s, you can start creating and decorating your in-home coffee haven. But what if you need a little more inspiration in terms of themes, colors, layouts and organization? Here are just 35+ ideas that will strike a match to your creativity.
1. Modern Farmhouse Dunn Decor Coffee Station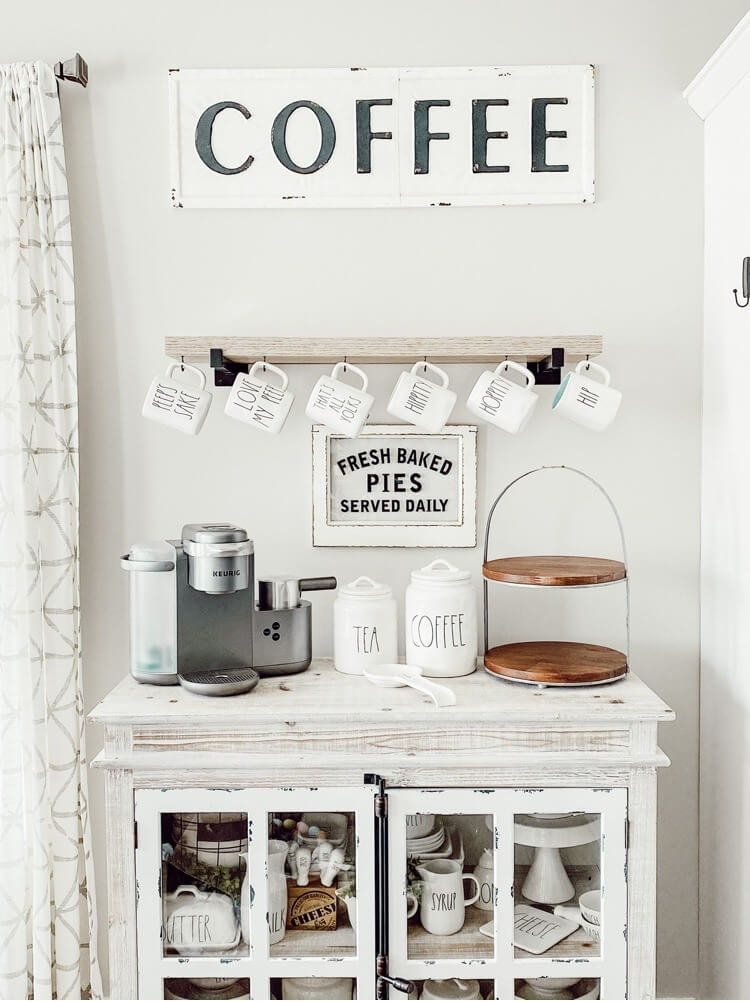 Everyone yearns for that freshly perked cup of coffee before the sun rises so they can begin their day the right way. Align your home with your priorities as you create a dedicated space in your kitchen for your morning routine's most powerful aspect in a coffee station. You'll have everything you need within reach and you'll love the way your Rae Dunn mugs and containers keep the space neat, tidy, and stylish. This space blends into your existing modern farmhouse decor with its fresh look and vintage feel. Keep everything simple and you're sure to love this coffee station for years to come.
2. Cup of Cheer Coffee Corner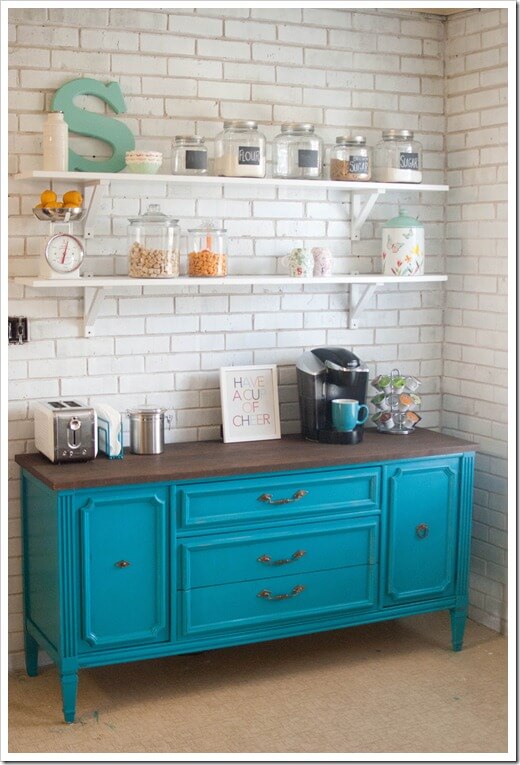 Repurpose an old dining room buffet into all the storage space your new coffee station needs. Painted in a bright and lively blue, this buffet houses all of your essentials from filters to beans so you can show off the decorative elements you love. Open overhead shelves provide even more room so you can create a hub for all of your go-to breakfast needs from toast to cereals right beside your must-have source of caffeine. A simple palette of pastel spring colors adds a fresh breath of life into this neutral and clean white space. Make the most important meal of the day a little easier to enjoy with this organized corner your family will love!
3. Organizer's Dream Hidden Coffee Cabinet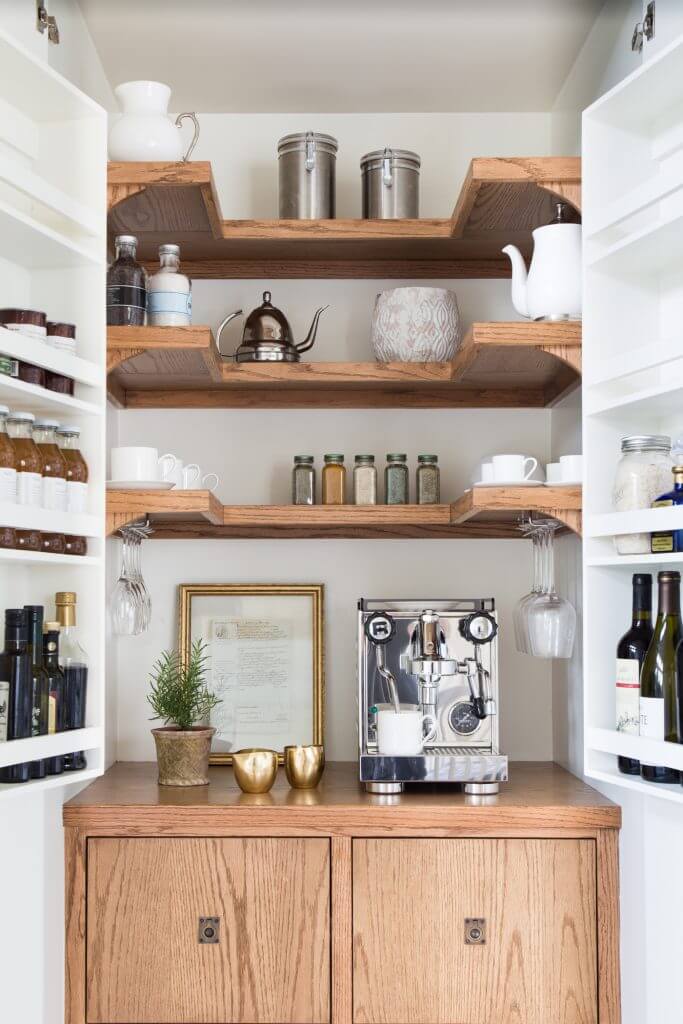 Have you been considering the addition of the trendy coffee station into your home, but don't want all the clutter taking up counter space? Check out this hidden gem. Nestled behind two cabinet doors, you'll enjoy the large storage space that forms the perfect coffee station while leaving your countertops clean and tidy. Behind closed doors, you'll store all you need to entertain after dinner guests and indulge in your favorite morning brew.
4. Dressed Up for Coffee White Dresser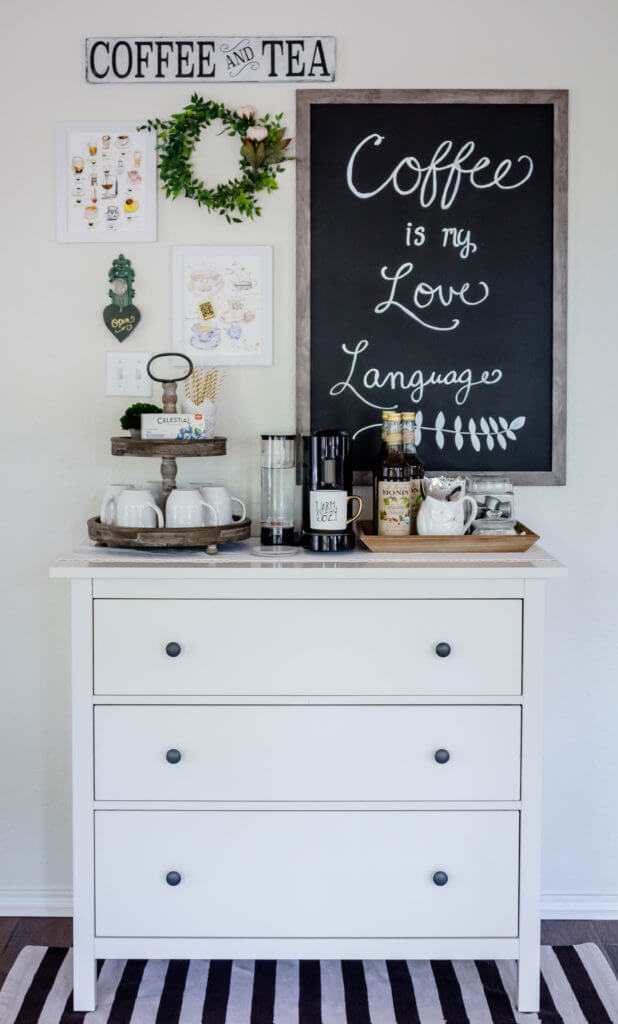 Even a simple and plain white dresser is enough to form the foundation for your family's coffee center. With plenty of storage in the drawers, this dresser is a great spot to sit your tiered tray of cups, a brewmaster machine, and a tray of creamers and sugars. Define the space with some fun decorating in the form of wall art signs that speak to the heart of the true coffee lover! Your friends will feel right at home as they can pour their own cup with ease since this coffee station has everything they need within reach.
5. Small Space Coffee Corner for the Home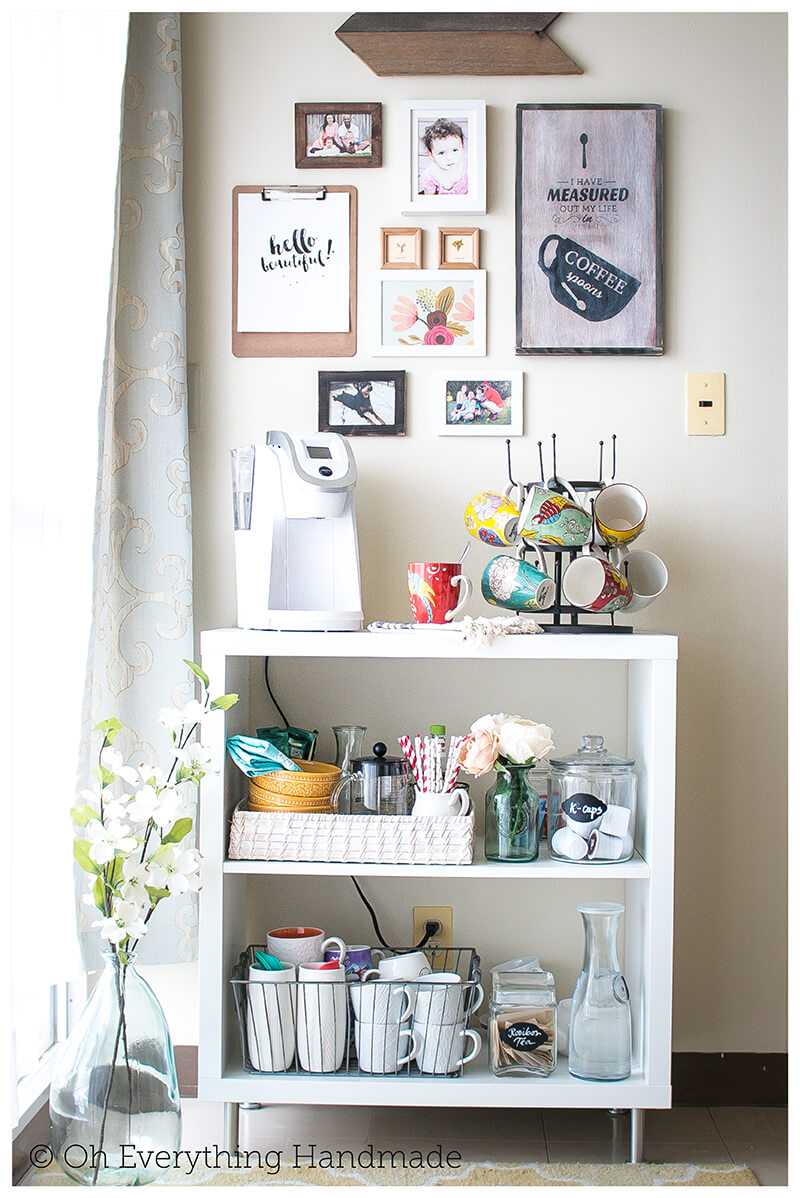 No matter how large or small your home is, there's always room for coffee. And since this fuels our lives in so many ways, it's no wonder so many are choosing to designate a center for this morning essential. If you're short on space, don't sweat! Dedicate a corner of your home to your coffee station dreams. They will turn into a reality once you have a small cabinet or table ready to hold your brewing device. Part of the fun is decorating it, so find some fun coffee-inspired signs to tie the look together.
6. Black and White Shabby Chic Coffee Station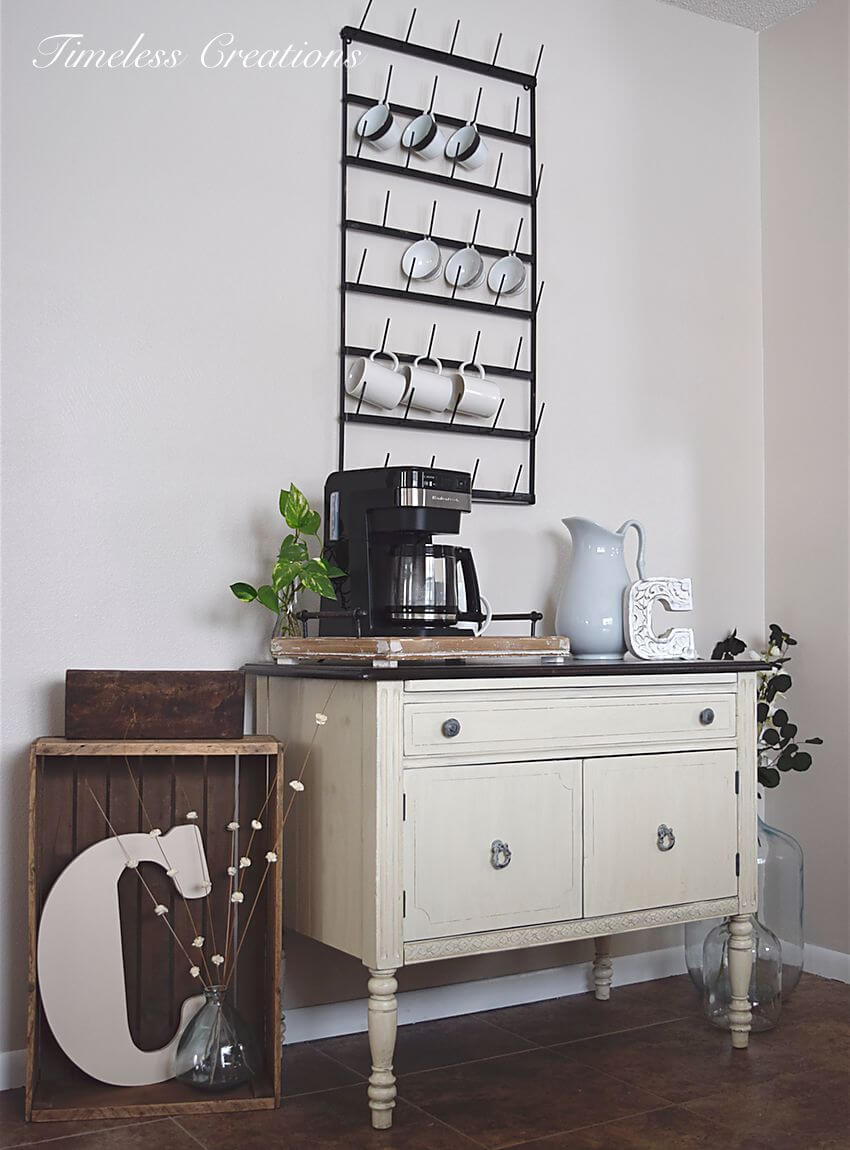 Transform an old side table cabinet into the coffee station you're craving. The cupboard is certain to hold all of the essentials you'll need to brew the perfect cup of java. Enjoy the vintage beauty of the table that is just the right size for holding your coffee maker along with some pretty decorations. Add a small house plant and a bold initial to make it feel like an extension of your home. Utilize your wall space too by hanging a large black metal hook rack for displaying your collection of coffee mugs in an easy-to-use fashion.
7. Hearts on Fire Valentine Coffee Station Celebration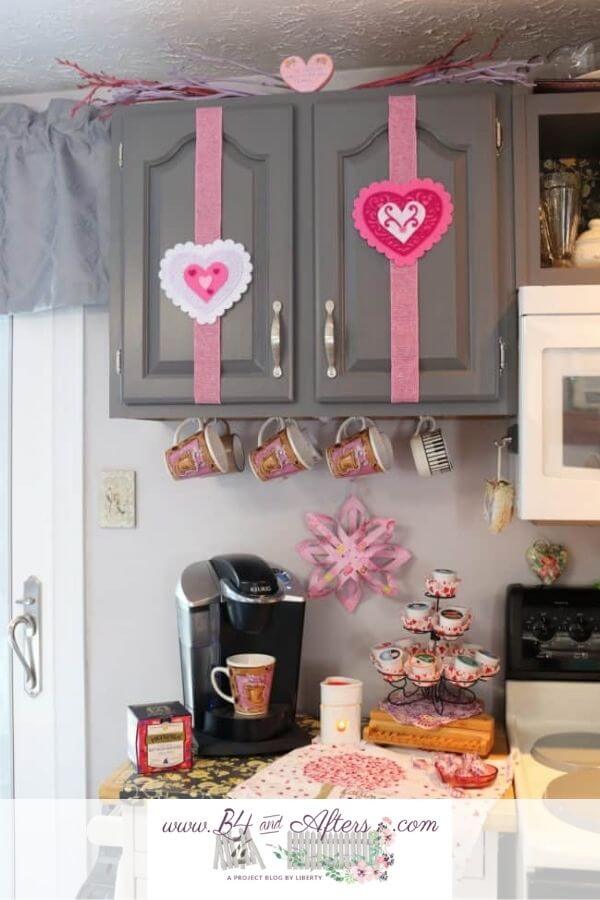 Give your coveted coffee center a fresh look for celebrating an anniversary or Valentine's Day with some festive accessories. Cabinet doors wrapped in streamers and hearts add lots of colors and gradually gain the focus to this special area in your kitchen. Doilies in pinks and reds add the quintessential color combination for cupid's big day and look delicate and pretty resting underneath your display of specialty single-cup coffees. Continue the love with a heart-shaped glass dish for candies or toppings as well as a sweet-smelling candle. And don't forget to show off your love-themed mugs to enjoy sipping your blissful beverage with that special someone.
8. Do It Rae Dunn Style Kitchen Station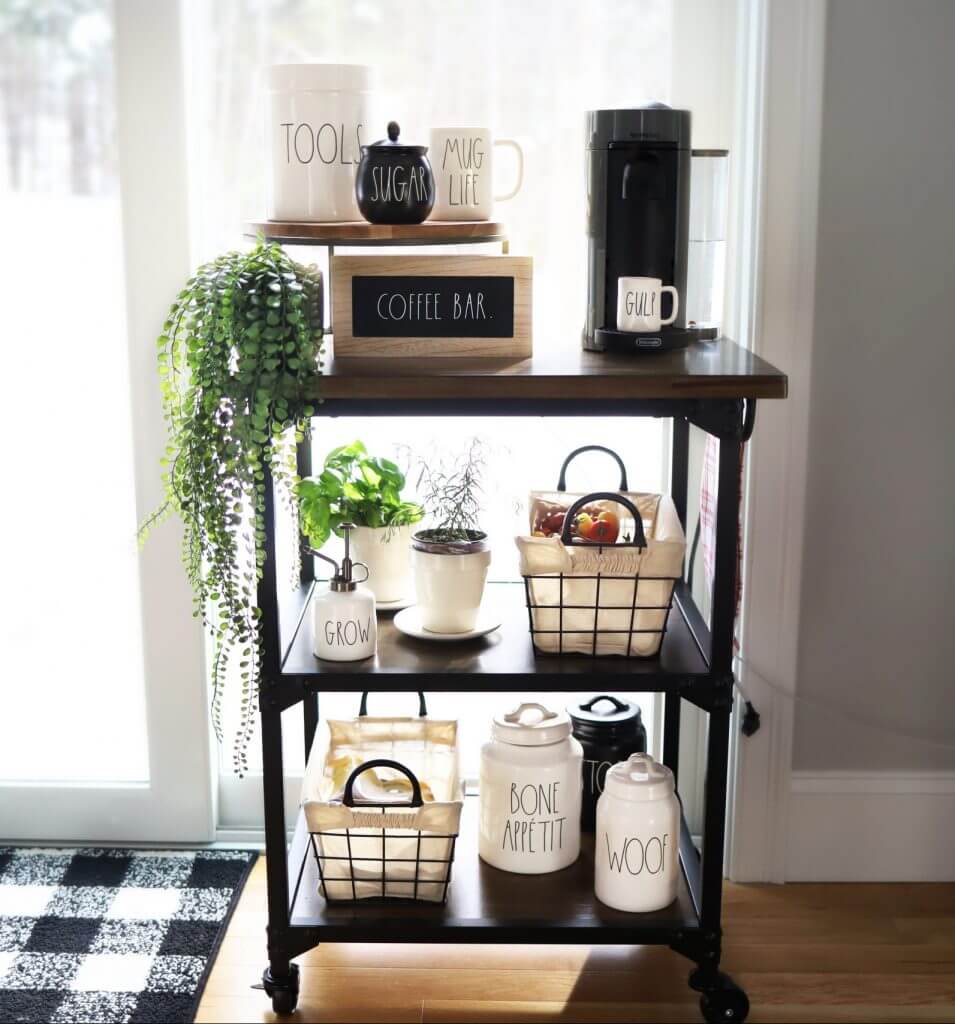 Create a central hub in your kitchen that has all of the essential items for everyone in the family. At the top, you'll find that motivating cup of joe ready to go in the morning or for an after-dinner delight. On the middle row, you can gather all of your green-thumbed goodies for keeping your houseplants alive and thriving. Then on the bottom, keep your four-legged family member happy with a dedicated shelf for treats and toys. Arranged on a stylish metal and wood cart, this kitchen station is mobile to meet your needs as you work your way throughout your home.
9. Corner Coffee Center with Storage Shelves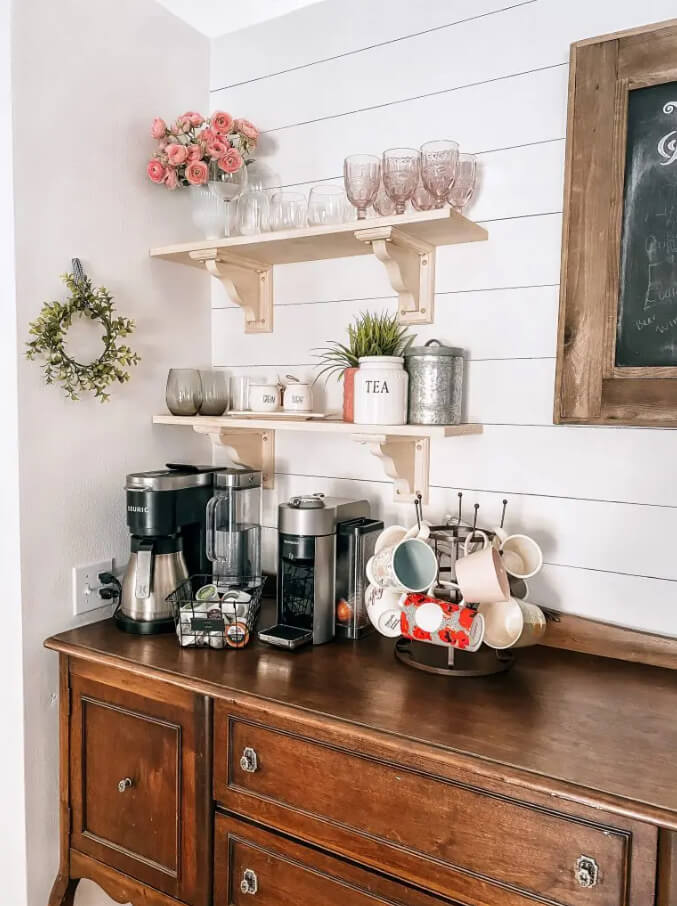 Designate a side of your dining buffet to be used as your home coffee center. Hanging above, include a couple of shelves to add even more storage space to your center without overwhelming your counter space. Your coffee and espresso machines are ready to go with a mug tree on hand to hold your next delicious brew. The cleared-off counter space on the rest of the buffet is the perfect place for prepping your hot beverage and gives everyone room for all of their go-to drink items. Infusing some of your existing decorative elements such as some flowers and plants makes this coffee center feel more lived in and like part of your home.
10. Wood and Metal Tiered Cart Coffee Caddy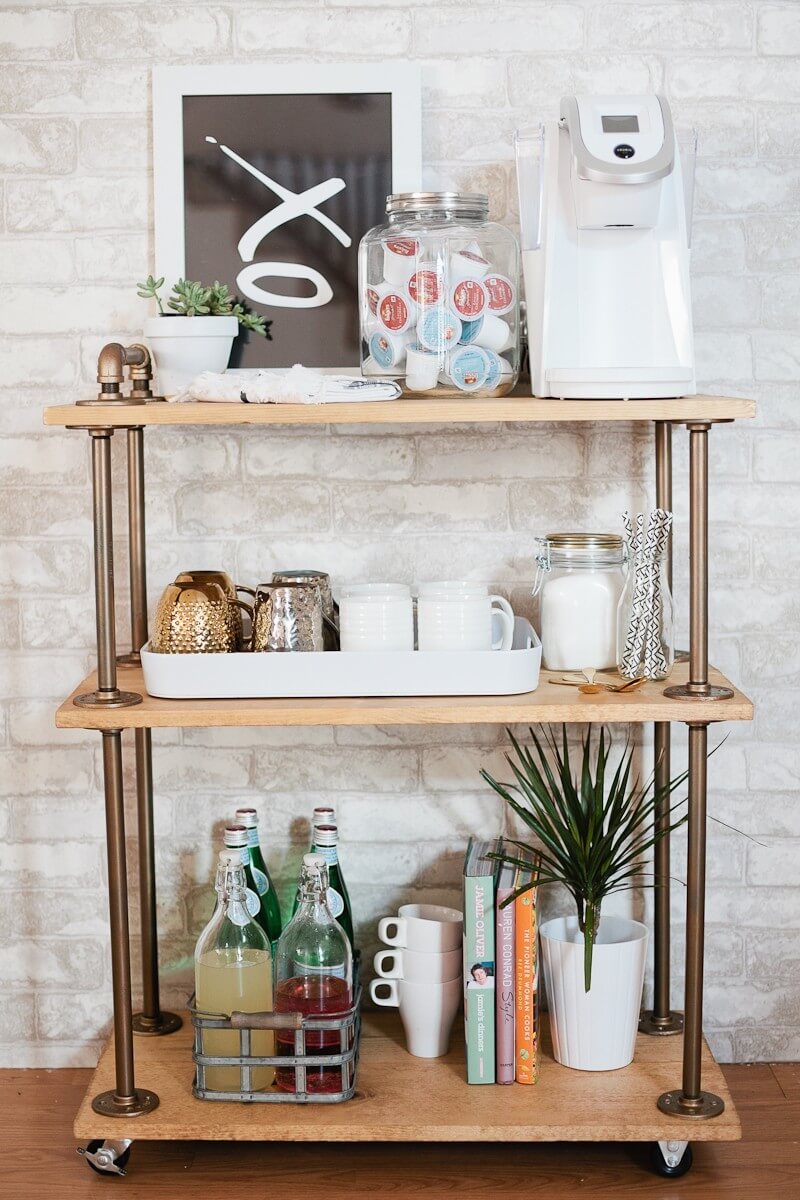 Ready to go, this wheeled tiered cart is the perfect coffee caddy for everyday and special occasion use. Wheel it to the next room to serve guests or keep it in place for your daily morning brew. Each shelf provides enough room to comfortably organize all of the necessary items from mugs to flavorful syrups allowing you to create some of those sought-after designer drinks from national brands. Not only do you have plenty of space for all of your supplies, but there's room to spare for some house plants and fun decorative signs. This cart has all you need plus it looks super stylish in your space making it a win-win for home decor.
11. Wonderful Wooden Rustic Beauty Coffee Station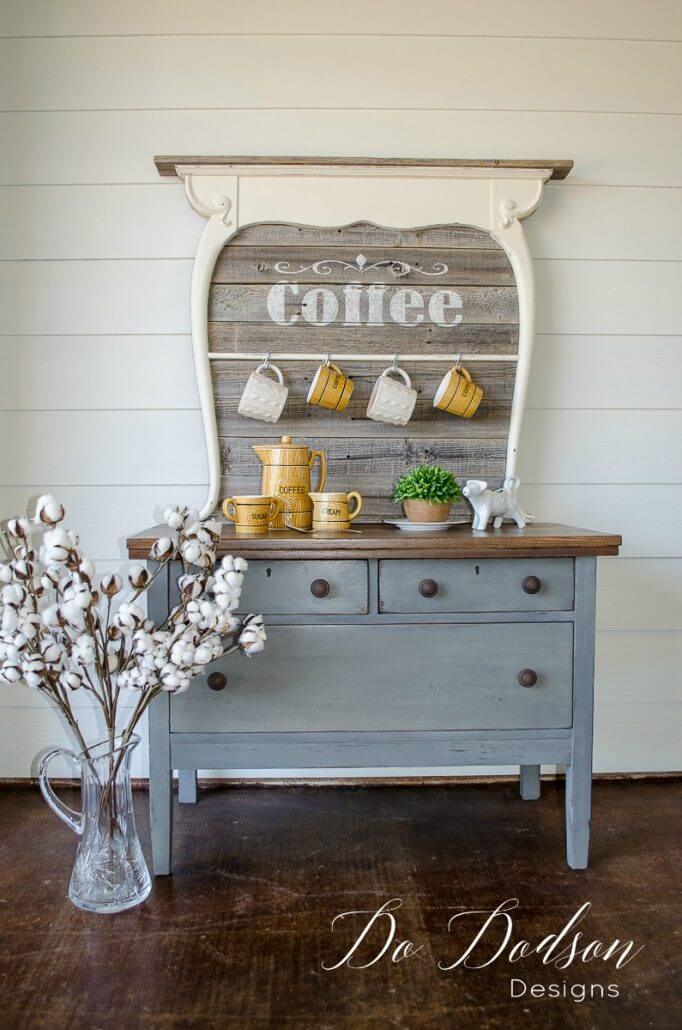 All of the charms of this rustic and painted wooden dresser are brought to life in a modern way as it's transformed into your personal coffee station. The stenciled "coffee" on the backdrop labels the space quite nicely while the top shows off your favorite mugs and pitchers. Even if you don't already own such a statement piece, this would be an easy flea market or yard sale find. Add some fun decorative items like a ceramic dog and your station has a personal touch that feels right at home.
12. Quirky and Fun At-Home Coffee Hub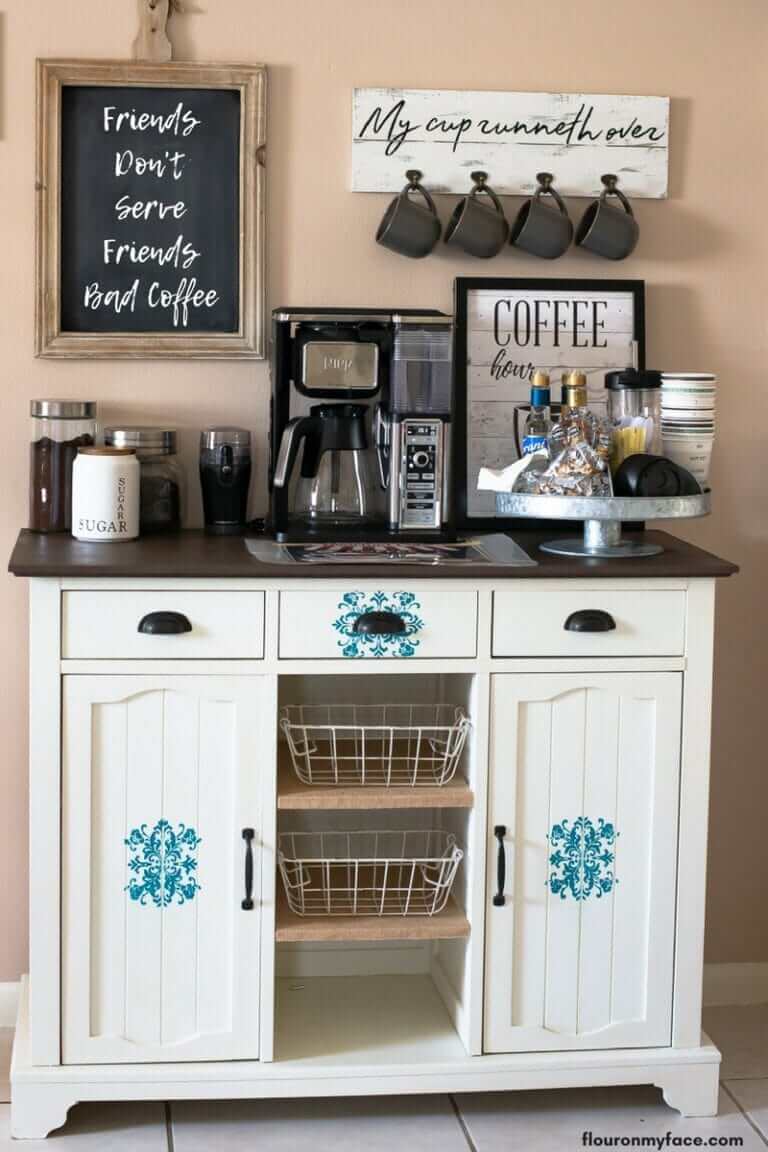 Dress up a small kitchen floor cabinet with some coffee humor and plenty of storage solutions to create this darling at-home coffee hub. You'll be the envy of all coffee stations with your abundance of storage on top of your fun decorative elements. Mugs hang on a wooden rack while syrups and to-go cups are ready on a pedestal stand. Extra grounds, filters, and tea bags are behind closed doors to keep you locked and loaded. A cute placemat fits perfectly in front of your coffee maker to give you a place to set your cup and create your drink!
13. Copper Pipe and Painted Wood Mug Wall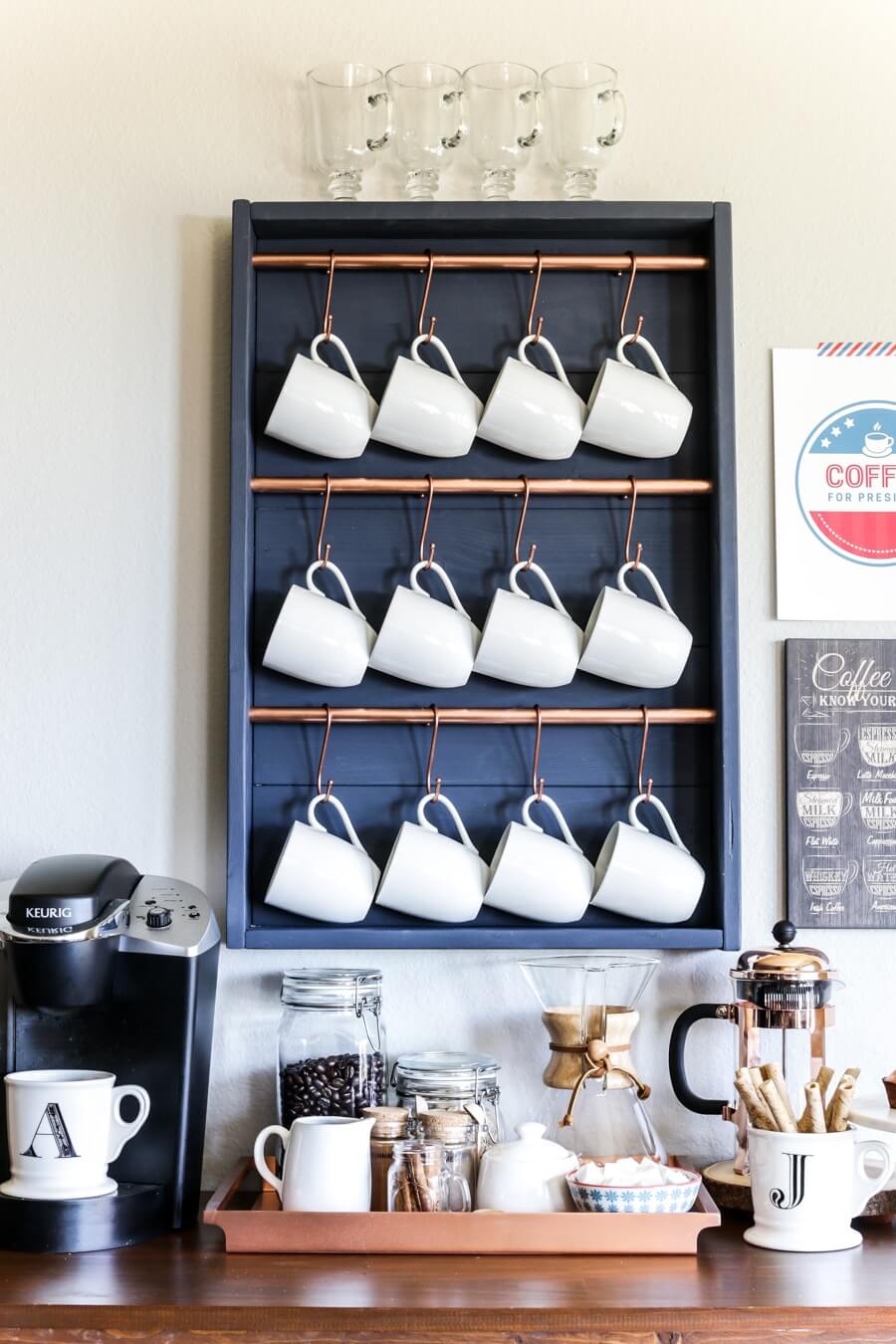 Keep your cups out of the way and unbroken with this crafty DIY copper and wood mug wall creation. The contrast of the deep navy paint color against the vibrant metallic copper of the pipes makes this a dramatic piece of wall art that's also a functional member of your home coffee station. A complete set of twelve mugs hang from individual hooks to make grabbing one for sipping your favorite caffeinated beverage a breeze. Kill two birds with one stone as you add some lovely wall decor while organizing your mugs at the same time.
14. Rustic Lakehouse Cabin Coffee Station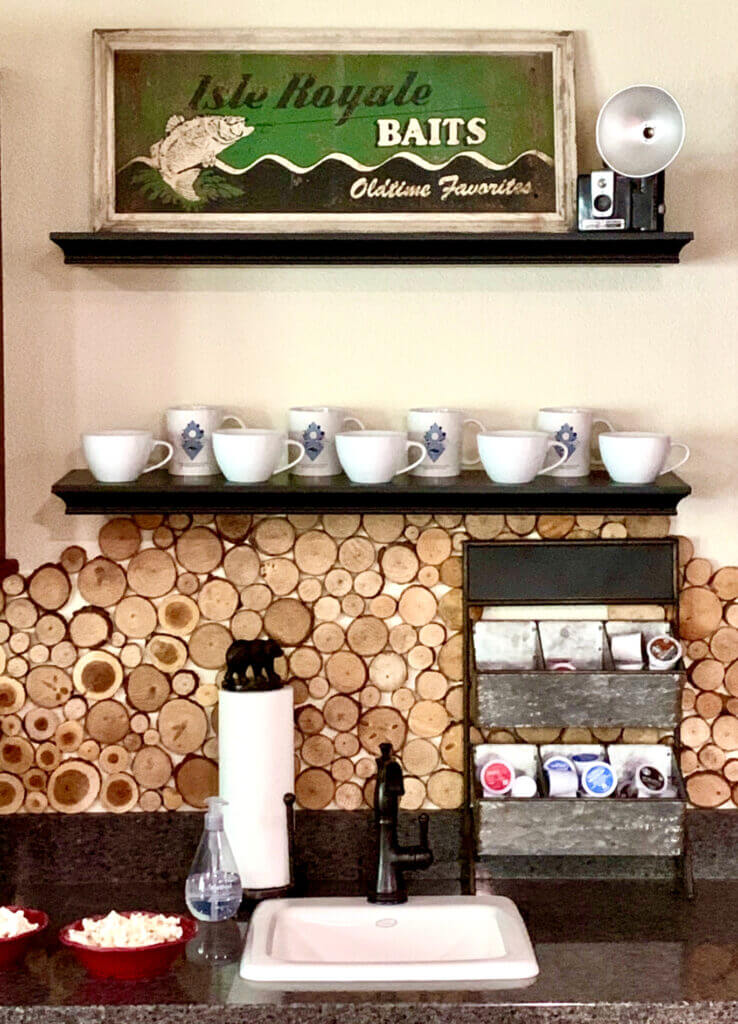 All of the character and charm of the great outdoors will look amazing as part of your lakeside retreat's personal coffee shop. With wooden circles creating a backsplash for your station, this necessary morning pick-me-up and after-dinner delight will get the job done for fueling your outdoor adventures. A metal bin holds and organizes all of your single-serve pods while a nice shelf over the sink stores all of your mugs for your convenience. Keep everything together in one practical nook near the sink to make the most of your cabin coffee center.
15. Side Table Coffee Roasters Home Coffee Hub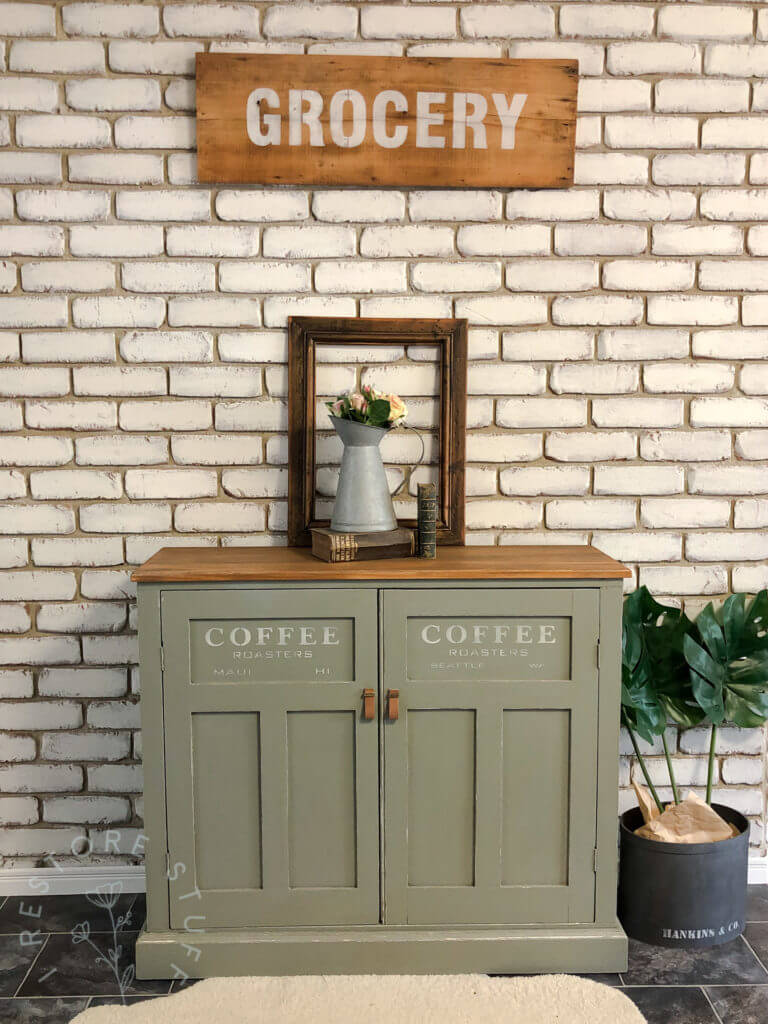 Transform an existing side table into a coffee hub for your home. This is a great way to create a coffee center without breaking the bank. Utilizing a furniture piece that already fills your home will make for a much smoother transition. Open the doors and reassign shelves to fit all of your coffee, tea, and hot cocoa supplies. Everything you need for the perfect cup of your choice is readily available now that you've corralled all of your essentials into one central location. You'll do a double-take to discover this isn't your ordinary side table. This would be a wonderful way to add a coffee station to your home office space as it has the appearance of traditional furniture, but functions as a true coffee lover's haven.
16. Great Crates Small Home Coffee Station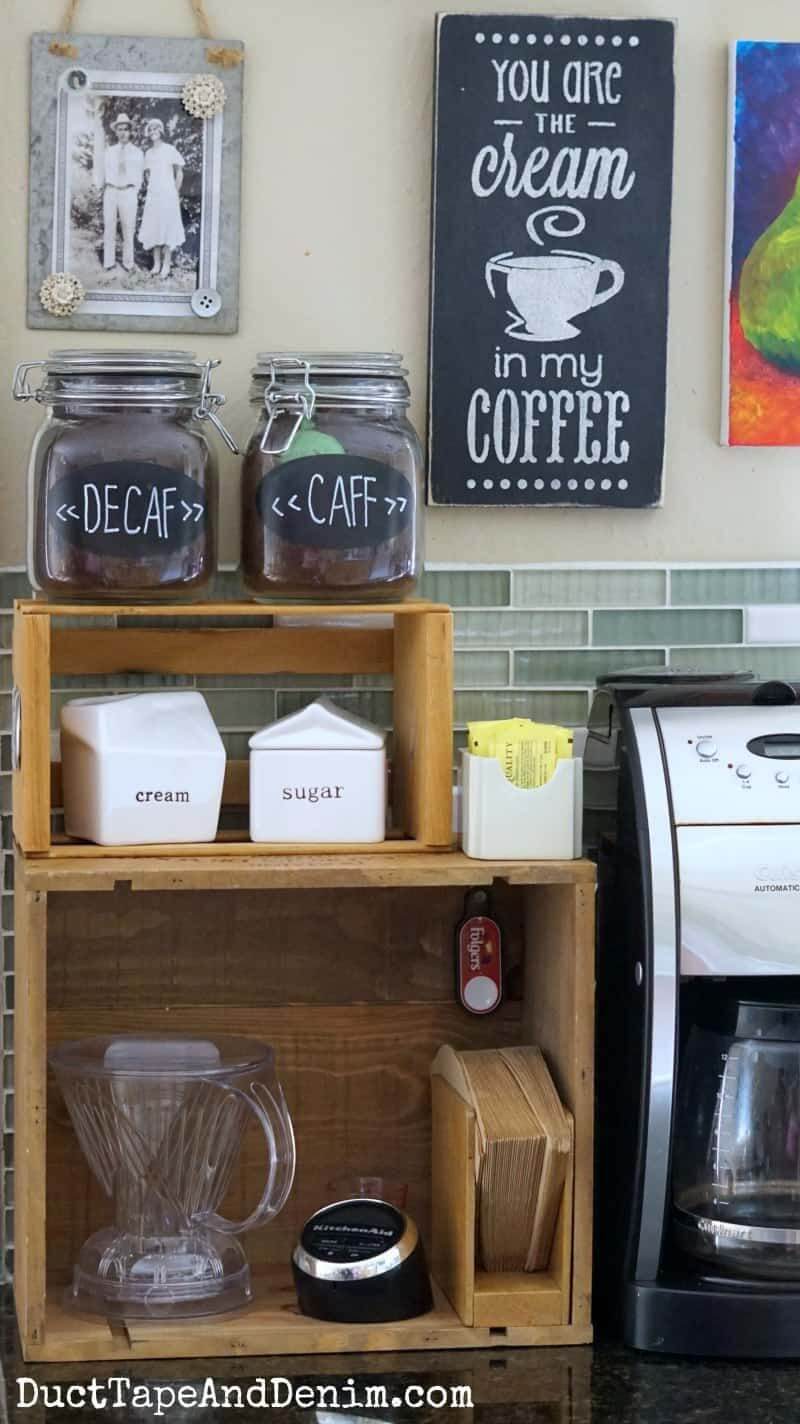 Storage solutions provide enormous opportunities for home decorating and even assist in creating the on-trend coffee station your home needs! Stacked on top of one another, this pair of wooden crates is nestled next to your coffee maker or espresso machine to keep all of your beverage necessities next door to the brewing machine. A convenient spot for filters and bins for sugar, cream, tea bags, and coffee grounds all fit within the hub for your java or hot tea addiction. Hang a fun coffee-inspired sign to complete the look of your home coffee station.
17. Straw Tray Single Serve Coffee Station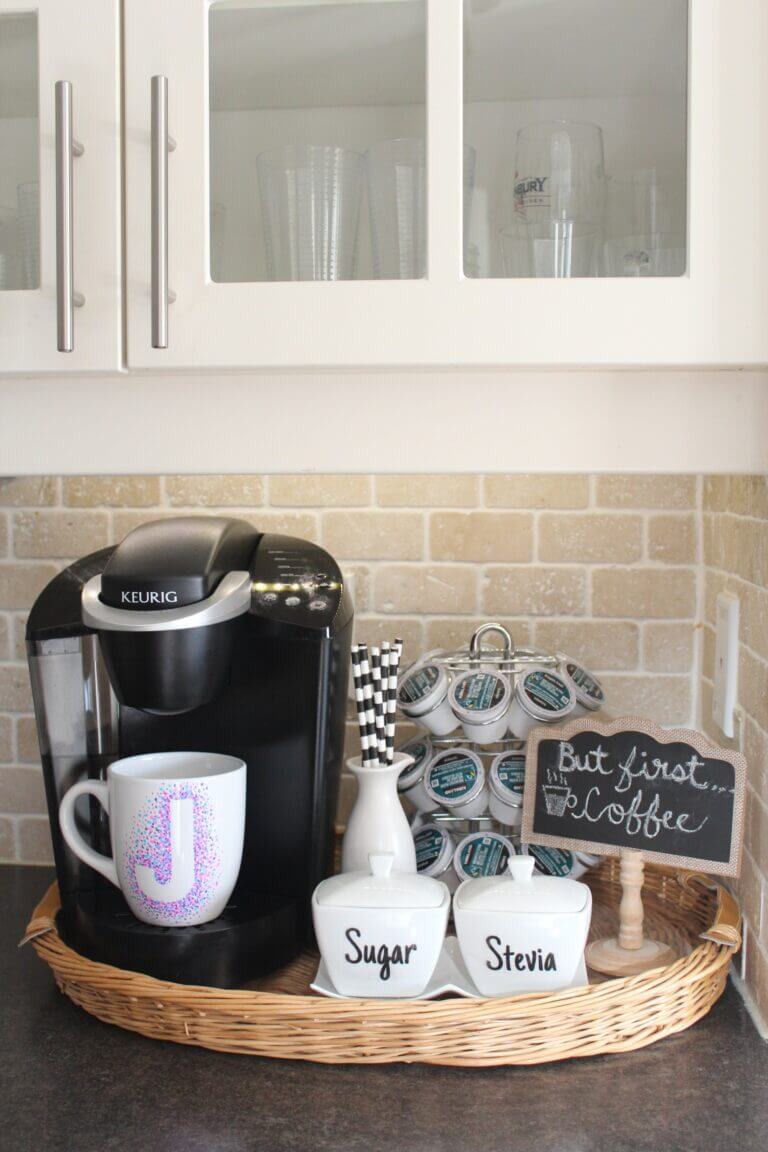 Set up all of your single-serve needs in a cute straw tray to create this charming coffee station in your kitchen. From the single brew machine to the pods and sweeteners, you'll have all you need to get yourself going in the morning. Collectively organized inside this straw tray, everything looks neat and tidy. The miniature chalkboard sign allows you to put your personal touch on this quaint little space. Keep your kitchen put together by adding this coffee station that's the perfect mix of awesome and organized.
18. Hot Drinks Drawer Full of Goodies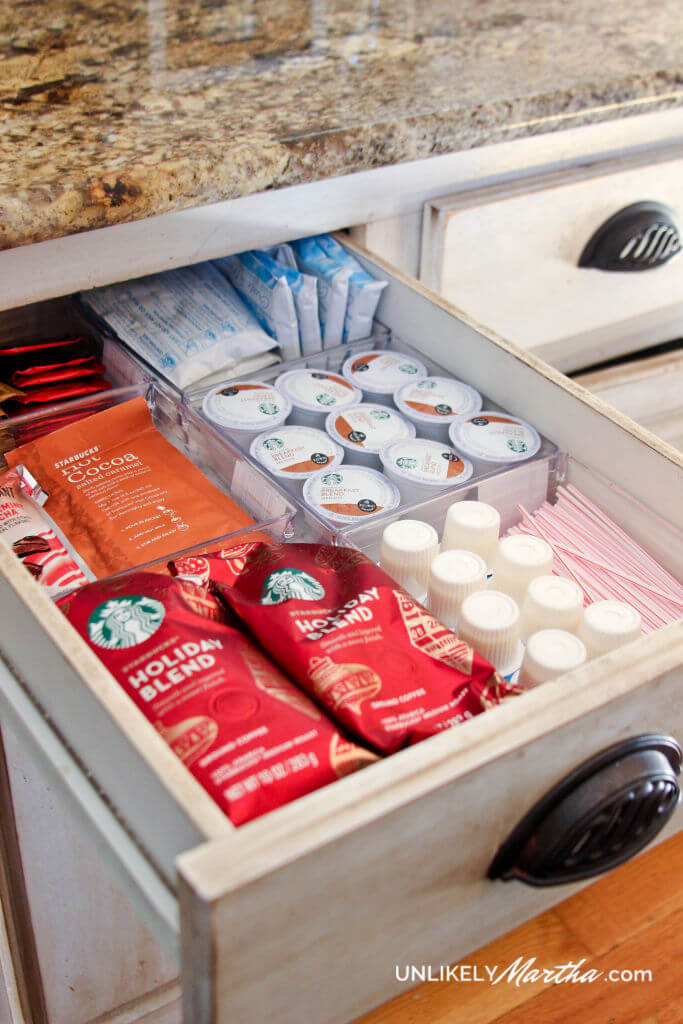 Capitalize on all of the storage space in your kitchen and alleviate clutter from your countertops with this drink drawer for all of your hot beverage essentials. Using clear plastic bins, you can store and organize everything from hot chocolate packets to creamers in an easy-to-see display. Not only is this a great use of space, but it also looks amazing and helps you easily see which items need restocking on your next trip to the grocery. Creating your next hot drink will be more fun with this dynamic drink drawer in your kitchen.
19. Painted Chest of Drawers Reinvented Coffee Station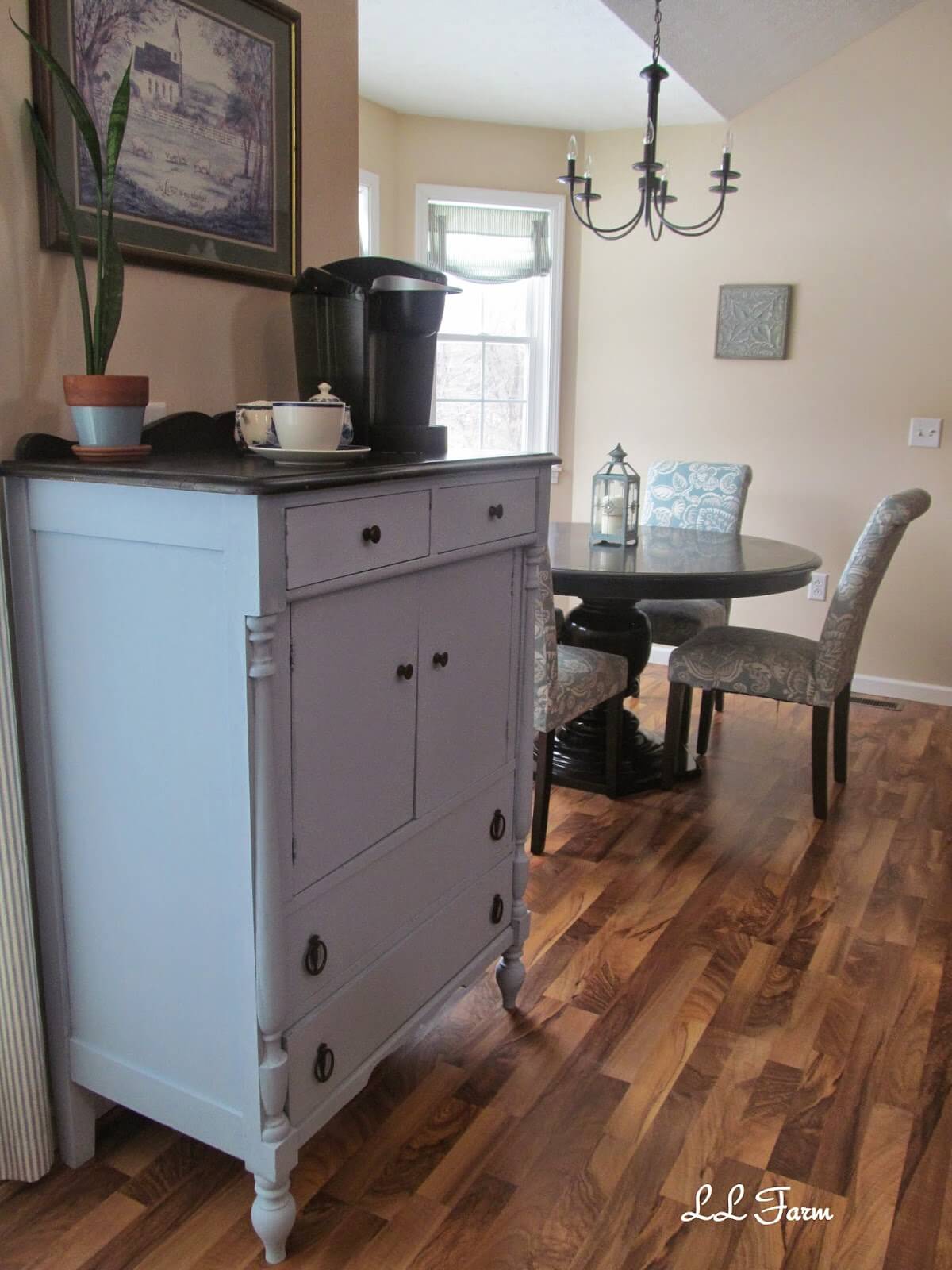 If you're searching for a coffee station concept that blends into your home, consider this repurposed chest of drawers idea. Painted in a vintage blue to match the decor, this set of drawers has plenty of space to store all of your coffee essentials inside so it looks like a piece of furniture instead of a miniature cafe. On top, your machine sets elegantly poised and ready to brew a fresh cup of java. Placing this station between your kitchen and dining room is a perfect spot for both breakfast and dessert use.
20. Small Retro Desk Home Coffee Station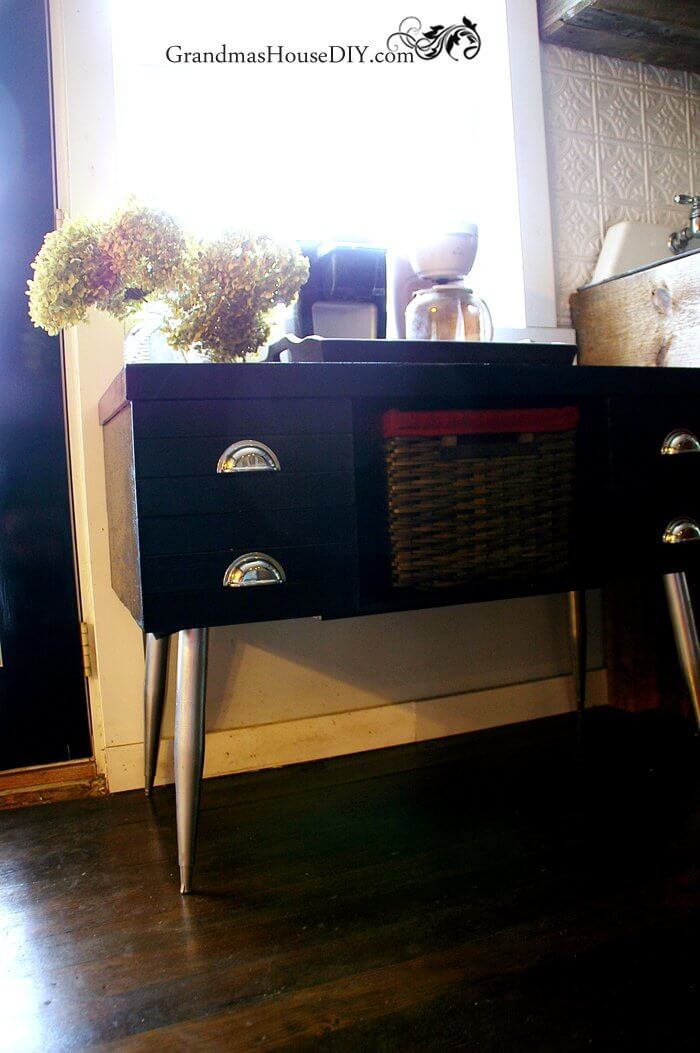 Extend your kitchen with this small retro desk that's just the right size to fulfill your coffee-loving dreams. Placed next to the sink, this desk has a bin for organizing all of your caffeine counterparts as well as shelving behind two doors for supplies that don't need to be seen. The countertop of the unit holds the main equipment in a decorative tray to add some style to this station. Perk your favorite brew and enjoy a coffee date with your friend in the comfort of your own home with this re-imagined desk coffee station.
21. Designated Kitchen Cabinet for Tea and Java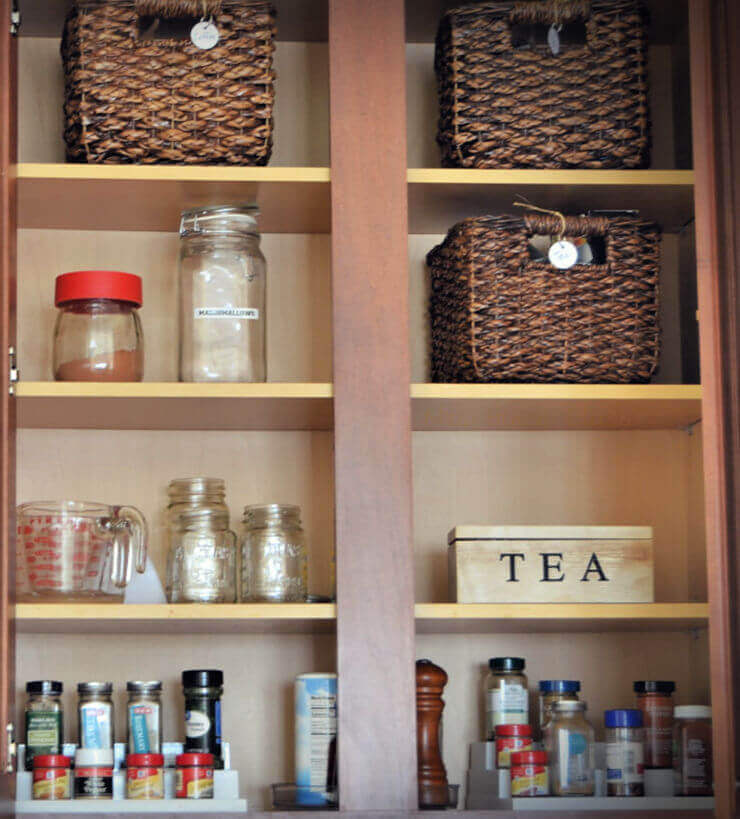 Maybe you don't have much counter space or you'd simply like to free up a little more. Either way, this designated kitchen cabinet is the ideal means of keeping all of your coffee and tea items in one spot without cluttering up your kitchen. Use storage bins to further organize on the shelves so you can easily pull out a bin and have all the essentials for perking or steeping your favorite cup. Efficiency is at its finest in this beverage bistro behind closed doors. You're nearly pro-level in storage solutions with this clearly marked hot beverage hub.
22. Spool Mug Tree with Coffee Sign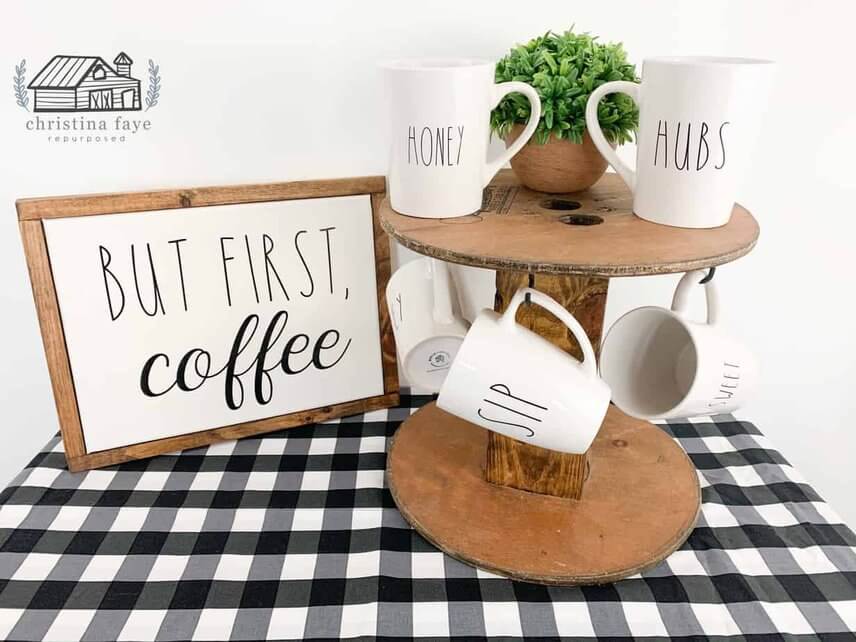 Channel your inner Rae Dunn with these charming mugs that have been adorably designed to label the sipper. Each plain mug features her signature font in a simple, single word while tying into the "coffee first" sign setting on the side. Modern farmhouse vibes appear with the use of a used wire spool that's been repurposed into a charming mug tree. It's a great way to add some character and charm to your home while creating the practical coffee center you need. The crisp white and black look amazing with the rustic wood features of the spool and trim on the sign.
23. Home Office Corner Coffee Station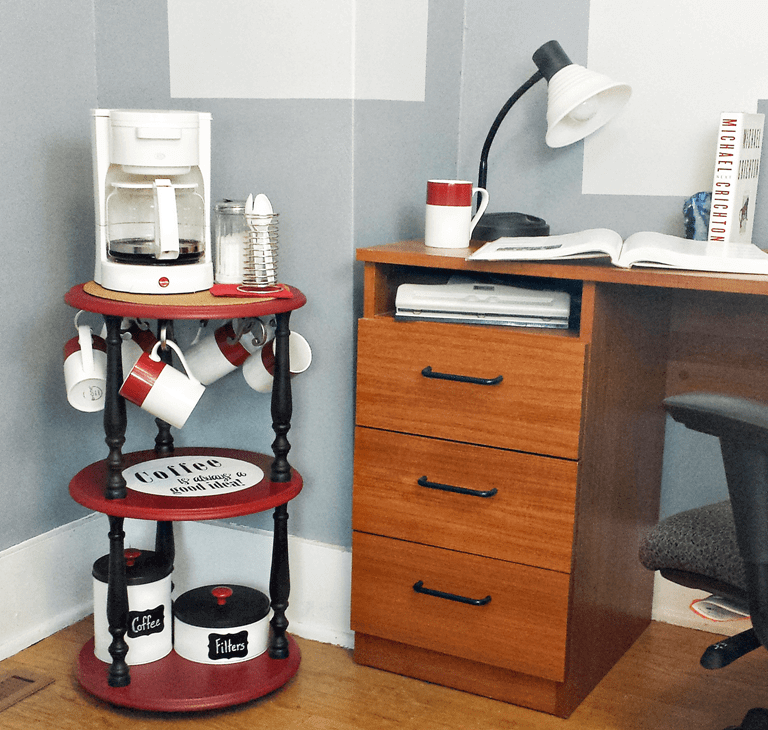 Stay fueled for the day ahead with this three-tiered stand that makes a great corner coffee station! Placed right in the corner of your home office, this stand keeps you caffeinated throughout the workday by keeping your cup of joe within reach. Using a tiered stand keeps all the coffee essentials together in one location so you have all you need to brew the perfect cup while you're in between phone calls and video conferences. In the middle shelf, metal hooks hang your mugs to keep them safe while the bottom holds your grounds and filters. Spin your chair around and enjoy!
24. Getting Your Java with Jesus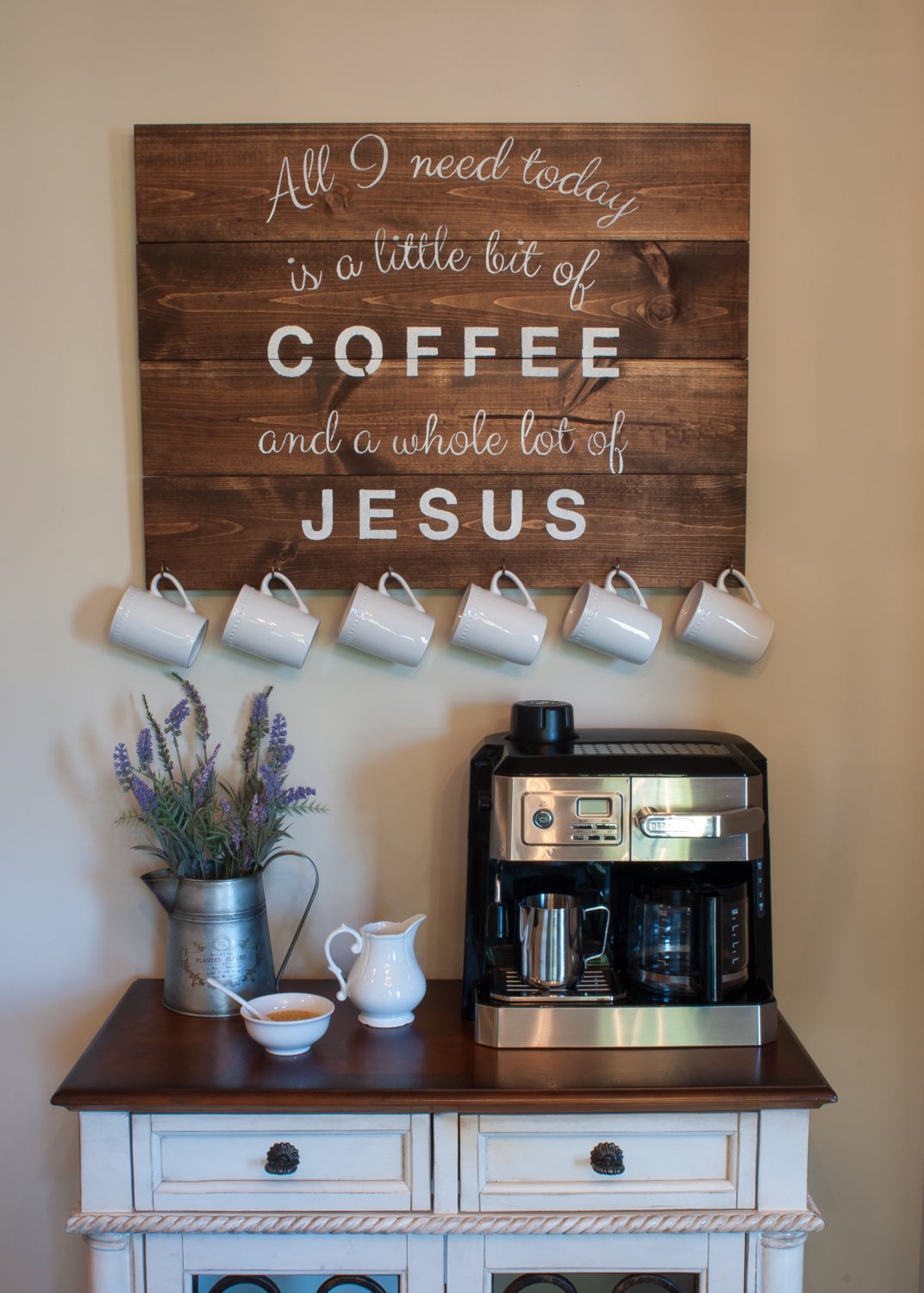 With a message like this on your wall, you'll be able to start your day with the perfect blend of humor and faith. The dark wood of the sign matches nicely with the top of the small pantry cabinet shelf. White is found throughout the space – in the words, the hanging coffee mugs, and the drawers – giving it a pleasant, airy feeling. Though the space itself is small, you'll see that there's plenty of room for a combination coffee pot and espresso maker. That allows you to easily make anything that suits your mood without taking up too much space. The simple watering can used as a vase to hold lavender is sure to brighten up your day. The scent can even make the space feel calm.
25. Create Your Own Coffee House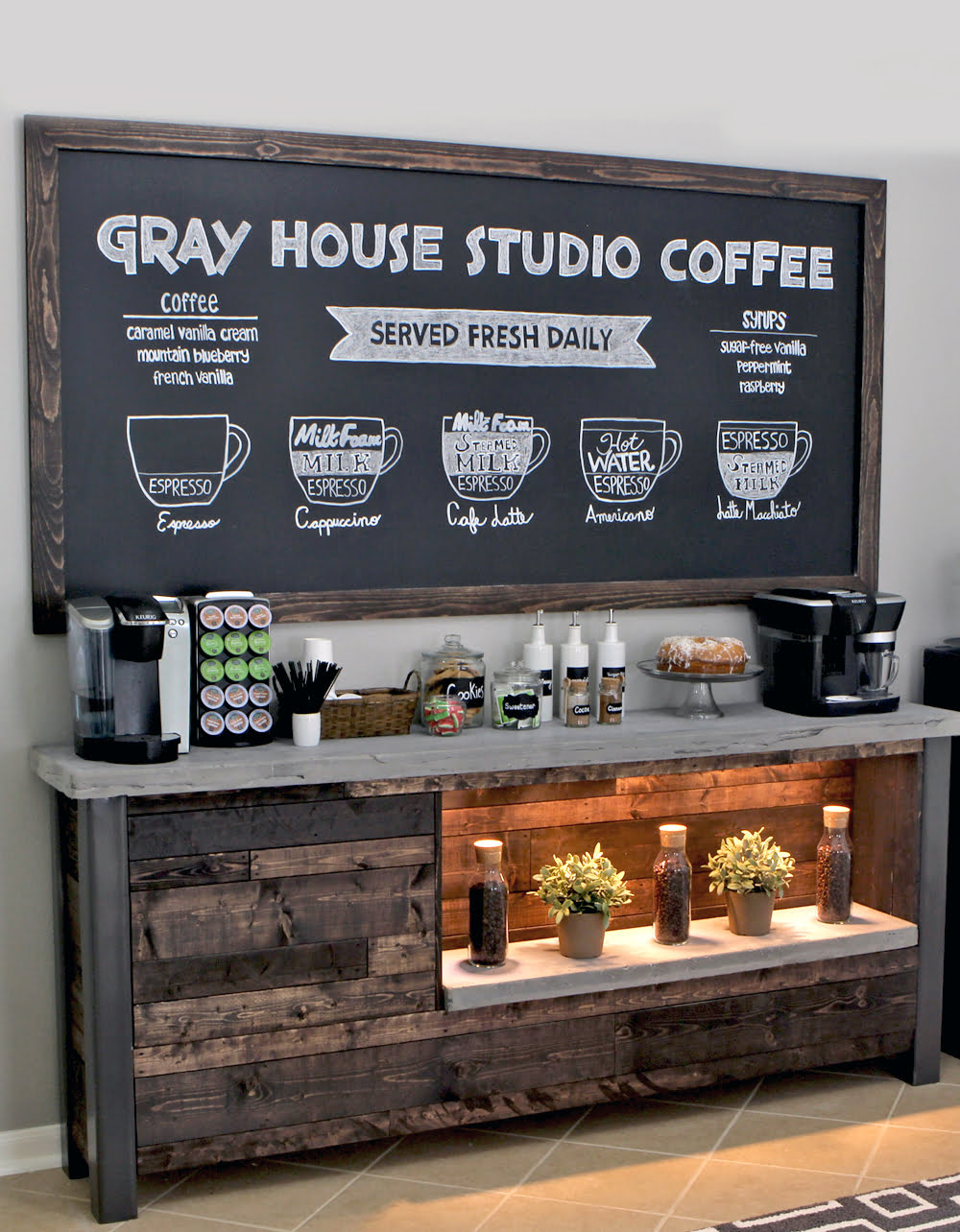 While this coffee station idea is obviously intended to fit in a public space, you can definitely incorporate some of the ideas into an idea for your home. For instance, the chalkboard sign is both practical and beautiful, helping you remember how to make the perfect cup of joe. The lighted shelf on the bottom is also a nice touch. Here, they're displaying plants and bottles of coffee beans, but it might also be a good spot for extra cups or something more meaningful for your family. Note that the table isn't very wide, so it won't take up a lot of space in your room. That's great news for someone who likes the idea of a coffee station but doesn't think there's room in the kitchen.
26. Simple, Neat and Sweet Coffee Station Décor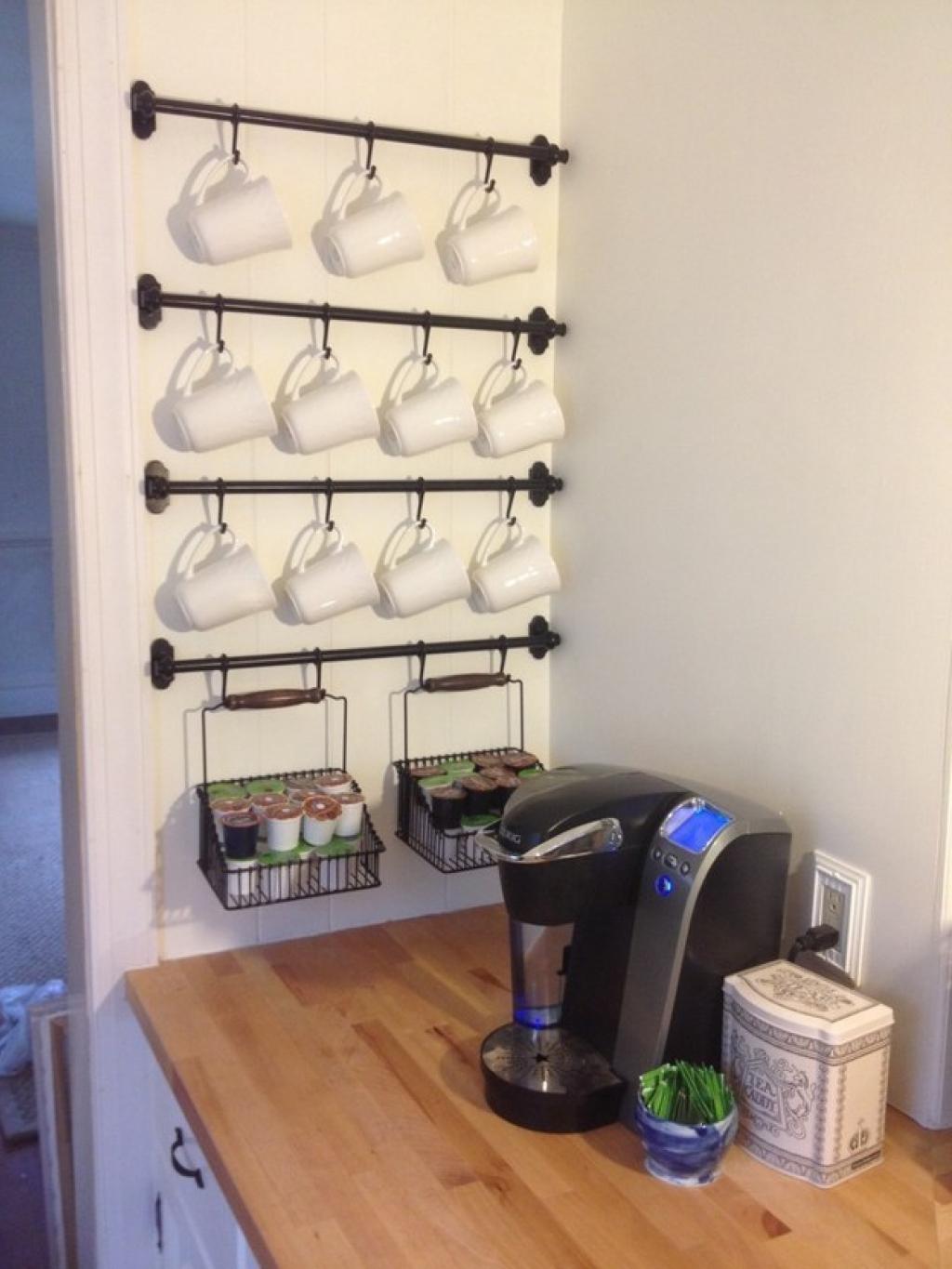 A coffee station doesn't have to be an elaborate set-up, as you can see here. You simply need a creative organization system for the area. By hanging mugs and coffee pods on the wall, you free up a lot of space on your counters and in your kitchen cabinets. The black rods here nicely contrast with the white in the walls and the mugs, but you can definitely add a lot more personality. For instance, instead of all-white mugs, you could display the colorful mugs you've collected over the years. You could also hang a small piece of artwork over the coffee maker to brighten the area up. Just do a little something more to make the space feel like it's yours.
27. So You'll Always Have Options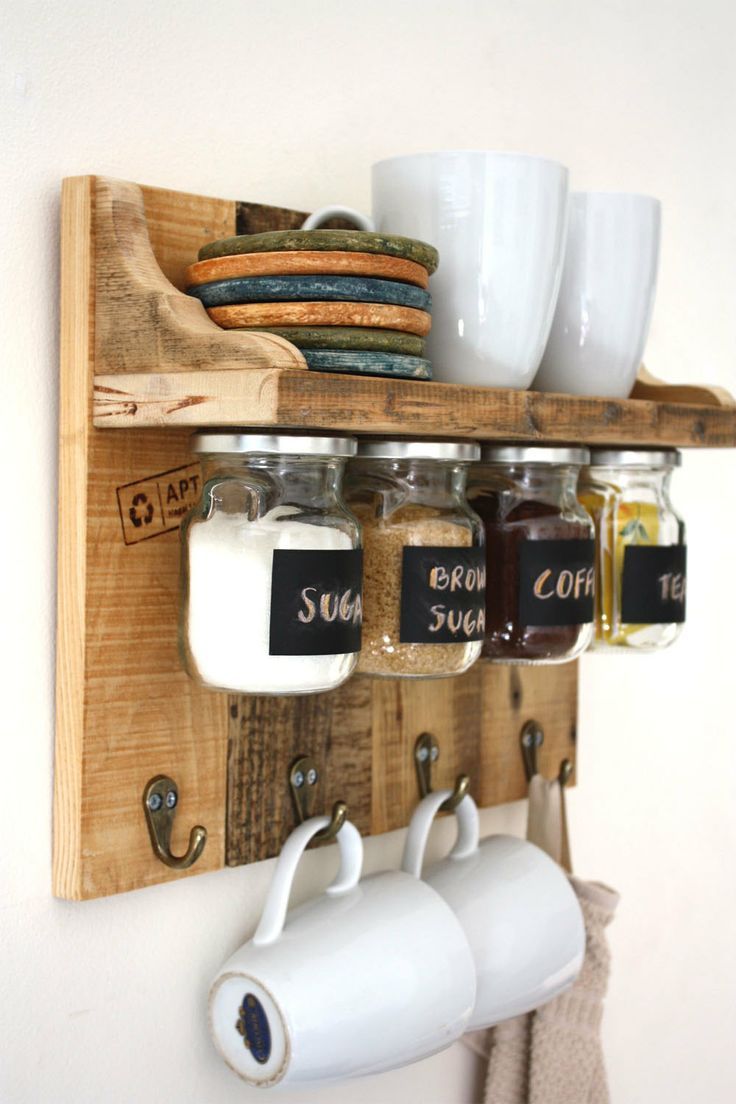 Apartment dwellers will love this idea because it will helps keep a lot of the clutter off of the counters and you just need a bit of wall space to implement the idea. The small jars look great while holding the ingredients you might need for your coffee or tea. Colorful coasters are an extra nice touch. Even if you don't consider yourself particularly handy, this shelf could be an easy DIY project, with all of the materials readily available at most home improvement stores. Change up the look by painting the shelf different colors or adding names to each of the hooks so that family member has a special place to hang their cup.
28. Cock-a-Doodle-Do (With Extra Doodle)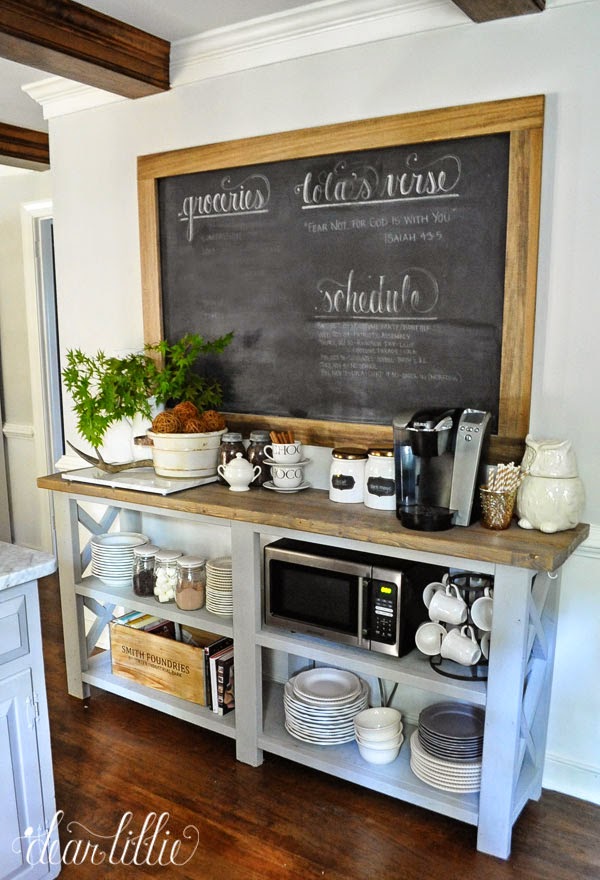 A large buffet is a practical solution for those who want more storage in the kitchen, especially if the design of the kitchen includes a wide wall space. This coffee station idea has ample space to store mugs, plates, cookbooks, and more. Easily accessible from the top, you'll find everything you need to make a great cup of coffee. Here, a large chalkboard hung on the wall serves as a convenient place to write out the family's schedule or keep track of the things you need at the grocery store. Finally, if you have the space, it's always nice to have a touch of green. Just remember that you need to choose a plant based on the amount of sunlight the area gets.
29. Color Coordinated Coffee Capers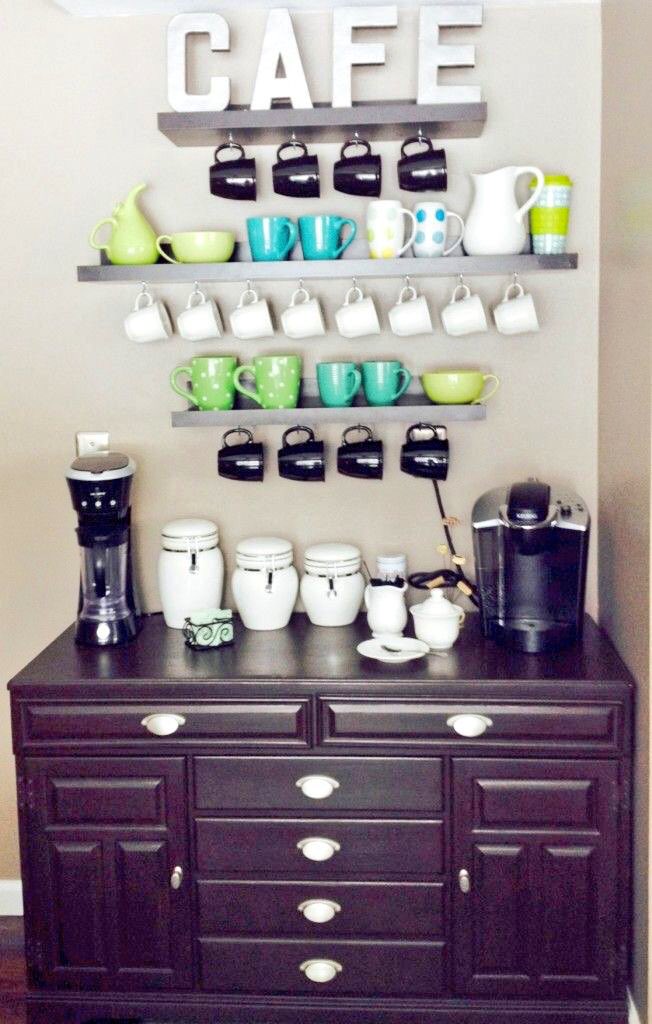 It's perhaps not a coincidence that the sideboard featured in this idea is an espresso color. This look is perfect for those who really take their coffee seriously. The shelves above offer plenty of space to hang your coffee mugs and having the word "CAFÉ" displayed at the top adds a bit of charm. What's especially nice about this look is that it uses a variety of mugs in the display. That's a bit more realistic. If you're like most people, you have quite a few different styles of coffee mugs and you won't necessarily want to buy a whole new set simply to create a uniform look to your coffee nook.
30. Turning Your Bar Into a Multipurpose Space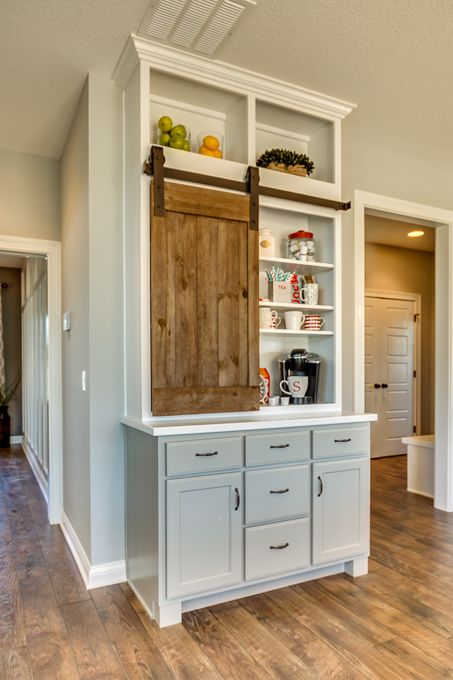 Reaching from the floor to the ceiling, this coffee station idea could be something that's built into the design of the home, but it's also a look you could create yourself by adding crown molding to the top. The rustic sliding door would fit perfectly with a country style kitchen. However, note that this version only covers up one side of the shelf. If you're the type of person who wants to hide small messes, you'll want something that has two doors. There's just enough space on the counter to make your coffee, and you could easily use the shelving below to stash small appliances or pans.
31. Rustic Charm for Your Morning Delight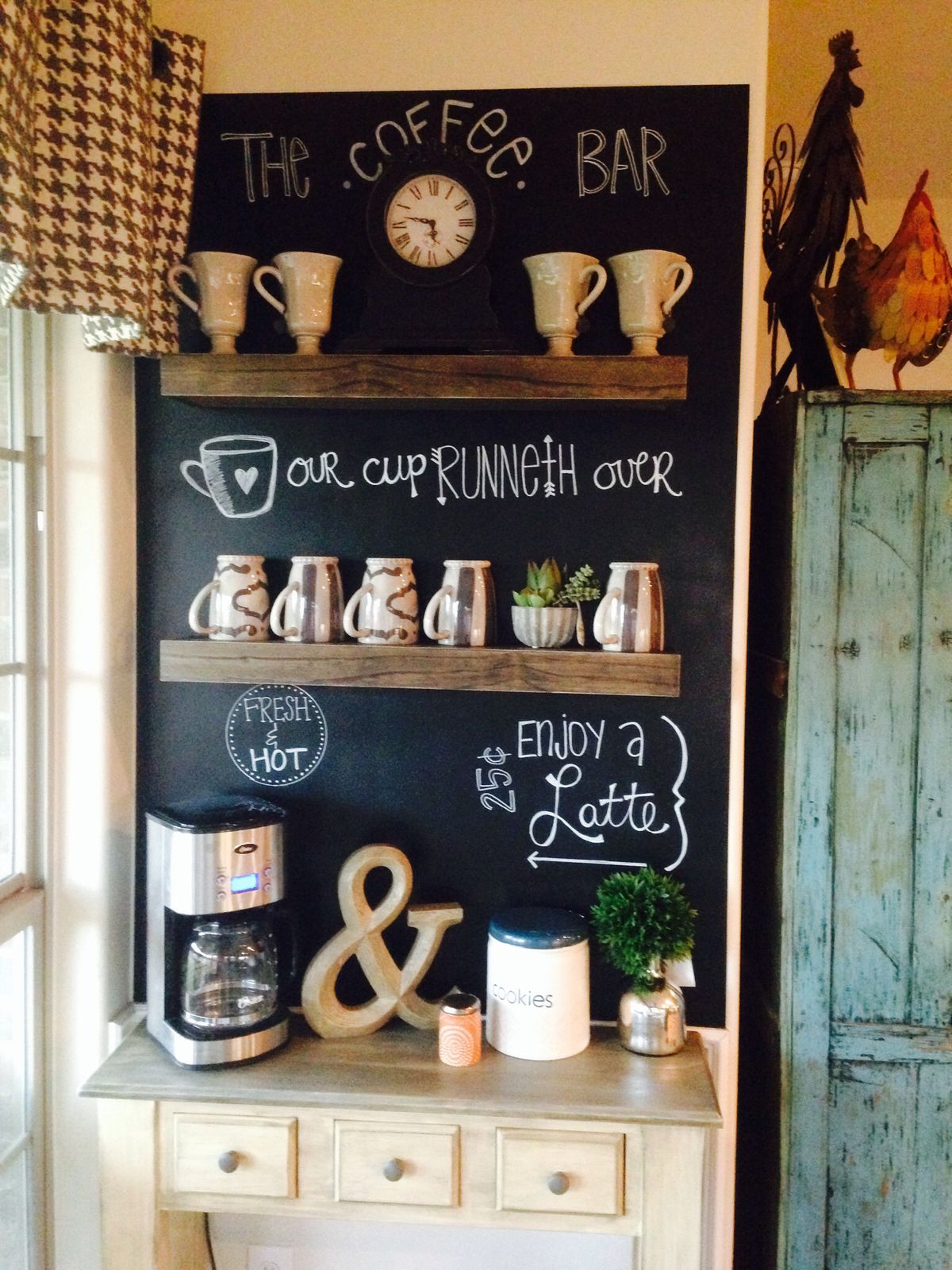 The clock in this coffee station idea is ready to let you know that it's always time for a cup of coffee. There's a chalkboard in the background, but if you want the look without the smudges, you'll want to do the words and designs in paint instead. The fun coffee mugs really make you feel homey, and the plants add some fresh life to the space. At first glance placing the "&" on the table seems like an odd choice, but when you keep looking, you'll see that it's also next to a big cookie jar. Who doesn't think coffee & cookies go great together?
33. Ready to Visit Narnia?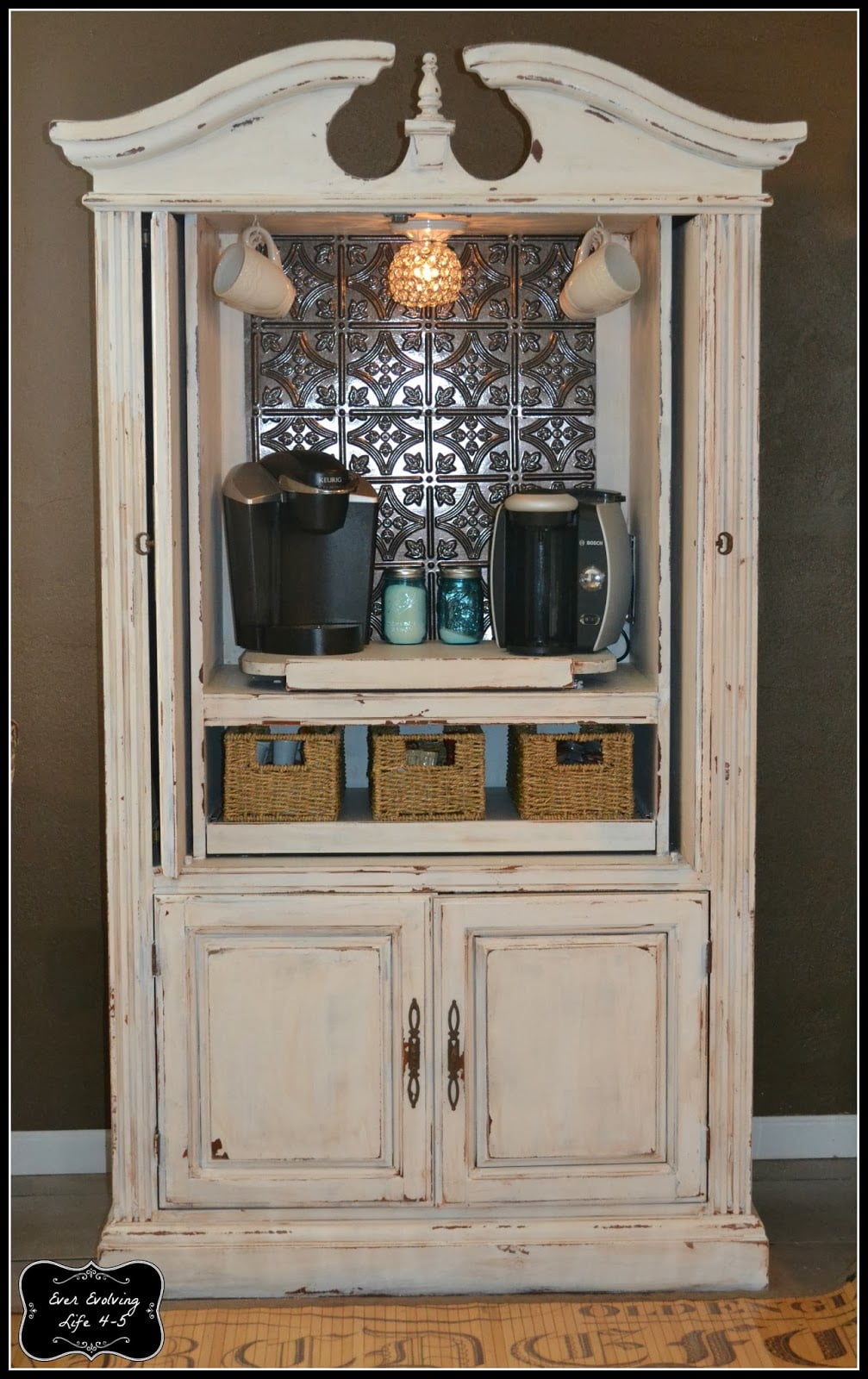 If you're looking for something really different, check out this china cabinet-turned coffee station. The wood is painted in a shabby chic style with patches made to look weathered. What makes it especially unique is the small light at the top and the metal detail in the back. The light will make this metal sparkle and shine. Small baskets keep some of the things you might need for preparation like spoons or coffee pods organized and out of sight. There's only space for a few mugs, but most people have just one or two favorite mugs they always use. You can always store extra mugs down below or in another cupboard.
35. Timeless Elegance Meets Morning Brew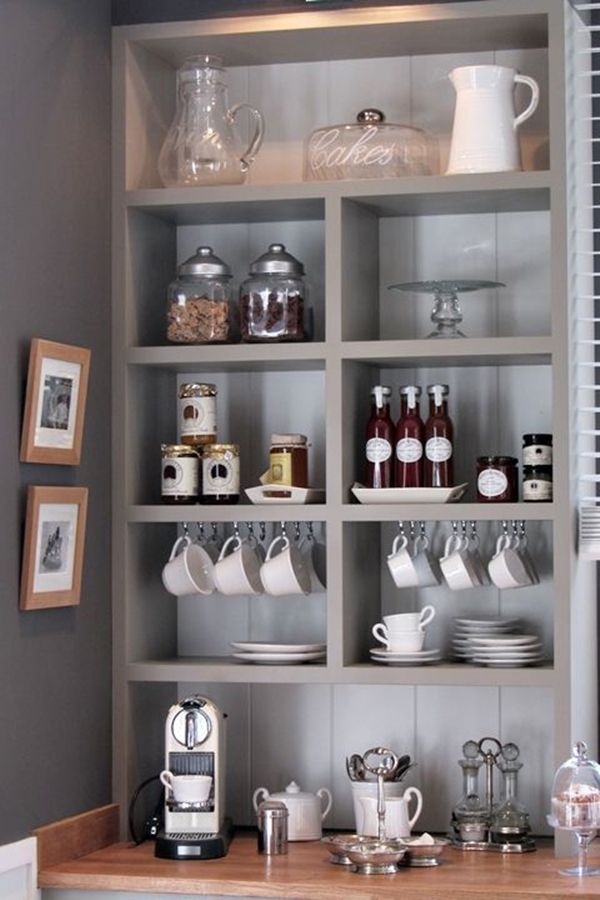 Small shelves keep a tiny space organized and looking great. With smaller shelves, you have all the room you need to store your belongings without any wasted space. The gray color looks sharp, and there's a consistent silver and glass theme throughout this coffee station idea. Note that the set of cups on the right is smaller than the set of cups on the left. This allows you to decide just how much coffee you feel like drinking. Steal the idea of framed photos on the side wall. Whether you have black and white photos of the kids or your pets, it's a great way to add a sweet reminder of what's most important to you.
Our Favorite Farmhouse Wall Storage Items to buy on Amazon

More coffee station ideas on the next page…