36. Picnicking Inside Your House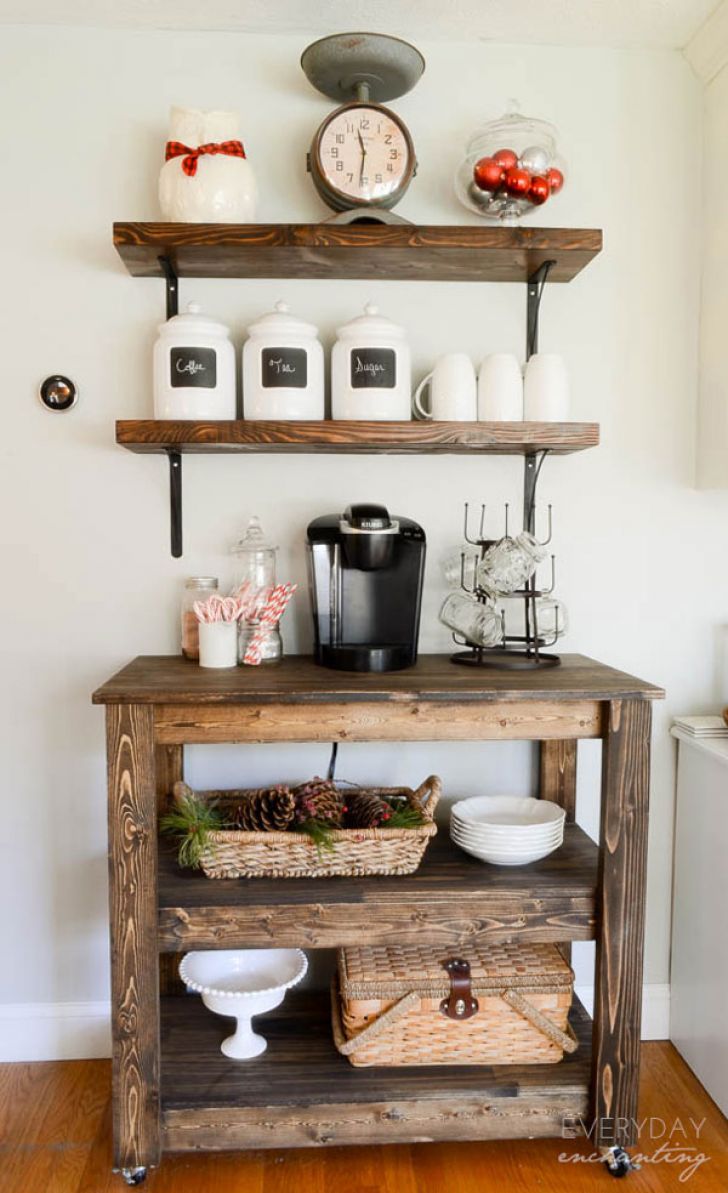 The dark stain on the wood in this coffee station idea lets the natural swirls in the wood show through, giving it a rustic look. This is a really nice alternative to painting the wood a solid color. The small space is beautiful and functional. You'll have everything you need for your coffee right at hand. You should also notice that it's decorated for the holidays, with ornaments in a jar on the top shelf, and candy cane-themed items on the table. Think about different ways that you can change the look throughout the year. For instance, themed napkins are generally available at each season, and they're easy to change.
37. Like a Bride at Her Wedding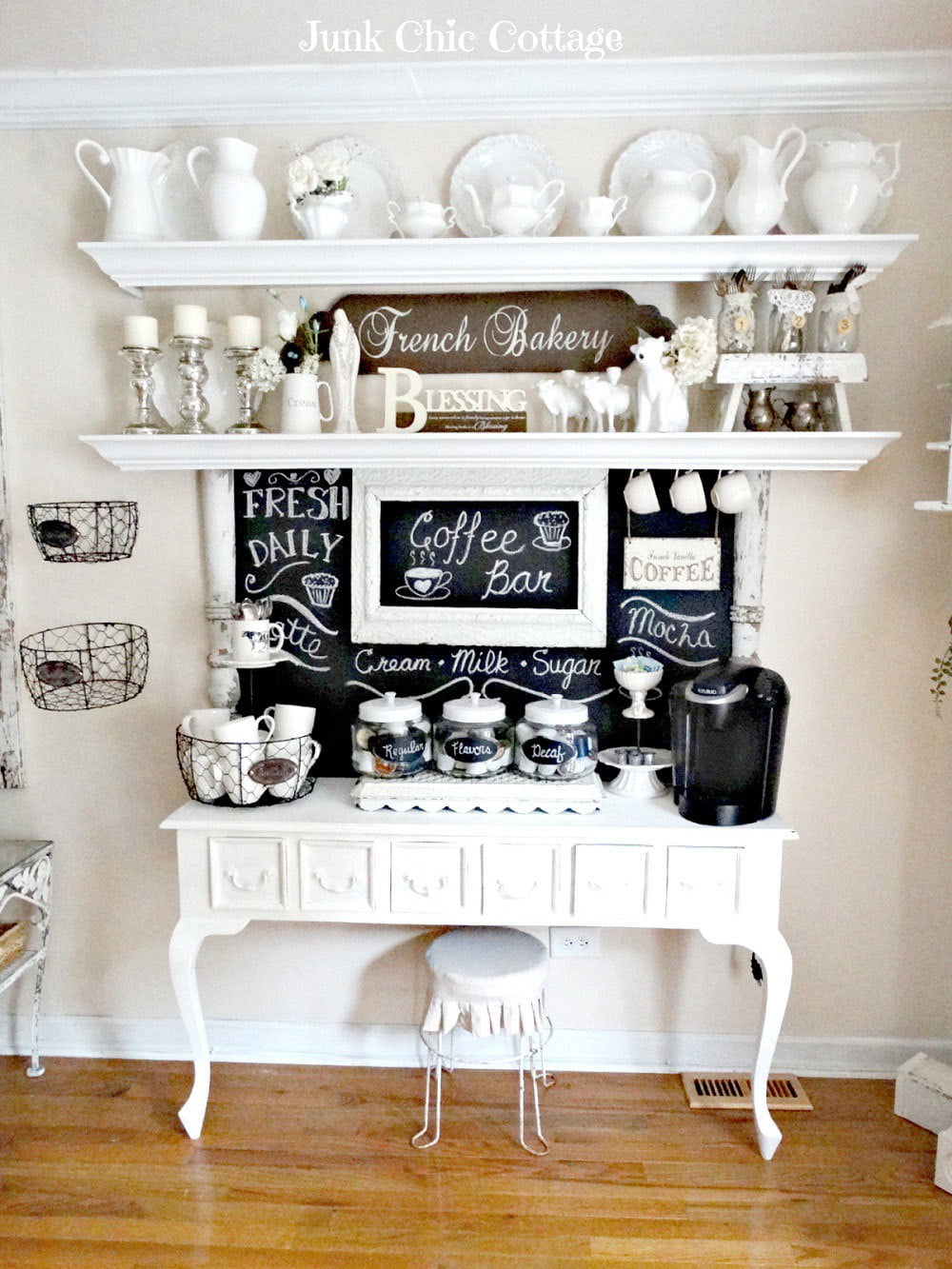 If you have a lot of knick-knacks you want to display, this might be the idea you've been looking for. The elegant buffet displays everything you need for a cup of coffee while the shelves above hold things like candles and decorative pictures. In this coffee station idea, almost everything is white, which gives the area a calm feel even though it's still fairly busy. If your items are more colorful, you may want to consider alternatives. There's another chalkboard idea here, so popular because it mimics the look that you find in your favorite coffee shop.
38. "Now, Where Did I Put That Cup?"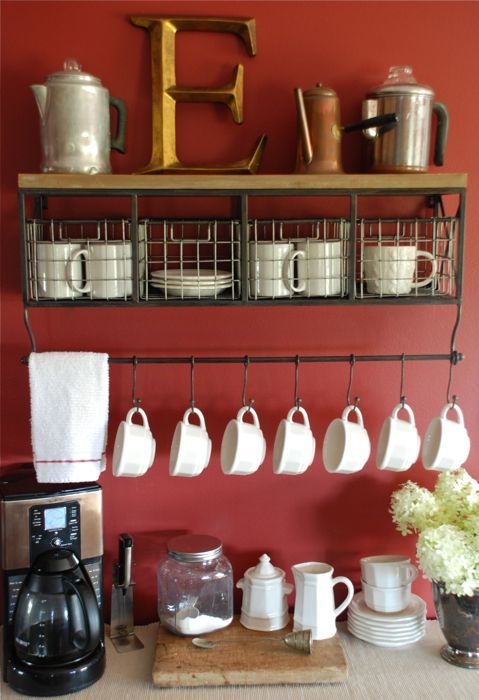 Those who like something neat and contained will want something that looks a bit more like this coffee station idea. Here, the burnt orange color on the well blends nicely with the copper-colored "E" and the vintage metal coffee pots. However, the white that you see in the dishes, mugs, and towel offers a nice contrast. Metal baskets help contain some of the clutter, giving you some extra storage for the mugs. An interesting thing to notice is that despite the consistent color, there are quite a few different sizes of mugs. Whether you're hankering for a cup of herbal tea, a hot chocolate, or a nice coffee latte, you'll be able to find the perfect mug for the job.
39. A Spoonful of Sugar Helps the Caffeine Go Down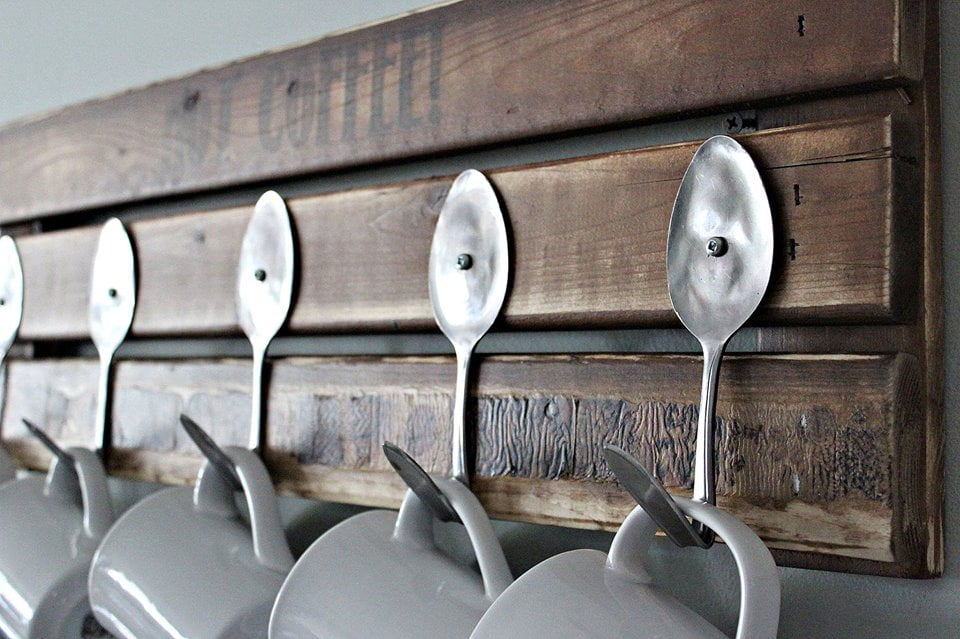 Here's a great way to recycle a pallet and old spoons to make an easy decoration for hanging coffee mugs. The key to making this work is pounding down the spoons until they are flat. This allows them to lie flush against the wood. This image uses the phrase "Got Coffee!" for fun, but you might come up with your own phrase, such as "Time for Tea" or "GoodCoffee. Good Friends." Perhaps the best thing about a design like this is that it's easy to scale it bigger or smaller depending on the space you have. Take good measurements before you start to build.
40. Coffee Station Decorations for Small Spaces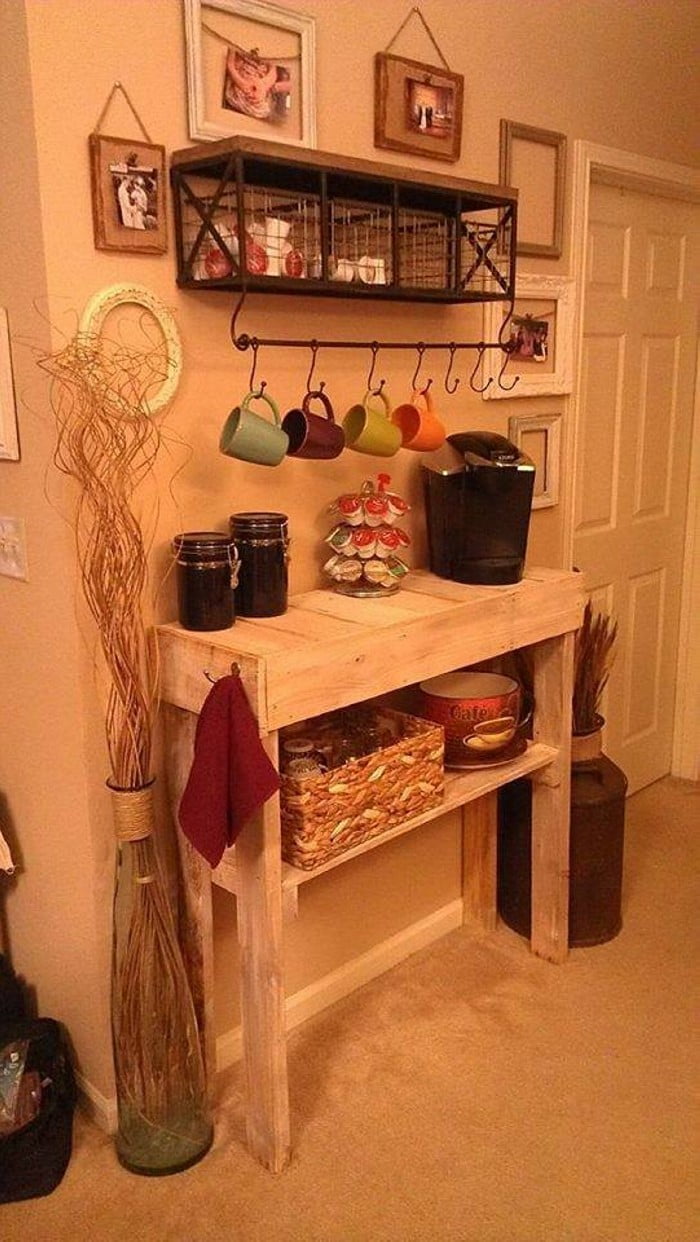 Stashed to the side, this coffee station idea has a comfortable look that you can imagine fitting in most any home. The small buffet was probably also made from pallets, and isn't very wide, so you won't have to worry about bumping into it. Still, there's plenty of space for making yourself a nice cup of coffee. The picture frames around the area use clips to hold the photos in place, making it easy to swap out photos when you get a new one. Alternatively, you might use something like this to display the kids' artwork. Consistent "fall" colors from the coffee mugs to the dish towel give the entire area the put-together look that you're after.
41. Rolling Yourself Out of Bed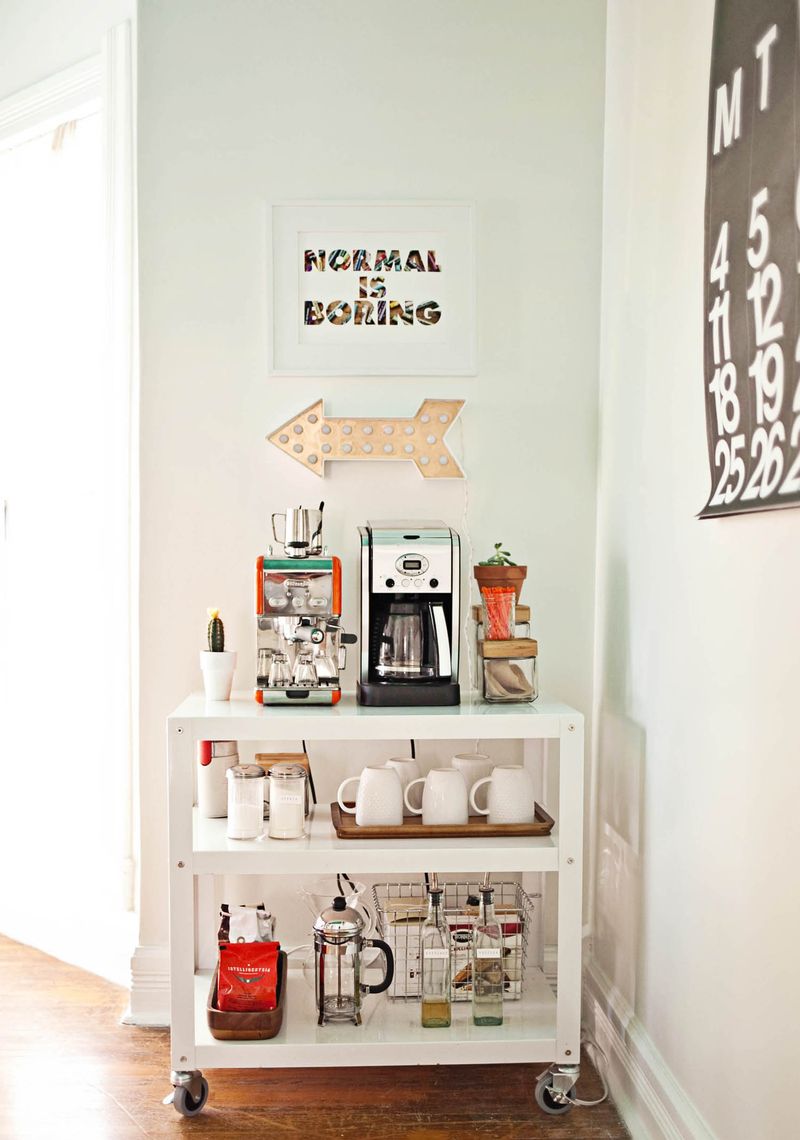 How do you like your coffee? If you had this coffee station, you'd be able to make a pot, create a number of espresso-based drinks, or make yourself a classic cup of French-pressed coffee. Small orange accents brighten up the area, which is mostly white. However, the key component to this is the sign that says, "Normal is boring." It's a fun message that's sure to make you smile every time you see it. Since the letters in the photo are colorful, the space sure doesn't feel boring at all.
42. Threat Level Brown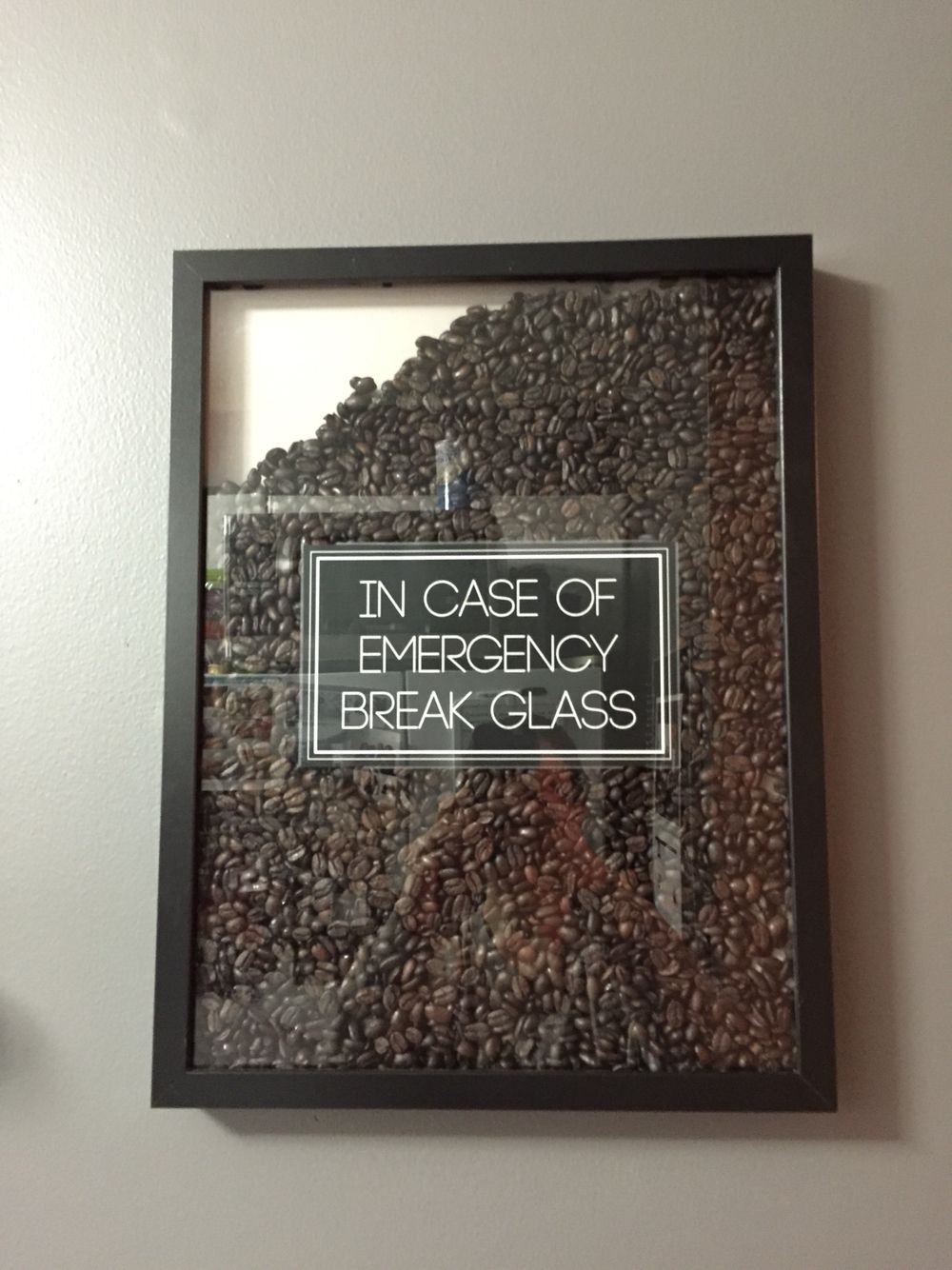 Sometimes, all you really need to make your coffee station complete is a humorous sign like this one. It's easy to make yourself. You simply take a shadow box frame and fill it up with coffee beans. The message is printed onto a card or piece of paper and held in place using glue or tape. Of course, this idea is going to appeal to coffee-lovers, but you can also use that same shadow box idea with another favorite item. For instance, you might fill it up with dried pasta or different spices. You can make it as personal as you want to make it.
43. Wood You Like a Cup of Coffee?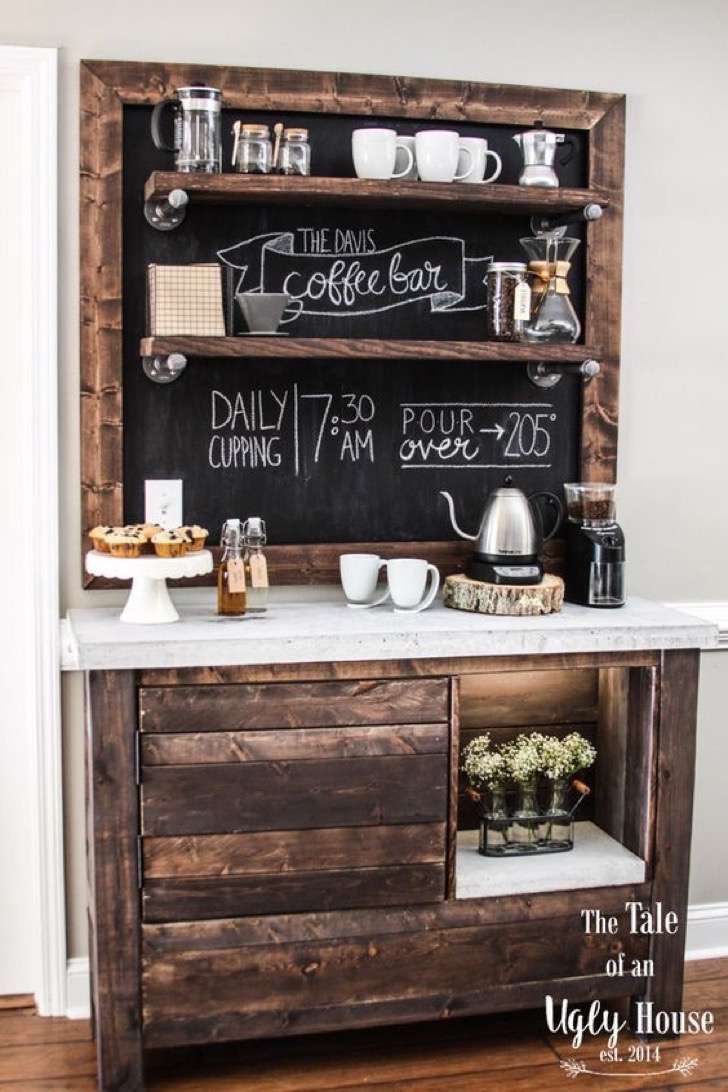 The style of wood in this coffee station idea already has a nice rustic feel to it, but the designer has taken things even further by placing the percolator on a thick slice of a log. Coffee tastes best when the beans are freshly ground, so it's nice to see the coffee grinder in a station. If you've got guests coming over, you can make your coffee area more enticing by including muffins or other little treats. Everyone wants to enjoy a little something sweet with their coffee, and something like this will really hit the spot.
44. The Ultimate DIY Coffee Station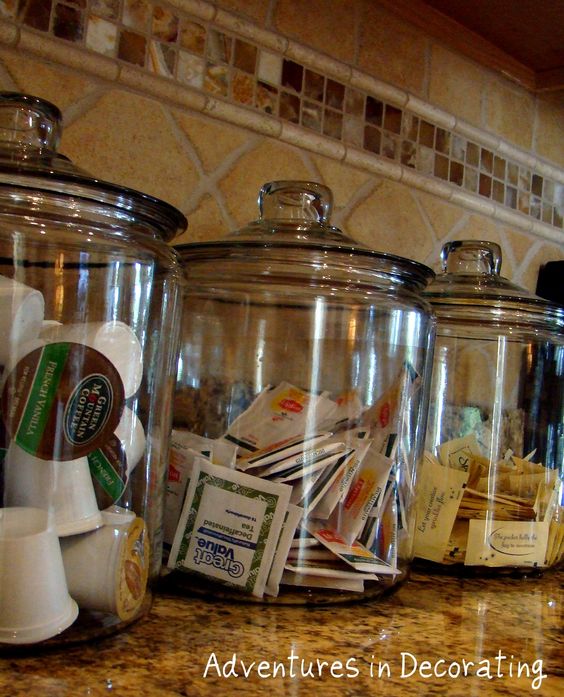 Many people have a line-up of jars along their kitchen counters. These jars typically include flour, sugar, and coffee, but one of the problems is that you can't see what's inside each jar without looking in. Even the homeowner can get confused sometimes. You won't have to worry about that when you use these classy jars. They'll look great on your counter, and they're affordable as well.
It's Time to Make Your Own Amazing Coffee Bar
A coffee station seems like a luxurious touch to the home, but you can actually design one that fits a variety of styles. Even if you simply want to spruce up the area of your counter where you keep the coffee pot, you'll find an idea that you can use.
What makes a coffee station great? On a basic level, you'll simply want everything you need to make your coffee in a single area. Look for a coffee pot or an espresso maker, coffee, sugar, and plenty of mugs. Many people add extras, like storage for tea instead of coffee. For some, a coffee station is just a small corner of the counter, but others like to take things to a different level, creating an expansive display that will make you feel like you've stepped into an actual coffee shop.
Of course, it's also all about your personal style. Your coffee station might feature bright colors or classic lines. It might be a space for you to hang a humorous message or pictures of the family. You might use the area to display decorative items or just want to focus on the coffee necessities. Use these ideas for inspiration, making changes to fit with your home's décor and your preferences.