You should never hesitate about adding bright colors to your living room. Colors go beyond creating an aesthetic appeal. They signal your taste, preferences, or how you relate to the environment. For instance, floral wall paints and indoor plants, whether live or artificial, show that you care about a green environment. A traditional color pattern shows your roots or pride in associating with a particular culture. In other words, creating a colorful room design is withstands the test of time to keep your living room bright and lively throughout the seasons. Come winter, come summer; you'll always be ahead of style, class, and elegance.
How to Transform Your Living Room with the 16 Colorful Decor Ideas

However, you'll only enjoy the beauty of a colorful living room decor if you get it from the word go. Having the liberty to add whatever you want doesn't mean clashing colors. You'll likely end up with something far from imagination creativity if you tread that path. We highlighted the 13 best colorful living ideas that would blend well with any home setting. These color patterns can be a source of your inspiration, especially if you frame DIY motivational quotes on the walls and the side cabinet shelves. You can also hang the pictures of your loved ones, not just to draw inspiration but to keep their memories alive even when they are not around.
When we say play with great colors, it has more to do than bright walls. You can add color to literally anything, whether appliances, rugs, table mats, carpets, or even cabinets. Most importantly, the trick lies in the lighting. How can you make that awesome idea in your mind a reality? How do you bring beauty to your living room without overdoing it? Here are the best colorful living room ideas to keep you going in 2021 and beyond.
1. Bring Nature Inspiration to Your Living Room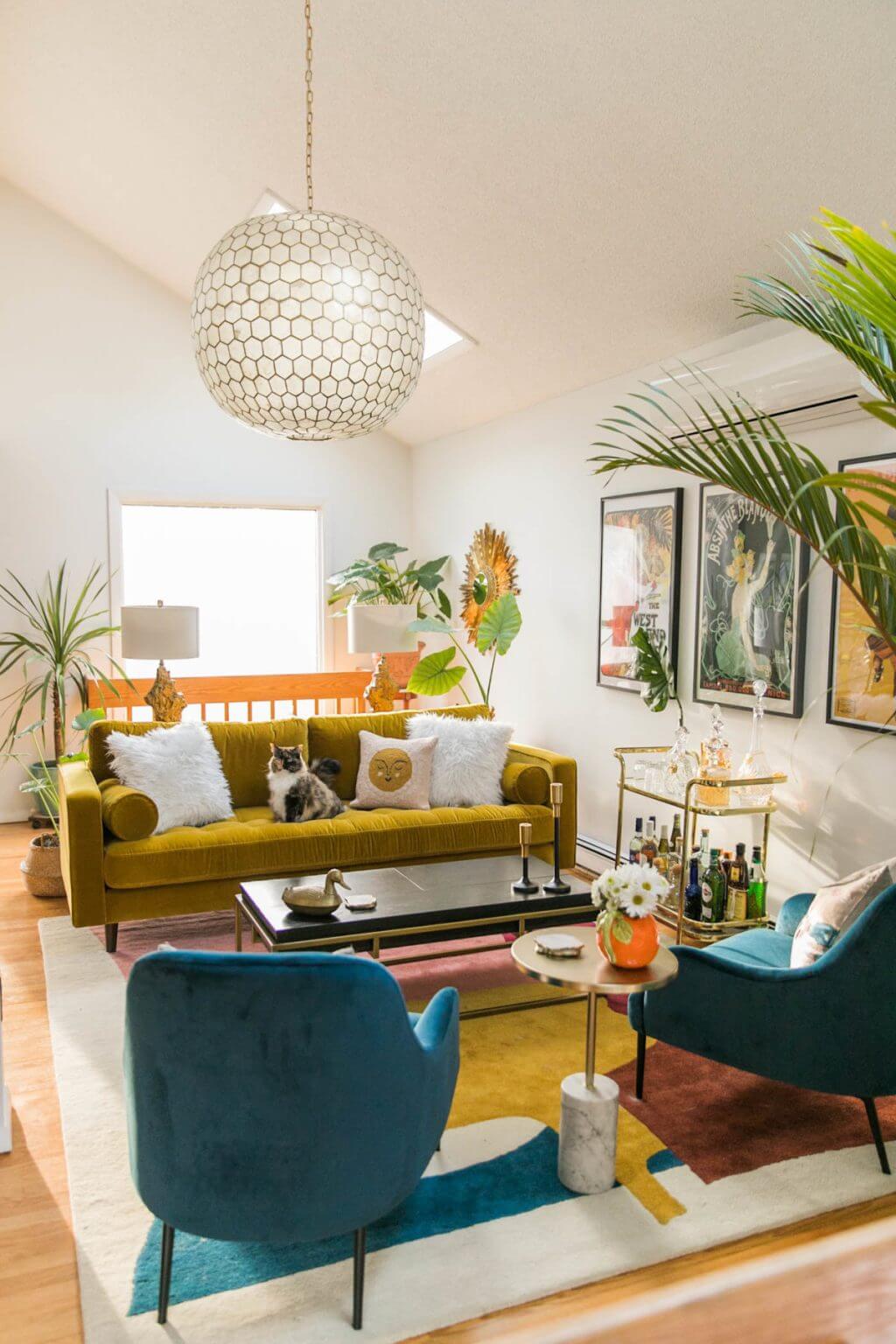 This living space takes your relaxation and retreat experiences to another level. Add a few indoor plants to make the space green. You can also go for artificial plants if you want to cut maintenance costs. You would like to do simple DIY wall pictures that immerse you in a fantasy world when chilling. Since you need such a chilling spot to be as comfortable as possible, adding a couple of white throw pillows sounds like a good plan. Repurposing the lighting could just be a start, but don't forget to add a woolen carpet around the sitting area. It will keep your feet warm on chilly days.
2. Modern Yellow Wingbacks and a Sofa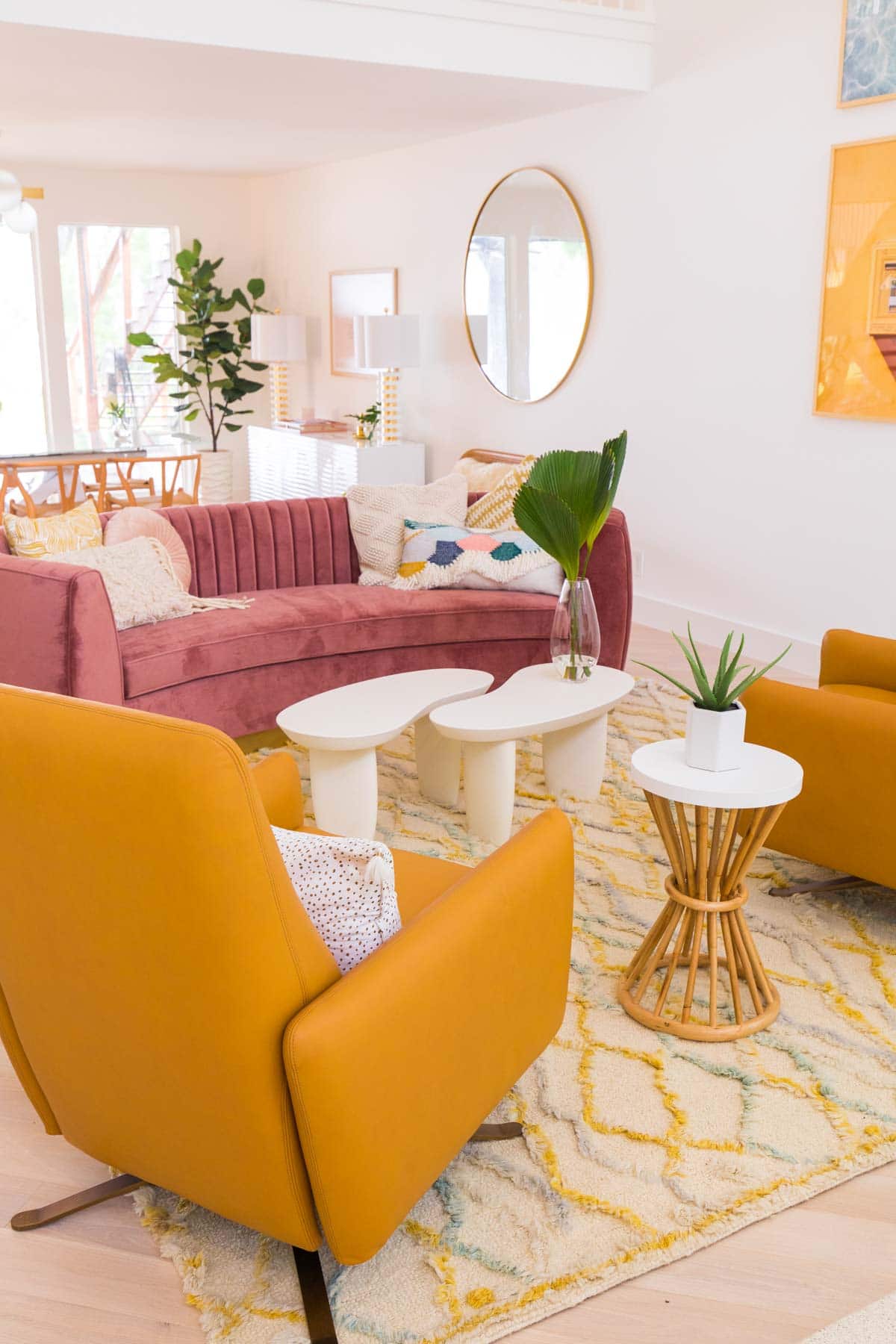 Just a reminder that a few bright colors make an awesome idea to spruce things up in your living room. Don't fret about taking chances with yellow when changing the covers of your wingback chairs. Remember, being unique entails trying the best colorful living room ideas you've ever experimented with before. You can pick a pinkish fabric for your sofa and white for the throw pillows. The carpet can go with and spiral patterns of yellow and grey. Whether living or artificial, potted plants are timeless, and you'll never go with one or two on the wooden stools. Most importantly, don't forget bright lighting to highlight the color blend. Large windows can get the job done during the day or hanging lights for the night.
3. A Contemporary Colorful Living Room Design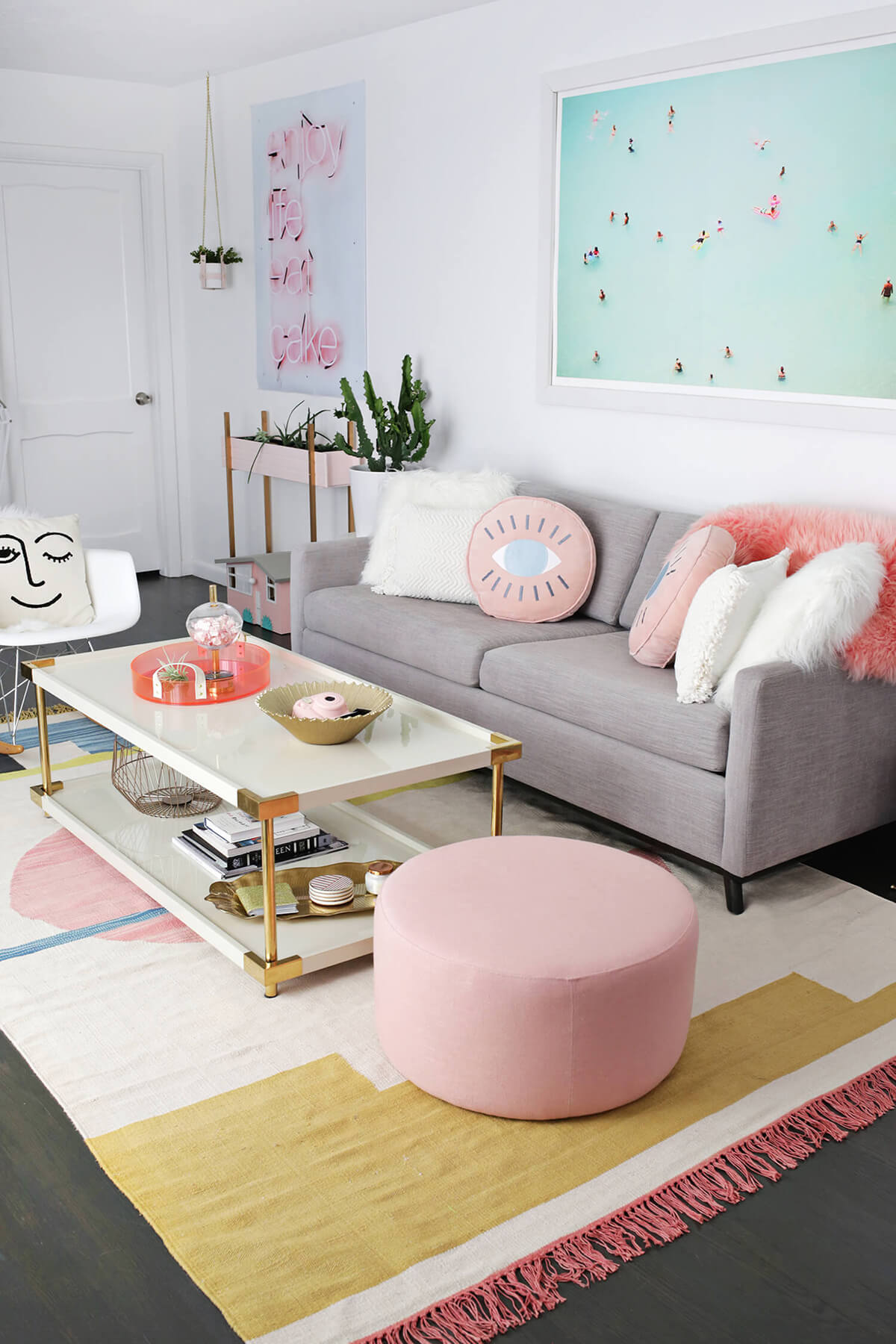 A contemporary colorful living room design mainly consists of neutral color patterns, but these folks used the color to a great effect. The big light-grey sofa contributes to a warm, comfortable atmosphere. The white and pinkish throw pillows, coupled with the giant ottoman, takes DIY creativity to another level. You can paint the walls white, for a bright ambiance. A repurposed coffee table with gold-finishing legs won't feel out of place. You also have a storage area beneath the bottom to keep your books, remote controls, and magazines. And like any comfortable living room, through a carpet or rugs around to keep your feet warm. This design makes one of the best colorful living room ideas for any age group.
4. A Cozy Fireplace Carries the Night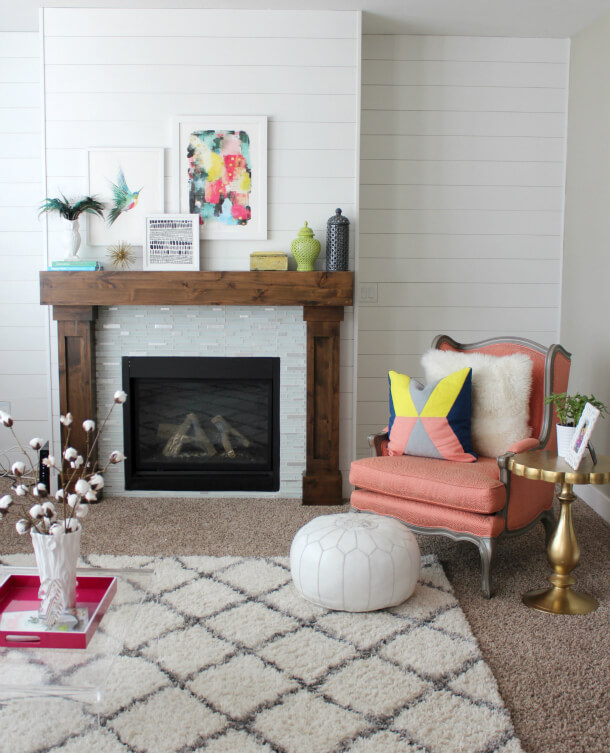 Do you like spending nights by the fireplace? Nothing beats the coziness that comes with a repurposed fireplace area, whether it's aesthetic or constructed. Add a framed picture on top next to a few handcrafted pieces. You can also put a hardwood frame around the entrance of the fire chamber to add a touch of style and elegance. A sizeable fluffy carpet will always go a long way in keeping your feet warm. You can also add a round, padded ottoman to place your legs when reading a book or to catch up with a longtime friend.
5. Good Vibes Bring Positive Energy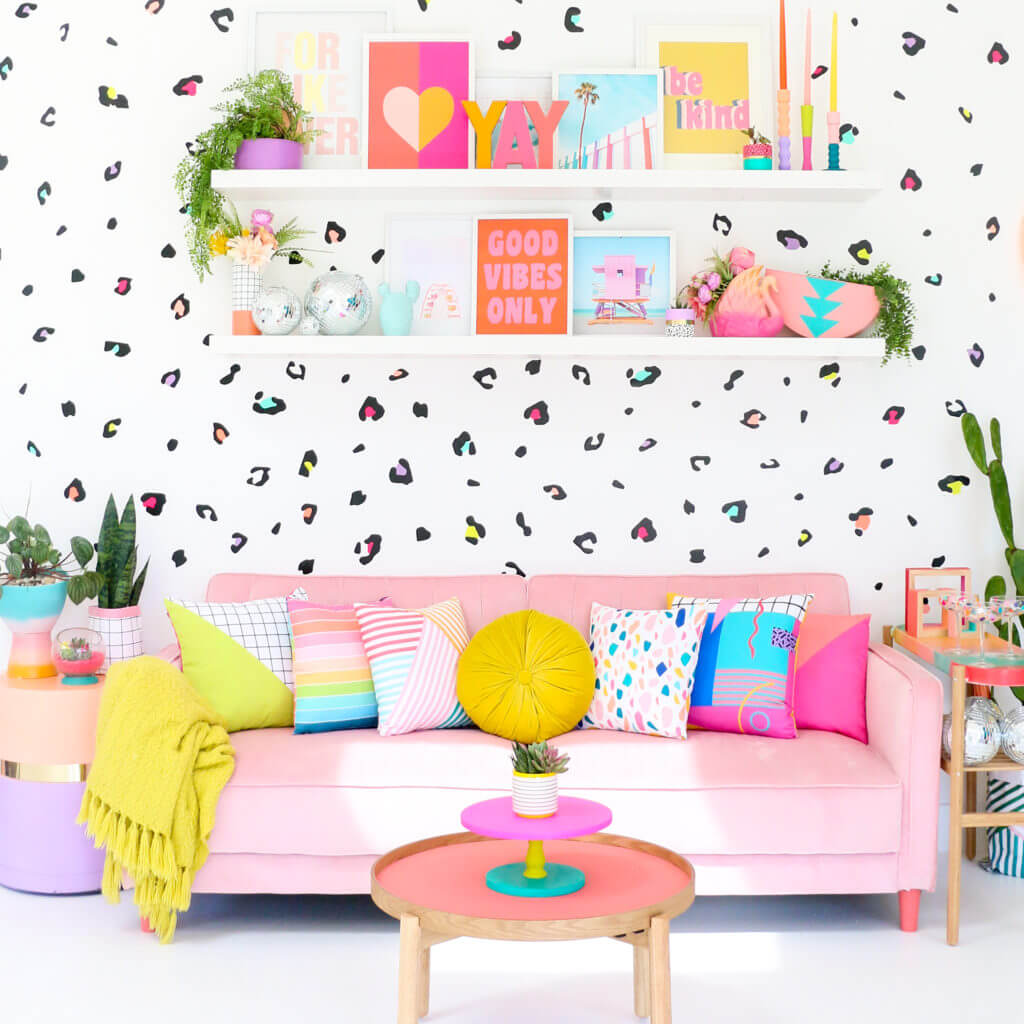 Most of us have particular slogans or motivational quotes that keep us going or are from a cherished memory in life. How else could you let your guests know that you move with good vibes only? Playing with colors to make a bold statement brings good spirits and positive energy to your living room. You'll never go wrong with this hanging rack above the two-seater sofa. You can keep feminine colors for the throw pillows and white with colorful dots to highlight the room's brightness. You can also add a few artificial plants to complement the vibe of a serene chilling spot.
6. Maximalist Bold Colorful Living Room Ideas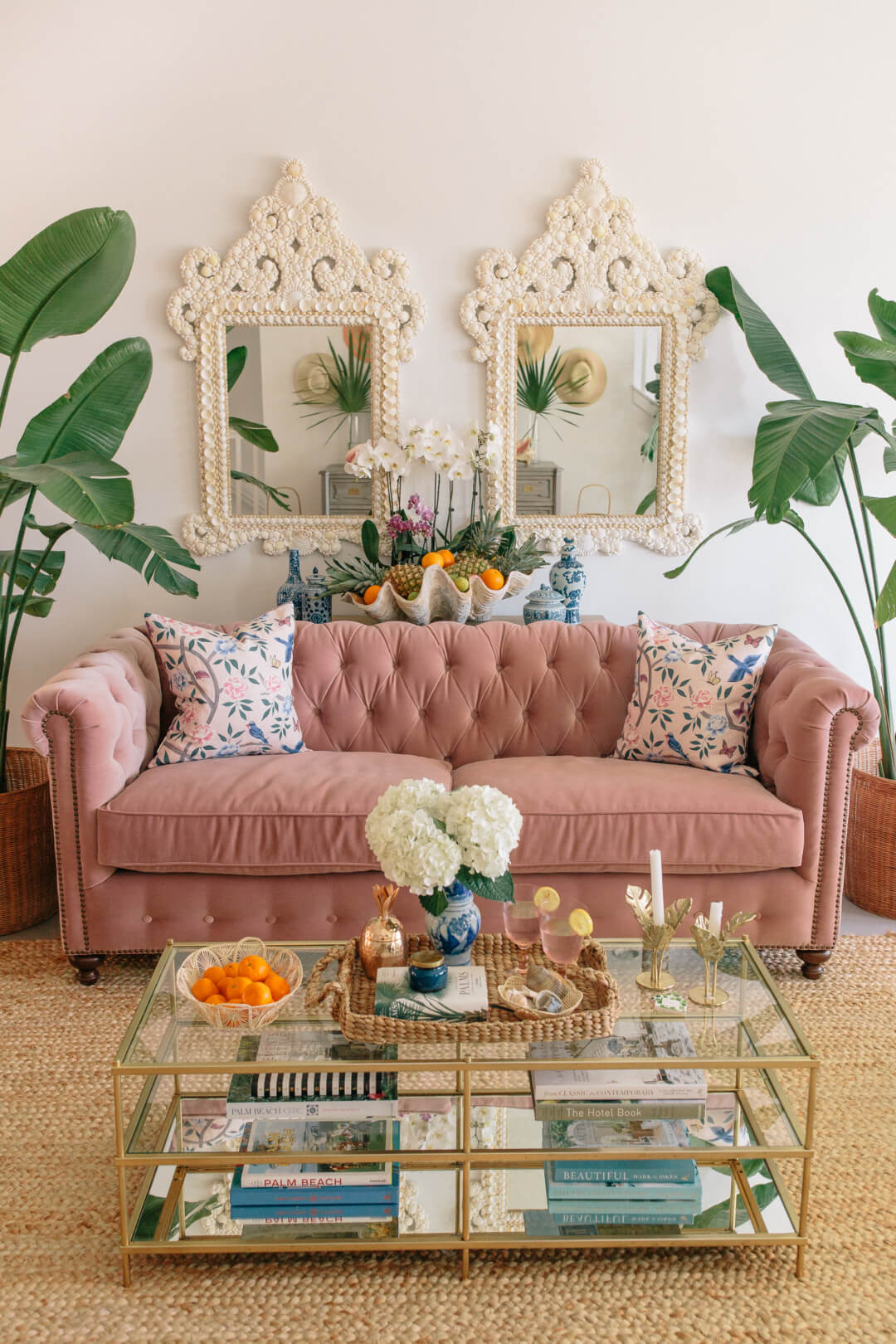 Bring an eclectic, vintage look and feel to your living room with this muted palette of colors. From the dusty rose blush tufted couch to the variety in pieces displayed on the sofa table and glass coffee table, there is a little touch of color throughout the entire living space. On the wall, a large pair of mirrors add lots of beauty and interest with their intricate border design. Alongside both ends of the velvet couch, a large house plant adds just the right touch of nature into the home without feeling like a solarium. The large rich green foliage is the perfect complement to the lush and soft blush velvet sofa. Create a style all your own for your living room that echoes the past without feeling like your grandmother's old-fashioned homestead.
7. Eclectic Muted Colors Living Room Decor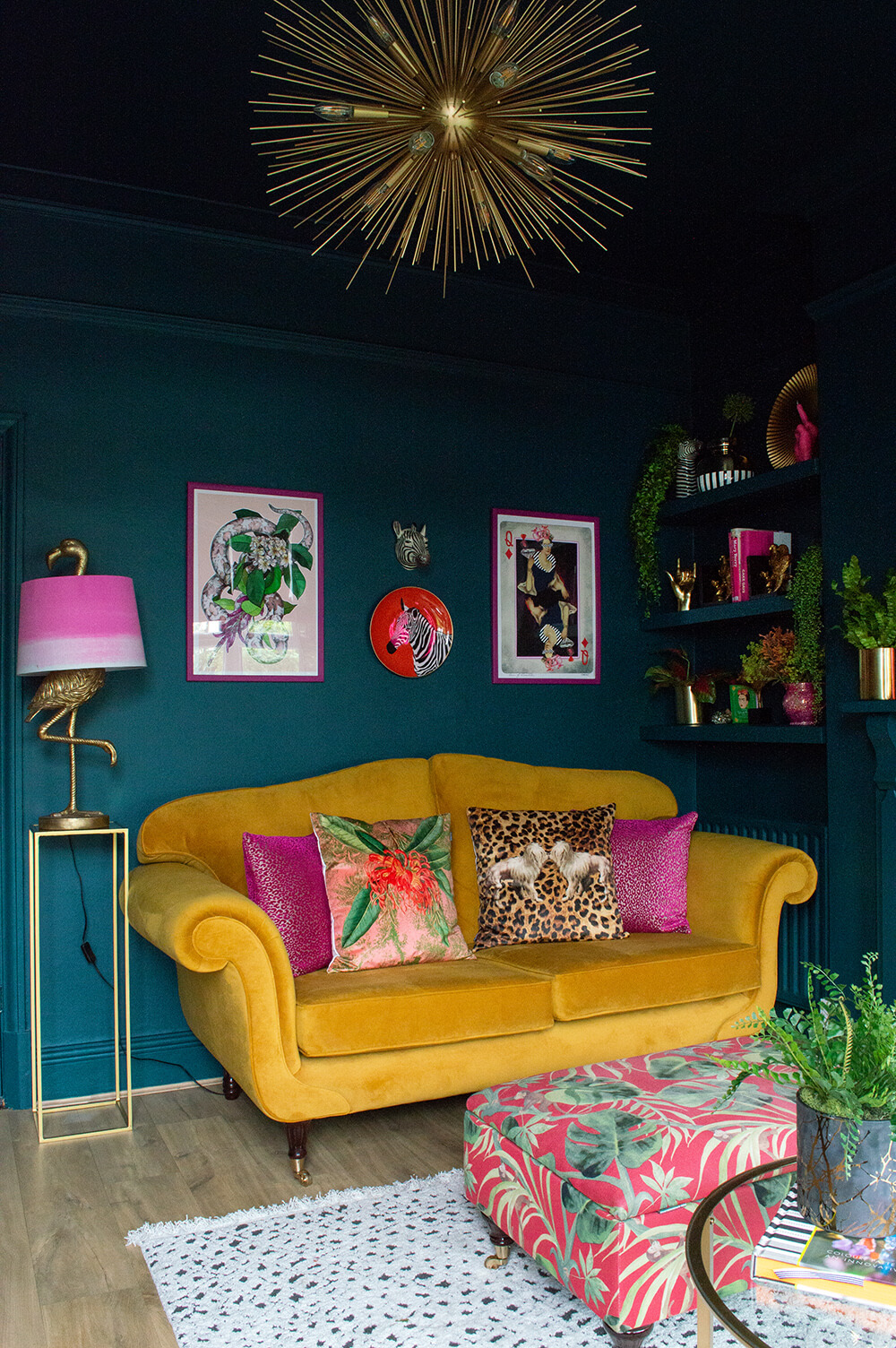 When you march to the beat of your own drum, it's important to allow that unique personality to shine through and permeate into the interior design of your home. Let your sense of style speak for itself with your use of bold and bright home decor that captivates everyone who enters your colorful living room space. Lots of bold jewel tones and plenty of prints and patterns make way for this gorgeous display of purposeful decorating. Pair a pretty floral pattern along with a dynamic animal print to get the creative juices flowing. A rich teal wall color sets the stage to make the most of your updated and modern style and is the perfect contrast to the gold velvet settee and Fuschia accent pillows.
8. Bold and Bright Modern Colorful Living Room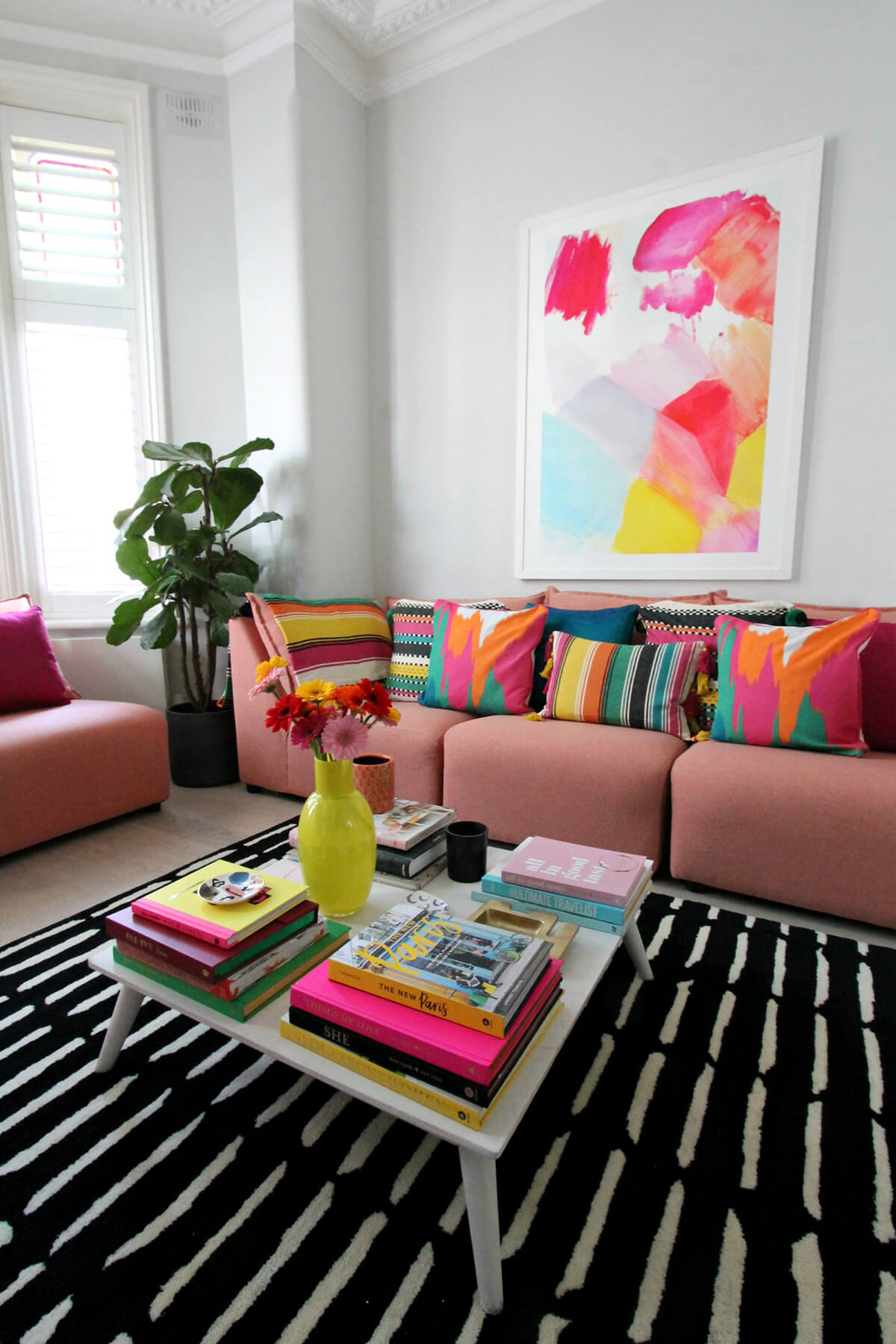 Keep it classy and colorful at the same time with this ingenious modern colorful living room scheme. Crisp and clean white walls set the perfect backdrop for an artistic work of art that continues into the decorative pillows adorning the couch and the perfectly curated book arrangement on the large coffee table. The overall bold and bright look is firmly grounded together with the use of a modern black and white rug. Nestled in the corner is a fiddle leaf fig tree that provides the perfect pop against the blank white wall space. This is a modern look that works equally well in an urban loft or in a suburban ranch home as it features a simple design with a complex color palette that feels very custom.
9. Play with Colors to Get Carefree Tonal Value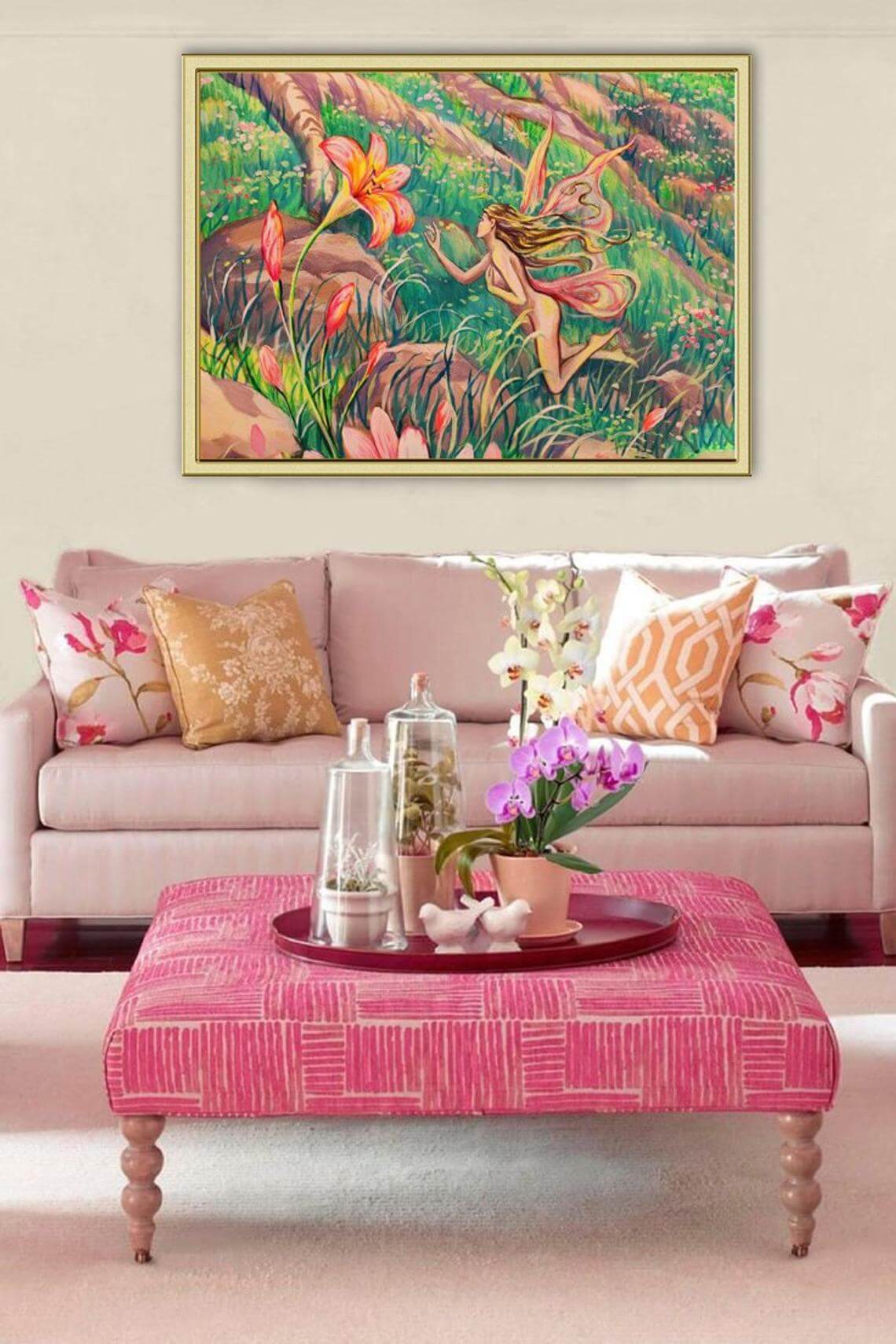 You can use color to achieve various settings in your living room. In this case, these folks used a unique color blend on the wall art to create a timeless, carefree living space. The warm ambiance and the eclectic accessories on the table make anyone want to relax and have fun. The bright color setting doesn't look too serious, but the wall art gives the space some business outlook. Moreover, the colored ottoman is multifunctional. Use it as a storage area or footrest, depending on the occasion. Don't forget the throw pillows to make your guests feel relaxed and at home.
10. Custom Wall Art with a Freestanding Cabinet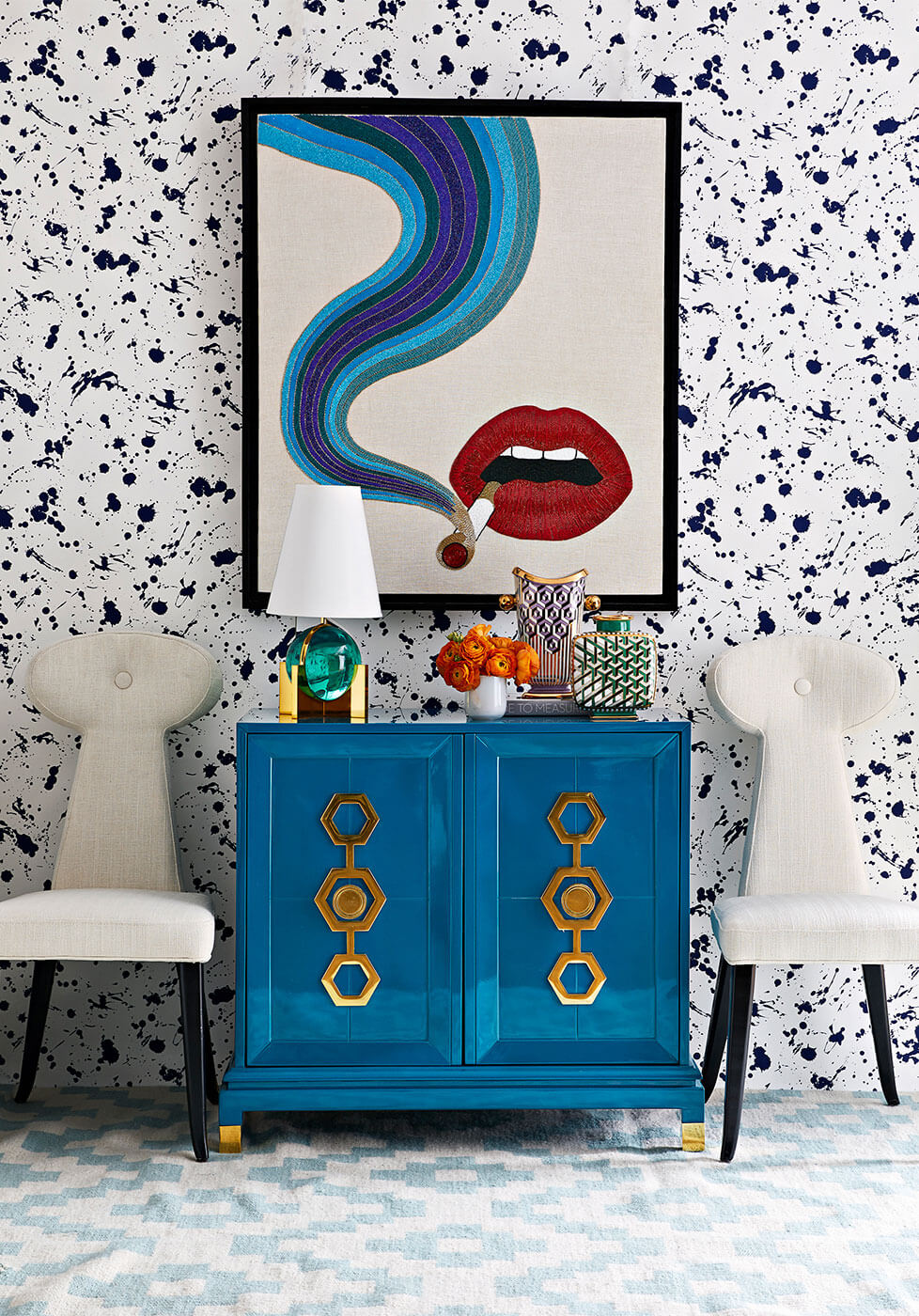 If you keep losing your stuff in the living room, you might want a lockable freestanding cabinet for storage. These folks decided to go with a bright-blue finishing instead of the standard white or wooden. To make the space unique, you can add custom wall art and a few accessories on top of the cabinet. Your wart should not send an ordinary message; let it spark the imagination. The twin slipper chairs by the sides will also look good in your living room. Add a neutral theme to the background wall to highlight the bold-colored freestanding cabinet.
11. A Red Theme to Spark Love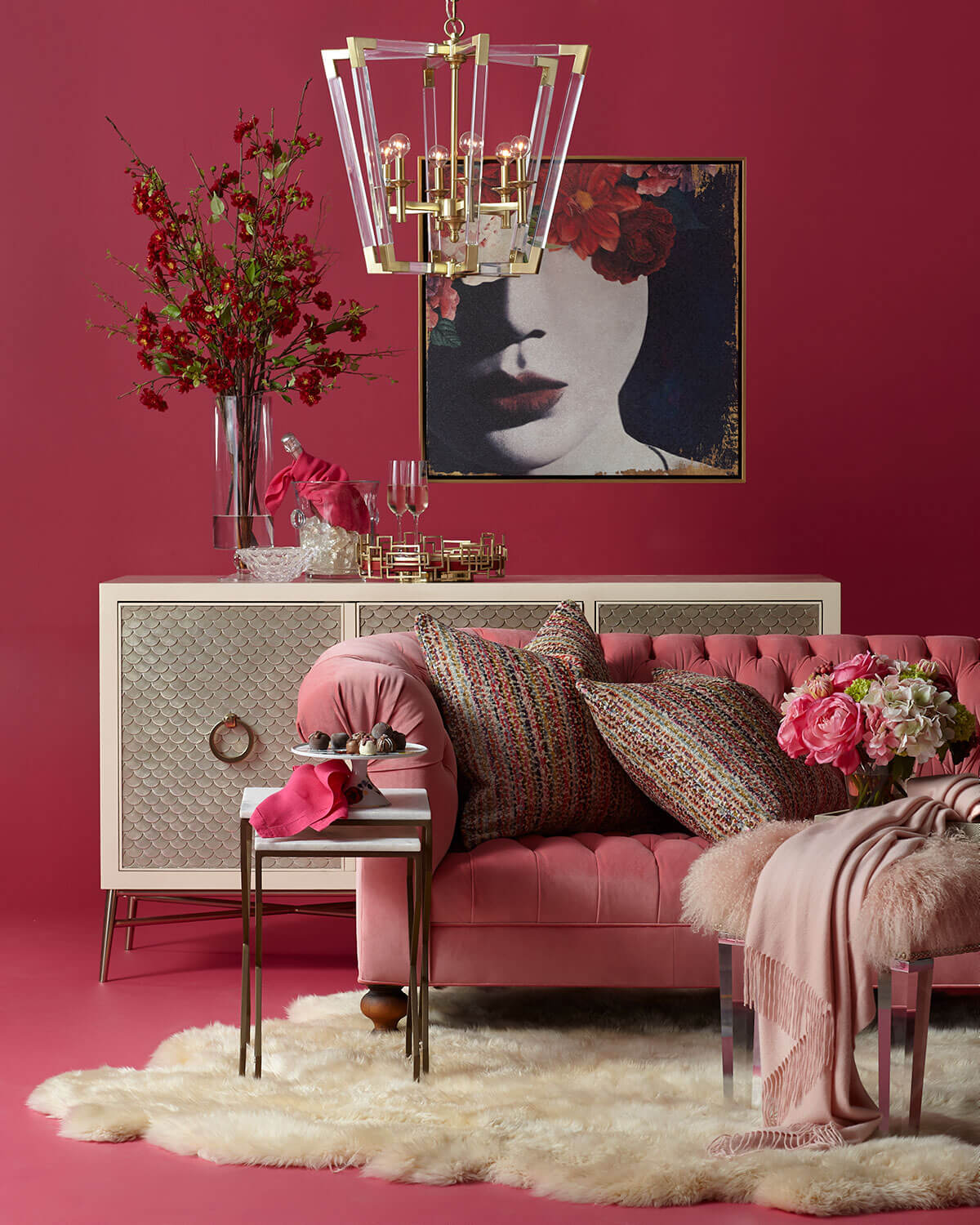 Lots of homes feature standard white and grey themes that don't make an ambiance for creating long-lived memories. Make your living room the best place for spending weekends with your better half. The red theme on the walls and the sofa makes a cozy setting for creating cherished, romantic memories. You can play with hanging lights and a red flower vase at the table to complement a romantic setting. Don't forget to add a DIY countertop for your favorite bottle of wine, snacks, and a few glasses to keep the lovey-dovey vibe flowing throughout the night.
12. A Double Meaning of Elegance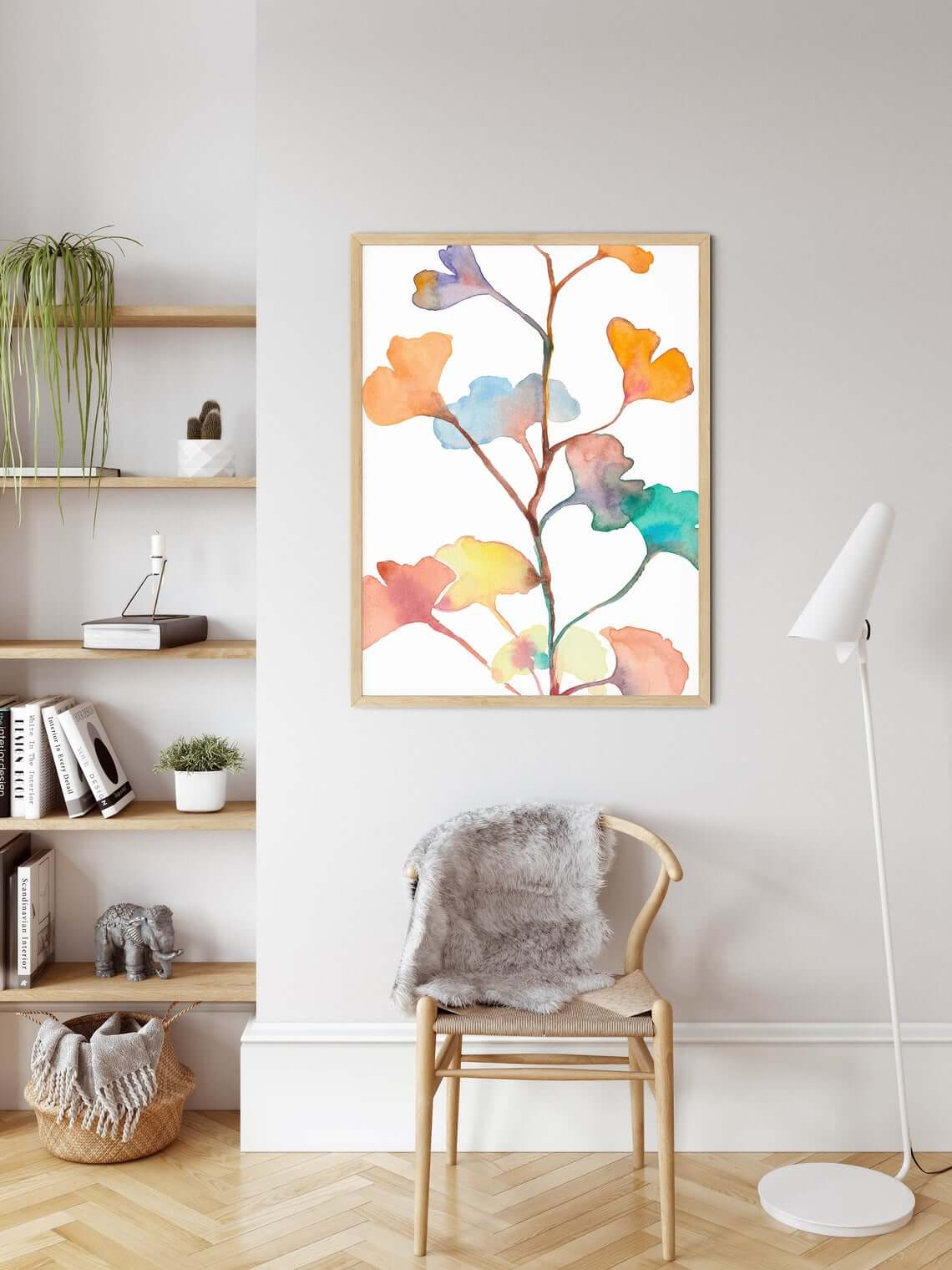 The sizeable floral paint makes a bold statement in this living room. What makes it unique is that it draws your attention without obstructing the beauty of the surrounding items. You can create this framed art in a simple DIY process, especially if you're good with watercolors. Add an occasional chair beneath the paint and a standing lamp to illuminate the area. The shelf cabinet gives you an ample storage area for books, magazines, and a couple of potted plants to add a touch of green in this cozy chilling spot. The wall art is colorful while everything remains neutral to bring out the true double meaning of elegance.
13. Bright and Cheerful Slipper Chair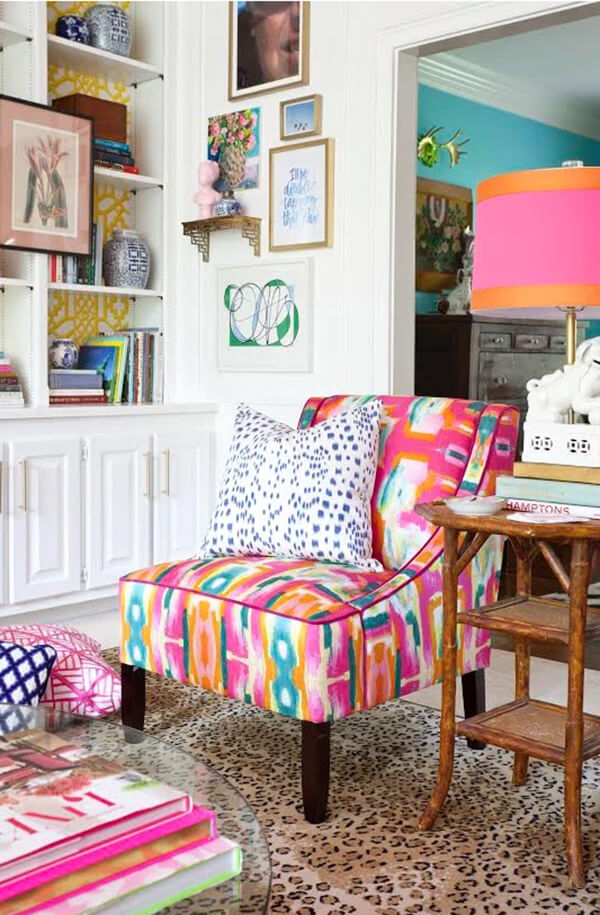 A bright, colorful living room design lends a sense of cheer in any living room, especially when you're bold enough to mix instead of blend. Even though the main pieces and the wall have neutral colors, this slipper chair is a centerpiece attraction. The white, dotted pillow makes it even more beautiful, with a wooden side rack to store your essential items such as books, car keys, and remote controls. You also have a bigger wall cabinet by the side, making this space a makeshift study room. Don't forget to hang a few framed arts on the wall that inspire you every time you glance at them.
14. Adding a Green Art for the Win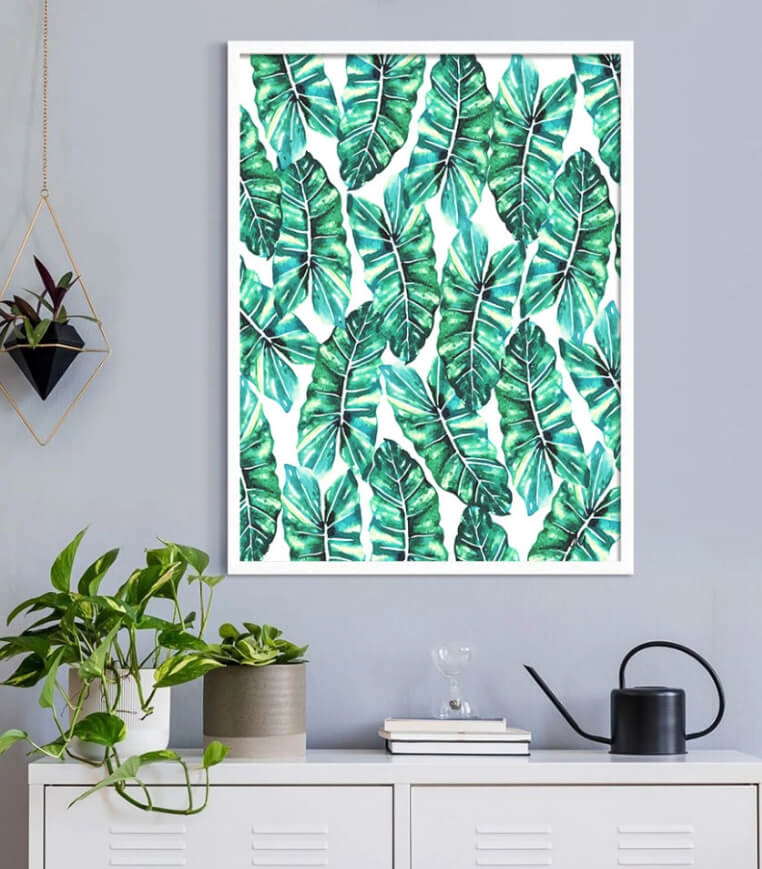 What could be so inspiring than an adorable piece of art made with your hands? Step up your DIY remodeling ideas by adding a bit of green art to your living room. Create a sizeable piece that adds an aesthetic appeal without being a distraction. You'll never go wrong with a hanging potted shrub next to it and your favorite artificial plant beneath. Keep the background color neutral to highlight the greenery beauty. These folks resorted to grey, but white can also do the magic. You can also add handcrafted pieces to the storage area beneath the wall frame.
15. Mix the Colors, Forgo Matching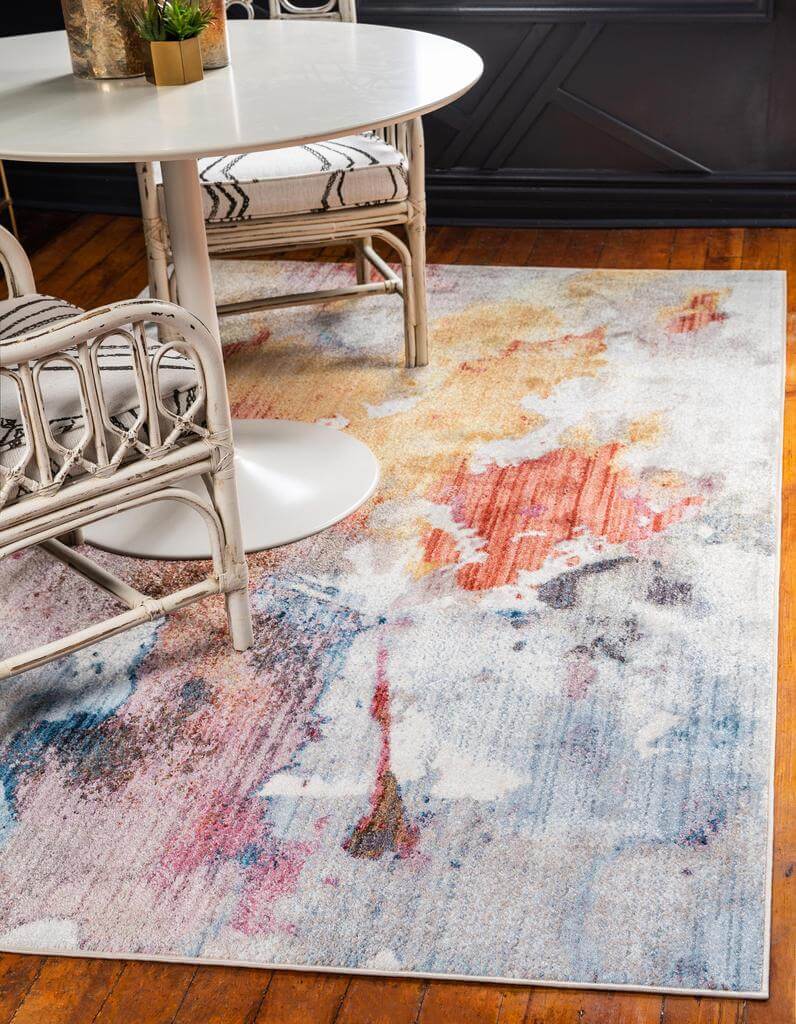 Sometimes, creating a colorful living space doesn't have to be about matching colors. How about going a little bit overboard with a stunning mix of the best colorful living room ideas that don't depict any tradition but still strike beauty? This study room resembles a perfect eye-catching candy that everyone wants to have. Go for a wooden floor with a mixed-colored rag to break the bold monotony. Add two occasional chairs. Since you already have the wooden floor, opt for a different chair material such as steel with an alloy finishing. Don't forget a round table with a few customized accessories on top to make a bold statement.
16. Soften a Bold Statement with White Tradition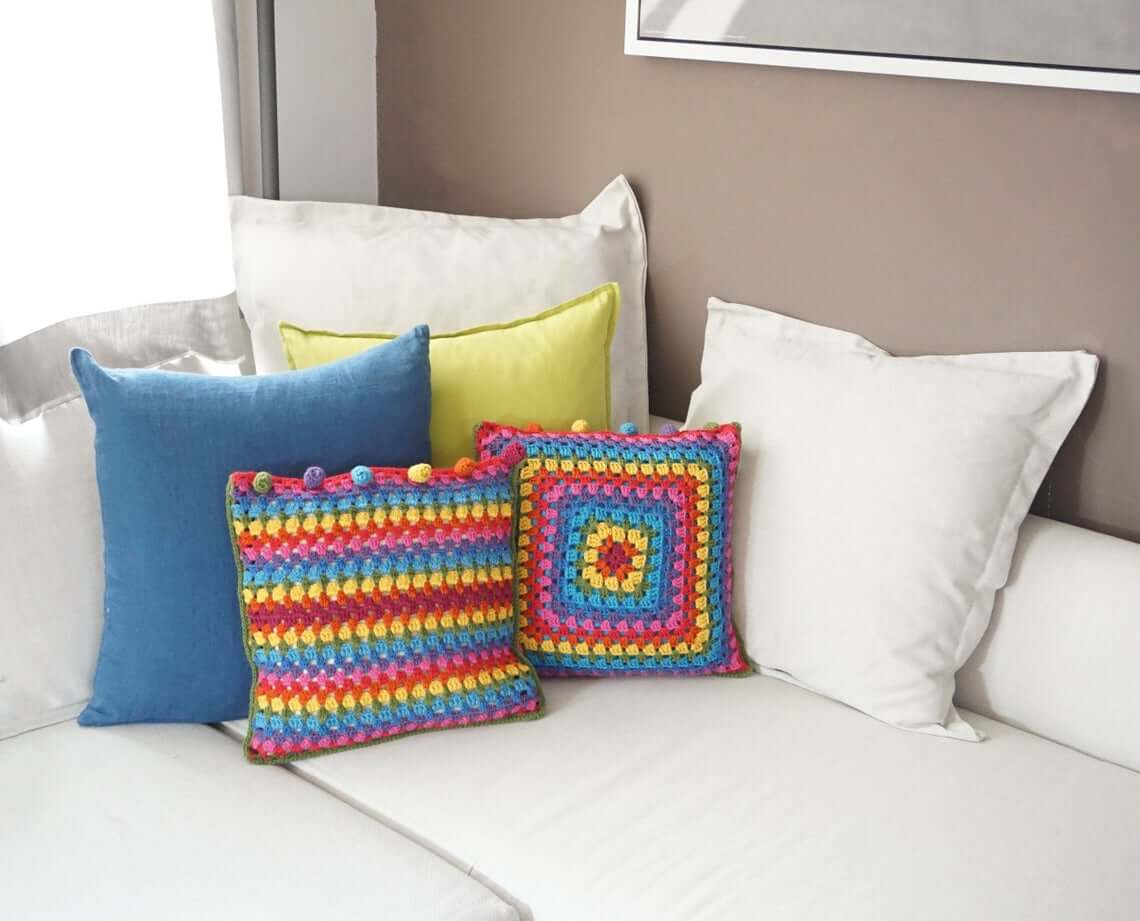 White color makes a perfect way of blending and bolding and softening the bold. This living room does it in the sleekest way possible. Instead of using bold colors as the primary theme, these folks used white. The white color stands out and highlights the beauty behind the bold and patterned throw pillows. However, you need to try something different on the walls, say grey, to avoid overusing one color. You can also renovate your windows to enlarge them for natural light during the day. A blend of white and bold colors goes well with natural lighting.
Make a Splash in Your Living Room
Nothing highlights the beauty of a home more than colorful living room decor. A bright scheme will always create a unique and lively atmosphere for everyone, whether old or young. The best part about playing with the best colorful living room ideas featured above is that you're at liberty to mix and blend as much as you want. Do you want to achieve that unique that cheerful living space? Go ahead and try mixing colors instead of blending. Pick the oddest color combination and try to create a cool floral art out of it. Hang this wall art on areas with neutral colors as the dominant theme.
There is also a thumb rule for making your space look big (even if it's small) or feel more open with colorful living room decor. However, that means being a stickler to lighter or semi-neutral colors such as beige, off-white, or even light gray. Moreover, these colors help you create a sophisticated ambiance without breaking the bank. You only need to add a couple of handcrafted masterpieces or occasional luxurious chairs, and you're good to go. Use our best living room ideas to create a cool ambiance, out of ordinary imagination. In other words, color it the way you imagine it to embody perfection and uniqueness.