Transforming the entire look of your room has never been easier than with these cool room wallpapers that create a bold statement on the feature wall of your choice. All you need is one wall to become the focal point of your room and you'll be pleasantly surprised at how simple this one update makes your room transformation come to fruition.
26 Cool Ways to Update Your Living Space with Wallpaper

Today's amazing home wallpaper choices are created in the easiest peel and stick applications to eliminate the horrible memories your parents had from old pasting techniques. In addition to the ease of application, being removable is another added feature that consumers enjoy.
Perhaps you have a home office that is plain and boring. Give it a quick update with a modern wallpaper print of geometric shapes, beautiful plants, or abstract art. No matter your design preference, there is a floor-to-ceiling wall mural to fit your needs. Adding this incredible backdrop to your workspace is a wonderful way to make a more productive work environment.
To make a small space feel larger, sometimes the right wallpaper mural can make it happen. The eye is drawn up to take in the entire vastness of such a mural which in turn creates a feeling of being in a much larger space than you are. Small bathrooms are a good place to see this especially since they often feature a large vanity mirror that assists in making the room feel more expansive.
For the teen that's hard to connect with, consider including him/her in the design process for a room update. During the often difficult teenage years, having support is more important than ever and a personal space to enjoy makes a world of difference. Begin by creating him or her a feature wall whether it's a comic book inspired, a scenic landscape, or an ultra-modern pattern, this foundation sets the stage for comfort and a love for home. Everyone needs to feel comfortable in their own space and a large custom wall art feature like a wallpaper mural is a great place to start.
No matter if you want to change things up in the living room, bedroom, office, kitchen, or bath, including a large wallpaper mural that encompasses an entire wall is the way to go. Check out 26 of the most amazing styles and designs found below.
1. Multi-Color Abstract Wallpaper Mural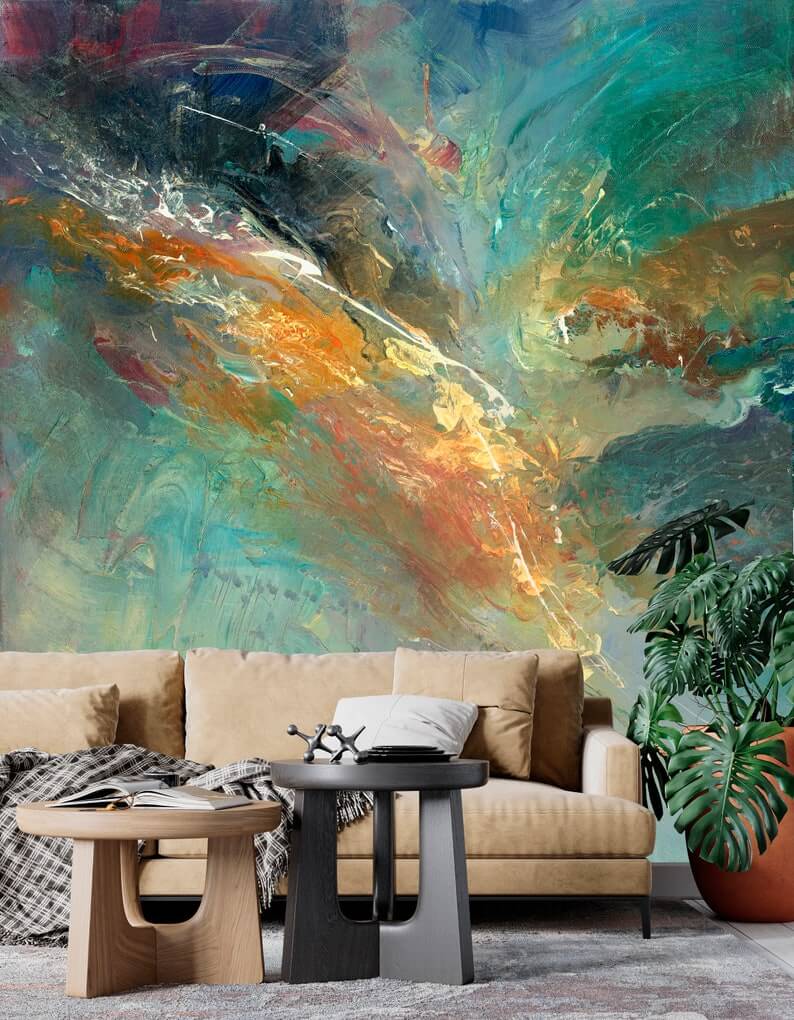 Explode some personality onto the interior wall of your home with this incredible home wallpaper. The multifaceted hues burst to life from your wall in this full-sized mural that transforms the entire look and feel of your space. Make decorating effortless by allowing this dramatic and large statement wall to do the work for you. You'll definitely show off some cool house wallpapers when you choose this modern design that shows off so many great colors. Keep the rest of the room color palette a blank slate so this gigantic wall art can work its magic.
2. Your Choice Landscape Wall Mural Nordic Style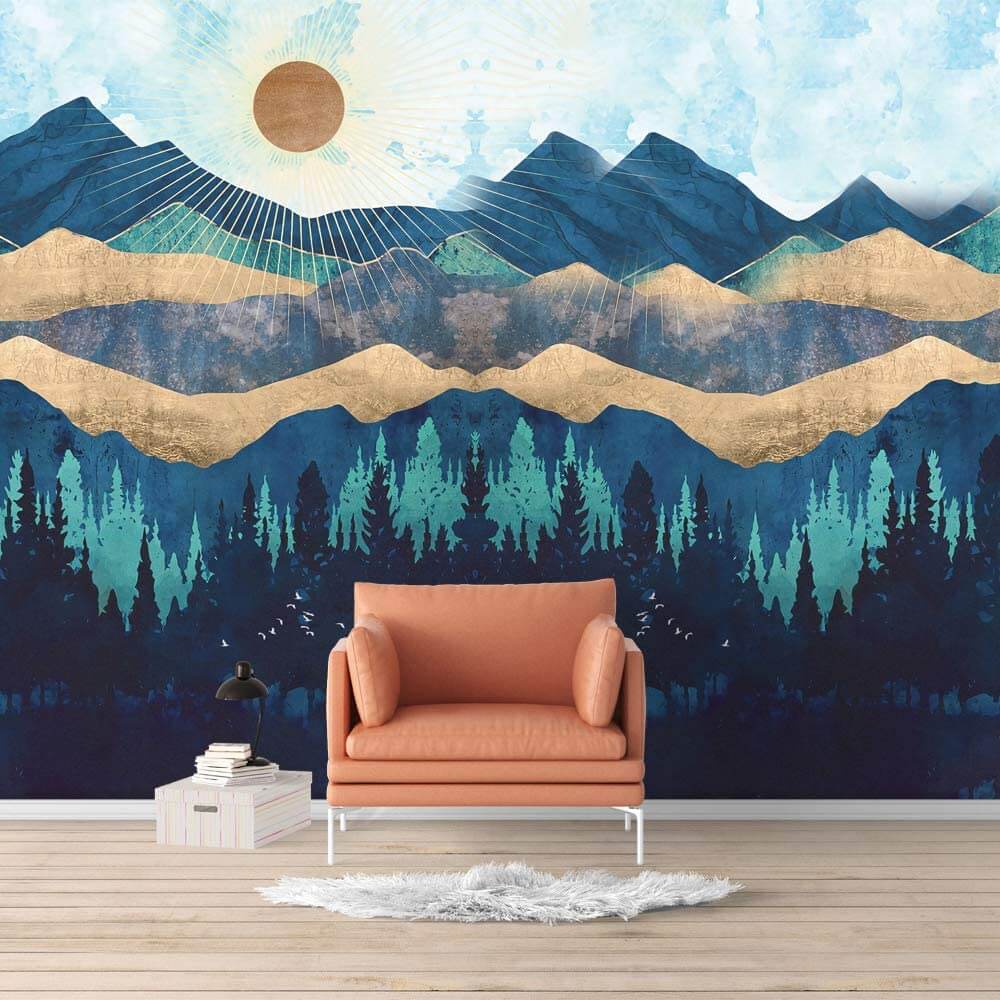 Imagine the beauty of the great outdoors perfectly captured in a full-size wall mural in your home. That's what you'll discover in your quest for cool room wallpapers that highlight the Nordic style in a landscape format. Simple and serene color combinations spark the intrigue you'll enjoy with these interesting scenes from mountains to deserts. Placing this front and center on the wall of your main living space allows your inner designer to unfold across the room. Loads of geometric shapes and symmetry unleash powerful and picturesque scenery to make this the ideal backdrop for your family's home.
3. Brick Wall Graffiti Tattoo Wallpaper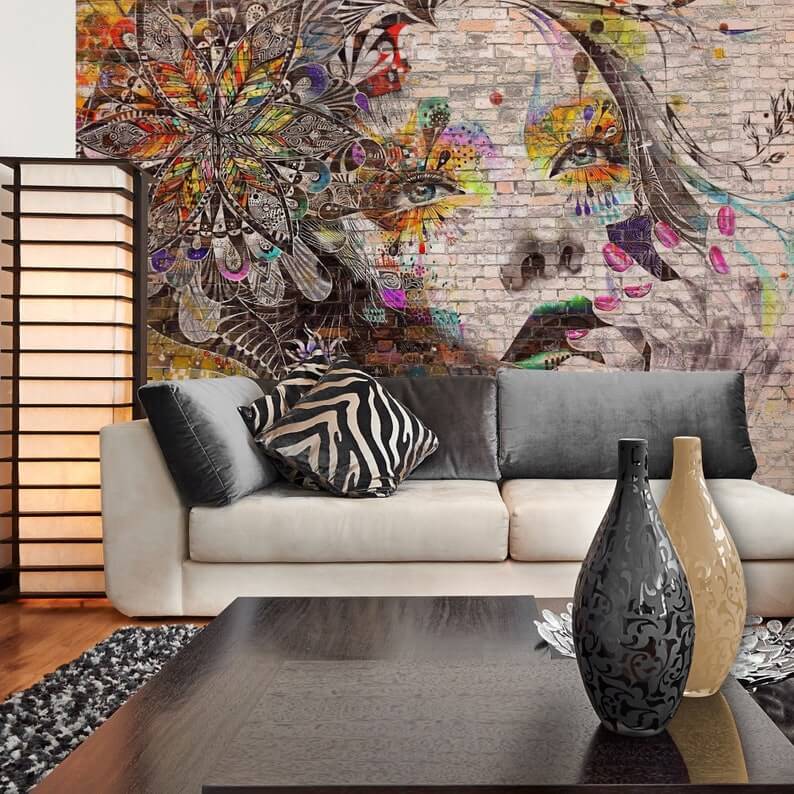 Take a walk down the street in an urban neighborhood and you just may find your muse for this mural. With a brick wall patterned background, this graffiti female looks up to the sky and into your soul. Jumbo bursts of color emanate from her eyes and off of her gentle head. Her green lips and berry-hued nails help bring her pale likeness off the wall and into the room. An urban loft apartment would feel right at home with this beauty basted onto the living room wall.
4. Teal and Gold Fan Peacock Pattern Wallpaper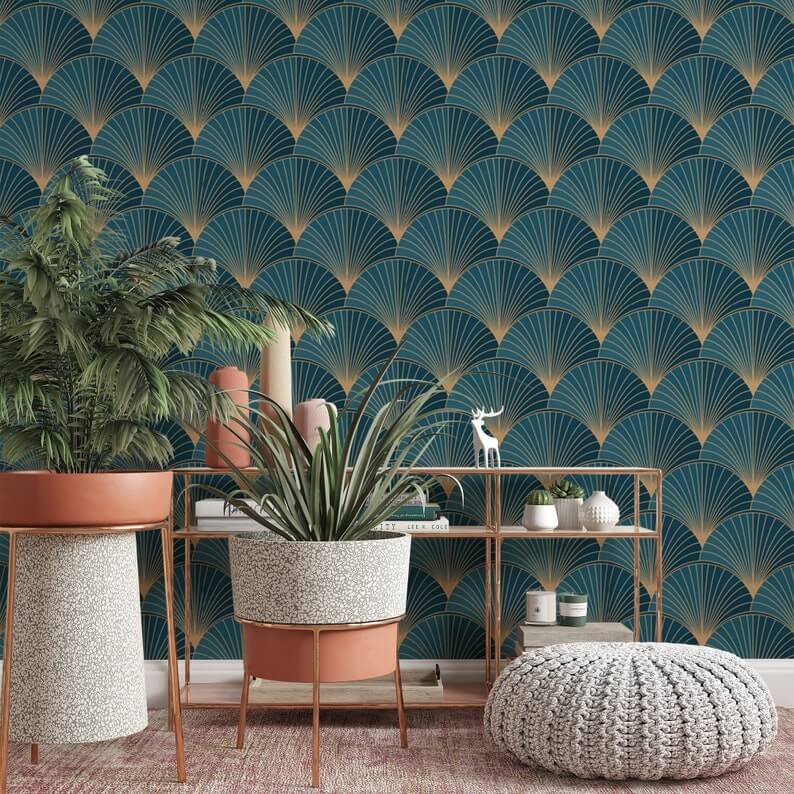 Closely resembling the gorgeous spread from a peacock's feathers, this intriguing teal and gold fan patterned removable wallpaper makes an elegant and edgy statement on your wall. With a deep and rich teal jewel tone encompassing the majority of the paper, the gold tones provide a fantastic highlight to make this fan take center stage. It looks very professional and regal making it a perfect choice for a formal dining room or office space. Keep the rest of the room low key with a neutral color scheme to make the most of this gorgeous design.
5. Old World Renaissance Wallpaper Mural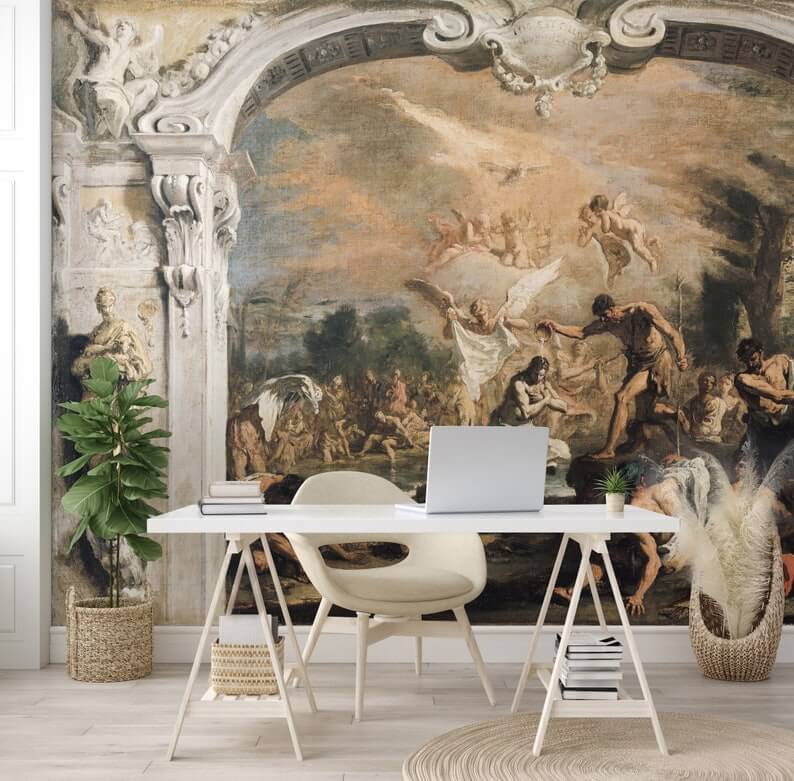 Add some old-world style into your home with this immensely detailed Renaissance-era-styled wall mural. An entire wall of your home will be taken back to the past with the classic stylings of the world's most renowned and loved artists and sculptors. The near angelic figures will incorporate some nostalgic romance into your home as you apply this removable mural onto the wall. This cool mural would look amazing as the backdrop for a home office, reception area at a business, or within the foyer near your front door.
6. Modern Art Abstract Pablo Portraits Wall Mural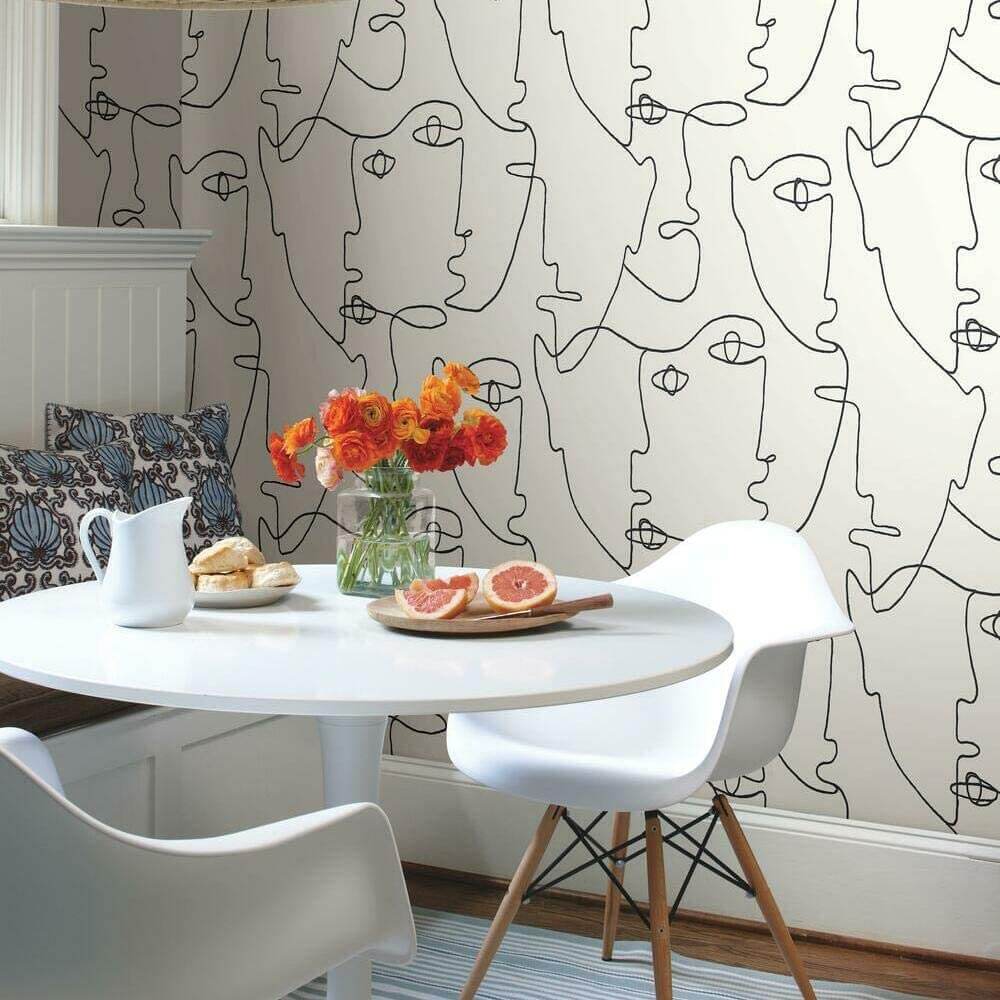 It's never been easier to completely bring a space up to modern times than with easy-to-stick and removable wallpaper murals. Larger than life, these oversized wall coverings are bold statements in themselves and your choice of print makes it personal. For the modern woman, what's not to love about this print of Pablo portraits repeating in an abstract pattern? It's a great look for any room of the home as it eases into a dining room, living space, or bedroom. The black and white coloring scheme add to its modern charm and contemporary appeal.
7. Nature Lover's Peaceful Forest Mural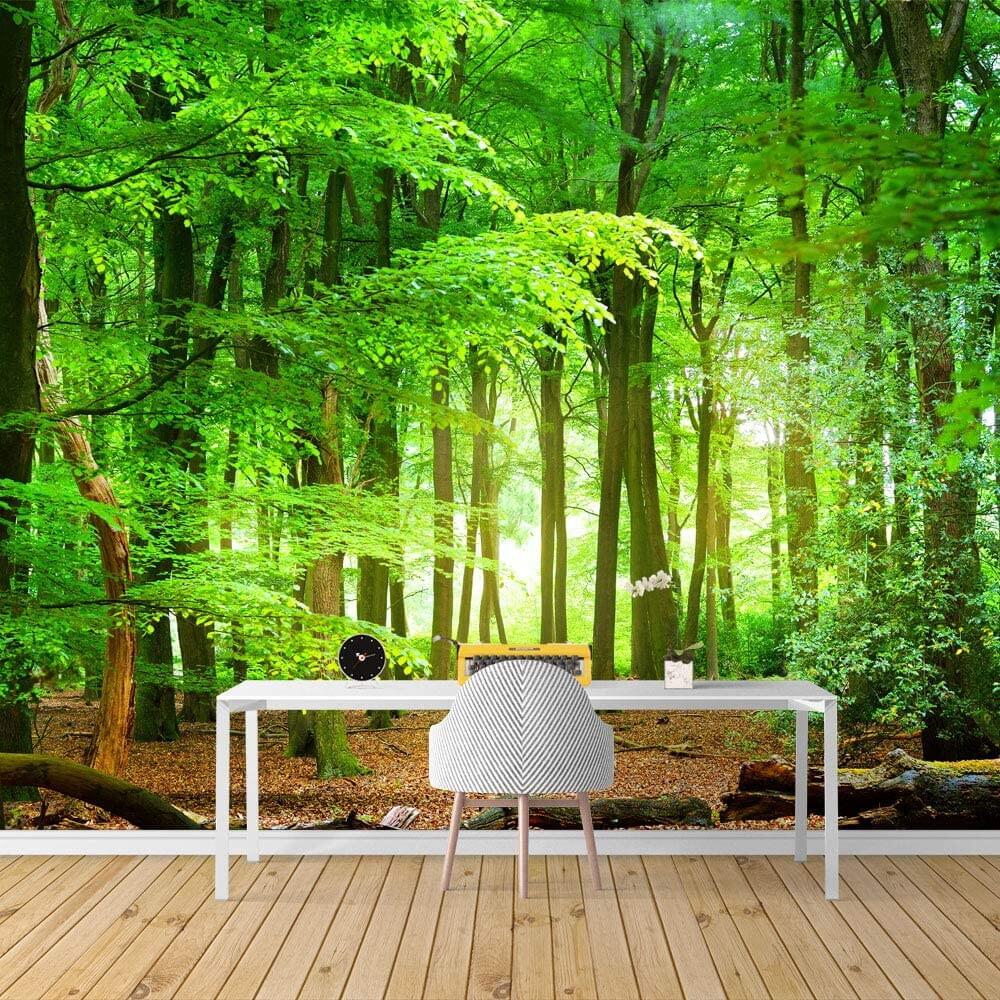 If you are searching for inner peace, you're likely to discover it in the comfort of your own home with this relaxing and natural forest wallpaper mural. From ceiling to floor, you'll take delight in the natural light of the sun filtering in through the canopy of green in this peaceful and serene forest setting. It makes a wonderful retreat for any room of your home and especially looks incredible as the backdrop for a home office or den. Put your mind, body, and soul at peace with a personal place at home that exudes rest and relaxation to help de-stress yourself.
8. Pretty Poppy Vintage Print Wallpaper Wall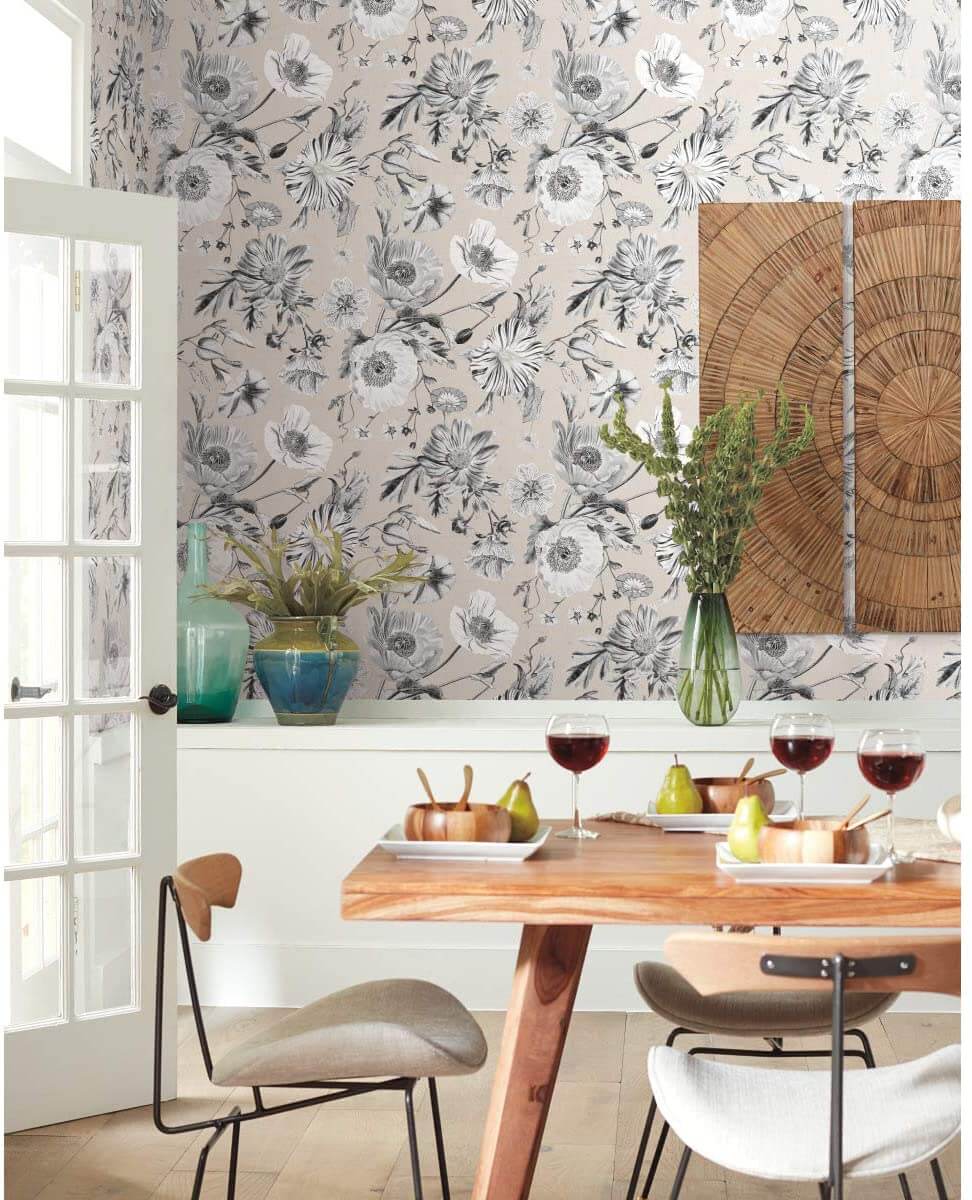 A little vintage flair goes a long way in this wall-sized floral mural. Set off with a neutral palette of gray and tan accented with white and black make this a perfect modern twist on vintage inspiration. Unlike wallpapers of the past, there is no need for paste and mess. This large floral masterpiece is an easy peel-and-stick format that's removable once your taste changes so you're not stuck with a semi-permanent wall covering. In the bathroom, this vintage floral pattern exudes a French country vibe that would also work well in the kitchen or bedroom.
9. Totally Tidal Wave Wall Mural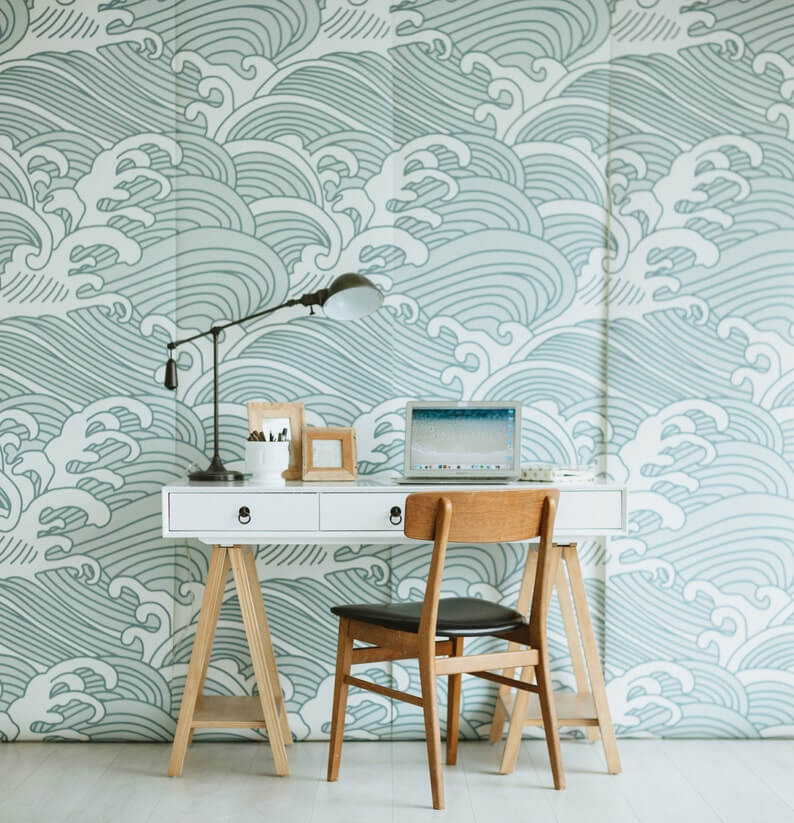 Catch a wave as you bring a piece of island life into your home. These sea blue and white waves will make a splash when you bring them into your home's decor. They are the perfect foundation for a tropical and modern nursery, kids' room, or bath. With a repeating pattern, the waves continuously billow across the wall. Incorporate some bamboo accents for an authentic and beach-friendly look. One of the best parts of cool room wallpapers is the versatility of this print that looks equally awesome in a nursery or teen bedroom.
10. Bright and Bold Abstract Art Wall Mural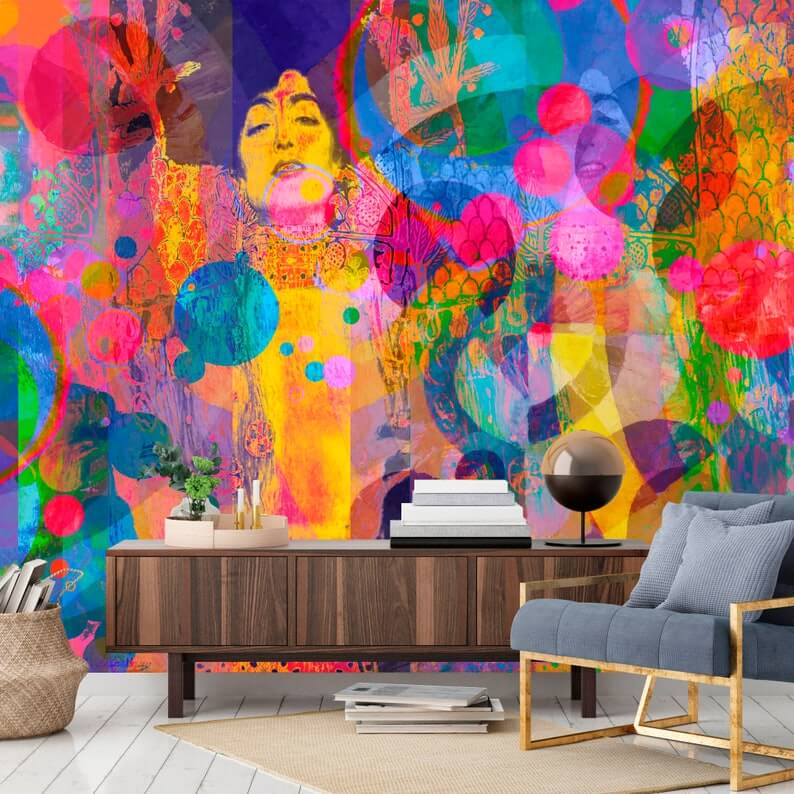 Loud and proud, the woman in this abstract art mural comes to life amid the deep and rich colors that swirl from this large entire wall covering concept. Feast your eyes upon the intricate bubbles that bounce from top to bottom and side to side throughout this bold design. Set it off with black or white furniture and decor pieces to really enhance the bright colors featured here. This is a powerful backdrop for an eccentric living room that's a perfect fit for a modernista.
11. Gorgeous Landscape Abstract Blue and Gold Mountains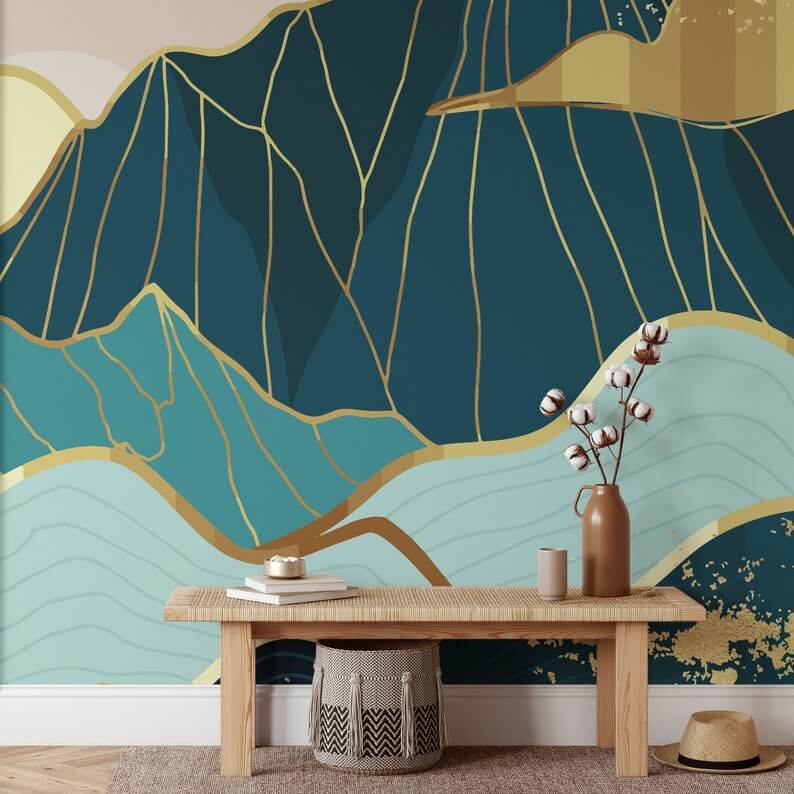 Landscapes don't need to be boring secondary players when it comes to your home's background. The combination of art and design comes alive in this abstract artistic masterpiece creation that is set off with gold detailed outlines. Incorporating various shades of turquoise blues further increases the depth and design in this landscape scene. Give your home office a modern touch to make it feel more like an extension of yourself. Your mood and production should improve when you're working in a space you've created and love.
12. Sheer and Soft Blue Poppy Wallpaper Mural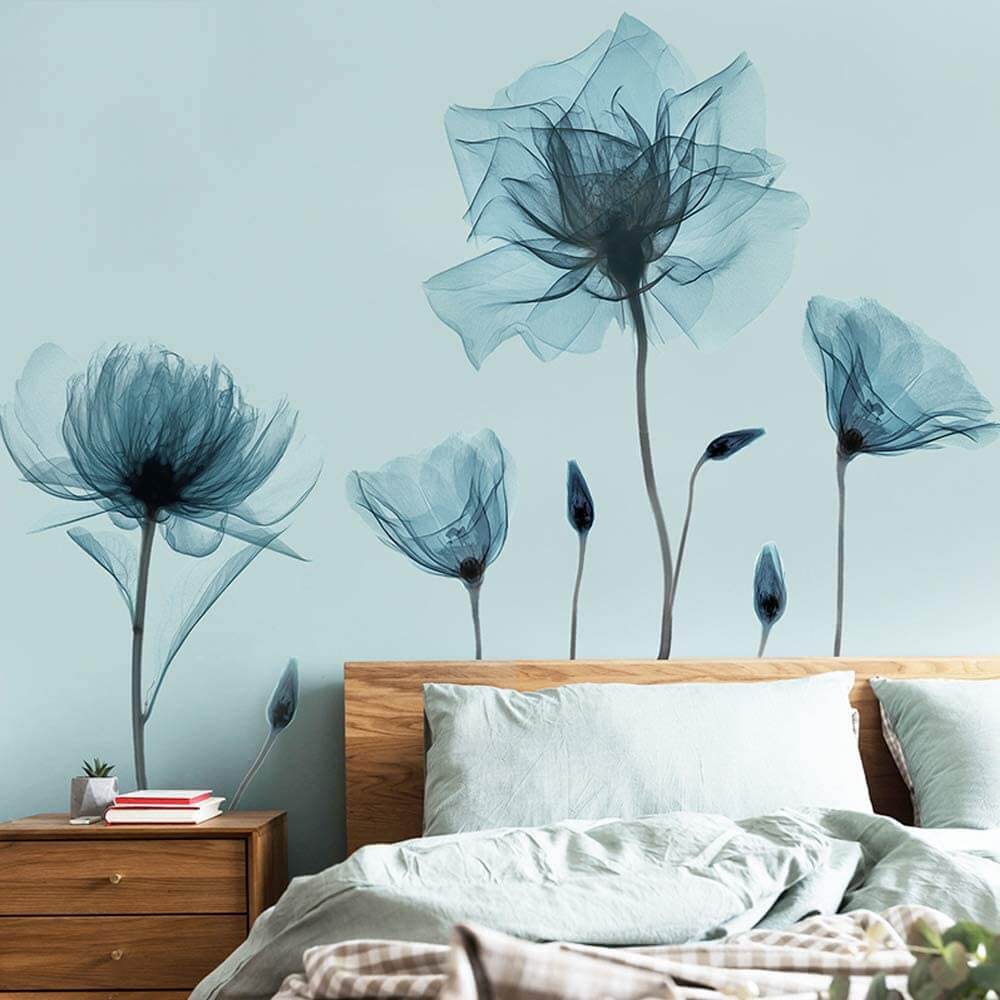 Light as a feather, these soft blue poppies line the wall with delicate grace. They add just a touch of feminine beauty to any room of your home as they seem to blow in the wind. The pale blue background adds just enough color to bring the style up to the next level in your home decor. Coordinate the room by including a blue glass vase filled with flowers as well as light and airy window coverings to tie the entire look together.
13. Out-of-this World Galaxy Wallpaper Mural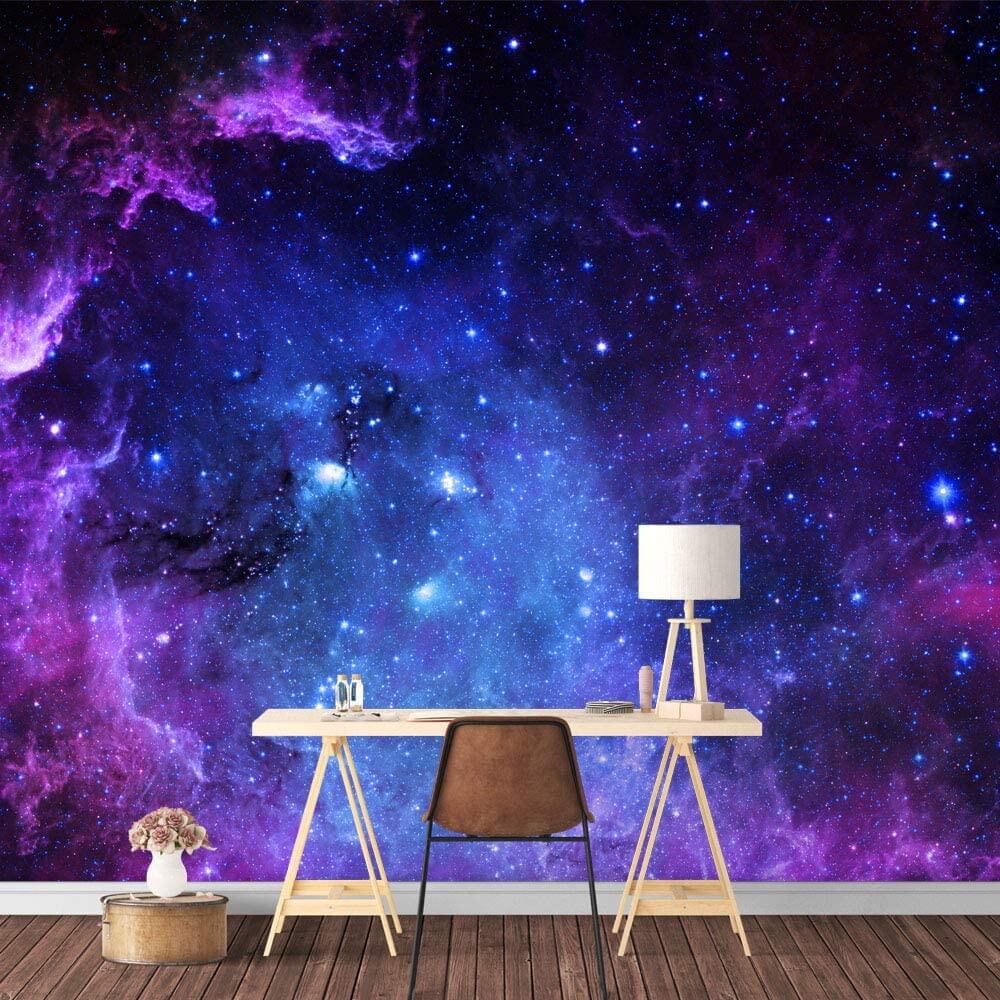 Shoot for the moon and you'll land among the stars as you bring your own space scene into the comfort of your own home. The galactic beauty of swirls and stars collides with rich and regal blues and purples in this stellar showstopping wallpaper mural. It's a top pick for a kid's space that centers around the theme of space. As the backdrop in a home theatre room, this stunning creation would look incredible and keep the darkness alive and well to make the feature presentation easy on the eyes.
14. Colorful Graffiti Street Art Wallpaper Mural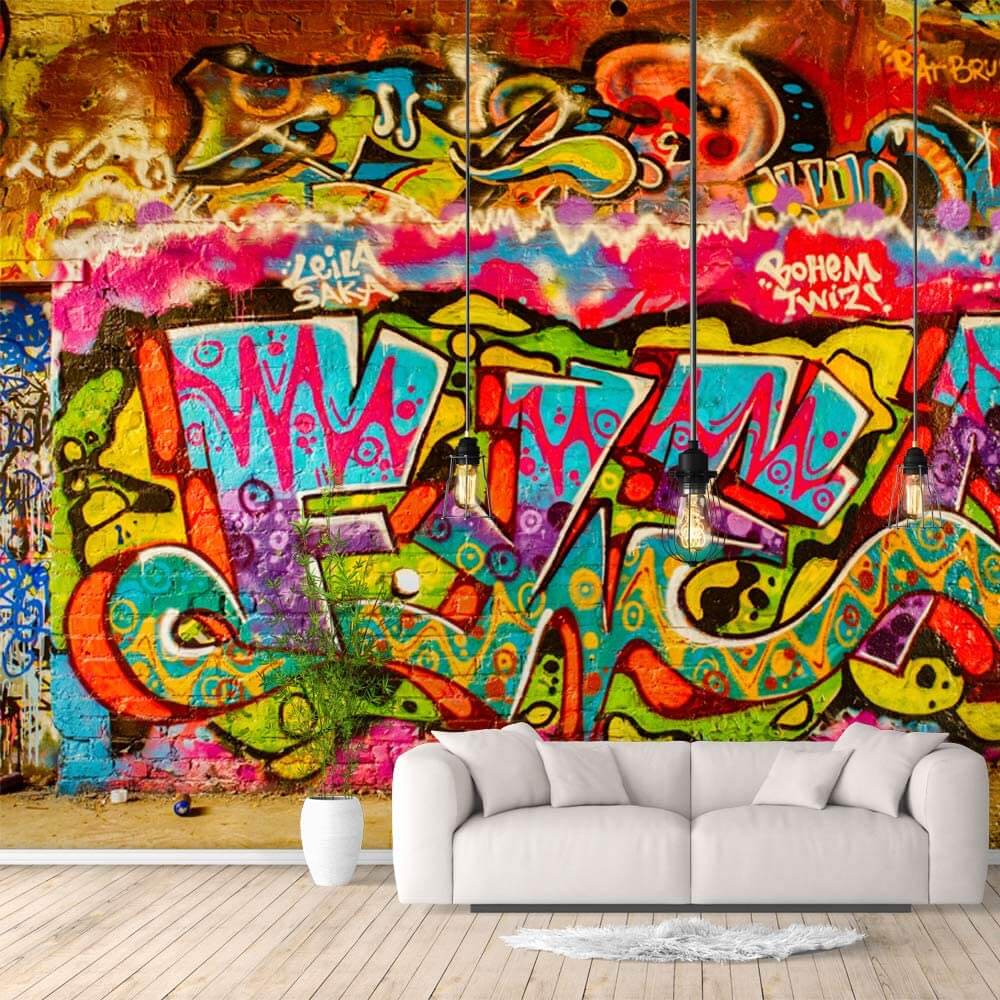 Live life in the fast lane of downtown big city life with this graffiti-inspired wall mural. This wallpaper creation has all the colors of the rainbow captivated in a street art design that looks authentic to urban living. A teen hangout would be the perfect place for this colorful street art mural to come alive and feel at home. Make your suburban home feel like an urban loft with this city-loving graffiti print that adds character to the existing charm of your home.
15. Vintage Newspaper Peel and Stick Wall Mural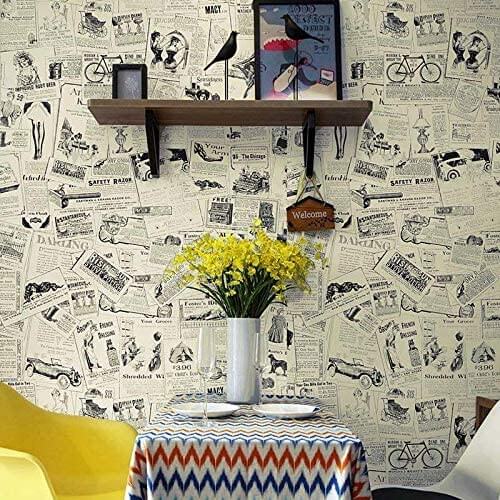 The yellowed white with the black print makes this vintage newspaper wallpaper look realistic. With personal ads aplenty, nostalgia fills the room as this wallpaper mural becomes the focus of your interior design. Cover all of the walls in your bathroom with an interesting conversation piece as guests arrive. The classic black and white color palette will withstand the test of time, so utilize a pattern that does the same. A nice rich red would make a pleasant partner to really pop amid this nostalgic newspaper design inspiration.
16. Pretty Teal Palm Branches Wall Mural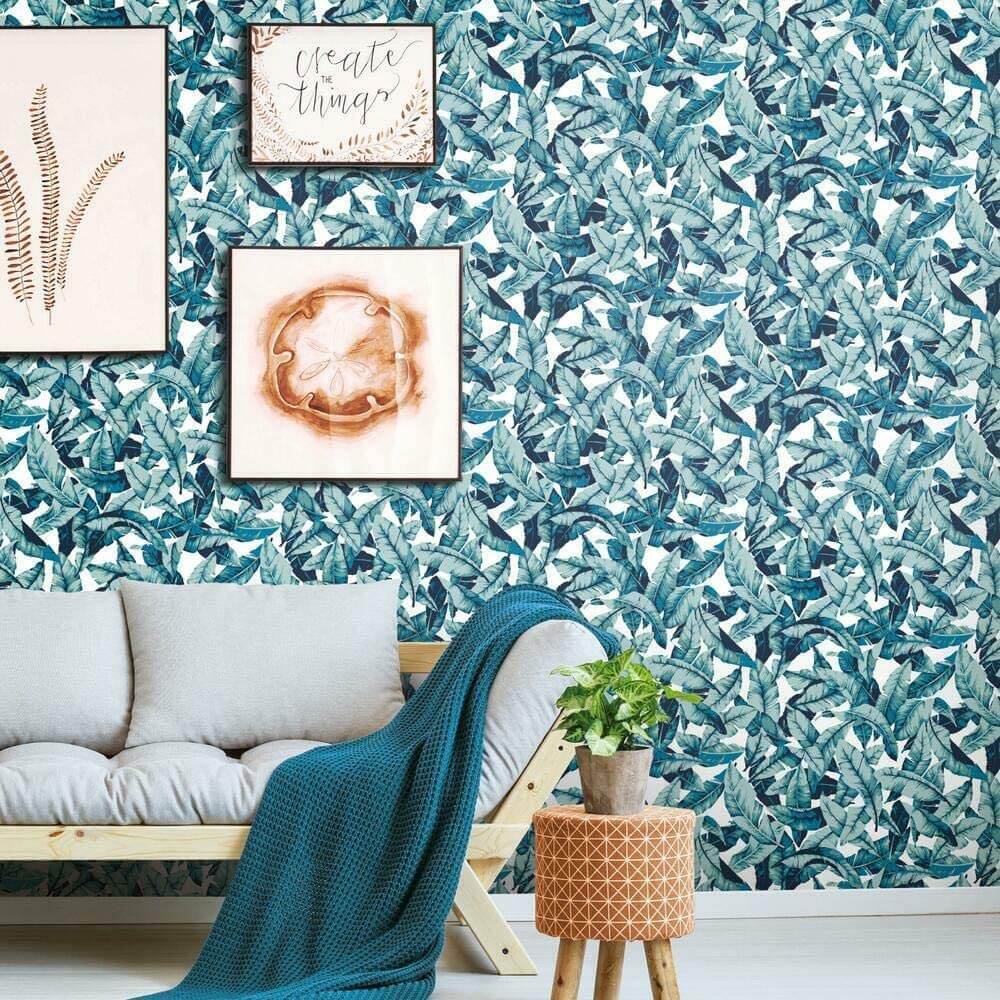 Part modern and part inspired from the 70s, this palm branch patterned wallpaper creates a graceful mural for your wall that's not too over the top. It delivers a big personality on a small scale. The repeating palms emerge in a continuous pattern that's both pretty and stylish. A design that works well in both large or small spaces, this pretty palm paper would be gorgeous filling a small bathroom or equally endearing as a statement wall in the dining room. Created with the terrific turquoise jewel-toned hue, this elegant backdrop is ideal for everyday living in today's modern home.
17. Black and White Modern Chevron Lines Mural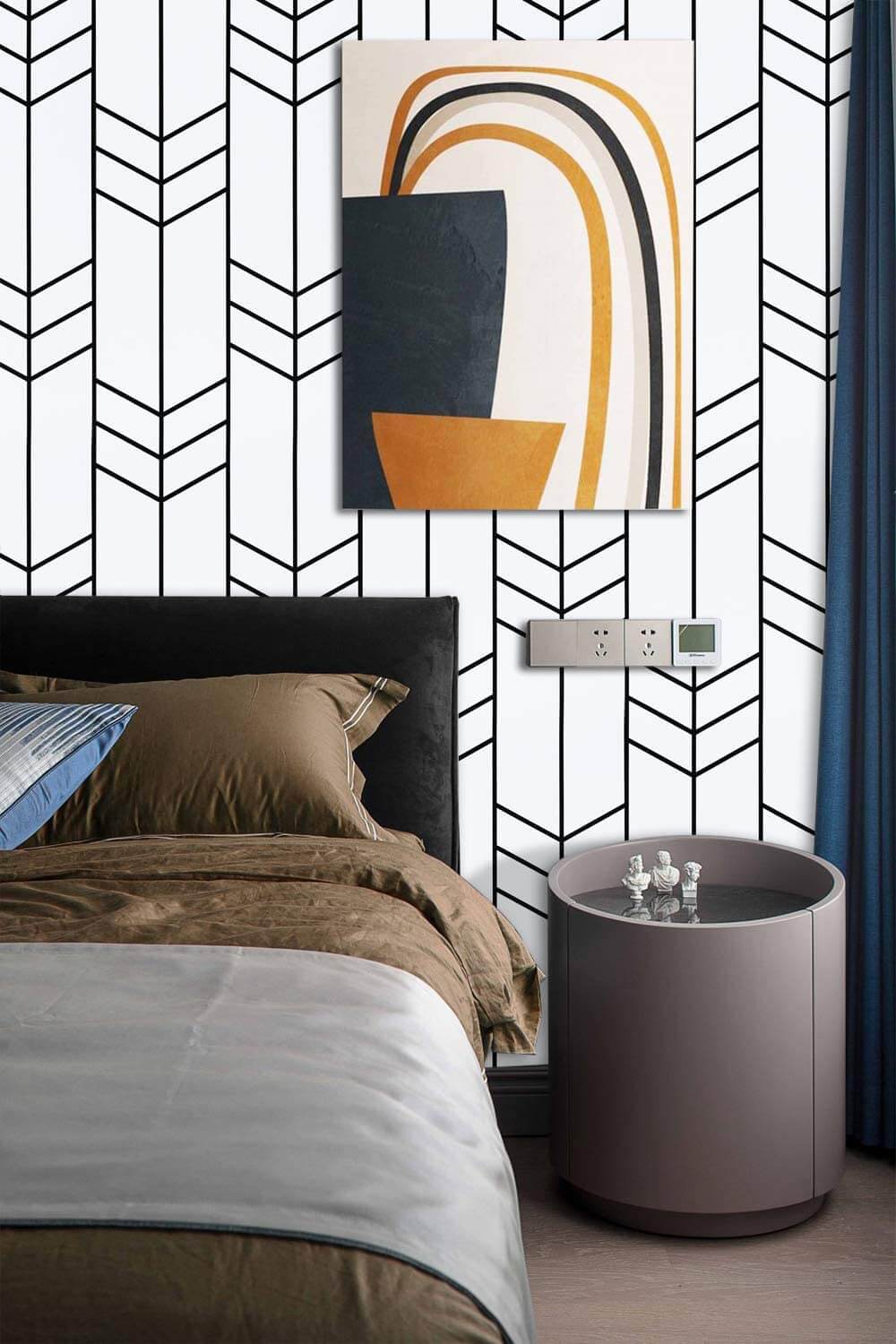 Bold and black, this modern spin on the popular chevron pattern makes a unique look for your home. Your plain and boring wall will come to life as soon as you apply this easy peel and stick wallpaper mural. From top to bottom, your wall will be transformed into a modern oasis with an interesting design of cool room wallpapers for your home. The detail is kept simple to remain a modern and contemporary style without appearing too busy in your interior space. Accessorize this look with black furniture and gray accents to highlight the stylish look and feel of the ever-popular and classic neutral color combination.
18. Stunning Beauty of the Sea Wall Mural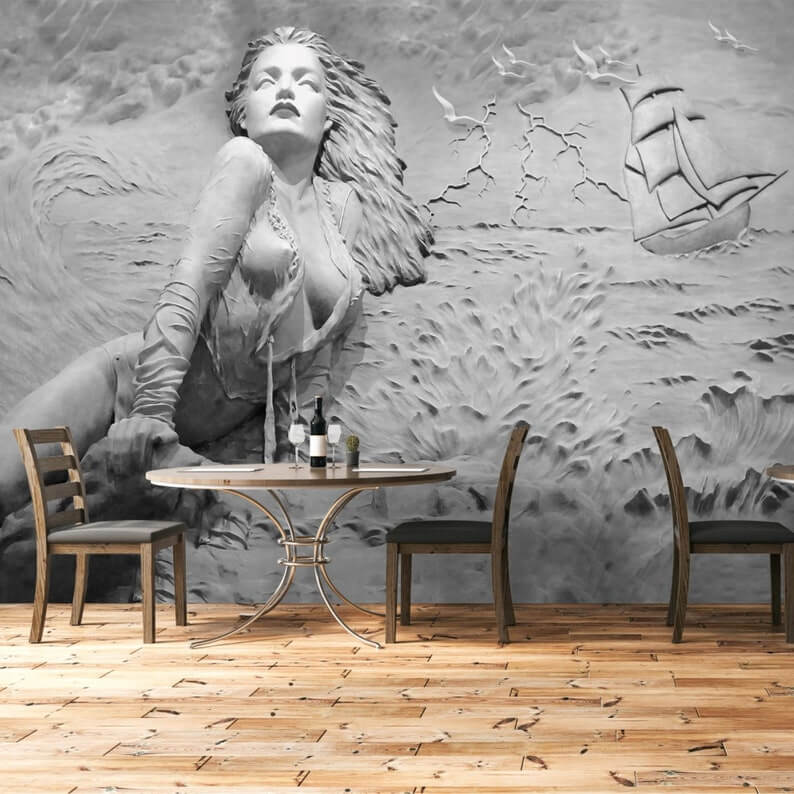 Depth and dimension is delivered into your decorating design with these incredible and unique cool room wallpapers featuring a mesmerizing woman emerging from the sea. In the background, the ship and waves help bring the sea to life in this floor-to-ceiling wall mural. The use of a gray saturation throughout nearly resembles fresh concrete providing, even more, interest and detail. Such a unique concept, this sea beauty comes to life as she enters your home from the depths below. A great look for the living room or bedroom to add that wow factor that instantly becomes the focal point.
19. Botanical Fields of Citrus Wallpaper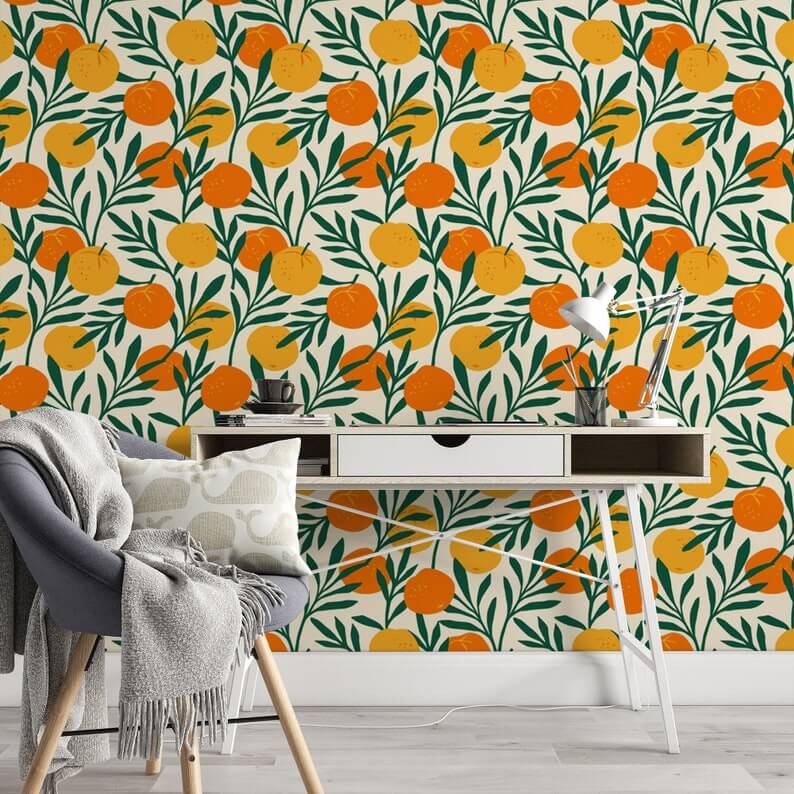 Freshen up your home with some citrus fruit. The look of these cool house wallpapers positions a fresh and new concept in your home. With round orbs of oranges set amid some green leaf fronds, you'll fall in love with the bright pop of color this fruity pattern provides. Update your kitchen or dining room with this large wallpaper mural to add visual interest to a statement wall. Keep the rest of the room low-key with a white color palette as well as some natural wood elements. And a bowl of fresh citrus fruits on the island or table will always be a good idea.
20. Rustic Faux Wood Peel and Stick Wall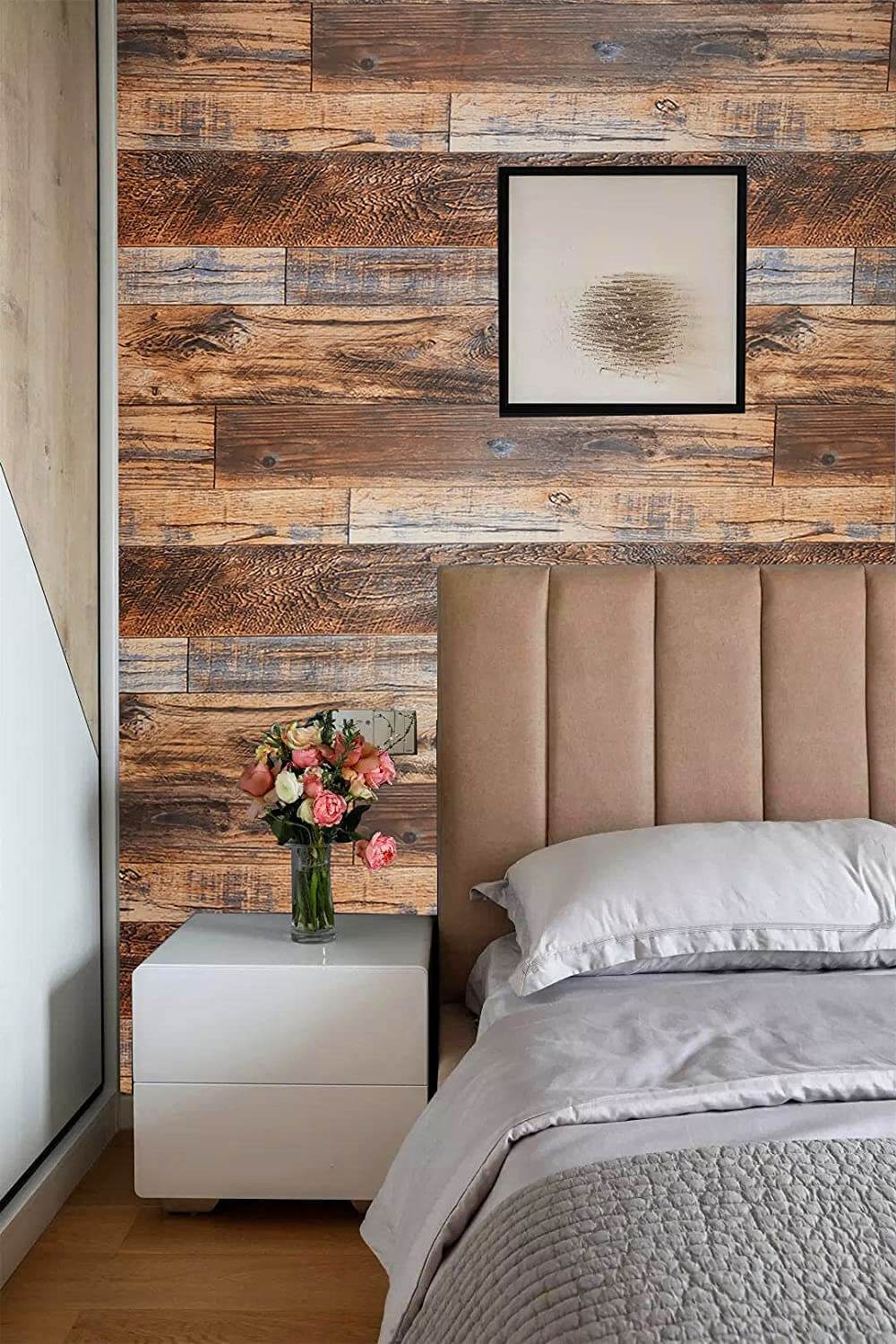 Give a rugged and rustic update to the wall behind your bed with this faux wood peel and stick wallpaper. It's easy to apply and makes a great backdrop for your decorating needs. Without the hassle of cutting and positioning each piece of wood, this faux version is clean and simple to complete. Give your bedroom a quick makeover for a more cozy fall and winter look that easily works with a farmhouse or cabin design that you'll love.
21. Large Monstrosa Plant Home Wallpaper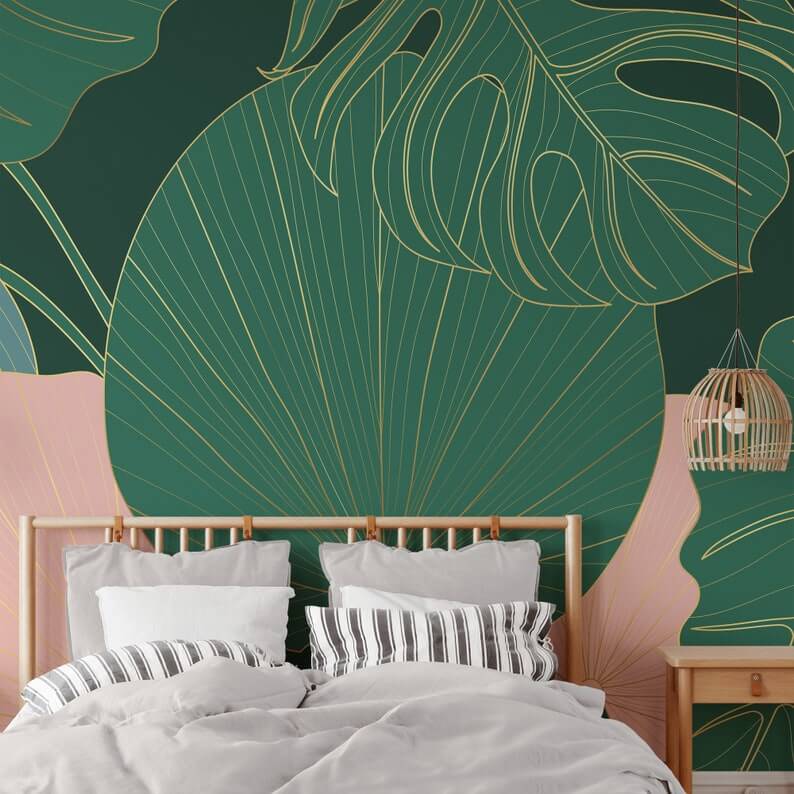 Even if you don't have a green thumb, you can enjoy the houseplant trend that's everywhere. As little plant shops pop up all across your town, put your personal spin on this trend with some fabulous botanical wallpaper for your own space. Instead of a wall of houseplants, your focus can be the green beauty of the monstrose plant in all its splendor as its leaves are magnified and enlarged onto the focal wall of your home. Be brave and add an air plant or succulent to complement this faux plant wall and try your hand at real plant care.
22. Gold Geometric 3D Box Wallpaper Mural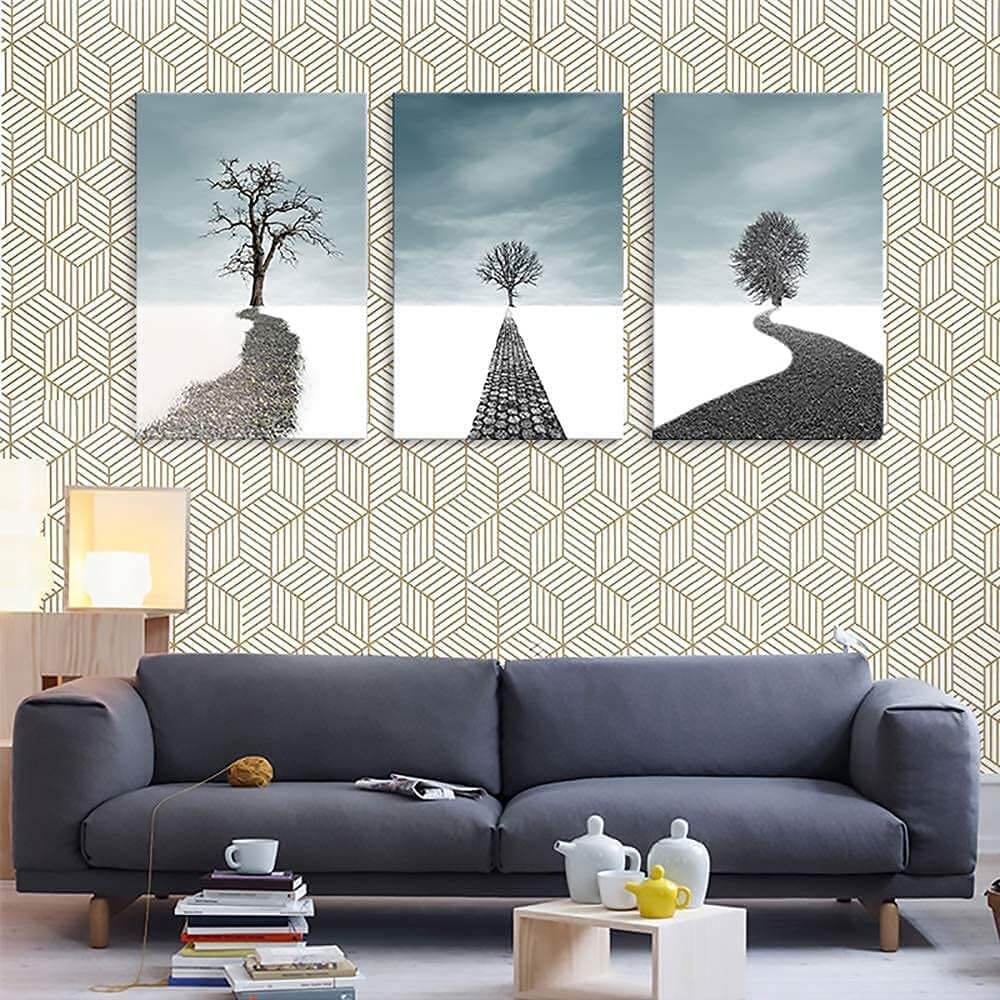 Set on a crisp white background, this pattern of three-dimensional boxes comes to life with gold borders. It provides a modern feel for your home or office space. The continuous design of the gold box pattern emits a professional, yet elegant wallpaper choice that adds the necessary interest to your workspace. Whether you're working behind the desk or set up on the couch, this unique and modern design will get the job done.
23. Too Cool to Give a Hoot Wallpaper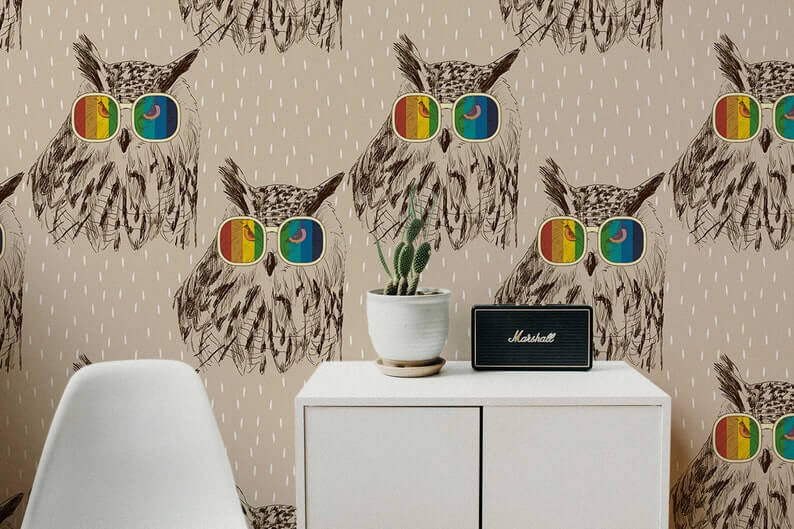 Check out these uber cool and contemporary owls! They are sporting their fashionable spectacles featuring lenses with all the colors of the rainbow. This burst of color really pops on this neutral gray background making this a winning combination. It truly is a great idea for a home office, homework nook, kids living space, or teen bedroom. Fashionistas and animal lovers alike will flock to this cool wallpaper design.
24. Colorful Comic Retro Wall Art Mural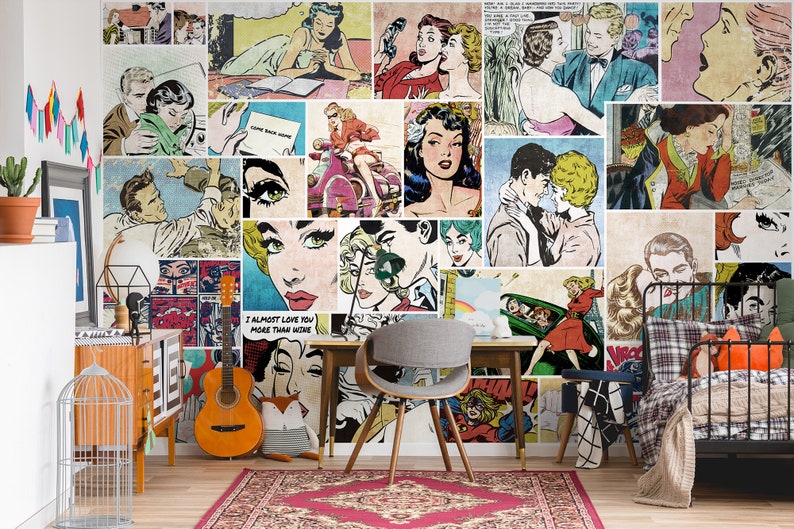 Your inner geek will come alive with this interesting comic book pattern wallpaper. Each unique square features a brightly colored comic creation that's a great choice for a game room, kids' room, or loft. Add some mid-century modern furniture like a chair and desk to emphasize the vintage style of this awesome wallpaper mural. Stick it on the main wall of your teen's bedroom for a bold statement and bright color pop that's a classic look sure to endear their preferences until they graduate high school.
25. Pretty Pink Lemonade Old School Wallpaper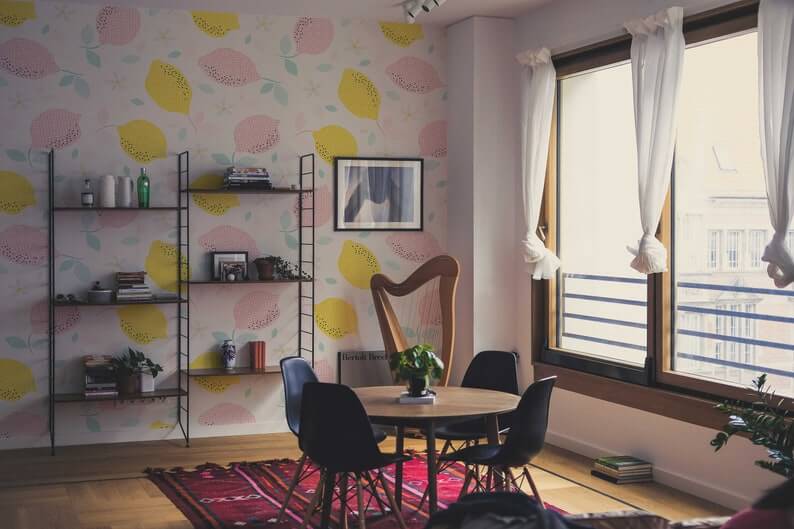 Light and airy, this pretty pink and yellow lemon wallpaper makes a great option for updating your family's kitchen or dining room. No matter if you're a traditional lemonade drinker or prefer the pretty color of pink lemonade, you'll love this sweet and sour print! Even the leaves add just the right hue of greenery to complement the light shades in the featured lemons. It's always summer inside your home when you show off this easy to apply and picture-perfect lemon wallpaper.
26. Deep in the Forest Wall Mural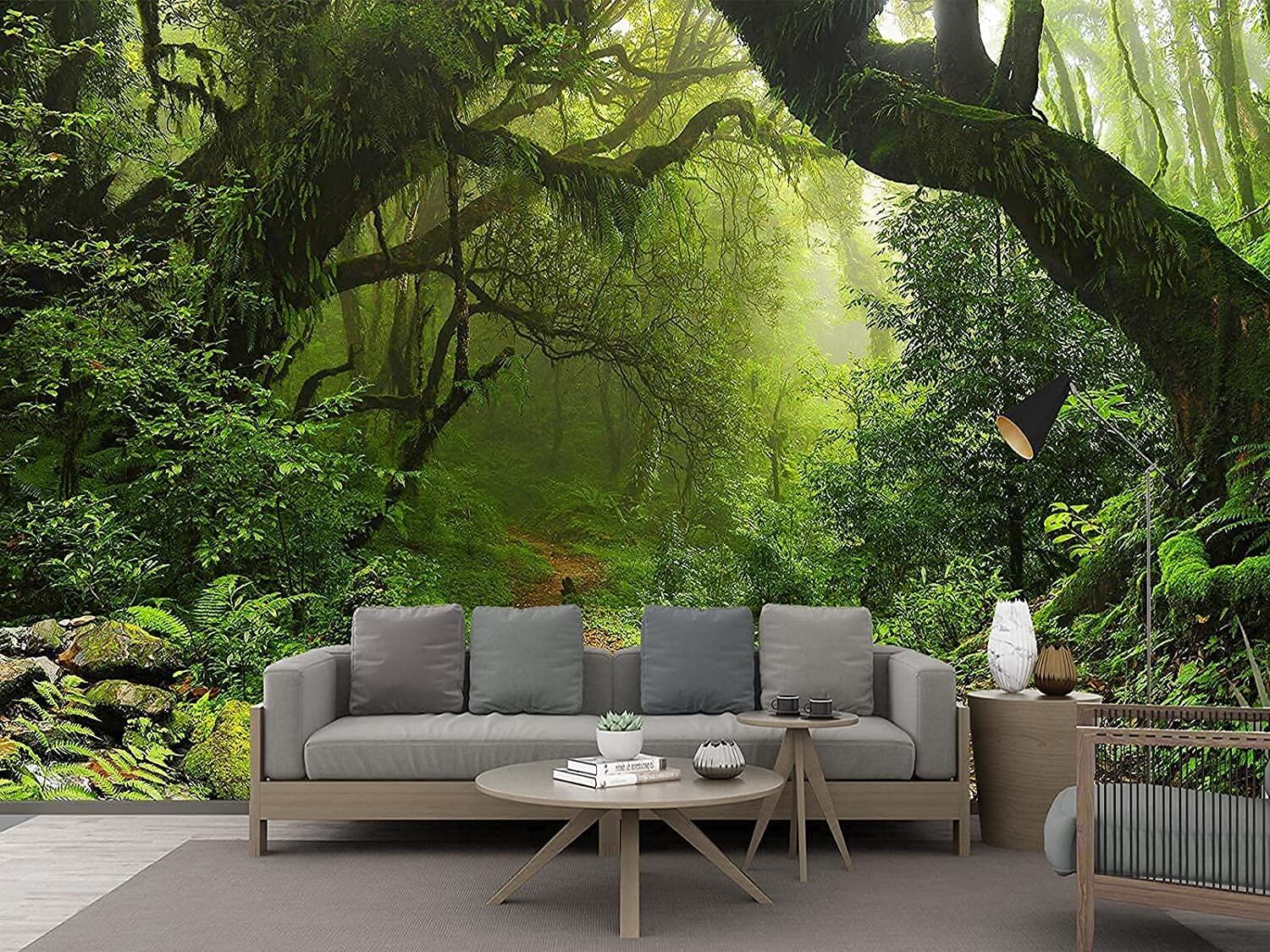 Take a walk on the wild side as you encounter this incredible rainforest wallpaper mural. The captivating and lush green scene nearly projects a three-dimensional effect as the lavish vines and moss invite you into their green goodness. Your home will feel a few degrees cooler as the shelter of the jungle canopy engulfs your living room. Keep the rest of your decor simple as this dramatic rainforest creation captures the beauty of nature for your personal pleasure!
26 Stunning Murals for Magnificent Makeovers
Now that you have a nice idea of all of the incredible wallpaper mural options, you can begin your quest for your home's interior makeover.
For the plant lover, there is always the option of a rainforest mural that nearly teleports you into another climate where you're surrounded by all the lush greenery your heart desires. Nestled beneath the canopy of greenery, your home's floor is the new forest carpet. You can include all of your favorite plants from tiny succulents to fiddle leaf figs as the perfect component to complement the entire room.
If your culinary side is calling, create a citrus fruit kitchen or dining room for a fresh take on your interior design. Bright and lively oranges or dainty pink and yellow lemons are top picks to lighten up your space even if summer is a season or more away.
Artistic flair has never been more dramatic than with a full-sized Renaissance or abstract presence in your main living space. From the world's most loved sculptors and painters, you can enjoy their inspiration in mural form. Even the outline of self-portraits becomes perplexing patterns for abstract designs in classic black and white creations.
Maybe the modern farmhouse bug hit you, but you can't imagine a real shiplap wall redo. Think in simple terms and knock out that wall with some peel and stick faux food. The rugged and rustic look remains the same without the dust and DIY overhaul.
For a super simple and really quick update to your home, highlighting a single wall is one of the best options. This single addition provides a much welcomed and amazing transformation. From a splash of color with comic book inspiration to classic black and white abstract forms, there are so many fantastic forms your home's mural can take. Even a landscape or a woman emerging from the sea takes your interior design to another level with a large style. Find the main wall in your room and transform it into the bold statement focal point you've been craving.