Spring is the perfect time to update your interior with a fresh color scheme, and copper and blush home decor ideas have been making recent editorial design headlines. A sophisticated upgrade from traditional rustic decor, graded pinks, copper, and rose gold tones strike a perfect on-trend feminine note without going too far into Bye Bye Birdie territory. Honeycomb mirrors, print art, antiquated copper piping, and plush blush-colored bedding blend comfort with nouveau quirk, keeping your space attractive but happily inhabitable.
Sophisticated Rouge: 23 Copper and Blush Designs

Unlike silver or overt gold, copper lends an industrial chic warmth to any interior. You can go as heavy or as subtle as you wish, integrating your own cherished pieces of art, vintage findings, and personal decor to create a uniquely inviting look. If you're wary of doing the full copper makeover right away, try starting with a few mod-style copper dome lighting fixtures or select accent pieces. Here are 23 copper and blush decorations to inspire and tantalize.
1. City Chic Sweep of Blush Bedroom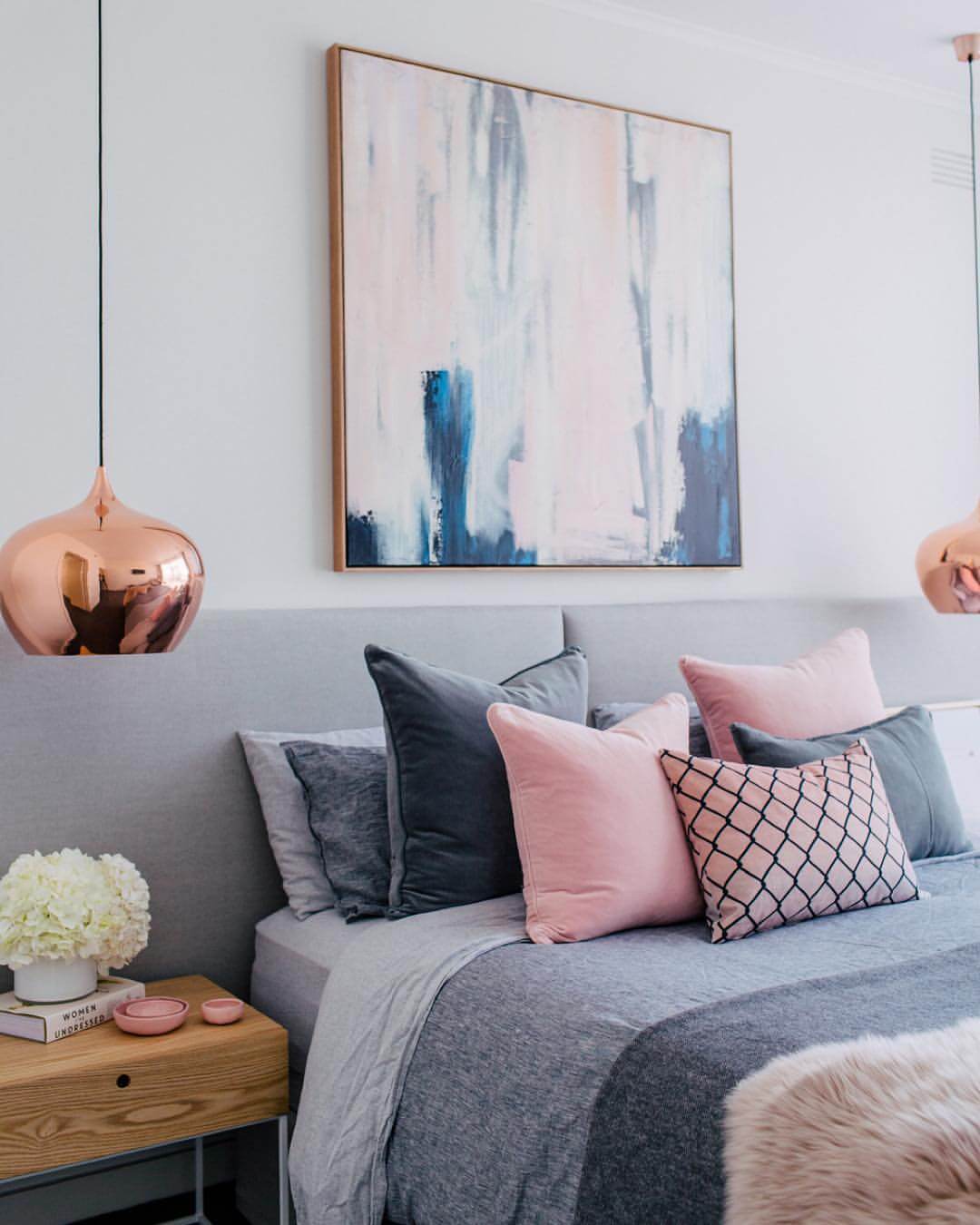 A great draw of a tranquil bedroom can be shining copper shades of low hanging pendant lights on either side of the bed. They anchor the bed with its lovely gray upholstered headboard and its group of subtly colored pillows. This is one of those bedrooms that nearly guarantee a good night's sleep.
2. Pucker-Up Pink Lemonade Retro Sitting Room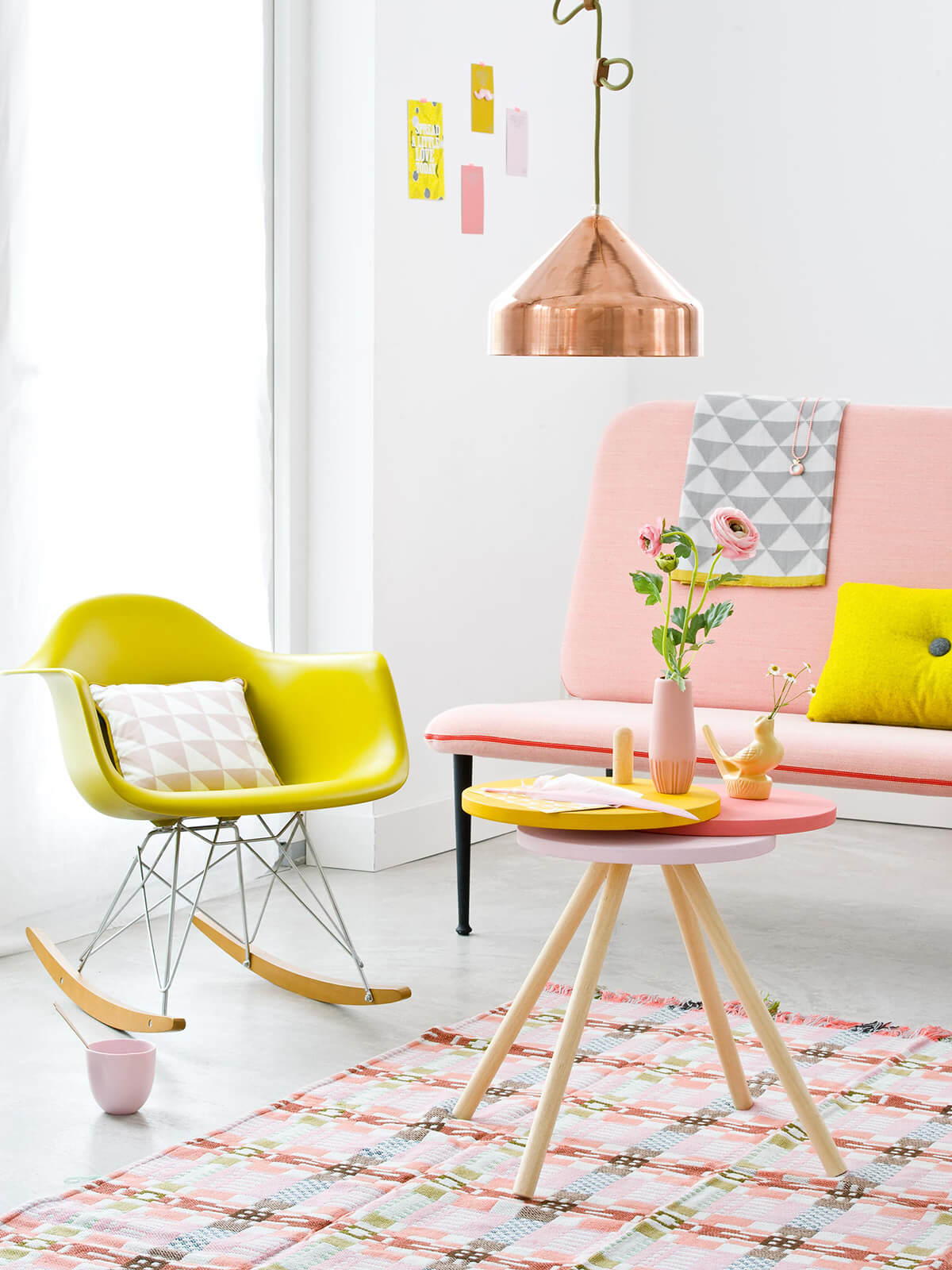 The shiny copper lampshade is also a focal point in this sitting room, but it's one of many. The pops of yellow, seen in the cushion on the sugar pink sofa and the retro rocking chair. This is a room for girlfriends to gather, gossip and just chill out.
3. Kiss-Me-Copper Mirrored Lips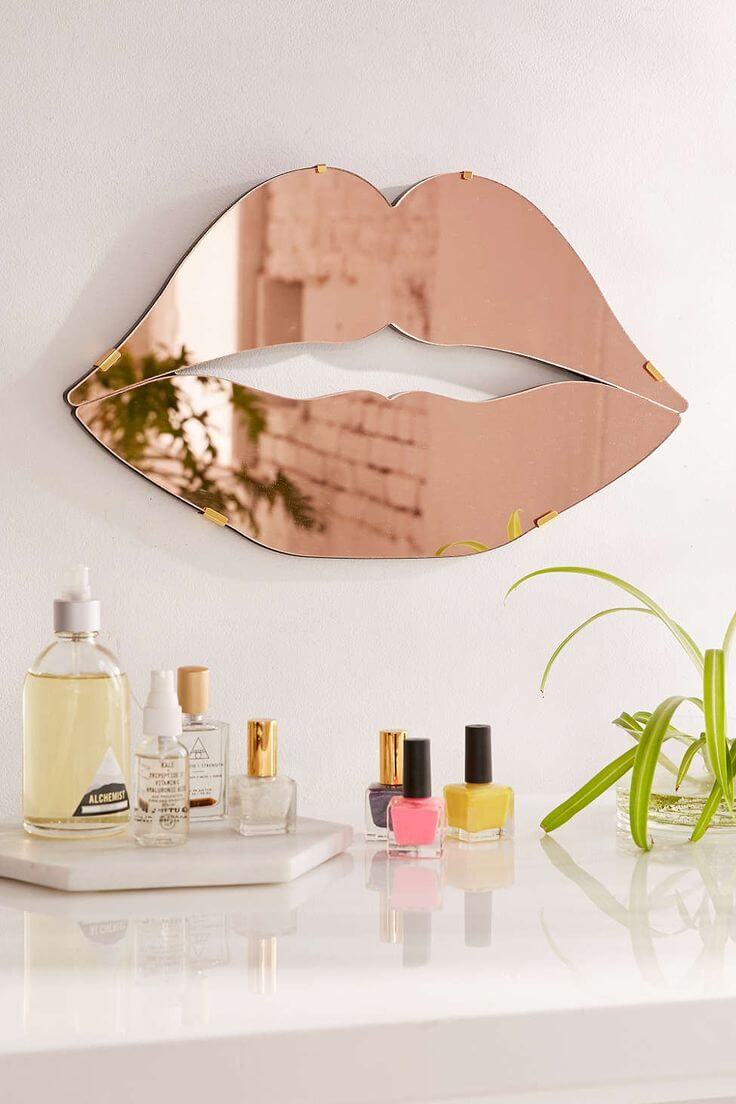 These big, luscious cupreous lips are just the thing to hang over a marble makeup table. Don't forget to add some pink nail polish and perfume bottles with bright coppery tops. Place a plant on the table to make sure that the set-up doesn't look too much like the cosmetic's counter at the department store.
4. Just Like Heaven Copper Bar Setting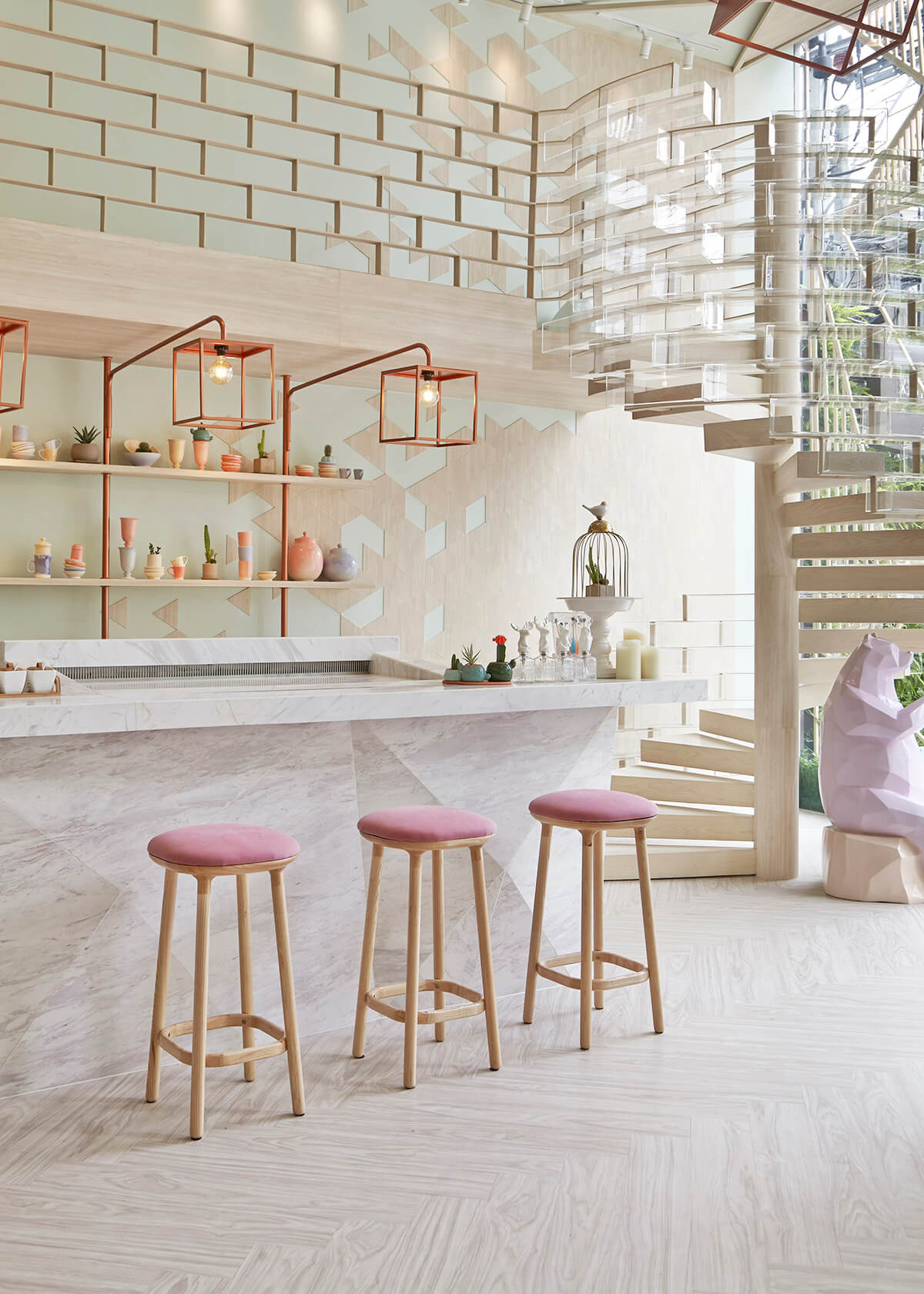 This is a bar for the ladies, though men are welcome. Consider the alternative, barely-there pink and white pattern on the wall, the lightbulbs in copper cages and the coppery railing. Pink shelves, which hold not glittering bottles of booze but egg cups, and succulents in egg cups. The hard stuff is around but hidden, so pull up one of those pink cushioned stools to the bar.
5. Pretty In Pink Bedroom Palette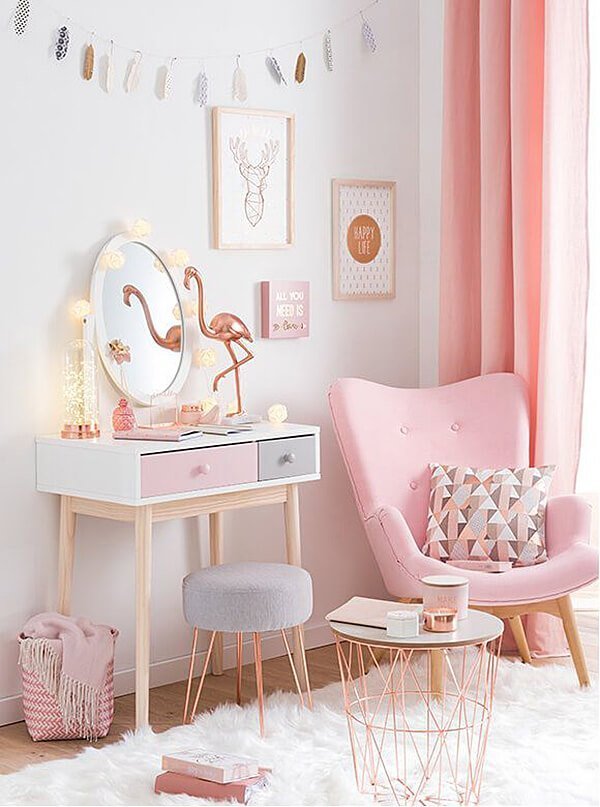 This deliciously decorated bedroom is just the thing for girls of all ages. The look of it reminds a visitor of the inside of a pink cloud, from the soft pink upholstery of the armchair to the blue and white drawers of the vanity table to the snowy white area rug. Feel free to add a quirky knick-knack even if it's a copper flamingo.
6. Gray Skies & Copper Linings Sitting Room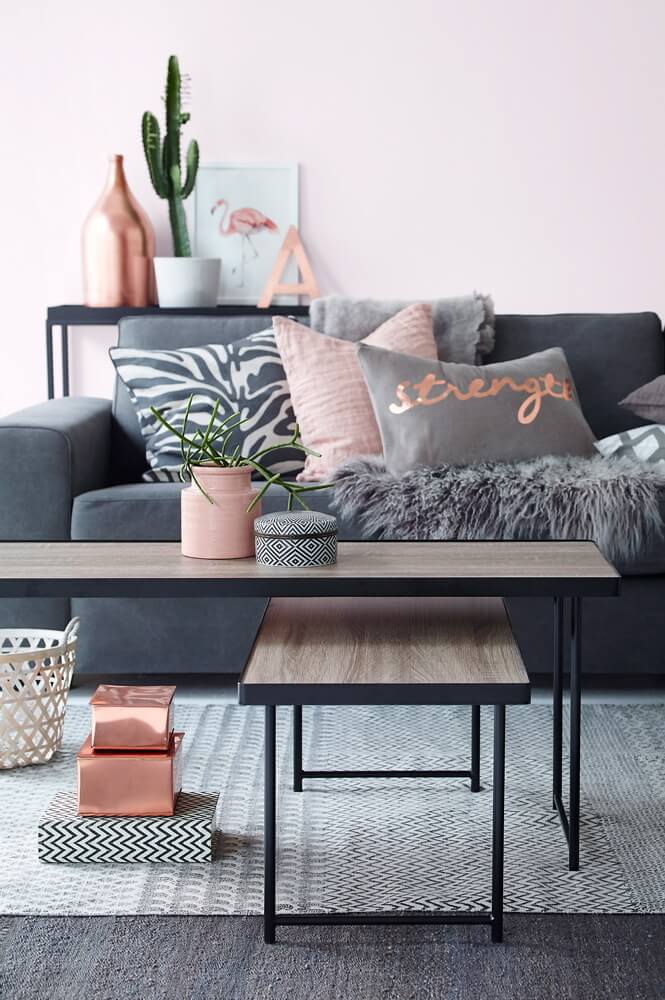 Gray is color that goes well with pink or copper, and a somewhat darker gray sofa against a pink wall anchors the space and keeps it from being too floaty. Pops of the metallic color keep the gray, including the gray rug, from being too heavy-going. Once again, don't forget the pink flamingo. This one is in a painting on the sofa table.
7. Rose Honeycomb Mirrored Vanity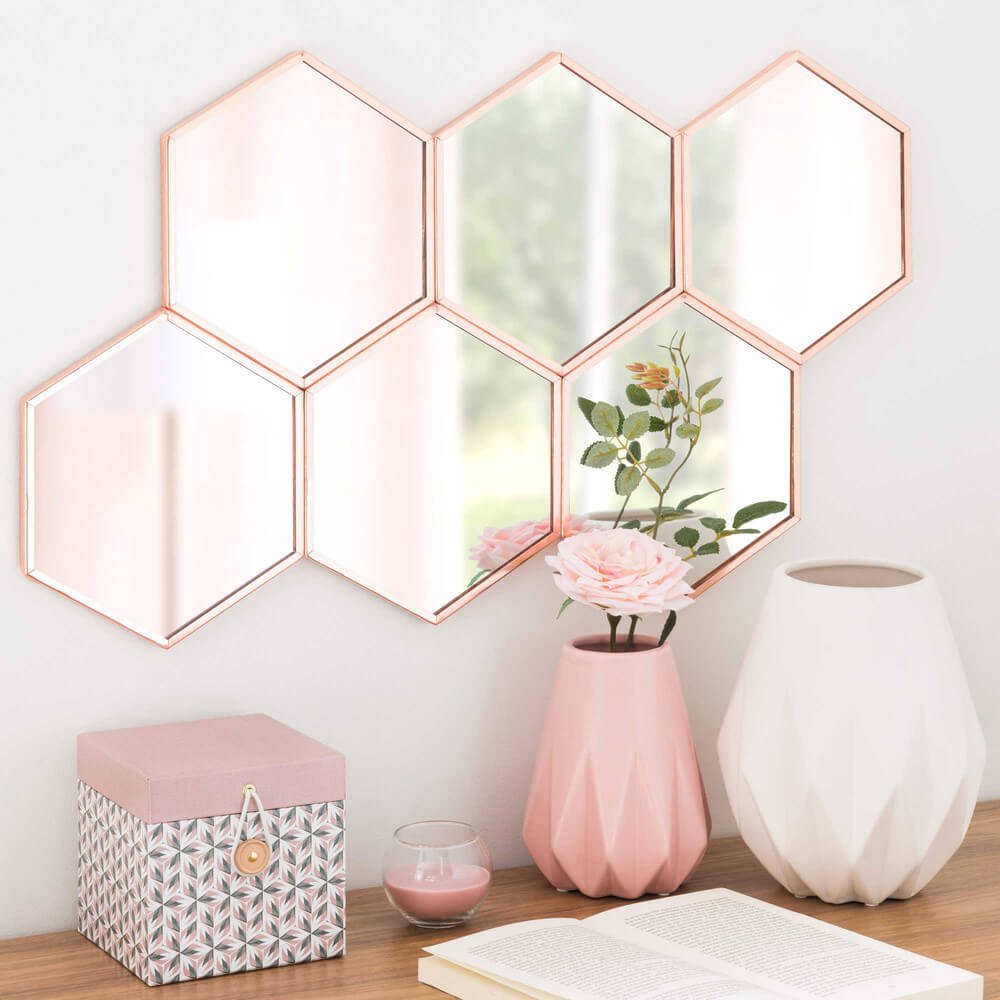 Bee hives are run by females, so why not add a mirror that looks like a honeycomb? Here is the place to show off several shades of pink, from the vases that hold pink roses, the cardboard box with its darker pink lid, the pink candle in its votive, the pink frames of the honeycomb mirrors.
8. Seattle Skyline Living Room With Suspended Copper Dome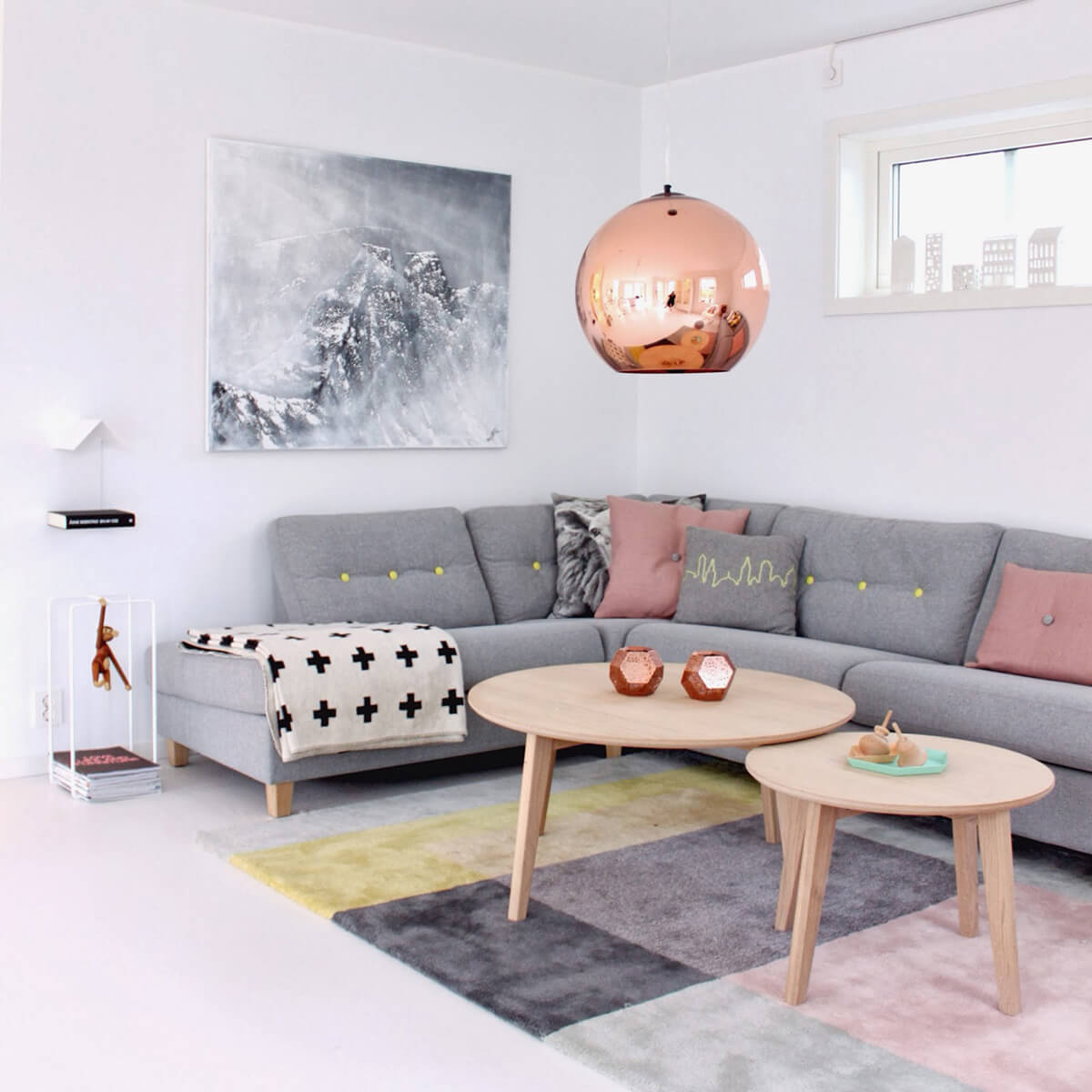 Once again, the eye goes straight to the big round lampshade that hangs above this subtle livingroom. The grays of the sofa and the painting on the wall and even the wall itself, so light gray as to be nearly white, keep the cupreous metal from being garish. The addition of favorite tchotkes keep the mood light.
9. Parisian Pink & City Slate Bedroom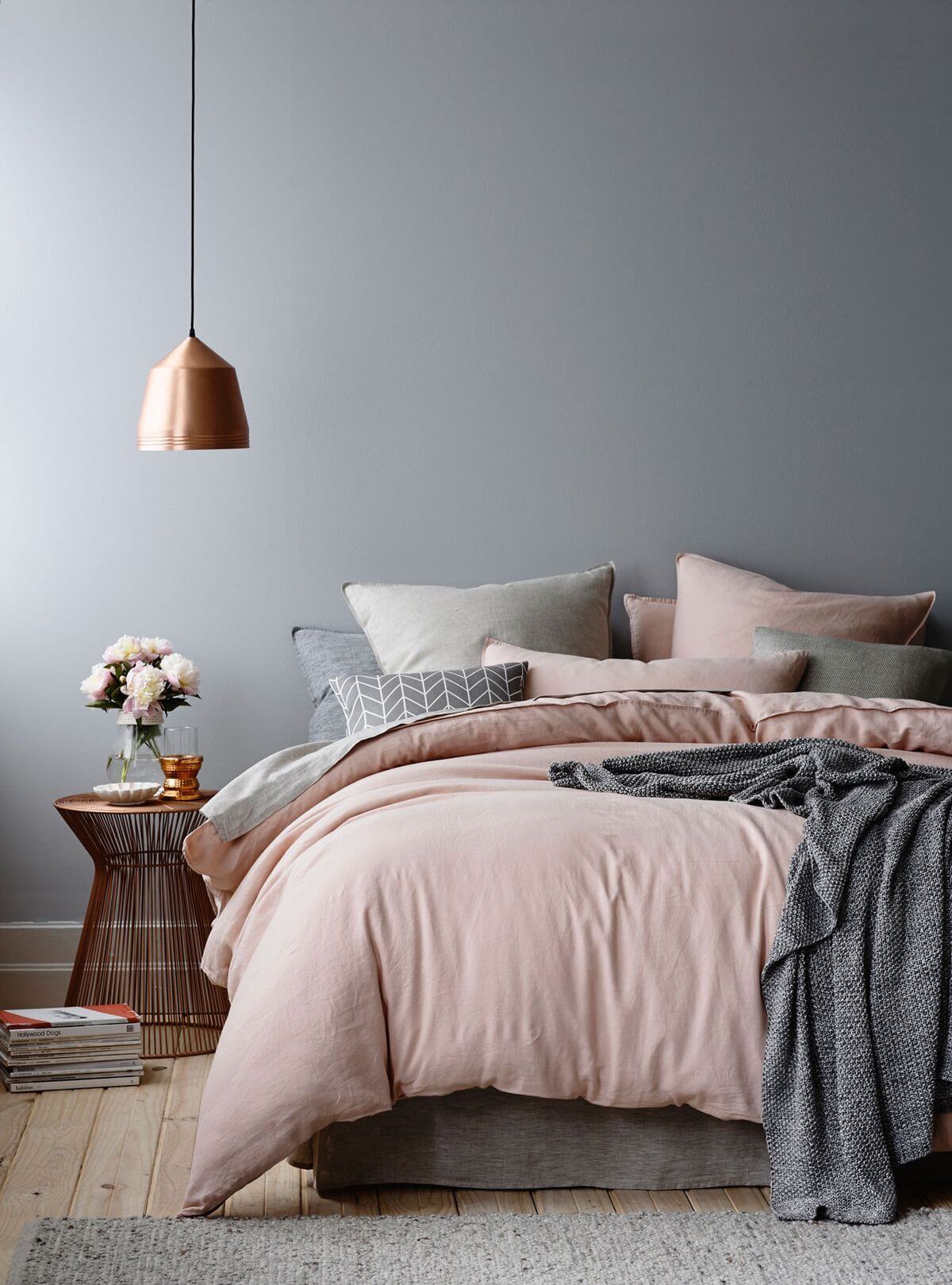 Pink and gray dominate this room, with the shade adding a touch of brightness. There can never be too many pillows on a bed, and on a chilly night a gray flannel sheet and a dusty pink comforter are just right. Add more copper in the slender wires of a drum-shaped table and candleholders.
10. Miami Mod Sitting Room With Abstract Accents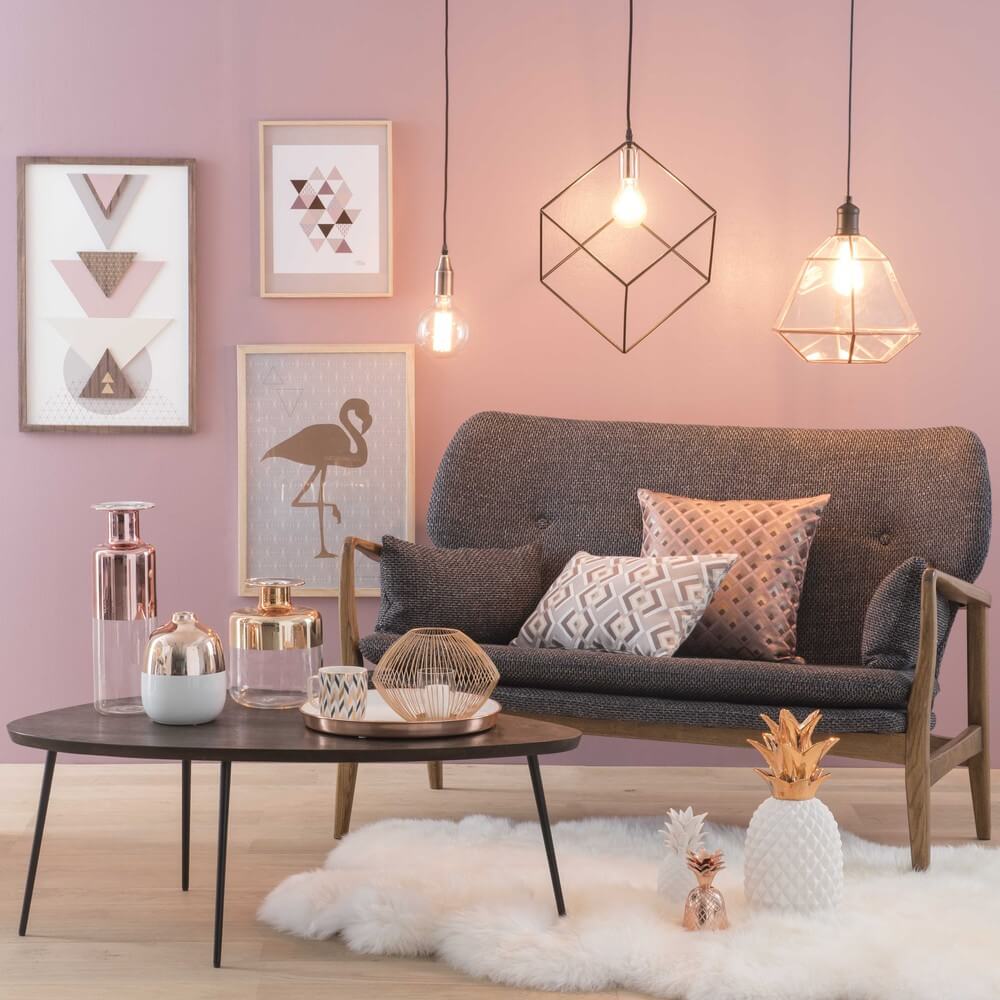 Pink walls and unique pendant lights make a room like this ready for its closeup. Gray in the sofa and the coffee table give weight to the room and keeps it from floatiness, especially when one considers the immaculate white sheepskin rug. Coppery tops of big, gleaming decanters also add some heft.
11. Blushing Tourister Stackable Bedside Luggage Trunks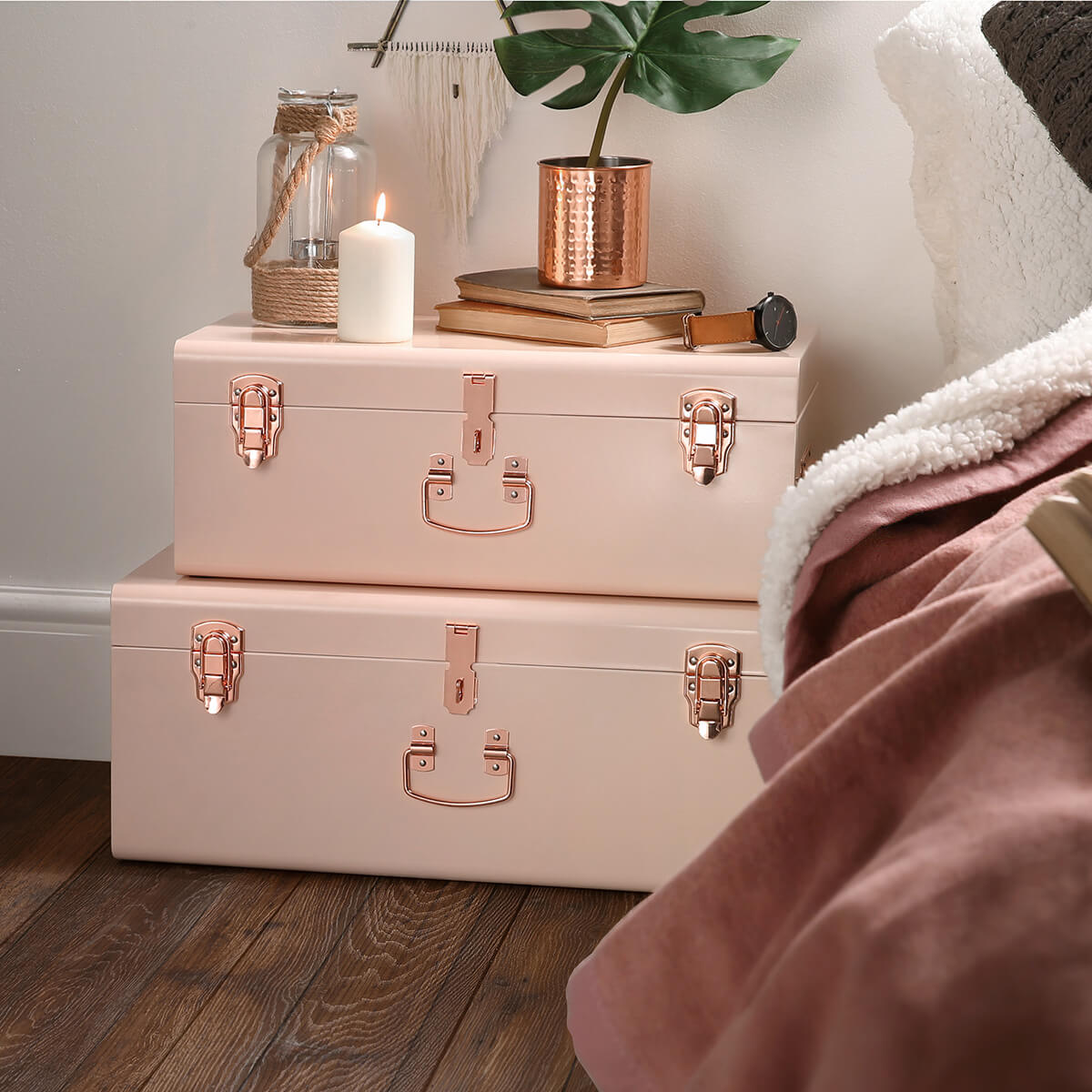 It's not just the decor of the home that can use some copper and blush. What's more feminine than traveling with luggage in those delicious colors? Better yet, when the trunks aren't being carried around the world, they can be stacked and serve as especially pretty nightstands.
12. Seaside Carousel Sitting Room With Geometric Wall Mirror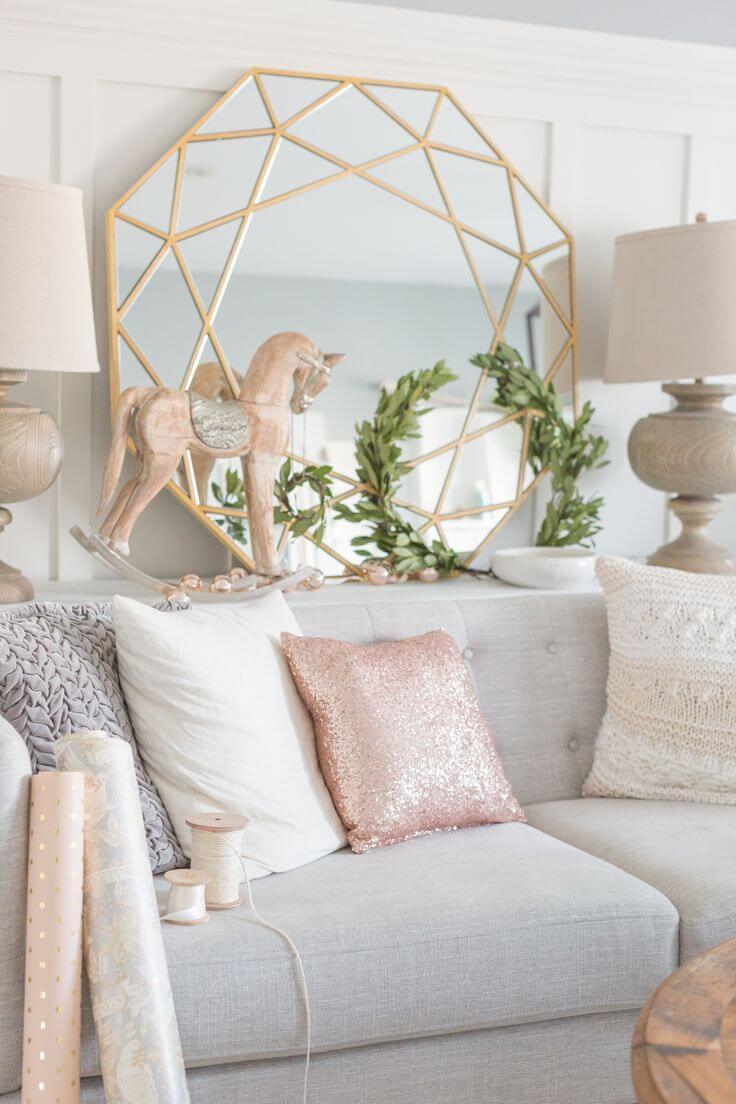 Brighten the light in the room with a pink geometric mirror. Toss some pink items here and there on the sofa table — little pink Christmas ornaments are just the thing — and take some time to make the throw pillows extra special with pink crocheting and pink metallic fabric.
13. Copper A'La Mode Bedroom With Piping Accents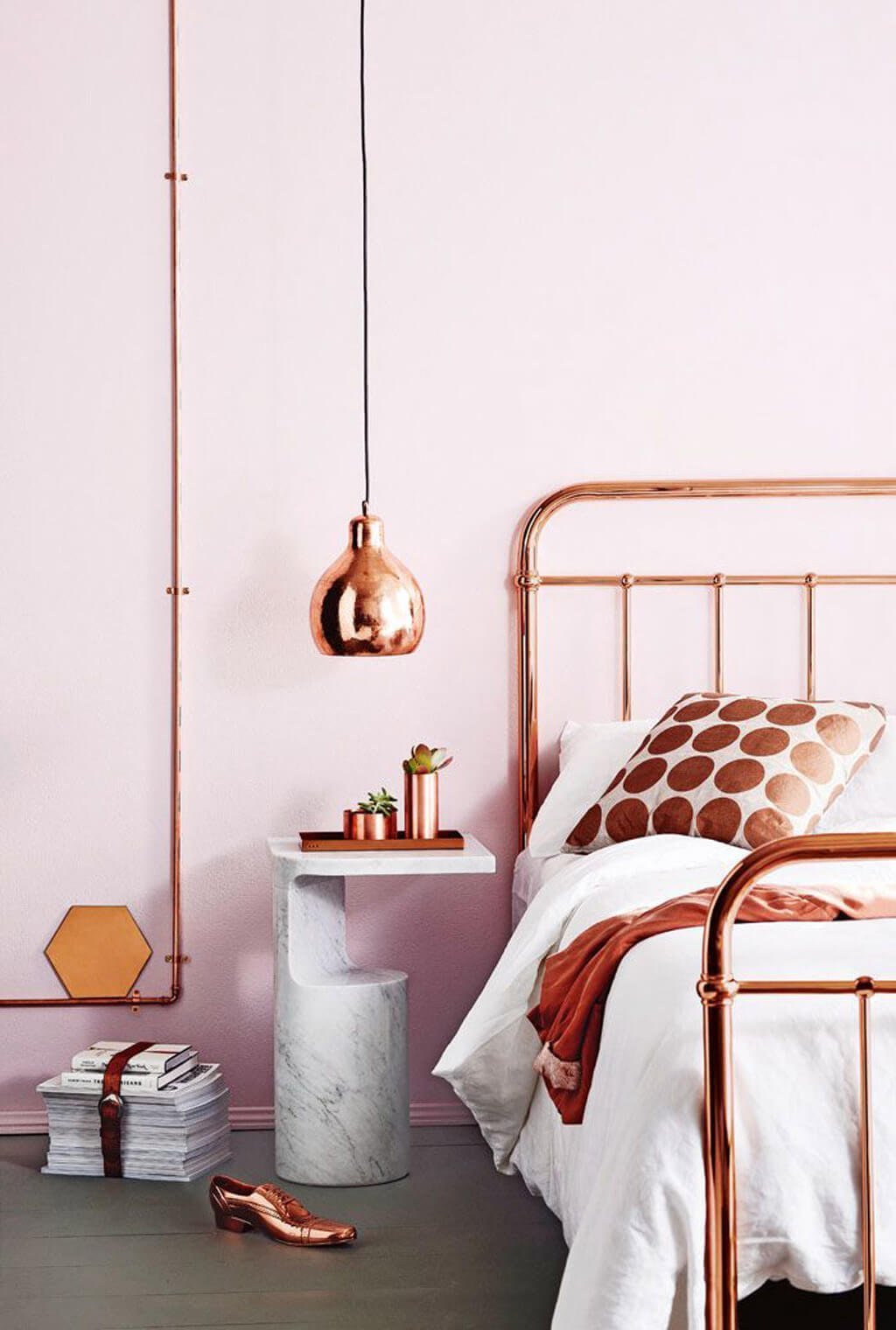 An exposed pipe in the bedroom doesn't have to be an eyesore. Indeed, if it's made out of copper enlarge its effect with a bed with a copper frame, hanging lamp and canisters for plants. Even a pillow with penny-colored polka dots makes a statement. The blush walls make everything that much brighter.
14. Pretty Plumber Wall Mounted Copper Shelving Unit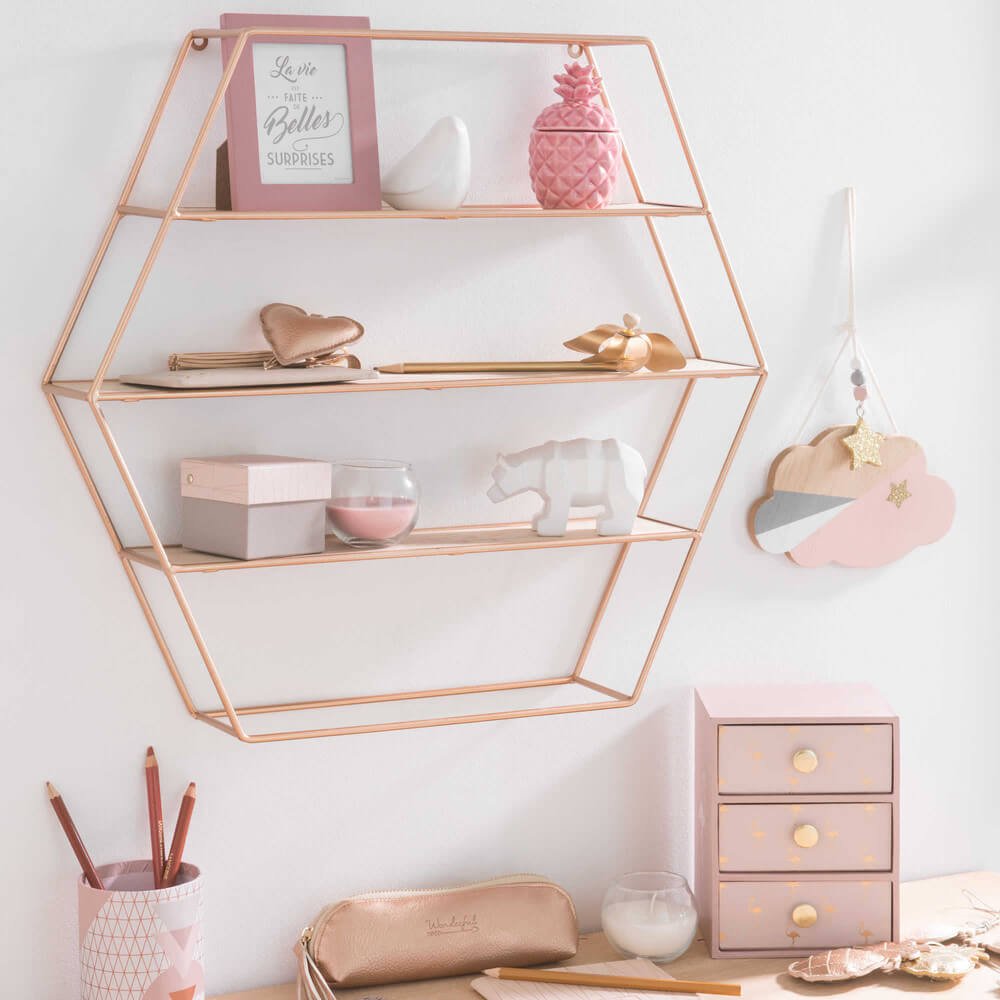 Make a shelving unit made of slender copper pipes look especially pretty by adding pink, dainty and feminine objects. If it's above a desk, decorate the desk with pink pencil holders and a little pink jewelry box. Don't forget pink stationery, pink candles in clear glass and other pink keepsakes. Add glitter to cardboard stars, and use copper-colored pencils.
15. Cozy Abode With Copper Center Table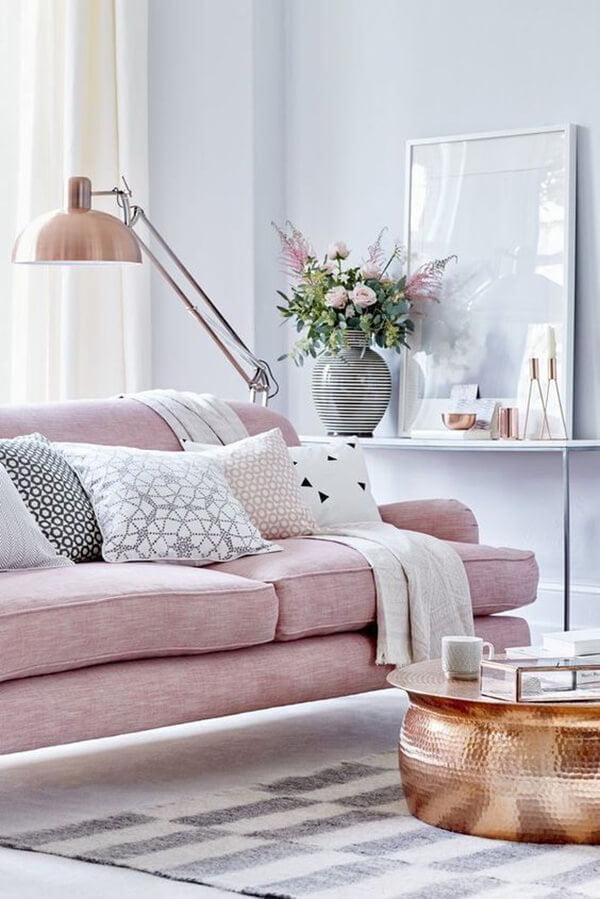 A big coffee table made of hammered copper is bound to be the focal point of the room. To make the area really bright, add more shiny surfaces like a floor lamp with a copper shade, glazed pottery, mirrors and metal console tables. Contrast all that metal and shine with a cozy pink sofa full of throw pillows.
16. Metropolitan Copper Studio-Style Sitting Room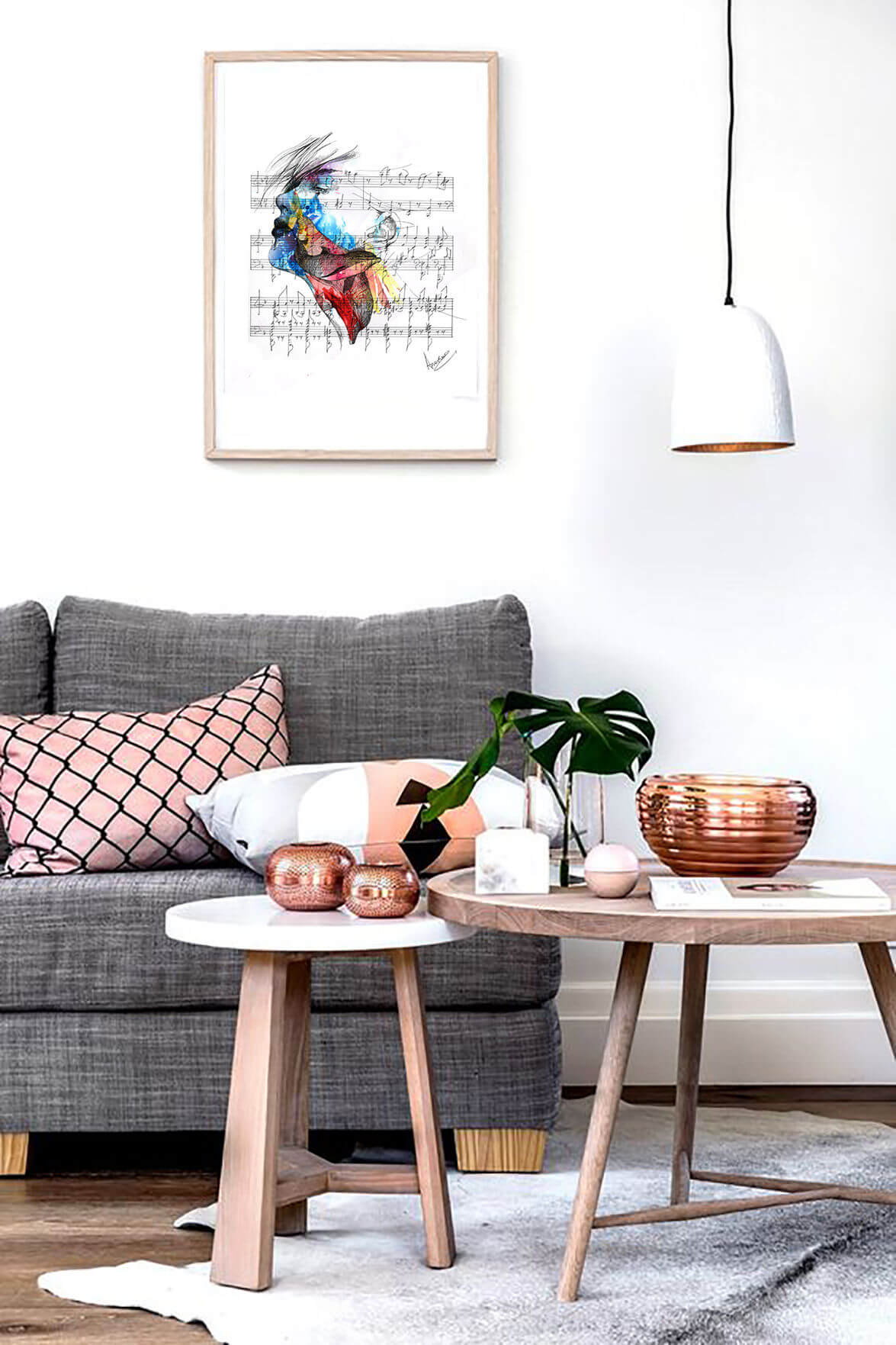 Texture is important when it comes to copper and blush, so consider an overstuffed but homespun gray sofa, rough-hewn coffee tables with a pinkish stain joined with shiny metal bowls and a cowhide rug. Such decor is bold enough to not scare away the guys.
17. Country Copper Domed Kitchen With Mod-Dot Linens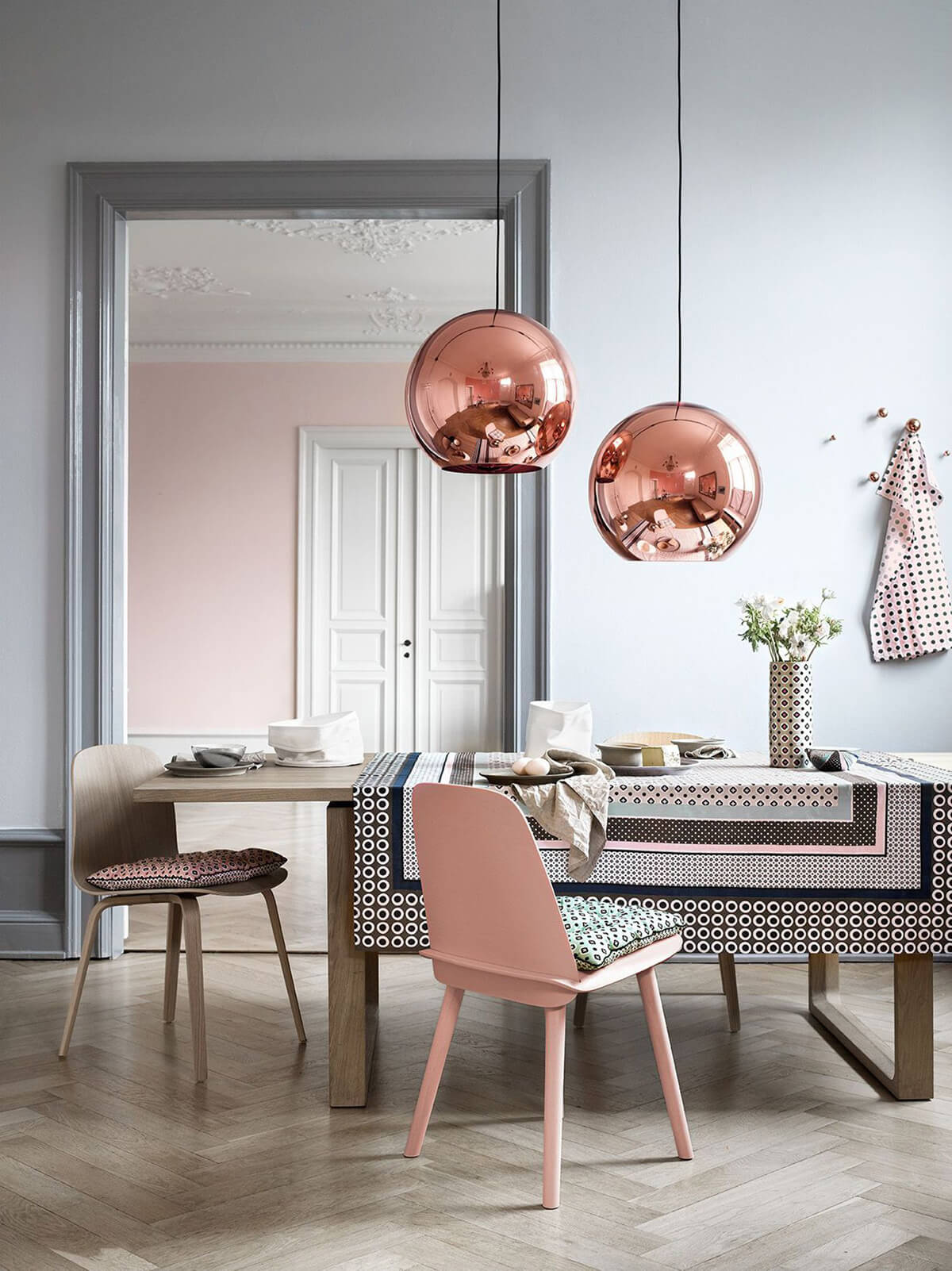 Dare to use the color combination in the kitchen. This doesn't just refer to the furniture but to the table linens and even the decoupage on a vase of flowers. Big, bubble-shaped cupreous light shades are echoed, in miniature, by balls placed in the wall to hold more linens. Shades of gray give the kitchen a tranquil feel.
18. Simply Mauveulous Boudoir With Geometric Mirror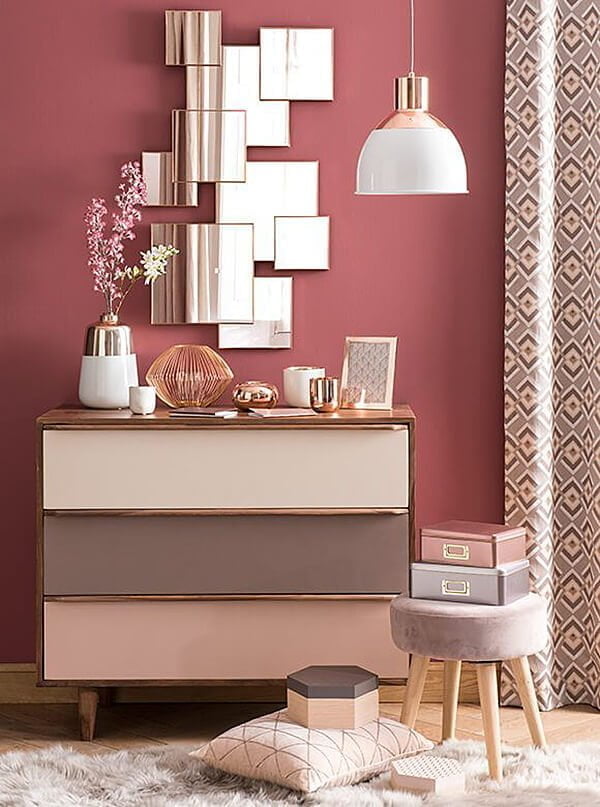 For a thoroughly modern look, buy furniture that is boldly colored but unadorned, such as an Italian style chest of drawers from the 50s. Join it with artwork, as artful as it is practical, made of different sized mirrors on a wall that's a deeper pink than usual. Find your metallic accents in the top of the pendant light shade, a wire bowl, the frames of the mirrors and a knick-knack or two.
19. Pretty/Smart Blush Bedroom With Copper Reading Lamp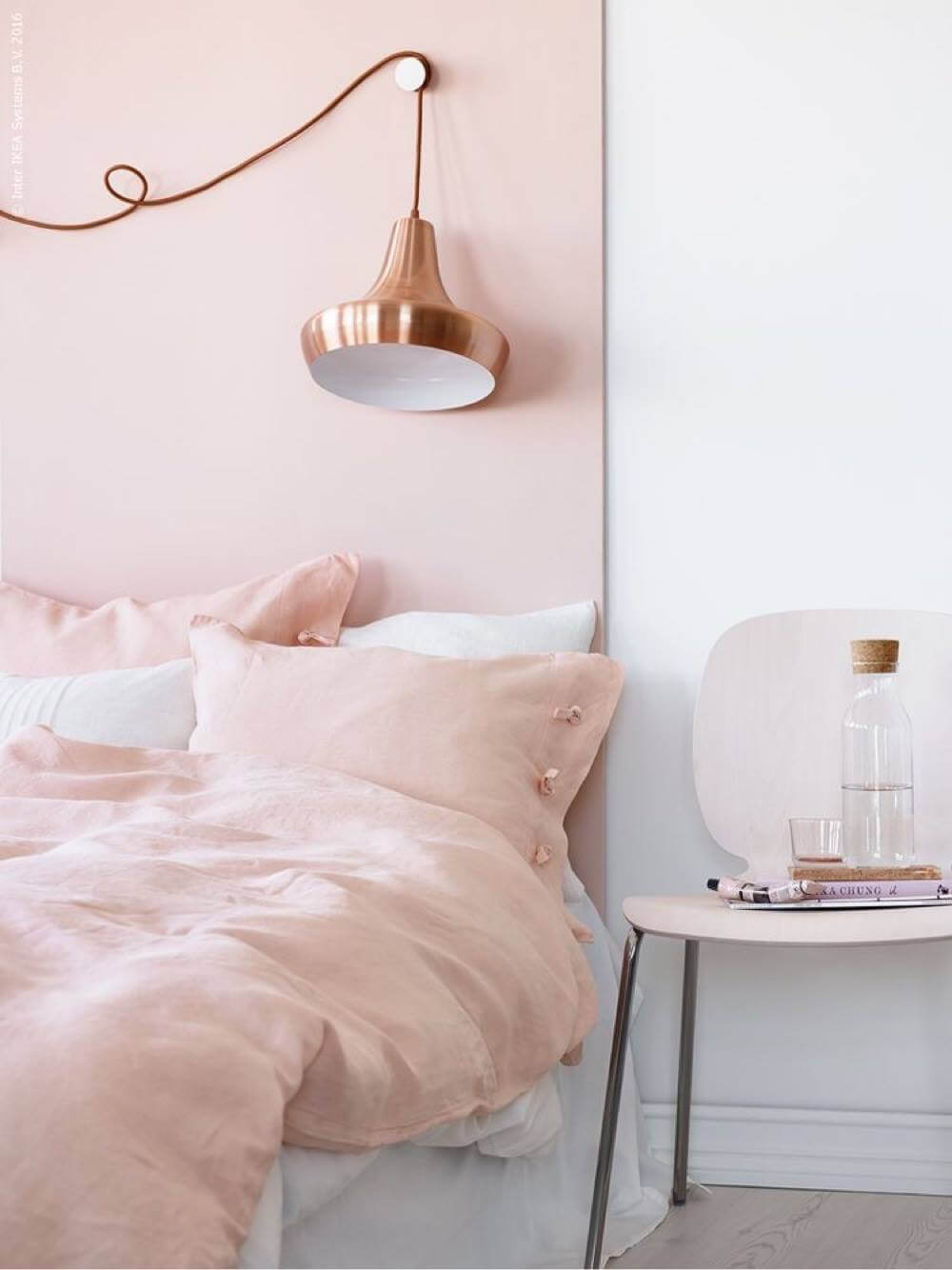 Go for a deliciously dreamy look with a bed piled with pink and white pillows and matching pink and white comforter and sheets against a pink painted part of the wall that serves as a headboard. Loop the wire of a metal-shaded light over a knob in the headboard, and put it right above the pillows. Use a retro, palest pink side chair for a nightstand.
20. Love-Me-Peony Graded Chest Of Drawers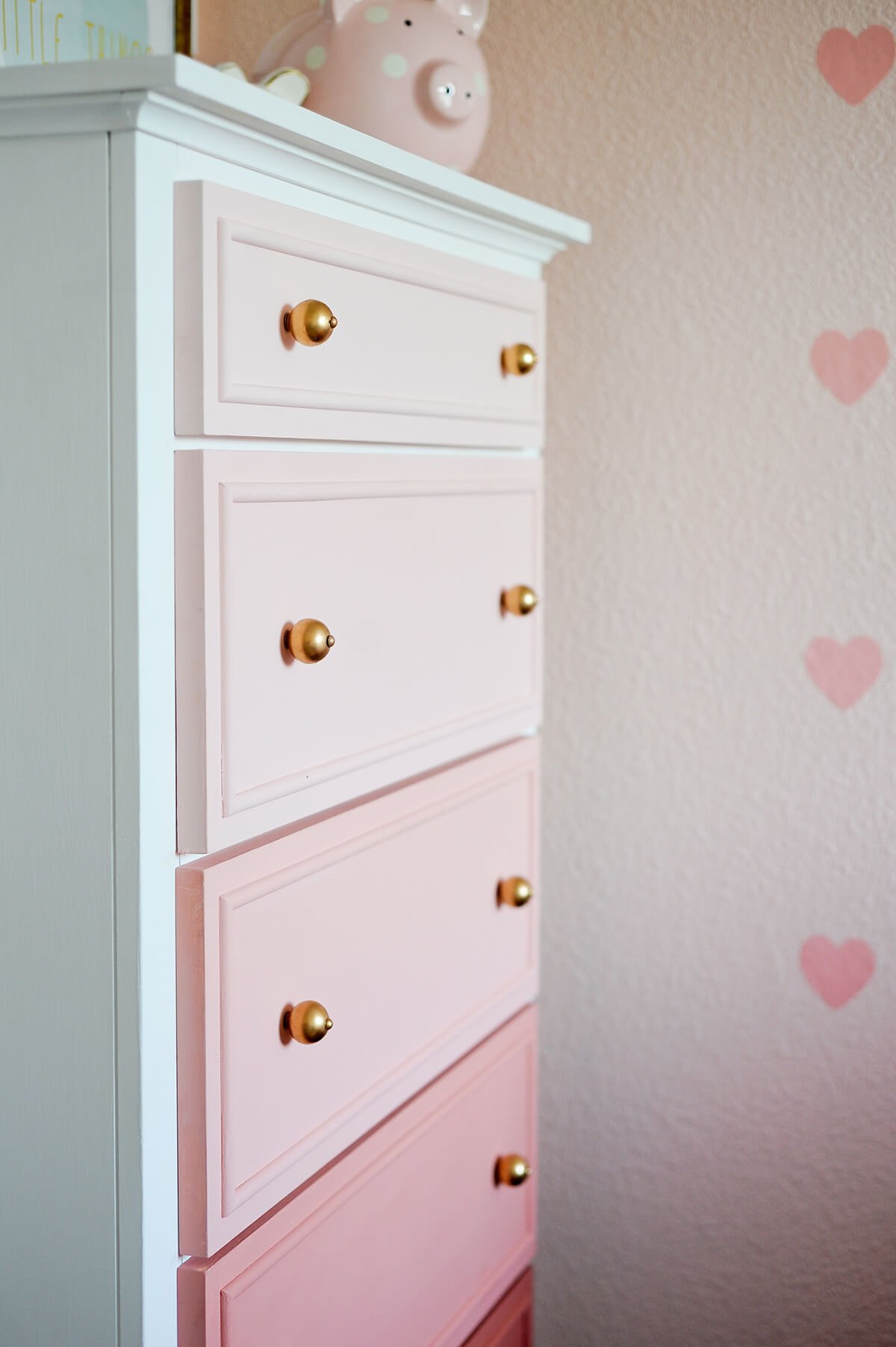 There are girls out there who would find a chiffonier with each drawer front a different shade of pink a bit much, but not too many. This particular chiffonier also has the benefit of having copper knobs. Besides this, go for pale pink walls decorated with painted pink hearts. Of course, add a fat, pink piggy bank.
21. Pamper Me Pink Vanity Set With Copper Honeycomb Mirror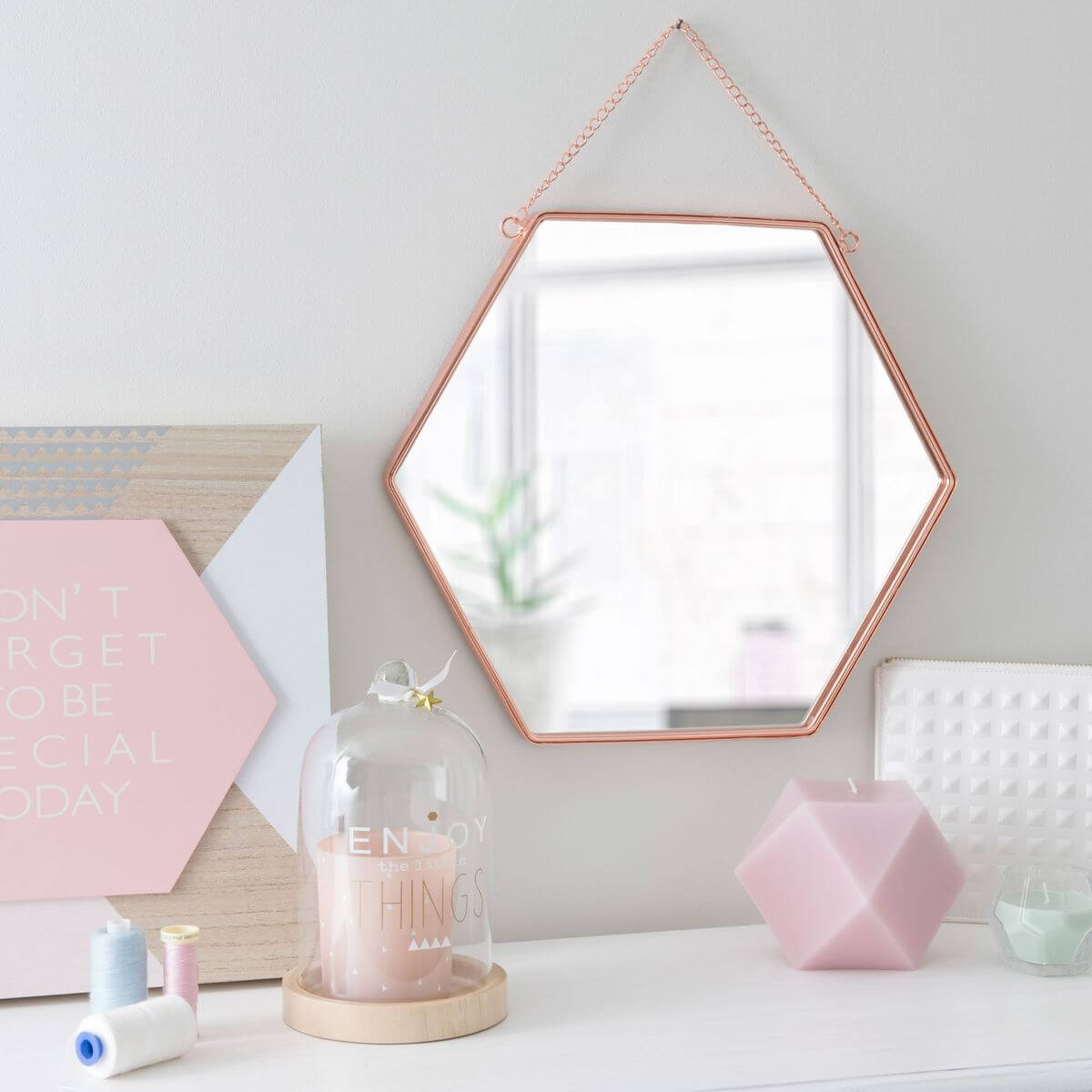 A single honeycomb-shaped mirror with a copper frame hung from a matching chain on a light gray wall proclaims the owner's femininity. Repeat the shape in candles, posters, crafts and anything else that looks good as a hexagon. Just make sure they are pink, or lightest blue in a pinch.
22. Slates Of Gray Rustic Bedroom With Blush Duvet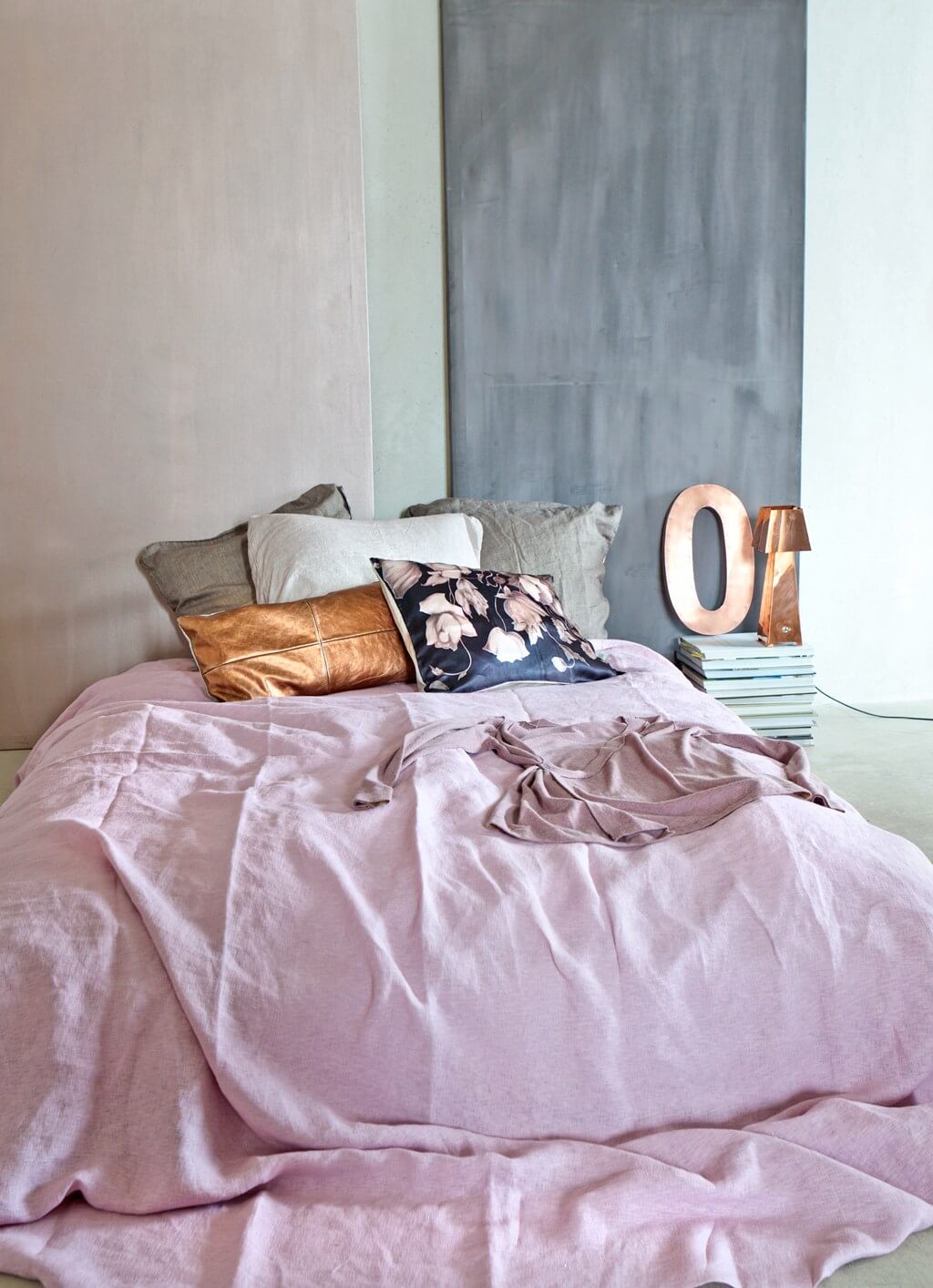 A mussed, blush pink duvet is the height of decadent luxury. Pillows dressed in neutral and cupreous shams break up the cascade of pinkness, which is echoed on a panel on the wall. Rhyme the coppery pillow with a modern lamp or an outsized letter or number atop a bedside stack of books.
23. Uptown Antoinette Living Room With Copper Rococo Mirror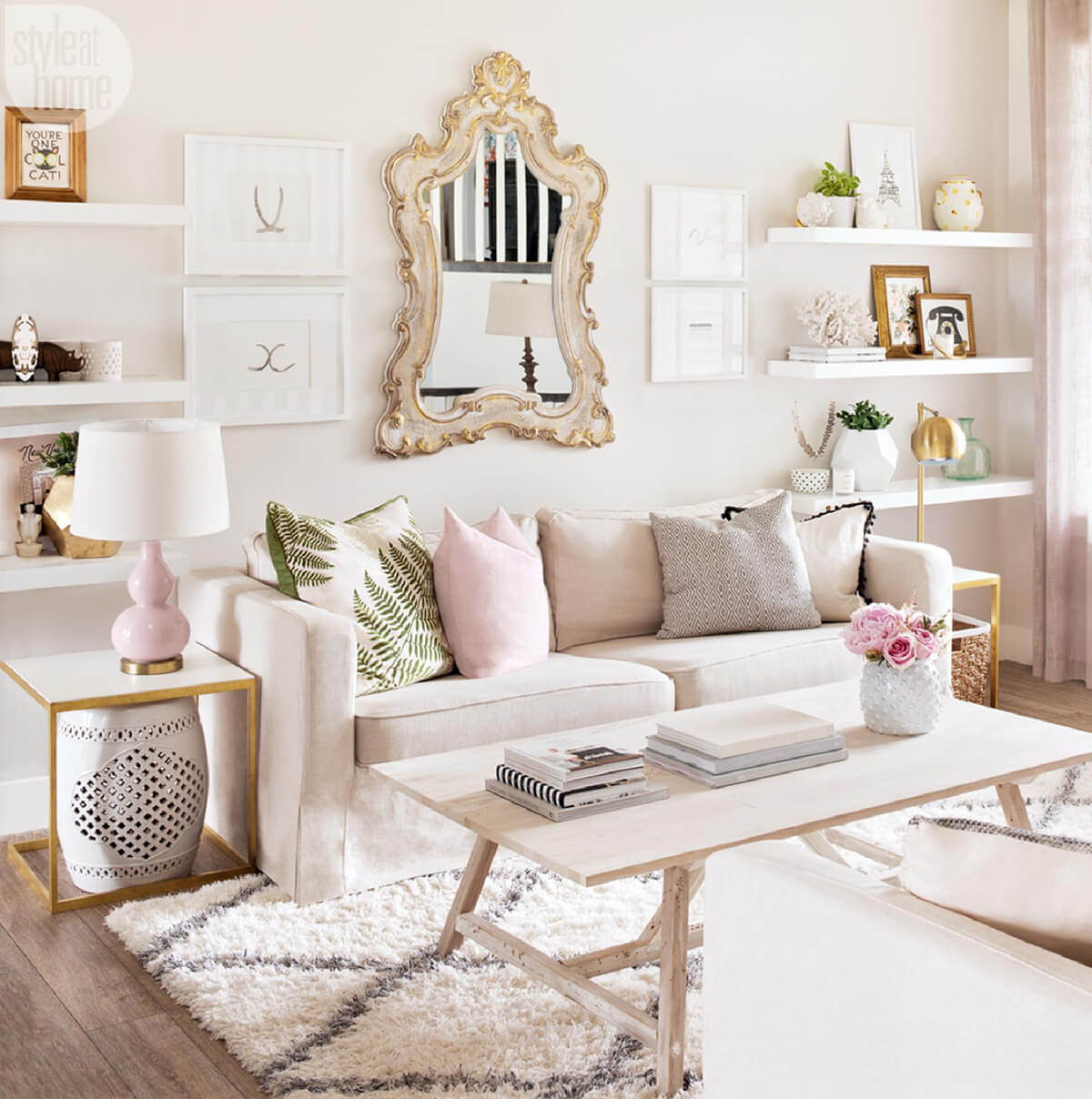 Don't be scared to use the lovely palette in a mix of modern and traditional furniture. An old-fashioned mirror with a somewhat pink cartouche frame goes wonderfully well with floating shelves and a simple, trestle-like coffee table. The copper and blush here can be understated, but the overall feeling is light and fresh.