Looking for an excuse to stay in bed all day? There are several decorating tips and tricks that will make your bedroom feel extra comfy and cozy. Your bedroom should be the most comfortable room in your home and with the appropriate design aesthetic, your bedroom can become an oasis of all the cozy vibes that will have you cancelling your evening plans night after night.
25 Comfy and Cozy Bedroom Decor Ideas that are Impossible to not Love

Creating a warm and cozy bedroom doesn't have to break the bank. One of the easiest ways to warm up space is by bringing in some natural elements like wood and plants for example. A wood paneled accent wall, headboard or nightstand all create the ultimate feeling of warmth in a room. Bringing plants into your bedroom is another way to warm up your space while also serving as an air purifier that will help keep the room feeling fresh and welcoming. Simple ways to spruce up your space also include adding rugs, throw pillows, chunky blankets, and wall art, all of which adds texture and warmth to a room. Creating the cozy bedroom of your dreams doesn't need to cost a fortune, which is why I am sharing 25 cozy bedroom décor ideas that look expensive but are easy on your wallet.
1. Buffalo Plaid, Southern Charm Style Bedroom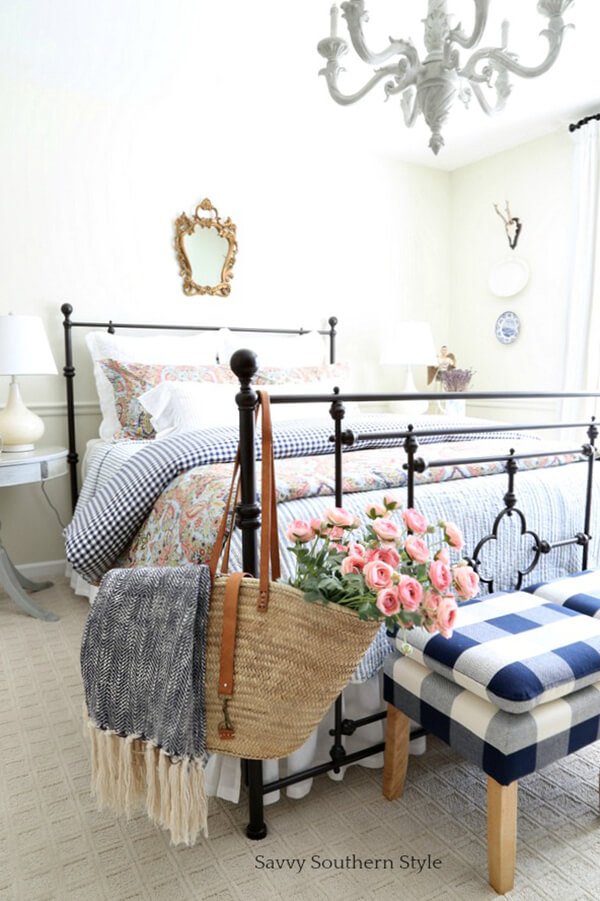 The details in this room are giving off all of the cozy vibes. The paisley and navy blue gingham comforter are so thick and comfy you can almost feel the warmth just by looking at it. The wicker picnic bag with the flowers is placed strategically on the bedrail providing texture and charm to this space. The matching ottomans at the foot of the bed really tie together all of the details in this southern styled room.
2. Contemporary Bedroom with Hanging Plate Gallery Wall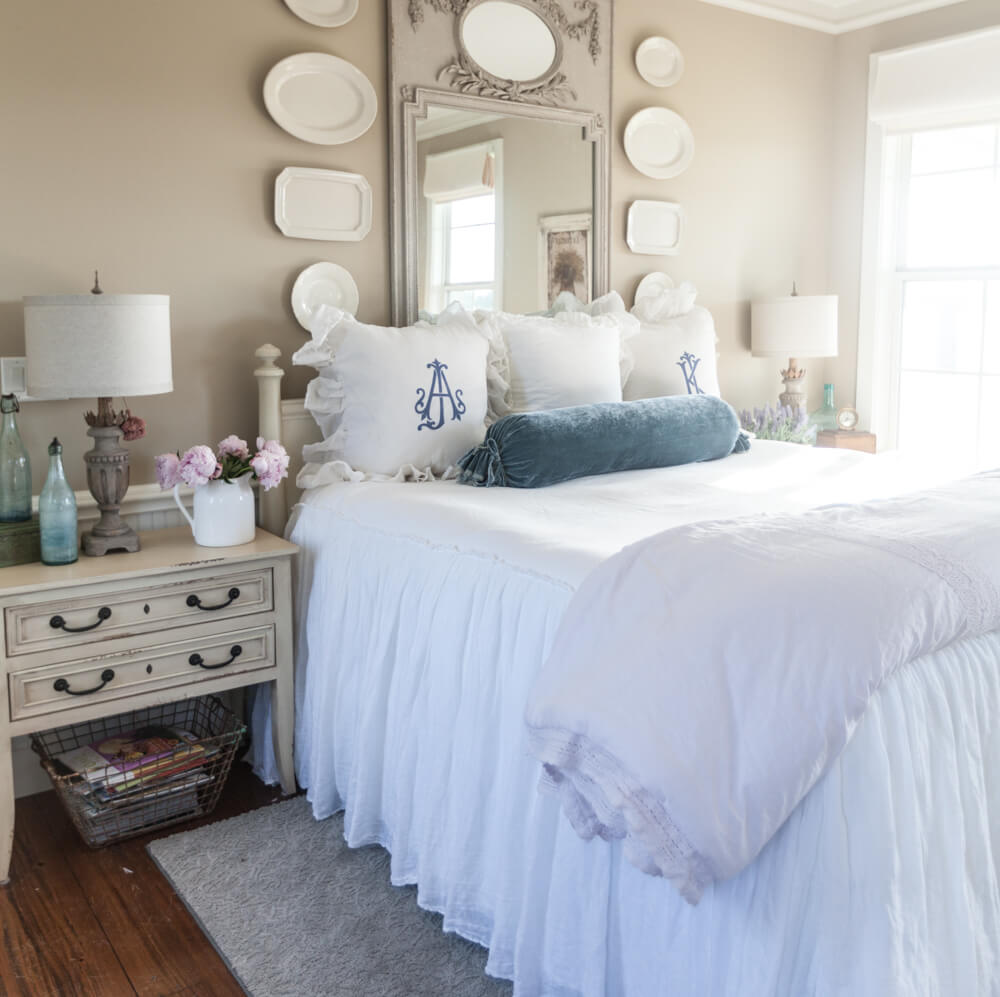 Nothing says style and sophistication like a delicate and feminine bedroom. This room features a soft color scheme with ruffle monogrammed pillows and a white ruffle sham. The wall décor here is stunning with white plates of various sizes arranged around an elegant mirror. This bedroom is a cozy, princess' dream fit for any age.
3. A Flirty & Feminine Pastel Themed Girls Room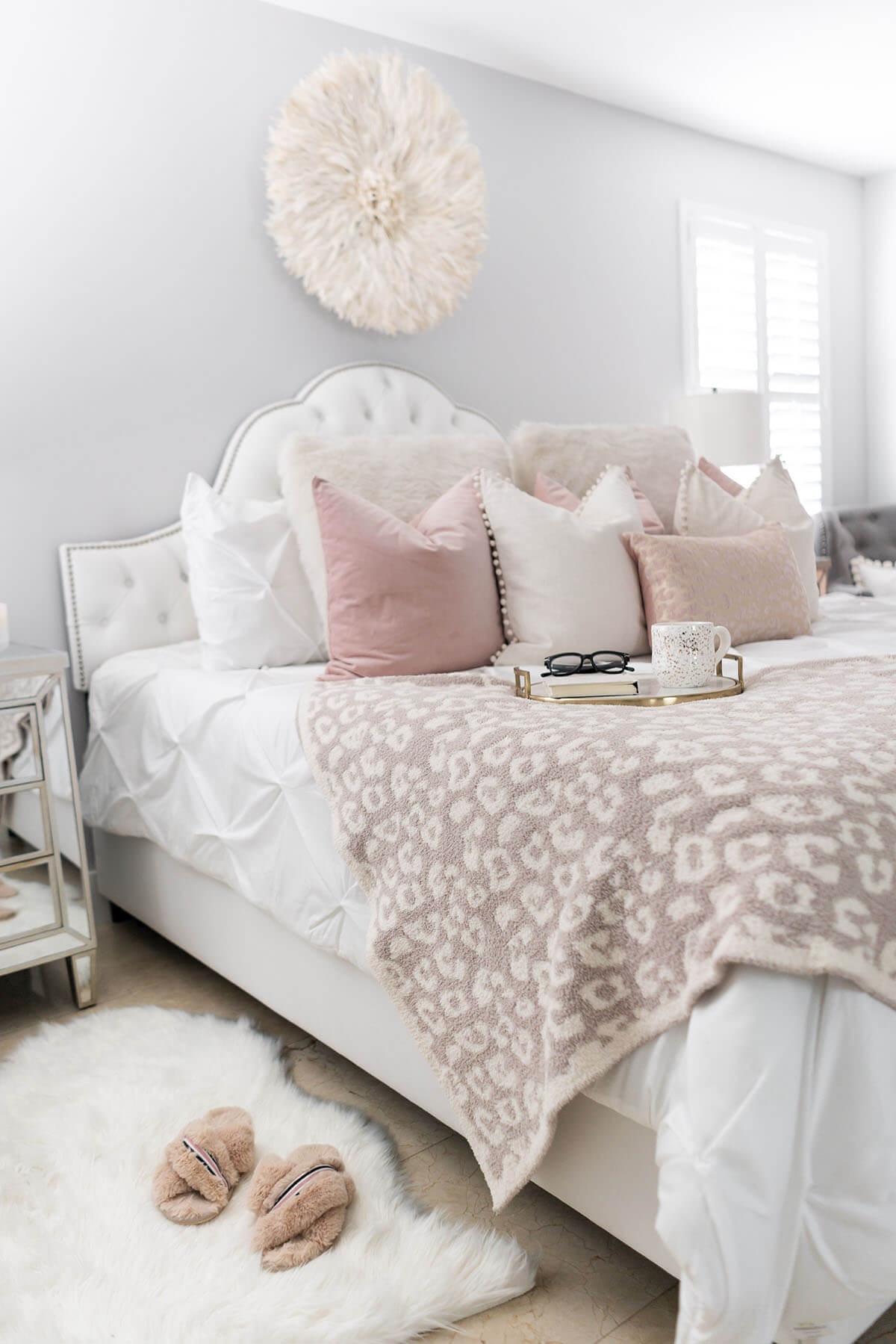 The colors and textures in this room are so sweet and soft. The white bedding with a layered leopard print blanket and soft pink throw pillows make you want to just lay in bed all day with a cup of warm coffee and a good book. The white headboard compliments the bedding perfectly, while the white faux fur rug provides a soft and flirty touch.
4. Bedroom Update with a Romantic Chandelier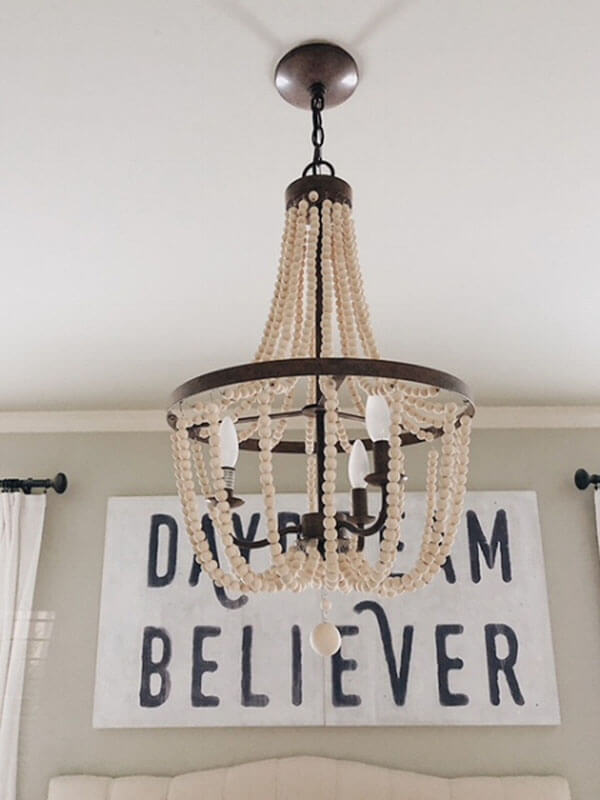 It's incredible how simply swapping out your light fixture with a budget-friendly chandelier can really enhance your bedroom's overall look. This light wood beaded chandelier brings in a little natural element along with a sophisticated and romantic look. A chandelier can truly transform any room of your home, but nothing says master suite like a glamorous light fixture making the bedroom much more warm and intimate.
5. A Dreamy Hotel-Inspired Oasis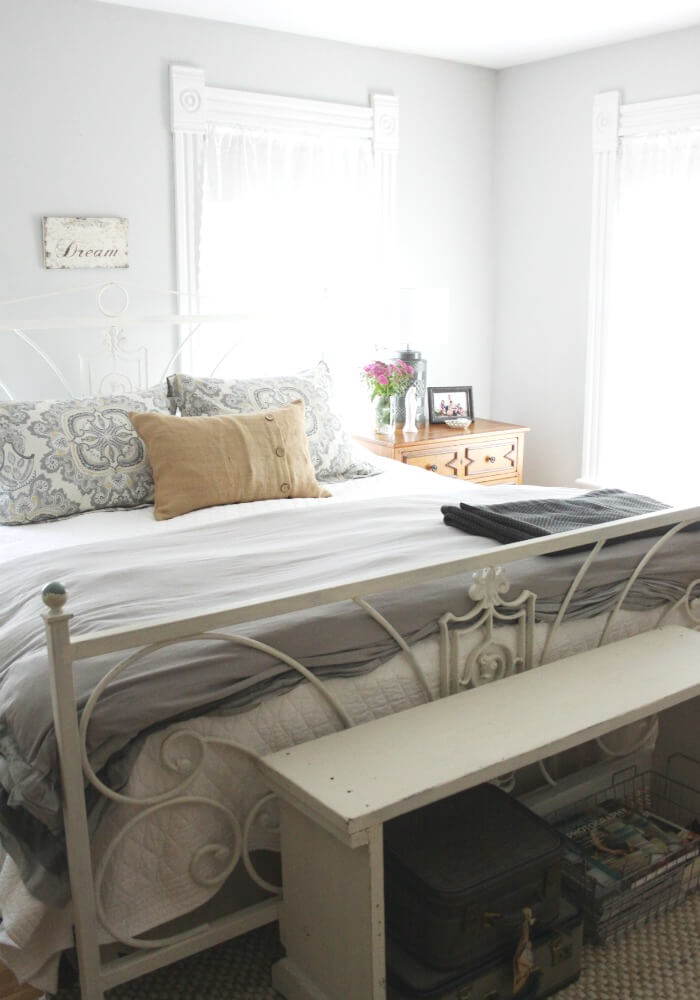 This warm and cozy country-inspired bedroom is so dreamy. The clean lines and natural color scheme makes you feel like you're in a hotel. I love the added storage at the foot of the bed. You can use the bench to sit on while putting on your shoes and use the storage underneath to stay organized.
6. A Cozy Minimalist Home Design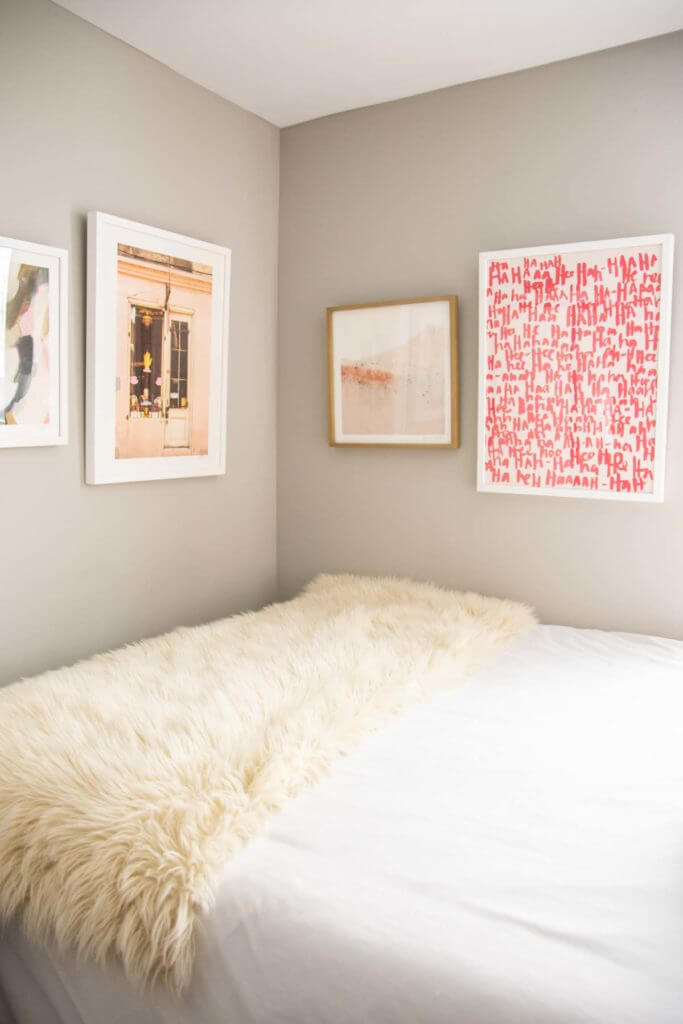 Who says small spaces can't be comfy and cozy? There are tons of cozy bedroom decor ideas to use in small spaces, but to really get the full warm and fuzzy feels, less is more. The faux fur blanket adds texture to the space while the framed photos are simple, yet add an artistic touch.
7. Styled & Sophisticated Pink Bedroom Décor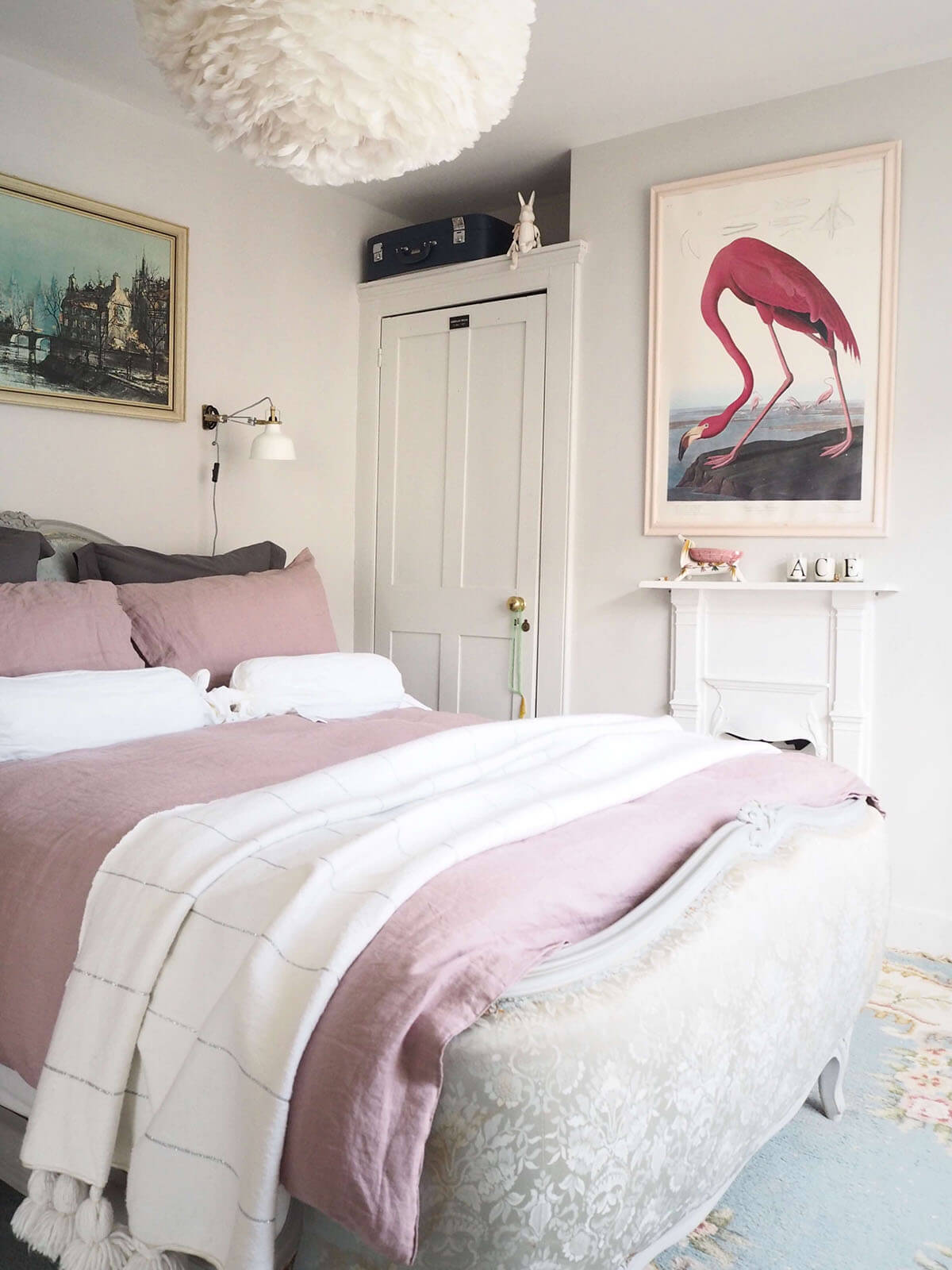 Could it even get any cozier than this? These rose blush linens are so chic, yet warm and inviting. If you are wanting to update the décor in your bedroom fit for any season, blush is a go-to color that looks great all year around. The white throw with the tassel detailing finishes this feminine look with style and sophistication.
8. A Pop of Color Bedroom Suite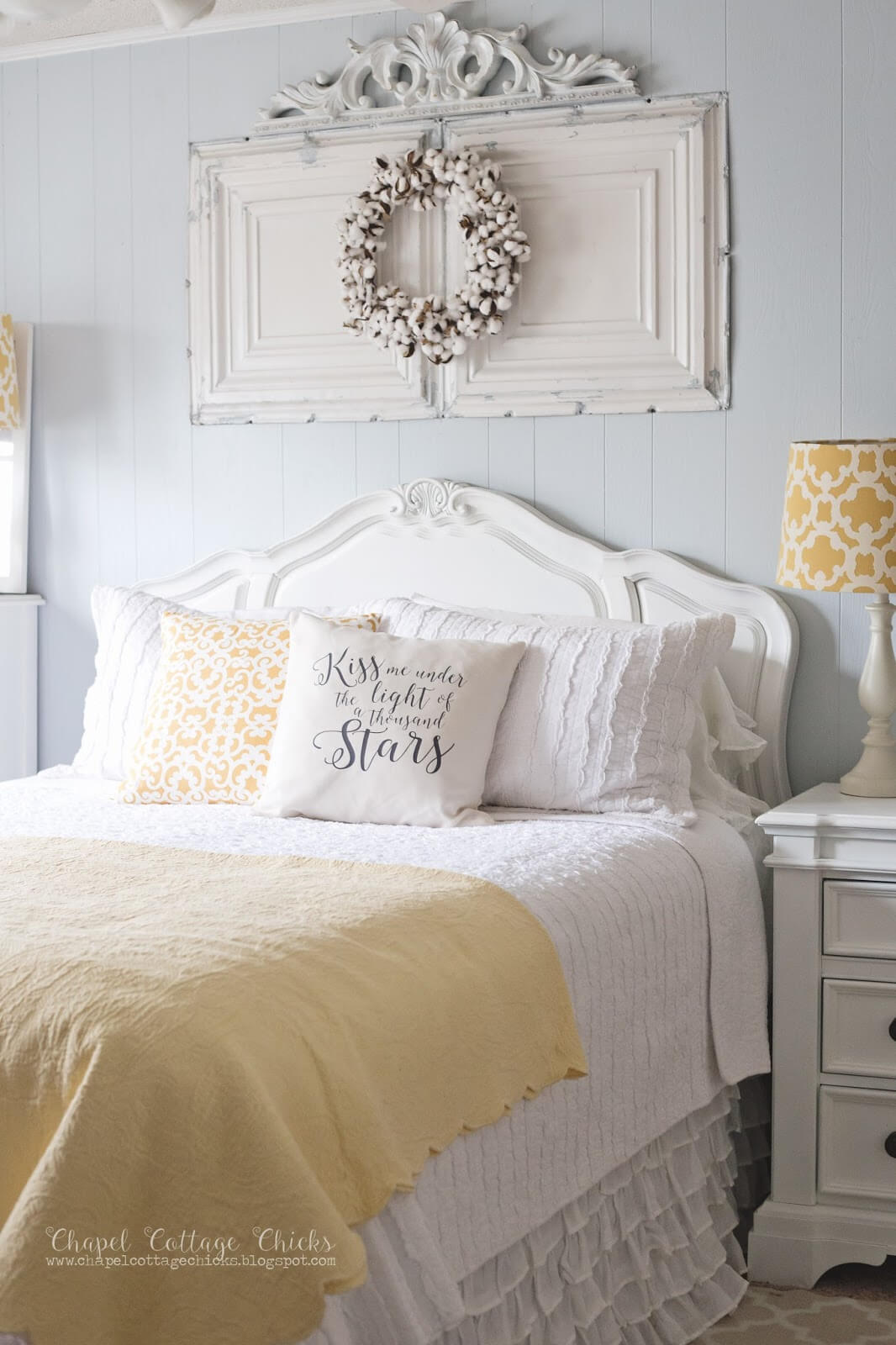 Yellow is such a fun color to use as an accent in your bedroom. It's playful, youthful and feels like sunshine. Most cozy bedroom decor ideas involve pops of color, lots of throw pillows and a throw blanket to add warmth to the space. The matching throw pillow and lamp really pop in this room and are such affordable pieces to implement into your décor.
9. A Feminine Rustic Retreat with Shiplap Accent Wall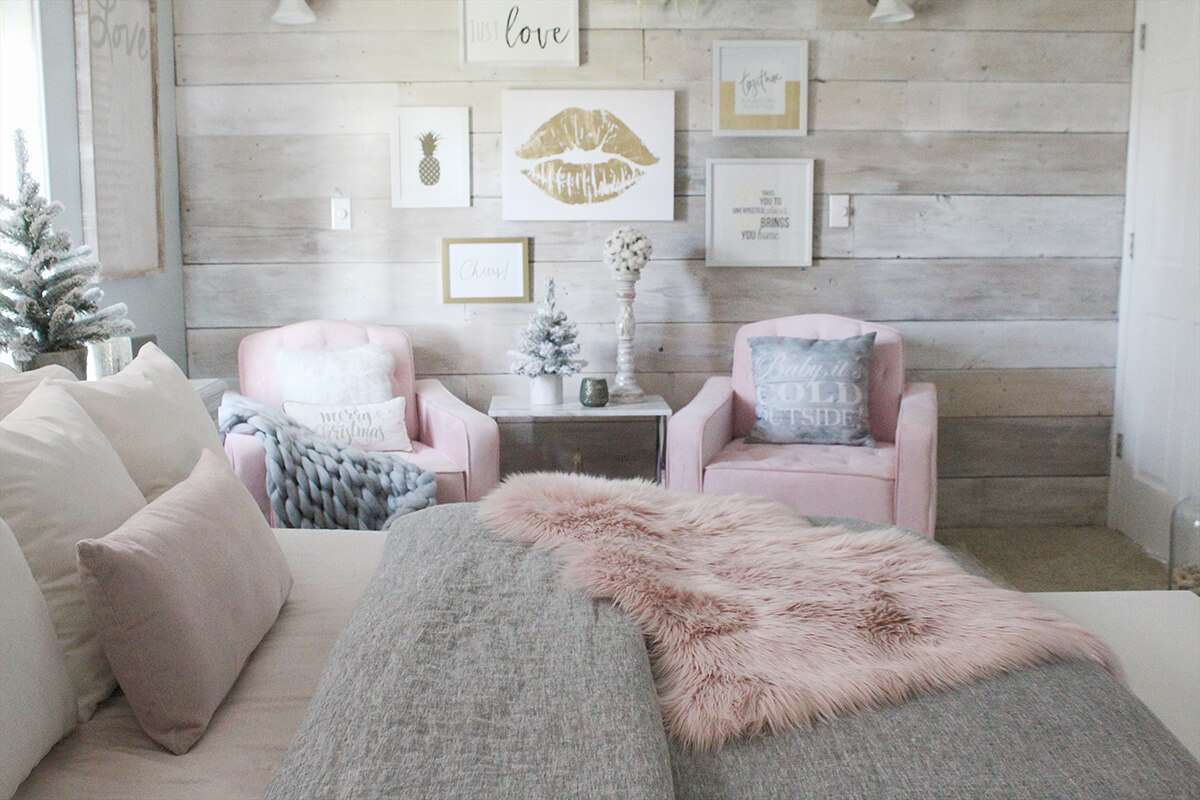 Talk about a stunning layout, this room exudes comfy and cozy. The shiplap wall with the gold wall art gallery gives off a rustic charm and the shades of pink all flow so well together. The textures in this room add visual appeal from the chunky knit blanket to the faux fur rug. Who wouldn't want to get under the blankets and sip warm tea in this rustic retreat?
10. Mix & Match Prints Like a Designer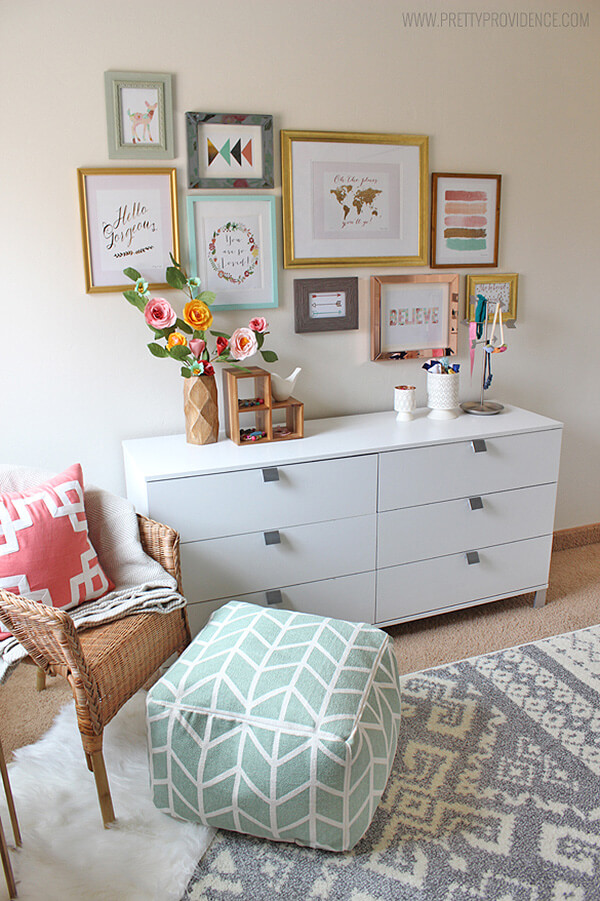 Can we talk about the mixing of prints and colors in this room? It's such a warm and whimsical little space that is so stylish and cozy. The rug, ottoman, throw pillow and wicker chair are eye-catching and trendy. The wall art gallery is so aesthetically pleasing too, your eyes just wander soaking it all in.
12. Blending Shades of Grey, Functional Room Layout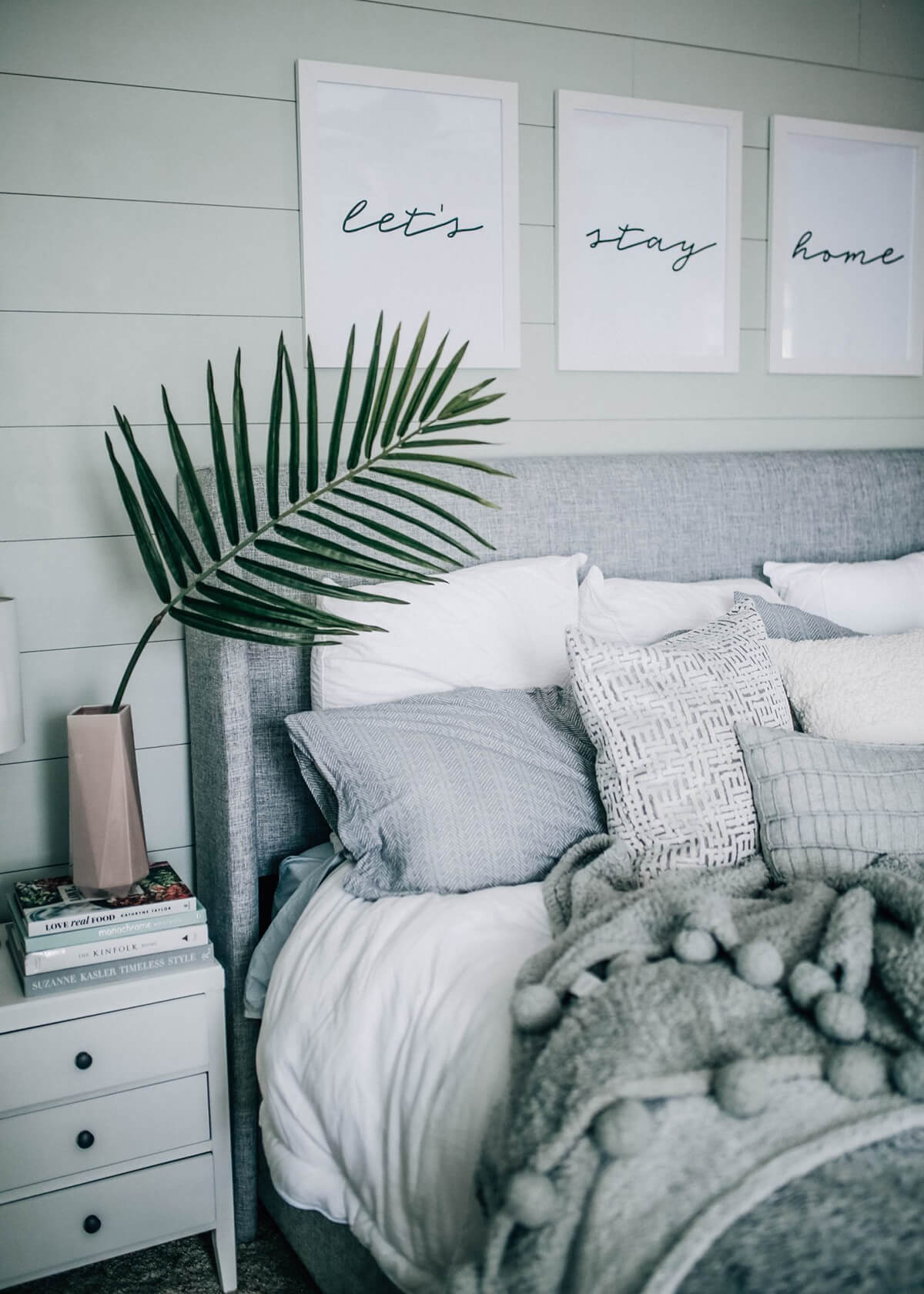 A simple grey color palette can really provide a restful retreat when it comes to bedroom décor. There's something about having a plethora of pillows that makes you want to just cozy up and sleep the day away. Just as the wall art states, this simple décor will have you staying home much more often.
13. The Perfect Bedroom Inspiration for Newlyweds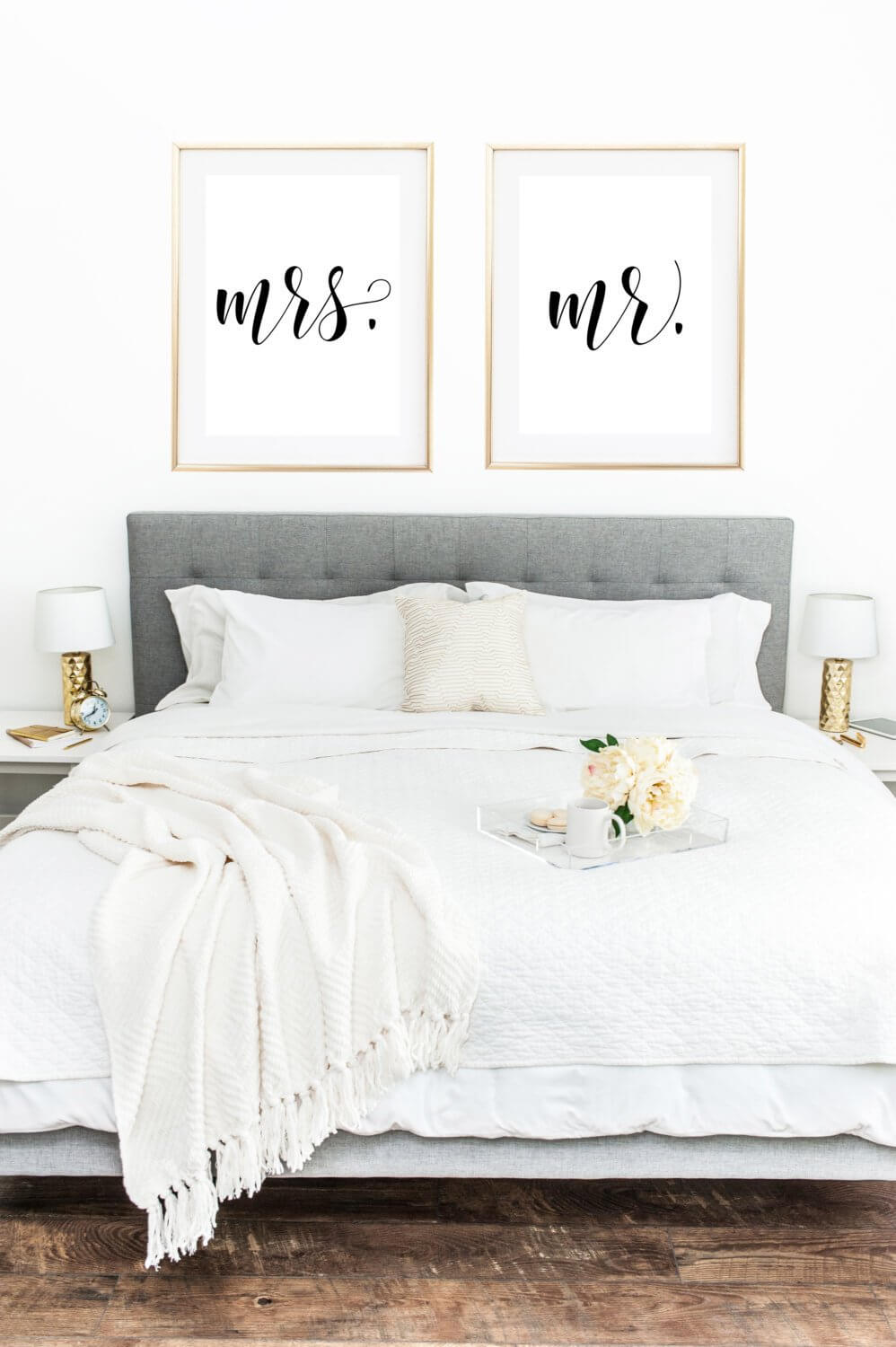 How cute and chic is this bedroom setup? The white bedding with the grey headboard is clean and simple, yet the wall art décor is classy and elegant. I'm loving the subtle pops of gold in this room. The soft color choices are gentle and romantic and the added bed tray has you wanting breakfast in bed every morning.
14. Trendy Scandinavian Style Design Ideas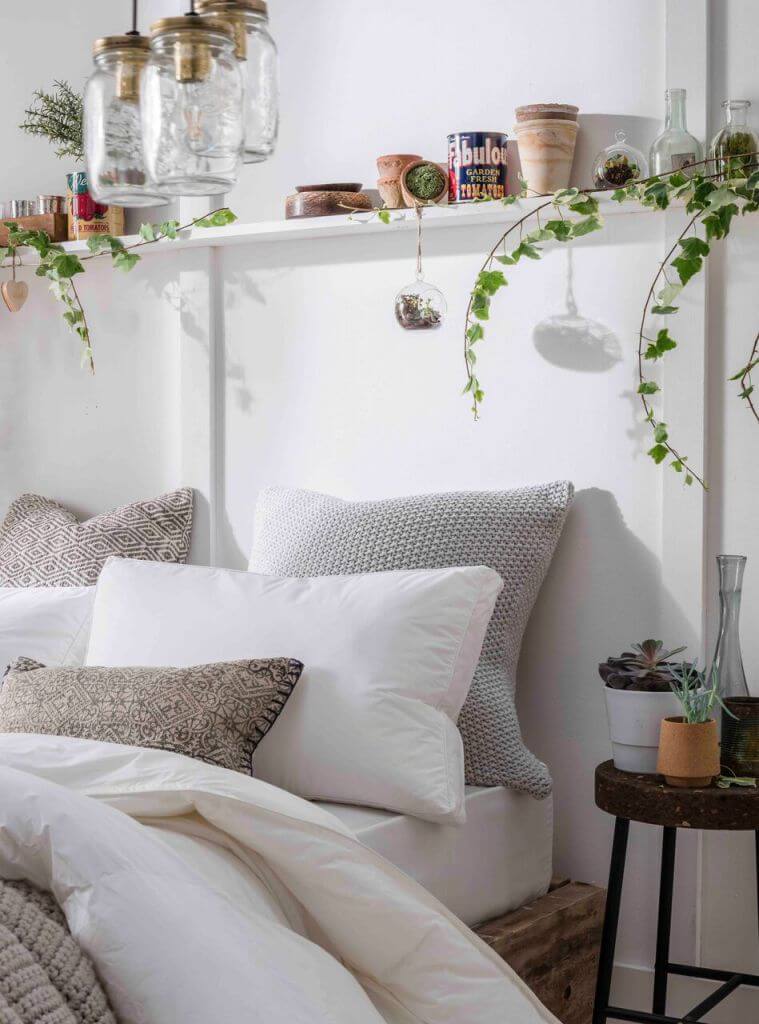 There is something so captivating about this unique bedroom design setup. The natural colors feel warm and cozy against the wooden details from the bed frame and end table. Scandinavian designs often bring the outdoors in with greenery throughout. This bedroom feels open and balanced adding visual interest and appeal.
15. Country-Esque Cozy Bedroom Decor Ideas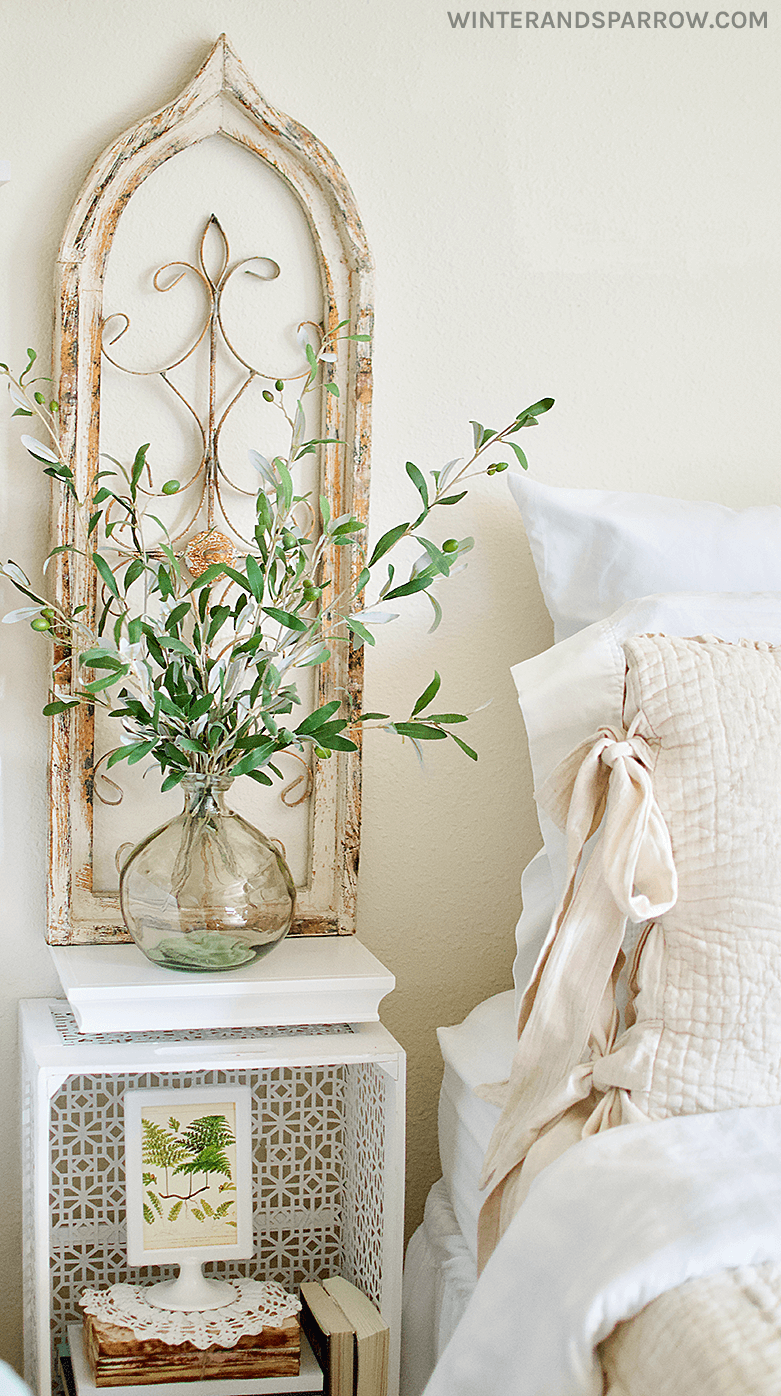 This cozy French farmhouse inspired bedroom is so chic and vintage-like. There's really not much to this room. A simple end table with a little architectural wall piece like this weathered window shutter spruces up the room and makes it feel so bright and airy. The faux greenery makes the room pop with all of the natural lighting surrounding this cozy space.
16. A Traditional Monochrome Wall Art Gallery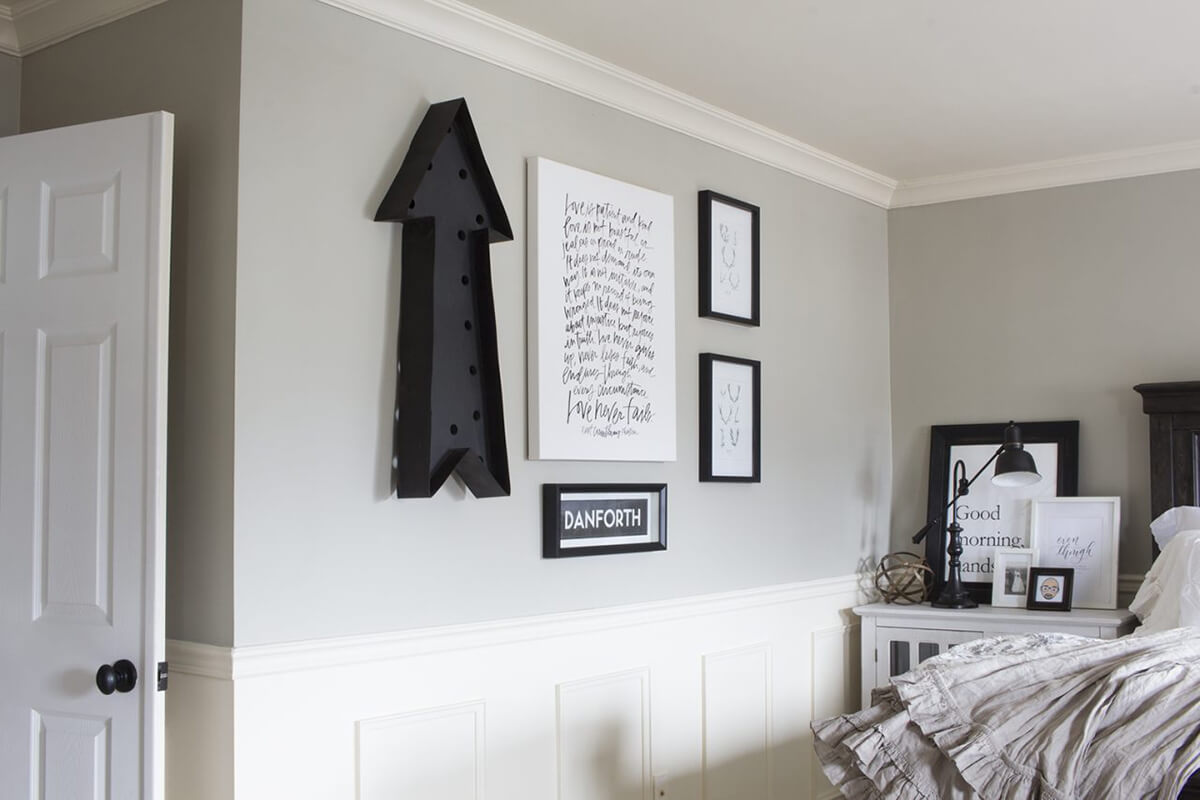 If you are looking for a quick and easy update, a gallery wall is the perfect choice. You can always find free print-outs online and inexpensive frames to put them in. The monochromatic design works great with virtually any color theme. The black and white wall art gallery reflects a warm mood with little effort.
17. A Subtle Hue of Blue Bedroom Inspiration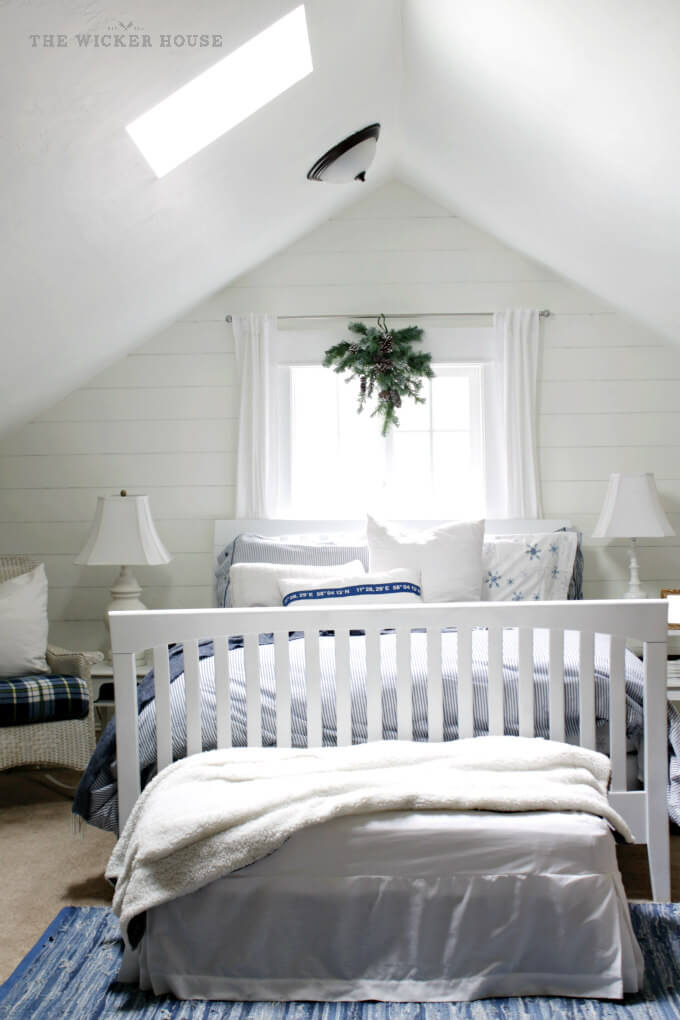 Blue is a color that is bold, but still a classic color choice for a bedroom without getting too far outside of your comfort zone. Whether you are looking for a nautical theme or just want to shake things up a bit, a hue of blue is perfect for any room design. The walls add a farmhouse vibe to this space and all of the white furnishings really make the blue pop without overdoing it.
18. Comfy, Cozy & Country Bedroom Design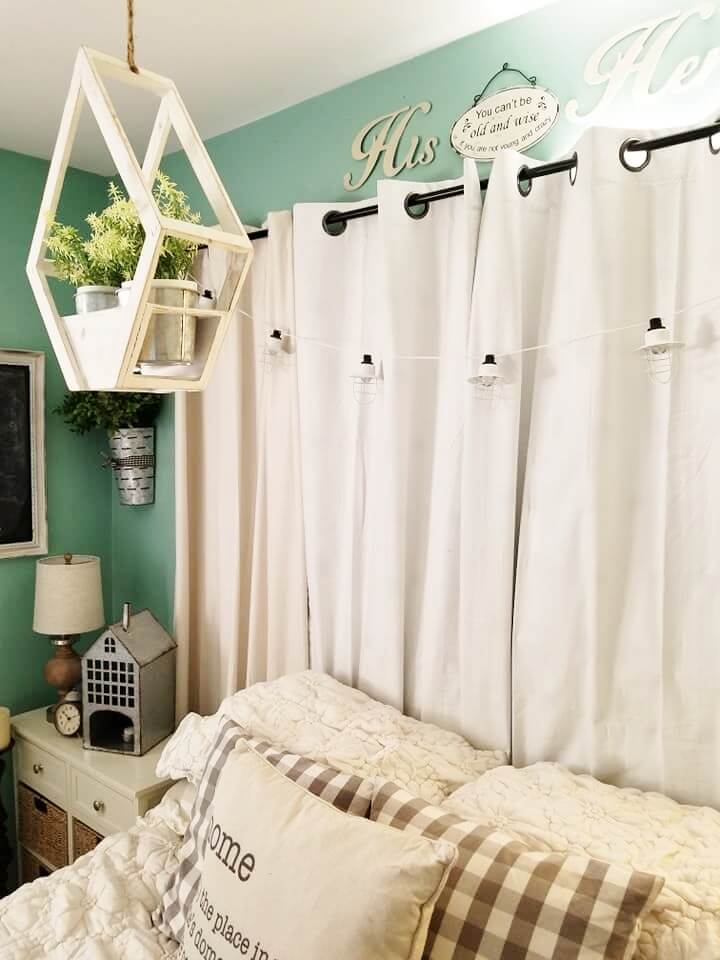 It's all in the details with these country cozy bedroom decor ideas. From the hanging planter to the rustic drapes, this room has all of the finishing touches for a farmhouse feel. I love how the brown buffalo plaid accent pillows really pop and that the end table décor is kept simple, yet completes the overall look of the room.
19. Gender Neutral Room Ideas & Inspirations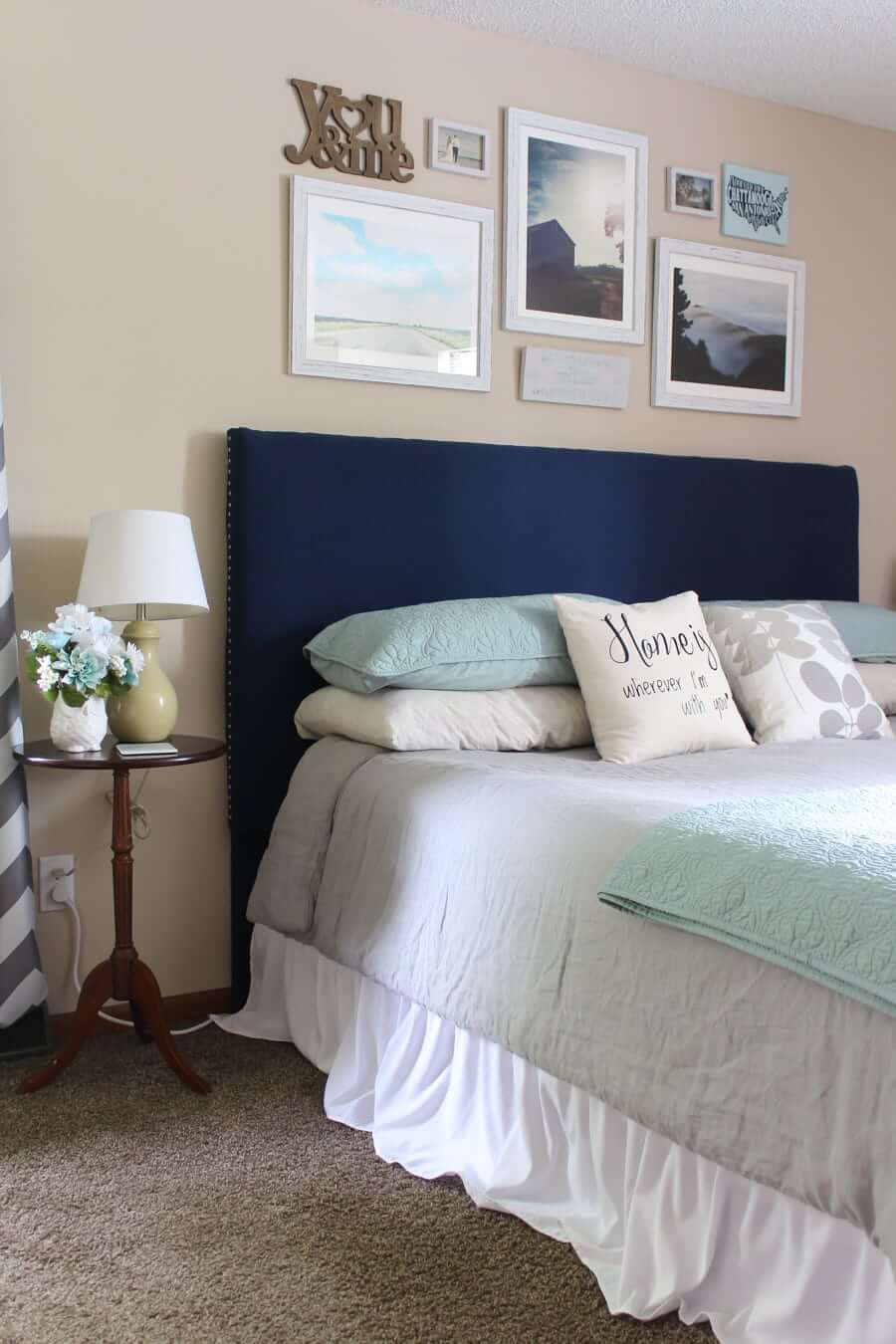 Many people struggle with the idea of making their bedroom gender neutral. Some people still have the idea that blues are for boys and pinks are for girls, but that's not always the case when it comes to creating a bedroom that suits both genders equally. The blue in this room is bold but mixed with the hints of mint it really balances out. Finding colors and décor pieces that balance each other like the ones in this room is key to achieving a gender neutral space.
20. Update Your Master Bedroom with Repurposed Furniture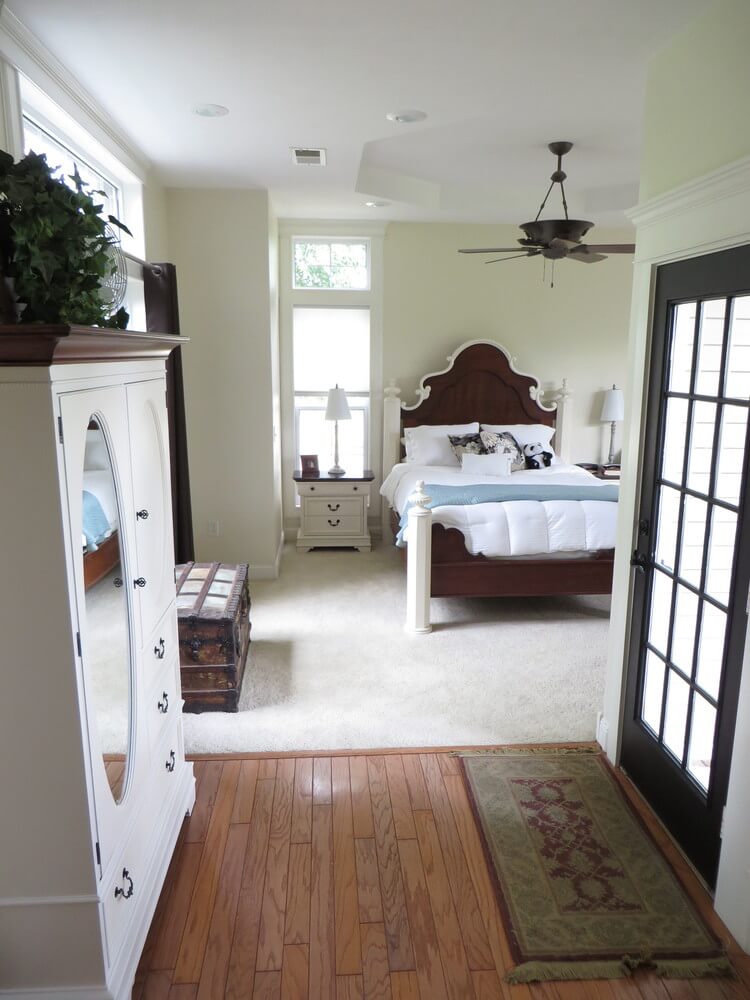 Some of us have been lucky enough to get furniture passed down from generation to generation. Unfortunately, it's not always in the best shape or up to date with the latest design trends. If you're on a budget, refinishing these vintage pieces can truly update your bedroom quite easily. Chalk paint is a popular paint used to refinish older pieces like this end table and armoire and staining wooden pieces can really take your furniture from drab to fab in minutes!
21. Bedroom Décor Ideas with Pops of Color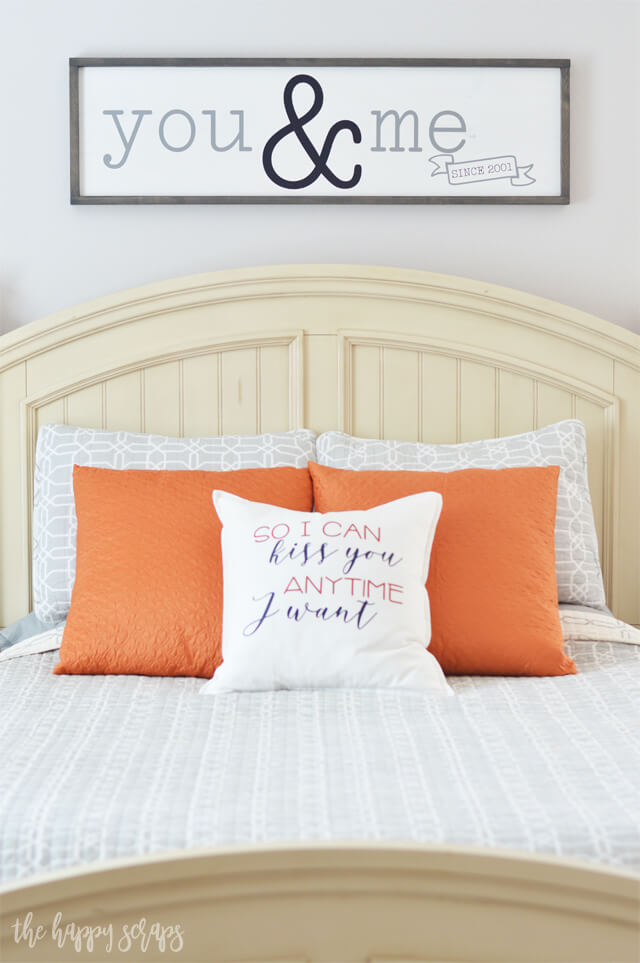 Orange is the perfect color that adds vibrancy and warms up your living space. It's the perfect pop of color that infuses your space with energy. The simple bedroom décor in this room is in an instant pick-me-up with the bright orange accent pillows and the natural wood headboard. The framed quote really compliments the design element here.
22. Delightfully Stylish Shabby Chic Retreat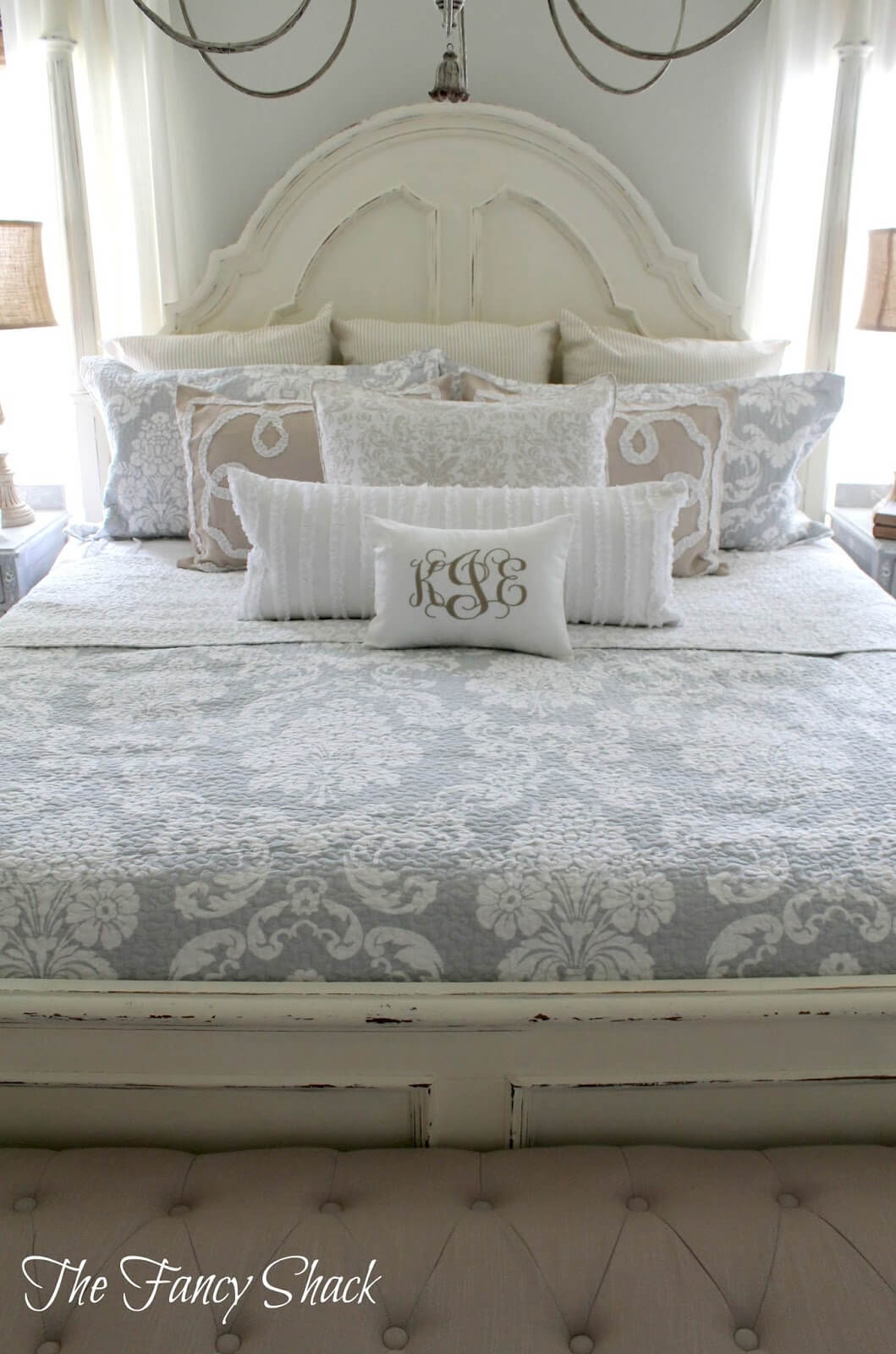 Shabby chic combines the design elements of a cottage style mixed with vintage charm. It's a budget-friendly theme using repurposed furniture and other objects to create a casual and feminine style. This bedroom reflects a warm and cozy contemporary theme with the printed bedding and distressed bed frame. The decorative pillows really complete this stylish shabby chic bedroom.
23. Wallpaper Accent Wall Featured in Master Bedroom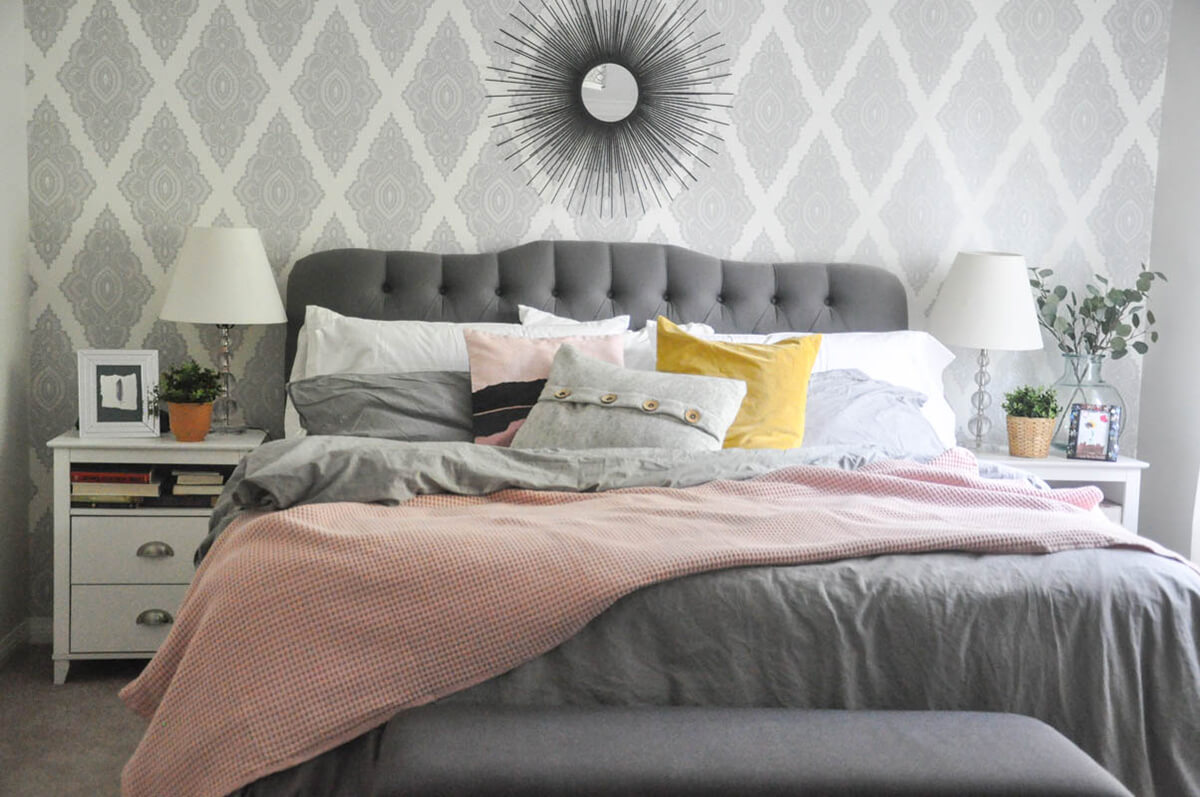 All of the trendy and cozy bedroom decor ideas recently always feature a main focal point and added elements to provide texture to the overall look of a room. The wallpaper is the main focal point here with most of the textured pieces scattered on the bed. Adding a textured throw cover like this waffle throw at the end of the bed and several accent pillows in a variety of colors and surfaces are key to achieving a comfy cozy space that isn't plain nor overwhelming.
24. How to Style Your Dresser Top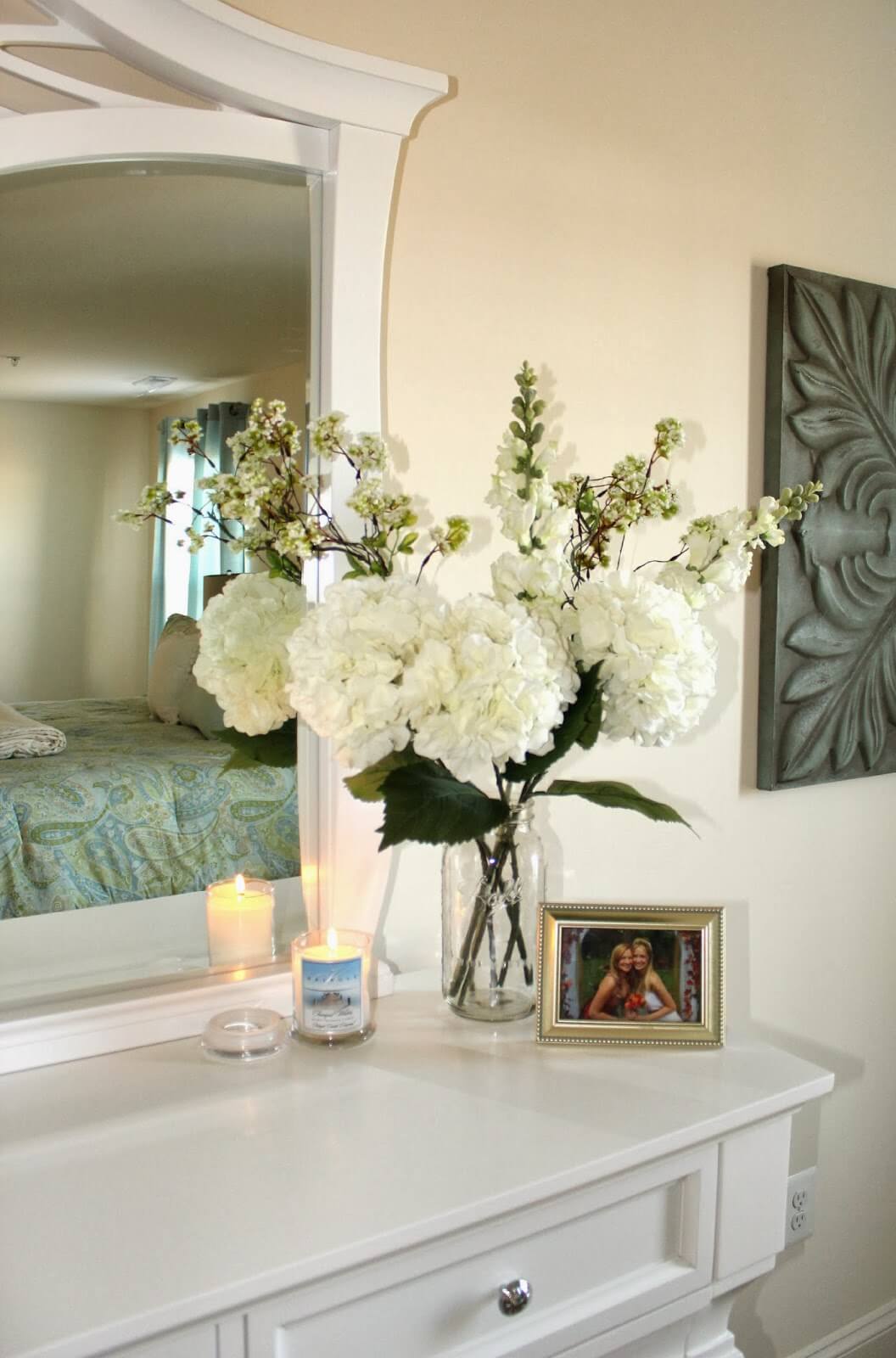 Your dresser is most likely the next largest piece of furniture after your bed. It plays a key element in styling your bedroom; however, the top of your dresser often times becomes a clutter zone. Start with a fresh, clean slate and remove all of the clutter then create a visually appealing display. Keep the displayed items at a minimum with a blend of tall and short feature pieces like this vase of flowers and frame. Throw in a candle to add lighting and a romantic touch that's both calming and relaxing.
25. Contemporary Sleek & Serene Master Bedroom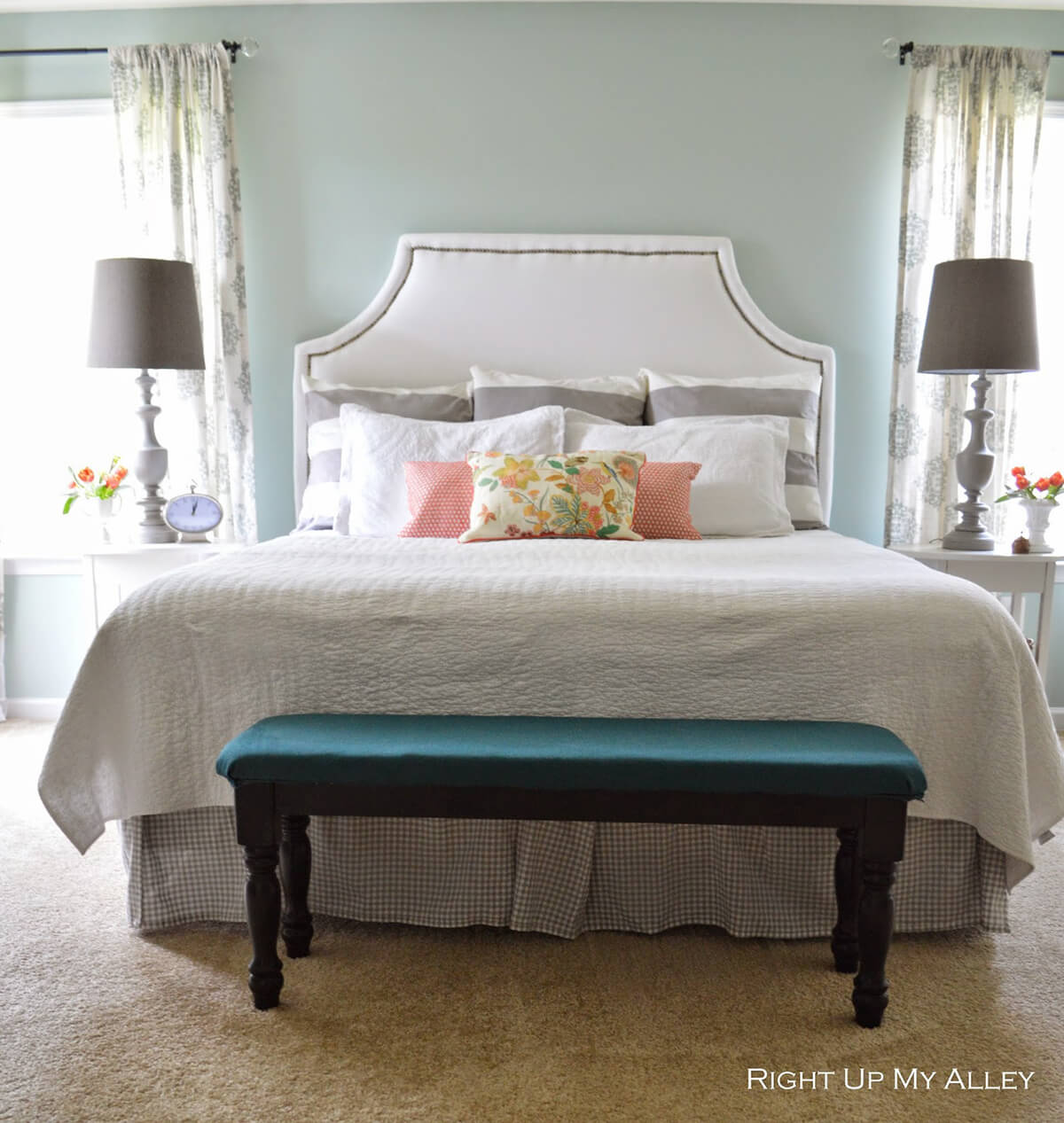 When people say contemporary design, they typically think of something that's basic and bland. With the right design elements, modern design can feel at home like the cozy décor featured in this room. The soft textures, warm, and minimal furnishings create an uncluttered spot for relaxation. The balance of this room is so sleek and serene you just want to stay in this homely space forever.
Our Favorite Farmhouse Furnitures to buy on Amazon