Here are some of the absolute best pallet furniture ideas for home decoration. These creative DIY projects feature wooden pallets in different sizes. Some of these projects are ideal for beginners while others require more technical expertise. The point is to have fun and let your creativity flourish. One of the great things about pallets of wood is that you can usually find them lying around behind a supermarket or distribution warehouse. Some companies recycle them while others simply throw them away. Some of the projects in this collection are constructed from reclaimed wood while others are obviously brand new and have never been used in any other application.
50 DIY Wood Pallet Furniture Projects Made Easy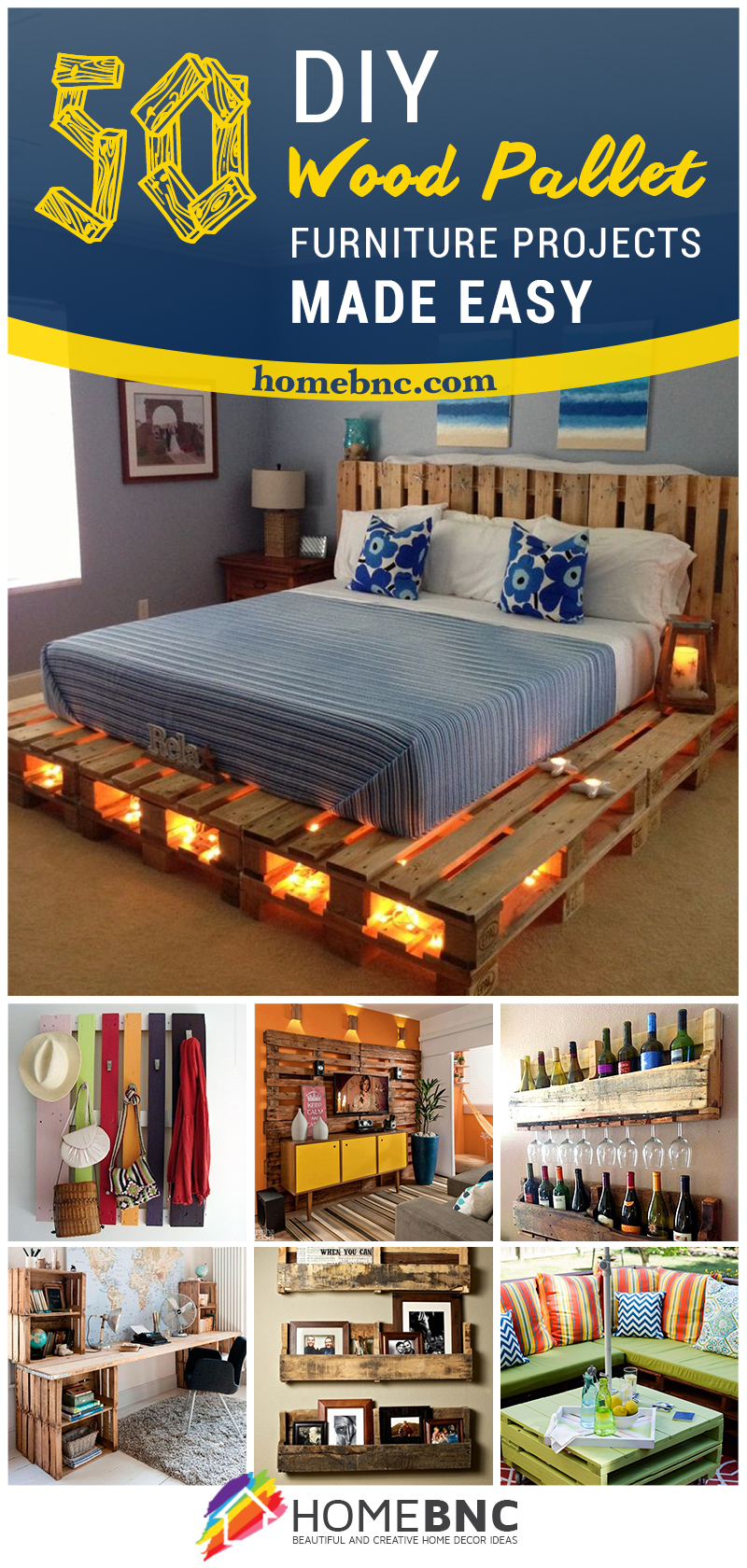 The best way to approach these pallet ideas is to be patient in the early stages. Gather the pallets you think you'll need. Is your project going to be an indoor or outdoor installation? Are you going for an industrial or rustic look? How many pallets do you think you'll need? Pallets might look simple, but they are not all created equal. Some have subtle variations that can throw your design off if you're not careful. Separate the pallets that you want to use in their entirety from the pallets that you will pull individual pieces from.
Custom wooden furniture can be expensive if you buy them ready-made at auction or from a gallery. So why not try your hand at it with materials that are readily available? You don't have to spend much money on accent pieces to match the wood and you can even pull pieces from other furniture items. Wood pallets are primarily meant for storage and shipping, so they can take a beating. That's great news for you because you want them to last for a long time. So start picking up some pallets and let these pallet ideas inspire you.
1. Easy Rustic Wood Shelving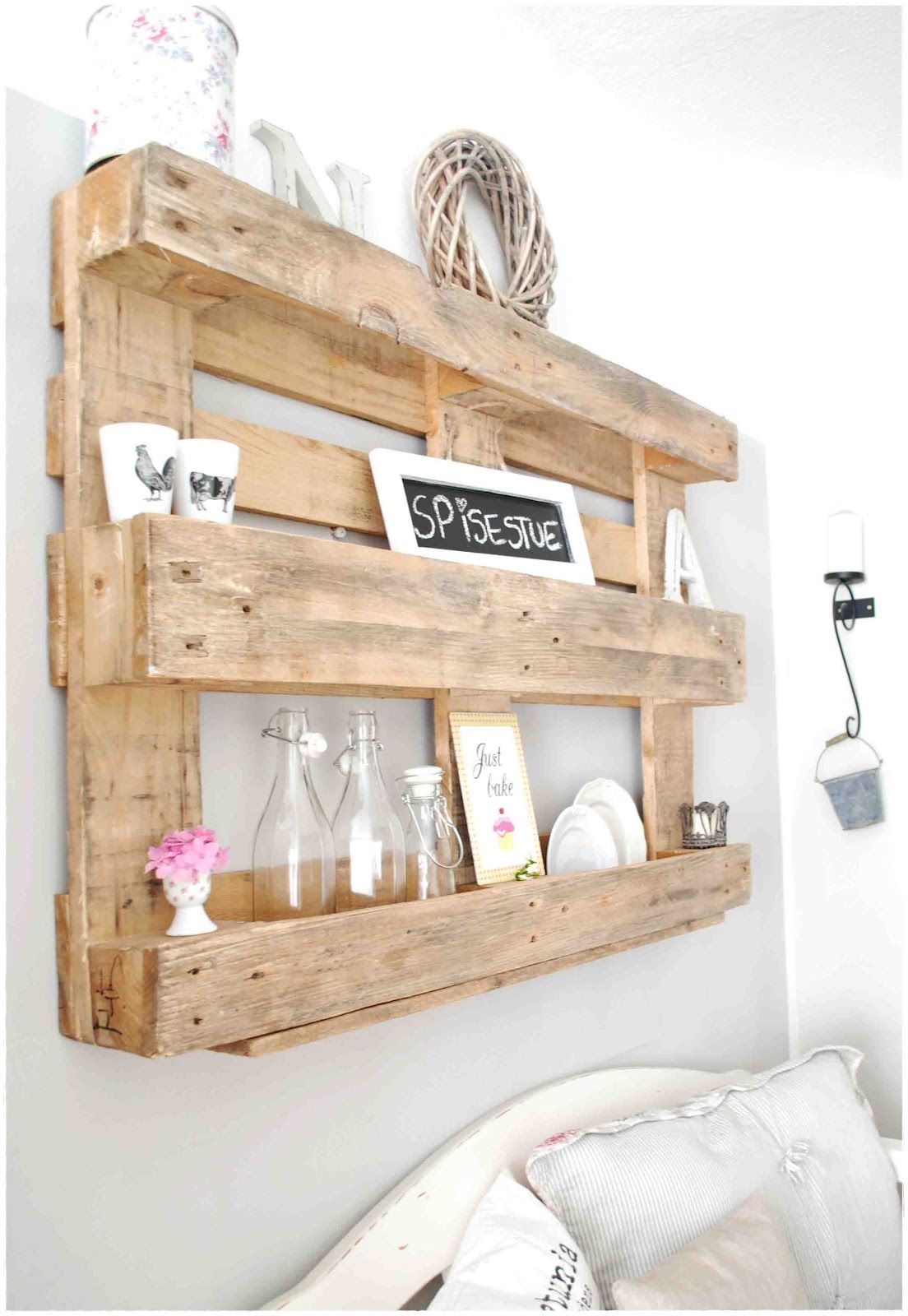 If you're a bit pressed for extra space, then try this simple and unique fix. Just a single pallet piece can be hung on your kitchen wall or over a bed to add extra storage and style. There's not much work involved in modifying the original pallet. You can paint the exterior to match the decor of a bedroom, stain the wood to give it an aged look or just keep it bare. No matter which option you choose, you'll pat yourself on the back for finding a low cost way to store books, bottles and knickknacks.
2. Japanese-Inspired Low Bed Frame Pallet Project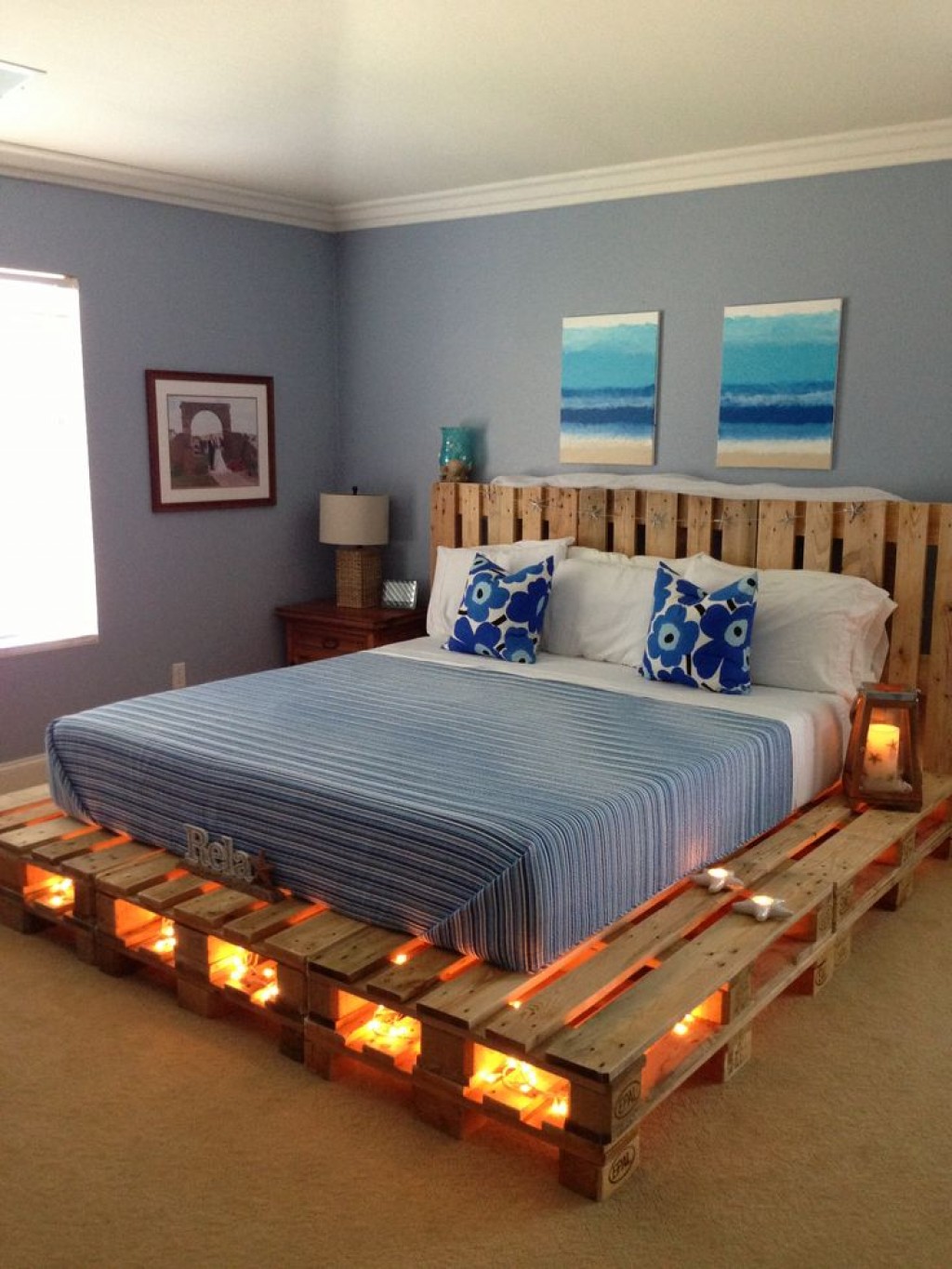 Buying a Japanese bed frame from a retail shop can be quite expensive. So why not just do it yourself. Wood pallets make the perfect stable platform. They are already low to the ground and can be arranged to suit the size of your mattress. King size, queen, twin, no problem. Just be sure not use any rotted wood pieces because any damage to the frame might go unnoticed for quite some time. Any leftover wooden planks can be converted into a headboard. Another really cool idea is to use flame-less candles to create a warm glowing effect that will have all of your house guests scratching their heads.
3. Rolling Patio Table With Umbrella Shade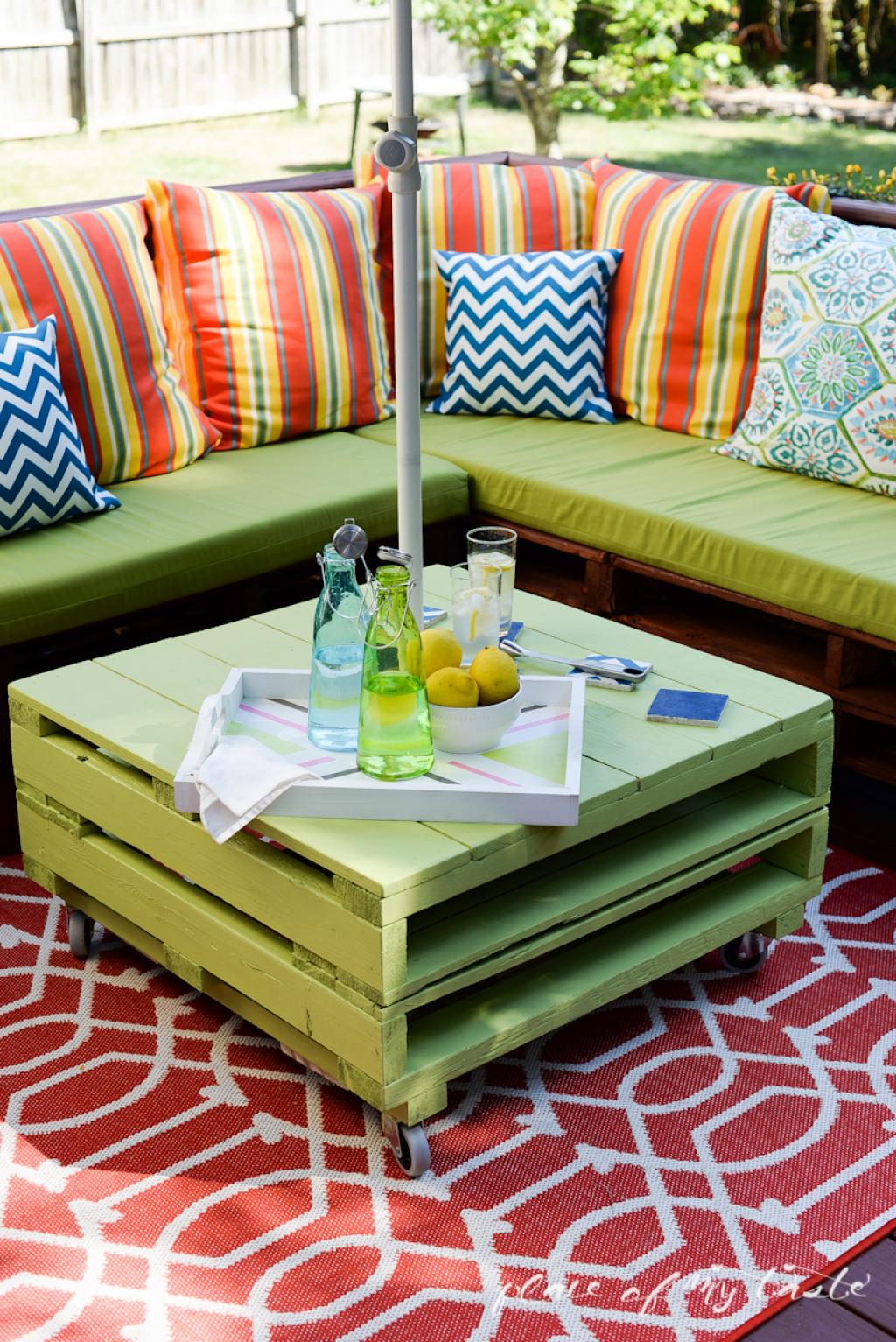 Pallet garden furniture is a great way to offset those soaring deck refurbishment costs you might have spent this Spring. Brand new patio furniture could be a waste of money because you never know how it will stand up to the weather. Wood pallets are the convenient and creative answer. Check out this small wooden table. It has caster wheels on the bottom so it can be placed just about anywhere and a slot for an umbrella shade that can be made with a hand drill. It's got storage space underneath the table top and you can paint it any color you like.
4. DIY Stowaway Pallet Kitchen Pallet Table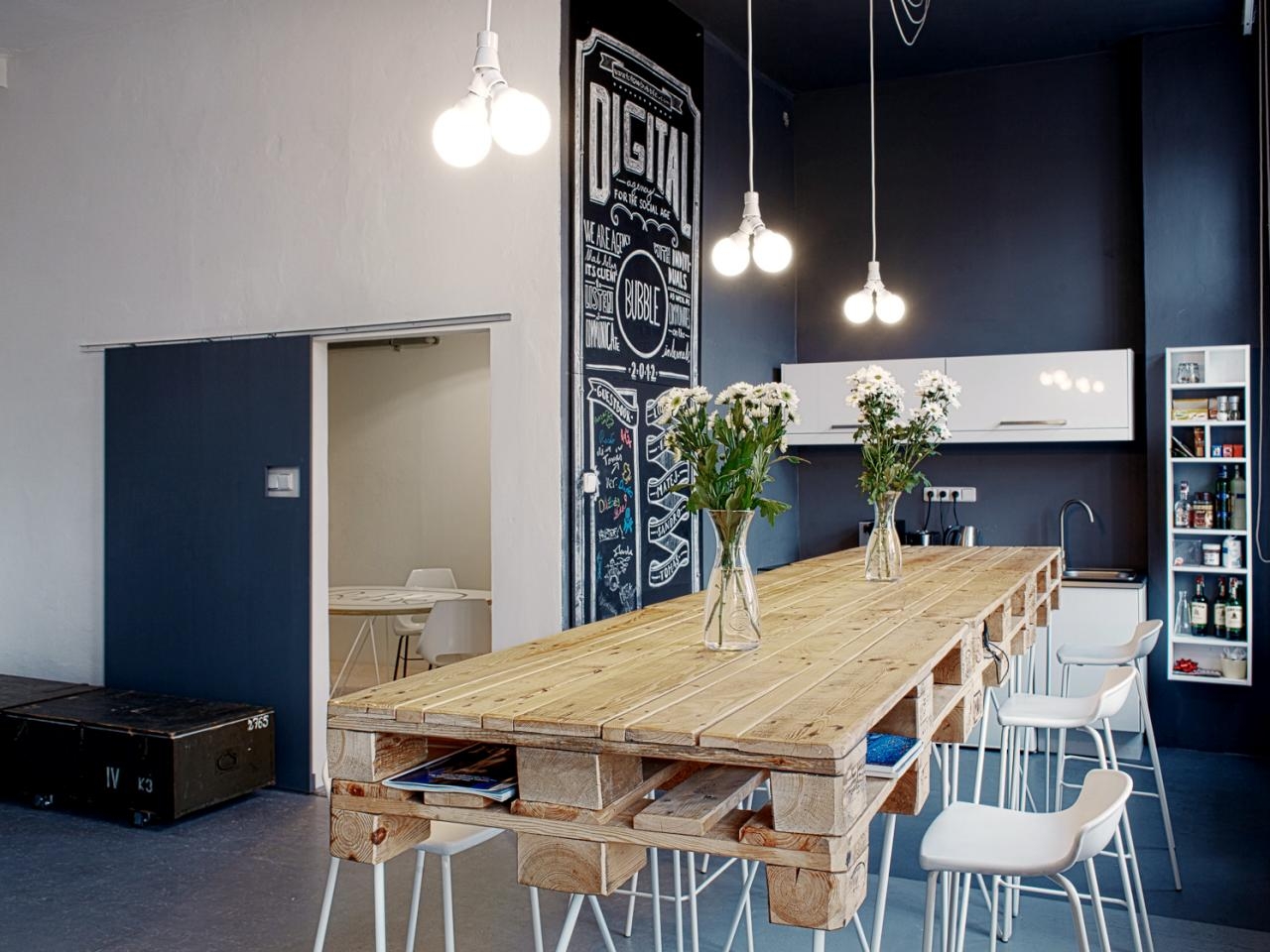 Have you ever priced a kitchen table that sits six to eight people? It's going to be expensive, but you can have some fun with this kitchen DIY project. The dining table is a focal point for your kitchen, but it shouldn't be too elegant if it's going to be used on a daily basis. This stowaway table is sturdy, has durable surfaces and can be used to store flatware when you're not using it. These aren't the type of pallets you'll find at the back of any supermarket. Be sure to use pallets that are primarily used for shipping. Their stronger than their light-weight counterparts.
5. Cozy Roll Away Daybed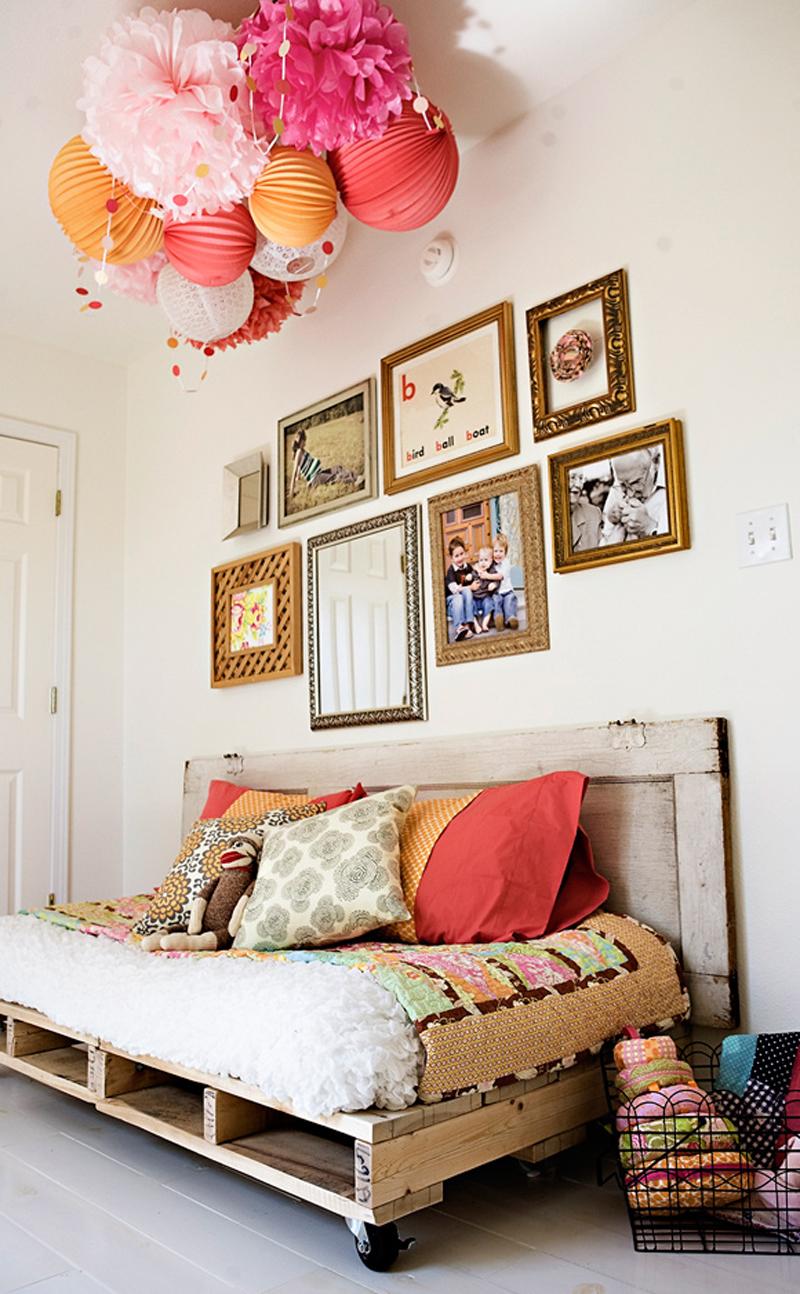 Here's a pallet furniture idea that's fun and easy to recreate. It's a rollaway daybed for reading or just lounging with your furry friends. The type of pallets used are relatively easy to find and light enough to carry and transport. Two single layer pallets should do the trick. You can buy rolling caster wheels from the local hardware store and most of your out-of-pocket costs are already done. Bridge the two pallets together with small scrap wooden blocks that your hardware specialist would be happy to give you free or at a steep discount. As with any bed frame project involving pallets, be sure to select pallets that don't have any rot or weather damage.
6. World Traveler Wooden Work Desk Pallet Furniture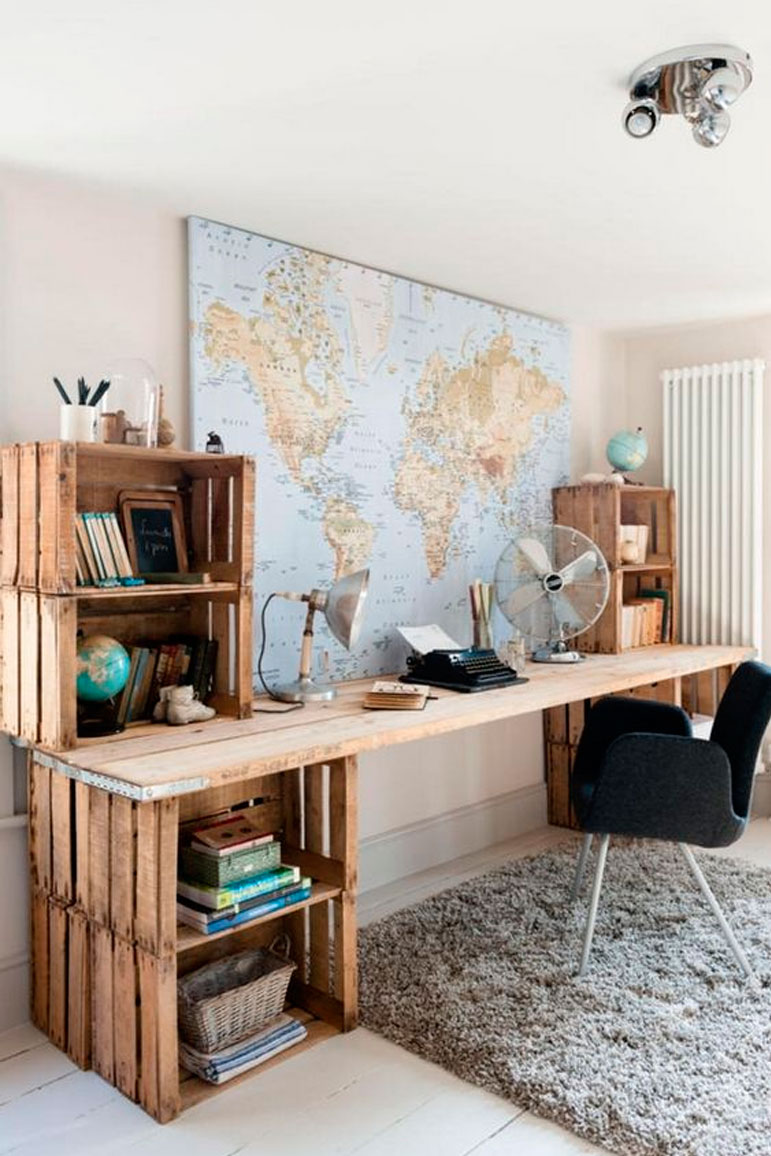 Give your home office some true character with this pallet furniture idea. It's got loads of personality. With this work desk decor, you don't need the most perfect pallets you can find. You're going to want some distressed pieces to give the overall effect of crates that just washed ashore on a remote tropical island. Be careful though. The main support crates should be the sturdiest pieces in the bunch, but you can use slightly warped or discolored pieces for the table top and higher shelves. If you have a bit more time, then you can stain fresh wood to achieve the same effect.
7. Wood Pallet Nook Table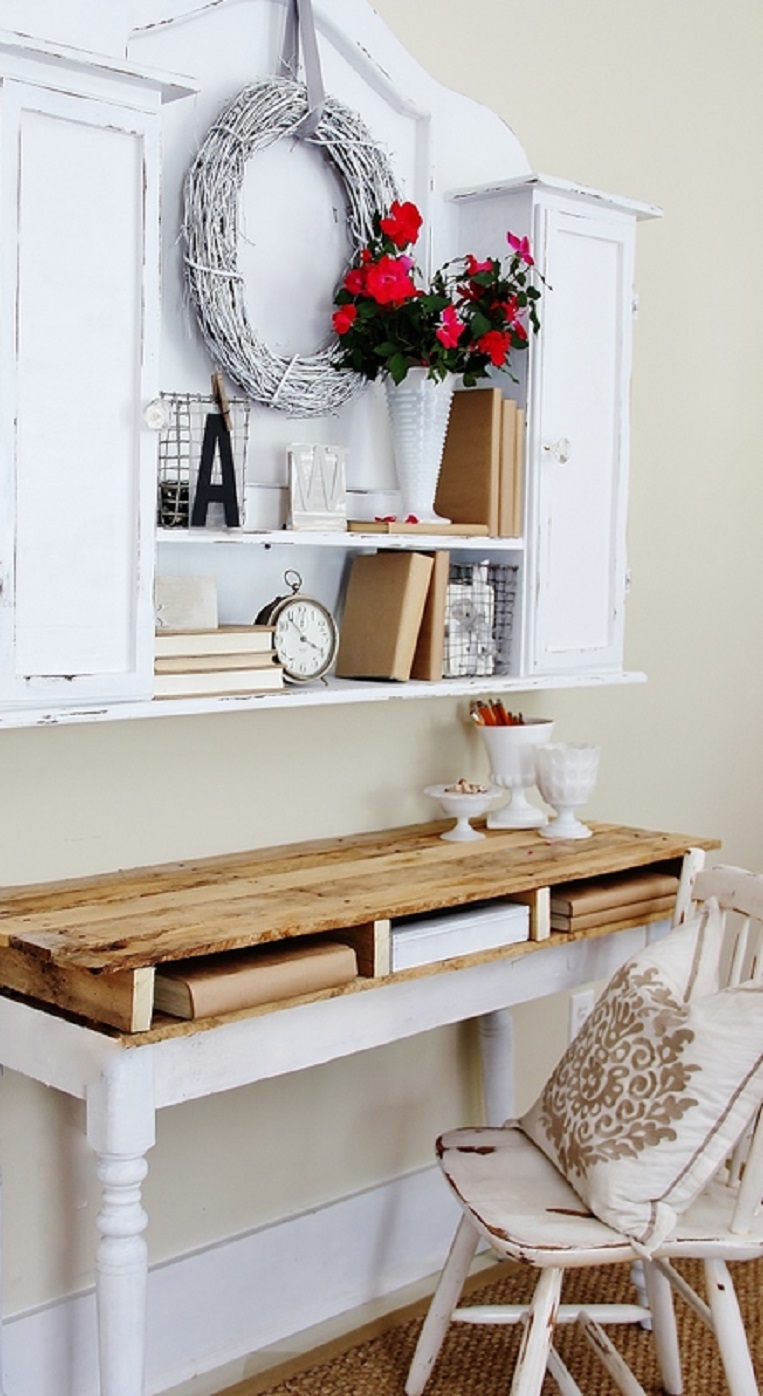 A nook table is a great way to fill an odd space in your home, especially if it's between your kitchen and your dining area. This creative nook table design features a wooden plank top. It's roughly half the size of a standard pallet, so you can even use the other half for a different home decor project. It's better to mount the pallet top to an existing table, and not the wall. This way you can transport it to another part of the house if need be. It's lightweight so you can secure it with wood glue to a small table that you can find at a local garage sale.
8. Reclaimed Wood Wall Clock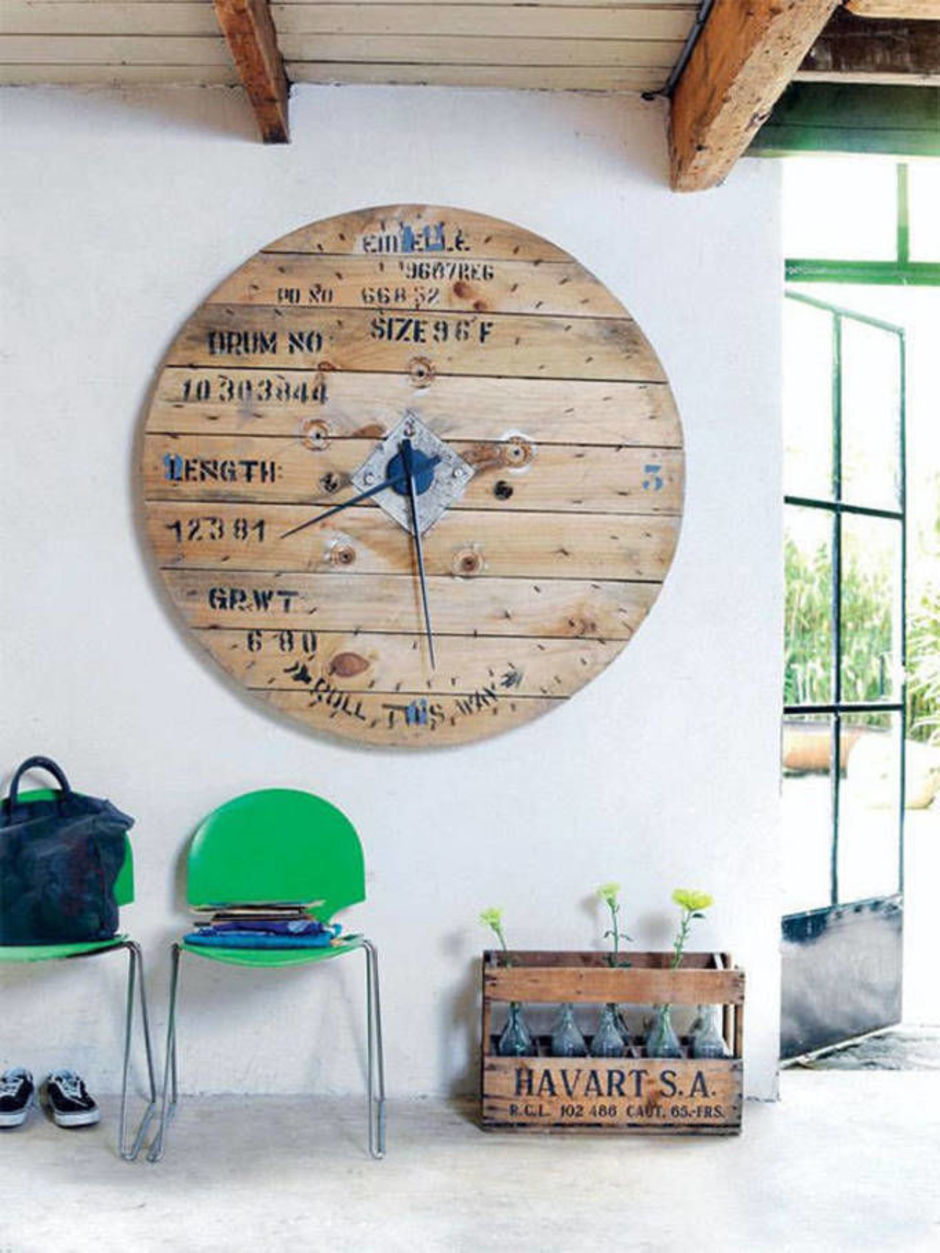 This is a more complex DIY pallet project that requires some time…pun intended. You can buy a clock-making kit online and at some hardware stores. First, focus on procuring different size pallets. Take the planks off and arrange them on the floor. You will need a skill saw to cut them at the precise angles to make a circular face for the clock. Next, clean and sand the wood to give it a smooth finish. Paint the numbers and notches for the dial and then integrate the clock with your clock-making kit. This design idea is a bit labor-intensive, but you'll certainly be proud of the finished product.
9. Homemade Living Room Wall Back Splash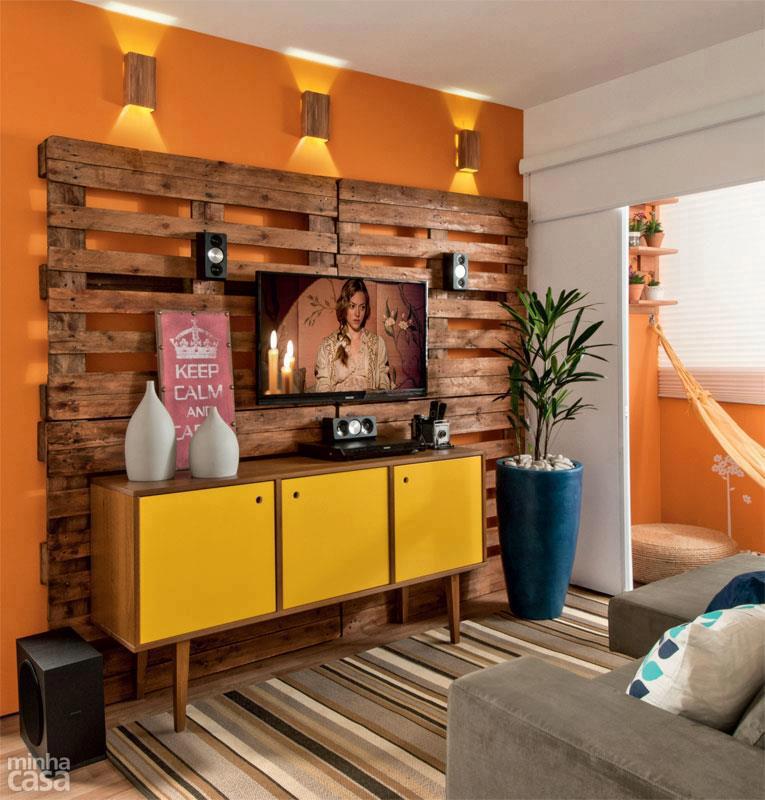 Here's a pallet furniture idea that only takes a few pallet pieces to recreate. This is an ideal project for beginners or someone who doesn't want to spend a lot of time on home design. This back splash has just four pallets of wood that are in great condition. Be selective and choose pallets that don't have any rotten parts or broken edges. Then, put a heavy, deep stain on the wood. The only thing left to do is affix it to the wall with nails or metal hangers. The great thing about this design is that it can trigger more pallet furniture ideas to complete the theme.
10. DIY Bohemian Back Bar
Is that the back bar at the new Bohemian restaurant? No, that's your dining room. This is a simple do it yourself project that doesn't require too much modification. The most important aspect of this build is finding enough pallets that are in good condition. Most shipping warehouses will be happy to give you a few pallets of wood, but they come as is. So be selective and patient to find about a dozen pallets in great condition. Clean and sand the wood and that's about it. You can use the spaces between the planks for storage and the tops to arrange wine glasses and bottles.
11. Decorative Wall Pictures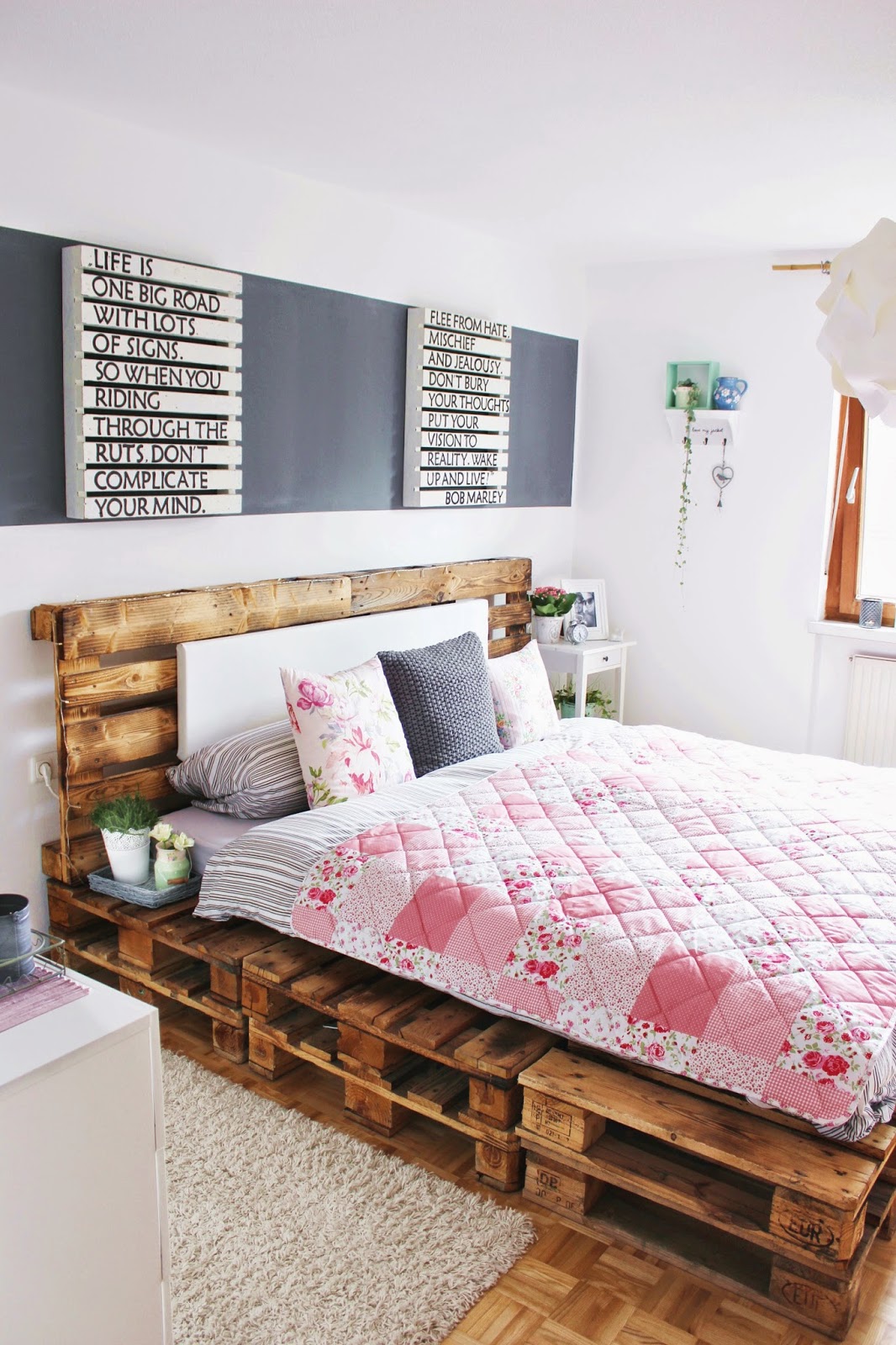 This is a great example of finishing a decor look with accent pieces. The wood pallet bed is beautiful with matching headboard, but did you notice the pictures on the wall? They're made out of the same material. They're simple to create and really allow you to let your creativity flourish. This isn't a very technical build, so don't focus too much on getting everything just right. Use a flat base paint and dark brushes to make a statement or connect two pieces together to make a disjointed image over each corner of the bed. Hang them just like a painting with brass or iron hooks on either end.
12. Glass-topped Rolling Coffee Table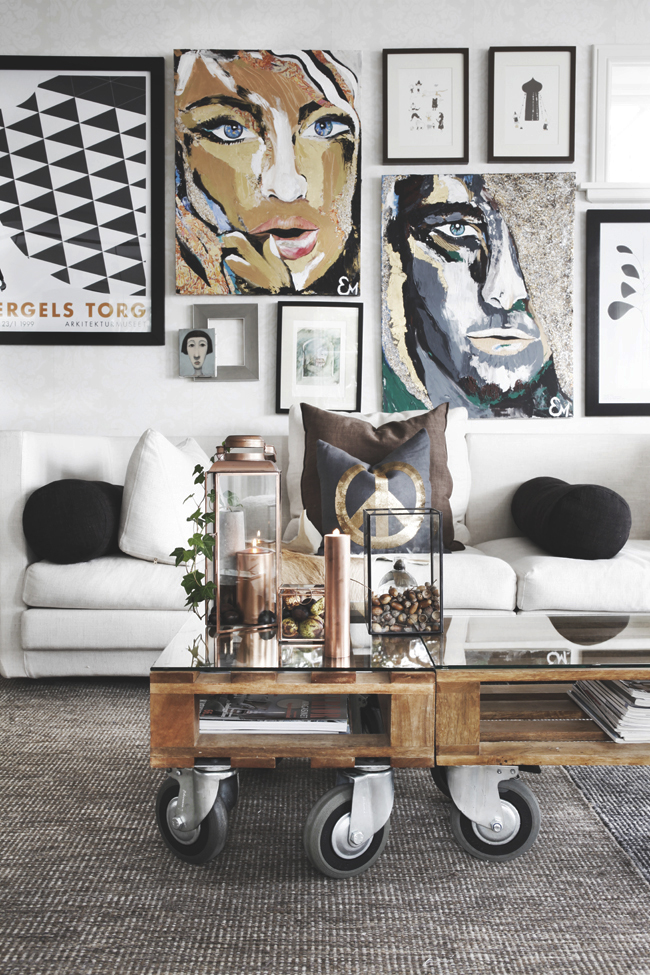 Here is one of the most popular pallet furniture ideas. It's a coffee table with caster rollers and glass table top. The best way to tackle this project, is to start with heavy duty pallets, not those lightweight ones. You can paint the wood, stain it or leave it bare. It's totally up to you. Affix the wheels with screws at all four corners, but you might have to shop around for a glass top that will fit your length and width. You can also start with the glass top and cut the pallets to fit. That's if you know your way around a skill saw.
13. Feng Shui Garden Wall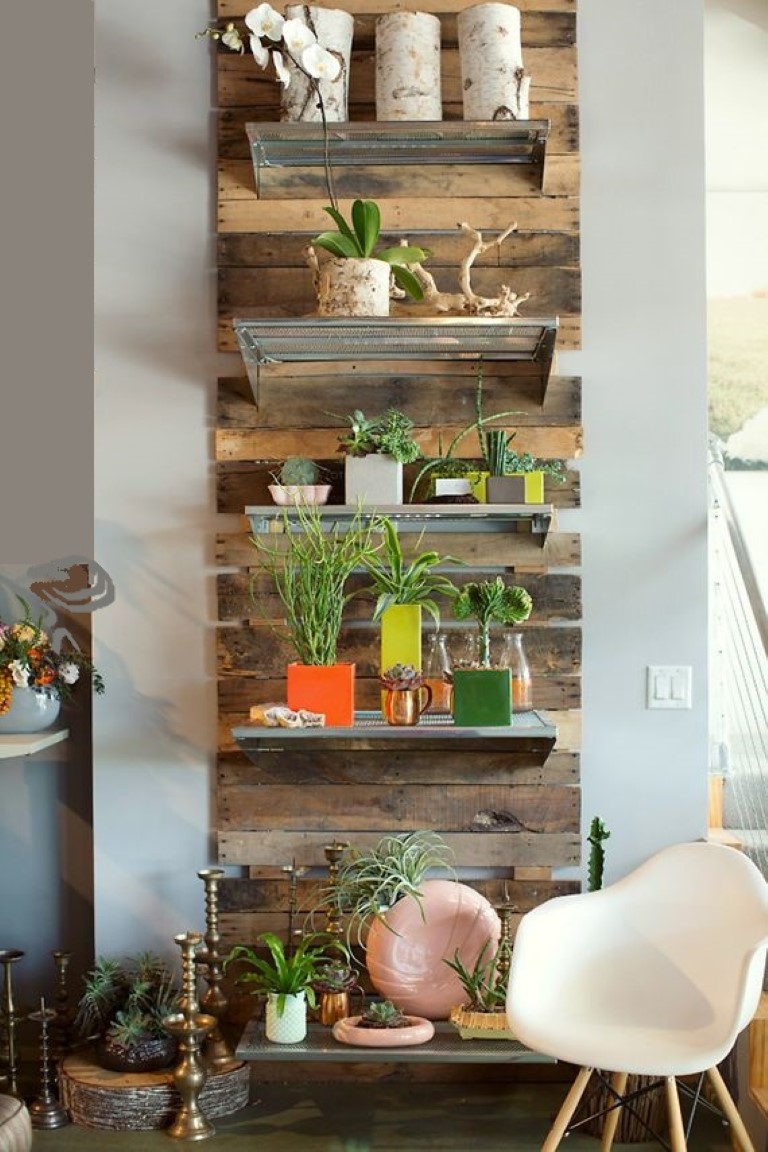 The concept of feng shui is all about harmony and balance. That's exactly what's happening in this image. The pallets of the back splash draw your attention away for just a moment, just long enough to notice the green sprigs of color from this small, manageable garden. How do you get a pallet of wood to unfurl like that? Well, you're going to have to deconstruct it. This is a deceptive do-it-yourself build because the panels conceal wooden runners that probably run the entire height of the piece. Then, planks from a pallets are nailed in place over the top of it.
14. Wooden Kitchen Bench with Matching Back Splash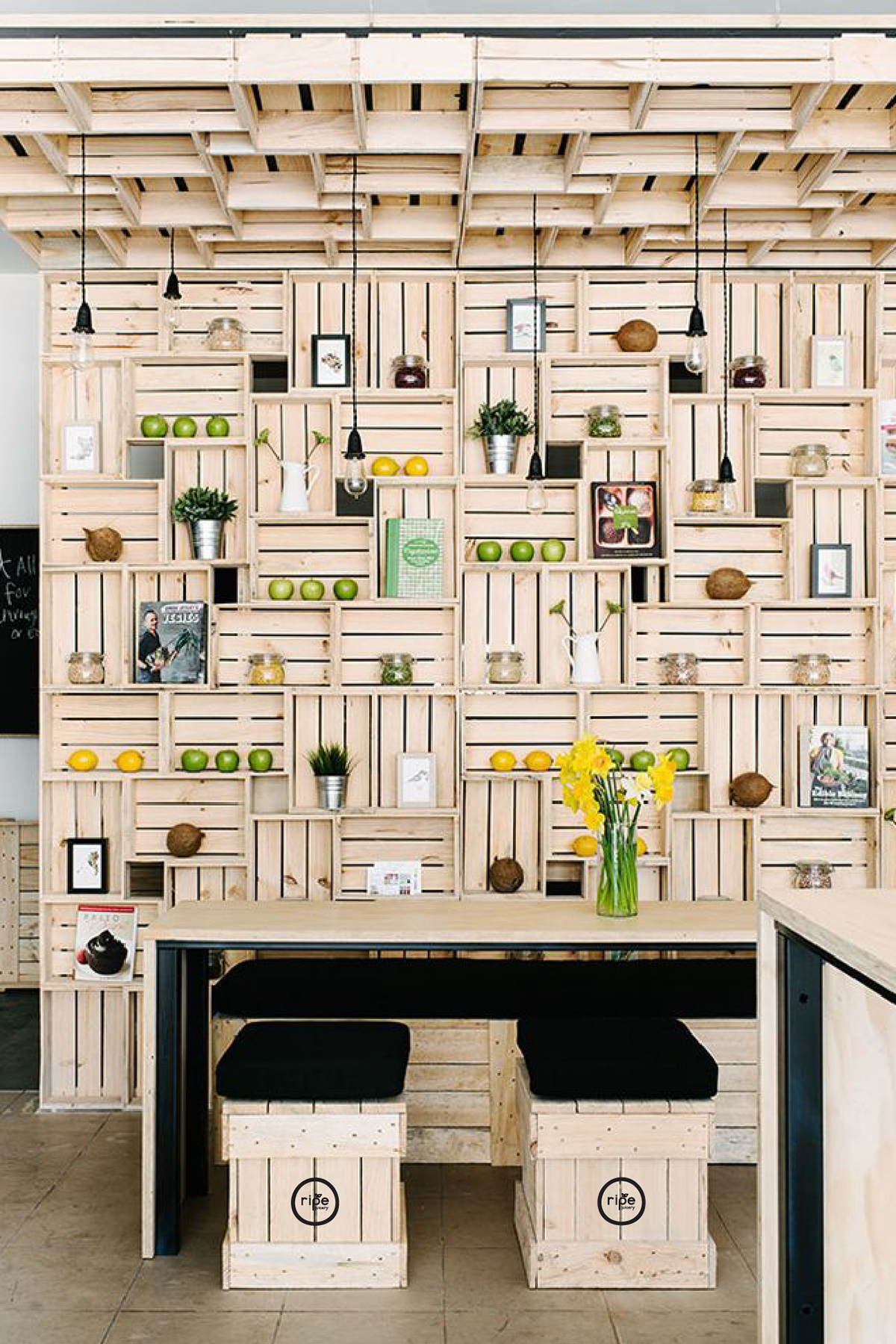 This kitchen decor project is super busy. There's a lot to unpack here. First, there's a wealth of pallets here. Some planks are going in different directions so each section was made separately. The ceiling piece has old-fashioned light bulbs extending from the crates and the backsplash is filled with cubbies and compartments. It all flows down to a kitchen bench with matching table and chairs. Although everything flows together, the image is a bit too much on the eyes. For your project, you might want to break up the backsplash into several different pieces so it doesn't just all run together.
More pallet furniture design ideas on the next page…