Here are some of the absolute best pallet furniture ideas for home decoration. These creative DIY projects feature wooden pallets in different sizes. Some of these projects are ideal for beginners while others require more technical expertise. The point is to have fun and let your creativity flourish. One of the great things about pallets of wood is that you can usually find them lying around behind a supermarket or distribution warehouse. Some companies recycle them while others simply throw them away. Some of the projects in this collection are constructed from reclaimed wood while others are obviously brand new and have never been used in any other application.
50 DIY Wood Pallet Furniture Projects Made Easy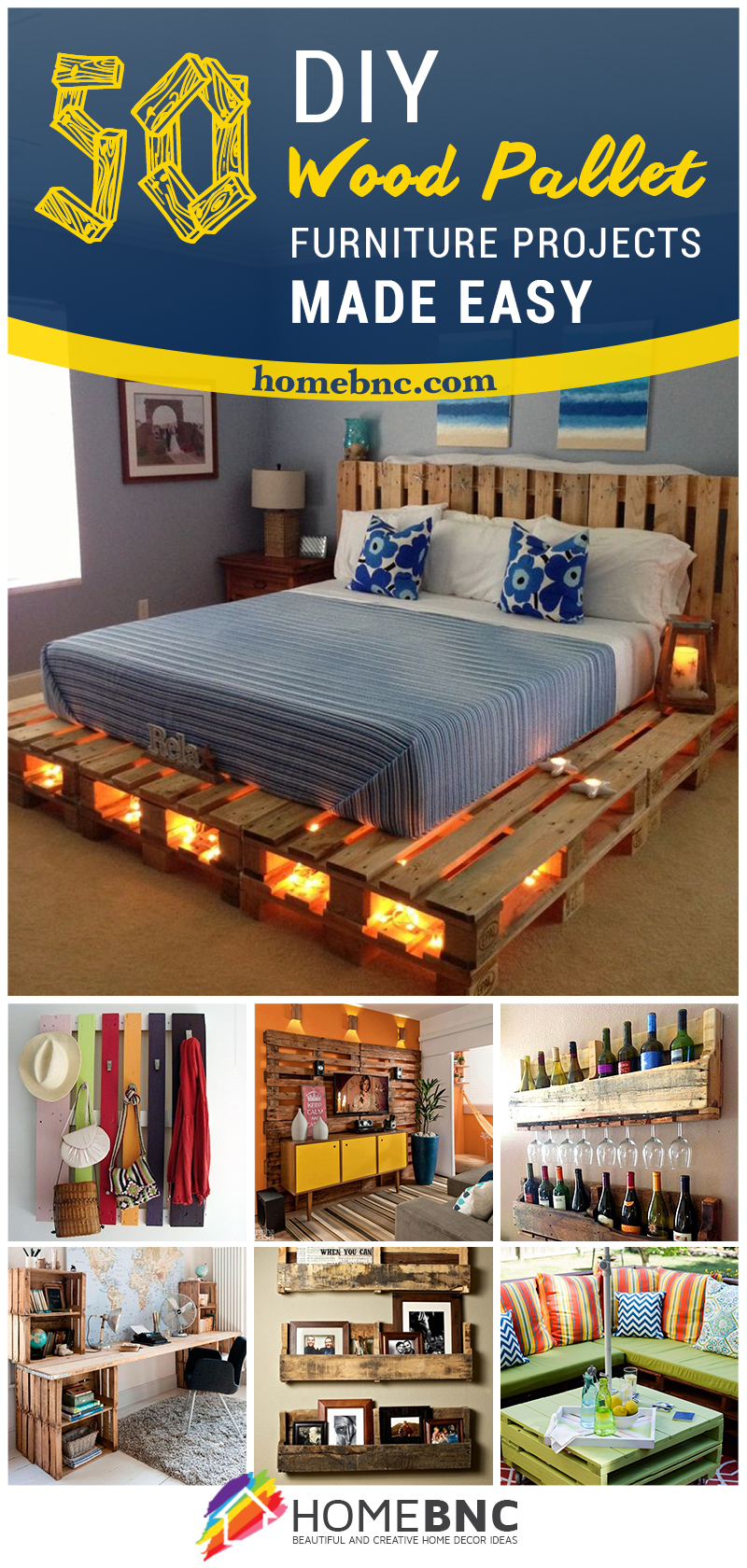 The best way to approach these pallet ideas is to be patient in the early stages. Gather the pallets you think you'll need. Is your project going to be an indoor or outdoor installation? Are you going for an industrial or rustic look? How many pallets do you think you'll need? Pallets might look simple, but they are not all created equal. Some have subtle variations that can throw your design off if you're not careful. Separate the pallets that you want to use in their entirety from the pallets that you will pull individual pieces from.
Custom wooden furniture can be expensive if you buy them ready-made at auction or from a gallery. So why not try your hand at it with materials that are readily available? You don't have to spend much money on accent pieces to match the wood and you can even pull pieces from other furniture items. Wood pallets are primarily meant for storage and shipping, so they can take a beating. That's great news for you because you want them to last for a long time. So start picking up some pallets and let these pallet ideas inspire you.
1. Easy Rustic Wood Shelving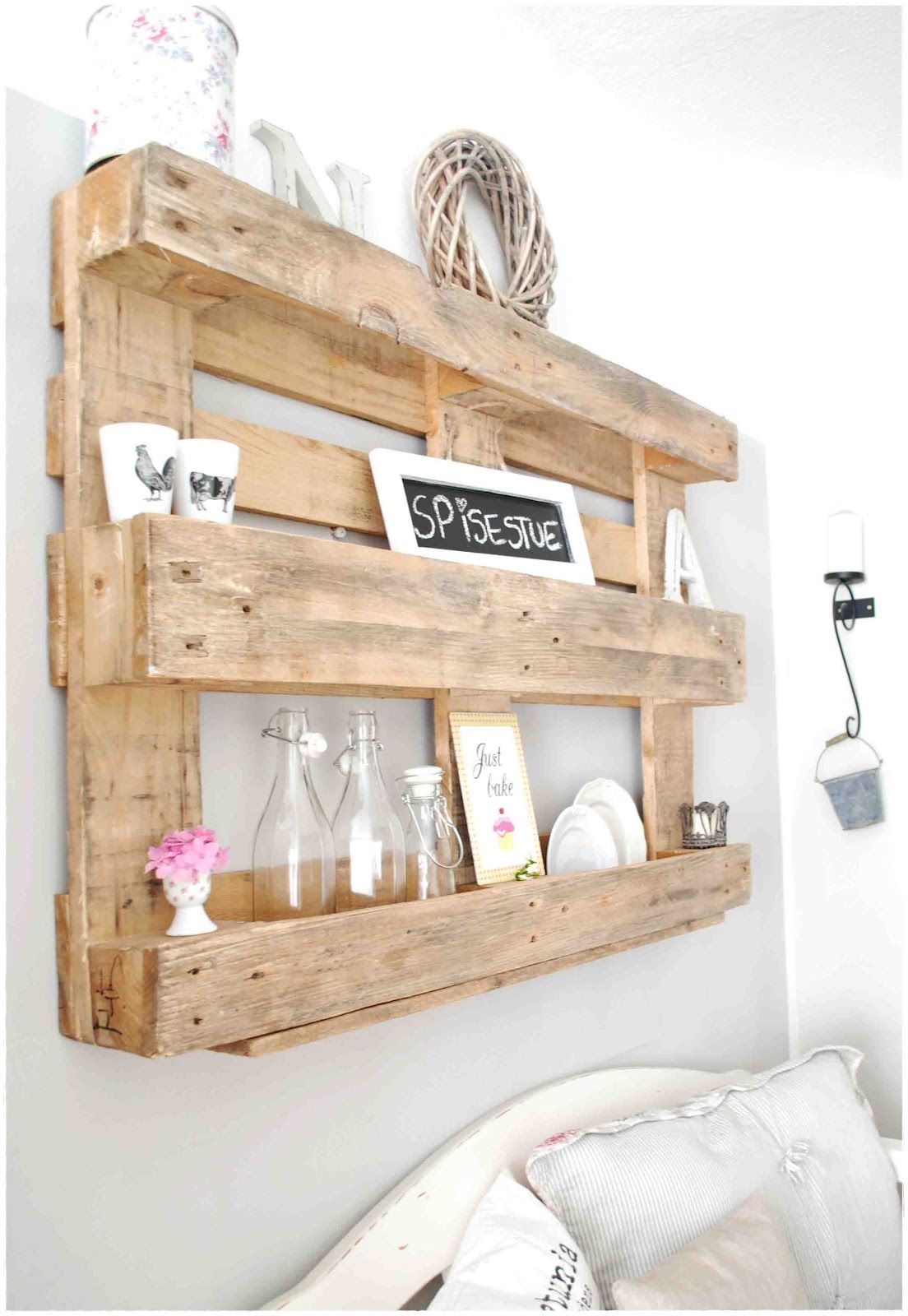 Source: The original source is not available anymore.
If you're a bit pressed for extra space, then try this simple and unique fix. Just a single pallet piece can be hung on your kitchen wall or over a bed to add extra storage and style. There's not much work involved in modifying the original pallet. You can paint the exterior to match the decor of a bedroom, stain the wood to give it an aged look or just keep it bare. No matter which option you choose, you'll pat yourself on the back for finding a low cost way to store books, bottles and knickknacks.
2. Japanese-Inspired Low Bed Frame Pallet Project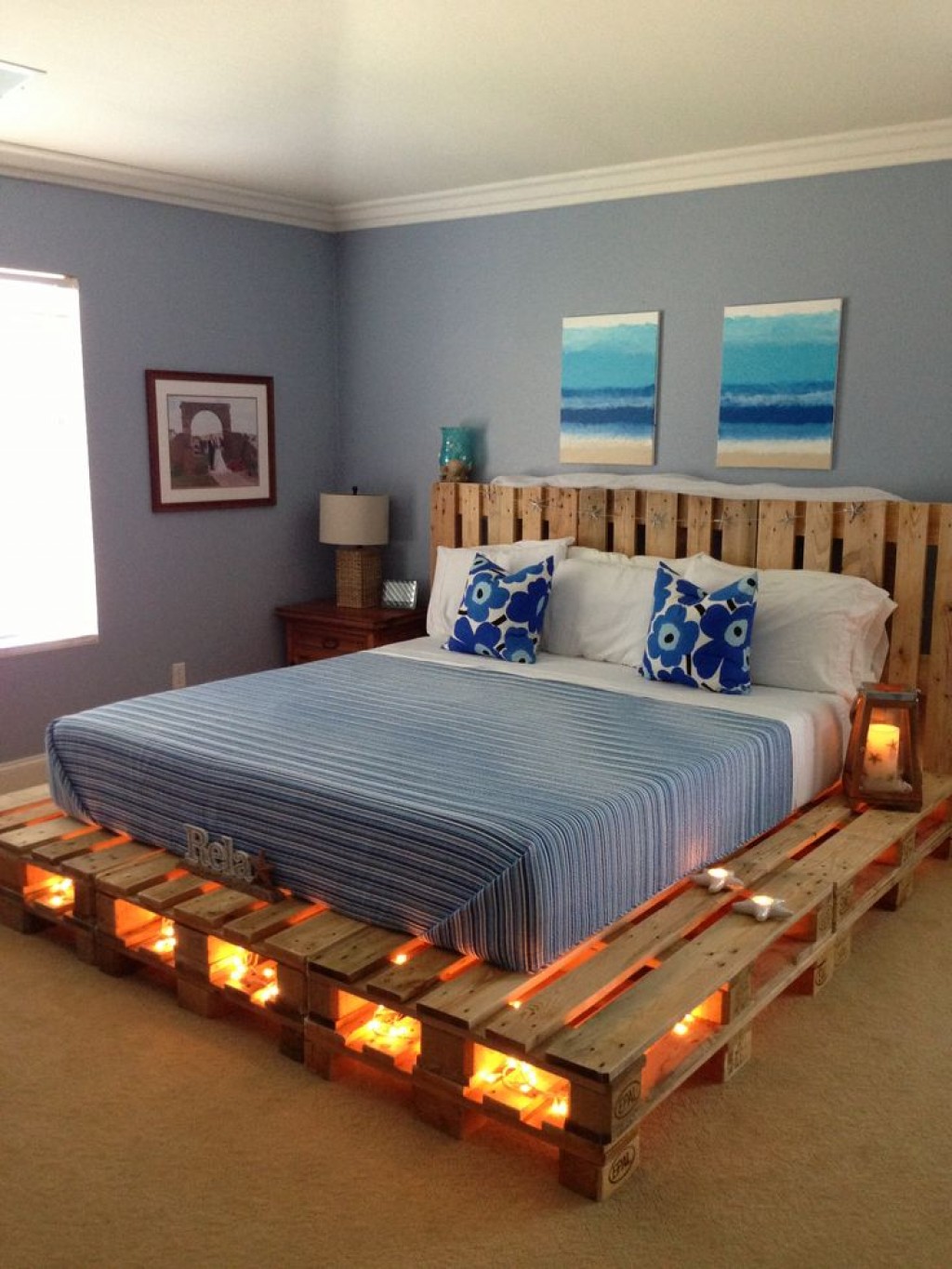 Source: The original source is not available anymore.
Buying a Japanese bed frame from a retail shop can be quite expensive. So why not just do it yourself. Wood pallets make the perfect stable platform. They are already low to the ground and can be arranged to suit the size of your mattress. King size, queen, twin, no problem. Just be sure not use any rotted wood pieces because any damage to the frame might go unnoticed for quite some time. Any leftover wooden planks can be converted into a headboard. Another really cool idea is to use flame-less candles to create a warm glowing effect that will have all of your house guests scratching their heads.
3. Rolling Patio Table With Umbrella Shade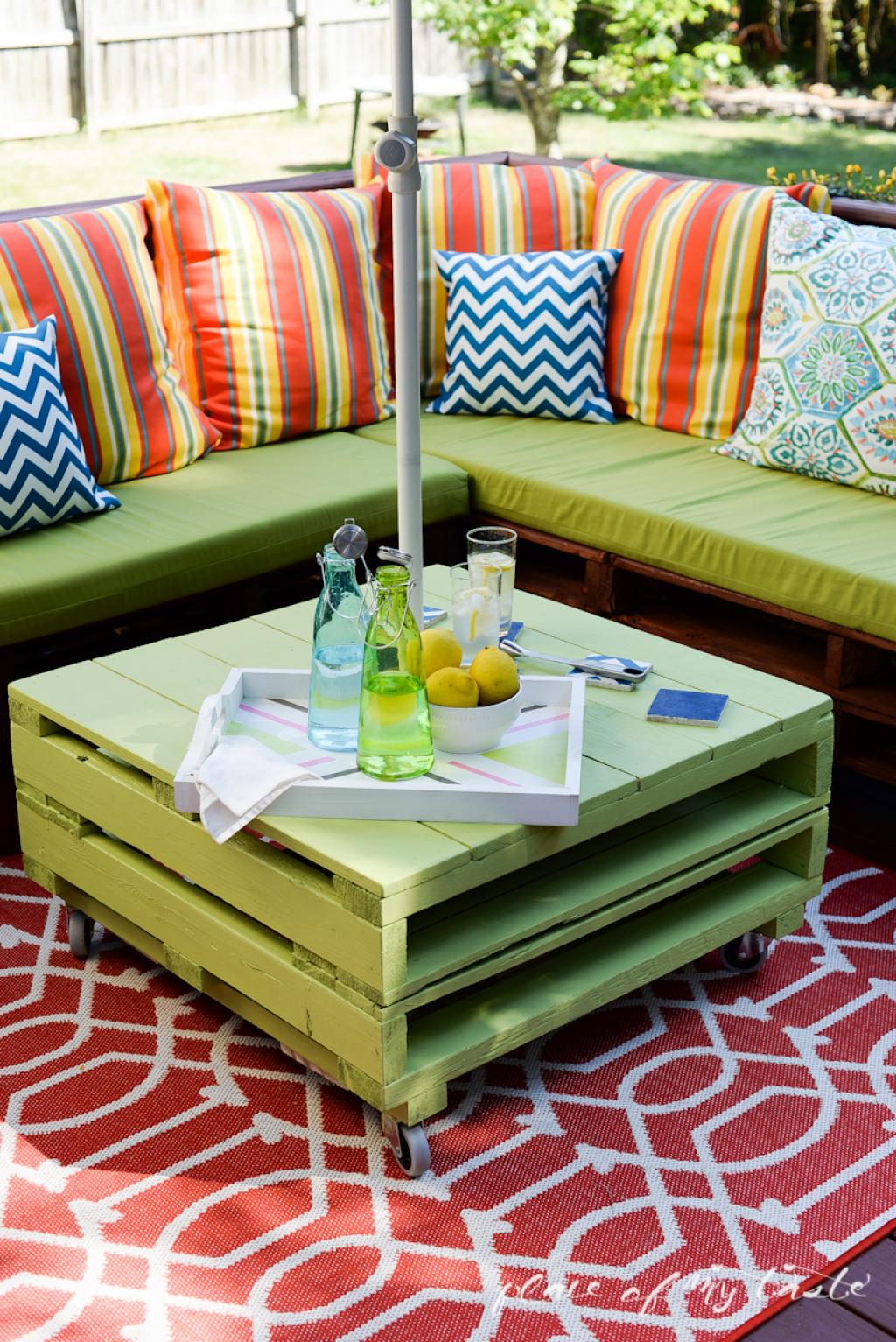 Source: The original source is not available anymore.
Pallet garden furniture is a great way to offset those soaring deck refurbishment costs you might have spent this Spring. Brand new patio furniture could be a waste of money because you never know how it will stand up to the weather. Wood pallets are the convenient and creative answer. Check out this small wooden table. It has caster wheels on the bottom so it can be placed just about anywhere and a slot for an umbrella shade that can be made with a hand drill. It's got storage space underneath the table top and you can paint it any color you like.
4. DIY Stowaway Pallet Kitchen Pallet Table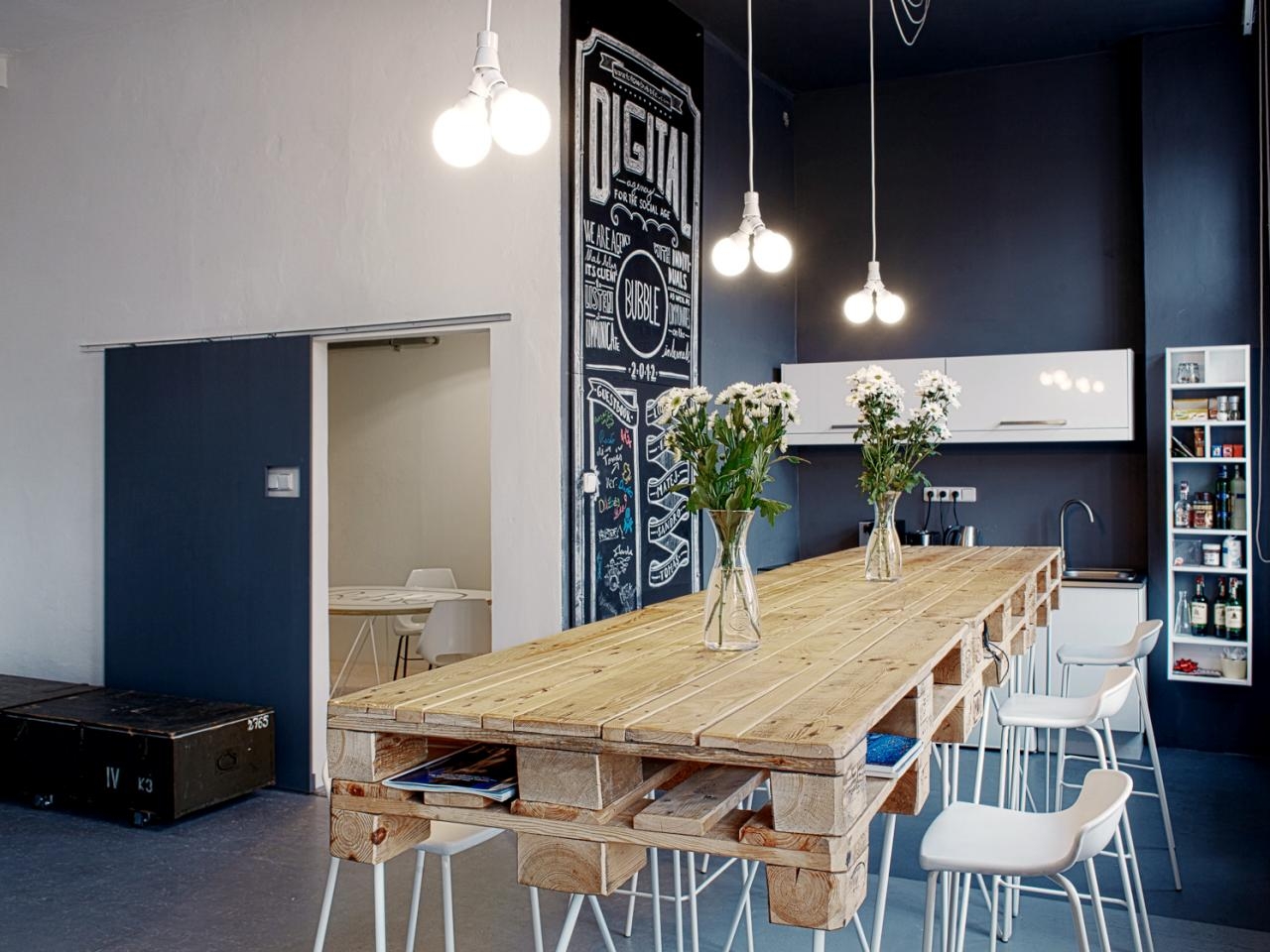 Source: The original source is not available anymore.
Have you ever priced a kitchen table that sits six to eight people? It's going to be expensive, but you can have some fun with this kitchen DIY project. The dining table is a focal point for your kitchen, but it shouldn't be too elegant if it's going to be used on a daily basis. This stowaway table is sturdy, has durable surfaces and can be used to store flatware when you're not using it. These aren't the type of pallets you'll find at the back of any supermarket. Be sure to use pallets that are primarily used for shipping. Their stronger than their light-weight counterparts.
5. Cozy Roll Away Daybed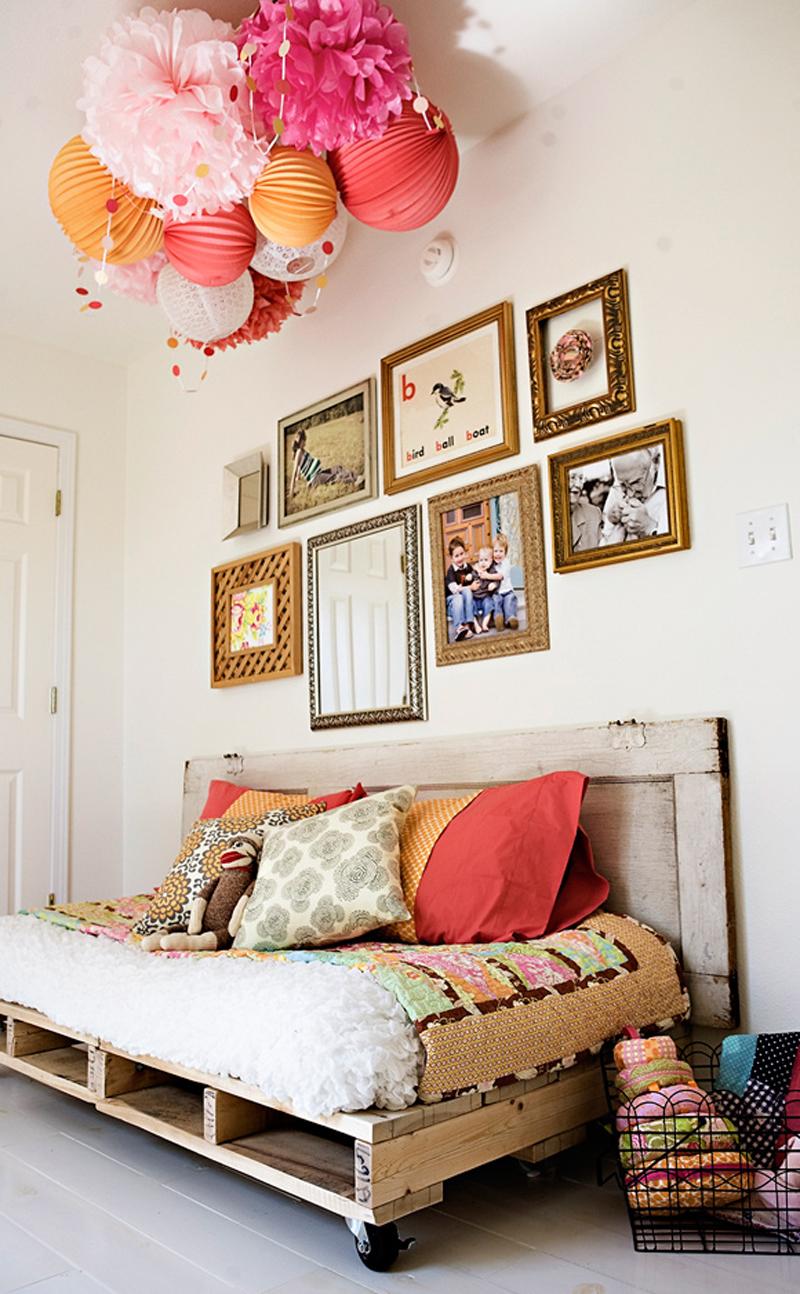 Here's a pallet furniture idea that's fun and easy to recreate. It's a rollaway daybed for reading or just lounging with your furry friends. The type of pallets used are relatively easy to find and light enough to carry and transport. Two single layer pallets should do the trick. You can buy rolling caster wheels from the local hardware store and most of your out-of-pocket costs are already done. Bridge the two pallets together with small scrap wooden blocks that your hardware specialist would be happy to give you free or at a steep discount. As with any bed frame project involving pallets, be sure to select pallets that don't have any rot or weather damage.
6. World Traveler Wooden Work Desk Pallet Furniture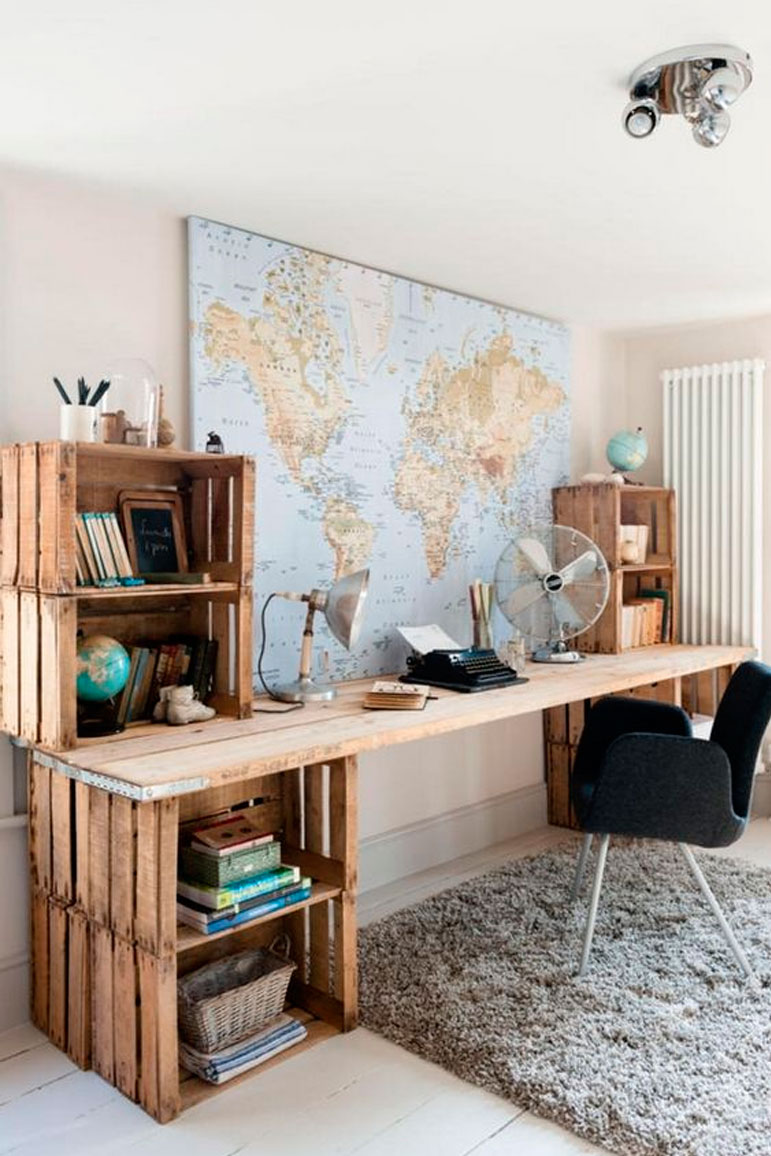 Source: The original source is not available anymore.
Give your home office some true character with this pallet furniture idea. It's got loads of personality. With this work desk decor, you don't need the most perfect pallets you can find. You're going to want some distressed pieces to give the overall effect of crates that just washed ashore on a remote tropical island. Be careful though. The main support crates should be the sturdiest pieces in the bunch, but you can use slightly warped or discolored pieces for the table top and higher shelves. If you have a bit more time, then you can stain fresh wood to achieve the same effect.
7. Wood Pallet Nook Table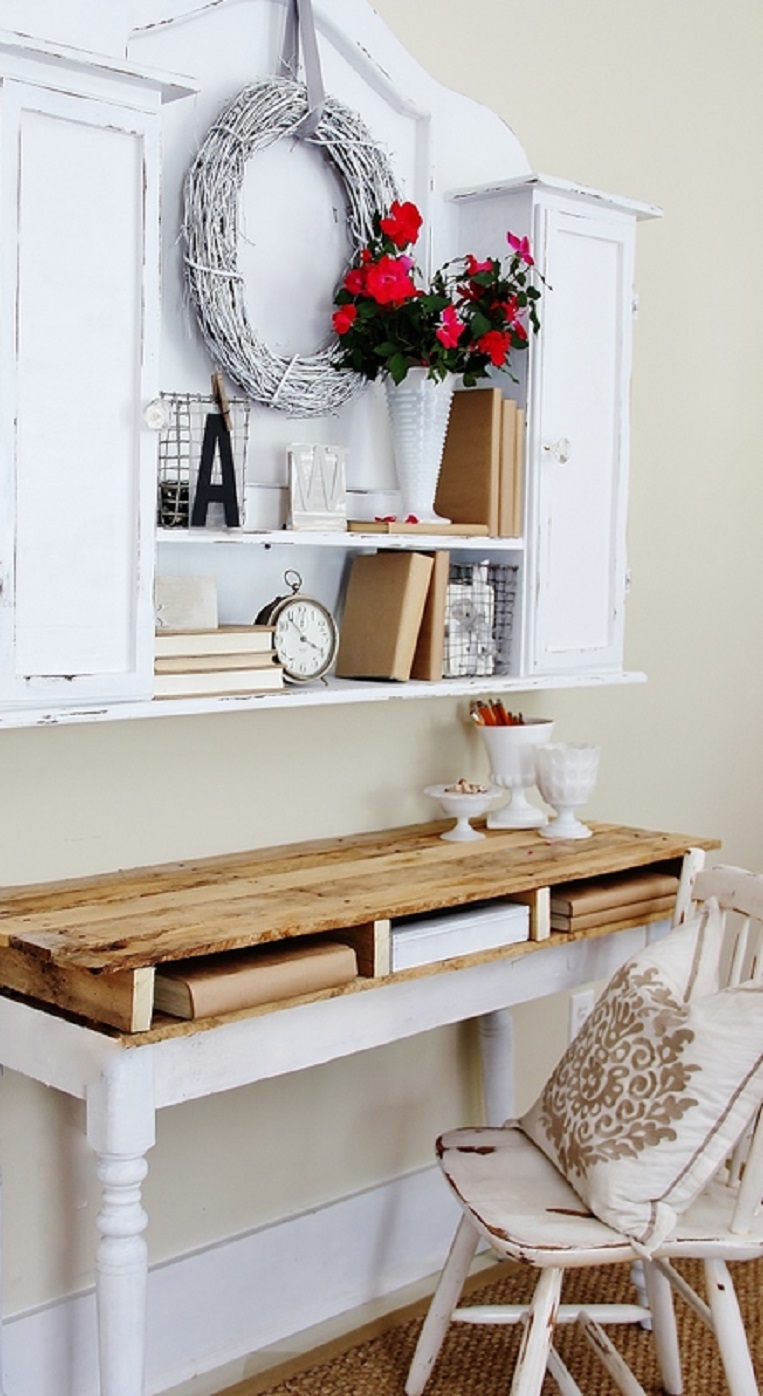 Source: The original source is not available anymore.
A nook table is a great way to fill an odd space in your home, especially if it's between your kitchen and your dining area. This creative nook table design features a wooden plank top. It's roughly half the size of a standard pallet, so you can even use the other half for a different home decor project. It's better to mount the pallet top to an existing table, and not the wall. This way you can transport it to another part of the house if need be. It's lightweight so you can secure it with wood glue to a small table that you can find at a local garage sale.
8. Reclaimed Wood Wall Clock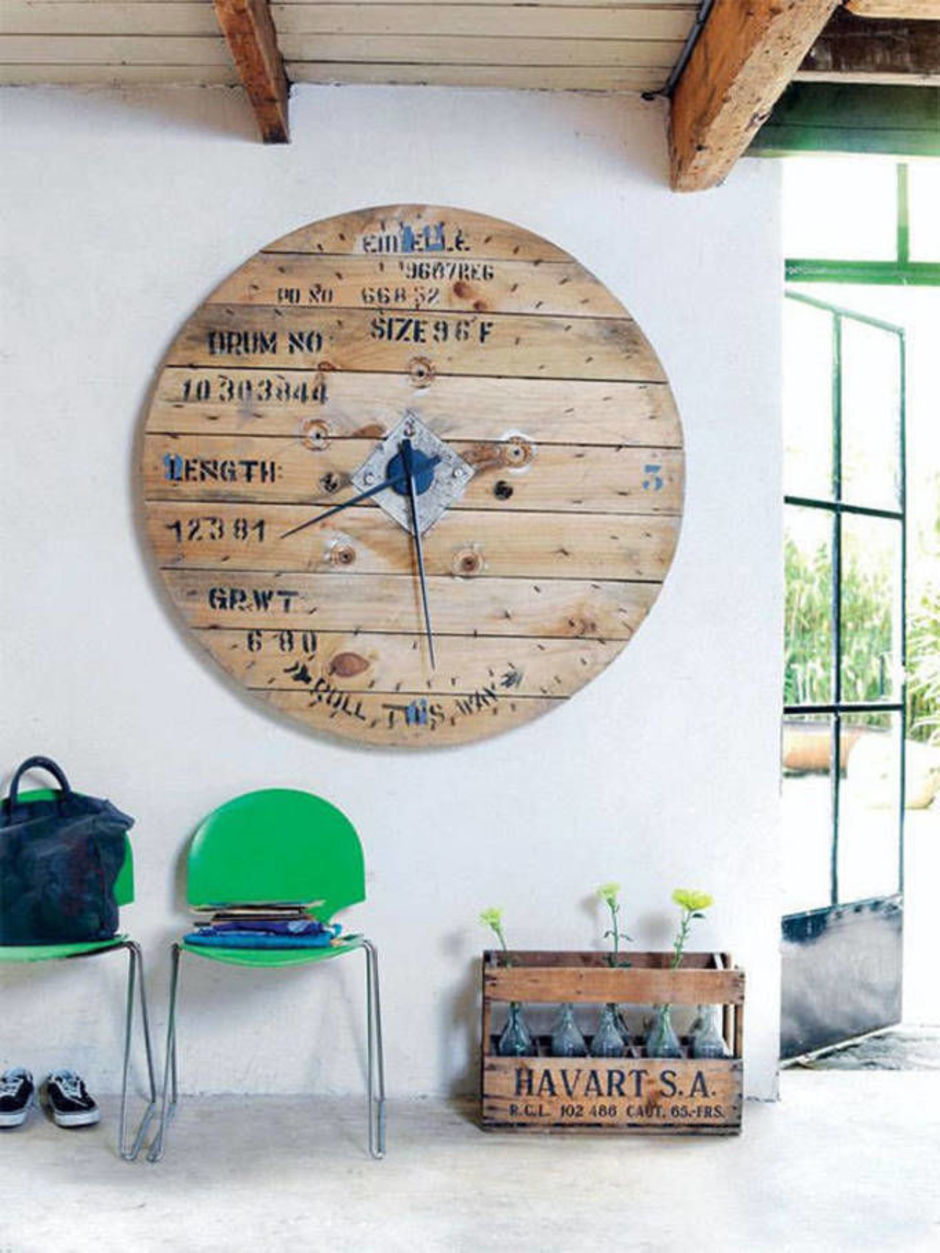 This is a more complex DIY pallet project that requires some time…pun intended. You can buy a clock-making kit online and at some hardware stores. First, focus on procuring different size pallets. Take the planks off and arrange them on the floor. You will need a skill saw to cut them at the precise angles to make a circular face for the clock. Next, clean and sand the wood to give it a smooth finish. Paint the numbers and notches for the dial and then integrate the clock with your clock-making kit. This design idea is a bit labor-intensive, but you'll certainly be proud of the finished product.
9. Homemade Living Room Wall Back Splash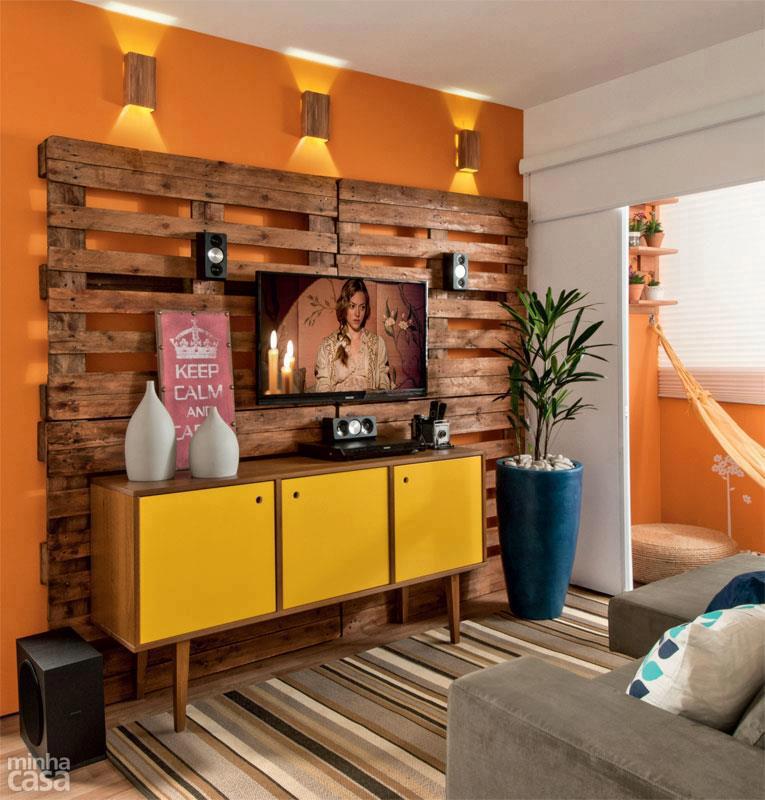 Source: The original source is not available anymore.
Here's a pallet furniture idea that only takes a few pallet pieces to recreate. This is an ideal project for beginners or someone who doesn't want to spend a lot of time on home design. This back splash has just four pallets of wood that are in great condition. Be selective and choose pallets that don't have any rotten parts or broken edges. Then, put a heavy, deep stain on the wood. The only thing left to do is affix it to the wall with nails or metal hangers. The great thing about this design is that it can trigger more pallet furniture ideas to complete the theme.
10. DIY Bohemian Back Bar
Source: The original source is not available anymore.
Is that the back bar at the new Bohemian restaurant? No, that's your dining room. This is a simple do it yourself project that doesn't require too much modification. The most important aspect of this build is finding enough pallets that are in good condition. Most shipping warehouses will be happy to give you a few pallets of wood, but they come as is. So be selective and patient to find about a dozen pallets in great condition. Clean and sand the wood and that's about it. You can use the spaces between the planks for storage and the tops to arrange wine glasses and bottles.
11. Decorative Wall Pictures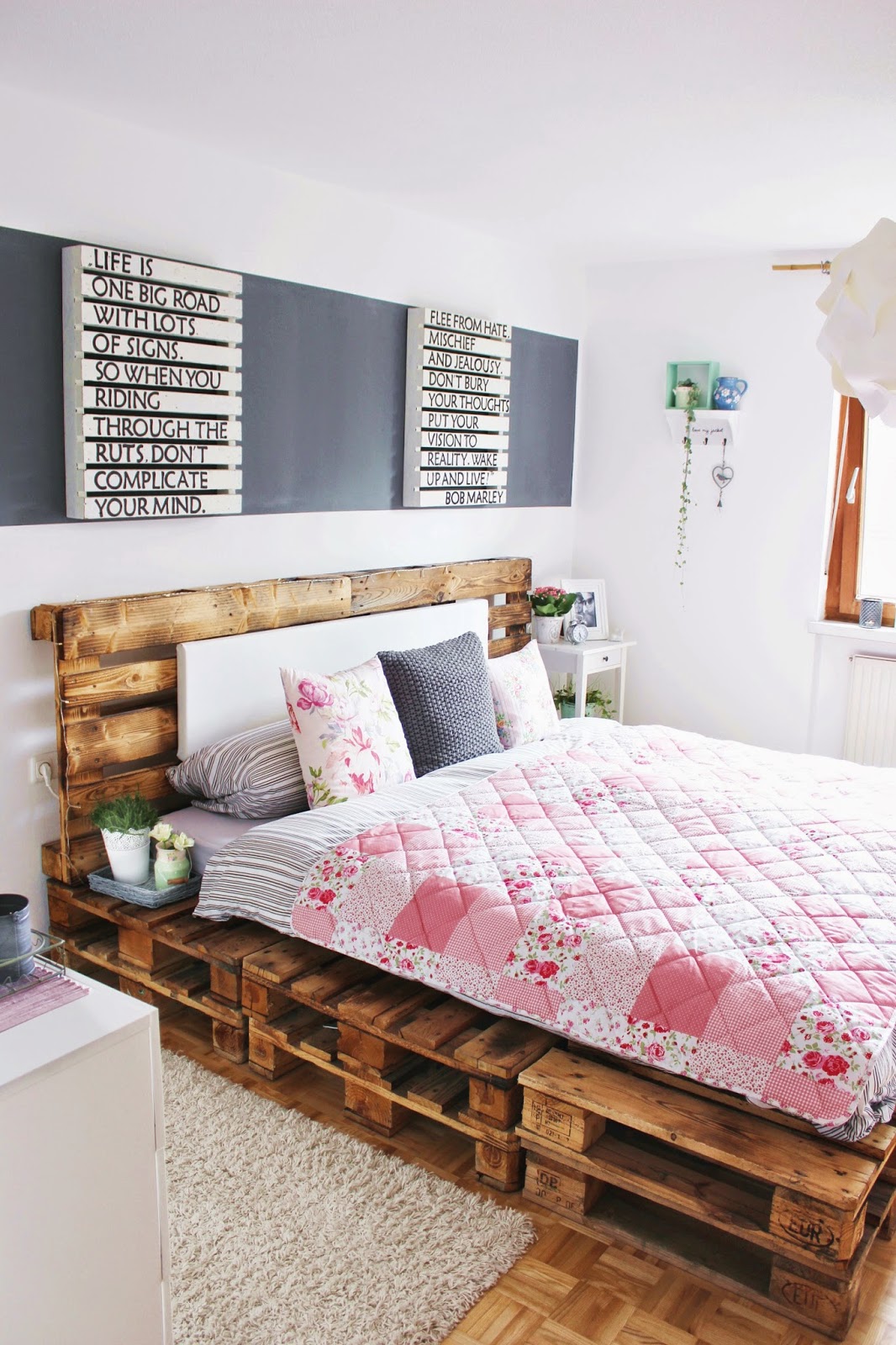 Source: The original source is not available anymore.
This is a great example of finishing a decor look with accent pieces. The wood pallet bed is beautiful with matching headboard, but did you notice the pictures on the wall? They're made out of the same material. They're simple to create and really allow you to let your creativity flourish. This isn't a very technical build, so don't focus too much on getting everything just right. Use a flat base paint and dark brushes to make a statement or connect two pieces together to make a disjointed image over each corner of the bed. Hang them just like a painting with brass or iron hooks on either end.
12. Glass-topped Rolling Coffee Table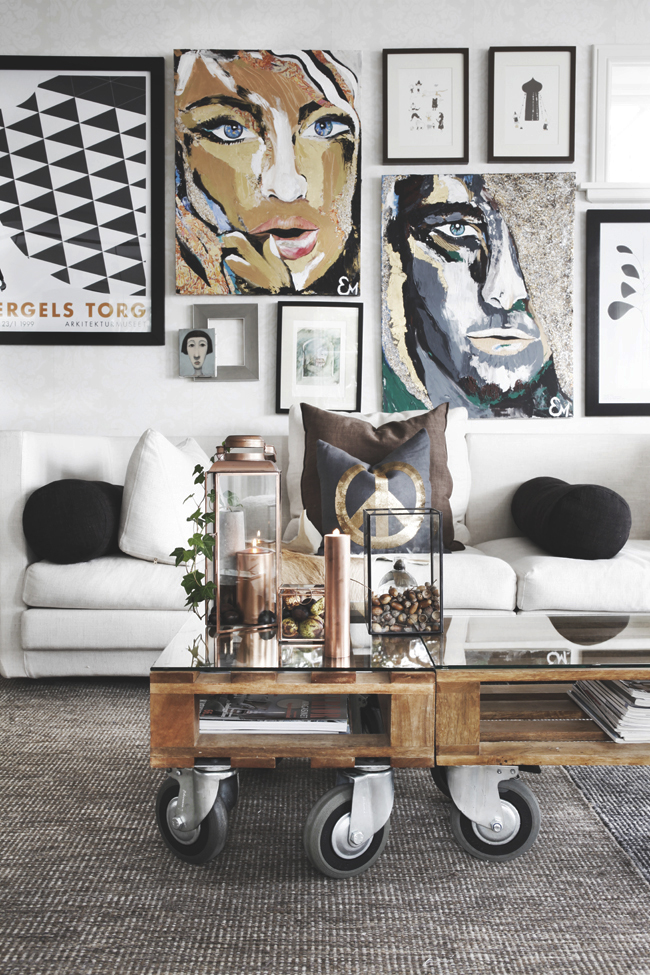 Source: The original source is not available anymore.
Here is one of the most popular pallet furniture ideas. It's a coffee table with caster rollers and glass table top. The best way to tackle this project, is to start with heavy duty pallets, not those lightweight ones. You can paint the wood, stain it or leave it bare. It's totally up to you. Affix the wheels with screws at all four corners, but you might have to shop around for a glass top that will fit your length and width. You can also start with the glass top and cut the pallets to fit. That's if you know your way around a skill saw.
13. Feng Shui Garden Wall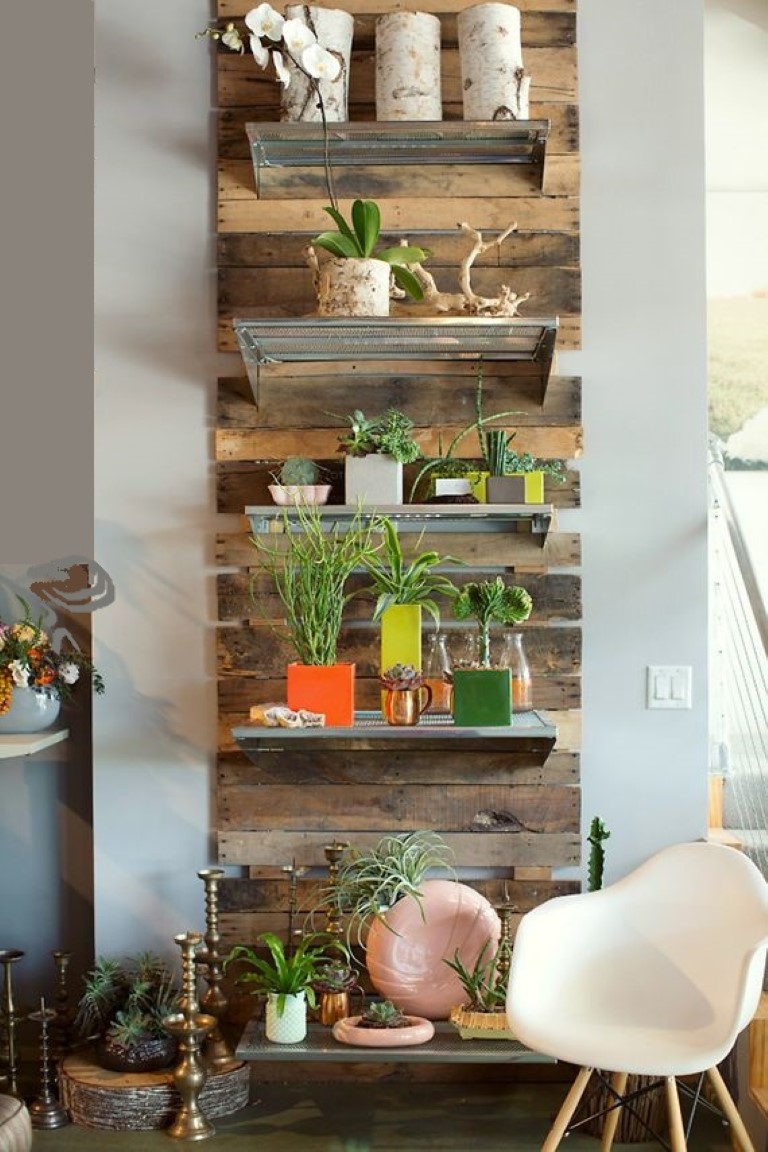 The concept of feng shui is all about harmony and balance. That's exactly what's happening in this image. The pallets of the back splash draw your attention away for just a moment, just long enough to notice the green sprigs of color from this small, manageable garden. How do you get a pallet of wood to unfurl like that? Well, you're going to have to deconstruct it. This is a deceptive do-it-yourself build because the panels conceal wooden runners that probably run the entire height of the piece. Then, planks from a pallets are nailed in place over the top of it.
14. Wooden Kitchen Bench with Matching Back Splash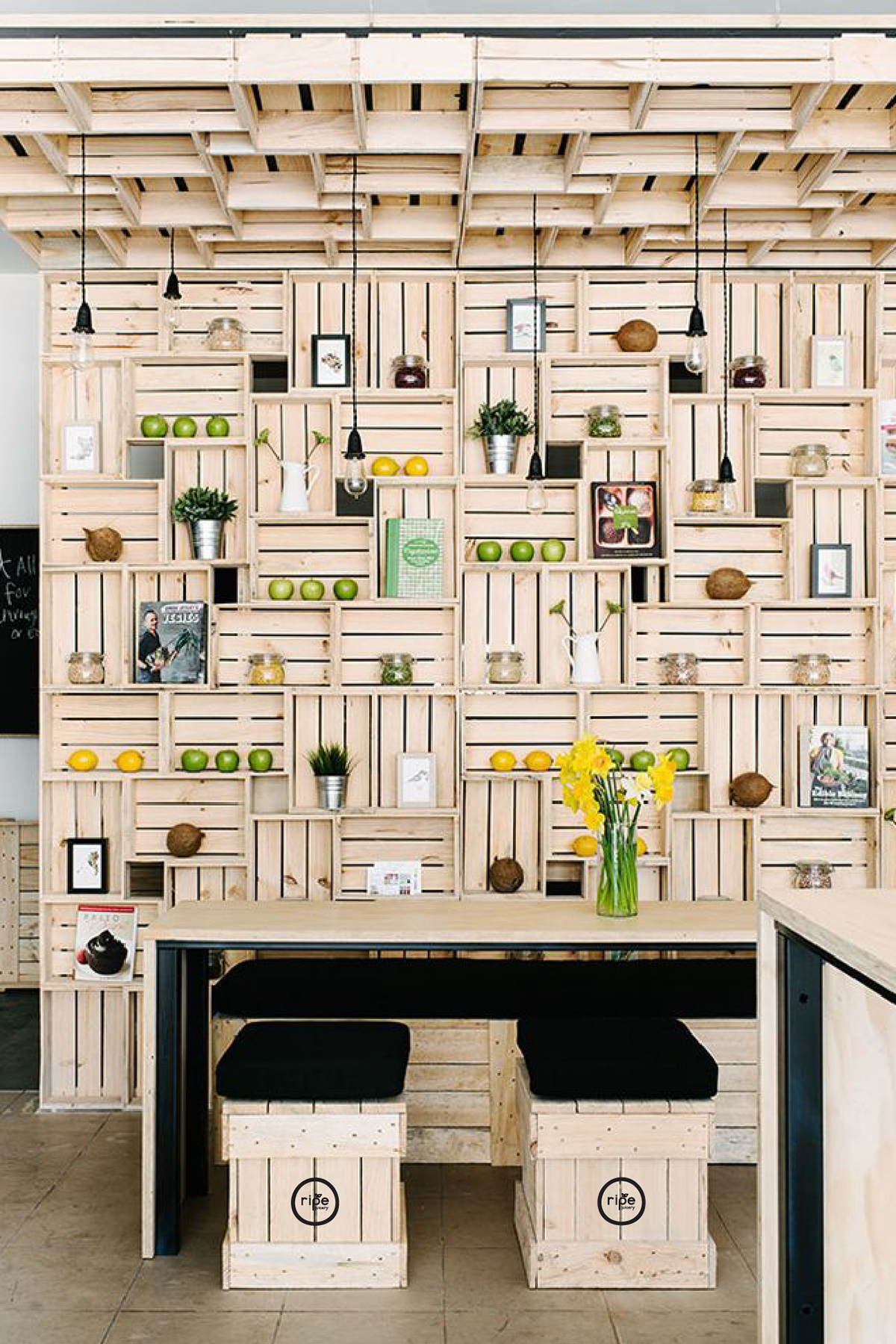 This kitchen decor project is super busy. There's a lot to unpack here. First, there's a wealth of pallets here. Some planks are going in different directions so each section was made separately. The ceiling piece has old-fashioned light bulbs extending from the crates and the backsplash is filled with cubbies and compartments. It all flows down to a kitchen bench with matching table and chairs. Although everything flows together, the image is a bit too much on the eyes. For your project, you might want to break up the backsplash into several different pieces so it doesn't just all run together.
15. Wood Pallet Mug Holder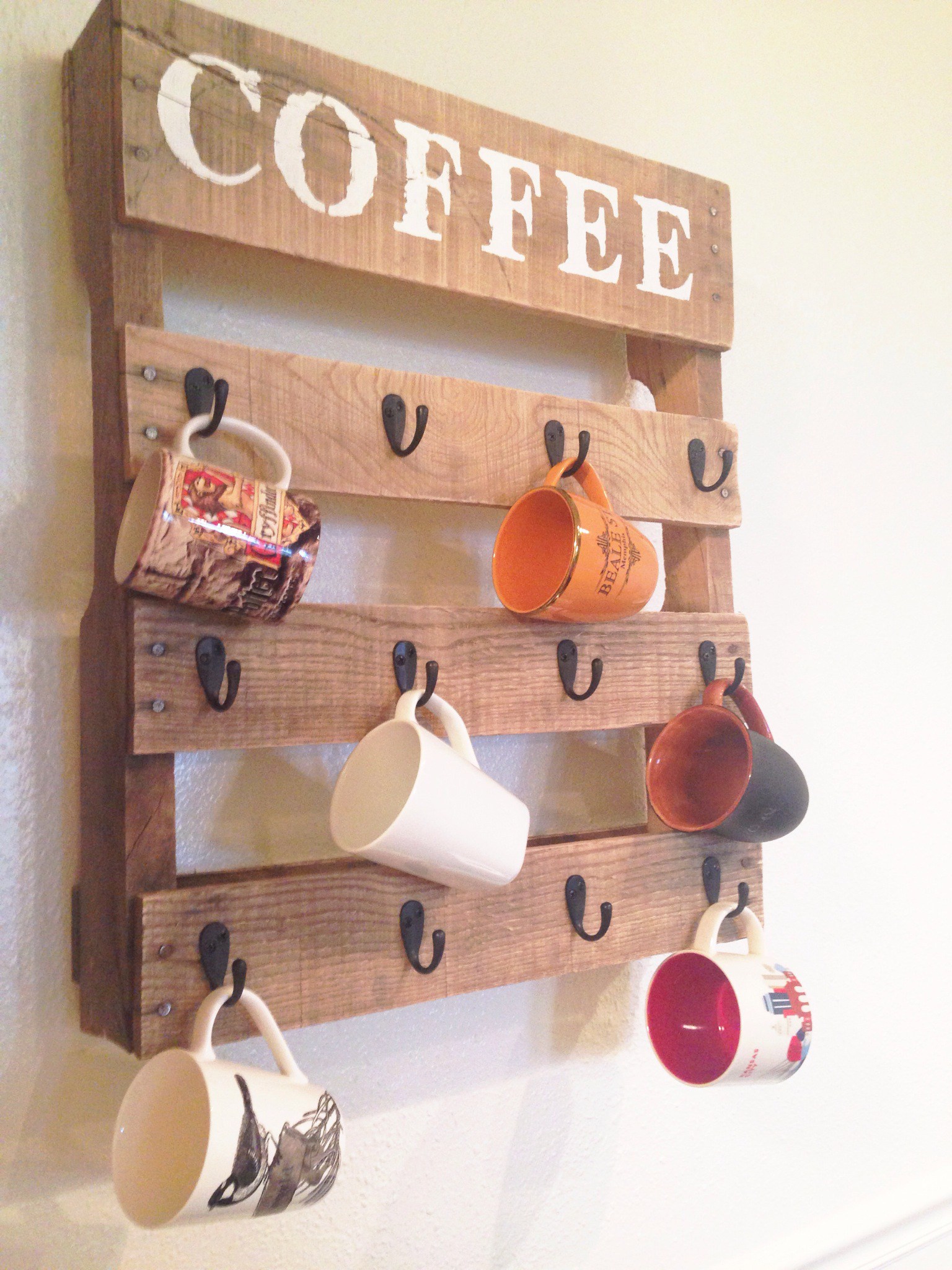 Source: The original source is not available anymore.
Here's a simple project for a single wood pallet. This is a great starter build that won't take too much time or expertise. The most important part of this build is finding the best wood pallet. Most of them have been used and might have rotted or broken pieces. If this is going to be a stand-alone piece, then it's really important to be selective. You can add the metal fasteners very easily; they just screw right into the wood. Also, when you hang this piece make sure to use load-bearing screws or reinforced nails. The last thing you want is your mugs crashing to the floor.
16. Sturdy Sofa Sectional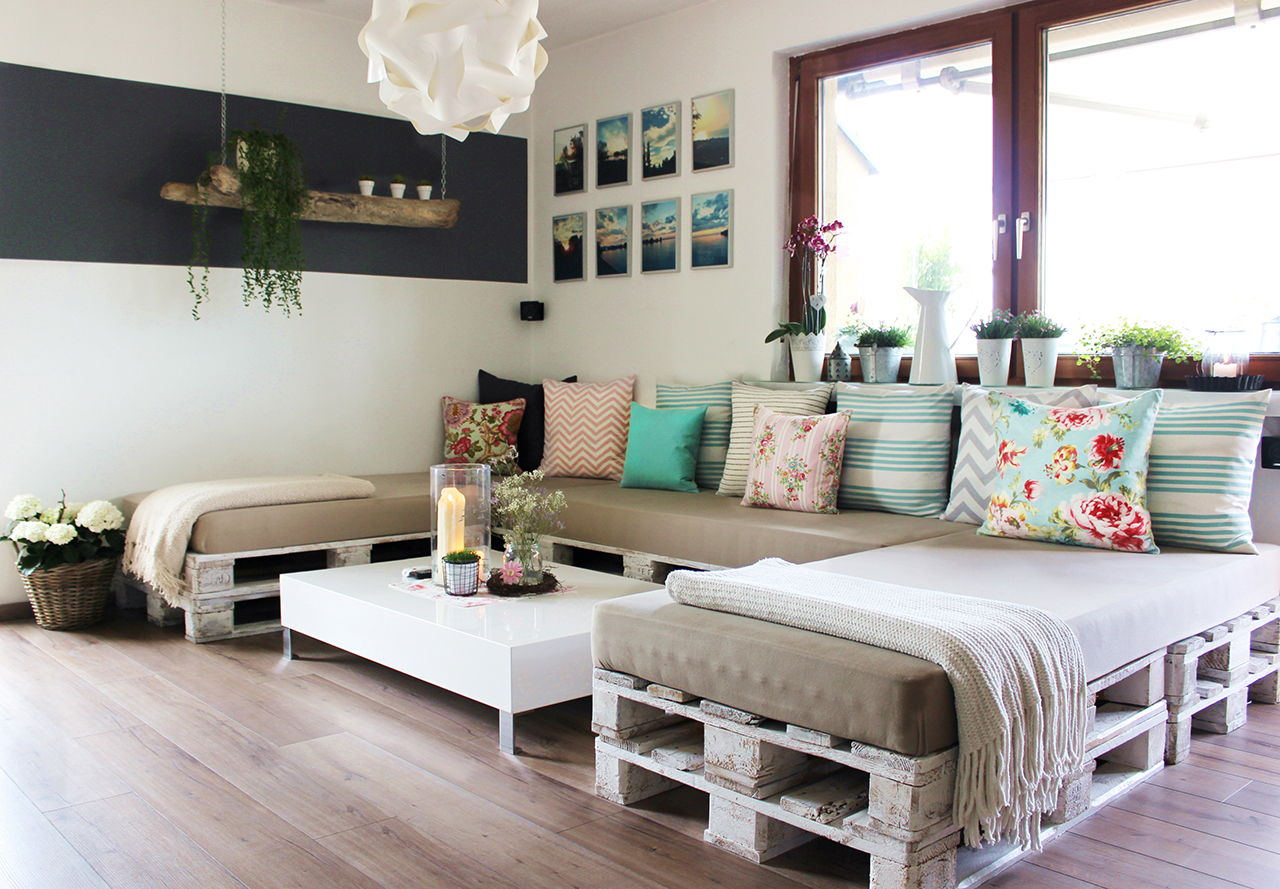 This DIY pallet design is a great way to avoid spending loads of money on a spare living room or a section of your home that needs filler. The wood pallets can be stacked to any height you desire, but two rows is a pretty good level. Take your time to find the best pieces you can because you might not be able to easily repair them once you get everything installed. You don't have to fasten them together since they're wedged against the wall. However, you can use small wooden blocks between crates to add some stability.
17. Wood Pallet Garden Starter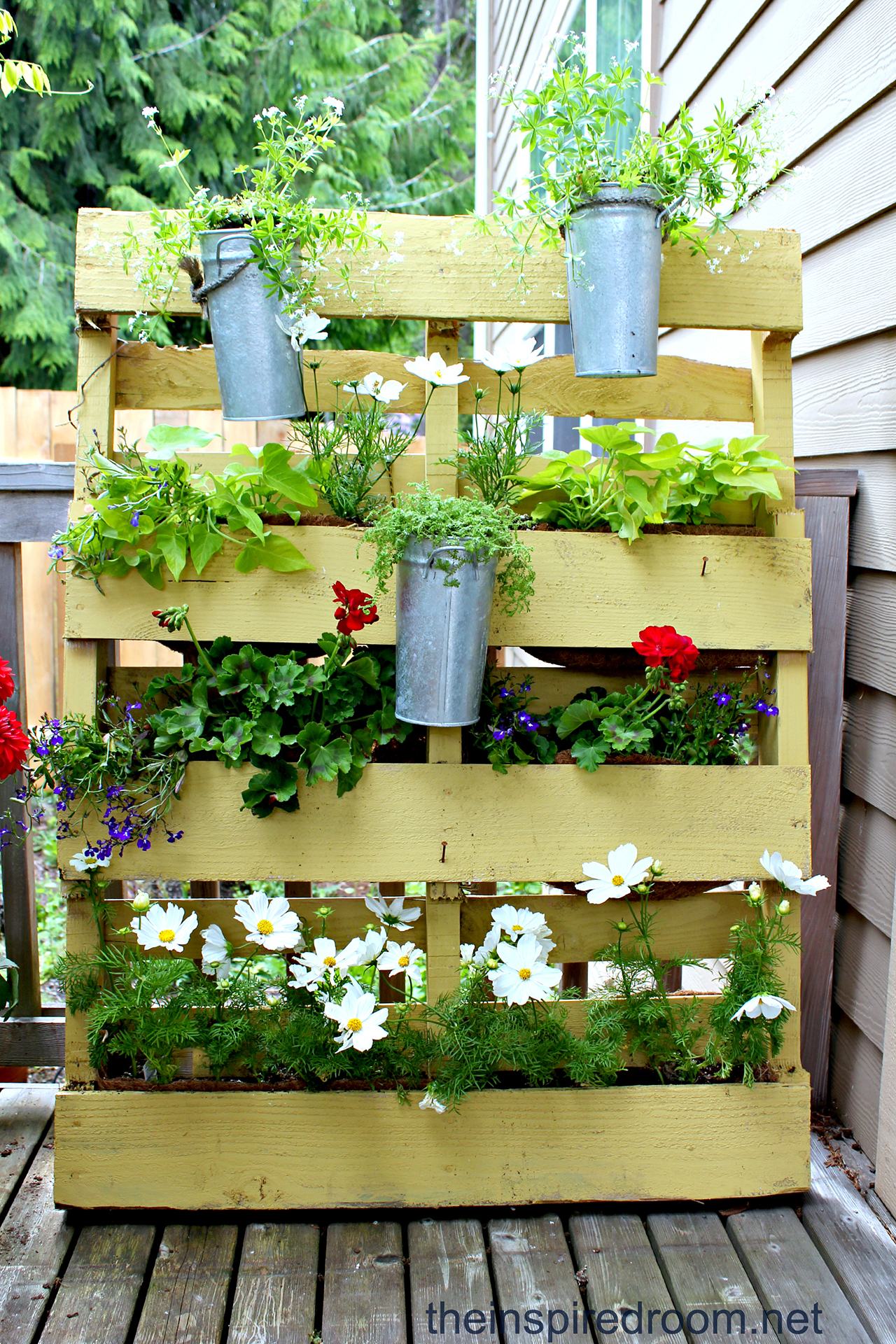 Pallet garden furniture is an amazing way to save money and fill up your exterior space with color and texture. This garden starter project is fun and simple to make. It features a single pallet that has been carved in places to add character. You will need to fill in the bottoms of the shelves with planks from a separate pallet. Luckily those planks don't have to be super clean. You're going to need to drill small holes into the planks for drainage and they'll be rarely seen. Although it's not necessary, you might want to consider treating the wood so that it lasts longer. Finally, add a fresh coat of colorful paint.
18. Wood Pallet Washroom Basins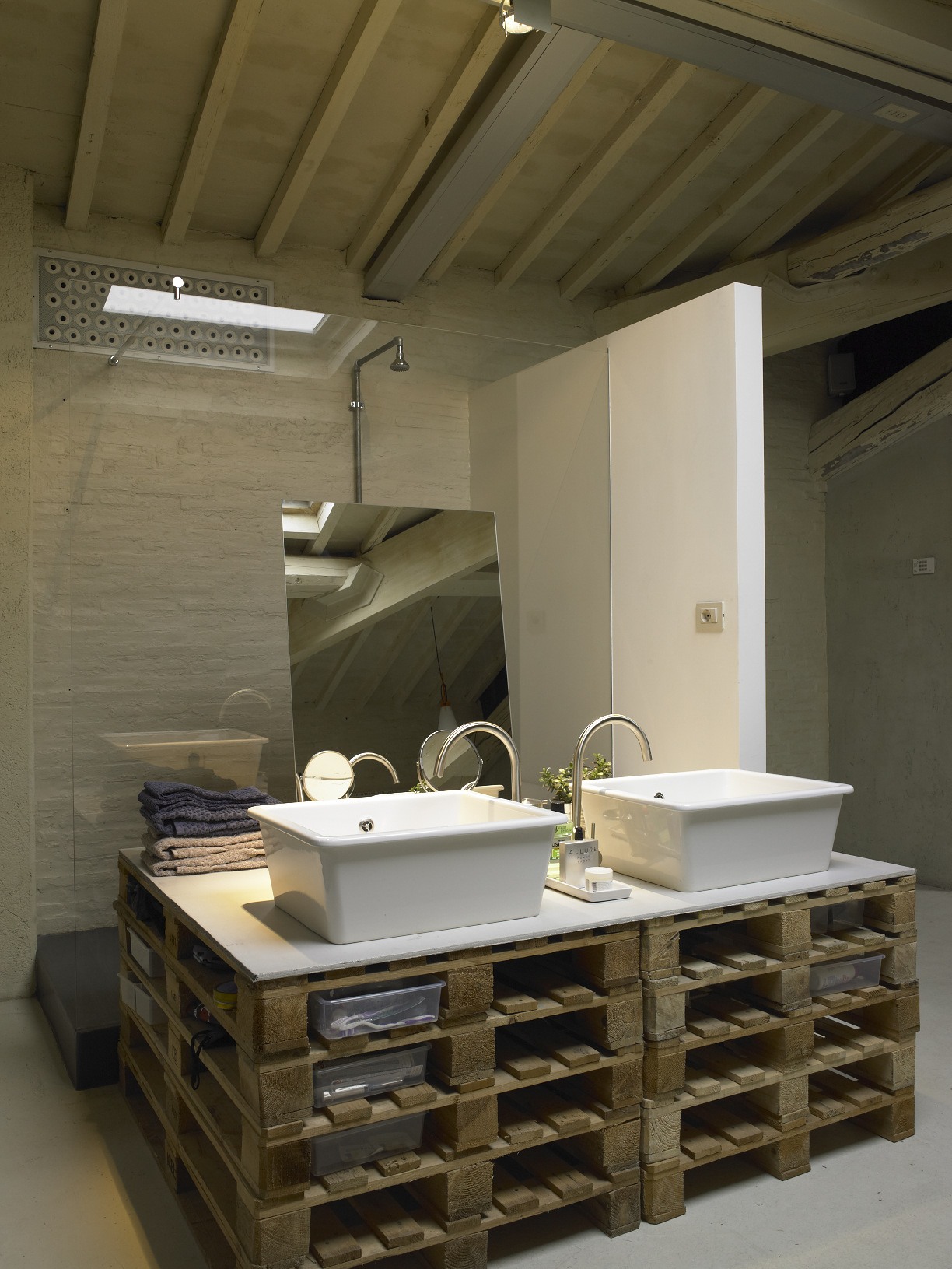 This wash room basin station is unique and minimalist in design. At first glance, this might look like a simple project idea. However, you'll need to run pipes for plumbing if you want these washroom basins fully functional. Start with the plumbing and build the pallet shelves afterwards. Just measure the dimensions and use a temporary fascia. Then, replace the temporary fascia with a stack of pallets. Be sure to use the best pallets you can find and treat the wood with a water-resistant stain. The spaces between the planks are ideal for storing towels and washing supplies.
19. Cozy Hanging Swing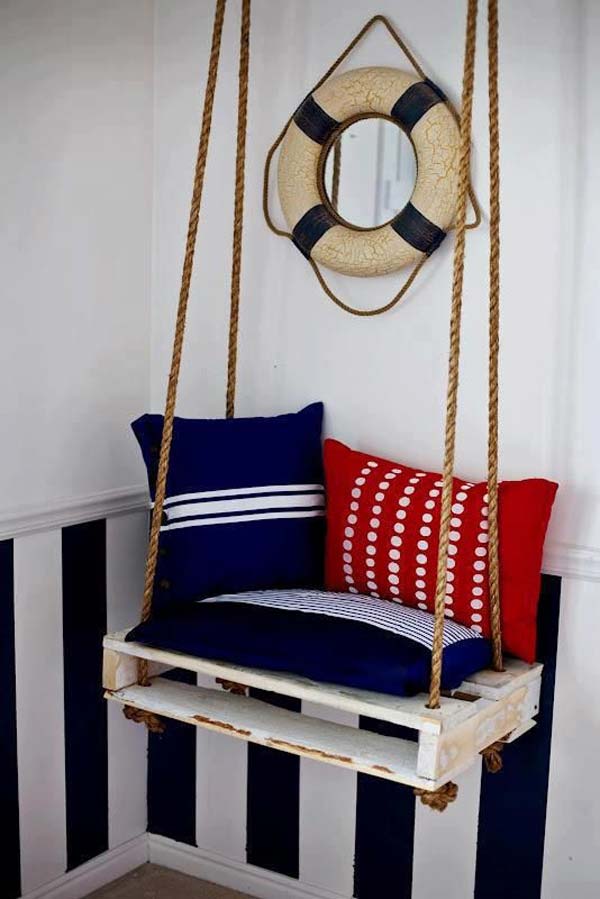 Source: The original source is not available anymore.
Here's a pallet furniture idea that can really transform a corner into a far-off magical land. It's a cozy swing chair that's made with rope and about a quarter length of a single pallet. Lots of design ideas look great on paper, but fall short in the execution. This is one where you need to be careful. You want to make sure to use load-bearing ceiling hooks and distribute the weight-load across all four ropes. This isn't an outdoor swing set; it's more of a decorative piece. Some designers just use them for dolls, but with the right application it can be suitable for a single person.
20. Small Circular Deck Table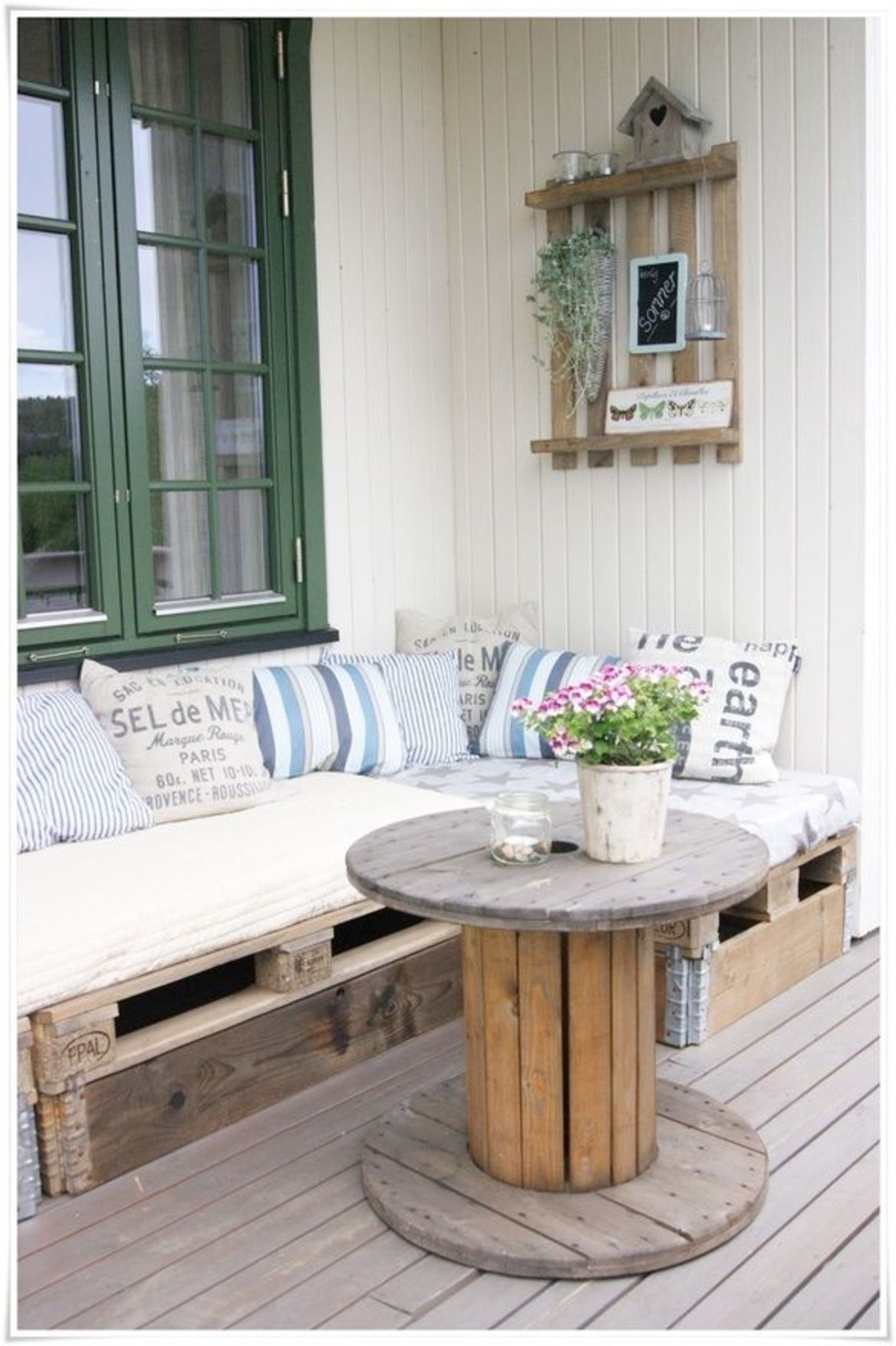 The back deck is a great place to try out some pallet furniture ideas. You can find lots of wooden pieces just before they're tossed in the rubbish bin and re-purpose them for your pallet garden furniture or patio deck. This design features heavy-duty pallets stacked atop a wooden deck liner. This adds a breakup in the shape and texture. The accent table is a single piece that is used on construction sites to transport lengths of cable and rope. It's ready to use and doesn't require any modifications or reinforcements. Lastly, a small pallet is used for a wall-hanging in the background.
21. Industrial Coffee Table and Chairs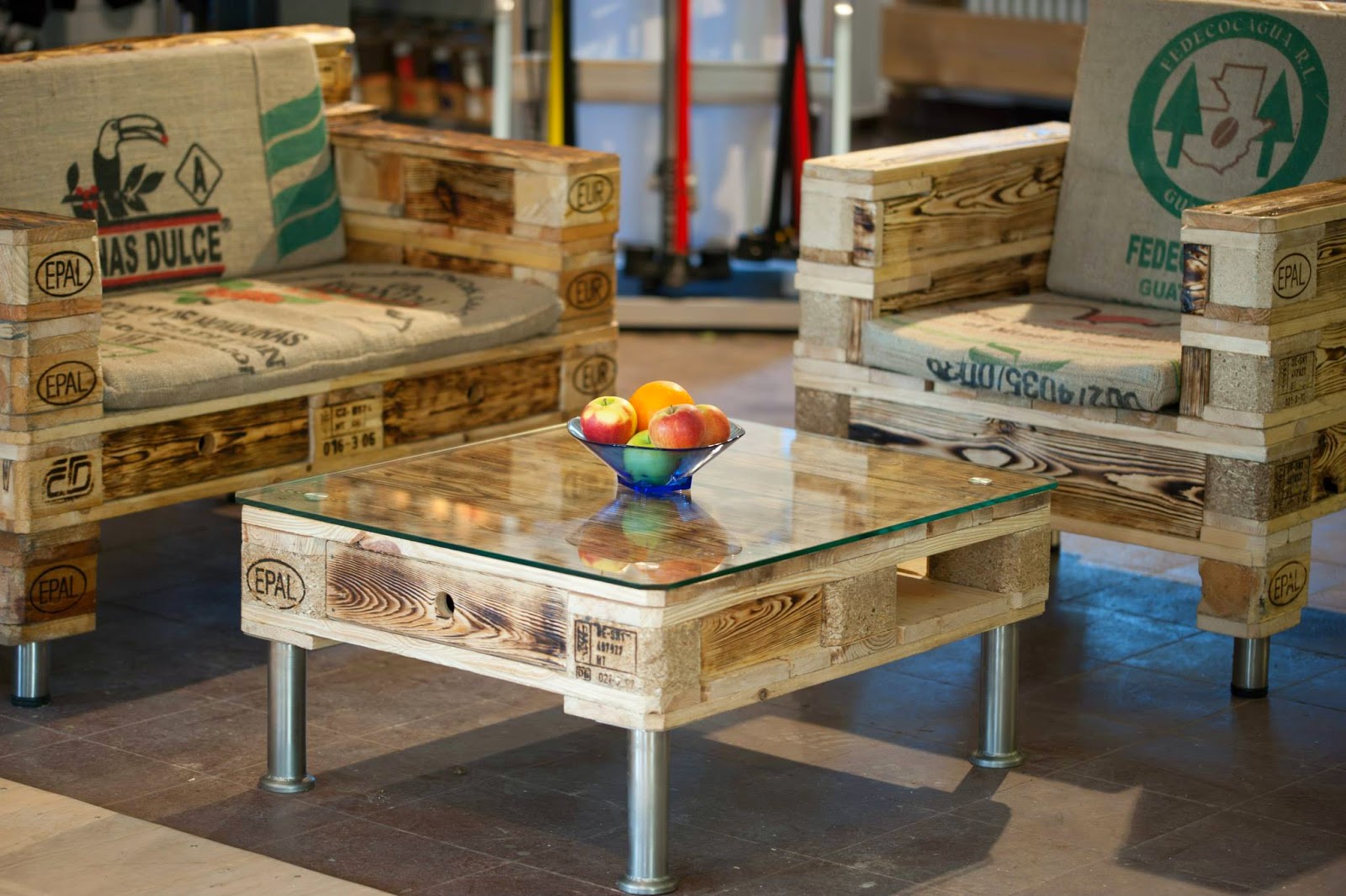 Here's a pallet furniture design that is centralized around a theme. Ideally, you'd have other accent pieces around the room to reinforce it. This is a moderate level build that will require new or very gently used shipping pallets. You won't find these near the warehouse dumpster on a Saturday. The bases are metal cylinders that can be attached with screws for easy breakdown and transport. The cushions can be handmade from a number of different fabric choices such as rucksack cloth, nylon or a cotton blend. Wood glue might be enough to firmly attach the different pieces, but you should use wood screws to be on the safe side.
22. Spice Rack and Coffee Currio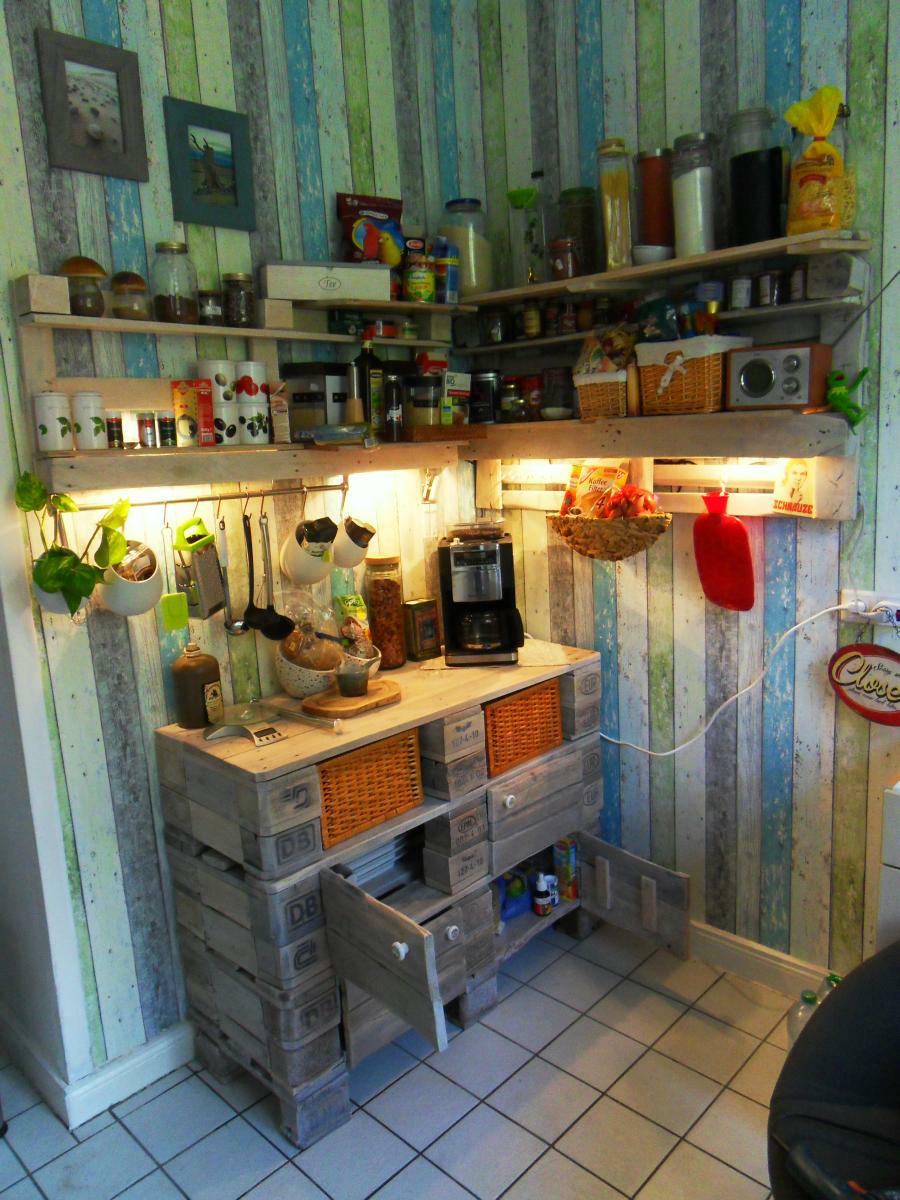 You can find pallet ideas from just about anywhere. This corner spice rack and coffee currio might have sprang from the pages of a southeast Asian travel magazine. It's a moderate to high level build but it can work wonders for your home decor. Let's start with the wall hangings. A single pallet could be enough to make both sides, but with this project you should strip about four pallets down to single plank pieces and build up from scratch. The same goes for the curio cubby. This isn't a light pallet. It's made from heavy duty shipping pallets with the cabinet faces coming out of the lighter variety. You can leave the wood untreated if you select some really nicely preserved pieces.
23. Asian-inspired Low Sitting Room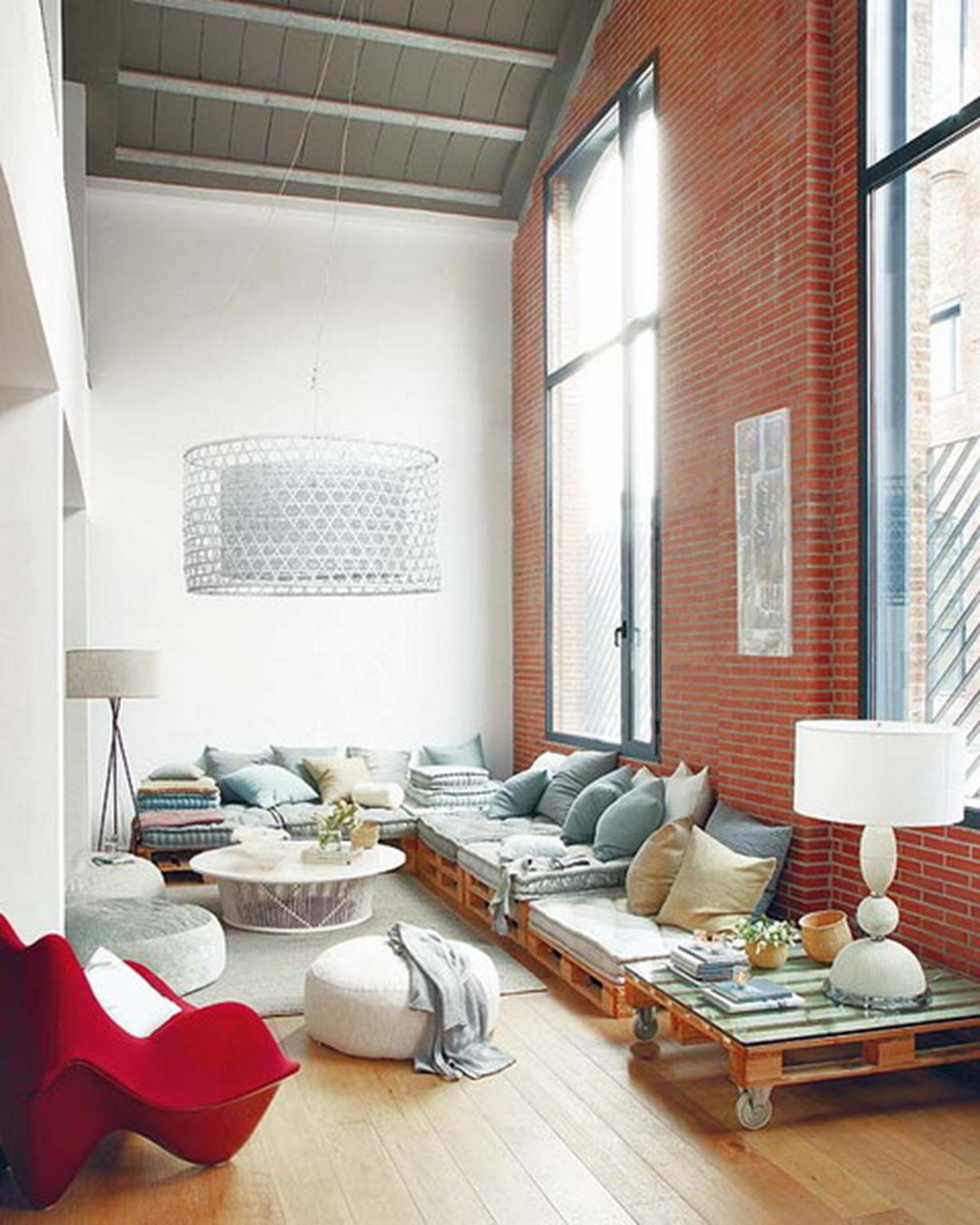 Source: The original source is not available anymore.
This living room features a couple of different pallet furniture ideas all blended together. There's low-sitting sofas and a rolling coffee table. This gives you a vision of how pallet furniture design can complement a space without overpowering it. With the exception of the rolling coffee table, these pallets are primarily used as bases. They form the foundations of the decor and they're not the featured pieces. Placing them beneath a corner sectional is absolutely brilliant. You can stack them to adjust the height if you like. Ideally, the sofas should sit slightly higher than the coffee table, but it's not a rule that can't be bent or broken.
24. Simple Rolling Computer Desk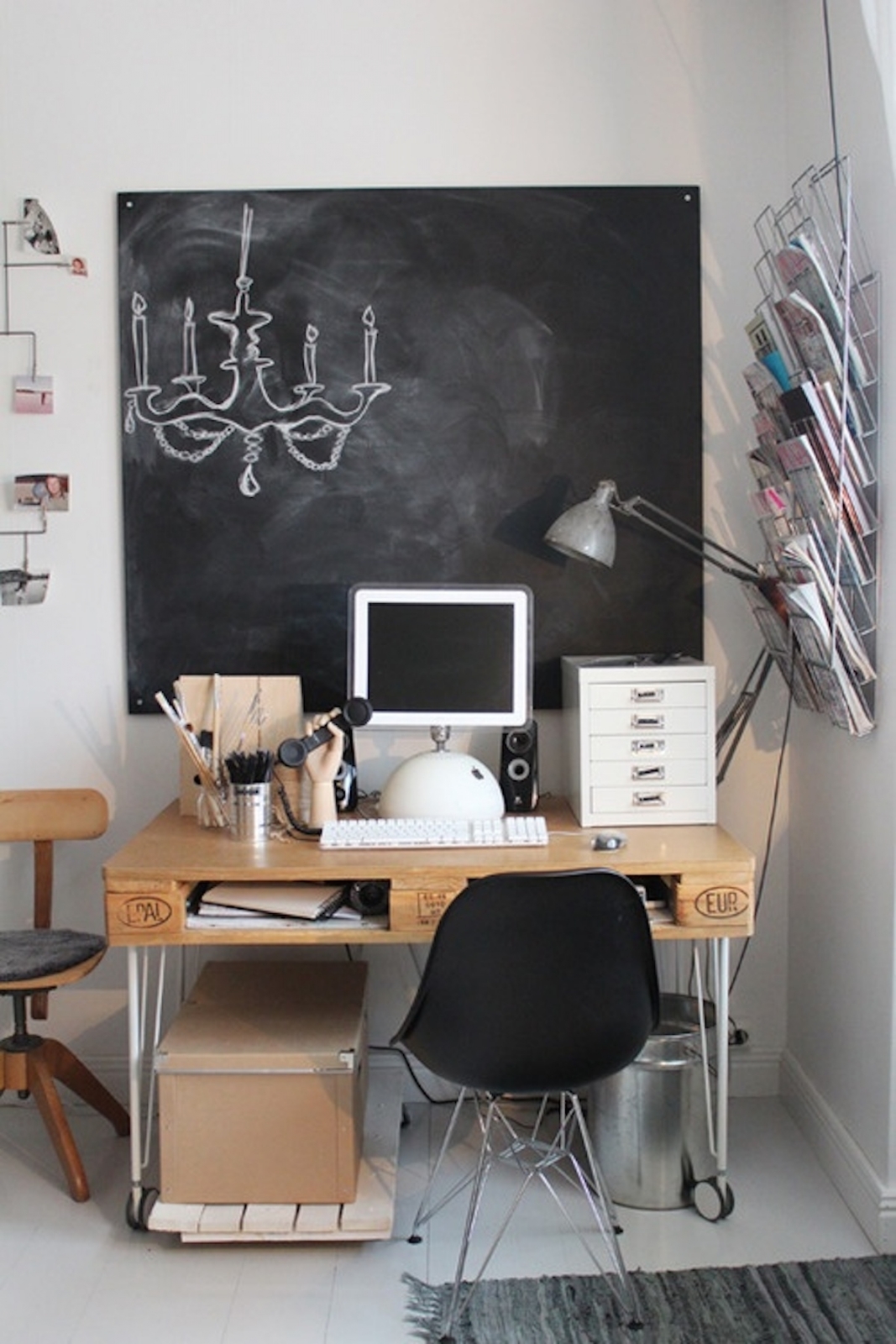 Source: The original source is not available anymore.
Pallet wood furniture doesn't have to look dingy or cheap. You can buy brand new pallets and re-purpose them for just about any home design project. Check out this small computer table. It features one single pallet turned upside down. You can fill in the gaps with an epoxy resin. The slots can be used for storage space. For legs, head over to the local interior design or hardware store to buy load-bearing plastic stems with rollers. This small desk can ignite new pallet furniture ideas later down the road. Why not add a wall-hanging or a small table, now that you've got your feet wet?
25. Wall-mounted Coat and Scarf Rack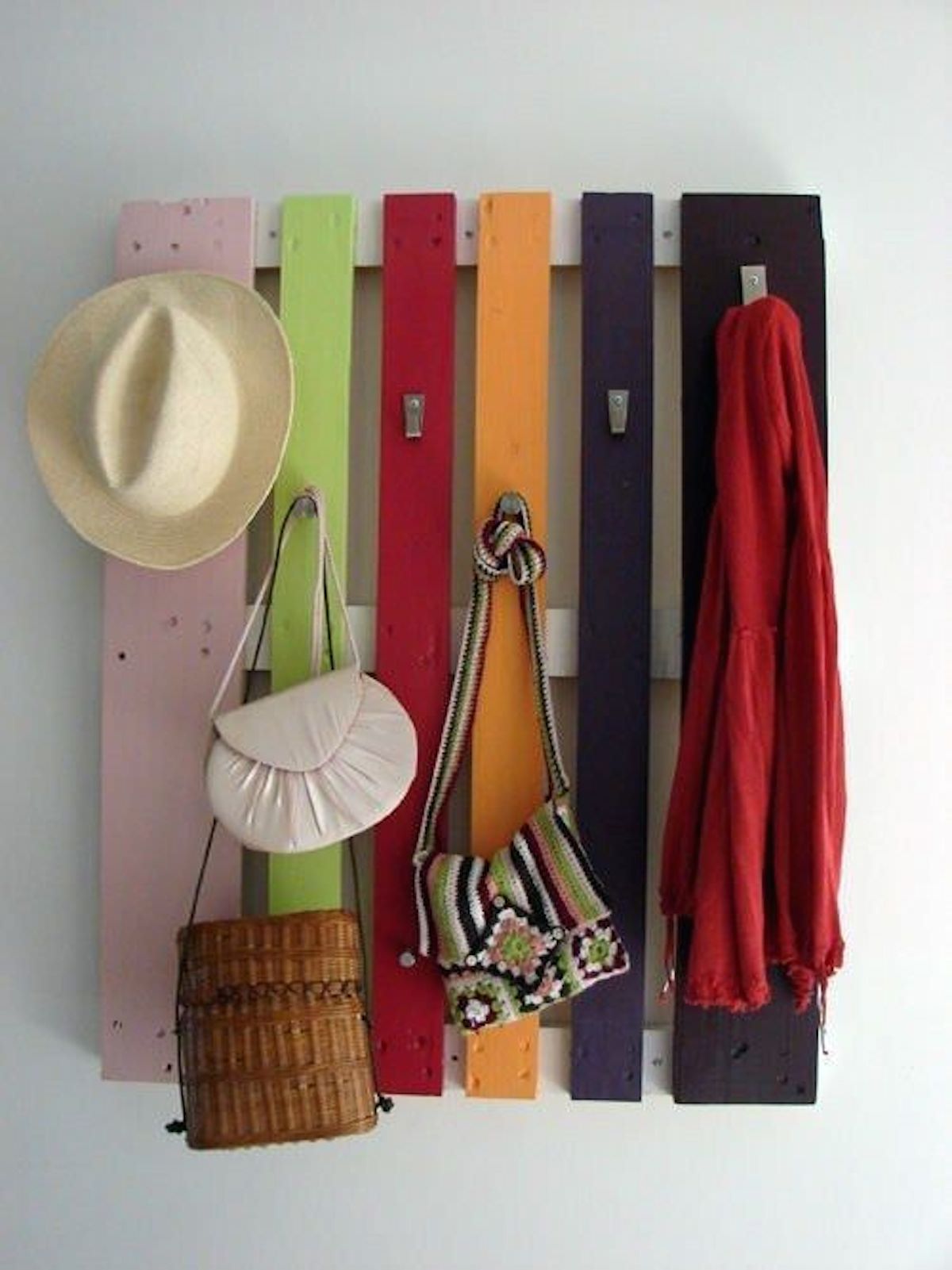 Simple reigns supreme with this creative take on a wall-mounted hat and scarf rack. This is an excellent home decor accent piece that will add lots of character to your foyer. It's made with just a single pallet and some low-cost hooks from the hardware store. You might even have some lying around in the garage. There's not much modification to be done here. Just splash on some colorful paint and affix it to the wall in much the same way you would a heavy painting. Be sure to properly clean and treat the wood before painting and hanging it and this rack will last for a decade.
26. Shipwrecked Coffee Table and Backsplash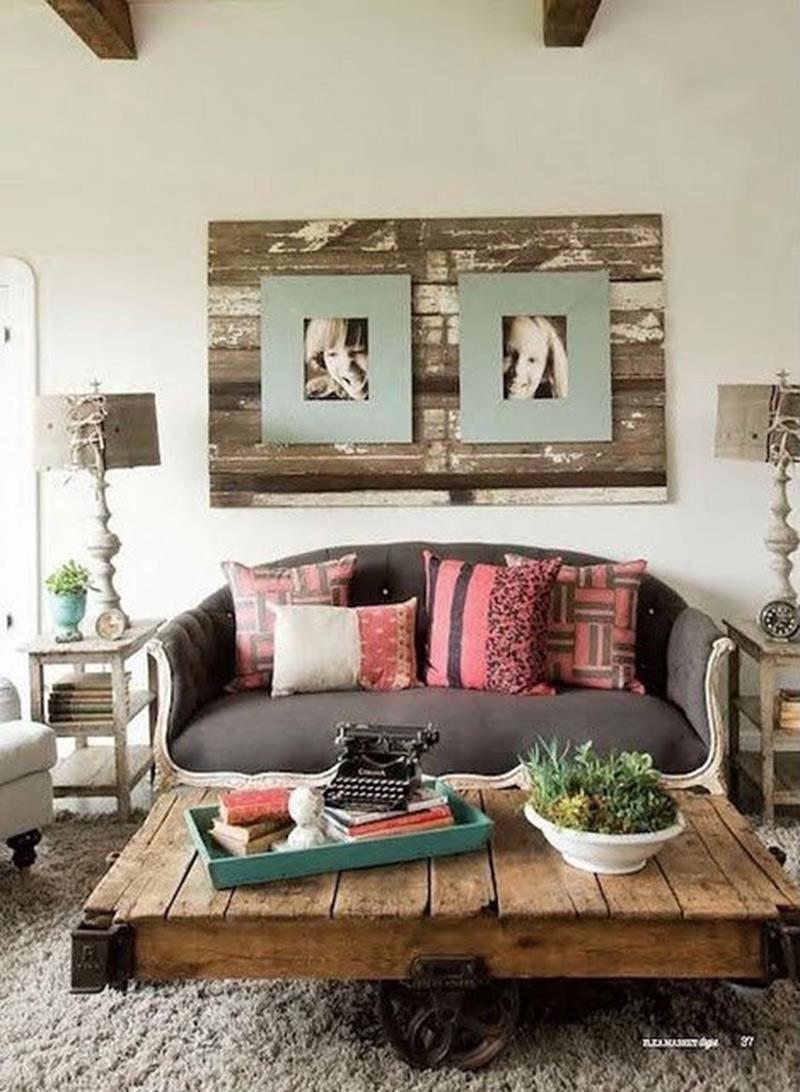 This coffee table ensemble has tons of character and can transform a room into an adventure. These pallet ideas are perfect for people who love finding gems at garage sales and estate auctions. This coffee table has some metal elements, but the wood panels themselves can be heavily distressed and a bit broken. Just be sure to coat them with an epoxy seal. For a back splash, use flat planks and give them a random splash of color. This is a really fun project because nothing has to be perfect in order to fit the theme. So be creative and explore your abilities.
27. Mini Kitchen Currio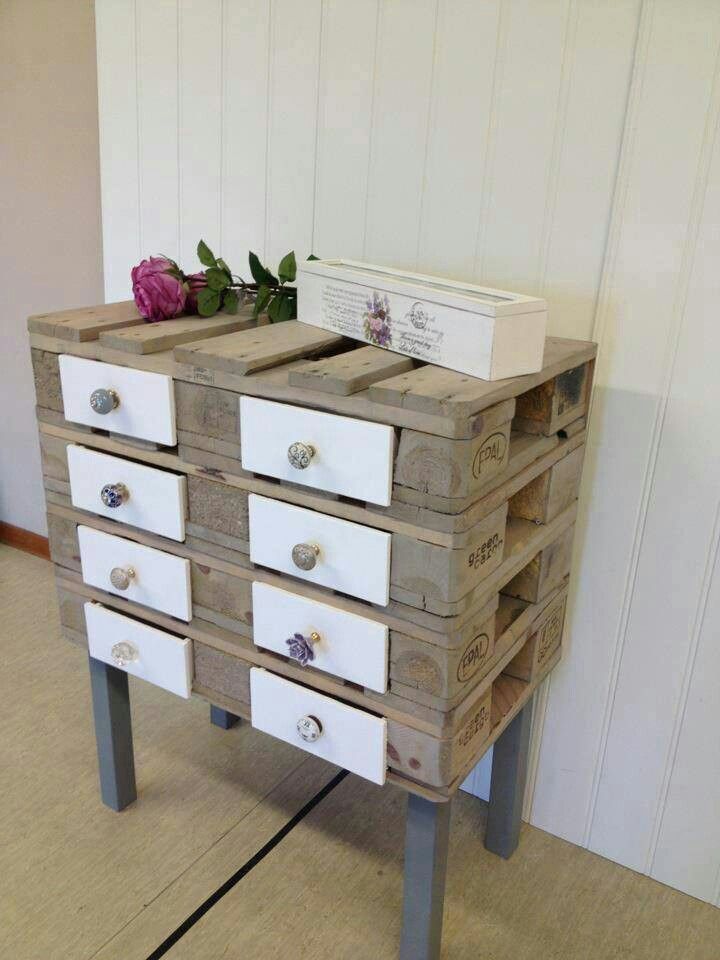 This delightful little curio cabinet is made of deconstructed wood pallets. There aren't any single standalone pieces here. Each level is made of about a quarter panel. This design features heavy-duty pallets. You can luck up and find some in good condition or order your own brand new. This is a small cabinet, but a moderate skill level build. The drawers require metal runners on either side to guide them into the wood. The legs can be taken from another piece of furniture that you can find at a local garage sale. The table top is relatively simple. You can use single plank pieces or cut a pallet into quarter length.
28. Photo Printed Wall Art on Wood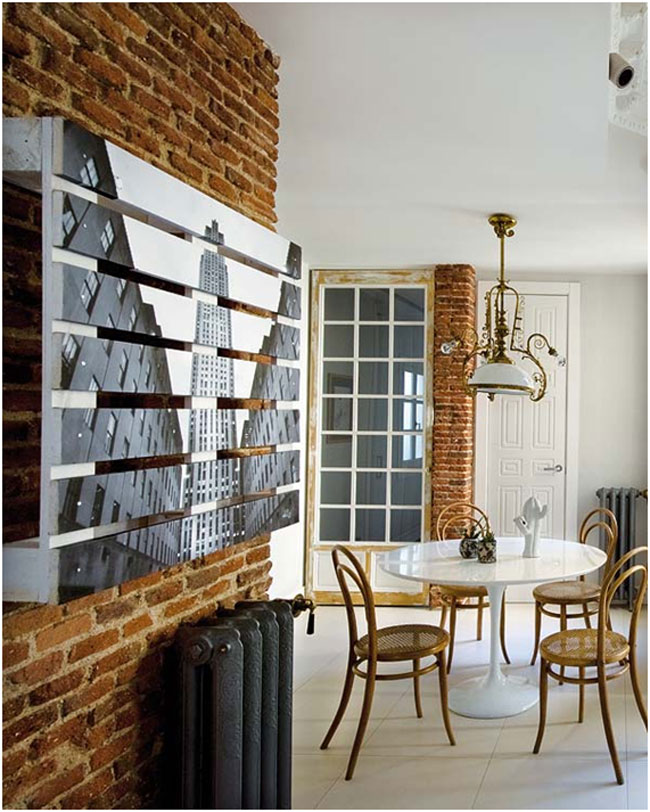 Photos printed on wood are very trendy in home design. It's a great way to add texture and imagery to an otherwise static space. There are kits you can buy to try this on your own, but another option is to send it away to a specialty company that will do the printing for you. There are two ways to go about recreating this image. You can try to find an extended length pallet and deconstruct the photo so that it fits across every panel. Or you can take a pallet frame and strip off the flat planks. Then, you can layer the photos on the planks separately.
29. DIY Wall-mounted Wine Rack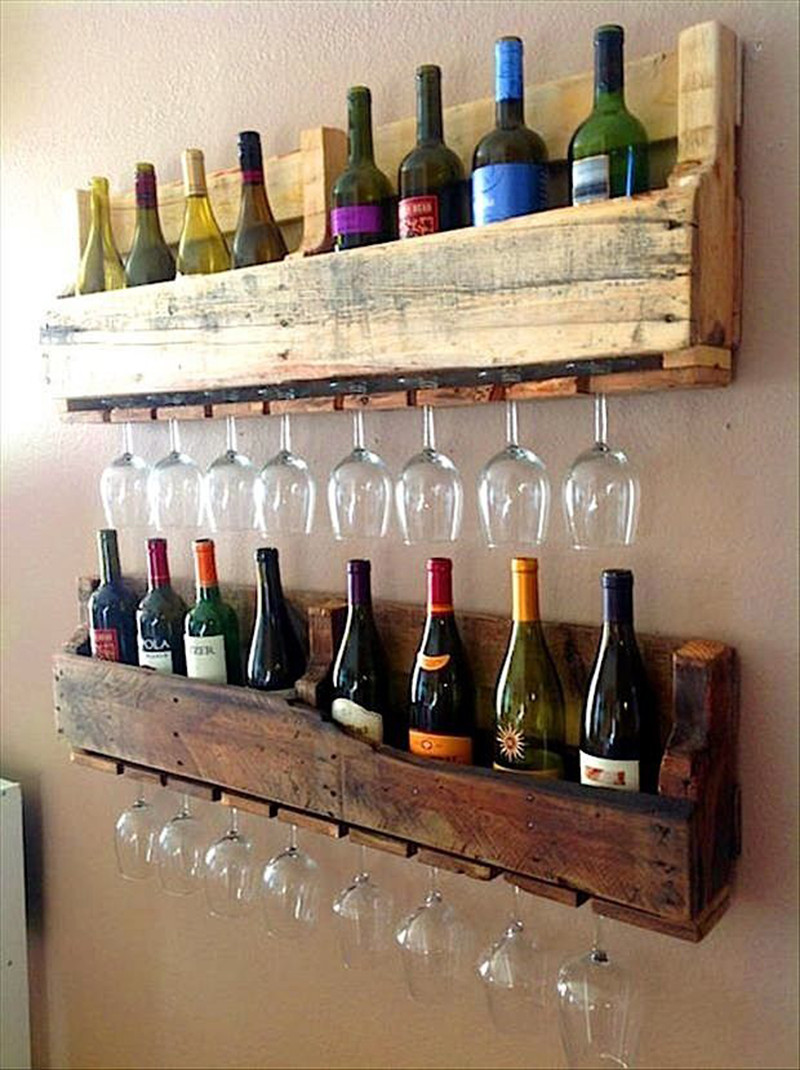 Source: The original source is not available anymore.
This lovely wine rack will add some sophistication to any kitchen or dining area. It's a great way to bridge those two rooms in your home. This design features a deconstructed single pallet piece. It might look simple, but if you look closely you can see that the edges have been carved and sanded. You can take a couple of planks from a spare pallet to make the bottoms of the shelves. You might have to cut them to fit. There are pieces here that have to be individually cut, so don't tackle this project unless you're ready to customize. Finish it off with a deep, rusty stain color and you're sure to get lots of approving nods.
30. End Table With Accent Pieces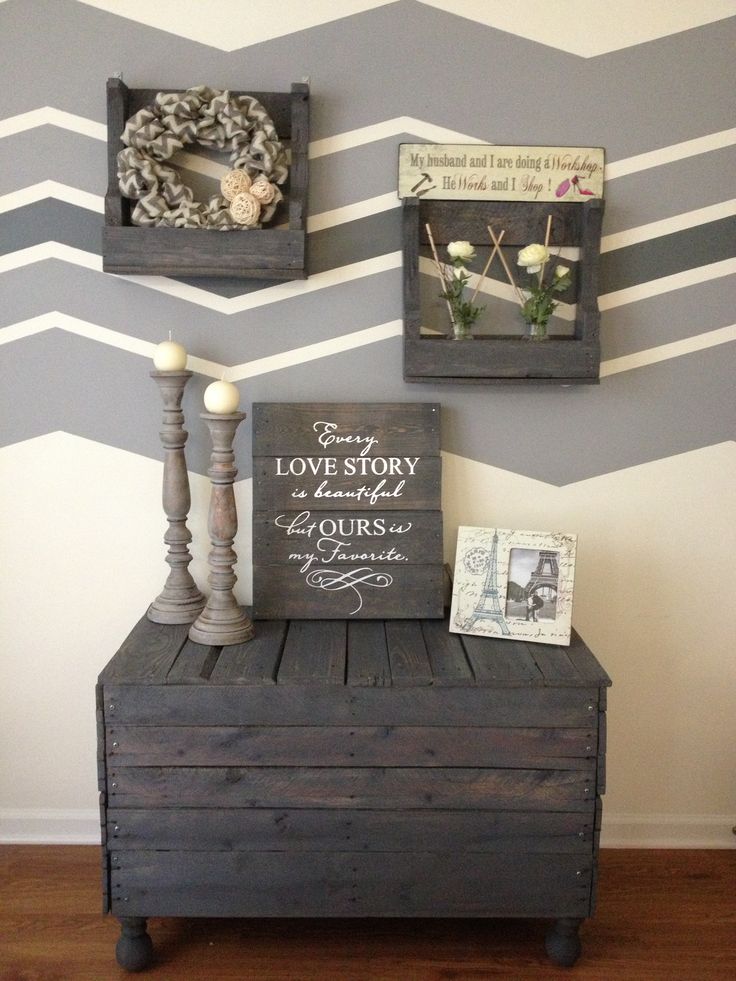 This cute little end table with wooden accents is a stunning way to commemorate a single moment in your life. The table was made with pallet wood, but most likely not from a single pallet piece. You can take a part several pallets and arrange the pieces to make the table top, sides and bottom. The wall hangings are fantastic and both can be made from a single pallet. It's okay to use slightly distressed wood in this application because it adds character and age. You can paint all the pieces to match the rest of the room or leave it bare.
31. DIY Media Rack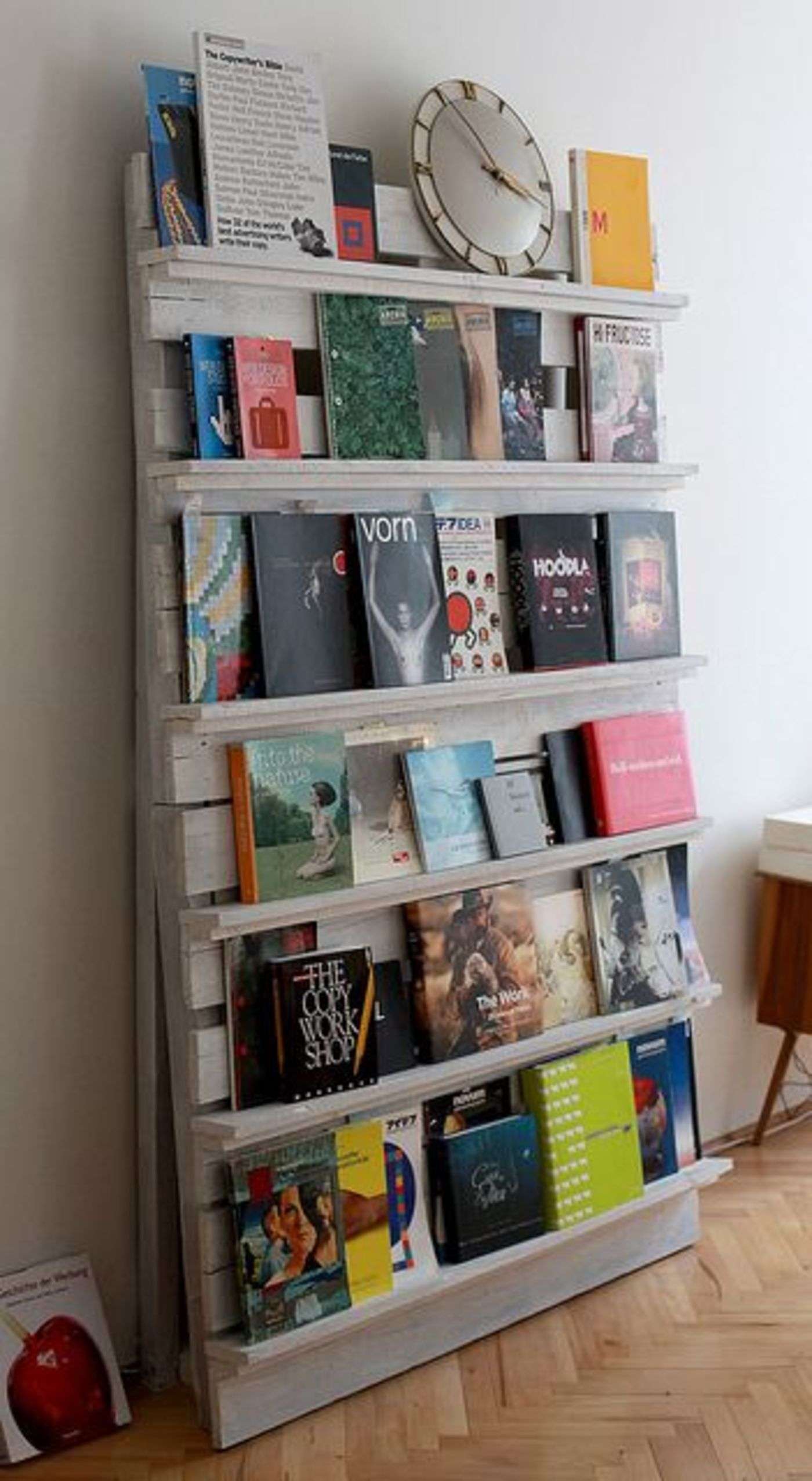 Source: The original source is not available anymore.
This is a creative design project that is ideal if you have a number of leftover pallets from a previous DIY pallet project. It's slightly more technical and time-consuming than a single pallet piece. Yet, once it's finished, this media rack will be the envy of all your house guests. It looks just like something you might find on an endcap at your favorite bookstore or coffee shop. Start by selecting the appropriate length of the backside and lay it down flat. Then, start adding on shelves. You will need to select smaller pieces of wood to hold the magazines and books in place and another large flat board to create the easel effect in the back.
32. Homemade Entertainment Center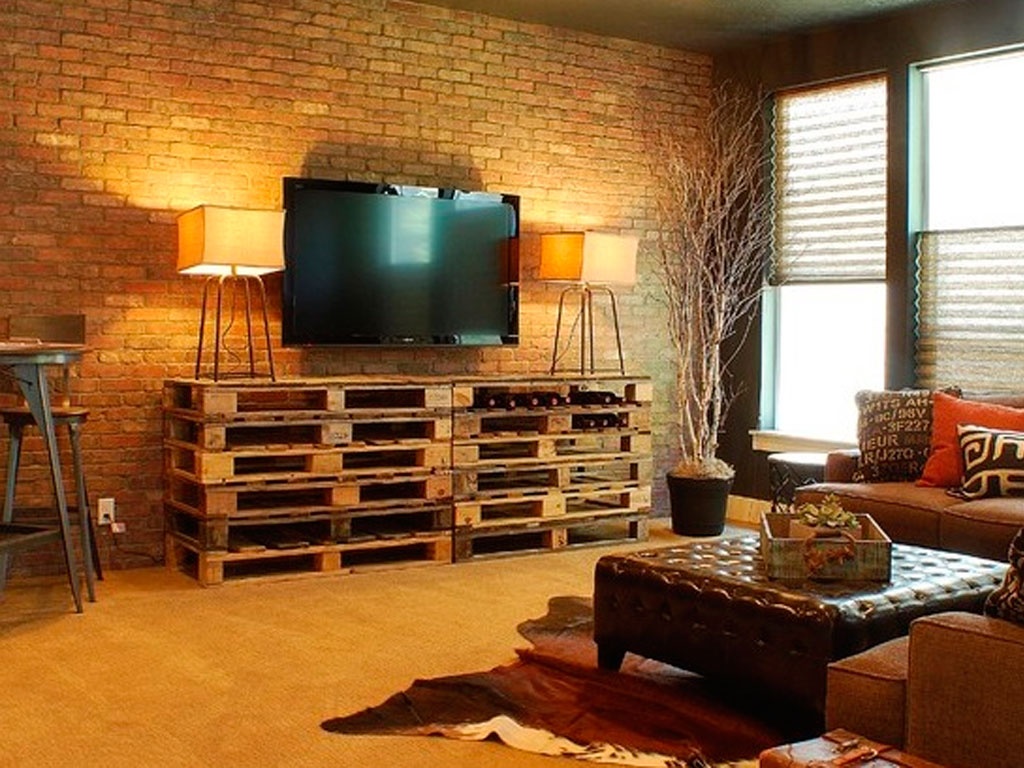 Source: The original source is not available anymore.
This entertainment center is perfect for a bachelor pad or man cave. You can use it to stimulate more pallet furniture ideas and build around it as your focal point. There's not much to modify either. Just focus on finding the ideal pieces. You're going to want some clean, sturdy pallets that won't fall or break under the weight of your pricier electronic devices. Although simply stacking a half dozen pallets should suffice, try nailing them in place in order to insure that it can withstand an impromptu football party. Staining the wood beforehand would also add a rustic, masculine vibe.
33. Wood Pallet Sitting Room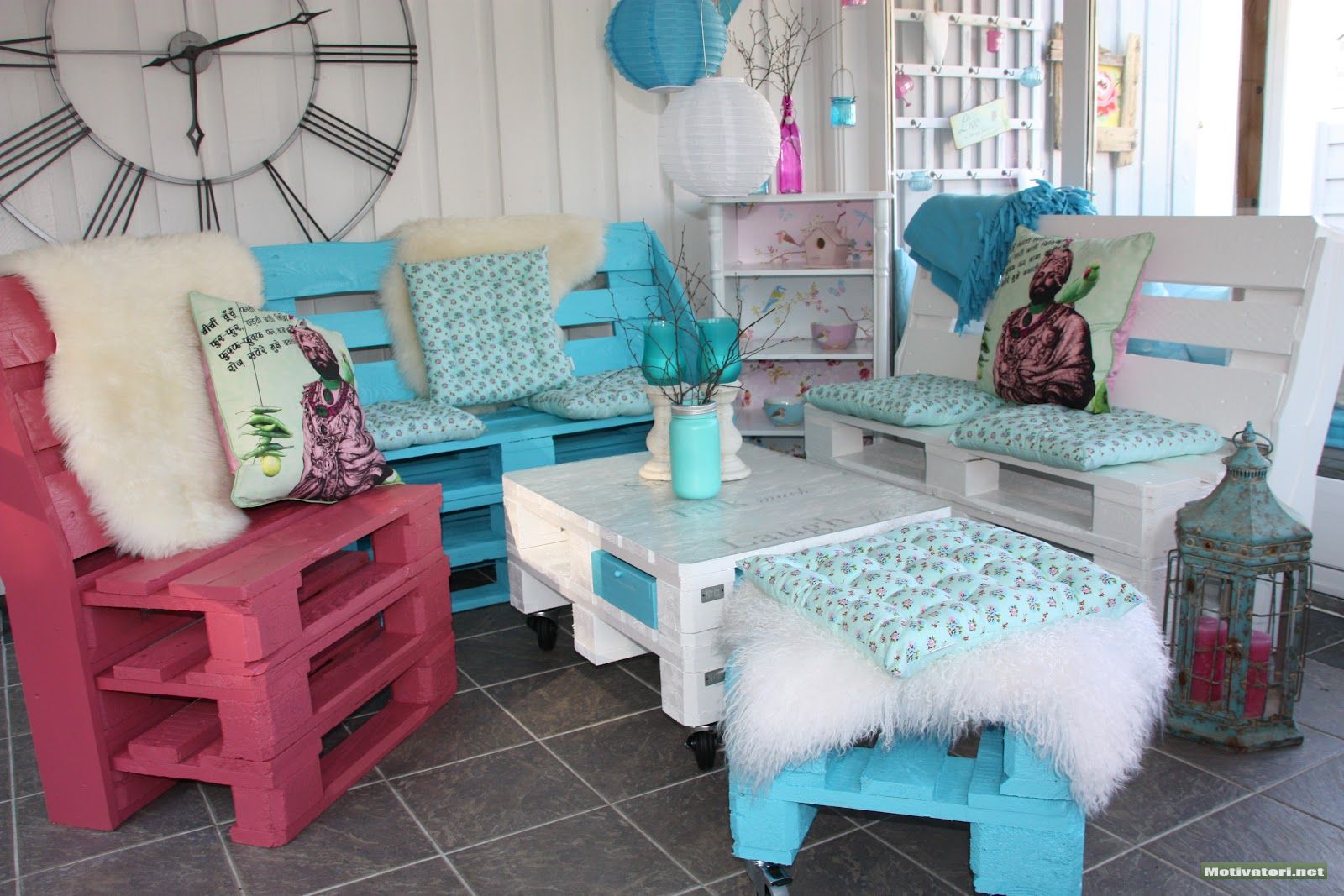 If you've played around with simple palette wood projects before, then maybe you're ready to step your game up. This sun room features some moderate to high level builds that feature both the lightweight pallets and their heavy duty shipping counterparts. Nothing in this sitting room is a solid piece. The chairs are made one level at a time and secured with epoxy and nails. The tables both have caster rollers and sealed table tops. The colorful springtime paint provides a beautiful finishing touch. If you're going to tackle a full room like this one, make sure you take your time and find the best pallet pieces around.
34. Media Desk with Storage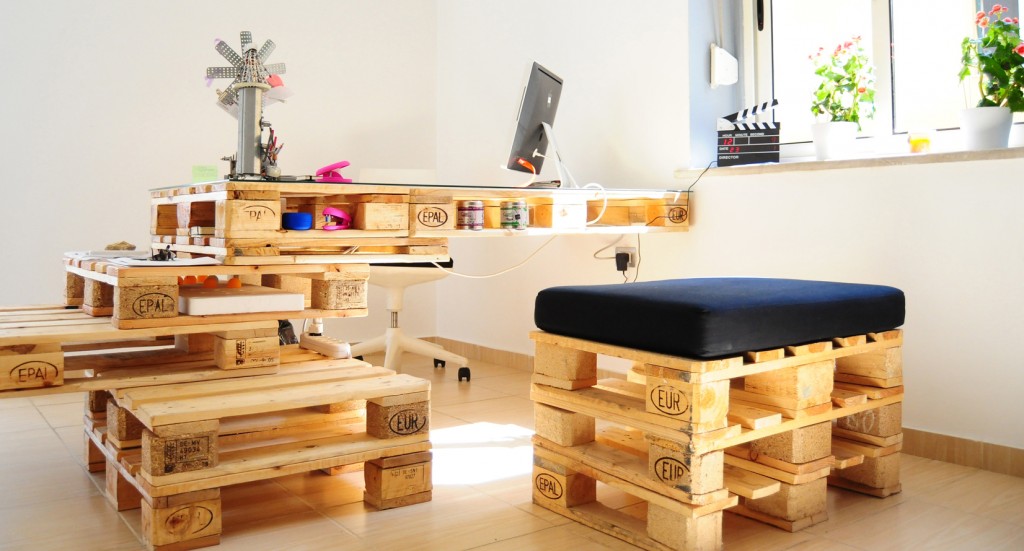 If you're into media, you probably want a desk that has loads of personality and versatility. It should highlight your own personal flare just like your social media profiles. This media desk is unique and you can reorient the design to fit your own personal space. For this creative DIY project, you're going to want brand new pallets. Everything needs to be sturdy enough to hold a glass table top and your valuable electronic devices. The cushion and chair can come from a neighborhood garage sale. You can create a store-bought look by using both nails and wood glue to keep everything tightly fitted together.
35. Bed Table for Two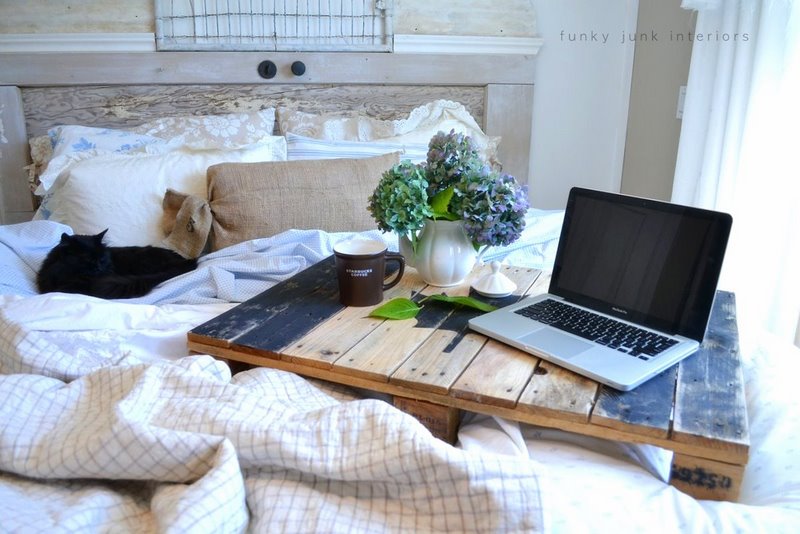 Home design doesn't have to be difficult. Just look at this cute bed table for two. This pallet furniture idea is simple to create with just pieces of a single pallet. You can head over to your local supermarket and find one just before it's recycled or thrown away. It doesn't have to be perfect either, just level and clean. Strip away the bottom layer carefully and you're left with the foundation of a durable, distressed wood bed table. You can paint the top to suit your personality or use a stain for the wood. It might even stimulate more pallet furniture ideas to accent the room.
36. Stained Twin Bed Frames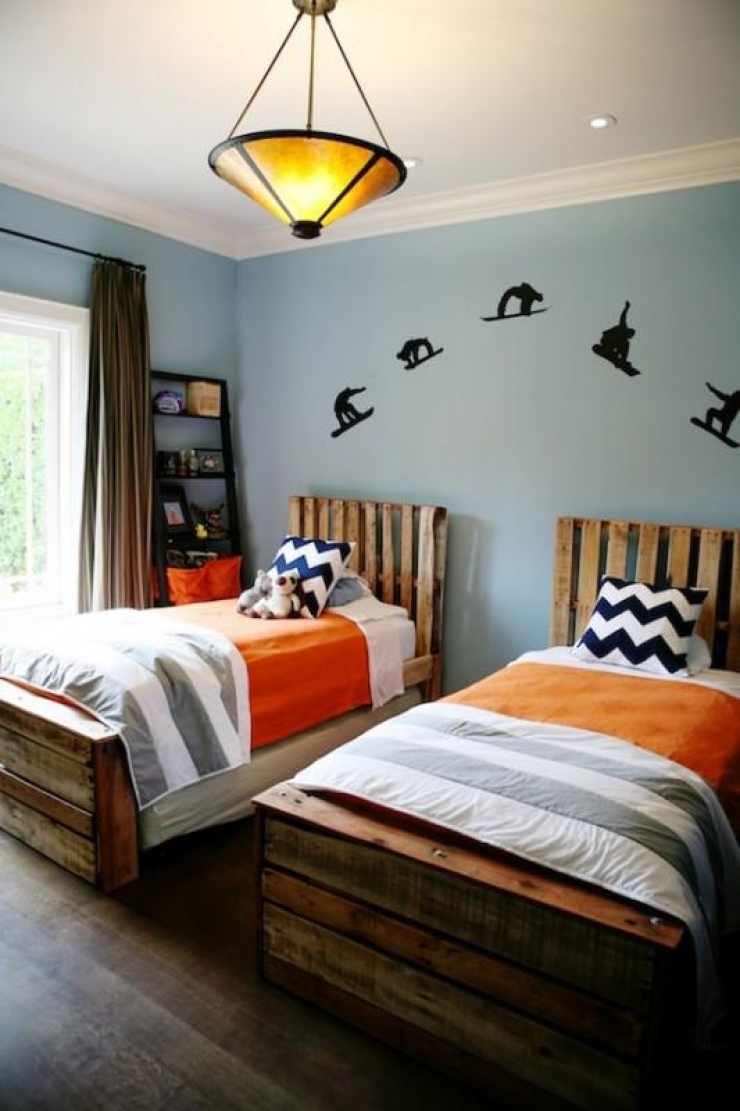 Source: The original source is not available anymore.
Making beds from pallets of wood is a wonderful project, but it could be a lengthy and skillful build. It's better to use these pallet ideas to make pieces of the bed. The headboard is made of a single piece of the long, lightweight variety. Be sure to affix it to both the frame of the bed and the wall behind it to protect your little ones while their sleeping. Then, move onto the bottom of the bed. This section is actually made of single planks pulled from a pallet and placed in a larger, sturdier box. Top it all off with a heavy, rustic stain.
37. Quick Prep Kitchen Island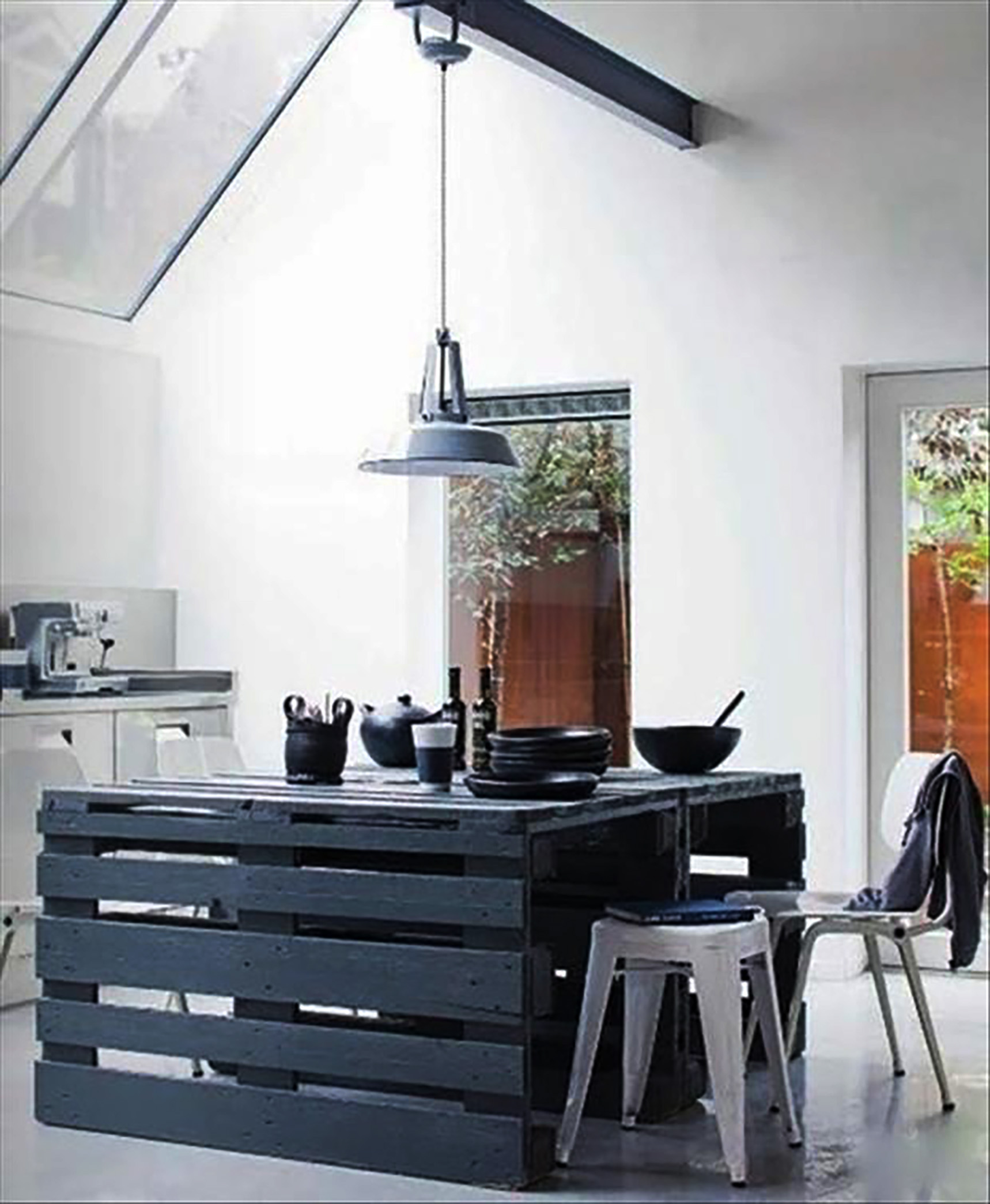 Source: The original source is not available anymore.
It's a quick-prep kitchen island that can help you save time and add flare to the focal point of your home. This pallet furniture design places two on their side for the outer structure and strips down two pallets for the inner structure. Basically, you just remove the back side of each pallet and bind them together with nails and wood glue in the center. The table top is difficult to see in this picture, but it's made of single plank pieces pulled from a pallet and then placed side by side. You can seal them with epoxy resin to prevent any spillage.
38. Hanging Wood Garden Trellis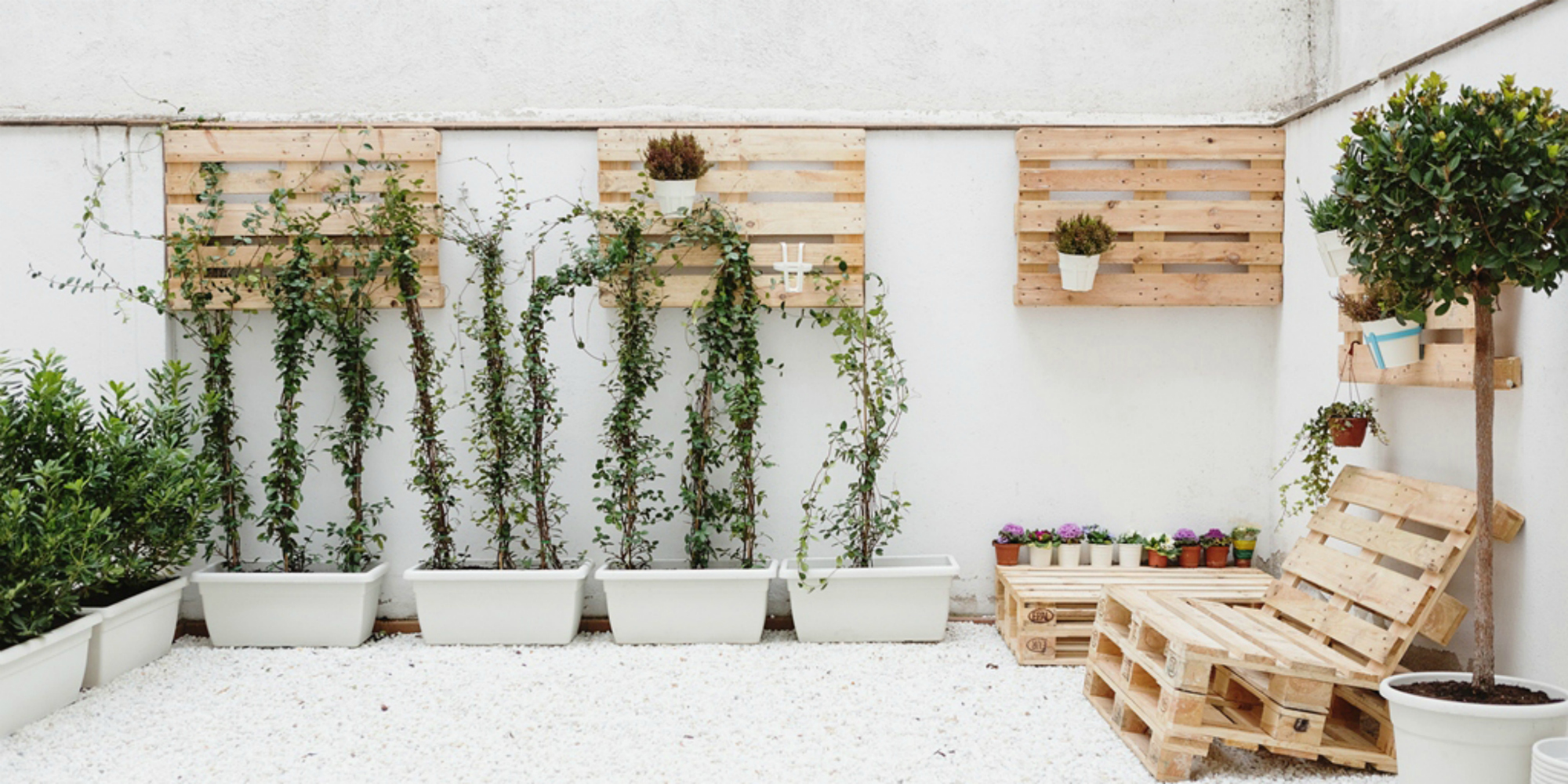 Source: The original source is not available anymore.
This pallet garden furniture is simple to install and only has one major build. That's the lounge chair. It will require some pre-planning and about three to four heavy-duty pallets of wood. If this is your first project, then you might want to bring in a friend who has more experience. The wall trellis back splash is simple though. It's comprised of three to four single, lightweight pallets of good quality. You can hang them in place with concrete screws. Position your favorite hanging plants nearby and watch the wooden planks fill up with color by springtime.
39. Single Row Wooden Shelves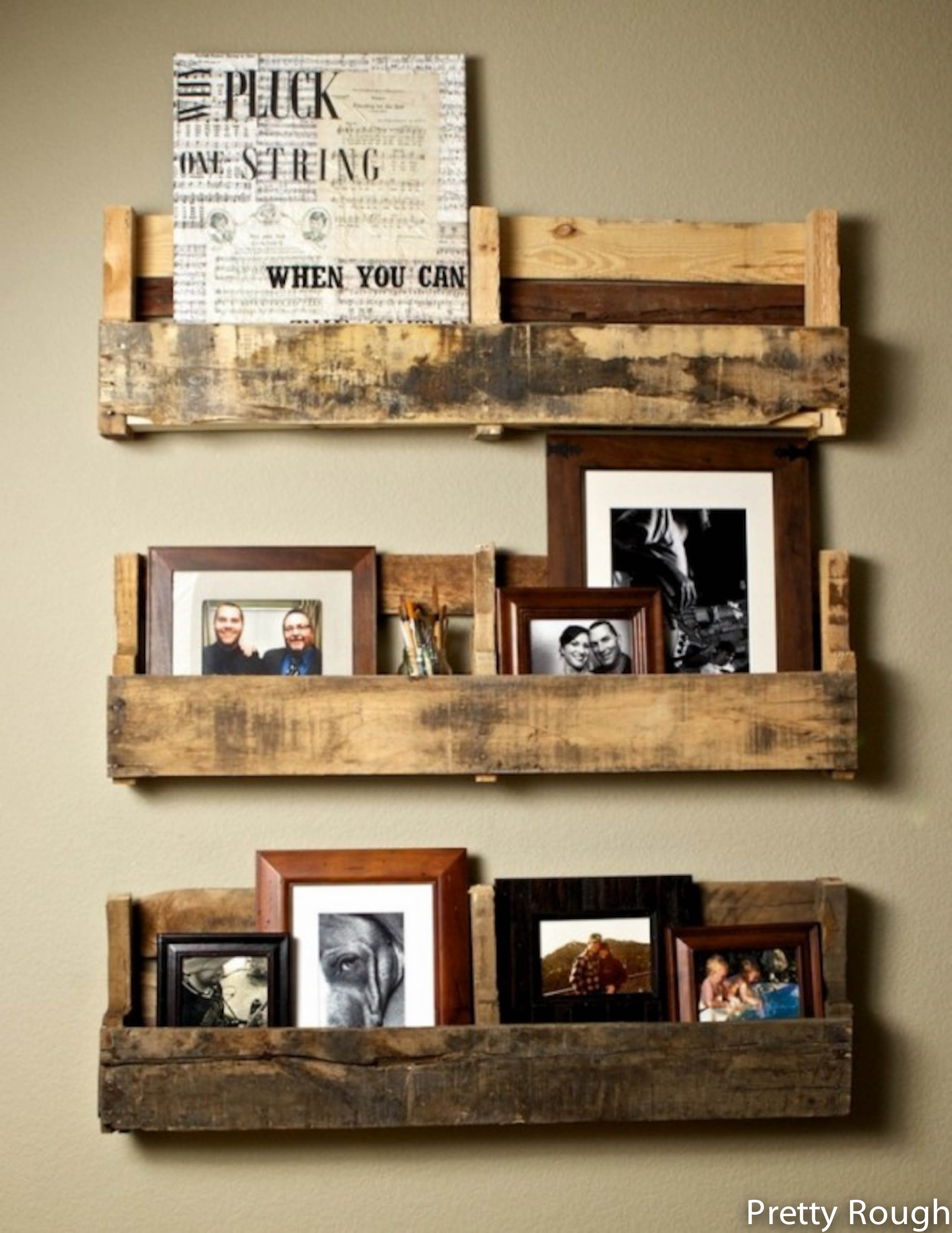 Source: The original source is not available anymore.
Pallet wood furniture isn't just for the living room floor or outside garden. Check out this set of selves for the wall. It's a simple pallet furniture idea that can be done with just a single piece of reclaimed wood. In the simplest rendition, you can just split the pallet in three pieces and hang them with metal hooks. However, what you don't see in the photo is that a single 2 x 4 plank is needed to provide the base for the shelf. You can strip those extra pieces from a second palette. You can also sand the front surface, stain it or paint the front to match the decor of the room.
40. Small Glass-topped Dining Table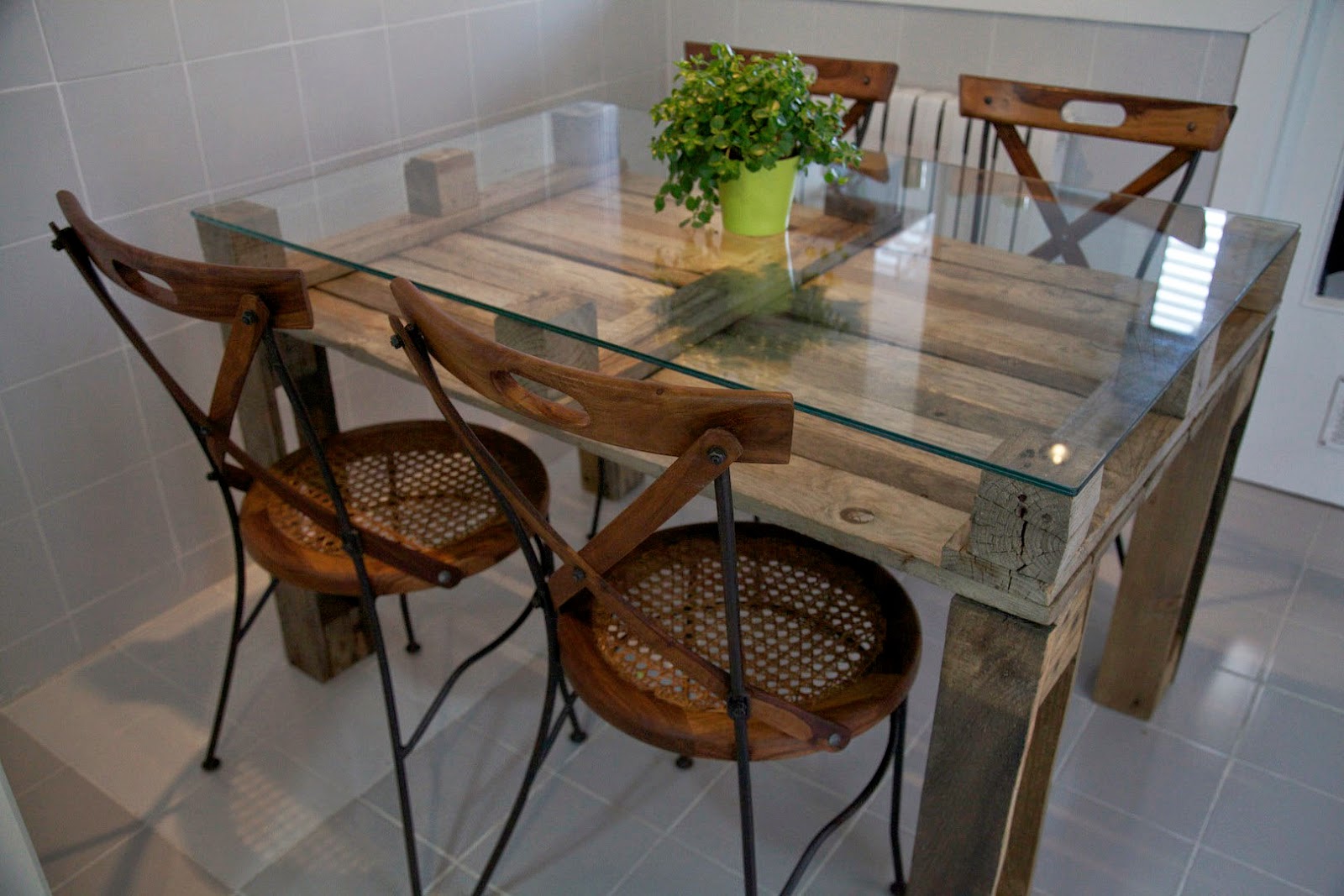 Pallet wood furniture can stimulate a brand new theme for your home or perfectly accent your existing home design. This table is an example of how you can create a theme. It's comprised of only two standalone pallet pieces. Strip off the ends of a single pallet to make sturdy legs. Then, strip off the top of a second pallet to form the base for your table surface. The glass top is an elegant final touch and you can shop around at garage sales or thrift stores to find a set of chairs that complement the table. Be sure to carefully select pallets that aren't rotted or distressed in any way.
41. Low Rise Single Bed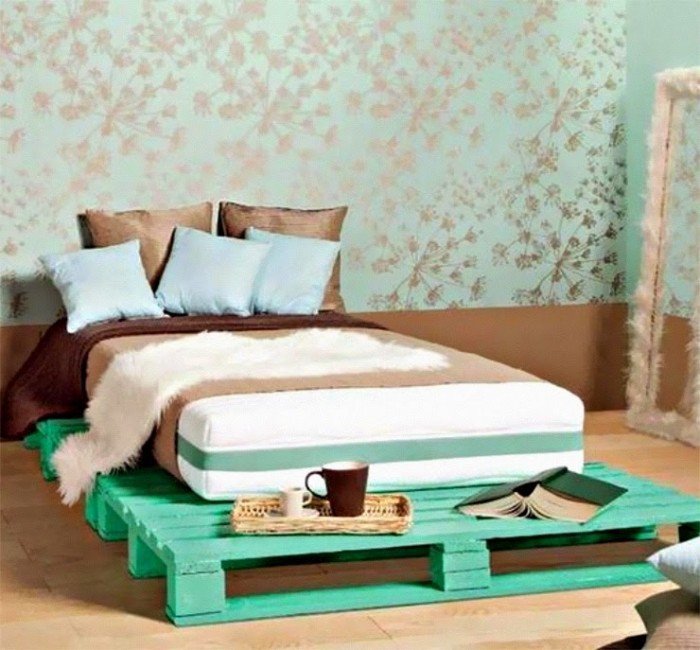 This is pallet wood furniture in one of its most simplest and straight-forward applications. This is what they are meant to do: provide a sturdy base for other objects. For this low rise single bed, you can join several pallets together with small wooden blocks and nails. The bright, colorful paint job elevates the design from being just a floor crate to becoming part of a general theme. You can design around the bed frame to reinforce that theme. In this picture, the bed frame is extended near the foot to provide some extra space for reading and other bedtime activities.
42. Low Rolling Wooden Coffee Table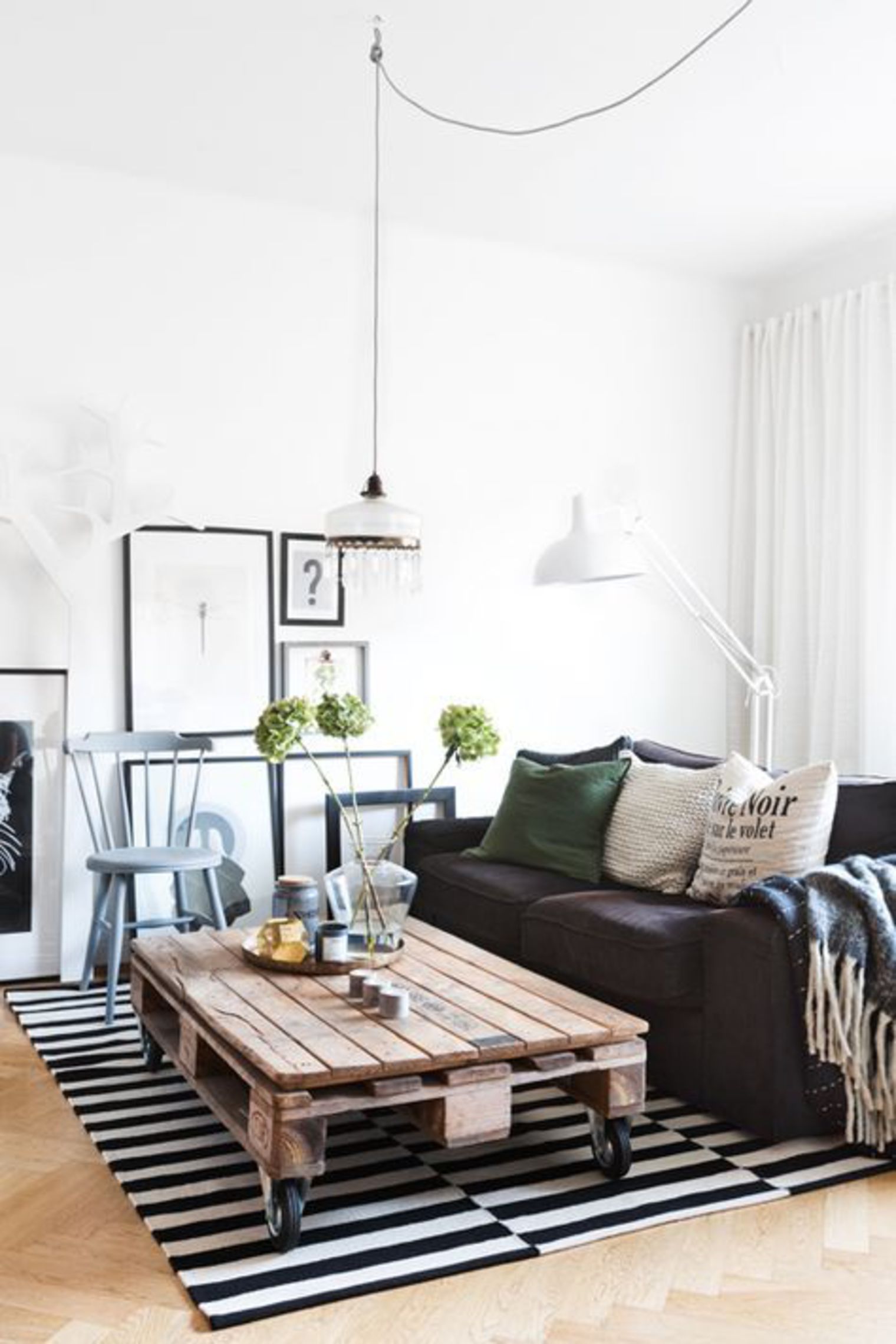 Source: The original source is not available anymore.
A coffee table can add lots of style and character to your home decor. This DIY pallet project requires just a few pallets and some large caster wheels. You can use a single, large pallet or merge two or three pallets together with wooden blocks. This design is perfect for a low sitting area, but you can also stack pallets to elevate the table if need be. This coffee table can be stained or painted to match your living room decor. Be sure to select a sturdy pallet base, but you can use some distressed wood to form the table top.
43. Roll Away Sofa Bed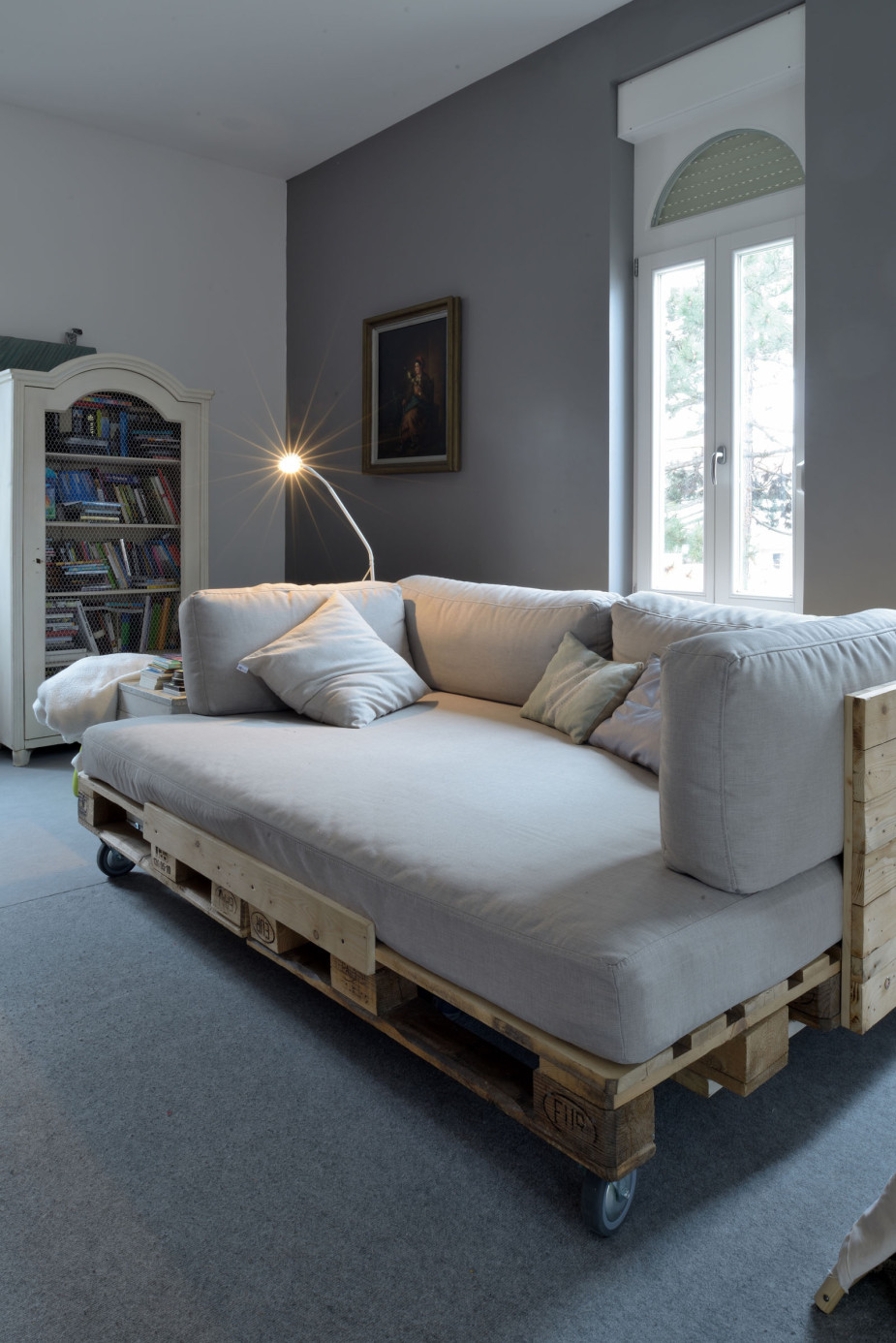 A roll-away sofa bed can be moved to different rooms in the house and you can use the heavy-duty rollers to chase the sunlight. This particular design features several pallets and a few extra pieces of reclaimed wood. Two heavy duty pallets make up the base and it's affixed together with a wood panel in the front. Don't just rely on this single piece though; use wood screws or nails for added stability. The sides and backs of the sofa bed are reinforced with single surface wood from a number of pallets. You can leave the wood bare or you can sand and paint them.
44. Wall-mounted Glamour Station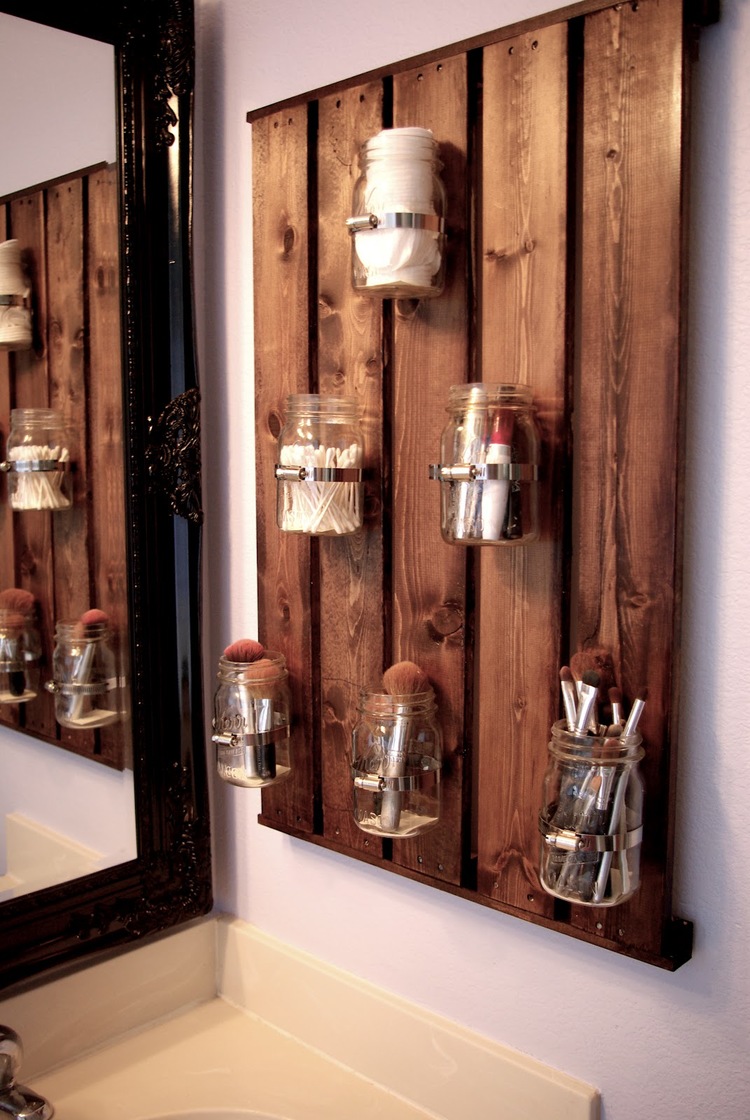 Source: The original source is not available anymore.
Look at this unique glamour station idea. It proves that pallet furniture design doesn't have to take a long time and it doesn't require a great deal of construction expertise either. It's a DIY project that you can do in your spare time. Take a single pallet and carefully remove four or five of the flat planks. Affix the boards to wooden runners with a hammer and nails. Clean and coat the wood with a dark, warm stain that will look lovely under the glow of antique light bulbs. With some thin metal fasteners and a few mason jars, you can have extra space to store your makeup brushes and kits.
45. DIY Futon Bed Frame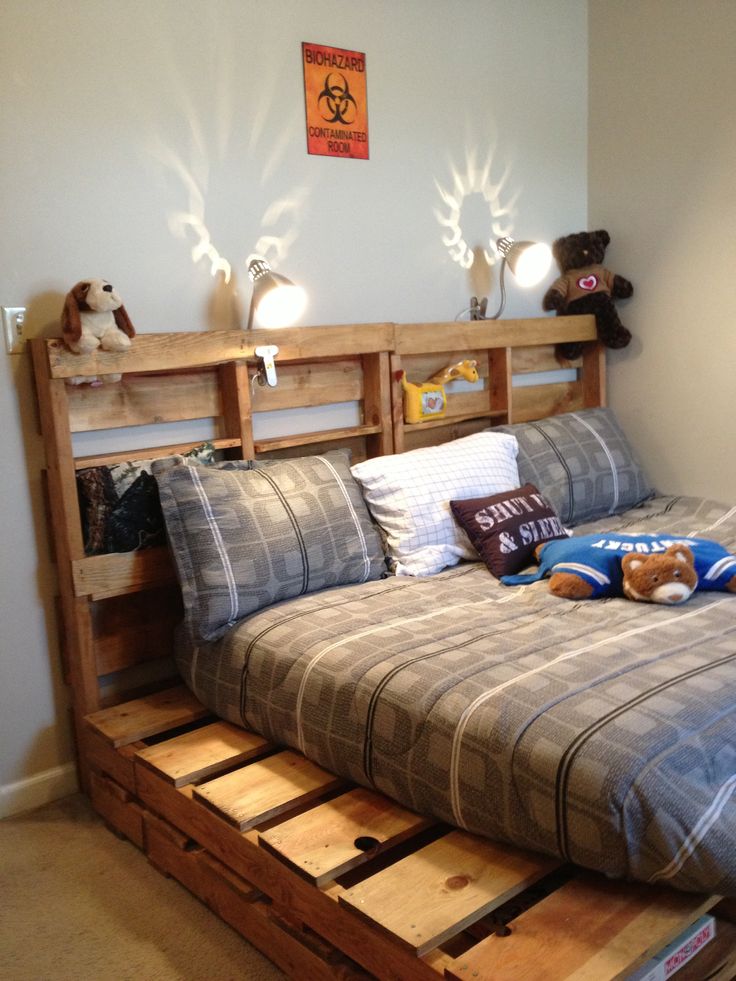 Source: The original source is not available anymore.
A futon is ideal for small spaces that require more versatility. This futon bed design idea has two lightweight pallets for the headboard pieces. There isn't any modification needed for those sections of the build. In this picture, the base isn't attached, but the base can be affixed to the headboard to make it one functional piece. The base is made up of several pallets that have been reconstructed. You can stack them and affix them wood screws and nails. Then, carefully take off the top panels and rearrange them so that there are fewer spaces between the planks. You can finish the look with a deep, rustic stain.
46. Wall-mounted Vanity Mirror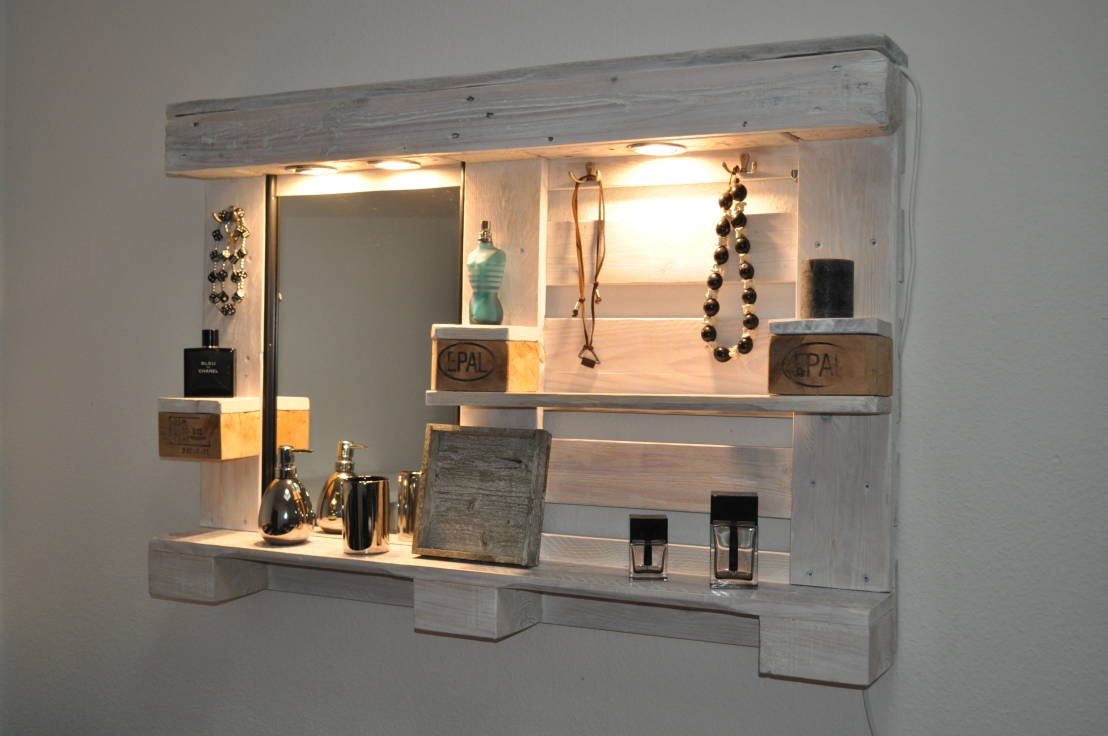 This DIY project takes a single pallet and transforms into a lovely vanity mirror with shelves. At first glance this might seem like an unmodified pallet, but there are several design elements at play here. First, a couple of the planks have been removed and turned on their side to make the shelves. Also, small hangers were screwed into the wood to hang necklaces and bracelets. The mirror is affixed to the wood and some of the scrap pieces were used to make different size shelves. To hang this on your wall, be sure to use load-bearing screws that can handle the weight of the pallet.
47. Cozy Corner Couch With Storage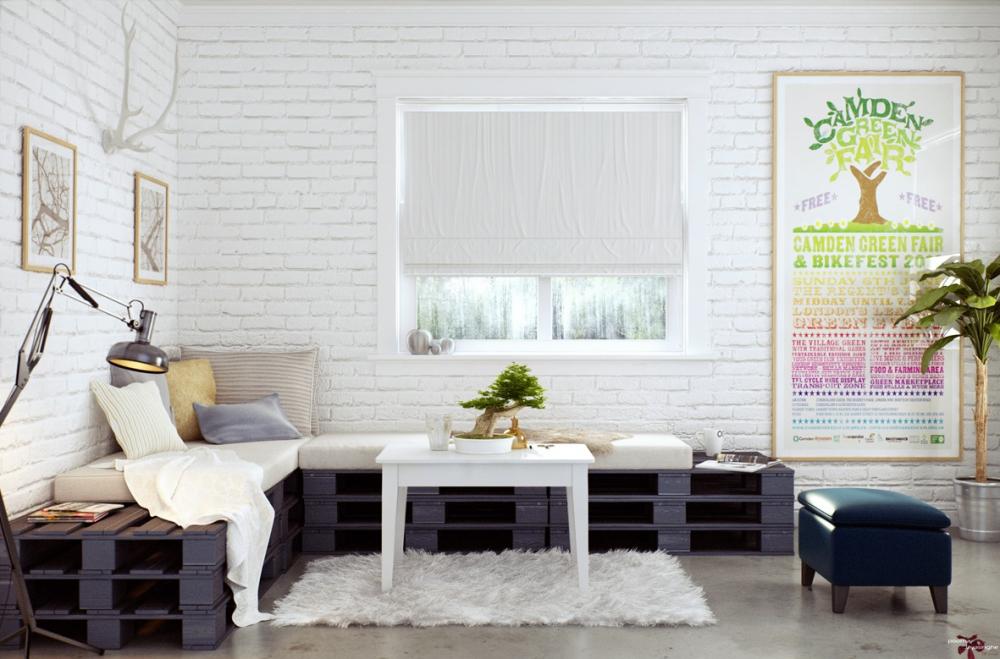 Source: The original source is not available anymore.
If you're looking for a great starter project, then take a closer look at this corner couch design. It features a number of wooden pieces that are stacked together. Since the sectional is placed in the corner, the pallets themselves don't have to be connected. You can use wood glue, wood screws or nails if you like. The spaces between the planks can be used to store books, magazines or other knick-knacks. If you're going to use this many pallets, then make sure to be very selective. For a finishing touch, you can spray paint them to match the rest of the room.
48. Japanese-style Low Bed With Headboard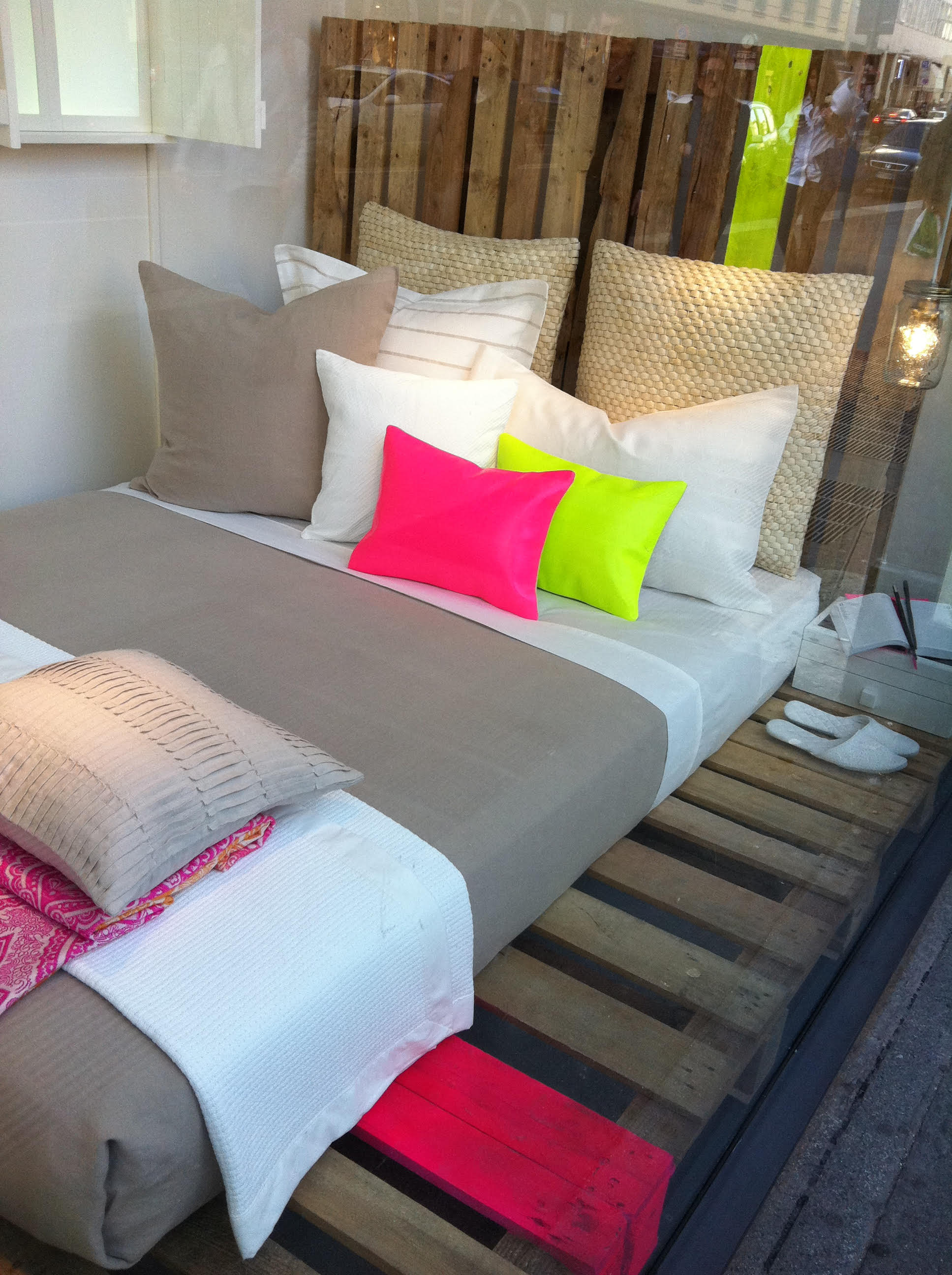 Simple elegance doesn't have to cost a lot of money. Just take a closer look at this Japanese-inspired low bed that's built with pallets of wood. This design idea doesn't require much modification. Use three to four pallets for the base of the bed and leave a section of wood exposed for your reading books and slippers. Notice that the headboard is a bit different. It has distressed wood and a stain was applied to the front surface. Distressed wood is fine for the headboard, but make sure the bed frame is sturdy. Some of the planks have even been painted an accent color to match the pillows and bedding.
49. Studio Couch and Table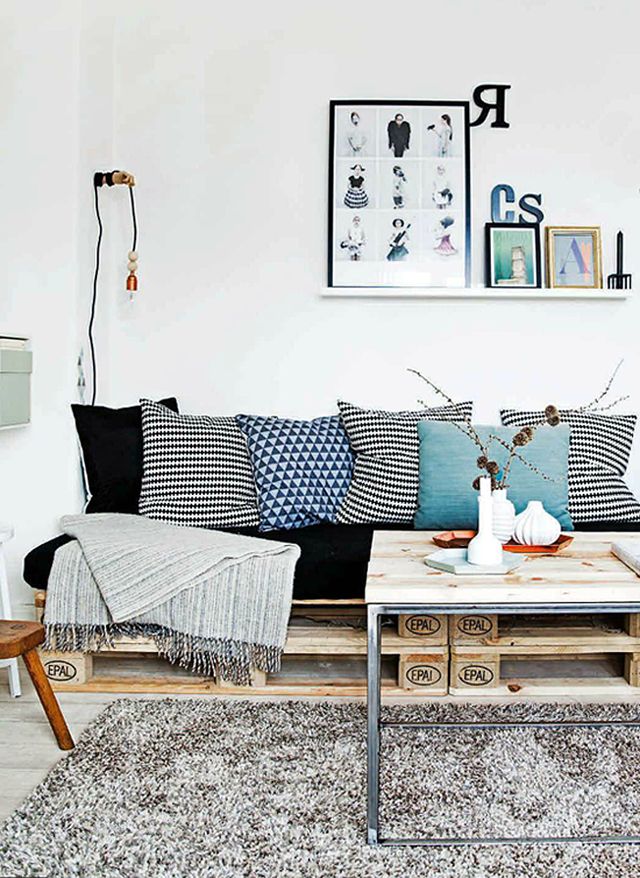 A studio apartment might seem like an easy space to decorate, but it might prove difficult to find the right furniture that won't over-crowd the room. This DIY pallet project can transform your studio into a chic, trendy living space. You can't fit a large table in a studio, so use single planks from a wood pallet and a lightweight metal frame to create a table that can be easily shifted about the room. Use heavier shipping pallets and double stack them to form a sturdy base for a futon or sofa bed. Avoid using a dark stain or dark paint on the wood to keep the space bright and inviting.
50. Wall-hanging Bottle Holder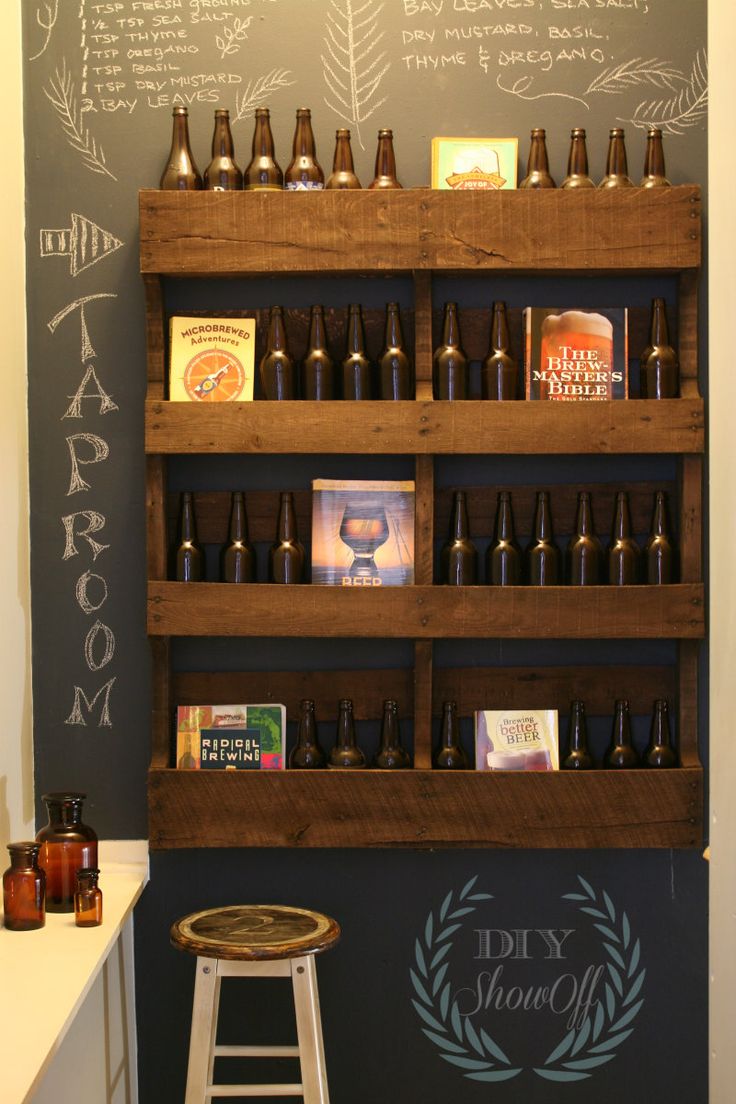 Source: The original source is not available anymore.
Make your kitchen bar look like a craft brewery with an easy DIY build. This pallet furniture design features an entire single piece, not just parts of a pallet. The front facing of the shelves are already there, but you will need to use 2 x 4 inch wooden planks for the bottoms of the shelves. They're easy to install with just hammer and nails, but you might have to saw them to the desired length. For added effect, try using a stain on the wood instead of paint. This way, you'll keep the natural look of the wood and match the color of your bottles.