15. Wood Pallet Mug Holder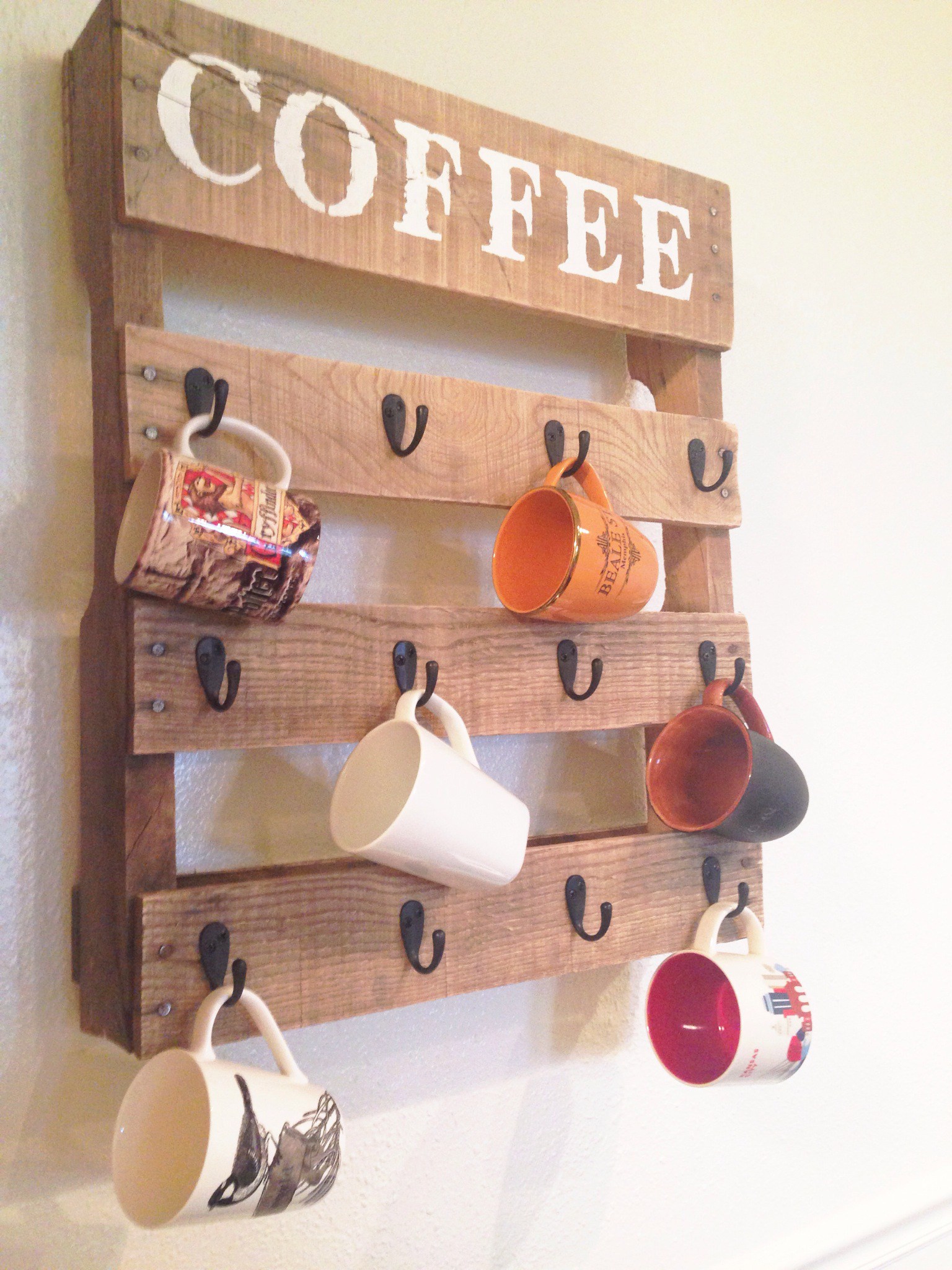 Here's a simple project for a single wood pallet. This is a great starter build that won't take too much time or expertise. The most important part of this build is finding the best wood pallet. Most of them have been used and might have rotted or broken pieces. If this is going to be a stand-alone piece, then it's really important to be selective. You can add the metal fasteners very easily; they just screw right into the wood. Also, when you hang this piece make sure to use load-bearing screws or reinforced nails. The last thing you want is your mugs crashing to the floor.
16. Sturdy Sofa Sectional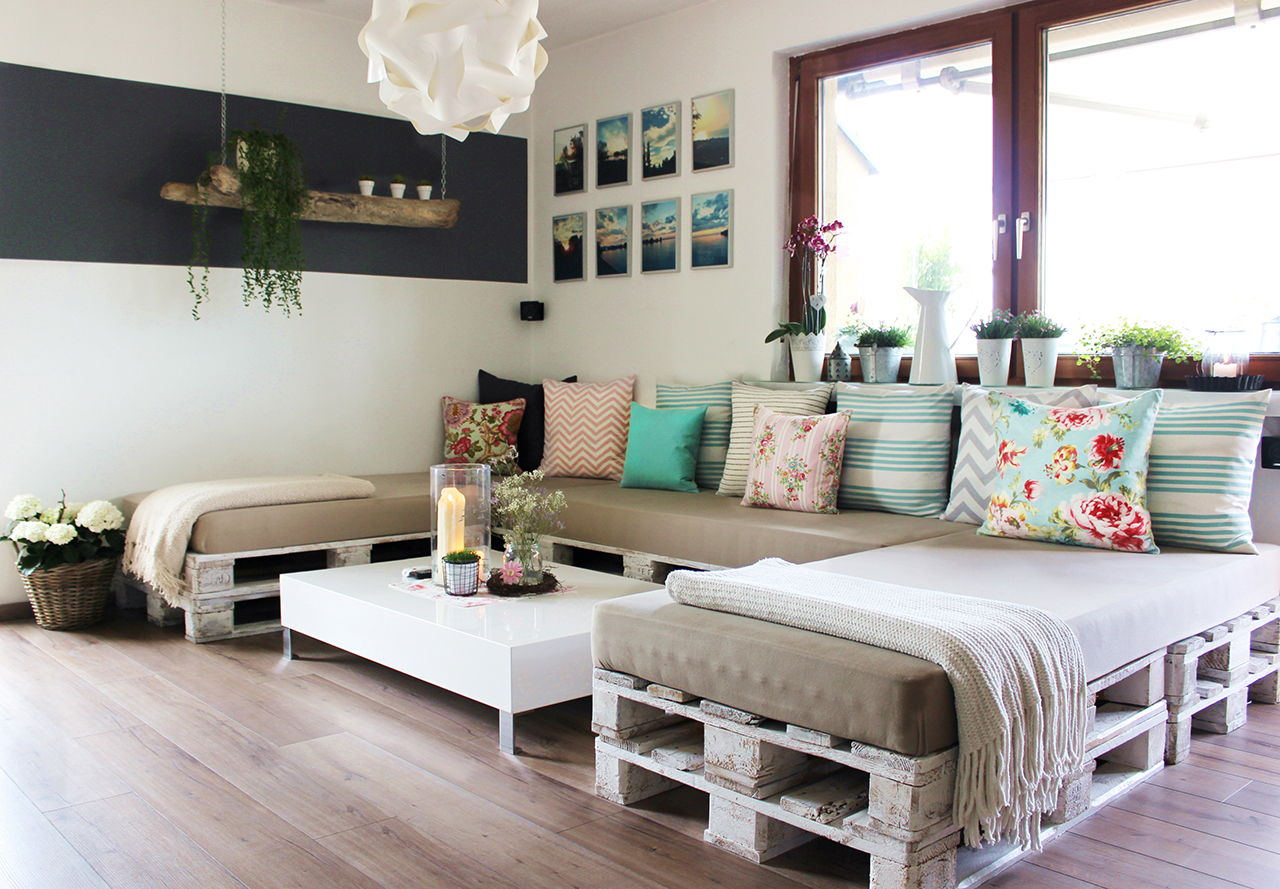 This DIY pallet design is a great way to avoid spending loads of money on a spare living room or a section of your home that needs filler. The wood pallets can be stacked to any height you desire, but two rows is a pretty good level. Take your time to find the best pieces you can because you might not be able to easily repair them once you get everything installed. You don't have to fasten them together since they're wedged against the wall. However, you can use small wooden blocks between crates to add some stability.
17. Wood Pallet Garden Starter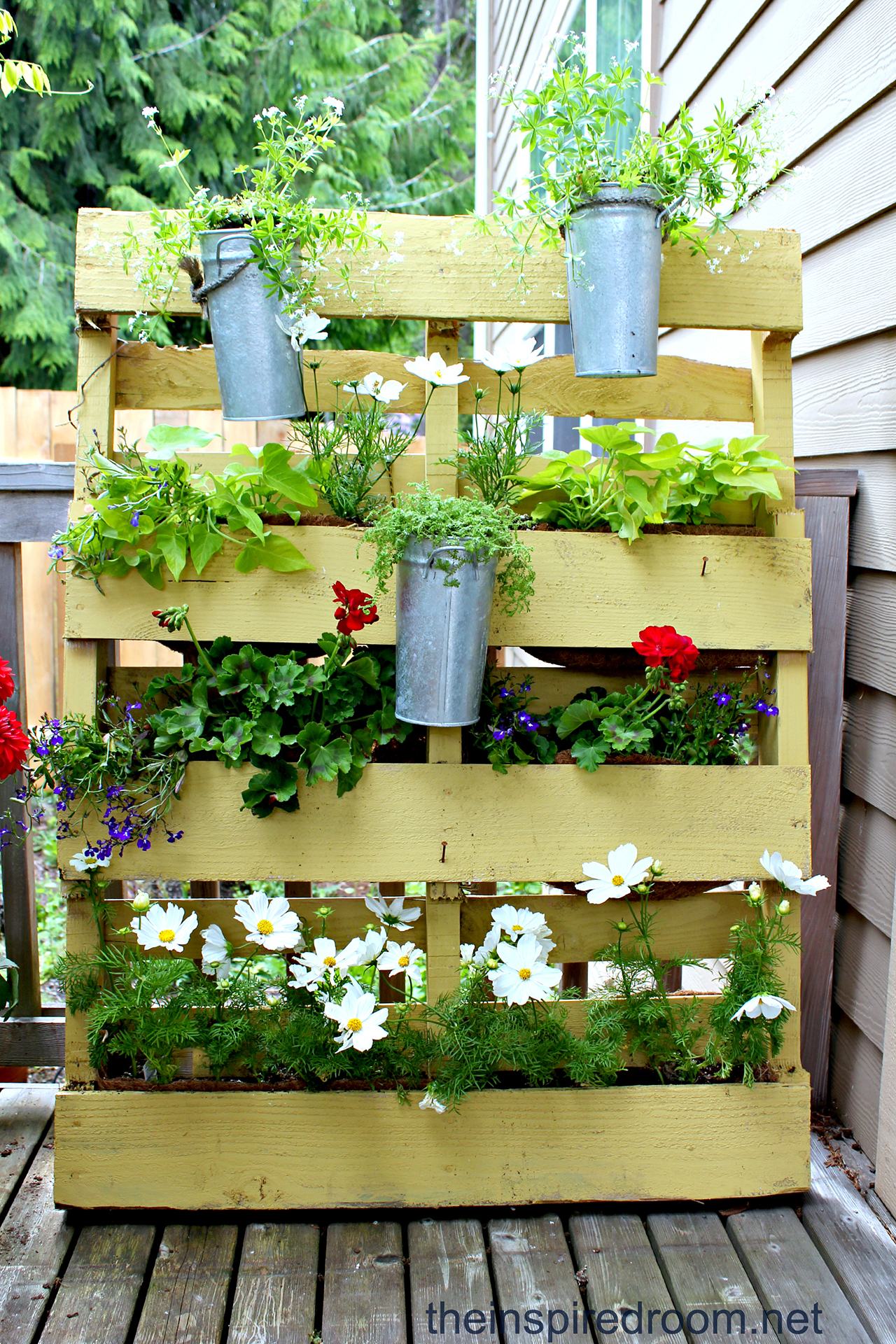 Pallet garden furniture is an amazing way to save money and fill up your exterior space with color and texture. This garden starter project is fun and simple to make. It features a single pallet that has been carved in places to add character. You will need to fill in the bottoms of the shelves with planks from a separate pallet. Luckily those planks don't have to be super clean. You're going to need to drill small holes into the planks for drainage and they'll be rarely seen. Although it's not necessary, you might want to consider treating the wood so that it lasts longer. Finally, add a fresh coat of colorful paint.
18. Wood Pallet Washroom Basins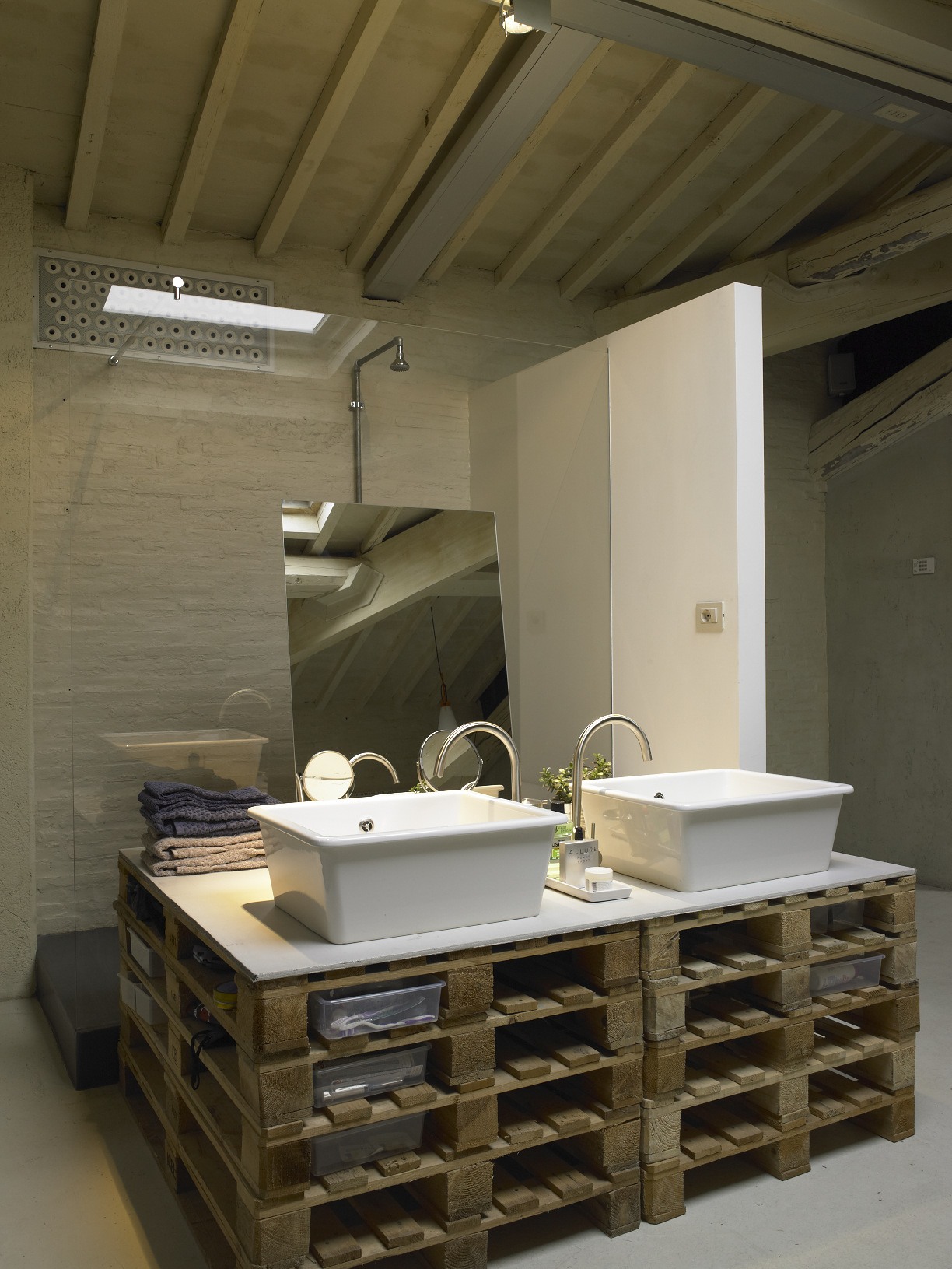 This wash room basin station is unique and minimalist in design. At first glance, this might look like a simple project idea. However, you'll need to run pipes for plumbing if you want these washroom basins fully functional. Start with the plumbing and build the pallet shelves afterwards. Just measure the dimensions and use a temporary fascia. Then, replace the temporary fascia with a stack of pallets. Be sure to use the best pallets you can find and treat the wood with a water-resistant stain. The spaces between the planks are ideal for storing towels and washing supplies.
19. Cozy Hanging Swing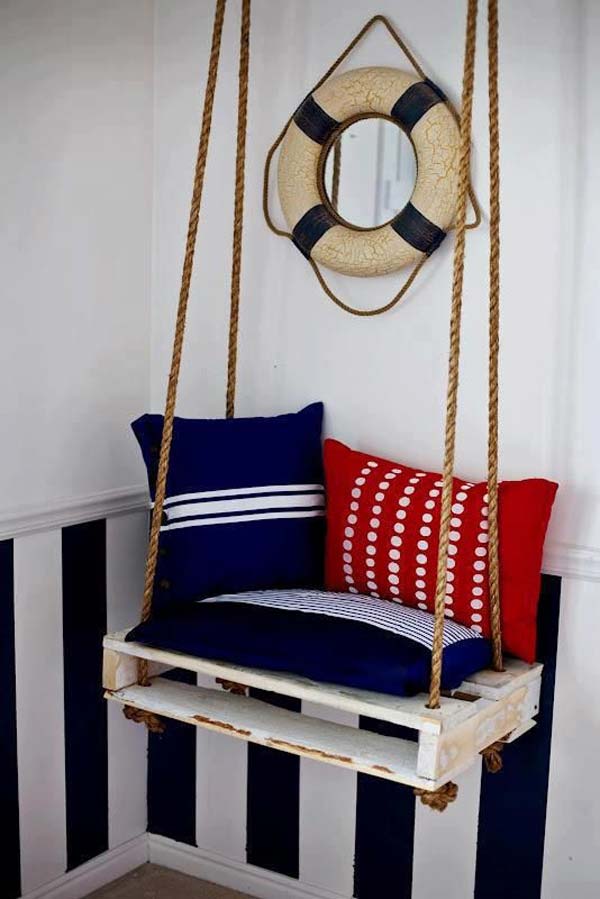 Here's a pallet furniture idea that can really transform a corner into a far-off magical land. It's a cozy swing chair that's made with rope and about a quarter length of a single pallet. Lots of design ideas look great on paper, but fall short in the execution. This is one where you need to be careful. You want to make sure to use load-bearing ceiling hooks and distribute the weight-load across all four ropes. This isn't an outdoor swing set; it's more of a decorative piece. Some designers just use them for dolls, but with the right application it can be suitable for a single person.
20. Small Circular Deck Table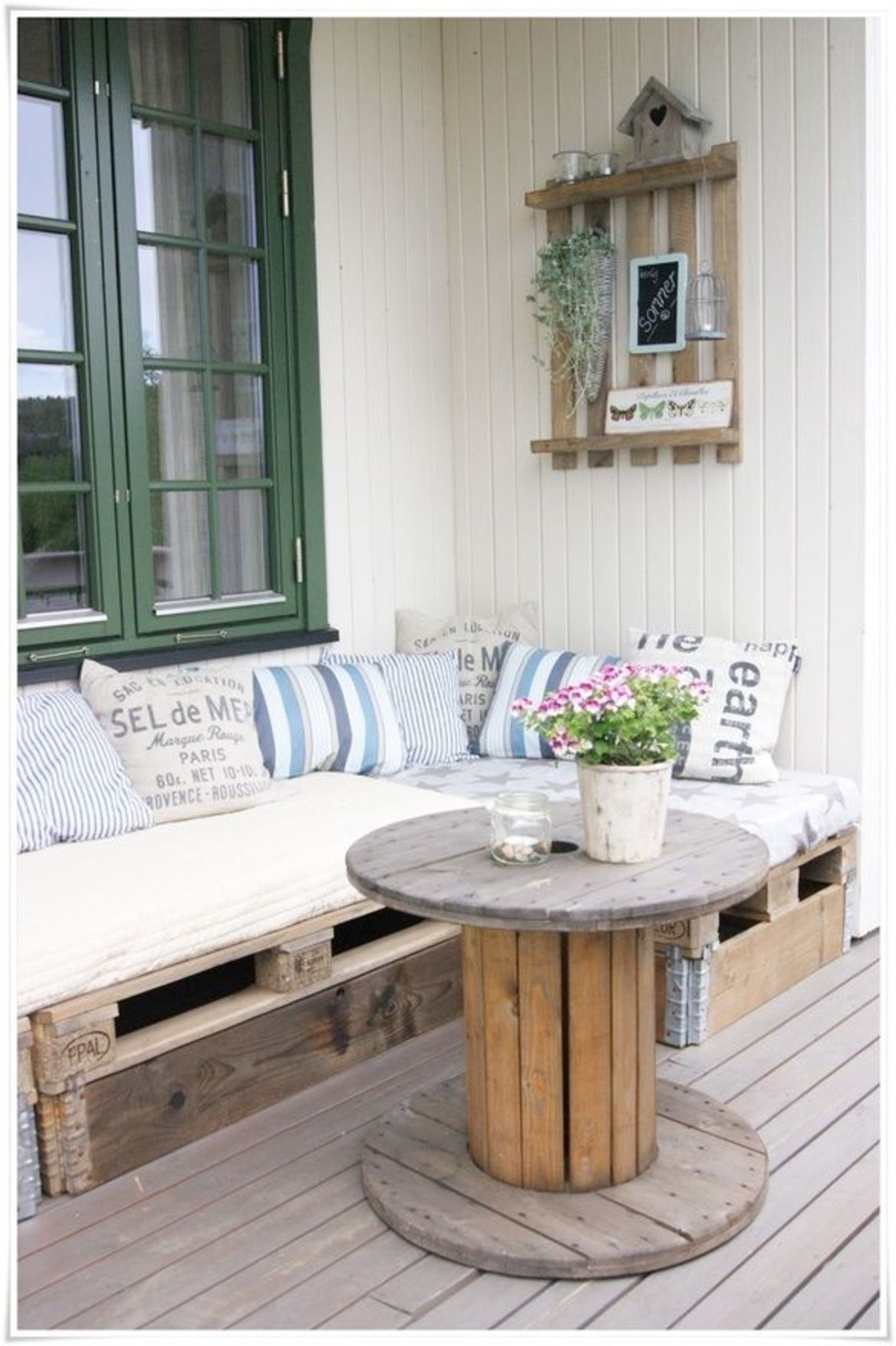 The back deck is a great place to try out some pallet furniture ideas. You can find lots of wooden pieces just before they're tossed in the rubbish bin and re-purpose them for your pallet garden furniture or patio deck. This design features heavy-duty pallets stacked atop a wooden deck liner. This adds a breakup in the shape and texture. The accent table is a single piece that is used on construction sites to transport lengths of cable and rope. It's ready to use and doesn't require any modifications or reinforcements. Lastly, a small pallet is used for a wall-hanging in the background.
21. Industrial Coffee Table and Chairs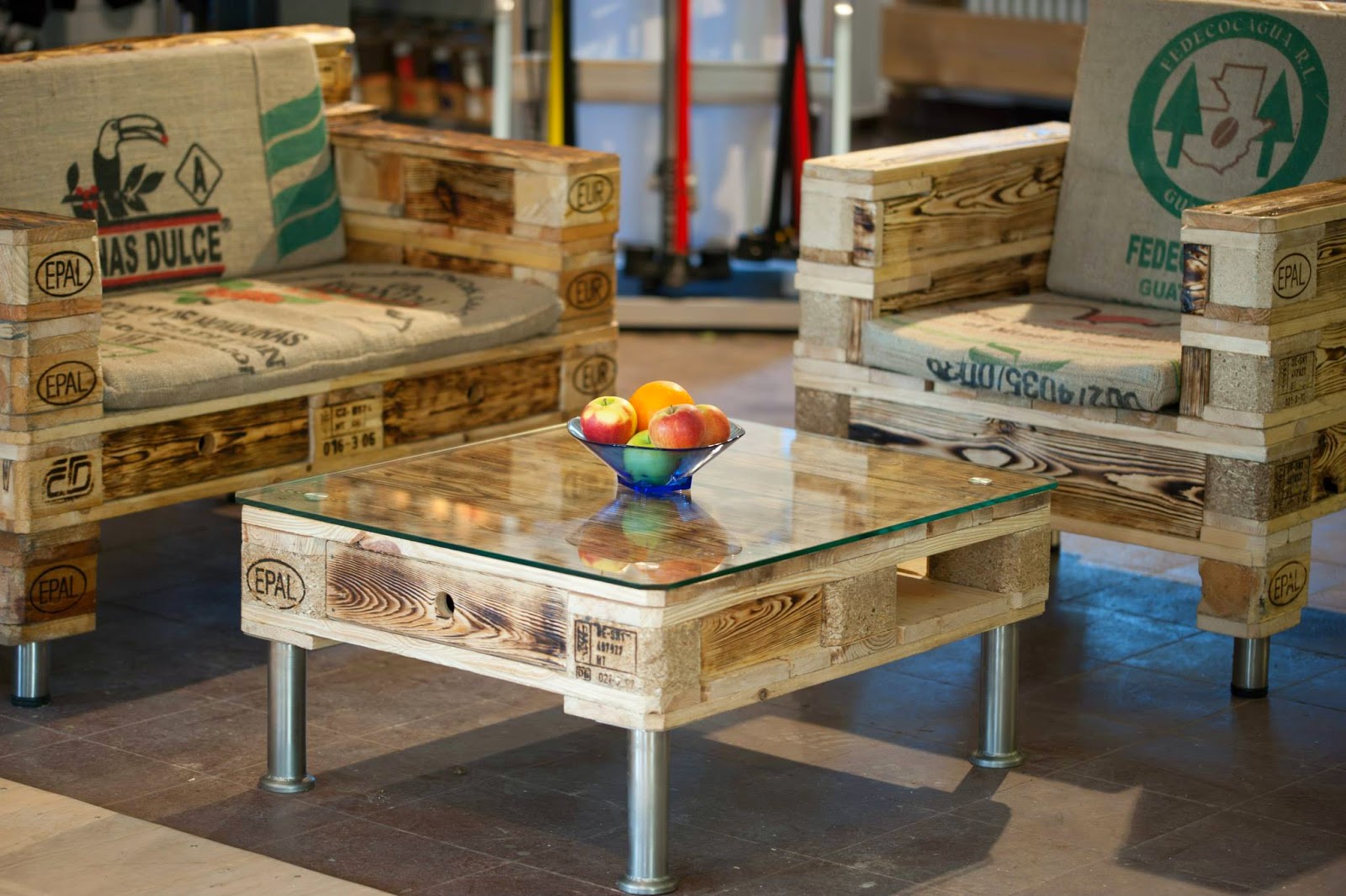 Here's a pallet furniture design that is centralized around a theme. Ideally, you'd have other accent pieces around the room to reinforce it. This is a moderate level build that will require new or very gently used shipping pallets. You won't find these near the warehouse dumpster on a Saturday. The bases are metal cylinders that can be attached with screws for easy breakdown and transport. The cushions can be handmade from a number of different fabric choices such as rucksack cloth, nylon or a cotton blend. Wood glue might be enough to firmly attach the different pieces, but you should use wood screws to be on the safe side.
22. Spice Rack and Coffee Currio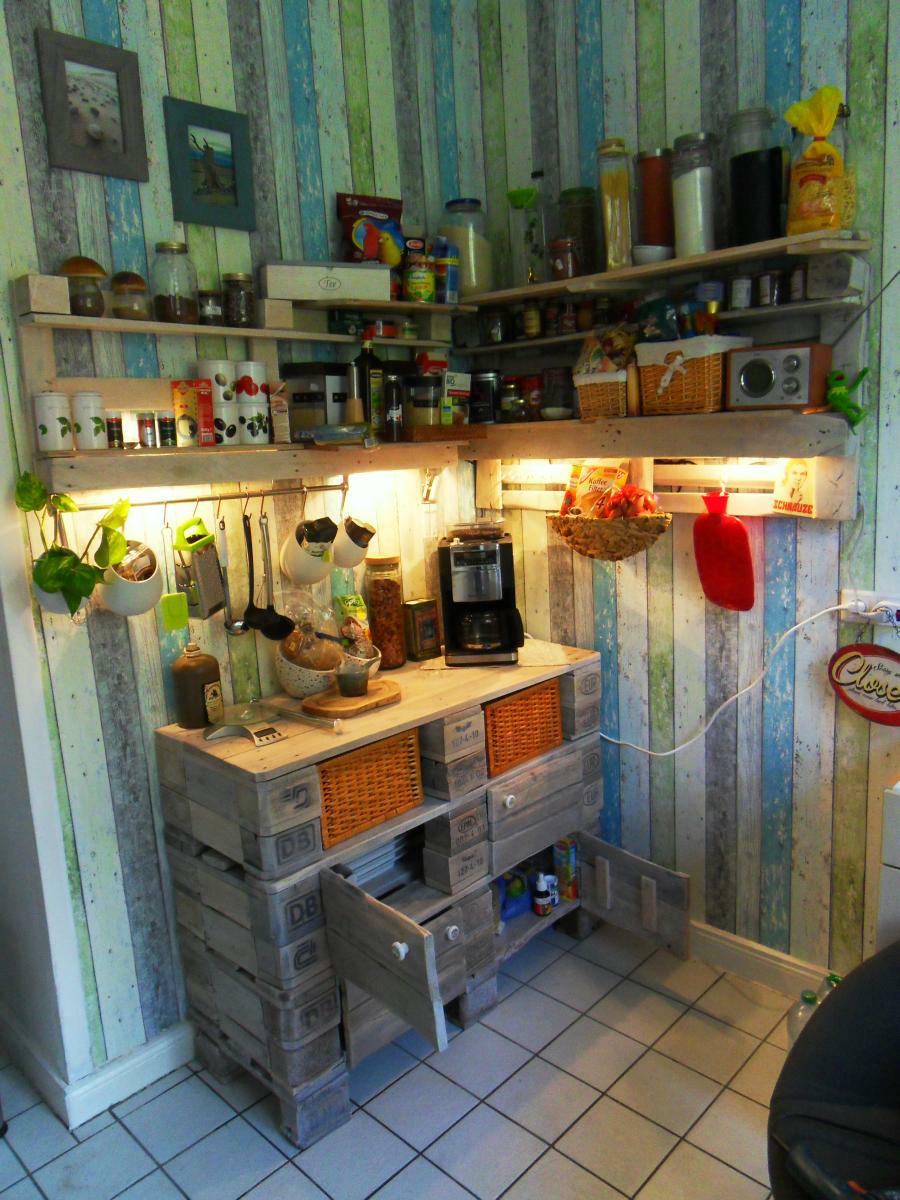 You can find pallet ideas from just about anywhere. This corner spice rack and coffee currio might have sprang from the pages of a southeast Asian travel magazine. It's a moderate to high level build but it can work wonders for your home decor. Let's start with the wall hangings. A single pallet could be enough to make both sides, but with this project you should strip about four pallets down to single plank pieces and build up from scratch. The same goes for the curio cubby. This isn't a light pallet. It's made from heavy duty shipping pallets with the cabinet faces coming out of the lighter variety. You can leave the wood untreated if you select some really nicely preserved pieces.
23. Asian-inspired Low Sitting Room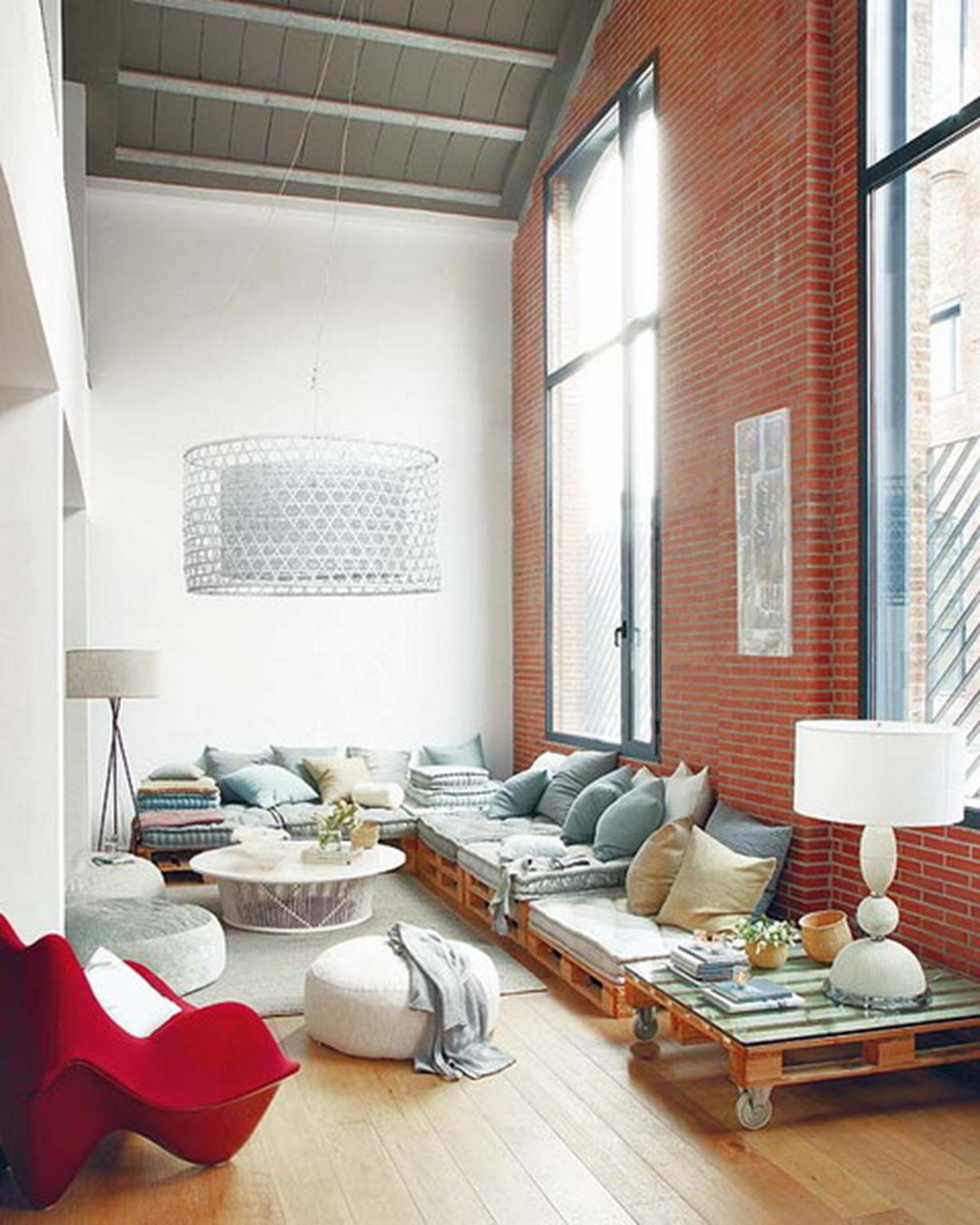 This living room features a couple of different pallet furniture ideas all blended together. There's low-sitting sofas and a rolling coffee table. This gives you a vision of how pallet furniture design can complement a space without overpowering it. With the exception of the rolling coffee table, these pallets are primarily used as bases. They form the foundations of the decor and they're not the featured pieces. Placing them beneath a corner sectional is absolutely brilliant. You can stack them to adjust the height if you like. Ideally, the sofas should sit slightly higher than the coffee table, but it's not a rule that can't be bent or broken.
More pallet furniture decoration ideas on the next page…