24. Simple Rolling Computer Desk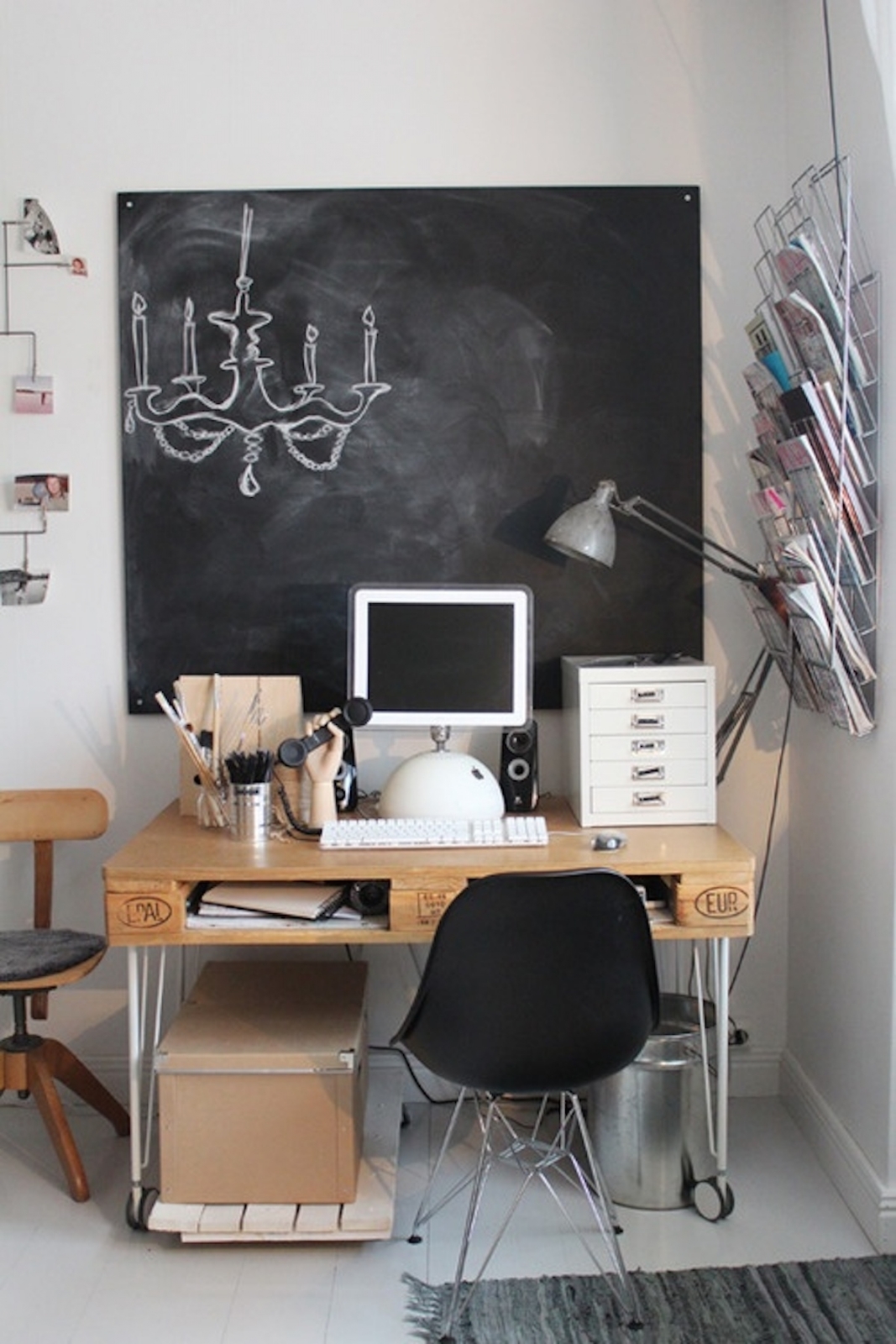 Pallet wood furniture doesn't have to look dingy or cheap. You can buy brand new pallets and re-purpose them for just about any home design project. Check out this small computer table. It features one single pallet turned upside down. You can fill in the gaps with an epoxy resin. The slots can be used for storage space. For legs, head over to the local interior design or hardware store to buy load-bearing plastic stems with rollers. This small desk can ignite new pallet furniture ideas later down the road. Why not add a wall-hanging or a small table, now that you've got your feet wet?
25. Wall-mounted Coat and Scarf Rack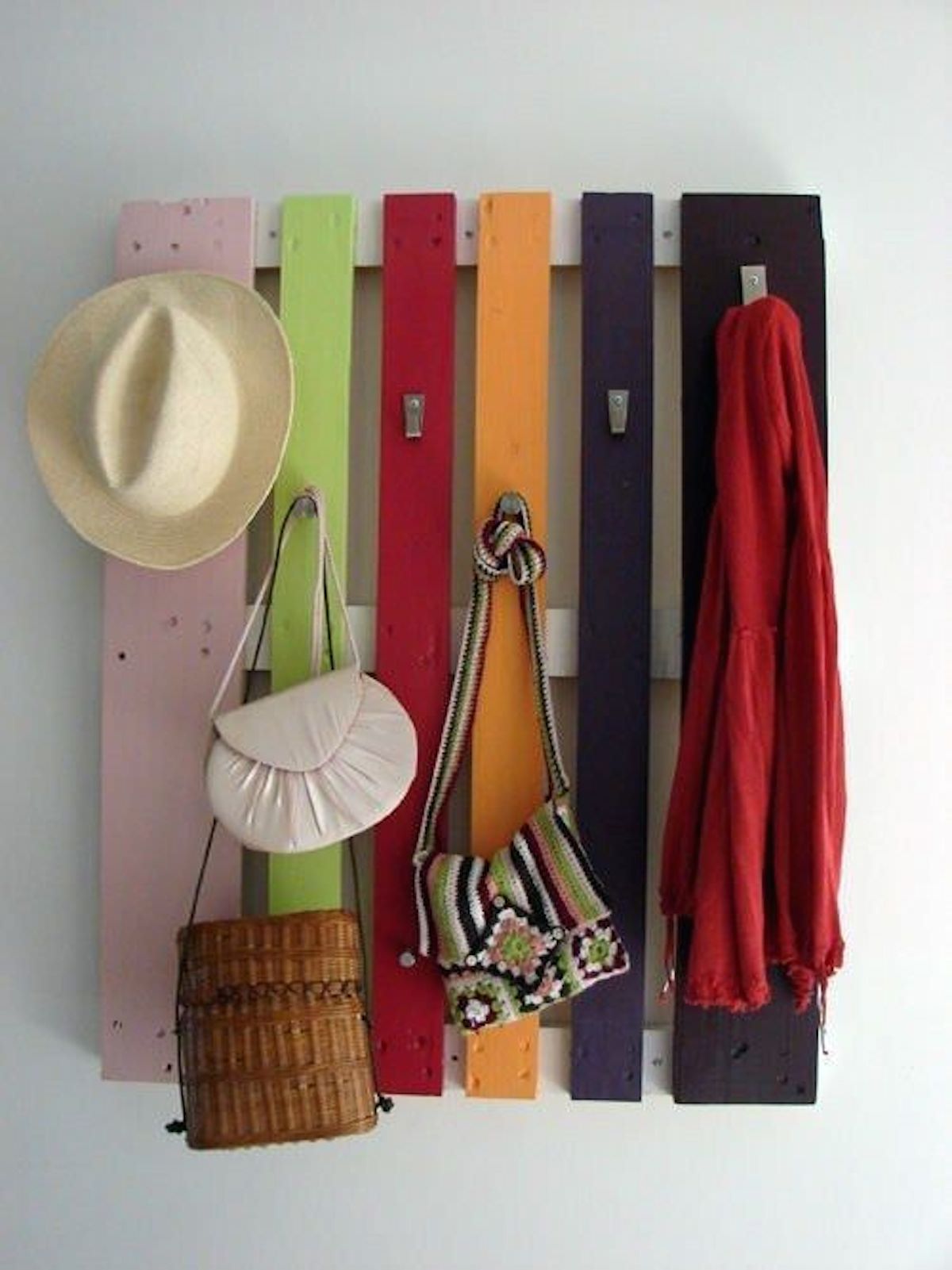 Simple reigns supreme with this creative take on a wall-mounted hat and scarf rack. This is an excellent home decor accent piece that will add lots of character to your foyer. It's made with just a single pallet and some low-cost hooks from the hardware store. You might even have some lying around in the garage. There's not much modification to be done here. Just splash on some colorful paint and affix it to the wall in much the same way you would a heavy painting. Be sure to properly clean and treat the wood before painting and hanging it and this rack will last for a decade.
26. Shipwrecked Coffee Table and Backsplash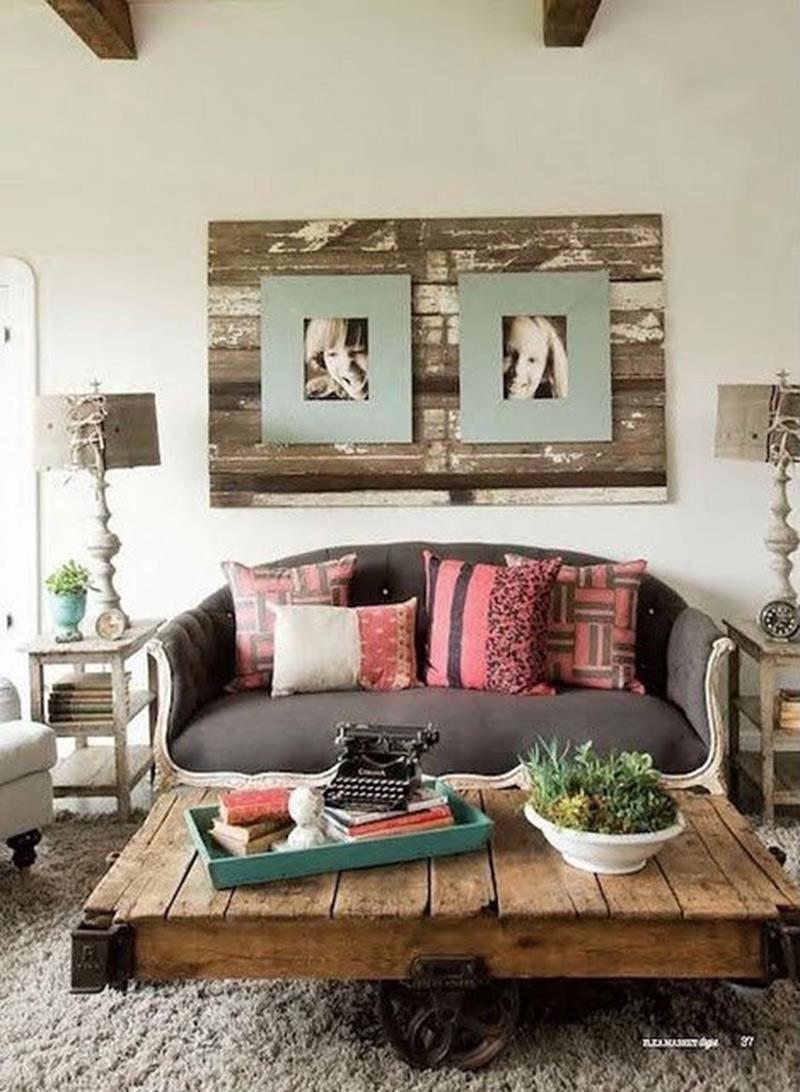 This coffee table ensemble has tons of character and can transform a room into an adventure. These pallet ideas are perfect for people who love finding gems at garage sales and estate auctions. This coffee table has some metal elements, but the wood panels themselves can be heavily distressed and a bit broken. Just be sure to coat them with an epoxy seal. For a back splash, use flat planks and give them a random splash of color. This is a really fun project because nothing has to be perfect in order to fit the theme. So be creative and explore your abilities.
27. Mini Kitchen Currio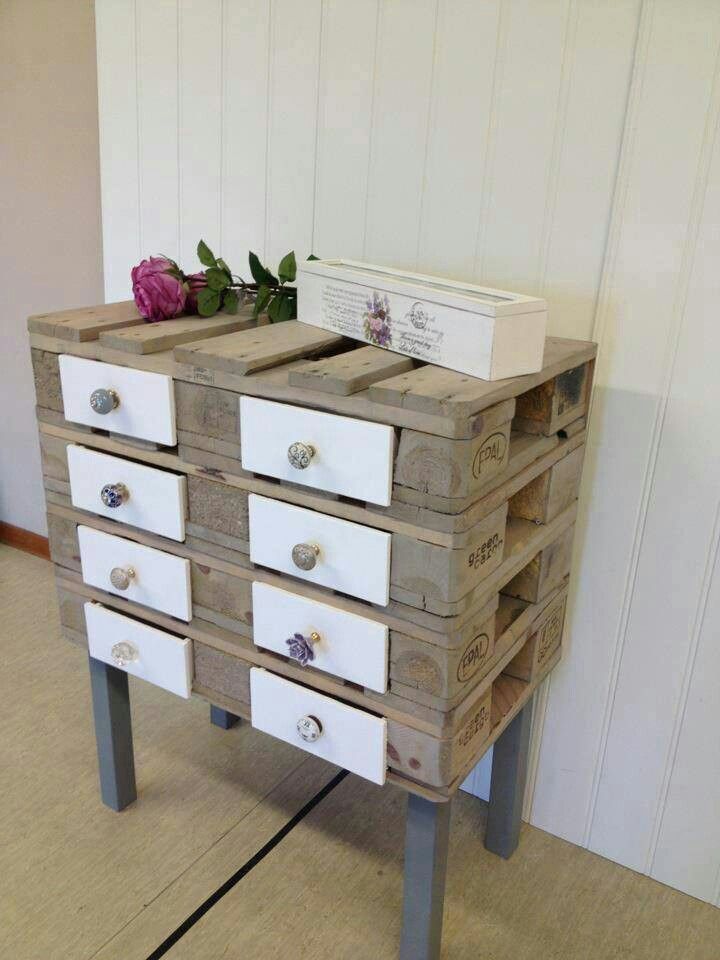 This delightful little curio cabinet is made of deconstructed wood pallets. There aren't any single standalone pieces here. Each level is made of about a quarter panel. This design features heavy-duty pallets. You can luck up and find some in good condition or order your own brand new. This is a small cabinet, but a moderate skill level build. The drawers require metal runners on either side to guide them into the wood. The legs can be taken from another piece of furniture that you can find at a local garage sale. The table top is relatively simple. You can use single plank pieces or cut a pallet into quarter length.
28. Photo Printed Wall Art on Wood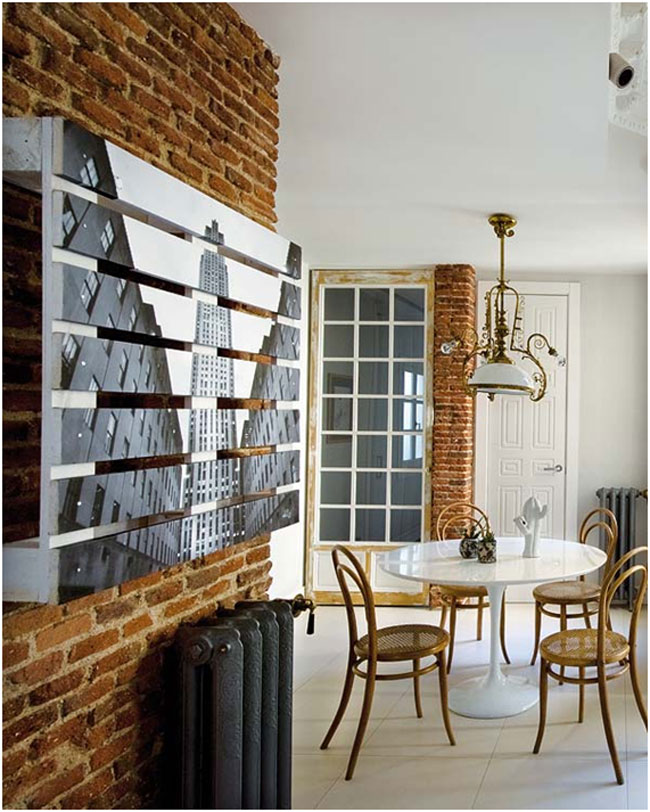 Photos printed on wood are very trendy in home design. It's a great way to add texture and imagery to an otherwise static space. There are kits you can buy to try this on your own, but another option is to send it away to a specialty company that will do the printing for you. There are two ways to go about recreating this image. You can try to find an extended length pallet and deconstruct the photo so that it fits across every panel. Or you can take a pallet frame and strip off the flat planks. Then, you can layer the photos on the planks separately.
29. DIY Wall-mounted Wine Rack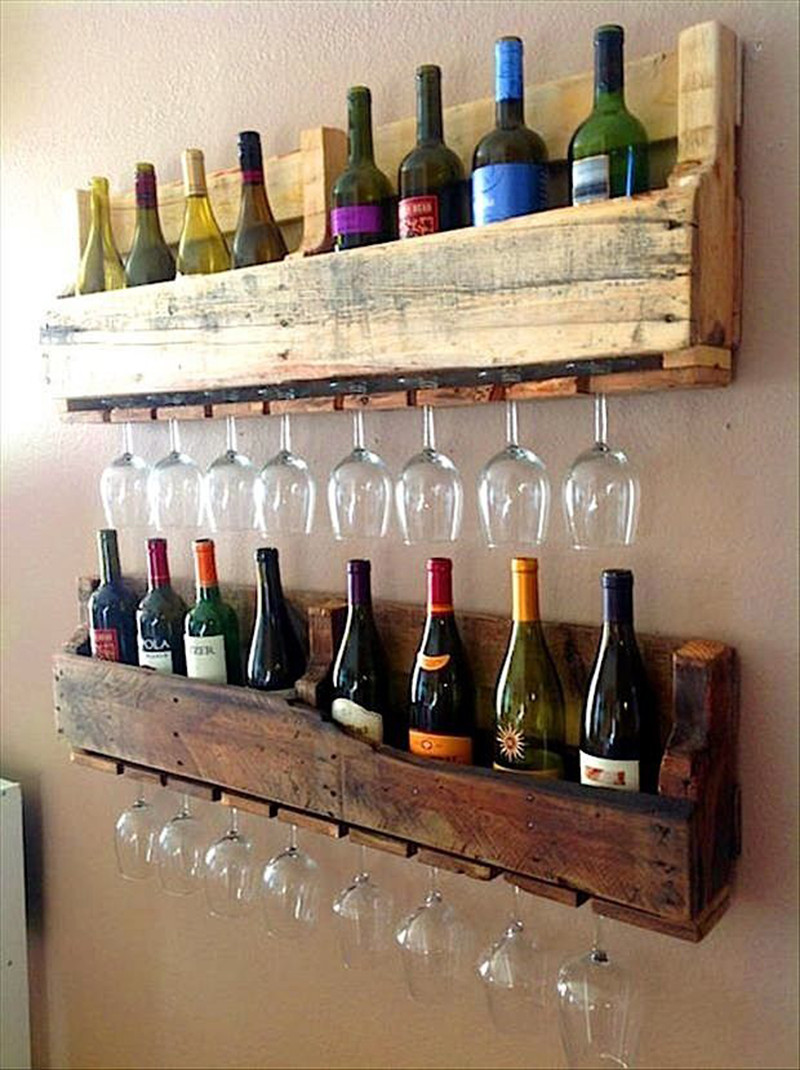 This lovely wine rack will add some sophistication to any kitchen or dining area. It's a great way to bridge those two rooms in your home. This design features a deconstructed single pallet piece. It might look simple, but if you look closely you can see that the edges have been carved and sanded. You can take a couple of planks from a spare pallet to make the bottoms of the shelves. You might have to cut them to fit. There are pieces here that have to be individually cut, so don't tackle this project unless you're ready to customize. Finish it off with a deep, rusty stain color and you're sure to get lots of approving nods.
30. End Table With Accent Pieces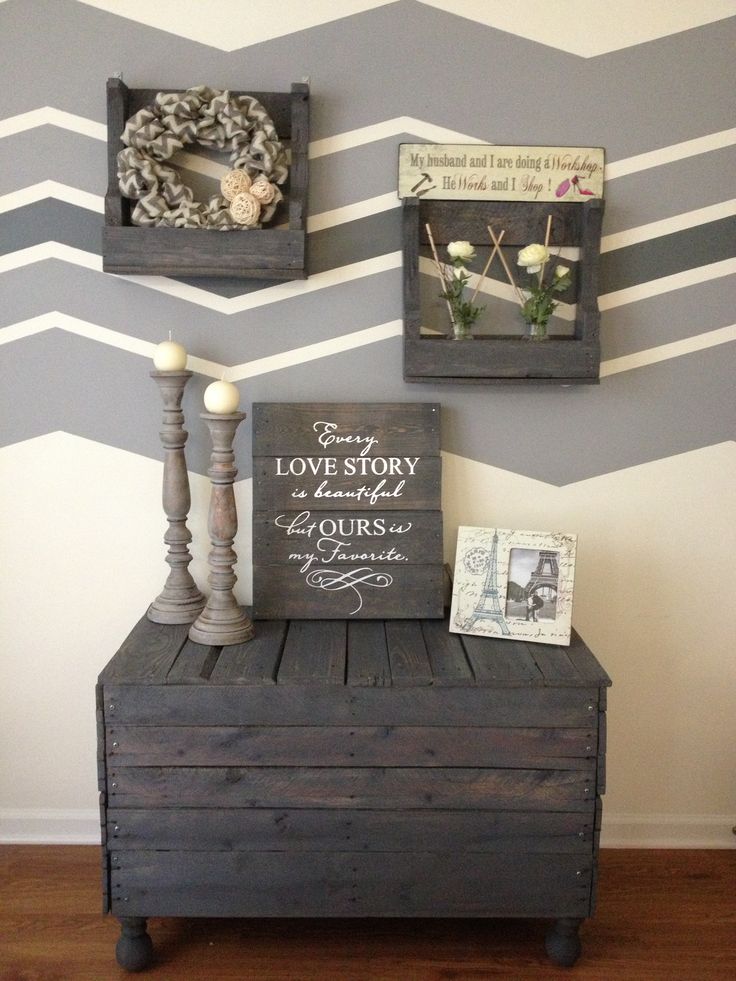 This cute little end table with wooden accents is a stunning way to commemorate a single moment in your life. The table was made with pallet wood, but most likely not from a single pallet piece. You can take a part several pallets and arrange the pieces to make the table top, sides and bottom. The wall hangings are fantastic and both can be made from a single pallet. It's okay to use slightly distressed wood in this application because it adds character and age. You can paint all the pieces to match the rest of the room or leave it bare.
31. DIY Media Rack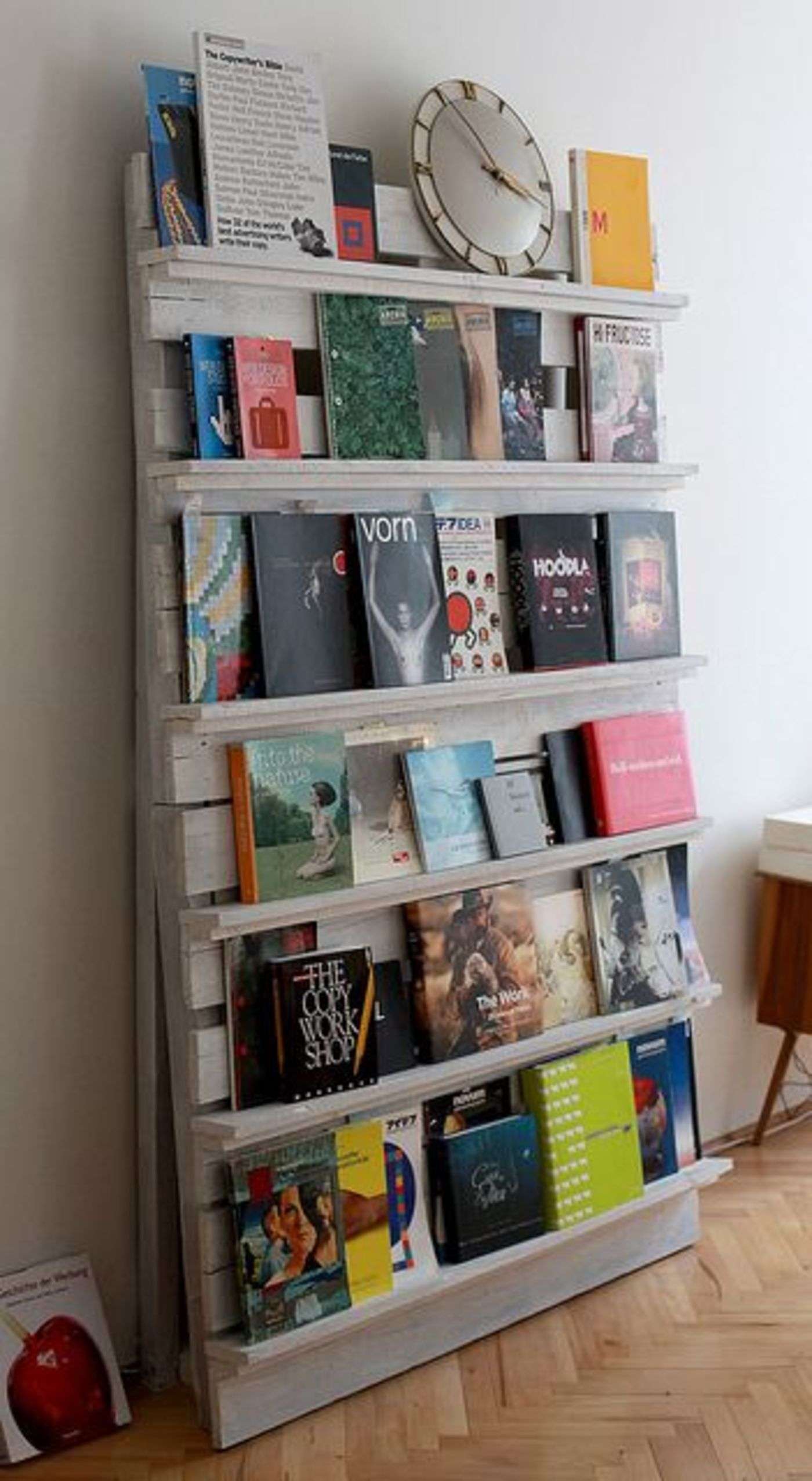 This is a creative design project that is ideal if you have a number of leftover pallets from a previous DIY pallet project. It's slightly more technical and time-consuming than a single pallet piece. Yet, once it's finished, this media rack will be the envy of all your house guests. It looks just like something you might find on an endcap at your favorite bookstore or coffee shop. Start by selecting the appropriate length of the backside and lay it down flat. Then, start adding on shelves. You will need to select smaller pieces of wood to hold the magazines and books in place and another large flat board to create the easel effect in the back.
32. Homemade Entertainment Center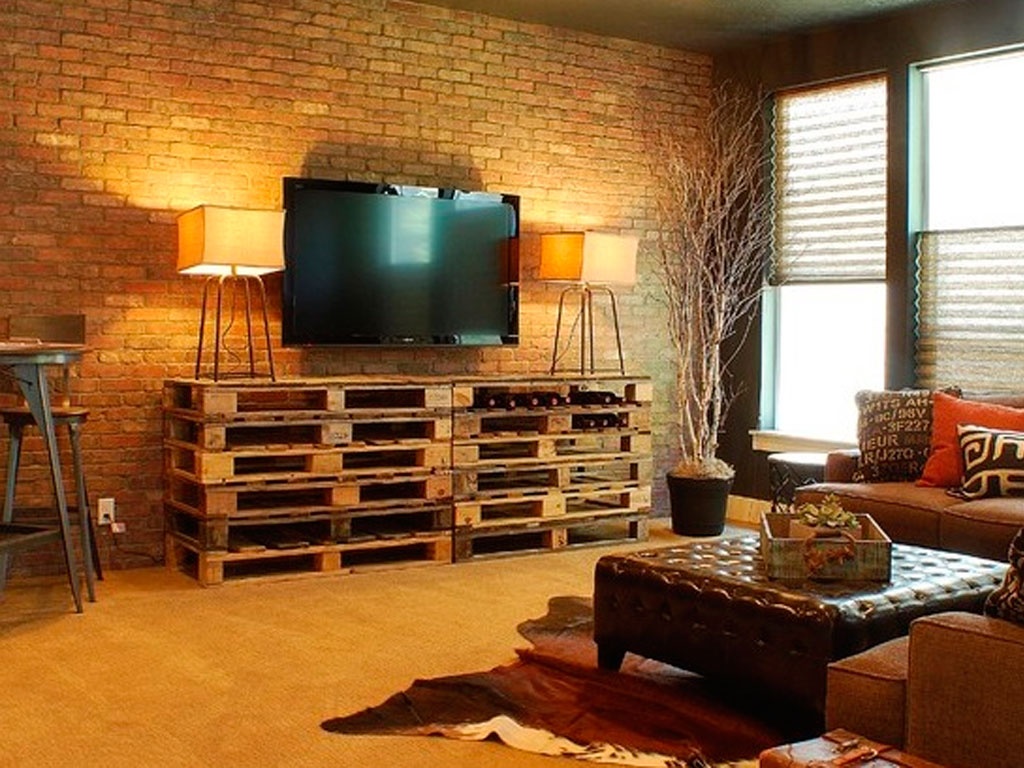 This entertainment center is perfect for a bachelor pad or man cave. You can use it to stimulate more pallet furniture ideas and build around it as your focal point. There's not much to modify either. Just focus on finding the ideal pieces. You're going to want some clean, sturdy pallets that won't fall or break under the weight of your pricier electronic devices. Although simply stacking a half dozen pallets should suffice, try nailing them in place in order to insure that it can withstand an impromptu football party. Staining the wood beforehand would also add a rustic, masculine vibe.
More pallet furniture decorations on the next page…