33. Wood Pallet Sitting Room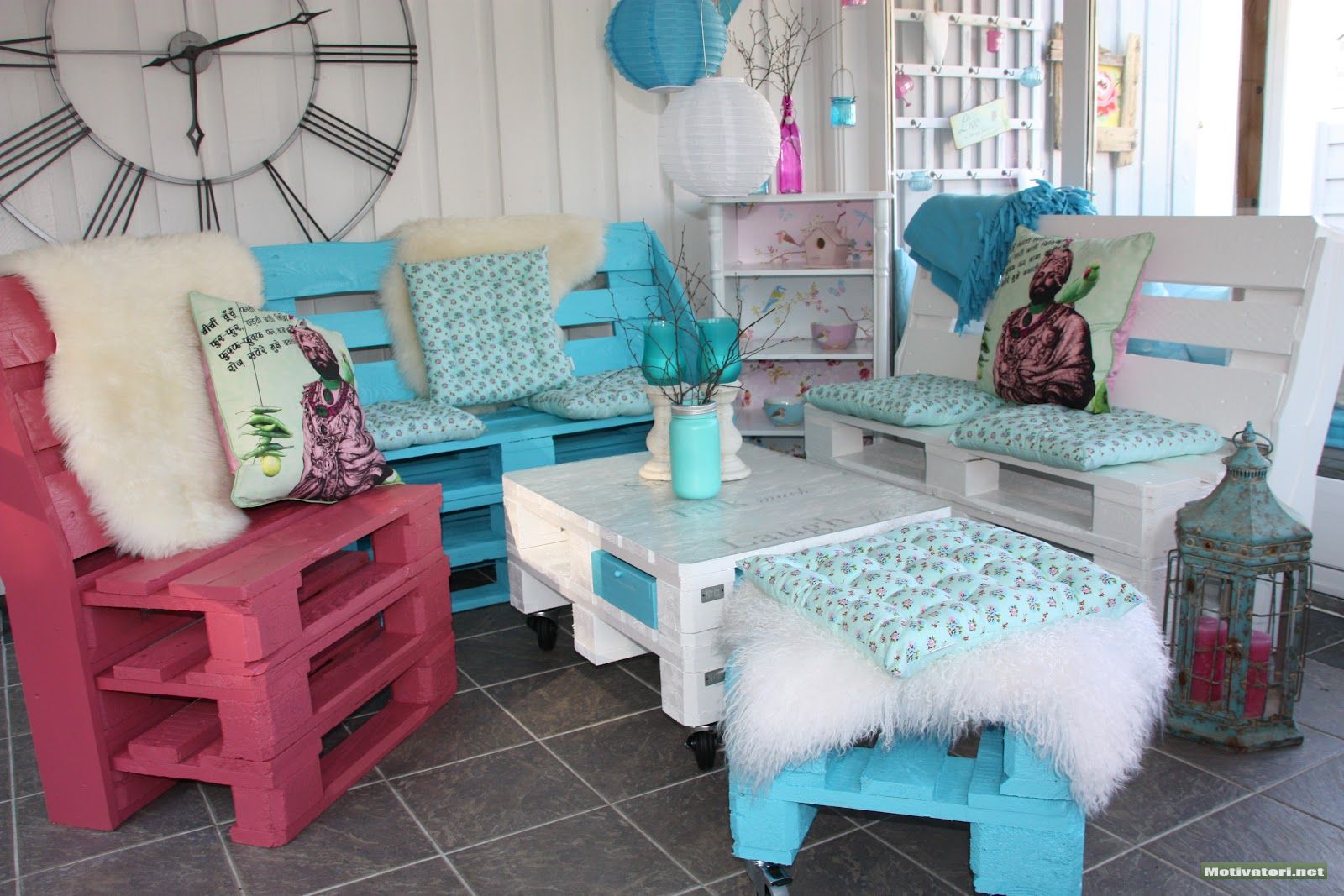 If you've played around with simple palette wood projects before, then maybe you're ready to step your game up. This sun room features some moderate to high level builds that feature both the lightweight pallets and their heavy duty shipping counterparts. Nothing in this sitting room is a solid piece. The chairs are made one level at a time and secured with epoxy and nails. The tables both have caster rollers and sealed table tops. The colorful springtime paint provides a beautiful finishing touch. If you're going to tackle a full room like this one, make sure you take your time and find the best pallet pieces around.
34. Media Desk with Storage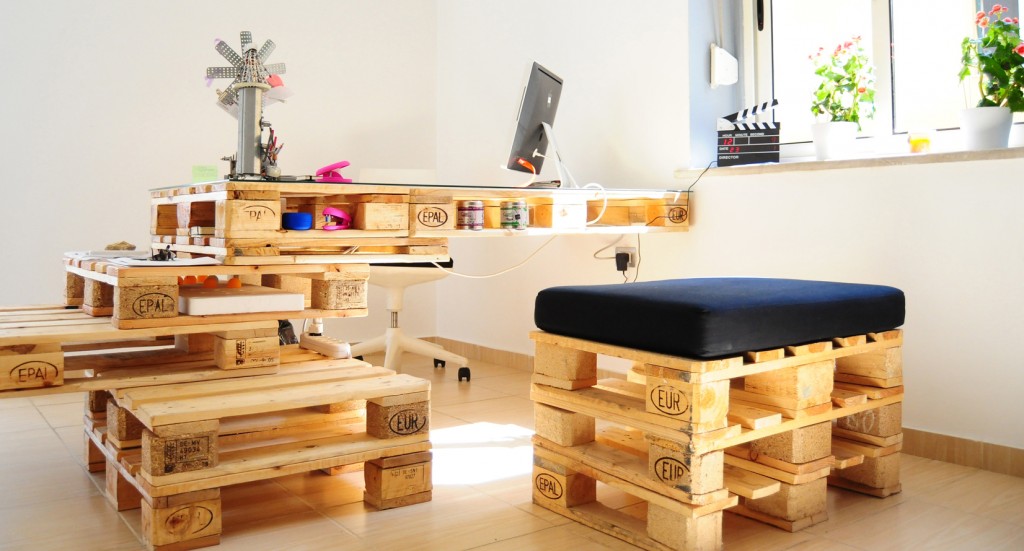 If you're into media, you probably want a desk that has loads of personality and versatility. It should highlight your own personal flare just like your social media profiles. This media desk is unique and you can reorient the design to fit your own personal space. For this creative DIY project, you're going to want brand new pallets. Everything needs to be sturdy enough to hold a glass table top and your valuable electronic devices. The cushion and chair can come from a neighborhood garage sale. You can create a store-bought look by using both nails and wood glue to keep everything tightly fitted together.
35. Bed Table for Two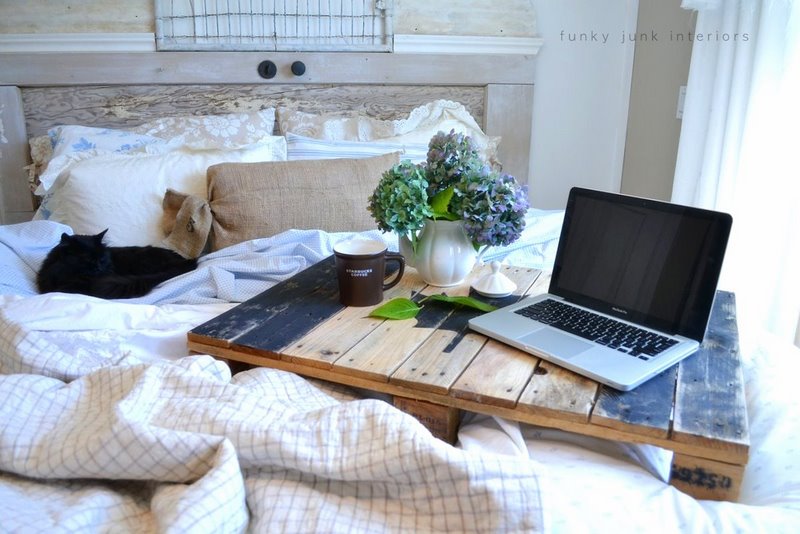 Home design doesn't have to be difficult. Just look at this cute bed table for two. This pallet furniture idea is simple to create with just pieces of a single pallet. You can head over to your local supermarket and find one just before it's recycled or thrown away. It doesn't have to be perfect either, just level and clean. Strip away the bottom layer carefully and you're left with the foundation of a durable, distressed wood bed table. You can paint the top to suit your personality or use a stain for the wood. It might even stimulate more pallet furniture ideas to accent the room.
36. Stained Twin Bed Frames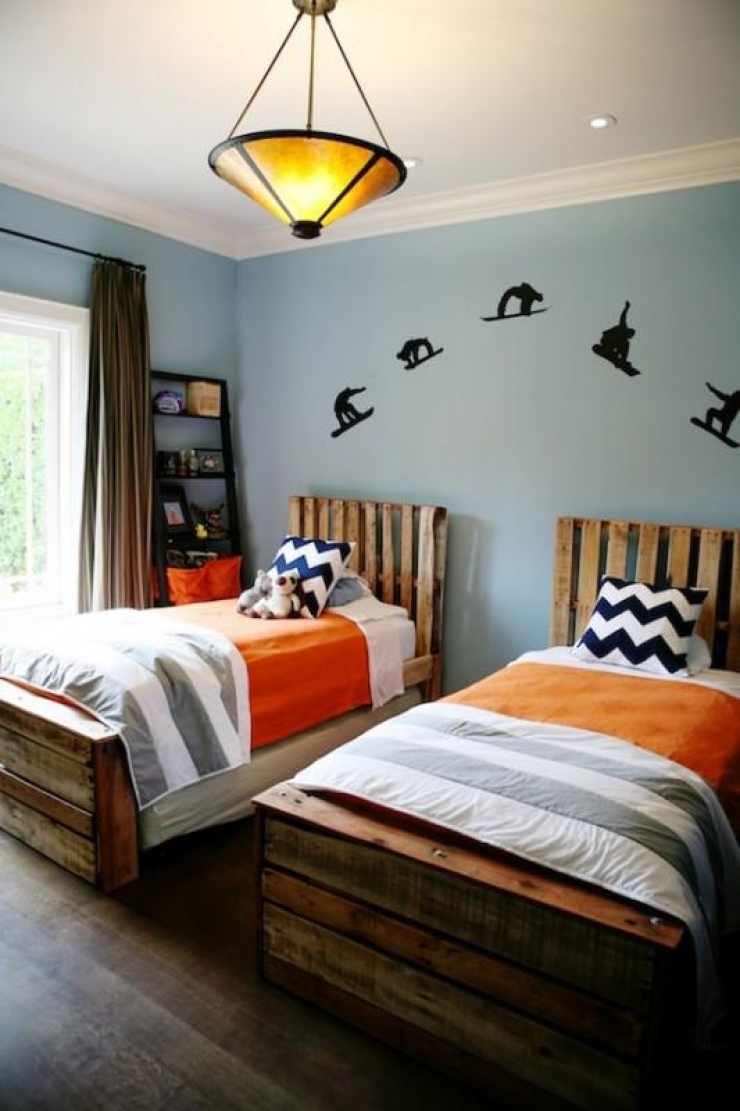 Making beds from pallets of wood is a wonderful project, but it could be a lengthy and skillful build. It's better to use these pallet ideas to make pieces of the bed. The headboard is made of a single piece of the long, lightweight variety. Be sure to affix it to both the frame of the bed and the wall behind it to protect your little ones while their sleeping. Then, move onto the bottom of the bed. This section is actually made of single planks pulled from a pallet and placed in a larger, sturdier box. Top it all off with a heavy, rustic stain.
37. Quick Prep Kitchen Island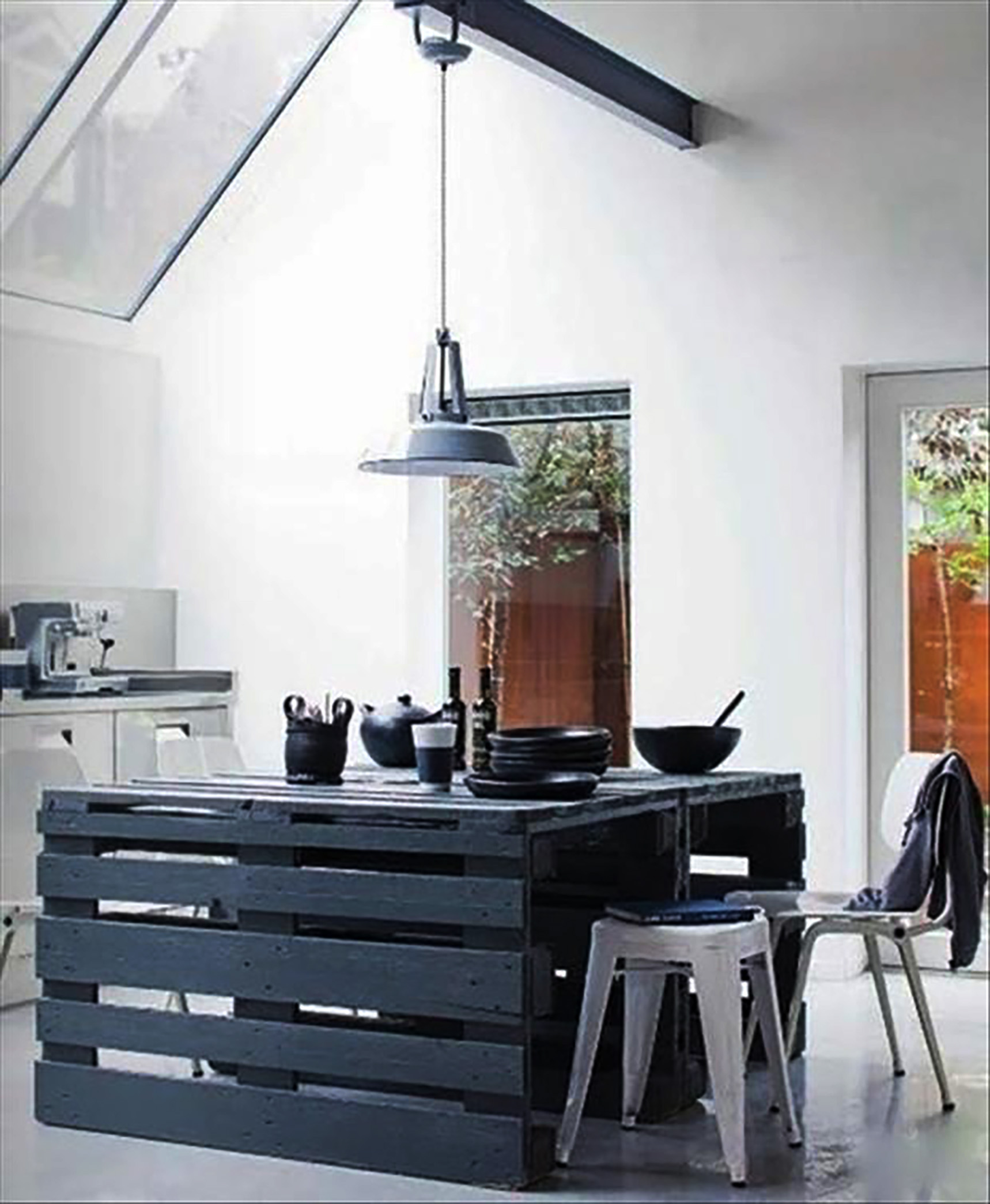 It's a quick-prep kitchen island that can help you save time and add flare to the focal point of your home. This pallet furniture design places two on their side for the outer structure and strips down two pallets for the inner structure. Basically, you just remove the back side of each pallet and bind them together with nails and wood glue in the center. The table top is difficult to see in this picture, but it's made of single plank pieces pulled from a pallet and then placed side by side. You can seal them with epoxy resin to prevent any spillage.
38. Hanging Wood Garden Trellis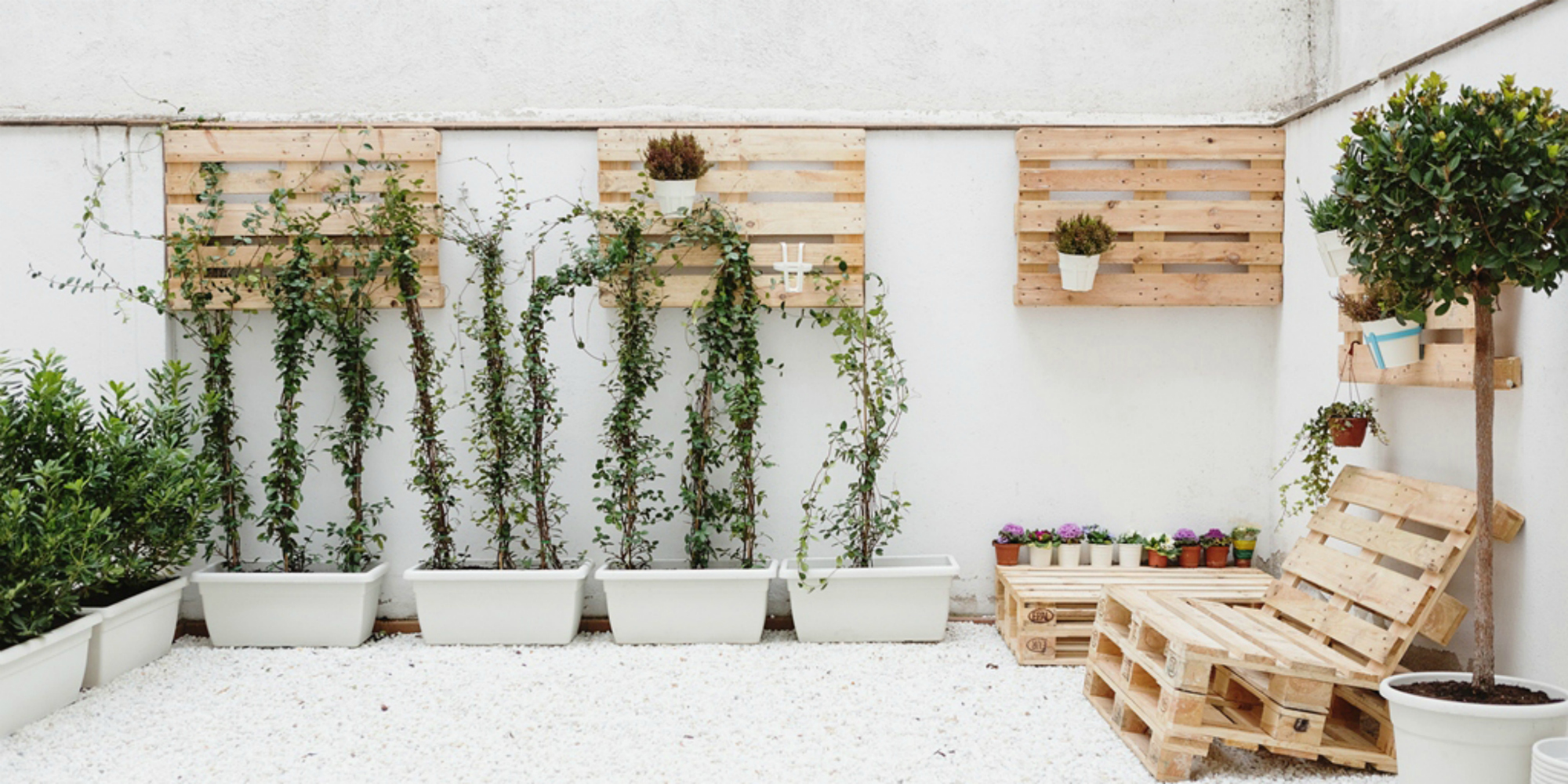 This pallet garden furniture is simple to install and only has one major build. That's the lounge chair. It will require some pre-planning and about three to four heavy-duty pallets of wood. If this is your first project, then you might want to bring in a friend who has more experience. The wall trellis back splash is simple though. It's comprised of three to four single, lightweight pallets of good quality. You can hang them in place with concrete screws. Position your favorite hanging plants nearby and watch the wooden planks fill up with color by springtime.
39. Single Row Wooden Shelves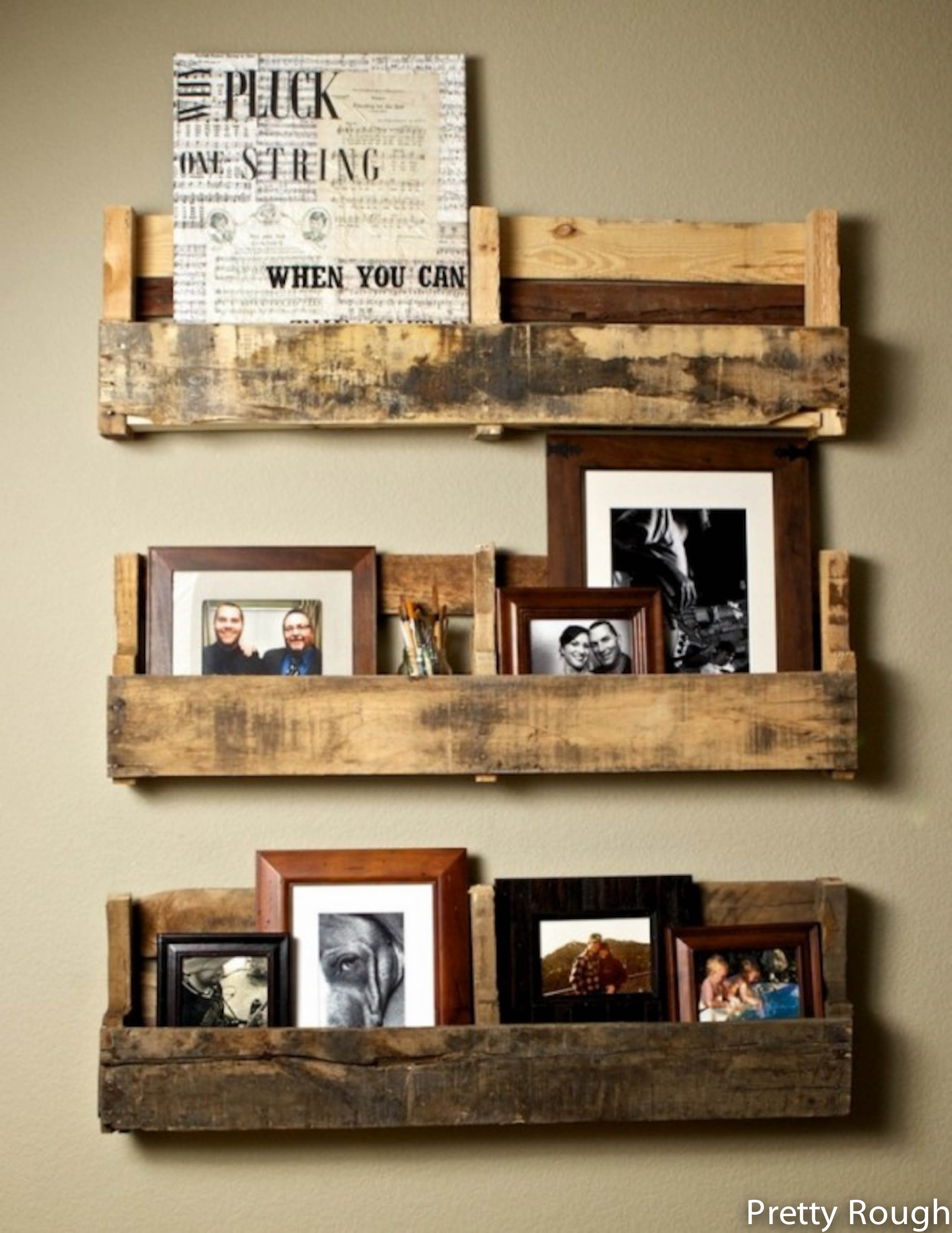 Pallet wood furniture isn't just for the living room floor or outside garden. Check out this set of selves for the wall. It's a simple pallet furniture idea that can be done with just a single piece of reclaimed wood. In the simplest rendition, you can just split the pallet in three pieces and hang them with metal hooks. However, what you don't see in the photo is that a single 2 x 4 plank is needed to provide the base for the shelf. You can strip those extra pieces from a second palette. You can also sand the front surface, stain it or paint the front to match the decor of the room.
40. Small Glass-topped Dining Table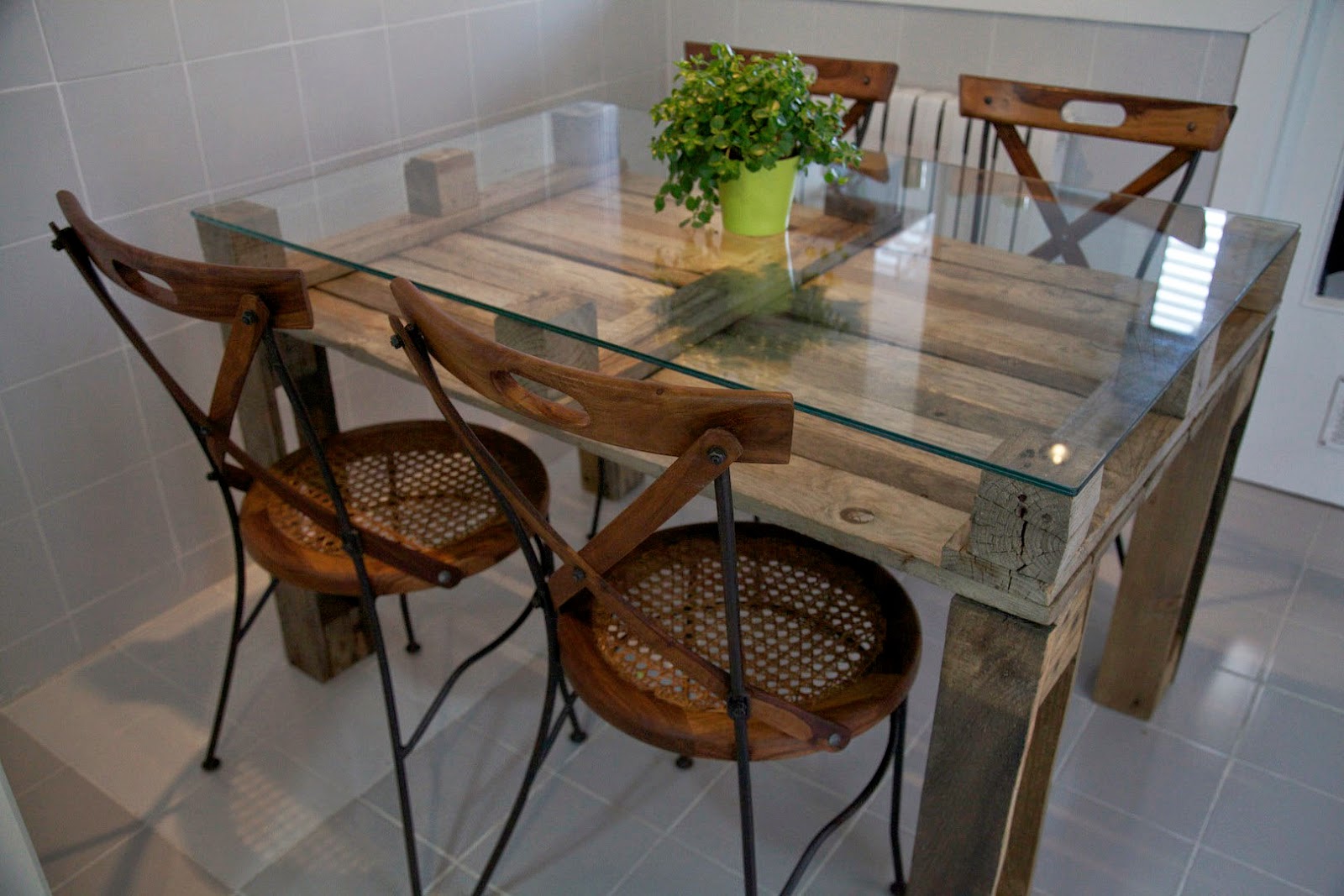 Pallet wood furniture can stimulate a brand new theme for your home or perfectly accent your existing home design. This table is an example of how you can create a theme. It's comprised of only two standalone pallet pieces. Strip off the ends of a single pallet to make sturdy legs. Then, strip off the top of a second pallet to form the base for your table surface. The glass top is an elegant final touch and you can shop around at garage sales or thrift stores to find a set of chairs that complement the table. Be sure to carefully select pallets that aren't rotted or distressed in any way.
41. Low Rise Single Bed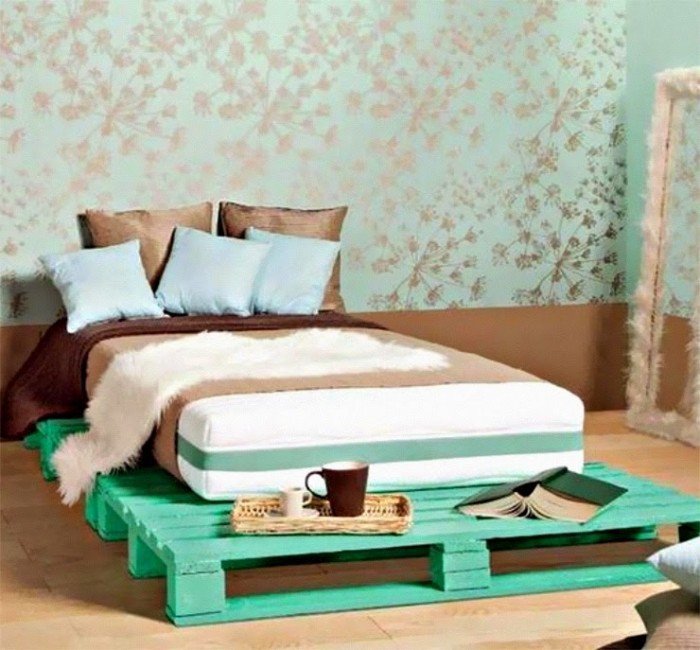 This is pallet wood furniture in one of its most simplest and straight-forward applications. This is what they are meant to do: provide a sturdy base for other objects. For this low rise single bed, you can join several pallets together with small wooden blocks and nails. The bright, colorful paint job elevates the design from being just a floor crate to becoming part of a general theme. You can design around the bed frame to reinforce that theme. In this picture, the bed frame is extended near the foot to provide some extra space for reading and other bedtime activities.
More pallet furniture décor ideas on the next page…