42. Low Rolling Wooden Coffee Table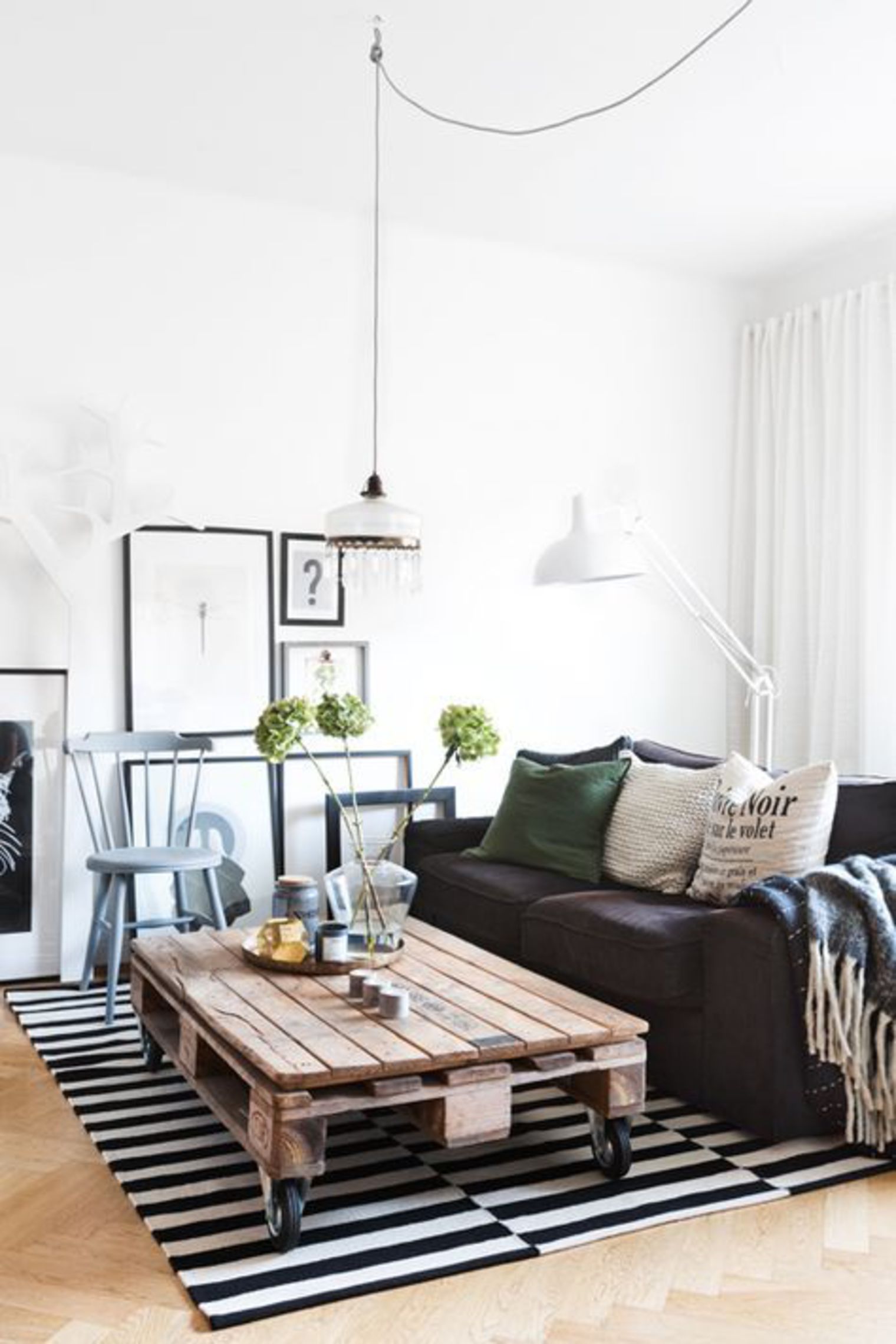 A coffee table can add lots of style and character to your home decor. This DIY pallet project requires just a few pallets and some large caster wheels. You can use a single, large pallet or merge two or three pallets together with wooden blocks. This design is perfect for a low sitting area, but you can also stack pallets to elevate the table if need be. This coffee table can be stained or painted to match your living room decor. Be sure to select a sturdy pallet base, but you can use some distressed wood to form the table top.
43. Roll Away Sofa Bed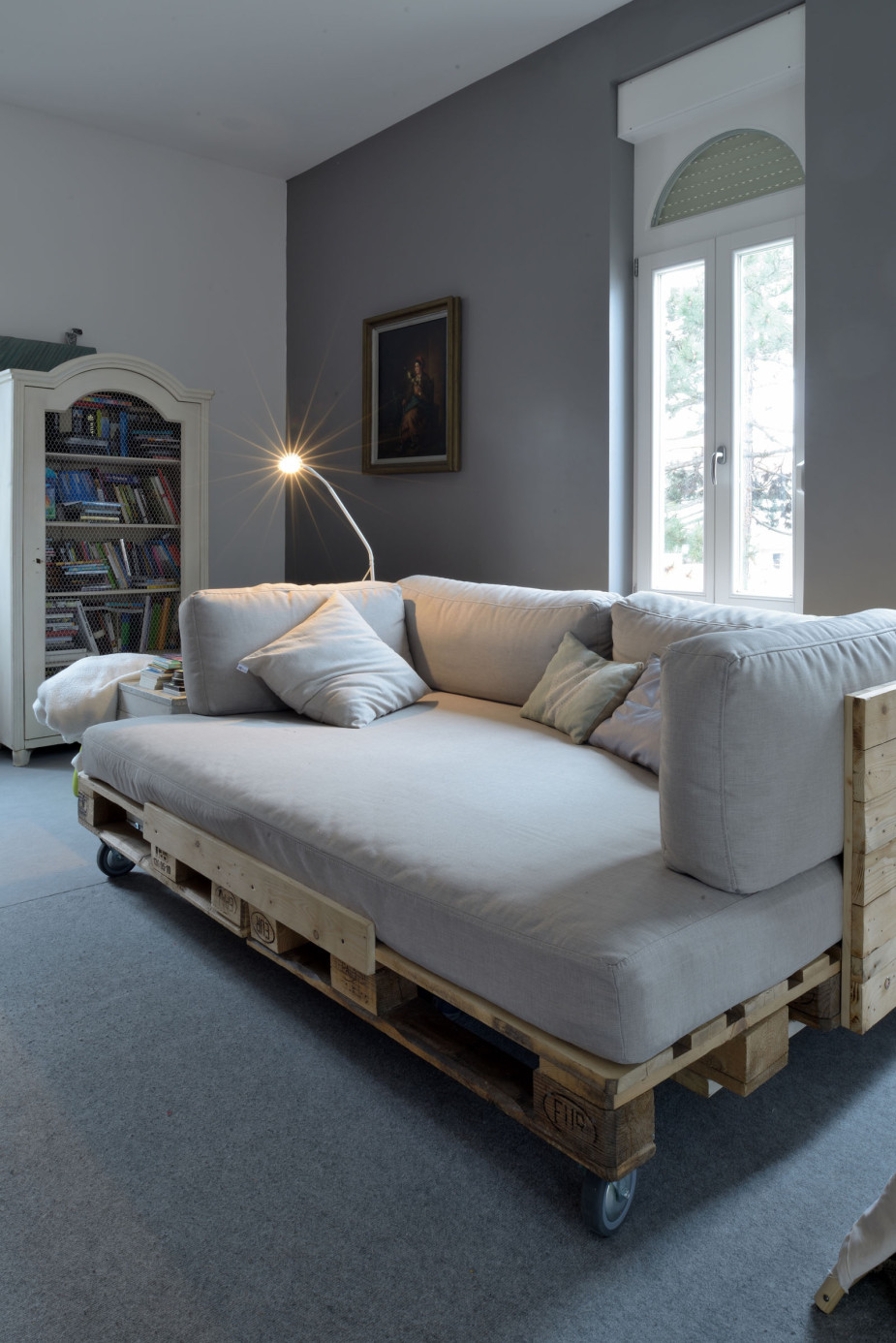 A roll-away sofa bed can be moved to different rooms in the house and you can use the heavy-duty rollers to chase the sunlight. This particular design features several pallets and a few extra pieces of reclaimed wood. Two heavy duty pallets make up the base and it's affixed together with a wood panel in the front. Don't just rely on this single piece though; use wood screws or nails for added stability. The sides and backs of the sofa bed are reinforced with single surface wood from a number of pallets. You can leave the wood bare or you can sand and paint them.
44. Wall-mounted Glamour Station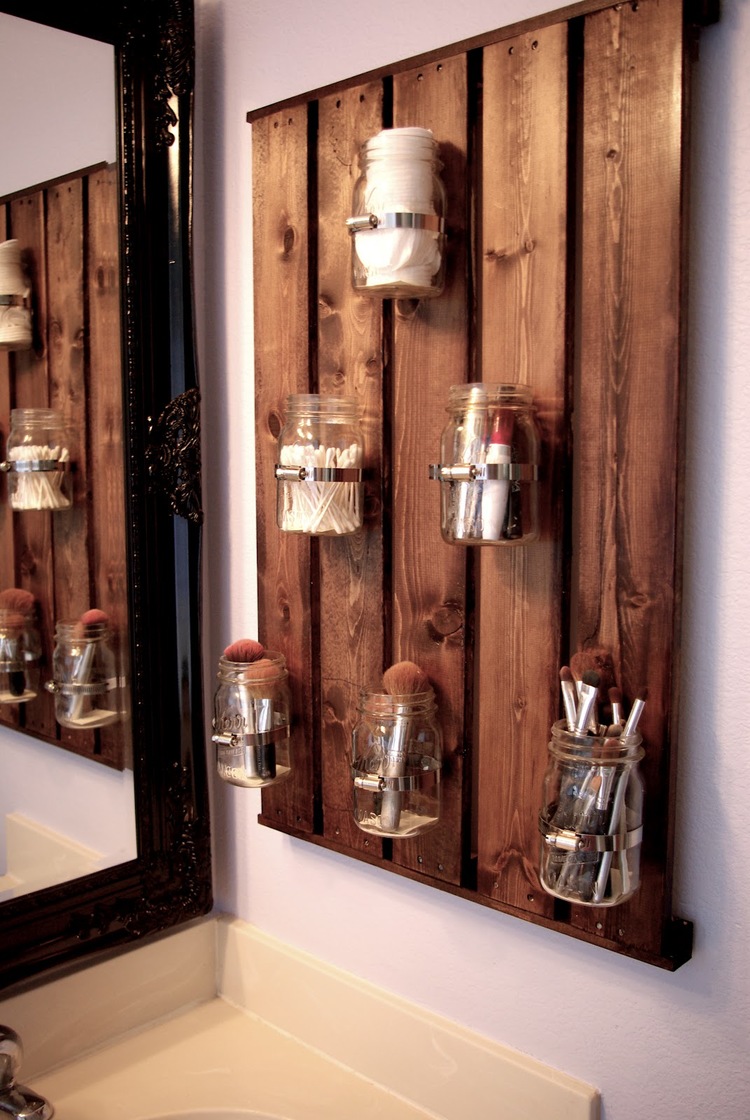 Look at this unique glamour station idea. It proves that pallet furniture design doesn't have to take a long time and it doesn't require a great deal of construction expertise either. It's a DIY project that you can do in your spare time. Take a single pallet and carefully remove four or five of the flat planks. Affix the boards to wooden runners with a hammer and nails. Clean and coat the wood with a dark, warm stain that will look lovely under the glow of antique light bulbs. With some thin metal fasteners and a few mason jars, you can have extra space to store your makeup brushes and kits.
45. DIY Futon Bed Frame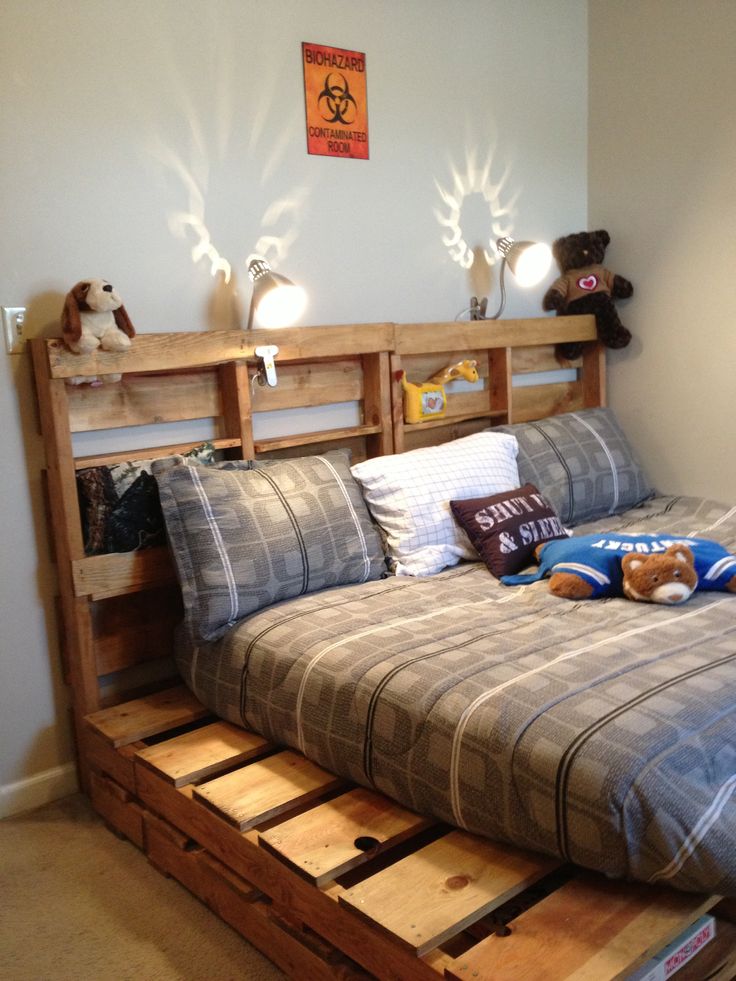 A futon is ideal for small spaces that require more versatility. This futon bed design idea has two lightweight pallets for the headboard pieces. There isn't any modification needed for those sections of the build. In this picture, the base isn't attached, but the base can be affixed to the headboard to make it one functional piece. The base is made up of several pallets that have been reconstructed. You can stack them and affix them wood screws and nails. Then, carefully take off the top panels and rearrange them so that there are fewer spaces between the planks. You can finish the look with a deep, rustic stain.
46. Wall-mounted Vanity Mirror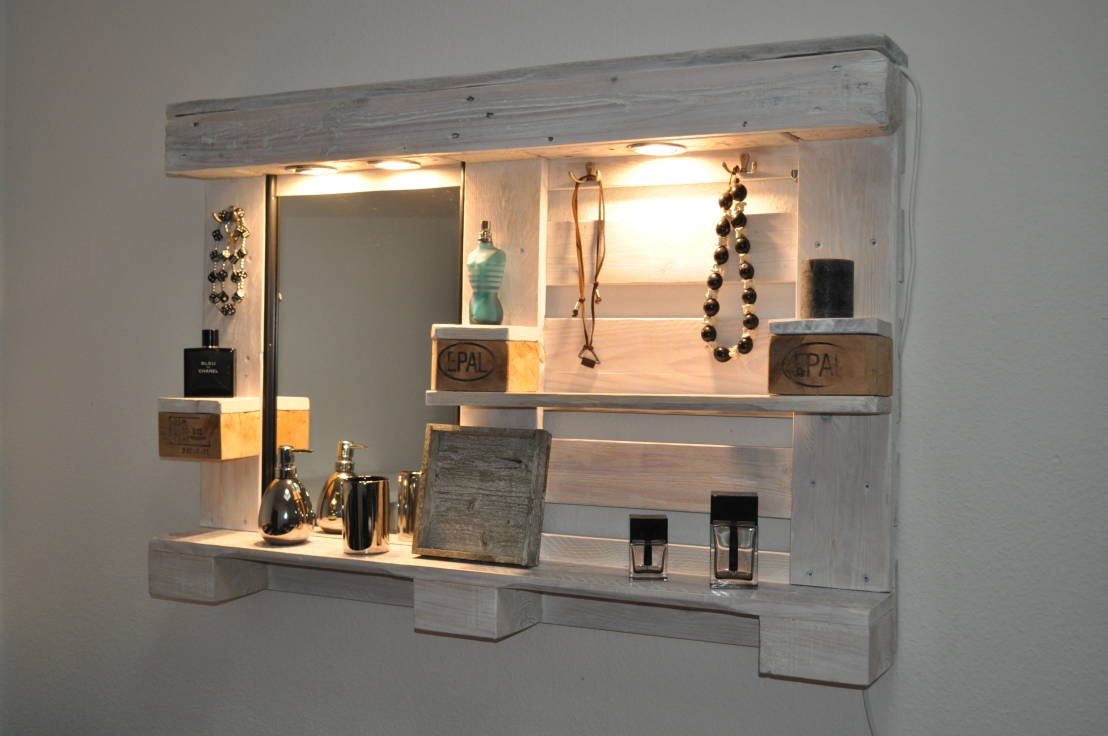 This DIY project takes a single pallet and transforms into a lovely vanity mirror with shelves. At first glance this might seem like an unmodified pallet, but there are several design elements at play here. First, a couple of the planks have been removed and turned on their side to make the shelves. Also, small hangers were screwed into the wood to hang necklaces and bracelets. The mirror is affixed to the wood and some of the scrap pieces were used to make different size shelves. To hang this on your wall, be sure to use load-bearing screws that can handle the weight of the pallet.
47. Cozy Corner Couch With Storage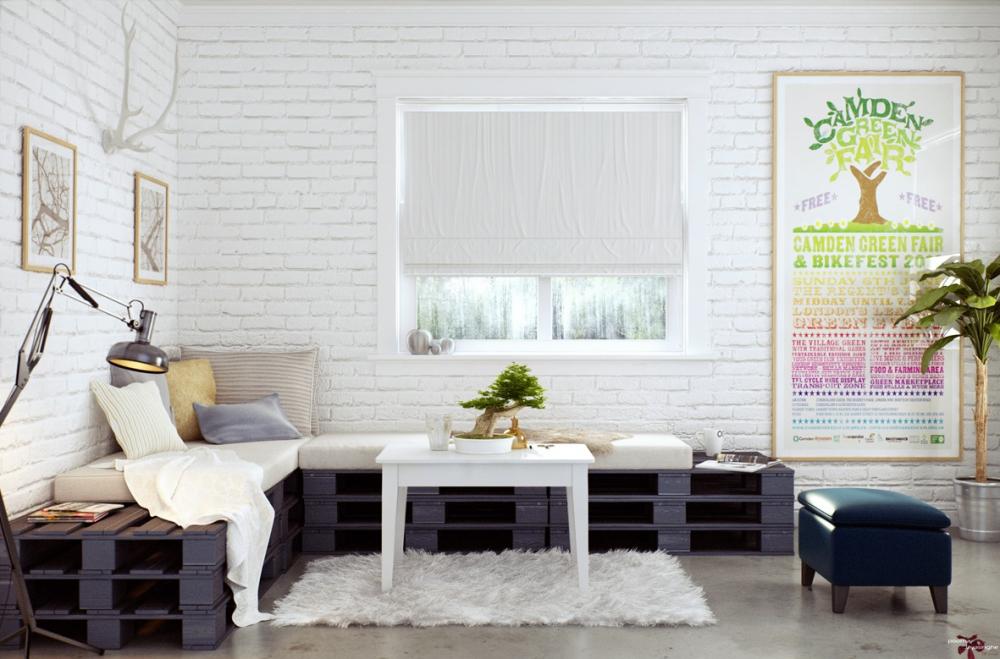 If you're looking for a great starter project, then take a closer look at this corner couch design. It features a number of wooden pieces that are stacked together. Since the sectional is placed in the corner, the pallets themselves don't have to be connected. You can use wood glue, wood screws or nails if you like. The spaces between the planks can be used to store books, magazines or other knick-knacks. If you're going to use this many pallets, then make sure to be very selective. For a finishing touch, you can spray paint them to match the rest of the room.
48. Japanese-style Low Bed With Headboard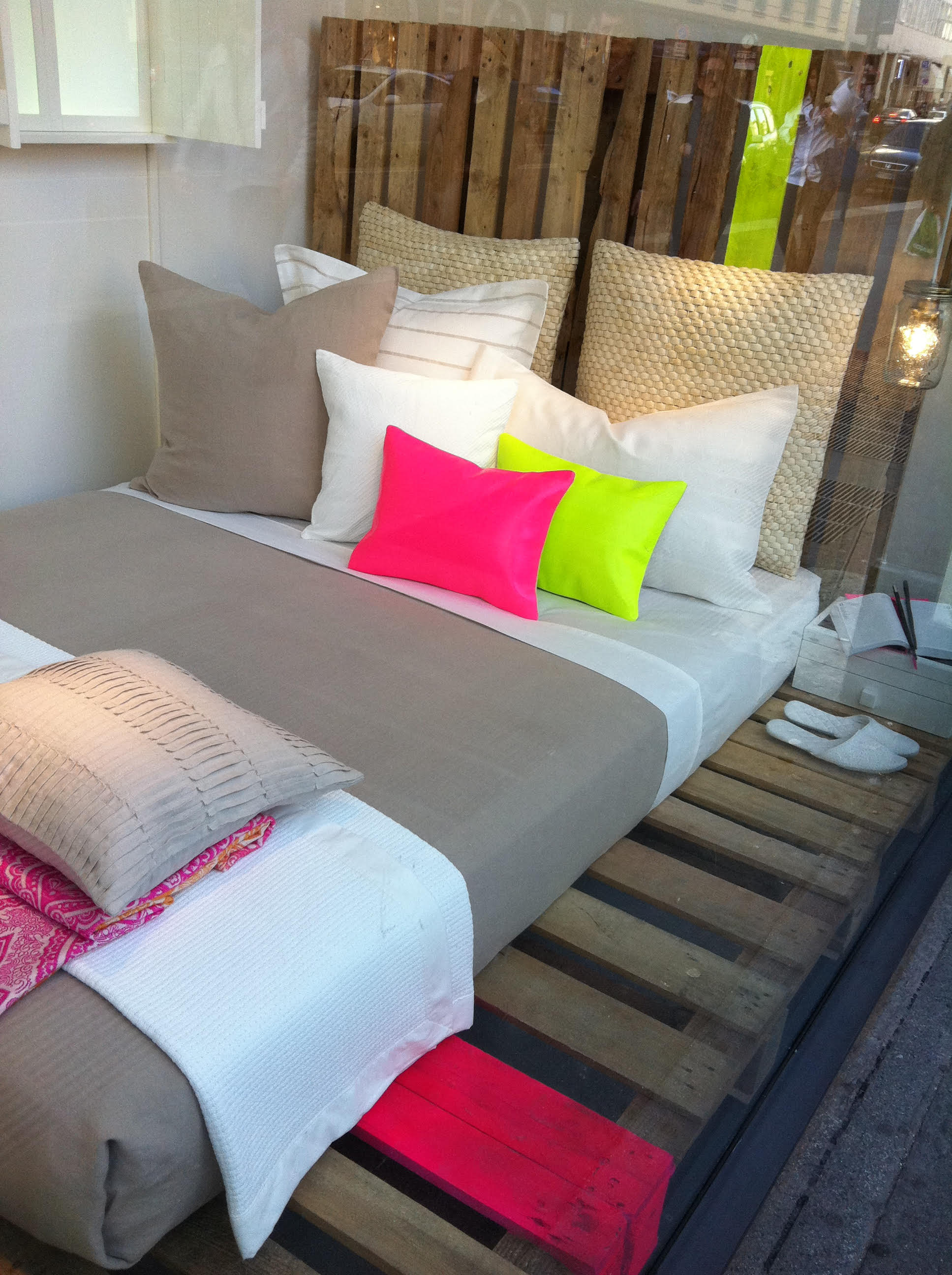 Simple elegance doesn't have to cost a lot of money. Just take a closer look at this Japanese-inspired low bed that's built with pallets of wood. This design idea doesn't require much modification. Use three to four pallets for the base of the bed and leave a section of wood exposed for your reading books and slippers. Notice that the headboard is a bit different. It has distressed wood and a stain was applied to the front surface. Distressed wood is fine for the headboard, but make sure the bed frame is sturdy. Some of the planks have even been painted an accent color to match the pillows and bedding.
49. Studio Couch and Table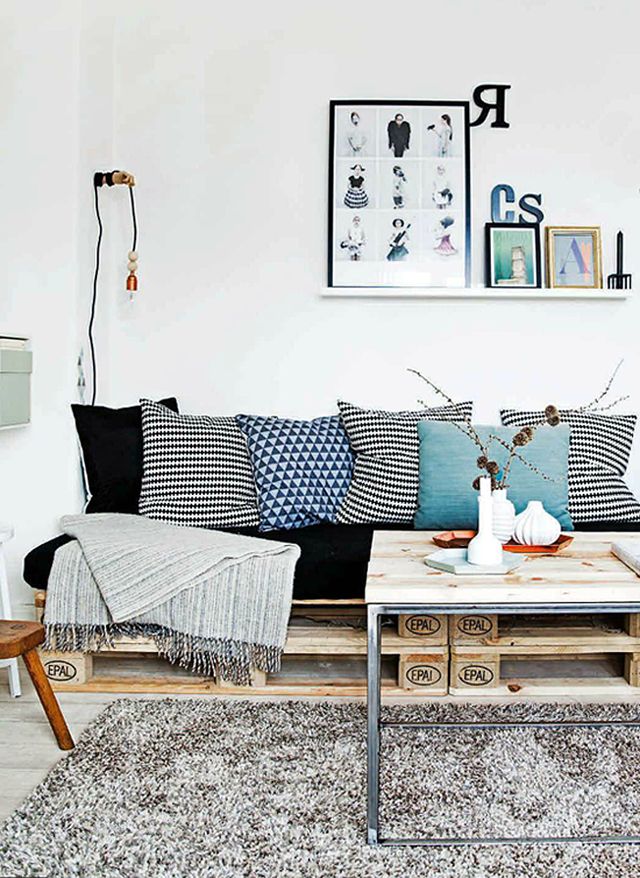 A studio apartment might seem like an easy space to decorate, but it might prove difficult to find the right furniture that won't over-crowd the room. This DIY pallet project can transform your studio into a chic, trendy living space. You can't fit a large table in a studio, so use single planks from a wood pallet and a lightweight metal frame to create a table that can be easily shifted about the room. Use heavier shipping pallets and double stack them to form a sturdy base for a futon or sofa bed. Avoid using a dark stain or dark paint on the wood to keep the space bright and inviting.
50. Wall-hanging Bottle Holder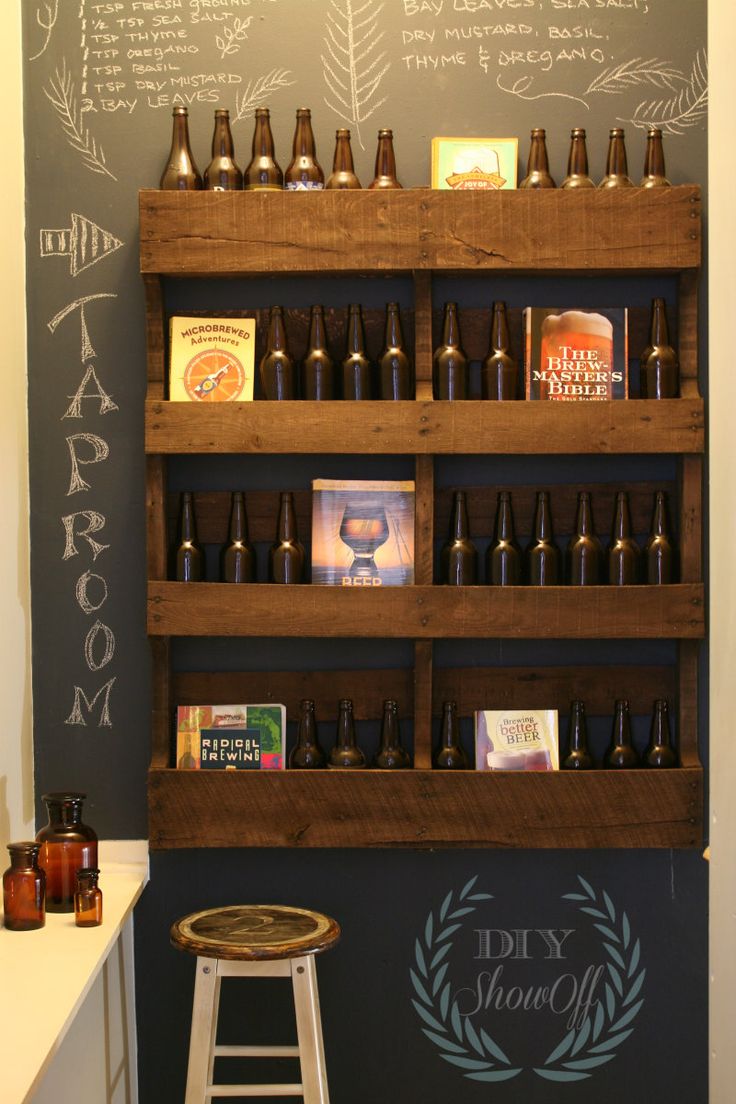 Make your kitchen bar look like a craft brewery with an easy DIY build. This pallet furniture design features an entire single piece, not just parts of a pallet. The front facing of the shelves are already there, but you will need to use 2 x 4 inch wooden planks for the bottoms of the shelves. They're easy to install with just hammer and nails, but you might have to saw them to the desired length. For added effect, try using a stain on the wood instead of paint. This way, you'll keep the natural look of the wood and match the color of your bottles.