Popular in today's decorating practices is the use of all natural colors like beige, white, and gray. The natural colors help promote a clean, airy feel for a home or office. We associate a soothing, restful atmosphere with these tones. Using these colors of nature as our background, we look for objects in nature to accent our rooms and so continue to promote that calming aura. Consider then the use of these decorating ideas with crystals and stones as an attractive and elegant complement for any room colored in natural tones.
31 Sophisticated Decorating Ideas with Crystals and Stones to Give Your Home an Upscale Look

Start with glowing quartz in the fireplace which pictures large pointed pieces of glowing quartz to create the impression of the warmth provided from a fire's glow. The cascading quartz chimes or the white stones dangling from the golden chandelier will quietly grace any ceiling corner. The lavender gray of the geode is a perfect tone that matches the mood of natural colors. The geode presents a multitude of accenting possibilities. It can be used as a planter nesting small succulents.
The geode with its bowl-like shape makes a beautiful tea light holder which provides soft, subdued lighting to enhance a quiet mood. Showcasing crystals and stones in a glass box or terrarium is another classy way to use elements in nature to decorate your home. In the terrarium you can introduce bright natural colors like green moss or turquoise sand or purple lavender as a contrast to the clear white of crystals and beige stones. And adorn your table with a natural and elegant centerpiece of white quartz, white candlelight, and silver.
Any room or office utilizing all natural tones will benefit from these stylish displays of decorating ideas with crystals and stones, and these accent ideas will enhance the reflection of nature in your home.
1. Geode Lights and Lavender Crystal Decor Idea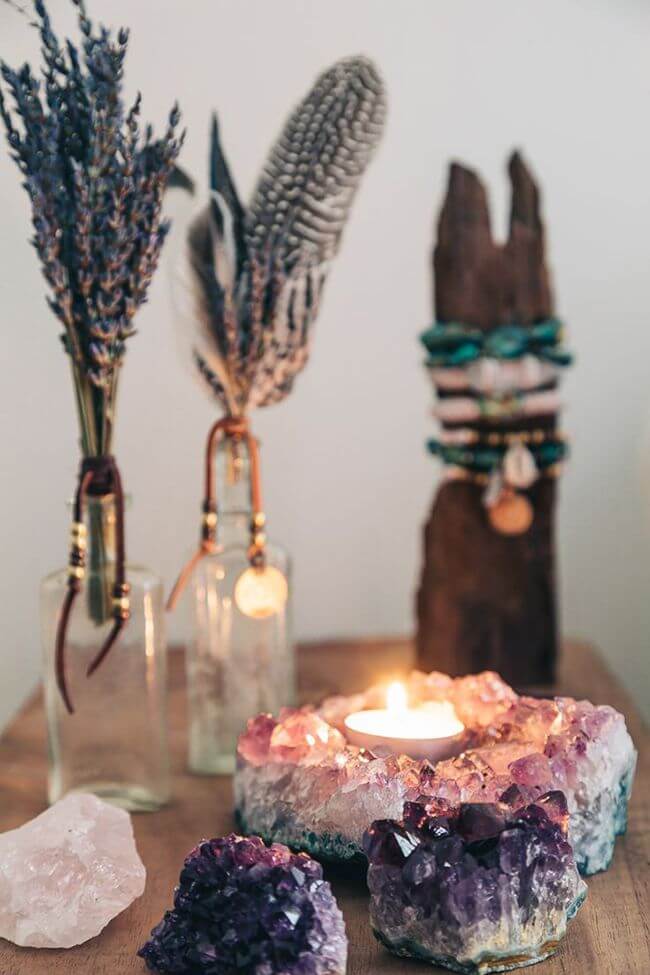 2. White Stones Dangling from Gold Chandelier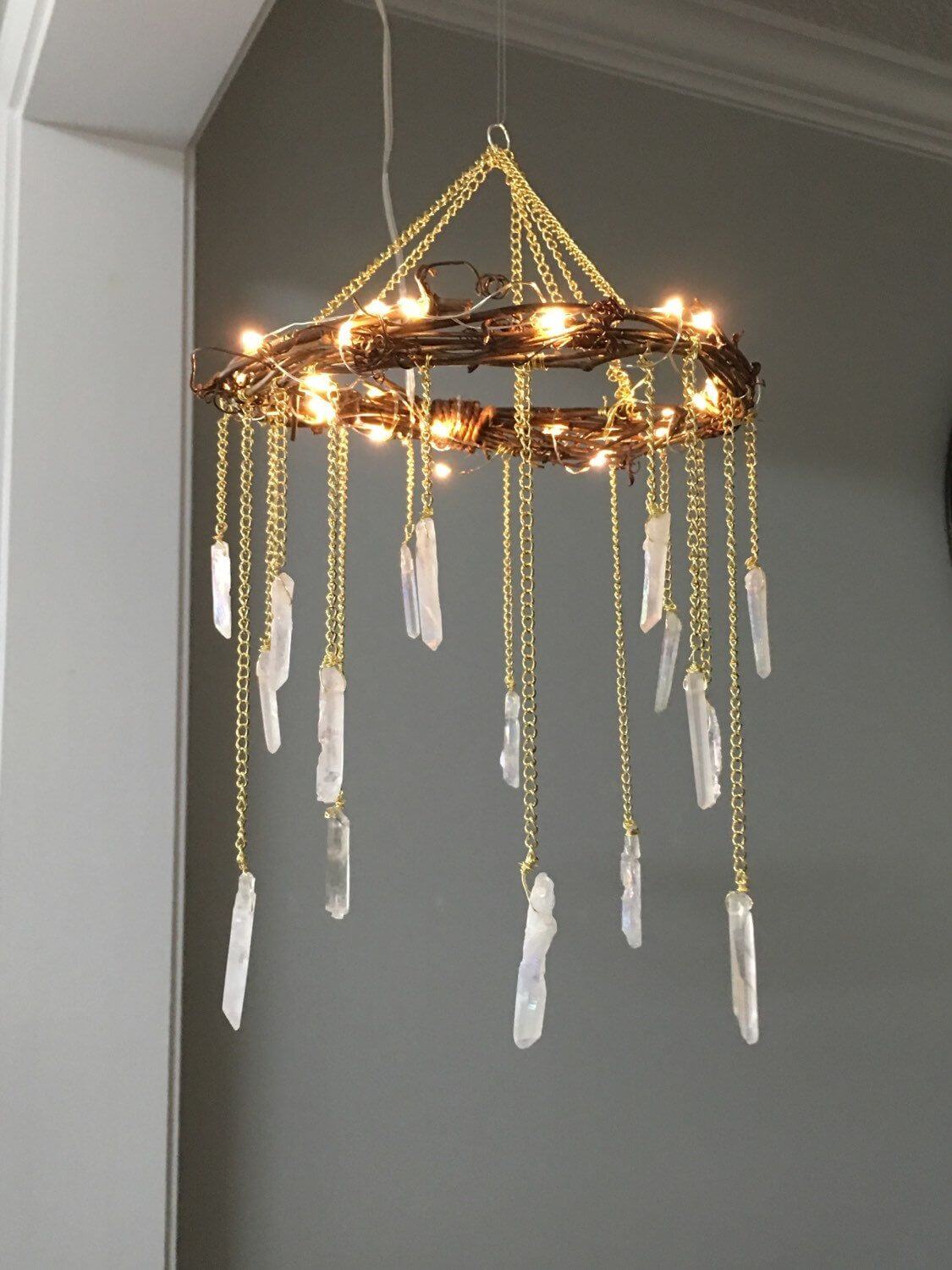 3. Drawer Handles in Polished Stone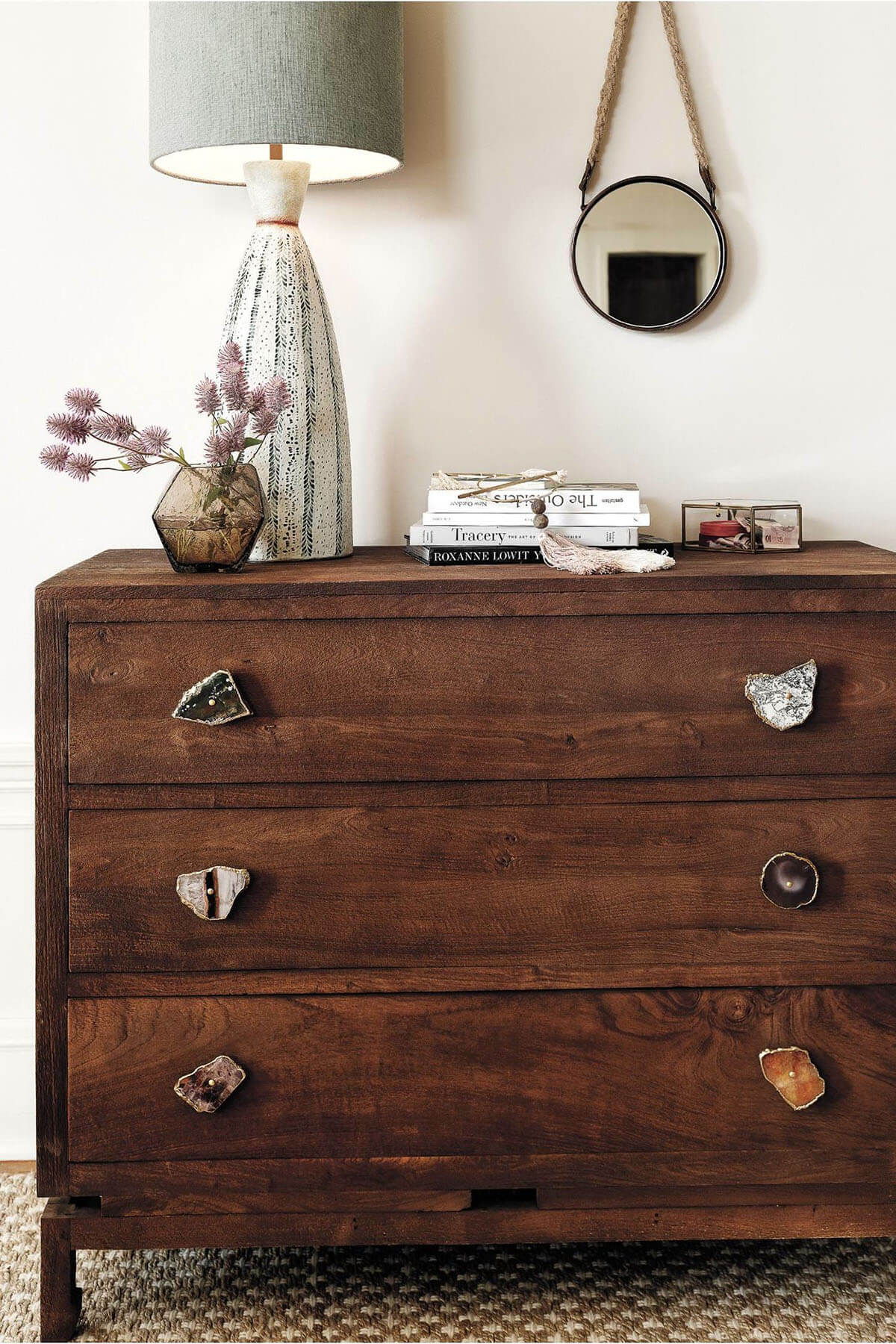 4. Raw Amethyst Frames Reflection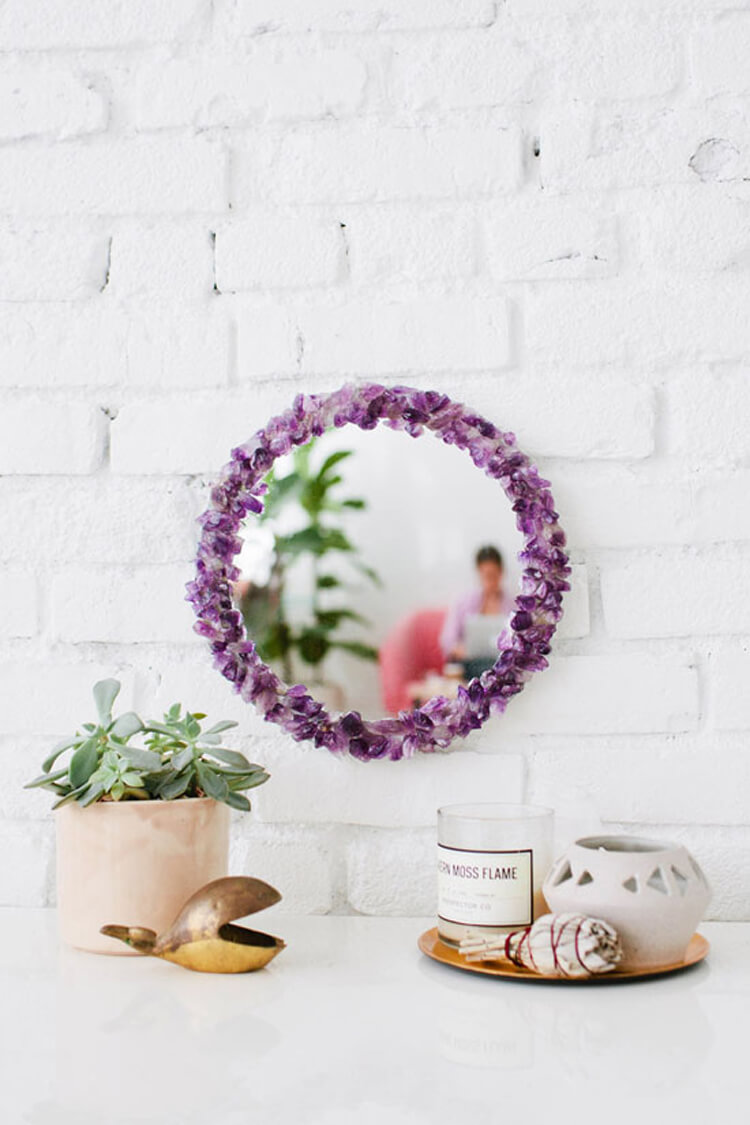 5. Gray Marbleized Stone Book Ends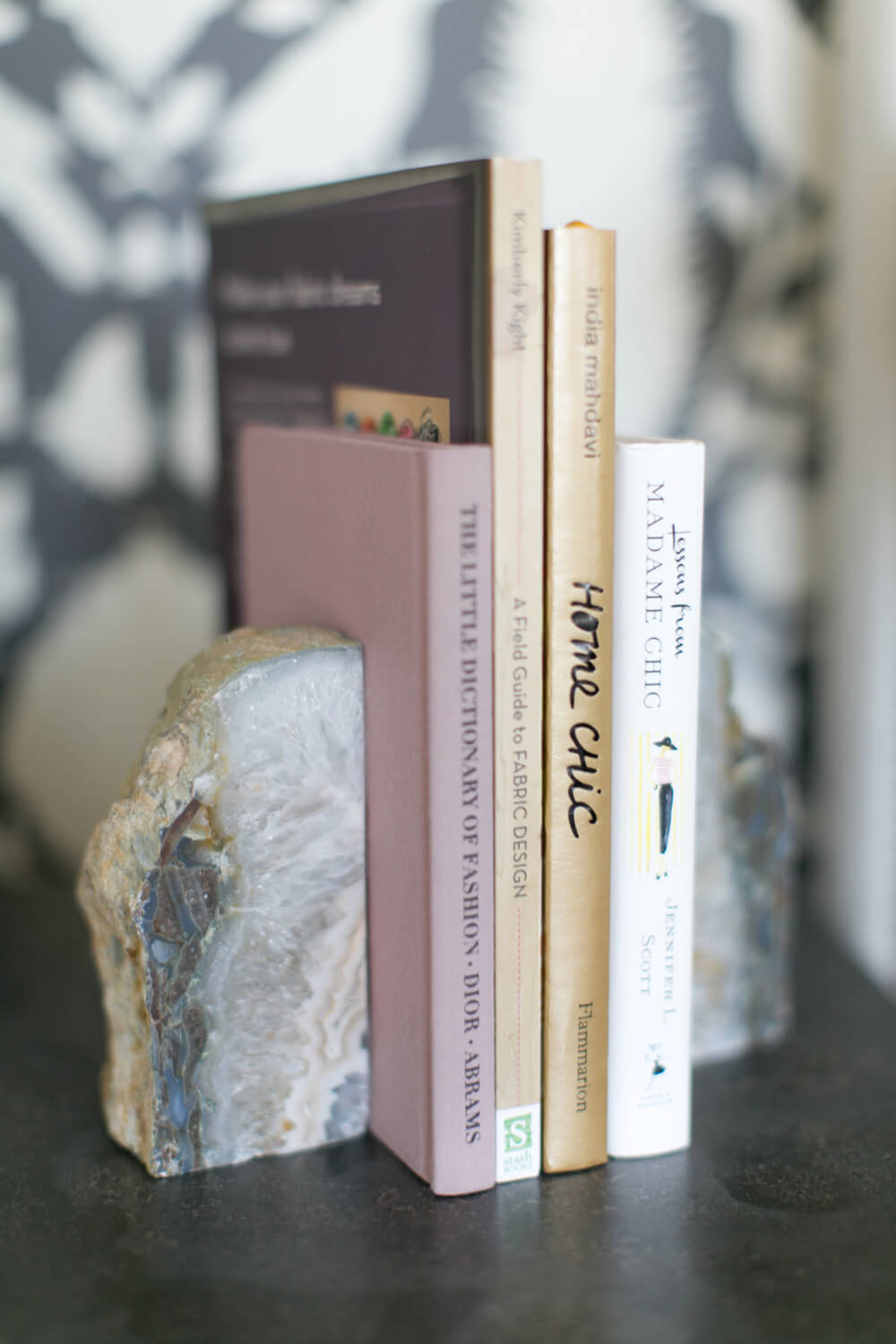 6. Low Lamp Light on the Rocks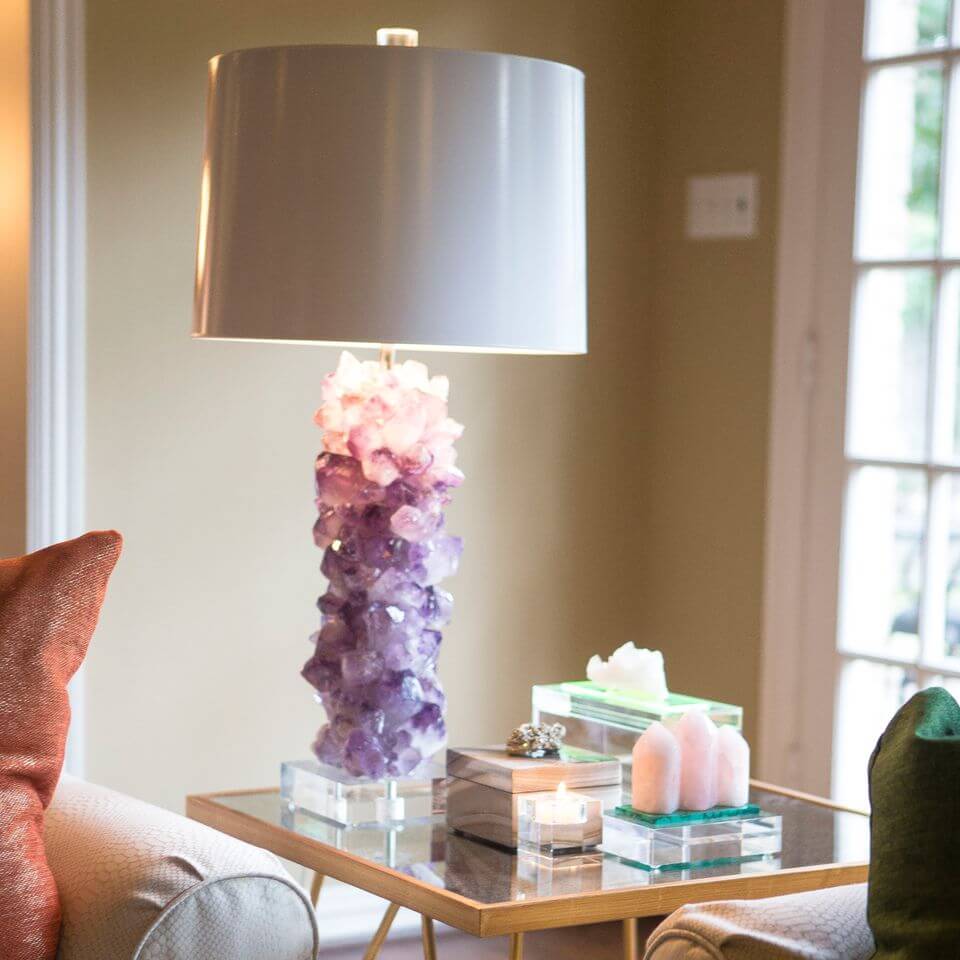 7. Blue Agate Framed in White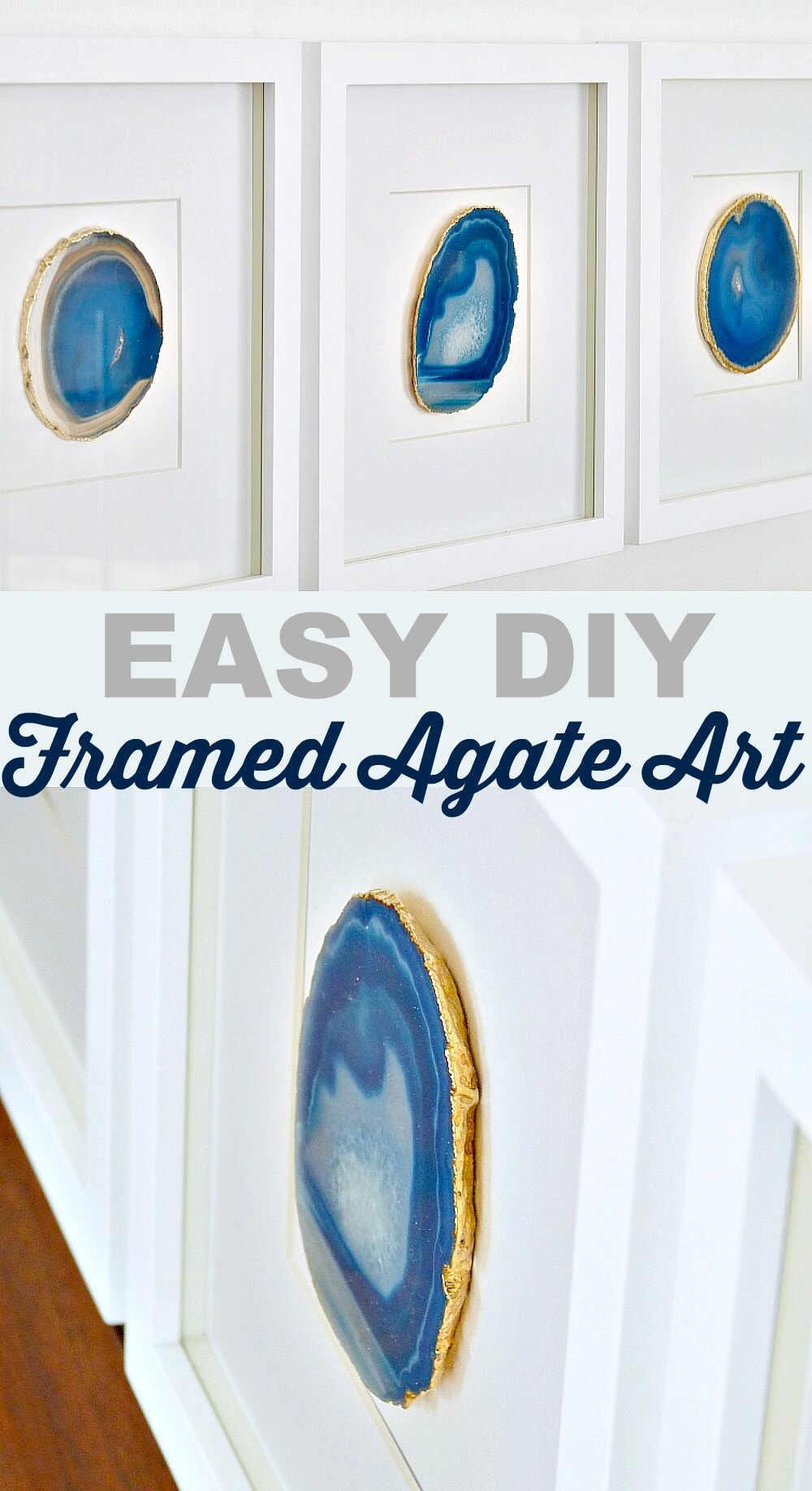 8. Glowing Quartz in the Fireplace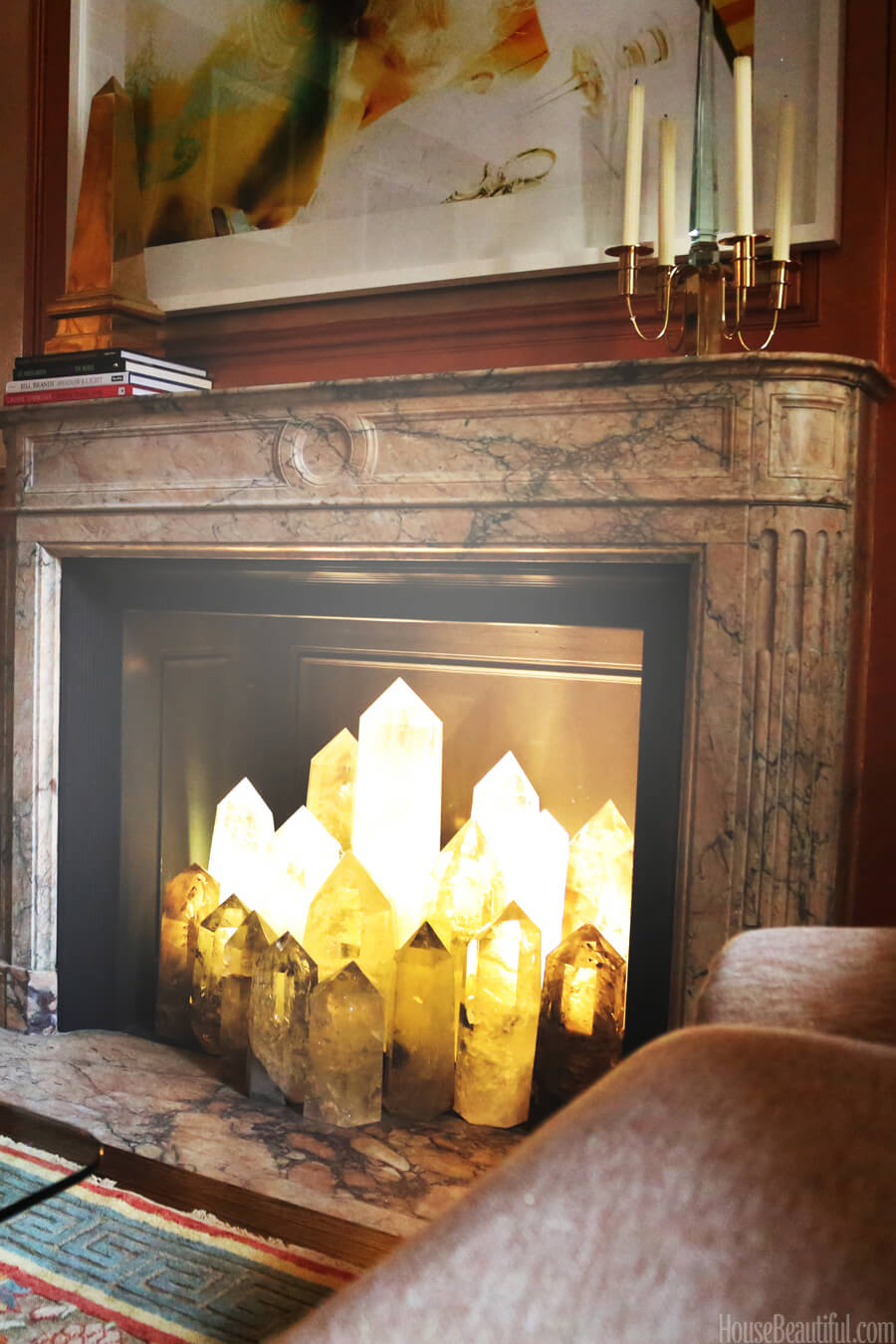 9. Plants Nesting in Geodes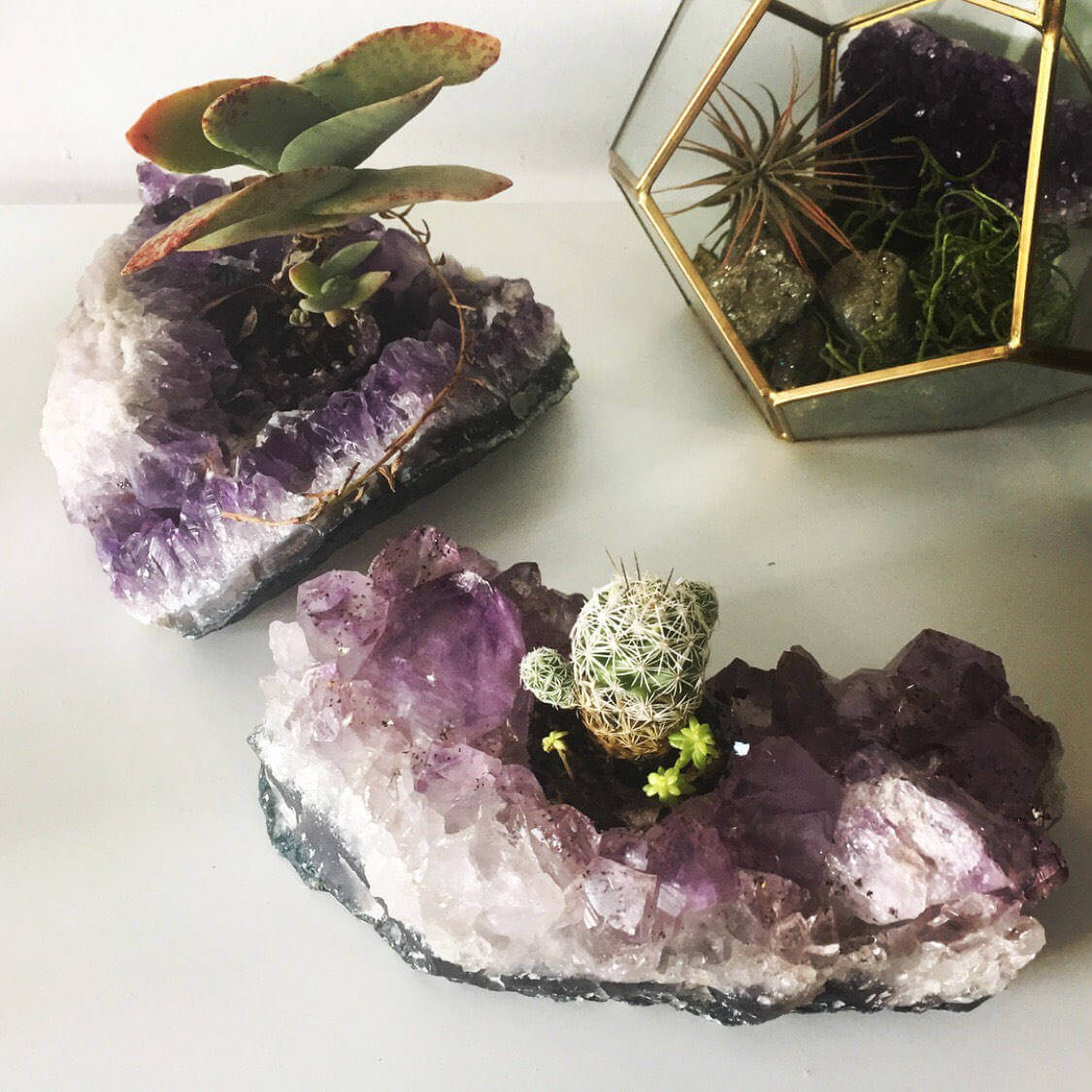 10. Netted Hanging Stones of Color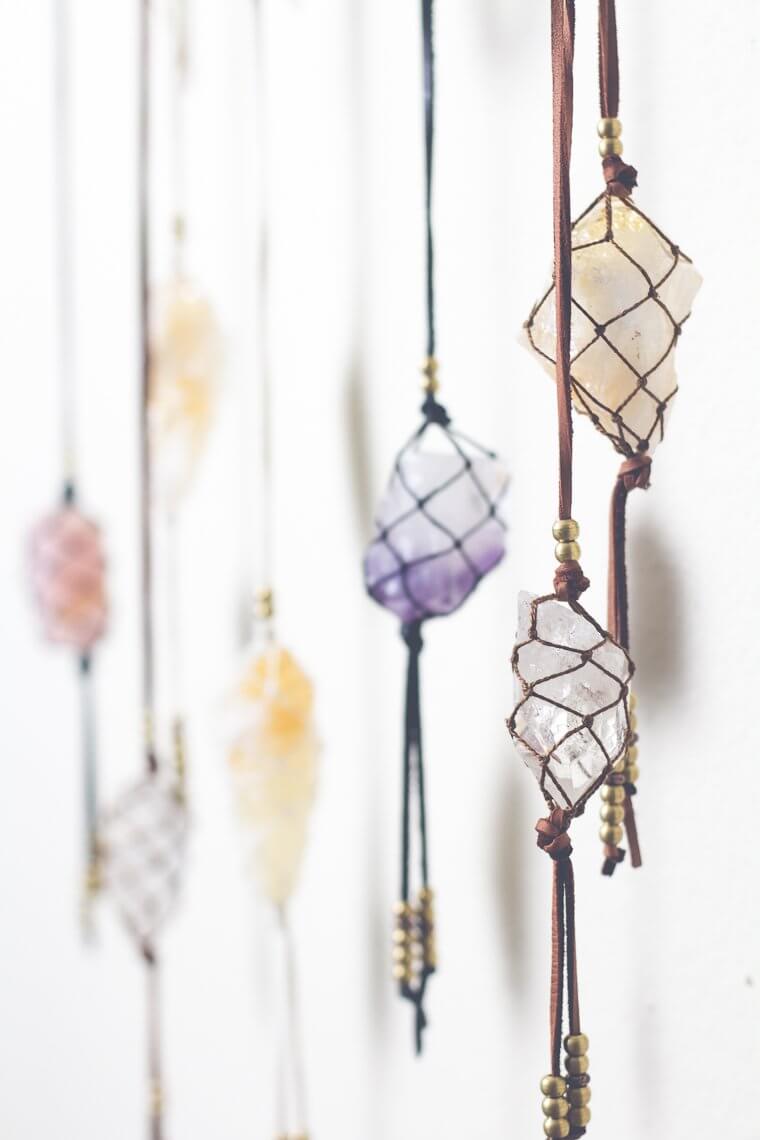 11. Geode in a Glass Bowl
12. Finished Edge in Stone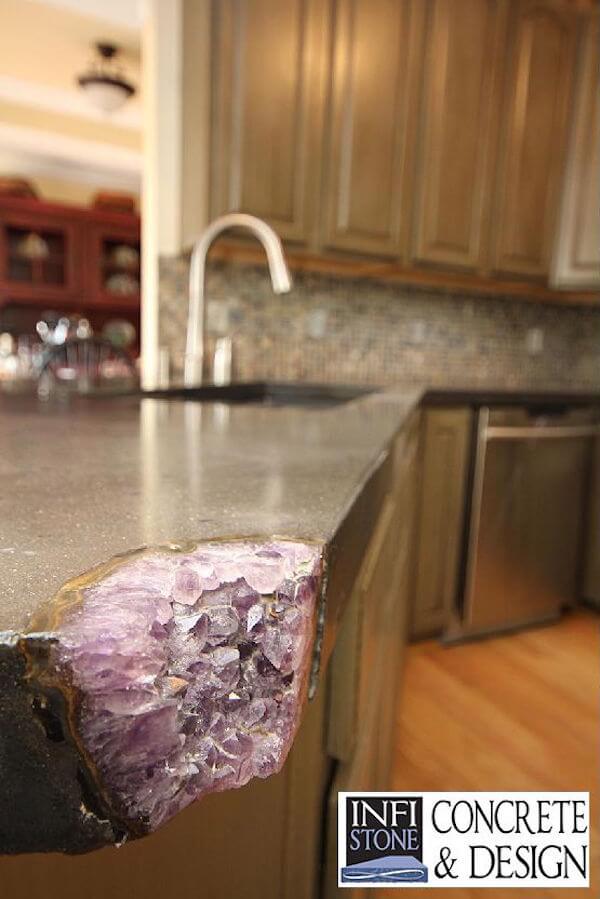 13. Tea Light, Dried Flowers, and Quartz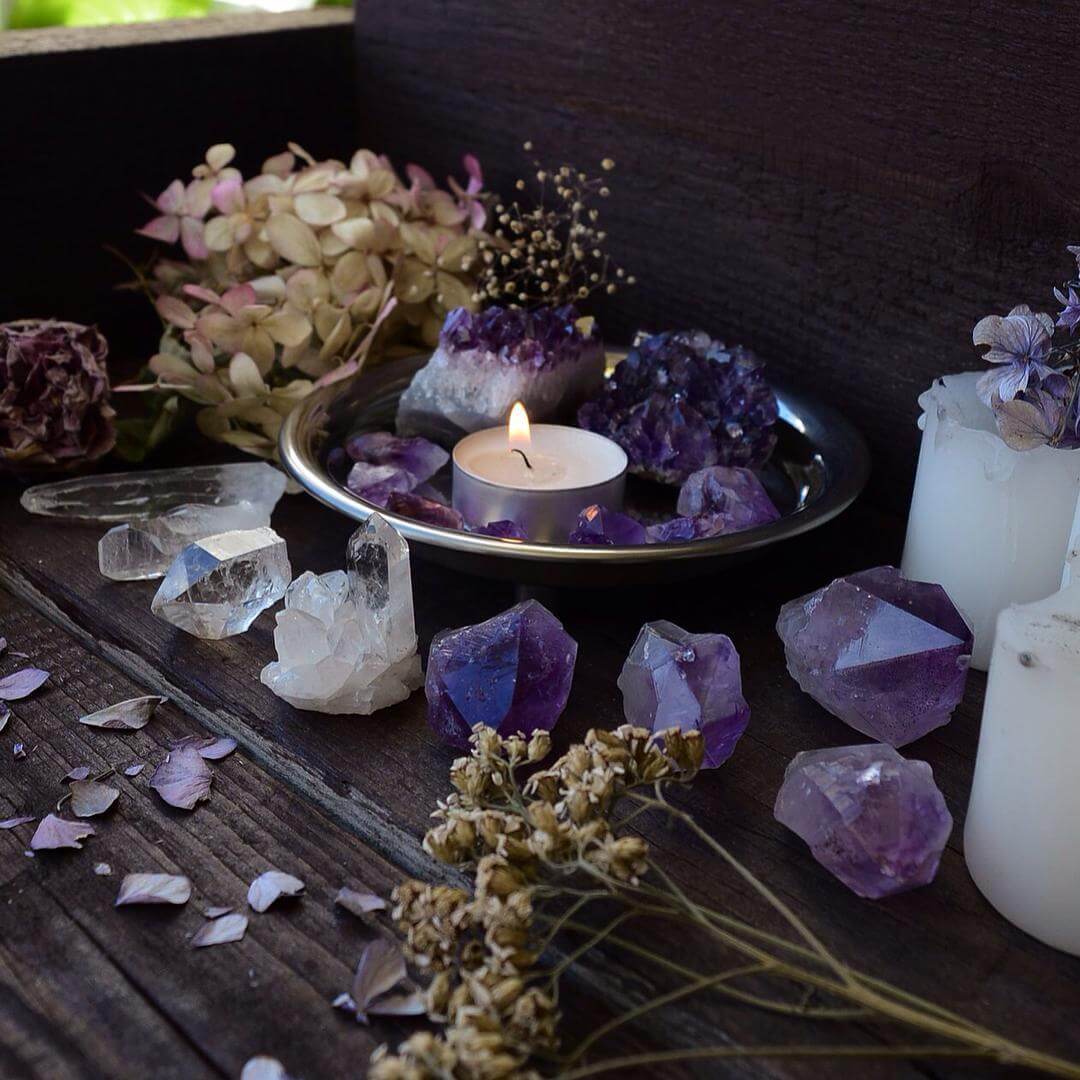 14. Rock Collection Cased in Glass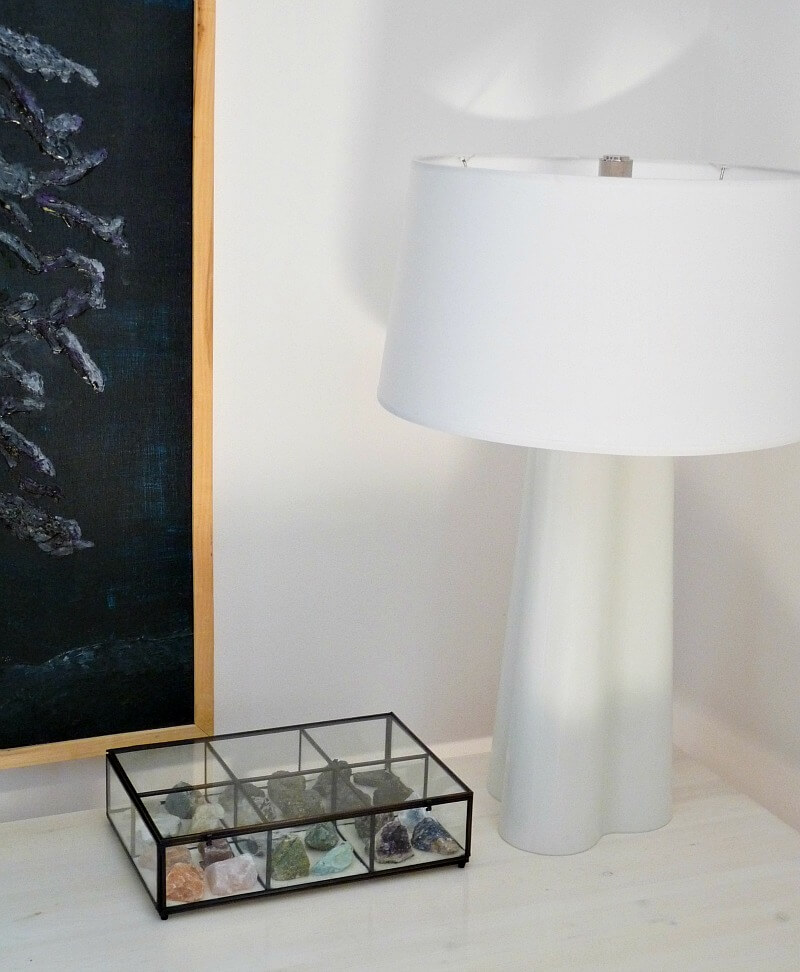 15. Beautiful Cascading Quartz Chimes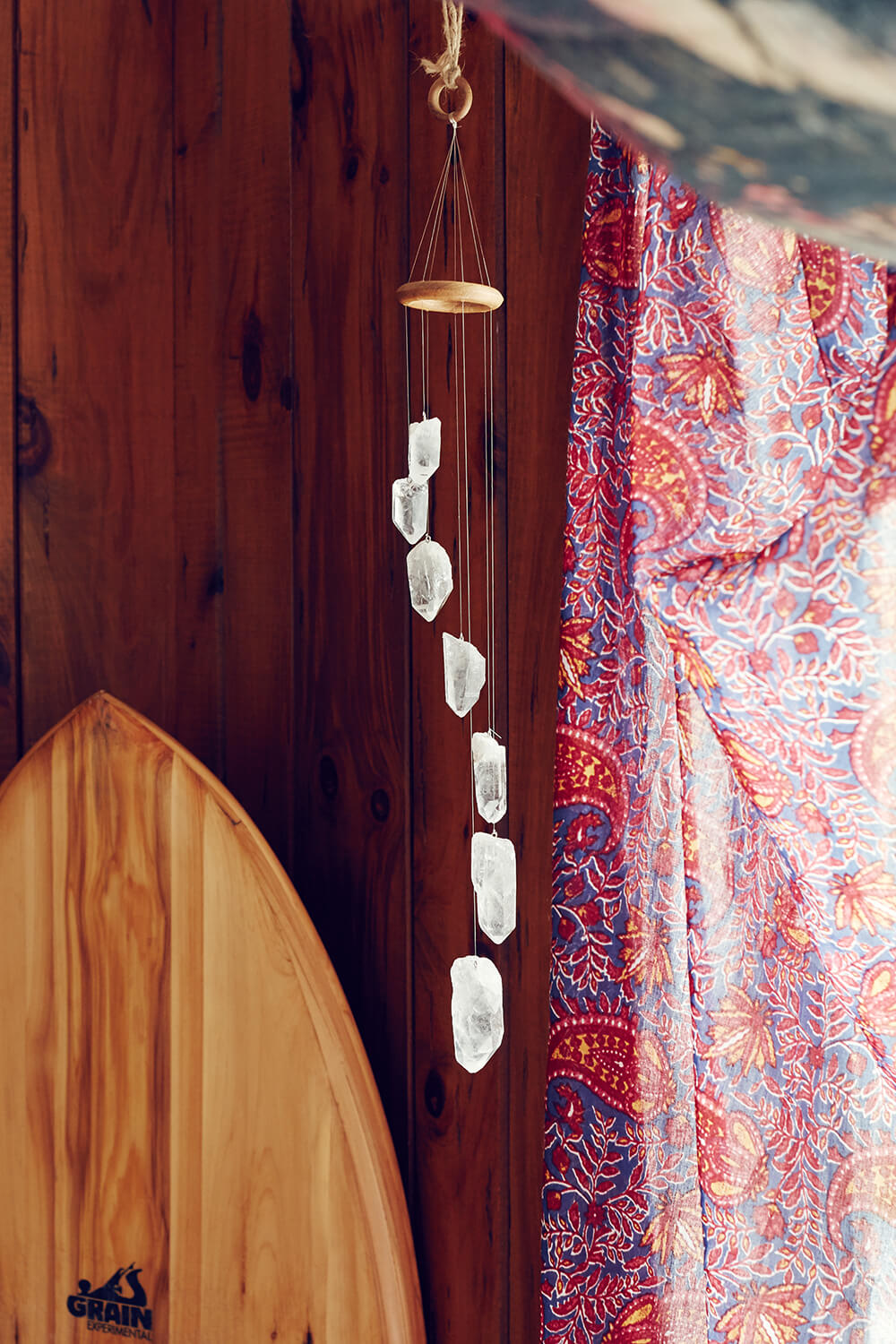 16. Himalayan Crystal Salt Lamp Light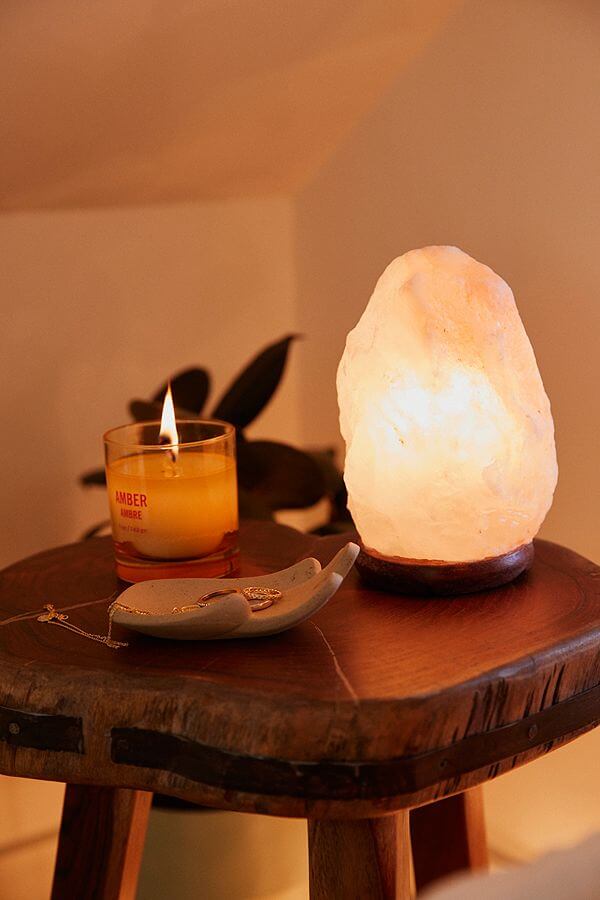 17. Desk Drawer Handles in Gold-encased White Stones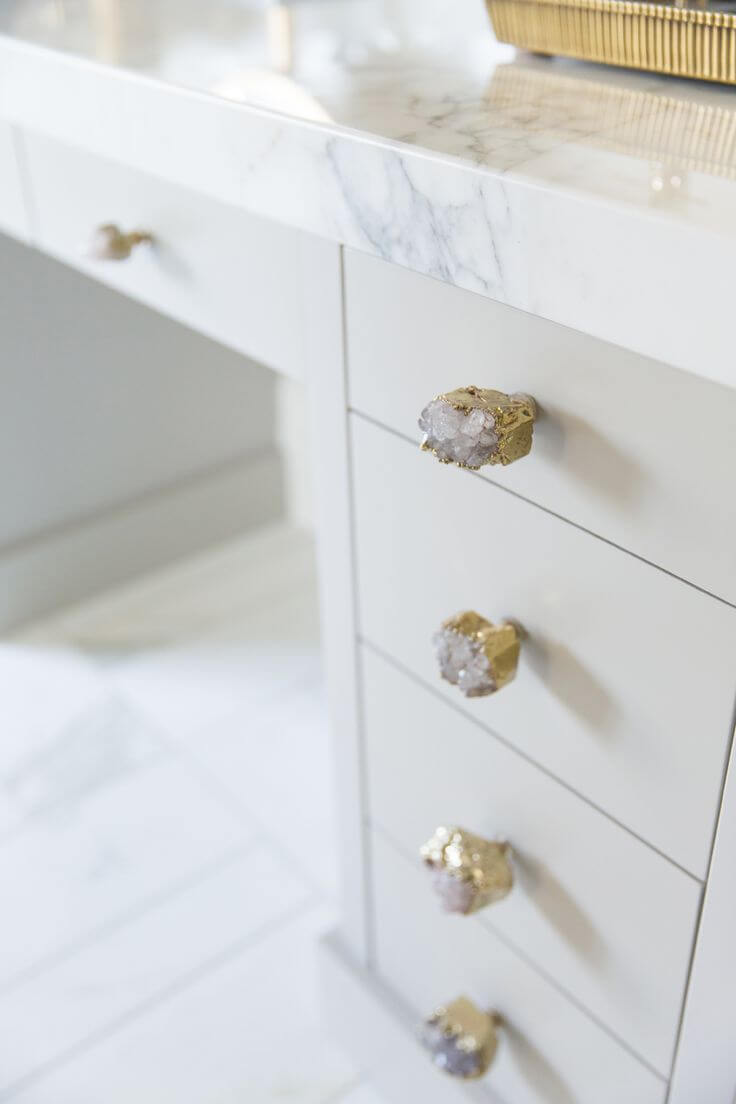 18. Quartz in Fairy Garden Terrarium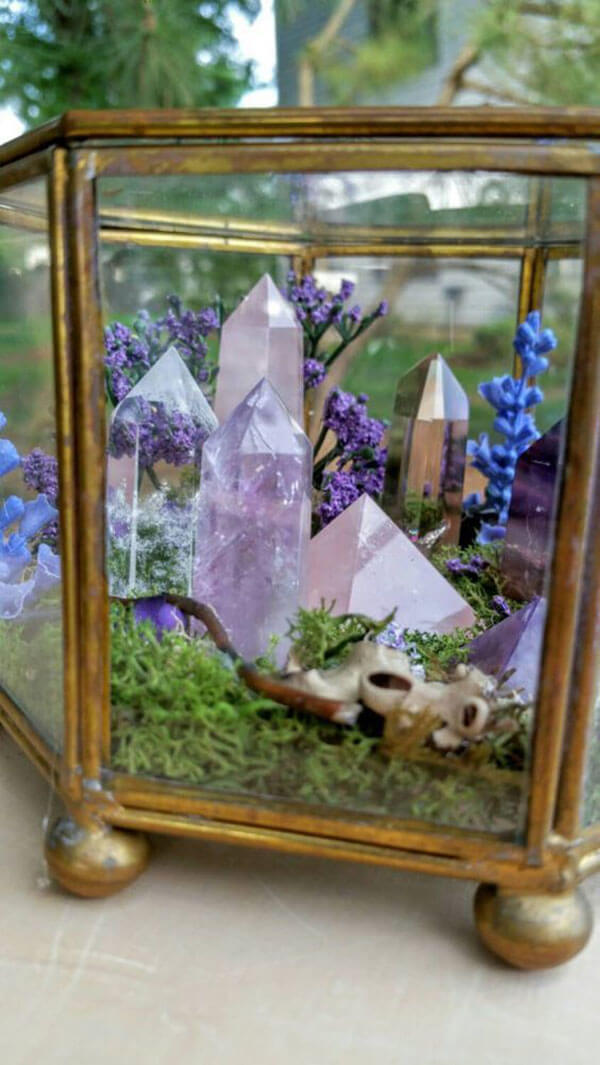 19. Pebble Hooks Line the Wall

20. Blue Stone Hovering Above Green Leaves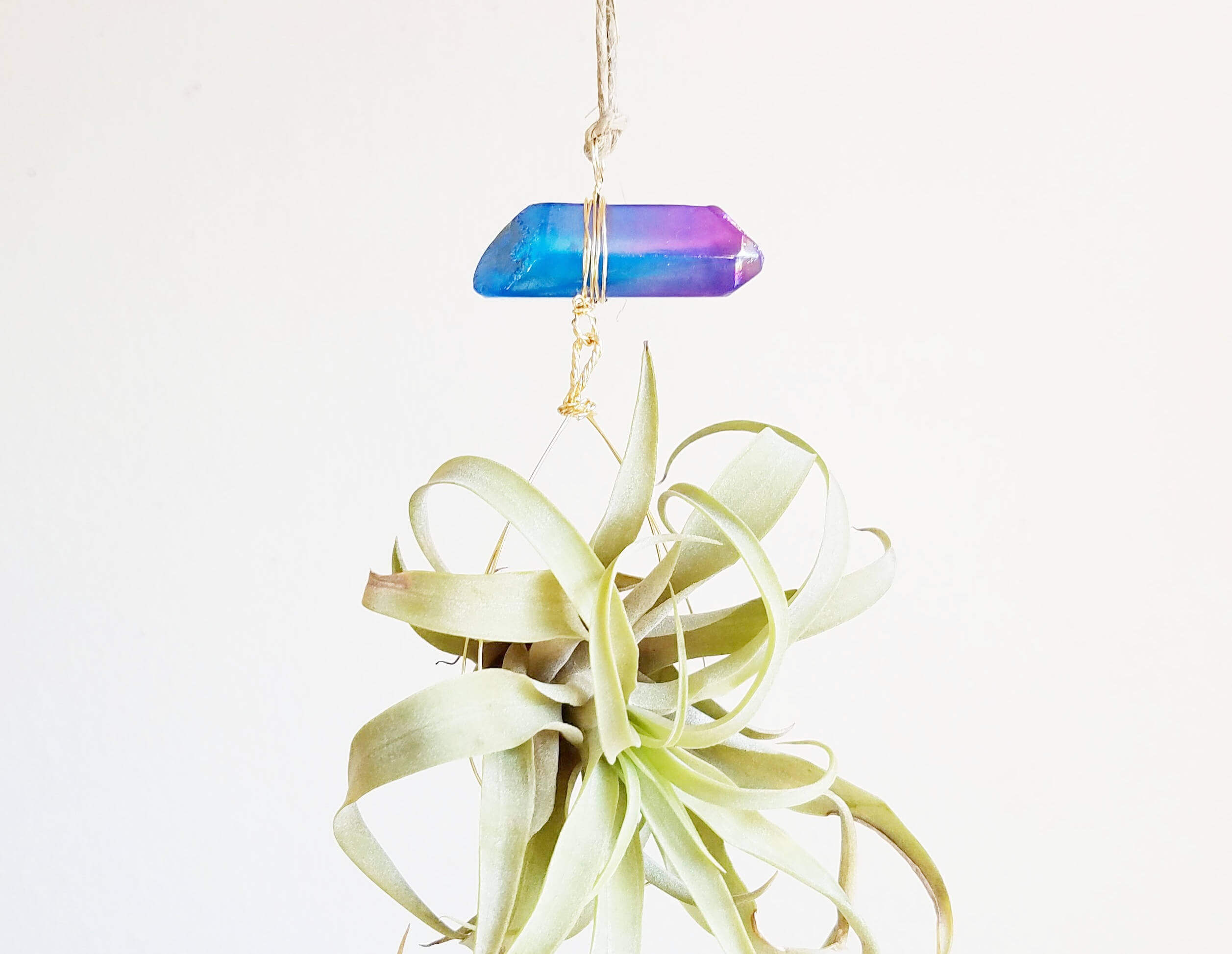 21. Colored Stones with Jewelry in Moon Bowl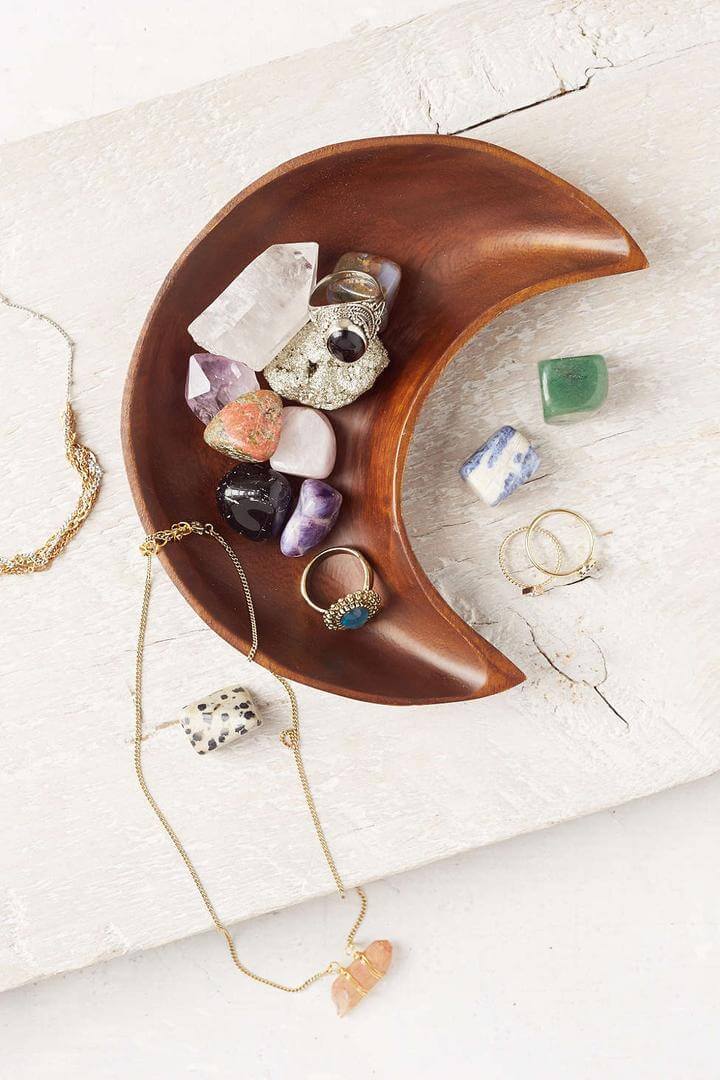 22. Grouped Flowers and Geodes Flickering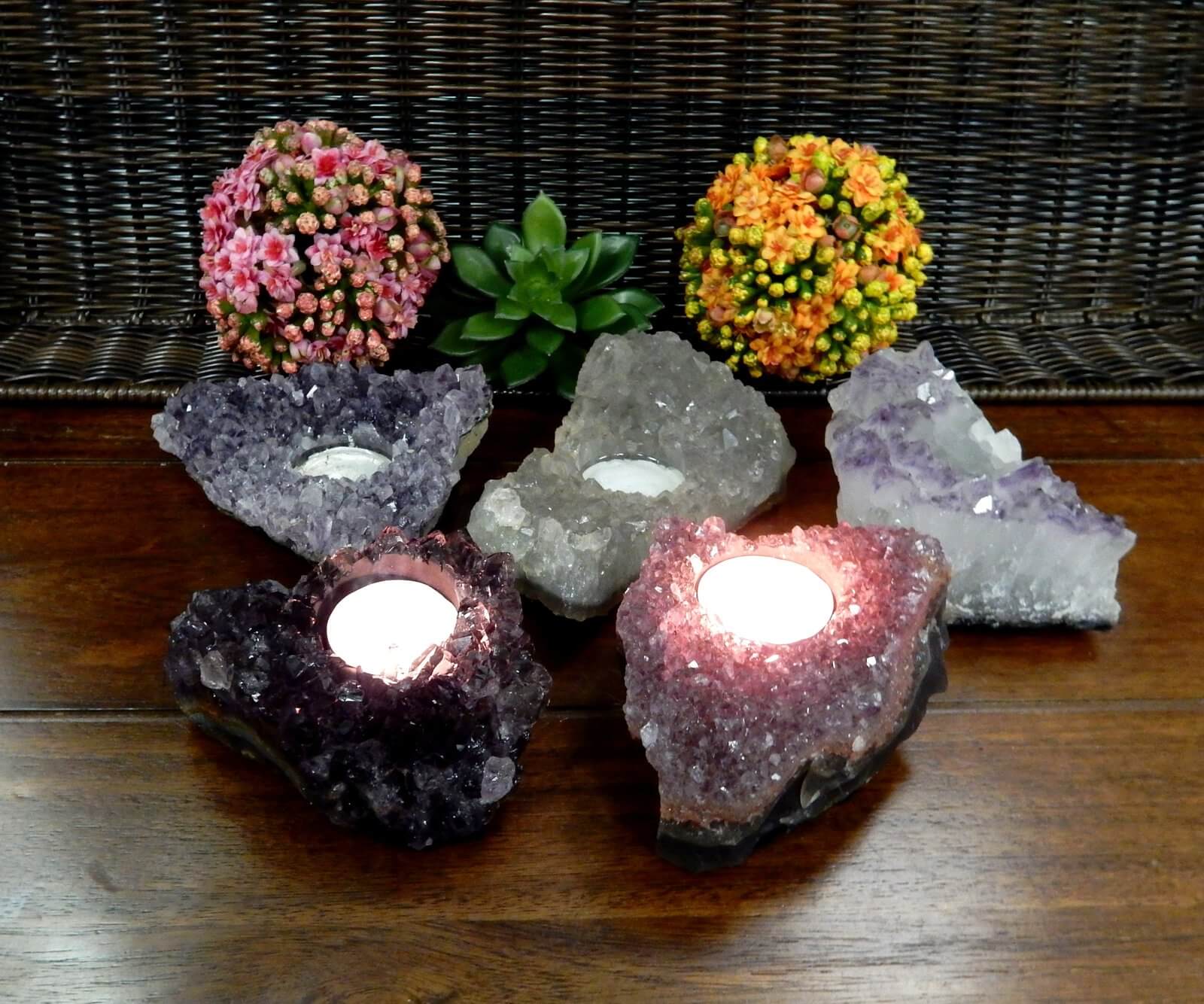 23. Seashells Encrusted with Crystals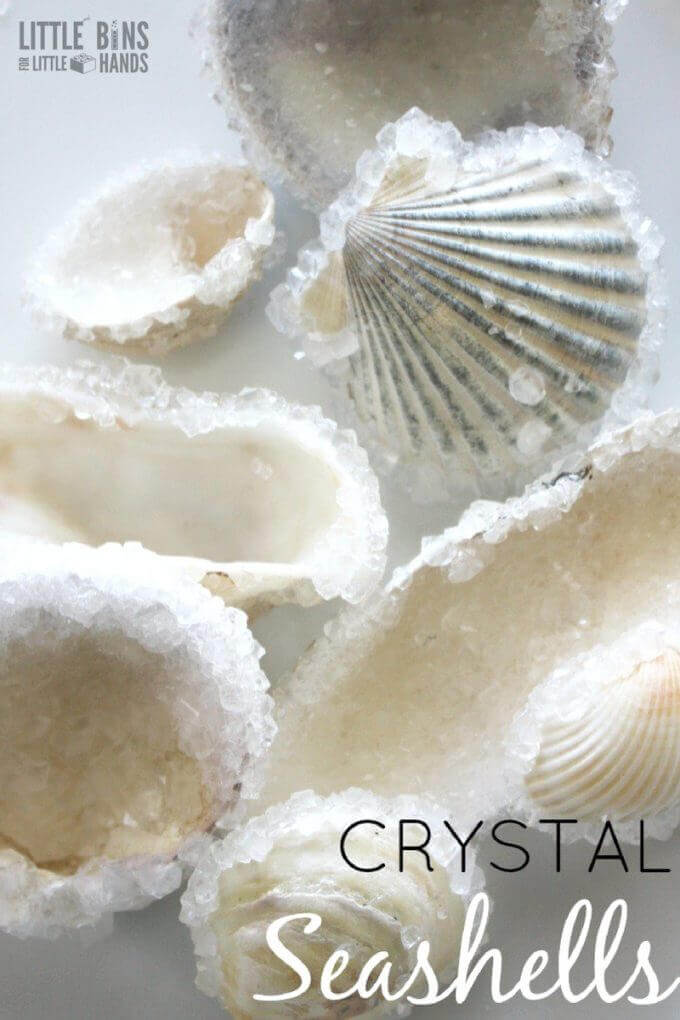 24. Platter of Pretty and Polished Stones and Books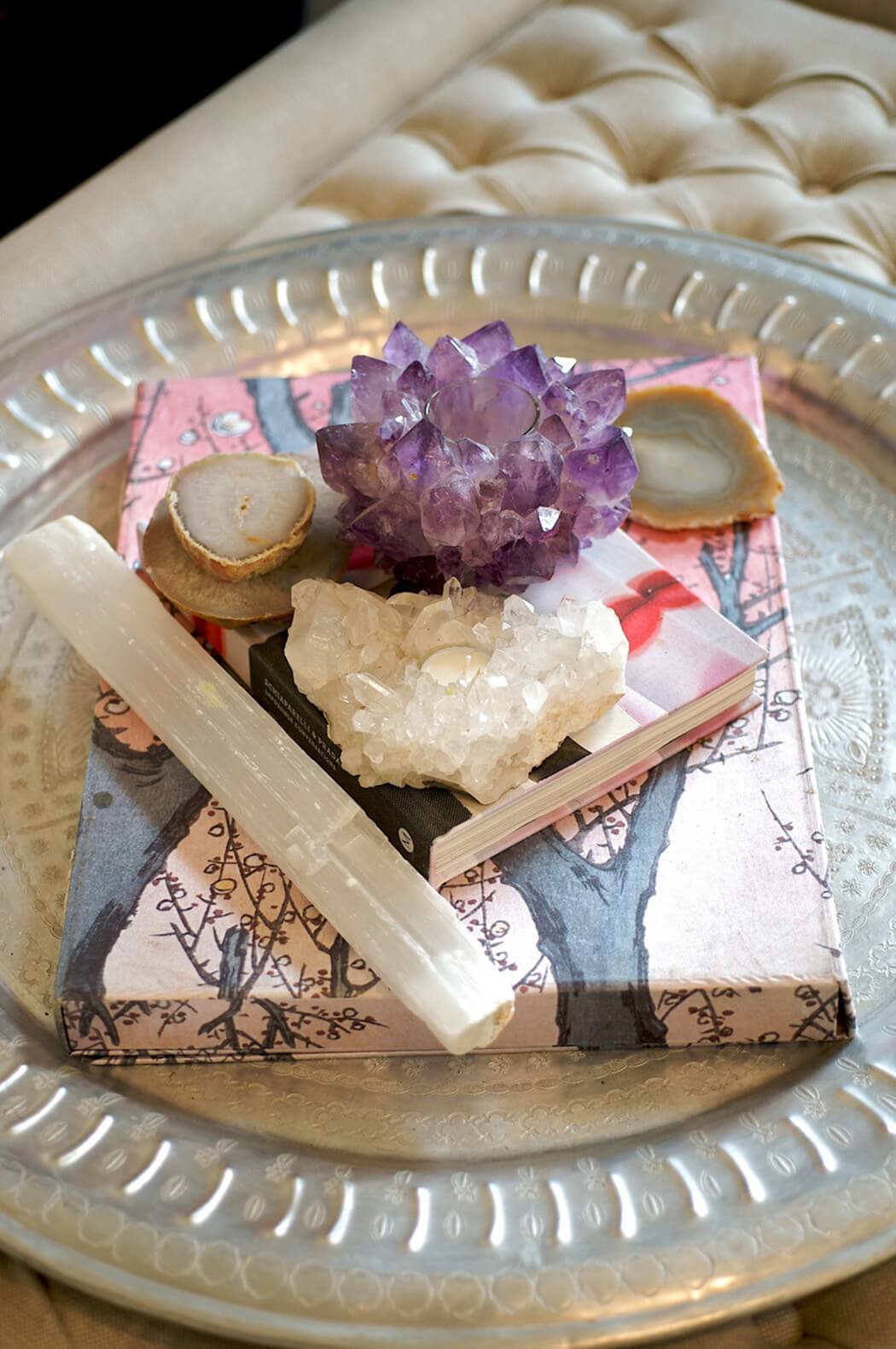 25. Geode Treasure Inside Open Terrarium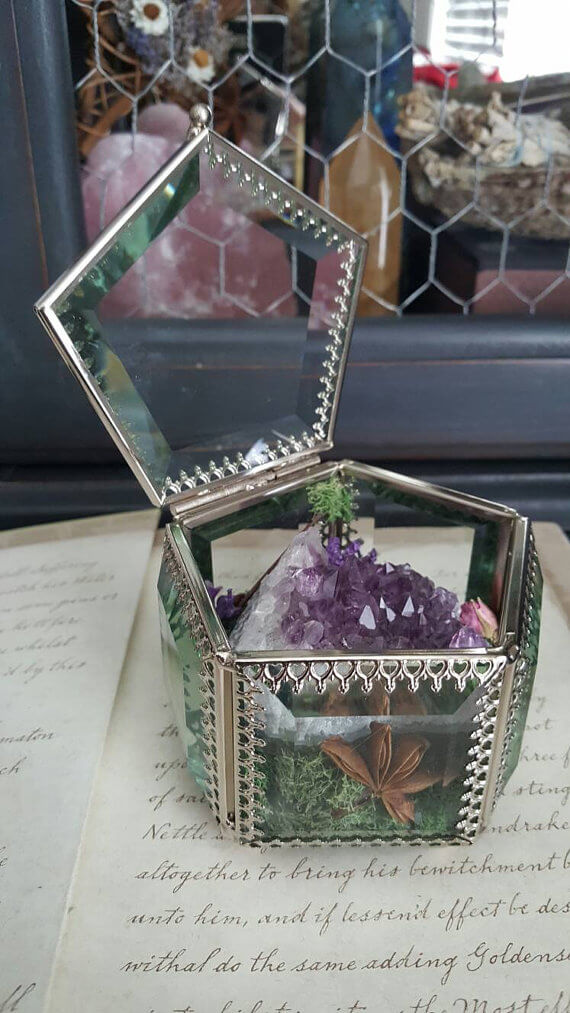 26. Crystal, Silver, and White Candlelight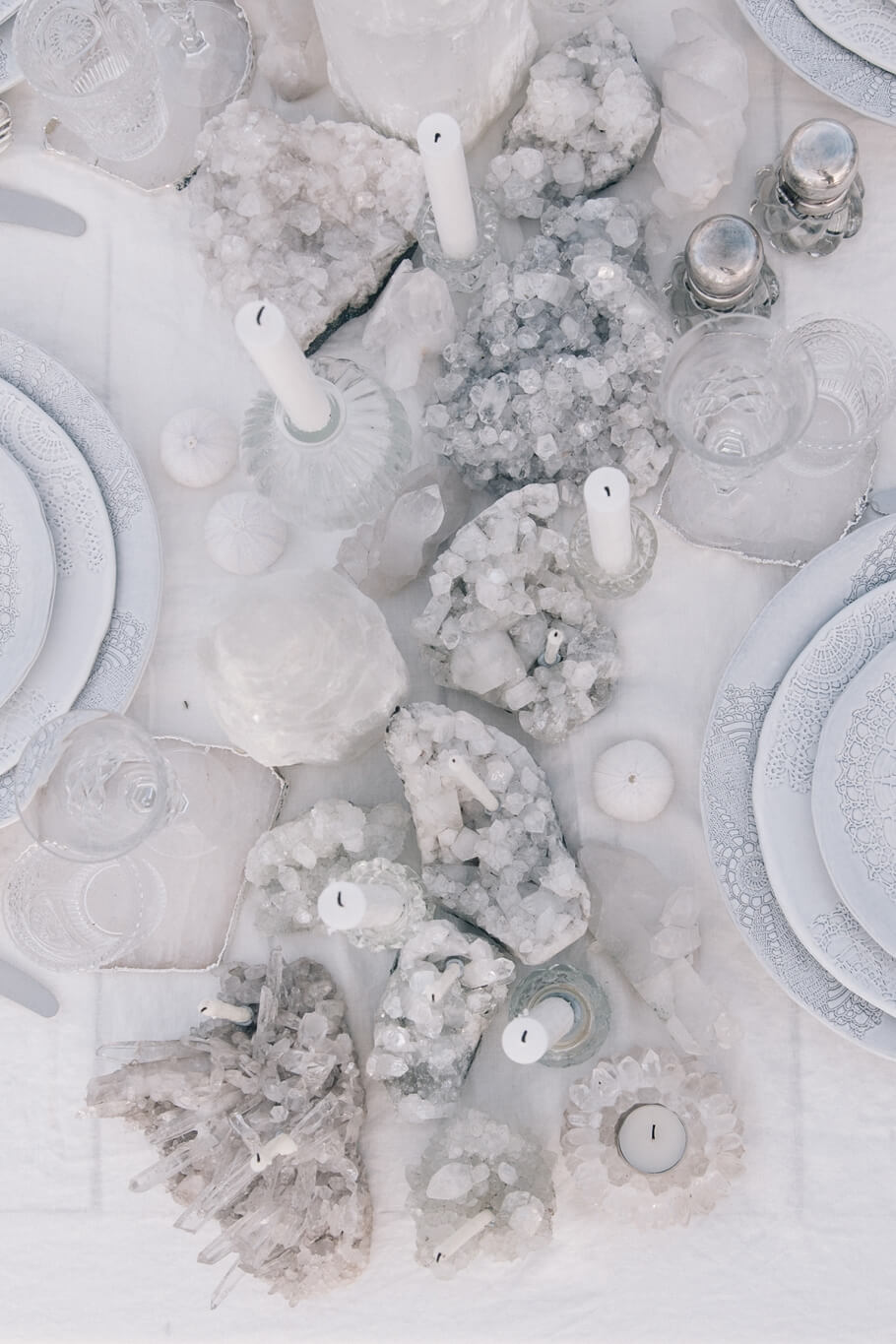 27. Wishing Stones of Life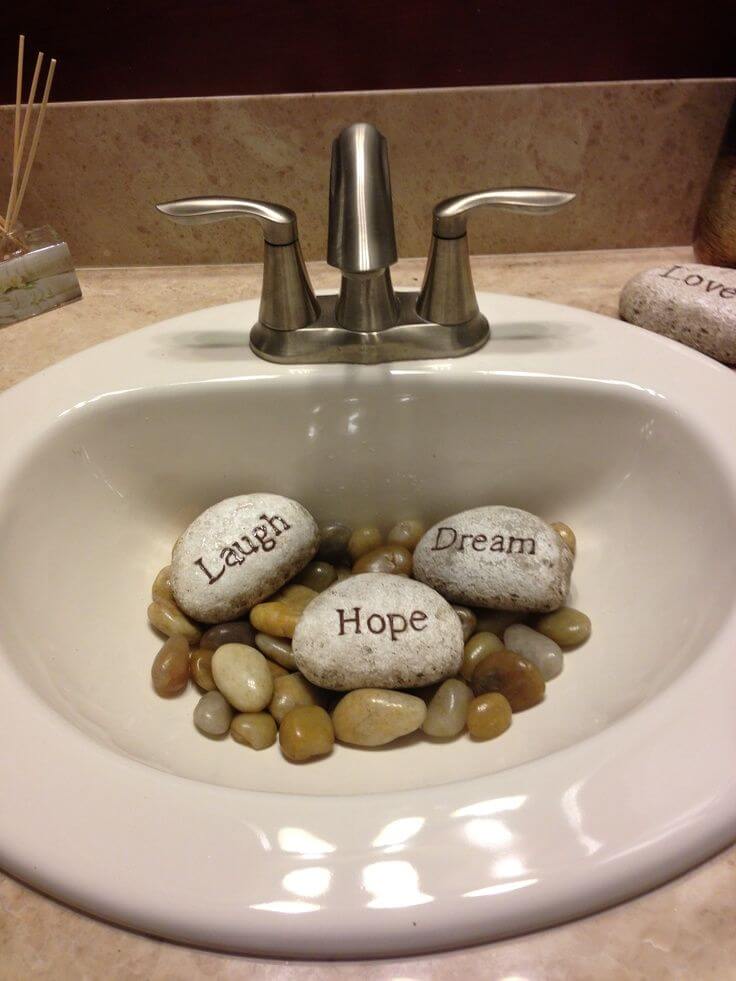 28. Blue Stone Lake in Polished Geode Planter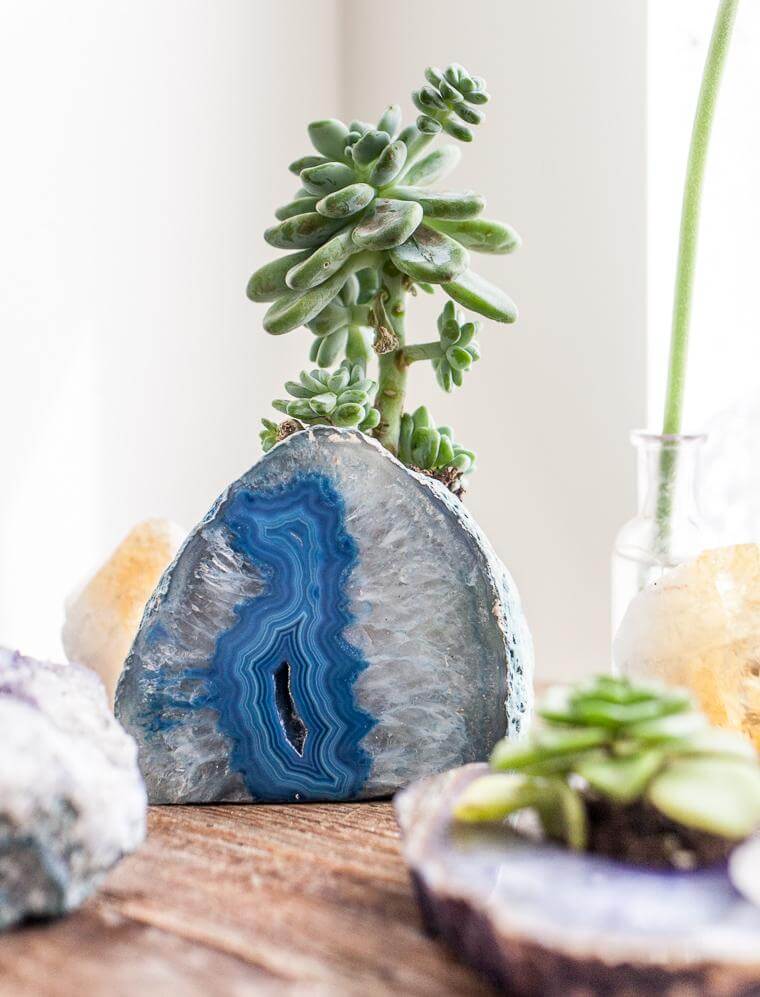 29. Wood Pyramid of Stones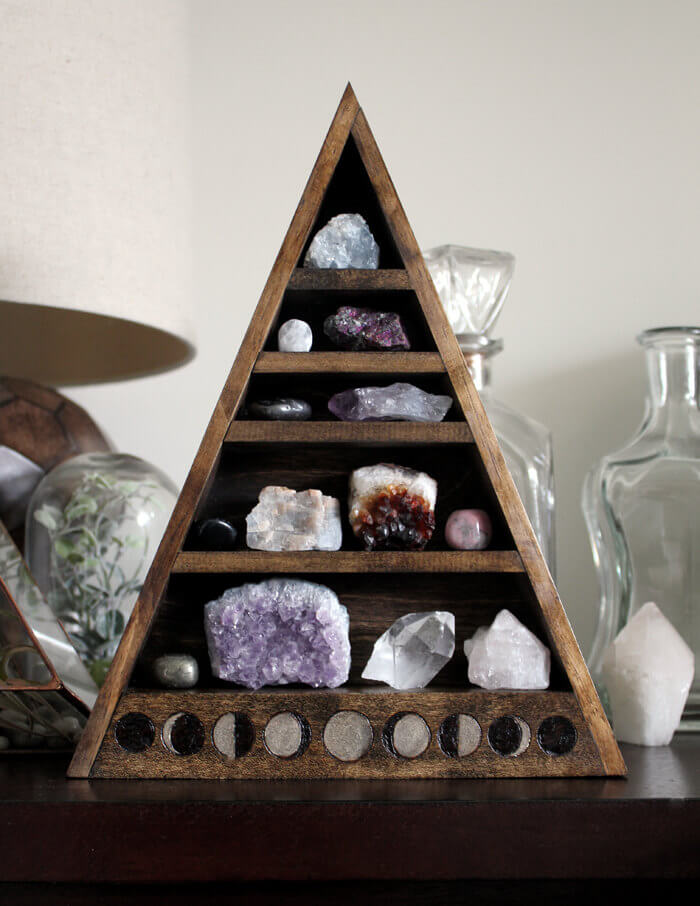 30. Solid Crystal with a Touch of Greenery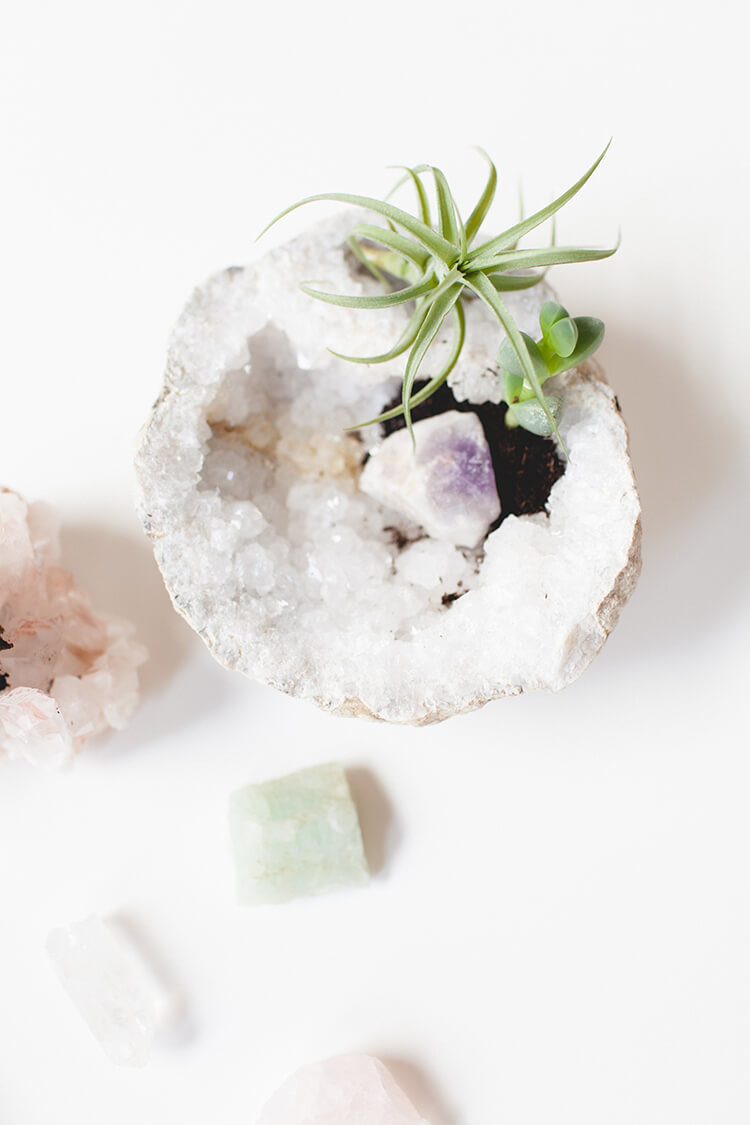 31. Crystals Sunk in Turquoise Sand