Room #15: A Treetop Perch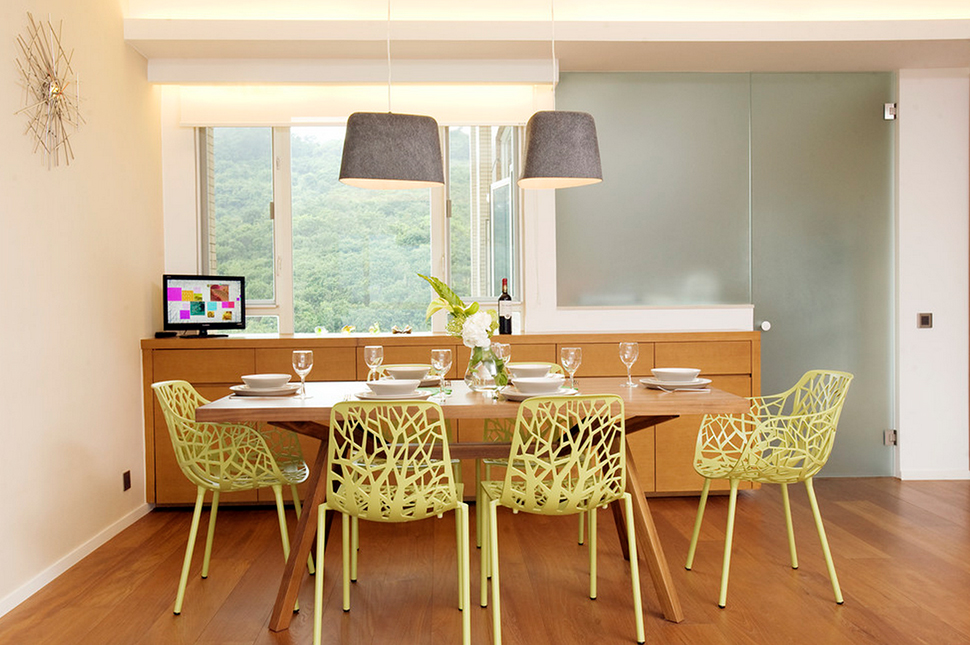 If you never had a chance to climb a tree and hang your legs over a branch during a lazy summer, you can still enjoy a taste of the past by selecting these adorable treetop chairs, the most attention-getting furnishings in this airy room. Surrounding a retro-table fashioned of chunky, light, wood sections, Scandinavia comes to mind when browsing this room's environs, and the custom-made, hardware-free buffet/cabinetry points in that direction, too. If the Beatles' classic Norwegian Wood happens to run 'round your head as you scan this serene dining area, you won't be alone. Love unusual dining room sets? This one's for you.
Room #16: Afternoon on the Lake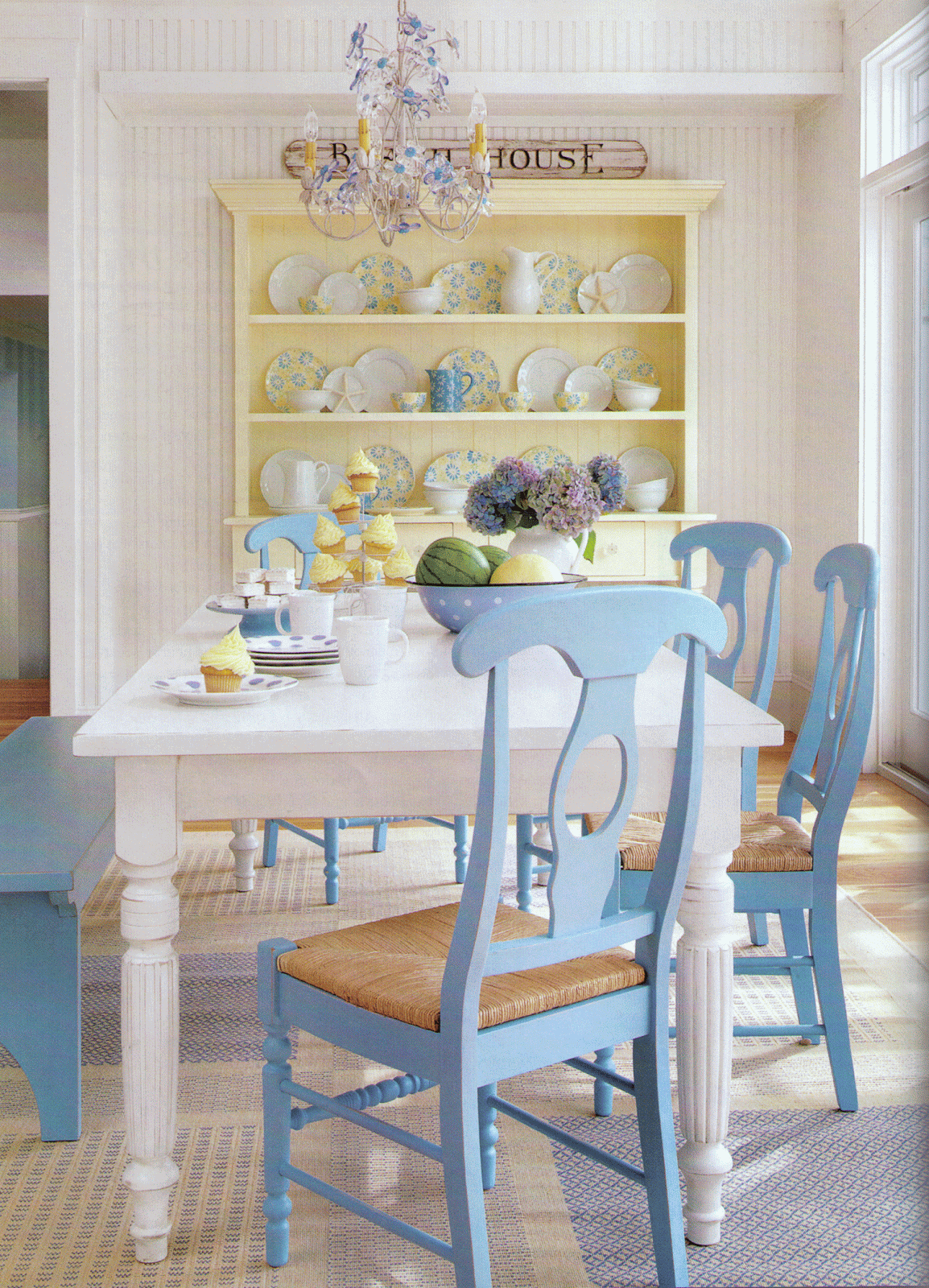 Take one look at this dainty dining room and charming home design idea and the urge to serve tea and cakes may prove irresistible. Note the cream hutch filled with pottery featuring blue-patterned splashes and dainty starfish overlooking a nautically-inspired dining room set that appears to have been kissed by sun and sea. Intricately carved post table legs paired with azure chairs with woven seats and porthole-like cutouts on chair backs offer a sweet mix of tradition and trendy styling. No sailor hats required to dine here–but they would certainly fit right in.
Room #17: Afternoon of a Faun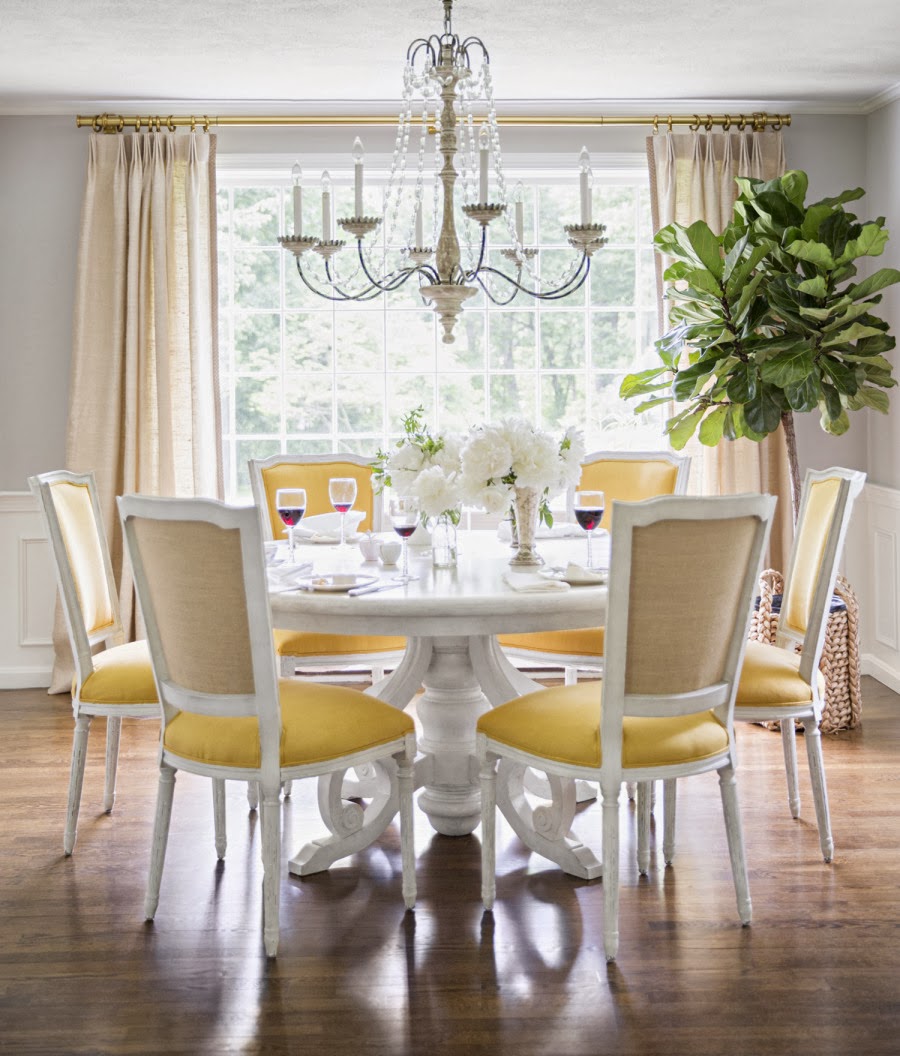 Forgive these comfy banana-colored chairs for standing in the way of a pedestal table that's so ornate, its rival might be found in the Taj Mahal. The hefty, round, double-tiered tabletop sits proudly atop a pedestal crowded with scrollwork and bevels amid a sensuous stack of globes that suggests the furniture maker must have felt elated when he produced so majestic a table. As dappled light is cast across a furniture suite that's as ideal for a casual luncheon as a formal dinner, one wonders how the room would appear in the moonlight with Debussy's classic music playing in the background.
Room #18: After the Theater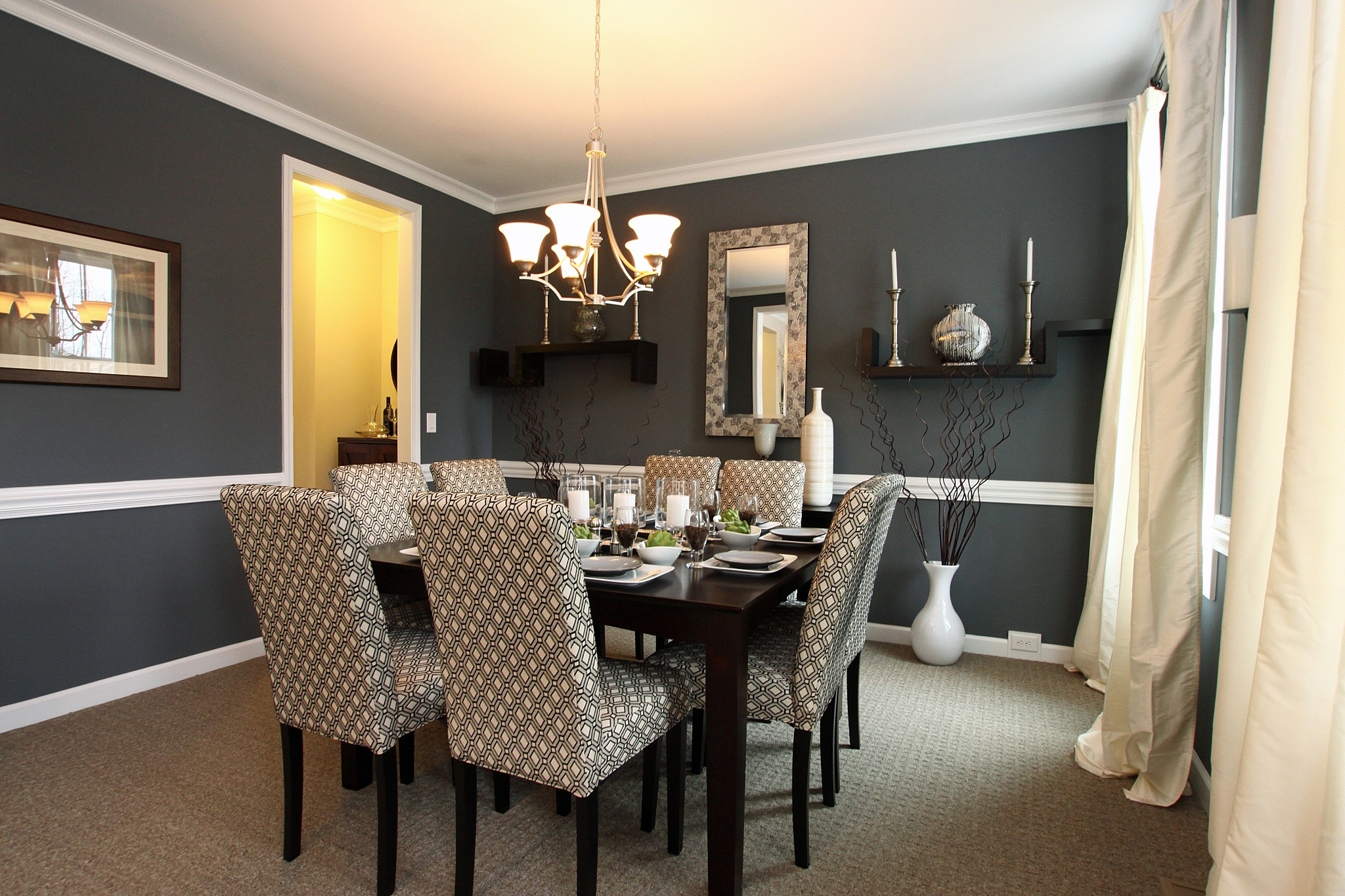 Perhaps the best part of attending theater with friends comes after the fact—even if performances have been remarkable. Treat your party to a post-curtain supper in your dining room: a study in contrast. Despite the dark color pallet, striking touches of white give this room depth and showcase a tasteful dining room set that's as comfortable as it is dramatic. The conversation-starting square table and tasteful chair fabric are sure to win praise from your company, so even if the play wasn't Tony-award winning, reviews about your dining room design are sure to earn bravos from diners.
Room #19: Architectural Nirvana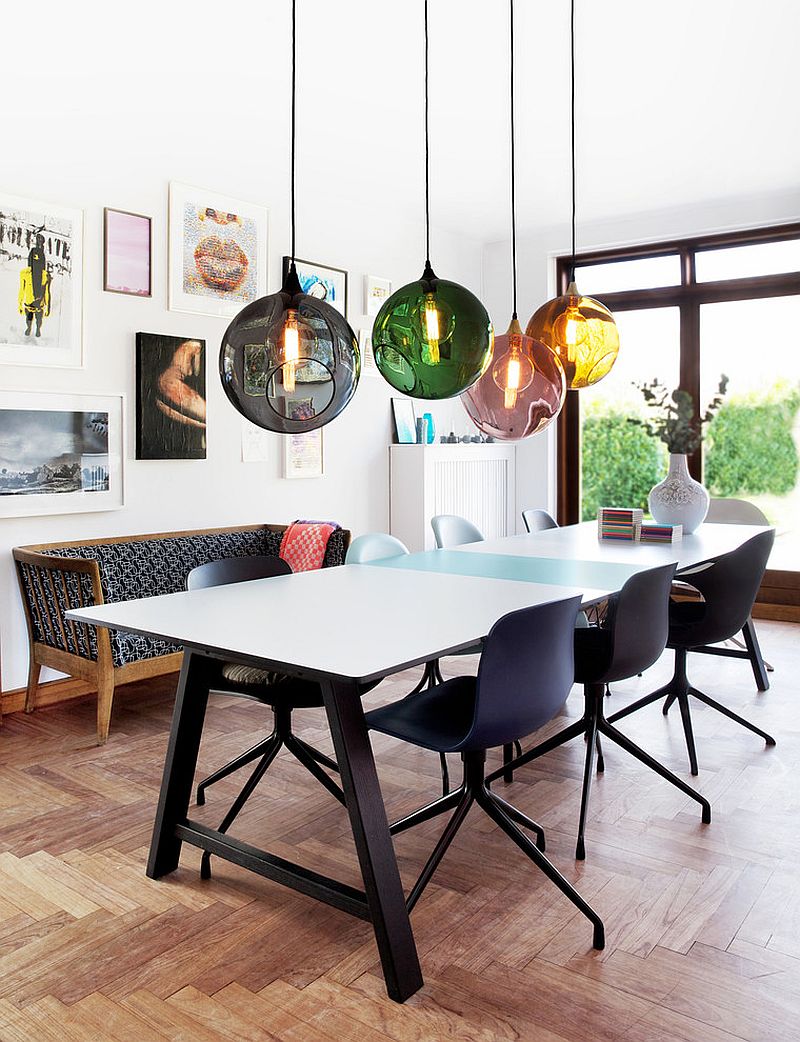 Channel your inner architect when you take your seat at this imaginative workshop-style dining set that's as ready for your kids' art project creation as it is for the PTA. Casual and utilitarian, the drafting table-inspired expanse accommodates a gaggle of guests beneath stunning glass spheres that light up the table with colorful abandon. Swivel seats stacked upon spidery legs are deceivingly sturdy and it's anybody's guess who was imaginative enough to choose the wall art complimenting this eclectic room. Take a lesson from those hanging lights: Make a mess. Have fun. This star of dining room sets was designed for good times and memory making!
Room #20: Snow White's Favorite Room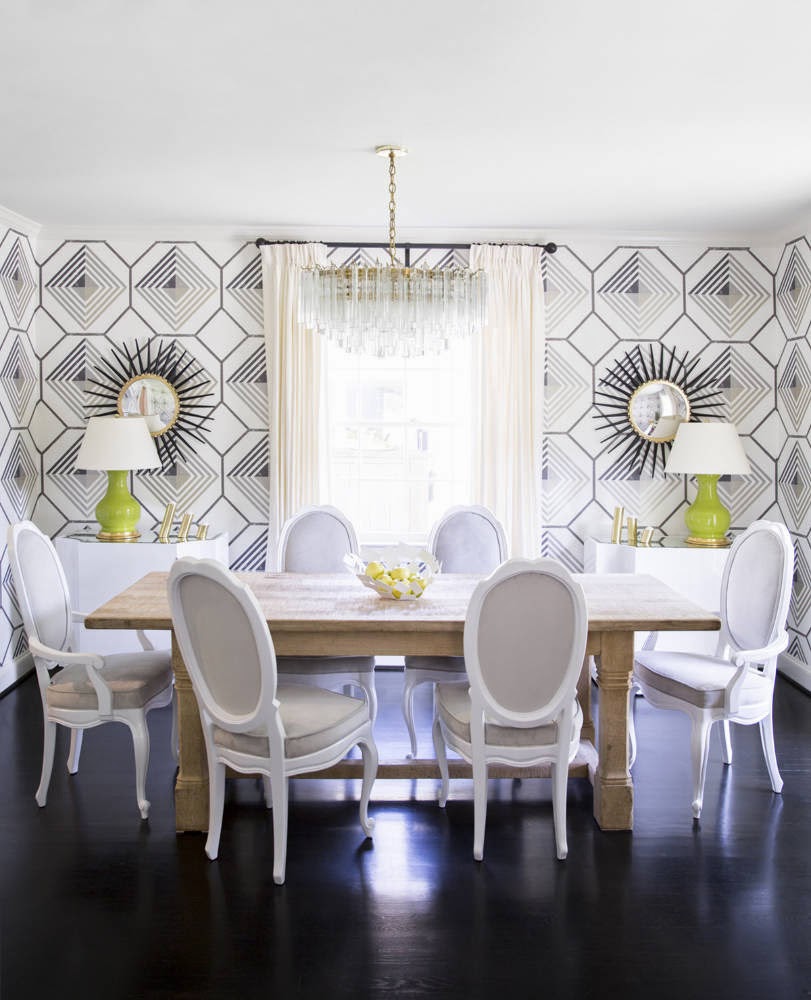 Never be afraid to exercise your prerogative for an overabundance of white. It makes the room look larger. Cleaner. More sophisticated. Which is why those dining room chairs strike a whimsical note with their mirror-shaped seat backs and ornately carved arms. That geometric background suggests the influence of a few unsavory characters, but it's all in fun—particularly since the natural wood of the farm table is an ideal place to welcome a prince who's come to awaken you with a kiss. Don't let those green lamps fool you; it's okay to pretend that they're frogs just waiting for kisses that turn them into princes!
Room #21: Our First Home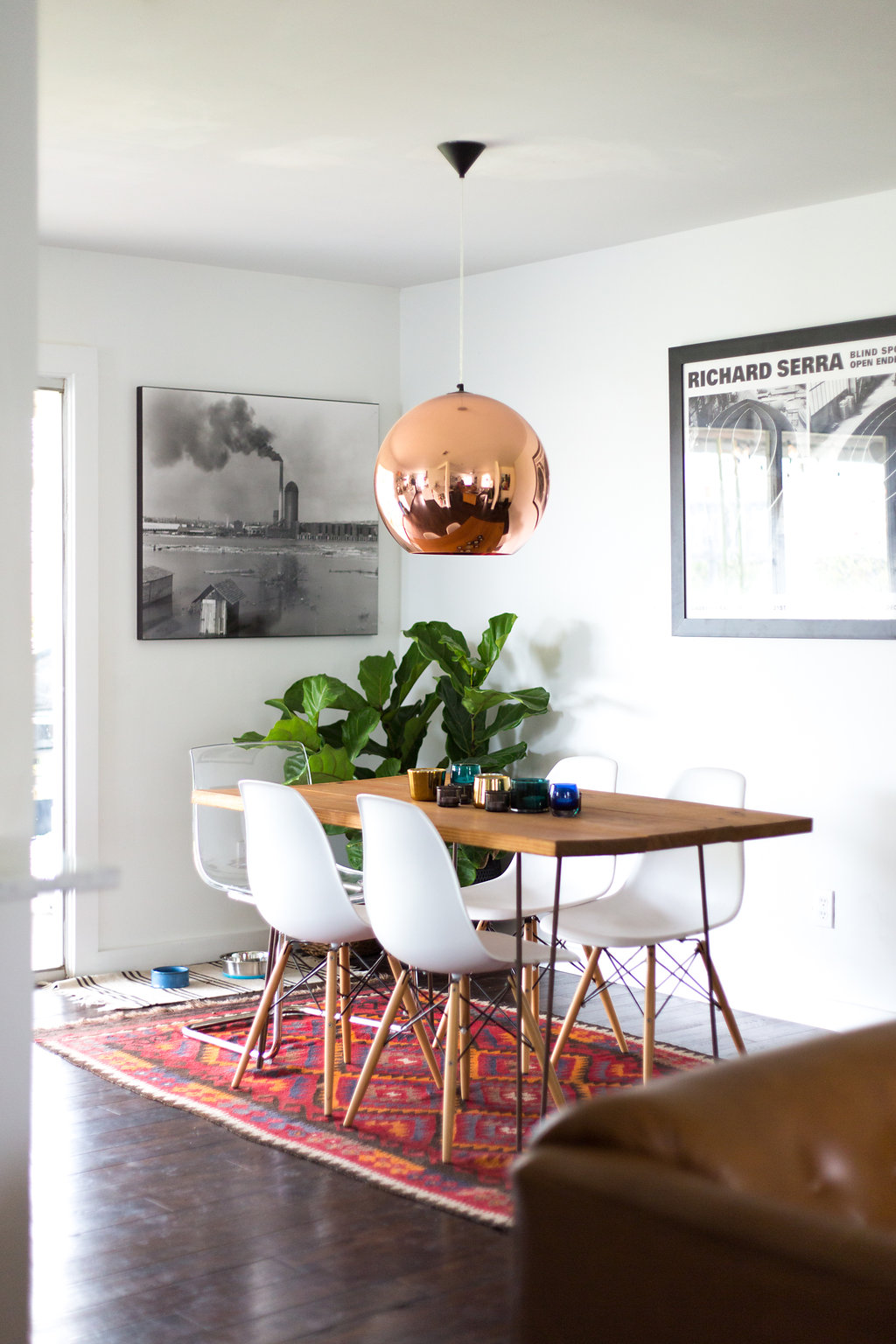 When newlyweds invest in their first homes, there isn't much money left in the piggy bank for lavish furniture statements, which is why a clever couple doesn't even try to show off a bit in the decorating department. Start with a solid dining room idea, Spartan slab of wood that appears to have just been cut in the forest and add a small grouping of contoured dining room chairs—at least one of which is fabricated of see-through plastic. That exciting expanse of colorful rug won't reveal the occasional cookie crumb, but it sure cozies up this snug corner.
Room #22: My Blue Heaven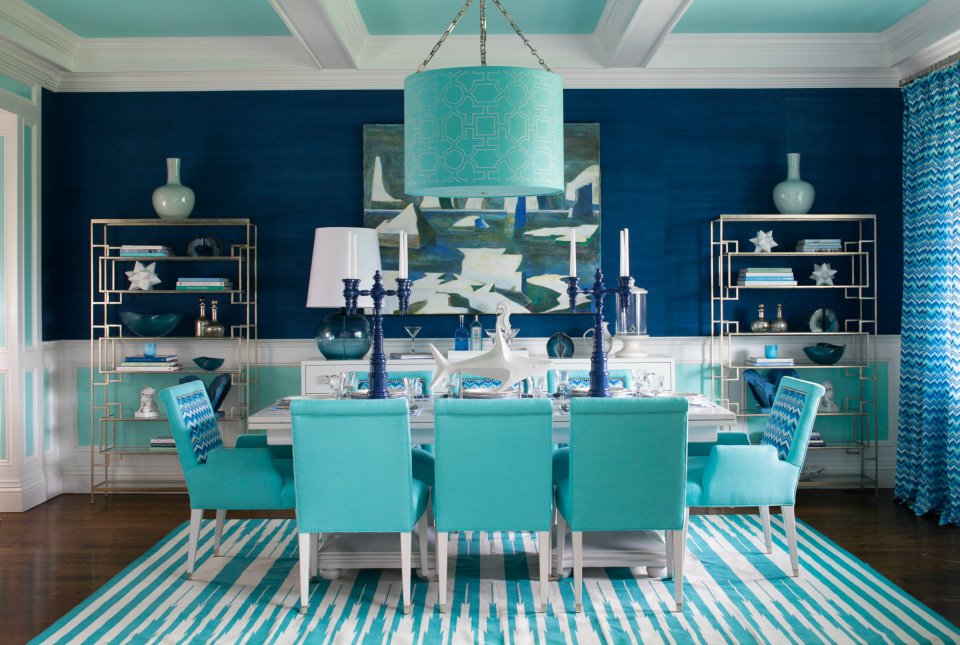 Ocean breezes are missing from this Caribbean-inspired dining room lavished with so much blue, even Nemo would approve. Wainscoting adds a jaunty note to lower walls beneath dark Cerulean blue reminiscent of a night sky. White chair legs beneath azure seats featuring perky panels of chevrons in a blast of blue that seem to point to matching curtains. Set sail for smooth seas when entertaining guests at a tabletop on which not one but two ornate pedestals rest. Nautical ephemera and knickknacks spice things up nicely. Serve seafood is you like, but your guests could be too dazzled by your décor acumen to pay attention to their plates.
Room #23: New World Cozy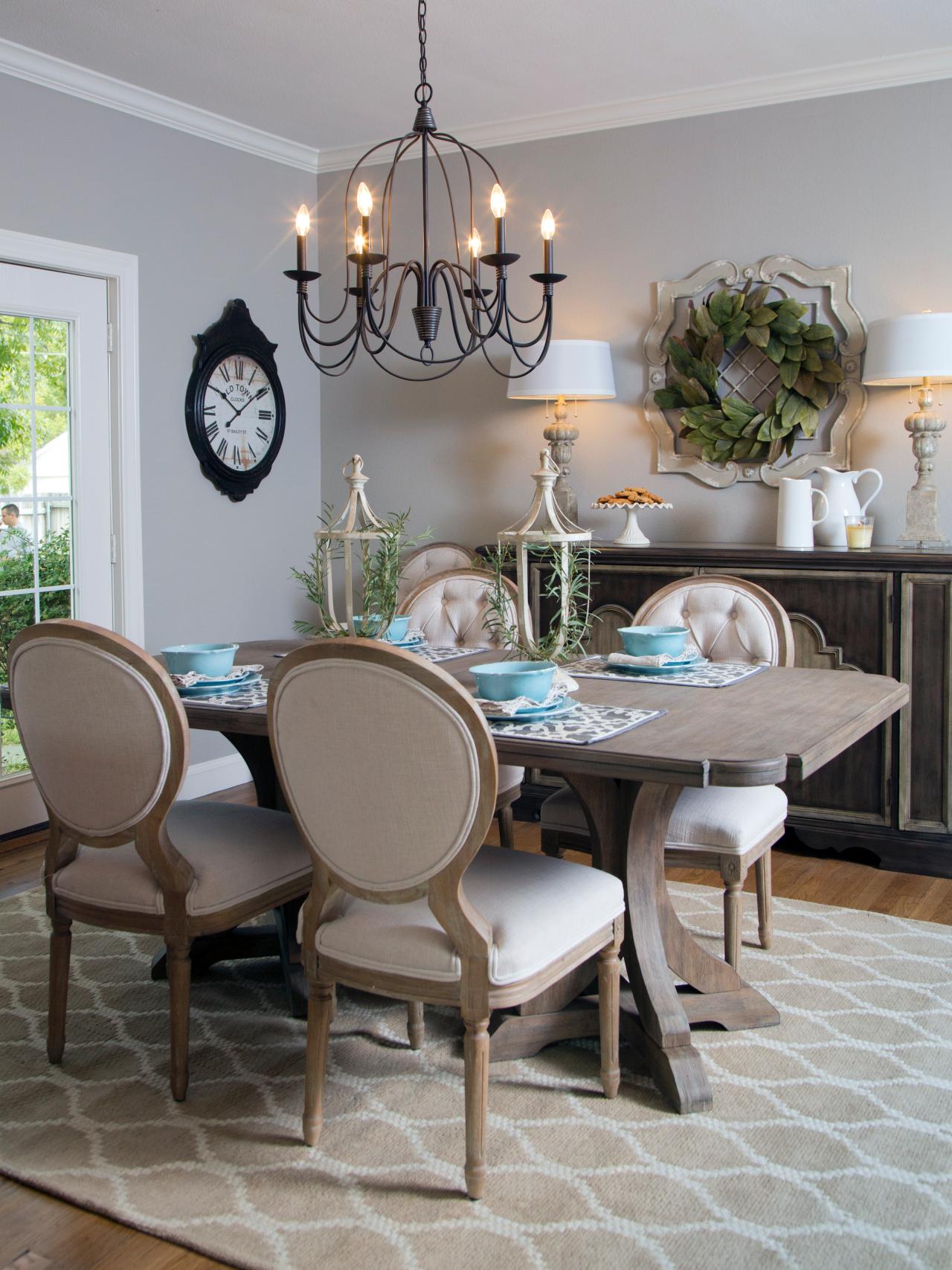 The buffet with bas relief edging might easily have been hand-crafted by a master carpenter, but those dining room chairs were definitely brought to the new world by ship as they bear the hallmark of a meticulous upholsterer. Notice the dining room table edges: slight cuts of wood at all four corners make for interesting detail, but what lies beneath is even more magical: two pedestal legs resembling abstract tree trunks. It's a shame they stay hidden! Pure white wood trim, lampshades and patterned carpet pop against cool grey/taupe, but it's the table and chairs that will be remembered long after this wall color is changed.
More dining room set ideas on the next page…