Room #24: A Provincial State of Mind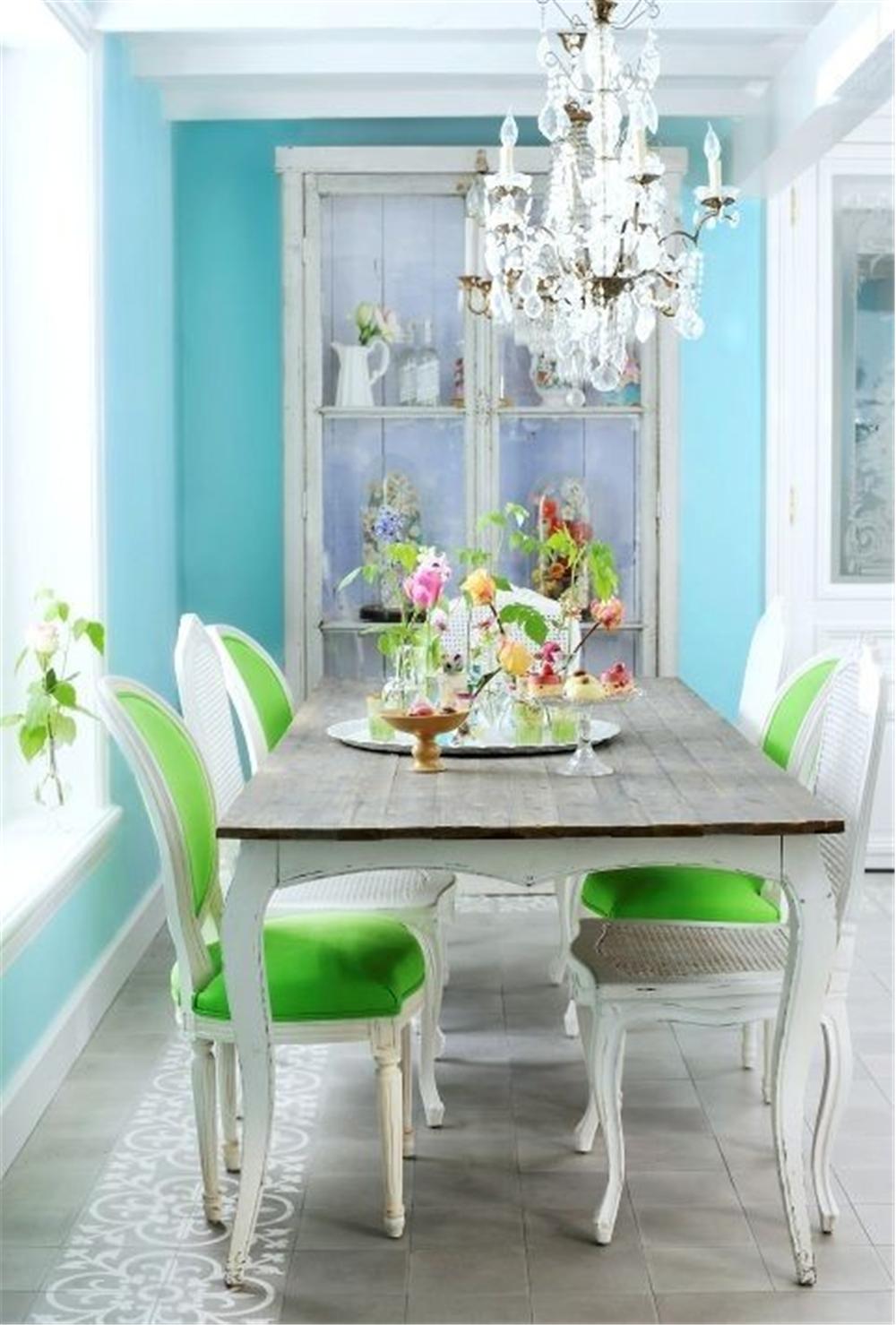 If distressed wood makes you swoon, this garret-like dining corner, featuring a rustic hutch that's so charming, even the light that hits the interior turns the world violet, look no further for your design idea. Set an eclectic table pairing three white-on-white chairs with three seats upholstered in soft grass green and you'll inspire compliments from those who haven't your sense of adventure. The centerpiece dining room table—a juxtaposition of farm house chic and aged legs and frame that hint at the past—is guaranteed to prompt lively talk beneath a crystal chandelier that's just quirky enough to belong overhead.
Room #25: Once Upon a Voyage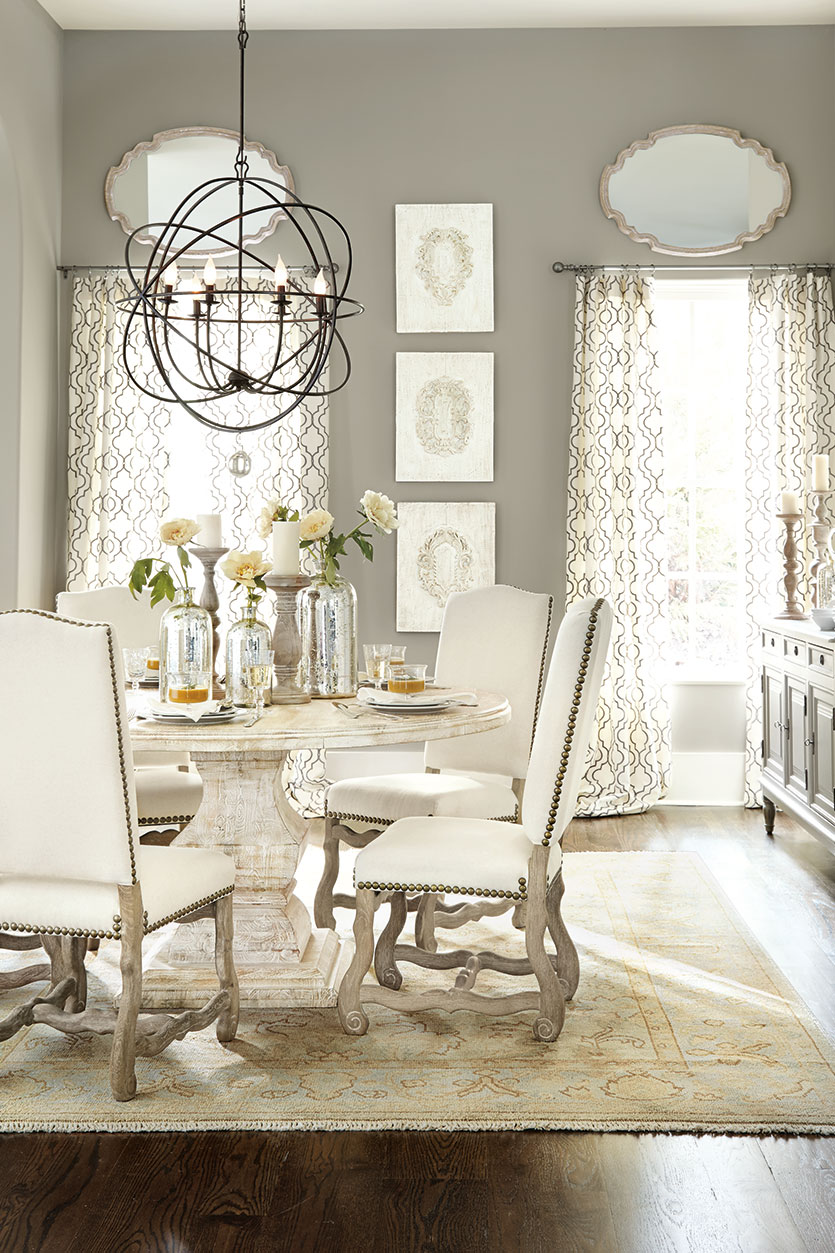 Galileo might feel at home in this lovely dining room thanks to the intricate chandelier reminiscent of a daVinci drawing, subtle geometric puzzle shapes and high mirrors stretching toward infinity. But you're more interested in dining than research, so focus instead on cool, neutral walls, the elongated formal buffet, carpet that looks to have been delivered by a tramp steamer and that compelling dining room set that ties everything together. Does the wood come from Morocco? Perhaps. This table's distressed charm hints at being moved around the world but complementary chairs interject a formal, recent touch. This dining room can take you places you've only dreamed about.
Room #26: Starry, Starry Night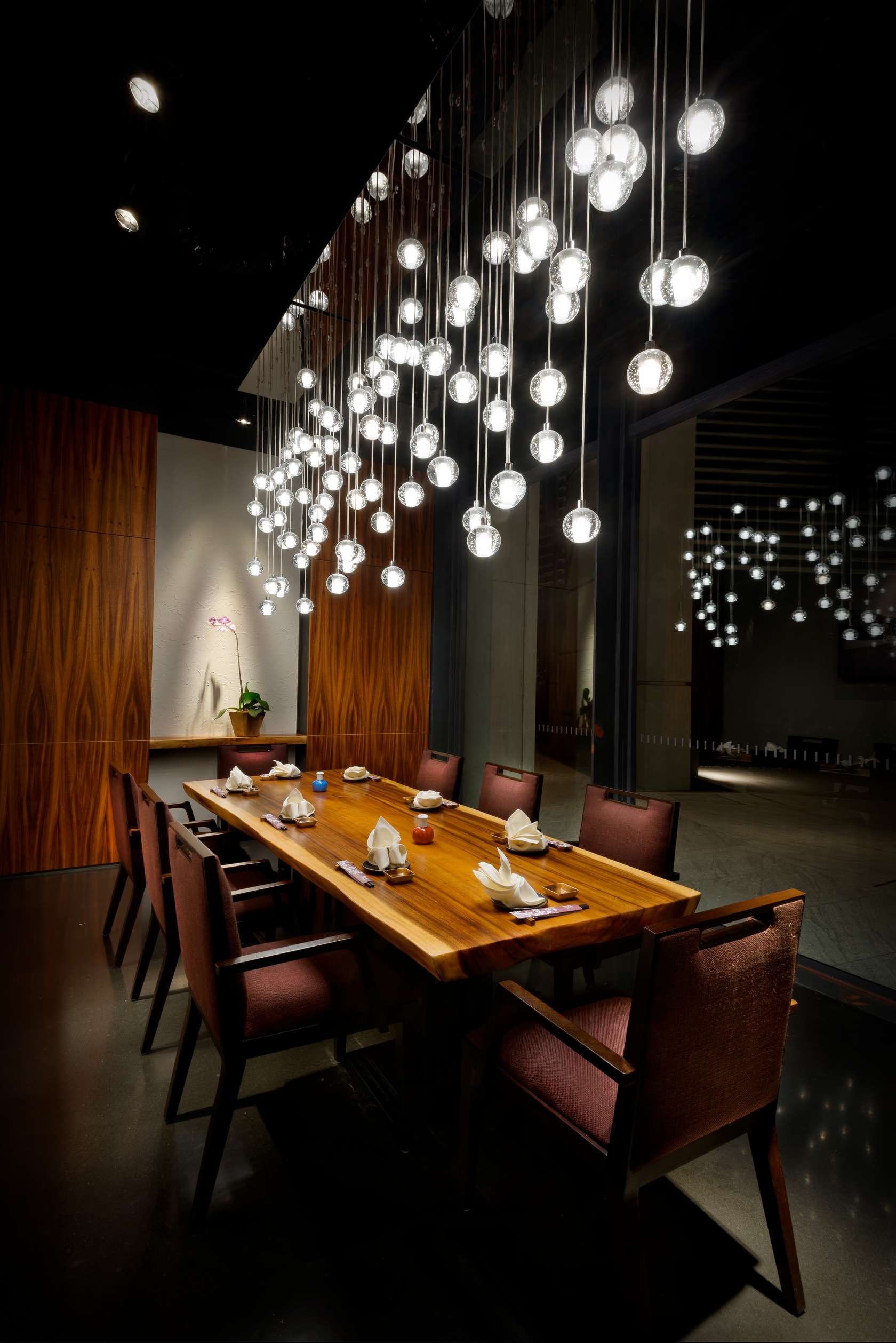 Will your guests notice your culinary skills when they enter your eating area to discover a night sky made entirely of glass globes hanging at so many diverse lengths, they really could be celestial bodies? of course they will. But the illumination from this magnificent bank of lights is at the heart of your dining room idea: that carefully cut, sanded, finished and polished table slab that's richly imbedded with the wood's magical colors so as to put those dark plumb dining chairs to shame. But this gathering of chairs doesn't disappoint when guests settle into their places awaiting your menu of delights.
Room #27: We Gather Together
Looking to furnish an office break room so it looks more like a home and less like business? Start with a grand dining room table fashioned as a gathering place for a circle of employees eager to share downtime. Even heated conversations won't ruin the camaraderie when disparate opinions are expressed 'round a gathering table designed to promote conversation. What's the table's crowning glory? The intriguing gathering of posts that meet at the pedestal's nexus. Sturdy aqua dining room chairs fabricated for easy cleaning surround the table situated on a plank floor that's as easily cleanable. Wall art? The stuff of brainstorming—exactly what you expect from employees—even when they're on break.
Room #28: Shades of Silver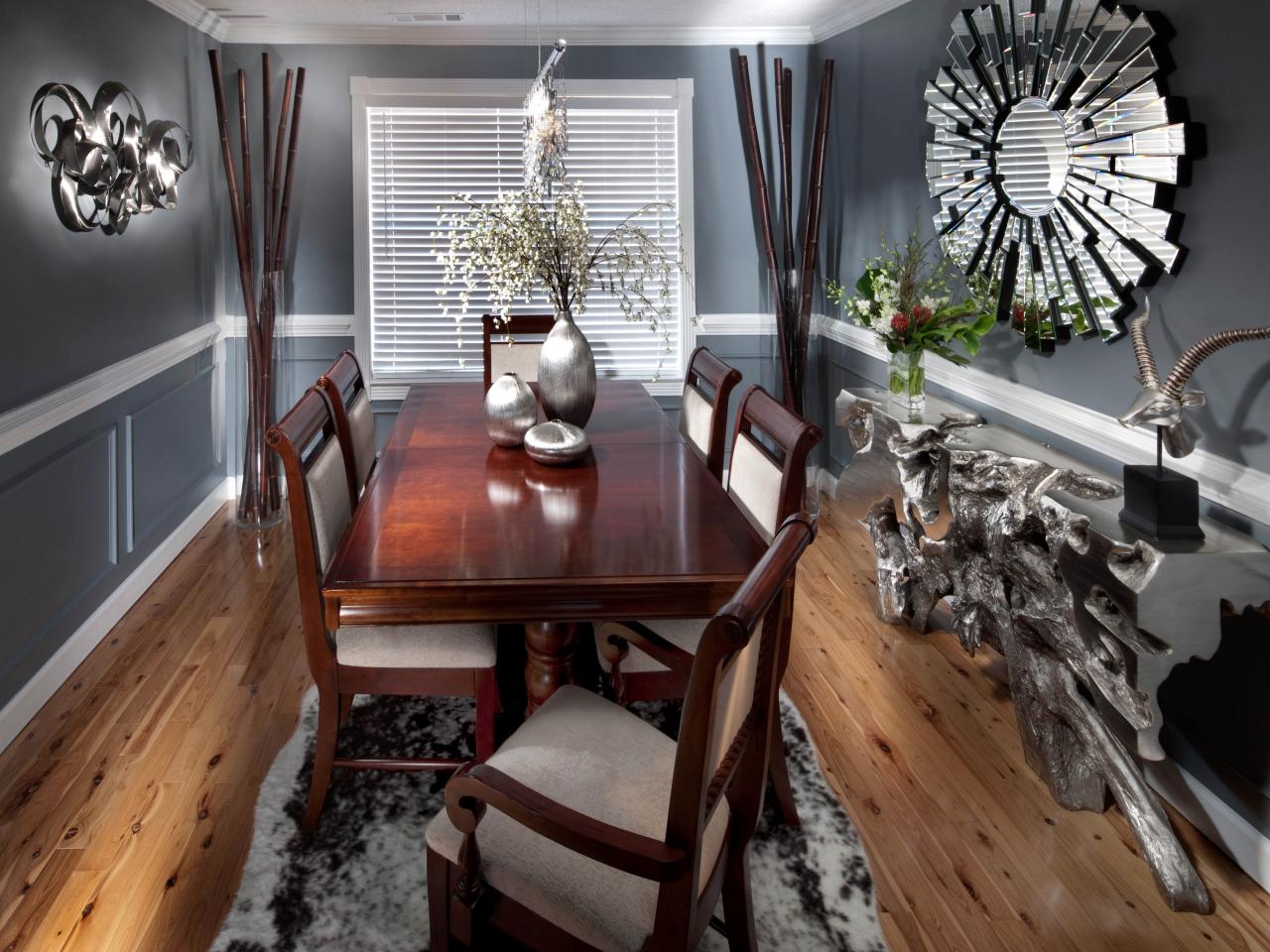 Mine a sliver of floor space for all its worth by coordinating knot-embellished flooring with cool pewter walls interspersed by fingers of enamel-white chair railing repeated around the tray ceiling and at the floorboards. Is this sleek environment a proper setting for the warm glow of a room intended to take center stage? That's the point; the juxtaposition of subtleties and drama best reflected in the silver sunburst art dominating one wall. What's below? Perhaps the most unique sideboard on earth, suggesting a giant silver nugget recently pulled from the earth. Dining room chairs echo rich wood splashed across the table yet offer discreet sections of upholstery happy to take a back seat to the electric charge that pervades the most theatrical of modern dining room sets.
Room #29: Color Yourself Hungry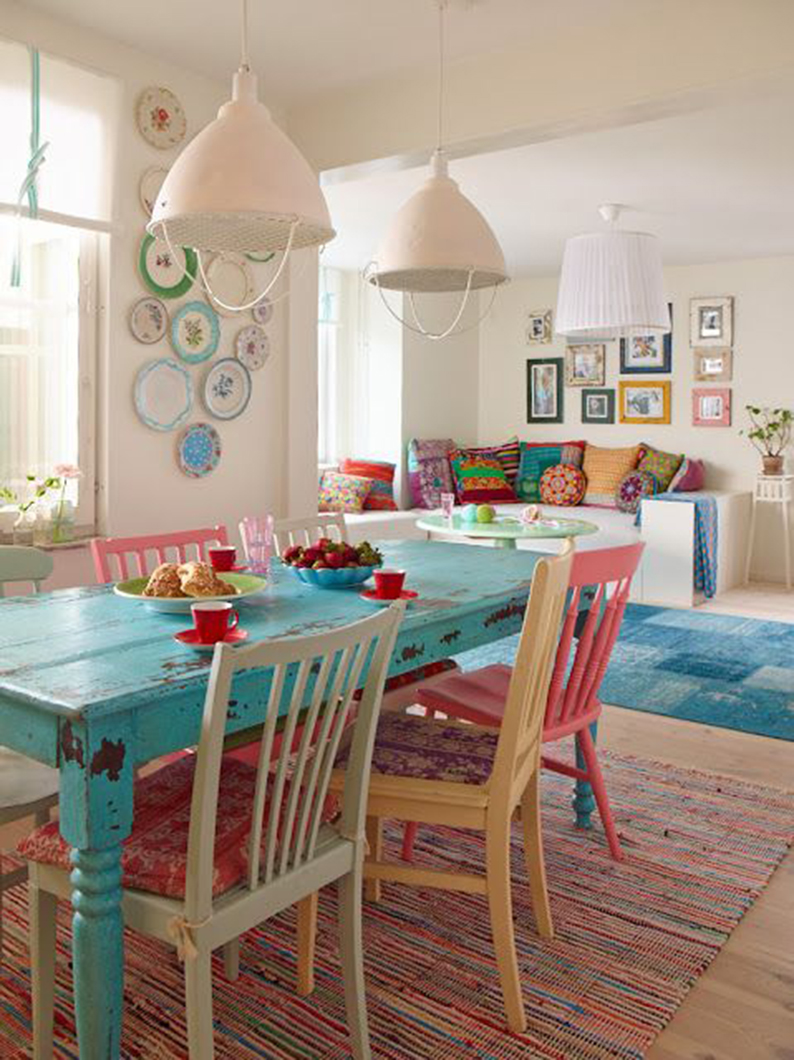 The dining room chairs situated around this distressed, turquoise table don't match—but you already knew that. They're not supposed to, silly. This dining area is all about unexpected surprises and spontaneity. A hand-died rug sprawls beneath table legs, inviting you to match up colors on the chairs. Beyond the eating area, a riot of colorful pillows hide a white couch that knows perfectly well it can't compete with those pillows. A little framed art. A cluster of plates. Darling mis-matched lighting fixtures shining a light over this one-of-a-kind room. If the urge to grab crayons and color strikes your fancy once you see this dining room design, we get it.
Room #30: The Amazing Changeable Room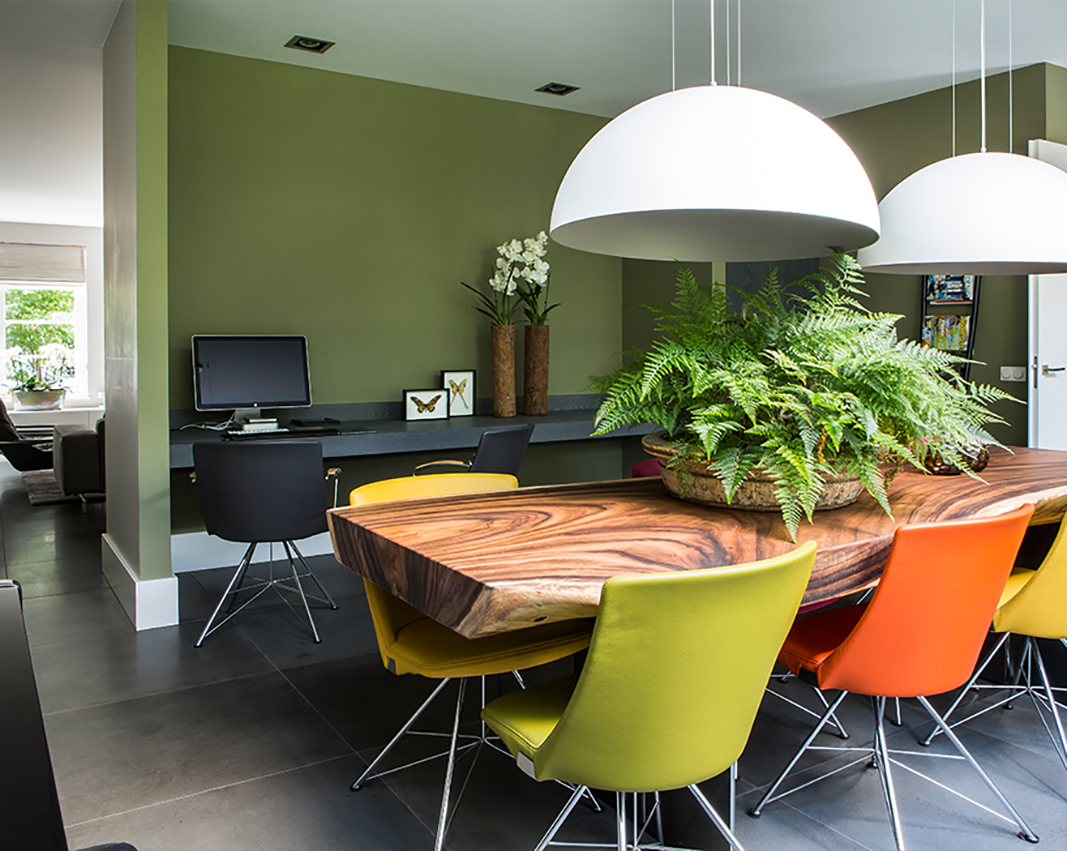 Don't let the rich lime walls convince you that this room is for relaxing because nothing could be further from the truth. Work here. Play here. Eat here—but frankly, the elegant table looks more like a museum piece that's been brought directly to this room from a South American forest. Convert that sliver of countertop directly behind the table to a buffet for relaxed entertaining as guests settle into citrus fruit-colored chairs set upon legs that may remind you of umbrella spokes. Those dome lights may be white, but we're pretty sure they bring to mind juicy halves of lemons and limes.
Room #31: One Heavenly Place to Dine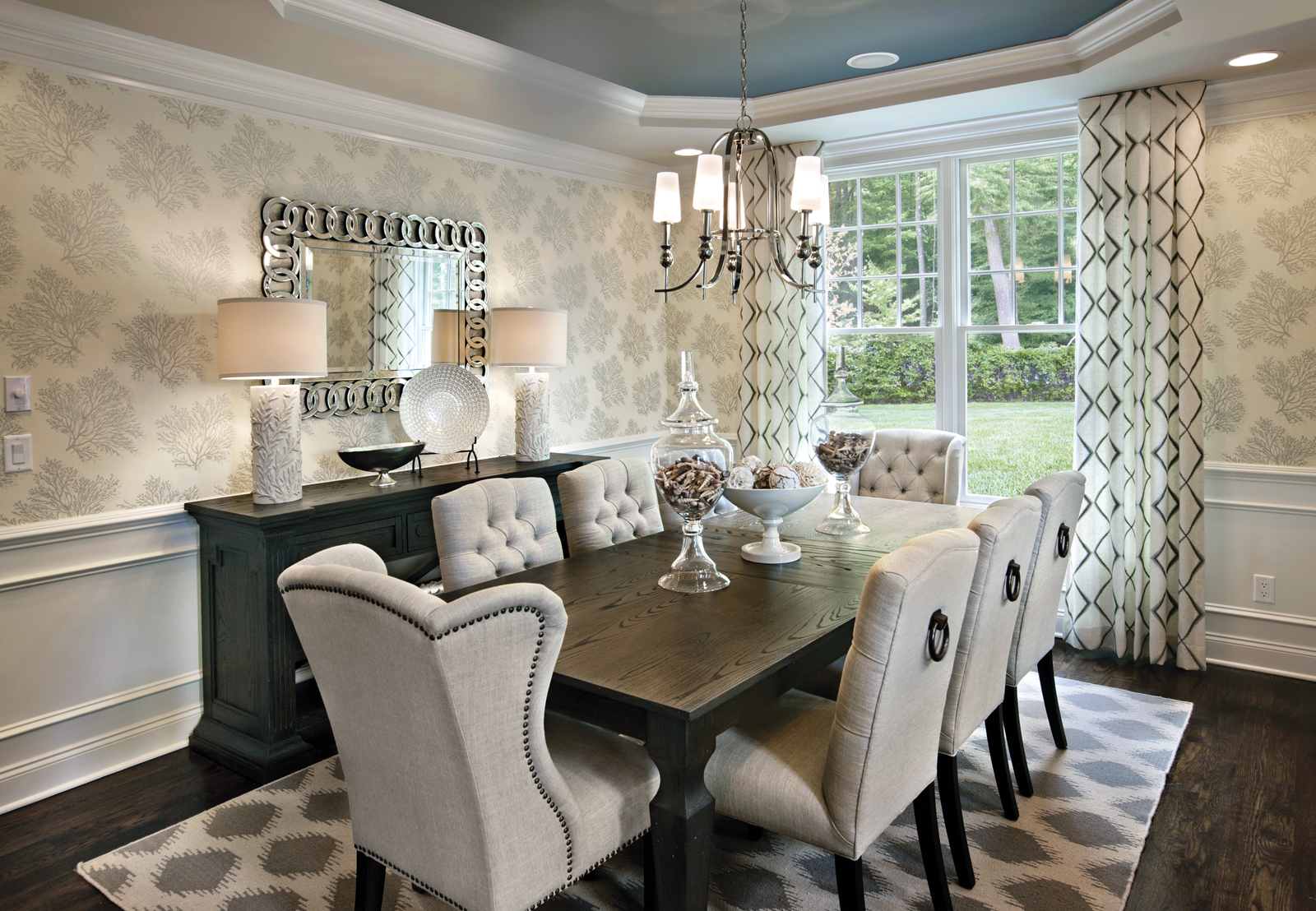 It's no accident that creative decorators paired this subtle brown-on-brown botanical wallpaper with geometric designs on the curtains and rug because that's the secret to unique room arrangement in the 21st century. But there are hints of nostalgia tucked into the design of this room. An unexpected expanse of blue sky filling the tray ceiling's center. Thick slabs of white panels subtly placed along lower walls and more heavily around that blue sky overhead. Decorative accessories offer a delightful mix of bold and fragile; but what else could you expect from a dining room design that's crowned with a bit of heaven?
Room #32: Welcome to the Country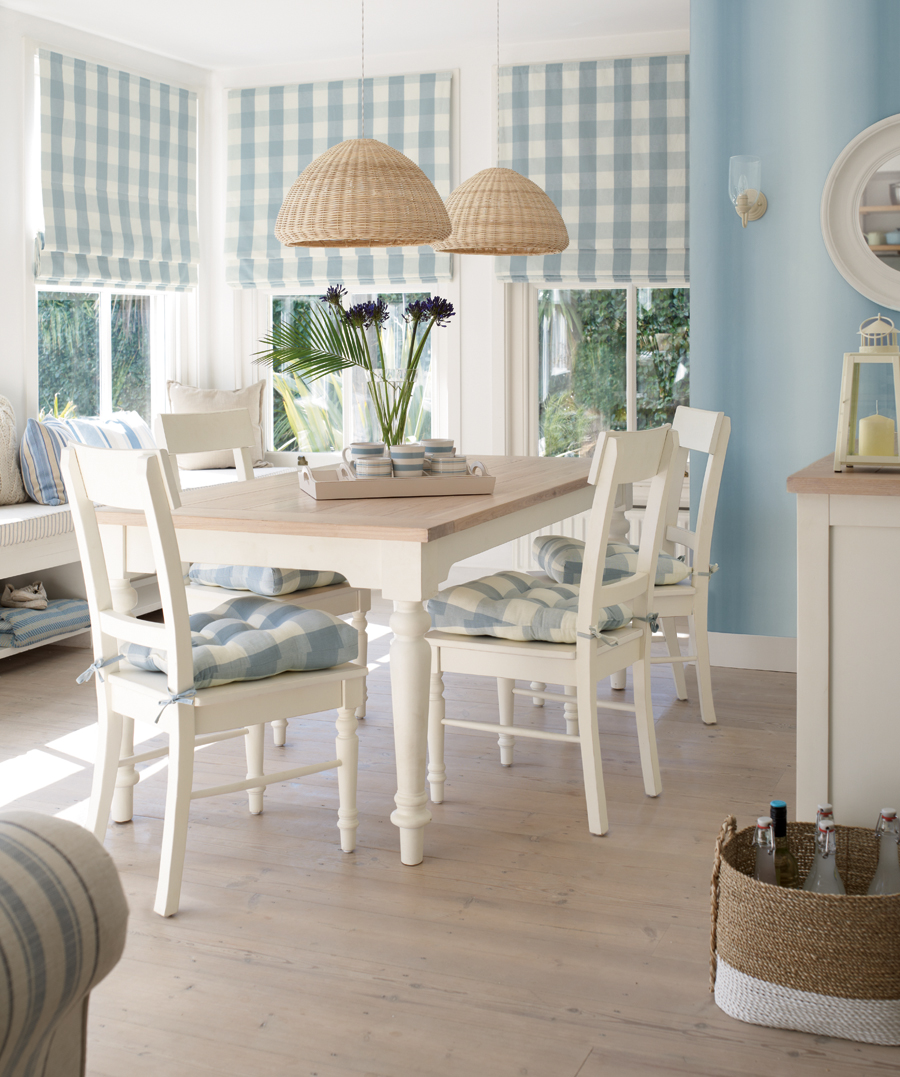 If the floor of this room doesn't remind you of barn walls, you're missing the point. Adding scatter rugs would only compromise the rustic environment, but it's an abundance of white touches that reflect this dining room's character. Notice how the tabletop is an homage to the floor and the way giant blue and white checks on shades and chair cushions add a lively touch of country charm. Just in case you don't notice the curves and lines that set this dining room furniture apart from the rest, take note of the way those front chair legs emulate the table legs. Chair backs features square cut-outs that suggest peeking out from high barn windows.
More dining room sets on the next page…